fallacy
The journal NATURE has just published an excellent article by Andrew D. Oxman and an alliance of 24 leading scientists outlining the importance and key concepts of critical thinking in healthcare and beyond. The authors state that the Key Concepts for Informed Choices is not a checklist. It is a starting point. Although we have organized the ideas into three groups (claims, comparisons and choices), they can be used to develop learning resources that include any combination of these, presented in any order. We hope that the concepts will prove useful to people who help others to think critically about what evidence to trust and what to do, including those who teach critical thinking and those responsible for communicating research findings.
Here I take the liberty of citing a short excerpt from this paper:
CLAIMS:
Claims about effects should be supported by evidence from fair comparisons. Other claims are not necessarily wrong, but there is an insufficient basis for believing them.
Claims should not assume that interventions are safe, effective or certain.
Interventions can cause harm as well as benefits.
Large, dramatic effects are rare.
We can rarely, if ever, be certain about the effects of interventions.
Seemingly logical assumptions are not a sufficient basis for claims.
Beliefs alone about how interventions work are not reliable predictors of the presence or size of effects.
An outcome may be associated with an intervention but not caused by it.
More data are not necessarily better data.
The results of one study considered in isolation can be misleading.
Widely used interventions or those that have been used for decades are not necessarily beneficial or safe.
Interventions that are new or technologically impressive might not be better than available alternatives.
Increasing the amount of an intervention does not necessarily increase its benefits and might cause harm.
Trust in a source alone is not a sufficient basis for believing a claim.
Competing interests can result in misleading claims.
Personal experiences or anecdotes alone are an unreliable basis for most claims.
Opinions of experts, authorities, celebrities or other respected individuals are not solely a reliable basis for claims.
Peer review and publication by a journal do not guarantee that comparisons have been fair.
COMPARISONS:
Studies should make fair comparisons, designed to minimize the risk of systematic errors (biases) and random errors (the play of chance).
Comparisons of interventions should be fair.
Comparison groups and conditions should be as similar as possible.
Indirect comparisons of interventions across different studies can be misleading.
The people, groups or conditions being compared should be treated similarly, apart from the interventions being studied.
Outcomes should be assessed in the same way in the groups or conditions being compared.
Outcomes should be assessed using methods that have been shown to be reliable.
It is important to assess outcomes in all (or nearly all) the people or subjects in a study.
When random allocation is used, people's or subjects' outcomes should be counted in the group to which they were allocated.
Syntheses of studies should be reliable.
Reviews of studies comparing interventions should use systematic methods.
Failure to consider unpublished results of fair comparisons can bias estimates of effects.
Comparisons of interventions might be sensitive to underlying assumptions.
Descriptions should reflect the size of effects and the risk of being misled by chance.
Verbal descriptions of the size of effects alone can be misleading.
Small studies might be misleading.
Confidence intervals should be reported for estimates of effects.
Deeming results to be 'statistically significant' or 'non-significant' can be misleading.
Lack of evidence for a difference is not the same as evidence of no difference.
CHOICES:
What to do depends on judgements about the problem, the relevance (applicability or transferability) of evidence available and the balance of expected benefits, harm and costs.
Problems, goals and options should be defined.
The problem should be diagnosed or described correctly.
The goals and options should be acceptable and feasible.
Available evidence should be relevant.
Attention should focus on important, not surrogate, outcomes of interventions.
There should not be important differences between the people in studies and those to whom the study results will be applied.
The interventions compared should be similar to those of interest.
The circumstances in which the interventions were compared should be similar to those of interest.
Expected pros should outweigh cons.
Weigh the benefits and savings against the harm and costs of acting or not.
Consider how these are valued, their certainty and how they are distributed.
Important uncertainties about the effects of interventions should be reduced by further fair comparisons.
__________________________________________________________________________
END OF QUOTE
I have nothing to add to this, except perhaps to point out how very relevant all of this, of course, is for SCAM and to warmly recommend you study the full text of this brilliant paper.
One would be hard-pressed to find a form of so-called alternative medicine (SCAM) that is not being promoted for back pain: chiropractic, osteopathy, reflexology, naturopathy, homeopathy … you name it. Intriguingly, they all seem to generate similarly good – a realist would say bad – results. Faced with this large but largely ineffective options, one can hardly be surprised that enterprising innovators look for their own solutions. And few are more enterprising then this patient from Ireland who decided to devise his very own and highly unusual back pain therapy.
The 33 year old male with a history of back problems was seen complaining of severe, sudden onset lower back pain. He reported lifting a heavy steel object 3 days prior and his symptoms had progressed ever since. A physical exam of revealed an erythematous papule with a central focus on the medial aspect of his right upper limb.
The patient disclosed that he had – independent of any medical advice – intravenously injected his own semen as an innovative method to alleviate his back pain (a truly naturopathic approach, if there ever was one!). He also revealed that he had previously injected one monthly "dose" of semen for 18 consecutive months using a hypodermic needle purchased online.
On this occasion, the patient had tried to inject three "doses" of semen intra-vascularly and intra-muscularly. The erythema extended medially along his upper limb over the course of the following 24 hours.
It became indurated around the injection site where he had failed multiple attempts at injecting the semen thus causing an extravasation of his sperm into the soft tissues. Blood tests demonstrated a C-reactive protein of 150mg/L and white cell count of 13×109/L. The patient was immediately commenced on intravenous antimicrobial treatment after seeking advice regarding appropriate cover. A radiograph of the limb was obtained to exclude retained foreign body and it demonstrated a subcutaneous emphysema.
This patient's back pain improved over the course of his inpatient stay. He opted to discharge himself without availing of an incision and drainage of the local collection.
Remarkable!
For me, the most fascinating aspect of this story is the fact that the patient had previously treated himself 18 (!) times before this little mishap occurred.
Why?, one may well ask. The answer has, I think, been provided by legions of proponents of diverse forms of SCAM: BECAUSE IT WORKED! PEOPLE ARE NOT STUPID; THEY DON'T CONTINUE TREATMENTS, IF THEY DON'T WORK.
So, either intravenous semen injections are an effective way to control back pain – in which case, I recommend that NICE look into it – or…
… THERE IS SOMETHING BADLY WRONG WITH THE FAVOURITE ARGUMENT OF SCAM-ENTHUSIASTS, IT WORKED FOR ME AND THEREFORE IT IS EFFECTIVE AND SAFE.
(I know which explanation I favour)
Alternative medicine is an odd term (but it is probably as good or bad as any other term for it). It describes a wide range of treatments (and diagnostic techniques which I exclude from this discussion) that have hardly anything in common.
Hardly anything!
And that means there are a few common denominators. Here are 7 of them:
The treatments have a long history and have thus stood the 'test of time'.
The treatments enjoy a lot of support.
The treatments are natural and therefore safe.
The treatments are holistic.
The treatments tackle the root causes of the problem.
The treatments are being suppressed by the establishment.
The treatments are inexpensive and therefore value for money.
One only has to scratch the surface to discover that these common denominators of alternative medicine turn out to be unmitigated nonsense.
Let me explain:
The treatments have a long history and have thus stood the 'test of time'.
It is true that most alternative therapies have a long history; but what does that really mean? In my view, it signals but one thing: when these therapies were invented, people had no idea how our body functions; they mostly had speculations, superstitions and myths. It follows, I think, that the treatments in question are built on speculations, superstitions and myths.
This might be a bit too harsh, I admit. But one thing is absolutely sure: a long history of usage is no proof of efficacy.
The treatments enjoy a lot of support.
Again, this is true. Alternative treatments are supported by many patients who swear by them, by thousands of clinicians who employ them as well as by royalty and other celebrities who make the headlines with them.
Such support is usually based on experience or belief. Neither are evidence; quite the opposite, remember: the three most dangerous words in medicine are 'IN MY EXPERIENCE'. To be clear, experience and belief can fool us profoundly, and science is a tool to prevent us being misled by them.
The treatments are natural and therefore safe.
Here we have two fallacies moulded into one. Firstly, not all alternative therapies are natural; secondly, none is entirely safe.
There is nothing natural about diluting the Berlin Wall and selling it as a homeopathic remedy. There is nothing natural about forcing a spinal joint beyond its physiological range of motion and calling it spinal manipulation. There is nothing natural about sticking needles into the skin and claiming this re-balances our vital energies.
Acupuncture, chiropractic, herbal medicine, etc. are burdened with their fair share of adverse effects. But the real danger of alternative medicine is the harm done by neglecting effective therapies. Anyone who decides to forfeit conventional treatments for a serious condition, and uses alternative therapies instead, runs the risk of shortening their lives.
The treatments are holistic.
Alternative therapists try very hard to sell their treatments as holistic. This sounds good and must be an excellent marketing gimmick. Alas, it is not true.
There is nothing less holistic than seeing subluxations, yin/yang imbalances, auto-intoxications, energy blockages, etc. as the cause of all illness. Holism is at the heart of all good healthcare; the attempt by alternative practitioners to hijack it is merely a transparent attempt to boost their business.
The treatments tackle the root causes of the problem.
Alternative therapists claim that they can identify the root causes of all conditions and thus treat them more effectively than conventional clinicians who merely treat their symptoms. Nothing could be further from the truth. Conventional medicine has been so spectacularly successful not least because we always aim at identifying the cause that underlie a symptom and, whenever possible, treat that cause (often in addition to treating symptoms). Alternative practitioners may well delude themselves that energy imbalances, subluxations, chi-blockages etc. are root causes, but there simply is no evidence to support their deluded claims.
The treatments are being suppressed by the establishment.
The feeling of paranoia seems endemic in alternative medicine. Many practitioners are so affected by it that they believe everyone who doubts their implausible notions and misconceptions is out to get them. Big Pharma' or whoever else they feel prosecuted by are more likely to smile at such wild conspiracy theories than to fear for their profit margins. And whenever 'Big Pharma' does smell a fast buck, they do not hesitate to jump on the alternative band-waggon joining them in ripping off the public by flogging dubious supplements, homeopathics, essential oils, vitamins, flower remedies, detox-remedies, etc.
The treatments are inexpensive and therefore value for money.
It is probably true that the average cost of a homeopathic remedy, an acupuncture treatment or an aromatherapy session costs less than the average conventional treatment. However, to conclude from it that alternative therapies are value for money is wrong. To be of real value, a treatment needs to generate more good than harm; but very few alternative treatments fulfil this criterion. To use a blunt analogy, if someone offers you a used car, it may well be inexpensive – if, however, it does not run and is beyond repair, it cannot be value for money.
As I already stated: alternative medicine is so diverse that its various branches are almost entirely unrelated, and the few common denominators of alternative medicine that do exist are unmitigated nonsense.
They say that minds are like parachutes – they function only when open. Having an open mind means being receptive to new and different ideas or the opinions of others.
I am regularly accused of lacking this quality. Most recently, an acupuncturist questioned whether acupuncture-sceptics, and I in particular, have an open mind. Subsequently, an interesting dialogue ensued:
___________________________________________________________
Tom Kennedy on Wednesday 01 August 2018 at 19:27
edzard on Thursday 02 August 2018 at 12:46
"Perhaps the full conclusion should always be quoted…"
YES, IF NOT, IT'S CALLED 'BEING ECONOMICAL WITH THE TRUTH'
Tom Kennedy on Friday 03 August 2018 at 11:20
I am sorry to say that I see no critical evaluation in the post you linked to.
" I'd say it comes across as 'negative assessment' rather than 'critical assessment'.
have you noticed that criticism is often experienced as negative to the person(s) it is aimed at?
This exchange shows how easily I can be provoked to get stroppy and even impolite – I do apologise.
But it also made me wonder: how can anyone be sure to have an open mind?
And how can we decide that a person has a closed mind?
We probably all think we are open minded, but are we correct?
I am not at all sure that I know the answer. It obviously depends a lot on the subject. There are subjects where one hardly needs to keep an open mind and some where it might be advisable to have a closed mind:
the notion that the earth is flat,
flying carpets,
iridology,
reflexology,
chiropractic subluxation,
the vital force,
detox,
homeopathy.
No doubt, there will be people who even disagree with this short list.
Something that intrigues me – and I am here main ly talking about alternative medicine – is the fact that I often get praised by people who say, "I do appreciate your critical stance on therapy X, but on my treatment Y you are clearly biased and unfairly negative!" To me, it is an indication of a closed mind, if criticism is applauded as long as it does not tackle someone's own belief system.
On the subject of homeopathy, Prof M Baum and I once published a paper entitled 'Should we maintain an open mind about homeopathy?' Its introduction explains the problem quite well, I think:
Once upon a time, doctors had little patience with the claims made for alternative medicines. In recent years the climate has changed dramatically. It is now politically correct to have an open mind about such matters; "the patient knows best" and "it worked for me" seem to be the new mantras. Although this may be a reasonable approach to some of the more plausible aspects of alternative medicine, such as herbal medicine or physical therapies that require manipulation, we believe it cannot apply across the board. Some of these alternatives are based on obsolete or metaphysical concepts of human biology and physiology that have to be described as absurd with proponents who will not subject their interventions to scientific scrutiny or if they do, and are found wanting, suggest that the mere fact of critical evaluation is sufficient to chase the healing process away. These individuals have a conflict of interest more powerful than the requirement for scientific integrity and yet defend themselves by claiming that those wanting to carry out the trials are in the pocket of the pharmaceutical industry and are part of a conspiracy to deny their patients tried and tested palliatives….
END OF QUOTE
And this leads me to try to define 10 criteria indicative for an open mind.
to be free of conflicts of interest,
integrity,
honesty,
to resist the temptation of applying double standards,
to have a track record of having changed one's views in line with the evidence,
to not cling to overt absurdities,
to reject conspiracy theories,
to be able to engage in a meaningful dialogue with people who have different views,
to avoid fallacious thinking,
to be willing to learn more on the subject in question.
I would be truly interested to hear, if you have further criteria, or indeed any other thoughts on the subject.
Vis a vis the overwhelming evidence to the contrary, why are there so many clinicians (doctors as well as lay practitioners) who still believe that homeopathy is working? And why are there so many patients who still believe that homeopathy is working?
These are questions that puzzle me quite a bit.
Of course, there is no simple, single answer; there are probably dozens. But one reason must be that there are only three possible outcomes after homeopathic treatments, all of which are favourable for homeopathy (at least in the interpretation of proponents of homeopathy). Seen in this light, there simply is no better therapy!
Let me explain:
If a patient consults a homeopath who prescribes a highly diluted homeopathic remedy, she might subsequently:
get better,
get worse,
or experience no change at all.
Analysing these three possibilities, we quickly see that, from the point of view of a convinced homeopath, all are a proof for homeopathy's effectiveness, and none suggests that the scientific evidence is correct in claiming that highly diluted homeopathic remedies are pure placebos.
SCENARIO 1
In this situation, it is easy to assume that the remedy was the cause for the clinical improvement. Most clinicians of any discipline fall into this trap, and most patients follow them willingly. Yet, we all know that a temporal relationship is not the same as a causal one (the crowing of a cock before dawn is not the cause of the sun rising). Of course, it is conceivable that the treatment was the cause, but there are several other possibilities as well; just think of the placebo effect, regression towards the mean, and the natural history of the disease. In our case, these non-specific effects are most certainly the cause of our patient's improvement.
SCENARIO 2
Most clinicians in this situation would start wondering whether they have employed the correct therapy for this patient's condition – not so the homeopath! He would triumphantly exclaim: "excellent, you are experiencing a 'homeopathic aggravation'. This is a sure sign that I have given you the optimal remedy. Things will get better soon." A homeopathic aggravation occurs, according to homeopathic logic, because homeopathy follows the 'like cures like' principle. The homeopath prescribes the remedy that would normally cause the symptoms from which his patient is suffering. This means it must also cause these symptoms in every patient. Usually these aggravations are not strong enough to be noticed, but when they are, it is interpreted by homeopaths as a triumph of homeopathy.
SCENARIO 3
In this situation, the homeopath has several options. He can claim "but without my remedy you would be much worse by now. The fact that you are not, shows how very effective homeopathy really is. A more humble homeopaths might explain that the optimal remedy is not always easy to find straight away, and he would therefore proceed in prescribing another one. In both cases, the patient is kept paying for more and homeopathy is presented as an effective therapy.
These three scenarios clearly show that there is no conceivable outcome where any homeopathy-fan would need to consider that scientists are correct in stating that homeopathy is ineffective. And this is one of the reasons why the myth of homeopathy's effectiveness persists.
Hold on … the patient might be dead!
Yes, that is a rather unfortunate situation for any clinician – except for a homeopath, of course. He would simply point out that the patient must have forgotten to take her medicine. A conventional practitioner might get in trouble, if he tried that excuse; one could easily measure blood levels of the prescribed drug and verify the claim. Not so in homeopathy! Because they contain not a single active molecule, homeopathic remedies are undetectable!
We can easily see that there is no better treatment than homeopathy – at least for the homeopath!
In the comment section of a recent post, we saw a classic example of the type of reasoning that many alternative practitioners seem to like. In order to offer a service to other practitioners, I will elaborate on it here. The reasoning roughly follows these simple 10 steps:
My treatment works.
My treatment requires a lot of skills, training and experience.
Most people fail to appreciate how subtle my treatment really is.
In fact, only few practitioners manage do it the way it has to be done.
The negative trials of my treatment are false-negative because they were conducted by incompetent practitioners.
In any case, for a whole range of reasons, my treatment cannot be pressed into the straight jacket of a clinical trial.
My treatment is therefore not supported by the type of evidence people who don't understand it insist upon.
Therefore, we have to rely on the best evidence that is available to date.
And that clearly is the experience of therapists and patients.
So, the best evidence unquestionably confirms that my treatment works.
The case I mentioned above was that of an acupuncturist defending his beloved acupuncture. To a degree, the argument put forward by him sounded (to fellow acupuncturists) reasonable. On closer inspection, however, they seem far less so, perhaps even fallacious. If you are an acupuncturist, you will, of course, disagree with me. Therefore, I invite all acupuncturists to imagine a homeopath arguing in that way (which they often do). Would you still find the line of arguments reasonable?
And what, if you are a homeopath? Then I invite you to imagine that a crystal therapist argues in that way (which they often do). Would you still find the line of arguments reasonable?
And what, if you are a crystal therapist? …
I am not getting anywhere, am I?
To make my point, it might perhaps be best, if I created my very own therapy!
Here we go: it's called ENERGY PRESERVATION THERAPY (EPT).
I have discovered, after studying ancient texts from various cultures, that the vital energy of our closest deceased relatives can be transferred by consuming their carbon molecules. The most hygienic way to achieve this is to have our deceased relatives cremated and consume their ashes afterwards. The cremation, storage of the ashes, as well as their preparation and regular consumption all have to be highly individualised, of course. But I am certain that this is the only way to preserve their vital force and transfer it to a living relative. The benefits of this treatment are instantly visible.
As it happens, I run special three-year (6 years part-time) courses at the RSM in London to teach other clinicians how exactly to do this. And I should warn you: they are neither cheap nor easy; we are talking of very skilled stuff here.
What! You doubt that my treatment works?
Doubt no more!
Here are 10 convincing arguments for it:
EPT works, I have 10 years of experience and seen hundreds of cases.
EPT requires a lot of skills, training and experience.
Most people fail to appreciate how subtle EPT really is.
In fact, only few practitioners manage do EPT the way it has to be done.
The negative trials of EPT are false-negative because they were conducted by incompetent practitioners.
In any case, for a whole range of reasons, EPT cannot be pressed into the straight jacket of a clinical trial.
EPT is therefore not supported by the type of evidence people who don't understand it insist upon.
Therefore, we have to rely on the best evidence that is available to date.
And that clearly is the experience of therapists and patients.
So, the best evidence unquestionably confirms that EPT works.
Convinced?
No?
You do surprise me!
Why then are you convinced of the effectiveness of acupuncture, homeopathy, etc?
One of the aims in running this blog has always been to stimulate critical thinking (not just in my readers but also in myself).
Critical thinking means making decisions and judgements based on (often confusing) evidence. According to the 'National Council for Excellence in Critical Thinking' it is the intellectually disciplined process of actively and skilfully conceptualizing, applying, analysing, synthesizing, and/or evaluating information gathered from, or generated by, observation, experience, reflection, reasoning, or communication, as a guide to belief and action.
Carl Sagan explained it best: "It seems to me what is called for is an exquisite balance between two conflicting needs: the most skeptical scrutiny of all hypotheses that are served up to us and at the same time a great openness to new ideas. Obviously those two modes of thought are in some tension. But if you are able to exercise only one of these modes, whichever one it is, you're in deep trouble. If you are only skeptical, then no new ideas make it through to you. You never learn anything new. You become a crotchety old person convinced that nonsense is ruling the world. (There is, of course, much data to support you.) But every now and then, maybe once in a hundred cases, a new idea turns out to be on the mark, valid and wonderful. If you are too much in the habit of being skeptical about everything, you are going to miss or resent it, and either way you will be standing in the way of understanding and progress. On the other hand, if you are open to the point of gullibility and have not an ounce of skeptical sense in you, then you cannot distinguish the useful as from the worthless ones."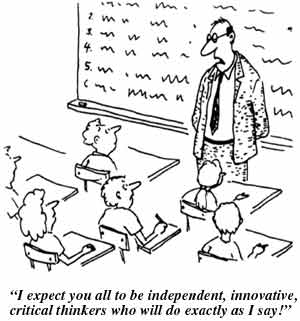 Critical thinking is not something one is born with; but I strongly believe that most people can be taught this skill. This study suggests that I may be right. The researchers measured the relationship between student's religion, gender, and propensity for fantasy thinking with the change in belief for paranormal and pseudoscientific subjects following a science and critical thinking course. Student pre-course endorsement of religious, paranormal, and pseudo-scientific beliefs ranged from 21 to 53%, with religion having the highest endorsement rate. Pre-course belief in paranormal and pseudo-scientific subjects was correlated with high scores in some fantasy thinking scales and showed a gender and a religion effect with females having an 11.1% higher belief across all paranormal and pseudo-science subcategories. Students' religion, and frequency of religious service attendance, was also important with agnostic or atheist students having lower beliefs in paranormal and pseudo-science subjects compared to religious students. Students with either low religious service attendance or very high attendance had lower paranormal and pseudoscientific beliefs.
Following the critical thinking course, overall beliefs in paranormal and pseudo-scientific subcategories lowered 6.8–28.9%, except for superstition, which did not significantly change. Change in belief had both a gender and religion effect with greater reductions among religious students and females.
The link between religion and alternative medicine is relatively well-established. A 2014 study, for instance, showed an association between alternative medicine use and religiosity. The finding that females have an 11.1% higher belief in the paranormal and pseudo-science is new to me, but it would tie in with the well-documented fact that women use alternative medicine more frequently than men.
The most important finding, however, is clearly that critical thinking can be taught.
That must be good news! As discussed previously, critical thinkers experience fewer bad things in life than those of us who do not have acquired that skill. This cannot come as a surprise – being able to tell useful concepts from worthless ones should achieve exactly that.
In Germany, homeopathy had been an undisputed favourite for a very long time. Doctors prescribed it, Heilpraktiker recommended it, patients took it and consumers, politicians, journalists, etc. hardly ever questioned it. But recently, this has changed; thanks not least to the INH and the 'Muensteraner Kreis', some Germans are finally objecting to paying for the homeopathic follies of others. Remarkably, this might even have led to a dent in the sizable profits of homeopathy producers: while in 2016 the industry sold about 55 million units of homeopathic preparations, the figure had decreased to 'just' ~53 million in 2017.
Enough reason, it seems, for some manufacturers to panic. The largest one is the DHU (Deutsche Homoeopathische Union), and they recently decided to go on the counter attack by investing into a large PR campaign. This article (in German, I'm afraid) explains:
…Unter dem Hashtag #MachAuchDuMit lädt die Initiative Anwenderinnen und Anwender ein, ihre guten Erfahrungen in Sachen Homöopathie zu teilen. "Über 30 Millionen zufriedene Menschen setzen für ihre Gesundheit auf Homöopathie und vertrauen ihr. Mit unserer Initiative wollen wir das Selbstbewusstsein der Menschen stärken, sich für die Homöopathie zu entscheiden oder mindestens für eine freie Wahl einzustehen," so Peter Braun, Geschäftsführer der DHU…
"Die Therapiefreiheit, die in unserem Slogan mit "Meine Entscheidung!" zum Ausdruck kommt, ist uns das wichtigste in dieser Initiative", unterstreicht Peter Braun. Und dafür lohnt es sich aktiv zu werden, wie der Schweizer weiß. 2017 haben sich die Menschen in der Schweiz per Volksabstimmung für das Konzept einer integrativen Medizin entschieden. Neben der Schulmedizin können dort auch weitere Therapieverfahren wie Homöopathie oder Naturmedizin zum Einsatz kommen.
In Deutschland will die DHU mit ihrer Initiative Transparenz schaffen und die Homöopathie hinsichtlich Fakten und Erfolge realistisch darstellen. Dafür besteht offensichtlich Bedarf: "Wir als DHU haben in der jüngsten Vergangenheit dutzende spontane Anfragen bekommen, für die Homöopathie Flagge zu zeigen".
Was die Inhalte der Initiative angeht betont Peter Braun, dass es dabei nie um ein "Entweder-Oder" zwischen Schulmedizin und anderen Therapieverfahren gehen soll: "Die Kombination der jeweils am besten für den Patienten passenden Methode im Sinne von "Hand-in-Hand" ist das Ziel der modernen integrativen Medizin. In keiner Art und Weise ist eine Entscheidung für die Homöopathie eine Entscheidung gegen die Schulmedizin. Beides hat seine Berechtigung und ergänzt sich in vielen Fällen."
——————————————————————————————————————
For those who do not read German, I will pick out a few central themes from the text.
Amongst other things, the DHU proclaim that:
Homeopathy has millions of satisfied customers in Germany.
The campaign aims at defending customers' choice.
The campaign declares to present the facts realistically.
The decision is "never an 'either or' between conventional medicine (Schulmedizin) and other methods"; combining those therapies that suit the patient best is the aim of modern Integrative Medicine.
It is clear to anyone who is capable of critical thinking tha
t these 4 points are fallacious to the extreme. For those to whom it isn't so clear, let me briefly explain:
The 'appeal to popularity' is a classical fallacy.
Nobody wants to curtail patients' freedom to chose the therapy they want. The discussion is about who should pay for ineffective remedies. Even if homeopathy will, one day, be no longer reimbursable in Germany, consumers will still be able to buy it with their own money.
The campaign has so far not presented the facts about homeopathy (i. e. the remedies contain nothing, homeopathy relies on implausible assumptions, the evidence fails to show that highly diluted homeopathic remedies are effective beyond placebo).
Hahnemann called all homeopaths who combined his remedies with conventional treatments 'traitors' ('Verraeter') and coined the term 'Schulmedizin' to defame mainstream medicine.
The DHU campaign has only started recently, but already it seems to backfire big way. Social media are full with comments pointing out how pathetic it truly is, and many Germans have taken to making fun at it on social media. Personally, I cannot say I blame them – not least because the latest DHU campaign reminds me of the 2012 DHU-sponsored PR campaign. At the time, quackometer reported:
A consortium of pharmaceutical companies in Germany have been paying a journalist €43,000 to run a set of web sites that denigrates an academic who has published research into  their products.
These companies, who make homeopathic sugar pills, were exposed in the German newspaper Süddeutsche Zeitung in an article, Schmutzige Methoden der sanften Medizin (The Dirty Tricks of Alternative Medicine.)
This story has not appeared in the UK media. And it should. Because it is a scandal that directly involves the UK's most prominent academic in Complementary and Alternative Medicine.
The newspaper accuses the companies of funding the journalist, Claus Fritzsche, to denigrate critics of homeopathy. In particular, the accusation is that Fritzsche wrote about UK academic Professor Edzard Ernst on several web sites and then linked them together in order to raise their Google ranking. Fritzsche continually attacks Ernst of being frivolous, incompetent and partisan…
This story ended tragically; Fritzsche committed suicide.
My impression is that the PR-campaigns of homeopaths in general and the DHU in particular are rather ill-fated. Perhaps they should just forget about PR and do what responsible manufacturers should aim at doing: inform the public according to the best evidence currently available, even if this might make a tiny dent in their huge profits.
Today, enthusiasts of homeopathy celebrate the start of the HOMEOPATHY AWARENESS WEEK. Let's join them by re-addressing one of their favourite themes: their personal experience with homeopathy.
Most homeopathy-fans argue that the negative scientific evidence must be wrong because they have had positive experiences. Whenever I give a lecture, for instance, there will be at least one person in the audience who presents such an experience (and I too could contribute a few such stories from my own past). Such 'case reports' can, of course, be interesting, illuminating or leading to further research, but they can never be conclusive.
This concept is often profoundly confusing for patients and consumers. They tend to feel that I am doubting their words, but nothing could be further from the truth. Their experience is certainly true – what might be false is their interpretation of it. I think, I better explain this in more detail using a concrete, published example.
After the publication of our 2003 RCT of homeopathic Arnica which showed that two different potencies have effects that do not differ from those of placebo, I received lots of angry responses from people who told me that they had the opposite experience or observed positive outcomes on their pets. In my subsequent publication in the journal 'Homeopathy' entitled 'The benefits of Arnica: 16 case reports', I have tried my best to explain their experiences in the light of our finding that highly diluted homeopathic Arnica is a placebo:
Sixteen case reports of the apparent benefits of Arnica … raise several relevant points. Firstly, topical Arnica preparations are often wrongly equated with homeopathic Arnica, the subject of our trial. The former are herbal preparations (ie not homeopathically diluted), which have undisputed pharmacological activity. Taken orally they would even be toxic. Thus all Arnica for oral administration must be highly diluted and has therefore no pharmacological effects. The case reports show that many lay people seem to be unclear about the difference between herbal and homeopathic Arnica.
Secondly, if animals seem to respond to homeopathic Arnica, as claimed in several of the case reports, this is not necessarily a proof of its effectiveness. Animals are not immune to placebo effects. Think of Pavlov's experiments and the fact that conditioning is clearly an element in the placebo response.
Thirdly, the natural history of the condition can mimic clinical improvement caused by therapy. Many of the 16 cases summarized can be explained through a placebo response or the natural history of disease or the combination of both phenomena…
Many of the letters I received were outspoken to say the least. The authors stated that they were 'appalled', 'saddened and angry' by our research. Others implied that I was paid by the pharmaceutical industry to abolish homeopathy in the UK. One person felt that 'it is highly irresponsible to dismiss a natural healing remedy with no evidence at all'. I believe the case reports … convey an important message about the power of belief, anecdotes, placebos and expectation.
END OF QUOTE
The thing about case reports and personal experiences is quite simply this: they may seem almost overwhelmingly convincing, but they can NEVER serve as a proof that the treatment in question was effective. The reason for this fact could not be more simple. Any therapeutic response is due to a complex combination of factors: placebo effects, natural history of the condition, regression to the mean, etc.
See it this way: you wake up one morning with an enormous hangover. You try to identify the cause of it. Was it the beer you had in the pub? The wine you drank before you went out? Or the whiskey you consumed before you went to bed? Perhaps you think it was the Cognac you enjoyed at a friend's house? Only one thing is for sure: it was not the glass of shaken water you drank during the night.
An article in yesterday' Times makes the surprising claim that 'doctors turn to herbal cures when the drugs don't work'. As the subject is undoubtedly relevant to this blog and as the Times is a highly respected newspaper, I think this might be important and will therefore comment (in normal print) on the full text of the article (in bold print):
GPs are increasingly dissatisfied with doling out pills that do not work for illnesses with social and emotional roots, and a surprising number of them end up turning to alternative medicine.
What a sentence! I would have thought that GPs have always been 'dissatisfied' with treatments that are ineffective. But who says they turn to alternative medicine in 'surprising numbers' (our own survey does not confirm the notion)? And what is a 'surprising number' anyway (zero would be surprising, in my view)?
Charlotte Mendes da Costa is unusual in being both an NHS GP and a registered homeopath. Her frustration with the conventional approach of matching a medicine to a symptom is growing as doctors increasingly see the limits, and the risks, of such a tactic.
Do we get the impression that THE TIMES does not know that homeopathy is not herbal medicine? Do they know that 'matching a medicine to a symptom' is what homeopaths believe they are doing? Real doctors try to find the cause of a symptom and, whenever possible, treat it.
She asks patients with sore throats questions that few other GPs pose: "What side is it? Is it easier to swallow solids or liquids? What time of day is it worst?" Dr Mendes da Costa is trying to find out which homeopathic remedy to prescribe. But when NHS guidance for sore throats aims mainly to convince patients that they will get better on their own, her questions are just as important as her prescription.
This section makes no sense. Sore throats do get better on their own, that's a fact. And empathy is not a monopoly of homeopaths. But Dr Mendes Da Costa might be somewhat detached from reality; she once promoted the nonsensical notion that "up to the end of 2010, 156 randomised controlled trials (RCTs) in homeopathy had been carried out with 41% reporting positive effects, whereas only 7% have been negative. The remainder were non-conclusive." (see more on this particular issue here)
"It's very difficult to disentangle the effect of listening to someone properly, in a non-judgmental way, and taking a real rather than a superficial interest," she says. "With a sore throat [I was trained] really only to be interested in, 'Do they need antibiotics or not?' "
In this case, she should ask her money back; her medical school seems to have been rubbish in training her adequately.
This week a Lancet series on back pain said that millions of patients were getting treatments that did them no good. A government review is looking into how one in 11 people has come to be on potentially addictive drugs such as tranquillisers, opioid painkillers and antidepressants.
Yes, and how is that an argument for homeopathy? It isn't! It seems to come from the textbook of fallacies.
And this week a BMJ Open study found that GPs with alternative training prescribed a fifth fewer antibiotics.
That study was akin to showing that butchers sell less vegetables than green-grocers. It provided no argument at all for implying that homeopathy is a valuable therapy.
Doctors seem receptive to alternative approaches: in a poll on its website 70 per cent agreed that doctors should recommend acupuncture to patients in pain. The Faculty of Homeopathy now counts 400 doctors among its 700 healthcare professional members.
Wow! Does the Times journalist know that the 'Faculty of Homeopathy' is primarily an organisation for doctor homeopaths? If so, why are these figures anything to write home about? And does the author appreciate that the pole was open not just to doctors but to to anyone (particularly those who were motivated, like acupuncturists)?
This horrifies many academics, who say that there is almost no evidence that complementary therapies work.
It horrifies nobody, I'd say. It puzzles some people, and not just academics. And their claim of a lack of sound evidence is evidence-based.
"It's a false battle", says Michael Dixon, a GP who chairs the College of Medicine, which is trying to broaden the focus on treatment to patients' whole lives. "GPs are practical. If a patient gets better that's all that matters."
Here comes the inevitable Dr Dixon (the 'pyromaniac in a field of straw-men') with the oldest chestnut in town. But repeating a nonsense endlessly does not render it sensible.
Dr Dixon says there are enormous areas of illness ranging from chronic pain to irritable bowels where few conventional treatments have been shown to be particularly effective, so why not try alternatives with fewer side effects?
Unable to diagnose and treat adequately, let's all do the next worst thing and apply some outright quackery?!? Logic does not seem to be Dixon's strong point, does it?
He recommends herbal remedies such as pelargonium — "like a geranium, quite a pretty little flower" — acupressure, and techniques such as self-hypnosis. To those who say these are placebos he replies: so what?
So what indeed! There are over 200 species of pelargonium; only 2 or 3 of them are used in herbal medicine. I don't suppose Dr Dixon wants to poison us?
"Aromatherapy does work, but only if you believe in it, that's the way you have to look at it, like a mother kissing knees better." He continues: "We are healers. That's what we do as doctors. You can call it theatrical or you can call it a relationship. A lot of patients come in with a metaphor — a headache is actually unhappiness — and the treatment is symbolic."
It frightens me to know that there are doctors out there who think like this!
What if a patient is seriously ill?
A cancer is a metaphor for what exactly?
As doctors, we have the ethical duty to apply BOTH the science and the art of medicine, BOTH efficacious, evidence-based therapies AND compassion. Can I be so bold as to recommend our book about the ethics of alternative medicine to Dixon?
Such talk makes conventional doctors very nervous. Yet acupuncture illustrates their dilemma. It used to be recommended by the NHS for back pain because patients did improve. Now it is not, after further evidence suggested that patients given placebo "sham acupuncture" did just as well.
No, acupuncture used to be recommended by NICE because there was some evidence; when subsequently more rigorous trials emerged showing that it does NOT work, NICE stopped recommending it. Real medicine develops – it's only alternative medicine and its proponents that seem to be stuck in the past and resist progress.
Martin Underwood, of the University of Warwick, asks: "So are you going to say, 'Well, patients get better than they would do otherwise'? Or say it's all theatrical placebo because it shows no benefit over sham treatment? That's the question for society."
Society has long answered it! The answer is called evidence-based medicine. We are not content using quackery for its placebo response; we know that effective treatments do that too, and we want to make progress and improve healthcare of tomorrow.
Although many doctors agree that they need to look at patients more broadly, they insist they do not need to turn to unproven treatments. The magic ingredient, they say, is not an alternative remedy, but time. Helen Stokes-Lampard, chairwoman of the Royal College of GPs, said: "Practices which offer alternative therapies tend to spend longer with patients . . . allowing for more in-depth conversations."
---
I am sorry, if this post turned into a bit of a lengthy rant. But it was needed, I think: if there ever was a poorly written, ill focussed, badly researched and badly argued article on alternative medicine, it must be this one.
Did I call the Times a highly respected paper?
I take it back.