I have discovered 'Google Scholar'!
Yes, of course, I knew about it, but I never used it much. In particular, I did not know it has a huge page just on me. So I had a good look at it (who would be able to resist?) and found many things of interest – for instance, the fact that (as of yesterday) my papers have been cited a total of 86 759 times, and that 4 of them have been cited more that a thousand times.
Here they are:
Two things are perhaps noteworthy here, I feel:
Only 2 of the 4 papers are on research in so-called alternative medicine (SCAM).
In the 4th paper, they forgot to add Barrie Cassileth who was its co-author.
Scanning my own articles, the real revelation was how much I owe to others, how many co-workers I have had, how many of them I had completely forgotten about, and how many have already gone forever.
So, allow me to take this opportunity to honour those who have passed away (in the order they appear on the page).
ARPAD MATRAI was a brilliant scientist, Olympic swimmer for Hungary, and close friend. He came to London in 1980 to work in my lab. After I had left, I attracted him to Munich where we had several hugely productive years together – until he died of leukaemia in 1988.
JOHN DORMANDY see here.
VERONIKA FIALKA was my senior registrar in Vienna and became a good friend. After I had left Vienna, she took over my position as head of the department. We then somehow lost contact and, one day, I received the sad news of her early death.
NASSIM KANJI was my PhD student at Exeter. She did very well, and we published several papers on autogenic training together.
PETER FISHER see here.
GEORGE LEWITH see here.
CHRIS SILAGY was a brilliant GP and researcher. We did not have much contact except for one paper we had together.
JOHN GARROW see here.
ANDREW HERXHEIMER see here.
WALLACE SAMPSON was a famous and brilliant US sceptic. We had various contacts and shared one paper.
P T FLUTE was head of haematology at St George's Hospital, London while I worked there. I remember him as kind and supportive.
I owe more gratitude to these (and all my other) co-authors than I will ever be able to express.
Already in 2017, the Russian Academy of Sciences (RAS) had issued a statement saying that "The principles of homeopathy contradict known chemical, physical and biological laws and persuasive scientific trials proving its effectiveness are not available."Now Russia's 'Commission against Pseudoscience' called homeopathy a "pseudoscience" whose effectiveness hasn't been proven, which is harmful to patients because they spend money and time on ineffective treatments.Since 1995, qualified doctors who are also trained in homeopathy have been licensed to practice homeopathic medicine in Russian hospitals and clinics, and their practice has been regulated. However, the Commission has now recommended that Russia's Ministry of Health forbid doctors from prescribing homeopathic medicine and ban the homeopathic medicines themselves from state medical institutions. "Homeopathy is not harmless: patients spend a lot of money on drugs that don't work and neglect means of treatment with proven effectiveness. This can lead to adverse outcomes, including death of the patient," the Commission wrote.

In response to the recommendation, the health ministry announced the formation of a working group of medical experts to suggest proposals for further regulation of homeopathy. A spokesman said that medicines whose efficiency is not clinically proven should not be procured using public funds, nor prescribed to treat the sick.

Russia has proved a profitable market for foreign suppliers of homeopathic medicine such as French company Boiron, which opened its Russian subsidiary in 2005. "Today, the Russian market is our company's fourth largest in terms of turnover, after France, the US and Italy. Russia has always been interesting for Boiron because of the large population, and a relatively high incidence of illness and lower level of medicine consumption in comparison with Europe," general director of Boiron in Russia Irina Nikulina said.

According to figures from Russian pharmaceutical market analysts DSM Group, Boiron sold 35 percent of all the homeopathic medicine sold in Russia last year, or 2.88 billion rubles (USD 49.5 million) worth of medicine. Boiron produces Russia's most popular homeopathic medicine, called Oscillococcinum, which is marketed to relieve flu symptoms and accounted for 18.98 percent of all homeopathic medicines sold in 2016.

__________________________

The many international initiatives aimed at minimising the harm done by homeopathy are slowly beginning to yield results. It took many years for politicians to realise that the supposedly harmless homeopathy is, in fact, not harmless at all. Homeopathy causes harm by:
wasting people's money,
distracting patients from effective treatments,
the ill-conceived advice homeopaths give to patients,
making a mockery of evidence-based medicine,
violating the principles of medical ethics,
undermining rational thinking in society.
One therefore has to applaud Russia's 'Commission against Pseudoscience', hope that the working group does produce robust advice, and support similar initiatives in other countries.
As parts of Australia are going back into lock-down because of the increasingly high COVID-19 infection rates, the Chiropractic Board of Australia (CBA) has issued a statement on chiropractors' claims regarding immunity:
The Board is particularly concerned that during the ongoing COVID-19 pandemic there are claims in advertising that suggest spinal adjustments and/or manipulation can boost or improve general immunity or the immune system.
There is insufficient acceptable evidence to support such claims in advertising. Acceptable evidence mostly encompasses empirical data from formal research or systematic studies, in the form of peer-reviewed publications. Information about what constitutes acceptable evidence for advertising can be found in the Advertising resources section of the Ahpra website.
Advertising that there is a relationship between manual therapy (e.g. spinal adjustments and/or manipulation) and achieving general wellness or boosting or improving immunity contravenes the National Law and the Guidelines for advertising regulated health services.
Although many claims do not directly reference spinal adjustments and/or manipulation preventing or protecting from COVID-19, there is currently greater awareness of immunity issues and the public is seeking information on ways to prevent or protect themselves from the disease. Consequently, there is a greater risk that claims about spinal adjustments and/or manipulation boosting or improving general immunity may be interpreted to be claims about boosting or improving immunity to COVID-19.
Making claims in advertising that spinal adjustments and/or manipulation can boost or improve general immunity or the immune system is likely to result in regulatory action being taken by the Board.
__________________________________
"… IS LIKELY TO RESULT IN REGULATORY ACTION …"???
Come on, pull the other one!
Bogus claims have been made by chiropractors since ages.
Bogus claims are what chiropractors thrive on.
Without them, they would go bust.
Every now and then some regulator makes some noises reminding chiropractors that bogus claims are bogus. But have they EVER taken any action?
Have they ever even INTENDED to take action?
I doubt it.
In fact, statements of this nature seem to be the chiropractic way of sanctioning false claims. The somewhat paradoxical way this works is as follows: chiropractors make bogus claims all the time; we all got so much used to them that hardly anyone bats an eyelash. But every now and then the bogus nature of the claims become noticeable to the wider public – like now with COVID-19 – and some people or organisations take offence. This is clearly not good for the chiro-business or image. Therefore, the professional chiro organisations step in by issuing a statement – like the one above – condemning the claims and threatening action. All the chiros know, of course, what this is about and change absolutely nothing. The desired effect is guaranteed: chiros can carry on as before, but the image is saved and the business can continue.
I very much doubt that, in the coming weeks, the CBA will do much about the many Australian chiropractors who will continue to mislead the public about COVID-19 or any other issues.
Nice window dressing perhaps, but no substance at all.
If you disagree with my view, please send me the details of any decisive regulatory action which the CBA took regarding immunity claims, and I will delete this post.
In 2015, the Hungarian Academy of Sciences stated that "Homeopathic remedies don't meet the criteria of evidence based medicine"  and that homeopathic products should follow the same strict scientific standards as conventional drugs. In 2017, the Scientific Advisory Board of European Academies (EASAC) concluded that there is no substantial evidence that homeopathy works and may even be harmful to our health.
Now, Hungary is about to act. New regulation is tightening the marketing of homeopathic products in Hungary. From Wednesday this week, homeopathic remedies can only be distributed in Hungary without a therapeutic indication or claim. The reason for this move is that none of the products' efficacy have been adequately confirmed by rigorous clinical trials.
In a statement, the Hungarian National Institute of Pharmacy and Nutrition (OGYÉI) said the changes are due to a law amendment that came into effect last year. The new regulation only allows homeopathic medicines with therapeutic indications authorized before Hungary's accession to the EU (2004), to be marketed after July 1, 2020, if they have complied with the EU regulations on the marketing of these medicines.
Currently, Hungary has no homeopathic product with therapeutic efficacy proven in clinical trials. The product license of homeopathic products – in compliance with the legislation of the European Union – can be obtained by two different procedures in Hungary. The so-called simplified procedure can be used for "high-dilution products" marketed without a therapeutic indication, in which case the effectiveness of the product does not need to be certified.
The "normal" procedure is applicable to homeopathic medicinal products marketed for a therapeutic indication, in which case, just as any other medicinal products, therapeutic efficacy must be clinically proven. OGYÉI emphasized that from July 1st, the advertising of marketable homeopathic remedies may only contain the label text of the product, no additional information.
The move by the Hungarian authorities is, of course, most welcome. It brings Hungary finally in line with the rest of the EU. The many enthusiasts of homeopathy will no doubt suspect a worldwide conspiracy against homeopathy. If so, they merely disclose how far they have put their heads into the sand. Such measures are nothing but the long overdue actions towards abolishing double standards that have existed far too long and have helped nobody except the homeopathic industry.
Amongst all the many bizarre treatments so-called alternative medicine (SCAM) has to offer, distant healing is probably one of the least plausible. Essentially, it involves healers sending healing 'energy' to far remote patients. This energy is then supposed to stimulate the patients' ability to heal themselves.
In my recent book, I summarise it as follows:
Distant healing is a form of 'energy healing' where the healer operates at a distance from the patient. This distance can be considerable; proponents of distant healing see no obstacle in healing even over very large distances.
The term 'energy' must be put in inverted commas, because the underlying concepts have nothing in common with the energy defined in physics. Real energy is measurable and quantifiable.
'Energy' as used in alternative medicine describes a nebulous concept of a life-force that originates from the obsolete notions of vitalism. This type of 'energy' is neither measurable nor quantifiable.
In distant healing, the healer, who often works for free, sends 'healing energy' across space in the belief that it is received by the patient and thus stimulates her self-healing potential. This process does not require the physical presence of the patient.
Proponents of distant healing offer various modes of action for their treatment; some claim, for instance, that quantum physics provides a scientific explanation as to how it works.
The assumptions that underpin distant healing are not biologically plausible.
There has been some research testing whether distant healing is effective. Most of the studies available to date have serious methodological flaws. One review of 8 clinical trials showed that the majority of the rigorous trials do not to support the hypothesis that distant healing has specific therapeutic effects. The results of two studies furthermore suggest that distant healing can be associated with adverse effects.[1] And another review concluded that the evidence to date does not yet provide confidence in its clinical efficacy.[2]
Reading the literature published by proponents of distant healing, one cannot help but being impressed by the amount of pseudo-scientific language that is being employed to mislead the reader.
[1] https://www.ncbi.nlm.nih.gov/pubmed/12778776
[2] https://www.ncbi.nlm.nih.gov/pubmed/26665044
Considering its implausibility, it hardly comes as a surprise that Prof Walach studied distant healing in some detail. In fact, he published three studies of it:
2001: Chronically ill patients treated by spiritual healing improve in quality of life: results of a randomized waiting-list controlled study. Wiesendanger H, Werthmüller L, Reuter K, Walach H.
Objective: Little is known about the effects of distant healing in chronically ill patients, the population most likely to see a healer in practice. This study investigated whether distant healing as found in normal practice with patients representative of those seeking treatment from healers changes patients' quality of life substantially.
Method: Randomized, waiting-list controlled study of distant healing (anonymous, amulet, and allowing for personal contact) in chronically ill patients.
Outcome measure: Patient-reported quality of life as expressed by the sum of all MOS SF-36 health survey items.
Results: Sixty patients were treated by various methods of distant healing over 5 months; 59 patients were put on a waiting list (control). Quality of life improved significantly (p < 0.0005) in the treated group (10 points), while it remained stable in the control group. Positive expectation was significantly correlated with outcome.
Conclusion: Chronically ill patients who want to be treated by distant healing and know that they are treated improve in quality of life.
2002: Distant Healing and Diabetes Mellitus. A Pilot Study M Ebneter 1, M Binder, O Kristof, H Walach, R Saller
Background: The Institut für Grenzgebiete der Psychologie und Psychohygiene, Freiburg (IGPP) in cooperation with the Abteilung Naturheilkunde, University Hospital, Zürich investigated whether Distant Healing has a beneficial effect on patients with diabetes mellitus regarding the state of the disease and quality of life.
Objective: The goal of the pilot study was to observe the progression of the disease with various medical and psychological measures and to explore which of them might be sensitive for measuring possible treatment effects.
Patients and methods: 14 diabetic patients were observed for a period of 16 weeks. Within this time they underwent a treatment of 4 consecutive weeks (weeks 9-12) by 5 experienced and trustworthy healers each. Patients were informed about the duration of the treatment but not about the time point of its beginning. Patients and healers never met and there was no contact between researchers and patients during the study period.
Results: With regard to medical parameters, reduction in fructosamine level was observed during the healing period, increasing fructosamine level after the end of the healing period. Sensitivity, measured only at the beginning and at the end of the study period, decreased significantly. The other parameters showed some significant changes but there was no correlation to the Distant Healing intervention. Regarding the psychological data, only improvements were observed.
Conclusions: The results indicate the possibility that a Distant Healing intervention could have certain effects on patients with diabetes mellitus.
2008: Effectiveness of Distant Healing for Patients With Chronic Fatigue Syndrome: A Randomised Controlled Partially Blinded Trial (EUHEALS) Harald Walach 1, Holger Bosch, George Lewith, Johannes Naumann, Barbara Schwarzer, Sonja Falk, Niko Kohls, Erlendur Haraldsson, Harald Wiesendanger, Alain Nordmann, Helgi Tomasson, Phil Prescott, Heiner C Bucher
Background: Distant healing, a form of spiritual healing, is widely used for many conditions but little is known about its effectiveness.
Methods: In order to evaluate distant healing in patients with a stable chronic condition, we randomised 409 patients with chronic fatigue syndrome (CFS) from 14 private practices for environmental medicine in Germany and Austria in a two by two factorial design to immediate versus deferred (waiting for 6 months) distant healing. Half the patients were blinded and half knew their treatment allocation. Patients were treated for 6 months and allocated to groups of 3 healers from a pool of 462 healers in 21 European countries with different healing traditions. Change in Mental Health Component Summary (MHCS) score (SF-36) was the primary outcome and Physical Health Component Summary score (PHCS) the secondary outcome.
Results: This trial population had very low quality of life and symptom scores at entry. There were no differences over 6 months in post-treatment MHCS scores between the treated and untreated groups. There was a non-significant outcome (p = 0.11) for healing with PHCS (1.11; 95% CI -0.255 to 2.473 at 6 months) and a significant effect (p = 0.027) for blinding; patients who were unblinded became worse during the trial (-1.544; 95% CI -2.913 to -0.176). We found no relevant interaction for blinding among treated patients in MHCS and PHCS. Expectation of treatment and duration of CFS added significantly to the model.
Conclusions: In patients with CFS, distant healing appears to have no statistically significant effect on mental and physical health but the expectation of improvement did improve outcome.
So, Walach first conducted an RCT and found that patients who were told that they received the healing experienced improvements. These improvements were therefore due to the expectations of these patients and had nothing to do with the distant healing per se. Next Walach conducted a study with diabetics and found that distant healing might have some significant effects. This study not only lacked a control group but its sample size was also tiny. Therefore, he called it a 'pilot study' and never followed it up with a proper trial with diabetic patients – all in the good old SCAM tradition of abusing the term. Finally, Walach conducted a multi-centre RCT with 409 CFS-patients and found that distant healing is ineffective. Subsequently, he seems to have stopped initiating further studies of distant healing.
The sequence of publications is remarkable on several levels. To me, it demonstrates the importance of running a proper trial at the outset of conducting research into a subject. This avoids wasting resources and betraying the trust of patients in clinical research. To a more hard-nosed sceptic, it would probably prove how utterly futile it usually is to conduct any studies of treatments that are too implausible for words.
But the story also reveals something more intriguing. I think it displays the mindset of a pseudoscientist in an exemplary fashion. Walach conducted three studies of distant healing. They were all very different in design, patient population, outcome, etc. But they all are entirely consistent with what both common sense and science would have told even the most open-minded scientist: distant healing is neither plausible nor effective beyond placebo. Yet Walach seems to refuse drawing such a conclusion. His last publication on the subject was a qualitative analysis of some of the data from his CFS-RCT. In it he states that our results support data that imply the existence of a psychophysical pathway in healing through spiritual rituals…
If your own studies fail to that a therapy works would you then use weasel-words to promote the idea that your results support data that imply the existence of a psychophysical pathway in healing through spiritual rituals? Or would you openly declare that the therapy in question is useless and therefore potentially dangerous?
Perhaps this is the difference between a scientist and a pseudoscientist?
When I previously wrote about Pranic Healing I boldly asked whether it is a hoax. This prompted several furious reactions of believers who thought my question was insulting. Meanwhile, I informed myself more thoroughly and am happy to confirm that Pranic Healing is not a hoax at all. In fact, it is much worse.
What, you forgot what Pranic Healing is?
How could you?
According to one website, Pranic Healing is a
no touch, non-invasive healing technique that was founded by Grand Master Choa Kok Sui. It is a synthesis of healing techniques from ancient China, Tibet and India in which Prana is used to heal a wide variety of illnesses. Pranic Healing is not only used to cure illness or physical ailments but also can be cure person of his psychological ailments. To be very simple in this computer age as the computer contains the hardware and the software. In human body hardware is our physical body and the software's are the Human emotions which includes Anger, Grief, Anxiety, Stress , fatigue, our karmas, pride, fear, Phobias and many more.
These human viruses affect the physical body of a person. In Pranic healing Grand Master Choa kok Sui has taught to remove these negative emotions from our system in a very simple but powerful and effective way. Grand Master Choa Kok Sui did lot of research and experiment for treating different diseases and ailments and made is very simple so that anybody can learn it. Today Pranic healing is taught and practiced in more than 80 countries of the world and its books are available in more than 34 languages. Pranic Healing is not intended to replace orthodox western medicine, but rather to complement it. Countless people and their families have been treated and are enjoying a better quality of life through Pranic Healing.
'Grand Master' Choa was born August 15, 1952, in the Philippines. His parents were of Chinese descent and became successful business people. Choa was raised in this environment of business and absorbed its lessons only too well. Sadly, he seemed to have been immune to his own healing innovation, as he died young in 2007. But his Pranic Healing empire lives on and today it is a hugely profitable business.
Prana Crystals sell a wide range of products, for instance 'healing wants' which they advertise as follows:
Healing Wands made from various stones and crystals have been used round the globe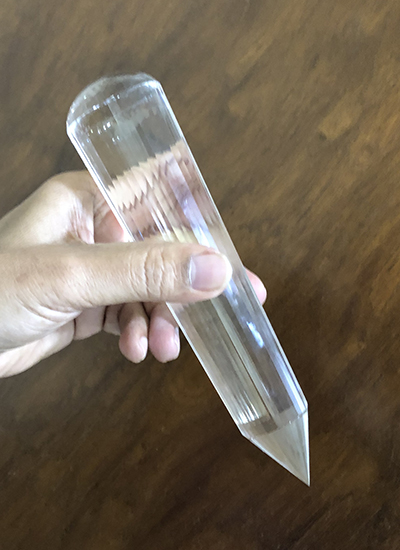 for healing purposes since ages. They help in cleansing of the entire body or aura or they can also be used to heal an affected part of the body or chakra. These wands can also be used for massaging purpose. They absorb the negative energy and release stress and pressure and help in transferring the positive energy of the stone. Healing Wands are available in variety of stones and crystals in different sizes. Each one of them have specific characteristics and uses. We have a variety of Wands available to meet your requirements.
My favourite wand is the one pictured on the right here. It is the Rolls Royce of all the wands on offer and therefore it can obviously not come cheap. But at US$ 1999 (yes, one thousand nine hundred and ninety-nine American dollars) it is still a bargain, because it rids you of all the diseases and negative energy that you can dream of.
During my recent crash course in Pranic Healing, I came across dozens of websites, hundreds of testimonials, uncounted comments and a plethora of curious things. Let me share just one of them with you:
Pranic Weight Loss Body Sculpting Face Lift is a fascinating area of the applications of the teachings of Master Choa Kok Sui for health and beauty. This workshop helps you look prettier and loose weight without surgery, exhausting exercises and medicine, just by using the knowledge of subtle energy.
Using specific combination of colour pranas and techniques, your skin can look 10 to 20 years younger. In fact the lines and wrinkles of the face are storage of negative and unpleasant feelings and experiences such as anger, fear and grief. When this emotional garbage is cleared and released, the face will look younger, brighter and revitalized.
Certain colour Pranas have the power to disintegrate and remove fat, wrinkles and lines from your system to create a healthier and better-looking body. In fact the lines and wrinkles of the face are storage of negative and unpleasant feelings and experiences such as anger, fear and grief. When this emotional garbage is cleared and released, the face will look younger, brighter and revitalized.
No, Pranic Healing is most certainly not  hoax, and I was wrong to imply it. My sincere apologies! It is pure and simple exploitation of  vulnerable people who have not had the opportunity to learn how to think critically.
Aromatherapy is currently one of the most popular of all alternative therapies. It consists of the use of essential oils for medicinal purposes. Aromatherapy usually involves the application of diluted essential oils via a gentle massage of the body surface. Less frequently, the essential oils are applied via inhalation. The chemist Rene-Maurice Gattefosse (1881-1950) coined the term 'aromatherapy' after experiencing that lavender oil helped to cure a serious burn. In 1937, he published a book on the subject: Aromathérapie: Les Huiles Essentielles, Hormones Végétales. Later, the French surgeon Jean Valnet used essential oils to help heal soldiers' wounds in World War II.
This Iranian study aimed to investigate the effect of inhalation aromatherapy with damask rose essence on pain and anxiety in burn patients. This three group clinical trial was conducted on 120 patients with burns less than 30% of total body surface area (TBSA). The patients were randomly allocated into three groups, aromatherapy damask rose essence, placebo, and control. The pain intensity was assessed using visual analogue scale prior to intervention, immediately before, and 15 min after dressing. Anxiety was measured using Spielberger Inventory at before intervention and 15 min after dressing, also the prolonged effect of intervention on pain was assessed by number of the analgesics drugs received for four hours after dressing change. The intervention included inhalation of 6 drops of 40% damask rose essential oil in the damask group, and six drops of distilled water in placebo group one hour before dressing change. The control group received no additional intervention. All groups also received standard care.
Baseline state-trait anxiety and pain intensity were similar in these three groups. A significant reduction was found in pain intensity immediately before and after dressing and state anxiety after dressing in the damask group compared to the placebo and control groups. The researchers found no significant difference between the placebo and control groups in terms of these variables at these times. No significant difference was noted among the three groups in frequency of analgesics drugs and trait anxiety after intervention.
The authors concluded that inhaled aromatherapy with Damask rose essence reduces subjective pain intensity and state anxiety in burned patients. Therefore, it is recommended considering use of damask rose essence, as an easy and affordable method along with other treatments.
These are interesting findings for sure. Aromatherapy is far less implausible than many other so-called alternative medicines (SCAMs). It furthermore has the advantages of being safe and inexpensive.
I have no reason to doubt the validity of the study. Yet, I nevertheless think it is prudent to insist on an independent replication before issuing a general recommendation.
When tested rigorously, the evidence for so-called alternatives medicine (SCAM) is usually weak or even negative. This fact has prompted many SCAM enthusiasts to become utterly disenchanted with rigorous tests such as the randomised clinical trial (RCT). They seem to think that, if the RCT fails to generate the findings we want, let's use different methodologies instead. In other words, they are in favour of observational studies which often yield positive results.
This line of thinking is prevalent in all forms of SCAM, but probably nowhere more so that in the realm of homeopathy. Homeopaths see that rigorous RCTs tend not to confirm their belief and, to avoid cognitive dissonance, they focus on observational studies which are much more likely to confirm their belief.
In this context, it is worth mentioning a recent article where well-known homeopathy enthusiasts have addressed the issue of observational studies. Here is their abstract:
Background: Randomized placebo-controlled trials are considered to be the gold standard in clinical research and have the highest importance in the hierarchical system of evidence-based medicine. However, from the viewpoint of decision makers, due to lower external validity, practical results of efficacy research are often not in line with the huge investments made over decades.
Method: We conducted a narrative review. With a special focus on homeopathy, we give an overview on cohort, comparative cohort, case-control and cross-sectional study designs and explain guidelines and tools that help to improve the quality of observational studies, such as the STROBE Statement, RECORD, GRACE and ENCePP Guide.
Results: Within the conventional medical research field, two types of arguments have been employed in favor of observational studies. First, observational studies allow for a more generalizable and robust estimation of effects in clinical practice, and if cohorts are large enough, there is no over-estimation of effect sizes, as is often feared. We argue that observational research is needed to balance the current over-emphasis on internal validity at the expense of external validity. Thus, observational research can be considered an important research tool to describe "real-world" care settings and can assist with the design and inform the results of randomised controlled trails.
Conclusions: We present recommendations for designing, conducting and reporting observational studies in homeopathy and provide recommendations to complement the STROBE Statement for homeopathic observational studies.
In their paper, the authors state this:
It is important to realize three areas where observational research can be valuable. For one, as already mentioned, it can be valuable as a preparatory type of research for designing good randomized studies. Second, it can be valuable as a stand-alone type of research, where pragmatic or ethical reasons stand against conducting a randomized study. Additionally, it can be valuable as the only adequate method where choices are involved: for instance, in any type of lifestyle research or where patients have very strong preferences, such as in homeopathy and other CAM. This might also lead to a diversification of research efforts and a broader, more realistic, picture of the effects of therapeutic interventions.
My comments to this are as follows:
Observational research can be valuable as a preparatory type of research for designing good randomized studies. This purpose is better fulfilled by pilot studies (which are often abused in SCAM).
Observational research can be valuable as a stand-alone type of research, where pragmatic or ethical reasons stand against conducting a randomized study. Such situations rarely arise in the realm of SCAM.
Observational research can be valuable as the only adequate method where choices are involved: for instance, in any type of lifestyle research or where patients have very strong preferences, such as in homeopathy and other CAM. I fail to see that this is true.
Observational research leads to a diversification of research efforts and a broader, more realistic, picture of the effects of therapeutic interventions. The main aim of research into the effectiveness of SCAM should be, in my view, to determine whether the treatment per se works or not. Observational studies are likely to obscure the truth on this issue.
Don't get me wrong, I am not saying that observational studies are useless; quite to the contrary, they can provide very important information. But what I am trying to express is this:
We should not allow double standards in medical research. The standards and issues of observational research as they exist in conventional medicine must also apply to SCAM.
Observational studies cannot easily determine cause and effect between the therapy and the outcome.
Observational studies cannot be a substitute for RCTs.
Depending on their exact design, observational studies measure the outcome caused by a whole range of factors, including the therapy per se, the placebo-effect, the natural history of the disease, the regression towards the mean.
Observational studies are particularly useful in effectiveness research, AFTER the efficacy of a therapy has been established by RCTs.
If RCT fail to show that a therapy is effective and observational studies seem to indicate that they work, the therapy in question is probably a placebo.
SCAM-enthusiasts' preference for observational studies is transparently due to motivated reasoning.
I started my full-time research into so-called alternative medicine (SCAM) at Exeter in 1993. It became soon clear to me that the most urgent subject to investigate was the safety of SCAM. Safety is more important than efficacy for treatments that are already out there. My decision to prioritise safety quickly led to the bewilderment of the SCAM community. They pointed out that SCAM was safe and that the true risks in healthcare were with conventional medicine. Belief was strong, but data were scarce.
My counter arguments therefore were:
Safety is too important a subject to leave it to belief, and we need evidence.
SCAM is hugely popular and it was my ethical duty to provide data on safety.
The SCAM community were unconvinced by my logic. But that did not stop me.
In the course of dozens of investigations, we then found that adverse effects of SCAM do exist and some can be quite dramatic. Again, I was told that this might be so, but the real dangers surely lie elsewhere, namely in conventional medicine.
Meanwhile, I began to find that, while the direct risks of SCAM were real, the indirect risks were much more important. During virtually every talk I gave and in most papers I published, I started including this message:
EVEN A HARMLESS SCAM WILL BECOME LIFE-THREATENING, IF IT IS USED AS AN ALTERNATIVE TO CONVENTIONAL CARE FOR A SERIOUS CONDITION.
Even though the statement seems quite clear, it does not really capture the complexity of the issues involved. Let's take (yet again) the example of homeopathy (because it is one of the most clear-cut cases).
The remedy is normally harmless; after all it contains nothing. Therefore, there are no or very few adverse effects. If a patient is naïve enough to use homeopathy in an attempt to cure a life-threatening condition, it is hardly the fault of homeopathy – at least this is what some defenders of the homeopathic realm claim. So why blame homeopathy?
Indeed, this could be unfair, because then we would have to say that water is dangerous because you can easily kill yourself with it.
But the water companies do not recommend abusing water for suicidal purposes!
And homeopaths do unquestionably recommend homeopathy for serious conditions!
So, it is not the remedy and not homeopathy itself that makes it dangerous. What makes it risky is the combination of two things:
the inertness of the remedy
the unsubstantiated claims that are being made for it.
The two together create a potentially deadly mixture. Without false claims, nobody could classify homeopathy as life-threatening. Due to the plethora of false claims, nobody can reasonably deny that it is.
What follows is simple, I think: one would only need to stop the claims. Subsequently, homeopathy – and many other forms of SCAM – could be classified as harmless (yes, I know, this is purely theoretical because in practice this will never happen). They would still be ineffective, of course, but safety was and is the priority.
In 2012, we evaluated the efficacy/effectiveness of lavender for the reduction of stress/anxiety.
Our systematic review included 15 RCTs. Two trials scored 4 points on the 5-point Jadad scale, the remaining 13 scored two or less. Results from seven trials appeared to favour lavender over controls for at least one relevant outcome. We concluded that methodological issues limit the extent to which any conclusions can be drawn regarding the efficacy/effectiveness of lavender. The best evidence suggests that oral lavender supplements may have some therapeutic effects. However, further independent replications are needed before firm conclusions can be drawn.
Since 2012, more evidence has emerged. The latest study on the subject aimed to investigate the effects of lavender oil on sleep and quality of life of menopausal women through steam inhalation. It was quasi-experimental with pre-test/post-test placebo control groups. It was conducted with 57 women, 27 of whom were subject to aromatherapy and 30 to a placebo. Data were collected using the Questionnaire Form, the Pittsburgh Sleep Quality Index (PSQI) and the Menopause-Specific Quality of Life Questionnaire (MENQOL).
For the intervention group, the PSQI median scores after the administration of aromatherapy were found to be significantly lower than those before the administration (p < 0.001) and those of the placebo group (p < 0.001). Similarly, for the intervention group, the total median MENQOL scores after the administration of the aromatherapy were found to be significantly lower than the scores prior to the administration (p < 0.001) as well as the scores of the placebo group (p < 0.001).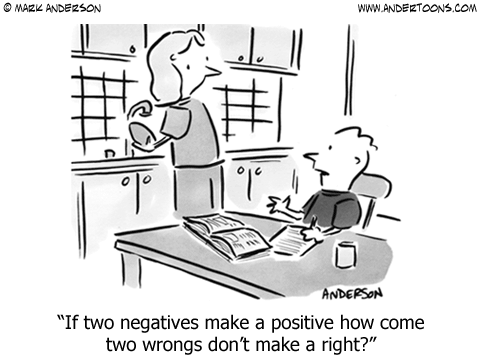 The authors of the new study concluded that that aromatherapy involving lavender-scented steam inhalation increased sleep quality and quality of life in women with sleep deprivation problems during menopause.
Hurray, this seems to be a decent trial with a positive result for SCAM!
And why not? It is not at all implausible that lavender has hypnotic effects. There are now quite a few reasonably sound trials that suggest it works. Moreover, it is safe and not very expensive (or even free, if you can grow it yourself).
I for one am more than happy to report a positive finding for a SCAM and merely regret that I cannot do so more often.
If you want to be able to edit your comment for five minutes after you first submit it, you will need to tick the box: "Save my name, email, and website in this browser for the next time I comment."