Yesterday, I was interviewed and filmed by a Canadian TV-journalist. Even though the subject was osteopathy (apparently, in Canada, osteopathy is strong and full of woo), we found ourselves talking about 'oil pulling'. I knew next to nothing about this alternative therapy, but learnt that it was big in North America. When the TV-crew had left my home, I therefore read up about it. I must admit, I was more than a little sceptical about the therapy – not least because I soon found articles by fellow sceptics that were less than complimentary – but, as I studied the original research on oil pulling, my scepticism somewhat waned.
So, what is oil pulling? It is the use of oil for swishing it around your mouth for alleged health benefits. Here are several short points that might explain it more fully:
Oil pulling is said to have roots that reach back to ancient Hindu texts. Coconut or sesame oils are usually employed for this therapy.
The mechanism of action (if there is one at all) is poorly understood, and several theories have been put forward:
Alkali hydrolysis of fat results in saponification or "soap making" process. Since the oils used for oil pulling contain fat, the alkali hydrolysis process emulsifies the fat into bicarbonate ions, normally found in the saliva. Soaps then blend in the oil, increase the surface area of the oil, and thus cleanse the teeth and gums.
A second theory suggests that the viscous nature of the oil inhibits plaque accumulation and adhesion of bacteria.
A third theory holds that the antioxidants present in the oil prevent lipid peroxidation, resulting in an antibiotic-like effect helping in the destruction of microorganisms.
Oil pulling is recommended to be carried out in the morning on an empty stomach. About 10 ml of oil is swished between the teeth for a duration of approximately 15-20 min and spat out. This ritual should be followed by rinsing and tooth brushing. The practice should be repeated regularly, even three times daily for acute diseases.
To my surprise, oil pulling has been tested in clinical trials. Some of these investigations seem reasonably sound and suggest that coconut oil pulling reduces potentially harmful bacteria in the mouth.[1] This effect has been shown to lead to a reduction in dental plaque formation[2] , halitosis (bad breath) [3] and gingivitis. [4]
The evidence for these oral effects is by no means strong, but I have not found studies that show negative results.
Dentists – even the bizarre species of 'holistic dentists' – do not seem to be balled over by oil pulling (some malicious minds might speculate that this is so because they cannot earn much money with it).
The claimed benefits of oil pulling are, however, not limited to the oral cavity. It is advocated also for the prevention and treatment of conditions such as headaches, migraines, thrombosis, eczema, diabetes and asthma.[5] Some proponents also claim that oil pulling is a detox therapy. Unsurprisingly, none of these claims are supported by good evidence.
As long as you don't swallow the oil, there are no serious risks associated with oil pulling.
So, what is the conclusion? To me, the evidence looks promising as far as oral health is concerned. For all other indication, oil pulling is neither plausible nor evidence-based.
[1] https://www.ncbi.nlm.nih.gov/pubmed/27891311
[2] https://www.ncbi.nlm.nih.gov/pubmed/18408265
[3] https://www.ncbi.nlm.nih.gov/pubmed/21911944
[4] https://www.ncbi.nlm.nih.gov/pubmed/19336860
This systematic review included 18 studies assessing homeopathy in depression. Two double-blind placebo-controlled trials of homeopathic medicinal products (HMPs) for depression were assessed. The first trial (N = 91) with high risk of bias found HMPs were non-inferior to fluoxetine at 4 (p = 0.654) and 8 weeks (p = 0.965); whereas the second trial (N = 133), with low risk of bias, found HMPs was comparable to fluoxetine (p = 0.082) and superior to placebo (p < 0.005) at 6 weeks.
The remaining research had unclear/high risk of bias. A non-placebo-controlled RCT found standardised treatment by homeopaths comparable to fluvoxamine; a cohort study of patients receiving treatment provided by GPs practising homeopathy reported significantly lower consumption of psychotropic drugs and improved depression; and patient-reported outcomes showed at least moderate improvement in 10 of 12 uncontrolled studies. Fourteen trials provided safety data. All adverse events were mild or moderate, and transient. No evidence suggested treatment was unsafe.
The authors concluded that limited evidence from two placebo-controlled double-blinded trials suggests HMPs might be comparable to antidepressants and superior to placebo in depression, and patients treated by homeopaths report improvement in depression. Overall, the evidence gives a potentially promising risk benefit ratio. There is a need for additional high quality studies.
It is worth having a look at these two studies, I think.
The 1st (2011) study is from Brazil
Here is its abstract:
Homeopathy is a complementary and integrative medicine used in depression, The aim of this study is to investigate the non-inferiority and tolerability of individualized homeopathic medicines [Quinquagintamillesmial (Q-potencies)] in acute depression, using fluoxetine as active control. Ninety-one outpatients with moderate to severe depression were assigned to receive an individualized homeopathic medicine or fluoxetine 20 mg day−1 (up to 40 mg day−1) in a prospective, randomized, double-blind double-dummy 8-week, single-center trial. Primary efficacy measure was the analysis of the mean change in the Montgomery & Åsberg Depression Rating Scale (MADRS) depression scores, using a non-inferiority test with margin of 1.45. Secondary efficacy outcomes were response and remission rates. Tolerability was assessed with the side effect rating scale of the Scandinavian Society of Psychopharmacology. Mean MADRS scores differences were not significant at the 4th (P = .654) and 8th weeks (P = .965) of treatment. Non-inferiority of homeopathy was indicated because the upper limit of the confidence interval (CI) for mean difference in MADRS change was less than the non-inferiority margin: mean differences (homeopathy-fluoxetine) were −3.04 (95% CI −6.95, 0.86) and −2.4 (95% CI −6.05, 0.77) at 4th and 8th week, respectively. There were no significant differences between the percentages of response or remission rates in both groups. Tolerability: there were no significant differences between the side effects rates, although a higher percentage of patients treated with fluoxetine reported troublesome side effects and there was a trend toward greater treatment interruption for adverse effects in the fluoxetine group. This study illustrates the feasibility of randomized controlled double-blind trials of homeopathy in depression and indicates the non-inferiority of individualized homeopathic Q-potencies as compared to fluoxetine in acute treatment of outpatients with moderate to severe depression.
There are many important points to make about this trial:
Contrary to what the reviewers claim, the trial had no placebo group.
It was a double-dummy equivalence study comparing individualised homeopathy with the antidepressant fluoxetine.
Fluoxetine might have been under-dosed (see below).
Equivalence studies require large sample sizes, and with just 91 patients (only 55 of whom finished the study), this trial was underpowered which means the finding of equivalence is false positive.
The authors noted that a higher percentage of troublesome adverse effects reported by patients receiving fluoxetine. This means that the trial was not double-blind; patients were able to tell by their side-effects which group they were in.
The authors also state that more patients randomized to homeopathy than to fluoxetine were excluded due to worsening of their depressive symptoms. I think this confirms that homeopathy was ineffective.
The 2nd (2015) study is from Mexico
Here is its abstract:
Background: Perimenopausal period refers to the interval when women's menstrual cycles become irregular and is characterized by an increased risk of depression. Use of homeopathy to treat depression is widespread but there is a lack of clinical trials about its efficacy in depression in peri- and postmenopausal women. The aim of this study was to assess efficacy and safety of individualized homeopathic treatment versus placebo and fluoxetine versus placebo in peri- and postmenopausal women with moderate to severe depression.
Methods/Design: A randomized, placebo-controlled, double-blind, double-dummy, superiority, three-arm trial with a 6 week follow-up study was conducted. The study was performed in a public research hospital in Mexico City in the outpatient service of homeopathy. One hundred thirty-three peri- and postmenopausal women diagnosed with major depression according to DSM-IV (moderate to severe intensity) were included. The outcomes were: change in the mean total score among groups on the 17-item Hamilton Rating Scale for Depression, Beck Depression Inventory and Greene Scale, after 6 weeks of treatment, response and remission rates, and safety. Efficacy data were analyzed in the intention-to-treat population (ANOVA with Bonferroni post-hoc test).
Results: After a 6-week treatment, homeopathic group was more effective than placebo by 5 points in Hamilton Scale. Response rate was 54.5% and remission rate, 15.9%. There was a significant difference among groups in response rate definition only, but not in remission rate. Fluoxetine-placebo difference was 3.2 points. No differences were observed among groups in the Beck Depression Inventory. Homeopathic group was superior to placebo in Greene Climacteric Scale (8.6 points). Fluoxetine was not different from placebo in Greene Climacteric Scale.
Conclusion: Homeopathy and fluoxetine are effective and safe antidepressants for climacteric women. Homeopathy and fluoxetine were significantly different from placebo in response definition only. Homeopathy, but not fluoxetine, improves menopausal symptoms scored by Greene Climacteric Scale.
And here are my critical remarks about this trial:
The aim of a small study like this cannot be to assess or draw conclusions about the safety of the interventions used; for this purpose, we need sample sizes that are at least one dimension bigger.
Fluoxetine might have been under-dosed (see below).
The blinding of patients might have been jeopardized by patients experiencing the specific side-effects of fluoxetine. The authors reported adverse effects in all three groups. However, the characteristic and most common side-effects of fluoxetine (such as hives, itching, skin rash, restlessness, inability to sit still) were not included.
________________________________________________
Usual Adult Dose for Depression
Immediate-release oral formulations:
Initial dose: 20 mg orally once a day in the morning, increased after several weeks if sufficient clinical improvement is not observed
Maintenance dose: 20 to 60 mg orally per day
Maximum dose: 80 mg orally per day
Delayed release oral capsules:
Initial dose: 90 mg orally once a week, commenced 7 days after the last daily dose of immediate-release fluoxetine 20 mg formulations.
_________________________________________________
Considering all this, I feel that the conclusions of the above review are far too optimistic and not justified. In fact, I find them misleading, dangerous, unethical and depressing.
On 4 September 2018, during the FIP (78th FIP World Congress of Pharmacy and Pharmaceutical Sciences), a meeting took place intended to give an opportunity to practising pharmacists to voice their opinions on the question whether pharmacies should stop selling homeopathic products. Attendees were provided with voting materials to allow them to express their views in a spontaneous and powerful manner, and for FIP to ascertain genuine opinions about this important matter. The debate and subsequent voting is likely to influence FIP policymaking and statement formulation. Here is the outline of the meeting:
The Great Debate – The motion "Pharmacists should not sell or dispense homeopathic products"
12:30 – 12:34 Introduction by the chairs
12:34 – 12:57 For the motion
Geoff Tucker (University of Sheffield, UK)
12:57 – 13:20 Against the motion
Christine Glover (Glover's Integrated Healthcare, UK)
13:20 – 13:25 Ethical considerations related to homeopathy
Betty Chaar (The University of Sydney, Australia)
13:25 – 13:35 Responses and summary
Facilitator: Andy Gray (University of KwaZulu Natal, South Africa)

Against the motion
Christine Glover (Glover's Integrated Healthcare, UK)
For the motion
Geoff Tucker (University of Sheffield, UK)
13:35 -14:00 Open forum – Questions from the audience with speakers and chairs as panel/ Vote and concluding comments
The German 'Pharmazeutische Zeitung' just published a report about the outcome of the meeting:
"Bei der Abstimmung im Anschluss sprachen sich fast zwei Drittel der im Auditorium anwesenden Pharmazeuten gegen eine Distribution von homöopathischen Produkten durch Apotheken aus. Mehr als ein Drittel stimmte für den Erhalt der Produkte in den Apotheken. Das Ergebnis habe keine bindende Wirkung für den Entscheidungsprozess des FIP, machte der Moderator der Sitzung, Andy Gray von der Universität KwaZulu Natal in Südafrika, deutlich. Es gebe aber einen Hinweis, in welche Richtung sich die Organisation orientieren sollte. (ch)."
In plain English: two thirds voted for the motion and against homeopathic products remaining on sale in pharmacies. The vote has, however, no binding effect on FIP policy. It is nevertheless likely to determine the direction in which FIP will decide.
I think this is long-overdue (I have been trying to persuade pharmacists to do something like this since ~15 years). I now applaud the FIP for raising the issue. Bravo!
What next?
The vote needs to be translated into policy.
Other healthcare professionals – not least doctors – must follow suit.
Just when I thought I had seen all homeopathy has to offer, here comes this:
THE BRISTOL STOOL CHART AND CORRESPONDING HOMEOPATHIC REMEDIES!
"With mere examination of stool appearance, Homoeopathic remedy can easily be selected…."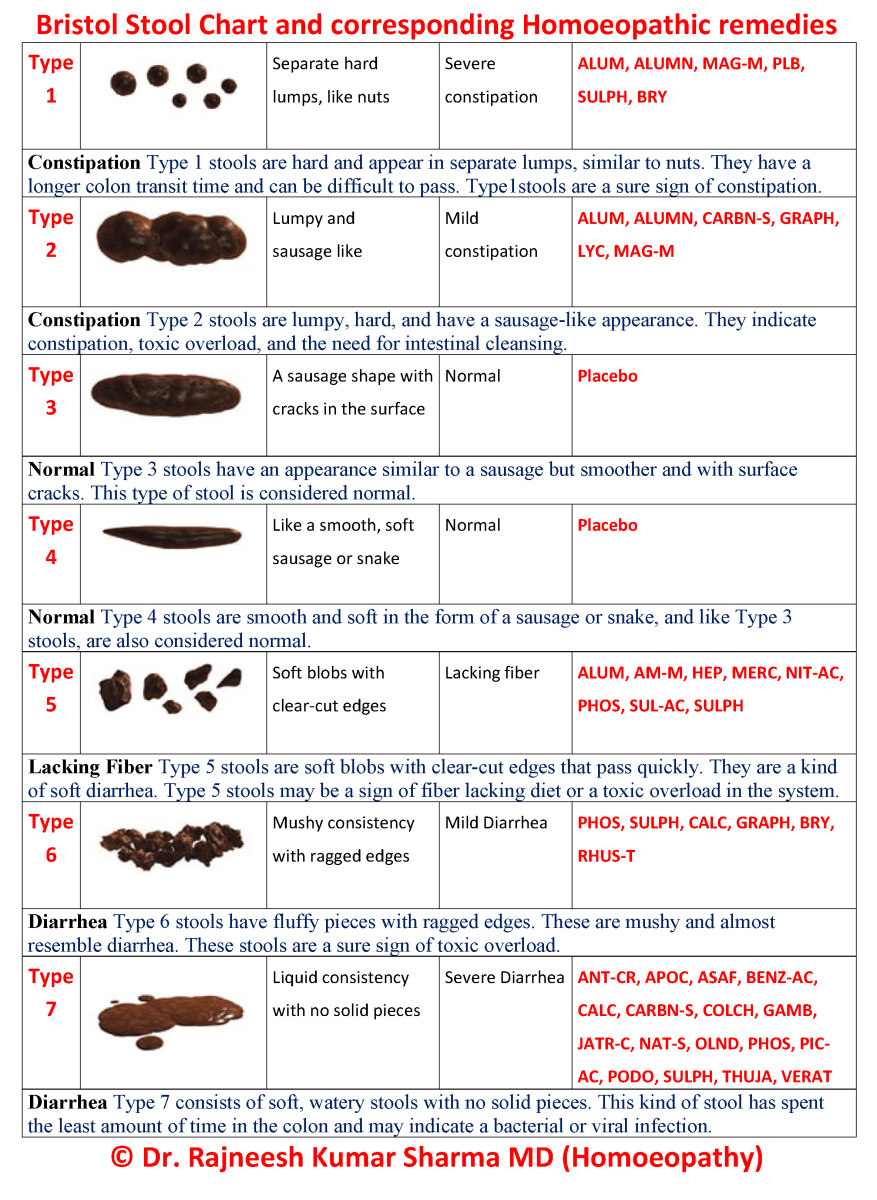 The chart was, according to Wikipedia, developed and proposed for the first time by Dr. Stephen Lewis and Dr. Ken Heaton at the University Department of Medicine, Bristol Royal Infirmary, it was suggested by the authors as a clinical assessment tool in 1997 in the journal Scandinavian Journal of Gastroenterology after a previous prospective study, conducted in 1992 on a sample of the population (838 men and 1,059 women), had shown an unexpected prevalence of defecation disorders related to the shape and type of stool. The authors of the former paper concluded that the form of the stool is a useful surrogate measure of colon transit time. That conclusion has since been challenged as having limited validity for Types 1 and 2; however, it remains in use as a research tool to evaluate the effectiveness of treatments for various diseases of the bowel, as well as a clinical communication aid.
Nobody had meant this chart to get in any way related to homeopathy. I congratulate Dr Sharma to have spotted the connection. Thanks to him, we all can now easily find which homeopathic remedies are the ones we need. The writing is not on the wall, it is in the loo! I think someone should inform the Karolinska Institute in Stockholm – this surely is Nobel Prize material!!!
If you thought that Chinese herbal medicine is just for oral use, you were wrong. This article explains it all in some detail: Injections of traditional Chinese herbal medicines are also referred to as TCM injections. This approach has evolved during the last 70 years as a treatment modality that, according to the authors, parallels injections of pharmaceutical products.
The researchers from China try to provide a descriptive analysis of various aspects of TCM injections. They used the the following data sources: (1) information retrieved from website of drug registration system of China, and (2) regulatory documents, annual reports and ADR Information Bulletins issued by drug regulatory authority.
As of December 31, 2017, 134 generic names for TCM injections from 224 manufacturers were approved for sale. Only 5 of the 134 TCM injections are documented in the present version of Ch.P (2015). Most TCM injections are documented in drug standards other than Ch.P. The formulation, ingredients and routes of administration of TCM injections are more complex than conventional chemical injections. Ten TCM injections are covered by national lists of essential medicine and 58 are covered by China's basic insurance program of 2017. Adverse drug reactions (ADR) reports related to TCM injections account for  over 50% of all ADR reports related to TCMs, and the percentages have been rising annually.
The authors concluded that making traditional medicine injectable might be a promising way to develop traditional medicines. However, many practical challenges need to be overcome by further development before a brighter future for injectable traditional medicines can reasonably be expected.
I have to admit that TCM injections frighten the hell out of me. I feel that before we inject any type of substance into patients, we ought to know as a bare minimum:
for what conditions, if any, they have been proven to be efficacious,
what adverse effects each active ingredient can cause,
with what other drugs they might interact,
how reliable the quality control for these injections is.
I somehow doubt that these issues have been fully addressed in China. Therefore, I can only hope the Chinese manufacturers are not planning to export their dubious TCM injections.
It's been often said that we live in the age of information.  Everyone can get tons of it at the click of a button. This is undoubtedly true. Sadly, it also means that we are exposed to tons of misinformation, and sometimes it seems to me that we now live in THE AGE OF MISINFORMATION.
Here I will explain the consequences of this phenomenon on two examples that, at first glance, seem to have nothing in common at all (other than being close to my heart):
With homeopathy, the public are confronted by a steady flood of misinformation from the powerful homeopathy lobby who tell us quite incredible untruths about it:
Homeopathy is effective
Homeopathy is harmless
Homeopathy is natural
Homeopathy is holistic
Homeopathy is supported by many of the brightest people
Homeopathy is an important contribution to public health
Homeopathy prevents epidemics
Homeopathy works through quantum effects
Homeopathy is nano-medicine
Homeopathy is energy medicine
Homeopathy works for infants
Homeopathy works in animals
Homeopathy works for plants
Homeopathy is the victim of a propaganda campaign against it
Those who put out this multi-level misinformation pretend that they inform the public. Of course, the public must be informed – how else could they possibly make informed choices? (If this important aim requires a bit of cheating here and there, so be it!)
And the public reacts as directed: they buy homeopathic preparations in droves. The result is that the promoters of homeopathy can claim that THE PUBLIC IS VOTING WITH THEIR FEET! The people have decided, they say, homeopathy is a good thing!
_______________________________________________________________
With Brexit, the public is confronted by a steady flood of misinformation from the powerful Brexit lobby who tell us quite incredible untruths about it:
Brexit is going to give us our country back
Brexit is good for the economy
Brexit will mean more money for the NHS
Brexit will be easy
Brexit will allow us to trade with the rest of the world
Brexit will keep foreigners out
Brexit is going to create jobs
Brexit is good for our industry
Brexit is good for farmers
Brexit is good for the environment
Brexit will free us from the shackles of the EU
Brexit will strengthen our alliance with the US
Those who put out this multi-level misinformation pretend that they inform the public. Of course, the public must be informed – how else could they possibly make informed choices? (If this important aim requires a bit of cheating here and there, so be it!)
And the public reacts as directed: they buy into the lies of the Brexiteers in droves. The result is that the promoters of Brexit can claim that THE PUBLIC HAS VOTED WITH THEIR FEET! The people have decided, they say, Brexit is a good thing!
_____________________________________________________________
Yes, I know, this is a bit simplistic. But the point I am trying to make is surely valid: misinformation not only leads to wrong and often dangerous decision, it is also the way charlatans try to fool us with their circular arguments and justify their blatant lies.
By guest blogger Hans-Werner Bertelsen
Any material used in dentistry may provoke an individual local or systemic reaction, including an allergic response to its use. Due to the high toxicity of mercury, in so-called alternative dentistry, the removal of amalgam fillings is often recommended. 'Amalgam sanitations' often are a major component of the treatment portfolios of practitioners of this so-called alternative dentistry.
While amalgam fillings have excellent material properties, such as high marginal stability, quick processing, reliable hardening even in moist environments, good longevity under moist and warm conditions, they also have one property that is highly problematic in the long term: they are prone to corrosion. Old amalgam fillings will corrode after years and decades, without exception. The resulting oxidation products not only modify the metal microstructure, but they also change the spatial dimensions of the amalgam fillings. In dental materials science, this process is known as mercuroscopic expansion. [18]
The "German Amalgam Trial (GAT)", large scale, 12-year study, tried to determine the mercury exposure from amalgam fillings in more detail. The study initially surveyed 6744 patients regarding their complaints. In a subset of the study population (n=27), the mercury burden of those with amalgam fillings to those without amalgam fillings was compared using serum and urine samples.
[19,20] Inorganic mercury levels in blood and urine correlated in a highly significant manner with the presence of amalgam fillings. In patients with amalgam fillings, serum levels of mercury were increased 3.5 fold, urine levels were even more elevated and 4 times as high as those of patients without amalgam fillings. [19] Unfortunately, the GAT study did not examine the degree of corrosion present in the fillings, nor did it investigate mercury levels in tissues.
While the GAT study's cytotoxic examinations showed no harmful effects at the cellular level, and found that low-dose effects consisted merely of "reduced adaptability of the cells post-amalgam exposure," [20] entirely different cellular reactions may be observed when corrosion factors are taken into account. Under these conditions, Ursula Teichmann described a clearly cytotoxic reaction: "Corroded amalgams were shown to be clearly more toxic than non-corroded amalgams. Only in non-corroded amalgams a dependence of toxicity on the copper content of the samples was found." [23] (Quote translated from German). While these cytotoxic effects were observed in vitro, they correspond perfectly to long-term observations from dental clinical practice. These observations show no softening of the dentin substance underneath old, corroded amalgam fillings, because the strong cytotoxic effect no bacteria will grow at the amalgam/dentin interface. Teichmann's testing methods have become a standard of dental materials research. [24]
A review of various studies measuring the release of mercury vapors in the oral cavity showed an up to 15-fold increase after subjects had chewed gum. [21] The lungs will absorb 80% of the mercury vapors found in tidal air, and mercury vapor is considered to be most relevant in terms of its toxicological effects. The highest release rates of mercury vapor are observed during the placing and the removal of amalgam fillings. [22]
Within the moist and warm environment of the oral cavity, metal oxides will form due to gradual oxidation processes on any amalgam surface, both at the interface of the filling and the oral cavity, and at the interface of filling and dentin substance. It has been shown that ions diffuse into the dentin at the filling/dentin interface, and that they pass on into deeper tissue layers. [22]
Metal oxides also form at the occlusal surfaces of amalgam fillings, and these may successively erode, pass on to the digestive tract, and eventually may be metabolized. Oxidation processes not only release ions of copper (Cu2+), zinc (Zn2+), and tin (Sn2+), but also mercury ions (Hg2+). Problematic are in particular the mercury ions (Hg2+) from mercury salts that were formed by oxidation processes. These ions may displace the body's own calcium ions (Ca2+) as central ions in chelate complexing agents. Due to their proven high neurotoxicity, mercury-containing substances should, therefore, be banned from everyday use. The Minamata Convention on Mercury triggered an EU-wide ban, effective July 1st, 2018, on the use of amalgam fillings in the treatment of children, adolescents, pregnant and nursing women.
Practitioners of so-called alternative dentistry routinely offer their patients homeopathic "detoxification treatments." These are entirely useless because they do not contain any pharmacologically active substances that would be required for the removal of toxic substances. At best, they may have a placebo effect.
Effective procedures for the removal of heavy metals from the body do exist, however. They have been adapted from intensive medicine settings where they are used for the treatment of acute poisoning in emergencies. These procedures are referred to as chelation therapies and rely on substances such as 2,3-dimercaptopropane-1-sulfonate (DMPS). Chelation therapies have a high risk of side effects, and, therefore, are not recommended for alternative medicine detoxification procedures in case of suspected low-dose, chronic heavy metal poisoning. There are no scientifically proven methods for heavy metal removal in the chronic, low-dose range. [25]
Due to its major side effects, in scientifically based medicine, DMPS is only used to treat acute poisoning. Complexing agents cannot distinguish between vital minerals and harmful heavy metals. When chelation therapy is applied indifferently, it may, therefore, cause mineral imbalances and mineral deficiencies. In view of the long-term risks of mercury-containing dental fillings, and given the availability of other materials, it makes sense to strictly avoid amalgam in dental fillings. Despite the availability of alternative materials, and of effective preventive measures, dental amalgam continues to be used at a rate of on average 75 tons per year in the European Union. [26,27]
If amalgam use in dentistry is to be avoided in the future, massively more tooth decay prevention measures will be necessary in order to achieve a population-wide preservation of teeth. In children diagnosed with an increased susceptibility to dental decay, immediate therapeutic and preventive measures are needed, including a change in dietary habits. In Scandinavian countries that banned amalgam use many years ago, measures such as these have become everyday standards. If, on the other hand, the ban of amalgam in the EU is not accompanied by individualized, targeted, and effective prevention measures, we may be faced with similar dramatic developments and massive dental impairments, including their systemic medical and psychosocial consequences, as we have seen in patients from Russia. [26]
Summary and Conclusion
The procedures touted by practitioners of so-called alternative dentistry are unnecessary. This is because they are either not effective (e.g., homeopathic 'removal' of mercury), or because they have no relevant significance (e.g., the Prognos® measuring device for determining mercury exposure, or the LTT for material testing, or so-called dental projections as diagnostic tools for general medical conditions), or because they have a worrisome risk-benefit ratio (e.g., the use of DMPS to treat suspected chronic mercury exposure from amalgam, or bone trimming for suspected residual osteitis). It is a chastening thought that these 'complementary' dental procedures, while completely irrelevant, have become established in dental practice, and that by now three professional societies have formed in this field in Germany alone. In addition, insurance business models focusing on this market have emerged because so far no regulatory mechanisms in the field of continued medical education have been established to address this situation. As a result, an increasing number of unregulated courses is being offered. It seems paradoxical that the perpetuating demand is such that even state dental medical boards can no longer resist it and have begun offering classes of dubious nature in order to not miss out on this obviously booming market.
In order to preserve high quality standards in dental medicine, it seems imperative and essential to establish suitable regulatory and supervisory mechanisms. This would be surprisingly easy to achieve: Regulatory bodies might appoint continuing medical education representatives tasked with evaluating the methods to be taught. They should have no difficulty determining whether these methods are based in sound science or rather in a belief system that will not hold up to scientific scrutiny. Should continuing dental medical education remain unregulated, however, the quality of dental care will certainly be negatively affected. [28,29]
Acknowledgements
Ulrike Walter-Lipow, Bremen, Germany, provided the English translation of the first version of this manuscript.
Conflicts of Interest
The author declares no conflicts of interest with regard to this paper.
References
18. Marxkors, R.; Meiners, H. Taschenbuch der zahnärtzlichen werkstoffkunde. Deutscher Zahnärzte Verlag: 2005
19. Klinikum rechts der Isar, TU München. Forschungsprojekt Amalgam GAT German Almagam Trial press release. 2008.
20. Kluckhuhn, C. Forschungsprojekt Amalgam: GAT (German Amalgam Trial). In zm online, Deutscher Ärzteverlag: 2008.
21. Roberts, H.W.; Charlton, D.G. The release of mercury from amalgam restorations and its health effects: A review. Operative Dentistry 2009, 34, 605-614.
22. Schmalz, G. Biokompatibilität von Kompositkunststoffen und Amalgam – ein Vergleich. In Zahnheilkunde Management Kultur, Spitta GmbH: online, 2017.
23. Teichmann, U. Cytotoxizität der Non-gamma2-Amalgame im korrodierten und nicht-korrodierten Zustand unter Berücksichtigung ihres Kupfergehaltes. Doctoral dissertation, RWTH Aachen, Aachen, 1989.
24. Teichmann, U.; Wienands, J.; Damaske, D. Wissenschaftliches Engagement. http://www.zahngesund-in-frechen.de/zahnarzt_zahnaerzte_frechen/mod_content_page/seite/Wissenschaftliches_Engagement/index.html (May 11, 2018),
25. Nonnenmacher, A. Chelat-Therapie. http://symptomat.de/Chelat-Therapie (May 11),
26. Bertelsen, H.-W. Sechs Ziele und sechs Wege zur Verringerung der Quecksilber-Belastung durch Amalgam – ein Plädoyer für einen nationalen Ausstiegsplan. Zeitschrift für Evidenz, Fortbildung und Qualität im Gesundheitswesen 2015, 109, 271-273.
27. BIO Intelligence Service Study on the potential for reducing mercury pollutionfrom dental amalgam and batteries – final report prepared for the European Commision – DG ENV; 2012; p 246.
28. Bertelsen, H.-W. Die Notwendigkeit einer Grenzdefinition im Bereich der ärztlichen Fortbildung. Zeitschrift für Evidenz, Fortbildung und Qualität im Gesundheitswesen 2015, 109, 89-91.
29. Uhlmann, B. Wenn der Zahnarzt Esoterik anbietet. Süddeutsche Zeitung August 2, 2017.
This could (and perhaps should) be a very short post:
I HAVE NO QUALIFICATIONS IN HOMEOPATHY!
NONE!!!
[the end]
The reason why it is not quite as short as that lies in the the fact that homeopathy-fans regularly start foaming from the mouth when they state, and re-state, and re-state, and re-state this simple, undeniable fact.
The latest example is by our friend Barry Trestain who recently commented on this blog no less than three times about the issue:
Falsified? You didn't have any qualifications falsified or otherwise according to this. In quotes as well lol. Perhaps you could enlighten us all on this. Edzard Ernst, Professor of Complementary and Alternative Medicine (CAM) at Exeter University, is the most frequently cited "expert" by critics of homeopathy, but a recent interview has revealed the astounding fact that he "never completed any courses" and has no qualifications in homeopathy. What is more his principal experience in the field was when "After my state exam I worked under Dr Zimmermann at the Münchner Krankenhaus für Naturheilweisen" (Munich Hospital for Natural Healing Methods). Asked if it is true that he only worked there "for half a year", he responded that "I am not sure … it is some time ago"!
I don't know what you got. I'm only going by your quotes above. You didn't pass ANY exams. "Never completed any courses and has no qualifications in Homeopathy." Those aren't my words.
LOL qualification for their cat? You didn't even get a psuedo qualification and on top of that you practiced Homeopathy for 20 years eremember. With no qualifications. You are a fumbling and bumbling Proffessor of Cam? LOL. In fact I think I'll make my cat a proffessor of Cam. Why not? He'll be as qualified as you.
Often, these foaming (and in their apoplectic fury badly-spelling) defenders of homeopathy state or imply that I lied about all this. Yet, it is they who are lying, if they say so. I never claimed that I got any qualifications in homeopathy; I was trained in homeopathy by doctors of considerable standing in their field just like I was trained in many other clinical skills (what is more, I published a memoir where all this is explained in full detail).
In my bewilderment, I sometimes ask my accusers why they think I should have got a qualification in homeopathy. Sadly, so far, I  have not received a logical answer (most of the time not even an illogical one).
So, today I ask the question again: WHY SHOULD I HAVE NEEDED ANY QUALIFICATION IN HOMEOPATHY?
My answers are here:
I consider such qualifications as laughable.  A proper qualification in nonsense is just nonsense!
For practising homeopathy (which I did for a while), I did not need such qualifications; as a licensed physician, I was at liberty to use the treatments I felt to be adequate.
For researching homeopathy (which I did too and published ~120 Medline-listed papers as a result of it), I do not need them either. Anyone can research homeopathy, and some of the most celebrated heroes of homeopathy research (e. g. Klaus Linde and Robert Mathie) do also have no such qualifications.
I am therefore truly puzzled and write this post to give everyone the chance to name the reasons why they feel I needed qualifications in homeopathy.
Please do tell me!
By guest blogger Hans-Werner Bertelsen
It is possible to have an allergic reaction to the materials used in dentistry. These reactions may be type I reactions (immediate) or type IV reactions (delayed). While type I reactions are characterized by the release of humorally active substances and may lead to asthmatic attacks, mucosal swelling, and the much dreaded anaphylactic shock, type IV reactions are characterized by the formation of incomplete antigens (haptens) that bind to tissue proteins to form complete antigens. According to the relevant medical guidelines, diagnosing an allergy requires that allergy testing is used to confirm any allergy suspected based on clinical symptoms.
In the field of so-called alternative dentistry, testing is by far more extensive. Testing of dental materials is conducted in countless variations, and it also contributes to the marketing efforts in this field.
Moreover, testing is not limited to materials, but extended to teeth that have undergone root canal procedures, and to areas of the jaw bone, in particular the spongiosa. Practitioners will conduct so-called muscle testing and declare teeth with previous root canal procedures or fully healed wounds from previous tooth extractions pathological areas in need of sanitation. Testing is usually done with various devices that are of a dubious, but always impressive nature, and that are referred to by mysterious names. Practitioners use so-called electromedical diagnostic procedures to generate a diagnosis that they will present to the patient as an objectively established fact. A staggering number of electromedical diagnostic procedures is available. As G.-M. Ostendorf reports, "there is a barely manageable variety of these unconventional electromedical methods, which is all the more confusing as publications on these methods are usually not circulated outside interested parties." (Quote translated from German)
The following list (based on Ostendorf's work) does not claim to be exhaustive:
* Electroacupuncture according to Voll (EAV)
* Bioelectronic function diagnostics
* Vega testing
* Electrophysical terminal point diagnostics
* Electroneural diagnostics according to Croon
* Mora therapy
* Bioresonance therapy
* Biophysical information therapy
* Mora color therapy
* Multi-resonance therapy
* Metabolism testing and treatment device
* Matrix regeneration therapy
* Decoder dermography
All of these mysterious measuring techniques used in dental material testing are intended to detect incompatible materials used in dental prostheses the patient has previously received. Whenever subjected to closer scrutiny, however, incompatibilities postulated based on electromedical diagnostic procedures are found to be non-existent.
A scientific study has shown that results of the aforementioned electromedical diagnostic and treatment procedures cannot be reproduced and that they do not deliver any diagnostic value that goes beyond that of the use of divining rods. [11]
If you want to believe the apologists of the so-called alternative dentistry, testing of the materials used in dental procedures can also be accomplished entirely without any complicated equipment. According to statements made by the proponents of the so-called "applied kinesiology," health information and the therapeutic consequences they require, can also be determined simply by getting physically close to the patient. Using this approach, the "therapist" senses a patient's muscle activity and believes he or she can derive information on the patient's health from this sensation. However, aside from generating physical closeness, the methods of applied kinesiology have been shown not to have any evidential value, and they have also been shown to be invalid in terms of diagnostics. [12]
Any positive resonance on the patient's part to treatments following the approach of applied kinesiology is most likely due to the physical closeness between the "therapist" and the patient. This type of placebo effect should not be underestimated, and may lead to positive subjective assessments of the treatment by the patient. The fact that touching the patient during dental treatments can be very effective is readily illustrated using the gag reflex that may be triggered during impression taking: When the dentist hugs the patient this reflex is interrupted immediately. The hugging creates a sudden distraction and stimulus satiation in regions of the brain that are not involved in the gag reflex.
When comprehensive treatments are initiated based on the type of divining-rod-like misdiagnosis described above, dramatic consequences such as mutilations of the jaw bone and severe restrictions of masticatory function can arise [4-6,13].
As early as 1992, forensic medicine professor I. Oepen warned that "Unconventional, i.e. disputed medical methods are offered to many patients. However, the propagated effects of such methods could not be confirmed by controlled studies. So neither any risk taken by the use of these methods, can be justified nor are any costs for treatment vindicated [14]."
When it comes to material testing, laboratory medicine plays a special role, as it uses blood analysis to generate a medical diagnosis. These analytical procedures, e.g., the lymphocyte transformation test (LTT), are often very expensive while of very low specificity, which renders them useless for diagnosing potential allergic reactions to the metals used in the mouth. Due to the limited significance of these test results, testing generates costs without providing any benefit to the affected patients–aside from the potential benefit to the local economy.
In allergy diagnostics, the level of significance and interpretation associated with test results depends on the type of allergy present. On the one side, measuring IgE antibodies to pollen, dust mite, and animal hair antigens is of high diagnostic value. When it comes to variations of type IV allergic reactions, on the other side, the situation is different. These include the so-called contact allergies such as allergic reactions to metals in the mouth. Procedures for diagnosing contact allergies often deliver false-positive results, which makes them useless for diagnosing metal allergies in dentistry, as Harald Renz, director of the Institute of Laboratory Medicine and Pathobiochemistry, Molecular Diagnostics, of Philipps-Universität Marburg, explained to me:
"Interpreting the results of the LTT and other cellular tests is significantly complicated by the possibility of false-positive and false-negative findings. The LTT is not fully standardized, and it is a complex test that requires not only a lot of experience in conducting the test itself, but also in interpreting the results. Anyone performing this test has to adhere, without fail, to the quality assurance requirements as outlined by the test manufacturer. In addition, the test exhibits large inter-individual variability, and there are no 'standard' or 'reference' values. The only thing the LTT actually detects is whether the specific immune system has mounted a T-cell response to the metal in question. Positive and negative controls have to be tested as well.
Furthermore, there also are differences in the clinical significance between different metals: While its sensitivity to beryllium and nickel is sufficient, data for other metals are still lacking, and this is true also for metals that are relevant in dental implants and prostheses. What is particularly important: A positive test result on its own is not equivalent to a clinical diagnosis! Any test result needs to be interpreted in conjunction with all clinical findings for the patient in order to reach a meaningful conclusion. Furthermore, a single positive test result does not indicate that the patient is currently and acutely exposed to the metal in question. The exposure may have happened years ago, and may still produce a positive result. This is due to memory cells that may be circulating in the blood stream."(Translated from German)
When disease is clearly present, it is, therefore, reckless to focus on a possible material intolerance without conducting sound diagnostic testing. Major damages may arise, e.g., because adequate therapy is not sought. To illustrate these types of damages, Ostendorf cites the case of a patient who was suffering from initially undiagnosed sleep apnea. This in turn caused a lack of oxygen and of relaxing periods of deep sleep, which led to daytime fatigue. As a reaction to this situation, the patient developed major mental problems. A physician practicing homeopathy conducted "resonance testing" on this patient, and the results, in conjunction with the physician's considerable level of ignorance, led to a diagnosis of "exposure to pollutants." The sheer number and duration of measurements and tests not only prolonged the patient's suffering, it eventually led to the patient becoming suicidal. [15]
It is obvious that this is not an isolated case, and that similar misdiagnoses will be frequent for mental health issues as well.
An unpleasant diagnosis, such as depression, is often not readily accepted by affected patients, and is likely to be ignored. For these patients, it may be much easier to accept an external cause of their suffering than to face the idea of being mentally ill. Providing them with the false diagnostic pathway of 'material intolerance' may be very tempting to them. At one 'holistically oriented' dental office, the author experienced first-hand how patients were told that their suffering from depression was a reaction to material intolerance, all with the aim of generating large revenues from prostheses. Instead of suggesting a psychiatric examination in order to find the real reasons of their mental issues, the dentist suggested an external cause. Providing such a false diagnostic path may not only cause significant and sustained damage to the masticatory system, but it may also prevent appropriate and timely treatment. [16,17]
References
11. Ostendorf, G.-M. Spezielle Diagnostik im Überblick Teil 1: Unkonventionelle elektromedizinische Diagnose- und Therapiemethoden im Überblick. In Naturheilverfahren und unkonventionelle medizinische Richtungen, Springer Verlag: 2003.
12. Ernst, E. Komplementärmedizinische Diagnoseverfahren (Diagnostic methods in complementary medicine). Deutsches Ärzteblatt 2005, 102, 3034-3037.
13. Nimtz-Köster, R. Störfelder im Gebiss. Der Spiegel 2002.
14. Oepen, I. Kritische Bewertung unkonventioneller diagnostischer und therapeutischer Methoden in der Zahnheilkunde (Critical evaluation of unconventional diagnostic and therapeutic methods in dentistry). Fortschritte der Kieferorthopädie (Journal of Orofacial Orthopedics) 1992.
15. Ostendorf, G.-M. Elektroakupunktur nach Voll (EAV) – ein kritischer Kommentar. skeptiker 2018, 17-19.
16. Berger, U. Die Praxis der "Alternatvmedizin": Ein Insider berichtet. In Kritisch gedacht, 2012; Vol. 2018.
17. Prchala, G. Weg mit der Zusatzbezeichnung "Homöopathie". In zm online, Deutscher Ärzteverlag: 2018.
Central retinal artery occlusion, nystagmus, Wallenberg syndrome, ophthalmoplegia, Horner syndrome, loss of vision,  diplopia, and ptosis are all amongst the eye-related problems that have been associated with chiropractic upper spinal manipulations. Often the damage leaves a permanent deficit – happily, not in this instance.
US ophthalmologists published the case of a 59-year-old Caucasian female who presented with the acute, painless constant appearance of three spots in her vision immediately after a chiropractor performed cervical spinal manipulation using the high-velocity, low-amplitude technique. The patient described the spots as "tadpoles" that were constantly present in her vision. She noted the first spot while driving home immediately following a chiropractor neck adjustment, and became more aware that there were two additional spots the following day.
Slit lamp examination of the right eye demonstrated multiple unilateral pre-retinal haemorrhages with three present inferiorly along with a haemorrhage over the optic nerve and a shallow, incomplete posterior vitreous detachment. Optical Coherence Tomography (OCT) demonstrated the pre-retinal location of the haemorrhage.
These haemorrhages resolved within two months.
The specialists concluded that chiropractor neck manipulation has previously been reported leading to complications related to the carotid artery and arterial plaques. This presents the first case of multiple unilateral pre-retinal haemorrhages immediately following chiropractic neck manipulation. This suggests that chiropractor spinal adjustment can not only affect the carotid artery, but also could lead to pre-retinal haemorrhages.
In the discussion section of their paper, the authors stated: Upper spinal manipulation with the HVLA technique involves high velocity, low-amplitude thrusts on the cervical spine administered posteriorly. No other aetiology of the pre-retinal haemorrhages was found on work-up (no leukemic retinopathy, hypertension, diabetes, or retinal tear). The temporal association immediately while driving home from the chiropractic procedure makes other causes less likely, although we cannot exclude Valsalva retinopathy or progressive posterior vitreous detachment. Given the lack of any retinal vessel abnormalities or plaques along with the temporal association, we postulate that the chiropractor neck manipulation itself induced vitreo-retinal traction that likely led to pre-retinal haemorrhages which were self-limited. It is also possible that the HVLA technique could have mechanically assisted with induction of a posterior vitreous detachment.
If the authors are correct, one has to wonder: how often do such problems occur in patients who simply do not bother to report them, or doctors who do not correctly diagnose them?
If you want to be able to edit your comment for five minutes after you first submit it, you will need to tick the box: "Save my name, email, and website in this browser for the next time I comment."