education
For years, Margaret McCartney, a GP from Scotland, wrote a weekly column in the BMJ. It was invariably well-worth reading. Recently, she regrettably ended it by publishing her last article entitled  A summary of four and a half years of columns in one column. In it, she makes 36 short points. They are all poignant, but the one that made me think most (probably because it is relevant to my work and this blog) reads as follows:
Many people seek to make money from those who don't understand science. Doctors should call out bollocksology when they see it.
On this blog, I have often discussed people who make money from consumers and patients who are unable to detect the quackery they are being sold. No doubt, the most famous case of me doing this was when, in 2009, I criticised Prince Charles and his 'Dodgy Originals Detox Tincture'. It made many headlines; the BBC, for instance, reported:
Edzard Ernst, the UK's first professor of complementary medicine, said the Duchy Originals detox tincture was based on "outright quackery".
There was no scientific evidence to show that detox products work, he said.
Duchy Originals says the product is a "natural aid to digestion and supports the body's elimination processes".
But Professor Ernst of Peninsula Medical School said Prince Charles and his advisers appeared to be deliberately ignoring science, preferring "to rely on 'make-believe' and superstition".
He added: "Prince Charles thus financially exploits a gullible public in a time of financial hardship."
Marketed as Duchy Herbals' Detox Tincture, the artichoke and dandelion mix is described as "a food supplement to help eliminate toxins and aid digestion".
It costs £10 for a 50ml bottle…
At the time, I got a right blocking from my dean, Prof John Tooke, for my audacity. As far as I could see, there was almost no support from the UK medical profession. Since then, the exploitation of the public by quacks has not diminished; on the contrary, I have the feeling that it is thriving. And are doctors calling out bollocksology left right and centre? No, they are not!
Of course, some do occasionally raise their voices (and some do it even regularly). But mostly, it is the group of non-medical sceptics who open their mouths and try their best to prevent harm. Yet, I wholly agree with my friend Margret: doctors have a responsibility and must do more.
And why don't they?
I think, there are several reasons for their inactivity:
doctors are frightfully busy,
doctors often don't know how much bollocksology is out there,
doctors don't (want to) see how dangerous much of this bollocksology is,
doctors fail to realise that it would be their ethical responsibility to speak out against bollocksology,
some doctors do not seem to understand science either,
some doctors are active bollocksologists themselves,
some doctors simply don't care.
This clearly is a depressing state of affairs! But, at the same time, it also is a cheerful occasion for me to thank all those doctors who are the laudable exceptions, who do care, who do think critically, who see their ethical responsibility, and who do something about the never-ending flood of bollocksology endangering their patients' health and wealth.
It has been reported that the faculty of medicine of Lille unversity in France has suspended its degree in homeopathy for the 2018-19 academic year. The university announced its decision on Twitter, and the faculty of medicine's dean, Didier Gosset, confirmed it to the AFP news agency: "It has to be said that we teach medicine based on proof – we insist on absolute scientific rigour – and it has to be said that homeopathy has not evolved in the same direction, that it is a doctrine that has remained on the margins of the scientific movement, that studies on homeopathy are rare, that they are not very substantial," he explained. "Continuing to teach it would be to endorse it."
The decision is, of course, long overdue and must be welcomed. Personally, however, I wonder why defenders of reason like Prof Gosset often employ such unclear lines of argument. Would it not be clearer to make (some of) these simple points?
The assumptions on which homeopathy is based are obsolete and implausible.
It is not that we do not understand homeopathy's mode of action, but we understand that there cannot be one that does not fly in the face of science.
The clinical evidence fails to show that highly diluted homeopathic remedies are more than placebos.
Homeopathy can cause significant harm, e. g. through neglect.
Homeopathy costs millions which would be much better used for evidence-based treatments.
The practice of homeopathy hinders progress and does not provide benefit for the public.
Teaching homeopathy at university-level is unscientific, unethical and nonsensical.
The French are among the world's largest consumers of homeopathic remedies. The French social security system does normally reimburse homeopathic therapy. A group of doctors challenged this situation in an open letter in Le Figaro newspaper in March 2018. They called practitioners of homeopathy and other alternative medicines "charlatans", pointing to a 2017 report by the European Academies Science Advisory Council that stressed, like a plethora of previous reports, the "absence of proof of homeopathy's efficacy". They challenged the French medical council to stop allowing doctors to practice homeopathy and asked the social security system to stop paying for it. Subsequently, a group of French homeopaths filed a formal complaint with the medical council against the signatories of this letter.
France's health ministry has asked France's National Health Authority to prepare and publish a report on whether homeopathy works and should be paid for by the public purse. It is due to be delivered in February 2019.
WATCH THIS SPACE
About 7 months ago, I contacted a German journalist who I knew and trusted to tell her about the incredible quackery-promotion performed by Germany's institutes of adult education, the 'Volkshochschulen' (VHSs). After I had been invited to give a few lectures for the VHSs, I had conducted some preliminary research and realised that, nationwide, they run hundreds of courses promoting the worst types of quackery.
My journalist friend, Veronika Hackenbroch, who works for DER SPIEGEL liked the idea of conducting an in-depth investigation into the matter. What it revealed became the centre-piece of a theme issue published today. Here is its title page:
In a nutshell, the key finding is that every 5th course offered by the VHSs in the area of healthcare is steeped in woo. Considering that their funding comes mainly from the public purse, this is intolerable. When asked why they offer so much quackery, some heads of local VHSs said that they are not competent to evaluate the science; they simply assume that, if doctors in Germany use these treatments – specifically homeopathy – and if the public wants to learn about them, they have to offer them.
When I first heard this argument, it made me speechless. It has some undeniable logic behind it. The heads of VHSs are not medical experts. Thus, they cannot do their own research or evaluations. To just follow what the doctors must therefore seem reasonable to them.
So, where is the crux of the problem?
I think, it lies in the vicious circle that inevitable unfolds such a situation:
some people like homeopathy (or other bogus treatments),
therefore, they ask their doctors to provide it,
therefore, some doctors offer it,
therefore, the VHSs feel they can promote if,
therefore, people like homeopathy (or other bogus treatments).
This circle has no beginning and no end; it just turns and turns. And it is difficult to stop, not least because it is driven by the relentless promotion of interested parties, such as the manufacturers of woo. Yet, if we want to make progress and are serious about improving healthcare, we have to try stopping it!
But how?
Through providing information and fighting misinformation (of course, some rules and regulations would help as well).
That's exactly what we tried to do – thank you Veronika Hackenbroch!
How often do we hear this sentence: "I know, because I have done my research!" I don't doubt that most people who make this claim believe it to be true.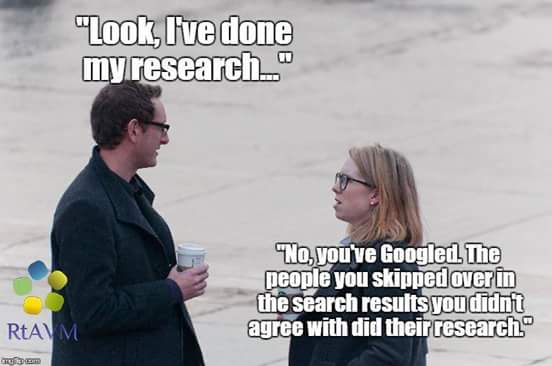 But is it?
What many mean by saying, "I know, because I have done my research", is that they went on the internet and looked at a few websites. Others might have been more thorough and read books and perhaps even some original papers. But does that justify their claim, "I know, because I have done my research"?
The thing is, there is research and there is research.
The dictionary defines research as "The systematic investigation into and study of materials and sources in order to establish facts and reach new conclusions." This definition is helpful because it mentions several issues which, I believe, are important.
Research should be:
systematic,
an investigation,
establish facts,
reach new conclusions.
To me, this indicates that none of the following can be truly called research:
looking at a few randomly chosen papers,
merely reading material published by others,
uncritically adopting the views of others,
repeating the conclusions of others.
Obviously, I am being very harsh and uncompromising here. Not many people could, according to these principles, truthfully claim to have done research in alternative medicine. Most people in this realm do not fulfil any of those criteria.
As I said, there is research and research – research that meets the above criteria, and the type of research most people mean when they claim: "I know, because I have done my research."
Personally, I don't mind that the term 'research' is used in more than one way:
there is research meeting the criteria of the strict definition
and there is a common usage of the word.
But what I do mind, however, is when the real research is claimed to be as relevant and reliable as the common usage of the term. This would be a classical false equivalence, akin to putting experts on a par with pseudo-experts, to believing that facts are no different from fantasy, or to assume that truth is akin to post-truth.
Sadly, in the realm of alternative medicine (and alarmingly, in other areas as well), this is exactly what has happened since quite some time. No doubt, this might be one reason why many consumers are so confused and often make wrong, sometimes dangerous therapeutic decisions. And this is why I think it is important to point out the difference between research and research.
The following announcement was made by the NHS on 7 August 2018:
The Governing Body of Bristol, North Somerset and South Gloucestershire (BNSSG) Clinical Commissioning Group (CCG) today approved changes that mean NHS funded homeopathy will only be available in exceptional circumstances in the area. The changes will mean the CCG's Individual Funding Request (IFR) Panel would need a clinician to set out why the patient is clinically exceptional before treatment could be provided.
The decision comes after the publication of a report, which took evidence from local people, clinicians, patient groups, providers of homeopathic treatments and national guidelines.
CCG Clinical Chair Dr Jonathan Hayes said, "We are working hard to become an evidence-informed organisation because we need to make the best use of all resources to offer treatment and care to the widest range of people. The decision on homeopathy funding today is a step towards this and brings us in line with national guidelines."
It is estimated that 41 patients receiving NHS funded homeopathic consultations in the area cost the local NHS £109,476 in the 2017/2018 financial year.
END OF QUOTE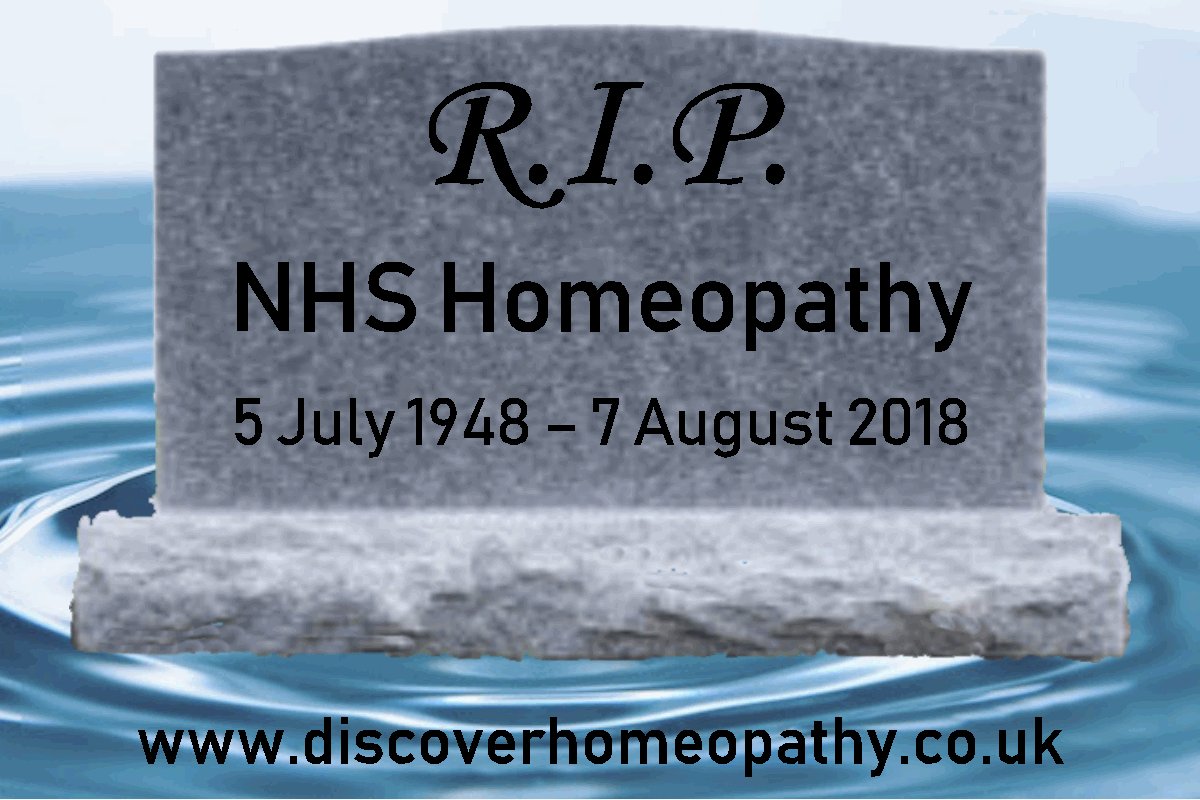 The move is the result of 4 years of excellent work by the GOOD THINKING SOCIETY, a charity dedicate to the promotion of rational thinking.
Michael Marshall, its Project Director, said: "We are very pleased to see the Bristol CCGs take this decision to cease funding for homeopathy – every other CCG across the country has made it clear that homeopathic remedies are no better than placebo and such there is simply no place for homeopathy on the NHS.
"With the end to homeopathy funding in Bristol, the region joins NHS bodies across the rest the country in recognising that homeopathy is not a valid use of limited NHS resources. There is now no CCG in England where homeopathic pills or consultations can be routinely funded with NHS money – instead, funding can be directed towards treatments that have been shown to actually work."
Does that not call for a knighthood for Mr Marshall?
One would have thought so!
Who will tell Prince Charles to get the ball rolling?
And while we are all waiting for the big event, you might as well donate a few £s to this truly splendid charity.
Please be generous!!!
We have previously seen that SCAM-use is associated with shorter survival of cancer patients. A new article now confirms this notion.
The investigators wanted to find out what patient characteristics are associated with use of SCAM for cancer and what is the association of SCAM with treatment adherence and survival. They thus  compared the overall survival between patients with cancer receiving conventional treatments with or without SCAM and the adherence to treatment and characteristics of patients in both groups.
Their retrospective observational study used data from the National Cancer Database on 1 901 815 patients from 1500 Commission on Cancer–accredited centers across the United States who were diagnosed with nonmetastatic breast, prostate, lung, or colorectal cancer between January 1, 2004, and December 31, 2013. Patients were matched on age, clinical group stage, Charlson-Deyo comorbidity score, insurance type, race/ethnicity, year of diagnosis, and cancer type.  Overall survival, adherence to treatment, and patient characteristics were the study endpoints.
The cohort comprised 1 901 815 patients with cancer (258 patients in the SCAM group and 1 901 557 patients in the control group). In the main analyses following matching, 258 patients were in the SCAM group, and 1032 patients were in the control group. Patients who chose SCAM did not have a longer delay to initiation of conventional therapies, but had higher refusal rates of surgery, radiotherapy, and hormone therapy. Use of SCAM was associated with poorer 5-year overall survival compared with no SCAM (82.2% [95% CI, 76.0%-87.0%] vs 86.6% [95% CI, 84.0%-88.9%]; P = .001) and was independently associated with greater risk of death (hazard ratio, 2.08; 95% CI, 1.50-2.90) in a multivariate model that did not include treatment delay or refusal. However, there was no significant association between SCAM and survival once treatment delay or refusal was included in the model.
The authors concluded that patients who received CM were more likely to refuse additional CCT, and had a higher risk of death. The results suggest that mortality risk associated with CM was mediated by the refusal of CCT.
This new evidence confirms previous papers: SCAM-use is associated with shorter survival of cancer patients. As it is based on a large sample size, its results are more compelling. They indicate that it is not SCAM per se, but the attitude of SCAM-users to conventional therapies that is the cause of the effect. As I have said and written hundreds of times: the most serious risk of SCAM is not a direct but an indirect one: the risk of neglecting effective therapies. Essentially, this means that better information targeted at vulnerable patients must be the way forward (one of the main ambitions of this blog, I hasten to add).
On this blog, we constantly discuss the shortcomings of clinical trials of (and other research into) alternative medicine. Yet, there can be no question that research into conventional medicine is often unreliable as well.
What might be the main reasons for this lamentable fact?
A recent BMJ article discussed 5 prominent reasons:
Firstly, much research fails to address questions that matter. For example, new drugs are tested against placebo rather than against usual treatments. Or the question may already have been answered, but the researchers haven't undertaken a systematic review that would have told them the research was not needed. Or the research may use outcomes, perhaps surrogate measures, that are not useful.
Secondly, the methods of the studies may be inadequate. Many studies are too small, and more than half fail to deal adequately with bias. Studies are not replicated, and when people have tried to replicate studies they find that most do not have reproducible results.
Thirdly, research is not efficiently regulated and managed. Quality assurance systems fail to pick up the flaws in the research proposals. Or the bureaucracy involved in having research funded and approved may encourage researchers to conduct studies that are too small or too short term.
Fourthly, the research that is completed is not made fully accessible. Half of studies are never published at all, and there is a bias in what is published, meaning that treatments may seem to be more effective and safer than they actually are. Then not all outcome measures are reported, again with a bias towards those are positive.
Fifthly, published reports of research are often biased and unusable. In trials about a third of interventions are inadequately described meaning they cannot be implemented. Half of study outcomes are not reported.
END OF QUOTE
Apparently, these 5 issues are the reason why 85% of biomedical research is being wasted.
That is in CONVENTIONAL medicine, of course.
What about alternative medicine?
There is no question in my mind that the percentage figure must be even higher here. But do the same reasons apply? Let's go through them again:
Much research fails to address questions that matter. That is certainly true for alternative medicine – just think of the plethora of utterly useless surveys that are being published.
The methods of the studies may be inadequate. Also true, as we have seen hundreds of time on this blog. Some of the most prevalent flaws include in my experience small sample sizes, lack of adequate controls (e.g. A+B vs B design) and misleading conclusions.
Research is not efficiently regulated and managed. True, but probably not a specific feature of alternative medicine research.
Research that is completed is not made fully accessible. most likely true but, due to lack of information and transparency, impossible to judge.
Published reports of research are often biased and unusable. This is unquestionably a prominent feature of alternative medicine research.
All of this seems to indicate that the problems are very similar – similar but much more profound in the realm of alternative medicine, I'd say based on many years of experience (yes, what follows is opinion and not evidence because the latter is hardly available).
The thing is that, like almost any other job, research needs knowledge, skills, training, experience, integrity and impartiality to do it properly. It simply cannot be done well without such qualities. In alternative medicine, we do not have many individuals who have all or even most of these qualities. Instead, we have people who often are evangelic believers in alternative medicine, want to further their field by doing some research and therefore acquire a thin veneer of scientific expertise.
In my 25 years of experience in this area, I have not often seen researchers who knew that research is for testing hypotheses and not for trying to prove one's hunches to be correct. In my own team, those who were the most enthusiastic about a particular therapy (and were thus seen as experts in its clinical application), were often the lousiest researchers who had the most difficulties coping with the scientific approach.
For me, this continues to be THE problem in alternative medicine research. The investigators – and some of them are now sufficiently skilled to bluff us to believe they are serious scientists – essentially start on the wrong foot. Because they never were properly trained and educated, they fail to appreciate how research proceeds. They hardly know how to properly establish a hypothesis, and – most crucially – they don't know that, once that is done, you ought to conduct investigation after investigation to show that your hypothesis is incorrect. Only once all reasonable attempts to disprove it have failed, can your hypothesis be considered correct. These multiple attempts of disproving go entirely against the grain of an enthusiast who has plenty of emotional baggage and therefore cannot bring him/herself to honestly attempt to disprove his/her beloved hypothesis.
The plainly visible result of this situation is the fact that we have dozens of alternative medicine researchers who never publish a negative finding related to their pet therapy (some of them were admitted to what I call my HALL OF FAME on this blog, in case you want to verify this statement). And the lamentable consequence of all this is the fast-growing mountain of dangerously misleading (but often seemingly robust) articles about alternative treatments polluting Medline and other databases.
Why  do most alternative practitioners  show such dogged determination not to change their view of the efficacy of their therapy, even if  good evidence shows that it is a placebo? This is the question that I have been pondering for some time. I have seen many doctors change their mind about this or that treatment in the light of new evidence. In fact, I have not seen one who has not done so at some stage. Yet I have never seen an alternative therapist change his/her mind about his/her alternative therapy. Why is that?
You might say that the answers are obvious:
because they have heavily invested in their therapy, both emotionally and financially;
because their therapy has 'stood the test of time';
because they believe what they were taught;
because they are deluded, not very bright, etc.;
because they need to earn a living.
All of these reasons may apply. But do they really tell the whole story? While contemplating about this question, I thought of something that had previously not been entirely clear to me: they simply KNOW that the evidence MUST be wrong.
Let me try to explain.
Consider an acupuncturist (I could have chosen almost any other type of alternative practitioner) who has many years of experience. He has grown to be a well-respected expert in the world of acupuncture. He sits on various committees and has advised important institutions. He knows the literature and has treated thousands of patients.
This experience has taught him one thing for sure: his patients do benefit from his treatment. He has seen it happening too many times; it cannot be a coincidence. Acupuncture works, no question about it.
And this is also what the studies tell him. Even the most sceptical scientist cannot deny the fact that patients do get better after acupuncture. So, what is the problem?
The problem is that sceptics say that this is due to a placebo effect, and many studies seem to confirm this to be true. Yet, our acupuncturist completely dismisses the placebo explanation.
Why?
Because he has heavily invested in their therapy? Perhaps.
Because acupuncture has 'stood the test of time'? Perhaps.
Because he believes what he has been taught? Perhaps.
Because he is deluded, not very bright, etc.? Perhaps.
Because he needs to earn a living? Perhaps.
But there is something else.
He has only ever treated his patients with acupuncture. He has therefore no experience of real medicine, or other therapeutic options. He has no perspective. Therefore, he does not know that patients often get better, even if they receive an ineffective treatment, even if they receive no treatment, and even if they receive a harmful treatment. Every improvement he notes in his patients, he relates to his acupuncture. Our acupuncturist never had the opportunity to learn to doubt cause and effect in his clinical routine. He never had to question the benefits of acupuncture. He never had to select from a pool of therapies the optimal one, because he only ever used acupuncture.
It is this lack of experience that never led him to think critically about acupuncture. He is in a similar situation as physicians were 200 years ago; they only (mainly) had blood-letting, and because some patients improved with it, they had no reason to doubt it. He only ever saw his successes (not that all his patients improved, but those who did not, did not return). He simply KNOWS that acupuncture works, because his own, very limited experience never forced him to consider anything else. And because he KNOWS, the evidence that does not agree with his knowledge MUST be wrong.
I am of course exaggerating and simplifying in order to make a point. And please don't get me wrong.
I am not saying that doctors cannot be stubborn. And I am not saying that all alternative practitioners have such limited experience and are unable to change their mind in the light of new evidence. However, I am trying to say that many alternative practitioners have a limited perspective and therefore find it impossible to be critical about their own practice.
If I am right, there would be an easy (and entirely alternative) cure to remedy this situation. We should sent our acupuncturist to a homeopath (or any other alternative practitioner whose practice he assumes to be entirely bogus) and ask him to watch what kind of therapeutic success the homeopath is generating. The acupuncturist would soon see that it is very similar to his own. He would then have the choice to agree that highly diluted homeopathic remedies are effective in curing illness, or that the homeopath relies on the same phenomenon as his own practice: placebo.
Sadly, this is not going to happen, is it?
One of the aims in running this blog has always been to stimulate critical thinking (not just in my readers but also in myself).
Critical thinking means making decisions and judgements based on (often confusing) evidence. According to the 'National Council for Excellence in Critical Thinking' it is the intellectually disciplined process of actively and skilfully conceptualizing, applying, analysing, synthesizing, and/or evaluating information gathered from, or generated by, observation, experience, reflection, reasoning, or communication, as a guide to belief and action.
Carl Sagan explained it best: "It seems to me what is called for is an exquisite balance between two conflicting needs: the most skeptical scrutiny of all hypotheses that are served up to us and at the same time a great openness to new ideas. Obviously those two modes of thought are in some tension. But if you are able to exercise only one of these modes, whichever one it is, you're in deep trouble. If you are only skeptical, then no new ideas make it through to you. You never learn anything new. You become a crotchety old person convinced that nonsense is ruling the world. (There is, of course, much data to support you.) But every now and then, maybe once in a hundred cases, a new idea turns out to be on the mark, valid and wonderful. If you are too much in the habit of being skeptical about everything, you are going to miss or resent it, and either way you will be standing in the way of understanding and progress. On the other hand, if you are open to the point of gullibility and have not an ounce of skeptical sense in you, then you cannot distinguish the useful as from the worthless ones."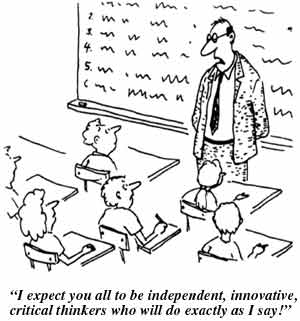 Critical thinking is not something one is born with; but I strongly believe that most people can be taught this skill. This study suggests that I may be right. The researchers measured the relationship between student's religion, gender, and propensity for fantasy thinking with the change in belief for paranormal and pseudoscientific subjects following a science and critical thinking course. Student pre-course endorsement of religious, paranormal, and pseudo-scientific beliefs ranged from 21 to 53%, with religion having the highest endorsement rate. Pre-course belief in paranormal and pseudo-scientific subjects was correlated with high scores in some fantasy thinking scales and showed a gender and a religion effect with females having an 11.1% higher belief across all paranormal and pseudo-science subcategories. Students' religion, and frequency of religious service attendance, was also important with agnostic or atheist students having lower beliefs in paranormal and pseudo-science subjects compared to religious students. Students with either low religious service attendance or very high attendance had lower paranormal and pseudoscientific beliefs.
Following the critical thinking course, overall beliefs in paranormal and pseudo-scientific subcategories lowered 6.8–28.9%, except for superstition, which did not significantly change. Change in belief had both a gender and religion effect with greater reductions among religious students and females.
The link between religion and alternative medicine is relatively well-established. A 2014 study, for instance, showed an association between alternative medicine use and religiosity. The finding that females have an 11.1% higher belief in the paranormal and pseudo-science is new to me, but it would tie in with the well-documented fact that women use alternative medicine more frequently than men.
The most important finding, however, is clearly that critical thinking can be taught.
That must be good news! As discussed previously, critical thinkers experience fewer bad things in life than those of us who do not have acquired that skill. This cannot come as a surprise – being able to tell useful concepts from worthless ones should achieve exactly that.
It has been reported that, between 1 January 2018 and 31 May 2018, there have been 587 laboratory confirmed measles cases in England. They were reported in most areas with London (213), the South East (128), West Midlands (81), South West (62), and Yorkshire/Humberside (53). Young people and adults who missed out on MMR vaccine when they were younger and some under-vaccinated communities have been particularly affected.
Public Health England (PHE) local health protection teams are working closely with the NHS and local authorities to raise awareness with health professionals and local communities. Anyone who is not sure if they are fully vaccinated should check with their GP practice who can advise them.
Dr Mary Ramsay, Head of Immunisation at PHE, said:
"The measles outbreaks we are currently seeing in England are linked to ongoing large outbreaks in Europe. The majority of cases we are seeing are in teenagers and young adults who missed out on their MMR vaccine when they were children. Anyone who missed out on their MMR vaccine in the past or are unsure if they had 2 doses should contact their GP practice to catch-up. This serves as an important reminder for parents to take up the offer of MMR vaccination for their children at 1 year of age and as a pre-school booster at 3 years and 4 months of age. We'd also encourage people to ensure they are up to date with their MMR vaccine before travelling to countries with ongoing measles outbreaks. The UK recently achieved WHO measles elimination status and so the overall risk of measles to the UK population is low, however, we will continue to see cases in unimmunised individuals and limited onward spread can occur in communities with low MMR coverage and in age groups with very close mixing."
__________________________________________________________________________________
And what has this to do with alternative medicine?
More than meets the eye, I fear.
The low vaccination rates are obviously related to Wakefield's fraudulent notions of a link between MMR-vaccinations and autism. Such notions were keenly lapped up by the SCAM-community and are still being trumpeted into the ears of parents across the UK. As I have discussed many times, lay-homeopaths are at the forefront of this anti-vaccination campaign. But sadly the phenomenon is not confined to homeopaths nor to the UK; many alternative practitioners across the globe are advising their patients against vaccinations, e. g.:
Considering these facts, I wish Dr Mary Ramsay, Head of Immunisation at PHE, would have had the courage to add to her statement: IT IS HIGH TIME THAT ALTERNATIVE PRACTITIONERS DO MORE THAN A MEEK LIP SERVICE TO THE FACT THAT VACCINATIONS SAVE LIVES.