Yesterday, it was announced that the new German health secretary will be Dr. Karl Lauterbach. This seems a most reasonable choice (when did the UK last have a physician in that post?), and I certainly wish him the best of luck in his new position.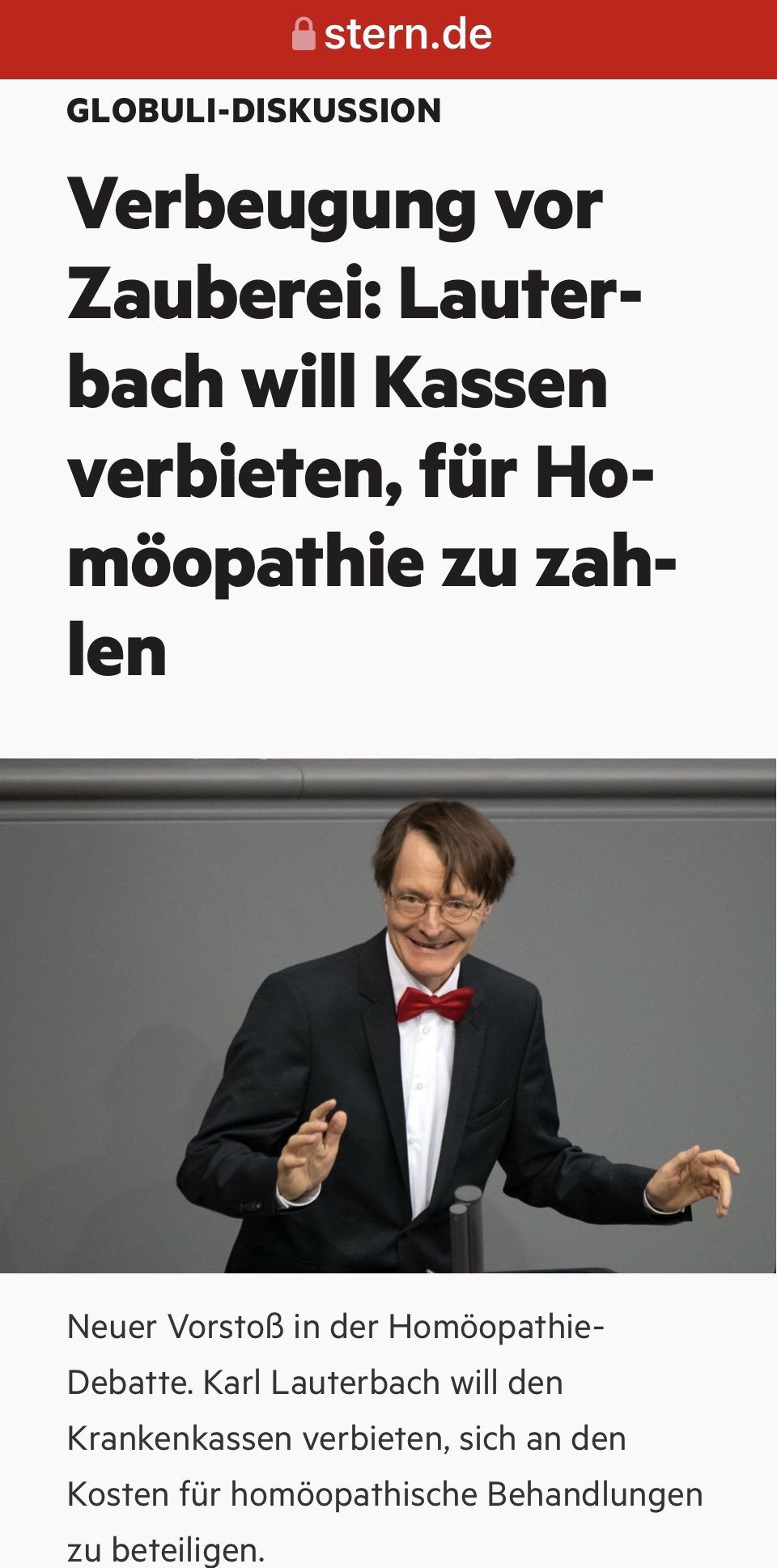 Lauterbach studied medicine at the RWTH Aachen University, University of Texas at San Antonio and University of Düsseldorf, where he graduated. From 1989 to 1992, he studied health policy and management as well as epidemiology at the Harvard School of Public Health in Boston, graduating with a Doctor of Science in 1992. From 1992 to 1993, he held a fellowship at the Harvard Medical School.
From 1998 until 2005, Lauterbach served as the director of the Institute of Health Economics and Clinical Epidemiology (IGKE) at the University of Cologne. He was appointed adjunct professor at the Harvard School of Public Health in 2008. He was a member of the Sachverständigenrat zur Begutachtung der Entwicklung im Gesundheitswesen (the council of experts advising the federal government on developments in the German healthcare system) from 1999 until he was elected to the Bundestag in September 2005.
But why does his appointment put the German defenders of homeopathy in a panic? The reason is simple: Lauterbach has in the past repeatedly argued against the reimbursement of homeopathy in Germany. This is, for instance, what DER SPIEGEL wrote in 2019 (my translation):
SPD parliamentary group vice-chairman Karl Lauterbach wants to prohibit public health insurance companies from reimbursing the costs of homeopathy. "We have to talk about this in the coalition," he told the "Tagesspiegel". Health insurance companies in Germany are not obliged to cover the costs of homeopathic treatments. However, they can pay for it voluntarily.
Voluntary benefits by health insurers must also be economically and medically reasonable, Lauterbach argues, referring to a similar push in France. According to the French Supreme Health Authority (HAS), the funds do not have sufficient scientific effect. The Ministry of Health had previously commissioned the HAS with the examination. It is considered likely that the French government will soon abolish the coverage of costs.
"In the spirit of reason and education as well as patient protection, it is also wrong in Germany for insurance companies to pay for homeopathy for marketing reasons," Lauterbach wrote on Twitter in reaction to the decision in France. His demand is not new. Lauterbach had already spoken out in 2010 for a ban on the assumption of costs.
Many observers expect that Lauterbach – after getting the pandemic under control (not an easy task by any measure) – will indeed stop the reimbursement of homeopathy. Germany's largest homeopathy producer reacted swiftly and is currently running an expensive campaign with full-page advertisements in German newspapers trying to improve the much-damaged public image of homeopathy:
In the advertisement above, for instance, it is implied that homeopaths are all in favor of vaccination. Regular readers of my blog will know that this is not true…
… and so does Dr. Lauterbach!
38 Responses to Panic has gripped the German homeopathy lobby