"energy" healing
I receive all the energy I need by charging my butthole in the sunlight!
Actually, I don't, but some people do!
The new so-called alternative medicine (SCAM) of 'perineum sunning' has become all the rage. It gives an entirely new meaning to the word 'holism'. And, like all good SCAMs, it has a long tradition. This article explains:
Butt chugging, or 'perineum sunning', is the latest wellness and health trend to take over Instagram, but should you be stripping off?
What if I told you there was a 30-second trick to having a healthier libido, getting deeper sleep, boosting your creativity, super-charging your focus and having more balanced hormone function?
Well, apparently all you need to do is remove your Bonds and let your nether regions soak in some vitamin D. Gird your loins, friends, apparently "butt chugging" is a legitimate wellness trend and we're completely and utterly perplexed.
Bringing "butt chugging", or "perineum sunning" if you want to get official about it, into the cultural lexicon is self-proclaimed healer, teacher and micro-influencer Metaphysical Meagan. This week, the superfood lover went veritably viral after preaching about the "profound" benefits of perineum sunning on Instagram. Cue: much laughter, then much confusion.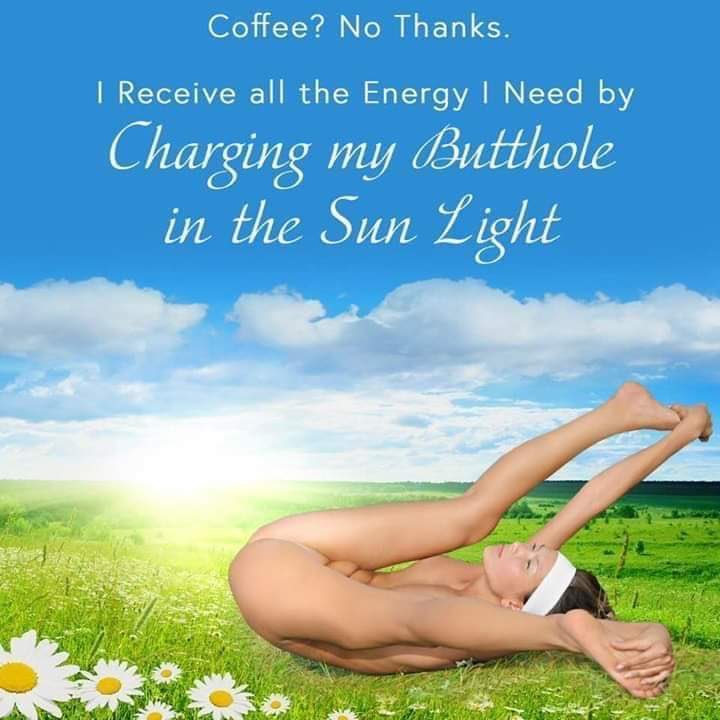 A fan explained on Instagram:
30 seconds of sunlight on your butthole is the equivalent of a full day of sunlight with your clothes on," and that it is "an ancient Taoist practice that's been around for a while!" (Yes, because that is what "ancient" means.) A few weeks after her initial post, presumably because more and more people went to her page to comment after finding various jokes about it online, Metaphysical Meagan posted the photo on Instagram for a second time, now with an outrageously long caption meant to correct any misinformation. She explains that suntanning your asshole is meant to promote the "health & longevity of the physical body," increase "creativity and creative output" and aid "in a healthy libido & balanced sexual energy." It is definitely "NOT TO TAN YOUR BUTTHOLE‼️‼️" Also, "sunscreen is not required.
So, perineum sunning is an ancient Taoist practice. That makes sense: rituals and exercises aimed at aligning oneself spiritually with cosmic forces, at undertaking ecstatic spiritual journeys, or at improving physical health are all-important elements of Taoism. And if it's got such a noble, long tradition, perineum sunning must be good, mustn't it? No evidence needed!
As I said at the beginning of this post, I have not yet had the pleasure of experiencing this SCAM. But now I am tempted, of course. As soon as the sun is out, I will try it in my garden. I do wonder, however, what the neighbours will think!
An intercessory prayer (IP) is an intervention characterized by one or more individuals praying for the well-being or a positive outcome of another person. There have been several trials of IP, but the evidence is far from clear-cut. Perhaps this new study will bring clarity?
The goal of this double-blind RCT was to assess the effects of intercessory prayer on psychological, spiritual and biological scores of breast 31 cancer patients who were undergoing radiotherapy (RT). The experimental group was prayed for, while the controla group received no such treatment. The intercessory prayer was performed by a group of six Christians, who prayed daily during 1 h while participant where under RT. The prayers asked for calm, peace, harmony and recovery of health and spiritual well-being of all participants. Data collection was performed in three time points (T0, T1 and T2).
Significant changes were noted in the intra-group analysis, concerning the decrease in spiritual distress score; negative religious/spiritual coping prevailed, while the total religious/spiritual coping increased between the posttest T2 to T0.
The authors concluded that begging a higher being for health recovery is a common practice among people, regardless of their spirituality and religiosity. In this study, this practice was performed through intercessory prayer, which promoted positive health effects, since spiritual distress and negative spiritual coping have reduced. Also, spiritual coping has increased, which means that participants facing difficult situations developed strategies to better cope and solve the problems. Given the results related to the use of intercession prayer, as a complementary therapeutic intervention, holistic nursing care should integrate this intervention, which is included in the Nursing Interventions Classification. Additionally, further evidence and research is needed about the effect of this nursing spiritual intervention in other cultures, in different clinical settings and with larger samples.
The write-up of this study is very poor and most confusing – so much so that I find it hard to make sense of the data provided. If I understand it correctly, the positive findings relate to changes within the experimental group. As RCTs are about compating one group to another, these changes are irrelevant. Therefore (and for several other methodological flaws as well), the conclusion that IP generates positive effects is not warranted by these new findings.
Like all other forms of paranormal healing, IP is implausible and lacks support of clinical effectiveness.
His name is Uriel. He been studying and controlling energy for over 20 years. Growing up as a young boy in a family that has been doing spiritual healing for over 800 years, he started to feel other people's emotions, feelings, and illnesses without having to speak to them directly.
These days, Uriel makes a living out of his gift to channel healing energy. Over the phone or via email, he offers a mind-boggling array of services (at stiff prices):
Spiritual healing and blessing for mind, body and soul – $499.
Full service energy healing – $499.
Clearing and removing black magic, curses, evil eye and witchcraft – $259.
Advice, blessings and special requests – $150.
Spiritual healing to attract money and finances – $200.
Chakra clearing and balancing service – $200.
Spiritual healing for rekindling your relationship – $499.
Spiritual healing for attracting good luck and opening your luck – $200.
Aura healing service – $200.
… and many more services and exciting products
I was particularly taken by Uriel's ability to program crystals. These can then be bought and will send positive energy to the happy customer. This is what he says about it:
Crystals have been used for thousands of years by many practitioners of healing. Every crystal has a unique energy and vibration that allows it to be programmed for specific use or purpose.
Some crystals will bring good fortune while others are meant to bring luck, physical healing, love, protection from evil eye, black magic, voodoo and jealousy. Every crystal has a unique purpose and benefit. These days with the advancement of technology not many people are familiar with crystal programming or crystals in general.
Programming crystals takes a lot of effort, it isn't a simple process and is extremely time consuming. The process starts with clearing the practitioners energy field and then using angels, ancestors, the sun, the stars and loved ones in spirit to properly clear and program the crystal such as a bracelet, necklace or stone. Each crystal can be programmed to your unique requirements. The process requires your name and birth date to insure the crystal is programmed specifically to you. This lengthily process when done properly will create miracles for the person wearing the crystal.
A skilled and experienced practitioner must know how to control angels, master the art of energy manipulation and be extremely careful  when programming the crystals to insure only positive energy is entered in to the stone as any negative vibrations will have the opposite effect on the person who will be using or wearing the stone.
Buying crystals from random places without any proper programming will not bring you any positive results. These must be properly programmed or they are nothing more then a decorative piece of jewelry. I offer a wide selection of crystal products such bracelets, necklaces and energy generators. These are programmed to your unique requirements and take me over 14 hours to properly program each unit, please visit my products page to see everything that I offer.
These crystals can be purchased for friends, family members and you can also own multiple different pieces. They will make the perfect gift to your loved ones. If you have any questions about crystal programming or my process please feel free to contact me for more information.
I find it really difficult to decide what product to try first; the choice is just far too impressive … Hold on, I know, what I am going to buy: THE ULTIMATE BLACK MAGIC PROTECTION NECKLACE. At just $199, it seems a bargain! And it might even protect me from quacks!!!
Reiki is a form of energy healing popularised by the Japanese Mikao Usui (1865-1926). 'Rei' means universal spirit (sometimes thought of as a supreme being), and 'ki' is the assumed universal life energy. Reiki is broadly based on some of the obsolete concepts of Traditional Chinese Medicine. Reiki practitioners believe that they can transfer 'healing energy' to a patient which, in turn, stimulates the self-healing properties of the body. They assume that the therapeutic effects of this technique are obtained from a 'universal life energy' that provides strength, harmony, and balance to the body and mind.
This study (entitled ' The Power of Reiki') was conducted to pilot testing the feasibility and efficacy of Reiki to provide pain relief among pediatric patients undergoing hematopoietic stem cell transplantation (HSCT). Paediatric patients undergoing HSCT during the inpatient phase in the Stem Cell Transplantation Unit were eligible to participate. Short and medium effects were assessed investigating the increase or decrease of patient's pain during three specific time periods ("delta") of the day: morning of the Reiki session versus assessment before Reiki session (within subjects control period), assessment before Reiki session versus assessment after Reiki session (within subjects experimental period) and assessment after Reiki session versus morning the day after Reiki session (within subject follow-up period). The effect of 88 Reiki therapy sessions in nine patients was analysed following a short, medium, and long-term perspective. Repeated-measures analysis of variance revealed a significant difference among the three periods: a decrease of the pain occurred in the experimental period in short and medium term, while in the follow-up period, the pain level remained stable.
The authors concluded that this study demonstrates the feasibility of using Reiki therapy in pediatric cancer patients undergoing HSCT. Furthermore, these findings evidence that trained pediatric oncology nurses can insert Reiki into their clinical practice as a valid instrument for diminishing suffering from cancer in childhood.
This is an unusual conclusion in that it is strictly speaking correct. What is wrong, however, that the abstract reports findings related to the alleged effectiveness of Reiki. A feasibility study is not designed for that purpose. I therefore suggest to ignore all allusions to therapeutic effects.
This, I think, begs the question as to why it is necessary or productive to study Reiki in clinical trials.
The treatment is not plausible.
There have been many trials already.
The ones that are sufficiently rigorous fail to show that it has any effects beyond placebo.
The medical literature is already highly polluted with Reiki studies reporting false-positive results.
This can only confuse researchers who attempt to conduct reviews on the subject.
Reiki studies discredit clinical research.
They are a waste of valuable resources.
Arguably, they are even unethical.
If you ask me, it is high time to stop researching such implausible nonsense.
Biofield tuning?
What on earth is this new SCAM?
Do I really have a 'biofield'?
How can I tune it?
And what effect does it have?
Here is an article that explains all this in some detail; enjoy:
While western science has yet to describe and measure this energy, other cultures, especially ancient Indian or Vedic cultures describe it extensively. The term "chakra" (wheel) in Sanskirt, refers to spinning energy vortices which are seen as structures in the body's subtle energy anatomy. Not coincidentally, within the body at each chakra location there is a corresponding large cluster of nerves or plexuses.​
One way of understanding subtle energy is through the analogy "subtle energy is to electromagnetism as water vapor is to water."  Just as we do not measure water vapor with the same tools we use to measure water, we can't use the same tools to measure subtle energy we would use to measure electricity.  Subtle energy is higher, finer, more diffuse and follows slightly different laws.
​
Another word for this energy is "bioplasma."  Bioplasma is a diffuse magnetic fluid which surrounds all living beings. Like a fluid, it can be of varying viscosities and densities. In Biofield Tuning (also known as "sound balancing", we see the human biofield as a bioplasmic toroid-shaped (doughnut-shaped) bubble which surrounds the body at a distance of about five feet to the sides and two-three feet at the top and bottom; bounded by a double layer plasma membrane much like the protective boundary which defines the earth's upper atmosphere.
During a Biofield Tuning session, a client lies fully clothed on a treatment table while the practitioner activates a tuning fork and scans the body slowly beginning from a distance. The practitioner is feeling for resistance and turbulence in the client's energy field, as well as listening for a change in the overtones and undertones of the tuning fork. When the practitioner encounters a turbulent area he/she continues to activate the tuning fork and hold it in that specific spot. Research suggests the body's organizational energy uses the steady coherent vibrational frequency of the tuning fork to "tune" itself.  In short order, the dissonance resolves and the sense of resistance gives way. This appears to correspond to the release of tension within the body.
Practitioners work with the "Biofield Anatomy Map", a compilation of Biofield Tuning's founder, Eileen Day McKusick's 20+ years of biofield observations. Areas of dissonance can be pinpointed to a specific age and type of memory. For example, one might find a strong sense of sadness at age 12 or birth trauma at the outer edge of the biofield.
Holding an activated tuning fork in the area of a traumatic memory or another difficult time period produces repeatable, predictable outcomes. The sound input seems to help the body digest and integrate unprocessed experiences.  As the biofield dissonance subsides, clients generally report feeling "lighter" and a diminishment or resolution of their symptoms.
The Sonic Slider is a custom-made weighted tuning fork that harnesses the power of therapeutic sound to help you feel and look younger and healthier.
Users report a wide range of benefits including more energy, greater well-being, weight loss, increased muscle tone, smoother skin, reduced pain, improved circulation and more.
Did I promise too much? Surely, you must agree, this is FANTASTIC!
I am so glad that someone has closely studied my instructions and followed them almost to the dot – my instructions as to HOW TO BECOME A CHARLATAN. In case you have forgotten, I repeat them here:
1. Find an attractive therapy and give it a fantastic name
Most of the really loony ideas turn out to be taken: ear candles, homeopathy, aura massage, energy healing, urine-therapy, chiropractic etc. As a true charlatan, you want your very own quackery. So you will have to think of a new concept.
Something truly 'far out' would be ideal, like claiming the ear is a map of the human body which allows you to treat all diseases by doing something odd on specific areas of the ear – oops, this territory is already occupied by the ear acupuncture brigade. How about postulating that you have super-natural powers which enable you to send 'healing energy' into patients' bodies so that they can repair themselves? No good either: Reiki-healers might accuse you of plagiarism.
But you get the gist, I am sure, and will be able to invent something. When you do, give it a memorable name, the name can make or break your new venture.
2. Invent a fascinating history
Having identified your treatment and a fantastic name for it, you now need a good story to explain how it all came about. This task is not all that tough and might even turn out to be fun; you could think of something touching like you cured your moribund little sister at the age of 6 with your intervention, or you received the inspiration in your dreams from an old aunt who had just died, or perhaps you want to create some religious connection [have you ever visited Lourdes?]. There are no limits to your imagination; just make sure the story is gripping – one day, they might make a movie of it.
3. Add a dash of pseudo-science
Like it or not, but we live in an age where we cannot entirely exclude science from our considerations. At the very minimum, I recommend a little smattering of sciency terminology. As you don't want to be found out, select something that only few experts understand; quantum physics, entanglement, chaos-theory and Nano-technology are all excellent options.
It might also look more convincing to hint at the notion that top scientists adore your concepts, or that whole teams from universities in distant places are working on the underlying mechanisms, or that the Nobel committee has recently been alerted etc. If at all possible, add a bit of high tech to your new invention; some shiny new apparatus with flashing lights and digital displays might be just the ticket. The apparatus can be otherwise empty – as long as it looks impressive, all is fine.
4. Do not forget a dose of ancient wisdom
With all this science – sorry, pseudo-science – you must not forget to remain firmly grounded in tradition. Your treatment ought to be based on ancient wisdom which you have rediscovered, modified and perfected. I recommend mentioning that some of the oldest cultures of the planet have already been aware of the main pillars on which your invention today proudly stands. Anything that is that old has stood the test of time which is to say, your treatment is both effective and safe.
5. Claim to have a panacea
To maximise your income, you want to have as many customers as possible. It would therefore be unwise to focus your endeavours on just one or two conditions. Commercially, it is much better to affirm in no uncertain terms that your treatment is a cure for everything, a panacea. Do not worry about the implausibility of such a claim. In the realm of quackery, it is perfectly acceptable, even common behaviour to be outlandish.
6. Deal with the 'evidence-problem' and the nasty sceptics
It is depressing, I know, but even the most exceptionally gifted charlatan is bound to attract doubters. Sceptics will sooner or later ask you for evidence; in fact, they are obsessed by it. But do not panic – this is by no means as threatening as it appears. The obvious solution is to provide testimonial after testimonial.
You need a website where satisfied customers report impressive stories how your treatment saved their lives. In case you do not know such customers, invent them; in the realm of quackery, there is a time-honoured tradition of writing your own testimonials. Nobody will be able to tell!
7. Demonstrate that you master the fine art of cheating with statistics
Some of the sceptics might not be impressed, and when they start criticising your 'evidence', you might need to go the extra mile. Providing statistics is a very good way of keeping them at bay, at least for a while. The general consensus amongst charlatans is that about 70% of their patients experience remarkable benefit from whatever placebo they throw at them. So, my advice is to do a little better and cite a case series of at least 5000 patients of whom 76.5 % showed significant improvements.
What? You don't have such case series? Don't be daft, be inventive!
8. Score points with Big Pharma
You must be aware who your (future) customers are (will be): they are affluent, had a decent education (evidently without much success), and are middle-aged, gullible and deeply alternative. Think of Prince Charles! Once you have empathised with this mind-set, it is obvious that you can profitably plug into the persecution complex which haunts these people.
An easy way of achieving this is to claim that Big Pharma has got wind of your innovation, is positively frightened of losing millions, and is thus doing all they can to supress it. Not only will this give you street cred with the lunatic fringe of society, it also provides a perfect explanation why your ground-breaking discovery has not been published it the top journals of medicine: the editors are all in the pocket of Big Pharma, of course.
9. Ask for money, much money
I have left the most important bit for the end; remember: your aim is to get rich! So, charge high fees, even extravagantly high ones. If your treatment is a product that you can sell (e.g. via the internet, to escape the regulators), sell it dearly; if it is a hands-on therapy, charge heavy consultation fees and claim exclusivity; if it is a teachable technique, start training other therapists at high fees and ask a franchise-cut of their future earnings.
Over-charging is your best chance of getting famous – or have you ever heard of a charlatan famous for being reasonably priced?  It will also get rid of the riff-raff you don't want to see in your surgery. Poor people might be even ill! No, you don't want them; you want the 'worried rich and well' who can afford to see a real doctor when things should go wrong. But most importantly, high fees will do a lot of good to your bank account.
___________________________________________________
I must say, it is truly satisfying to see one's advice taken so literally!
So-called alternative medicine (SCAM) for animals is popular. A recent survey suggested that 76% of US dog and cat owners use some form of SCAM. Another survey showed that about one quarter of all US veterinary medical schools run educational programs in SCAM. Amazon currently offers more that 4000 books on the subject.
The range of SCAMs advocated for use in animals is huge and similar to that promoted for use in humans; the most commonly employed practices seem to include acupuncture, chiropractic, energy healing, homeopathy (as discussed in the previous post) and dietary supplements. In this article, I will briefly discuss the remaining 4 categories.
ACUPUNCTURE
Acupuncture is the insertion of needles at acupuncture points on the skin for therapeutic purposes. Many acupuncturists claim that, because it is over 2 000 years old, acupuncture has 'stood the test of time' and its long history proves acupuncture's efficacy and safety. However, a long history of usage proves very little and might even just demonstrate that acupuncture is based on the pre-scientific myths that dominated our ancient past.
There are many different forms of acupuncture. Acupuncture points can allegedly be stimulated not just by inserting needles (the most common way) but also with heat, electrical currents, ultrasound, pressure, bee-stings, injections, light, colour, etc. Then there is body acupuncture, ear acupuncture and even tongue acupuncture. Traditional Chinese acupuncture is based on the Taoist philosophy of the balance between two life-forces, 'yin and yang'. In contrast, medical acupuncturists tend to cite neurophysiological theories as to how acupuncture might work; even though some of these may appear plausible, they nevertheless are mere theories and constitute no proof for acupuncture's validity.
The therapeutic claims made for acupuncture are legion. According to the traditional view, acupuncture is useful for virtually every condition. According to 'Western' acupuncturists, acupuncture is effective mostly for chronic pain. Acupuncture has, for instance, been used to improve mobility in dogs with musculoskeletal pain, to relieve pain associated with cervical neurological disease in dogs, for respiratory resuscitation of new-born kittens, and for treatment of certain immune-mediated disorders in small animals.
While the use of acupuncture seems to gain popularity, the evidence fails to support this. Our systematic review of acupuncture (to the best of my knowledge the only one on the subject) in animals included 14 randomized controlled trials and 17 non-randomized controlled studies. The methodologic quality of these trials was variable but, on average, it was low. For cutaneous pain and diarrhoea, encouraging evidence emerged that might warrant further investigation. Single studies reported some positive inter-group differences for spinal cord injury, Cushing's syndrome, lung function, hepatitis, and rumen acidosis. However, these trials require independent replication. We concluded that, overall, there is no compelling evidence to recommend or reject acupuncture for any condition in domestic animals. Some encouraging data do exist that warrant further investigation in independent rigorous trials.
Serious complications of acupuncture are on record and have repeatedly been discussed on this blog: acupuncture needles can, for instance, injure vital organs like the lungs or the heart, and they can introduce infections into the body, e. g. hepatitis. About 100 human fatalities after acupuncture have been reported in the medical literature – a figure which, due to lack of a monitoring system, may disclose just the tip of an iceberg. Information on adverse effects of acupuncture in animals is currently not available.
Given that there is no good evidence that acupuncture works in animals, the risk/benefit balance of acupuncture cannot be positive.
CHIROPRACTIC
Chiropractic was created by D D Palmer (1845-1913), an American magnetic healer who, in 1895, manipulated the neck of a deaf janitor, allegedly curing his deafness. Chiropractic was initially promoted as a cure-all by Palmer who claimed that 95% of diseases were due to subluxations of spinal joints. Subluxations became the cornerstone of chiropractic 'philosophy', and chiropractors who adhere to Palmer's gospel diagnose subluxation in nearly 100% of the population – even in individuals who are completely disease and symptom-free. Yet subluxations, as understood by chiropractors, do not exist.
There is no good evidence that chiropractic spinal manipulation might be effective for animals. A review of the evidence for different forms of manual therapies for managing acute or chronic pain syndromes in horses concluded that further research is needed to assess the efficacy of specific manual therapy techniques and their contribution to multimodal protocols for managing specific somatic pain conditions in horses. For other animal species or other health conditions, the evidence is even less convincing.
In humans, spinal manipulation is associated with serious complications (regularly discussed in previous posts), usually caused by neck manipulation damaging the vertebral artery resulting in a stroke and even death. Several hundred such cases have been documented in the medical literature – but, as there is no system in place to monitor such events, the true figure is almost certainly much larger. To the best of my knowledge, similar events have not been reported in animals.
Since there is no good evidence that chiropractic spinal manipulations work in animals, the risk/benefit balance of chiropractic fails to be positive.
ENERGY HEALING
Energy healing is an umbrella term for a range of paranormal healing practices, e. g. Reiki, Therapeutic Touch, Johrei healing, faith healing. Their common denominator is the belief in an 'energy' that can be used for therapeutic purposes. Forms of energy healing have existed in many ancient cultures. The 'New Age' movement has brought about a revival of these ideas, and today 'energy' healing systems are amongst the most popular alternative therapies in many countries.
Energy healing relies on the esoteric belief in some form of 'energy' which refers to some life force such as chi in Traditional Chinese Medicine, or prana in Ayurvedic medicine. Some proponents employ terminology from quantum physics and other 'cutting-edge' science to give their treatments a scientific flair which, upon closer scrutiny, turns out to be little more than a veneer of pseudo-science.
Considering its implausibility, energy healing has attracted a surprisingly high level of research activity in the form of clinical trials on human patients. Generally speaking, the methodologically best trials of energy healing fail to demonstrate that it generates effects beyond placebo. There are few studies of energy healing in animals, and those that are available are frequently less than rigorous (see for instance here and here). Overall, there is no good evidence to suggest that 'energy' healing is effective in animals.
Even though energy healing is per se harmless, it can do untold damage, not least because it can lead to neglect of effective treatments and it undermines rationality in our societies. Its risk/benefit balance therefore fails to be positive.
DIETARY SUPPLEMENTS
Dietary supplements for veterinary use form a category of remedies that, in most countries, is a regulatory grey area. Supplements can contain all sorts of ingredients, from minerals and vitamins to plants and synthetic substances. Therefore, generalisations across all types of supplements are impossible. The therapeutic claims that are being made for supplements are numerous and often unsubstantiated. Although they are usually promoted as natural and safe, dietary supplements do not have necessarily either of these qualities. For example, in the following situations, supplements can be harmful:
Combining one supplement with another supplement or with prescribed medicines
Substituting supplements for prescription medicines
Overdosing some supplements, such as vitamin A, vitamin D, or iron
Examples of currently most popular supplements for use in animals include chondroitin, glucosamine, probiotics, vitamins, minerals, lutein, L-carnitine, taurine, amino acids, enzymes, St John's wort, evening primrose oil, garlic and many other herbal remedies. For many supplements taken orally, the bioavailability might be low. There is a paucity of studies testing the efficacy of dietary supplements in animals. Three recent exceptions (all of which require independent replication) are:
Dietary supplements are promoted as being free of direct risks. On closer inspection, this notion turns out to be little more than an advertising slogan. As discussed repeatedly on this blog, some supplements contain toxic materials, contaminants or adulterants and thus have the potential to do harm. A report rightly concluded that many challenges stand in the way of determining whether or not animal dietary supplements are safe and at what dosage.  Supplements considered safe in humans and other cross-species are not always safe in horses, dogs, and cats.  An adverse event reporting system is badly needed.  And finally, regulations dealing with animal dietary supplements are in disarray.  Clear and precise regulations are needed to allow only safe dietary supplements on the market.
It is impossible to generalise about the risk/benefit balance of dietary supplements; however, caution is advisable.
CONCLUSION
SCAM for animals is an important subject, not least because of the current popularity of many treatments that fall under this umbrella. For most therapies, the evidence is woefully incomplete. This means that most SCAMs are unproven. Arguably, it is unethical to use unproven medicines in routine veterinary care.
PS
I was invited several months ago to write this article for VETERINARY RECORD. It was submitted to peer review and subsequently I withdrew my submission. The above post is a slightly revised version of the original (in which I used the term 'alternative medicine' rather than 'SCAM') which also included a section on homeopathy (see my previous post). The reason for the decision to withdraw this article was the following comment by the managing editor of VETERINARY RECORD:  A good number of vets use these therapies and a more balanced view that still sets out their efficacy (or otherwise) would be more useful for the readership.
Need a last minute X-mas present?
I might have just the right thing for you: Healing Courses Online.
They are run by true professionals who clearly know what they are doing: The founders of The Online Bio Energy Healing Training Course are John Donohoe and Patricia Hesnan, both of whom have been working in the alternative complementary healing area for over 25 years. Our healing centre clinic has been involved in teaching, development and trainings since it was first established in 1990, and we continue to promote and hold our regular live training courses.
Healing Courses Online is registered with the CMA (Complementary Medical Association), which is internationally recognized as the leading organization in professional, ethical complementary medicine by professional practitioners, therapists, and the public in general. Having completed this course, you can apply for membership of the CMA which offers a number of benefits including supplying professional accreditation. The CAM industry does not have a single regulatory body at present. With this in mind here at Oisin Centre Limited and Healing Courses Online we provide certification and training of the highest standards and expect our students to adhere to all statutory regulations, standards and codes of ethics regarding professional practice as therapists. You can feel safe in the knowledge that we are an experienced and trusted provider of Energy Healing training courses.
AND HERE ARE THE DETAILS AND PRICE-TAGS OF 4 COURSES:
A diploma course in energy healing. It includes 58 professional video lessons, 8 PDF lectures in a carefully constructed A, B, C, step-by-step format, allowing you to learn each technique and each application in easy stages. When you have completed the course you receive a Certified Diploma in Energy Healing. Once you have the knowledge and understand how to apply this energy healing therapy you can help yourself and others to activate the body's own natural process of self-healing.
€97.00 – Was €375.00
A diploma course in sound healing. It includes 37 professional video lessons, 18 PDF lectures in a carefully constructed A, B, C, step-by-step format, allowing you to learn each technique and each application in easy stages. When you have completed the course, you receive a Certified Diploma in Sound Healing. Learn the secrets to sound healing with Tibetan singing bowls, Chinese gong, Tuning forks, the Human Voice, plus energy healing clearing for chakras plus much more.
€69.00 – Was €275.00
A diploma course in animal energy healing. It includes 30 practical video lessons and 5 PDF lectures in a carefully constructed A, B, C, step-by-step format, allowing you to learn each technique and each application in easy stages. When you have completed the course, you receive a Certified Diploma in Animal Healing. This is an ideal course to learn how you can help your pet or any animal so they may be healthy, happy and content.
€59.00 – Was €225.00
SELF HEALING / SELF HELP ONLINE COURSE includes 24 professional video lessons, plus 20 PDF lectures in a carefully constructed A, B, C, step-by-step format, allowing you to learn each technique and each application in easy stages and certification of completion. You can view a video with simple Qi-Gong exercises filmed at picturesque Galway Bay in Ireland. The aim of using singing bowls, crystal bowls, tuning forks, healing music, or the human voice as a self healing modality is to help restore the body to its normal.
€19.99 – Was €199.00
__________________________________________________________________________
IN CASE YOU WONDER WHAT YOU CAN DO ONCE YOU HAVE PASSED ONE OF THOSE COURSES, THE COURSE DIRECTORS GIVE IT TO YOU STRAIGHT:
Energy healing can be used as a standalone therapy or in conjunction with many other modalities including counselling, psychotherapy, hypnosis, acupuncture, massage, reflexology, and many more.
As soon as you have completed the course plus a short 10 question test, you will be granted your diploma, which you can download and print. (Your diploma is also automatically sent to your email account.)
___________________________________________________________________________
On this blog and elsewhere, my critics regularly complain that I do not have any qualifications in alternative medicine. Therefore, I am tempted to enrol (as a generous and high-value X-mas present to myself) – even though I am still uncertain which of the 4 courses might be best for me (and, of course, I cannot be sure to pass the '10 question test'!).
How about you?
Will you join me?
The authors of this paper wanted to establish and compare the effectiveness of Healing Touch (HT) and Oncology Massage (OM) therapies on cancer patients' pain. They conducted pre-test/post-test, observational, retrospective study. A total of 572 outpatient oncology were recruited and asked to report pain before and after receiving a single session of either HT or OM from a certified practitioner.
Both HT and OM significantly reduced pain. Unadjusted rates of clinically significant pain improvement (defined as ≥2-point reduction in pain score) were 0.68 HT and 0.71 OM. Adjusted for pre-therapy pain, OM was associated with increased odds of pain improvement. For patients with severe pre-therapy pain, OM was not more effective in yielding clinically significant pain reduction when adjusting for pre-therapy pain score.
The authors concluded that both HT and OM provided immediate pain relief. Future research should explore the duration of pain relief, patient attitudes about HT compared with OM, and how this may differ among patients with varied pretherapy pain levels.
This paper made me laugh out loud; no, not because of the 'certified' practitioners (in the UK, we use this term to indicate that someone is not quite sane), but because of the admission that the authors aimed at establishing the effectiveness of their therapies. Most researchers of alternative medicine have exactly this motivation, but few make the mistake to write it into the abstract of their papers. Little do they know that this admission discloses a fatal amount of bias. Science is supposed to test hypotheses, and researchers who aim at establishing the effectiveness of their pet-therapy oust themselves as pseudo-researchers.
It comes therefore as no surprise that the study turns out to be a pseudo-study. As there was no adequate control group, these outcomes cannot be attributed to the interventions administered. The results could therefore be due to:
the time that has passed;
regression to the mean;
the attention provided by the therapists;
the expectation of the patient;
social desirability;
all of the above.
It follows that – just as with the study discussed in the previous post – the conclusion is wholly misleading. In fact, the data are consistent with the hypothesis that HT and OM both aggravated the pain (the results might have been better without HT and OM). The devils advocate concludes that both HT and OM provided an immediate increase in pain.
Alternative practitioners practise highly diverse therapies. They seem to have nothing in common – except perhaps that ALL of them are allegedly stimulating our self-healing powers (and except that most proponents are latently or openly against vaccinations). And it is through these self-healing powers that the treatments in question cure anything and become a true panacea. When questioned what these incredible powers really are, most practitioners would (somewhat vaguely) name the immune system as the responsible mechanism. With this post, I intend to provide a short summary of the evidence on this issue:
Acupuncture: no good evidence to show stimulation of self-healing powers.
Aromatherapy: no good evidence to show stimulation of self-healing powers.
Bioresonance: no good evidence to show stimulation of self-healing powers.
Chiropractic: no good evidence to show stimulation of self-healing powers.
Detox: no good evidence to show stimulation of self-healing powers.
Energy healing: no good evidence to show stimulation of self-healing powers.
Feldenkrais: no good evidence to show stimulation of self-healing powers.
Gua sha: no good evidence to show stimulation of self-healing powers.
Herbal medicine: no good evidence to show stimulation of self-healing powers.
Homeopathy: no good evidence to show stimulation of self-healing powers.
Macrobiotics: no good evidence to show stimulation of self-healing powers.
Naturopathy: no good evidence to show stimulation of self-healing powers.
Osteopathy: no good evidence to show stimulation of self-healing powers.
Power bands: no good evidence to show stimulation of self-healing powers.
Reiki: no good evidence to show stimulation of self-healing powers.
Reflexology: no good evidence to show stimulation of self-healing powers.
Shiatsu: no good evidence to show stimulation of self-healing powers.
Tai chi: no good evidence to show stimulation of self-healing powers.
TCM: no good evidence to show stimulation of self-healing powers.
Vibrational therapy: no good evidence to show stimulation of self-healing powers.
---
Vaccinations: very good evidence to show stimulation of self-healing powers.
---
THE END
The only time we discussed gua sha, it led to one of the most prolonged discussions we ever had on this blog (536 comments so far). It seems to be a topic that excites many. But what precisely is it?
Gua sha, sometimes referred to as "scraping", "spooning" or "coining", is a traditional Chinese treatment that has spread to several other Asian countries. It has long been popular in Vietnam and is now also becoming well-known in the West. The treatment consists of scraping the skin with a smooth edge placed against the pre-oiled skin surface, pressed down firmly, and then moved downwards along muscles or meridians. According to its proponents, gua sha stimulates the flow of the vital energy 'chi' and releases unhealthy bodily matter from blood stasis within sore, tired, stiff or injured muscle areas.
The technique is practised by TCM practitioners, acupuncturists, massage therapists, physical therapists, physicians and nurses. Practitioners claim that it stimulates blood flow to the treated areas, thus promoting cell metabolism, regeneration and healing. They also assume that it has anti-inflammatory effects and stimulates the immune system.
These effects are said to last for days or weeks after a single treatment. The treatment causes microvascular injuries which are visible as subcutaneous bleeding and redness. Gua sha practitioners make far-reaching therapeutic claims, including that the therapy alleviates pain, prevents infections, treats asthma, detoxifies the body, cures liver problems, reduces stress, and contributes to overall health.
Gua sha is mildly painful, almost invariably leads to unsightly blemishes on the skin which occasionally can become infected and might even be mistaken for physical abuse.
There is little research of gua sha, and the few trials that exist tend to be published in Chinese. But recently, a new paper has emerged that is written in English. The goal of this systematic review was to evaluate the available evidence from randomized controlled trials (RCTs) of gua sha for the treatment of patients with perimenopausal syndrome.
A total of 6 RCTs met the inclusion criteria. Most were of low methodological quality. When compared with Western medicine therapy alone, meta-analysis of 5 RCTs indicated favorable statistically significant effects of gua sha plus Western medicine. Moreover, study participants who received Gua Sha therapy plus Western medicine therapy showed significantly greater improvements in serum levels of follicle-stimulating hormone (FSH), luteinizing hormone (LH) compared to participants in the Western medicine therapy group.
The authors concluded that preliminary evidence supported the hypothesis that Gua Sha therapy effectively improved the treatment efficacy in patients with perimenopausal syndrome. Additional studies will be required to elucidate optimal frequency and dosage of Gua Sha.
This sounds as though gua sha is a reasonable therapy.
Yet, I think this notion is worth being critically analysed. Here are some caveats that spring into my mind:
Gua sha lacks biological plausibility.
The reviewed trials are too flawed to allow any firm conclusions.
As most are published in Chinese, non-Chinese speakers have no possibility to evaluate them.
The studies originate from China where close to 100% of TCM trials report positive results.
In my view, this means they are less than trustworthy.
The authors of the above-cited review are all from China and might not be willing, able or allowed to publish a critical paper on this subject.
The review was published in Complement Ther Clin Pract., a journal not known for its high scientific standards or critical stance towards TCM.
So, is gua sha a reasonable therapy?
I let you make this judgement.