quackery
Yesterday, I had the honour and pleasure to present to the UK press my new book entitled 'ALTERNATIVE MEDICINE, A CRITICAL ASSESSMENT OF 150 MODALITIES' (see also my previous post). The SCIENCE MEDIA CENTRE had invited me to do a 'media briefing' on the occasion of its publication. I did this by outlining the background around so-called alternative medicine (SCAM) and explaining the concept of the new book which essentially is – as its title indicates – to provide concise and critical assessments of 150 modalities.
In the course of my short presentation, I mentioned the following exotic modalities in order to show that my book goes beyond the 'usual suspects' of acupuncture, chiropractic, etc.:
BERLIN WALL
COLLOIDAL SILVER
PALEO DIET
PLACENTOPHAGY
URINE THERAPY
CUPPING
GUA SHA
LYMPH DRAINAGE
SLAPPING THERAPY
VISCERAL OSTEOPATHY
JOHREI HEALING
LEECH THERAPY
NEURAL THERAPY
ZERO BALANCE
APPLIED KINESIOLOGY
IRIDOLOGY
LIVE BLOOD ANALYSIS
PULSE DIAGNOSIS
RADIONICS
As it turned out, the journalists present found the BERLIN WALL remedy the most fascinating aspect of my talk. And this is clearly reflected in today's articles covering the event: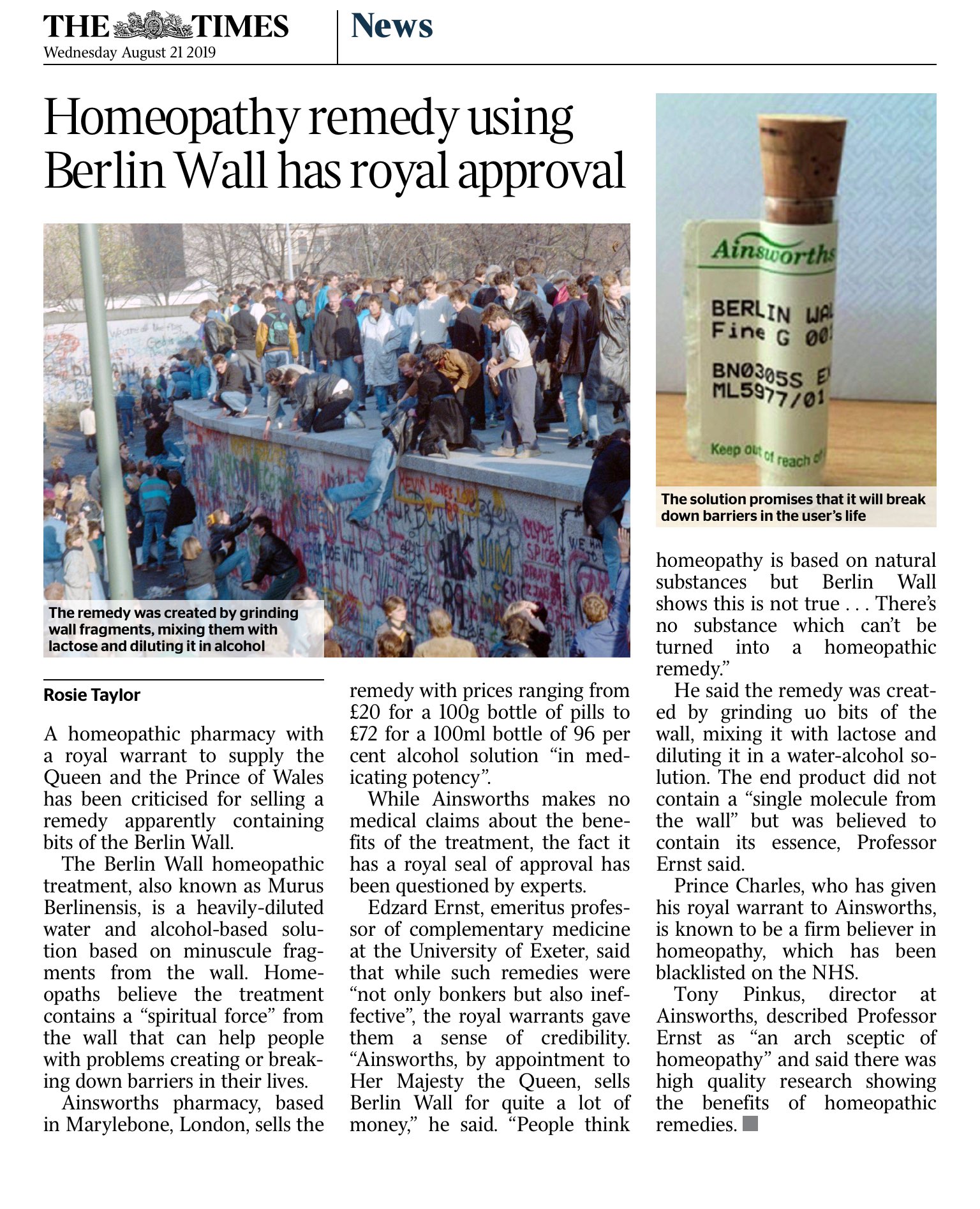 The DAILY TELEGRAPH published an article much in the same vein, and so did THE SUN and the EXPRESS (not available on line). The only UK newspaper I have seen so far going beyond the Berlin Wall topic is THE DAILY MAIL. The paper mentions several other so-called alternative medicines (SCAMs) that consumers need to be protected from, in my view.
Interestingly, none of the articles mentioned that my new book is not an exercise in debunking. During my presentation, I made the point that several of my assessments of 150 modalities do arrive at positive conclusions for therapies that demonstrably generate more good than harm.
I also tried to point out to the journalists that SCAM includes a range of diagnostic techniques. None of them are valid which means that they present a real danger to consumers through false-positive and false-negative diagnoses. In particular the latter scenario can cost lives.
All in all, I did enjoy yesterday's press briefing very much. I am aware of the fact that, in the realm of SCAM, the press have a most important role to play. Consumers rarely consult their doctor when deciding to use SCAM; frequently they go by what they read in the papers.
In this context, I find it noteworthy that, during the last years, the UK press have become considerably more sceptical. Not so long ago, most UK journalists used to praise SCAM like the best thing since sliced bread; today this attitude has laudably shifted towards a more rational stance. I am sure that the excellent work of the SCIENCE MEDIA CENTRE has played a crucial part in this positive development.
Leprosy can be a devastating infection. But, since many years, it is treatable. The WHO developed a multidrug therapyTrusted Source in 1995 to cure all types of leprosy. It's available free of charge worldwide. Additionally, several antibiotics are used to kill the bacteria that causes leprosy, e.g.:
dapsone
rifampin
clofazimine
minocycline
ofloxacin
Yes, leprosy is treatable … that is, unless you follow the advice issued in this article and treat it with homeopathy:
Homoeopathy remedies are given on the basis of similar signs and symptoms along with the miasmatic classification of diseases. Homoeopathy physicians said that leprosy is characteristics of syphilis miasm due to their mental and physical conditions. Mentally person thinks that he/she may be isolated and left alone in a corner of society due to dirty looking of the skin and tendency to spread of disease from direct contact. They feel alone and make hypothesis that the society needs outbreak from me because of physical disabilities like paralysis, and loss of controls on body functions. A well selected homoeopathy remedy helps out patient to come out from this condition and make possible to live in society from permanent restoration of health.
SULPHUR – 'It is mainly known as king of anti-psoric' in wide range of homoeopathy. Hahnemann says that sulphur has reputation as a remedy against itch perhaps as old medicine i.e., as early as 2000 years ago. Skin of sulphur indicates vesicular skin eruptions and skin may treated by medicated soaps and washes. Clinical trials says that sulphur have similar signs and symptoms as indicated by disease.
GRAPHITES – It is a great remedy for all sorts of skin eruptions with a tendency towards malignancy. It also indicates various symptoms of leprosy and may be used in treatment.
PETROLEUM – The skin of petroleum has cracks and fissures all over the body and indicates various similar symptoms as of disease condition.
RHUS TOXICODENDRON – Skin shows erysipelas vesicular eruptions, vesicles are yellow, from left to right with much swelling, inflammation, burning, itching and stinging that are very much similar to leprosy sign and symptoms, so it may be prescribed.
CICUTA VIROSA – This homoeopathic medicine used in the conditions when patients are anxious about their future and epileptic attacks with spasmodic movements of the limbs.
ALOE SOCOTRINA – This homoeopathy medicine works when the patients are fear of death and angry from themselves for their conditions. This medicine have tendency to acts upon the abdominal and lumbar region of the patient.
BLATTA ORIENTALIS – It is used when the patient is anxious about their skin and health. Patient suffers from the chronic inflammations of the chest and other lung infections that are also found in disease.
Leprosy is a non-fatal infectious disease caused by bacteria Myobacterium leprae and spread by direct contact and other mode of transmissions. It may be treated with homoeopathic medicines if well selected medicine related to mental and physical symptoms is taken by patients. Homoeopathy medicines help out patients to rearrange the vital force to fight against infectious bacteria and makes possible that the body itself fight against the disease.
To be sure, I ran a quick Medline search. You guessed the result, I suppose: not a single hint from anything resembling a clinical trial that homeopathy might be an effective therapy of leprosy.
One question, however, does remain open: how do homeopaths who claim such irresponsible nonsense sleep?
(And in case you think that the above post is a rare exception, you have not recently searched the Internet!)
Before a scientific paper gets published in a journal, it is submitted to the process of peer-review. Essentially, this means that the editor sends it to 2 or 3 experts in the field asking them to review the submission. Reviewers usually do not get any reward for this, yet the task they are asked to do can be tedious, difficult and time-consuming. Therefore, most reviewers think carefully before accepting it.
My friend Timothy Caulfield was recently invited by a medical journal to review a study of homeopathy. Here is his response to the editor as posted on Twitter:
I find myself regularly in similar situations. Yet, I have never responded in this way. Here is what I normally do:
I have a look at the journal itself. If it is one of those SCAM publications, I tend to politely reject the invitation because, in my experience, their review process is farcical and not worth the effort. All too often it has happened that I reviewed a paper that was of very poor quality and thus recommended rejecting it. Yet the editor ignored my expert opinion and published the article nevertheless. This is why, several years ago, I decided enough is enough and no longer consider investing my time is such frustrating work.
If the journal is of decent standing, I would have a look at the submission the editor sent me. If it makes any sense at all I would consider reviewing it (obviously depending on whether I have the time and the expertise).
If a decent journal invites me to review a nonsensical paper (I assume that was the case Timothy referred to), I find myself in the same position as my friend Timothy. But, contrary to Timothy, I normally take the trouble to write a critical review of a nonsensical submission. Why? The reason is simple: if I don't do it, the editor will simply send it to another reviewer. Many journals allow authors to suggest reviewers of their choice. Thus, the editor might send the submission next to the person suggested by the author who most likely will write a favourable review, thus hugely increasing the chances that the paper will be published in a decent journal.
On this blog, we have seen repeatedly that even top journal occasionally publish rubbish papers. Perhaps they do so because well-intentioned experts react in the way my friend Timothy did above (as he failed to tell us what journal invited him, I might be wrong).
If we want pseudoscience to disappear, we are fighting a lost battle. It will always rear its ugly head in third class journals. This is lamentable, but perhaps not so disastrous: by publishing little else than rubbish, these SCAM journals discredit themselves and will eventually be read only by pseudoscientists.
But we can do our bit to get rid of pseudoscience in decent journals. For this to happen, I think, rational thinkers need to accept invitations from such journals and do a proper review. And, of course, they can add to it a sentence or two about the futility of reviewing nonsense.
I am sure Timothy and I both want to eliminate pseudoscience as much as possible. In other words, we are in agreement about the aim, yet we differ in our approach. The question is: which is more effective?
The World Federation of Chiropractic, Strategic Plan 2019-2022 has just been published. It is an odd document that holds many surprises. Sadly, none of them are positive.
As the efficacy and safety of chiropractic spinal manipulations, the hallmark treatment that close to 100% of all chiropractic patients receive, are more than a little doubtful, one would expect that such a strategy would focus on the promotion of rigorous clinical research to create more certainty in these two important areas. If you are like me and were hoping for a firm commitment to such activities, you will be harshly disappointed.
Already in the introduction, the WFC sets an entirely different agenda:
We believe that everyone deserves access to chiropractic. We believe in chiropractors being accessible throughout the world. We believe that societies can thrive where chiropractors are available as a part of people's health care teams.
If you are not put off by such self-serving, nauseous nonsense and read on, you find what the WFC call the 'FOUR STRATEGIC PILLARS'
SUPPORT
EMPOWERMENT
PROMOTION
ADVANCEMENT
The text supporting the first three pillars consists of insufferable platitudes, and I will therefore not burden you with it. But the title of No4 did raise my hopes of finding something along the lines of an advancement of the evidence-base of chiropractic. Sadly, this turned out to be over-optimistic. Here is the 4th pillar in its full beauty:
Advancing the chiropractic profession together under the banner of evidence-based, people-centered, interprofessional and collaborative care.
Around the world health is delivered according to prevailing societal, cultural and political factors. These social determinants mean that chiropractors must adapt to the environment in which they practice.
As a global federation we must continuously strive to advance awareness of chiropractic under a banner of ethical, evidence-based, people-centered care.
Through consensus-building, shared understanding and respectful dialogue with partners in the health system, chiropractic should become a valued partner in contributing enhanced population health.
Throughout our 7 world regions, we must advance public utilization of chiropractors to optimize the health of nations.
Through the identification of common values and a commitment to patient-centered care, we can advance the identity of chiropractors as spinal health care experts in the health care system.
The WFC will:
– Advance awareness of chiropractic among the general public, within health systems and among health professionals.
– Advance access to chiropractors for all people and broaden the integration of chiropractic services
– Advance interprofessional collaboration and the integration of chiropractic into health systems
_______________________________________________________________________
END OF QUOTE
The essence of the WFC strategy for the next 3 years thus seems to be as follows:
Avoid any discussion about the lack of evidence of chiropractic.
Promote chiropractic to the unsuspecting public at all cost.
Make sure chiropractors' cash flow is healthy.
There are some commentators on this blog who regularly try to make us believe that chiropractic is about to reform, leave obsolete concepts behind, and become a respectable, ethical and evidence-based healthcare profession. After reading the appalling drivel the WFC call their 'strategic plan', I am not optimistic that they are correct.
As reported on this blog, the Spanish minister of health want to change the EU law that governs homeopathy. Now the INH has taken action in support of this idea:
THE COMMENT
… the Spanish government … no longer wants to accept the medicinal status of homeopathy, wants to ban homeopathy from pharmacies and has already "discontinued" the first batch of homoeopathics which could not present a valid proof of efficacy upon request. England is currently performing a complete "blacklisting", i.e. a process that means the end of any registration for homeopathic medication with a drug authority.
The EU Medicines Directive does not regulate in detail how exactly the member states deal with homeopathy in health care. However, it does fix two key points: It includes homeopathy in its definition of a medical drug and obliges the states to regulate a simplified registration procedure for homeopathy instead of the usual drug approval. If one seriously wants to dispute the status of homeopathic medicinal products (and thus their privileges), one cannot completely ignore EU law.
Spain knows that. At various levels (including that of the government), there are efforts to achieve a revision of the EU directive on medicinal products in the field of homeopathy. These efforts need support. The INH has therefore addressed the following letter to German MEPs, which is initially intended to provide basic information on the facts of the case and support Spain's position in the expected discussion. This seems all the more necessary as the European homeopathic manufacturers and associations have for a long time maintained a lobby organisation directly in Brussels, which apparently has quite good material and personnel resources and whose task is to exert direct influence "on the spot". We do not have such resources, but we do have the facts. And who knows – perhaps one or the other national government will even join Spain and become active in the EU?
_________________________________________________________________
THE LETTER TO ALL GERMAN MEPs
7 August 2019
Homeopathy in the EU Medicines Directive
Dear Madam / Sir,
The European Medicines Directive (Directive 2001/83/EC of the European Parliament and of the Council of 6 November 2001 on the Community code relating to medicinal products for human use,  Official Journal of the European Community L 311, 28.11.2001) classifies homeopathic preparations as medicinal products and requires national governments to establish a simplified registration procedure outside the otherwise prescribed rules for marketing authorisation for pharmaceutical remedies.
However, the consensus of the worldwide scientific community has long since classified homeopathy as a specifically ineffective sham therapy, the spread and "popularity" of which have completely different bases than those of medical relevance (evidence). In many countries, this insight is now gaining acceptance. It will be in the well-understood interest of the public's health to take consequences of this. The misguiding of the public that homeopathy is a form of therapy expressly recognised by the legislator and therefore endowed with the credit of efficacy and harmlessness may not be continued.
In this respect, the Kingdom of Spain is already campaigning for an amendment to European pharmaceutical law, which not only grants homeopathic preparations the status of medicinal products by definition, but also grants them the additional privilege of registration (see also http://www.europarl.europa.eu/doceo/document/E-8-2018-004948-ASW_EN.html). This special legal framework has no objective justification, as the EASAC – as official advisor to the EU institutions – clearly stated in its statement of 20.09.2017 (https://easac.eu/publications/details/homeopathic-products-and-practices/).
In the interest of a science-based, honest and patient-oriented health policy, also on behalf of the German Consumer Association e.V. and its regional associations, we ask you to support a revision of the Medicines Directive in the sense described, in order to clear the way for appropriate national regulations under Community law.
You can inform yourself about the scientific status of homeopathy on the (multilingual) website of our association: www.network-homeopathy.info .
Yours sincerely
For the  Information Network Homeopathy
Dr. Natalie Grams – Dr. Ing. Norbert Aust – Dr. Christian Lübbers
__________________________________________________________________
IF YOU FEEL LIKE SUPPORTING THIS INITIALIVE, PLEASE WRITE TO YOUR MEP.
It is hardly surprising that Gwyneth Paltrow's obsession with so-called alternative medicine (SCAM) for the vagina is motivating women to try some of it. The consequences can be dramatic; not only for the wallet but also for the vagina!
Vaginal steaming made global headlines in 2015 after its promotion by celebrity Gwyneth Paltrow. One of many female genital modification practices currently on offer in Anglo-Western nations – practices both heavily promoted and critiqued – vaginal steaming is claimed to offer benefits for fertility and overall reproductive, sexual or even general health and wellbeing. We analysed a selection of online accounts of vaginal steaming to determine the sociocultural assumptions and logics within such discourse, including ideas about women, women's bodies and women's engagement with such 'modificatory' practices. Ninety items were carefully selected from the main types of website discussing vaginal steaming: news/magazines; health/lifestyle; spa/service providers; and personal blogs. Data were analysed using thematic analysis, within a constructionist framework that saw us focus on the constructions and rationalities that underpin the explicit content of the texts. Within an overarching theme of 'the self-improving woman' we identified four themes: (1) the naturally deteriorating, dirty female body; (2) contemporary life as harmful; (3) physical optimisation and the enhancement of health; and (4) vaginal steaming for life optimisation. Online accounts of vaginal steaming appear both to fit within historico-contemporary constructions of women's bodies as deficient and disgusting, and contemporary neoliberal and healthist discourse around the constantly improving subject.
A recent case-report tells a cautionary tale. Here is its abstract:
BACKGROUND:
Vaginal steaming has gained increased popularity as a method to achieve empowerment by providing vaginal tightening and to "freshen" the vagina.
CASE:
A 62-year-old woman sustained second-degree burns following vaginal steaming in an attempt to reduce vaginal prolapse.
CONCLUSION:
Clinicians need to be aware of alternative treatments available to women so that counselling may mitigate any potential harm.
As the full paper is not available to me, I had to rely on another report for further information.
The woman had been suffering from a prolapsed vagina and had been led to believe the vaginal steaming could help avoid surgery. Spas advertising "v-steaming" claim it has been used throughout history in countries in Asia and Africa. They claim the practice, which is sometimes called Yoni steaming, acts to "detox" the vagina, can ease period pains, help with fertility and much more. Experts, however, warn that it can be dangerous and point out that there is no good evidence for the health claims being made.
Dr Vanessa Mackay, a consultant and spokeswoman for the Royal College of Obstetricians and Gynaecologists, says it is a "myth" that the vagina requires extensive cleaning or treatment. She recommends using plain, unperformed soaps on the external vulva area only. "The vagina contains good bacteria, which are there to protect it," she said in a statement. "Steaming the vagina could affect this healthy balance of bacteria and pH levels and cause irritation, infection (such as bacterial vaginosis or thrush) and inflammation. It could also burn the delicate skin around the vagina (the vulva)."
Dr Magali Robert, who authored the case-report, said the injured woman attempted to steam her vagina on the advice of a traditional Chinese doctor. The woman, who gave permission for her case to be shared, sat over the boiling water for 20 minutes on two consecutive days before presenting at an emergency department with injuries. She sustained second-degree burns and had to delay reconstructive surgery while she healed.
Dr Robert, who works in pelvic medicine and reconstructive surgery in Calgary, said word of unconventional therapies like steaming can spread through channels like the internet and word-of-mouth. "Health care providers need to be aware of alternative therapies so that they can help women make informed choices and avoid potential harm," she says in the article.
Guest post by Toby Katz
Who am I?
I'm a final-year graduate medic (also hold an Economics degree) studying at St George's University. I founded the Integrative Medicine Society at the university, with the aim of hosting talks on evidence-based CAM. My interest in evidence-based CAM arose as many of my family members have benefitted from different CAM interventions (mostly due to chronic MSk pain), where conventional interventions (physiotherapy and chronic pain teams) have failed to resolve their issues.
When it comes to the CAM debate, I see myself as a centrist. I am both a CAM apologist and sceptic and in recent years I have looked to educate myself around this subject. I have read Ernst's Desktop Guide to CAM and Moral Maze books, spoken to Professor Colquhoun and most recently I undertook the Foundation Course in CAM run by the College of Medicine. My review of the course follows.
Overall, there's a lot to learn from both sides of the debate and the debate continues due to systematic issues in the UK. Ad hominem attacks don't help anyone, but conversation can. I hope I can converse with many of you in the future.
The Foundation Course
Two days of fast-paced talks on Integrative/Complementary and Alternative Medicine. The topics included: Resilience, nutritional therapy, medical acupuncture, MSk methods for non-osteopaths, homeopathy, herbs and spices, imagery and relaxation, cancer, hypnotherapy and social prescribing.
The speakers included: Professor David Peters, Dr Catherine Zollman (Medical Director for Penny Brohn), Heather Richards (Nutritional Therapist), Dr Elizabeth Thompson (GP and homeopath), Trevor Hoskisson (Hypnotherapist), Dr Mike Cummings (BMAS), Simon Mills (Medical Herbalist) – at least two of these are already in the infamous Alt Med Hall of Fame!
Initial feelings
My initial feelings upon hearing the talks were that most of these individuals are inherently good people, who want the best outcomes for their patients. Their aim is to operate in the areas of medicine where conventional medicine doesn't hold the answers – chronic pain, idiopathic headache, IBS etc. But there were also people who were advocating the use of unproven alternative therapies.
These were some of my thoughts I jotted down during the two days:
Professor Peters – Constantly speaking in generalisations. Uses historic references, romantic and philosophical language to entice listeners but generally has little point to what he says. Suffers from tangential thinking. Loses track of his own point. Very Freudian-like thinking (everyone has gone through childhood trauma according to him).
Dr Catherine Zollman – Brilliant. Absolutely brilliant. The doctor I resonate most closely with out of everyone speaking. Promoting the holistic management of a cancer diagnosis; integrating (not undermining) conventional medicine with complementary ways of dealing with the stress surrounding the diagnosis and much more. Works for a non-for-profit organisation. She has many years of oncology experience and strives to create a patient-centred approach to management.
Dr Mike Cummings – promoting medical acupuncture mainly for myofascial pain syndrome. I volunteered to receive acupuncture in my shoulder (have had post-op muscular pain since April). He dry-needled one of my trigger points and it helped, for a few days – this is better than anything a physio has done for me so far. I don't know why dry-needling isn't taught at medical school to help with myofascial pain syndrome.
Dr Elizabeth Thompson – Very respectable but I do feel the homeopathy ship has well and truly sailed. Provided 'evidence' on how 'succussion' changes the make-up of water molecules. Though Dr Thompson is medically trained, there are many non-medical homeopaths who promote things such as homeoprophylaxis and anti-vaccine views and I'm more worried about these such homeopaths. I do respect Dr Thompson and believe her when she says she has helped many patients. Whether this is due to placebo or the get-better-anyway effect I don't know.
What they were promoting
On reflection, it's clear that there was a real mix in promoting evidence-based therapies and eyebrow-raising alternatives – this is often difficult for those with an untrained eye to spot the difference. There was a general air of distrust with modern science and EBM floating around the room at all times. Sure, there are things wrong with it, but I think it's done us pretty well over the last few decades!
I irritated a few speakers when I asked about the evidence behind their claims!
What to take away
There were many GPs present, who stated they're often in a difficult position in the current system of healthcare we have in the UK. Around half of all consultations are MSk based, many of which are associated with chronic, muscular pain. The WHO analgesic pathway does little for these patients (unless you want to knock them for six with oxycodone) and physiotherapists struggle to make a real difference in a 30-minute appointment. The truth is, we are not providing GPs with the right toolkit to cope with these "difficult" patients.
Going forward
– Get a copy of Ernst et al.'s Desktop Guide for CAM
– Release more formal guidelines using this book as a base for any positive evidence
– Engage in conversation with those from both sides. We have a lot to learn from one another
– SCRAP the forms of CAM that have no plausibility
Food for thought
– If a patient's pain improves after a session of acupuncture and not from physiotherapy, does it fit with a utilitarian ethical model to deny this person access to acupuncture if EBM shows acupuncture has rates similar to placebo?
– Chronic myofascial pain syndrome. Can we manage it better in primary care? Why not teach dry needling to healthcare professionals? (https://www.ncbi.nlm.nih.gov/pmc/articles/PMC4107879/ – Desai et al suggest it works)
– What is the alternative for no CAM for many patients who suffer? If patient's choice is reduced, does that not reduce their autonomy?
If anyone wishes to contact me, you can at tkatz@live.co.uk
In
2016
, members of the World Federation of Chiropractic Disability and Rehabilitation Committee conducted an
international, cross-sectional survey
of all 193 United Nation member countries and seven dependencies to describe the global chiropractic workforce in terms of:
the availability (numbers and where they are practising),
quality (education and licensing),
accessibility (entry and reimbursement),
acceptability (scope of practice and legal rights).
An electronic survey was issued to contact persons of constituent member associations of the World Federation of Chiropractic (WFC). In addition, data were collected from government websites, personal communication and internet searches. Data were analysed using descriptive statistics.
Information was available from 90 countries in which at least one chiropractor was present. The total number of chiropractors worldwide was 103,469. The number of chiropractors per country ranged from 1 to 77,000. Chiropractic education was offered in 48 institutions in 19 countries. Direct access to chiropractic services was available in 81 (90%) countries, and services were partially or fully covered by government and/or private health schemes in 46 (51.1%) countries. The practice of chiropractic was legally recognized in 68 (75.6%) of the 90 countries. It was explicitly illegal in 12 (13.3%) countries. The scope of chiropractic practice was governed by legislation or regulation in 26 (28.9%) countries and the professional title protected by legislation in 39 (43.3%). In 43 (47.8%) countries, chiropractors were permitted to own, operate, or prescribe x-rays, in 22 (24.4%) countries they were lawfully permitted to prescribe advanced imaging (MRI or CT), and in 34 (38.8%) countries owning, operating or prescribing diagnostic ultrasound was permitted. Full or limited rights to the prescription of pharmaceutical medication were permitted in 9 (10%) countries, and authorization of sick leave was permitted in 20 (22.2%) countries. The care of children was subject to specific regulations and/or statutory restrictions in 57 (63.3%) countries.
The authors concluded as follows: We have provided information about the global chiropractic workforce. The profession is represented in 90 countries, but the distribution of chiropractors and chiropractic educational institutions, and governing legislations and regulations largely favour high-income countries. There is a large under-representation in low- and middle-income countries in terms of provision of services, education and legislative and regulatory frameworks, and the available data from these countries are limited.
The countries where chiropractic is explicitly illegal are the following:
Egypt
Argentina
Columbia
Austria,
Estonia,
Greece,
Hungary,
Lebanon,
Republic of Korea,
Taiwan,
Turkey.
Ukraine.
Forty-two countries (61.8%) have regulations and/or rules under the legislation to provide for registration or licensure of chiropractors. Chiropractors may be available in 90 countries, but 50% percent of these have 10 or fewer chiropractors. Importantly, the care of children is under regulation or restrictions in most countries.
In comparison to similar professions such as physiotherapy, the chiropractic total workforce is small (worldwide 103,469). The World Confederation of Physical Therapy reports an estimated number of 450,000 physical therapists worldwide with the number of physio therapists per capita per 100,000 ranging from 0.19 in Malawi to 282 in Finland.
This survey holds plenty of interesting information. Here is what I found most remarkable:
The World Federation of Chiropractic takes 3 years to publish data which, by then, are of course out-dated.
In most countries, the chiropractic care for children is restricted.
In many countries chiropractic is illegal.
In many countries, there are only very few or no chiropractors at all.
There are about 4 times more physiotherapists than chiropractors.
In 9 countries, chiropractors have the right to prescribe medicines.
Much of the data revealed in this survey suggests to me that the world can do without chiropractors.
Facebook and YouTube have in the past been Eldorados for quacks who used it to promote their nonsensical products, false messages, and bogus treatments. A recent article in the Washington Post explained that this might be about to change.
Hundreds of thousands of enthusiasts of so-called alternative medicine (SCAM) persuade each other on Facebook that baking soda, apple cider vinegar, frankincense, apricot kernels, tiger bones, Essiac, bleach, homeopathics, Bach flower remedies etc. are cures that doctors don't want you to know about. But recently Facebook announced that it is taking steps to limit the reach of false and sometimes dangerous therapeutic claims by treating them similar to clickbait or spam.
Facebook will "down-rank" posts that contain certain types of health misinformation, meaning those posts will appear in the news feeds of fewer users, and less prominently. The down-ranking process will use keywords and phrases that commonly appear in posts containing exaggerated or false health claims, but tend to be absent in posts containing accurate information on the same topics. Facebook's News Feed algorithms will use those suspicious phrases, which the company has identified with the help of health-care professionals, to predict which posts might contain sensational health claims.
"Misleading health content is particularly bad for our community," Travis Yeh, a Facebook product manager, wrote in a blog post. "So, last month we made two ranking updates to reduce (1) posts with exaggerated or sensational health claims and (2) posts attempting to sell products or services based on health-related claims."
In a media statement, YouTube said: "Misinformation is a difficult challenge and any misinformation on medical topics is especially concerning … We've taken a number of steps to address this, including surfacing more authoritative content across our site. Our systems are not perfect, but we've seen progress within this space."
Without question, these moves are a steps in the right direction. Whether they amount to more than a lip-service, whether they are able to out-smart the quacks, and whether they will make a real difference to the ubiquitous promotion of quackery, has to be seen.
Chiropractors often claim that they are working tirelessly towards increasing public health. But how seriously should we take such claims?
The purpose of this study was to investigate weight-loss interventions offered by Canadian chiropractors. It is a secondary analysis of data from the Ontario Chiropractic Observation and Analysis STudy (Nc = 42 chiropractors, Np = 2162 patient encounters). Its results show that around two-thirds (61.3%) of patients who sought chiropractic care were either overweight or had obesity. Very few patients had weight loss managed by their chiropractor. Among patients with body mass index equal to or greater than 18.5 kg/m2, guideline recommended weight management was initiated or continued by Ontario chiropractors in only 5.4% of encounters. Chiropractors did not offer weight management interventions at different rates among patients who were of normal weight, overweight, or obese (P value = 0.23). Chiropractors who graduated after 2005 who may have been exposed to reforms in chiropractic education to include public health were significantly more likely to offer weight management than chiropractors who graduated between 1995 and 2005.
The authors concluded that the prevalence of weight management interventions offered to patients by Canadian chiropractors in Ontario was low. Health care policy and continued chiropractic educational reforms may provide further direction to improve weight-loss interventions offered by doctors of chiropractic to their patients.
This paper seems to confirm my suspicion that the claim of chiropractors working for public heath is little more than an advertising gimmick. If we also consider the often negative attitude of chiropractors towards vaccination, the claim even deteriorates into a sick joke. Chiropractors, I have previously argued, are undermining public health and are being educated to become a danger to public health.