coronary heart disease
Acupuncture is effective in alleviating angina when combined with traditional antianginal treatment, according to a study published today in JAMA Internal Medicine. Researchers conducted a 20-week randomized clinical trial at 5 clinical centres in China. Patients with chronic, stable angina (a serious symptom caused by coronary heart disease) were randomly assigned to 4 groups:
acupuncture on acupoints in the disease-affected meridian,
acupuncture on a non-affected meridian,
sham acupuncture,
waitlist group that did not receive acupuncture.
All participants also received recommended antianginal medications. Acupuncture was given three times each week for 4 weeks. Patients were asked to keep a diary to record angina attacks. 398 patients were included in the intention-to-treat analysis. Greater reductions in angina attacks occurred in those who received acupuncture at acupoints in the disease-affected meridian compared with those in the nonaffected meridian group, the sham acupuncture group and the wait list group.
"Acupuncture was safely administered in patients with mild to moderate angina", Zhao et al wrote. "Compared with the [control] groups, adjunctive acupuncture showed superior benefits … Acupuncture should be considered as one option for adjunctive treatment in alleviating angina."
This study is well-written and looks good – almost too good to be true!
Let me explain: during the last 25 years, I must have studied several thousand clinical trials of SCAM, and I think that, in the course of this work, I have developed a fine sense for detecting trials that are odd or suspect. While reading the above RCT, my alarm-bells were ringing loud and clear.
The authors claim they have no conflicts of interest. This may well be true as far as financial conflicts of interest are concerned, but I have long argued that, in SCAM, ideological conflicts are much more powerful than financial ones. If we look at some of the authors' affiliations, we get a glimpse of this possibility:
Acupuncture and Tuina School, Chengdu University o fTraditional Chinese Medicine, Chengdu, Sichuan, China
Department of Acupuncture, Hospital of Chengdu University of Traditional Chinese Medicine, Chengdu, Sichuan, China
Acupuncture and Tuina School, Hunan University of  Traditional Chinese Medicine, Changsha, Hunan, China
Acupuncture and Tuina School, Guiyang University of Traditional Chinese Medicine, Guiyang, Guizhou, China
Acupuncture and Tuina School, Shaanxi University of Chinese Medicine, Xianyang, Shaanxi, China
Acupuncture and Tuina School, Yunnan Provincial Hospital of Traditional Chinese Medicine, Kunming, Yunnan, China
I have reported repeatedly that several independent analyses have shown that as good as no TCM studies from China ever report negative results. I have also reported that data falsification is said to be rife in China.
I am aware, of course, that these arguments are hardly evidence-based and therefore amount to mere suspicions. So, let me also mention a few factual points about the new trial:
The study was concluded 4 years ago; why is it published only now?
The primary outcome measure was entirely subjective; an objective endpoint would have been valuable.
Patient blinding was not checked but would have been important.
The discussion is devoid of any critical input; this is perhaps best seen when looking at the reference list. The authors cite none of the many critical analyses of acupuncture.
The authors did actually not use normal acupuncture but electroacupuncture. One would have liked to see a discussion of effects of the electrical current versus those of acupuncture.
The therapists were not blinded (when using electroacupuncture, this would have been achievable). Therefore, one explanation for the outcome is lies in the verbal/non-verbal communication between therapists and patients.
Acupuncture was used as an add-on therapy, and it is conceivable that patients in the acupuncture group were more motivated to take their prescribed medications.
The costs for 12 sessions of acupuncture would have been much higher (in the UK) than those for an additional medication.
The practicality of consulting an acupuncturist three times a week need to be addressed.
The long-term effects of acupuncture on angina pectoris (which is a long-term condition) are unknown.
Coming back to my initial point about the reliability of the data, I feel that it is important to not translate these findings into clinical routine without independent replications by researchers from outside China who are not promoters of acupuncture. Until such data are available, I believe that acupuncture should NOT be considered as one option for adjunctive treatment in alleviating angina.
Glucosamine supplements are often advocated for the treatment of osteoarthritis. But there is evidence that they might convey other benefits as well. This prospective observational study assessed the association of habitual glucosamine use with risk of cardiovascular disease (CVD) events. The UK Biobank data of 466 039 participants without CVD at baseline was used. They completed a questionnaire on supplement use, which included glucosamine. These participants were enrolled from 2006 to 2010 and were followed up to 2016. The main outcome measures were incident CVD events, including CVD death, coronary heart disease, and stroke.
During a median follow-up of seven years, there were 10 204 incident CVD events, 3060 CVD deaths, 5745 coronary heart disease events, and 3263 stroke events. After adjustment for age, sex, body mass index, race, lifestyle factors, dietary intakes, drug use, and other supplement use, glucosamine use was associated with a significantly lower risk of total CVD events (hazard ratio 0.85, 95% confidence interval 0.80 to 0.90), CVD death (0.78, 0.70 to 0.87), coronary heart disease (0.82, 0.76 to 0.88), and stroke (0.91, 0.83 to 1.00).
The authors concluded that habitual use of glucosamine supplement to relieve osteoarthritis pain might also be related to lower risks of CVD events.
This is an impressive study! It incorporates both a huge sample size and a long observation period. Moreover, the authors analysed the data expertly and interpreted their results with the necessary caution.
The association between glucosamine intake and CVD risk were independent of CVD risk factors, such as gender, age, income, body mass index, physical activity, healthy diet, alcohol intake, smoking status, diabetes, hypertension, high cholesterol, arthritis, drug use, and other supplement use. Moreover, the findings are in line with several previous studies that show inverse associations of glucosamine use with CVD risk and mortality. And finally, the authors discuss several biologically plausible mechanisms that could explain the observed findings.
Yet, it is conceivable that the association is not of a causal nature. There might be a host of confounders responsible for the finding. Therefore, before we now all rush to the next health-food store to buy glucosamine supplements – they are not all that cheap! – we should perhaps wait for further independent replications and research.
The objective of this 'real world' study was to evaluate the effectiveness of integrative medicine (IM) on patients with coronary artery disease (CAD) and investigate the prognostic factors of CAD in a real-world setting.
A total of 1,087 hospitalized patients with CAD from 4 hospitals in Beijing, China were consecutively selected between August 2011 and February 2012. The patients were assigned to two groups:
Chinese medicine (CM) plus conventional treatment, i.e., IM therapy (IM group). IM therapy meant that the patients accepted the conventional treatment of Western medicine and the treatment of Chinese herbal medicine including herbal-based injection and Chinese patent medicine as well as decoction for at least 7 days in the hospital or 3 months out of the hospital.
Conventional treatment alone (CT group).
The endpoint was a major cardiac event [MCE; including cardiac death, myocardial infarction (MI), and the need for revascularization].
A total of 1,040 patients finished the 2-year follow-up. Of them, 49.4% received IM therapy. During the 2-year follow-up, the total incidence of MCE was 11.3%. Most of the events involved revascularization (9.3%). Cardiac death/MI occurred in 3.0% of cases. For revascularization, logistic stepwise regression analysis revealed that age ⩾ 65 years [odds ratio (OR), 2.224], MI (OR, 2.561), diabetes mellitus (OR, 1.650), multi-vessel lesions (OR, 2.554), baseline high sensitivity C-reactive protein level ⩾ 3 mg/L (OR, 1.678), and moderate or severe anxiety/depression (OR, 1.849) were negative predictors (P<0.05); while anti-platelet agents (OR, 0.422), β-blockers (OR, 0.626), statins (OR, 0.318), and IM therapy (OR, 0.583) were protective predictors (P<0.05). For cardiac death/MI, age ⩾ 65 years (OR, 6.389) and heart failure (OR, 7.969) were negative predictors (P<0.05), while statin use (OR, 0.323) was a protective predictor (P<0.05) and IM therapy showed a beneficial tendency (OR, 0.587), although the difference was not statistically significant (P=0.218).
The authors concluded that in a real-world setting, for patients with CAD, IM therapy was associated with a decreased incidence of revascularization and showed a potential benefit in reducing the incidence of cardiac death or MI.
What the authors call 'real world setting' seems to be a synonym of 'lousy science', I fear. I am not aware of good evidence to show that herbal injections and concoctions are effective treatments for CAD, and this study can unfortunately not change this. In the methods section of the paper, we read that the treatment decisions were made by the responsible physicians without restriction. That means the two groups were far from comparable. In their discussion section, the authors state; we found that IM therapy was efficacious in clinical practice. I think that this statement is incorrect. All they have shown is that two groups of patients with similar diagnoses can differ in numerous ways, including clinical outcomes.
The lessons here are simple:
In clinical trials, lack of randomisation (the only method to create reliably comparable groups) often leads to false results.
Flawed research is currently being used by many proponents of  SCAM (so-called alternative medicine) to mislead us about the value of SCAM.
The integration of dubious treatments into routine care does not lead to better outcomes.
Integrative medicine, as currently advocated by SCAM-proponents, is a nonsense.
Personally, I like sauna bathing. It makes me feel fine. But is it healthy? More specifically, is it good for the cardiovascular system?
Finnish researchers had already shown in a large cohort study with 20 years of follow-up that increased frequency of sauna bathing is associated with a reduced risk of sudden cardiac death (SCD), fatal coronary heart disease (CHD), fatal cardiovascular disease (CVD), and all-cause mortality. Now the same group of researchers report more encouraging news for sauna-fans.
The aim of their new study was to investigate the relationship between sauna habits and CVD mortality in men and women, and whether adding information on sauna habits to conventional cardiovascular risk factors is associated with improvement in prediction of CVD mortality risk.
Sauna bathing habits were assessed at baseline in a sample of 1688 participants (mean age 63; range 53-74 years), of whom 51.4% were women. Multivariable-adjusted hazard ratios (HRs) were calculated to investigate the relationships of frequency and duration of sauna use with CVD mortality.
A total of 181 fatal CVD events occurred during a median follow-up of 15.0 years (interquartile range, 14.1-15.9). The risk of CVD mortality decreased linearly with increasing sauna sessions per week with no threshold effect. In age- and sex-adjusted analysis, compared with participants who had one sauna bathing session per week, HRs (95% CIs) for CVD mortality were 0.71 (0.52 to 0.98) and 0.30 (0.14 to 0.64) for participants with two to three and four to seven sauna sessions per week, respectively. After adjustment for established CVD risk factors, potential confounders including physical activity, socioeconomic status, and incident coronary heart disease, the corresponding HRs (95% CIs) were 0.75 (0.52 to 1.08) and 0.23 (0.08 to 0.65), respectively. The duration of sauna use (minutes per week) was inversely associated with CVD mortality in a continuous manner. Addition of information on sauna bathing frequency to a CVD mortality risk prediction model containing established risk factors was associated with a C-index change (0.0091; P = 0.010), difference in - 2 log likelihood (P = 0.019), and categorical net reclassification improvement (4.14%; P = 0.004).
(Hazard ratios for cardiovascular mortality by quartiles of the duration of sauna bathing. a Adjusted for age and gender. b Adjusted for age, gender, body mass index, smoking, systolic blood pressure, serum low-density lipoprotein cholesterol, alcohol consumption, previous myocardial infarction, and type 2 diabetes. CI, confidence interval.)
The authors concluded that higher frequency and duration of sauna bathing are each strongly, inversely, and independently associated with fatal CVD events in middle-aged to elderly males and females. The frequency of sauna bathing improves the prediction of the long-term risk for CVD mortality.
These results are impressive. What could be the underlying mechanisms? The authors offer plenty of explanations: Dry and hot sauna baths have been shown to increase the demands of cardiovascular function. Sauna bathing causes an increase in heart rate which is a reaction to the body heat load. Heart rate may be elevated up to 120–150 beats per minute during sauna bathing, corresponding to low- to moderate-intensity physical exercise training for the circulatory system without active muscle work. Acute sauna exposure has been shown to produce blood pressure lowering effects, decrease peripheral vascular resistance and arterial stiffness, and improve arterial compliance. Short-term sauna exposure also activates the sympathetic nervous and the renin-angiotensin-aldosterone systems and the hypothalamus-pituitary-adrenal hormonal axis, and short-term increases in levels of their associated hormones have been reported. Repeated sauna exposure improves endothelial function, suggesting a beneficial role of thermal therapy on vascular function. Long-term sauna bathing habit may be beneficial in the reduction of high systemic blood pressure, which is in line with previous evidence showing that blood pressure may be lower among those who are living in warm conditions with higher ambient temperature. Regular sauna bathing is associated with a lowered risk of future hypertension. Typical hot and dry Finnish sauna increases body temperature which causes more efficient skin blood flow, leading to a higher cardiac output, whereas blood flow to internal organs decreases. Sweat is typically secreted at a rate which corresponds to an average total secretion of 0.5 kg during a sauna bathing session. Increased sweating is accompanied by a reduction in blood pressure and higher heart rate, while cardiac stroke volume is largely maintained, although a part of blood volume is diverted from the internal organs to body peripheral parts with decreasing venous return which is not facilitated by active skeletal muscle work. However, it has been proposed that muscle blood flow may increase to at least some extent in response to heat stress, although sauna therapy-induced myocardial metabolic adaptations are largely unexplored. There is also evidence that regular long-term sauna bathing (average of two sessions per week) increases left ventricular ejection fraction. Heat therapy may improve left ventricular function with decreased cardiac pre- and afterload, thereby maintaining appropriate stroke volume despite large reductions in ventricular filling pressures. Additionally, previous studies have demonstrated a positive alteration of the autonomic nervous system and reduced levels of natriuretic peptides, oxidative stress, inflammation, and norepinephrine due to regular sauna therapy.
It is possible that the results are influenced by confounding factors that the researchers were unable to account for. It is also possible that people who are already ill avoid sauna bathing and that this contributed to the findings. However, the authors did their best to explore such phenomena in sub-group analysis and found that a causal relationship between sauna and CVD risk is still very likely. As a sauna-fan, I am inclined to believe them and the sceptic in me tends to agree.
Ginkgo biloba is a well-researched herbal medicine which has shown promise for a number of indications. But does this include coronary heart disease?
The aim of this systematic review was to provide information about the effectiveness and safety of Ginkgo Leaf Extract and Dipyridamole Injection (GD) as one adjuvant therapy for treating angina pectoris (AP) and to evaluate the relevant randomized controlled trials (RCTs) with meta-analysis. (Ginkgo Leaf Extract and Dipyridamole Injection is a Chinese compound preparation, which consists of ginkgo flavone glycosides (24%), terpene lactones (ginkgolide about 13%, ginkgolide about 2.9%) and dipyridamole.)
RCTs concerning AP treated by GD were searched and the Cochrane Risk Assessment Tool was adopted to assess the methodological quality of the RCTs. A total of 41 RCTs involving 4,462 patients were included in the meta-analysis. The results indicated that the combined use of GD and Western medicine (WM) against AP was associated with a higher total effective rate [risk ratio (RR)=1.25, 95% confidence interval (CI): 1.21–1.29, P<0.01], total effective rate of electrocardiogram (RR=1.29, 95% CI: 1.21–1.36, P<0.01). Additional, GD combined with WM could decrease the level of plasma viscosity [mean difference (MD)=–0.56, 95% CI:–0,81 to–0.30, P<0.01], fibrinogen [MD=–1.02, 95% CI:–1.50 to–0.54, P<0.01], whole blood low shear viscosity [MD=–2.27, 95% CI:–3.04 to–1.49, P<0.01], and whole blood high shear viscosity (MD=–0.90, 95% CI: 1.37 to–0.44, P<0.01).
The authors concluded that comparing with receiving WM only, the combine use of GD and WM was associated with a better curative effect for patients with AP. Nevertheless, limited by the methodological quality of included RCTs more large-sample, multi-center RCTs were needed to confirm our findings and provide further evidence for the clinical utility of GD.
If one reads this conclusion, one might be tempted to use GD to cure AP. I would, however, strongly warn everyone from doing so. There are many reasons for my caution:
All the 41 RCTs originate from China, and we have repeatedly discussed that Chinese TCM trials are highly unreliable.
The methodological quality of the primary RCTs was, according to the review authors 'moderate'. This is not true; it was, in fact, lousy.
Dipyridamole is not indicated in angina pectoris.
To the best of my knowledge, there is no good evidence from outside China to suggest that Ginkgo biloba is effective for angina pectoris.
Angina pectoris is caused by coronary artery disease (a narrowing of one or more coronary arteries due to atherosclerosis), and it seems implausible that this condition can be 'cured' with any medication.
So, what we have here is yet another nonsensical paper, published in a dubious journal, employing evidently irresponsible reviewers, run by evidently irresponsible editors, hosted by a seemingly reputable publisher (Springer). This is reminiscent of my previous post (and many posts before). Alarmingly, it is also what I encounter on a daily basis when scanning the new publications in my field.
The effects of this incessant stream of nonsense can only have one of two effects:
People take this 'evidence' seriously. In this case, many patients might pay with their lives for this collective incompetence.
People conclude that alt med research cannot be taken seriously. In this case, we are unlikely to ever see anything useful emerging from it.
Either way, the result will be profoundly negative!
It is high time to stop this idiocy; but how?
I wish, I knew the answer.
Do musculoskeletal conditions contribute to chronic non-musculoskeletal conditions? The authors of a new paper – inspired by chiropractic thinking, it seems – think so. Their meta-analysis was aimed to investigate whether the most common musculoskeletal conditions, namely neck or back pain or osteoarthritis of the knee or hip, contribute to the development of chronic disease.
The authors searched several electronic databases for cohort studies reporting adjusted estimates of the association between baseline neck or back pain or osteoarthritis of the knee or hip and subsequent diagnosis of a chronic disease (cardiovascular disease , cancer, diabetes, chronic respiratory disease or obesity).
There were 13 cohort studies following 3,086,612 people. In the primary meta-analysis of adjusted estimates, osteoarthritis (n= 8 studies) and back pain (n= 2) were the exposures and cardiovascular disease (n=8), cancer (n= 1) and diabetes (n= 1) were the outcomes. Pooled adjusted estimates from these 10 studies showed that people with a musculoskeletal condition have a 17% increase in the rate of developing a chronic disease compared to people without a musculoskeletal condition.
The authors concluded that musculoskeletal conditions may increase the risk of chronic disease. In particular, osteoarthritis appears to increase the risk of developing cardiovascular disease. Prevention and early
treatment of musculoskeletal conditions and targeting associated chronic disease risk factors in people with long
standing musculoskeletal conditions may play a role in preventing other chronic diseases. However, a greater
understanding about why musculoskeletal conditions may increase the risk of chronic disease is needed.
For the most part, this paper reads as if the authors are trying to establish a causal relationship between musculoskeletal problems and systemic diseases at all costs. Even their aim (to investigate whether the most common musculoskeletal conditions, namely neck or back pain or osteoarthritis of the knee or hip, contribute to the development of chronic disease) clearly points in that direction. And certainly, their conclusion that musculoskeletal conditions may increase the risk of chronic disease confirms this suspicion.
In their discussion, they do concede that causality is not proven: While our review question ultimately sought to assess a causal connection between common musculoskeletal conditions and chronic disease, we cannot draw strong conclusions  due  to  poor  adjustment,  the  analysis methods employed by the included studies, and a lack of studies investigating conditions other than OA and cardiovascular disease…We did not find studies that satisfied all of Bradford Hill's suggested criteria for casual inference (e.g. none estimated dose–response effects) nor did we find studies that used contemporary causal inference methods for observational data (e.g. a structured identification approach for selection of confounding variables or assessment of the effects of unmeasured or residual confounders. As such, we are unable to infer a strong causal connection between musculoskeletal conditions and chronic diseases.
In all honesty, I would see this a little differently: If their review question ultimately sought to assess a causal connection between common musculoskeletal conditions and chronic disease, it was quite simply daft and unscientific. All they could ever hope is to establish associations. Whether these are causal or not is an entirely different issue which is not answerable on the basis of the data they searched for.
An example might make this clearer: people who have yellow stains on their 2nd and 3rd finger often get lung cancer. The yellow fingers are associated with cancer, yet the link is not causal. The association is due to the fact that smoking stains the fingers and causes cancer. What the authors of this new article seem to suggest is that, if we cut off the stained fingers of smokers, we might reduce the cancer risk. This is clearly silly to the extreme.
So, how might the association between musculoskeletal problems and systemic diseases come about? Of course, the authors might be correct and it might be causal. This would delight chiropractors because DD Palmer, their founding father, said that 95% of all diseases are caused by subluxation of the spine, the rest by subluxations of other joints. But there are several other and more likely explanations for this association. For instance,  many people with a systemic disease might have had subclinical problems for years. These problems would prevent them from pursuing a healthy life-style which, in turn, resulted is musculoskeletal problems. If this is so, musculoskeletal conditions would not increase the risk of chronic disease, but chronic diseases would lead to musculoskeletal problems.
Don't get me wrong, I am not claiming that this reverse causality is the truth; I am simply saying that it is one of several possibilities that need to be considered. The fact that the authors failed to do so, is remarkable and suggests that they were bent on demonstrating what they put in their conclusion. And that, to me, is an unfailing sign of poor science.
During Voltaire's time, this famous quote was largely correct. But today, things are very different, and I often think this 'bon mot' ought to be re-phrased into 'The art of alternative medicine consists in amusing the patient, while medics cure the disease'.
To illustrate this point, I shall schematically outline the story of a patient seeking care from a range of clinicians. The story is invented but nevertheless based on many real experiences of a similar nature.
Tom is in his mid 50s, happily married, mildly over-weight and under plenty of stress. In addition to holding a demanding job, he has recently moved home and, as a consequence of lots of heavy lifting, his whole body aches. He had previous episodes of back trouble and re-starts the exercises a physio once taught him. A few days later, the back-pain has improved and most other pains have subsided as well. Yet a dull and nagging pain around his left shoulder and arm persists.
He is tempted to see his GP, but his wife is fiercely alternative. She was also the one who dissuaded  Tom from taking Statins for his high cholesterol and put him on Garlic pills instead. Now she gives Tom a bottle of her Rescue Remedy, but after a week of taking it Tom's condition is unchanged. His wife therefore persuades him to consult alternative practitioners for his 'shoulder problem'. Thus he sees a succession of her favourite clinicians.
THE CHIROPRACTOR examines Tom's spine and diagnoses subluxations to be the root cause of his problem. Tom thus receives a series of spinal manipulations and feels a little improved each time. But he is disappointed that the pain in the left shoulder and arm returns. His wife therefore makes another appointment for him.
THE ENERGY HEALER diagnoses a problem with Tom's vital energy as the root cause of his persistent pain. Tom thus receives a series of healing sessions and feels a little improved each time. But he is disappointed that the pain in the left shoulder and arm returns. His wife therefore makes another appointment for him.
THE REFLEXOLOGIST examines Tom's foot and diagnoses knots on the sole of his foot to cause energy blockages which are the root cause of his problem. Tom thus receives a series of most agreeable foot massages and feels a little improved each time. But he is disappointed that the pain in the left shoulder and arm returns. His wife therefore makes another appointment for him.
THE ACUPUNCTURIST examines Tom's pulse and tongue and diagnoses a chi deficiency to be the root cause of his problem. Tom thus receives a series of acupuncture treatments and feels a little improved each time. But he is disappointed that the pain in the left shoulder and arm returns. His wife therefore makes another appointment for him.
THE NATUROPATH examines Tom and diagnoses some form of auto-intoxication as the root cause of his problem. Tom thus receives a full program of detox and feels a little improved each time. But he is disappointed that the pain in the left shoulder and arm returns. His wife therefore makes another appointment for him.
THE HOMEOPATH takes a long and detailed history and diagnoses a problem with Tom's vital force to be the root cause of his pain. Tom thus receives a homeopathic remedy tailor-made for his needs and feels a little improved after taking it for a few days. But he is disappointed that the pain in the left shoulder and arm returns. His wife therefore tries to make another appointment for him.
But this time, Tom had enough. His pain has not really improved and he is increasingly feeling unwell.
At the risk of a marital dispute, he consults his GP. The doctor looks up Tom's history, asks a few questions, conducts a brief physical examination, and arranges for Tom to see a specialist. A cardiologist diagnoses Tom to suffer from coronary heart disease due to a stenosis in one of his coronary arteries. She explains that Tom's dull pain in the left shoulder and arm is a rather typical symptom of this condition.
Tom has to have a stent put into the affected coronary artery, receives several medications to lower his cholesterol and blood pressure, and is told to take up regular exercise, lose weight and make several other changes to his stressful life-style. Tom's wife is told in no uncertain terms to stop dissuading her husband from taking his prescribed medicines, and the couple are both sent to see a dietician who offers advice and recommends a course on healthy cooking. Nobody leaves any doubt that not following this complex (holistic!) package of treatments and advice would be a serious risk to Tom's life.
It has taken a while, but finally Tom is pain-free. More importantly, his prognosis has dramatically improved. The team who now look after him have no doubt that a major heart attack had been imminent, and Tom could easily have died had he continued to listen to the advice of multiple non-medically trained clinicians.
The root cause of his condition was misdiagnosed by all of them. In fact, the root cause was the atherosclerotic degeneration in his arteries. This may not be fully reversible, but even if the atherosclerotic process cannot be halted completely, it can be significantly slowed down such that he can live a full life.
My advice based on this invented and many real stories of a very similar nature is this:
alternative practitioners are often good at pampering their patients;
this may contribute to some perceived clinical improvements;
in turn, this perceived benefit can motivate patients to continue their treatment despite residual symptoms;
alternative practitioner's claims about 'root causes' and holistic care are usually pure nonsense;
their pampering may be agreeable, but it can undoubtedly cost lives.
The 'Daily Mail' is not a paper famed for its objective reporting. In politics, this can influence elections; in medicine, it can endanger public health.
A recent article is a case in point, I think.
START OF QUOTE
Traditional Chinese medicines could help prevent heart disease and the progression of pre-diabetes, according to research. Some herbal treatments proved as effective in lowering blood pressure as Western drugs and improved heart health by lowering cholesterol, scientists found. Certain alternative medicines could lower blood sugar and insulin levels, too.
Chinese medicines could be used alongside conventional treatments, say researchers from Shandong University Qilu Hospital in China. Or they can be beneficial as an alternative for patients intolerant of Western drugs, they said in their review of medical studies over a ten-year period. Senior review author from the university's department of traditional Chinese medicine said: 'The pharmacological effects and the underlying mechanisms of some active ingredients of traditional Chinese medications have been elucidated. Thus, some medications might be used as a complementary and alternative approach for primary and secondary prevention of cardiovascular disease."
It's potentially good news for people living with diabetes, which is now a global epidemic and has proved a tricky condition to manage for many people. High blood pressure is very common too, affecting more than one in four adults in the UK,  although many won't show symptoms and realise it. If untreated, it increases your risk of serious problems including heart disease, the number one killer globally.
The Chinese have used herbs for treating diseases for thousands of years and have become increasingly popular in Europe and North America, mainly as complement to Western medicine. But the researchers also warn that much of the research conducted have limitations and so their long-term effects are not proven.
Key findings  
Herbs for high blood pressure
The blood pressure-lowering effect of herb zhongfujiangya was found to be similar to that of oral anti-hypertension medication benazeprilm, which goes by the brand name Lotensin. Similarly, patients treated for eight weeks with herbal tiankuijiangya had a lower reading than those given a placebo. Herbal Jiangya tablets were found to 'significantly lower' systolic blood pressure, that is the amount of pressure in your arteries during contraction of your heart muscle compared to a fake treatment. The herb Jiangyabao also had a significant effect compared to a placebo, but just at night. But overall, compared to the drug Nimodipine, a calcium channel blocker, it worked just as well. Qiqilian capsules also proved more effective compared to a placebo.
Herbs for diabetes
The team report some Chinese medicines medications – such as xiaoke, tangminling, jinlida, and jianyutangkang – have a 'potent' effect on lowering blood sugar levels and b-cell function, which controls the release of insulin. Some remedies – such as tangzhiping and tianqi – might prevent the progression of pre-diabetes to diabetes, they note.
Herbs for cholesterol 
The researchers looked at research on dyslipidemia, the term for unbalanced or unhealthy cholesterol levels. They found that jiangzhitongluo, salviamiltiorrhiza and pueraria lobata, and zhibitai capsule all have a 'potent lipid-lowing effect'.
Herbs for heart disease
Some traditional Chinese medicines such as qiliqiangxin, nuanxin, shencaotongmai, and yangxinkang, might be effective in improving function in patients with chronic heart failure, they wrote.
Limitations with trials
But Western scientists often reject Chinese medicine for specific reasons, warned Dr Zhao's team. Chinese medicines are frowned upon because they do not go through the same exhaustive approval process as trials conducted domestically, they pointed out. Plus, one treatment can be made of many different ingredients with various chemical compounds, making it hard to pinpoint how their benefits work. 'One should bear in mind that traditional Chinese medicine medications are usually prescribed as complex formulae, which are often further manipulated by the practitioner on a personalized basis,' said Dr Zhao.
END OF QUOTE
Apart from the fact that this article is badly written, it is also misleading to the point of being outright dangerous. Regular readers of my blog will be aware that Chinese research is everything but reliable; there are practically no Chinese TCM-trials that report negative results. Furthermore, the safety of Chinese herbal preparations is as good as unknown and they are often contaminated with toxic substances as well as adulterated with synthetic drugs. Most of these preparations are also unavailable outside China. Moreover, Chinese herbal treatments are usually individualised (mixtures are tailor-made for each individual patient), and there is no good evidence that this approach is effective. Crucially, the trial evidence is often of such poor quality that it would be a dangerous mistake to trust these findings.
None of these important caveats, it seems, are important enough to get a mention in the Daily Mail.
Don't let the truth get in the way of a sensational story!
Let's just for a moment imagine what would happen if people took the Mail article seriously (is there anyone out there who does take the Mail seriously?). In a best case scenario, they would take Chinese herbs in addition to their prescribed medication. This might case plenty of unwanted side-effects and herb-drug interactions. In addition, people would lose a lot of their hard-earned cash. In a worst case scenario, they would abandon their prescribed medication for dubious Chinese herbal mixtures. This could cause thousands of premature deaths.
With just a little research, I managed to find the original article on which the Mail's report was based. Here is its abstract:
Traditional Chinese medicine (TCM) has more than 2,000 years of history and has gained widespread clinical applications. However, the explicit role of TCM in preventing and treating cardiovascular disease remains unclear due to a lack of sound scientific evidence. Currently available randomized controlled trials on TCM are flawed, with small sample sizes and diverse outcomes, making it difficult to draw definite conclusions about the actual benefits and harms of TCM. Here, we systematically assessed the efficacy and safety of TCM for cardiovascular disease, as well as the pharmacological effects of active TCM ingredients on the cardiovascular system and potential mechanisms. Results indicate that TCM might be used as a complementary and alternative approach to the primary and secondary prevention of cardiovascular disease. However, further rigorously designed randomized controlled trials are warranted to assess the effect of TCM on long-term hard endpoints in patients with cardiovascular disease.
In my view, the authors of this review are grossly over-optimistic in their conclusions (but nowhere near as bad as the Mail journalist). If the trials are of poor quality, as the review-authors admit, no firm conclusions should be permissible about the usefulness of the therapies in question.
As the Mail article is obviously based on a press release (several other papers worldwide reported about the review as well), it seems interesting to note what the editor of the Journal of the American College of Cardiology (the journal that published the review) recently had to say about the responsibility of journalists and researchers:
START OF QUOTE
…I would like to suggest that journalists and researchers must share equally in shouldering the burden of responsibility to improve appropriate communication about basic and clinical research.
First, there is an obligation on the part of the researchers not to inflate the importance of their findings. This has been widely recognized as damaging, especially if bias is introduced in the paper…
Second, researchers should take some responsibility for the creation of the press release about their research, which is written by the media or press relations department at their hospital or society. Press releases are often how members of the media get introduced to a particular study, and these releases can often introduce errors or exaggerations. In fact, British researchers evaluated 462 press releases on biomedical and health-related science issued by 20 leading U.K. universities in 2011, alongside their associated peer-reviewed research papers and the news stories that followed (n = 668). They found that 40% of the press releases contained exaggerated advice, 33% contained exaggerated causal claims, and 36% contained exaggerated inference to humans from animal research. When press releases contained such exaggeration, 58%, 81%, and 86% of news stories, respectively, contained further exaggeration, compared with rates of 17%, 18%, and 10% in the news when the press releases were not exaggerated. Researchers should not be excused from being part of the press release process, as the author(s) should at least review the release before it gets disseminated to the media. I would even encourage researchers to engage in the process at the writing stage and to not allow their hospital's or society's public relations department to extrapolate their study's results. Ultimately, the authors and the journals in which the studies are published will be held accountable for the information that trickles into the headlines, not the public relations departments, so we must make sure that the information is accurate and representative of the study's actual findings.
END OF QUOTE
Sound advice indeed.
Now we only need to ALL follow it!!!
In the realm of alternative medicine, the Internet is a double-edged sword. It can be most useful to many, particularly to those who are able to think critically. To those who do not have this ability, it can be outright dangerous. We have researched this area in several way and always arrived at this very conclusion. For instance, we evaluated websites providing advice for cancer patients and concluded that "the most popular websites on complementary and alternative medicine for cancer offer information of extremely variable quality. Many endorse unproven therapies and some are outright dangerous."
This makes it abundantly clear that, for some, the Internet can become a danger to their health and life. Recently I was reminded of this fact when I saw this website entitled 'Foods that will naturally cleanse your arteries'. Its message is instantly clear, particularly as it provides this impressive drawing.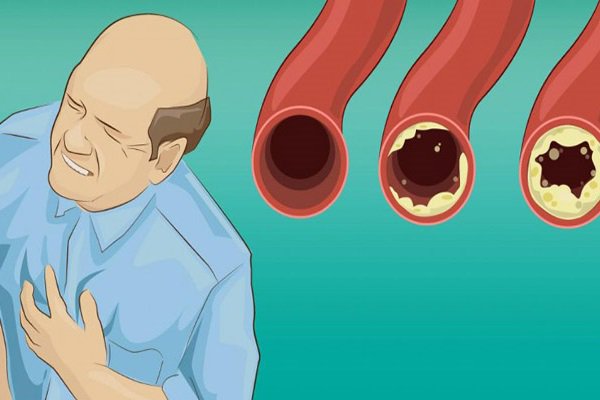 .
The implication here is that we can all clear our arteries of atherosclerotic plaques by eating the right foods. The site also lists the exact foods. Here they are:
START OF QUOTE
Salmon
Salmon is one of the best heart foods as it is packed with healthy fats which reduce cholesterol, triglycerides, and inflammation. However you must make sure that the fish is organic.
Orange juice
Orange juice is rich in antioxidants which strengthens the blood vessels and lowers blood pressure. Simply drink 2 glasses of fresh orange juice a day and you're good to go.
Coffee
According to numerous studies 2-4 cups of coffee a day can significantly reduce the risk of stroke and heart attack by 20%. However don't drink excessively as it may cause problems with your digestion.
Nuts
Nuts are packed with omega-3 fatty acids, healthy properties and unsaturated fats which regulate your memory, cholesterol and prevent joint pain.
Persimmon fruit
The persimmon fruit is packed with fiber and sterols which help lower cholesterol. It makes a great addition to salads and cereals
Turmeric
Curcumin, the active ingredient in turmeric provides a large variety of health benefits. It helps reduce tissue inflammation and prevents overactive fat accumulation. Feel free to add it to your meals or to your tasty cup of tea.
Green tea
Aside from having a soothing effect, green tea helps energize the whole body, boost the metabolism and lower the absorption of cholesterol. Just drink 1-2 cups of green tea a day and you have nothing to worry about.
Cheese
Cheese can also help lower blood pressure and cholesterol.
Watermelon
Watermelon is the most delicious summer fruit. But aside from its amazing taste, it also improves the production of nitric oxide which enhances the function of the blood vessels.
Whole grain
Whole grains are rich in fiber content which helps lower cholesterol and cholesterol accumulation in the arteries. Consume more whole grain bread, brown rice and oats.
Cranberries
Cranberries have been long known to be the richest source of potassium. Due to this, they can easily lower bad cholesterol and increase the good one. 2 glasses of cranberry juice a day can lower the risk of heart attack by 40%.
Seaweed
Seaweeds are packed with vitamins, proteins, minerals and carotenoids which easily regulate your blood pressure.
Cinnamon
Cinnamon prevents buildups in the arteries and lower cholesterol.
Pomegranate
It is an exotic fruit that provides a healthy portion of phytochemicals. These improve the production of nitric oxide, and boost circulation. Add pomegranate seeds to your salads.
Spinach
It is high in folic acid and potassium. You need this to lower your blood pressure, strengthen muscles, and prevent heart attack.
Broccoli
Broccoli is rich in vitamin K, which help lower blood pressure and cholesterol when eaten steam-cooked or raw.
Olive oil
Olive oil helps maintain your health at its peak. Be sure to use cold-pressed oil as it is rich in healthy fats which lower cholesterol and reduce the risk of heart attack by 40%.
Asparagus
Asparagus prevents inflammation, clogging and lowers cholesterols. Implement it to dishes, noodles, soups or potatoes.
Blueberries
Blueberries are high in potassium and as we mentioned above, potassium is the key to reducing bad cholesterol and increasing the good one. Drink 2 glasses of blueberry juice a day.
Avocado
Avocadoes are without a doubt – one of the healthiest fruits known to man. They're rich in healthy fat and improve the balance of bad and good cholesterol.
END OF QUOTE
As far as I know, there is no good evidence for the claim that any of these 20 foods will clear arteriosclerotic arteries. There is some evidence for fish oil and some for green tea to reduce the risk of cardiovascular disease. But surely, this is quite a different matter than reversing atherosclerotic plaques.
What's the harm? I believe the potential for harm is obvious: people at high risk of suffering a major cardiovascular event who read such nonsense and believe it might think they can abandon the treatments, drugs and life-styles they have been advised to follow and take. Instead they might eat a bit more of the 20 ingredients listed above. If they did that, many would die.
I think many of us who know better have become far too tolerant of dangerous nonsense of such nature. We tend to think that either nobody is as stupid as to follow such silly advice, or we assume that taking a bit of daft advice will not do much harm. I fear we are wrong on both accounts.
A new joint position statement of the Italian Society of Diabetology (SID) and of the Italian Society for the Study of Arteriosclerosis (SISA) has recently been published. In the context of this blog, it seems relevant enough for its summary to be reproduced here:
Evidence showed that LDL-cholesterol lowering is associated with a significant cardiovascular risk reduction. The initial therapeutic approach to hypercholesterolaemia includes dietary modifications but the compliance to recommendations is often inadequate. Some dietary components with potential cholesterol-lowering activity are present in small amounts in food. Therefore, in recent years the use of "nutraceuticals" (i.e., nutrients and/or bioactive compounds with potential beneficial effects on human health) has become widespread. Such substances may be added to foods and beverages, or taken as dietary supplements (liquid preparations, tablets, capsules). In the present manuscript, the cholesterol-lowering activity of some nutraceuticals (i.e. fiber, phytosterols, soy, policosanol, red yeast rice and berberine) will be discussed along with: 1) the level of evidence on the cholesterol-lowering efficacy emerging from clinical trial; 2) the possible side effects associated with their use; 3) the categories of patients who could benefit from their use.
DATA SYNTHESIS:
Based on the current literature, the cholesterol-lowering effect of fiber, phytosterols and red yeast rice is consistent and supported by a good level of evidence. Over berberine, there is sufficient evidence showing significant cholesterol-lowering effects, although the results come from studies carried out almost exclusively in Asian populations. Data on the effects of soy are conflicting and, therefore, the strength of recommendation is quite low. The evidence on policosanol is inconclusive.
CONCLUSION:
Although health benefits may arise from the use of nutraceuticals with cholesterol-lowering activity, their use might be also associated with possible risks and pitfalls, some of which are common to all nutraceuticals whereas others are related to specific nutraceuticals.
END OF QUOTE
Many advocates of alternative medicine are highly sceptical of the value of statins. Yet, it seems clear that statins exert considerably larger effects on our lipid profile than nutraceuticals. So, why not use the treatment that is best documented and most efficacious? One answer could lie in the well-known adverse effects of statins. However, can we be sure that nutraceuticals are devoid of serious side-effects? I am not sure that we can: statins have been fully investigated, and we therefore are well-informed about their risks. Nutraceuticals, by contrast, have not been monitored in such detail, and their safety profile is therefore not as well-understood.
Other advocates of alternative medicine argue that cholesterol (I use the term simplistically without differentiating between the 'good and bad' cholesterol) has been hyped by the pharmaceutical industry and is, in truth, not nearly as important a risk factor as we have been led to believe. This line of thought would consequently deny the need to lower elevated cholesterol levels and therefore negate the need for cholesterol-lowering treatments. This stance may be popular, particularly in the realm of alternative medicine, but, to the best of my knowledge, it is erroneous.
Obviously, the first line treatment for people with pathological lipid profiles is the adoption of different life-styles, particularly in terms of nutrition. This may well incorporate some of the nutraceuticals mentioned above. If that strategy is unsuccessful in normalizing our blood lipids – and it often is – we should consider the more effective conventional medications; and that unquestionably includes statins.
I do not expect that everyone reading these lines will agree with me, yet, after studying the evidence, this is my honest conclusion – and NO, I am not paid or otherwise rewarded by the pharmaceutical industry or anyone else!