spinal manipulation
The 'Corona-Virus Quackery Club' (CVQC) is enjoying a fast-growing membership. As mentioned in previous posts, it consists of:
Chiropractors have been keen to join since weeks. They have a long tradition of claiming that their 'adjustments' boost the immune system, and therefore it was to be expected that they also jump on the corona-bandwagon.
Some chiropractors seem to believe that the corona-virus pandemic is a fine business opportunity or, as one put it, the perfect opportunity to have a heart to heart with patients about their immune and nervous systems! Remember, if germs automatically caused disease, the human race wouldn't be around to debate the issue. Many forget that Louis Pasteur, the father of the germ theory recanted his belief. On his deathbed he observed, "It's the soil, not the seed." In other words, without the right environment, germs can do little harm.
Chiropractors and other health care workers are at greater risk due to patient or client interactions and are encouraged to take extra precautions when it comes to cleaning and disinfecting surfaces and skin or close contact.
"Every chiropractic practice has been touched by coronavirus [fears]," says Bill Esteb, DC, who has created and is circulating a coronavirus and chiropractic guide on how to avoid contracting the virus.
"We wanted to create a tool that chiropractors could use as a conversation springboard. Chiropractors need to remind their patients that germs don't automatically cause disease. And that 'catching' the coronavirus, or anything else, requires a hospitable environment."
The only way to catch anything, says Esteb, is to become a hospitable host. Flipping the message, Esteb in his coronavirus and chiropractic guide says here is "How to Catch the Coronavirus":
Eat a Poor Diet — Make sure your body lacks the vitamins, minerals, enzymes and micronutrients needed to keep itself in good repair.
Avoid Adequate Rest — Stay up late and use sugar, tobacco, coffee and energy drinks as needed.
Become Dehydrated — Reduce the effectiveness of your natural defense mechanisms by shunning adequate water.
Stop Exercising — Reduce the efficiency of your lymphatic system, which requires movement to circulate this important germ-fighting fluid.
Think Negative Thoughts — Worry that you'll be a victim. Closely monitor news reports about outbreaks, fearing the advancing pandemic.
Rarely Wash Your Hands — Use your dirty hands and fingers to rub your eyes, pick your nose or wipe your lips.
Skip Your Chiropractic Adjustments — Handicap your nervous system, the master system that controls your entire body. Wait until symptoms are clearly present.
"Following these suggestions is the way to become a suitable host for any number of germs or microbes," Esteb says. "The tongue-in-check approach keeps the subject light. It stimulates more instructive patient conversations. It helps reduce appointment cancellations.
"Most people have an inappropriate fear of germs. And while this poster and patient handout won't eliminate it, use it to explore the value of ongoing chiropractic care as a preventive strategy."
——–
The Internet is full with messages of this type. Here is just one example: The best defense for the Corona Virus is to be healthy when you are exposed to the virus. Get adjusted to boost your immune system. Check out this video blog on what you can do to be healthy and prepare your body to fight off the corona virus.
——–
Perhaps the worst excesses can be found on Twitter:
Did you know that a properly aligned body supports and activates our immune system. During this time of concern from the
corona
virus, making sure your body is healthy is the best way to combat this illness.
#health
#immunesystem
——–
So, considering this concerted effort, I am happy to announce that, from today, my friends the chiros are official members of the CVQC.
CONGRATULATIONS GUYS!
PS
Whether
Boris Johnson
will be allowed in, depends on future announcements; so far, his chances are not bad.
The objective of this analysis was to evaluate the impact of chiropractic utilization upon use of prescription opioids among patients with spinal pain. The researchers employed a retrospective cohort design for analysis of health claims data from three contiguous US states for the years 2012-2017.
They included adults aged 18-84 years enrolled in a health plan and with office visits to a primary care physician or chiropractor for spinal pain. Two cohorts of subjects were thus identified:
patients who received both primary care and chiropractic care,
Patients who received primary care but not chiropractic care.
The total number of subjects was 101,221. Overall, between 1.55 and 2.03 times more nonrecipients of chiropractic care filled an opioid prescription, as compared with recipients.
The authors concluded that patients with spinal pain who saw a chiropractor had half the risk of filling an opioid prescription. Among those who saw a chiropractor within 30 days of diagnosis, the reduction in risk was greater as compared with those with their first visit after the acute phase.
Similar findings have been reported before and we have discussed them on this blog (see here, here and here). As before, one has to ask: WHAT DO THEY ACTUALLY MEAN?
The short answer is NOTHING MUCH! And certainly not what many chiros make of them.
They do not suggest that chiropractic care is a substitute for opioids in the management of spinal pain.
Why?
There are several reasons. Perhaps the most important ones are that such analyses lack any clinical outcome data, and that comparing one mistake (opioid-overuse) whith what might be another (chiropractic care) is a wrong apporoach. Imagine a scenario where half to the patients had received, in addition to their usual care, the services of:
a paranormal healer,
a crystal therapist,
a shaman,
or a homeopath.
Nobody would be surprised to see a very similar result, particularly if all of these practitioners were in the habit of discouraging their patients from using conventional drugs. Or imagine a scenario where half of all patients suffering from spinal pain are entered into an environment where they receive no treatment at all. Who would not expect that this regimen does not dramatically reduce the risk of filling an opioid prescription? But would that indicate that zero treatment is a good solution for managing spinal pain?
The thing is this:
If you want to reduce opioid use, you need to prescribe less opioids (for instance, by re-educating doctors to do as they have been told in med school and curb over-prescribing).
If you discourage patients to use opioids (as many other healthcare professionals would), many will not use opioids.
If you want to know whether chiropractic is effective in managing spinal pain, you need to conduct a well-designed clinical trial.
Or, to put it simply:
CORRELATION IS NOT CAUSATION!
During my almost 30 years of research into so-called alternative medicine (SCAM), I have published many papers which must have been severe disappointments to those who advocate SCAM or earn their living through it. Many SCAM proponents thus reacted with open hostility. Others tried to find flaws in those articles which they found most upsetting with a view of discrediting my work. The 2012 article entitled 'A Replication of the Study 'Adverse Effects of Spinal Manipulation: A Systematic Review' by the Australian chiropractor, Peter Tuchin, seems to be an example of the latter phenomenon (used recently by Jens Behnke in an attempt to defame me).
Here is the abstract of the Tuchin paper:
Objective: To assess the significance of adverse events after spinal manipulation therapy (SMT) by replicating and critically reviewing a paper commonly cited when reviewing adverse events of SMT as reported by Ernst (J Roy Soc Med 100:330-338, 2007).
Method: Replication of a 2007 Ernst paper to compare the details recorded in this paper to the original source material. Specific items that were assessed included the time lapse between treatment and the adverse event, and the recording of other significant risk factors such as diabetes, hyperhomocysteinemia, use of oral contraceptive pill, any history of hypertension, atherosclerosis and migraine.
Results: The review of the 32 papers discussed by Ernst found numerous errors or inconsistencies from the original case reports and case series. These errors included alteration of the age or sex of the patient, and omission or misrepresentation of the long term response of the patient to the adverse event. Other errors included incorrectly assigning spinal manipulation therapy (SMT) as chiropractic treatment when it had been reported in the original paper as delivered by a non-chiropractic provider (e.g. Physician).The original case reports often omitted to record the time lapse between treatment and the adverse event, and other significant clinical or risk factors. The country of origin of the original paper was also overlooked, which is significant as chiropractic is not legislated in many countries. In 21 of the cases reported by Ernst to be chiropractic treatment, 11 were from countries where chiropractic is not legislated.
Conclusion: The number of errors or omissions in the 2007 Ernst paper, reduce the validity of the study and the reported conclusions. The omissions of potential risk factors and the timeline between the adverse event and SMT could be significant confounding factors. Greater care is also needed to distinguish between chiropractors and other health practitioners when reviewing the application of SMT and related adverse effects.
The author of this 'replication study' claims to have identified several errors in my 2007 review of adverse effects of spinal manipulation. Here is the abstract of my article:
Objective: To identify adverse effects of spinal manipulation.
Design: Systematic review of papers published since 2001.
Setting: Six electronic databases.
Main outcome measures: Reports of adverse effects published between January 2001 and June 2006. There were no restrictions according to language of publication or research design of the reports.
Results: The searches identified 32 case reports, four case series, two prospective series, three case-control studies and three surveys. In case reports or case series, more than 200 patients were suspected to have been seriously harmed. The most common serious adverse effects were due to vertebral artery dissections. The two prospective reports suggested that relatively mild adverse effects occur in 30% to 61% of all patients. The case-control studies suggested a causal relationship between spinal manipulation and the adverse effect. The survey data indicated that even serious adverse effects are rarely reported in the medical literature.
Conclusions: Spinal manipulation, particularly when performed on the upper spine, is frequently associated with mild to moderate adverse effects. It can also result in serious complications such as vertebral artery dissection followed by stroke. Currently, the incidence of such events is not known. In the interest of patient safety we should reconsider our policy towards the routine use of spinal manipulation.
In my view, there are several things that are strange here:
Tuchin published his paper 5 years after mine.
He did not publish it in the same journal as my original, but in an obscure chiro journal that hardly any non-chiropractor would ever read.
Tuchin never contacted me and never alerted me to his publication.
The journal that Tuchin chose was not Medline-listed in 2012; consequently, I never got to know about the Tuchin article in a timely fashion. (Therefore, I did never respond to it.)
A 'replication study' is a study that repeats the methodology of a previous study.
Tuchin's paper is therefore NOT a replication study. Firstly, mine was a review and not a study. Secondly, and crucially, Tuchin never repeated my methodology but used an entirely different one.
But arguably, these points are trivial. They should not distract from the fact that I might have made mistakes. So, let's look at the substance of Tuchin's claim, namely that I made errors or omissions in my review.
As to 'omissions', one could argue that a review such as mine will always have to omit some details in order to generate a concise summary. The only way to not omit any details is to re-publish all the primary papers in one large volume. Yet, this can hardly be the purpose of a systematic review.
As to the 'errors', it seems that the ages and sex of three patients were wrong (I have not checked this against the primary publications but, for the moment, I believe Tuchin). This is, of course, lamentable and – even though I have no idea whether the errors happened at the data extraction phase, during the typing, the revising, or the publishing of the paper – it is entirely my responsibility. I also seem to have mistaken a non-chiropractor for a chiropractor. This too is regrettable but, as the review was about spinal manipulation and not about chiropractic, the error is perhaps not so grave.
Be that as it may, these errors are unquestionably not good, and I can only apologise for them. If Tuchin had dealt with them in the usual way – by publishing in a timely fashion a 'letter to the editor' of the JRSM – I could have easily corrected them for everyone to see.
But I think there is a more important point to be made here:
Tuchin concludes his paper stating that it is unwise to make conclusions regarding causality from any case study or multiple case studies. The number of errors or omissions in the 2007 Ernst paper significantly limit any reported conclusions. I believe that both sentences are unjustified. The safety of any intervention in routine use has to be examined on the basis of published case studies. This is particularly true for chiropractic where no post-marketing surveillance similar to that for drugs exists.
The conclusions based on such evidence can, of course, never be firm, but they provide valuable signals that can prompt more rigorous investigations in the interest of patient safety. In view of such considerations, my own conclusions in my 2007 paper were, I think, correct and are NOT invalidated by my relatively trivial mistakes: spinal manipulation, particularly when performed on the upper spine, has repeatedly been associated with serious adverse events. Currently the incidence of such events is unknown. Adherence to informed consent, which currently seems less than rigorous, should therefore be mandatory to all therapists using this treatment. Considering that spinal manipulation is used mostly for self-limiting conditions and that its effectiveness is not well established, we should adopt a cautious attitude towards using it in routine health care. 
And my conclusions in the abstract have now, I believe, become established wisdom. They are thus even less in jeopardy through my calamitous lapsus or Tuchin's 'replication study': Spinal manipulation, particularly when performed on the upper spine, is frequently associated with mild to moderate adverse effects. It can also result in serious complications such as vertebral artery dissection followed by stroke. Currently, the incidence of such events is not known. In the interest of patient safety we should reconsider our policy towards the routine use of spinal manipulation. 
A team of chiropractic researchers conducted a review of the safety of spinal manipulative therapy (SMT) in children under 10 years. They aimed to:
1) describe adverse events;
2) report the incidence of adverse events;
3) determine whether SMT increases the risk of adverse events compared to other interventions.
They searched MEDLINE, CINAHL, and Index to Chiropractic Literature from January 1, 1990 to August 1, 2019. Eligible studies were case reports/series, cohort studies and randomized controlled trials. Studies of high and acceptable methodological quality were included.
Most adverse events are mild (e.g., increased crying, soreness). One case report describes a severe adverse event (rib fracture in a 21-day-old) and another an indirect harm in a 4-month-old. The incidence of mild adverse events ranges from 0.3% (95% CI: 0.06, 1.82) to 22.22% (95% CI: 6.32, 54.74). Whether SMT increases the risk of adverse events in children is unknown.
The authors concluded that the risk of moderate and severe adverse events is unknown in children treated with SMT. It is unclear whether SMT increases the risk of adverse events in children < 10 years.
Thanks to their ingenious methodology, the authors managed to miss 11 of the 13 studies included in the review by Vohra et al which reported 9 serious adverse events and 20 cases of delayed diagnosis associated with SMT. Another review reported 15 serious adverse events and 775 mild to moderate adverse events following manual therapy. As far as I can see, the authors of the new review make just one reasonable point:
We recommend the implementation of a population-based active surveillance program to measure the incidence of severe and serious adverse events following SMT treatment in this population.
In the absence of such a surveillance system, any incidence figures are not just guess-work but also a depiction of the tip of a much bigger iceberg. So, why do the authors of this review not make this point clearly and powerfully? Why does the review read mostly like an attempt to white-wash a thorny subject? Why do they not provide a breakdown of the adverse events according to profession? The answer to these questions can be found at the very end of the paper:
This study was supported by the College of Chiropractors of British Columbia to Ontario Tech University. The College of Chiropractors of British Columbia was not involved in the design, conduct or interpretation of the research that informed the research. This research was undertaken, in part, thanks to funding from the Canada Research Chairs program to Pierre Côté who holds the Canada Research Chair in Disability Prevention and Rehabilitation at Ontario Tech University, and from the Canadian Chiropractic Research Foundation to Carol Cancelliere who holds a Research Chair in Knowledge Translation in the Faculty of Health Sciences at Ontario Tech University.
This study was supported by the College of Chiropractors of British Columbia to Ontario Tech University. The College of Chiropractors of British Columbia was not involved in the design, conduct or interpretation of the research that informed the research. This research was undertaken, in part, thanks to funding from the Canada Research Chairs program to Pierre Côté who holds the Canada Research Chair in Disability Prevention and Rehabilitation at Ontario Tech University, and funding from the Canadian Chiropractic Research Foundation to Carol Cancelliere who holds a Research Chair in Knowledge Translation in the Faculty of Health Sciences at Ontario Tech University.
I have often felt that chiropractic is similar to a cult. An investigation by cult members into the dealings of a cult is not the most productive of concepts, I guess.
An article in the 'Long Island Press' caught my attention. Here are some excerpts:
A simple painless spinal adjustment by a chiropractor could be the latest breakthrough in the treatment of drug and alcohol addiction… Bridge Back to Life, an outpatient addiction treatment program, has teamed up with New York Chiropractic College (NYCC) … to offer the latest breakthrough therapy for substance use disorder. The first-of-a kind partnership, the brainchild of Bridge Back to Life's medical director Dr. Russell Surasky, brings doctors from NYCC to evaluate and treat the center's patients undergoing addiction therapy. Several diagnostic tests are performed at the base of the brainstem to determine if a misalignment exists. If present, the practitioners are taught to incorporate gentle painless, corrective spinal adjustments into the patient's care plan. This treatment reduces stress on the spinal column and limbic system of the brain…
"Safe, painless adjustments to the upper cervical spinal bones can help normalize the brain's limbic system by helping with the overall circulation of cerebrospinal fluid of the brain… I truly believe that this agreement with the college will serve as a national model for drug rehabilitation centers throughout the country," says Surasky, who is triple board certified in neurology, addiction medicine, and preventive medicine. "Not only can spinal adjustments reduce the chronic pain issues that may have led patients into drug addiction in the first place, but now we also have evidence that spinal adjustments actually accelerate the healing of the brain from addiction."
Surasky points to a study done in 2001 in the journal Nature: Molecular Psychiatry, which looked at the impact of spinal manipulations at an inpatient addiction treatment facility in Miami. The study found that chemically dependent patients who received specific spinal adjustments as part of their treatment reported fewer drug cravings and mental health symptoms. Moreover, 100 percent of the study patients who received chiropractic care completed the inpatient program, while about half of those not receiving treatments dropped out prior to completion. Yet no further studies were performed, and the information languished. Surasky began treating patients with the spinal adjustments at his private practice in Great Neck before bringing the treatment to Bridge Back to Life.
Mary W. came to Surasky's Great Neck office for help with alcohol addiction nearly one year ago. She received monthly Vivitrol shots and had marked success in curbing her cravings and drastically reducing her drinking. But Mary still had one-day "slips" from time to time. She also complained of insomnia and migraine headaches. She recalled an accident in the past, where she hit her head. Dr. Surasky took X-rays of her upper neck and performed a Tytron scan. He said the digital images showed she had misalignments at the C1 vertebral level, likely putting pressure on the lower brainstem area. In addition to Vivitrol shots, Mary started receiving upper cervical adjustments and has remained sober since. Her migraines have dropped from five per month to one or none and she is sleeping better.
Where to start?
There is much to be concerned about in this short article. Let me mention just a few obvious points:
A treatment that is not backed by solid evidence is hardly a 'breakthrough'.
The 'misalignments' they are looking for do not exist.
Spinal manipulation is not as safe as presented here.
The assumption that it reduces stress on the limbic system is far-fetched.
To suggest this approach as a 'national model', is simply ridiculous.
The notion that adjustments increase the circulation of the cerebrospinal fluid is not evidence-based.
What are 'chronic pain tissues'?
The claim that spinal manipulation accelerates healing of the brain is not evidence-based.
The study in Nature Molecular Psychiatry does not seem to exist (I could not find it, if anyone can, please let me know).
X-ray diagnostics cannot diagnose 'misalignments'.
Tytron scans are used mostly by chiropractors are not a reliable diagnostic method.
Anecdotes are not evidence.
In short: this article reads like an advertisement for chiropractic as a treatment of addictions. As there is no evidence that chiropractic spinal manipulations are effective for this indication, it is hard to think of anything more irresponsible than that.
And here is the question that I often ask myself:
Are there any bogus, profitable, unethical claims that chiropractors would shy away from?
In his writings, DD Palmer (the father of chiropractic), left little doubt about how he felt about himself and his achievements. A few quotes will suffice to give an impression:
I was the first to adjust the cause of disease
Chiropractors adjust causes instead of treating effects
Vaccination and inoculation are pathological; chiropractic is physiological
It was my ingenious brain which discovered [chiropractic's] first principle; I was its source; I gave it birth; to me all chiropractors trace their chiropractic lineage
Among the wonderful achievements of this century, the discovery and development of chiropractic is preeminent; it is destined to replace all methods which treat effects
With this post, I will simply outline DD's extraordinary life. I intend to leave it to you, the reader of this post, to decide whether it was the life of a genius or that of a charlatan.
1845, 7 March: birth in Port Perry, near Toronto, Canada
1865, April: Palmer family immigrate to the US
1867: DD Palmer starts as a teacher in Concord, Iowa
1869, November: DD and his younger brother TJ become beekeepers in Letts, Iowa
1871, 20 January: DD marries Abba Lord who calls herself a 'psychometrist, clairvoyant physician, soul reader and business medium'.
1872, 6 July: DD publishes an article in the ' Religio Philosophical Journal' calling himself an atheist
1872: DD later states that he started his career as a 'healer' during this period
1873: Abba leaves DD and later becomes a 'homeopathic physician' in Mineapolis.
1876, 7 October: DD marries Louvenia Landers, a widow; they have 4 children together, including BJ who later becomes DD's partner in the chiropractic business.
1878, 19 April: the Palmer's 5-months old daughter dies
1878, May: DD is elected president of the 'Western Illonois and Eastern Iowa Society of Bee Keepers'
1880: DD publishes a pamphlet about spiritualism and refers to himself as a 'spiritualist'
1881 BJ Palmer is born; he later all but took over the chiropractic business and is often referred to as the 'developer of chiropractic'
1882 DD sells his beekeeping business, moves to What Cheer, Iowa where the rest of his family live
1883, 30 May: DD opens a grocery store in What Cheer
1884, 20 November: Louvenia dies of consumption
1885, February: DD sells his grocery store and 'moves on'
1885, 25 May: DD marries Martha Henning. The marriage is short-lived; on 8 July of the same year, DD posted a public notice in the 'What Cheer Patriot' disowning her
1885: DD moves back to Letts where he teaches at the local school
1886: DD moves to Iola, Kansas where he practices as a magnetic healer and calls himself 'Dr Palmer, healer'
1886, 3 September: DD advertises his services as a 'vitalist healer' in Burlington, Iowa
1887, 9 October: DD advertises 'dis-ease is a condition of not ease, lack of ease', a theme that he later uses regularly for chiropractic
1887, 25 October: one of DD's patients has died and there is an inquest. The local paper describes DD with the term 'dense ignorance' and the coroner states that 'we censure the so-called doctor, DD Palmer, attending physician, for his lack of treatment and ignorance in the case'. DD leaves Burlington to avoid persecution (a new law requires all healers to register with the state medical board. DD does not have such a registration)
1887: DD moves to Davenport and advertises: DD Palmer, cures without medicine…'
1888, 6 November: DD marries Villa; they stay together until her death in 1905
1894: DD publishes his views on smallpox vaccination: '…the monstrous delusion … fastened on us by the medical profession, enforced by the state boards, and supported by the mass of unthinking people …'
1894: DD publishes his views about 'greedy doctors' and the 'medical monopoly'
1895, January: DD starts a business selling gold fish
1895, 18 September: DD administers the 1st spinal manipulation to Harvey Lillard (DD later seems confused about this date stating that this 'was done about Dec. 1st, 1895')
1896, 14 January is the date when, according to DD, chiropractic received its name with the help of Reverent Weed
1896: DD publishes an article in 'The Magnetic' stating ' the magnetic cure: how to get well and keep well without using poisonous drugs'
1896: DD publishes on bacteria outlining his theory that bacteria cannot grow on healthy tissue; keeping tissue healthy is therefore the best prevention against infections; and this is best achieved by magnetic healing
1896: DD claimed that 4 years earlier, in 1892, he had discovered the magnetic cure for cancer; it involved freeing the stomach and spleen of poisons
1896: DD formulates his concept of treating the root cause of any disease
1896, 10 July: DD, his wife and his brother turn the 'Palmer School of Magnetic Cure' in Davenport into an officially registered corporation
1897: DD defines chiropractic as 'a science of healing without drugs'
1898: DD opens his first school of chiropractic in Davenport, the 'Palmer School of Chiropractic' which has survivied to the present day.
1902, 27 April: DD first used the term 'subluxation' in a letter to his son BJ ('… where you find the greatest heat, there you will find the subluxation causing the inflammation which produces the fever…')
1902: DD leaves suddenly for California, apparently to open a West Coast branch of the Palmer School; he stays for about two years and then returns to Davenport leaving behind substantial depts
1902, 6 September: DD is arrested in Pasadena when a patient suffering from consumption dies after DD's second adjustment; in October, the charges were dropped because of a technicality
1903: DD opens the 'Palmer Chiropractic School in Santa Barbara, California, together with his former student Oakley Smith
1903 DD is charged with practising medicine without licence but, before the case goes to trial, DD goes to Chicago where he charters a school together two other chiropractors (Smith and Paxson); the project fails
1903, 30 April: DD is back in Davenport for the wedding of BJ with Mabel
1904, December: DD starts his new journal 'The Chiropractor' which survives until 1961. DD's very first article is entitled '17 Years of Practice'
1905: DD's former students Langworthy and Smith accuse DD of stealing the concepts of chiropractic from the Bohemian bonesetters of Iowa
1905, 9 November: DD's wife Villa overdoses on morphine and dies; the coroner is unable to tell whether she committed suicide or intended it for pain relief
1906, 11 January: DD marries Mary Hunter, apparently his first love from Letts
1906, 26 March: DD is again on trial for practising medicine without a licence. He is found guilty the next day. The penalty is US$ 350 or 105 days in jail. DD choses jail. However, his new wife, Mary, bails him out after 23 days.
1906: DD sells his share in the chiropractic business to his son and moves to Medford Oklahoma. The reasons for this split are said to be personal, financial and professional
1906, 4 June: in a letter to John Howard, DD accuses his son of dishonesty and of running the school badly
1906: BJ and DD publish their opus maximus 'Science of Chiropractic'; DD claims that most of the chapters were written by him
1907, January: DD opens another grocery store
1908: together with a colleague, DD opens the 'Palmer-Gregory Chiropractic College'; it lasts only 9 weeks. DD leaves because he discovered that Alva Gregory, a medical doctor, was teaching medical ideas
1908, 9 November: DD opens the 'Palmer College of Chiropractic' in Portland, Oregon
1908, December: DD starts a new journal, 'The Chiropractor's Adjuster'; many of his articles focus on criticising BJ. The journal only seems to have survives until 1910
1910, December: DD publishes his book 'The Chiropractor's Adjuster'.
1911: DD toys with the idea of turning chiropractic into a religion, as this would avoid chiropractors being sued for practising medicine without a license
1913: DD visits Davenport for the 'Lyceum Parade' where he is injured. Mary accuses BJ of striking his father with his car and thus indirectly causing his death, a version of events which is disputed
1913, September: DD is back in California and writes to JB Olson that he gave 22 lectures in Davenport. DD also reports: '… On the return I cured a man of sun stroke by one thrust on the 5th dorsal. That is what I call definitive, specific, scientific chiropractic…'
1913, 20 October: DD dies; the official cause of death is typhoid fever, a condition that he repeatedly claimed to be curable by a single spinal adjustment.
1914: DD Palmer's book 'The Chiropractor' is published.
Many chiropractors claim that spinal manipulation (SM) has an effect on the pain threshold even in asymptomatic subjects, but SM has never been compared in studies to a validated sham procedure. Now a chiropractic research team has published a study investigating the effect of SM on the pressure pain threshold (PPT) when measured in
i) the area of intervention,  
ii) an area remote from the intervention.
In addition, the researchers measured the size and duration of the effect.
In this randomized cross-over trial, 50 asymptomatic chiropractic students had their PPT measured at baseline, immediately after and every 12 min after intervention, over a period of 45 min, comparing values after SM and a previously validated sham. The trial was conducted during two sessions, separated by 48 h. PPT was measured both regionally and remotely from the 'treated' thoracic segment. Blinding of study subjects was tested with a post-intervention questionnaire.
The results show that the study subjects had been successfully blinded. No statistically significant differences were found between SM and sham estimates, at any time or anatomical location.
The authors concluded that, when compared to a valid sham procedure and with successfully blinded subjects, there is no regional or remote effect of spinal manipulation of the thoracic spine on the pressure pain threshold in a young pain-free population.
Reduced pain sensitivity following SM (often also called 'manipulation-induced hypoalgesia' (MIH)) turns out to be little more than a myth promoted by chiropractors for the obvious reason of boosting their business (6 further myths are summarised in the over-optimistic chiropractic advertisement above).
A recent review of the evidence found that systemic MIH (for pressure pain threshold) does occur in musculoskeletal pain populations, though there was low quality evidence of no significant difference compared to sham manipulation. Future research should focus on the clinical relevance of MIH, and different types of quantitative sensory tests.
The 'neurocalometer' (NCM) is a device promoted from 1924 by BJ Palmer (the son of DD Palmer, the founder of chiropractic) which he claimed could locate subluxations. Even though it was useless for diagnosing anything, thousands of chiropractors swore by it and some use it to the present day. This enthusiast, for instance, justifies it by claiming that abnormal signals generated by spinal misalignments travel into the spinal cord along nerve fibers which connect directly to the part of the nervous system that controls blood flow in the skin. These abnormal signals disrupt the ability of the nervous system to keep the skin temperature even and balanced. The resulting temperature imbalance can be detected using the Neurocalometer or a similar device.
The history of the NCM is most revealing. BJ Palmer more or less forced his followers into a leasing agreement with the Palmer School of Chiropractic (PSC). The lease duration was 10 years, roughly the same amount of time as the patent rights on the device would last. "Leasees were required to charge patients ten dollars per NCM reading (a sum that is equivalent to charging >60 US$ for that service today). BJ's historic speech at lyceum (August 24, 1924), "The Hour Has Struck", provided the opportunity to announce: The price until midnight September 14th remains the same. Beginning tomorrow morning at eight o'clock $100 cash and 13 payments of $50 each, each month, and when $500 has been paid you will be entitled to your technique and your Neurocalometer .. . Those who pay the full cash of $500 in advance now get preferential position and delivery overall-time-payment contracts. The price after midnight of September 14th will raise to $2,200, or an increase of $700. The terms will then be $200 cash and $100 a month until $1,000 has been paid, at which time you will be entitled to your technique and your Neurocalometer … this same easy plan has gone out to the entire field …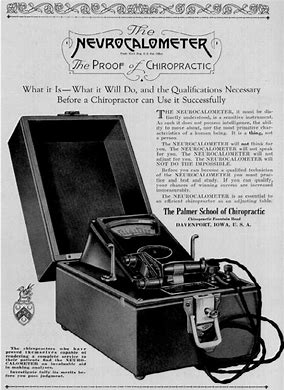 This sales ploy was so successful that Western Union's local cash reserves were apparently unable to keep pace with the hundreds of incoming contracts on September 14. The next day, BJ penned an article for the Fountain Head News (FHN) announcing a further increase, from $2,200 to $3,000 for the 10 year lease, and tentatively set to take effect on January 1, 1925. The NCM, he explained, has established itself, its earning values have been printed for your information, letters from users have been printed and distributed to you – it is no longer an unknown quantity. It has established itself . The price for the NCM eventually reached an initial fee of $3,500 and a monthly rental fee of $5. By comparison, an expensive car then costs $1,000, and a home could be purchased for $3,500.
BJ viewed the introduction of the NCM as a means of producing fundamental change throughout the chiropractic profession. From his perspective he was not merely marketing a device, but was organizing a straight chiropractic renaissance. BJ spoke frequently of his "BACK-TO-CHIROPRACTIC-NEUROCALOMETER MOVEMENT" He likened chiropractic to a cow, and asked: Whose cow is Chiropractic anyway? It is more my cow or your cow? Must I always stand at the feeding end? Can't I get a glass of milk once in a while? Who is that man that speaks to me about the rights of the sick to get well? Who is that man that dares say I am the downfall of this profession? Do you know of any chiropractor adjusting for fifty cents when he could collect five dollars, just for the love of the rights of the sick to get well? Do you know of any reducing their price on the theory of their love for the rights of the sick to get well if he could get it?
BJ claimed that the NCM is a very delicate, sensitive instrument which, when placed upon the spine:
Verifies the proper places for adjustments.
It measures the specific degree of vertebral pressures upon nerves.
It measures the specific degree of interference to transmission of mental impulses as a result of vertebral pressure.
It proves the exact intervertebral foramina that contains bone pressure upon nerves.
It proves when the pressure has been released upon nerves at a specific place.
It proves how much pressure was released, if any.
It verifies the differences between cord pressure or spinal nerve pressure cases.
It establishes which cases we can take and which we should leave alone.
It proves by an established record which you can see thereby eliminating all guesswork on diagnoses.
It establishes, from week to week, whether you are getting well or not.
 It makes possible a material reduction in time necessary to get well, thus making health cheaper….
The NCM was not invented by BJ but by Dossa Dixon Evins, one of the lesser-known figures in chiropractic history. Evins was a vaudeville entertainer with his wife Billie, an inventor, electrical engineer, and a radio operator for the Secret Service during World War I. Yet, it was BJ who took the glory and the money: Along comes the Neurocalometer. You hear me tell much good about it. You hear me say that it is "THE MOST VALUABLE INVENTION OF THE AGE BECAUSE IT PICKS, PROVES AND LOCATES THE CAUSE OF ALL DIS-EASES OF THE HUMAN RACE.
Of course, BJ insisted that his claims were based on extensive scientific research: Experimental work on approximately a thousand cases had proven there are many subluxations in the spine which the X-Ray does not locate, causing pressure upon nerves. This instrument locates them. Experimental work also shows that by using the instrument as a check, results can be obtained in from one-fourth to one-half the time now necessary under the present method. In other words, should it take 100 adjustments to get a case well now, it would take only 25 to 50 to get the same case well using the new NEUROCALOMETER. So superior was the device that even BJ himself could not find subluxations as accurately as the NCM:. . . Eighteen months of education when focalized down to a pin point means where to pick majors and why . . . in 30 minutes the Neurocalometer can do more in picking correct majors than anybody attending school for 17 months, or more than I can do after 28 years.
However, not everyone was impressed and some chiropractors even objected openly to BJ and his machinations. The result was that the chiropractic profession split into:
those who followed BJ's instructions (the 'straights')
and those who either could not afford to or were not convinced by BJ (the 'mixers').
Dissatisfaction with Palmer and with the "intimidation" policies of the Universal Chiropractors' Association (UCA) had already been growing. Now it reached into the UCA to such an extent that BJ resigned to form (in 1926) the Chiropractic Health Bureau (today's International Chiropractors' Association). By 1930, the UCA and other organizations had merged to form the National Chiropractic Association, immediate predecessor of today's American Chiropractic Association.
The years immediately following the NCM's introduction were a a period of extraordinary prosperity for BJ and his PSC. Classes filled, debts were paid and plans for additional buildings were drawn; the prosperity would continue until the stock market crash of 1929, in which the Palmer family suffered substantial financial loss. As many as a thousand NCMs may have been leased in the first year; this suggests at least several millions of dollars in revenues, a fabulous sum in the 1920s. The chiropractic historian Keating stated that the NCM's introduction provides a model of unethical promotions in health care.
The PSC eventually revived with the influx of veterans after World War 2. Rentals of the NCM (and derivative instruments) continued, and a firm core of true believers in BJ remained loyal. Today, the PSC continues to provide repair services for the NCM, although new contracts for the device ceased to be issued in 1990. Similar thermocouple devices remain popular among subluxation-based chiropractors and several models are still marketed.
A widely used chiropractic paediatrics textbook (Pediatric Chiropractic. Baltimore: Williams & Wilkins, 1998, pp 323-423) even advises that such devices are useful for examining new-borns: The purpose of skin temperature analysis (e.g. Temp-o-scope, Nervoscope) is to obtain objective neurological evidence of a vertebral subluxation complex [VSC]. . . .
In 2017, John Lawler died after receiving a chiropractic neck manipulation. The therapist was not just incompetent at providing first aid to her patient, her clumsy attempts to save his life might even have contributed to his death. Now the General Chiropractic Council (GCC) issued a special bulletin to all registrants setting out in detail the action they must take in relation to first aid:
… it is a requirement of our educational programmes that students are trained to deal with medical emergencies and thereafter it is important that chiropractors keep their knowledge and skills up to date.
We expect all chiropractors to consider their own first aid knowledge and skills and determine whether or not to undertake further specific first aid training.  We said that registrants should start by considering whether their first aid skills and knowledge are sufficient, appropriate and current.
Every chiropractor is likely to encounter potential traumatic and medical emergencies at some point in their professional life. Like all registered health care professionals chiropractors have a duty to their patients during emergencies.  Chiropractors therefore must recognise, assess and manage the potential for emergency medical and traumatic conditions that may be encountered in chiropractic settings.
Many providers of first aid training are available offering a range of courses delivered in a range of different ways, for example, the Royal College of Chiropractors has partnered with a training provider to provide first aid training courses for chiropractors across the UK: http://bit.ly/rccfirstaid
In September 2020, as part of registrants' continuing professional development submission to the GCC, we expect to see information from each chiropractor on their first aid knowledge and skills, and the steps taken so they are assured of their competence to administer first aid should the need arise.
_____________________________________________________________________
One could read this statement as an admission that:
UK chiropractors are currently not adequately trained in first aid,
chiropractic manipulations can cause medical emergencies,
and possibly that Mr Lawler lost his life because his chiropractor was incompetent in first aid.
At the same time, I find that the statement comes many months too late and is neither clear nor compelling. Why not making it plain:
exactly which first aid qualification every UK chiropractor must have
by what time,
and state what penalty they will face, if they fail to comply?
And, if the GCC are aware that spinal manipulation can cause serious emergencies, why have they not established a proper reporting scheme for such events so that we all know of the frequency of such risks? Could it be that the son of the deceased John Lawler was correct when he said the GCC "seems to be a little self-regulatory chiropractic bubble where chiropractors regulate chiropractors?" And could it be that I was justified in suspecting that the GCC is not fit for purpose?
What do you think?
What should we make of a discipline whose disciples are unsure of what the discipline is?
Yes, I am talking of chiropractic!
Surely, the inventor of chiropractic has told them what it is. True, DD Palmer left them no end of definitions; here are just 4 to choose from:
Chiropractic is the science of healing without drugs.
Chiropractic is the art of adjusting by hand all subluxations of the three hundred articulations of the human skeletal frame, more especially the 52 articulations of the spinal column, for the purpose of freeing impinged nerves, as they emanate thru the intervertebral foramina, causing abnormal function, in excess or not, named disease.
Chiropractic is a name I originated to designate the science and art of adjusting vertebrae.
Chiropractic is a philosophical science; it has solved one of the most profound and perplexing problems of the age, namely, what is life?
Despite this plethora of definitions, chiropractors are still struggling to define their trade. This article, entitled 'So What Is Chiropractic?', marks the end of a recent series of papers published in a chiro-journal trying to make progress in this regard. They revealed deeply rooted disagreements within the chiropractic profession about what chiropractic is, and what it should be, as a profession [13, 19, 20], as well as disagreements and variation in relation to education of chiropractors [14, 15] and chiropractic clinical practice [11].
In the opinion of the authors' paper, it is ironic that, while chiropractic has a strong presence in large parts of the world [3], is taking on increasingly important roles in disability prevention [6, 7, 17], in the military [5] and in interprofessional care [8] as well as growing research capacity [16], discussions about fundamental values and direction of the profession are unresolved. They believe that this unresolved issue creates confusion for stakeholders and threatens to impede professionalization and cultural authority. If chiropractors are to remain relevant in today's evidence-based healthcare environment, they argue, there is an urgent need to agree on, and further describe, what chiropractic is, what chiropractors do and importantly to provide evidence for value of these activities to patients and societies.
So, what do we make of chiropractic in view of the fact that chiropractors seem to be unsure what it is?
I let you decide.