detox
When I previously wrote about Pranic Healing I boldly asked whether it is a hoax. This prompted several furious reactions of believers who thought my question was insulting. Meanwhile, I informed myself more thoroughly and am happy to confirm that Pranic Healing is not a hoax at all. In fact, it is much worse.
What, you forgot what Pranic Healing is?
How could you?
According to one website, Pranic Healing is a
no touch, non-invasive healing technique that was founded by Grand Master Choa Kok Sui. It is a synthesis of healing techniques from ancient China, Tibet and India in which Prana is used to heal a wide variety of illnesses. Pranic Healing is not only used to cure illness or physical ailments but also can be cure person of his psychological ailments. To be very simple in this computer age as the computer contains the hardware and the software. In human body hardware is our physical body and the software's are the Human emotions which includes Anger, Grief, Anxiety, Stress , fatigue, our karmas, pride, fear, Phobias and many more.
These human viruses affect the physical body of a person. In Pranic healing Grand Master Choa kok Sui has taught to remove these negative emotions from our system in a very simple but powerful and effective way. Grand Master Choa Kok Sui did lot of research and experiment for treating different diseases and ailments and made is very simple so that anybody can learn it. Today Pranic healing is taught and practiced in more than 80 countries of the world and its books are available in more than 34 languages. Pranic Healing is not intended to replace orthodox western medicine, but rather to complement it. Countless people and their families have been treated and are enjoying a better quality of life through Pranic Healing.
'Grand Master' Choa was born August 15, 1952, in the Philippines. His parents were of Chinese descent and became successful business people. Choa was raised in this environment of business and absorbed its lessons only too well. Sadly, he seemed to have been immune to his own healing innovation, as he died young in 2007. But his Pranic Healing empire lives on and today it is a hugely profitable business.
Prana Crystals sell a wide range of products, for instance 'healing wants' which they advertise as follows:
Healing Wands made from various stones and crystals have been used round the globe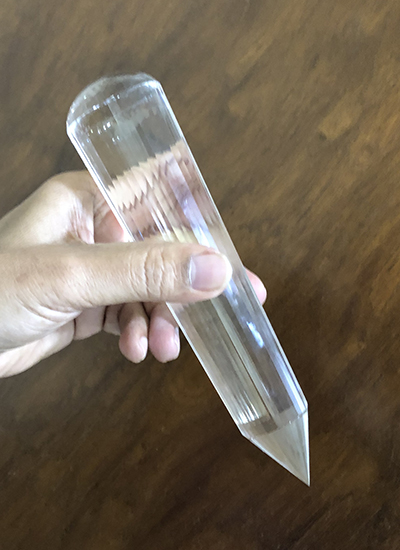 for healing purposes since ages. They help in cleansing of the entire body or aura or they can also be used to heal an affected part of the body or chakra. These wands can also be used for massaging purpose. They absorb the negative energy and release stress and pressure and help in transferring the positive energy of the stone. Healing Wands are available in variety of stones and crystals in different sizes. Each one of them have specific characteristics and uses. We have a variety of Wands available to meet your requirements.
My favourite wand is the one pictured on the right here. It is the Rolls Royce of all the wands on offer and therefore it can obviously not come cheap. But at US$ 1999 (yes, one thousand nine hundred and ninety-nine American dollars) it is still a bargain, because it rids you of all the diseases and negative energy that you can dream of.
During my recent crash course in Pranic Healing, I came across dozens of websites, hundreds of testimonials, uncounted comments and a plethora of curious things. Let me share just one of them with you:
Pranic Weight Loss Body Sculpting Face Lift is a fascinating area of the applications of the teachings of Master Choa Kok Sui for health and beauty. This workshop helps you look prettier and loose weight without surgery, exhausting exercises and medicine, just by using the knowledge of subtle energy.
Using specific combination of colour pranas and techniques, your skin can look 10 to 20 years younger. In fact the lines and wrinkles of the face are storage of negative and unpleasant feelings and experiences such as anger, fear and grief. When this emotional garbage is cleared and released, the face will look younger, brighter and revitalized.
Certain colour Pranas have the power to disintegrate and remove fat, wrinkles and lines from your system to create a healthier and better-looking body. In fact the lines and wrinkles of the face are storage of negative and unpleasant feelings and experiences such as anger, fear and grief. When this emotional garbage is cleared and released, the face will look younger, brighter and revitalized.
No, Pranic Healing is most certainly not  hoax, and I was wrong to imply it. My sincere apologies! It is pure and simple exploitation of  vulnerable people who have not had the opportunity to learn how to think critically.
When John Ioannidis publishes a paper, it is well worth, in my view, to pay attention. In the context of this blog, his latest article seems particularly relevant.
The researchers identified the top 100 best-selling books and assessed for both the claims they make in their summaries and the credentials of the authors. Weight loss was a common theme in the summaries of nutritional best-selling books. In addition to weight loss, 31 of the books promised to cure or prevent a host of diseases, including diabetes, heart disease, cancer, and dementia.
The nutritional advice given to achieve these outcomes varied widely in terms of which types of foods should be consumed or avoided and this information was often contradictory between books. Recommendations regarding the consumption of carbohydrates, dairy, proteins, and fat in particular differed greatly between books.
To determine the qualifications of each author in making nutritional claims, the highest earned degree and listed occupations of each author was researched and analyzed. Out of 83 unique authors, 33 had an M.D. or Ph.D degree. Twenty-eight of the authors were physicians, three were dietitians, and other authors held a wide range of jobs, including personal trainers, bloggers, and actors. Of 20 authors who had or claimed university affiliations, seven had a current university appointment that could be verified online in university directories.
The authors concluded that this study illuminates the range of the incongruous information being dispersed to the public and emphasizes the need for future efforts to improve the dissemination of sound nutritional advice.
The authors also provide a 'sample of claims that appear disputable and/or unsubstantiated according to our expertize and opinion':
1. "Carbs are destroying your brain"—Grain Brain
2. "Have high blood pressure? Hibiscus tea can work better than a leading hypertensive drug-and without the side effects. Fighting off liver disease? Drinking coffee can reduce liver inflammation. Battling breast cancer? Consuming soy is associated with prolonged survival."—How Not to Die
3. "Zero Belly diet attacks fat on a genetic level, placing a bull's-eye on the fat cells that matter most: visceral fat, the type of fat ensconced in your belly."—Zero Belly Diet
4. "SKIP THE CRUNCHES: They just build muscle under the fat…LESS (EXERCISE) IS MORE"—This Is Why You're Fat (And How to Get Thin Forever)
5. "Eating pasta, bread, potato, and pizza will actually make you happier, healthier, and thinner—for good"—The Carb Lovers Diet
6. "Skip breakfast, stop counting calories, eat high levels of healthy saturated fat, work out and sleep less, and add smart supplements"—The Bulletproof Diet
7. "Modern "improvements" to our food supply—including refrigeration, sanitation, and modified grains—have damaged our intestinal health. Dr. Axe offers simple ways to get these needed microbes, from incorporating local honey and bee pollen into your diet to forgoing hand sanitizers and even ingesting a little probiotic-rich soil"—Eat Dirt
8. "Overeating doesn't make you fat; the process of getting fat makes you overeat."—Always Hungry?
9. "Do you have an overall sense of not feeling your best, but it has been going on so long it's actually normal to you? You may have an autoimmune disease, and this book is the "medicine" you need."—The Immune System Recovery Plan
10. "Shows you how to grow new receptors for your seven metabolic hormones, making you lose weight and feel great fast!"—The Hormone Reset Diet
11. "The world's foremost expert on the therapeutic use of culinary spices, takes an in-depth look at 50 different spices and their curative qualities, and offers spice "prescriptions"–categorized by health condition–to match the right spice to a specific ailment."—Healing Spices
12. "The idea that people simply eat too much is no longer supported by science"—The Adrenal Reset Diet
13. "Most of us think God is not concerned with what we eat, but the Bible actually offers great insight and instruction about the effects of food on our bodies"—Let Food Be Your Medicine
14. "Dieters can actually lose weight by eating foods, nutrients, teas, and spices that change the chemical balance of the brain for permanent weight loss—a major factor contributing to how quickly the body ages. In fact, everyone can take years off their age by changing their brain chemistry."—Younger (Thinner) You Diet
15. "Weight gain is not about the food, but about the body's environment. Excess weight is a result of the body being in a toxic, inflammatory state. If your body is not prepared or 'primed' for weight loss, you will fight an uphill biochemical battle"—The Prime
16. "Throwing ice cubes in your water to make it more "structured". Skipping breakfast, as it could be making you fat. Eating up to 75 percent of your calories each day in fat for optimal health, reduction of heart disease, and cancer prevention"—Effortless Healing
To call these statements 'disputable' must be the understatement of the year!
I have long been concerned about the dangerous rubbish published in so-called 'self-help books'. In 1998, we assessed for the first time the quality of books on so-called alternative medicine (SCAM) [Int J Risk Safety Med 1998, 11: 209-215. [for some reason, this article is not Medline-listed]. We chose a random sample of 6 such books all published in 1997, and we assessed their contents according to pre-defined criteria. The findings were sobering: the advice given in these volumes was frequently misleading, not based on good evidence and often inaccurate. If followed, it would have caused significant harm to patients.
In 2006, we conducted a similar investigation the results of which we reported in the first and second editions of our book THE DESKTOP GUIDE TO COMPLEMENTARY AND ALTERNATIVE MEDICINE. This time, we selected 7 best-sellers in SCAM and scrutinised them in much the same way. We found that almost every treatment seemed to be recommended for almost every condition. There was no agreement between the different books which therapy might be effective for which condition. Some treatments were even named as indications for a certain condition, while, in other books, they were listed as contra-indications for the same problem. A bewildering plethora of treatments was recommended for most conditions, for instance:
addictions: 120 different treatments
arthritis: 131 different treatments
asthma: 119 different treatments
cancer: 133 different treatments
This experience, which we published as a chapter in the above-mentioned book entitled AN EPITAPH TO OPINION-BASED MEDICINE, confirmed our suspicion that books on SCAM are a major contributor to the  misinformation in this area.
The new paper by Ioannidis et al adds substantially to all this. It shows that the problem is wide-spread and has not gone away. Since such books have a huge readership, they are a danger to public health. Now that the problem has been identified and confirmed, it is high time, I think, that we do something about it … but I wish I knew what.
ANY SUGGESTIONS?
Even the NEW SCIENTIST seems alarmed about Gwyneth and her activities:
Psychic readings, energy healing and vampire facials are just a few of the adventures had by actor and alternative health guru Gwyneth Paltrow and her team in her forthcoming Netflix series The Goop Lab. Goop, Paltrow's natural health company, has already become a byword for unrestrained woo, but the TV series takes things to the next level.
Don't make the mistake of thinking you can stick your fingers in your ears and pretend it isn't happening. There is unlikely to be any escape from The Goop Lab after it is released on 24 January, judging by the current explosion of interest in Goop's latest offering, a candle scented like Paltrow's vagina, which has reportedly sold out…
Yet, I am sure we got her all wrong!
Good old Gwennie is really one of us – she is a true sceptic!
Think about it; it's the only explanation.
When she first started dabbling in woo, she only wanted to test us. I'll just display a few cupping marks and see how they react, she thought.
Then she saw that most people were so gullible that they bought it. Of course, she thought, if they buy it, I might as well take their money. In her attempt to see how far she can push her boat out, she decided to conduct a sceptical experiment and went further and further. This is when she started to focus on her vagina – jade eggs, steaming it, etc. Surely, she thought, eventually they must realise that I am a sceptic taking the Mikey!
But they never did realise it; at least not so far.
So, she decided to do something even more brazen and sell candles to dispense the smell of her vagina in the homes of her fans. That will do it, she felt, now they will realise what I want to achieve with all this.
But what happened? They sold out in no time (actually, both the candles and the gullible public)! That was a surprise even to our Gwennie. She thought she had seen it all, but she was wrong.
Now she is trying to think of something even more outrageous – but she admits, it's not easy. What can be a more obvious and disgusting hoax than filling people' homes with the smell of my genitals and let them pay through their noses for the pleasure? she asks herself.
Yes, poor old Gwennie is at loss! Stuck in her own vagina, so to speak.
Perhaps you can help her? Please suggest what vaginal gimmick she might sell next to make her position inescapably clear to even the dumbest of the gullible. Just mention your ideas in the comment section below; I have a feeling she is an avid reader of this blog. Gwennie might even show herself generous; if she likes your innovation, she will certainly make it worth your while.
Because, by Jove, she can afford to be generous. Apparently her business is now worth a quarter of a billion US$. But we must not be envious. Knowing that she did all this merely to stimulate sceptical thinking in the general public, you will not be surprised to learn what she intends to do with all this dosh: once she has succeeded in demonstrating to all the gullible pin heads and devotees that she really is on the side of the angles, she will donate all of it to sceptic organisations across the globe.
So, sceptics of the world: stop snarling at my friend Gwennie, rejoice and prepare for a major windfall.
If you, like many of us, have heavily 'toxed', you might now consider 'detoxing'. What I mean is that we have probably all over-indulged a bit over the holidays. Unless you were the guest of someone, you had to pay dearly for it (Champagne is not cheap!). And now, a whole industry of 'detox' entrepreneurs tells you to pay again – this time, for detox.
As you payed 'through your nose' for the 'tox', you might as well use the same orifice for the 'detox'. An Indian tradition called Nasiyam (or Nasyam? or Nasya? – I am confused!)  makes it possible. This website explains:
Nasal Instillation (Nasyam) is the practice of instilling medicated oils, fresh juices of leaves or flowers in the nostrils … Nasyam is specially directed towards the purification of various parts related to the head…
I don't know about you, but I always felt that all my parts were related to my head! So, Nasyam is for purification of all my parts? The announcement below – I picked it up on Twitter – is much clearer: detox through the nasal doorway! Who would refuse such an offer after the festivities of late?
This sounds fascinating, I thought. Thus I ran a quick Medline search but only found this abstract:
BACKGROUND:
Ardita (facial paralysis) is a medical condition that disfigures or distorts the facial appearance of the sufferer causing facial asymmetry and malfunction. Ardita patients may benefit from considering alternative treatments such as Ayurveda, including Taila Nasya (nasal instillation of medicated oil).
OBJECTIVES:
To synthesize the best available evidence on the effectiveness of different Nasya oils in the treatment of Ardita.
INCLUSION CRITERIA TYPES OF PARTICIPANTS:
Studies conducted on adult sufferers (18-70 years) of Ardita (chronic or acute) in any setting were considered. Studies including participants who were pregnant or suffered allergic rhinitis, fever, intracranial tumor/hemorrhage and bilateral facial palsy were excluded.
INTERVENTION(S)/COMPARATOR(S):
Standalone treatment of Nasya (at all dosages and frequencies) compared to Nasya in combination with other Ayurvedic treatments was considered. Comparisons between different interventions including Taila Nasya alone, Taila Nasya in combination with other Ayurvedic interventions and Ayurvedic interventions that did not include Taila Nasya were also considered.
OUTCOMES AND MEASURES:
Changes in Ardita symptoms, including facial distortion, speech disorders and facial pain, were measured.
TYPES OF STUDIES:
All quantitative study designs (experimental, quasi-experimental and observational) were considered.
SEARCH STRATEGY:
Relevant studies were identified following a comprehensive literature search. References provided within these key studies identified additional resources. Indian universities were also contacted for results of Ardita studies undertaken in their institutions.A three-step search strategy aimed to find studies of published and unpublished studies was undertaken. Studies published in the English language were considered for inclusion, irrespective of publication date/year. Following an initial limited search of MEDLINE and CINAHL, the text words contained in the title and abstract, and of the index terms used to describe each articles were analyzed. From the identified keywords and index terms, searches were undertaken across all relevant databases such as PubMed, CINHAL, Cochrane (CENTRAL), Scopus, Centre for Review and Dissemination databases, Turning Research into Practice (TRIP), EMBASE, EBM Reviews, DHARA, Google Scholar, MedNar and ProQuest Dissertations. Finally, reference lists of identified theses and articles were searched for additional studies. Universities and website operators related to Ayurvedic research in India were contacted, including the National Institute of Ayurveda for relevant studies. Besides this, the University of Adelaide librarian was contacted to retrieve those studies identified in the reference lists of theses and articles.
METHODOLOGICAL QUALITY:
Studies were critically assessed by the review author and a secondary reviewer prior to inclusion in the review using the standardized critical appraisal instrument from the Joanna Briggs Institute.
DATA EXTRACTION:
Data was extracted by the primary reviewer using the standardized data extraction tool from the Joanna Briggs Institute.
DATA SYNTHESIS:
Different interventions and comparators across studies precluded meta-analysis. Narrative synthesis was performed.
RESULTS:
Only two pseudo randomized studies with a small number of participants met inclusion criteria and were included in the review. One study with 20 participants, divided equally into two groups compared the effectiveness of two nasal instillations in alleviating four Ardita symptoms. The second study of 15 participants each in two groups compared the effectiveness of nasal instillation with placement of medicated oil on the head on seven Ardita symptoms. Observational measurements of Ardita symptoms were graded as Mild, Moderate or Marked at baseline and after one month. The study conducted on 30 participants using Nasya intervention showed participants had better relief from the symptoms of facial pain, speech disorder and earache within the range of 78.2% to 90.9%, graded as Marked. Along with statistical data available in the studies, this review found low levels of evidence favoring Taila Nasya intervention. The review did not include any studies examining effectiveness of Nasya compared to conventional treatment for Ardita.
CONCLUSIONS:
This review presents extremely limited evidence from only two small experimental studies that administration of Nasya oil alone may provide some relief from Ardita symptoms of facial distortion, speech disorder, inability to shut eyelids/upward eye rolling and dribbling of saliva in adult patients. No strong conclusions may be drawn from the evidence included in the review due to the limited number of studies, limited number of participants and poor quality of studies.
IMPLICATIONS FOR PRACTICE:
Practitioners should advice Ardita patients that there is extremely limited evidence suggesting the potential effectiveness of Nasya oils alone or Nasya in conjunction with other Ayurvedic treatments in managing symptoms. However, given the absence of a strong evidence base, practitioners should be guided by clinical wisdom and patient preference.
IMPLICATIONS FOR RESEARCH:
Well controlled clinical trials comparing standalone Nasya therapy to other Ayurvedic treatments and/or conventional medicine for Ardita symptoms need to be conducted to examine the relative effectiveness of different Nasya oils in treating.
I think you agree, that's nothing to write home about.
So, on second thought I might give Nasya (or whatever it is called) a miss. The same applies, by the way, to any other form of detox.
Recently, I stumbled across this website and the following text:
"Measles are an implant Scientology can handle using New Era Dianetics," said Scientology chiropractor Colonel Dr. Roberto Cadiz. "As a chiropractor, I see mock ups of so-called serious diseases all the time," Dr. Cadiz remarked. "And fully 99% of the time these diseases are chronic subluxations caused by dangerous childhood vaccinations the Psychs force on everyone." "Chiropractic adjustment, the Purification Rundown, CalMag, and Dianetics auditing are crucial parts of the treatment regimen for cancers, measles, etc. What you need to find are the words in the implant that turn the disease on. As LRH wrote of leukemia:
'"Leukaemia is evidently psychosomatic in origin and at least eight cases of leukaemia had been treated successfully by Dianetics after medicine had traditionally given up. The source of leukaemia has been reported to be an engram containing the phrase 'It turns my blood to water.'"
"When the preclear gives the exact words hidden in the implant during an auditing session the implant vanishes. The e-meter literally blows up and falls of the table. Of course, continued chiropractic adjustments for life are needed to keep these heavy engrams from going into restimulation. Ideally, chiropractic adjustments should be done three times a week to maintain optimal health."
Yes, this is so far out, it could almost be a hoax. But I fear it is for real. In the past I have come across many similar statements by scientology chiros. This led me to wonder for some time now: is there a link between the two?
Come to think of it, chiropractic and scientology have a lot in common:
they are both based on frightfully weird theories,
they both are known use the e-meter (or derivatives of it);
they are both akin to a religion or cult;
they are both fiercely against drugs;
they both feel pursued by the medical profession;
they both promote detox;
they both recommend useless supplements;
they both tend to be anti-vax;
they both have powerful lobby groups to support them;
they both tend to react very aggressively to criticism.
One does not have to look far to find further links on the internet – there are virtually hundreds. Take this website, for instance:
Stewart Edrich thanks Scientology becaue it aligns perfectly with his practice of chiropractic and clinical nutrition because it covers your entire existence. Unfortunately for him, someone found this on the internet which destroys what little positive credbility he has through Scientology…
David Murdoch learned about Scientology at Palmer — "A group of us were having dinner and he remarked that a lot of the chiropractic management firms got their management data directly from L. Ron Hubbard."
Or have a look here, here or here.
Or read reports like this one:
A South Florida chiropractic office has agreed to pay a $170,000 settlement to a group of former employees who claim they were forced to participate in Scientology practices.
Or this one:
A South Carolina chiropractor has been sued by a former employee for allegedly forcing sexual acts — and Scientology — on her, according to a report.
So, does any of this prove anything?
No!
Does it raise a suspicion that there might be a link?
Yes!
I would be delighted to hear from people who can enlighten me either way.
I am sure this press-release of today will be of interest:
Good Thinking, a charity which aims to promote science and challenge pseudoscience, is bringing the action after the PSA acknowledged that multiple members of the Society of Homeopaths continue to offer CEASE therapy – a purported treatment for autism which is targeted particularly at children and which relies on the false notion that autism is caused by vaccination, and can be cured with homeopathic treatments, high-dosage Vitamin C, and dietary restriction.
The PSA has acknowledged that CEASE therapy is potentially harmful and conflicts with the advice of the NHS in several respects, including with regard to the childhood vaccinations for potentially life-threatening conditions. Nevertheless, the PSA decided on April 1st to approve the Society of Homeopaths' accreditation for a further year.
Michael Marshall, Project Director of Good Thinking, said: "By being part of the PSA's Accredited Voluntary Register scheme, the Society of Homeopaths and its members – including those who practice CEASE therapy – can point to the PSA's logo on their websites and marketing materials as a sign that they are competent, trustworthy and safe. But that badge, and the credibility and legitimacy it confers, only carries any meaning if the PSA takes seriously their duty to protect the public from harmful practices.
"For the PSA to acknowledge that members of the Society of Homeopaths are offering a treatment that the PSA themselves recognise as harmful, and which is targeted at a particularly vulnerable group, and to then reaccredit them all the same makes a mockery of the PSA's whole accreditation scheme. For PSA accreditation to mean anything at all, the public needs to be confident that when the PSA identify potentially harmful therapies, they take the necessary steps to protect the public, rather than accepting it and, effectively, endorsing it".
The Society of Homeopaths has been part of the PSA's Accredited Voluntary Register scheme since 2014. The PSA's decision to accredit the Society of Homeopaths and its subsequent decisions to re-accredit have been the subject of criticism from both autism rights campaigners and those who support evidence-based medicine.
Marshall said: "The PSA encourage members of the public to choose healthcare practitioners which belong to one of its accredited registers, and even have a tool on their site to find accredited practitioners. That advice is fundamentally undermined by the fact that a patient could, via the PSA's list of accredited practitioners, find themselves consulting with a homeopath who discourages vaccination and believes they can cure children of autism."
Good Thinking's action has drawn support from autism campaigners, such as Emma Dalmayne: "We as autistic people, are bombarded with the discriminatory rhetoric that we are in need of a cure. CEASE is not a cure for our neurological difference, and it is proven to be extremely harmful. The PSA should not endorse the Society of Homeopaths while their members offer this harmful therapy. The Society of
Homeopaths are at present allowing their members to mislead the public, which in turn puts vulnerable autistic children in harm's way."
If Good Thinking's Judicial Review is successful, the PSA will likely be required to revisit their decision to reaccredit the Society of Homeopaths, this time paying proper regard to the need to protect the public and in particular autistic children who are the main targets for CEASE therapy.
As a small charity, Good Thinking have appealed for support in funding their Judicial Review, and are urging supporters to contribute to their crowdfunding campaign, at crowdjustice.com/case/gts-cease-psa/.
Additional Quotes:
· Simon Singh, Science Writer and Chair of Good Thinking: "Only this week we saw Prince Charles become a patron of the Faculty of Homeopathy. We have become accustomed to Prince Charles endorsing dangerous quackery, but we expect more of the PSA. The credibility of the PSA is at stake when it allows the Society of Homeopaths to retain accredited status despite their members offering this clearly harmful therapy."
· Laura Thomason, Project Manager, Good Thinking: "Since 2017 we have raised concerns with the PSA about Society of Homeopaths members practicing CEASE therapy, and how we felt the actions they took to protect the public were wholly inadequate. We were therefore shocked and dismayed to see the PSA reaccredit the Society of Homeopaths, and believe their decision to do so, in the absence of any real sign from the Society that they are taking the protection of autistic children seriously, to be unlawful."
· Professor Edzard Ernst: "According to the 'like cures like' principle of homeopathy, Dr Tinus Smits, the Dutch homeopath who invented CEASE, claimed that autism must be cured by applying homeopathic doses of the substances which allegedly caused the condition. CEASE therapists thus 'detoxify' all assumed causative factors – vaccines, regular medication, environmental toxic exposures, effects of illness, etc. – with homeopathically prepared substances that were administered prior to the onset of autism. The assumptions of CEASE therapy fly in the face of science. There is also no clinical evidence that CEASE therapy is effective in curing autism or alleviating its symptoms. By misleading desperate parents that CEASE therapy works, homeopaths can do untold harm."
Homotoxicology is sometimes praised as the 'best kept detox secret', often equated with homeopathy, and even more often not understood at all.
But what is it really?
Homotoxicology is the science of toxins and their removal from the human body. It offers a theory of disease which describes the severity and duration of an illness or disorder based on toxin-loading relative to our body's ability to detoxify. In other words, it tells you how sick you'll get when what stays inside progressively overwhelms our ability to get the garbage out. It explains what you can expect to see as you start removing toxins.
And yes, there is a hierarchy of toxic substances. Homotoxicology says you should remove the gentler ones first. As the body strengthens, it will be able to handle the really bad stuff (i.e., heavy metals). This explains why some people do really well on the same detox treatments that take others out at the knees.
Yes, I know!
This sounds very much like promotional BS!!!
So, what is it really, and what evidence is there to support it?
Homotoxicolgy is a therapy developed by the German physician and homeopath Hans Reckeweg. It is strongly influenced by (but not identical with) homoeopathy. Proponents of homotoxicology understand it as a modern extension of homoeopathy developed partly in response to the effects of the Industrial Revolution, which imposed chemical pollutants on the human body.
According to the assumptions of homotoxicology, any human disease is the result of toxins, which originate either from within the body or from its environment. Allegedly, each disease process runs through six specific phases and is the expression of the body's attempt to cope with these toxins. Diseases are thus viewed  as biologically useful defence mechanisms. Health, on the other hand, is the expression of the absence of toxins in our body. It seems obvious that these assumptions are not based on science and bear no relationship to accepted principles of toxicology or therapeutics. In other words, homotoxicology is not plausible.
The therapeutic strategies of homotoxicology are essentially threefold:
• prevention of further homotoxicological challenges,
• elimination of homotoxins,
• treatment of existing 'homotoxicoses'.
Frequently used homotoxicological remedies are fixed combinations of homeopathically prepared remedies such as nosodes, suis-organ preparations and conventional drugs. All these remedies are diluted and potentised according to the rules of homoeopathy. Proponents of homotoxicology claim that they activate what Reckeweg called the 'greater defence system'— a concerted neurological, endocrine, immunological, metabolic and connective tissue response that can give rise to symptoms and thus excretes homotoxins. Homotoxicological remedies are produced by Heel, Germany and are sold in over 60 countries. The crucial difference between homotoxicology and homoeopathy is that the latter follows the 'like cures like' principle, while the former does not. As this is the defining principle of homeopathy, it would be clearly wrong to assume that homotoxicology is a form of homeopathy.
Several clinical trials of homotoxicology are available. They are usually sponsored or conducted by the manufacturer. Independent research is very rare. In most major reviews, these studies are reviewed together with trials of homeopathic remedies which is obviously not correct. Our systematic review purely of studies of homotoxicology included 7 studies, all of which had major flaws. We concluded that the placebo-controlled, randomised clinical trials of homotoxicology fail to demonstrate the efficacy of this therapeutic approach.
So, I ask again: what is homotoxicology?
It is little more than homeopathic nonsense + detox nonsense + some more nonsense.
My advice is to say well clear of it.
"Homeopathic remedies are inherently harmless" this is what many seem to think – homeopathy friends and foes alike. After all, they contain nothing – so, how can it cause harm?
The notion is, of course, not entirely true. Homeopathic remedies can be directly harmful, if:
they are not highly dilute (low potency) – imagine Arsenic C1;
they are contaminated with harmful substances – this might happen with poor quality control during the manufacturing process;
they might not be as dilute as advertised – this too might happen with poor quality control during the manufacturing process.
A reminder that these are not merely theoretical considerations was just published in the shape of a press-release by the US Food and Drug Administration:
King Bio is voluntarily recalling four lots of Aquaflora Candida HP9, Lymph Detox, and Baby Teething liquids to the consumer level. During a routine inspection by the U.S. Food and Drug Administration, the products were found to contain microbial contaminants Pseudomonas Brenneri, Pseudomonas Fluroescens and Burkholderia Multivorans.
Administration or use of drug  products with microbial contamination could potentially result in increased infections that may require medical intervention, and could result in infections that could be life threatening to certain individuals. King Bio has not received reports of injury or illness.
The Aquaflora HP9 product is used as a Candida control product. The Lymph Detox product is used for symptoms associated with lymphatic toxicity. The Baby Teething product is used for symptoms of teething pain, irritated gums, delayed teething, etc.
Product
UPC
Lot Numbers
Expiration Date
Distribution
Aquaflora
Candida HP9 8
oz. liquid in a
carton
3-57955-80018-7
120217R
102017C
101017G
111417C
12/02/19
10/20/19
10/10/19
11/14/19
8,000 bottles
nationwide to
retail stores and
websites
King Bio
Lymph Detox
2 oz. liquid in a
carton
3-57955-50632-4
010118BE
01/01/20
276 bottles
nationwide to
retail stores and
websites
King Bio Baby
Teething 2 oz
liquid in a
carton
020118F
13 bottles
marked NOT
FOR RESALE
King Bio is notifying its distributors and customers by letter and is arranging for return and/or replacement. of all recalled products.  Consumers/distributors/retailers that have product which is being recalled should stop using/and contact King Bio prior to returning the product.
Consumers with questions regarding this recall can contact King Bio by 866-298-2740 or e-mail custcare1@kingbio.com, Monday – Friday 830am – 430pm, EST.  Consumers should contact their physician or healthcare provider if they have experienced any problems that may be related to taking or using this product.
Adverse reactions or quality problems experienced with the use of this product may be reported to the FDA's MedWatch Adverse Event Reporting program either online, by regular mail or by fax.
END OF QUOTE
KingBio have a website where they disclose their mission statement:
To provide safe, all-natural medicines without harmful side effects.
To offer affordable natural medicines that help people overcome common health challenges.
To achieve the trust and respect of our customers and uphold the best product quality.
To empower people with the most effective ways to achieve abundant health.
… The FDA classifies homeopathic medicines as pharmaceutical drug products. King Bio is an FDA-registered pharmaceutical manufacturer and is strictly compliant with FDA guidelines and current good manufacturing practices (cGMP). Unlike most pharmaceutical drug products, homeopathic medicine offers gentle symptomatic relief, without recorded harmful side effects. 
SAY NO MORE!
Alternative practitioners practise highly diverse therapies. They seem to have nothing in common – except perhaps that ALL of them are allegedly stimulating our self-healing powers (and except that most proponents are latently or openly against vaccinations). And it is through these self-healing powers that the treatments in question cure anything and become a true panacea. When questioned what these incredible powers really are, most practitioners would (somewhat vaguely) name the immune system as the responsible mechanism. With this post, I intend to provide a short summary of the evidence on this issue:
Acupuncture: no good evidence to show stimulation of self-healing powers.
Aromatherapy: no good evidence to show stimulation of self-healing powers.
Bioresonance: no good evidence to show stimulation of self-healing powers.
Chiropractic: no good evidence to show stimulation of self-healing powers.
Detox: no good evidence to show stimulation of self-healing powers.
Energy healing: no good evidence to show stimulation of self-healing powers.
Feldenkrais: no good evidence to show stimulation of self-healing powers.
Gua sha: no good evidence to show stimulation of self-healing powers.
Herbal medicine: no good evidence to show stimulation of self-healing powers.
Homeopathy: no good evidence to show stimulation of self-healing powers.
Macrobiotics: no good evidence to show stimulation of self-healing powers.
Naturopathy: no good evidence to show stimulation of self-healing powers.
Osteopathy: no good evidence to show stimulation of self-healing powers.
Power bands: no good evidence to show stimulation of self-healing powers.
Reiki: no good evidence to show stimulation of self-healing powers.
Reflexology: no good evidence to show stimulation of self-healing powers.
Shiatsu: no good evidence to show stimulation of self-healing powers.
Tai chi: no good evidence to show stimulation of self-healing powers.
TCM: no good evidence to show stimulation of self-healing powers.
Vibrational therapy: no good evidence to show stimulation of self-healing powers.
---
Vaccinations: very good evidence to show stimulation of self-healing powers.
---
THE END
Traditional vaginal practices usually relate to personal hygiene, genital health or sexuality. Hygiene practices involve external washing and intravaginal cleansing or douching and ingestion of substances. Health practices include intravaginal cleansing, traditional cutting, insertion of herbal preparations, and application of substances to soothe irritated vaginal tissue.
One such traditional practice is 'vaginal steaming'.
Recently vaginal steaming has become a fad promoted by SCAM-promoters (such as the vagina-obsessed Gwyneth Paltrow) with the claim that it leads to a range of health benefits. According to one website, for instance, vaginal steaming, Yoni Eggs, yoni or v-steam, as it is casually known, acts as an internal cleanser of the membranes of the vaginal tissues and uterus. This is considered especially important for stagnant fertility conditions and/or incomplete emptying of menses each cycle. This women's treatment gently but effectively cleanses, tones and revitalizes a woman's center, providing a myriad benefits from reduced menstrual cramps to increased fertility and more. Support your natural feminine cycle, help your body to heal, relax, and detoxify both physically and emotionally with a yoni steam.
The method is recommended for a wide range of conditions and is said to achieve all of the following and much, much more:
Significant reduction of pain, bloating and exhaustion associated with menstruation.
Significant reduction of PMS.
Decrease of menstrual flow as well as reduction of dark purple or brown blood at the onset or end of menses.
Regulation of irregular or absent menstrual cycles.
Increased fertility.
Faster healing and toning of the reproductive system following childbirth.
Assisting in healing uterine fibroids, ovarian cysts, uterine weakness, uterine prolapse & endometriosis.
Breaking down of reproductive adhesion/scar tissue. Assisting with the repair of a vaginal tear, episiotomy, or C-section scar.
Assisting with the healing of haemorrhoids.
Treating chronic vaginal/yeast infections and maintaining healthy vaginal odour.
Relief of menopausal symptoms such as vaginal dryness or pain during sex.
Detoxification of the womb/removal of toxins from the body. Release of stored emotions.
Reconnection with our female bodies and tapping into the sexual energy that is our creative potential.
Frequently, entrepreneurs recommend adding herbal or other ingredients. Herbs often used include:
mugwort
wormwood
chamomile
calendula
basil
oregano
None of these claims are supported by anything we would recognise as evidence, and it would be easy to make fun at the quacks who make them (and the women who fall for them) – unless, of course, there was real and significant harm involved. I fear, the potential for harm is undeniable:
vaginal steaming arms your bank account;
it disrupts the normal pH balance of the vagina;
in turn, this increases the risk of fungal and bacterial infections;
vaginal steaming can cause burns;
with added herbs, it can cause allergies.
New Zealand psychologists analysed online accounts of vaginal steaming to determine the sociocultural assumptions and logics within such discourse, including ideas about women, women's bodies and women's engagement with such 'modificatory' practices. Ninety items were carefully selected from the main types of website discussing vaginal steaming: news/magazines; health/lifestyle; spa/service providers; and personal blogs. Within an overarching theme of 'the self-improving woman' the researchers identified four themes: (1) the naturally deteriorating, dirty female body; (2) contemporary life as harmful; (3) physical optimisation and the enhancement of health; and (4) vaginal steaming for life optimisation. The authors concluded that online accounts of vaginal steaming appear both to fit within historico-contemporary constructions of women's bodies as deficient and disgusting, and contemporary neoliberal and healthist discourse around the constantly improving subject.
For the sake of 'journalistic balance', let's give Gwyneth the last word about the benefits of vaginal steaming. She knows best because she has done it and was quoted uttering these profound and scientific views: "The first time I tried v-steaming, I was like, 'This is insane'. My friend Ben brought me and I was like, 'You are out of your f**king mind. What is this? But then by the end of it I was like, 'This is so great.' Then I start to do research, and it's been in Korean medicine for thousands of years and there are real healing properties. If I find benefit to it and it's getting a lot of page views, it's a win-win."
And who would or could argue with that?