detox
Alternative practitioners practise highly diverse therapies. They seem to have nothing in common – except perhaps that ALL of them are allegedly stimulating our self-healing powers (and except that most proponents are latently or openly against vaccinations). And it is through these self-healing powers that the treatments in question cure anything and become a true panacea. When questioned what these incredible powers really are, most practitioners would (somewhat vaguely) name the immune system as the responsible mechanism. With this post, I intend to provide a short summary of the evidence on this issue:
Acupuncture: no good evidence to show stimulation of self-healing powers.
Aromatherapy: no good evidence to show stimulation of self-healing powers.
Bioresonance: no good evidence to show stimulation of self-healing powers.
Chiropractic: no good evidence to show stimulation of self-healing powers.
Detox: no good evidence to show stimulation of self-healing powers.
Energy healing: no good evidence to show stimulation of self-healing powers.
Feldenkrais: no good evidence to show stimulation of self-healing powers.
Gua sha: no good evidence to show stimulation of self-healing powers.
Herbal medicine: no good evidence to show stimulation of self-healing powers.
Homeopathy: no good evidence to show stimulation of self-healing powers.
Macrobiotics: no good evidence to show stimulation of self-healing powers.
Naturopathy: no good evidence to show stimulation of self-healing powers.
Osteopathy: no good evidence to show stimulation of self-healing powers.
Power bands: no good evidence to show stimulation of self-healing powers.
Reiki: no good evidence to show stimulation of self-healing powers.
Reflexology: no good evidence to show stimulation of self-healing powers.
Shiatsu: no good evidence to show stimulation of self-healing powers.
Tai chi: no good evidence to show stimulation of self-healing powers.
TCM: no good evidence to show stimulation of self-healing powers.
Vibrational therapy: no good evidence to show stimulation of self-healing powers.
---
Vaccinations: very good evidence to show stimulation of self-healing powers.
---
THE END
Traditional vaginal practices usually relate to personal hygiene, genital health or sexuality. Hygiene practices involve external washing and intravaginal cleansing or douching and ingestion of substances. Health practices include intravaginal cleansing, traditional cutting, insertion of herbal preparations, and application of substances to soothe irritated vaginal tissue.
One such traditional practice is 'vaginal steaming'.
Recently vaginal steaming has become a fad promoted by SCAM-promoters (such as the vagina-obsessed Gwyneth Paltrow) with the claim that it leads to a range of health benefits. According to one website, for instance, vaginal steaming, Yoni Eggs, yoni or v-steam, as it is casually known, acts as an internal cleanser of the membranes of the vaginal tissues and uterus. This is considered especially important for stagnant fertility conditions and/or incomplete emptying of menses each cycle. This women's treatment gently but effectively cleanses, tones and revitalizes a woman's center, providing a myriad benefits from reduced menstrual cramps to increased fertility and more. Support your natural feminine cycle, help your body to heal, relax, and detoxify both physically and emotionally with a yoni steam.
The method is recommended for a wide range of conditions and is said to achieve all of the following and much, much more:
Significant reduction of pain, bloating and exhaustion associated with menstruation.
Significant reduction of PMS.
Decrease of menstrual flow as well as reduction of dark purple or brown blood at the onset or end of menses.
Regulation of irregular or absent menstrual cycles.
Increased fertility.
Faster healing and toning of the reproductive system following childbirth.
Assisting in healing uterine fibroids, ovarian cysts, uterine weakness, uterine prolapse & endometriosis.
Breaking down of reproductive adhesion/scar tissue. Assisting with the repair of a vaginal tear, episiotomy, or C-section scar.
Assisting with the healing of haemorrhoids.
Treating chronic vaginal/yeast infections and maintaining healthy vaginal odour.
Relief of menopausal symptoms such as vaginal dryness or pain during sex.
Detoxification of the womb/removal of toxins from the body. Release of stored emotions.
Reconnection with our female bodies and tapping into the sexual energy that is our creative potential.
Frequently, entrepreneurs recommend adding herbal or other ingredients. Herbs often used include:
mugwort
wormwood
chamomile
calendula
basil
oregano
None of these claims are supported by anything we would recognise as evidence, and it would be easy to make fun at the quacks who make them (and the women who fall for them) – unless, of course, there was real and significant harm involved. I fear, the potential for harm is undeniable:
vaginal steaming arms your bank account;
it disrupts the normal pH balance of the vagina;
in turn, this increases the risk of fungal and bacterial infections;
vaginal steaming can cause burns;
with added herbs, it can cause allergies.
New Zealand psychologists analysed online accounts of vaginal steaming to determine the sociocultural assumptions and logics within such discourse, including ideas about women, women's bodies and women's engagement with such 'modificatory' practices. Ninety items were carefully selected from the main types of website discussing vaginal steaming: news/magazines; health/lifestyle; spa/service providers; and personal blogs. Within an overarching theme of 'the self-improving woman' the researchers identified four themes: (1) the naturally deteriorating, dirty female body; (2) contemporary life as harmful; (3) physical optimisation and the enhancement of health; and (4) vaginal steaming for life optimisation. The authors concluded that online accounts of vaginal steaming appear both to fit within historico-contemporary constructions of women's bodies as deficient and disgusting, and contemporary neoliberal and healthist discourse around the constantly improving subject.
For the sake of 'journalistic balance', let's give Gwyneth the last word about the benefits of vaginal steaming. She knows best because she has done it and was quoted uttering these profound and scientific views: "The first time I tried v-steaming, I was like, 'This is insane'. My friend Ben brought me and I was like, 'You are out of your f**king mind. What is this? But then by the end of it I was like, 'This is so great.' Then I start to do research, and it's been in Korean medicine for thousands of years and there are real healing properties. If I find benefit to it and it's getting a lot of page views, it's a win-win."
And who would or could argue with that?
The only time we discussed gua sha, it led to one of the most prolonged discussions we ever had on this blog (536 comments so far). It seems to be a topic that excites many. But what precisely is it?
Gua sha, sometimes referred to as "scraping", "spooning" or "coining", is a traditional Chinese treatment that has spread to several other Asian countries. It has long been popular in Vietnam and is now also becoming well-known in the West. The treatment consists of scraping the skin with a smooth edge placed against the pre-oiled skin surface, pressed down firmly, and then moved downwards along muscles or meridians. According to its proponents, gua sha stimulates the flow of the vital energy 'chi' and releases unhealthy bodily matter from blood stasis within sore, tired, stiff or injured muscle areas.
The technique is practised by TCM practitioners, acupuncturists, massage therapists, physical therapists, physicians and nurses. Practitioners claim that it stimulates blood flow to the treated areas, thus promoting cell metabolism, regeneration and healing. They also assume that it has anti-inflammatory effects and stimulates the immune system.
These effects are said to last for days or weeks after a single treatment. The treatment causes microvascular injuries which are visible as subcutaneous bleeding and redness. Gua sha practitioners make far-reaching therapeutic claims, including that the therapy alleviates pain, prevents infections, treats asthma, detoxifies the body, cures liver problems, reduces stress, and contributes to overall health.
Gua sha is mildly painful, almost invariably leads to unsightly blemishes on the skin which occasionally can become infected and might even be mistaken for physical abuse.
There is little research of gua sha, and the few trials that exist tend to be published in Chinese. But recently, a new paper has emerged that is written in English. The goal of this systematic review was to evaluate the available evidence from randomized controlled trials (RCTs) of gua sha for the treatment of patients with perimenopausal syndrome.
A total of 6 RCTs met the inclusion criteria. Most were of low methodological quality. When compared with Western medicine therapy alone, meta-analysis of 5 RCTs indicated favorable statistically significant effects of gua sha plus Western medicine. Moreover, study participants who received Gua Sha therapy plus Western medicine therapy showed significantly greater improvements in serum levels of follicle-stimulating hormone (FSH), luteinizing hormone (LH) compared to participants in the Western medicine therapy group.
The authors concluded that preliminary evidence supported the hypothesis that Gua Sha therapy effectively improved the treatment efficacy in patients with perimenopausal syndrome. Additional studies will be required to elucidate optimal frequency and dosage of Gua Sha.
This sounds as though gua sha is a reasonable therapy.
Yet, I think this notion is worth being critically analysed. Here are some caveats that spring into my mind:
Gua sha lacks biological plausibility.
The reviewed trials are too flawed to allow any firm conclusions.
As most are published in Chinese, non-Chinese speakers have no possibility to evaluate them.
The studies originate from China where close to 100% of TCM trials report positive results.
In my view, this means they are less than trustworthy.
The authors of the above-cited review are all from China and might not be willing, able or allowed to publish a critical paper on this subject.
The review was published in Complement Ther Clin Pract., a journal not known for its high scientific standards or critical stance towards TCM.
So, is gua sha a reasonable therapy?
I let you make this judgement.
Canadian naturopaths are reported to be under investigation for practising and promoting 'CEASE'. It might be worth therefore, to explain what this treatment amounts to.
The name 'CEASE' is the abbreviation of Complete Elimination of Autistic Spectrum Expression. Here are 7 points that are, I think, relevant:
CEASE therapy was developed by Dr Tinus Smits (1946-2010) in the Netherlands. Smits had practised as a lay-homeopath for many years before he decided to study medicine.
Smits became convinced that autism is caused by a child's exposure to an accumulation of toxic substances and published several books about his theory.
In his experience (as far as I can see, Smits never published a single scientific paper in the peer-reviewed literature) autism is caused by an accumulation of different toxins. About 70% is due to vaccines, 25% to toxic medication and other toxic substances, 5% to some diseases.
According to the 'like cures like' principle of homeopathy, Smits claimed that autism must be cured by applying homeopathic doses of the substances which caused autism. Step by step all assumed causative factors (vaccines, regular medication, environmental toxic exposures, effects of illness, etc.) are detoxified with the homeopathically prepared substances that has been administered prior to the onset of autism. Smits and his followers believe that this procedure clears out the "energetic field of the patient from the imprint of toxic substances or diseases".
One problem with this concept is that it flies in the face of science. There is no reason to believe that autism is caused by the exposure to toxins. In fact, CEASE turns out to be a layered monster of bogus assumption. The first layer is a false theory of the pathogenesis of autism; the second is the 'like cures like' myth of homeopathy; the third is the notion that 'potentisation' (dilution for you and me) renders substances not less but more potent; the fourth is the nonsensical concept of detoxification.
Another, perhaps even more important problem is that there is no evidence that the CEASE therapy is clinically effective.
Despite all this, many homeopaths and naturopaths have enthusiastically adopted the CEASE therapy, and some have discovered that there is money in running courses and awarding diplomas. Alerted to this abuse by concerned consumers, the UK Professional Standards Authority recently forced the UK 'Society of Homeopaths' to issue a statement saying: A number of Society members have been trained in CEASE and make reference to it in their marketing. While this is acceptable, members should be aware the title, meaning 'Complete Elimination of Autistic Spectrum Expression' is misleading. RSHoms must not suggest that they are capable of a complete cure of autism as this would be unethical and in breach of the Code of Ethics. The Society does not endorse any aspects of CEASE therapy contrary to NHS guidance and nor should RSHoms. In particular on vaccination, homeopathic prophylaxis, and the use of dietary supplements. It is beyond standard homeopathic practice to provide advice on the use of supplements and therefore any guidance given should be in line with the NHS Guidelines. The Society expects its members to comply with its Code of Ethics and statements on vaccination and homeopathic prophylaxis at all times, and any breaches may be treated as disciplinary matters. In order to ensure patient safety and In line with our guidelines, we will check the websites and marketing of all our members on a regular basis to ensure they are adhering to this statement. (Personally I find it astonishing that the SoH seems to declare CEASE 'acceptable'.)
PS
In case you are interested to consider the arguments from a proponent (one of the Canadian naturopaths who are currently under investigation for practising CEASE), read this article: https://www.drzimmermann.org/blog-vaccines-homeopathy-autism-cease-therapy/cease-therapy-misconceptions-and-truths
Few alternative fads have survived as long as the current Kombucha boom. Since decades, it is being hyped as the best thing since sliced bread. Consequently, it has become popular and is now being promoted as a veritable panacea, allegedly curing asthma, cataracts, diabetes, diarrhoea, gout, herpes, insomnia and rheumatism and purported to shrink the prostate and expand the libido, reverse grey hair, remove wrinkles, relieve haemorrhoids, lower hypertension, prevent cancer, and promote general well-being. Kambucha is believed to stimulate the immune system, and help with HIV infection. And – sure enough – it is ideal for detox!!!
One author goes even further and lists no less than 17 indications:
It's good for your gut:
1. Kombucha contains naturally fermenting probiotics that help maintain healthy gut flora by increasing the number of beneficial organisms.
2. It preserves nutrients and breaks them down into an easily digestible form, which allows you to absorb them better.
3. It enhances the absorption of minerals, particularly calcium, iron, zinc, magnesium, phosphorous and copper.
4. Healthy gut flora improves digestion, fights candida overgrowth, improves mental clarity and stabilizes moods.
5. A healthy gut can also be attributed to reducing or eliminating depression an anxiety.
6. Kombucha contains numerous strains of yeasts and up to 20 different bacterial species (and possibly many more!).
It detoxifies the body:
7. The enzymes and bacterial acids in kombucha ease the burden on the liver by reducing pancreatic load.
8. Kombucha contains glucuronic acid, which binds to toxins and increases their excretion through the kidney or intestines.
9. In 1951, a popular Russian study found that the daily consumption of kombucha was correlated with an extremely high resistance to cancer.
10. It contains vitamin C, a potent detoxifier.
It supports the nervous system:
11. Kombucha contains vitamin B, which has been associated with reducing blood pressure and supporting the nervous system.
It's anti-ageing and supports the joints:
12. Kombucha contains glucosamines, which are vital for the treatment and prevention of arthritis.
13. Kombucha allegedly eliminates grey hair, increases sex drive and improves eyesight.
14. Kombucha concentrates the antioxidants found in tea. Antioxidants not only fight the environmental toxins known as free radicals, which contribute to illness and disease, but help slow the aging process.
15. Theoretically, powerful antioxidant nutrients can prevent and lessen wrinkles by promoting skin elasticity.
It's anti-microbial
16. Kombucha is anti-microbial due to it's acetic and organic acids, proteins, enzymes and bacteriocins. It exerts anti-microbial activity against pathogenic bacteria like E coli and Salmonella. Incidentally, green tea kombucha has a high anti-microbial effect than when made with black tea.
It decreases sugar cravings
17. Emmet from Remedy told us that customers often comment that kombucha reduces their sugar cravings. "My take on this is that kombucha provides a natural energy boost and is therefore a handy antidote for when cravings kick in. It's also a great way to break the soft drinks habit."
END OF QUOTE
Sadly, none of these claims are based on anything that even vaguely resembles evidence. My own systematic review of 2003 aimed at locating and critically evaluating all human medical investigations of kombucha regardless of study design. However, no clinical studies were found relating to the efficacy of this remedy. Several case reports and case series raise doubts about the safety of kombucha. They include suspected liver damage, metabolic acidosis and cutaneous anthrax infections. One fatality was on record. I therefore concluded that on the basis of these data it was concluded that the largely undetermined benefits do not outweigh the documented risks of kombucha. It can therefore not be recommended for therapeutic use.
Since then no clinical trials have been published; but more information on the risks of Kombucha has emerged. A case report of a 54-year-old asthmatic woman, for instance. She presented to hospital with a 10-day history of breathlessness. On examination, she was tachypnoeic with mild wheeze. She had preserved peak flows and was saturating at 100% on room air. Investigations revealed severe metabolic lactic acidosis. On further questioning, it transpired that she drank kombucha tea, which has been linked to lactic acidosis. She made a full recovery with supportive management and cessation of the tea.
A case of hepatotoxicity has also been related to Kombucha consumption. Another case report tells the story of a 22 year old male, newly diagnosed with HIV, who became short of breath and febrile within twelve hours of Kombucha tea ingestion. He subsequently became combative and confused, requiring sedation and intubation for airway control. Laboratories revealed a lactate of 12.9 mmol/L, and serum creatinine of 2.1 mg/dL. The authors concluded that consumption of this tea should be discouraged, as it may be associated with life-threatening lactic acidosis.
But how can a simple tea like Kombucha cause such serious problems? The answer lies in the method of preparation which carries the risk of contamination: the Kombucha material is incubated at room temperature in a sugar-containing liquid for 7–12 days. It is hardly surprising that, under such conditions, human pathogens may grow. It follows that, depending on the method of preparation and standards of hygiene, some Kombucha teas may be entirely innocent whilst others carry the risk of contamination and infection. Contaminated batches may act like a 'biological chain letter'.
Considering all this, here are my instructions for making Kombucha and enjoying it safely.
You will need:
3 litres of filtered water
10 green or black teabags
1 SCOBY (symbiotic culture of bacteria and yeast)
½ a cup of sugar
And this is what you need to do:
Boil the filtered water.
Pour over the teabags in a large container.
Add the sugar to the tea, and allow time to brew and cool (about two hours).
Pour the brewed tea into a large, jar and add the SCOBY.
Cover jar with cheesecloth, muslin or paper towel and secure with a rubber band.
Leave to brew for a week or more to taste.
Pour the kombucha into bottles
… and bin the lot.
It is not often that I come across an alternative therapy that I have never before heard of. And when I do, I am naturally interested. Emunctorology is such a term – even my spell-check flags it up as a misprint, but trust me, it isn't.
The term, my dictionary tells me, comes from the Latin emungere = to wipe clean (mungere = to wipe). Emunctory, the dictionary further informs me, relates to a body organ having an excretory function. It follows, that emunctorology is the science of the excretory functions of the body.
That does not mean it is an alternative therapeutic approach, I hear you say.
True, but we all know how inventive alternative practitioners can be.
This article explains (brace yourself for some comic relief):
START OF QUOTE
The emunctories are described as organs of elimination that support the process of detoxification. There are 5 major emunctories:
Liver
Lung
Gastrointestinal tract – small and large intestine
Kidneys / urinary tract
Skin
The science of detoxification, Emunctorology, teaches us the language to understand and manage this process of detoxification.
The process of detoxification can be divided into two aspects:
Depuration: the purification of tissues that begins at the cellular level; includes the purification of fluids, organs, membranes, fatty tissue, etc. This aspect involves the packaging and the shipping of toxins, morbid matter, or ama to the emunctories, organs of elimination.
Drainage: the efficient elimination of toxins from their location in the emunctories. This is the final step to remove the burden of disease causing agents from the body. Healthy drainage is a constant need to maintain a disease-free body.
Depuration: Packaging and shipping toxins for elimination
If we think about the familiar process of digestion: it involves digestion of food, separation of nutrition from waste, and elimination of waste. The digestive process that occurs in the intestines is the gross depuration process that is easy to observe. It is a very good indicator of overall health and resilience.
Beyond the intestines, nutrition is again digested in the liver: which is a producer of cholesterols, glycogen, as well as a security gateway for chemical toxins. Beyond the liver, each cell in the body has a cellular digestive system; which harvests energy, repairs the cells, and eliminates toxic waste. Healthy digestive function at the intestinal, liver, and cellular levels ensures efficient regeneration tissue and efficient elimination of waste; the process of depuration.
The toxins, ama or morbid matter in our body come from two pathways: 1) Endogenous, naturally produced waste from the body's metabolic processes, like reactive oxygen species that cause oxidative damage, feces, urine, etc.; 2) Exogenous, all toxic substances that we get from our environment, food, and emotional influences. When the process of elimination of toxins is overwhelmed, toxins are "hidden away" in the body to protect vital organs like the brain.
These toxins are primarily hidden in fat cells (adipose tissue) of the body. Depending on available space and preference, toxins also become stored in bones, muscles, connective tissue, and even the myelin sheaths that wrap around nerves. From their location in these tissues, toxins begin to block or modify normal physiological functions.
For an effective depuration process, elimination of toxins from all of these tissues is essential.
Drainage: Elimination of toxins from the body
The process of elimination also occurs at cellular and whole-body level. The main organs of eliminations, emunctories are main external outlets of the waste products. Cellular and physiological processes are subtle, yet equally important for bringing toxins to the emunctories for elimination. So the complete process of drainage requires elimination of waste at cellular level and elimination of waste out of the emunctories.
Accumulation of toxins at the emunctories, without proper elimination can also cause many problems. For example: 1) Cigarette smoke, mold, bacteria, microbial toxins are all exogenous toxins for the lung – prolonged exposure to these leads to chronic lung inflammation. 2) Presence of heavy metals and other toxins can cause abnormal folding a proteins – a problem that is implicated in causing neurodegenerative diseases like Alzheimer's disease, Parkinson's disease, etc. 3) Reactive oxygen species are created as part of cellular energy building process; as well as a side-product of inflammation; excessive amount can cause damage to DNA, cell walls, nerves, etc.
Activation of Emunctories:
All emunctories, organs of elimination, are active at all times; constantly working to make ensure the best possible health and physiological balance. Their functions can be enhanced by targeted daily choices in activity, food, environment, and hydration. Here are some simple strategies for activation:
Lungs…
Inhale through your nose, filling your lungs to full capacity.
Hold the breath for 3 seconds, then slowly exhale through your mouth.
Repeat this exercise 16 times, twice a day.
Liver/Pancreas…
Eat 2-3 servings of green leafy vegetables daily.
2-3 servings of colorful seasonal vegetables.
Eat 1-2 servings of seasonal fruits daily.
Gastrointestinal tract…
Several servings of fresh fruits and vegetables daily (same used for liver detox) – provide fiber and probiotic gut bacteria for normal activity of the intestines promoting regular bowel movements.
Eat regular fermented foods: Yogurt, kimchi, sauerkraut, sour cream, kefir, etc. this is nutrition for replenishing gut-bacteria.
All adults should drink 6-8 glasses of water every day.
Kidney/urinary tract…
Eliminate refined sugars from diet completely – 1-2 teaspoons of honey, daily is enough.
Drink plenty of water: add lemon slices and/or mint leaves to alkalinize the water.
Support probiotic intake: Yogurt, kimchi, sauerkraut, sour cream, kefir, as well as fresh fruits and vegetables, preferably home grown or picked up from farmers market; this is nutrition for replenishing gut-bacteria.
Skin…
Sweat regularly:

20-30 minutes of aerobic exercise, done 5 times per week;
Sweat in a sauna or steam room after exercise for 20-30mins.

Skin brush: use skin brush to gently scrub off old, dead skin. Brushing towards the heart also helps to promote lymph flow; For example: start at the hand and brush towards the shoulder.
Apply oil: perform self-massage with sesame oil for Vata dominant body type, coconut for Pitta and Olive oil for Kapha body types, 2-3 times per week; ideally 10 minutes before going in the sauna to sweat. The oil nourishes the skin and sweating helps to pull out fat-soluble toxins from skin layers.
Mind…
Meditation is a way to help quiet the activity of the mind. Regular practice of about 20 minutes twice a day can help to clear the mind and reboot.
Walking is a moderate level exercise that also gives an opportunity to rest the mind from being engaged in doing things. Regular walks in the natural settings like the woods, has been shown to improve mood, self-esteem, and even boost the immune system.
Play time with family and friends: whether it is physical activity or creative projects – play time is an ideal way giving the mind a break from the daily grind.
Sleep: 7-8 hours of sleep every night between the hours of 10pm-6am. This helps to align the hormonal activity in the body and the mind with circadian rhythm, the day-night cycle of nature.
Infusing these simple activities into your daily and weekly routines can help to optimize your natural capacity for detoxification. This helps to sustain a good baseline of cleanliness for all your tissues, body and mind…
END OF QUOTE
So, now we know!
Before you rush off and fill you days with meditation, skin brushing, oiling, sleeping, walking, sweating, exercising, dieting, shopping colourful vegetables, breathing as instructed, etc. – or, heaven forbid, train as an 'emunctorologist' – you might remember that we have covered detox – and that's what 'Emunctorology' essentially turns out to be – several times before on this blog. I think that my conclusions from last year still hold:
If your life-style is unhealthy, don't think that detox will help, but change your ways.
If the air that you breathe or the water that you drink are polluted, don't think that detox is the solution, but punish the government that is responsible for these disasters and vote for someone more responsible.
Detox, as used in alternative medicine, is stupid, unethical nonsense promoted by charlatans of the worst kind; don't fall for it!!!
This systematic review aimed to identify and explore published studies on the health, wellbeing and economic impact of retreat experiences. Three electronic databases were searched for residential retreat studies published in English. Studies were included, if they involved an intervention program in a residential setting of one or more nights, and included before-and-after data related to the health of participants.
A total of 23 studies including 8 randomised controlled trials, 6 non-randomised controlled trials and 9 longitudinal cohort studies met the inclusion criteria. These studies included a total of 2592 participants from diverse geographical and demographic populations and a great heterogeneity of outcome measures, with 7 studies examining objective outcomes such as blood pressure or biological makers of disease, and 16 studies examining subjective outcomes that mostly involved self-reported questionnaires on psychological and spiritual measures.
All studies reported post-retreat health benefits ranging from immediately after to five-years post-retreat. Study populations varied widely and most studies had small sample sizes, poorly described methodology and little follow-up data, and no studies reported on health economic outcomes or adverse effects, making it difficult to make definite conclusions about specific conditions, safety or return on investment.
The authors concluded that health retreat experiences appear to have health benefits that include benefits for people with chronic diseases such as multiple sclerosis, various cancers, HIV/AIDS, heart conditions and mental health. Future research with larger numbers of subjects and longer follow-up periods are needed to investigate the health impact of different retreat experiences and the clinical populations most likely to benefit. Further studies are also needed to determine the economic benefits of retreat experiences for individuals, as well as for businesses, health insurers and policy makers.
In the article, the authors also state that the findings from the reviewed studies suggest there are many positive health benefits from retreat experiences that includes improvements in both subjective and objective measures… The results from the most rigorous studies that used randomized controlled designs were consistent with less rigorous studies and suggest that retreat experiences can produce benefits that include positive changes in metabolic and neurological pathways, loss of weight, blood pressure and abdominal girth, reduction in health symptoms and improvements in quality of life and subjective wellbeing.
As it happens, we have discussed one of their 'most rigorous' RCTs on this blog. Here is what I wrote about it when it was first published:
The 'study' in question allegedly examined the effects of a comprehensive residential mind–body program on well-being. The authors describe it as "a quasi-randomized trial comparing the effects of participation in a 6-day Ayurvedic system of medicine-based comprehensive residential program with a 6-day residential vacation at the same retreat location." They included 69 healthy women and men who received the Ayurvedic intervention addressing physical and emotional well-being through group meditation and yoga, massage, diet, adaptogenic herbs, lectures, and journaling. Key components of the program include physical cleansing through ingestion of herbs, fiber, and oils that support the body's natural detoxification pathways and facilitate healthy elimination; two Ayurvedic meals daily (breakfast and lunch) that provide a light plant-based diet; daily Ayurvedic oil massage treatments; and heating treatments through the use of sauna and/or steam. The program includes lectures on Ayurvedic principles and lifestyle as well as lectures on meditation and yoga philosophy. The study group also participated in twice-daily group meditation and daily yoga and practiced breathing exercises (pranayama) as well as emotional expression through a process of journaling and emotional support. During the program, participants received a 1-hour integrative medical consultation with a physician and follow-up with an Ayurvedic health educator.
The control group simply had a vacation without any of the above therapies in the same resort. They were asked to do what they would normally do on a resort vacation with the additional following restrictions: they were asked not to engage in more exercise than they would in their normal lifestyle and to refrain from using La Costa Resort spa services. They were also asked not to drink ginger tea or take Gingko biloba during the 2 days before and during the study week.
Recruitment was via email announcements on the University of California San Diego faculty and staff and Chopra Center for Wellbeing list-servers. Study flyers stated that the week-long Self-Directed Biological Transformation Initiative (SBTI) study would be conducted at the Chopra Center for Wellbeing, located at the La Costa Resort in Carlsbad, California, in order to learn more about the psychosocial and physiologic effects of the 6-day Perfect Health (PH) Program compared with a 6-day stay at the La Costa Resort. The study participants were not blinded, and site investigators and study personnel knew to which group participants were assigned.
Participants in the Ayurvedic program showed significant and sustained increases in ratings of spirituality and gratitude compared with the vacation group, which showed no change. The Ayurvedic participants also showed increased ratings for self-compassion as well as less anxiety at the 1-month follow-up.
The authors arrived at the following conclusion: Findings suggest that a short-term intensive program providing holistic instruction and experience in mind–body healing practices can lead to significant and sustained increases in perceived well-being and that relaxation alone is not enough to improve certain aspects of well-being.
This 'study' had ethical approval from the University of California San Diego and was supported by the Fred Foundation, the MCJ Amelior Foundation, the National Philanthropic Trust, the Walton Family Foundation, and the Chopra Foundation. The paper's first author is director of research at the Chopra Foundation… Just for the record, let me formulate a short conclusion that actually fits the data from this 'study': Lots of TLC, attention and empathy does make some people feel better… 
END OF QUOTE FROM MY OWN POST
The subject of health retreats could be relevant and important. Educating people and teaching them the essentials about healthy life-styles is potentially a good thing. It could well turn out that health retreats benefit many individuals, while saving money for society.
Yet, do we need all sorts of quackery for achieving this aim?
No, we don't!
A rational programme would need to teach and motivate people about diet, weight control, smoking cessation, regular sleep, relaxation, exercise, etc. It could prevent disease and save funds. This approach has existed in Europe long before the US 'New Agers' with their flimflam jumped on this bandwagon. Health education is a good idea, but it does not require the use of alternative therapies or luxury retreats.
As it turns out, the new systematic review is a disappointment. It fails to stress that no firm conclusions can be drawn from flimsy data and degenerates into little more than an embarrassing advertisement for Deepak Chopra's and similar entrepreneurs' money-making retreats. It totally ignores the sizable body of Non-English literature on the subject, and is focussed on promoting fashionable retreats and wellness centres in the US and Australia.
To be fair to the authors, they almost admit as much when they state: "Competing interests: MC is a board member of the Global Wellness Summit and has previously been a paid presenter at the Gwinganna Health Retreat. RMIT University has received donations from Danubius Hotel Group, Lapinha, Sunswept Resorts, Sheenjoy and The Golden Door for ongoing retreat research."
I rest my case.
This announcement caught my eye:
START OF 1st QUOTE
Dr Patrick Vickers of the Northern Baja Gerson Centre, Mexico will deliver a two hour riveting lecture of 'The American Experience of Dr Max Gerson, M.D.'
The lecture will present the indisputable science supporting the Gerson Therapy and its ability to reverse advanced disease.
Dr Vickers will explain the history and the politics of both medical and governmental authorities and their relentless attempts to surpress this information, keeping it from the world.
'Dr Max Gerson, Censored for Curing Cancer'
"I see in Dr Max Gerson, one of the most eminent geniuses in medical history" Nobel Prize Laureate, Dr Albert Schweitzer.
END OF 1st QUOTE
Who is this man, Dr Patrik Vickers, I asked myself. And soon I found a CV in his own words:
START OF 2nd QUOTE
Dr. Patrick Vickers is the Director and Founder of the Northern Baja Gerson Clinic. His mission is to provide patients with the highest quality and standard of care available in the world today for the treatment of advanced (and non-advanced) degenerative disease. His dedication and commitment to the development of advanced protocols has led to the realization of exponentially greater results in healing disease. Dr. Vickers, along with his highly trained staff, provides patients with the education, support, and resources to achieve optimal health.
Dr. Patrick was born and raised outside of Milwaukee, Wisconsin. At the age of 11 years old, after witnessing a miraculous recovery from a chiropractic adjustment, Dr. Patrick's passion for natural medicine was born.
Giving up careers in professional golf and entertainment, Dr. Patrick obtained his undergraduate degrees from the University of Wisconsin-Madison and Life University before going on to receive his doctorate in Chiropractic from New York Chiropractic College in 1997.
While a student at New York Chiropractic College(NYCC), Dr. Patrick befriended Charlotte Gerson, the last living daughter of Dr. Max Gerson, M.D. who Nobel Peace Prize Winner, Dr. Albert Schweitzer called, " One of the most eminent geniuses in medical history. "
Dr. Gerson, murdered in 1959, remains the most censured doctor in the history of medicine as he was reversing virtually every degenerative disease known to man, including TERMINAL cancer…
END OF 2nd QUOTE
I have to admit, I find all this quite upsetting!
Not because the ticket for the lecture costs just over £27.
Not because exploitation of vulnerable patients by quacks always annoys me.
Not even because the announcement is probably unlawful, according to the UK 'cancer act'.
I find it upsetting because there is simply no good evidence that the Gerson therapy does anything to cancer patients other than making them die earlier, poorer and more miserable (the fact that Prince Charles is a fan makes it only worse). And I do not believe that the lecture will present indisputable evidence to the contrary – lectures almost never do. Evidence has to be presented in peer-reviewed publications, independently confirmed and scrutinised. And, as far as I can see, Vickers has not authored a single peer-reviewed article [however, he thrives on anecdotal stories via youtube (worth watching, if you want to hear pure BS)].
But mostly I find it upsetting because it is almost inevitable that some desperate cancer patients will believe 'Dr' Vickers. And if they do, they will have to pay a very high price.
We should not have to repeat this! But, as it is currently topical and certainly true, let me tell you again:
DETOX IS BUNK!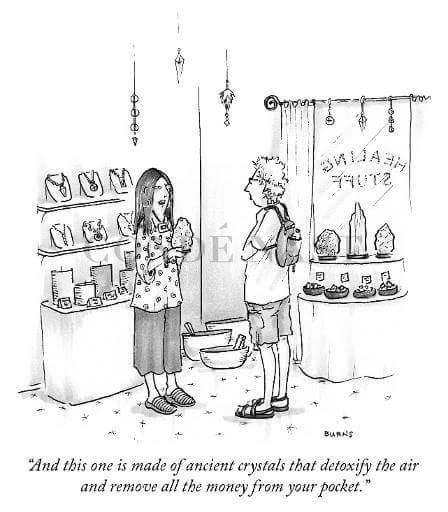 After the season of gluttony, it seems that half the population has fallen victim to the legion of alternative practitioners and entrepreneurs who claim that their particular form of quackery is ideally suited for detoxifying the body – and, sure enough, rid their clients of money instead of poisons. I have pointed out again and again why detox, as promoted in alternative medicine. is bogus and occasionally even harmful – see for instance here, here and here. And years ago, I published a review of the evidence on 'alternative detox' (AD); it concluded that "the principles of AD make no sense from a scientific perspective and there is no clinical evidence to support them. The promotion of AD treatments provides income for some entrepreneurs but has the potential to cause harm to patients and consumers. In alternative medicine, simplistic but incorrect concepts such as AD abound. All therapeutic claims should be scientifically tested before being advertised-and AD cannot be an exception."
But I have, of course, many readers who do not trust a word I am putting on paper. So, please don't take it from me, take it from others; read for example this recent article: 
Detox diets are popular dieting strategies that claim to facilitate toxin elimination and weight loss, thereby promoting health and well-being. The present review examines whether detox diets are necessary, what they involve, whether they are effective and whether they present any dangers. Although the detox industry is booming, there is very little clinical evidence to support the use of these diets. A handful of clinical studies have shown that commercial detox diets enhance liver detoxification and eliminate persistent organic pollutants from the body, although these studies are hampered by flawed methodologies and small sample sizes. There is preliminary evidence to suggest that certain foods such as coriander, nori and olestra have detoxification properties, although the majority of these studies have been performed in animals. To the best of our knowledge, no randomised controlled trials have been conducted to assess the effectiveness of commercial detox diets in humans. This is an area that deserves attention so that consumers can be informed of the potential benefits and risks of detox programmes.
To the best of our knowledge, no randomised controlled trials have been conducted to assess the effectiveness of commercial detox diets in humans. I think that says enough; and it applies not just to detox diets, it applies to all detox methods promoted in alternative medicine.
DETOX IS BUNK!
Save your hard-earned money for stuff that is proven to work.
This is a blog about alternative medicine! A blog that promised to cover all major forms of alternative medicine. So, how could I have so far ignored the incredible health benefits of Apple Cider Vinegar (ACV)? Realising that this omission is quite frankly scandalous, I now quickly try to make amends by dedicating this entire post to ACV and its fantastic properties.
There is no shortage of information on the subject (almost 1.5 million websites!!!); this article entitled "13 Reasons Apple Cider Vinegar Is the Magic Potion You Need in Your Life", for instance, tells us about the '13 Real Benefits of vinegar'. As it was published in the top science journal 'COSMOPOLITAN', it must be reliable. The article makes the wonders of ACV very clear:
START OF QUOTE
1. It reduces bloating. Vinegar increases the acidity in the stomach, which allows it to digest the food you've eaten and helps propel it into the small intestine, according to Raphael Kellman, MD, founder of the Kellman Center for Integrative and Functional Medicine in New York City. Because slow digestion can cause acid reflux, a burning sensation that occurs when food in your stomach backs up all the way into your esophagus and triggers feelings of fullness, consuming vinegar to move things along can stop you from feeling like the Pillsbury Dough Boy.
2. It increases the benefits of the vitamins and minerals in your food. "When your stomach isn't producing enough acid, this impairs the absorption of nutrients as well as B6, folate, calcium, and iron," Dr. Kellman explains. Help your body by ingesting a bit more acid in the form of vinegar, and you'll actually be able to use all the good stuff you consumed by ordering the side salad instead of fries.
3. It cancels out some of the carbs you eat. The acetic acid found in vinegar interferes with the enzymes in your stomach responsible for digesting starch so you can't absorb the calories from carbs you've eaten.
4. It softens your energy crash after eating lots of sugar or carbs. Consuming vinegar before a meal can help by slowing the rush of sugar to your blood stream, so your blood sugar spike resembles a hill instead of a mountain and you don't crash quite as hard.
5. It keeps you full longer. In a small but thorough study, researchers found that people who consumed vinegar before eating a breakfast of white bread felt more satisfied 90 minutes after eating compared to people who only ate the bread. (Worth noting: Two hours after eating, both groups were equally hungry. It just goes to show why white bread doesn't make a stellar breakfast food — with or without vinegar.)
6. It can help your muscles produce energy more efficiently before a major push. Endurance athletes sometimes drink diluted vinegar before they carb-load the night before competing because acetic acid can helps the muscles turn carbs into energy to fuel intense exercise, according to well-regarded research conducted on animals.
7. It could lower your blood pressure. Animal studies suggest that drinking vinegar can lower your blood pressure by a few points. Researchers don't understand exactly how this works or whether it is equally effective among humans, but Johnston is pretty confident it can make at least a modest difference.
8. It cleans fruits and veggies. The best way to clean produce, according to Johnston, is with diluted vinegar: Research suggests its antibacterial properties can significantly reduce pathogens such as Salmonella. Just fill an empty spray bottle with diluted vinegar and spritz your produce (salad stuff, fruits, etc.) then rinse in regular water before serving.
9. It kills bad breath. You might have heard that the antibacterial properties of vinegar can kill microorganisms responsible for bad breath — and in theory, this is true. However, Johnston warns, "it's no more effective than any other antibacterial agents, and there are better products designed for this purpose."
10. It deodorizes smelly feet. Just wipe down your clompers with a paper towel dipped in diluted vinegar. The antibacterial properties of vinegar will kill the smelly stuff.
11. It relieves jellyfish stings. In case you're ever stung by a jellyfish and just so happen to have diluted vinegar on hand, you'll be awfully lucky: Vinegar deactivates the jellyfish's sting better than many other remedies — even though hot water still works best, according to a study that compared both techniques.
12. It balances your body's pH levels, which could mean better bone health. Although vinegar is obviously acidic, it actually has a neutralizing effect once it's inside of you. Meaning: It makes your body's pH more basic (i.e., alkaline).
13. It alleviates heartburn — sometimes, according to Johnston, who just wrapped up a study on using vinegar to treat this condition. Vinegar's effectiveness depends on the source of your heartburn: If you have erosive heartburn caused by lesions in your esophagus or stomach ulcers, a dose of vinegar will only aggravate the problem. But if your heartburn stems from something you ate, adding acetic acid to your stomach can help neutralize the acid in there and help fix the problem, providing you with at least a little bit of comfort.
END OF QUOTE
What, you are not impressed by these claims nor the references? I found another website that offers plenty more science:
Katie J. Astell, Michael L. Mathai, Andrew J. McAinch, Christos G. Stathis, Xiao Q. Su. A pilot study investigating the effect of Caralluma fimbriata extract on the risk factors of metabolic syndrome in overweight and obese subjects: a randomised controlled clinical trial. Biomedical and Lifestyle Diseases (BioLED) Unit, College of Health and Biomedicine, Victoria University, Melbourne, Victoria 3021, Australia.
Niedzielin, K., Kordecki, H.,
http://journals.lww.com/eurojgh/Abstract/2001/10000/A_controlled,_double_blind,_randomized_study_on.4.aspx
M. Million, et al. Obesity-associated gut microbiota is enriched in Lactobacillus reuteri and depleted in Bifidobacterium animalis and Methanobrevibacter smithii. International Journal of Obesity (2012) 36, 817–825; doi:10.1038/ijo.2011.153; published online 9 August 2011
Rastmanesh R., et al. High polyphenol, low probiotic diet for weight loss because of intestinal microbiota interaction. Chemico-Biological InteractionsPublished 15 October 2010.
Thielecke F, et al. Epigallocatechin-3-gallate and postprandial fat oxidation in overweight/obese male volunteers: a pilot study Eur J Clin Nutr. 2010 Jul;64(7):704-13. doi: 10.1038/ejcn.2010.47.
Wang H., Effects of catechin enriched green tea on body composition. Obesity (Silver Spring). 2010 Apr;18(4):773-9. doi: 10.1038/oby.2009.256.
Bitange Nipa Tochi, Zhang Wang, Shi – Ying Xu and Wenbin Zhang, 2008. Therapeutic Application of Pineapple Protease (Bromelain): A Review. Pakistan Journal of Nutrition, 7: 513-520.
Date K, Satoh A, Iida K, Ogawa H. Pancreatic α-Amylase Controls Glucose Assimilation by Duodenal Retrieval through N-Glycan-specific Binding, Endocytosis, and Degradation. J Biol Chem. 2015 May 28. pii: jbc.M114.594937.
Perano SJ,Couper JJ,Horowitz M, Martin AJ, Kritas S, Sullivan T, Rayner CK. Pancreatic enzyme supplementation improves the incretin hormone response and attenuates postprandial glycemia in adolescents with cystic fibrosis: a randomized crossover trial.J Clin Endocrinol Metab. 2014 Jul;99(7):2486-93. doi: 10.1210/jc.2013-4417. Epub 2014 Mar 26.
Ok, not plenty; and not very sound or relevant either.
So, let's do a Medline search! This is sure to produce convincing clinical trials on human patients that back up all of the above claims.
Yes! Medline does indeed generate 58 hits for ACV (just to give you a comparison, searching for 'atenolol', a fairly ancient beta-blocker, for instance, generates 7877 hits and searching for 'acupuncture' provides more that 27 000 hits):
The first human study of ACV listed on Medline is from one of my favourite journals, the Altern Ther Health Med. It is not a clinical trial, but a case report:
A 32-y-old married woman was admitted with intense vaginal discharge with foul odor, itching, groin pain, and infertility for the past 5 y. Candida albicans was isolated from the culture of vaginal swab. The patient was diagnosed with chronic vaginal candida infection. She failed to respond to integrative medicine methods prescribed. Recovery was achieved with the application of apple cider vinegar. Alternative treatment methods can be employed in patients unresponsive to medical therapies. As being one of these methods, application of apple cider vinegar can cure vaginal candida infection.
But surely that cannot be all!
No, no, no! There is more; a pilot study has also been published. It included all of 10 patients and concluded that vinegar affects insulin-dependent diabetes mellitus patients with diabetic gastroparesis by reducing the gastric emptying rate even further, and this might be a disadvantage regarding to their glycaemic control.
That's what I like! A bold statement, even though we are dealing with a tiny pilot. He who dares wins!
Anything else?
Afraid not! The rest of the 58 references are either animal studies, in vitro experiments or papers that were entirely irrelevant for the clinical effects of ACV.
But how can this be?
Does this mean that all the claims made by 'COSMOPOLITAN' and thousands of other publications are bogus?
I cannot imagine – no, it must mean that, yet again, science has simply not kept up with the incredible pace of alternative medicine.