malpractice
I recently saw a tweet by a German homeopath stating that 'homeopathy is 100% experienced based medicine'. It made me think and realise that there is not just one EBM, there are, in fact, at least three EBMs!
Experience based medicine
Eminence based medicine
Evidence based medicine
I will start with the type which I encountered first when studying medicine all those years ago.
EMINENCE BASED MEDICINE
German healthcare was at the time – 1970s – deeply steeped in this variety of EBM. What the professor said was right, and there was no discussion about it. I don't even know how my teachers would have reacted, if we had challenged their wisdom, because nobody ever did; it just did not occur to us.
Personally, I never got along too well with this type of EBM. I found it stifling, and this feeling might have contributed to my first 'escape' to England in 1979. In the UK, I felt, things were refreshingly different (see also my recent obituary of my former boss).
EXPERIENCE BASED MEDICINE
So-called alternative medicine (SCAM) is almost entirely based on this type of EBM. Practitioners of SCAM pride themselves of their experience and are convinced that it outweighs evidence any time. They rarely miss an occasion to stress that their treatment as stood the test of time. And as such it does not require evidence; if SCAM did not work, it would not have survived all these years.
Little do they know that the appeal to tradition is a logical fallacy. And little do they care that the long tradition of their SCAMs might just signal how obsolete their treatments truly are. Hundreds (homeopathy) or thousands (acupuncture) of years ago, we had little knowledge about physiology, pathology, etc., and clinicians had to make do with the little that got. Seen in this light, experience based medicine is a negative label that indicates the fact that the treatments are likely to be obsolete and out-dated.
EVIDENCE BASED MEDICINE
Providers of SCAM have a deeply rooted dislike for the word evidence. The reason is simple: their SCAMs are usually very shy on evidence; little wonder that they like to focus on experience instead. Yet, try to explain the concept of evidence to someone neutral like a barman, for instance – whenever I made this attempt, I was interrupted by him saying: 'Hold on, are you saying that before EBM you did not depend on evidence? This is frightening! What on earth did you rely on then?'
It is indeed not logical to rely on eminence or on experience, in my view. And therefore, I have stopped explaining EBM to people who have common sense, like my barman. Let's try something else instead: imagine you are seriously ill and are able to chose between three clinician who are each the leading head in their type of EMB.
THE EMINENCE IS A PROFESSOR MANY TIMES OVER AND SIMPLY KNOWS THAT HE IS ALWAYS RIGHT
Personally, I would run a mile. I have seen too many of those blundering through the wards of university hospitals. He never makes a mistake, except that things do go wrong quite often; and when they do, it is the fault of some underling, of course.
THE EXPERIENCED CLINICIAN WITH YEARS OF PRACTICE WHO HAS SEEN IT ALL AND HAS ALL THE ANSWERS
With a bit of bad luck, he might be a homeopath. He will tell you endlessly of cases that were similar to yours. Occasionally, there was an aggravation (which, of course, is a good sign in his view), but in the end he cured them all with his treatments that had stood the test of time. He has excellent bedside manners, a lot of charisma, and is a good listener. Who was it that said: "the three most dangerous words in medicine are IN MY EXPERIENCE"?
Yes, you guessed it: run and don't turn back!
THE CLINICIAN WHO KNOWS WHAT THE CURRENT BEST EVIDENCE HAS TO OFFER
He might not be all that charismatic, perhaps he even is a bit abrupt. But he will know the latest developments and weigh the risks of all therapeutic options against their benefits.
But hold on, my barman would interrupt at this point, this is not either or. One can have both experience and evidence!
I told you my barman was clever. The definition of evidence based medicine is not healthcare based on up-to date knowledge, it is the integration of best research evidence with clinical expertise and patient values. It thus rests on three pillars: external evidence, ideally from systematic reviews, the clinician's experience, and the patient's preferences.
Therefore, my barman and I agree that eminence based medicine is highly questionable, experience based medicine can be outright dangerous, and evidence based medicine is the only EBM version that does make sense.
I have often discussed the fact that many proponents of so-called alternative medicine (SCAM) have in recent years adopted the following argument: even if our SCAM were just a placebo, it would still be useful. After all, placebo effects are real and increasingly backed by sound science. The argument is deeply flawed, yet it convinces many lay people.
A recent article by Fabrizio Benedetti, the leading researcher in the area of placebo, is addressing exactly this issue. I feel that it is sufficiently important to quote it extensively here:
… a number of biochemical pathways, such as endogenous opioids and cannabinoids,5,6 and brain regions, like the prefrontal cortex, have been found to be involved in placebo analgesia. Likewise, dopamine and the basal ganglia circuitry have been found to mediate placebo responses in Parkinson's disease. Although this is wonderful news for science, this may not be the case for society. The number of nonmedical organizations and healers that rely on this hard science, and actually justify their odd and bizarre procedures, has increased over the past few years. The main claim is that any procedure boosting patients' expectations, which represent the main mediator of placebo effects, is acceptable because it can activate the same biochemical pathways and neural networks that have been made credible by hard science…
The crucial point here is that when hard science started investigating placebo effects, it unconsciously produced a shift in quackery thinking. In fact, charlatans are becoming more and more aware that their bizarre interventions could work through a placebo effect. Indeed, whereas hard science has so far denied any scientific basis for nonconventional therapies, now the very same hard science certifies that the placebo effect has scientific grounds. Therefore, quacks are no longer interested in showing that their pseudo-interventions work; rather, they justify their use on the basis of the possibility that these bizarre interventions may induce strong placebo effects…
… A first point that should be emphasized is that placebos do not cure, but rather, they may sometimes improve quality of life. There is plenty of confusion on this point, and unfortunately, many claim that they can cure virtually all illnesses with placebos. Hard science tells us that placebos can reduce symptoms such as pain and muscle rigidity in Parkinson's disease, yet the progression of the disease is not affected; for example, in Parkinson's disease, neurons keep degenerating even though some symptoms can be reduced for a short time.4 The second point is related to the first. The type of disease is crucial, and we need to make people understand that pain is different from cancer and that anxiety differs from infectious diseases. The psychological component of some illnesses can indeed be modulated by placebos, but placebos cannot stop cancer growth, nor can they kill the bacteria of pneumonia. The third point is related to the difference between real placebo effects and spontaneous remissions. So far, hard science has studied the placebo effect within a time span of hours/days, thereby limiting our knowledge to short-lasting effects. Consequently, long-lasting effects can be often attributed to spontaneous remissions.
In addition to these three important points, we should also make patients understand that a diagnosis is required before any sort of therapy. An apparently trivial pain may conceal a danger; thus, it must never be treated unless a diagnosis has been made before, and this can be made only by physicians. Moreover, not only should we discuss and consider the positive effects of placebos and the impact they may have in clinical trials and medical practice, but we should also pay much of our attention to the negative counterpart, that is, the misuse and abuse by quacks, charlatans, shamans, and nonmedical organizations. Thus, we need to inform the whole society that the benefits following a nonconventional healing procedure are attributable to a placebo effect in most of the cases. Last but not least, we need to be more honest on the real efficacy of many pharmacological and nonpharmacological treatments, acknowledging that some of them are useful whereas some others are not: This will boost patients' trust and confidence in medicine further, which I believe are the best foes of quackery…
…Unfortunately, quackery has today one more weapon on its side, which is paradoxically represented by the hard science–supported placebo mechanisms. This new "scientific quackery" can do a lot of damage; thus, we must be very cautious and vigilant as to how the findings of hard science are exploited. The study of the biology of these vulnerable aspects of mankind may unravel new mechanisms of how our brain works, but it may have a profound negative impact on our society as well. We cannot accept a world where expectations can be enhanced with any means and by anybody. This is a perspective that would surely be worrisome and dangerous. I believe that some reflections are necessary in order to avoid a regression of medicine to past times, in which quackery and shamanism were dominant. Unfortunately, the new knowledge about placebos by hard science is now backfiring on it. What we need to do is to stop for a while and reflect on what we are doing and how we want to move forward. A crucial question to answer is, Does placebo research boost pseudoscience?
__________________________________________________________________
I am immensely thankful to Prof Benedetti to make such clear and long-overdue statements. They will be most helpful in refuting the myth that homeopathy, para-normal healing, reflexology, acupuncture, chiropractic, etc., etc. are legitimate and uselful therapies, even if they are not better than a placebo. Using placebo therapies in routine care is not in the best interest of either the patient or progress.
Some of you might have followed my recent discussion with a homeopath. It followed a typical path, and I decided therefore to try and analyse this exchange here. Perhaps others can learn from this example when debating with homeopaths or other providers of so-called alternative medicine (SCAM).
THE START
These conversations often start 'out of the blue' by some falsehood being trumpeted on social media. In the present case, the encounter commenced by someone tweeting this message to me: "…remember that asthma trial whose results you faked?" As I did not even remember having ever met the man, I was perplexed. And as I have not faked the study in question nor any other results, I did not think his remark was credible or funny. My mention of the fact that the aggressor was being libellous seemed to bring an end to this unhappy dialogue.
But not for very long. When the man insulted me again – this time very publicly in a UK newspaper – I decided to look into it a bit closer. The aggressor turned out to be in charge of the well-known UK homeopathic pharmacy, Ainsworth, and thus had an overt conflict of interest in defaming my often critical stance on homeopathy. Intriguingly, he had also published his own study of homeopathy. When I assessed this research, it turned out to be both incompetent and unethical. I had hoped that he would defend his work and discuss its limitations with me in a rational fashion. Yet, at this stage, he remained silent.
I then decided to write a further post in the hope of getting some sort of response from him. Alas, my hope was disappointed again. Even when I challenged him and his ROYAL WARRANT directly, he remained silent.
THE BUILD-UP
It needed a seemingly unrelated post of mine for him to find his voice:
Dear Ezard
We can all go round in endless circles arguing whether the Earth is Flat, but eventually someone has to venture out in a boat to the horizon to determine the fact. A cursory reading of Hahnemann encourages every student of homoeopathy to gain their own experience empirically. We all know you and your friends on this blog are standing on the shore proclaiming the Earth to be flat, but when are you going to pedal out,to bravely cite actual cases you have treated with homoeopathy as evidence of your position? What the audience reading this wants to know is what experience and knowledge any of you actually have of the subject you spend so much time criticising?
At this stage a had grown a little weary of Mr Pinkus and his innuendos. My response was thus a little impatient:
Dear Tony
I don't think highly of people who
1) are too daft to spell my name correctly,
2) imply I have no experience in homeopathy,
3) pretend that I make a secret of it, while, in fact, I published this multiple times (i.e. https://www.amazon.co.uk/Scientist-Wonderland-Searching-Finding-Trouble/dp/1845407776),
4) accuse others of being flat earthers, while evidently being one themselves,
5) do all this without declaring their massive conflict of interest.
Best regards
Edzard
What followed was Pinkus' increasingly irrational attempts to defame me by revealing to the world that I (and other critics of homeopathy) lacked sufficient clinical experience with homeopathy and therefore were not competent to discuss the subject. Explanations by myself and others that,
firstly I did have knowledge and experience of homeopathy,
and secondly no experience is required for a critical evaluation of any treatment,
all fell on deaf ears.
THE END
The conclusion of this odd discussion was Pinkus' triumphant declaration of victory:
I came to this blog to see if anyone in the discussion had any serious intention to discuss the subject of homoeopathy. In order to do this there are certain prerequisites for a sensible debate and one of these is actual knowledge and experience of the subject matter under discussion. To this end I asked if anyone has case they treated in order to discuss the merits and demerits of the experience. No one offered one. I repeated the request and the silence changed to attacks on me even asking.
Any scientist worthy of the challenge, and certainly someone who proudly styles himself as a Professor of CAM with experience and knowledge, would be only too glad to share this with others. Sadly though I have met with rebuke and insult but no evidence to support the opposition to homoeopathy saving some incoherent rant about the needlessness of empirical experience. The cornerstone of Hahnemann's work on homoeopathy and the one thing he advocated to other doctors. "Don't take my word for it, prove it to yourself"
When you find the need to attack me to defend your incessant argument that homoeopathy is implausible I really cannot take you seriously.
Here we have a blog hosted by a chap who claims to be an expert on the subject but now claims he hasn't practiced it for over 40 years. Won't say what he did when he practised, what he learned and when asked to give at least once case he treated, refuses and creates some diversion to cover his ignorance of the question. Now that's what I call a charlatan.
I understand you have made a living out of this but it must be a miserable existence old chap
______________________________________________________________________
I find this exchange rather typical for an argument with  SCAM-fanatics. It follows a fairly standard strategy:
aggression form a complete stranger,
attempt of a rational defence,
more aggression and insults
attempts to debate the published evidence,
silence from the aggressor who seems unable to defend his evidence,
more aggression at an unexpected opportunity,
further attempts to rationalise and discuss the facts,
the aggressor questions his opponent's competence,
more attempts to rationalise and provide valid explanations,
conclusion of the discussion with aggressor trying to occupy the moral high ground.
Of course, this is eerily similar to playing chess with a pigeon.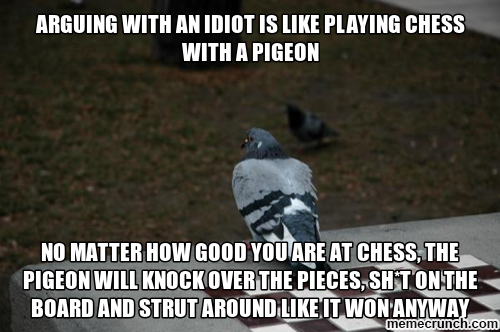 So, what, if anything, can we learn from this?
Mainly three things, I think:
Either you don't argue with fanatics at all,
or you realise from the beginning what is about to happen; in this case, have fun exposing irrationality in the hope that others might profit from your experience.
In any case, do not expect that your aggressor will be able to learn anything.
On this blog, we have often noted that (almost) all TCM trials from China report positive results. Essentially, this means we might as well discard them, because we simply cannot trust their findings. While being asked to comment on a related issue, it occurred to me that this might be not so much different with Korean acupuncture studies. So, I tried to test the hypothesis by running a quick Medline search for Korean acupuncture RCTs. What I found surprised me and eventually turned into a reminder of the importance of critical thinking.
Even though I found pleanty of articles on acupuncture coming out of Korea, my search generated merely 3 RCTs. Here are their conclusions:
The results of this study show that moxibustion (3 sessions/week for 4 weeks) might lower blood pressure in patients with prehypertension or stage I hypertension and treatment frequency might affect effectiveness of moxibustion in BP regulation. Further randomized controlled trials with a large sample size on prehypertension and hypertension should be conducted.
The results of this study show that acupuncture might lower blood pressure in prehypertension and stage I hypertension, and further RCT need 97 participants in each group. The effect of acupuncture on prehypertension and mild hypertension should be confirmed in larger studies.
Bee venom acupuncture combined with physiotherapy remains clinically effective 1 year after treatment and may help improve long-term quality of life in patients with AC of the shoulder.
So yes, according to this mini-analysis, 100% of the acupuncture RCTs from Korea are positive. But the sample size is tiny and I many not have located all RCTs with my 'rough and ready' search.
But what are all the other Korean acupuncture articles about?
Many are protocols for RCTs which is puzzling because some of them are now so old that the RCT itself should long have emerged. Could it be that some Korean researchers publish protocols without ever publishing the trial? If so, why? But most are systematic reviews of RCTs of acupuncture. There must be about one order of magnitude more systematic reviews than RCTs!
Why so many?
Perhaps I can contribute to the answer of this question; perhaps I am even guilty of the bonanza.
In the period between 2008 and 2010, I had several Korean co-workers on my team at Exeter, and we regularly conducted systematic reviews of acupuncture for various indications. In fact, the first 6 systematic reviews include my name. This research seems to have created a trend with Korean acupuncture researchers, because ever since they seem unable to stop themselves publishing such articles.
So far so good, a plethora of systematic reviews is not necessarily a bad thing. But looking at the conclusions of these systematic reviews, I seem to notice a worrying trend: while our reviews from the 2008-2010 period arrived at adequately cautious conclusions, the new reviews are distinctly more positive in their conclusions and uncritical in their tone.
Let me explain this by citing the conclusions of the very first (includes me as senior author) and the very last review (does not include me) currently listed in Medline:
penetrating or non-penetrating sham-controlled RCTs failed to show specific effects of acupuncture for pain control in patients with rheumatoid arthritis. More rigorous research seems to be warranted.
Electroacupuncture was an effective treatment for MCI [mild cognitive impairment] patients by improving cognitive function. However, the included studies presented a low methodological quality and no adverse effects were reported. Thus, further comprehensive studies with a design in depth are needed to derive significant results.
Now, you might claim that the evidence for acupuncture has overall become more positive over time, and that this phenomenon is the cause for the observed shift. Yet, I don't see that at all. I very much fear that there is something else going on, something that could be called the suspension of critical thinking.
Whenever I have asked a Chinese researcher why they only publish positive conclusions, the answer was that, in China, it would be most impolite to publish anything that contradicts the views of the researchers' peers. Therefore, no Chinese researcher would dream of doing it, and consequently, critical thinking is dangerously thin on the ground.
I think that a similar phenomenon might be at the heart of what I observe in the Korean acupuncture literature: while I always tried to make sure that the conclusions were adequately based on the data, the systematic reviews were ok. When my influence disappeared and the reviews were done exclusively by Korean researchers, the pressure of pleasing the Korean peers (and funders) became dominant. I suggest that this is why conclusions now tend to first state that the evidence is positive and subsequently (almost as an after-thought) add that the primary trials were flimsy. The results of this phenomenon could be serious:
progress is being stifled,
the public is being misled,
funds are being wasted,
the reputation of science is being tarnished.
Of course, the only right way to express this situation goes something like this:
BECAUSE THE QUALITY OF THE PRIMARY TRIALS IS INADEQUATE, THE EFFECTIVENESS OF ACUPUNCTURE REMAINS UNPROVEN.
It is hard to deny that many practitioners of so-called alternative medicine (SCAM) advise their patients to avoid 'dangerous chemicals'. By this they usually mean prescription drugs. If you doubt how strong this sentiment often is, you have not followed the recent posts and the comments that regularly followed. Frequently, SCAM practitioners will suggest to their patients to not take this or that drug and predict that patients would then see for themselves how much better they feel (usually, they also administer their SCAM at this point).
Lo and behold, many patients do indeed feel better after discontinuing their 'chemical' medicines. Of course, this experience is subsequently interpreted as a proof that the drugs were dangerous: "I told you so, you are much better off not taking synthetic medicines; best to use the natural treatments I am offering."
But is this always interpretation correct?
I seriously doubt it.
Let's look at a common scenario: a middle-aged man on several medications for reducing his cardiovascular risk (no, it's not me). He has been diagnosed to have multiple cardiovascular risk factors. Initially, his GP told him to change his life-style, nutrition and physical activity – to which he was only moderately compliant. Despite the patient feeling perfectly healthy, his blood pressure and lipids remained elevated. His doctor now strongly recommends drug treatment and our chap soon finds himself on statins, beta-blockers plus ACE-inhibitors.
Our previously healthy man has thus been turned into a patient with all sorts of symptoms. His persistent cough prompts his GP to change the ACE-inhibitor to a Ca-channel blocker. Now the patients cough is gone, but he notices ankle oedema and does not feel in top form. His GP said that this is nothing to worry about and asks him to grin and bear it. But the fact is that a previously healthy man has been turned into a patient with reduced quality of life (QoL).
This fact takes our man to a homeopath in the hope to restore his QoL (you see, it certainly isn't me). The homeopath proceeds as outlined above: he explains that drugs are dangerous chemicals and should therefore best be dropped. The homeopath also prescribes homeopathics and is confident that they will control the blood pressure adequately. Our man complies. After just a few days, he feels miles better, his QoL is back, and even his sex-life improves. The homeopath is triumphant: "I told you so, homeopathy works and those drugs were really nasty stuff."
When I was a junior doctor working in a homeopathic hospital, my boss explained to me that much of the often considerable success of our treatments was to get rid of most, if not all prescription drugs that our patients were taking (the full story can be found here). At the time, and for many years to come, this made a profound impression on me and my clinical practice. As a scientist, however, I have to critically evaluate this strategy and ask: is it the correct one?
The answer is YES and NO.
YES, many (bad) doctors over-prescribe. And there is not a shadow of a doubt that unnecessary drugs must be scrapped. But what is unnecessary? Is it every drug that makes a patient less well than he was before?
NO, treatments that are needed should not be scrapped, even if this would make the patient feel better. Where possible, they might be altered such that side-effects disappear or become minimal. Patients' QoL is important, but it is not the only factor of importance. I am sure this must sound ridiculous to lay people who, at this stage of the discussion, would often quote the ethical imperative of FIRST DO NO HARM.
So, let me use an extreme example to explain this a bit better. Imagine a cancer patient on chemo. She is quite ill with it and QoL is a thing of the past. Her homeopath tells her to scrap the chemo and promises she will almost instantly feel fine again. With some side-effect-free homeopathy see will beat the cancer just as well (please, don't tell me they don't do that, because they do!). She follows the advice, feels much improved for several months. Alas, her condition then deteriorates, and a year later she is dead.
I know, this is an extreme example; therefore, let's return to our cardiovascular patient from above. He too followed the advice of his homeopath and is happy like a lark for several years … until, 5 years after discontinuing the 'nasty chemicals', he drops dead with a massive myocardial infarction at the age of 62.
I hope I made my message clear: those SCAM providers who advise discontinuing prescribed drugs are often impressively successful in improving QoL and their patients love them for it. But many of these practitioners haven't got a clue about real medicine, and are merely playing dirty tricks on their patients. The advise to stop a prescribed drug can be a very wise move. But frequently, it improves the quality, while reducing the quantity of life!
The lesson is simple: find a rational doctor who knows the difference between over-prescribing and evidence-based medicine. And make sure you start running when a SCAM provider tries to meddle with necessary prescribed drugs.
Apparently, Hahnemann gave a lecture on the subject of veterinary homeopathy in the mid-1810s. Ever since, homeopathy has been used for treating animals. Von Boennighausen was one of the first influential proponents of veterinary homeopathy. However, veterinary medical schools tended to reject homoeopathy, and the number of veterinary homeopaths remained small. In the 1920ies, veterinary homoeopathy was revived in Germany. Members of the "Studiengemeinschaft für tierärztliche Homöopathie" (Study Group for Veterinary Homoeopathy) which was founded in 1936 started to investigate this approach systematically.
Today, veterinary homeopathy is still popular in some countries. Prince Charles has become a prominent advocate who claims to treat his own life stock with homeopathy. In many countries, veterinary homeopaths have their own professional organisations. Elsewhere, however, veterinarians are banned from practicing homeopathy. In the UK, only veterinarians are allowed to use homeopathy on animals (but anyone regardless of background can use it on human patients) and there is a British Academy of Veterinary Homeopathy. In the US, homeopathic vets are organised in the Academy of Veterinary Homeopathy.
If this sounds promising, we should not forget that, as discussed so often on this blog, homeopathy lacks plausibility the evidence for veterinary homeopathy fails to be positive (see for instance here). But, hold on, there is a new study, perhaps it will change everything?
This 'study' was aimed at providing an initial insight into the existing prerequisites on dairy farms for the use of homeopathy (i.e. the consideration of homeopathic principles) and on homeopathic treatment procedures (including anamnesis, clinical examination, diagnosis, selection of a remedy, follow-up checks, and documentation) on 64 dairy farms in France, Germany and Spain.
The use of homeopathy was assessed via a standardised questionnaire during face-to-face interviews. The results revealed that homeopathic treatment procedures were applied very heterogeneously and differed considerably between farms and countries. Farmers also use human products without veterinary prescription as well as other prohibited substances.
The authors of this 'study' concluded that the subjective treatment approach using the farmers' own criteria, together with their neglecting to check the outcome of the treatment and the lack of appropriate documentation is presumed to substantially reduce the potential for a successful recovery of the animals from diseases. There is, thus, a need to verify the effectiveness of homeopathic treatments in farm practices based on a lege artis treatment procedure and homeopathic principles which can be achieved by the regular monitoring of treatment outcomes and the prevailing rate of the disease at herd level. Furthermore, there is a potential risk to food safety due to the use of non-veterinary drugs without veterinary prescription and the use of other prohibited substances.
So did this 'study' change the evidence on veterinary homeopathy?
Sadly not!
This 'study' is hardly worth the paper it is printed on.
Who conceives such nonsense?
And who finances such an investigation?
The answer to the latter question is one of the few provided by the authors: This project has received funding from the European Union's Seventh Framework Programme for research, technological development and demonstration under Grant Agreement No 311824 (IMPRO).
Time for a constructive suggestion! Could the European Union's Seventh Framework Programme with their next research project in veterinary homeopathy please evaluate the question why farmers in the EU are allowed to use disproven therapies on defenceless animals?
Leprosy can be a devastating infection. But, since many years, it is treatable. The WHO developed a multidrug therapyTrusted Source in 1995 to cure all types of leprosy. It's available free of charge worldwide. Additionally, several antibiotics are used to kill the bacteria that causes leprosy, e.g.:
dapsone
rifampin
clofazimine
minocycline
ofloxacin
Yes, leprosy is treatable … that is, unless you follow the advice issued in this article and treat it with homeopathy:
Homoeopathy remedies are given on the basis of similar signs and symptoms along with the miasmatic classification of diseases. Homoeopathy physicians said that leprosy is characteristics of syphilis miasm due to their mental and physical conditions. Mentally person thinks that he/she may be isolated and left alone in a corner of society due to dirty looking of the skin and tendency to spread of disease from direct contact. They feel alone and make hypothesis that the society needs outbreak from me because of physical disabilities like paralysis, and loss of controls on body functions. A well selected homoeopathy remedy helps out patient to come out from this condition and make possible to live in society from permanent restoration of health.
SULPHUR – 'It is mainly known as king of anti-psoric' in wide range of homoeopathy. Hahnemann says that sulphur has reputation as a remedy against itch perhaps as old medicine i.e., as early as 2000 years ago. Skin of sulphur indicates vesicular skin eruptions and skin may treated by medicated soaps and washes. Clinical trials says that sulphur have similar signs and symptoms as indicated by disease.
GRAPHITES – It is a great remedy for all sorts of skin eruptions with a tendency towards malignancy. It also indicates various symptoms of leprosy and may be used in treatment.
PETROLEUM – The skin of petroleum has cracks and fissures all over the body and indicates various similar symptoms as of disease condition.
RHUS TOXICODENDRON – Skin shows erysipelas vesicular eruptions, vesicles are yellow, from left to right with much swelling, inflammation, burning, itching and stinging that are very much similar to leprosy sign and symptoms, so it may be prescribed.
CICUTA VIROSA – This homoeopathic medicine used in the conditions when patients are anxious about their future and epileptic attacks with spasmodic movements of the limbs.
ALOE SOCOTRINA – This homoeopathy medicine works when the patients are fear of death and angry from themselves for their conditions. This medicine have tendency to acts upon the abdominal and lumbar region of the patient.
BLATTA ORIENTALIS – It is used when the patient is anxious about their skin and health. Patient suffers from the chronic inflammations of the chest and other lung infections that are also found in disease.
Leprosy is a non-fatal infectious disease caused by bacteria Myobacterium leprae and spread by direct contact and other mode of transmissions. It may be treated with homoeopathic medicines if well selected medicine related to mental and physical symptoms is taken by patients. Homoeopathy medicines help out patients to rearrange the vital force to fight against infectious bacteria and makes possible that the body itself fight against the disease.
To be sure, I ran a quick Medline search. You guessed the result, I suppose: not a single hint from anything resembling a clinical trial that homeopathy might be an effective therapy of leprosy.
One question, however, does remain open: how do homeopaths who claim such irresponsible nonsense sleep?
(And in case you think that the above post is a rare exception, you have not recently searched the Internet!)
Guest post by Toby Katz
Who am I?
I'm a final-year graduate medic (also hold an Economics degree) studying at St George's University. I founded the Integrative Medicine Society at the university, with the aim of hosting talks on evidence-based CAM. My interest in evidence-based CAM arose as many of my family members have benefitted from different CAM interventions (mostly due to chronic MSk pain), where conventional interventions (physiotherapy and chronic pain teams) have failed to resolve their issues.
When it comes to the CAM debate, I see myself as a centrist. I am both a CAM apologist and sceptic and in recent years I have looked to educate myself around this subject. I have read Ernst's Desktop Guide to CAM and Moral Maze books, spoken to Professor Colquhoun and most recently I undertook the Foundation Course in CAM run by the College of Medicine. My review of the course follows.
Overall, there's a lot to learn from both sides of the debate and the debate continues due to systematic issues in the UK. Ad hominem attacks don't help anyone, but conversation can. I hope I can converse with many of you in the future.
The Foundation Course
Two days of fast-paced talks on Integrative/Complementary and Alternative Medicine. The topics included: Resilience, nutritional therapy, medical acupuncture, MSk methods for non-osteopaths, homeopathy, herbs and spices, imagery and relaxation, cancer, hypnotherapy and social prescribing.
The speakers included: Professor David Peters, Dr Catherine Zollman (Medical Director for Penny Brohn), Heather Richards (Nutritional Therapist), Dr Elizabeth Thompson (GP and homeopath), Trevor Hoskisson (Hypnotherapist), Dr Mike Cummings (BMAS), Simon Mills (Medical Herbalist) – at least two of these are already in the infamous Alt Med Hall of Fame!
Initial feelings
My initial feelings upon hearing the talks were that most of these individuals are inherently good people, who want the best outcomes for their patients. Their aim is to operate in the areas of medicine where conventional medicine doesn't hold the answers – chronic pain, idiopathic headache, IBS etc. But there were also people who were advocating the use of unproven alternative therapies.
These were some of my thoughts I jotted down during the two days:
Professor Peters – Constantly speaking in generalisations. Uses historic references, romantic and philosophical language to entice listeners but generally has little point to what he says. Suffers from tangential thinking. Loses track of his own point. Very Freudian-like thinking (everyone has gone through childhood trauma according to him).
Dr Catherine Zollman – Brilliant. Absolutely brilliant. The doctor I resonate most closely with out of everyone speaking. Promoting the holistic management of a cancer diagnosis; integrating (not undermining) conventional medicine with complementary ways of dealing with the stress surrounding the diagnosis and much more. Works for a non-for-profit organisation. She has many years of oncology experience and strives to create a patient-centred approach to management.
Dr Mike Cummings – promoting medical acupuncture mainly for myofascial pain syndrome. I volunteered to receive acupuncture in my shoulder (have had post-op muscular pain since April). He dry-needled one of my trigger points and it helped, for a few days – this is better than anything a physio has done for me so far. I don't know why dry-needling isn't taught at medical school to help with myofascial pain syndrome.
Dr Elizabeth Thompson – Very respectable but I do feel the homeopathy ship has well and truly sailed. Provided 'evidence' on how 'succussion' changes the make-up of water molecules. Though Dr Thompson is medically trained, there are many non-medical homeopaths who promote things such as homeoprophylaxis and anti-vaccine views and I'm more worried about these such homeopaths. I do respect Dr Thompson and believe her when she says she has helped many patients. Whether this is due to placebo or the get-better-anyway effect I don't know.
What they were promoting
On reflection, it's clear that there was a real mix in promoting evidence-based therapies and eyebrow-raising alternatives – this is often difficult for those with an untrained eye to spot the difference. There was a general air of distrust with modern science and EBM floating around the room at all times. Sure, there are things wrong with it, but I think it's done us pretty well over the last few decades!
I irritated a few speakers when I asked about the evidence behind their claims!
What to take away
There were many GPs present, who stated they're often in a difficult position in the current system of healthcare we have in the UK. Around half of all consultations are MSk based, many of which are associated with chronic, muscular pain. The WHO analgesic pathway does little for these patients (unless you want to knock them for six with oxycodone) and physiotherapists struggle to make a real difference in a 30-minute appointment. The truth is, we are not providing GPs with the right toolkit to cope with these "difficult" patients.
Going forward
– Get a copy of Ernst et al.'s Desktop Guide for CAM
– Release more formal guidelines using this book as a base for any positive evidence
– Engage in conversation with those from both sides. We have a lot to learn from one another
– SCRAP the forms of CAM that have no plausibility
Food for thought
– If a patient's pain improves after a session of acupuncture and not from physiotherapy, does it fit with a utilitarian ethical model to deny this person access to acupuncture if EBM shows acupuncture has rates similar to placebo?
– Chronic myofascial pain syndrome. Can we manage it better in primary care? Why not teach dry needling to healthcare professionals? (https://www.ncbi.nlm.nih.gov/pmc/articles/PMC4107879/ – Desai et al suggest it works)
– What is the alternative for no CAM for many patients who suffer? If patient's choice is reduced, does that not reduce their autonomy?
If anyone wishes to contact me, you can at tkatz@live.co.uk
As most of us know, the use of so-called alternative medicine (SCAM) can be problematic; its use in children is often most problematic:
In this context, the statement from the 'Spanish Association Of Paediatrics Medicines Committee' is of particular value and importance:
Currently, there are some therapies that are being practiced without adjusting to the available scientific evidence. The terminology is confusing, encompassing terms such as "alternative medicine", "natural medicine", "complementary medicine", "pseudoscience" or "pseudo-therapies". The Medicines Committee of the Spanish Association of Paediatrics considers that no health professional should recommend treatments not supported by scientific evidence. Also, diagnostic and therapeutic actions should be always based on protocols and clinical practice guidelines. Health authorities and judicial system should regulate and regularize the use of alternative medicines in children, warning parents and prescribers of possible sanctions in those cases in which the clinical evolution is not satisfactory, as well responsibilities are required for the practice of traditional medicine, for health professionals who act without complying with the "lex artis ad hoc", and for the parents who do not fulfill their duties of custody and protection. In addition, it considers that, as already has happened, Professional Associations should also sanction, or at least reprobate or correct, those health professionals who, under a scientific recognition obtained by a university degree, promote the use of therapies far from the scientific method and current evidence, especially in those cases in which it is recommended to replace conventional treatment with pseudo-therapy, and in any case if said substitution leads to a clinical worsening that could have been avoided.
Of course, not all SCAM professions focus on children. The following, however, treat children regularly:
acupuncturists
anthroposophical doctors
chiropractors
craniosacral therapists
energy healers
herbalists
homeopaths
naturopaths
osteopaths
I believe that all SCAM providers who treat children should consider the above statement very carefully. They must ask themselves whether there is good evidence that their treatments generate more good than harm for their patients. If the answer is not positive, they should stop. If they don't, they should realise that they behave unethically and quite possibly even illegally.
One of the favourite arguments of proponents of so-called alternative medicine (SCAM) is that conventional medicine is amongst the world's biggest killers. The argument is used cleverly to discredit conventional medicine and promote SCAM. It has been shown to be wrong many times, but it nevertheless is much-loved by SCAM enthusiasts and thus refuses to disappear. Perhaps this new and important review might help instilling some realism into this endless discussion? Here is its abstract:
Objective To systematically quantify the prevalence, severity, and nature of preventable patient harm across a range of medical settings globally.
Design Systematic review and meta-analysis.
Data sources Medline, PubMed, PsycINFO, Cinahl and Embase, WHOLIS, Google Scholar, and SIGLE from January 2000 to January 2019. The reference lists of eligible studies and other relevant systematic reviews were also searched.
Review methods Observational studies reporting preventable patient harm in medical care. The core outcomes were the prevalence, severity, and types of preventable patient harm reported as percentages and their 95% confidence intervals. Data extraction and critical appraisal were undertaken by two reviewers working independently. Random effects meta-analysis was employed followed by univariable and multivariable meta regression. Heterogeneity was quantified by using the I2 statistic, and publication bias was evaluated.
Results Of the 7313 records identified, 70 studies involving 337 025 patients were included in the meta-analysis. The pooled prevalence for preventable patient harm was 6% (95% confidence interval 5% to 7%). A pooled proportion of 12% (9% to 15%) of preventable patient harm was severe or led to death. Incidents related to drugs (25%, 95% confidence interval 16% to 34%) and other treatments (24%, 21% to 30%) accounted for the largest proportion of preventable patient harm. Compared with general hospitals (where most evidence originated), preventable patient harm was more prevalent in advanced specialties (intensive care or surgery; regression coefficient b=0.07, 95% confidence interval 0.04 to 0.10).
Conclusions Around one in 20 patients are exposed to preventable harm in medical care. Although a focus on preventable patient harm has been encouraged by the international patient safety policy agenda, there are limited quality improvement practices specifically targeting incidents of preventable patient harm rather than overall patient harm (preventable and non-preventable). Developing and implementing evidence-based mitigation strategies specifically targeting preventable patient harm could lead to major service quality improvements in medical care which could also be more cost effective.
________________________________________________________________
One in 20 patients is undoubtedly an unacceptably high proportion, but it is nowhere close to some of the extraordinarily alarming claims by SCAM enthusiasts. And, as I try regularly to remind people, the harm must be viewed in relation to the benefit. For the vast majority of conventional treatments, the benefits outweigh the risks. But, if there is no benefit at all – as with some form of SCAM – a risk/benefit balance can never be positive. Moreover, many experts work hard and do their very best to improve the risk/benefit balance of conventional healthcare by educating clinicians, maximising the benefits, minimising the risks, and filling the gaps in our current knowledge. Do equivalent activities exist in SCAM? The answer is VERY FEW?