death
The fact that many SCAM-practitioners are latent or even overt anti-vaxxers has often been addressed on this blog. The fact that the anti-vaccination guru, Andrew Wakefield, has his fingers deep in the SCAM-pie is less well appreciated.
In case you forgot who Wakefield is, let me remind you. As a gastroenterologist at the London Royal Free Hospital, he published evidence in the Lancet (1998) suggesting that the MMR vaccination was a cause of autism. It was discovered to be fraudulent. In 2010, a statutory tribunal of the GMC found three dozen charges proved, including 4 counts of dishonesty and 12 counts involving the abuse of developmentally delayed children. Consequently, he was struck off the register and lives in the US ever since where he, amongst many other things, enjoys lecturing to homeopaths and chiropractors about the dangers of vaccination.
Since Trump, who seems to share Wakefield's anti-vaxx stance, has become president of the US, Wakefield has managed to creep back in the limelight. The Guardian recently reported: At one of President Trump's inaugural balls in January last year, he was quoted as contemplating the overthrow of the (pro-vaccine) US medical establishment in words that brought to mind Trump himself. "What we need now is a huge shakeup at the Centers for Disease Control and Prevention (CDC) – a huge shakeup. We need that to change dramatically."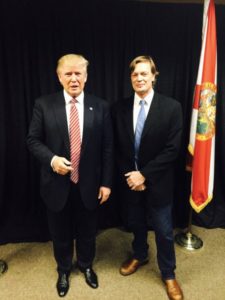 In the US, Wakefield also founded the 'Autism Media Channel' which makes videos alleging a causal link between autism and the MMR vaccine. The film 'Vaxxed' was thus directed by Wakefield. It was put forward to premiere at the 2016 Tribeca film festival by Robert De Niro, the father of an autistic child. It alleges a cover-up of the alleged link between MMR and autism by the CDC – the institute Wakefield said needed a shake-up at the Trump inaugural ball. After much discussion, De Niro fortunately withdrew the film.
Wakefield's private life has also seem significant changes. He is reported to have recently left his wife who had supported him throughout the debacle in the UK and is now 'deliciously in love' with the super-model and entrepreneur Elle Macpherson . Brian Burrowes, 48, who edited 'Vaxxed' was reported stating that he and Macpherson had begun dating after they were both guests at the 'Doctors Who Rock' Awards in November last year. This event was to honour alternative medicine practitioners, with Macpherson handing out an award and Wakefield receiving one. Other awardees included Del Bigtree and Billy DeMoss DC.
Wakefield's legacy in Europe is the recurrence of measles due to persistent doubts in vaccination safety. This regrettable phenomenon is fuelled by Wakefield's multiple activities, including face-book, twitter and you-tube. Social media has provided an alternative to the "failings of mainstream media", Wakefield was quoted in the Guardian saying – another phrase that could have come from a tweet by the US president himself. "In this country, it's become so polarised now … No one knows quite what to believe," Wakefield said. "So, people are turning increasingly to social media."
And this is what I said about this strategy in today's Times: "Such anti-vaccination propaganda is hugely harmful. It prompts many families to shun immunisations which means firstly they are unprotected, and secondly we as a people might lose herd immunity. The result is what we currently see throughout Europe: epidemics are threatening the lives of millions. It is in my view irresponsible for any institution to get involved in the anti-vaxx cult, particularly for universities who really should know better."
We have previously seen that SCAM-use is associated with shorter survival of cancer patients. A new article now confirms this notion.
The investigators wanted to find out what patient characteristics are associated with use of SCAM for cancer and what is the association of SCAM with treatment adherence and survival. They thus  compared the overall survival between patients with cancer receiving conventional treatments with or without SCAM and the adherence to treatment and characteristics of patients in both groups.
Their retrospective observational study used data from the National Cancer Database on 1 901 815 patients from 1500 Commission on Cancer–accredited centers across the United States who were diagnosed with nonmetastatic breast, prostate, lung, or colorectal cancer between January 1, 2004, and December 31, 2013. Patients were matched on age, clinical group stage, Charlson-Deyo comorbidity score, insurance type, race/ethnicity, year of diagnosis, and cancer type.  Overall survival, adherence to treatment, and patient characteristics were the study endpoints.
The cohort comprised 1 901 815 patients with cancer (258 patients in the SCAM group and 1 901 557 patients in the control group). In the main analyses following matching, 258 patients were in the SCAM group, and 1032 patients were in the control group. Patients who chose SCAM did not have a longer delay to initiation of conventional therapies, but had higher refusal rates of surgery, radiotherapy, and hormone therapy. Use of SCAM was associated with poorer 5-year overall survival compared with no SCAM (82.2% [95% CI, 76.0%-87.0%] vs 86.6% [95% CI, 84.0%-88.9%]; P = .001) and was independently associated with greater risk of death (hazard ratio, 2.08; 95% CI, 1.50-2.90) in a multivariate model that did not include treatment delay or refusal. However, there was no significant association between SCAM and survival once treatment delay or refusal was included in the model.
The authors concluded that patients who received CM were more likely to refuse additional CCT, and had a higher risk of death. The results suggest that mortality risk associated with CM was mediated by the refusal of CCT.
This new evidence confirms previous papers: SCAM-use is associated with shorter survival of cancer patients. As it is based on a large sample size, its results are more compelling. They indicate that it is not SCAM per se, but the attitude of SCAM-users to conventional therapies that is the cause of the effect. As I have said and written hundreds of times: the most serious risk of SCAM is not a direct but an indirect one: the risk of neglecting effective therapies. Essentially, this means that better information targeted at vulnerable patients must be the way forward (one of the main ambitions of this blog, I hasten to add).
My previous post was about the question whether lay-homeopaths can practise homeopathy without breaking their code of ethics. The answer was NO, because they lack most of the skills needed to obtain informed consent.
What about doctor homeopaths?
Can they practice homeopathy ethically?
Doctors are, of course, also obliged to follow their ethical code, and that means they too must obtain informed consent from their patients before starting a therapy. This is, for instance, what the UK General Medical Council tells their members:
You must give patients the information they want or need about:
the diagnosis and prognosis
any uncertainties about the diagnosis or prognosis, including options for further investigations
options for treating or managing the condition, including the option not to treat
the purpose of any proposed investigation or treatment and what it will involve
the potential benefits, risks and burdens, and the likelihood of success, for each option; this should include information, if available, about whether the benefits or risks are affected by which organisation or doctor is chosen to provide care
whether a proposed investigation or treatment is part of a research programme or is an innovative treatment designed specifically for their benefit4 
the people who will be mainly responsible for and involved in their care, what their roles are, and to what extent students may be involved
their right to refuse to take part in teaching or research
their right to seek a second opinion
any bills they will have to pay
any conflicts of interest that you, or your organisation, may have
any treatments that you believe have greater potential benefit for the patient than those you or your organisation can offer.
You should explore these matters with patients, listen to their concerns, ask for and respect their views, and encourage them to ask questions.
You should check whether patients have understood the information they have been given, and whether or not they would like more information before making a decision. You must make it clear that they can change their mind about a decision.
Following the 8 points from my previous post (I am trying to apply the same criteria to both types of homeopaths), a medical homeopath might tell her patient (whose stomach pain turns out to be caused, let's assume, by a stomach ulcer) roughly this:
The tests show that you are suffering from stomach ulcer.
The natural history of this condition is usually benign, but it needs effective treatment; if not, the problem would become serious.
Conventional medicine has several effective therapeutic options.
I nevertheless propose to treat you with a homeopathic remedy.
There is no good evidence that it will work beyond a placebo effect.
The remedy is harmless, but not giving you an effective treatment might cause considerable harm.
The cost of the consultation is £80, and the remedy will cost you around £15.
I suggest you come again in a week or two; perhaps we need quite a few consultations altogether.
Again, as with the lay-homeopath from my previous post, any sensible patient would walk away without accepting the treatment. This means that our doctor homeopath can only practice homeopathy, if she does not inform her patient about points 5 and 6. In other words, doctors who practice homeopathy cannot obtain adequately informed consent. We have recently seen a real case of this happening and ending in the death of the patient.
Of course, the homeopath might send her patient to a specialist; or she might decide to administer a conventional therapy herself. Either way, she would not be practising homeopathy.
The dilemma is real, yet it is rarely considered. Here is a short passage from our book where we discuss the ethics of alternative medicine in full detail:
Genuine informed consent is unattainable for most CAM modalities. This presents a serious and intractable ethical problem for CAM practitioners. Attempts to square this circle by watering down or redefining the criteria for informed consent are ethically indefensible. The concept of informed consent and its centrality in medical ethics therefore renders most CAM practice unacceptable. Conventional healthcare subscribes to the ethical principle 'no consent, no treatment'; we are not aware of the existence of any good reasons to excuse CAM from this dictum.
As I said, the ethical practice of homeopathy is a practical impossibility.
Or do you think I got this wrong?
Remember when an international delegation of homeopaths travelled to Liberia to cure Ebola?
Virologists and other experts thought at the time that this was pure madness. But, from the perspective of dedicated homeopaths who have gone through 'proper' homeopathic 'education' and have the misfortune to believe all the nonsense they have been told, this is not madness. In fact, the early boom of homeopathy, about 200 years ago, was based not least on the seemingly resounding success homeopaths had during various epidemics.
I fully understand that homeopath adore this type of evidence – it is good for their ego! And therefore, they tend to dwell on it and re-hash it time and again. The most recent evidence for this is a brand-new article entitled 'Homeopathic Prevention and Management of Epidemic Diseases'. It is such a beauty that I present you the original abstract without change:
START OF QUOTE
___________________________________________________________________________
Homeopathy has been used to treat epidemic diseases since the time of Hahnemann, who used Belladonna to treat scarlet fever. Since then, several approaches using homeopathy for epidemic diseases have been proposed, including individualization, combination remedies, genus epidemicus, and isopathy.
METHODS:
The homeopathic research literature was searched to find examples of each of these approaches and to evaluate which were effective.
RESULTS:
There is good experimental evidence for each of these approaches. While individualization is the gold standard, it is impractical to use on a widespread basis. Combination remedies can be effective but must be based on the symptoms of a given epidemic in a specific location. Treatment with genus epidemicus can also be successful if based on data from many practitioners. Finally, isopathy shows promise and might be more readily accepted by mainstream medicine due to its similarity to vaccination.
CONCLUSION:
Several different homeopathic methods can be used to treat epidemic diseases. The challenge for the future is to refine these approaches and to build on the knowledge base with additional rigorous trials. If and when conventional medicine runs out of options for treating epidemic diseases, homeopathy could be seen as an attractive alternative, but only if there is viable experimental evidence of its success.
END OF QUOTE
____________________________________________________________________________________
I don't need to stress, I think, that such articles are highly irresponsible and frightfully dangerous: if anyone ever took the message that homeopathy has the answer to epidemic seriously, millions might die.
The reasons why epidemiological evidence of this nature is wrong has been discussed before on this blog; I therefore only need to repeat them:
In the typical epidemiological case/control study, one large group of patients [A] is retrospectively compared to another group [B]. In our case, group A has been treated homeopathically, while group B received the treatments available at the time. It is true that several of such reports seemed to suggest that homeopathy works. But this does by no means prove anything; the result might have been due to a range of circumstances, for instance:
group A might have been less ill than group B,
group A might have been richer and therefore better nourished,
group A might have benefitted from better hygiene in the homeopathic hospital,
group A might have received better care, e. g. hydration,
group B might have received treatments that made the situation not better but worse.
Because these are RETROSPECTIVE studies, there is no way to account for these and many other factors that might have influenced the outcome. This means that epidemiological studies of this nature can generate interesting results which, in turn, need testing in properly controlled studies where these confounding factors are adequately controlled for. Without such tests, they are next to worthless for recommendations regarding clinical practice.
In essence, this means that epidemiological evidence of this type can be valuable for generating hypotheses which, in turn, need testing in rigorous clinical trials. Without these tests, the evidence can be dangerously misleading.
But, of course, Jennifer Jacobs, the author of the new article, knows all this – after all, she has been employed for many years by the Department of Epidemiology, School of Public Health and Community Medicine, University of Washington, Seattle, Washington, United States!
In this case, why does she re-hash the old myth of homeopathy being the answer to epidemics?
I do not know the answer to this question, but I do know that she is a convinced homeopath with plenty of papers on the subject.
And what sort of journal would publish such dangerous, deeply unethical rubbish?
It is a journal we have discussed several before; its called HOMEOPATHY.
This journal is, I think, remarkable: not even homeopaths would deny that homeopathy is a most controversial subject. One would therefore expect that the editorial board of the leading journal of homeopathy (Impact Factor = 1.16) has a few members who are critical of homeopathy and its assumptions. Yet, I fail to spot a single such person of the board of HOMEOPATHY. Please have a look yourself and tell me, if you can identify such an individual:
Editor

Peter Fisher
FRCP, FFHom, London, UK
Senior Deputy Editor
Robert T. Mathie
BSc (Hons), PhD, London, UK
Deputy Editors
Leoni Bonamin
Paulista University, São Paulo, Brazil
Menachem Oberbaum
Shaare Zedek Medical Center, Jerusalem, Israel
Ethics Adviser
Kate Chatfield
University of Central Lancashire, Preston, UK
Editorial Advisory Board
Cees Baas
Centre for Integrative Psychiatry, Groningen, The Netherlands
Stephan Baumgartner
University of Witten-Herdecke, Germany
Iris R. Bell
University of Arizona, USA
Jayesh Bellare
Indian Institute of Technology, Mumbai, India
Philippe Belon
Centre de Recherche et de Documentation Thérapeutique, France
Brian Berman
University of Maryland, School of Medicine, USA
Martien Brands
Centre for Integrative Care, Amsterdam, The Netherlands
Michael Carlston
University of California, Santa Rosa, USA
Kusum S. Chand
Pushpanjali Crosslay Hospital, Ghaziabad, India
Martin Chaplin
London South Bank University, UK
Flávio Dantas
University of Uberlândia, Brazil
Peter Darby
Faculty of Homeopathy, UK
Jonathan Davidson
Duke University, USA
Jean-Louis Demangeat
Haguenau Hospital, France
Christian Endler
Interuniversity College Graz/Castle of Seggau, Austria
Madeleine Ennis
Queen's University Belfast, UK
Edoardo Felisi
Milan, Italy
Peter Gregory
Veterinary Dean, Faculty of Homeopathy, UK
German Guajardo-Bernal
University of Baja California, Mexico
Carla Holandino Quaresma
Universidade Federal do Rio de Janeiro, Brazil
Jennifer Jacobs
University of Washington, USA
Wayne Jonas
Samueli Institute, Alexandria, USA
Lee Kayne
Faculty of Homeopathy, UK
Steven Kayne
Glasgow Homoeopathic Hospital, UK
David Lilley
Pretoria, South Africa
Klaus Linde
Technical University, Munich, Germany
Russell Malcolm
Faculty of Homeopathy, UK
Raj K. Manchanda
Central Council for Research in Homoeopathy, New Delhi, India
David Peters
University of Westminster, London, UK
Bernard Poitevin
Association Française pour la Recherche en Homéopathie, France
David Reilly
Glasgow Homoeopathic Hospital, UK
David Riley
Integrative Medicine Institute, Portland, USA
ALB Rutten
Breda, The Netherlands
Jürgen Schulte
University of Technology, Sydney, Australia
Trevor Thompson
University of Bristol, UK
André Thurneysen
Centre de médecines intégrées, Switzerland
Alexander Tournier
Homeopathy Research Institute, UK
Francis Treuherz
London, UK
Robbert van Haselen
International Institute for Integrated Medicine, Kingston, UK
Michel Van Wassenhoven
Unio Homeopathica Belgica, Belgium
Harald Walach
University of Witten-Herdecke, Germany
Fred Wiegant
University of Utrecht, The Netherlands
___________________________________________________________________________
I rest my case.
My friend Gustav Born FRS died on 16 April 2018.
Gustav was born into a Jewish family that emigrated from 1930s Goettingen (Germany) to the UK. His father Max, a friend of Einstein, was a physicist who received a Nobel Prize for his work in quantum mechanics. Gustav  served in the British forces as a doctor during WW2. After the war, he became a pharmacologist in London and Cambridge who had many achievements to his name. For instance, he discovered the mechanisms through which the body stops bleeding and initiates blood clotting. He also invented the platelet aggregometer that is still used universally to quantify platelet activity and which he never patented so that not he but mankind would benefit from it. Gustav was indefatigable and continued his research for many years after his retirement. His work was crowned with uncounted scientific awards.
There have been numerous, much more detailed obituaries honouring Gustav e. g.:
https://www.theguardian.com/science/2018/apr/26/gustav-born-obituary
https://www.thetimes.co.uk/article/gustav-born-obituary-gt5k9r8jc
Mine is merely a personal tribute. I met Gustav in the early 1990s while working in Vienna. We became close friends, and he took me under his wings, encouraged me to come to the UK, wrote a glowing reference when I applied for the Exeter post, and gave me moral support whenever I needed it.
After I had moved to the UK, we regularly met, and he even came to my 50th birthday party insisting to make a speech. About 15 years ago, he once attended one of my public lectures on alternative medicine; afterwards his comment was: "you know, your work is going to save lives." Since my retirement, he kept phoning me at home (apparently Gustav had an irresistible attraction to the telephone) and urged me, usually speaking in German, to arrange a meeting. We always concluded that this must be soon; sadly, however, this did not happen.
Gustav was a great story-teller. One of his preferred anecdotes related to homeopathy. He recounted (interrupting himself giggling) that, when Einstein and his father once were talking, someone mentioned homeopathy and asked them what they thought of it. Einstein reflected for a little while and then said: "If one were to lock up 10 very clever people in a room and told them they were only allowed out once they had come up with the most stupid idea conceivable, they would soon come up with homeopathy."
It is therefore not surprising that, when I invited Gustav to contribute a chapter to my book 'HEALING, HYPE OR HARM?', he agreed to write an essay entitled 'HOMEOPATHY IN CONTEXT'. Here is a short extract from it: What can be done to counteract the persistence of homeopathy? Its unwarranted claims must be continuously exposed. The diversion of public money from the proper purposed of the NHS must be stopped.
I shall miss Gustav for his clear thinking, his wry humour, his unfailing support and fatherly friendship.
Some commentators on this blog and elsewhere keep on claiming that conventional medicine is dangerous, certainly more dangerous than homeopathy (or other alternative therapies). To test the validity of this assumption, I invite you to a little thought experiment:
Imagine 100 patients suffering from each of the conditions listed below.
cancer
AIDS
Ebola
sepsis
TB
MS
dementia
coronary heart disease
stroke
diabetes
peripheral vascular disease
(this list could be extended ad libitum)
Now imagine all of these patients would receive alternative treatment in the form of homeopathy.
Next ask yourself in how many of these patients would hasten death (i. e. contribute to a fatal outcome earlier than necessary).
Here are my estimates (based on the best available evidence):
cancer: 100
AIDS: 100
Ebola: 100
sepsis: 100
TB: 100
MS: 100
dementia: 100
coronary heart disease: 100
stroke: 100
diabetes: 100
peripheral vascular disease: 100
(Please don't tell me that homeopaths do not regularly claim to be able to treat those conditions; and please don't say that they do not advocate homeopathy as a truly alternative therapy, because they do – if you don't believe me, do a simple google search yourself.)
And now imagine these patients are being treated by conventional medicine. It seems obvious that not all lives would be saved and that some would die of their condition. But that was not my question. It was, in how many of these patients would conventional medicine hasten death?
Here are my estimates (based on the best available evidence):
cancer: 0
AIDS: 0
Ebola: 0
sepsis: 0
TB: 0
MS: 0
dementia: o
coronary heart disease: 0
stroke: 0
diabetes: 0
peripheral vascular disease: 0
I know this is a bit simplistic (as well as provocative). But I was merely trying to make a point: Homeopathy (and many other alternative treatments) are by no means as safe as its proponents seem to think.
The media have (rightly) paid much attention to the three Lancet-articles on low back pain (LBP) which were published this week. LBP is such a common condition that its prevalence alone renders it an important subject for us all. One of the three papers covers the treatment and prevention of LBP. Specifically, it lists various therapies according to their effectiveness for both acute and persistent LBP. The authors of the article base their judgements mainly on published guidelines from Denmark, UK and the US; as these guidelines differ, they attempt a synthesis of the three.
Several alternative therapist organisations and individuals have consequently jumped on the LBP  bandwagon and seem to feel encouraged by the attention given to the Lancet-papers to promote their treatments. Others have claimed that my often critical verdicts of alternative therapies for LBP are out of line with this evidence and asked 'who should we believe the international team of experts writing in one of the best medical journals, or Edzard Ernst writing on his blog?' They are trying to create a division where none exists,
The thing is that I am broadly in agreement with the evidence presented in Lancet-paper! But I also know that things are a bit more complex.
Below, I have copied the non-pharmacological, non-operative treatments listed in the Lancet-paper together with the authors' verdicts regarding their effectiveness for both acute and persistent LBP. I find no glaring contradictions with what I regard as the best current evidence and with my posts on the subject. But I feel compelled to point out that the Lancet-paper merely lists the effectiveness of several therapeutic options, and that the value of a treatment is not only determined by its effectiveness. Crucial further elements are a therapy's cost and its risks, the latter of which also determines the most important criterion: the risk/benefit balance. In my version of the Lancet table, I have therefore added these three variables for non-pharmacological and non-surgical options:
EFFECTIVENESS ACUTE LBP
EFFECTIVENESS PERSISTENT LBP
RISKS
COSTS
RISK/BENEFIT BALANCE
Advice to stay active
+, routine
+, routine
None
Low
Positive
Education
+, routine
+, routine
None
Low
Positive
Superficial heat
+/-
Ie
Very minor
Low to medium
Positive (aLBP)
Exercise
Limited
+/-, routine
Very minor
Low
Positive (pLBP)
CBT
Limited
+/-, routine
None
Low to medium
Positive (pLBP)
Spinal manipulation
+/-
+/-
vfbmae
sae
High
Negative
Massage
+/-
+/-
Very minor
High
Positive
Acupuncture
+/-
+/-
sae
High
Questionable
Yoga
Ie
+/-
Minor
Medium
Questionable
Mindfulness
Ie
+/-
Minor
Medium
Questionable
Rehab
Ie
+/-
Minor
Medium to high
Questionable
Routine = consider for routine use
+/- = second line or adjunctive treatment
Ie = insufficient evidence
Limited = limited use in selected patients
vfbmae = very frequent, minor adverse effects
sae = serious adverse effects, including deaths, are on record
aLBP = acute low back pain
The reason why my stance, as expressed on this blog and elsewhere, is often critical about certain alternative therapies is thus obvious and transparent. For none of them (except for massage) is the risk/benefit balance positive. And for spinal manipulation, it even turns out to be negative. It goes almost without saying that responsible advice must be to avoid treatments for which the benefits do not demonstrably outweigh the risks.
I imagine that chiropractors, osteopaths and acupuncturists will strongly disagree with my interpretation of the evidence (they might even feel that their cash-flow is endangered) – and I am looking forward to the discussions around their objections.
Rapidly rising in popularity, kratom is hailed by some as a readily available pain remedy that is safer than traditional opioids, an effective addiction withdrawal aid and a pleasurable recreational tonic. But kratom also is assailed as a dangerous and unregulated drug that can be purchased on the Internet, a habit-forming substance that authorities say can result in opioid-like abuse and death.
Last week, the Food and Drug Administration announced that the herbal supplement kratom possesses the properties of an opioid, thus escalating the government's effort to slow usage of this alternative pain reliever. The FDA states that the number of deaths associated with kratom use has increased to a total of 44, up from a total of 36 since the FDA's November 2017 report. In the majority of deaths that FDA attributes to kratom, subjects ingested multiple substances with known risks, including alcohol. The presence of multiple drugs makes it difficult to determine the role any one of them played.
So, what is kratom, and why might it be dangerous?
A recent review explains that the leaves of Mitragyna speciosa (commonly known as kratom), a tree endogenous to parts of Southeast Asia, have been used traditionally for their stimulant, mood-elevating, and analgesic effects. The plant's active constituents, mitragynine and 7-hydroxymitragynine, have been shown to modulate opioid receptors, acting as partial agonists at mu-opioid receptors and competitive antagonists at kappa- and delta-opioid receptors. Both alkaloids are G protein-biased agonists of the mu-opioid receptor and therefore, may induce less respiratory depression than classical opioid agonists. The Mitragyna alkaloids also appear to exert diverse activities at other brain receptors (including adrenergic, serotonergic, and dopaminergic receptors), which may explain the complex pharmacological profile of raw kratom extracts. Kratom exposure alone has not been causally associated with human fatalities to date. However, further research is needed to clarify the complex mechanism of action of the Mitragyna alkaloids and unlock their full therapeutic potential.
Another review adds that, by the early 2000s, kratom was increasingly used in the US as a natural remedy to improve mood and quality of life and as substitutes for prescription and illicit opioids for managing pain and opioid withdrawal by people seeking abstinence from opioids. There has been no documented threat to public health that would appear to warrant emergency scheduling of the products and placement in Schedule I of the CSA carries risks of creating serious public health problems. Banning kratom, risks creating public health problems that do not presently exist.
A third review explains that there are no published human pharmacologic, pharmacokinetic, or drug interaction studies on kratom or mitragynine, making it virtually impossible to fully understand kratom's therapeutic potential and risks and the populations most likely to benefit or experience harm from its use. Kratom has been used to ameliorate opioid withdrawal symptoms but also induces withdrawal. Human pharmacologic, pharmacokinetic and clinical data are of low quality precluding any firm conclusions regarding safety and efficacy. Kratom does cause a host of adverse effects without clear guidance for how they should be treated. There are numerous assessments where people have been unable to stop using kratom therapy and withdrawal signs and symptoms are problematic. Kratom does not appear in normal drug screens and, when taken with other substances of abuse, may not be recognized.
A systematic review evaluated all studies on kratom use and mental health published between January 1960 and July 2017. Its findings indicate kratom's potential as a harm reduction tool, most notably as a substitute for opioids among people who are addicted. Kratom also enhances mood and relieves anxiety among many users. For many, kratom's negative mental health effects – primarily withdrawal symptoms – appear to be mild relative to those of opioids. For some users, however, withdrawal is highly uncomfortable and maintaining abstinence becomes difficult.
In Europe, as of 2011, kratom has become a controlled drug in Denmark, Latvia, Lithuania, Poland, Romania and Sweden. In the UK, since 2016, the sale, import, and export of kratom are prohibited.
On balance, my conclusion is that we urgently need more data and meanwhile should avoid this 'herbal drug'.
This announcement caught my eye:
START OF 1st QUOTE
Dr Patrick Vickers of the Northern Baja Gerson Centre, Mexico will deliver a two hour riveting lecture of 'The American Experience of Dr Max Gerson, M.D.'
The lecture will present the indisputable science supporting the Gerson Therapy and its ability to reverse advanced disease.
Dr Vickers will explain the history and the politics of both medical and governmental authorities and their relentless attempts to surpress this information, keeping it from the world.
'Dr Max Gerson, Censored for Curing Cancer'
"I see in Dr Max Gerson, one of the most eminent geniuses in medical history" Nobel Prize Laureate, Dr Albert Schweitzer.
END OF 1st QUOTE
Who is this man, Dr Patrik Vickers, I asked myself. And soon I found a CV in his own words:
START OF 2nd QUOTE
Dr. Patrick Vickers is the Director and Founder of the Northern Baja Gerson Clinic. His mission is to provide patients with the highest quality and standard of care available in the world today for the treatment of advanced (and non-advanced) degenerative disease. His dedication and commitment to the development of advanced protocols has led to the realization of exponentially greater results in healing disease. Dr. Vickers, along with his highly trained staff, provides patients with the education, support, and resources to achieve optimal health.
Dr. Patrick was born and raised outside of Milwaukee, Wisconsin. At the age of 11 years old, after witnessing a miraculous recovery from a chiropractic adjustment, Dr. Patrick's passion for natural medicine was born.
Giving up careers in professional golf and entertainment, Dr. Patrick obtained his undergraduate degrees from the University of Wisconsin-Madison and Life University before going on to receive his doctorate in Chiropractic from New York Chiropractic College in 1997.
While a student at New York Chiropractic College(NYCC), Dr. Patrick befriended Charlotte Gerson, the last living daughter of Dr. Max Gerson, M.D. who Nobel Peace Prize Winner, Dr. Albert Schweitzer called, " One of the most eminent geniuses in medical history. "
Dr. Gerson, murdered in 1959, remains the most censured doctor in the history of medicine as he was reversing virtually every degenerative disease known to man, including TERMINAL cancer…
END OF 2nd QUOTE
I have to admit, I find all this quite upsetting!
Not because the ticket for the lecture costs just over £27.
Not because exploitation of vulnerable patients by quacks always annoys me.
Not even because the announcement is probably unlawful, according to the UK 'cancer act'.
I find it upsetting because there is simply no good evidence that the Gerson therapy does anything to cancer patients other than making them die earlier, poorer and more miserable (the fact that Prince Charles is a fan makes it only worse). And I do not believe that the lecture will present indisputable evidence to the contrary – lectures almost never do. Evidence has to be presented in peer-reviewed publications, independently confirmed and scrutinised. And, as far as I can see, Vickers has not authored a single peer-reviewed article [however, he thrives on anecdotal stories via youtube (worth watching, if you want to hear pure BS)].
But mostly I find it upsetting because it is almost inevitable that some desperate cancer patients will believe 'Dr' Vickers. And if they do, they will have to pay a very high price.
Sorry, but something I stated in my last post was not entirely correct!
I wrote that "I could not find a single study on Schuessler Salts".
Yet, I do know of a 'study' of Schuessler Salts after all; I hesitate to write about it because it is an exceedingly ugly story that goes back to the 'Third Reich', and some people do not seem to appreciate me reporting about my research on this period.
The truth, however, is that I already did mention the Schuessler salts before on this blog: "…in 1941 a research unit was established in 'block 5' [of the Dachau Concetration Camp] which, according to Rascher's biographer, Sigfried Baer, contained his department and a homeopathic research unit led by Hanno von Weyherns and Rudolf Brachtel (1909-1988). I found the following relevant comment about von Weyherns: "Zu Jahresbeginn 1941 wurde in der Krankenabteilung eine Versuchsstation eingerichtet, in der 114 registrierte Tuberkulosekranke homöopathisch behandelt wurden. Leitender Arzt war von Weyherns. Er erprobte im Februar biochemische Mittel an Häftlingen." My translation: At the beginning of 1941, an experimental unit was established in the sick-quarters in which 114 patients with TB were treated homeopathically. The chief physician was von Weyherns. In February, he tested Schuessler Salts [a derivative of homeopathy still popular in Germany today] on prisoners."
Wikipedia provides further details: [Im Dritten Reich] konnten erstmals mit staatlicher Billigung und Förderung Untersuchungen durchgeführt werden, in denen die behauptete Wirksamkeit "biochemischer" Arzneimittel überprüft wurde. Solche Versuche fanden auch in den Konzentrationslagern Dachau und Auschwitz statt, unter Leitung des Reichsarztes SS Ernst-Robert Grawitz. Dabei wurden unter anderem künstlich herbeigeführte Fälle von Blutvergiftung und Malaria weitgehend erfolglos behandelt. Für die Häftlinge nahmen diese Experimente in den meisten Fällen einen tödlichen Ausgang.
My translation: During the Third Reich, it became possible for the first time possible to conduct with governmental support investigations into the alleged effectiveness of 'biochemical' Schuessler Salts. Such tests were carried out in the concentration camps of Dachau and Auschwitz under the leadership of Reichsarzt SS Ernst-Robert Grawitz. They involved infecting prisoners with sepsis and malaria and treating them – largely without success. Most of the prisoners used for these experiments died.
I also found several further sources on the Internet. They confirm what was stated above and also mention the treatment of TB with Schuessler Salts. Furthermore, they state that the victims were mostly Polish priests:
The last source claims that at least 28 prisoners died as a result of these unspeakably cruel experiments.
The most detailed account (and even there, it is just 2 or 3 pages) about these experiments that I could find is in the superb and extremely well-researched book 'AUSCHWITZ, DIE NS MEDIZIN UND IHRE OPFER' by Ernst Klee. In it (p 146), Klee cites Grawitz's correspondence with Himmler where Grawitz discloses that, prior to the Dachau 'Schuessler experiments', there were also some in Auschwitz where all three victims had died. Apparently Grawitz tried to persuade Himmler to stop these futile and (even for his standards) exceedingly cruel tests; the prisoners suffered unimaginable pain before their deaths. However, Himmler reprimanded him sharply and instructed him to continue. Dr Kiesswetter was subsequently recruited to the team because he was considered to be an expert on the clinical use of Schuessler Salts.
[Another book entitled
'

Der Deutsche Zentralverein homöopathischer Ärzte im Nationalsozialismus
' also mentions these experiments. Its author claims that Weyherns was not a doctor but a Heilpraktiker (all other sources agree that he was a medic). In general, the book seems to down-play this deplorable story and reads like an attempt to white-wash German homeopathy during the Third Reich] .
Klee concludes his chapter by reporting the post-war fate of all the doctors involved in the 'Schuessler experiments':
Dr Waldemar Wolter was sentenced to death and executed.
Dr Hermann Pape disappeared.
Dr Rudolf Kiesswetter disappeared.
Dr Babor fled to Addis Abeba.
Dr Laue died.
Dr Heinrich Schuetz managed to become a successful consultant in Essen. Only in 1972, he was charged and tried by a German court to 10 years of jail. Several of his colleagues, however, certify that he was too ill to be imprisoned, and Schuetz thus escaped his sentence.
Why do I dwell on this most unpleasant subject?
Surely, this has nothing to do with today's use of Schuessler Salts!
Do I do it to "smear homeopathy and other forms of complementary medicine with a 'guilt by association' argument, associating them with the Nazis", as Peter Fisher once so stupidly put it?
No!
I have other, more important reasons:
I do not think that the evidence regarding Schuessler Salts is complete without these details.
I believe that these are important historical facts.
I feel that the history of alternative medicine during the Third Reich is under-researched and almost unknown (contrary to that of conventional medicine for which a very large body of published evidence is now available).
I feel it should be known and ought to be much better documented than it is today.
I fear that we live in times where the memory of such atrocities might serve as a preventative for a resurgence of fascism in all its forms.