You have probably guessed it: I am not a fan of Donald Trump (he made several previous appearances on this blog, see here, here here and here). There are many things that I dislike about him, and his attitude towards vaccination is but one of them. Researchers from Australia and from my own University (!) have conducted two studies on this subject which I find extraordinary and important. Here is their abstract:
Donald Trump is the first U.S. President to be on the record as having anti-vaccination attitudes. Given his enormous reach and influence, it is worthwhile examining the extent to which allegiance to Trump is associated with the public's perceptions of vaccine safety and efficacy. In both Study 1 (N = 518) and Study 2 (N = 316), Trump voters were significantly more concerned about vaccines than other Americans. This tendency was reduced to non-significance after controlling for conspiracist ideation (i.e., general willingness to believe conspiracy theories) and, to a lesser degree, political conservatism. In Study 2, participants were later exposed to real Trump tweets that either focused on his anti-vaccination views, or focused on golf (the control condition). Compared to when the same respondents were sampled a week earlier, there was a significant increase in vaccine concern, but only among Trump voters who were exposed to the anti-vaccination tweets. The effects were exclusively negative: there was no evidence that anti-vaccination Trump tweets polarized liberal voters into becoming more pro-vaccination. In line with the social identity model of leadership, Study 2 indicates that some leaders do not simply represent the attitudes and opinions of the group, but can also change group members' opinions.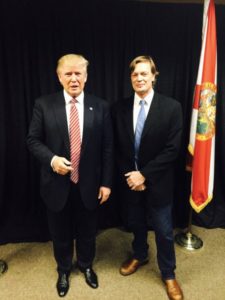 I find this paper so important and excellent that I take the liberty of quoting from the authors' discussion:
Both studies showed that people who voted for Trump in the 2016 Presidential election were more concerned about vaccines than other voters. When it came to general concern about vaccines, this "Trump effect" was entirely accounted for by the fact that Trump voters are not only more politically conservative than other Americans but also (and independently) more predisposed to believe conspiracy theories. In fact, the tendency for Trump voters to have greater concerns about the MMR vaccine in particular was not explained so much by their political conservatism as it was by their conspiracist ideation.
Study 1 illustrates that Trump voters are particularly prone to anti-vaccination attitudes. Study 2 further demonstrates that these attitudes are not static: it shows that a revered, prototypical ingroup member can actively exacerbate this propensity to endorse factually unfounded beliefs.
One overarching debate about the influence of political leaders is the extent to which they shape supporters' views, or merely reflect them. Study 2 makes clear that the "Trump effect" is not merely a case of Trump holding a mirror to people's pre-existing views: his messages have the power to change attitudes. As such, future research needs to
take seriously the impact of Trump as a change-agent, one that is impeding the broader campaign to increase vaccination uptake and to eliminate infectious diseases.
________________________
So, the 'Trump-Effect' on vaccination attitudes is strongly negative. This leads me to suspect that the 'Trump-Effect' on many other issues is just as profoundly detrimental. For the sake not just of public health, let us hope that the US public will dismiss their dangerous president when they go to the ballot in just a few weeks time.
15 Responses to The 'Trump-Effect' on vaccination attitudes