symptom-relief
Spinal manipulation therapy (SMT) is widely used worldwide to treat musculoskeletal and many other conditions. The evidence that it works for any of them is weak, non-existent, or negative. What is worse, SMT can – as we have discussed so often on this blog –  cause adverse events some of which are serious, even fatal.
Spinal epidural hematoma (SEH) caused by SMT is a rare emergency that can cause neurological dysfunction. Chinese researchers recently reported three cases of SEH after SMT.
The first case was a 30-year-old woman who experienced neck pain and numbness in both upper limbs immediately after SMT. Her symptoms persisted after 3 d of conservative treatment, and she was admitted to our hospital. Magnetic resonance imaging (MRI) demonstrated an SEH, extending from C6 to C7.
The second case was a 55-year-old man with sudden back pain 1 d after SMT, numbness in both lower limbs, an inability to stand or walk, and difficulty urinating. MRI revealed an SEH, extending from T1 to T3.
The third case was a 28-year-old man who suddenly developed symptoms of numbness in both lower limbs 4 h after SMT. He was unable to stand or walk and experienced mild back pain. MRI revealed an SEH, extending from T1 to T2.
All three patients underwent surgery after failed conservative treatment and all recovered to ASIA grade E on day 5, 1 wk, and day 10 after surgery, respectively. All patients returned to normal after 3 mo of follow-up.
The authors concluded that SEH caused by SMT is very rare, and the condition of each patient should be evaluated in full detail before operation. SEH should be diagnosed immediately and actively treated by surgery.
These cases might serve as an apt reminder of the fact that SMT (particularly SMT of the neck) is not without its dangers. The authors' assurance that SEH is VERY RARE is a little puzzling, in my view (the paper includes a table with all 17 previously published cases). There is, as we often have mentioned, no post-marketing surveillance, surgeons only see those patients who survive such complications long enough to come to the hospital, and they publish such cases only if they feel like it. Consequently, the true incidence is anyone's guess.
As pointed out earlier, the evidence that SMT might be effective is shaky for most indications. In view of the potential for harm, this can mean only one thing:
The risk/benefit balance for SMT is not demonstrably positive.
In turn, this leads to the conclusion that patients should think twice before having SMT and should inquire about other therapeutic options that have a more positive risk/benefit balance. Similarly, the therapists proposing SMT to a patient have the ethical and moral duty to obtain fully informed consent which includes information about the risk/benefit balance of SMT and other options.
These days, I live in France (some of my time) and I am often baffled by the number of osteopaths and the high level of acceptance of osteopathy in this country. The public seems to believe everything osteopaths claim and even most doctors have long given up to object to the idiocies they proclaim.
The website of the Institute of Osteopathy in Renne is but one of many examples. The Institute informed us as follows (my translation):
In addition to back pain, the osteopath can act on functional disorders of the digestive, neurological, cardiovascular systems or conditions related to ear, nose and throat. Osteopaths can promote recovery in athletes, relieve migraines, musculoskeletal disorders such as tendonitis, or treat sleep disorders. Less known for its preventive aspect, osteopathy also helps maintain good health. It can be effective even when everything is going well because it will prevent the appearance of pain. Osteopathy is, in fact, a manual medicine that allows the rebalancing of the major systems of the body, whatever the age of the patient and his problems. The osteopath looks for the root cause of your complaint in order to develop a curative and preventive treatment.
Who are osteopathic consultations for?
Osteopathic consultations at the Institute of Osteopathy of Rennes-Bretagne are intended for the following types of patients and pathologies
BABY / CHILD
GERD (gastric reflux), plagiocephaly (cranial deformities), recurrent ENT disorders (sinusitis, ear infections…), digestive, sleep and behavioural disorders, motor delay, following a difficult birth…
ADULT
Prevention, comfort treatment of osteoarthritis, musculoskeletal pain, functional abdominal pain, digestive disorders, headaches, dizziness, postural deficiency, facial pains…
PREGNANT WOMAN
Musculoskeletal pain (lumbago, back pain), digestive disorders, preparation for childbirth, post-partum check-up.
COMPANY
Prevention and treatment of MSDs (musculoskeletal disorders) linked to workstation ergonomics, stress, pain due to repetitive movements, poor posture at work, etc.
ADOLESCENT
Scoliosis, prevention of certain pathologies linked to growth, fatigue, stress, follow-up of orthodontic treatment.
SPORTSMAN
Musculoskeletal pain, tendonitis, osteopathic preparation for competition, osteopathic assessment according to the sport practised, repetitive injury.
In case you are not familiar with the evidence for osteopathy, let me tell you that as good as none of the many claims made in the above text is supported by anything that even resembles sound evidence.
So, how can we explain that, in France, osteopathy is allowed to thrive in a virtually evidence-free space?
In France, osteopathy started developing in the 1950s. In 2002, osteopathy received legislative recognition in France, and today, it is booming; between 2016 and 2018, 3589 osteopaths were trained in France. Osteopaths can be DO doctors, DO physiotherapists, DO nurses, DO midwives, DO chiropodists, or even DO dentists.
Thus, in 2018, and out of a total of 29,612 professionals practising osteopathy, there were 17,897 osteopaths DO and 11,715 DO health professionals. The number of professionals using the title of osteopath has roughly tripled in 8 years (11608 in 2010 for 29612 in 2018). There are currently around 30 osteopathic schools in France. About 3 out of 5 French people now consult osteopaths.
But this does not answer my question why, in France, osteopathy is allowed to thrive in a virtually evidence-free space! To be honest, I do not know its answer.
Perhaps someone else does?
If so, please enlighten me.
A substantial number of patients globally receive spinal manipulative therapy (SMT) to manage non-musculoskeletal disorders. However, the efficacy and effectiveness of these interventions to prevent or treat non-musculoskeletal disorders remain controversial.
A Global Summit of international chiropractors and scientists conducted a systematic review of the literature to determine the efficacy and effectiveness of SMT for the primary, secondary and tertiary prevention of non-musculoskeletal disorders. The Global Summit took place on September 14-15, 2019 in Toronto, Canada. It was attended by 50 chiropractic researchers from 8 countries and 28 observers from 18 chiropractic organizations. Participants met the following criteria: 1) chiropractor with a PhD, or a researcher with a PhD (not a chiropractor) with research expertise in chiropractic; 2) actively involved in research (defined as having published at least 5 peer-reviewed papers over the past 5 years); and 3) appointed at an academic or educational institution. In addition, a small group of researchers who did not meet these criteria were invited. These included three chiropractors with a strong publication and scientific editorial record who did not have a PhD (SMP, JW, and HS) and two early career researchers with expertise within the area of chiropractic and pseudoscience (ALM, GG). Participants were invited by the Steering Committee using purposive and snowball sampling methods. At the summit, participants critically appraised the literature and synthesized the evidence.
They searched MEDLINE, Embase, the Cochrane Central Register of Controlled Trials, the Cumulative Index to Nursing and Allied Health, and the Index to Chiropractic Literature from inception to May 15, 2019, using subject headings specific to each database and free text words relevant to manipulation/manual therapy, effectiveness, prevention, treatment, and non-musculoskeletal disorders. Eligible for review were randomized controlled trials published in English. The methodological quality of eligible studies was assessed independently by reviewers using the Scottish Intercollegiate Guidelines Network (SIGN) criteria for randomized controlled trials. The researchers synthesized the evidence from articles with high or acceptable methodological quality according to the Synthesis without Meta-Analysis (SWiM) Guideline. The final risk of bias and evidence tables were reviewed by researchers who attended the Global Summit and 75% (38/50) had to approve the content to reach consensus.
A total of 4997 citations were retrieved, and 1123 duplicates were removed, and 3874 citations were screened. Of those, the eligibility of 32 articles was evaluated at the Global Summit and 16 articles were included in the systematic review. The synthesis included 6 randomized controlled trials with acceptable or high methodological quality (reported in 7 articles). These trials investigated the efficacy or effectiveness of SMT for the management of
infantile colic,
childhood asthma,
hypertension,
primary dysmenorrhea,
migraine.
None of the trials evaluated the effectiveness of SMT in preventing the occurrence of non-musculoskeletal disorders. A consensus was reached on the content of all risk of bias and evidence tables. All randomized controlled trials with high or acceptable quality found that SMT was not superior to sham interventions for the treatment of these non-musculoskeletal disorders.
Six of 50 participants (12%) in the Global Summit did not approve the final report.
The authors concluded that our systematic review included six randomized clinical trials (534 participants) of acceptable or high quality investigating the efficacy or effectiveness of SMT for the treatment of non-musculoskeletal disorders. We found no evidence of an effect of SMT for the management of non-musculoskeletal disorders including infantile colic, childhood asthma, hypertension, primary dysmenorrhea, and migraine. This finding challenges the validity of the theory that treating spinal dysfunctions with SMT has a physiological effect on organs and their function. Governments, payers, regulators, educators, and clinicians should consider this evidence when developing policies about the use and reimbursement of SMT for non-musculoskeletal disorders.
I would have formulated the conclusions much more succinctly:
As has already been shown repeatedly, there is no sound evidence that SMT is effective for non-musculoskeletal conditions.
Myofascial release (also known as myofascial therapy or myofascial trigger point therapy) is a type of low-load stretch therapy that is said to release tightness and pain throughout the body caused by the myofascial pain syndrome, a chronic muscle pain that is worse in certain areas known as trigger points. Various types of health professionals provide myofascial release, e.g. osteopaths, chiropractors, physical or occupational therapists, massage therapists, or sports medicine/injury specialists. The treatment is usually applied repeatedly, but there is also a belief that a single session of myofascial release is effective. This study was a crossover clinical trial aimed to test whether a single session of a specific myofascial release technique reduces pain and disability in subjects with chronic low back pain (CLBP).
A total of 41 participants were randomly enrolled into 3 situations in a balanced and crossover manner:
experimental,
placebo,
control.
The subjects underwent a single session of myofascial release on thoracolumbar fascia and the results were compared with the control and placebo groups. A single trained and experienced therapist applied the technique.
For the control treatment, the subjects were instructed to remain in the supine position for 5 minutes. For the muscle release session, the subjects were in a sitting position with feet supported and the thoracolumbar region properly undressed. The trunk flexion goniometry of each participant was performed and the value of 30° was marked with a barrier to limit the necessary movement during the technique. The trained researcher positioned their hands on all participants without sliding over the skin or forcing the tissue, with the cranial hand close to the last rib and at the T12–L1 level on the right side of the individual's body and the caudal hand on the ipsilateral side between the iliac crest and the sacrum. Then, the researcher caused slight traction in the tissues by moving their hands away from each other in a longitudinal direction. Then, the participant was instructed to perform five repetitions of active trunk flexion-extension (30°), while the researcher followed the movement with both hands simultaneously positioned, without losing the initial tissue traction and position. The same technique and the same number of repetitions of active trunk flexion-extension were repeated with the researcher's hands positioned on the opposite sides. This technique lasted approximately five minutes.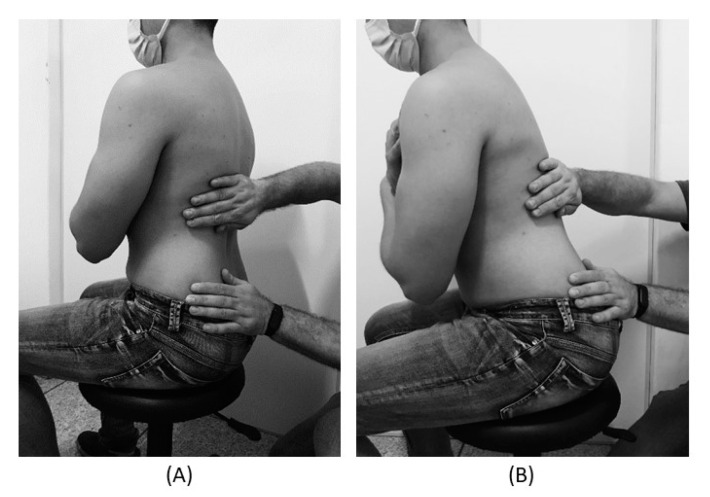 For the placebo treatment, the subjects were not submitted to the technique of manual thoracolumbar fascia release, but they slowly performed ten repetitions of active trunk flexion-extension (30°) in the same position as the experimental situation. Due to the fact that touch can provide not only well-recognized discriminative input to the brain, but also an affective input, there was no touch from the researcher at this stage.
The outcomes, pain, and functionality, were evaluated using the numerical pain rating scale (NPRS), pressure pain threshold (PPT), and Oswestry Disability Index (ODI).
The results showed no effects between-tests, within-tests, nor for interaction of all the outcomes, i.e., NPRS (η 2 = 0.32, F = 0.48, p = 0.61), PPT (η2 = 0.73, F = 2.80, p = 0.06), ODI (η2 = 0.02, F = 0.02, p = 0.97).
The authors concluded that a single trial of a thoracolumbar myofascial release technique was not enough to reduce pain intensity and disability in subjects with CLBP.
Surprised?
I'm not!
Recently, I received this comment from a reader:
Edzard-'I see you do not understand much of trial design' is true BUT I wager that you are in the same boat when it comes to a design of a trial for LBP treatment: not only you but many other therapists. There are too many variables in the treatment relationship that would allow genuine , valid criticism of any design. If I have to pick one book of the several listed elsewhere I choose Gregory Grieve's 'Common Vertebral Joint Problems'. Get it, read it, think about it and with sufficient luck you may come to realize that your warranted prejudices against many unconventional 'medical' treatments should not be of the same strength when it comes to judging the physical therapy of some spinal problems as described in the book.
And a chiro added:
EE: I see that you do not understand much of trial design
Perhaps it's Ernst who doesnt understand how to research back pain.
"The identification of patient subgroups that respond best to specific interventions has been set as a key priority in LBP research for the past 2 decades.2,7 In parallel, surveys of clinicians managing LBP show that there are strong views against generic treatment and an expectation that treatment should be individualized to the patient.6,22."
Journal of Orthopaedic & Sports Physical Therapy
Published Online:January 31, 2017Volume47Issue2Pages44-48
Do I need to explain why the Grieve book (yes, I have it and yes, I read it) is not a substitute for evidence that an intervention or technique is effective? No, I didn't think so. This needs to come from a decent clinical trial.
And how would one design a trial of LBP (low back pain) that would be a meaningful first step and account for the "many variables in the treatment relationship"?
How about proceeding as follows (the steps are not necessarily in that order):
Study the previously published literature.
Talk to other experts.
Recruit a research team that covers all the expertise you need (and don't have yourself).
Formulate your research question. Mine would be IS THERAPY XY MORE EFFECTIVE THAN USUAL CARE FOR CHRONIC LBP? I know LBP is but a vague symptom. This does, however, not necessarily matter (see below).
Define primary and secondary outcome measures, e.g. pain, QoL, function, as well as the validated methods with which they will be quantified.
Clarify the method you employ for monitoring adverse effects.
Do a small pilot study.
Involve a statistician.
Calculate the required sample size of your study.
Consider going multi-center with your trial if you are short of patients.
Define chronic LBP as closely as you can. If there is evidence that a certain type of patient responds better to the therapy xy than others, that might be considered in the definition of the type of LBP.
List all inclusion and exclusion criteria.
Make sure you include randomization in the design.
Randomization should be to groups A and B. Group A receives treatment xy, while group B receives usual care.
Write down what A and B should and should not entail.
Make sure you include blinding of the outcome assessors and data evaluators.
Define how frequently the treatments should be administered and for how long.
Make sure all therapists employed in the study are of a high standard and define the criteria of this standard.
Train all therapists of both groups such that they provide treatments that are as uniform as possible.
Work out a reasonable statistical plan for evaluating the results.
Write all this down in a protocol.
Such a trial design does not need patient or therapist blinding nor does it require a placebo. The information it would provide is, of course, limited in several ways. Yet it would be a rigorous test of the research question.
If the results of the study are positive, one might consider thinking of an adequate sham treatment to match therapy xy and of other ways of firming up the evidence.
As LBP is not a disease but a symptom, the study does not aim to include patients that all are equal in all aspects of their condition. If some patients turn out to respond better than others, one can later check whether they have identifiable characteristics. Subsequently, one would need to do a trial to test whether the assumption is true.
Therapy xy is complex and needs to be tailored to the characteristics of each patient? That is not necessarily an unsolvable problem. Within limits, it is possible to allow each therapist the freedom to chose the approach he/she thinks is optimal. If the freedom needed is considerable, this might change the research question to something like 'IS THAT TYPE OF THERAPIST MORE EFFECTIVE THAN THOSE EMPLOYING USUAL CARE FOR CHRONIC LBP?'
My trial would obviously not answer all the open questions. Yet it would be a reasonable start for evaluating a therapy that has not yet been submitted to clinical trials. Subsequent trials could build on its results.
I am sure that I have forgotten lots of details. If they come up in discussion, I can try to incorporate them into the study design.
Withania somnifera, commonly known as Ashwagandha, is a plant belonging to the family of Solanaceae. It is widely used in Ayurvedic medicine. The plant is promoted as an immunomodulator, anti-inflammatory, anti-stress, anti-Parkinson, anti-Alzheimer, cardioprotective, neural and physical health enhancer, neuro-defensive, anti-diabetic, aphrodisiac, memory-boosting, and ant-cancer remedy. It contains diverse phytoconstituents including alkaloids, steroids, flavonoids, phenolics, nitrogen-containing compounds, and trace elements.
But how much of the hype is supported by evidence? Unsurprisingly, there is a shortage of good clinical trials. Yet, during the last few years, a surprising number of reviews of the accumulating evidence have emerged:
Impressed?
This certainly looks as though that this plant is worthy of further study. But I can never help feeling a bit skeptical when I hear of such a multitude of benefits without evidence for adverse effects (other than minor upset stomach, nausea, and drowsiness).
The use of so-called alternative medicine (SCAM) is common among cancer patients and it may reflect the individual and societal beliefs on cancer therapy. This paper aimed to evaluate the trends of CAM use among patients with cancer between 2006 and 2018.
The researchers included 2 Cohorts of patients with cancer seen at the Oncology Department at King Abdulaziz Medical City of Ministry of National Guard Health Affairs, Riyadh, KSA, who were recruited for Cohort 1 between 2006 and 2008 and for Cohort 2 between 2016 and 2018. The study is a cross-sectional study obtaining demographic and clinical information and inquiring about the types of SCAM used, the reasons to use them and the perceived benefits. The researchers compared the changes in the patterns of SCAM use and other variables between the two cohorts.
A total of 1416 patients were included in the study, with 464 patients in Cohort 1 and 952 patients in Cohort 2. Patients in Cohort 2 used less SCAM (78.9%) than Cohort 1 (96.8%). Cohort 1 was more likely to use SCAM to treat cancer compared to Cohort 2 (84.4% vs. 73%, respectively, p < 0.0001,); while Cohort 2 used SCAM for symptom management such as pain control and improving appetite among others. Disclosure of SCAM use did not change significantly over time and remains low (31.6% in Cohort 1 and 35.7% for Cohort 2). However, physicians were more likely to express an opposing opinion against SCAM the use in Cohort 2 compared to Cohort 1 (48.7% vs. 19.1%, p < 0.001, respectively).
The authors concluded that there is a significant change in SCAM use among cancer patients over the decade, which reflects major societal and cultural changes in this population. Further studies and interventions are needed to improve the disclosure to physicians and to improve other aspects of care to these patients.
I think that these are interesting findings. Should both patients and conventional healthcare professionally truly become more sceptical about SCAM? It would be good, in my view, but can we be sure?
The answer is NO!
Firstly, we would need data from other countries (SCAM use is known to show marked national differences). Secondly, we would require more up-to-date evidence. The present paper has suggested that, within one decade, SCAM use can change. Therefore, it is only reasonable to assume that it has changed again since 2016/18.
My hope is that progress continues. And by progress, I mean that those forms of SCAM that are demonstrably useful in palliative and supportive cancer care are employed wisely, while all the many bogus alternative cancer 'cures' are rapidly falling by the wayside.
Ever since I published a post about the irresponsible and aggressive advertising campaign of LYMA ("the world's 1st super-supplement"), I am pursued by them with emails informing me about the wonders of this supplement. Here is one I received recently:
Here at LYMA we are firm believers that optimal productivity depends on good quality sleep and your day is only as good as the previous night.
Suffering from bad sleep is debilitating whether it's ourselves or we're watching someone we love suffer, the search for good rest is something we're all united in.
Energy levels, positive mindset and strong cognitive function all come from sleep, which is why we spent so long formulating the LYMA supplement. Our patented KSM-66® Ashwagandha is the highest-quality, zero toxicity, concentrated Ashwagandha root in the world. The hefty combination of purity and potency make it unrivalled in its ability to reduce inflammation, neutralise anxiety and promote deep, restful sleep, night after night.
Thousands of customers have told us that after years of bad sleep, they're finally getting the rest they need and feeling transformed as a result. In fact, it's one of the very first benefits most people notice. We're happy to hear it.
And the knock-on effects of a good night's sleep in how we feel, how we perform and our overall health are far reaching. Which is why we are so delighted to welcome Michael Grandner, world-renowned sleep expert and Director of the Behavioural Sleep Medicine Clinic, Arizona to the LYMA team.
Michael is one of the most cited sleep experts in the world and has himself published over 175 articles on issues relating to sleep and health. We plan on tapping into every area of his expertise to understand our own sleep habits and how we can all become the best at rest.
To introduce Michael to the LYMA community we're hosting a seminar dedicated to understanding sleep on Tuesday 22nd June…
I was tempted to discard all this as rather pathetic advertising hype. But then I had second thoughts. This text does after all make several medical claims, and the question is: ARE THEY SUPPORTED BY EVIDENCE?
It claims that KSM-66® Ashwagandha:
is the highest-quality, zero toxicity, concentrated Ashwagandha root in the world.
That the hefty combination of purity and potency makes it unrivalled in its ability to reduce inflammation.
That the product neutralises anxiety.
That it promotes deep, restful sleep, night after night.
I ran a few searches to find out whether there is any sound evidence for any of these claims.
There seem to be several supplements that contain,KSM-66® Ashwagandha'. The impression that LYMA is the only one is thus wrong. Zero toxicity must also be wrong; not even water has zero toxicity. In fact, epigastric pain/discomfort and loose stools were reported as most common (>5%); and giddiness, drowsiness, hallucinogenic, vertigo, nasal congestion (rhinitis), cough, cold, decreased appetite, nausea, constipation, dry mouth, hyperactivity, nocturnal cramps, blurring of vision, hyperacidity, skin rash and weight gain have all been associated with the herbal remedy. Moreover, if it is true that Ashwagandha stimulates the immune system, it might cause problems for people with autoimmune diseases.
I found no compelling evidence from clinical trials to show that KSM-66® Ashwagandha reduces inflammatory conditions in humans.
I found a study concluding that Ashwagandha given as an adjunct offered some potential advantages as a safe and effective adjunctive therapy to SSRIs in GAD. Yet, I found no compelling evidence from clinical trials to show that KSM-66® Ashwagandha as a single supplement reduces anxiety in otherwise healthy individuals.
A 2021 study suggested that Ashwagandha root extract can improve sleep quality and can help in managing insomnia. Yet the authors cautioned that additional clinical trials are required to generalize the outcome.
So, what does that tell us?
It could mean that:
My searches were not sufficiently thorough and that I have missed compelling evidence. If so, I would appreciate, if the LYMA promoters would show me their evidence so that I can assess it.
The LYMA people are irresponsible and mislead the public with untenable claims.
I am looking forward to their response.
Post-traumatic stress disorder (PTSD), previously known as battle fatigue syndrome or shell shock, is a condition that can be triggered by the experience of some frightening event. PTSD can be debilitating leading to the production of feelings of helplessness, intense fear, and horror. Numerous treatments of PTSD exist but few have been shown to be truly effective. A team of Canadian researchers explored the effects of cannabis on PTSD symptoms, quality of life (QOL), and return to work (RTW). Their systematic review also investigated harms such as adverse effects and dropouts due to adverse effects, inefficacy, and all-cause dropout rates.
Their electronic searches located one RCT and 10 observational studies (n = 4672). Risk of bias (RoB) was assessed with the Cochrane risk of bias tool and ROBINS-I. Evidence from the included studies was mainly based on studies with no comparators. Results from unpooled, high RoB studies suggested that cannabis was associated with a reduction in overall PTSD symptoms and improved QOL. Dry mouth, headaches, and psychoactive effects such as agitation and euphoria were the most commonly reported adverse effects. In most studies, cannabis was well tolerated. A small proportion of patients experienced a worsening of PTSD symptoms.
The authors concluded that the evidence in the current study primarily stems from low quality and high RoB observational studies. Further RCTs investigating cannabis effects on PTSD treatment should be conducted with larger sample sizes and explore a broader range of patient-important outcomes.
Various drugs are currently used for the treatment of PTSD including selective serotonin reuptake inhibitors; tricyclic antidepressants (amitriptyline and isocarboxazid); mood stabilizers (Divalproex and lamotrigine); atypical antipsychotics (aripiprazole and quetiapine) but their effectiveness has not been proven. A recent systematic review included 30 RCTs of a range of heterogeneous non-psychological and non-pharmacological interventions. There was emerging evidence for 6 different approaches:
acupuncture,
neurofeedback,
saikokeishikankyoto (a herbal preparation),
somatic experiencing,
transcranial magnetic stimulation,
yoga.
This list makes me wonder: are these treatments, including cannabis, truly promising, or is PTSD one of those conditions for which nearly every treatment works a little because of its placebo effect?
This systematic review assessed the effects and reliability of sham procedures in manual therapy (MT) trials in the treatment of back pain (BP) in order to provide methodological guidance for clinical trial development.
Different databases were screened up to 20 August 2020. Randomized controlled trials involving adults affected by BP (cervical and lumbar), acute or chronic, were included. Hand contact sham treatment (ST) was compared with different MT (physiotherapy, chiropractic, osteopathy, massage, kinesiology, and reflexology) and to no treatment. Primary outcomes were BP improvement, the success of blinding, and adverse effects (AE). Secondary outcomes were the number of drop-outs. Dichotomous outcomes were analyzed using risk ratio (RR), continuous using mean difference (MD), 95% CIs. The minimal clinically important difference was 30 mm changes in pain score.
A total of 24 trials were included involving 2019 participants. Most of the trials were of chiropractic manipulation. Very low evidence quality suggests clinically insignificant pain improvement in favor of MT compared with ST (MD 3.86, 95% CI 3.29 to 4.43) and no differences between ST and no treatment (MD -5.84, 95% CI -20.46 to 8.78).ST reliability shows a high percentage of correct detection by participants (ranged from 46.7% to 83.5%), spinal manipulation is the most recognized technique. Low quality of evidence suggests that AE and drop-out rates were similar between ST and MT (RR AE=0.84, 95% CI 0.55 to 1.28, RR drop-outs=0.98, 95% CI 0.77 to 1.25). A similar drop-out rate was reported for no treatment (RR=0.82, 95% 0.43 to 1.55).
The authors concluded that MT does not seem to have clinically relevant effect compared with ST. Similar effects were found with no treatment. The heterogeneousness of sham MT studies and the very low quality of evidence render uncertain these review findings. Future trials should develop reliable kinds of ST, similar to active treatment, to ensure participant blinding and to guarantee a proper sample size for the reliable detection of clinically meaningful treatment effects.
The optimal therapy for back pain does not exist or has not yet been identified; there are dozens of different approaches but none has been found to be truly and dramatically effective. Manual therapies like chiropractic and osteopathy are often used, and some data suggest that they are as good (or as bad) as most other options. This review confirms what we have discussed many times previously (e.g. here), namely that the small positive effect of MT, or specifically spinal manipulation, is largely due to placebo.
Considering this information, what is the best treatment for back pain sufferers? The answer seems obvious: it is a therapy that is as (in)effective as all the others but causes the least harm or expense. In other words, it is not chiropractic nor osteopathy but exercise.
My conclusion:
avoid therapists who use spinal manipulation for back pain.