panacea
Thread embedding acupuncture therapy (TEAT) involves the insertion of thread at specific points on the body surface. The claim is that TEAT provides a sustained stimulation of acupoints and is therefore superior to needle acupuncture. Initially, TEAT was used in China to treat obesity, today it is employed to treat many conditions, including musculoskeletal conditions such as ankle sprain, shoulder pain, lumbar intervertebral disc herniation, and plantar fasciitis. Its effectiveness is, however, doubtful and so is its safety.
This review evaluated the safety of thread embedding acupuncture therapy (TEAT) and discuss the prevention and treatment of some adverse events (AEs).
Databases, including China National Knowledge Infrastructure (CNKI), CBMdisc, Wanfang, VIP databases and PubMed, MEDLINE, EMBASE, and Web of Science, were searched from their inception to January 2020. Included were randomized controlled trials (RCTs) and case reports in which AEs with TEAT were reported. Cochrane Collaboration's tool and RevMan V.5.3.3 software were used to evaluate the quality of the studies.
A total of 61 articles (45 RCTs and 16 case reports) with a total of 620 cases of AEs were included in this review. These studies were published in two countries: China and South Korea. Twenty-eight kinds of AEs were noted. The most common AEs were induration, bleeding and ecchymosis, redness and swelling, fever, and pain. They accounted for 75.35% of all AEs.  Most AEs were mild.; The rarest AEs were epilepsy, irregular menstruation, skin ulcer, thread malabsorption, and fat liquefaction, with 1 case each. Not all of them had a clear causal relationship with TEAT. Most of the AEs were local reactions and systemic reactions accounted for only 1.27%. Although the included studies showed that AEs were very commonly encountered (11.09%), only 5 cases of severe AEs reported from 2013 to 2017 (0.1%) by using catgut thread, which is rarely employed nowadays with new absorbable surgical suture being more popular. All of the patients with severe AEs were recovered after symptomatic treatment with no sequelae.
The authors concluded that the evidence showed that TEAT is a relatively safe and convenient therapy especially since application of new absorbable surgical suture. Improving practitioner skills, regulating operations, and paying attention to the patients' conditions may reduce the incidence of AEs and improve safety of TEAT.
TEAT was initially used in China only but recently it has become popular elsewhere as well. Therefore the question about its risks has become relevant. The present paper is interesting in that it demonstrates that AEs do occur with some regularity. The authors' conclusion that TEAT is "relatively safe" is, however, not justified because:
the total sample size was not large enough for a generalizable conclusion;
only RCTs and case reports were included, whereas case series and case-control studies (which would provide more relevant data) were excluded or might not even exist;
RCTs of acupuncture often fail to mention or under-report AEs;
acupuncture papers from China are notoriously unreliable.
So, all we can conclude from the evidence presented here is that AEs after TEAT do occur and do not seem to be all that rare. As the efficacy of TEAT has not been shown beyond doubt, this must inevitably lead to the conclusion that the risk-benefit balance of TEAT is not positive. In turn, that means that TEAT cannot be recommended as a treatment for any condition.
Yesterday, someone posted a disparaging comment about Indian research into homeopathy; he claimed that it was unreliable. I agreed, but later I thought 'HOW ARROGANT OF ME!'. So, I decided to do a little research – actually, it turned out to be a little more than just 'a little'.
I searched Medline for 'homeopathy, study, India'. This resulted in 101 hits. Of these 101 articles, 31 contained data published by Indian authors providing evidence at least vaguely related to the effectiveness of homeopathy. I decided to include these in my analysis. Below I quote first the title of each paper followed by (in brackets) the sentence from the 31 abstracts that best describes the direction of the results.
Multimorbidity After Surgical Menopause Treated with Individualized Classical Homeopathy: A Case Report (She was treated with individualized classical homeopathy and followed up for 31 months. She was relieved of the vasomotor symptoms and psychological disturbances of climacteric syndrome, her weight reduced, the ultrasound scan showed absence of lipomatosis/gall bladder disease/hepatic steatosis. Blood tests showed reduction of thyroid stimulating hormone and a balance in the lipid status. Individualized classical homeopathy may have a role in the climacteric syndrome and comorbidities after surgical menopause.)
Therapeutic evaluation of homeopathic treatment for canine oral papillomatosis (The current study proves that the combination of homeopathy drugs aids in fastening the regression of canine oral papilloma and proved to be safe and cost-effective.)
Deep vein thrombosis cured by homeopathy: A case report (The present case report intends to record yet another case of DVT in an old patient totally cured exclusively by the non-invasive method of treatment with micro doses of potentized homeopathic drugs selected on the basis of the totality of symptoms and individualization of the case.)
Diabetic retinopathy screening uptake after health education with or without retinal imaging within the facility in two AYUSH hospitals in Hyderabad, India: A nonrandomized pilot study (AYUSH hospitals could provide a feasible and acceptable location for providing DR screening services.)
Individualised Homeopathic Therapy in ANCA Negative Rapidly Progressive Necrotising Crescentic Glomerulonephritis with Severe Renal Insufficiency – A Case Report (A 60-year-old Indian woman was treated with classical homeopathy for ANCA-negative RPGN, and after one year of treatment, serum creatinine and other parameters indicating renal injury dropped steadily despite the withdrawal of immunosuppressive drugs; renal dialysis, which was conducted twice a week initially, was made rarer and stopped after one year. Classical homeopathy may be considered a potential therapeutic modality in severe pathologies.)
Improvements in long standing cardiac pathologies by individualized homeopathic remedies: A case series (… individualized homeopathic therapy was instituted along with the conventional medicines and the results were encouraging. The changes in the laboratory diagnostic parameters (single-photon emission computed tomography, electrocardiograph, echocardiography and ejection fraction as the case may be) are demonstrated over time. The key result seen in all three cases was the preservation of general well-being while the haemodynamic states also improved.)
Could Homeopathy Become An Alternative Therapy In Dengue Fever? An example Of 10 Case Studies (We present a retrospective case series of 10 Indian patients who were diagnosed with dengue fever and treated exclusively with homeopathic remedies at Bangalore, India. This case series demonstrates with evidence of laboratory reports that even when the platelets dropped considerably there was good result without resorting to any other means.)
Homeopathic Treatment of Vitiligo: A Report of Fourteen Cases (In 14 patients with vitiligo treated with individualized homeopathy, the best results were achieved in the patients who were treated in the early stages of the disease. We believe that homeopathy may be effective in the early stages of vitiligo, but large controlled clinical studies are needed in this area.)
An Exploratory Study of Autonomic Function Investigations in Hemophiliacs on Homoeopathy Medications Using Impedance Plethysmography (Homoeopathic medicines used as an adjunct was associated with decrease in parasympathetic modulations.)
Embryonic Zebrafish Model – A Well-Established Method for Rapidly Assessing the Toxicity of Homeopathic Drugs: – Toxicity Evaluation of Homeopathic Drugs Using Zebrafish Embryo Model (Our findings clearly demonstrate that no toxic effects were observed for these three homeopathic drugs at the potencies and exposure times used in this study. The embryonic zebrafish model is recommended as a well-established method for rapidly assessing the toxicity of homeopathic drugs.)
Treatment of hemorrhoids with individualized homeopathy: An open observational pilot study (Under classical homeopathic treatment, hemorrhoids patients improved considerably in symptoms severity and anoscopic scores. However, being observational trial, our study cannot provide efficacy data. Controlled studies are required.)
Patients' preference for integrating homeopathy (PPIH) within the standard therapy settings in West Bengal, India: The part 1 (PPIH-1) study (A favorable attitude toward integrating homeopathy into conventional healthcare settings was obtained among the patients attending the homeopathic hospitals in West Bengal, India.)
Patients' Preference for Integrating Homoeopathy Services within the Secondary Health Care Settings in India: The Part 3 (PPIH-3) Study (A total of 82.40% (95% confidence interval = 79.23, 85.19) of the participants were in favor of integrating homoeopathy services.)
Obstetrics and gynecology outpatient scenario of an Indian homeopathic hospital: A prospective, research-targeted study (The most frequently treated conditions were leucorrhea (20.5%), irregular menses (13.3%), dysmenorrhea (10%), menorrhagia (7.5%), and hypomenorrhea (6.3%). Strongly positive outcomes (+3/+2) were mostly recorded in oligomenorrhea (41.7%), leucorrhea (34.1%), polycystic ovary (33.3%), dysmenorrhea (28%), and irregular menses (22.2%). Individualized prescriptions predominated (95.6%).)
Relative Apoptosis-inducing Potential of Homeopa-thic Condurango 6C and 30C in H460 Lung Cancer Cells In vitro: -Apoptosis-induction by homeopathic Condurango in H460 cells (Condurango 30C had greater apoptotic effect than Condurango 6C as claimed in the homeopathic doctrine.)
Beliefs, attitudes and self-use of Ayurveda, Yoga and Naturopathy, Unani, Siddha, and Homeopathy medicines among senior pharmacy students: An exploratory insight from Andhra Pradesh, India (Pharmacy students held favorable attitude and beliefs about AYUSH use.)
Integrative nanomedicine: treating cancer with nanoscale natural products (Taken together, the nanoparticulate research data and the Banerji Protocols for homeopathic remedies in cancer suggest a way forward for generating advances in cancer treatment with natural product-derived nanomedicines.)
Evidence of an Epigenetic Modification in Cell-cycle Arrest Caused by the Use of Ultra-highly-diluted Gonolobus Condurango Extract (Condurango 30C appeared to trigger key epigenetic events of gene modulation in effectively combating cancer cells, which the placebo was unable to do.)
Calcarea carbonica induces apoptosis in cancer cells in p53-dependent manner via an immuno-modulatory circuit (Our results indicated a "two-step" mechanism of the induction of apoptosis in tumor cells by calcarea carbonica)
Post-cancer Treatment with Condurango 30C Shows Amelioration of Benzo[a]pyrene-induced Lung Cancer in Rats Through the Molecular Pathway of Caspa- se-3-mediated Apoptosis Induction: -Anti-lung cancer potential of Condurango 30C in rats (The overall result validated a positive effect of Condurango 30C in ameliorating lung cancer through caspase-3-mediated apoptosis induction and EGFR down-regulation.)
The potentized homeopathic drug, Lycopodium clavatum (5C and 15C) has anti-cancer effect on hela cells in vitro (Thus, the highly-diluted, dynamized homeopathic remedies LC-5C and LC-15C demonstrated their capabilities to induce apoptosis in cancer cells, signifying their possible use as supportive medicines in cancer therapy.)
Ameliorating effect of mother tincture of Syzygium jambolanum on carbohydrate and lipid metabolic disorders in streptozotocin-induced diabetic rat: Homeopathic remedy (The result of the present study indicated that the homeopathic drug S jambolanum (mother tincture) has a protective effect on diabetic induced carbohydrate and lipid metabolic disorders in STZ-induced diabetic animal.)
SEM studies on blood cells of Plasmodium berghei infected Balb/c mice treated with artesunate and homeopathic medicine China (The combination of artesunate and China was found to be very effective and did not cause any alteration on the surface of blood cells as observed in SEM.)
Induction of apoptosis of tumor cells by some potentiated homeopathic drugs: implications on mechanism of action (These data indicate that apoptosis is one of the mechanisms of tumor reduction of homeopathic drugs.)
TDZ-induced high frequency shoot regeneration in Cassia sophera Linn. via cotyledonary node explants (Regenerated plantlets were successfully acclimatized and hardened off inside the culture room and then transferred to green house with 100 % survival rate.)
Modulation of Signal Proteins: A Plausible Mechanism to Explain How a Potentized Drug Secale Cor 30C Diluted beyond Avogadro's Limit Combats Skin Papilloma in Mice (We tested the hypothesis if suitable modulations of signal proteins could be one of the possible pathways of action of a highly diluted homeopathic drug, Secale cornutum 30C (diluted 10(60) times; Sec cor 30). It could successfully combat DMBA + croton oil-induced skin papilloma in mice as evidenced by histological, cytogenetical, immunofluorescence, ELISA and immunoblot findings.)
Can homeopathy bring additional benefits to thalassemic patients on hydroxyurea therapy? Encouraging results of a preliminary study (The homeopathic remedies being inexpensive and without any known side-effects seem to have great potentials in bringing additional benefits to thalassemic patients; particularly in the developing world where blood transfusions suffer from inadequate screening and fall short of the stringent safety standards followed in the developed countries.)
Effect of homeopathic medicines on transplanted tumors in mice (These findings support that homeopathic preparations of Ruta and Hydrastis have significant antitumour activity. The mechanism of action of these medicines is not known at present.)
Inhibition of chemically induced carcinogenesis by drugs used in homeopathic medicine (These studies demonstrate that homeopathic drugs, at ultra low doses, may be able to decrease tumor induction by carcinogen administration.)
Can homeopathic treatment slow prostate cancer growth? (The findings indicate that selected homeopathic remedies for the present study have no direct cellular anticancer effects but appear to significantly slow the progression of cancer and reduce cancer incidence and mortality in Copenhagen rats injected with MAT-LyLu prostate cancer cells.)
Ameliorating effect of microdoses of a potentized homeopathic drug, Arsenicum Album, on arsenic-induced toxicity in mice (The results lend further support to our earlier views that microdoses of potentized Arsenicum Album are capable of combating arsenic intoxication in mice, and thus are strong candidates for possible use in human subjects in arsenic contaminated areas under medical supervision.)
So, 31 of 31 yield positive results and conclusions – 100%!
When I suggested that Indian research into homeopathy is suspect, I was merely speculating on the basis of reading such papers for many years. I had not seen a systematic analysis to justify my harsh judgment; in fact, I don't think that such a review is currently available (which would make this post the first of its kind). I had no idea how true my seemingly disrespectful remark would turn out to be. There is not one paper from India that does not suggest positive findings for homeopathy. I find this truly remarkable!
You can, of course, interpret my findings in two very different ways:
Either you assume that homeopathy is hugely effective and works always and for everything under every experimental condition.
Or you conclude that Indian research into homeopathy is suspect and far from trustworthy.
If you believe the first option to be true, I fear that you must be as deluded as homeopathic remedies are diluted.
Hesperidin is a flavonoid found in citrus fruits, especially orange and grapefruit. It is said to have antioxidant and anti-inflammatory effects. Research into hesperidin began in the 1940s but only recently interest turned buoyant, and all sorts of benefits have been suggested. Here are just three recent clinical studies:
This study investigated the effects of chronic intake of an orange extract (2S-hesperidin) or placebo on non-oxidative/glycolytic and oxidative metabolism markers and performance markers in amateur cyclists. A double-blind, randomized, placebo-controlled trial was carried out between late September and December 2018. Forty amateur cyclists were randomized into two groups: one taking 500 mg/day 2S-hesperidin and the other taking 500 mg/day placebo (microcellulose) for eight weeks. All participants completed the study. An incremental test was used to evaluate performance, and a step test was used to measure oxygen consumption, carbon dioxide, efficiency and oxidation of carbohydrates and fat by indirect calorimetry. The anaerobic power (non-oxidative) was determined using Wingate tests (30 s). After eight weeks supplementation, there was an increase in the incremental test in estimated functional threshold power (FTP) (3.2%; p ≤ 0.05) and maximum power (2.7%; p ≤ 0.05) with 2S-hesperdin compared to placebo. In the step test, there was a decrease in VO2 (L/min) (-8.3%; p ≤ 0.01) and VO2R (mL/kg/min) (-8.9%; p ≤ 0.01) at VT2 in placebo. However, there were no differences between groups. In the Wingate test, there was a significant increase (p ≤ 0.05) in peak and relative power in both groups, but without differences between groups. Supplementation with an orange extract (2S-hesperdin) 500 mg/day improves estimated FTP and maximum power performance in amateur cyclists.
In this clinical trial with a parallel-group design, 49 patients with MetS received either 500-mg hesperidin or placebo, twice daily, for 12 weeks. Number of participants with treated MetS was considered as a primary end point. Anthropometric parameters, dietary intake, physical activity, lipid profile, glucose homeostasis parameter, tumor necrosis factor alpha (TNF-α), high-sensitivity C-reactive protein (hs-CRP) were assessed at the beginning and at the end of the study. Compared with the placebo group, hesperidin decreased fasting glucose level (- 6.07 vs. – 13.32 mg/dL, P = 0.043), triglyceride (- 8.83 vs. – 49.09 mg/dL, P = 0.049), systolic blood pressure (- 0.58 vs. – 2.68 mmHg, P = 0.048) and TNF-α (- 1.29 vs. – 4.44 pg/mL, P = 0.009). Based on the within-group analysis, hesperidin led to significant decrease in serum levels of glucose, insulin, triglyceride, total cholesterol, low density lipoprotein cholesterol, TNF-α and hs-CRP, while in control group only glucose and insulin significantly decreased. The results indicate that hesperidin supplementation can improve metabolic abnormalities and inflammatory status in patients with MetS.
In this study, 64 patients were randomly allocated to receive 500 mg/day hesperidin or placebo capsules for 6 weeks. Data on systolic blood pressure (SBP), diastolic blood pressure, serum total antioxidant capacity (TAC), tumor necrosis factor alpha, interleukin 6 (IL-6), and high-sensitivity C-reactive protein (hs-CRP) were collected at the baseline and at the end of the study. In the hesperidin group, SBP (122.7 ± 8.5 vs. 119.0 ± 7.4; p = .005), mean arterial blood pressure (94.2 ± 5.5 vs. 91.8 ± 5.5; p = .009), IL-6 (8.3 ± 2.1 vs. 7.4 ± 1.8; p = .001), and hs-CRP (1.9 ± 1.2 vs. 1.1 ± 0.9; p < .000) decreased whereas TAC increased (0.74 ± 0.1 vs. 0.82 ± 0.1; p < .000) in comparison to the baseline values. There was a significant difference in mean percent change of SBP, diastolic blood pressure, mean arterial blood pressure, serum TAC, and inflammatory markers (tumor necrosis factor alpha, IL-6, and hs-CRP) between hesperidin and control groups following intervention in adjusted models (p < .05). These results suggest that hesperidin may have antihypertensive and anti-inflammatory effects in type 2 diabetes.
The latest suggestion for Hesperidin is – how could be be otherwise? – that it helps against COVID-19: Hesperidin can block coronavirus from entering host cells through ACE2 receptors which can prevent the infection. Anti-viral activity of hesperidin might constitute a treatment option for COVID-19 through improving host cellular immunity against infection and its good anti-inflammatory activity may help in controlling cytokine storm. Hesperidin mixture with diosmin co-administrated with heparin protect against venous thromboembolism which may prevent disease progression. Based on that, hesperidin might be used as a meaningful prophylactic agent and a promising adjuvant treatment option against SARS-CoV-2 infection.
According to one source, Hesperidin can cause several problems:
abdominal pain,
diarrhea,
contact dermatitis,
nausea,
interactions with medications (including anticoagulants, blood pressure drugs, and calcium channel blockers),
increased risk of bleeding.
No doubt, Hesperidin is an interesting substance. Yet, I feel that much more research is needed until we can be reasonably sure that it is clinically effective for any condition, particularly COVID-19.
Misinformation by chiropractors is unfortunately nothing new and has been discussed ad nauseam on this blog. It is tempting to ask whether chiropractors have lost (or more likely never had) the ability to ditinguish real information from misinformation or substantiated from unsubstantiated claims. During the pandemic, the phenomenon of chiropractic misinformation has become even more embarrassingly obvious, as this new article highlights.
Chiropractors made statements on social media claiming that chiropractic treatment can prevent or impact COVID-19. The rationale for these claims is that spinal manipulation can impact the nervous system and thus improve immunity. These beliefs often stem from nineteenth-century chiropractic concepts. The authors of the paper are aware of no clinically relevant scientific evidence to support such statements.
The investigators explored the internet and social media to collect examples of misinformation from Europe, North America, Australia and New Zealand regarding the impact of chiropractic treatment on immune function. They discussed the potential harm resulting from these claims and explore the role of chiropractors, teaching institutions, accrediting agencies, and legislative bodies.
The authors conclude as follows: In this search of public media in Europe, North America, New Zealand, and Australia, we discovered many cases of misinformation. Claims of chiropractic treatment improving immunity conflict with the advice from authorities and the scientific consensus. The science referenced by these claims is missing, flawed or has no clinical relevance. Consequently, their claims about clinical effectiveness are spurious at best and misleading at worst. However, our examples cannot be used to make statements about the magnitude of the problem among practitioners as our samples were not intended to be representative. For that reason, we also did not include an analysis of the arguments provided in the various postings. In view of the seriousness of the topic, it would be relevant to conduct a systematic study on a representative sample of public statements, to better understand these issues. Our search illustrates the possible danger to public health of misinformation posted on social media and the internet. This situation provides an opportunity for growth and maturation for the chiropractic profession. We hope that individual chiropractors will reflect on and improve their communication and practices. Further, we hope that the chiropractic teaching institutions, regulators, and professional organisations will always demonstrate responsible leadership in their respective domains by acting to ensure that all chiropractors understand and uphold their fiduciary duties.
Several previous papers have found similar things, e.g.: Twitter activity about SMT and immunity increased during the COVID-19 crisis. Results from this work have the potential to help policy makers and others understand the impact of SMT misinformation and devise strategies to mitigate its impact.
The pandemic has crystallised the embarrassment about chiropractic false claims. Yet, the phenomenon of chiropractors misleading the public has long been known and arguably is even more important when it relates to matters other than COVID-19. Ten years ago, we published this paper:
Background: Some chiropractors and their associations claim that chiropractic is effective for conditions that lack sound supporting evidence or scientific rationale. This study therefore sought to determine the frequency of World Wide Web claims of chiropractors and their associations to treat, asthma, headache/migraine, infant colic, colic, ear infection/earache/otitis media, neck pain, whiplash (not supported by sound evidence), and lower back pain (supported by some evidence).
Methods: A review of 200 chiropractor websites and 9 chiropractic associations' World Wide Web claims in Australia, Canada, New Zealand, the United Kingdom, and the United States was conducted between 1 October 2008 and 26 November 2008. The outcome measure was claims (either direct or indirect) regarding the eight reviewed conditions, made in the context of chiropractic treatment.
Results: We found evidence that 190 (95%) chiropractor websites made unsubstantiated claims regarding at least one of the conditions. When colic and infant colic data were collapsed into one heading, there was evidence that 76 (38%) chiropractor websites made unsubstantiated claims about all the conditions not supported by sound evidence. Fifty-six (28%) websites and 4 of the 9 (44%) associations made claims about lower back pain, whereas 179 (90%) websites and all 9 associations made unsubstantiated claims about headache/migraine. Unsubstantiated claims were made about asthma, ear infection/earache/otitis media, neck pain,
Conclusions: The majority of chiropractors and their associations in the English-speaking world seem to make therapeutic claims that are not supported by sound evidence, whilst only 28% of chiropractor websites promote lower back pain, which is supported by some evidence. We suggest the ubiquity of the unsubstantiated claims constitutes an ethical and public health issue.
It makes it clear that the misleading information of chiropractors is a serious problem. And I find it disappointing to see that so little has been done about it, and that progress seems so ellusive.
This, of course, begs the question, where does all this misinformation come from? The authors of the new paper stated that beliefs often stem from nineteenth-century chiropractic concepts. This, I believe, is very true and it gives us an important clue. It suggests that, because it is good for business, chiro schools are still steeped in obsolete notions of pseudo- and anti-science. Thus, year after year, they seem to churn out new generations of naively willing victims of the Dunning Kruger effect.
We have often heard it said on this blog and elsewhere that chiropractors are making great strides towards reforming themselves and becoming an evidence-based profession. In view of the data cited above, this does not ring all that true, I am afraid. Is the picture that emerges not one of a profession deeply embroiled in BS with but a few fighting a lost battle to clean up the act?
Guest post by Ken McLeod
'Ayurvedic Medicine,' or Ayurveda, is an alternative medicine system which originated in India as long as 5,000 years ago, according to its proponents.  Science-based medicine refers to it  as pseudoscientific and the Indian Medical Association (IMA) characterises  it as quackery. [1] Ayurvedic practitioners claim that its popularity through the ages vindicates it as safe and effective.
That last bit is of course the appeal to antiquity, or the appeal to tradition (also known as argumentum ad antiquitatem. [2] This proposes that if something was supported by people for a long time it must be valid.   That is bunkum; many ancient ideas have long since been discredited; the Earth is not flat, no matter for how long people thought it was.
Nevertheless, 'Ayurvedic Medicine' has many practitioners and supporters in the supposedly rational West, including Bondi Junction here in Australia.  Despite the many warnings about it, [3] people still go to practitioners, and occasionally they are injured.
One such injury and the consequent complaint to the New South Wales regulator, the Health Care Complaints Commission, (HCCC), has resulted in a Public Warning dated 18 September concerning levels of heavy metals in Ayurvedic Medication.  [4]
The HCCC said:
'The NSW Health Care Complaints Commission is concerned about a complaint received regarding the prescription of "Manasamithra Vatika," (Manasamitram Pills) an Ayurvedic medication.
'The complaint related to prescription of this medication to a child for treatment of autism.
'This medication was found to contain concerning levels of lead and other heavy metals.'
That's all very bland, no headlines there.  But then it got into:
"The Commission strongly urges those individuals seeking alternative therapies to be vigilant in their research prior to proceeding with any natural therapy medications or medicines and to discuss any such proposed therapies with their treating registered health practitioner."
Not so bland there; that's very comprehensive; 'any natural therapy medications or medicines' and 'discuss any such proposed therapies with their treating registered health practitioner." 'Note the HCCC's emphasis on "registered."  That rules out Ayurvedic Medicine practitioners, homeopaths, and other assorted cranks; go to a real doctor.
Surely that is headline material; a regulator responsible for promoting the health of citizens warns them to go to real doctors before going to these quacks.
Then it gets better, (or worse if you are an Ayurvedic Medicine practitioner).  At the same time the HCCC issued an Interim Prohibition Order against Mr Rama Prasad ("Ayurveda Doctor Rama Prasad.") [5] The HCCC's Order says:
'The NSW Health Care Complaints Commission ("the Commission") is currently investigating Mr Rama Prasad in relation to his prescribing of the Ayurvedic Medication "Manasamithra Vatika" (Manasamitram Pills) to both children and adults and about his claims that his treatments can reverse several aspects of autism in children.
'The Ayurvedic Medication "Manasmithra Vatika" (Manasamitram Pills) was found to contain elevated levels of lead and other heavy metals.
'One case with mildly elevated blood level was notified to the South Eastern Sydney Public Health Unit after consuming this product.
'Clients residing in NSW who are considered to have been placed at possible risk have now been contacted by NSW Health public health personnel.
'The Commission has issued an interim prohibition order in relation to Mr Rama Prasad, under section 41AA of the Health Care Complaints Act 1993 ('The Act'). Mr Prasad is currently prohibited from providing any health services, either in paid employment or voluntarily, to any member of the public.
'This interim prohibition order will remain in force for a period of eight weeks and may be renewed where appropriate in order to protect the health or safety of the public.'
That should send chills down the spine of any Ayurvedic Medicine practitioner.  A complete Prohibition Order ordering Prasad not to engage in providing any health service as defined in the Act  [6] for eight weeks, which may be renewed or even made permanent, depending on what the investigation finds.  The Act includes a comprehensive list of activities that comprise a 'health service':
'health service includes the following services, whether provided as public or private services:
(a)  medical, hospital, nursing and midwifery services,
(b)  dental services,
(c)  mental health services,
(d)  pharmaceutical services,
(e)  ambulance services,
(f)  community health services,
(g)  health education services,
(h)  welfare services necessary to implement any services referred to in paragraphs (a)–(g),
(i)  services provided in connection with Aboriginal and Torres Strait Islander health practices and medical radiation practices,
(j)  Chinese medicine, chiropractic, occupational therapy, optometry, osteopathy, physiotherapy, podiatry and psychology services,
(j1)  optical dispensing, dietitian, massage therapy, naturopathy, acupuncture, speech therapy, audiology and audiometry services,
(k)  services provided in other alternative health care fields,
(k1)  forensic pathology services,'
Note the inclusion of 'health education.'  This is where so many cranks fall foul of the law;  setting yourself up as a health educator makes you subject to the Act.   Even if you claim to be a master chef, homeopath or Ayurvedic Medicine Practitioner, you are not exempt.
It's early days yet in this particular saga, and there are many questions to be answered, for example:
– How did this "medicine" get past Australia's Therapeutic Goods Administration, (Australia's equivalent to the US FDA)?
– Did the TGA list or register it?
– If not why not? If it was who is responsible?
– Was this detected only after a child was so sickened that they were taken to hospital?
– Why is the practitioner concerned still advertising his Ayurvedic medicine courses? [7]  Is this a breach of his Prohibition Order which prohibits 'health education services'?'
So stay tuned for updates as this case progresses.  In the meantime note that an Australian Health regulator is advising the public to seek advice from real doctors before going to alternative therapists, including 'Ayurvedic Medicine' practitioners.  That is a real headline.
[1] https://en.wikipedia.org/wiki/Ayurveda
[2] https://en.wikipedia.org/wiki/Appeal_to_tradition
[3] Such as from the Victoria Dept of Health at https://www.betterhealth.vic.gov.au/health/conditionsandtreatments/ayurveda
[4] https://www.hccc.nsw.gov.au/decisions-orders/public-statements-and-warnings/public-warning-under-s94a-of-the-health-care-complaints-act-concerning-levels-of-heavy-metals-in-ayurvedic-medication
[5] https://www.hccc.nsw.gov.au/decisions-orders/media-releases/2020/mr-rama-prasad-ayurveda-doctor-rama-prasad-interim-prohibition-order
[6] Health Care Complaints Act 1993 https://www.legislation.nsw.gov.au/view/html/inforce/current/act-1993-105
[7] https://www.enlightenedevents.com.au/events/certificate-in-clinical-ayurveda-dr-rama-prasad
My new book has just been published. Allow me to try and whet your appetite by showing you the book's introduction: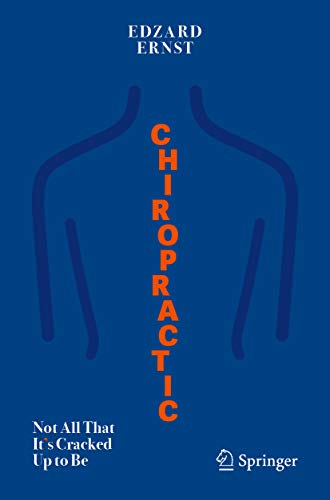 "There is no alternative medicine. There is only scientifically proven, evidence-based medicine supported by solid data or unproven medicine, for which scientific evidence is lacking." These words of Fontanarosa and Lundberg were published 22 years ago.[1] Today, they are as relevant as ever, particularly to the type of healthcare I often call 'so-called alternative medicine' (SCAM)[2], and they certainly are relevant to chiropractic.
Invented more than 120 years ago by the magnetic healer DD Palmer, chiropractic has had a colourful history. It has now grown into one of the most popular of all SCAMs. Its general acceptance might give the impression that chiropractic, the art of adjusting by hand all subluxations of the three hundred articulations of the human skeletal frame[3], is solidly based on evidence. It is therefore easy to forget that a plethora of fundamental questions about chiropractic remain unanswered.
I wrote this book because I feel that the amount of misinformation on chiropractic is scandalous and demands a critical evaluation of the evidence. The book deals with many questions that consumers often ask:
How well-established is chiropractic?
What treatments do chiropractors use?
What conditions do they treat?
What claims do they make?
Are their assumptions reasonable?
Are chiropractic spinal manipulations effective?
Are these manipulations safe?
Do chiropractors behave professionally and ethically?
Am I up to this task, and can you trust my assessments? These are justified questions; let me try to answer them by giving you a brief summary of my professional background.
I grew up in Germany where SCAM is hugely popular. I studied medicine and, as a young doctor, was enthusiastic about SCAM. After several years in basic research, I returned to clinical medicine, became professor of rehabilitation medicine first in Hanover, Germany, and then in Vienna, Austria. In 1993, I was appointed as Chair in Complementary Medicine at the University of Exeter. In this capacity, I built up a multidisciplinary team of scientists conducting research into all sorts of SCAM with one focus on chiropractic. I retired in 2012 and am now an emeritus professor. I have published many peer-reviewed articles on the subject, and I have no conflicts of interest. If my long career has taught me anything, it is this: in the best interest of consumers and patients, we must insist on sound evidence; not opinion, not wishful thinking; evidence.
In critically assessing the issues related to chiropractic, I am guided by the most reliable and up-to-date scientific evidence. The conclusions I reach often suggest that chiropractic is not what it is often cracked up to be. Hundreds of books have been published that disagree. If you are in doubt who to trust, the promoter or the critic of chiropractic, I suggest you ask yourself a simple question: who is more likely to provide impartial information, the chiropractor who makes a living by his trade, or the academic who has researched the subject for the last 30 years?
This book offers an easy to understand, concise and dependable evaluation of chiropractic. It enables you to make up your own mind. I want you to take therapeutic decisions that are reasonable and based on solid evidence. My book should empower you to do just that.
[1] https://pubmed.ncbi.nlm.nih.gov/9820267
[2] https://www.amazon.co.uk/SCAM-So-Called-Alternative-Medicine-Societas/dp/1845409701/ref=pd_rhf_dp_p_img_2?_encoding=UTF8&psc=1&refRID=449PJJDXNTY60Y418S5J
[3] https://www.amazon.co.uk/Text-Book-Philosophy-Chiropractic-Chiropractors-Adjuster/dp/1635617243/ref=sr_1_1?keywords=DD+Palmer&qid=1581002156&sr=8-1
Acupressure is the stimulation of specific points, called acupoints, on the body surface by pressure for therapeutic purposes. The required pressure can be applied manually of by a range of devices. Acupressure is based on the same tradition and assumptions as acupuncture. Like acupuncture, it is often promoted as a panacea, a 'cure-all'.
Several systematic reviews of the clinical trials of acupressure have been published. An overview published in 2010 included 9 such papers and concluded that the effectiveness of this treatment has not been conclusively demonstrated for any condition.
But since 2010, more trials have become available.
Do they change the overall picture?
The objective of this study was to test the efficacy of acupressure on patient-reported postoperative recovery. The researchers conducted a single centre, three-group, blind, randomised controlled, pragmatic trial assessing acupressure therapy on the PC6, LI4 and HT7 acupoints. Postoperative patients expected to stay in hospital at least 2 days after surgery were included and randomised to three groups:
In the acupressure group, pressure was applied for 6 min (2 min per acupoint), three times a day after surgery for a maximum of 2 postoperative days during the hospital stay.
In the sham group, extremely light touch was applied to the acupoints.
The third group did not receive any such intervention.
All patients also received the normal postoperative treatments.
The primary outcome was the change in the quality of recovery (QoR), using the QoR-15 questionnaire, between postoperative days 1 and 3. Key secondary outcomes included patients' satisfaction, postoperative nausea and vomiting, pain score and opioid (morphine equivalent) consumption. Assessors for the primary and secondary endpoints were blind to the group allocation.
A total of 163 patients were randomised (acupressure n=55, sham n=53, no intervention n=55). The mean (SD) postoperative change in QoR-15 did not differ statistically (P = 0.27) between the acupressure, sham and no intervention groups: 15.2 (17.8), 14.2 (21.9), 9.2 (21.7), respectively. Patient satisfaction (on a 0 to 10 scale) was statistically different (P = 0.01) among these three groups: 9.1 (1.5), 8.4 (1.6) and 8.2 (2.2), respectively. Changes in pain score and morphine equivalent consumption were not significantly different between the groups.
The authors concluded that two days of postoperative acupressure therapy (up to six treatments) did not significantly improve patient QoR, postoperative nausea and vomiting, pain score or opioid consumption. Acupressure, however, was associated with improved patient satisfaction.
This study is a good example to show why it is so difficult (or even impossible) to use a clinical trial for demonstrating the ineffectiveness of a therapy for any given condition. The above trial fails to show that acupressure had a positive effect on the primary outcome measure. Acupressure fans will, however, claim that:
there was a positive effect on patient satisfaction,
the treatment was too intense/long,
the treatment was not intense/long enough,
the wrong points were used,
the sample size was too small,
the patients were too ill,
the patients were not ill enough,
etc., etc.
In the end, such discussions often turn out to be little more than a game of pigeon chess. Perhaps it is best to ask before planning such a trial:
IS THE ASSUMPTION THAT THE TREATMENT WORKS FOR THIS CONDITION PLAUSIBLE?
If the answer is no, why do the study in the first place?
New German Medicine?
German New Medicine?
What on earth is that?
German New Medicine (GNM) is the creation of Ryke Geerd Hamer (1935-2017), a German doctor. The name is reminiscent of the 'Neue Deutsche Heilkunde' created by the Nazis during the Third Reich. Hamer received his medical licence in 1963 but was later struck off because of malpractice. He then continued his practice as a 'Heilpraktiker'. According to proponents, GNM Therapy is a spoken therapy based on the findings and research of the Germanic New Medicine of Dr.Hamer. On the understanding that every disease is triggered by an isolating and shocking event, GNM Therapy assists in finding the DHS (shocking moment) in our lives that preceded the dis-ease and in turn allowing our bodies to complete its natural healing cycle back to full health. Hamer believed to have discovered the '5 laws of nature':
The Iron Rule of Cancer
The two-phased development of disease
Ontogenetic system of tumours and cancer equivalent diseases
Ontogenetic system of microbes
Natures biological meaning of a disease
Hamer also postulated that:
All diseases are caused by psychological conflicts.
Conventional medicine is a conspiracy of Jews to decimate the non-Jewish population.
Microbes do not cause diseases.
AIDS is just an allergy.
Cancer is the result of a mental shock.
None of Hamer's 'discoveries' and assumptions are plausible or based on facts, and none of his therapeutic approaches have been shown to be effective.
 These days, I do not easily get surprised by what I read about so-called alternative medicine (SCAM), but this article entitled 'Homoeopathy And New German Medicine: Two German Siblings' baffled me greatly. Here are a few short excerpts:
… German New Medicine (GNM) like Homoeopathy is one of the gentle healing methods. As siblings, they have some common features as well as their own unique features. So, let's explore a unique relationship between these two siblings.
1) Holistic aspect:
Both therapeutic methods are believed in holistic concept of body. The disease condition in Homoeopathy and conflict in GNM are very similar in expression as they are reflecting on mental as well as physical level also. In Homoeopathy, Mind, Body and Soul are one of the important trios to understand the Homoeopathic philosophy. While in GNM, Psyche, Brain, Body are important aspect in learning the GNM. Let's see these trio in their founder's language,
• Homoeopathy:
Dr. Hahnemann in his oragnon of medicine, 6th edition mentioned about a unity of materialistic body and vital force. Last lines of aphorism 15 are as follows, "…although in thought our mind separates these two unities into distinct conceptions for the sake of easy comprehension.
• German New Medicine:
Dr. Ryke Geerd Hamer, founder of GNM said that, "The differentiation between psyche, brain and the body is purely academic. In reality, they are one."
2) Disease origin concept:
• Homoeopathy:
In Homoeopathy, disease originates from the dynamic disturbances and followed by functional and pathological changes.
• German New Medicine:
In GNM, morbid condition starts from conflict in the psyche level and later it reflects on body. The common feature is the disturbance is at the all levels of man.
3) Cause of disease:
• Homoeopathy:
In Homoeopathy, among the web of causations, psyche (mind) is also considers as a cause of disease.
• German New Medicine:
So, in GNM, psyche is playing important role in cause of disease. When Conflict starts, its dynamic effect perceived first at mind level.
4) Individuality:
• Homoeopathy:
In Homoeopathy, diathesis is a predisposition for disease condition. i.e. According to the diathesis every individual suffers with their own individual morbid dispositions. Rheumatic diathesis, gouty diathesis, etc. are the examples of diathesis.
• German New Medicine:
In GNM, every individual suffers from the disease condition after the receiving conflict. It is different and depending upon the type of conflict they are receiving. E.g. lung cancer- death fright conflict, cervical cancer –female sexual conflict…
Conclusion:
Some similarities and with some own characteristics, these two healing methods are developing at a good length in medical science. The main aim of these both methods is – "to serve the suffering humanity in gentle way"…
_____________________
Could it be that the author forgot the most striking similarities between GNM and homeopathy? How about these points:
There is nothing truly gentle about either methods.
Both are based on bizarre fantasies, far removed from reality.
Both pretend to be a panacea.
Both lack proof of efficacy.
Both have the potential to kill patients (mostly through neglect).
Both mislead consumers.
Both are deeply anti-scientific.
Both dissuade patients from using evidence-based healthcare.
Both are in conflict with medical ethics.
Both have cult-like features.
Both are far from being recognised by proper healthcare.
Both have been repeatedly in conflict with the law.
Both were invented by deludes fanatics.
George Lakhovsky, a Russian-born scientist, believed to have found out that every cell of the human body has its own frequency. Healthy cells emit a frequency radiation, he claimed, and whenever a part of the body gets damaged, inflamed or ill, the resonance of those cells become less intense. When pathogens, bacteria, microbes take over, they disrupt the healthy cells with their harmful frequency, Lakhovsky thought.
Based on these notions, Lakhovsky constructed a device capable of generating a field of frequencies in a very broad spectrum. He argued that, if one would place a sick person or an affected body part in this frequency spectrum, those diseased cells would recognize their own frequency, tune in and would start resonating in their own, healthy frequency again. Thus the illness would disappear, Lakhovsky thought.
He felt it should be possible to halt and even cure degenerative diseases like cancer in this way. After a long time of experimenting unsuccessfully, he called Nicola Tesla for help. Tesla had the blueprints for the oscillator machine ready for use. Their multi-wave oscillator was said to activate healing processes and cured most cases of cancer, leukaemia, osteoporosis etc.
An important part of Lakhovsky's work took place in 1920-1930. In France, Italy, England and Germany multiple of Lakhovsky's machines were operating. But then they slowly started disappearing again. Many people said the reason for this was that the quick results provided by the machines made the hospitals unnecessary and no profits could be made by them.
The Second World War put an end to much of Lakhovsky's work. While visiting the US, Lakhovsky was struck by a car and died under mysterious circumstances aged 72.
________________________________________
Is this intriguing story the script of a bizarre film?
No, it is a true – well, partly true – story which I have taken from this article by a therapist who, like many others, uses Lakhovsky's oscillator for treating patients (and sells potions, some of which cost well over Euro 1 000!). Another article by a practitioner offering this treatment claims that the oscillator is effective for the following indications:
vitalising cells,
activation of the body's own healing powers,
anti-ageing,
wellness,
improving general well-being,
pain reduction,
detox,
rejuvenation of skin,
improvement of visual aspect of the skin.
The article further assures us that the treatment is totally free of side-effects and can be used as an adjunctive therapy for almost any disease.
Yet another website advertises the therapy as follows: Have you lost a loved one to cancer? Georges Lakhovsky had a 98% success rate in treating fatal cancers over an 11-year period. Today we celebrate a 50% five-year survival rate.
And this is what Wikipedia tells us about the Lakhovsky oscillator (depicted in the photo above, together with its inventor):  The main circuit basically consists of concentric rings forming electrical dipole antennas having capacitive gaps opposing each other by 180° (called Lakhovsky antennas). The circuit is fed with high voltage, high frequency, impulses from a generator, usually a Tesla coil. If set up correctly, the unit is supposed to create a broad band frequency spectrum of low amplitude, consisting of much more substantially lower and higher frequencies, from 1 Hz to 300 GHz, than those of the exciting generator, usually several 100 kHz to a few MHz from a Tesla transformer or several kilohertz from an induction coil. But the power of this broad band noise spectrum is very low. In order to create more harmonics and sub-harmonics, an additional spark gap on the secondary side has been found in some devices, being mounted directly on the antenna, or being mounted in parallel to the secondary coil…
In an attempt to find out whether the machine works, I have searched for published, peer-reviewed clinical evidence on the Lakhovsky oscillator. I was unable to find any. If any of my readers are aware of any evidence, please let me know.
There are uncounted different forms of bogus so-called alternative medicines (SCAMs), and many have been discussed on this blog. What do I mean by 'bogus'? A bogus SCAM is one, in my view, that is being promoted for conditions for which it does not demonstrably generate more good than harm.
Ten popular examples are:
alternative cancer 'cures',
applied kinesiology,
Bach Flower Remedies,
CEASE,
chiropractic,
detox treatments,
homeopathy,
osteopathy,
paranormal or energy healing techniques,
slimming aids.
These treatments are diverse in many ways: history, basic assumption, risks, etc. But they nevertheless tend to have certain features in common:
Most SCAMs originate from the ideas developed by a single, often charismatic individual who proclaimed to have seen the light. Think of Gerson, Bach, Palmer, Hahnemann, Still.
They are recommended by enthusiasts as a panacea, a 'cure all'.
They are heavily promoted by celebrities, hyped by the press and marketed via books or the Internet, but they are far less or not at all supported by published studies in the peer-reviewed medical literature.
The clinical trials of SCAM that have been published are flimsy, lack independent replication, yet are celebrated by proponents as though they represent robust evidence.
SCAMs target either the most desperately ill patients who understandably tend to cling to every straw they can find. Or they go for the 'worried well' who have nothing truly wrong with them and plenty of cash to waste.
Proponents of SCAM use scientific-sounding terminology, while simultaneously displaying a profoundly anti-scientific attitude.
Entrepreneurs of SCAM are efficient at selling false hope at excessive prices.
SCAMs sometimes seem to work because many of the therapists are skilled at maximising the placebo-response.
SCAM is awash with conspiracy theories, for instance, the notion that 'the establishment' is supressing SCAM. (If a SCAM ever showed real promise, it would rapidly scrutinised by researchers and, if effectiveness were confirmed, adopted by conventional medicine. The notion of an alternative cure for any disease is idiotic, because it presupposes that conventional healthcare professionals shun a potentially valuable treatment simply because it emerged from elsewhere.)
Most SCAMs can do direct harm. For instance, oral treatments can be toxic or interact with prescription drugs. Or spinal manipulations can cause a stroke. Or acupuncture can cause a pneumothorax.
SCAMs are dangerous even if they do not cause direct harm. There are many examples of people who died needlessly early because they used SCAM as an alternative to conventional medicine (Steve Jobs is a prominent example).
Moreover, SCAMs cause harm by undermining the principles of EBM and, more importantly, by undermining rational thinking in our society.
SCAM practitioners violate fundamental rules of medical ethics on a daily basis. One could even argue that the ethical practice of SCAM is rarely possible.