herbal medicine
Evening primrose oil (EPO) is amongst the best-selling herbal remedies of all times. It is marketed in most countries as a dietary supplement. It is being promoted for eczema, rheumatoid arthritis, premenstrual syndrome, breast pain, menopause symptoms, and many other conditions. EPO seems to be a prime example for the fact that, in alternative medicine, the commercial success of a remedy is not necessarily determined by the strength of the evidence but by the intensity and cleverness of the marketing activities.
Evening primrose oil has been extensively tested in clinical trials for a wide range of conditions, including eczema (atopic dermatitis), postmenopausal symptoms, asthma, psoriasis, cellulite, hyperactivity, multiple sclerosis, schizophrenia, obesity, chronic fatigue syndrome, rheumatoid arthritis, and mastalgia. As I have reported previously, these data were burdened with mischief and scientific misconduct, and it is therefore not easy to differentiate between science, pseudoscience and fraud. The results of the more reliable investigations fail to show that it is effective for any condition.  A Cochrane review of 2013, for instance, concluded that supplements of evening primrose oil lack effect on eczema; improvement was similar to respective placebos used in trials.
But now, a new study has emerged that casts doubt on this conclusion. The aim of this double-blinded, placebo-controlled RCT is to evaluate the efficacy and safety of EPO in Korean patients with atopic dermatitis (AD).
Fifty mild AD patients with an Eczema Area Severity Index (EASI) score of 10 or less were randomly divided into two groups. The first group received an oval unmarked capsule containing 450 mg of EPO (40 mg of GLA) per capsule, while placebo capsules identical in appearance and containing 450 mg of soybean oil were given to the other group. Treatment continued for a period of 4 months. EASI scores, transepidermal water loss (TEWL), and skin hydration were evaluated in all the AD patients at the baseline, and in months 1, 2, 3, and 4 of the study.
At the end of month 4, the patients of the EPO group showed a significant improvement in the EASI score, whereas the patients of the placebo group did not. There was a significant difference in the EASI score between the EPO and placebo groups. Although not statistically significant, the TEWL and skin hydration also slightly improved in the EPO patients group. Adverse effect were not found in neither the experimental group nor the control group during the study period.
The authors concluded by suggesting that EPO is a safe and effective medicine for Korean patients with mild AD.
I find this study odd for several reasons:
One cannot possibly draw conclusions based on such a small sample.
The authors state that a total of 69 mild AD patients were enrolled and randomized into either the control group (14 males and 17 females) or the EPO group (20 males and 18 females). Six patients in the control group and 13 patients in the EPO group dropped out due to follow up loss. No patient dropped out because the disease worsened. Should this not have necessitated an intention-to-treat analysis? And, if 19 patients were lost to follow-up, how do the authors know that their disease did not worsen?
The graph shows impressively the lack of a placebo-response. I don't understand why there was none.
The authors state that there were no adverse effects at all. I find this implausible; we know that even taking placebos will prompt patients to report adverse effects.
So, what to make out of this?
I am not at all sure, but one thing is certain: this study does not alter my verdict on EPO; as far as I am concerned, the effectiveness of EPO for AD is unproven.
Psoriasis is one of those conditions that is
chronic,
not curable,
irritating to the point where it reduces quality of life.
In other words, it is a disease for which virtually all alternative treatments on the planet are claimed to be effective. But which therapies do demonstrably alleviate the symptoms?
This review (published in JAMA Dermatology) compiled the evidence on the efficacy of the most studied complementary and alternative medicine (CAM) modalities for treatment of patients with plaque psoriasis and discusses those therapies with the most robust available evidence.
PubMed, Embase, and ClinicalTrials.gov searches (1950-2017) were used to identify all documented CAM psoriasis interventions in the literature. The criteria were further refined to focus on those treatments identified in the first step that had the highest level of evidence for plaque psoriasis with more than one randomized clinical trial (RCT) supporting their use. This excluded therapies lacking RCT data or showing consistent inefficacy.
A total of 457 articles were found, of which 107 articles were retrieved for closer examination. Of those articles, 54 were excluded because the CAM therapy did not have more than 1 RCT on the subject or showed consistent lack of efficacy. An additional 7 articles were found using references of the included studies, resulting in a total of 44 RCTs (17 double-blind, 13 single-blind, and 14 nonblind), 10 uncontrolled trials, 2 open-label nonrandomized controlled trials, 1 prospective controlled trial, and 3 meta-analyses.
Compared with placebo, application of topical indigo naturalis, studied in 5 RCTs with 215 participants, showed significant improvements in the treatment of psoriasis. Treatment with curcumin, examined in 3 RCTs (with a total of 118 participants), 1 nonrandomized controlled study, and 1 uncontrolled study, conferred statistically and clinically significant improvements in psoriasis plaques. Fish oil treatment was evaluated in 20 studies (12 RCTs, 1 open-label nonrandomized controlled trial, and 7 uncontrolled studies); most of the RCTs showed no significant improvement in psoriasis, whereas most of the uncontrolled studies showed benefit when fish oil was used daily. Meditation and guided imagery therapies were studied in 3 single-blind RCTs (with a total of 112 patients) and showed modest efficacy in treatment of psoriasis. One meta-analysis of 13 RCTs examined the association of acupuncture with improvement in psoriasis and showed significant improvement with acupuncture compared with placebo.
The authors concluded that CAM therapies with the most robust evidence of efficacy for treatment of psoriasis are indigo naturalis, curcumin, dietary modification, fish oil, meditation, and acupuncture. This review will aid practitioners in advising patients seeking unconventional approaches for treatment of psoriasis.
I am sorry to say so, but this review smells fishy! And not just because of the fish oil. But the fish oil data are a good case in point: the authors found 12 RCTs of fish oil. These details are provided by the review authors in relation to oral fish oil trials: Two double-blind RCTs (one of which evaluated EPA, 1.8g, and DHA, 1.2g, consumed daily for 12 weeks, and the other evaluated EPA, 3.6g, and DHA, 2.4g, consumed daily for 15 weeks) found evidence supporting the use of oral fish oil. One open-label RCT and 1 open-label non-randomized controlled trial also showed statistically significant benefit. Seven other RCTs found lack of efficacy for daily EPA (216mgto5.4g)or DHA (132mgto3.6g) treatment. The remainder of the data supporting efficacy of oral fish oil treatment were based on uncontrolled trials, of which 6 of the 7 studies found significant benefit of oral fish oil. This seems to support their conclusion. However, the authors also state that fish oil was not shown to be effective at several examined doses and duration. Confused? Yes, me too!
Even more confusing is their failure to mention a single trial of Mahonia aquifolium. A 2013 meta-analysis published in the British Journal of Dermatology included 5 RCTs of Mahonia aquifolium which, according to these authors, provided 'limited support' for its effectiveness. How could they miss that?
More importantly, how could the reviewers miss to conduct a proper evaluation of the quality of the studies they included in their review (even in their abstract, they twice speak of 'robust evidence' – but how can they without assessing its robustness? [quantity is not remotely the same as quality!!!]). Without a transparent evaluation of the rigour of the primary studies, any review is nearly worthless.
Take the 12 acupuncture trials, for instance, which the review authors included based not on an assessment of the studies but on a dodgy review published in a dodgy journal. Had they critically assessed the quality of the primary studies, they could have not stated that CAM therapies with the most robust evidence of efficacy for treatment of psoriasis …[include]… acupuncture. Instead they would have had to admit that these studies are too dubious for any firm conclusion. Had they even bothered to read them, they would have found that many are in Chinese (which would have meant they had to be excluded in their review [as many pseudo-systematic reviewers, the authors only considered English papers]).
There might be a lesson in all this – well, actually I can think of at least two:
Systematic reviews might well be the 'Rolls Royce' of clinical evidence. But even a Rolls Royce needs to be assembled correctly, otherwise it is just a heap of useless material.
Even top journals do occasionally publish poor-quality and thus misleading reviews.
If you thought that Chinese herbal medicine is just for oral use, you were wrong. This article explains it all in some detail: Injections of traditional Chinese herbal medicines are also referred to as TCM injections. This approach has evolved during the last 70 years as a treatment modality that, according to the authors, parallels injections of pharmaceutical products.
The researchers from China try to provide a descriptive analysis of various aspects of TCM injections. They used the the following data sources: (1) information retrieved from website of drug registration system of China, and (2) regulatory documents, annual reports and ADR Information Bulletins issued by drug regulatory authority.
As of December 31, 2017, 134 generic names for TCM injections from 224 manufacturers were approved for sale. Only 5 of the 134 TCM injections are documented in the present version of Ch.P (2015). Most TCM injections are documented in drug standards other than Ch.P. The formulation, ingredients and routes of administration of TCM injections are more complex than conventional chemical injections. Ten TCM injections are covered by national lists of essential medicine and 58 are covered by China's basic insurance program of 2017. Adverse drug reactions (ADR) reports related to TCM injections account for  over 50% of all ADR reports related to TCMs, and the percentages have been rising annually.
The authors concluded that making traditional medicine injectable might be a promising way to develop traditional medicines. However, many practical challenges need to be overcome by further development before a brighter future for injectable traditional medicines can reasonably be expected.
I have to admit that TCM injections frighten the hell out of me. I feel that before we inject any type of substance into patients, we ought to know as a bare minimum:
for what conditions, if any, they have been proven to be efficacious,
what adverse effects each active ingredient can cause,
with what other drugs they might interact,
how reliable the quality control for these injections is.
I somehow doubt that these issues have been fully addressed in China. Therefore, I can only hope the Chinese manufacturers are not planning to export their dubious TCM injections.
Bacterial vaginosis is a common condition which is more than a triviality. It can have serious consequences including pelvic inflammatory disease, endometritis, postoperative vaginal cuff infections, preterm labor, premature rupture of membranes, and chorioamnionitis. Therefore, it is important to treat it adequately with antibiotics. But are there other options as well?
There are plenty of alternative or 'natural' treatments on offer. But do they work?
This trial was conducted on 127 women with bacterial vaginosis to compare a vaginal suppository of metronidazole with Forzejeh, a vaginal suppository of herbal Persian medicine combination of
Tribulus terrestris,
Myrtus commuis,
Foeniculum vulgare,
Tamarindus indica.
The patients (63 in metronidazole group and 64 in Forzejeh group) received the medications for 1 week. Their symptoms including the amount and odour of discharge and cervical pain were assessed using a questionnaire. Cervical inflammation and Amsel criteria (pH of vaginal discharge, whiff test, presence of clue cells and Gram staining) were investigated at the beginning of the study and 14 days after treatment.
The amount and odour of discharge, Amsel criteria, pelvic pain and cervical inflammation significantly decreased in Forzejeh and metronidazole groups (p = <.001). There was no statistically significant difference between the metronidazole and Fozejeh groups with respect to any of the clinical symptoms or the laboratory assessments.
The authors concluded that Forzejeh … has a therapeutic effect the same as metronidazole in bacterial vaginosis.
The plants in Fozejeh are assumed to have antimicrobial activities. Forzejeh has been used in folk medicine for many years but was only recently standardised. According to the authors, this study shows that the therapeutic effects of Forzejeh on bacterial vaginosis is similar to metronidazole.
Yet, I am far less convinced than these Iranian researchers. As this trial compared two active treatments, it was an equivalence study. As such, it requires a different statistical approach and a much larger sample size. The absence of a difference between the two groups is most likely due to the fact that the study was too small to show it.
If I am correct, the present investigation only demonstrates yet again that, with flawed study-designs, it is easy to produce false-positive results.
Alternative practitioners practise highly diverse therapies. They seem to have nothing in common – except perhaps that ALL of them are allegedly stimulating our self-healing powers (and except that most proponents are latently or openly against vaccinations). And it is through these self-healing powers that the treatments in question cure anything and become a true panacea. When questioned what these incredible powers really are, most practitioners would (somewhat vaguely) name the immune system as the responsible mechanism. With this post, I intend to provide a short summary of the evidence on this issue:
Acupuncture: no good evidence to show stimulation of self-healing powers.
Aromatherapy: no good evidence to show stimulation of self-healing powers.
Bioresonance: no good evidence to show stimulation of self-healing powers.
Chiropractic: no good evidence to show stimulation of self-healing powers.
Detox: no good evidence to show stimulation of self-healing powers.
Energy healing: no good evidence to show stimulation of self-healing powers.
Feldenkrais: no good evidence to show stimulation of self-healing powers.
Gua sha: no good evidence to show stimulation of self-healing powers.
Herbal medicine: no good evidence to show stimulation of self-healing powers.
Homeopathy: no good evidence to show stimulation of self-healing powers.
Macrobiotics: no good evidence to show stimulation of self-healing powers.
Naturopathy: no good evidence to show stimulation of self-healing powers.
Osteopathy: no good evidence to show stimulation of self-healing powers.
Power bands: no good evidence to show stimulation of self-healing powers.
Reiki: no good evidence to show stimulation of self-healing powers.
Reflexology: no good evidence to show stimulation of self-healing powers.
Shiatsu: no good evidence to show stimulation of self-healing powers.
Tai chi: no good evidence to show stimulation of self-healing powers.
TCM: no good evidence to show stimulation of self-healing powers.
Vibrational therapy: no good evidence to show stimulation of self-healing powers.
---
Vaccinations: very good evidence to show stimulation of self-healing powers.
---
THE END
Traditional vaginal practices usually relate to personal hygiene, genital health or sexuality. Hygiene practices involve external washing and intravaginal cleansing or douching and ingestion of substances. Health practices include intravaginal cleansing, traditional cutting, insertion of herbal preparations, and application of substances to soothe irritated vaginal tissue.
One such traditional practice is 'vaginal steaming'.
Recently vaginal steaming has become a fad promoted by SCAM-promoters (such as the vagina-obsessed Gwyneth Paltrow) with the claim that it leads to a range of health benefits. According to one website, for instance, vaginal steaming, Yoni Eggs, yoni or v-steam, as it is casually known, acts as an internal cleanser of the membranes of the vaginal tissues and uterus. This is considered especially important for stagnant fertility conditions and/or incomplete emptying of menses each cycle. This women's treatment gently but effectively cleanses, tones and revitalizes a woman's center, providing a myriad benefits from reduced menstrual cramps to increased fertility and more. Support your natural feminine cycle, help your body to heal, relax, and detoxify both physically and emotionally with a yoni steam.
The method is recommended for a wide range of conditions and is said to achieve all of the following and much, much more:
Significant reduction of pain, bloating and exhaustion associated with menstruation.
Significant reduction of PMS.
Decrease of menstrual flow as well as reduction of dark purple or brown blood at the onset or end of menses.
Regulation of irregular or absent menstrual cycles.
Increased fertility.
Faster healing and toning of the reproductive system following childbirth.
Assisting in healing uterine fibroids, ovarian cysts, uterine weakness, uterine prolapse & endometriosis.
Breaking down of reproductive adhesion/scar tissue. Assisting with the repair of a vaginal tear, episiotomy, or C-section scar.
Assisting with the healing of haemorrhoids.
Treating chronic vaginal/yeast infections and maintaining healthy vaginal odour.
Relief of menopausal symptoms such as vaginal dryness or pain during sex.
Detoxification of the womb/removal of toxins from the body. Release of stored emotions.
Reconnection with our female bodies and tapping into the sexual energy that is our creative potential.
Frequently, entrepreneurs recommend adding herbal or other ingredients. Herbs often used include:
mugwort
wormwood
chamomile
calendula
basil
oregano
None of these claims are supported by anything we would recognise as evidence, and it would be easy to make fun at the quacks who make them (and the women who fall for them) – unless, of course, there was real and significant harm involved. I fear, the potential for harm is undeniable:
vaginal steaming arms your bank account;
it disrupts the normal pH balance of the vagina;
in turn, this increases the risk of fungal and bacterial infections;
vaginal steaming can cause burns;
with added herbs, it can cause allergies.
New Zealand psychologists analysed online accounts of vaginal steaming to determine the sociocultural assumptions and logics within such discourse, including ideas about women, women's bodies and women's engagement with such 'modificatory' practices. Ninety items were carefully selected from the main types of website discussing vaginal steaming: news/magazines; health/lifestyle; spa/service providers; and personal blogs. Within an overarching theme of 'the self-improving woman' the researchers identified four themes: (1) the naturally deteriorating, dirty female body; (2) contemporary life as harmful; (3) physical optimisation and the enhancement of health; and (4) vaginal steaming for life optimisation. The authors concluded that online accounts of vaginal steaming appear both to fit within historico-contemporary constructions of women's bodies as deficient and disgusting, and contemporary neoliberal and healthist discourse around the constantly improving subject.
For the sake of 'journalistic balance', let's give Gwyneth the last word about the benefits of vaginal steaming. She knows best because she has done it and was quoted uttering these profound and scientific views: "The first time I tried v-steaming, I was like, 'This is insane'. My friend Ben brought me and I was like, 'You are out of your f**king mind. What is this? But then by the end of it I was like, 'This is so great.' Then I start to do research, and it's been in Korean medicine for thousands of years and there are real healing properties. If I find benefit to it and it's getting a lot of page views, it's a win-win."
And who would or could argue with that?
I have often pointed out that, in contrast to 'rational phytotherapy', traditional herbalism of various types (e. g. Western, Chinese, Kampo, etc.) – characterised by the prescription of an individualised mixture of herbs by a herbalist – is likely to do more harm than good. This recent paper provides new and interesting information about the phenomenon.
Specifically, it explores the prevalence with which Australian Western herbalists treat menstrual problems and their related treatment, experiences, perceptions, and inter-referral practices with other health practitioners. Members of the Practitioner Research and Collaboration Initiative practice-based research network identifying as Western Herbalists (WHs) completed a specifically developed, online questionnaire.
Western Herbalists regularly treat menstrual problems, perceiving high, though differential, levels of effectiveness. For menstrual problems, WHs predominantly prescribe individualised formulas including core herbs, such as Vitex agnus-castus (VAC), and problem-specific herbs. Estimated clients' weekly cost (median = $25.00) and treatment duration (median = 4-6 months) covering this Western herbal medicine treatment appears relatively low. Urban-based women are more likely than those rurally based to have used conventional treatment for their menstrual problems before consulting WHs. Only 19% of WHs indicated direct contact by conventional medical practitioners regarding treatment of clients' menstrual problems despite 42% indicating clients' conventional practitioners recommended consultation with WH.
The authors concluded that Western herbal medicine may be a substantially prevalent, cost-effective treatment option amongst women with menstrual problems. A detailed examination of the behaviour of women with menstrual problems who seek and use Western herbal medicine warrants attention to ensure this healthcare option is safe, effective, and appropriately co-ordinated within women's wider healthcare use.
Apart from the fact, that I don't see how the researchers could possibly draw conclusions about the cost-effectiveness of Western herbalism, I feel that this survey requires further comments.
There is no reason to assume that individualised herbalism is effective and plenty of reason to fear that it might cause harm (the larger the amount of herbal ingredients in one prescription, the higher the chances for toxicity and interactions). The only systematic review on the subject concluded that there is a sparsity of evidence regarding the effectiveness of individualised herbal medicine and no convincing evidence to support the use of individualised herbal medicine in any indication.
Moreover, VAC (the 'core herb' for menstrual problems) is hardly a herb that is solidly supported by evidence either. A systematic review concluded that, although meta-analysis shows a large pooled effect of VAC in placebo-controlled trials, the high risk of bias, high heterogeneity, and risk of publication bias of the included studies preclude a definitive conclusion. The pooled treatment effects should be viewed as merely explorative and, at best, overestimating the real treatment effect of VAC for premenstrual syndrome symptoms. There is a clear need for high-quality trials of appropriate size examining the effect of standardized extracts of VAC in comparison to placebo, selective serotonin reuptake inhibitors, and oral contraceptives to establish relative efficacy.
And finally, VAC is by no means free of adverse effects; our review concluded that frequent adverse events include nausea, headache, gastrointestinal disturbances, menstrual disorders, acne, pruritus and erythematous rash. No drug interactions were reported. Use of VAC should be avoided during pregnancy or lactation. Theoretically, VAC might also interfere with dopaminergic antagonists.
So, to me, this survey suggests that the practice of Western herbalists is:
not evidence-based;
potentially harmful;
and costly.
In a nutshell: IT IS BEST AVOIDED.
The Internet is full of complete nonsense about alternative medicine, as we all know. Much of it could be funny – if it was not so extremely dangerous. Misinformation on health can (and I am afraid does) kill people. One of the worst BS I have seen for a long time is this article entitled 'Here's What Oncologists Won't Tell You About Essential Oils'.
A few excerpts might be of interest:
START OF QUOTES
…The human body resonates at a frequency of 62-78 MHz and scientists believe that diseases start at 58 MHz. Many studies have shown that negative thoughts can reduce our frequency by 12 MHz, while positive thinking raises it by 10.
This means that there are many things that can affect our health in ways we can't imagine.
According to the latest studies, essential oils can fight cancer thanks to their antibacterial properties and their ability to change the frequency we resonate at.
One of the scientists involved in the study, Bruce Tainio, developed a special Calibrated Frequency Monitor that measures the frequency of essential oils and how they affect us. M. Suhail, an immunologist, says that cancer develops when the DNA in our cells' nucleus is corrupted.
Essential oils can correct this and repair the code, effectively improving our chances against the terrible disease…
In his book "The Body Electric", R. O. Becker said that our bodies' electronic frequency determines our health.
Even Nikola Tesla said that removing outside frequencies can make us more resistant against ailments, while Dr. Otto Warburg discovered over a century ago that our cells have a specific electrical voltage that can drop due to a various factors and trigger diseases such as cancer.
However, science has now discovered that essential oils with higher frequencies can destroy diseases with lower frequencies.
Here's a list of some of the oils used in the research and their electrical frequencies:
Juniper – 98 Mhz
Angelica – 85 Mhz
Frankincense – 147 MHz
Rose – 320 Mhz.
Sandalwood – 96 Mhz
Helichrysum – 181 MHz
Peppermint – 78 Mhz
Lavender – 118 Mhz
In the study, cinnamon, thyme, jasmine and chamomile oils had the best results when put up against breast cancer cells. Chamomile destroyed 93% of the cells in vitro, while thyme destroyed 97% of the cells…
11 oils were examined in total including bitter and sweet fennel, winter savory, peppermint, sage, lavender, chamomile and thyme.
Frankincense oil
According to Suhail, frankincense oil can divide the nucleus of cancer cells from the cytoplasm and prevent it from reproducing. The oil works thanks to the presence of the so-called monoterpenes which have the ability to kill cancer cells.
Frankincense oil works in all stages of cancer and is cytotoxic, meaning it doesn't destroy healthy cells.
End-stage liver cancer patient
In the study, a patient with end-stage liver cancer was given only a few months left to live. The tumor was inoperable due to the large size, so having nothing to lose, the man decided to try frankincense oil.
He applied a bit under his tongue and topically on the area of the liver, and on his next doctor visit, the tumor has already reduced in size. The patient continued using frankincense oil, and it eventually reduced just enough to be operable. His tumor was later removed and the man is now happily enjoying his life free of cancer.
A child with brain cancer
One of the toughest cases among all the patients in the study was a little girl aged 5 with brain cancer. After exhausting all other options, the parents decided to give the girl a mixture of frankincense and sandalwood oil.
They rubbed the mixture on her feet while also rubbing a bit of lavender on her wrist. After a few months, the cancer was completely defeated!
Bladder cancer patient
Jackie Hogan is a woman suffering from bladder cancer who needed to undergo a surgery for bladder removal due to the cancer.
However, she decided to try using essential oils in her condition and after a few months of applying a mixture of sandalwood and frankincense oil topically on the area, she is cancer-free.
Stage-4 cancer patient
One woman in the research was diagnosed with stage-4 lung cancer which has already spread to other organs in her body.
Instead of agreeing to chemo and surgery, the woman started applying a bit of frankincense oil topically on the affected areas of her body every 2-3 hours and she was completely healthy in 7 months.
Breast cancer patient
A woman diagnosed with advanced breast cancer used a mixture of frankincense and lemongrass oil (topically and under the tongue) to defeat the disease in only a few months.
Cervical cancer patient
A woman with cervical cancer was given only a few months left to live, but thanks to the powers of frankincense oil, she managed to defeat the diseases in a couple of months.
There are many more patients who have managed to defeat different types of cancer using the remarkable powers of various essential oils…
_________________________________________________________________________
END OF QUOTES
Unspeakable nonsense!
I managed to find 4 of the studies this article seems to refer to:
__________________________________________________________________________
'HELLO' is, of course, a most reliable source of information when it comes to healthcare (and other subjects as well, I am sure). Therefore, I was thrilled to read their report on Meghan Markle's list of supplements which, 'HELLO' claim, she takes for "calming any stress or nerves ahead of the royal wedding on 19 May." The list includes the following:
Magnesium,
Vitamin B-12,
Multivitamins,
'Cortisol Manager' (30 tablets cost US$ 65)
Ashwagandha.
Not only does 'HELLO' provide us with this most fascinating list, it tells us also what exactly these supplements are best used for:
Magnesium helps to keep blood pressure normal, increase energy, relieves muscle aches and spasms, and calms nerves, all of which will be beneficial to Meghan. Meanwhile, B12 drops will ensure Meghan doesn't become deficient in the vitamin due to her diet, which is largely plant-based and contains very little animal products, which are one of the main sources of B12.
A multivitamin will provide Meghan with her recommended daily intake of various vitamins and minerals, while Cortisol Manager is a "stress hormone stabiliser", which is designed to support the body's natural rise and fall of cortisol, helping promote feelings of relaxation and aid better sleep. The supplement contains L-Theanine, Magnolia, Epimedium and Ashwagandha – although Meghan said she sometimes takes additional doses of the herb, likely at periods of high stress.
Ashwagandha is a herb that helps to moderate the body's response to stress, bringing inner calm and also boosting energy. The supplement comes from the root of the ashwagandha plant and can be taken in tablet form…
I hope I don't spoil the Royal wedding if I run a quick reality check on these supplements. Assuming she is generally healthy (she certainly looks it), and now being aware that Meghan eats a mostly plant-based diet, here are the most likely benefits of the above-listed supplements/ingredients:
Magnesium: NONE
Vitamin B-12: DEBATABLE
Multivitamins: NONE
L-Theanine: NONE
Magnolia: NONE
Epimedium: NONE
Ashwagandha: NONE
Personally, I find Ashwagandha the most intriguing of all the listed ingredients, not least because Meghan said she sometimes takes additional doses of the herb. Why might that be? There is very little reliable research on this (or any of the other above-listed) remedy; but I found one placebo-controlled study which concluded that Ashwagandha "may improve sexual function in healthy women".
Before my readers now rush out in droves to the next health food shop, I should issue a stern warning: the trial was flimsy and the results lack independent confirmation.
PS
She also seems to have a weakness for homeopathy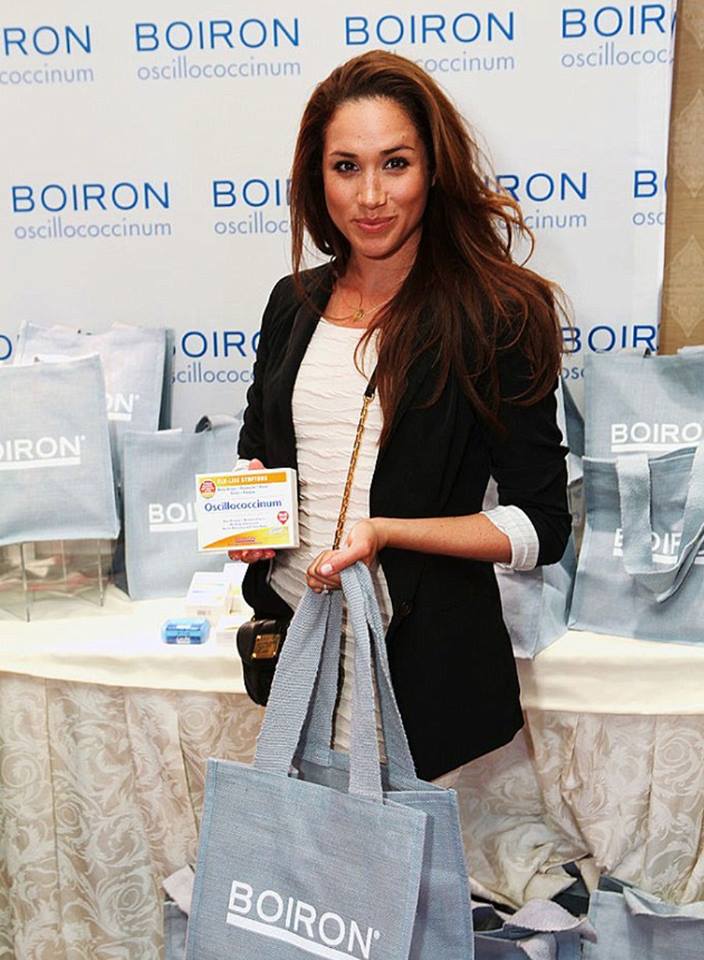 On this blog, we have seen more than enough evidence of how some proponents of alternative medicine can react when they feel cornered by critics. They often direct vitriol in their direction. Ad hominem attacks are far from being rarities. A more forceful option is to sue them for libel. In my own case, Prince Charles went one decisive step further and made sure that my entire department was closed down. In China, they have recently and dramatically gone even further.
This article in Nature tells the full story:
A Chinese doctor who was arrested after he criticized a best-selling traditional Chinese remedy has been released, after more than three months in detention. Tan Qindong had been held at the Liangcheng county detention centre since January, when police said a post Tan had made on social media damaged the reputation of the traditional medicine and the company that makes it.
On 17 April, a provincial court found the police evidence for the case insufficient. Tan, a former anaesthesiologist who has founded several biomedical companies, was released on bail on that day. Tan, who lives in Guangzhou in southern China, is now awaiting trial. Lawyers familiar with Chinese criminal law told Nature that police have a year to collect more evidence or the case will be dismissed. They say the trial is unlikely to go ahead…
The episode highlights the sensitivities over traditional Chinese medicines (TCMs) in China. Although most of these therapies have not been tested for efficacy in randomized clinical trials — and serious side effects have been reported in some1 — TCM has support from the highest levels of government. Criticism of remedies is often blocked on the Internet in China. Some lawyers and physicians worry that Tan's arrest will make people even more hesitant to criticize traditional therapies…
Tan's post about a medicine called Hongmao liquor was published on the Chinese social-media app Meipian on 19 December…Three days later, the liquor's maker, Hongmao Pharmaceuticals in Liangcheng county of Inner Mongolia autonomous region, told local police that Tan had defamed the company. Liangcheng police hired an accountant who estimated that the damage to the company's reputation was 1.4 million Chinese yuan (US$220,000), according to official state media, the Beijing Youth Daily. In January, Liangcheng police travelled to Guangzhou to arrest Tan and escort him back to Liangcheng, according to a police statement.
Sales of Hongmao liquor reached 1.63 billion yuan in 2016, making it the second best-selling TCM in China that year. It was approved to be sold by licensed TCM shops and physicians in 1992 and approved for sale over the counter in 2003. Hongmao Pharmaceuticals says that the liquor can treat dozens of different disorders, including problems with the spleen, stomach and kidney, as well as backaches…
Hongmao Pharmaceuticals did not respond to Nature's request for an interview. However, Wang Shengwang, general manager of the production center of Hongmao Liquor, and Han Jun, assistant to the general manager, gave an interview to The Paper on 16 April. The pair said the company did not need not publicize clinical trial data because Hongmao liquor is a "protected TCM composition". Wang denied allegations in Chinese media that the company pressured the police to pursue Tan or that it dispatched staff to accompany the police…
Xia is worried that the case could further silence public criticism of TCMs, environmental degredation, and other fields where comment from experts is crucial. The Tan arrest "could cause fear among scientists" and dissuade them from posting scientific comments, he says.
END OF QUOTE
On this blog, we have repeatedly discussed concerns over the validity of TCM data/material that comes out of China (see for instance here, here and here). This chilling case, I am afraid, is not prone to increase our confidence.