Prince Charles
The DAILY EXPRESS (DE) is not my favorite newspaper – perhaps even the opposite. During the last years, I have often been questioned by journalists on matters relating to so-called alternative medicine (SCAM). I do not recall, however, being interviewed by the DE (I might have forgotten, of course, but it certainly did not happen very often). I was therefore surprised to find that, in the last 13 years (this is as far back as I was able to search), the DE quoted me 22 times. Therefore, I decided to do a quick analysis of these 22 articles rating them (generously) for accuracy on a scale of 0 (totally inaccurate) to 10 (totally accurate).
 1. Title (date of publication): Tracking down the safe alternatives (25 March 2008)
Subject: a new regulatory body (the Complementary and Natural Healthcare Council (CNHC)) might help separate the cranks from the credible.
Quote: The CNHC has been described as complementary medicine's equivalent of the General Medical Council – the body which sets standards for GPs. It will investigate complaints and therapists who fall below expected standards could be struck off. The new organisation has been set up by Prince Charles's Foundation for Integrated Health and receives part funding from the NHS. The Prince, who is a fan of homeopathy, believes that complementary therapies should have a greater role within the NHS…
Edzard Ernst, the UK's first professor of complementary medicine, is scathing, describing the £2million cost of founding the CNHC as a waste of money. He says the new body does not challenge the safety or effectiveness of the therapies. "This organisation could give the public false confidence. Some of these therapies can do more harm than good. It will give them a status they don't deserve."
My comment (score): The subject matter was relevant. The article seems correct and my comment is true; the CNHC did, in fact, turn out to be a waste of space. (10)
2. Title (date of publication): Chinese Medicine: A risky remedy? (19 May 2008)
Subject: How much do we really know about how they work and could they actually be harmful to our health?
Quote: Traditional Chinese Medicine (TCM) is enjoying a boom with hundreds of shops appearing on high streets. The herbal medicine industry, which includes Chinese medicines, is worth an estimated £200million in the UK as thousands place their faith in ancient remedies for everything from acne to infertility…
Edzard Ernst, professor of complementary medicine at the University of Exeter and co-author of the book Trick Or Treatment: Alternative Medicine On Trial, says: "People think that because something is ancient or natural it must be good. That's simply not true. Plenty of these medicines have side effects and can be dangerous. "TCMs are grossly under-researched in the UK. China's research is hard to access and hard to understand. TCMs are frequently contaminated with toxic heavy metals. "This is because of poor quality, because soil is contaminated and supplying procedures are unregulated. The most worrying thing about TCMs is that they are regularly found to contain synthetic prescription drugs, which in extreme cases, taken wrongly, can kill."
My comment (score): The subject matter was relevant. The article seems correct and my comment is true. (10)
3. Title (date of publication): Alternative treatments face calls for regulation (17 June 2008)
Subject: Alternative medicines must be regulated to protect patients from harm, according to an influential group of experts.
Quote: A government-appointed steering group said it was ridiculous that eight years after regulation was first called for, nothing had been done. And in a report to UK ministers, who have reserved powers on regulating health professionals, they warned it must be introduced "without delay"…
Prof Edzard Ernst, professor of complementary medicine at the University of Exeter, said there was no scientific evidence that homoeopathy works. Homoeopathy is the treatment of disease using minute doses of drugs diluted in water. Prof Ernst and author Simon Singh have pledged to give £10,000 to anyone who could prove, in a scientific way, that these treatments work as well as conventional medicines.
My comment (score): The subject matter was relevant. The article seems a bit confused. My comment seems to be from elsewhere and is out of context. (5)
4. Title (date of publication): Thank you for the music (28 June  2008)
Subject: Nerve disorder fibromyalgia left musician Emily Maguire housebound and in constant pain. As she prepares to play the Glastonbury festival she tells ABIGAIL JACKSON how her love of music pulled her through…
Quote: Dr Peter Fisher from the Royal London Homeopathic Hospital … has claimed to have success in treating fibro­myalgia patients with homeopathic remedies. He prescribed ignacia, used as a remedy for numerous complaints from depression and sleeplessness to backache. A month later, Emily says the pain was gone. "I couldn't believe it," she says. "I feel so blessed."
Although Emily is confident that taking ignacia (as well as maintaining a healthy lifestyle) did the trick, there are growing concerns over whether homeopathic remedies have any effect. Last week Edzard Ernst, the UK's only professor of complementary medicine, offered £10,000 for any proof of a successful homeopathic treatment.
My comment (score): The subject matter is basically a case report which is not very relevant. The article seems confused and goes from the positive effects of music to homeopathy. What the article reports about our £10, 000 challenge is not relevant. (3)
5. Title (date of publication): Charles hit by 'dodgy' detox quackery row (11 March 2009)
Subject: Prince Charles was accused yesterday of using "quackery" to exploit gullible people after his Duchy Originals label launched a controversial detox tincture.
Quote: Andrew Baker, chief executive of Duchy Originals… said: "Duchy Herbals Detox Tincture is traded as a food supplement and in accordance with all of the relevant sections of both UK and European food laws. It is a natural aid to digestion and supports the body's natural elimination processes. It is not – and has never been described as – a medicine, remedy or cure for any disease."
Prof Ernst said: …"Products like this are a dangerous waste of money. Charles is exploiting gullible people during hard times. It's outright quackery." The academic, who has been a professor at Exeter for 15 years, labelled the Prince's firm "Dodgy Originals".
My comment (score): The subject matter was relevant, in my view. The article and my comments are both correct. (10)
6. Title (date of publication): Homeopathy: A 'cure' that is all in the mind? (11 February 2010)
Subject: Imagine if an electronics store publicly admitted that an entire range of the products it sold didn't work. It wasn't that the DVD players were not very good quality, it simply didn't have any evidence that they played DVDs at all.
Quote: A report published yesterday by the House of Commons Science and Technology Committee said the products were no more effective than a dummy pill and recommended the NHS stop funding them. Back in October last year Paul Bennett, the professional standards director of Boots, appeared in front of the Committee's inquiry into alternative medicine. When asked if he believed that homeopathic products worked he said: "There is certainly a consumer demand for these products. I have no evidence to suggest they are efficacious."
Scientists say there is no evidence water has such a memory or that homeopathy works at all beyond a basic placebo effect. "The principles are simply implausible," says Professor Edzard Ernst, Professor of Complementary Medicine at the Peninsular Medical School in Exeter. "It might be OK that the principle is implausible if the method still worked but rigorous clinical trials have demonstrated that the method doesn't work. On both levels the result is negative."
My comment (score): The subject matter was relevant. The article seems correct but my comment seems a bit confusing. (8)
7. Title (date of publication): Acupuncture 'a waste of time' for couples trying for a baby (10 March 2010)
Subject: Couples who have acupuncture to boost their chances of becoming parents are wasting their time and money, experts said yesterday.
Quote: New guidelines from the British Fertility Society, which represents fertility clinics, said there was "no evidence" that either acupuncture or traditional Chinese herbal remedies could improve the success rate of In-Vitro Fertilisation.
Edzard Ernst, professor of complementary medicine at the Peninsula Medical School, based at the universities of Exeter and Plymouth, said: "This is a long-overdue clarification. Infertile women have been misled for some time now to think that traditional Chinese medicine can help them getting pregnant. This analysis shows two things very clearly: The totality of the acupuncture trials does not support this notion, and for Chinese herbs, we have no evidence at all. This will help infertile women not to waste their money."
My comment (score): The subject matter was relevant. The article seems correct and my comment is true. (10)
8. Title (date of publication): Prince Charles's charity in £150 000 fraud quiz (4 April 2010)
Subject: One of Prince Charles's charities is being investigated by police amid ­allegations of a £150,000 fraud.
Quote: The Prince's Foundation for Integrated Health … which campaigns for the wider use of complementary therapies, has failed to file its annual return. According to the Charity Commission website it is 154 days overdue. A spokesman for the foundation said: "Due to staff and structural changes, there was a delay in preparing the 2008 accounts. While getting these accounts ready for filing, our auditors Kingston Smith questioned some of the transactions. A t their recommendation a complaint has been made to the police. " … Dr Michael Dixon, medical director for the foundation, said: "We should not abandon patients we cannot help with conventional scientific medicine. If homeopathy is getting results for those patients then of course we should ­continue to use it."
The complaint also claimed the foundation's trustees allowed staff to pursue a "vendetta" against a prominent critic , Edzard Ernst, ­professor of complementary medicine at Exeter University. Republic accused the foundation of being partly responsible for the ­imminent closure of Professor Ernst's department after he publicly attacked its draft guide to complementary medicines as "outrageous and deeply flawed".
My comment (score): The subject matter was relevant. The article seems correct albeit slightly confusing (the 'vendetta' is not really relevant here) the quotes are somewhat beside the point; mine seems copied from elsewhere. (7)
9. Title (date of publication): Prince Charles's charity amid £300k fraud inquiry (30 April 2010)
Subject: PRINCE Charles's homeopathy charity has been shut down amid a Scotland Yard investigation into a £300,000 fraud.
Quote: The 49-year-old man was arrested on Monday with a 54-year-old woman, both on suspicion of the same offences, after an investigation into £300,000 of unaccounted funds in the charity's books.
… while the foundation has enjoyed successes, sometimes working with the Prince's Duchy Originals company to produce alternative health care products, it has also become embroiled in a series of controversies. Critics have accused it of promoting "unscientific" approaches to health care. In February, MPs on the Commons Science and Technology Committee called for an end to homeopathy treatment on the NHS, arguing there was no evidence to support its effectiveness. Edzard Ernst, professor of complementary medicine at Exeter University, last year described a detox tincture made by Duchy Originals as "outright quackery" and regulators ordered the firm to withdraw misleading advertising claims about the effectiveness of two natural remedies.
My comment (score): The subject matter was relevant. The article seems correct and my comment seems copied from elsewhere and is beside the point. (8)
10. Title (date of publication): 'Snake oil seller' Prince Charles cost me my job, claims professor (26 July 2011)
Subject: A university professor, who labelled Prince Charles and other supporters of complementary medicine as "snake-oil salesmen", last night accused the heir to the throne of costing him his job.
Quote: Edzard Ernst, a consistent critic of Prince Charles and his Duchy Originals food company, is stepping down from his post at Exeter University as Britain's only professor of complementary medicine after a long-running dispute with the Prince about the merits of alternative therapies. He said: "Almost directly, Prince Charles has managed to interfere in my professional life and almost managed to close my unit." He blamed Charles, a prominent advocate of alternative therapies such as acupuncture, herbal remedies and homeopathy, for undermining him and leading his bosses to lose faith in him.
A spokeswoman for Charles claimed last night that the Prince was unaware that his private secretary had complained about the professor. She declined to respond to the description of her boss as a "snake-oil salesman".
My comment (score): The subject matter was relevant. The article seems correct and my comment is true. (10)
11. Title (date of publication): Do detox diets work? (10 January 2012)
Subject: Most of us overdo it during the festive season. No wonder January is the most popular month for detox diets which typically involve drinking pints of water each day, eating a very restricted diet and taking particular supplements.
Quote: The theory is toxins from unhealthy types of food and drink build up in the body and can lead to health problems. Purging these toxins is meant to leave you feeling full of energy and thinner.
The principle of detox goes back to medieval times but it is anti-science, agrees Professor Edzard Ernst, Britain's first professor of complementary medicine, who works at Peninsula College of Medicine & Dentistry in Exeter. "You can't overindulge on food and drink, then wave some magic wand," he says. "The only thing that detox removes is money from your wallet."
My comment (score): The subject matter was relevant. The article seems correct and my comment is true. (10)
12. Title (date of publication): Kevin Sorbo: Three strokes left me fighting for my life (28 February 2012)
Subject: Becoming a key speaker at a medical conference may seem an unlikely part for a Hollywood tough guy. Nevertheless that's the role Hercules star Kevin Sorbo took after breaking his silence over three life-threatening strokes.
Quote: He made an appointment with his chiropractor. "I had been seeing this guy for eight years and he never cracked my neck," recalls Kevin. "He knew I didn't like it." So he was surprised when the therapist did crack his neck. When he asked him why, the chiropractor responded by saying "I felt you needed it". Irritated, the star paid his bill and started driving back to the home of his girlfriend, now wife, Sam. "I heard two very loud pops in the back of my head and my vision went crazy. I felt like I was falling backwards and I couldn't stop. It was like that feeling you get when you stand up too quickly and get dizzy but multiplied by 10," he says. Kevin managed to drive to Sam's apartment and despite hearing two more "pops" went on to appear on a TV chat show after his agent insisted he could not pull out at the last minute. "I don't remember what we discussed. I was on auto-pilot. The entire world was spinning, my head was throbbing. It was the best acting of my life, acting as though I was healthy."
Whether or not the cracking technique is dangerous is a controversial issue. A study by Professor Edzard Ernst, director of complementary medicine at the UK's Peninsula Medical School says: "Numerous deaths have occurred after chiropractic manipulations." He thinks the risks of this treatment by far outweigh its benefit and adds: "In my view a chiropractor should not go near the neck."
However Haymo Thiel, vice-principal of the Anglo-European College of Chiropractic, says: "There is risk in anything. It would be foolish to say not. But there is a difference between coincidence of timing and causation."
My comment (score): Even though this is merely a case report, the subject matter seems relevant. The article seems correct and my comments are true. The Thiel comment at the end might serve as a nice example of false balance. (8)
13. Title (date of publication): Menopause: Natural remedies vs HRT (29 January 2013)
Subject: Are natural remedies best for the menopause, or is HRT still the strongest defence against its many unpleasant symptoms?
Quote: Since two major studies called hormone replacement therapy into question a decade ago – raising fears of breast cancer, stroke and heart disease – women confronting the menopause have faced a confusing choice.
"Few of the herbal remedies have been properly studied," says Edzard Ernst, professor of complementary medicine at the university of Exeter. "Some promising evidence has emerged for black cohosh and red clover, but even these are not as strongly beneficial as HRT."
My comment (score): The subject matter was relevant. The article seems correct and my comment is true. (10)
14. Title (date of publication): How safe is our herbal medicine? (19 March 2013)
Subject: For many of us hoping to take care of our aches and pains, boost our immune system or improve our mood, herbal remedies are often the first resort. Seen as a healthier and more natural option than conventional medication few of us stop to ask how safe these supplements actually are.
Quote: High street health chain Holland & Barrett is the most recent to fall foul of these rules. In January it was ordered to recall a blend of black cohosh and agnus castus called Flash Fighters which it was selling as a food supplement. A spokesman for the chain confirmed: "The MHRA stated the product's name implied it could be used to treat 'hot flushes'." He added that the store is undergoing the process of having Flash Fighters reclassified under the Traditional Herbal Medicine Registration Scheme (THR).
Professor Edzard Ernst, world's first professor of complementary medicine, warns: "The notion that natural equals safe can be dangerously misleading."
My comment (score): The subject matter was relevant. The article seems correct and my comment is true. (10)
15. Title (date of publication): Prince Charles SLAMMED as 'immoral' for peddling 'rubbish' alternative medicines (18 January 2018)
Subject: Charles is under fire from a renowned scientist who accuses him of being an "immoral snake oil salesman" for promoting alternative medicines in a shocking new book that lambasts the future monarch.
Quote: Professor Edzard Ernst, who previously accused Charles of "selling snake oil", has now hit out with a new book called "More Harm than Good?" He scalds Charles for being a vocal supporter of homeopathy, lobbying health ministers to set up a register of holistic practitioners and making impassioned speeches at the World Health Assembly and British Medical Association. The authors of the book, Professor Ernst and Dr Kevin Smith, of Abertay University in Dundee, said alternative medicines are "immoral". Professor Ernst said: "You can't have alternative medicine just because Prince Charles likes it, because that is not in the best interest of the patients.
My comment (score): The basis for the article was a presentation of a new book at the 'Science Media Centre'. The book merely mentioned Charles merely in passing. The article and our comments seem correct, however, they were not to focus of our presentation. (7)
16. Title (date of publication): Weight loss pills: Are they actually effective in helping you lose weight? (10 September 2018)
Subject: Weight loss pills claiming to help you lose weight, are widely advertised. But do they actually live up to their claims; are they effective in helping you to lose weight or are they simply a con?
Quote: More than one-third of adults are overweight in England alone, with nearly one-quarter obese, and growing numbers of people are turning to weight loss pills and products as a means to shed excess weight. Many weight loss pills claim to contain herbs or natural substances that speed up metabolism or make you feel full up to discourage you from eating. But according to the NHS, there is little evidence that some products sold by reputable retailers and over the internet actually work, and could even be packed with harmful substances. Even products marketed as 'guaranteed, clinically-proven and 100 per cent natural' come with no guarantees, the NHS warned.
Some manufacturers of weight loss products also only focus on positive trials, failing to mention the negative or failed trials. "Manufacturers cherry-pick and only ever mention the positive trials," said academic physician and researcher Edzard Ernst. "They then also fail to mention the mostly poor quality of their studies. Desperate people are being misled to buy unproven treatments at considerable expense."
My comment (score): The subject matter was relevant. The article seems correct and my comment is true. (10)
17. Title (date of publication): Prince Charles under fire for becoming patron of 175-year-old homeopathy group (26 June 2019)
Subject: The Prince of Wales has been criticised after being made a patron of a 175-year-old homeopathy group, which supports medical professionals with alternative treatments.
Quote: Charles has long advocated homeopathic medicine, which is seen as an alternative to regular chemical-based treatments. Homeopathy attempts to treat some conditions, including headaches and colds, so the body will get better by itself. But after Charles was accused of being an "immoral snake oil salesman" by a medical professor in 2017, it seems more are lining up to take aim at the future monarch for further endorsement of alternative medicine.
Professor Edzard Ernst, who made the initial criticisms of Charles last year, told the Guardian: "In view of Charles's long love affair with homeopathy, this news is unsurprising. The question is whether this will change anything about the sharp decline homeopathy has taken in this and several other countries, and whether it will alter the verdicts of dozens of independent organisations which recently have certified it to be a pure placebo therapy."
My comment (score): The subject matter was relevant. The article seems correct my quotes are borrowed from elsewhere. (7)
18. Title (date of publication): China sparks fresh coronavirus fears by turning to traditional medicine to fight virus (29 June 2020)
Subject: Chinese government papers have revealed that a shocking majority of the country's cases have been treated with traditional medicine.
Quote: Coronavirus currently has very little universally approved and clinically proven treatments, but scientists have made some discoveries into potentially effective drugs.
Edzard Ernst, a retired UK-based researcher of complementary medicines, said that there is no science behind the recommendation to support it's usage. He said to Nature: "For TCM there is no good evidence and therefore its use is not just unjustified, but dangerous."
My comment (score): The subject matter was relevant. The article seems correct my quotes are borrowed from elsewhere. (7)
19. Title (date of publication): Prince Charles fury: Scientist's shock claim royal 'treated him like dirt' exposed (1 July 2020)
Subject: Prince Charles is known to be enthusiastic about alternative medicines and therapies. Yet, Professor Edzard Ernst, who has several times criticised the royal for his influence in the world of pseudo-medicine, once claimed that the prince "silenced" and treated him "like dirt", a shocking unearthed report revealed.
Quote: 
Prince Charles for decades has welcomed alternative medicines and therapies to apparently "cure" his ailments. One of the pseudo-sciences most popular with the prince appears to be homeopathy. Homeopathy is the largely discredited practice of treating illness with diluted substances to trigger the body's own healing mechanisms.
In 2015, Professor Edzard Ernst, claimed he had been "treated like dirt" as a result of Charles trying to "silence" him. Prof Ernst is a staunch critic of using alternative medicines such as homeopathy as a direct means of treatment. He instead champions complementary medicine – the process of using alternative medicines to help alleviate the negative aspects of standard medicines – having held the first complementary medicine post in the world at the University of Exeter. His unscrupulous and rigorous application of evidence-based science and outspoken views found him at loggerheads with Charles.
My comment (score): The subject matter was only marginally relevant. I am pretty sure that I never said Charles treated me like dirt. I did say, however, that my university did treat me like dirt when dealing with the complaint from Charles's first private secretary, Sir Michael Peat. My comments are borrowed from elsewhere. (4)
20. Title (date of publication): Prince Charles' 'plot' with Andy Burnham for UK healthcare unveiled: 'He was open to it' (23 October 2020)
Subject: Prince Charles was once in agreement with Andy Burnham on the future direction of the UK's healthcare, letters have revealed.
Quote: …this is not the first time Mr Burnham has been caught up in a divisive matter over healthcare. In 2009, the Greater Manchester Mayor was the Health Secretary under then Prime Minister Gordon Brown and was found to be corresponding with the Prince of Wales about the UK healthcare system. Charles has a reputation for being a "meddling" royal, particularly after his so-called 'black spider memos' to Government ministers were published in 2015.
Professor of complementary medicine Edzard Ernst told The Guardian in 2015: "The letters demonstrate yet again that Prince Charles relentlessly meddles in UK health politics and thus disrespects his constitutional role. "His arguments in favour of CAM [complementary and alternative medicine] and in particular homeopathy, show a devastating lack of knowledge and understanding; they are ill-informed, invalid and embarrassingly naive – but at the same time they are remarkably persistent."
My comment (score): The subject matter was relevant. The article seems confusing my quotes are borrowed from elsewhere. (7)
21. Title (date of publication): Meghan Markle warning: Charles' business blunder exposed amid new career move (17 December 2020)
Subject: Meghan Marle has just moved into the business sector after investing in a start-up – but she should be careful to avoid Prince Charles' previous industry error which triggered a public outcry.
Quote: The Duchess of Sussex has ventured into the investment sector this week. It was announced that she has invested in Clevr Blends, a California-based sustainable start-up which sells four flavours of instant oat milk lattes. The company says its produce is sustainable, ethically sourced and healthy with organic ingredients, while its shipping materials are 100 percent recyclable.
However, Meghan's father-in-law was accused of exploiting the public when Britain was still recovering from the recession with his Duchy Originals line. The UK's first professor of complementary medicine, Edzard Ernst, dubbed the Duchy Originals detox tincture — which was being sold on the market at the time — "outright quackery". The product, called Duchy Herbals' Detox Tincture, was advertised as a "natural aid to digestion and supports the body's elimination processes" and a "food supplement to help eliminate toxins and aid digestion". The artichoke and dandelion mix cost £10 for a 50ml bottle.
My comment (score): The subject matter seems fairly irrelevant and far-fetched. My quotes belong to a different story. (2)
22. Title (date of publication): Prince Charles rejected by experts before Gwyneth Paltrow's long Covid row: 'Witchcraft' (25 February 2021)
Subject: Prince Charles was rejected by scientists for his views on "witchcraft" alternative medicine well before Gwyneth Paltrow became embroiled in a row over her unapproved treatments for long Covid.
Quote: Gwyneth Paltrow has been urged to stop spreading misinformation by the medical director of NHS England after she suggested on her blog Goop that long Covid could be treated with various alternative medicines. The Hollywood star described how she herself had caught coronavirus and had since suffered with "long-tail fatigue and brain fog". However, she claimed to have successfully treated it with "intuitive fasting", herbal cocktails and regular visits to an "infrared sauna".
The Prince of Wales has been specifically called out for advocating the controversial treatments, too. He was branded an "immoral snake oil salesman" by renowned scientist Professor Edzard Ernst in his book 'More Harm Than Good?' Prof Ernst founded the department of Complementary Medicine at the University of Exeter, became the world's first academic on the subject and has founded two medical journals. Over the years, he has published a lot of critical research exposing methods that lack documentation of efficacy. The expert lambasted Charles for lobbying health ministers to set up a register of holistic practitioners and making impassioned speeches at the World Health Assembly and British Medical Association. He said: "You can't have alternative medicine just because Prince Charles likes it, because that is not in the best interest of the patients. "The quality of the research is not just bad, but dismal. It ignores harms. There is a whole shelf of rubbish being sold and that is simply unethical." His co-author, Dr Kevin Smith ‒ a senior lecturer at Abertay University specialising in Complementary and Alternative Medicine and genetics ‒ agreed that these alternative medicines are "immoral". He added: "We certainly are very worried about the future King being a proponent.
My comment (score): The subject matter seems fairly irrelevant and far-fetched. My quotes belong to a different story. (2)
________________________________________
When I set out doing this analysis, I expected to find rather poor reporting by the DE. Yet, I was pleasantly surprised. Quite a lot of it is good. A few things did nevertheless occur to me:
I find it remarkable how often Prince Charles is the focus of these stories. Occasionally, my various disputes with Charles were 'pulled in' even though they do not really fit into the context of the article.
It is noticeable, I think, that the quality of the reporting deteriorated quite dramatically over time.
The DE repeatedly borrows quotes from other publications and even from different stories altogether. This seems to me to be lazy and rather poor journalism.
My point is that there is really no need for lazy or poor journalism on SCAM. Journalists should do their work properly; they can always reach me via the contact option of this blog (I invariably reply swiftly). I feel they owe it to their readers to do at least this minimal and quick amount of effort.
On Amazon, someone commented as follows on my biography of Prince Charles:
… Dr. Ernst goes on digressions that mostly seem intended to make Prince Charles look bad. There's a long chapter on Laurens van der Post, who influenced Prince Charles as a youth, and a lot about somewhat unsavory things he did. So what? …
This made me think. I read the chapter again and find it hard to agree with the comment. To me, this chapter is a short (~2000 words) and essential part of the book. Judge for yourself; here are a few excerpts from it: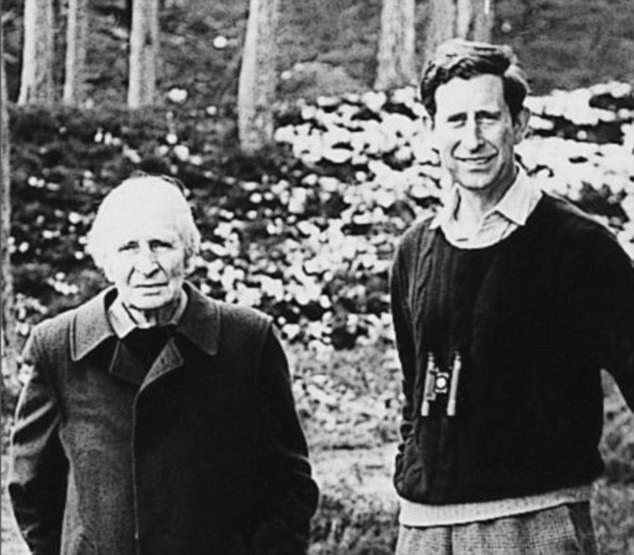 "It seemed to have been a union of mutual needs, between a Prince longing to find meaning in his existence and a storyteller who could weave apparent answers out of thin air." Laurence van der Post was oozing charm and charisma and sensed that "for the Prince, there was a missing dimension", as Jonathan Dimbleby put it. By 1975, the two men had formed such a close rapport that van der Post felt able to counsel him about spiritual matters, urging him to explore the 'old world of the spirit' and 'the inward way' towards truth and understanding. Van der Post suggested the two make a seven week journey into the Kalahari desert. This, he believed, would introduce Charles to the spirit world. Preparations were made in 1977 but, in the end, the plan had to be abandoned. Instead, the two later went to Kenya where they spent 5 days of long walks and "intense conversation".
Van der Post urged Charles to play "a dynamic and as yet unimagined role to suit the future shape of a fundamentally reappraised and renewed modern society", a reappraisal that would be "so widespread and go so deep that it will involve a prolonged fight for all that is good and creative in the human imagination." An aspect of this fight, he claimed, would be "to restore the human being to a lost natural aspect of his own spirit; to restore his relevance for life and his love of nature, and to draw closer to the original blueprint and plan of life…"
Laurence left an interview for posthumous publication; in it, he expressed his hope that Charles would never become king, as this would imprison him, it would be more important that Charles continues to be a great prince. "He's been brought up in a terrible way … He's a natural Renaissance man, a man who believes in the wholeness and totality of life … Why should it be that if you try to contemplate your natural self that you should be thought to be peculiar?"
"For 20 years they had most intimate conversations and correspondence … with a steady flow of reassurance and encouragement, political and diplomatic advice, memoranda, draft speeches and guidance for reading".  Van der Post introduced Charles to the teachings of Carl Jung and his concept of the 'collective unconscious' that binds all humans together regardless whether they are Kalahari bushmen or princes. On the behest of van der Post, Charles began to record his dreams which van der Post then interpreted according to Jung's theories. In the late 1970s van der Post tried to convince Charles to give up all his duties and withdraw from the world completely in search for an 'inner world truth'. This plan too was aborted.
All biographers agree that van der Post was the strongest intellectual influence of Charles' life.
Charles sought van der Post's advice and spiritual guidance on numerous occasions.
When William was born, he made van der Post his godfather.
When Charles' marriage to Diana ran into difficulties, the couple was counselled by van der Post.
Charles invited Laurence regularly to Highgrove, Sandringham and Balmoral.
Charles visited van der Post on his deathbed.
After Laurence's death, Charles created a series of annual lectures hosted in van der Post's memory which he hosted in St James' Palace.
…
…
…
Charles' notions about medicine were unquestionably inspired by van der Post. Laurence. He, for instance, bemoaned the inadequacy of conventional medicine and wrote: "Even if doctors did … use dreams and their decoding as an essential part of their diagnostic equipment and perhaps could confront cancer at the point of entry, how are they to turn it aside, unless they are humble enough to keep their instruments in their cases and look for some new form of navigation over an uncharted sea of the human spirit?" As we will see in the next chapters, van der Post's influence shines through in many of Charles' speeches. Moreover, it contributed to the attitude of many critical observers towards Charles. Christopher Hitchens is but one example for many:
"We have known for a long time that Prince Charles' empty sails are so rigged as to be swelled by any passing waft or breeze of crankiness and cant. He fell for the fake anthropologist Laurens van der Post. He was bowled over by the charms of homeopathic medicine. He has been believably reported as saying that plants do better if you talk to them in a soothing and encouraging way… The heir to the throne seems to possess the ability to surround himself—perhaps by some mysterious ultramagnetic force?—with every moon-faced spoon-bender, shrub-flatterer, and water-diviner within range."
The following chapters will show that Hitchens might not have been far off the mark.
___________________________
Yes, I do feel that the chapter is essential for the book. It explains how Charles' love affair with alternative medicine got started and why it would become so intense and durable. Without it, the reader would not be able to understand the rest of the book. Moreover, it is important to demonstrate that van der Post was a charlatan and an accomplished liar. This is relevant because, in later life, Charles' skill to choose adequate advisors was often wanting.
Now that the first reviews of, and numerous comments on my new book are in, I thought I bring my readers up to date and perhaps contribute to some fun. My favorite quote comes from a comment on Harriett Hall's review: "Nothing much new here about Chucky Windsor's credulity…"
Perhaps I shouldn't, but I think it is funny and thus I chose it as the title of this post. Apart from being funny, it also has a more serious background. Virtually everyone who contacted me and gave me feedback said that they knew about Charles' advocacy of alternative medicine. So, the 'nothing much new' comment is apt. Yet, they all added that, before reading my book, they had no idea how deeply Charles was involved and how profoundly anti-scientific and irrational his thinking seems to be in this area. Jonathan Stea, for instance, tweeted: "I just finished reading it—review coming soon. Excellent book. I didn't realize Prince Charles was so stubbornly in love with pseudoscience and trying to promote it for decades under the guise of alternative/integrative medicine."
Another comment was made on my own blog: "I am an avid consumer of this and other science blogs, books, podcasts and any other media I encounter. One of my earliest exposures was your book Trick or Treat, which I credit with greatly expanding my knowledge of a subject I had dabbled in but had begun to question. I deplore the PoW's promotion of quackery. I am American and have no dog in the value of Royalty debate. BUT, I don't see the need to use such a deeply unflattering (and possibly photoshopped) photo of the PoW. I do not think that such a decision is in line with your list of "nots", and I think it hinders the impact it might otherwise have on fence-sitters. It disappoints me and while I have purchased multiple copies of many of your books to pass on to friends, family, and believers, I will pass on this one." The photo is perhaps not flattering but there a many out there that are even worse. In any case, it is the publisher who decides on the title page. In the present case, I merely asked them to make my name on the title page a little less prominent than it was on the draft.
And then there were people who emailed me directly, as this medical colleague:
Dear Dr Ernst,
as a GP and ex oral surgeon from a world famous medical school(Edinburgh), also an experienced alternative practitioner,with 51 years in NHS, more than your own clinical exposure, I'm saddened by sponsored? skewed assaults on healing modalities maybe also representing a threat to financial paradigms: I absolved myself of scientific trials "for profit only", in deference to holistic patient care, & the Hippocratic Oath
Karma: what one sows,one shall reap.
Yours sincerely
…
In a similar vein, Dr. Larry Malerba, a US homeopath, posted this comment on a Medscape interview with me:
Medscape and Ernst deserve each other. What a sad old fellow, desperate to live down his homeopathic past by producing a steady stream of deeply prejudicial anti-homeopathy propaganda. What kind of person dedicates his life to hate speech against the second most popular medical therapy worldwide? No doubt, he's convinced himself that it's a noble endeavor. Sad and comical.
Fortunately, the book reviews were more intelligent. They confirm what I mentioned above: reviewers were amazed at the depth of Charles' irrationality. Harriett Hall expressed it as follows: "Charles' efforts to promote alternative medicine have been mentioned many times on SBM, but readers may not appreciate the depth of his folly. I know I didn't, until I read this book. The full story has never been told until now." And Paul Benedetti wrote: "In short, readable chapters, Ernst unblinkingly presents how Charles has written books and articles promoting alternative medicine and spearheaded organizations, colleges, and foundations, giving full-throated support to one unproven, often bizarre, alternative health cure after another."
One of the nicest pieces of praise came from someone who posted this comment on Amazon:
This is a revelatory critique of where vague well-intentioned but ill-informed health ideas promoted by a powerful person do or don't get us.
Professor Ernst's explanations are admirably clear – and no-one is more qualified than he to write on this topic. It's difficult to imagine a more devastating comment on the bad conseqeunces of ill-informed ideas and actions, than that found in the last two paragraphs on Page 88.
There is a great deal of valuable information here on 'alternative medicine' approaches, in addition to the explanations of HRH Prince Charles' involvement with them. A most worthwhile book for anyone wanting to find out more about alternative/complementary treatment modalities.
Yes, publishing a book can be a mixed blessing. The author works tirelessly for many months (for next to no pay) only to get aggressed – not for factual errors (that would be perfectly alright) or unfounded arguments (that would be welcome) but for allegedly being in it for the money or producing 'prejudicial propaganda'. In the case of the new book, this had to be expected. I hesitated for an entire decade writing it (hoping someone else would tackle the task) because I knew that it would be far from straightforward to criticize the future king of one's own country.
All the more reason to take this occasion and thank those who stand by me, who find my book relevant, who agree that it is instructive, and who feel that it deserves a wide readership.
THANK YOU
People often say WHAT'S THE HARM?
Why not let Prince Charles promote any nonsense he likes?
Let him be!
He means well!
He is not harming anyone!
I think this attitude is not correct. Charles's advocacy of quackery is by no means harmless. This is one of the points I have been trying to make repeatedly, most recently in my biography of Charles.
And there are plenty of examples for this; just think of the Gerson therapy (a whole chapter in the said book). Another, less obvious example is homeopathy. Charles has promoted homeopathy during all his adult life. When he fell ill with COVID in the early phase of the pandemic, the realm of homeopathy predictably decided that he recovered so well because he homeopathic treatment. A report dated 7 April 2020, for example, is quite clear about it:
British Crown Prince Charles has been "101 per cent" cured of COVID-19 using Ayurveda and Homeopathy treatment, Union Minister of State for AYUSH Shripad Naik … "I am proud that the Ministry which I head, managed to cure such a great man, there is no greater credit than this. He may have some problem (admitting to it) because the system in his country does not give recognition to Ayurveda. He may have felt he would violate rules, that is why his refusal to admit is obvious," Naik told a local cable news channel in an interview late on Monday. "I believe 101 per cent, that he has been cured (using Ayurveda and Homeopathy)," Naik also said.
On April 2, Naik had told a press conference in Goa, that Prince Charles had been cured of COVID-19 after seeking treatment from a Bengaluru-based alternative treatment resort, SOUKYA International Holistic Health Centre' run by a doctor Isaac Mathai. A day after his statement, Clarence House, the official residence of Prince Charles had said that the claim was incorrect and that the royal "followed the medical advice of the National Health Service in the UK and nothing more". The royal had been diagnosed COVID-19 positive last month.
Naik in the cable TV interview on Monday continued to insist that Ayurveda and Homeopathy had indeed cured the Prince and that it was a "victory" for Indian traditional medicine systems. Naik also said that there was no need to disbelieve the doctor Isaac Mathai, who cured Prince Charles. "The man (Dr. Mathai) himself is saying this. He is a doctor, an owner of a resort, he is trustworthy, when he says this, it is a victory of our Indian system," Naik said.
The royal denial had little effect; Indian officials had persuaded themselves and key decision-makers that Charles's case was proof for homeopathy's effectiveness against COVID. Consequently, homeopathy was widely used for that purpose. As a result, millions of Indians deemed themselves sufficiently protected (possibly not taking other measures seriously). And the rest is history: in the summer of 2020, about 1000 Indians per day were reported to have died of COVID (the number of unreported deaths was estimated to be even higher).
The point I am trying to make is this: the promotion of quackery by a 'VIP' can have dramatic unforeseen consequences, even if (like in Charles's case) a direct cause-effect relationship is impossible to prove.
Yesterday, my new book arrived on my doorstep.
WHAT JOY!
Its full title is CHARLES, THE ALTERNATIVE PRINCE. AN UNAUTHORISED BIOGRAPHY. I guess that it also clarifies its contents. In case you want to know more, here is the full list of topics:
Foreword by Nick Ross v 

1. Why this Book? 1
2. Why this Author? 5
3. Words and Meanings 10
4. How Did It All Start? 13
5. Laurens van der Post 17
6. The British Medical Association 25
7. Talking Health 31
8. Osteopathy 37
9. Chiropractic 43
10. The Foundation of Integrated Health 50
11. Open Letter to The Times 56
12. The Model Hospital 62
13. Integrated Medicine 66
14. The Gerson Therapy 73
15. Herbal Medicine 77
16. The Smallwood Report 82
17. World Health Organisation 90
18. Traditional Chinese Medicine 96
19. The 'GetWellUK' Study 100
20. Bravewell 106
21. Duchy Originals Detox Tincture 110
22. Charles' Letters to Health Politicians 115
23. The College of Medicine and Integrated Health 120
24. The Enemy of Enlightenment 126
25. Harmony 132
26. Antibiotic Overuse 142
27. Ayurvedic Medicine 147
28. Social Prescribing 154
29. Homeopathy 160
30. Final Thoughts 169
Glossary 180
End Notes 187
Index 202
In case you want to know more, here is chapter 1 of my book:
Over the past two decades, I have supported efforts to focus healthcare on the particular needs of the individual patient, employing the best and most appropriate forms of treatment from both orthodox and complementary medicine in a more integrated way.[1]
The Prince of Wales 1997
This is a charmingly British understatement, indeed! Charles has been the most persistent champion of alternative medicine in the UK and perhaps even in the world. Since the early 1980s, he has done everything in his power
to boost the image of alternative medicine,
to improve the status of alternative practitioners,
to make alternative therapies more available to the general public,
to lobby that it should be paid for by the National Health Service (NHS),
to ensure the press reported favourably about the subject,
to influence politicians to provide more support for alternative medicine.
He has fought for these aims on a personal, emotional, political, and societal level. He has used his time, his intuition, his influence, and occasionally his money to achieve his goals. In 2010, he even wrote a book, 'Harmony', in which he explains his ideas in some detail[2] (discussed in chapter 25, arguably the central chapter of this biography). Charles has thus become the undisputed champion of the realm of alternative medicine. For that he is admired by alternative practitioners across the globe.
Yet, his relentless efforts are not appreciated by everyone (another British understatement!). There are those who view his interventions as counter-productive distractions from the important and never-ending task to improve modern healthcare. There are those who warn that integrating treatments of dubious validity into our medical routine will render healthcare less efficient. There are those who claim that the Prince's preoccupation with matters that he is not qualified to fully comprehend is a disservice to public health. And there are those who insist that the role of the heir to the throne does not include interfering with health politics.
So, are Charles' ideas new and exciting?
Or are they obsolete and irrational?
Has Charles become the saviour of UK healthcare?
Or has he hindered progress?
Is he a role model for medical innovators?
Or the laughing stock of the experts?
Is he a successful reformer of healthcare?
Or are his concepts doomed to failure?
Charles appears to evade critical questions of this nature. Relying on his intuition, he unwaveringly pursues and promotes his personal beliefs, regardless of the evidence (Box 1). He believes strongly in his mission and is, as most observers agree, full of good intentions. If he even notices any criticism, it is merely to reaffirm his resolve and redouble his efforts. He is reported to work tirelessly, and one could easily get the impression that he is obsessed with his idea of integrating alternative medicine into conventional healthcare.
I have observed Charles' efforts around alternative medicine for the last 30 years. Occasionally, I was involved in some of them. For 19 years, I have headed the world's most productive team of researchers in alternative medicine. This background puts me in a unique position to write this account of Charles' 'love affair' with alternative medicine. It is not just a simple outline of Charles' views and actions but also a critical analysis of the evidence that does or does not support them. In writing it, I pursue several aims:
I want to summarise this part of medical history, as it amounts to an important contribution to the recent development of alternative medicine in the UK and beyond.
I hope to explain how Charles and other enthusiasts of alternative medicine think, what motivates them and what logic they follow.
I will contrast Charles' beliefs with the published evidence as it pertains to each of the alternative modalities (treatments and diagnostic methods) he supports.
I want to stimulate my readers' ability to think critically about health in general and alternative medicine in particular.
My book will thus provide an opportunity to weigh the arguments for and against alternative medicine. In that way, it might even provide Charles with a substitute for a discussion about his thoughts on alternative medicine which, during almost half a century, he so studiously managed to avoid.
In pursuing these aims there are also issues that I hope to avoid. From the start, I should declare an interest. Charles and I once shared a similar enthusiasm for alternative medicine. But, as new evidence emerged, I changed my mind and he did not. This led to much-publicised tensions and conflicts. Yet it would be too easy to dismiss this book as an act of vengeance. It isn't. I have tried hard to be objective and dispassionate, setting out Charles' claims as fairly as I can and comparing them with the most reliable evidence. As much as possible:
I do not want my personal discords with Charles to get in the way of objectivity.
I do not want to be unfairly dismissive of Charles and his ambitions.
I do not want to be disrespectful about anyone's deeply felt convictions.
I do not aim to weaken the standing of our royal family.
My book follows Charles' activities in roughly chronological order. Each time we encounter a new type of alternative medicine, I will try to contrast Charles' perceptions with the scientific evidence that was available at the time. Most chapters of this book are thus divided into four parts
A short introduction
Charles' views
An outline of the evidence
A comment about the consequences
While writing this book, one question occurred to me regularly: Why has nobody so far written a detailed history of Charles's passion for alternative medicine? Surely, the account of Charles 'love affair' with alternative medicine is fascinating, diverse, revealing, and important!
I hope you agree.
BOX 1
The nature of evidence in medicine and science
Evidence is the body of facts, often created through experiments under controlled conditions, that lead to a given conclusion.
Evidence must be neutral and give equal weight to data that fail to conform to our expectations.
Evidence is normally used towards rejecting or supporting a hypothesis.
In alternative medicine, the most relevant hypotheses often relate to the efficacy of a therapy.
Such hypotheses are best tested with controlled clinical trials where a group of patients is divided into two subgroups and only one is given the therapy to be tested; subsequently the results of both groups are compared.
Experience does not amount to evidence and is a poor indicator of efficacy; it can be influenced by several phenomena, e.g. placebo effects, natural history of the condition, regression towards the mean.
If the results of clinical studies are contradictory, the best available evidence is usually a systematic review of the totality of rigorous trials.
Systematic reviews are methods to minimise random and selection biases. The most reliable systematic reviews are, according to a broad consensus, those from the Cochrane Collaboration.
[1] https://www.princeofwales.gov.uk/speech/article-hrh-prince-wales-titled-science-and-homeopathy-must-work-harmony-daily-telegraph
[2] https://www.amazon.co.uk/Harmony-New-Way-Looking-World/dp/0007348037
In case you want to know even more – and I hope you do – please get yourself a copy.
Don't worry -it happens to the best of us: you have forgotten to get a present for someone.
Do not panic!
Here are five items that we discussed in 2021 on this blog and which might be suitable as a last-minute festive present:
How about a neckless? I know, it is perhaps not everyone's taste but it has the additional advantage that, contrary to the manufacturer's claim that it protects you from disease-causing radiation, it actually emits (radioactive) radiation. Ideal for a radiant Christmas, would you not agree?
The festive season is foremost the season for love. If you want to make sure that your partner is tuned in, you must quickly get the LOVETUNER. Yes, it does work, after all, Deepak Chopra recommends it!
Another recommendation comes from the renowned Prof Harald Walach: a rosary! It is hard to imagine a present that befits Christmas better than this one.
Many people will over-indulge during the festive season. For them, Prince Charles' Detox Tincture is the perfect present. You might have to search hard for it though; if I am correctly informed he had to take it off the market.
My final recommendation is divine – yes, truly! This divine protection oil is a must-have, particularly if you are not fully vaccinated.
PLEASE STAY HEALTHY OVER THE FESTIVE SEASON AND DON'T OVERDO IT,
WHATEVER YOU ARE UP TO.
'Survive Cancer' is a UK charity that promotes and researches orthomolecular medicine in the treatment of cancer, septic shock, mental health, and other illnesses. They claim to provide information about research and trials and a multi-pronged treatment approach for sufferers of cancer. Specifically for cancer, they recommend the following 'top ten' so-called alternative medicines (SCAMs):
Gerson
Vitamin C therapy
Anti-angiogenic therapy
Immunotherapy
Photodynamic-/Photo-therapy
Melatonin
Bisphosphonates (for bone cancer)
Coley's toxins
Salvestrols
Pain management
Interesting?
Yes, because it is misleading to the extreme. Here, for example, is what they say about an old favorite of mine (and of Prince Charles):
Gerson Therapy
Max Gerson was a German doctor who in the early twentieth century devised an anti-cancer diet and regime based on radically altering the sodium/potassium ratio in the body for the better, thus allowing optimal cellular functions, and nutrition, coupled with intensive detoxification through the use of coffee enemas.
Coffee enemas (see Detox, in First Steps, 5 Rs of Cancer Survival,) are a scientifically established, and medically accepted, way of stimulating the production of glutathione-s-transferases, a major liver detoxifying enzyme family. The diet is vegetarian, low in protein, with fresh organic fruit and vegetable juices daily, and certain specified supplements, such as potassium, niacin and vitamin C. At the end of his life Gerson testified before Congress with the details of 50 cases he had cured. His daughter, Charlotte, has continued Gerson's work in the U.S. However, she has not made an attempt to integrate modern nutritional state-of-the-art knowledge into the therapy. This is being done by Gar Hildebrand. A retrospective study showed that the Gerson therapy is much more effective than chemotherapy for ovarian cancer and melanoma, both particularly aggressive forms of cancer. Gerson himself had notable successes with various kinds of brain tumour, even after some neurological damage had occurred. Orthomolecular Oncology suggests combining Immunopower with Gerson as an update. We can also cite a remarkable case of a 11 year remission in Multiple Myeloma, another fast-moving, relentless cancer without conventional cure, otherwise conventionally untreated, achieved through a combination of Gerson and modern orthomolecular approaches. Gerson is a powerful, comprehensive therapy, still capable of producing cures, even in its unmodulated form. However, it requires great discipline, time, and extra assistance. Read Gerson's book and/or contact the Gerson Institute for further details.
One does not need to be a genius to predict that cancer patients following this sort of advice, will significantly shorten their lives, diminish their quality of life and empty their bank account. One does, however, need to be a genius to predict when the UK charity commission is finally going to do something about the many UK charities that prey on vulnerable cancer patients.
PS
I almost forgot: the patrons of this charity are:
The British Royal Family have been proponents of homeopathy for generations. Homeopathy was originally introduced into the UK by Frederic Hervey Foster Quin who, as a young physician, had visited Hahnemann in Koethen, Germany. Quin was soon fully converted to homeopathy and returned to England. Being well-connected to the European aristocracy, he managed to attract many influential personalities to homeopathy. In 1844, he founded the British Homeopathic Society and, in 1850, he opened the predecessor of the Royal London Homeopathic Hospital which is today called the Royal London Hospital for Integrated Medicine.
Our Queen has many times been reported to swear by her homeopathic remedies. Some went as far as claiming her good health in old age must be due to her using homeopathy to keep well. Here is just one example from 'THE OFFICIAL HOMEOPATHY RESOURCE' of 2016:
On her 90th birthday, the London Weekly News reports that in spite of criticism the Queen has used homeopathy all her life and has remarkable good health. In fact, many generations of the Royal family have used homeopathy
For as The Queen marks her 90th birthday on April 21, that she has reached such an excellent age is largely due to her lifelong trust in homeopathy. Everywhere that Her Majesty goes she is accompanied by a small case of special cures and tinctures and, although doctors no not care to admit it, it is because of her herbal little helpers that she rarely gets a cold or any other sort of complaint.
Empiricists would argue that as both The Queen and the late Queen Mother have been avid fans of homeopathy and as The Queen Mum died at the age of 101, the glaring probability that it works seems to be rather evident.
Sadly, her good health cannot last forever, and we have all seen recent reports of her being unwell, spending one night in hospital, and announcing the cancellation of all her engagements during the next two weeks resting on doctors' orders.
Which doctors?
Peter Fisher was her homeopath, but he tragically died three years ago. Did the Queen appoint another homeopath to look after her? Did she go into the Royal London Hospital for Integrated Medicine when she was ill? Was she reported to be taking homeopathic remedies during her recovery? The answer to all those questions seems to be NO.
What does that tell us?
I have often observed that our Royals use homeopathy while they are well and conventional medicine when they are ill. The Queen might have followed this strategy too. But not appointing a successor to Peter Fisher suggests something quite different. Does it indicate, I ask myself, that the Queen has recently had the occasion to look at the evidence and concluded – as most intelligent people did some time ago – that homeopathy does not work beyond placebo?
I certainly hope so, not least because refusing to rely on homeopathy would significantly increase her chances of remaining our Queen for some time to come.
Italian authors recently published a remarkable review entitled 'Systemic Agro-Homeopathy: A New Approach to Agriculture' (OBM Integrative and Complementary Medicine 2021, volume 6, issue 3 doi:10.21926/obm.icm.2103020). Allow me to present you with their (lengthy) conclusions:
The systemic agro-homeopathic approach considers the farm as a single organism, an agroecosystem of living and non-living elements, which establishes a dense network of interactions. Its purpose is to strengthen and intensify the relationships among the organisms to create a stronger and healthier agroecosystem, involving all the organisms within the agroecosystem. To fulfill this aim, the described approach allows one to control and manage the agricultural processes through the application of highly diluted and dynamized natural substances. The latter might restore the equilibrium in the agroecosystem by stimulating the natural resistance already present in the agrarian system. The identification of the correct mineral remedy, through the biotypes and pathogenesis levels, could allow one to act on the chronic conditions of the agroecosystem (imbalance in plant primary metabolism or cellular levels), whereas, the identification of plant/animal homeopathic remedy, based on the principle of metabolic similarity, might allow the management of the acute conditions (phytopathological diseases).
Till now, the systemic agro-homeopathic approach has been adopted by some farmers in Europe, particularly in Italy, for about six years and it is increasing interest, especially among organic producers. To date, several observations have been reported by farmers (personal communications), providing positive and encouraging perspectives, but some rigorous scientific experimentation at the farm level is needed to validate such results. If statistical data from field trials were to confirm the observations made so far, the systemic agro-homeopathic approach could represent an agroecological production model with a very low energy impact. Additionally, this approach could be in line with the current European community orientation (European Green Deal), which aims to promote a type of sustainable agriculture. In this context, systemic agro-homeopathy would meet the three pillars of sustainability: (1) economic, due to the very low use of raw materials; (2) environmental, by avoiding the use of chemical substances such as fertilizers, pesticides, etc.; and (3) social, with the production of healthy, safe, and high-quality food.
_____________________________________
Normally, when I encounter something weird, unproven, or incredible, I react by saying something like: SHOW ME THE EVIDENCE! In this case, I think any attempts to gather evidence might be a waste of time. Some things are just too idiotic to even test them. An open mind is usually a good thing, but one still needs to take care that one's brain does not fall out.
The integration of so-called alternative medicine (SCAM) into cancer care may reduce the adverse effects of anti-neoplastic treatment but also cause new problems and non-adherence to conventional treatment. Therefore, its net benefit is questionable.
The aim of this randomized controlled study was to investigate the impact of integrative open dialogue about SCAM  on cancer patients' health and quality of life (QoL).
Patients undergoing curative or palliative anti-neoplastic treatment were randomly assigned to standard care (SC) plus SCAM or SC alone. A nurse specialist facilitated SCAM in one or two sessions. The primary endpoint was the
frequency of grade 3–4 adverse events (AE) eight weeks after enrollment. Secondary endpoints were the frequency of grade 1–4 AE and patient-reported QoL, psychological distress, perceived information, attitude towards and use of SCAM 12 and 24 weeks after enrollment. Survival was analyzed post-hoc.
Fifty-seven patients were randomized to SCAM and 55 to SC.  No significant differences were found in terms of AEs of cancer patients. A trend towards better QoL, improved survival, and a lower level of anxiety was found in the SCAM group.
The authors concluded that integration of SCAM into daily oncology care is feasible. IOD-CAM was not superior to SC in reducing the frequency of grade 3-4 AEs, but it did not compromise patient safety.  Implementation of  SCAM
may improve the QoL, anxiety, and emotional well-being of the patients by reducing the level of nausea, vomiting and diarrhea. Finally, SCAM potentially improves the patients' self-care, which contributes to
increased treatment adherence and improved survival.
This is an interesting paper with a very odd conclusion. The positive trends found failed to be statistically significant. Why employ statistics only to ignore them in our interpretation of the findings?
I can well imagine that the integration of effective treatments into cancer care improves the outcome. I have no problem with this at all – except it is not called INTEGRATIVE MEDICINE but EVIDENCE-BASED MEDICINE!!! If we integrate dubious treatments into cancer care, it's called INTEGRATIVE MEDICINE, and it's unlikely to do any good.
In my view, this small study showed just one thing:
Integrative medicine does not reduce adverse effects in cancer patients.