risk
Myelopathy is defined as any neurologic deficit related to the spinal cord. When due to trauma, it is known as (acute) spinal cord injury. When caused by inflammatory, it is known as myelitis. Disease that is vascular in nature is known as vascular myelopathy.
The symptoms of myelopathy include:
Pain in the neck, arm, leg or lower back
Muscle weakness
Difficulty with fine motor skills, such as writing or buttoning a shirt
Difficulty walking
Loss of urinary or bowel control
Issues with balance and coordination
The causes of myelopathy include:
Tumours that put pressure on the spinal cord
Bone spurs
A dislocation fracture
Autoimmune diseases like multiple sclerosis
Congenital abnormality
A traumatic injury
This review presents a series of cases with cervical spine injury and myelopathy following therapeutic manipulation of the neck, and examines their clinical course and neurological outcome.
Its authors conducted a search for patients who developed neurological symptoms due to cervical spinal cord injury following neck SMT in the database of a spinal unit in a tertiary hospital between the years 2008 and 2018. Patients with vertebral artery dissections were excluded. Patients were assessed for the clinical course and deterioration, type of manipulation used and subsequent management.
A total of four patients were identified, two men and two women, aged between 32 and 66 years. In three patients neurological deterioration appeared after chiropractic adjustment and in one patient after tuina therapy. The patients had experienced symptoms within one day to one week after neck manipulation. The four patients had signs of:
central cord syndrome,
spastic quadriparesis,
spastic quadriparesis,
radiculopathy and myelomalacia.
Three patients were managed with anterior cervical discectomy and fusion while one patient declined surgical treatment.
The authors note that their data cannot determine whether the spinal cord dysfunction was caused my the spinal manipulations or were pre-existing problems which were aggravated by the treatments. They recommend that assessment for subjective and objective evidence of cervical myelopathy should be performed prior to cervical manipulation, and suspected myelopathic patients should be sent for further workup by a specialist familiar with cervical myelopathy, such as a neurologist, a neurosurgeon or orthopaedic surgeon who specializes in spinal surgery. They also state that manipulation therapy remains an important and generally safe treatment modality for a variety of cervical complaints. Their review, the authors stress, does not intend to discard the role of spinal manipulation as a significant part in the management of patients with neck related symptoms, rather it is meant to draw attention to the need for careful clinical and imaging investigation before treatment. This recommendation might be medically justified, yet one could argue that it is less than practical.
This paper from Israel is interesting in that it discloses possible complications of cervical manipulation. It confirms that chiropractors are most frequently implicated and that – as in our survey – under-reporting is exactly 100% (none of the cases identified by the retrospective chart review had been previously reported).
In light of this, some of the affirmations of the authors are bizarre. In particular, I ask myself how they can claim that cervical manipulation is a 'generally safe' treatment. With under-reporting at such high levels, the only thing one can say with certainty is that serious complications do happen and nobody can be sure how frequently they occur.
These days, I am often not sure what puzzles me more, Boris Johnson or homeopathy. Come to think of it, our PM seems, in fact, to have a lot in common with homeopathy/homeopaths. With my tongue lodged firmly in my cheek, I can see some communalities:
They are both popular in the UK but have their origins elsewhere.
They were both laughed at by people who are serious.
They have both been around for far too long.
They both are useless.
They both have plenty of charisma.
They both, however, have little more than that.
They have a long history of misleading the public.
They have both been taken to court.
They both failed to accept the judgement when it went against them.
They are both particularly successful with the female section of the population.
They both thrive on personal attacks.
They both make far-reaching claims which turn out to be false.
They both claim to want only the best for the public.
They both consider themselves as progressive.
In truth, however, they are both deeply regressive.
They both do not to think that ethics are all that important.
They both irritate people who are rational thinkers.
They both negate the evidence and act in overt contradiction to the evidence.
They both tend to think that popularity is a measure of efficacy.
They both managed to mislead even the Queen.
Nevertheless, they both enjoy royal support (at least for the time being).
They both seem to think that the laws (of the land/of nature) do not apply to them.
They are both only bearable when highly diluted.
They are both a complete waste of money.
They are both dangerous when the public follow their advice.
Have I forgotten anything?
Do tell me, please.
It is hard to deny that many practitioners of so-called alternative medicine (SCAM) advise their patients to avoid 'dangerous chemicals'. By this they usually mean prescription drugs. If you doubt how strong this sentiment often is, you have not followed the recent posts and the comments that regularly followed. Frequently, SCAM practitioners will suggest to their patients to not take this or that drug and predict that patients would then see for themselves how much better they feel (usually, they also administer their SCAM at this point).
Lo and behold, many patients do indeed feel better after discontinuing their 'chemical' medicines. Of course, this experience is subsequently interpreted as a proof that the drugs were dangerous: "I told you so, you are much better off not taking synthetic medicines; best to use the natural treatments I am offering."
But is this always interpretation correct?
I seriously doubt it.
Let's look at a common scenario: a middle-aged man on several medications for reducing his cardiovascular risk (no, it's not me). He has been diagnosed to have multiple cardiovascular risk factors. Initially, his GP told him to change his life-style, nutrition and physical activity – to which he was only moderately compliant. Despite the patient feeling perfectly healthy, his blood pressure and lipids remained elevated. His doctor now strongly recommends drug treatment and our chap soon finds himself on statins, beta-blockers plus ACE-inhibitors.
Our previously healthy man has thus been turned into a patient with all sorts of symptoms. His persistent cough prompts his GP to change the ACE-inhibitor to a Ca-channel blocker. Now the patients cough is gone, but he notices ankle oedema and does not feel in top form. His GP said that this is nothing to worry about and asks him to grin and bear it. But the fact is that a previously healthy man has been turned into a patient with reduced quality of life (QoL).
This fact takes our man to a homeopath in the hope to restore his QoL (you see, it certainly isn't me). The homeopath proceeds as outlined above: he explains that drugs are dangerous chemicals and should therefore best be dropped. The homeopath also prescribes homeopathics and is confident that they will control the blood pressure adequately. Our man complies. After just a few days, he feels miles better, his QoL is back, and even his sex-life improves. The homeopath is triumphant: "I told you so, homeopathy works and those drugs were really nasty stuff."
When I was a junior doctor working in a homeopathic hospital, my boss explained to me that much of the often considerable success of our treatments was to get rid of most, if not all prescription drugs that our patients were taking (the full story can be found here). At the time, and for many years to come, this made a profound impression on me and my clinical practice. As a scientist, however, I have to critically evaluate this strategy and ask: is it the correct one?
The answer is YES and NO.
YES, many (bad) doctors over-prescribe. And there is not a shadow of a doubt that unnecessary drugs must be scrapped. But what is unnecessary? Is it every drug that makes a patient less well than he was before?
NO, treatments that are needed should not be scrapped, even if this would make the patient feel better. Where possible, they might be altered such that side-effects disappear or become minimal. Patients' QoL is important, but it is not the only factor of importance. I am sure this must sound ridiculous to lay people who, at this stage of the discussion, would often quote the ethical imperative of FIRST DO NO HARM.
So, let me use an extreme example to explain this a bit better. Imagine a cancer patient on chemo. She is quite ill with it and QoL is a thing of the past. Her homeopath tells her to scrap the chemo and promises she will almost instantly feel fine again. With some side-effect-free homeopathy see will beat the cancer just as well (please, don't tell me they don't do that, because they do!). She follows the advice, feels much improved for several months. Alas, her condition then deteriorates, and a year later she is dead.
I know, this is an extreme example; therefore, let's return to our cardiovascular patient from above. He too followed the advice of his homeopath and is happy like a lark for several years … until, 5 years after discontinuing the 'nasty chemicals', he drops dead with a massive myocardial infarction at the age of 62.
I hope I made my message clear: those SCAM providers who advise discontinuing prescribed drugs are often impressively successful in improving QoL and their patients love them for it. But many of these practitioners haven't got a clue about real medicine, and are merely playing dirty tricks on their patients. The advise to stop a prescribed drug can be a very wise move. But frequently, it improves the quality, while reducing the quantity of life!
The lesson is simple: find a rational doctor who knows the difference between over-prescribing and evidence-based medicine. And make sure you start running when a SCAM provider tries to meddle with necessary prescribed drugs.
I have written about this more often than I care to remember, and today I do it again.
Why?
Because it is important!
Chiropractic is not effective for kids, and chiropractic is not harmless for kids – what more do we need to conclude that chiropractors should not be allowed anywhere near them?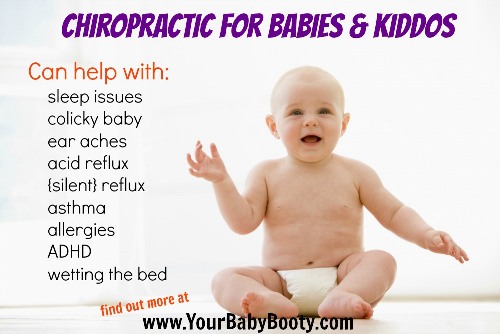 And most experts now agree with this conclusion; except, of course, the chiropractors themselves. This recent article in THE CHRONICLE OF CHIROPRACTIC is most illuminating in this context:
It was only a matter of time before the attack on the chiropractic care of children spread to the United States from Australia and Canada and its also no surprise that insurance companies would jump on the bandwagon first.  According to Blue Cross and Blue Shield Children under the age of 5 years should not receive chiropractic care (spinal manipulation) " . . . because the skeletal system is not mature at this time."
The Blues further contend that:
"Serious adverse events may be associated with pediatric spinal manipulation in children under the age of 5 years due to the risks of these procedures in children this age."
The Blues claims that their determination is based on standards of care – though they do not state which ones.
"This determination was based on standards of care in pediatric medicine as well as current medical evidence."
This is not the first time Blue Cross attacked the chiropractic care of children. In 2005 CareFirst Blue Cross claimed that:
"Spinal manipulation services to treat children 12 years of age and younger, for any condition, is considered experimental and investigational."
The ridiculous and false claims by Blue Cross come on the heels of a ban placed on spinal manipulation of infants by the Chiropractic Board of Australia (see related story) and attacks on chiropractors who care for children in Canada by chiropractic regulatory boards there.
There is in fact plenty of evidence to support the chiropractic care of infants and children and there are practice guidelines (the highest level on the research hierarchy pyramid) that support such care.
The real issue is not whether or not evidence exists to support the chiropractic care of children – the real issue is power and the lack of any necessity for evidence for those with the power.
__________________________________________________________________
END OF QUOTE
What can we learn from this outburst?
Chiropractors often take much-needed critique as an 'attack'. My explanation for this phenomenon is that they sense how wrong they truly are, get defensive, and fear for their cash-flow.
When criticised, they do not bother to address the arguments. This, I believe, is again because they know they are in the wrong.
Chiropractors are in denial as to what they can and cannot achieve with their manipulations. My explanation for this is that they might need to be in denial – because otherwise they would have to stop practising.
They often insult criticism as ridiculous and false without providing any evidence. The likely explanation is that they have no reasonable evidence to offer.
All they do instead is stating things like 'there is plenty of evidence'. They don't like to present the 'evidence' because they seem to know that it is worthless.
Lastly, in true style, they resort to conspiracy theories.
To any critical thinker their behaviour thus makes one conclusion virtually inescapable: DON'T LET A CHIROPRACTOR NEAR YOUR KIDS!
Yesterday, I had the honour and pleasure to present to the UK press my new book entitled 'ALTERNATIVE MEDICINE, A CRITICAL ASSESSMENT OF 150 MODALITIES' (see also my previous post). The SCIENCE MEDIA CENTRE had invited me to do a 'media briefing' on the occasion of its publication. I did this by outlining the background around so-called alternative medicine (SCAM) and explaining the concept of the new book which essentially is – as its title indicates – to provide concise and critical assessments of 150 modalities.
In the course of my short presentation, I mentioned the following exotic modalities in order to show that my book goes beyond the 'usual suspects' of acupuncture, chiropractic, etc.:
BERLIN WALL
COLLOIDAL SILVER
PALEO DIET
PLACENTOPHAGY
URINE THERAPY
CUPPING
GUA SHA
LYMPH DRAINAGE
SLAPPING THERAPY
VISCERAL OSTEOPATHY
JOHREI HEALING
LEECH THERAPY
NEURAL THERAPY
ZERO BALANCE
APPLIED KINESIOLOGY
IRIDOLOGY
LIVE BLOOD ANALYSIS
PULSE DIAGNOSIS
RADIONICS
As it turned out, the journalists present found the BERLIN WALL remedy the most fascinating aspect of my talk. And this is clearly reflected in today's articles covering the event: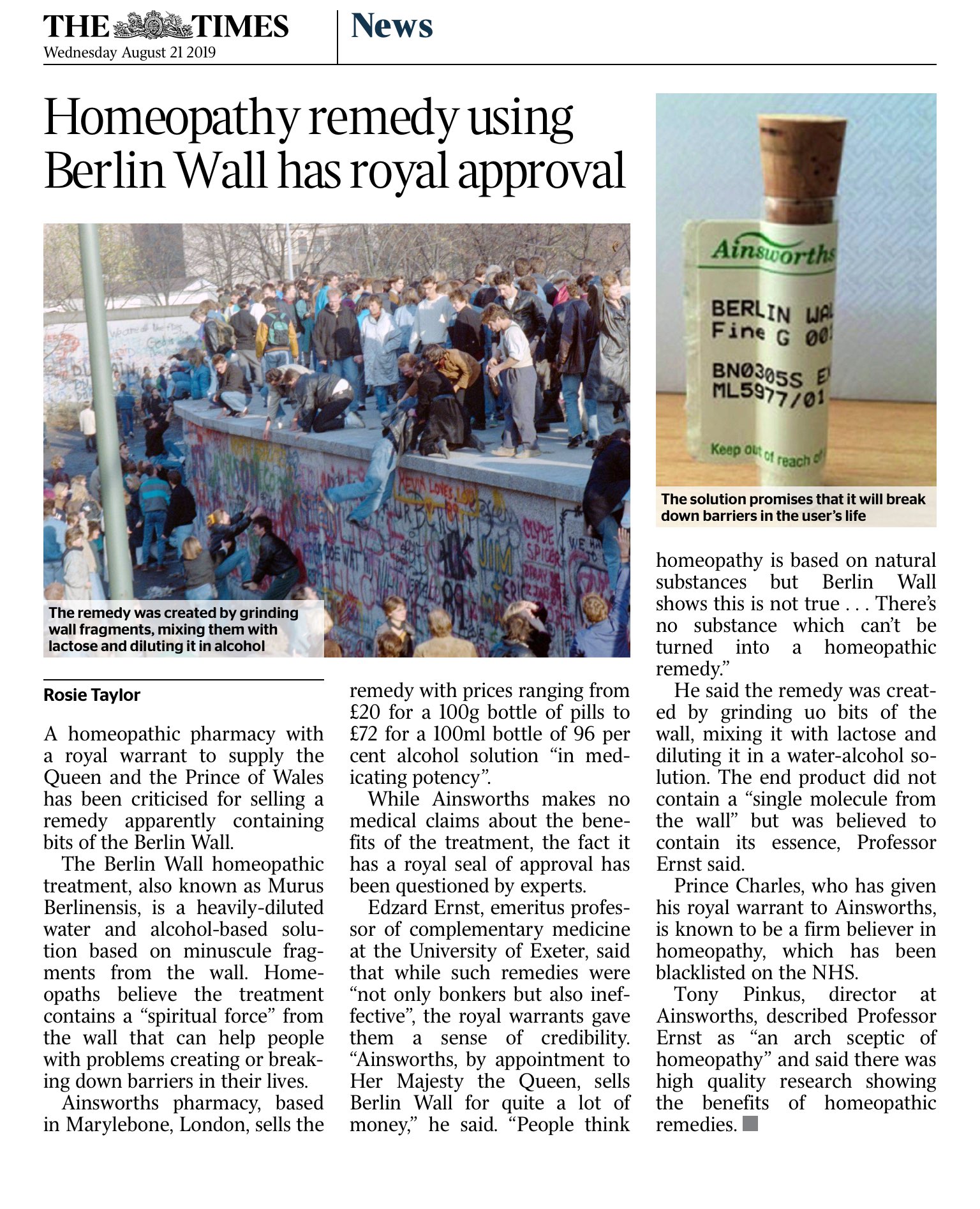 The DAILY TELEGRAPH published an article much in the same vein, and so did THE SUN and the EXPRESS (not available on line). The only UK newspaper I have seen so far going beyond the Berlin Wall topic is THE DAILY MAIL. The paper mentions several other so-called alternative medicines (SCAMs) that consumers need to be protected from, in my view.
Interestingly, none of the articles mentioned that my new book is not an exercise in debunking. During my presentation, I made the point that several of my assessments of 150 modalities do arrive at positive conclusions for therapies that demonstrably generate more good than harm.
I also tried to point out to the journalists that SCAM includes a range of diagnostic techniques. None of them are valid which means that they present a real danger to consumers through false-positive and false-negative diagnoses. In particular the latter scenario can cost lives.
All in all, I did enjoy yesterday's press briefing very much. I am aware of the fact that, in the realm of SCAM, the press have a most important role to play. Consumers rarely consult their doctor when deciding to use SCAM; frequently they go by what they read in the papers.
In this context, I find it noteworthy that, during the last years, the UK press have become considerably more sceptical. Not so long ago, most UK journalists used to praise SCAM like the best thing since sliced bread; today this attitude has laudably shifted towards a more rational stance. I am sure that the excellent work of the SCIENCE MEDIA CENTRE has played a crucial part in this positive development.
The World Federation of Chiropractic, Strategic Plan 2019-2022 has just been published. It is an odd document that holds many surprises. Sadly, none of them are positive.
As the efficacy and safety of chiropractic spinal manipulations, the hallmark treatment that close to 100% of all chiropractic patients receive, are more than a little doubtful, one would expect that such a strategy would focus on the promotion of rigorous clinical research to create more certainty in these two important areas. If you are like me and were hoping for a firm commitment to such activities, you will be harshly disappointed.
Already in the introduction, the WFC sets an entirely different agenda:
We believe that everyone deserves access to chiropractic. We believe in chiropractors being accessible throughout the world. We believe that societies can thrive where chiropractors are available as a part of people's health care teams.
If you are not put off by such self-serving, nauseous nonsense and read on, you find what the WFC call the 'FOUR STRATEGIC PILLARS'
SUPPORT
EMPOWERMENT
PROMOTION
ADVANCEMENT
The text supporting the first three pillars consists of insufferable platitudes, and I will therefore not burden you with it. But the title of No4 did raise my hopes of finding something along the lines of an advancement of the evidence-base of chiropractic. Sadly, this turned out to be over-optimistic. Here is the 4th pillar in its full beauty:
Advancing the chiropractic profession together under the banner of evidence-based, people-centered, interprofessional and collaborative care.
Around the world health is delivered according to prevailing societal, cultural and political factors. These social determinants mean that chiropractors must adapt to the environment in which they practice.
As a global federation we must continuously strive to advance awareness of chiropractic under a banner of ethical, evidence-based, people-centered care.
Through consensus-building, shared understanding and respectful dialogue with partners in the health system, chiropractic should become a valued partner in contributing enhanced population health.
Throughout our 7 world regions, we must advance public utilization of chiropractors to optimize the health of nations.
Through the identification of common values and a commitment to patient-centered care, we can advance the identity of chiropractors as spinal health care experts in the health care system.
The WFC will:
– Advance awareness of chiropractic among the general public, within health systems and among health professionals.
– Advance access to chiropractors for all people and broaden the integration of chiropractic services
– Advance interprofessional collaboration and the integration of chiropractic into health systems
_______________________________________________________________________
END OF QUOTE
The essence of the WFC strategy for the next 3 years thus seems to be as follows:
Avoid any discussion about the lack of evidence of chiropractic.
Promote chiropractic to the unsuspecting public at all cost.
Make sure chiropractors' cash flow is healthy.
There are some commentators on this blog who regularly try to make us believe that chiropractic is about to reform, leave obsolete concepts behind, and become a respectable, ethical and evidence-based healthcare profession. After reading the appalling drivel the WFC call their 'strategic plan', I am not optimistic that they are correct.
It is hardly surprising that Gwyneth Paltrow's obsession with so-called alternative medicine (SCAM) for the vagina is motivating women to try some of it. The consequences can be dramatic; not only for the wallet but also for the vagina!
Vaginal steaming made global headlines in 2015 after its promotion by celebrity Gwyneth Paltrow. One of many female genital modification practices currently on offer in Anglo-Western nations – practices both heavily promoted and critiqued – vaginal steaming is claimed to offer benefits for fertility and overall reproductive, sexual or even general health and wellbeing. We analysed a selection of online accounts of vaginal steaming to determine the sociocultural assumptions and logics within such discourse, including ideas about women, women's bodies and women's engagement with such 'modificatory' practices. Ninety items were carefully selected from the main types of website discussing vaginal steaming: news/magazines; health/lifestyle; spa/service providers; and personal blogs. Data were analysed using thematic analysis, within a constructionist framework that saw us focus on the constructions and rationalities that underpin the explicit content of the texts. Within an overarching theme of 'the self-improving woman' we identified four themes: (1) the naturally deteriorating, dirty female body; (2) contemporary life as harmful; (3) physical optimisation and the enhancement of health; and (4) vaginal steaming for life optimisation. Online accounts of vaginal steaming appear both to fit within historico-contemporary constructions of women's bodies as deficient and disgusting, and contemporary neoliberal and healthist discourse around the constantly improving subject.
A recent case-report tells a cautionary tale. Here is its abstract:
BACKGROUND:
Vaginal steaming has gained increased popularity as a method to achieve empowerment by providing vaginal tightening and to "freshen" the vagina.
CASE:
A 62-year-old woman sustained second-degree burns following vaginal steaming in an attempt to reduce vaginal prolapse.
CONCLUSION:
Clinicians need to be aware of alternative treatments available to women so that counselling may mitigate any potential harm.
As the full paper is not available to me, I had to rely on another report for further information.
The woman had been suffering from a prolapsed vagina and had been led to believe the vaginal steaming could help avoid surgery. Spas advertising "v-steaming" claim it has been used throughout history in countries in Asia and Africa. They claim the practice, which is sometimes called Yoni steaming, acts to "detox" the vagina, can ease period pains, help with fertility and much more. Experts, however, warn that it can be dangerous and point out that there is no good evidence for the health claims being made.
Dr Vanessa Mackay, a consultant and spokeswoman for the Royal College of Obstetricians and Gynaecologists, says it is a "myth" that the vagina requires extensive cleaning or treatment. She recommends using plain, unperformed soaps on the external vulva area only. "The vagina contains good bacteria, which are there to protect it," she said in a statement. "Steaming the vagina could affect this healthy balance of bacteria and pH levels and cause irritation, infection (such as bacterial vaginosis or thrush) and inflammation. It could also burn the delicate skin around the vagina (the vulva)."
Dr Magali Robert, who authored the case-report, said the injured woman attempted to steam her vagina on the advice of a traditional Chinese doctor. The woman, who gave permission for her case to be shared, sat over the boiling water for 20 minutes on two consecutive days before presenting at an emergency department with injuries. She sustained second-degree burns and had to delay reconstructive surgery while she healed.
Dr Robert, who works in pelvic medicine and reconstructive surgery in Calgary, said word of unconventional therapies like steaming can spread through channels like the internet and word-of-mouth. "Health care providers need to be aware of alternative therapies so that they can help women make informed choices and avoid potential harm," she says in the article.
According to the European Committee of Homeopathy, the Committee on Health and Consumer Affairs of the Spanish Parliament unanimously adopted a bill in 2009 that recognises homeopathy as a medical act. It urged the government to "take the measures necessary for the exercise of homeopathy exclusively by graduates in medicine and surgery." On 17 December 2009, the Consejo General de Colegios Oficiales de Médicos (Spanish Medical Council) adopted a resolution that recognised the practice of homeopathy as a medical act.
One decade later, the wind seems to have changed. As reported previously (see here and here), there are now several Spanish initiatives to minimise the damage bogus therapies like homeopathy do to public health. A recent article reported that the Spanish health ministry has been campaigning for a change in the EU law that classifies homeopathic products as medicines. The European Commission seems to be open to the idea.
The criticism of homeopathy in Spain was triggered at least in part by reports of people refusing or abandoning regular treatment in favour of homeopathic products to treat serious diseases like cancer. One of them was Rosa Morillo, who died of breast cancer in 2017, after she refused chemotherapy and sought homeopathic treatments instead, according to El País.
"The problem is the damage that can be done by opting for an alternative therapy that has not demonstrated scientific evidence," Carcedo, the Sanish health minister, said. She raised the issue again in bilateral talks at the most recent EU health ministers' meeting in Luxembourg in June. "What we can do is keep up the pressure, because the change in the directive must be done at a European level," she told El País.
The 2001 EU directive on the code for human medicines states that "homeopathic medicinal products" are eligible for a simplified registration procedure if they are administered orally or externally, have no specific therapeutic indication on their packaging; and are sufficiently diluted to guarantee their safety. Homeopathic products with a specific therapeutic indication, meanwhile, have to get a marketing authorization following the same rules as regular medicines, including providing proof of efficacy.
The envisaged change in EU law would be most welcome, in my view. It would:
abolish the current double standards,
end the misleading messages to consumers,
align the law with the current best evidence,
abolish the unfair commercial advantage of homeopathy producers,
align the law with ethical imperatives,
make a positive contribution to public health,
increase trust in EU drug regulation.
But we should not be over-optimistic either. The European homeopathy lobby is powerful and is fighting with its back to the wall.
And what can we do to help? Perhaps writing to your MEP in support of the Spanish initiative might be a good idea?
Japanese neurosurgeons reported the case of A 55-year-old man who presented with progressive pain and expanding swelling in his right neck. He had no history of trauma or infectious disease. The patient had undergone chiropractic manipulations once in a month and the last manipulation was done one day before the admission to hospital.
On examination by laryngeal endoscopy, a swelling was found on the posterior wall of the pharynx on the right side. The right piriform fossa was invisible. CT revealed hematoma in the posterior wall of the right oropharynx compressing the airway tract. Aneurysm-like enhanced lesion was also seen near the right common carotid artery. Ultrasound imaging revealed a fistula of approximately 1.2 mm at the posterior wall of the external carotid artery and inflow image of blood to the aneurysm of a diameter of approximately 12 mm. No dissection or stenosis of the artery was found. Jet inflow of blood into the aneurysm was confirmed by angiography. T1-weighted MR imaging revealed presence of hematoma on the posterior wall of the pharynx and the aneurysm was recognized by gadolinium-enhancement.
The neurosurgeons performed an emergency operation to remove the aneurysm while preserving the patency of the external carotid artery. The pin-hole fistula was sutured and the wall of the aneurysm was removed. Histopathological assessment of the tissue revealed a pseudoaneurysm (also called a false aneurism), a collection of blood that forms between the two outer layers of an artery.
The patient was discharged after 12 days without a neurological deficit. Progressively growing aneurysm of the external carotid artery is caused by various factors and early intervention is recommended. Although, currently, intravascular surgery is commonly indicated, direct surgery is also feasible and has advantages with regard to pathological diagnosis and complete repair of the parent artery.
The relationship between the pseudoaneurysm and the chiropractic manipulations seems unclear. The way I see it, there are the following three possibilities:
The manipulations have causally contributed to the pseudo-aneurysm.
They have exacerbated the condition and/or its symptoms.
They are unrelated to the condition.
If someone is able to read the Japanese full text of this paper, please let us know what the neurosurgeons thought about this.
Facebook and YouTube have in the past been Eldorados for quacks who used it to promote their nonsensical products, false messages, and bogus treatments. A recent article in the Washington Post explained that this might be about to change.
Hundreds of thousands of enthusiasts of so-called alternative medicine (SCAM) persuade each other on Facebook that baking soda, apple cider vinegar, frankincense, apricot kernels, tiger bones, Essiac, bleach, homeopathics, Bach flower remedies etc. are cures that doctors don't want you to know about. But recently Facebook announced that it is taking steps to limit the reach of false and sometimes dangerous therapeutic claims by treating them similar to clickbait or spam.
Facebook will "down-rank" posts that contain certain types of health misinformation, meaning those posts will appear in the news feeds of fewer users, and less prominently. The down-ranking process will use keywords and phrases that commonly appear in posts containing exaggerated or false health claims, but tend to be absent in posts containing accurate information on the same topics. Facebook's News Feed algorithms will use those suspicious phrases, which the company has identified with the help of health-care professionals, to predict which posts might contain sensational health claims.
"Misleading health content is particularly bad for our community," Travis Yeh, a Facebook product manager, wrote in a blog post. "So, last month we made two ranking updates to reduce (1) posts with exaggerated or sensational health claims and (2) posts attempting to sell products or services based on health-related claims."
In a media statement, YouTube said: "Misinformation is a difficult challenge and any misinformation on medical topics is especially concerning … We've taken a number of steps to address this, including surfacing more authoritative content across our site. Our systems are not perfect, but we've seen progress within this space."
Without question, these moves are a steps in the right direction. Whether they amount to more than a lip-service, whether they are able to out-smart the quacks, and whether they will make a real difference to the ubiquitous promotion of quackery, has to be seen.