osteopathy
The Royal College of Chiropractors (RCC), a Company Limited by guarantee, was given a royal charter in 2013. It has following objectives:
to promote the art, science and practice of chiropractic;
to improve and maintain standards in the practice of chiropractic for the benefit of the public;
to promote awareness and understanding of chiropractic amongst medical practitioners and other healthcare professionals and the public;
to educate and train practitioners in the art, science and practice of chiropractic;
to advance the study of and research in chiropractic.
In a previous post, I pointed out that the RCC may not currently have the expertise and know-how to meet all these aims. To support the RCC in their praiseworthy endeavours, I therefore offered to give one or more evidence-based lectures on these subjects free of charge.
And what was the reaction?
Nothing!
This might be disappointing, but it is not really surprising. Following the loss of almost all chiropractic credibility after the BCA/Simon Singh libel case, the RCC must now be busy focussing on re-inventing the chiropractic profession. A recent article published by RCC seems to confirm this suspicion. It starts by defining chiropractic:
"Chiropractic, as practised in the UK, is not a treatment but a statutorily-regulated healthcare profession."
Obviously, this definition reflects the wish of this profession to re-invent themselves. D. D. Palmer, who invented chiropractic 120 years ago, would probably not agree with this definition. He wrote in 1897 "CHIROPRACTIC IS A SCIENCE OF HEALING WITHOUT DRUGS". This is woolly to the extreme, but it makes one thing fairly clear: chiropractic is a therapy and not a profession.
So, why do chiropractors wish to alter this dictum by their founding father? The answer is, I think, clear from the rest of the above RCC-quote: "Chiropractors offer a wide range of interventions including, but not limited to, manual therapy (soft-tissue techniques, mobilisation and spinal manipulation), exercise rehabilitation and self-management advice, and utilise psychologically-informed programmes of care. Chiropractic, like other healthcare professions, is informed by the evidence base and develops accordingly."
Many chiropractors have finally understood that spinal manipulation, the undisputed hallmark intervention of chiropractors, is not quite what Palmer made it out to be. Thus, they try their utmost to style themselves as back specialists who use all sorts of (mostly physiotherapeutic) therapies in addition to spinal manipulation. This strategy has obvious advantages: as soon as someone points out that spinal manipulations might not do more good than harm, they can claim that manipulations are by no means their only tool. This clever trick renders them immune to such criticism, they hope.
The RCC-document has another section that I find revealing, as it harps back to what we just discussed. It is entitled 'The evidence base for musculoskeletal care'. Let me quote it in its entirety:
The evidence base for the care chiropractors provide (Clar et al, 2014) is common to that for physiotherapists and osteopaths in respect of musculoskeletal (MSK) conditions. Thus, like physiotherapists and osteopaths, chiropractors provide care for a wide range of MSK problems, and may advertise that they do so [as determined by the UK Advertising Standards Authority (ASA)].
Chiropractors are most closely associated with management of low back pain, and the NICE Low Back Pain and Sciatica Guideline 'NG59' provides clear recommendations for managing low back pain with or without sciatica, which always includes exercise and may include manual therapy (spinal manipulation, mobilisation or soft tissue techniques such as massage) as part of a treatment package, with or without psychological therapy. Note that NG59 does not specify chiropractic care, physiotherapy care nor osteopathy care for the non-invasive management of low back pain, but explains that: 'mobilisation and soft tissue techniques are performed by a wide variety of practitioners; whereas spinal manipulation is usually performed by chiropractors or osteopaths, and by doctors or physiotherapists who have undergone additional training in manipulation' (See NICE NG59, p806).
The Manipulative Association of Chartered Physiotherapists (MACP), recently renamed the Musculoskeletal Association of Chartered Physiotherapists, is recognised as the UK's specialist manipulative therapy group by the International Federation of Orthopaedic Manipulative Physical Therapists, and has approximately 1100 members. The UK statutory Osteopathic Register lists approximately 5300 osteopaths. Thus, collectively, there are approximately twice as many osteopaths and manipulating physiotherapists as there are chiropractors currently practising spinal manipulation in the UK.
END OF QUOTE
To me this sounds almost as though the RCC is saying something like this:
We are very much like physiotherapists and therefore all the positive evidence for physiotherapy is really also our evidence. So, critics of chiropractic's lack of sound evidence-base, get lost!
The new NICE guidelines were a real blow to us, but we now try to spin them such that consumers don't realise that chiropractic is no longer recommended as a first-line therapy.
In any case, other professions also occasionally use those questionable spinal manipulations (and they are even more numerous). So, any criticism  of spinal manipulation  should not be directed at us but at physios and osteopaths.
We know, of course, that chiropractors treat lots of non-spinal conditions (asthma, bed-wetting, infant colic etc.). Yet we try our very best to hide this fact and pretend that we are all focussed on back pain. This avoids admitting that, for all such conditions, the evidence suggests our manipulations to be worst than useless.
Personally, I find the RCC-strategy very understandable; after all, the RCC has to try to save the bacon for UK chiropractors. Yet, it is nevertheless an attempt at misleading the public about what is really going on. And even, if someone is sufficiently naïve to swallow this spin, one question emerges loud and clear: if chiropractic is just a limited version of physiotherapy, why don't we simply use physiotherapists for back problems and forget about chiropractors?
(In case the RCC change their mind and want to listen to me elaborating on these themes, my offer for a free lecture still stands!)
Alternative practitioners practise highly diverse therapies. They seem to have nothing in common – except perhaps that ALL of them are allegedly stimulating our self-healing powers (and except that most proponents are latently or openly against vaccinations). And it is through these self-healing powers that the treatments in question cure anything and become a true panacea. When questioned what these incredible powers really are, most practitioners would (somewhat vaguely) name the immune system as the responsible mechanism. With this post, I intend to provide a short summary of the evidence on this issue:
Acupuncture: no good evidence to show stimulation of self-healing powers.
Aromatherapy: no good evidence to show stimulation of self-healing powers.
Bioresonance: no good evidence to show stimulation of self-healing powers.
Chiropractic: no good evidence to show stimulation of self-healing powers.
Detox: no good evidence to show stimulation of self-healing powers.
Energy healing: no good evidence to show stimulation of self-healing powers.
Feldenkrais: no good evidence to show stimulation of self-healing powers.
Gua sha: no good evidence to show stimulation of self-healing powers.
Herbal medicine: no good evidence to show stimulation of self-healing powers.
Homeopathy: no good evidence to show stimulation of self-healing powers.
Macrobiotics: no good evidence to show stimulation of self-healing powers.
Naturopathy: no good evidence to show stimulation of self-healing powers.
Osteopathy: no good evidence to show stimulation of self-healing powers.
Power bands: no good evidence to show stimulation of self-healing powers.
Reiki: no good evidence to show stimulation of self-healing powers.
Reflexology: no good evidence to show stimulation of self-healing powers.
Shiatsu: no good evidence to show stimulation of self-healing powers.
Tai chi: no good evidence to show stimulation of self-healing powers.
TCM: no good evidence to show stimulation of self-healing powers.
Vibrational therapy: no good evidence to show stimulation of self-healing powers.
---
Vaccinations: very good evidence to show stimulation of self-healing powers.
---
THE END
In 2005, I published a systematic review of ophthalmic adverse effects after spinal manipulations. At the time, I found 14 case reports. Clinical symptoms and signs were diverse and included loss of vision, ophthalmoplegia, diplopia and Horner's syndrome. The underlying mechanism was arterial wall dissection in most cases. The eventual outcome varied and often included permanent deficits. Causality was frequently deemed likely or certain.
I concluded that upper spinal manipulation is associated with ophthalmological adverse effects of unknown frequency. Ophthalmologists should be aware of its risks. Rigorous investigations must be conducted to establish reliable incidence figures.
Now a new article has emerged that throws more light on this issue:
A 46-year-old healthy male with a history of chronic musculoskeletal neck pain presented to the emergency department with left sided weakness after a syncopal episode. The patient had been treated with frequent chiropractic neck manipulations over the past seven years, with his last session one month prior to presentation. One week prior to presentation, the patient developed a new headache, anisocoria, and ptosis of his right upper eyelid. Computed tomography angiography (CTA) of the head and neck showed an internal carotid occlusion with right middle cerebral artery zone of ischemia, and tissue plasminogen activator (tPA) was administered. Subsequently, the patient experienced vision loss in his right eye. MRI and CTA were repeated, revealing a right ICA dissection from below the ophthalmic artery to the posterior communicating artery. On examination, vision in the right eye was no light perception (NLP) and the pupil was amaurotic. Fundus exam showed vascular attenuation, severe pallor of the optic nerve and retina, without a cherry red spot. A diagnosis of ophthalmic artery occlusion was made.
Inpatient workup revealed no stroke risk factors, and he was discharged on aspirin and clopidogrel therapy. Follow up imaging showed re-cannulation of the ICA, although vision remained NLP at outpatient evaluation the following month. Macular spectral domain optical coherence tomography (SDOCT) showed hyperreflectivity of the inner retina diffusely and of the outer retina and retinal pigment epithelium (RPE) centrally. Fluorescein angiography revealed patchy choroidal filling, delayed arterial filling, and macular nonperfusion. Three months after presentation, vision had improved to light perception, and remains stable at one year after the dissection.
Central retinal artery occlusion (CRAO) has been previously described after neck manipulation; however, these cases have been attributed to a dislodged embolic plaque rather than arterial dissection as in this case. Carotid artery dissection after neck manipulation is rare, although the exact incidence is unknown, and may be fatal.
The authors of this case report concluded that internal carotid artery dissection in this case was permanently devastating to the vision of a previously healthy young patient.
What follows is simple:
upper spinal manipulations have no or very little proven benefit;
they are associated with a finite risk;
thus, their risk/benefit balance fails to be positive;
consequently, upper spinal manipulations cannot be recommended as a treatment of any condition.
Systematic research on complaints about chiropractors, osteopaths, and physiotherapists is rare. We have often heard chiropractors claim that complaints against them are extremely rare events.
But is this true?
Two recent investigations might go some way towards answering this question.
The aim of the first investigation was to understand differences in the frequency and nature of formal complaints about Australian practitioners in these professions in order to inform improvements in professional regulation and education.
This retrospective cohort study analysed all formal complaints about all registered chiropractors, osteopaths, and physiotherapists in Australia lodged with health regulators between 2011 and 2016. Based on initial assessments by regulators, complaints were classified into 11 issues across three domains: performance, professional conduct, and health. Differences in complaint rate were assessed using incidence rate ratios. A multivariate negative binomial regression model was used to identify predictors of complaints among practitioners in these professions.
Patients and their relatives were the most common source of complaints about chiropractors, osteopaths and physiotherapists. Concerns about professional conduct accounted for more than half of the complaints about practitioners in these three professions. Regulatory outcome of complaints differed by profession. Male practitioners, those who were older than 65 years, and those who practised in metropolitan areas were at higher risk of complaint. The overall rate of complaints was higher for chiropractors than osteopaths and physiotherapists (29 vs. 10 vs. 5 complaints per 1000 practice years respectively, p < 0.001). Among chiropractors, 1% of practitioners received more than one complaint – they accounted for 36% of the complaints within their profession. Overall, nearly half of the complaints (47.7%) involved chiropractors, even though chiropractors make up less than one-sixth (13.9%) of the workforce across these three professions.
The authors concluded that their study demonstrates differences in the frequency of complaints by source, issue and outcome across the chiropractic, osteopathic and physiotherapy professions. Independent of profession, male sex and older age were significant risk factors for complaint in these professions. Chiropractors were at higher risk of being the subject of a complaint to their practitioner board compared with osteopaths and physiotherapists. These findings may assist regulatory boards, professional associations and universities in developing programs that avert patient dissatisfaction and harm and reduce the burden of complaints on practitioners.
The aim of the second study was to describe claims reported to the Danish Patient Compensation Association and the Norwegian System of Compensation to Patients related to chiropractic from 2004 to 2012.
All finalized compensation claims involving chiropractors reported to one of the two associations between 2004 and 2012 were assessed for age, gender, type of complaint, decisions and appeals. Descriptive statistics were used to describe the study population. The results show that 338 claims were registered in Denmark and Norway between 2004 and 2012 of which 300 were included in the analysis. 41 (13.7%) were approved for financial compensation. The most frequent complaints were worsening of symptoms following treatment (n = 91, 30.3%), alleged disk herniations (n = 57, 19%) and cases with delayed referral (n = 46, 15.3%). A total financial payment of €2,305,757 (median payment €7,730) were distributed among the forty-one cases with complaints relating to a few cases of cervical artery dissection (n = 11, 5.7%) accounting for 88.7% of the total amount.
The authors concluded that chiropractors in Denmark and Norway received approximately one compensation claim per 100.000 consultations. The approval rate was low across the majority of complaint categories and lower than the approval rates for general practioners and physiotherapists. Many claims can probably be prevented if chiropractors would prioritize informing patients about the normal course of their complaint and normal benign reactions to treatment.
In their discussion section the authors make the following comments: A particular concern after cervical SMT is dissection of the vertebral and carotid arteries. Seventeen claims concerning CAD were reported in this data, 14 in Denmark and three in Norway, and 11 of these were approved for financial compensation (64.7% approval rate) representing by far the highest approval rate across all complaint categories… chiropractors generally seem to receive more claims per consultation than GPs and physiotherapists, the approval rate is substantially lower and a similar trend is observed in Norway. However, it is also evident that approved claims within chiropractic bear a higher financial burden than their peers. These numbers are clearly highly influenced by the cases related to CAD. Several reasons might explain a higher complaint rate within chiropractic but this remains speculation and we do not have hard evidence supporting any of the following suggestions: (1) chiropractic treatment might be perceived as more aggressive than that of GPs and physiotherapists (2) maybe scepticism towards chiropractic among medical physicians and physiotherapists could encourage more patient complaints (3) a higher out-of-pocket expense for chiropractic services compared with GP and physiotherapist services might influence the higher number of complaints (4) chiropractors do not adequately inform patients about normal side effects and reactions and patients regard these as serious and relevant for compensation claims (5) chiropractors encourage patients to report AE more frequently than GPs and physiotherapists.
So, are complaints against chiropractors rarities?
I don't think so.
THE CONVERSATION recently carried an article shamelessly promoting osteopathy. It seems to originate from the University of Swansea, UK, and is full of bizarre notions. Here is an excerpt:
To find out more about how osteopathy could potentially affect mental health, at our university health and well-being academy, we have recently conducted one of the first studies on the psychological impact of OMT – with positive results.
For the last five years, therapists at the academy have been using OMT to treat members of the public who suffer from a variety of musculoskeletal disorders which have led to chronic pain. To find out more about the mental health impacts of the treatment, we looked at three points in time – before OMT treatment, after the first week of treatment, and after the second week of treatment – and asked patients how they felt using mental health questionnaires.
This data has shown that OMT is effective for reducing anxiety and psychological distress, as well as improving patient self-care. But it may not be suitable for all mental illnesses associated with chronic pain. For instance, we found that OMT was less effective for depression and fear avoidance.
All is not lost, though. Our results also suggested that the positive psychological effects of OMT could be further optimised by combining it with therapy approaches like acceptance and commitment therapy (ACT). Some research indicates that psychological problems such as anxiety and depression are associated with inflexibility, and lead to experiential avoidance. ACT has a positive effect at reducing experiential avoidance, so may be useful with reducing the fear avoidance and depression (which OMT did not significantly reduce).
Other researchers have also suggested that this combined approach may be useful for some subgroups receiving OMT where they may accept this treatment. And, further backing this idea up, there has already been at least one pilot clinical trial and a feasibility study which have used ACT and OMT with some success.
Looking to build on our positive results, we have now begun to develop our ACT treatment in the academy, to be combined with the osteopathic therapy already on offer. Though there will be a different range of options, one of these ACT therapies is psychoeducational in nature. It does not require an active therapist to work with the patient, and can be delivered through internet instruction videos and homework exercises, for example.
Looking to the future, this kind of low cost, broad healthcare could not only save the health service money if rolled out nationwide but would also mean that patients only have to undergo one treatment.
END OF QUOTE
So, they recruited a few patients who had come to receive osteopathic treatments (a self-selected population full of expectation and in favour of osteopathy), let them fill a few questionnaires and found some positive changes. From that, they conclude that OMT (osteopathic manipulative therapy) is effective. Not only that, they advocate that OMT is rolled out nationwide to save NHS funds.
Vis a vis so much nonsense, I am (almost) speechless!
As this comes not from some commercial enterprise but from a UK university, the nonsense is intolerable, I find.
Do I even need to point out what is wrong with it?
Not really, it's too obvious.
But, just in case some readers struggle to find the fatal flaws of this 'study', let me mention just the most obvious one. There was no control group! That means the observed outcome could be due to many factors that are totally unrelated to OMT – such as placebo-effect, regression towards the mean, natural history of the condition, concomitant treatments, etc. In turn, this also means that the nationwide rolling out of their approach would most likely be a costly mistake.
The general adoption of OMT would of course please osteopaths a lot; it could even reduce anxiety – but only that of the osteopaths and their bank-managers, I am afraid.
We recently discussed the deplorable case of Larry Nassar and the fact that the 'American Osteopathic Association' stated that intravaginal manipulations are indeed an approved osteopathic treatment. At the time, I thought this was a shocking claim. So, imagine my surprise when I was alerted to a German trial of osteopathic intravaginal manipulations.
Here is the full and unaltered abstract of the study:
Introduction: 50 to 80% of pregnant women suffer from low back pain (LBP) or pelvic pain (Sabino und Grauer, 2008). There is evidence for the effectiveness of manual therapy like osteopathy, chiropractic and physiotherapy in pregnant women with LBP or pelvic pain (Liccardione et al., 2010). Anatomical, functional and neural connections support the relationship between intrapelvic dysfunctions and lumbar and pelvic pain (Kanakaris et al., 2011). Strain, pressure and stretch of visceral and parietal peritoneum, bladder, urethra, rectum and fascial tissue can result in pain and secondary in muscle spasm. Visceral mobility, especially of the uterus and rectum, can induce tension on the inferior hypogastric plexus, which may influence its function. Thus, stretching the broad ligament of the uterus and the intrapelvic fascia tissue during pregnancy can reinforce the influence of the inferior hypogastric plexus. Based on above facts an additional intravaginal treatment seems to be a considerable approach in the treatment of low back pain in pregnant women.
Objective: The purpose of this study was to compare the effect of osteopathic treatment including intravaginal techniques versus osteopathic treatment only in females with pregnancy-related low back pain.
Methods: Design: The study was performed as a randomized controlled trial. The participants were randomized by drawing lots, either into the intervention group including osteopathic and additional intravaginal treatment (IV) or a control group with osteopathic treatment only (OI). Setting: Medical practice in south of Germany.
Participants 46 patients were recruited between the 30th and 36th week of pregnancy suffering from low back pain.
Intervention Both groups received three treatments within a period of three weeks. Both groups were treated with visceral, mobilization, and myofascial techniques in the cervical, thoracic and lumbar spine, the pelvic and the abdominal region (American Osteopathic Association Guidelines, 2010). The IV group received an additional treatment with intravaginal techniques in supine position. This included myofascial techniques of the M. levator ani and the internal obturator muscles, the vaginal tissue, the pubovesical and uterosacral ligaments as well as the inferior hypogastric plexus.
Main outcome measures As primary outcome the back pain intensity was measured by Visual Analogue Scale (VAS). Secondary outcome was the disability index assessed by Oswestry-Low-Back-Pain-Disability-Index (ODI), and Pregnancy-Mobility-Index (PMI).
Results: 46 participants were randomly assigned into the intervention group (IV; n = 23; age: 29.0 ±4.8 years; height: 170.1 ±5.8 cm; weight: 64.2 ±10.3 kg; BMI: 21.9 ±2.6 kg/m2) and the control group (OI; n = 23; age: 32.0 ±3.9 years; height: 168.1 ±3.5 cm; weight: 62.3 ±7.9 kg; BMI: 22.1 ±3.2 kg/m2). Data from 42 patients were included in the final analyses (IV: n=20; OI: n=22), whereas four patients dropped out due to general pregnancy complications. Back pain intensity (VAS) changed significantly in both groups: in the intervention group (IV) from 59.8 ±14.8 to 19.6 ±8.4 (p<0.05) and in the control group (OI) from 57.4 ±11.3 to 24.7 ±12.8. The difference between groups of 7.5 (95%CI: -16.3 to 1.3) failed to demonstrate statistical significance (p=0.93). Pregnancy-Mobility-Index (PMI) changed significantly in both groups, too. IV group: from 33.4 ±8.9 to 29.6 ±6.6 (p<0.05), control group (OI): from 36.3 ±5.2 to 29.7 ±6.8. The difference between groups of 2.6 (95%CI: -5.9 to 0.6) was not statistically significant (p=0.109). Oswestry-Low-Back-Pain-Disability-Index (ODI) changed significantly in the intervention group (IV) from 15.1 ±7.8 to 9.2 ±3.6 (p<0.05) and also significantly in the control group (OI) from 13.8 ±4.9 to 9.2 ±3.0. Between-groups difference of 1.3 (95%CI: -1.5 to 4.1) was not statistically significant (p=0.357).
Conclusions: In this sample a series of osteopathic treatments showed significant effects in reducing pain and increasing the lumbar range of motion in pregnant women with low back pain. Both groups attained clinically significant improvement in functional disability, activity and quality of life. Furthermore, no benefit of additional intravaginal treatment was observed.
END OF QUOTE
My first thoughts after reading this were: how on earth did the investigators get this past an ethics committee? It cannot be ethical, in my view, to allow osteopaths (in Germany, they have no relevant training to speak of) to manipulate women intravaginally. How deluded must an osteopath be to plan and conduct such a trial? What were the patients told before giving informed consent? Surely not the truth!
My second thoughts were about the scientific validity of this study: the hypothesis which this trial claims to be testing is a far-fetched extrapolation, to put it mildly; in fact, it is not a hypothesis, it's a very daft idea. The control-intervention is inadequate in that it cannot control for the (probably large) placebo effects of intravaginal manipulations. The observed outcomes are based on within-group comparisons and are therefore most likely unrelated to the treatments applied. The conclusion is as barmy as it gets; a proper conclusion should clearly and openly state that the results did not show any effects of the intravaginal manipulations.
In summary, this is a breathtakingly idiotic trial, and everyone involved in it (ethics committee, funding body, investigators, statistician, reviewers, journal editor) should be deeply ashamed and apologise to the poor women who were abused in a most deplorable fashion.
Gosh, we in the UK needed that boost of jingoism (at least, if you are white, non-Jewish and equipped with a British passport)! But it's all very well to rejoice at the news that we have a new little Windsor. With all the joy and celebration, we must not forget that the blue-blooded infant might be in considerable danger!
I am sure that chiropractors know what I am talking about.
KISS (Kinematic Imbalance due to Suboccipital Strain) is a term being used to describe a possible causal relation between imbalance in the upper neck joints in infants and symptoms like postural asymmetry, development of asymmetric motion patterns, hip problems, sleeping and eating disorders. Chiropractors are particularly fond of KISS. It is a problem that chiropractors tend to diagnose in new-borns.
This website explains further:
The kinematic imbalances brought on by the suboccipital strain at birth give rise to a concept in which symptoms and signs associated with the cervical spine manifest themselves into two easily recognizable clinical presentations. The leading characteristic is a fixed lateroflexion [called KISS I] or fixed retroflexion [KISS II]. KISS I may be associated with torticollis, asymmetry of the skull, C–scoliosis of the neck and trunk, asymmetry of the gluteal area and of the limbs, and retardation of the motor development of one side. KISS II, on the other hand, displays hyperextension during sleep, occipital flattening that may be asymmetrical, hunching of the shoulders, fixed supination of the arms, orofacial muscular hypotonia, failure to lift the trunk from a ventral position, and difficulty in breast feeding on one side. [34] The leading trademarks of both KISS I and KISS II are illustrated in Figure 1. [31]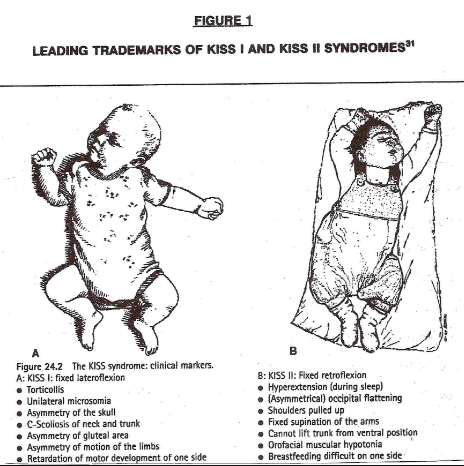 In essence, these birth experiences lay the groundwork for rationalizing the wisdom of providing chiropractic healthcare to the pediatric population…
END OF QUOTE
KISS must, of course, be treated with chiropractic spinal manipulation: the manual adjustment is the most common, followed by an instrument adjustment. This removes the neurological stress, re-balances the muscles and normal head position.  Usually a dramatic change can be seen directly after the appropriate adjustment has been given…
Don't frown! We all know that we can trust our chiropractors.
Evidence?
Do you have to insist on being a spoil-sport?
Alright, alright, the evidence tells a different story. A systematic review concluded that, given the absence of evidence of beneficial effects of spinal manipulation in infants and in view of its potential risks, manual therapy, chiropractic and osteopathy should not be used in infants with the KISS-syndrome, except within the context of randomised double-blind controlled trials.
And this means I now must worry for a slightly different reason: we all know that the new baby was born into a very special family – a family that seems to embrace every quackery available! I can just see the baby's grandfather recruiting a whole range of anti-vaccinationists, tree-huggers, spoon-benders, homeopaths, faith healers and chiropractors to look after the new-born.
By Jove, one does worry about one's Royals!
Osteopathy is an odd alternative therapy. In many parts of the world it is popular; the profession differs dramatically from country to country; and there is not a single condition for which we could say that osteopathy out-performs other options. No wonder then that osteopaths would be more than happy to find a new area where they could practice their skills.
Perhaps surgical care is such an area?
The aim of this systematic review was to present an overview of published research articles within the subject field of osteopathic manipulative treatment (OMT) in surgical care. The authors evaluated peer-reviewed research articles published in osteopathic journals during the period 1990 to 2017. In total, 10 articles were identified.
Previous research has been conducted within the areas of abdominal, thoracic, gynecological, and/or orthopedic surgery. The studies included outcomes such as pain, analgesia consumption, length of hospital stay, and range of motion. Heterogeneity was identified in usage of osteopathic techniques, treatment duration, and occurrence, as well as in the osteopath's experience.
The authors concluded that despite the small number of research articles within this field, both positive effects as well as the absence of such effects were identified. Overall, there was a heterogeneity concerning surgical contexts, diagnoses, signs and symptoms, as well as surgical phases in current interprofessional osteopathic publications. In this era of multimodal surgical care, the authors concluded, there is an urgent need to evaluate OMT in this context of care and with a proper research approach.
This is an odd conclusion, if there ever was one!
The facts are fairly straight forward:
Osteopaths would like to expand into the area of surgical care [mainly, I suspect, because it would be good for business]
There is no plausible reason why OMT should be beneficial in this setting.
Osteopaths are not well-trained for looking after surgical patients.
Physiotherapists, however, are and therefore there is no need for osteopaths on surgical wards.
The evidence is extremely scarce.
The available trials are of poor quality.
Their results are contradictory.
Therefore there is no reliable evidence to show that OMT is effective.
The correct conclusion of this review should thus be as follows:
THE AVAILABLE EVIDENCE FAILS TO SHOW EFFECTIVENESS OF OMT. THEREFORE THIS APPROACH CANNOT BE RECOMMENDED.
End of story.
We all know that there is a plethora of interventions for and specialists in low back pain (chiropractors, osteopaths, massage therapists, physiotherapists etc., etc.); and, depending whether you are an optimist or a pessimist, each of these therapies is as good or as useless as the next. Today, a widely-publicised series of articles in the Lancet confirms that none of the current options is optimal:
Almost everyone will have low back pain at some point in their lives. It can affect anyone at any age, and it is increasing—disability due to back pain has risen by more than 50% since 1990. Low back pain is becoming more prevalent in low-income and middle-income countries (LMICs) much more rapidly than in high-income countries. The cause is not always clear, apart from in people with, for example, malignant disease, spinal malformations, or spinal injury. Treatment varies widely around the world, from bed rest, mainly in LMICs, to surgery and the use of dangerous drugs such as opioids, usually in high-income countries.
The Lancet publishes three papers on low back pain, by an international group of authors led by Prof Rachelle Buchbinder, Monash University, Melbourne, Australia, which address the issues around the disorder and call for worldwide recognition of the disability associated with the disorder and the removal of harmful practices. In the first paper, Jan Hartvigsen, Mark Hancock, and colleagues draw our attention to the complexity of the condition and the contributors to it, such as psychological, social, and biophysical factors, and especially to the problems faced by LMICs. In the second paper, Nadine Foster, Christopher Maher, and their colleagues outline recommendations for treatment and the scarcity of research into prevention of low back pain. The last paper is a call for action by Rachelle Buchbinder and her colleagues. They say that persistence of disability associated with low back pain needs to be recognised and that it cannot be separated from social and economic factors and personal and cultural beliefs about back pain.
Overview of interventions endorsed for non-specific low back pain in evidence-based clinical practice guidelines (Danish, US, and UK guidelines)
In this situation, it makes sense, I think, to opt for a treatment (amongst similarly effective/ineffective therapies) that is at least safe, cheap and readily available. This automatically rules out chiropractic, osteopathy and many others. Exercise, however, does come to mind – but what type of exercise?
The aim of this meta-analysis of randomized controlled trials was to gain insight into the effectiveness of walking intervention on pain, disability, and quality of life in patients with chronic low back pain (LBP) at post intervention and follow ups.
Six electronic databases (PubMed, Science Direct, Web of Science, Scopus, PEDro and The Cochrane library) were searched from 1980 to October 2017. Randomized controlled trials (RCTs) in patients with chronic LBP were included, if they compared the effects of walking intervention to non-pharmacological interventions. Pain, disability, and quality of life were the primary health outcomes.
Nine RCTs were suitable for meta-analysis. Data was analysed according to the duration of follow-up (short-term, < 3 months; intermediate-term, between 3 and 12 months; long-term, > 12 months). Low- to moderate-quality evidence suggests that walking intervention in patients with chronic LBP was as effective as other non-pharmacological interventions on pain and disability reduction in both short- and intermediate-term follow ups.
The authors concluded that, unless supplementary high-quality studies provide different evidence, walking, which is easy to perform and highly accessible, can be recommended in the management of chronic LBP to reduce pain and disability.
I know – this will hardly please the legions of therapists who earn their daily bread with pretending their therapy is the best for LBP. But healthcare is clearly not about the welfare of the therapists, it is/should be about patients. And patients should surely welcome this evidence. I know, walking is not always easy for people with severe LBP, but it seems effective and it is safe, free and available to everyone.
My advice to patients is therefore to walk (slowly and cautiously) to the office of their preferred therapist, have a little rest there (say hello to the staff perhaps) and then walk straight back home.
Lock 10 bright people into a room and tell them they will not be let out until they come up with the silliest idea in healthcare. It is not unlikely, I think, that they might come up with the concept of visceral osteopathy.
In case you wonder what visceral osteopathy (or visceral manipulation) is, one 'expert' explains it neatly: Visceral Osteopathy is an expansion of the general principles of osteopathy which includes a special understanding of the organs, blood vessels and nerves of the body (the viscera). Visceral Osteopathy relieves imbalances and restrictions in the interconnections between the motions of all the organs and structures of the body. Jean-Piere Barral RPT, DO built on the principles of Andrew Taylor Still DO and William Garner Sutherland DO, to create this method of detailed assessment and highly specific manipulation. Those who wish to practice Visceral Osteopathy train intensively through a series of post-graduate studies.  The ability to address the specific visceral causes of somatic dysfunction allows the practitioner to address such conditions as gastroesophageal reflux disease (GERD), irritable bowel (IBS), and even infertility caused by mechanical restriction.
But, as I have pointed out many times before, the fact that a treatment is based on erroneous assumptions does not necessarily mean that it does not work. What we need to decide is evidence. And here we are lucky; a recent paper provides just that.
The purpose of this systematic review was to identify and critically appraise the scientific literature concerning the reliability of diagnosis and the clinical efficacy of techniques used in visceral osteopathy.
Only inter-rater reliability studies including at least two raters or the intra-rater reliability studies including at least two assessments by the same rater were included. For efficacy studies, only randomized-controlled-trials (RCT) or crossover studies on unhealthy subjects (any condition, duration and outcome) were included. Risk of bias was determined using a modified version of the quality appraisal tool for studies of diagnostic reliability (QAREL) in reliability studies. For the efficacy studies, the Cochrane risk of bias tool was used to assess their methodological design. Two authors performed data extraction and analysis.
Extensive searches located 8 reliability studies and 6 efficacy trials that could be included in this review. The analysis of reliability studies showed that the diagnostic techniques used in visceral osteopathy are unreliable. Regarding efficacy studies, the least biased study showed no significant difference for the main outcome. The main risks of bias found in the included studies were due to the absence of blinding of the examiners, an unsuitable statistical method or an absence of primary study outcome.
The authors (who by the way declared no conflicts of interest) concluded that the results of the systematic review lead us to conclude that well-conducted and sound evidence on the reliability and the efficacy of techniques in visceral osteopathy is absent.
It is hard not to appreciate the scientific rigor of this review or to agree with the conclusions drawn by the French authors.
But what consequences should we draw from all this?
The authors of this paper state that more and better research is needed. Somehow, I doubt this. Visceral osteopathy is not plausible and the best evidence available to date does not show it works. In my view, this means that we should declare it an obsolete aberration of medical history.
To this, the proponents of visceral osteopathy will probably say that they have tons of experience and have witnessed wonderful cures etc. This I do not doubt; however, the things they saw were not due to the effects of visceral osteopathy, they were due to chance, placebo, regression towards the mean, the natural history of the diseases treated etc., etc. And sometimes, experience is nothing more that the ability to repeat a mistake over and over again.
If it looks like a placebo,
if it behaves like a placebo,
if it tests like a placebo,
IT MOST LIKELY IS A PLACEBO!!!
And what is wrong with a placebo, if it helps patients?
GIVE ME A BREAK!
WE HAVE ALREADY DISCUSSED THIS AD NAUSEAM. JUST READ SOME OF THE PREVIOUS POSTS ON THIS SUBJECT.