critical thinking
Most chiropractors claim they can effectively treat a wide range of conditions. I have looked far and wide but I fail to see sound evidence to show that this assumption is true. On a good day, I might agree that chiropractic works for back pain (but this would need to be a very good day and I would need to close at least one eye) – and that's basically it! Unsurprisingly, chiropractors vehemently disagree with me. Yet, they have an all too obvious conflict of interest in that question and, therefore, they are unlikely to be objective.
One regular commentator of this blog recently reminded me that the UK 'ADVERTISING STANDARDS AUTHORITY' (ASA) state on their website that based on all evidence submitted and reviewed to date, the ASA and CAP accept that chiropractors may claim to treat the following conditions:
Ankle sprain (short term management)
Cramp
Elbow pain and tennis elbow (lateral epicondylitis) arising from associated musculoskeletal conditions of the back and neck, but not isolated occurrences
Headache arising from the neck (cervicogenic
Joint pains
Joint pains including hip and knee pain from osteoarthritis as an adjunct to core OA treatments and exercise
General, acute & chronic backache, back pain (not arising from injury or accident)
Generalised aches and pains
Lumbago
Mechanical neck pain (as opposed to neck pain following injury i.e. whiplash)
Migraine prevention
Minor sports injuries
Muscle spasms
Plantar fasciitis (short term management)
Rotator cuff injuries, disease or disorders
Sciatica
Shoulder complaints (dysfunction, disorders and pain)
Soft tissue disorders of the shoulder
Tension and inability to relax
This is an impressive yet very odd list:
Why is 'joint pain' listed twice?
Can lateral epicondylitis arise from musculoskeletal conditions of the back and neck?
What exactly are 'generalised aches and pains'?
Isn't lumbago and backache the same?
Are 'minor sports injuries' (including a cut, bruise or haematoma?) a category that is well-defined?
What is a 'soft tissue disorders of the shoulder'
But let's not be pedantic. Let's assume these are all defined conditions that need to be treated. The problem still remains that there is hardly any good evidence that they can be effectively treated by chiropractic spinal manipulation (in case you disagree, please post the evidence in the comments section).
And here we come to the crux of the matter, I think.
Chiropractors would say that they use so much more than spinal manipulations.
For a sport injury, they might apply an ice-pack.
For the inability to relax, they might give a massage.
For rotator cuff problems, they might administer exercises.
For tennis elbow, they might recommend immobilizing the joint.
Etc., etc.
But that's not chiropractic!
Yes, it is what we do, insist the chiropractors.
I do not doubt it, but survey after survey shows that chiropractors treat almost all their patients with spinal manipulation. And the history of chiropractic is purely based on spinal manipulation. Yes, today they also use treatments borrowed from other disciplines, yet spinal manipulation is the treatment that defines them.
Let me try an example to make my point clear. Imagine a surgeon who specialises in an obsolete type of operation (e.g. ligation of the mammary artery as a treatment of coronary artery disease). Following the chiro-logic, he could claim that:
my approach is not ineffective because I do so much more than just operate,
I also prescribe medications,
I give dietary advice,
I give nutritional advice,
I recommend relaxation,
I suggest regular exercise.
And the results would, of course, show that many of his patients benefit from all this.
Does that mean our surgeon provides effective care for his patients?
Similarly, crystal healing could be seen as being effective, because some crystal healers tell their obese patients to eat less and exercise more?
So, the above-cited list of claims that the ASA now allows UK chiropractors to make is either way too long or much too short – in any case, it is nonsense. If we base it on the proven effectiveness of spinal manipulation, it must be very short indeed. If we base it on everything chiropractors might do in addition, it is far too short; in this case, it should include everything in the medical textbooks from AIDS to ZOSTER (I cannot imagine many conditions for which life-style advice, exercise or cryotherapy [for pain-control] etc. would not be helpful).
My conclusions from all this are as follows:
Chiropractors have tried to reinvent themselves by borrowing some treatments from other healthcare professions.
They have done this, I suspect, to avoid being judged by their largely ineffective hallmark intervention, spinal manipulation. The move may be commercially clever, but it is nevertheless transparently nonsensical and wholly unconvincing.
Chiropractors must be judged not by the treatments they borrowed and might use occasionally, but by the only therapy that is inherent to chiropractic: spinal manipulation.
And spinal manipulation is certainly not effective for a wide range of conditions.
Probiotics (live microorganisms for oral consumption) are undoubtedly popular, not least they are being cleverly promoted as a quasi panacea. But are they as safe as their manufacturers try to convince us? A synthesis and critical evaluation of the reports and series of cases on the infectious complications related to the ingestion of probiotics was aimed at finding out.
The authors extensive literature searches located 60 case reports and 7 case series including a total of 93 patients. Fungemia was the most common infectious complications with 35 (37.6%) cases. The genus Saccharomyces was the most frequent with 47 (50.6%) cases, followed by Lactobacillus, Bifidobacterium, Bacillus, Pedioccocus and Escherichia with 26 (27.9%), 12 (12.8%), 5 (5.4%), 2 (2.2%) and 1 (1.1%) case, respectively. Adults over 60 years of age, Clostridium difficile colitis, antibiotic use and Saccharomyces infections were associated with overall mortality. HIV infections, immunosuppressive drugs, solid organ transplantation, deep intravenous lines, enteral or parenteral nutrition were not associated with death.
The authors concluded that the use of probiotics cannot be considered risk-free and should be carefully evaluated for some patient groups.
Other authors have previously warned that individuals under neonatal stages and/or those with some clinical conditions including malignancies, leaky gut, diabetes mellitus, and post-organ transplant convalescence likely fail to reap the benefits of probiotics. Further exacerbating the conditions, some probiotic strains might take advantage of the weak immunity in these vulnerable groups and turn into opportunistic pathogens engendering life-threatening pneumonia, endocarditis, and sepsis. Moreover, the unregulated and rampant use of probiotics potentially carry the risk of plasmid-mediated antibiotic resistance transfer to the gut infectious pathogens. 
And yet another review had concluded that the adverse effects of probiotics were sepsis, fungemia and GI ischemia. Generally, critically ill patients in intensive care units, critically sick infants, postoperative and hospitalized patients and patients with immune-compromised complexity were the most at-risk populations. While the overwhelming existing evidence suggests that probiotics are safe, complete consideration of risk-benefit ratio before prescribing is recommended.
Proponents of probiotics will say that these risks are rare and confined to small groups of particularly vulnerable patients. This may well be so, but in view of the often uncertain benefits of probiotics, the incessant hype and aggressive marketing, I find it nevertheless important to keep these risks in mind.
As with any therapy, the question must be, does this treatment really generate more good than harm?
I would warn every parent who thinks that taking their child to a chiropractor is a good idea. For this, I have three main reasons:
Chiropractic has not been shown to be effective for any paediatric condition.
Chiropractors often advise parents against vaccinating their children.
Chiropractic spinal manipulations can cause harm to kids.
The latter point seems to be confirmed by a recent PhD thesis of which so far only one short report is available. Here are the relevant bits of information from it:
Katie Pohlman has successfully defended her PhD thesis, which focused on the assessment of safety in pediatric manual therapy. As a clinical research scientist at Parker University, Dallas, Texas, she identified a lack of prospective patient safety research within the chiropractic population in general and investigated this deficit in the paediatric population in particular.
Pohlman used a cross-sectional survey to assess the barriers and facilitators for participation in a patient safety reporting system. At the same time, she also conducted a randomized controlled trial comparing the quantity and quality of adverse event reports in children under 14 years receiving chiropractic care.
The RCT recruited 69 chiropractors and found adverse events reported in 8.8% and 0.1% of active and passive surveillance groups respectively. Of the adverse events reported, 56% were considered mild, 26% were moderate and 18% were severe. The frequency of adverse events was more common than previously thought.
This last sentence from the report is somewhat puzzling. Our systematic review of the risks of spinal manipulation showed that data from prospective studies suggest that minor, transient adverse events occur in approximately half of all patients receiving spinal manipulation. The most common serious adverse events are vertebrobasilar accidents, disk herniation, and cauda equina syndrome. Estimates of the incidence of serious complications range from 1 per 2 million manipulations to 1 per 400,000. Given the popularity of spinal manipulation, its safety requires rigorous investigation.
The 8.8% reported by Pohlman are therefore not even one fifth of the average incidence figure reported previously in all age groups.
What could be the explanation for this discrepancy?
There are, of course, several possibilities, including the fact that infants cannot tell the clinician when their pain has increased. However, the most likely one, in my view, lies in the fact that RCTs are wholly inadequate for investigating risks because they typically include far too few patients to generate reliable incidence figures about adverse events. More importantly, clinicians included in such studies are self-selected (and thus particularly responsible/cautious) and are bound to behave most carefully while being part of a clinical trial. Therefore it seems possible – I would speculate even likely – that the 8.8% reported by Pohlman is unrealistically low.
Having said that, I do feel that the research by Kathie Pohlman is a step in the right direction and I do applaud her initiative.
The 2018 World Federation of Chiropractic ACC Education Conference was held on 24-27 October in London. It resulted in several consensus statements developed by the attendees. I happen to know this from a short report that has just been published; it can be found here.
Of the 10 points made in this consensus, I find only the following noteworthy:
"Chiropractic education programs have an ethical obligation to support an evidence-based teaching and learning environment."
Perhaps it is me – English is not my first language – but I find the phraseology used in this sentence strangely complicated and confusing. I have been a teacher of medical students for most of my life, but I am not sure what an 'evidence-based teaching and learning environment' is. I know what 'evidence-based' means, of course. However, what exactly is:
a teaching environment?
a learning environment?
and how does 'evidence-based' apply to either of the two?
Is there evidence that some environments are better suited than others for teaching?
Is there evidence that some environments are better suited than others for learning?
I suppose the answer must be YES!
The environment, i. e. the space and conditions in which teaching and learning happen should, for instance, be/include:
quiet,
not cramped,
not too cold,
not too hot,
equipped with ergometric chairs and desks,
well-lit,
there should be visual aids,
access to computers,
a library,
good mentoring and support,
etc.
So, the consensus of the education conference wanted to optimise the environmental conditions of teaching and learning for chiropractic lecturers and students? Most laudable, I must say!
But still, it seems like a missed opportunity for an 'Education Conference' not to have stated something about the content of teaching and learning. Personally, I find it a pity that they did not state: Chiropractic education programs have an ethical obligation to be evidence-based.
Or is that what they really wanted to say?
Naaahh … come to think of it … they cannot possibly make such a demand.
Why?
Because, in this case, they would have to teach students not to become chiropractors.
Slowly, I seem to be turning into a masochist! Yes, I sometimes read publications like 'HOMEOPATHY 360'. It carries articles that are enragingly ill-informed. But in my defence, I might say that some are truly funny. Here is the abstract of one that I found outstanding in that category:
The article explains about Gangrene and its associated amputations which is a clinically challenging condition, but Homeopathy offers therapy options. The case presented herein, details about how the Homeopathic treatment helped in the prevention of amputation of a body part. Homeopathy stimulates the body's ability to heal through its immune mechanisms; consequently, it achieves wound healing and establishes circulation to the gangrenous part. Instead of focusing on the local phenomena of gangrene pathology, treatment focuses on the general indications of the immune system, stressing the important role of the immune system as a whole. The aim was to show, through case reports, that Homeopathic therapy can treat gangrene thus preventing amputation of the gangrenous part, and hence has a strong substitution for consideration in treating gangrene.
The paper itself offers no less than 13 different homeopathic treatments for gangrene:
Arsenicum album– Medicine for senile gangrene;gangrene accompanied by foetid diarrhoea; ulcers extremely painful with elevated edges, better by warmth and aggravation from cold; great weakness and emaciation.
Bromium – Hospital gangrene; cancerous ulcers on face; stony hard swelling of glands of lower jaw and throat.
Carbo vegetabilis – Senile and humid gangrene in the persons who are cachectic in appearance; great exhaustion of vital powers; marked prostration; foul smell of secretions; indolent ulcers, burning pain; tendency to gangrene of the margins; varicose ulcers.
Bothrops– Gangrene; swollen, livid, cold with hemorrhagic infiltration; malignant erysipelas.
Echinacea– Enlarged lymphatics; old tibial ulcers; gangrene; recurrent boils; carbuncles.
Lachesis– Gangrenous ulcers; gangrene after injury; bluish or black looking blisters; vesicles appearing here and there, violent itching and burning; swelling and inflammation of the parts; itching pain and painful spots appearing after rubbing.
Crotalus Horridus– Gangrene, skin separated from muscles by a foetid fluid; traumatic gangrene; old scars open again.
Secale cornatum– Pustules on the arms and legs, with tendency to gangrene; in cachectic, scrawny females with rough skin; skin shriveled, numb; mottled dusky-blue tinge; blue color of skin; dry gangrene, developing slowly; varicose ulcers; boils, small, painful with green contents; skin feels too cold to touch yet covering is not tolerated. Great aversion to heat;formication under skin.
Anthracinum– Gangrene; cellular tissues swollen and oedematous; gangrenous parotitis; septicemia; ulceration, and sloughing and intolerable burning.
Cantharis – Tendency to gangrene; vesicular eruptions; burns, scalds, with burning and itching; erysipelas, vesicular type, with marked restlessness.
Mercurius– Gangrene of the lips, cheeks and gums; inflammation and swelling of the glands of neck; pains aggravated by hot or cold applications.
Sulphuric acid– Traumatic gangrene; haemorrhages from wounds; dark pustules; blue spots like suggillations; bedsores.
Phosphoric acid– Medicine for senile gangrene. Gunpowder, calendula are also best medicines.
But the best of all must be the article's conclusion: "Homeopathy is the best medicine for gangrene."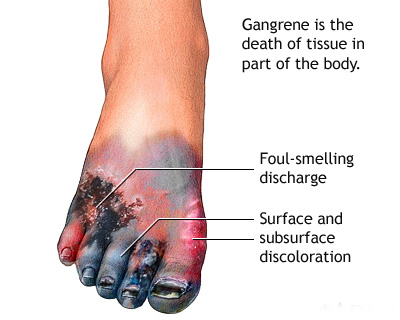 I know, there are many people who will not be able to find this funny, particularly patients who suffer from gangrene and are offered homeopathy as a cure. This could easily kill the person – not just kill, but kill very painfully. Gangrene is the death of tissue in part of the body, says the naïve little caption. What it does not say is that it is in all likelihood also the death of the patient who is treated purely with homeopathy.
And what about the notion that homeopathy stimulates the body's ability to heal through its immune mechanisms?
Or the assumption that it might establish circulation to the gangrenous part?
Or the claim that through case reports one can show the effectiveness of an intervention?
Or the notion that any of the 13 homeopathic remedies have a place in the treatment of gangrene?
ALL OF THIS IS TOTALLY BONKERS!
Not only that, it is highly dangerous!
Since many years, I am trying my best to warn people of charlatans who promise bogus cures. Sadly it does not seem to stop the charlatans. This makes me feel rather helpless at times. And it is in those moments that I decide to look at from a different angle. That's when I try to see the funny side of quacks who defy everything we know about healthcare and just keep on lying to themselves and their victims.
Lumbar spinal stenosis (LSS) is a common reason for spine surgery. Several non-surgical LSS treatment options are also available, but their effectiveness remains unproven. The objective of this study was to explore the comparative clinical effectiveness of three non-surgical interventions for patients with LSS:
medical care,
group exercise,
individualised exercise plus manual therapy.
All interventions were delivered during 6 weeks with follow-up at 2 months and 6 months at an outpatient research clinic. Patients older than 60 years with LSS were recruited from the general public. Eligibility required anatomical evidence of central canal and/or lateral recess stenosis (magnetic resonance imaging/computed tomography) and clinical symptoms associated with LSS (neurogenic claudication; less symptoms with flexion). Analysis was intention to treat.
Medical care consisted of medications and/or epidural injections provided by a physiatrist. Group exercise classes were supervised by fitness instructors. Manual therapy/individualized exercise consisted of spinal mobilization, stretches, and strength training provided by chiropractors and physical therapists. The primary outcomes were between-group differences at 2 months in self-reported symptoms and physical function measured by the Swiss Spinal Stenosis questionnaire (score range, 12-55) and a measure of walking capacity using the self-paced walking test (meters walked for 0 to 30 minutes).
A total of 259 participants were allocated to medical care (n = 88), group exercise (n = 84), or manual therapy/individualized exercise (n = 87). Adjusted between-group analyses at 2 months showed manual therapy/individualized exercise had greater improvement of symptoms and physical function compared with medical care or group exercise. Manual therapy/individualized exercise had a greater proportion of responders (≥30% improvement) in symptoms and physical function (20%) and walking capacity (65.3%) at 2 months compared with medical care (7.6% and 48.7%, respectively) or group exercise (3.0% and 46.2%, respectively). At 6 months, there were no between-group differences in mean outcome scores or responder rates.
The authors concluded that a combination of manual therapy/individualized exercise provides greater short-term improvement in symptoms and physical function and walking capacity than medical care or group exercises, although all 3 interventions were associated with improvements in long-term walking capacity.
In many ways, this is a fairly rigorous study; in one important way, however, it is odd. One can easily see why one group received the usual standard care (except perhaps for the fact that standard medical care should also include exercise). I also understand why one group attended group exercise. Yet, I fail to see the logic in the third intervention, individualised exercise plus manual therapy.
Individualised exercise is likely to be superior to group exercise. If the researchers wanted to test this hypothesis, they should not have added the manual therapy. If they wanted to find out whether manual therapy is better that the other two treatments, they should not have added individualised exercise. As it stands, they cannot claim that either manual therapy or individualised exercise are effective (yet, I am sure that the chiropractic fraternity will claim that this study shows their treatment to be indicated for LSS [three of the authors are chiropractors and the 1st author seems to have a commercial interest in the matter!]).
Manual therapy procedures used in this trial included:
lumbar distraction mobilization,
hip joint mobilization,
side posture lumbar/sacroiliac joint mobilization,
and neural mobilization.
Is there any good reason to assume that these interventions work for LSS? I doubt it!
And this is what makes the new study odd, in my view. Assuming I am correct in speculating that individualised exercise is better than group exercise, the trial would have yielded a similarly positive result, if the researchers had offered, instead of the manual therapy, a packet of cigarettes, a cup of tea, a chocolate bar, or swinging a dead cat. In other words, if someone had wanted to make a useless therapy appear to be effective, they could not have chosen a better trial design.
And why do I find such studies objectionable?
Mainly because they deliberately mislead many of us. In the present case, many non-critical observers might conclude that manual therapy is effective for LSS. Yet, the truth could well be that it is useless or even harmful (assuming that the effect size of individualised exercise is large, adding a harmful therapy would still render the combination effective). To put it bluntly, such trials
could harm patients,
might waste money,
and hinder progress.
Benign prostate hypertrophy (BPH) affects many men aged 50 and older. It is caused by an enlargement of the prostate resulting in difficulties to urinate and to fully empty the bladder. There are several conventional treatment options, including life-style changes that are effective. In addition, a myriad of alternative therapies are being promoted, most of which are of doubtful effectiveness. Recently, a homeopathy-promoter, Dr Jens Behnke, triumphantly tweeted a trial of homeopathy for BPH allegedly proving that homeopathy does work after all. There is no conceivable reason why homeopathic remedies should have any effect on this (or any other) condition. Therefore, I decided to have a closer look at this paper.
The objective of this 5-centre, three-armed, open, randomised study was to evaluate the effectiveness of Homoeopathic Constitutional remedy (HC) and Homoeopathic Constitutional + Organ remedy (HCOM) in comparison to Placebo (PL) in patients suffering from BPH using International Prostate Symptom Score (IPSS), ultrasonographic changes in prostate volume, post-void residual urine, uroflowmetry and in WHO Quality of Life (QOL)-BREF. Patients were randomised into three groups in 2:2:1 ratio and were followed up for 6 months. The statistical analysis was done with modified intention-to-treat principle (mITT).
Of 461 patients screened, 254 patients were enrolled in the study and 241 patients were analysed as per mITT. The mean changes in IPSS and QOL due to urinary symptoms from baseline to end of study showed a positive trend in all the three groups. However, in the HC group, the changes were more prominent as compared to the other two groups. There was no difference between HC and HCOM groups and they were equally effective in terms of managing lower urinary tract symptoms due to BPH. With regard to secondary outcome, there was no difference between the groups. The psychological, social and environmental domains of WHOQOL-BREF have shown positive trend, but there was no statistically significant difference in intervention groups.
The authors concluded that statistical significance was found in the IPSS in all the three groups but only in HC and not in any of the objective parameters.
The paper is so badly written that I struggle to make sense of it. However, the above graph seems clear enough. The changes are perhaps statistically significant (which I find odd and cannot quite understand) but they are certainly not clinically relevant. Most likely, they are due to the fact that this study was not blind, meaning that patients and investigators were aware of the group allocations. This suggests to me that this study
is dubious in more than one way,
tests a hypothesis that lacks plausibility,
yields a result that is clinically irrelevant.
In other words, it does not amount to anything remotely resembling a proof of homeopathy's efficacy.
My last post was rather depressive, and I certainly do not want my readers to be under the weather when they go into 2019. For this last post of 2018, I have therefore selected 20 events which gave me hope that perhaps we – those who prefer rationality to nonsense – are making progress.
Hold on, you promised 20, but these are just 17!!!, I hear my attentive readers mutter.
Correct! I tried to find 20 to match my last post; and I only found 17. This might be a reflection that, in the realm of SCAM, the bad still outweighs the good news (by much more that 20:17, I fear).
Yet, this should not depress us. On the contrary, let's see it as a challenge to get on with out work of fighting for good evidence, ethical standards, rationality and critical thinking.
In this spirit, I wish you all a very good, healthy and productive year 2019.
You probably know what yoga is. But what is FODMAP? It stands for fermentable oligosaccharides, disaccharides, monosaccharides and polyols, more commonly known as carbohydrates. In essence, FODMAPs are carbohydrates found in a wide range of foods including onions, garlic, mushrooms, apples, lentils, rye and milk. These sugars are poorly absorbed, pass through the small intestine and enter the colon . There they are fermented by bacteria a process that produces gas which stretches the sensitive bowel causing bloating, wind and sometimes even pain. This can also cause water to move into and out of the colon, causing diarrhoea, constipation or a combination of both. Irritable bowel syndrome (IBS) makes people more susceptible to such problems.
During a low FODMAP diet these carbohydrates are eliminated usually for six to eight weeks.  Subsequently, small amounts of FODMAP foods are gradually re-introduced to find a level of symptom-free tolerance. The question is, does the low FODMAP diet work?
This study examined the effect of a yoga-based intervention vs a low FODMAP diet on patients with irritable bowel syndrome. Fifty-nine patients with IBS undertook a randomised controlled trial involving yoga or a low FODMAP diet for 12 weeks. Patients in the yoga group received two sessions weekly, while patients in the low FODMAP group received a total of three sessions of nutritional counselling. The primary outcome was a change in gastrointestinal symptoms (IBS-SSS). Secondary outcomes explored changes in quality of life (IBS-QOL), health (SF-36), perceived stress (CPSS, PSQ), body awareness (BAQ), body responsiveness (BRS) and safety of the interventions. Outcomes were examined in weeks 12 and 24 by assessors "blinded" to patients' group allocation.
No statistically significant difference was found between the intervention groups, with regard to IBS-SSS score, at either 12 or 24 weeks. Within-group comparisons showed statistically significant effects for yoga and low FODMAP diet at both 12 and 24 weeks. Comparable within-group effects occurred for the other outcomes. One patient in each intervention group experienced serious adverse events and another, also in each group, experienced nonserious adverse events.
The authors concluded that patients with irritable bowel syndrome might benefit from yoga and a low-FODMAP diet, as both groups showed a reduction in gastrointestinal symptoms. More research on the underlying mechanisms of both interventions is warranted, as well as exploration of potential benefits from their combined use.
Technically, this study is an equivalence study comparing two interventions. Such trials only make sense, if one of the two treatments have been proven to be effective. This is, however, not the case. Moreover, equivalence studies require much larger sample sizes than the 59 patients included here.
What follows is that this trial is pure pseudoscience and the positive conclusion of this study is not warranted. The authors have, in my view, demonstrated a remarkable level of ignorance regarding clinical research. None of this is all that unusual in the realm of alternative medicine; sadly, it seems more the rule than the exception.
What might make this lack of research know-how more noteworthy is something else: starting in January 2019, one of the lead authors of this piece of pseudo-research (Prof. Dr. med. Jost Langhorst) will be the director of the new Stiftungslehrstuhl "Integrative Medizin" am Klinikum Bamberg (clinic and chair of integrative medicine in Bamberg, Germany).
This does not bode well, does it?
A few weeks ago, I was interviewed by a journalist who wanted to publish the result in a magazine. He now informed me that his editor decided against it, and the interview thus remained unpublished. I have the journalist's permission to publish it here. The journalist who, in my view, was well-prepared (much better than most), prefers to remain unnamed.
Q: How would you describe yourself?
A: I am a researcher of alternative medicine.
Q: Not a critic of alternative medicine?
A: Primarily, I am a researcher; after all, I have published more Medline-listed research papers on the subject than anyone else on the planet.
Q: You are retired since a few years; why do you carry on working?
A: Mainly because I see a need for a critical voice amongst all the false and often dangerous claims made by proponents of alternative medicine. But also because I enjoy what I am doing. Since I retired, I can focus on the activities I like. There is nobody to tell me what to do and what not to do; the latter happened far too often when I was still head of my research unit.
Q: Fine, but I still do not quite understand what drives you. Who is motivating you to criticise alternative medicine?
A: Nobody. Some people claim I am paid for my current activities. This is not true. My blog actually costs me money. My books never return enough royalties to break even, considering the time they take to write. And for most of my lectures I don't charge a penny.
Q: There are people who find this hard to believe.
A: I know. This just shows how money-orientated they are. Do they want me to publish my tax returns?
Q: Sorry, but I still don't understand your motivation.
A: I guess what motivates me is a sense of responsibility, a somewhat naïve determination to do something good as a physician. I am one of the only – perhaps even THE only – scientist who has researched alternative medicine extensively and who is not a promoter of bogus therapies but voices criticism about them. There are several other prominent and excellent critics of alternative medicine, of course, but they all come 'from the outside'. I come from the inside of the alternative medicine business. This probably gives me a special understanding of this field. In any case, I feel the responsibility to counter-balance all the nonsense that is being published on a daily basis.
Q: What's your ultimate aim?
A: I want to create progress through educating people to think more critically.
Q: Which alternative medicine do you hate most?
A: I do not hate any of them. In fact, I still have more sympathy for them than might be apparent. For my blog, for instance, I constantly search for new research papers that are rigorous and show a positive result. The trouble is, there are so very few of those articles. But when I find one, I am delighted to report about it. No, I do not hate or despise any alternative medicine; I am in favour of good science, and I get irritated by poor research. And yes, I do dislike false claims that potentially harm consumers. And yes, I do dislike it when chiropractors or other charlatans defraud consumers by taking their money for endless series of useless interventions.
Q: I noticed you go on about the risks of alternative medicine. But surely, they are small compared to the risks of conventional healthcare, aren't they?
A: That's a big topic. To make it simple: alternative medicine is usually portrayed as risk-free. The truth, however, is that there are numerous risks of direct and indirect harm; the latter is usually much more important than the former. Crucially, the risk-free image is incongruent with reality. I want to redress this incongruence. And as to conventional medicine: sure, it can be much more harmful. But one always has to see this in relation to the proven benefit. Chemotherapy, for instance, can kill a cancer patient, but more likely it saves her life. Homeopathic remedies cannot kill you, but employed as an alternative to an effective cancer treatment, homeopathy will certainly kill you.
Q: Homeopathy seems to be your particular hobby horse.
A: Perhaps. This is because it exemplifies alternative medicine in several ways, and because I started my alternative 'career' in a homeopathic hospital, all those years ago.
Q: In what way is homeopathy exemplary?
A: Its axioms are implausible, like those of many other alternative modalities. The clinical evidence fails to support the claims, like with so many alternative therapies. And it is seemingly safe, yet can do a lot of harm, like so many other treatments.
Q: You have no qualification in homeopathy, is that right?
A: No, I have no such qualifications. And I never said so. When I want to tease homeopaths a little, I state that I am a trained homeopath; and that is entirely correct.
Q: In several countries, homeopathy has taken spectacular hits recently. Is that your doing?
A: No, I don't think so. But I do hope that my work has inspired the many dedicated activists who are currently protesting against the reimbursement of homeopathy by the public purse in the UK, Germany, France, Spain, etc.
Q: You often refer to medical ethics; why is that?
A: Because, in the final analysis, many of the questions we already discussed are really ethical issues. And in alternative medicine, few people have so far given the ethical dimensions any consideration. I think ethics are central to alternative medicine, so much so that I co-authored an entire book on this topic this year.
Q: Any plans for the future?
A: Plenty.
Q: Can you tell me more?
A: I will publish another book in 2019 with Springer. It will be a critical evaluation of precisely 150 different alternative modalities. I am thinking of writing yet another book, but have not yet found a literary agent who wants to take me on. I have been offered a new professorship at a private University in Vienna, and am hesitant whether to accept or not. I have been invited to give a few lectures in 2019 and hope to receive more invitations. Last not least, I work almost every day on my blog.
Q: More than enough for a retiree, it seems. Thank you for your time.
A: My pleasure.