The fact that many SCAM-practitioners are latent or even overt anti-vaxxers has often been addressed on this blog. The fact that the anti-vaccination guru, Andrew Wakefield, has his fingers deep in the SCAM-pie is less well appreciated.
In case you forgot who Wakefield is, let me remind you. As a gastroenterologist at the London Royal Free Hospital, he published evidence in the Lancet (1998) suggesting that the MMR vaccination was a cause of autism. It was discovered to be fraudulent. In 2010, a statutory tribunal of the GMC found three dozen charges proved, including 4 counts of dishonesty and 12 counts involving the abuse of developmentally delayed children. Consequently, he was struck off the register and lives in the US ever since where he, amongst many other things, enjoys lecturing to homeopaths and chiropractors about the dangers of vaccination.
Since Trump, who seems to share Wakefield's anti-vaxx stance, has become president of the US, Wakefield has managed to creep back in the limelight. The Guardian recently reported: At one of President Trump's inaugural balls in January last year, he was quoted as contemplating the overthrow of the (pro-vaccine) US medical establishment in words that brought to mind Trump himself. "What we need now is a huge shakeup at the Centers for Disease Control and Prevention (CDC) – a huge shakeup. We need that to change dramatically."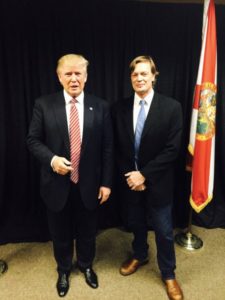 In the US, Wakefield also founded the 'Autism Media Channel' which makes videos alleging a causal link between autism and the MMR vaccine. The film 'Vaxxed' was thus directed by Wakefield. It was put forward to premiere at the 2016 Tribeca film festival by Robert De Niro, the father of an autistic child. It alleges a cover-up of the alleged link between MMR and autism by the CDC – the institute Wakefield said needed a shake-up at the Trump inaugural ball. After much discussion, De Niro fortunately withdrew the film.
Wakefield's private life has also seem significant changes. He is reported to have recently left his wife who had supported him throughout the debacle in the UK and is now 'deliciously in love' with the super-model and entrepreneur Elle Macpherson . Brian Burrowes, 48, who edited 'Vaxxed' was reported stating that he and Macpherson had begun dating after they were both guests at the 'Doctors Who Rock' Awards in November last year. This event was to honour alternative medicine practitioners, with Macpherson handing out an award and Wakefield receiving one. Other awardees included Del Bigtree and Billy DeMoss DC.
Wakefield's legacy in Europe is the recurrence of measles due to persistent doubts in vaccination safety. This regrettable phenomenon is fuelled by Wakefield's multiple activities, including face-book, twitter and you-tube. Social media has provided an alternative to the "failings of mainstream media", Wakefield was quoted in the Guardian saying – another phrase that could have come from a tweet by the US president himself. "In this country, it's become so polarised now … No one knows quite what to believe," Wakefield said. "So, people are turning increasingly to social media."
And this is what I said about this strategy in today's Times: "Such anti-vaccination propaganda is hugely harmful. It prompts many families to shun immunisations which means firstly they are unprotected, and secondly we as a people might lose herd immunity. The result is what we currently see throughout Europe: epidemics are threatening the lives of millions. It is in my view irresponsible for any institution to get involved in the anti-vaxx cult, particularly for universities who really should know better."
87 Responses to Andrew Wakefield, Donald Trump, SCAM, and the anti-vaccination cult