satire
When I previously wrote about Pranic Healing I boldly asked whether it is a hoax. This prompted several furious reactions of believers who thought my question was insulting. Meanwhile, I informed myself more thoroughly and am happy to confirm that Pranic Healing is not a hoax at all. In fact, it is much worse.
What, you forgot what Pranic Healing is?
How could you?
According to one website, Pranic Healing is a
no touch, non-invasive healing technique that was founded by Grand Master Choa Kok Sui. It is a synthesis of healing techniques from ancient China, Tibet and India in which Prana is used to heal a wide variety of illnesses. Pranic Healing is not only used to cure illness or physical ailments but also can be cure person of his psychological ailments. To be very simple in this computer age as the computer contains the hardware and the software. In human body hardware is our physical body and the software's are the Human emotions which includes Anger, Grief, Anxiety, Stress , fatigue, our karmas, pride, fear, Phobias and many more.
These human viruses affect the physical body of a person. In Pranic healing Grand Master Choa kok Sui has taught to remove these negative emotions from our system in a very simple but powerful and effective way. Grand Master Choa Kok Sui did lot of research and experiment for treating different diseases and ailments and made is very simple so that anybody can learn it. Today Pranic healing is taught and practiced in more than 80 countries of the world and its books are available in more than 34 languages. Pranic Healing is not intended to replace orthodox western medicine, but rather to complement it. Countless people and their families have been treated and are enjoying a better quality of life through Pranic Healing.
'Grand Master' Choa was born August 15, 1952, in the Philippines. His parents were of Chinese descent and became successful business people. Choa was raised in this environment of business and absorbed its lessons only too well. Sadly, he seemed to have been immune to his own healing innovation, as he died young in 2007. But his Pranic Healing empire lives on and today it is a hugely profitable business.
Prana Crystals sell a wide range of products, for instance 'healing wants' which they advertise as follows:
Healing Wands made from various stones and crystals have been used round the globe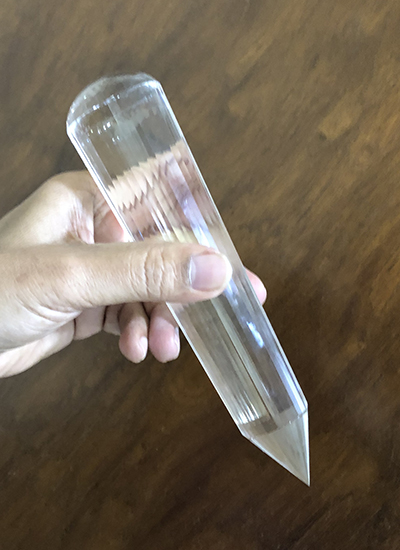 for healing purposes since ages. They help in cleansing of the entire body or aura or they can also be used to heal an affected part of the body or chakra. These wands can also be used for massaging purpose. They absorb the negative energy and release stress and pressure and help in transferring the positive energy of the stone. Healing Wands are available in variety of stones and crystals in different sizes. Each one of them have specific characteristics and uses. We have a variety of Wands available to meet your requirements.
My favourite wand is the one pictured on the right here. It is the Rolls Royce of all the wands on offer and therefore it can obviously not come cheap. But at US$ 1999 (yes, one thousand nine hundred and ninety-nine American dollars) it is still a bargain, because it rids you of all the diseases and negative energy that you can dream of.
During my recent crash course in Pranic Healing, I came across dozens of websites, hundreds of testimonials, uncounted comments and a plethora of curious things. Let me share just one of them with you:
Pranic Weight Loss Body Sculpting Face Lift is a fascinating area of the applications of the teachings of Master Choa Kok Sui for health and beauty. This workshop helps you look prettier and loose weight without surgery, exhausting exercises and medicine, just by using the knowledge of subtle energy.
Using specific combination of colour pranas and techniques, your skin can look 10 to 20 years younger. In fact the lines and wrinkles of the face are storage of negative and unpleasant feelings and experiences such as anger, fear and grief. When this emotional garbage is cleared and released, the face will look younger, brighter and revitalized.
Certain colour Pranas have the power to disintegrate and remove fat, wrinkles and lines from your system to create a healthier and better-looking body. In fact the lines and wrinkles of the face are storage of negative and unpleasant feelings and experiences such as anger, fear and grief. When this emotional garbage is cleared and released, the face will look younger, brighter and revitalized.
No, Pranic Healing is most certainly not  hoax, and I was wrong to imply it. My sincere apologies! It is pure and simple exploitation of  vulnerable people who have not had the opportunity to learn how to think critically.
Well, they did not directly admit that homeopathic remedies have no effects, of course. But, on 5/6/2020, they tweeted this :
DHU Arzneimittel
@dhu_de Jun 5
#Homöopathie Wissen
'Pille' und #Globuli – geht das? Ja, das geht, #Schwangerschaftsverhütung mit der #Pille und homöopathische Arzneimittel beeinflussen sich nicht gegenseitig.
Let me translate the text of this tweet for you:
The pill and homeopathy – is that ok? Yes, it is. Contraceptives and homeopathic medicines do not interact.
Let me translate the text of this tweet for you:
The pill and homeopathy – is that ok? Yes, it is. Contraceptives and homeopathic medicines do not interact.
And in what way is this an admission that homeopathic remedies have no effect?
Let me explain:
To issue such a categorical assurance, any responsible pharmaceutical company must have sound evidence. If not they would be open to expensive legal action, compensation, etc., in case a woman believed them and did get pregnant while taking both the contraceptive pill and a homeopathic remedy. Claiming that no interactions exist without evidence would be unwise, illegal and unethical. That means, there must be a published trial plus several independent replications demonstrating the absence of interactions between the contraceptive pill and homeopathic remedies.
German homeopathic manufacturers are, of course, responsible; I would never dare to doubt it! Ergo, such trials must be available, I thought. Therefore, I quickly conducted a few literature searches in an attempt to locate them.
Here are my findings:
No study on interactions of homeopathics with contraceptives.
No study on interactions of homeopathics with any drug.
(Should anyone have different information, please contact me without delay)
As I said, I do not doubt for a second that the largest German manufacturer, the 'Deutsche Homöopathische Union' (DHU), is a highly responsible company. So, how can they responsibly assure the public that there are no contraceptive/homeopathy interactions? How can they be so sure? Why are they not afraid of legal consequences?
There is really only one plausible explanation: they know very well that homeopathic remedies have no actions, and what has no actions cannot possibly cause any interactions!
Am I right, my dear friends at the DHU?
Please do respond if you have a minute!
Have you ever noticed that, according to its proponents, many forms of so-called alternative medicine (SCAM) must be applied a long time before there is a noticeable benefit?
As so often, homeopathy is a good example. If you consult a homeopath, she will, in all likelihood, explain that it would be unwise to expect immediate effects. The treatment needs to be taken for weeks; perhaps she even needs to change the prescription once or twice. And the longer you have suffered from your illness, the longer it will take to get rid of it. Sometimes it takes years!
Those homeopathy-fans who have experienced instant effects will, of course, disagree. But these cases are almost certainly due to the placebo response which is known to be fast. The majority of patients will be told to persevere and show patience.
And unquestionably some patients will eventually experience a reduction of symptoms. Thus the homeopaths is proven correct: homeopathy takes time to work!
But hold on, how plausible is this explanation?
Let's assume a child is cured of asthma after many months of religiously taking the prescribed homeopathic remedies. Is the cure due to the treatment, or might there be other phenomena at play? The most obvious explanation by far is the fact that children frequently grow out of diseases like asthma. So, this and other self-limiting conditions are not good examples.
What about a disease that is clearly not self-limiting? What about a MS patient who feels much improved after taking his homeopathic remedies for three months? Again, the best explanation for the improvement would be the natural history of the disease. The severity of the symptoms of many conditions fluctuate in such a way that there will be periods of relative well-being followed by deterioration.
And what, if we are dealing with a disease that normally gets progressively worse over time, if untreated ? What if a cancer patient claims to be cured after months of homeopathic therapy? Such cases do not exist! The few such 'cures' that have been reported have explanations that are unrelated to homeopathy. They are due to one of the three phenomena:
false diagnosis,
concomitant treatments,
spontaneous recovery.
It turns out that the notion of homeopathy (or any other SCAM) requiring a long period of time until the benefit kicks in is mostly a myth.
Well, perhaps not entirely!
The benefit of SCAM does unquestionably need time before a significant benefit ($$$, £££) for the SCAM provider kicks in. So, let's not sneer at the notion. Let's be positive. Let's recognise the reason why the myth is being kept alive. We all must make a living!
SIMILE is the newsletter of 'The Faculty of Homeopathy' which is the professional organisation of doctor homeopaths in the UK. Readers of this blog might know about SIMILE because I once published a post about it. Two years ago, the late Dr Peter Fisher (then the Queen's homeopath) used SIMILE to re-publish a serious lie about me:
A prepublication draft [of the Smallwood report] was circulated for comment with prominent warnings that it was confidential and not to be shared more widely (I can personally vouch for this, since I was one of those asked to comment). Regrettably, Prof Ernst did precisely this, leaking it to The Times who used it as the basis of their lead story. The editor of The Lancet, Richard Horton, certainly no friend of homeopathy, promptly denounced Ernst for having "broken every professional code of scientific behaviour".
Sir Michael Peat, the Prince of Wales' Principal Private Secretary, wrote to the vice chancellor of Exeter University protesting at the leak, and the university conducted an investigation. Ernst's position became untenable, funding for his department dried up and he took early retirement. Thirteen years later he remains sore; in his latest book More Harm than Good? he attacks the Prince of Wales as "foolish and immoral".
At the time, I complained and SIMILE (not Fisher) apologised unreservedly.
The current (May 2020) issue of SIMILE carries the following article. I find it quite humorous and therefore take the liberty of copying it here for you:
Every year in Austria a sceptic group called the Society for the Scientific Investigation of Parasciences (GWUP) announces the winner of the Golden Board in Front of the Head Award for what they deem as "unscientific nonsense". Their award frequently goes to a representative of Austria's homeopathy community.
However, it now appears Austrian homeopaths have turned the tables on their antagonists by bestowing the 2019 Award for pseudoscience to the GWUP.
But what seems on the surface to be a light hearted tit-for-tat gesture is in truth an attempt to raise questions about who these sceptic groups represent and their real aims.
The Austrian Society of Medical Homeopathy and the Veterinary Society for Homeopathy justify the award on the grounds that the GWUP is trying to agitate against complementary medicine and homeopathy without disclosing their true motives and donors. They say that under the guise of science and purported "scientific truths" these "all-knowing" activists, many of whom are without any medical qualifications, deliberately misrepresent scientific studies that support the efficacy of homeopathy beyond placebo.
The homeopaths accuse the sceptic group of fanatical and aggressive lobbying and media work to discredit proven methods of complementary medicine, which are successfully used by a large number of people around the world. Their aim, claim the homeopaths, is to position complementary medicine in an "esoteric, frivolous corner, to curtail plurality and freedom of choice in healthcare, and to hinder progress towards inclusive medicine".
As we can see, SIMILE learnt an important lesson: they now tell lies in a way that does no loner put them in the firing line. Instead they report then as said by someone else:
GWUP is trying to agitate against complementary medicine and homeopathy without disclosing their true motives and donors = lie No 1
under the guise of science and purported "scientific truths" these "all-knowing" activists, many of whom are without any medical qualifications, deliberately misrepresent scientific studies that support the efficacy of homeopathy beyond placebo = lie No 2
fanatical and aggressive lobbying and media work to discredit proven methods of complementary medicine = lie No 3
position complementary medicine in an "esoteric, frivolous corner, to curtail plurality and freedom of choice in healthcare, and to hinder progress towards inclusive medicine" = lie No 4
Congratulation guys!
You have managed to find a way which enables you to promote untruth and shelter yourselves from considering criticism. You have, in other words, continued the age-old homeopathic tradition of effectively avoiding critical thinking.
Can I invite you to join me in a little thought experiment?
Think of a totally useless therapy. I would suggest homeopathy but there are always some who would disagree with this classification. I need a TOTALLY useless therapy, and one where we ALL can agree on the label.
What about 'Potentised Toe-Nail Powder' (PoToNaPo)?
PoToNaPo is made from nail clippings, thoroughly sterilised, ground to a powder, serially diluted and potentised. Does anyone claim this remedy to be effective for any condition?
No?
Splendid!
So, we all agree that PoToNaPo is completely ineffective.
Now imagine some charlatan claiming that PoToNaPo is a highly effective cancer cure. Let's furthermore imagine that he is very successful with his claim.
(No, this is not far fetched! Think of Laetrile, Essiac, etc.)
Imagine our charlatan makes millions with PoToNaPo.
There would soon be some opposition to his quackery. The FDA would issue a statement that PoToNaPo is unproven. Perhaps the NEJM would publish an editorial saying something similar. Ethicists would frown publicly. And many sceptics would head to the pubs where clever guys would give talks about 'the scandal of PoToNaPo'.
We all know it would happen, because it has happened with PoToNaPo-like remedies many times before.
______________
Now imagine a different scenario, namely one in which our charlatan does not claim that PoToNaPo is a cancer cure; imagine instead he had claimed that PoToNaPo is a holistic medicine that boosts your well-being via re-balancing your vital energies which, in turn, helps with anxiety which in turn might have positive effects on things like mild chronic pain, depressive mood, tension headache, insomnia, erectile dysfunction and many more symptoms of daily life.
Let's furthermore imagine that our charlatan is very successful with these claims.
No, this is not far fetched! Think of … well … think of any SCAM really.
Imagine the charlatan makes millions with PoToNaPo.
What would happen?
He would be invited to conferences on integrative medicine.
Become an honorary member/sponsor of the 'College of Medicine and Integrated Health'.
He would be interviewed on the BBC.
The Daily Mail would publish advertorials.
HRH would perhaps invite him for tea.
Trump might hint that PoToNaPo cures virus infections.
Ainsworth might buy his patent.
There could even be a gong waiting for him.
And yes … some sceptics would mutter a bit, but the public would respond: what's the harm?
We all know that things of this nature might happen, because they have happened before with PoToNaPo-like remedies.
__________________
So what's the difference?
In both scenarios, our charlatan has marketed the same bogus remedy, PoToNaPo.
In both scenarios, he has made unsubstantiated, even fraudulent claims.
Why does he get plenty of stick in the 1st and becomes a hero in the 2nd case?
Yes, I know, the difference is the nature of the claims. But the invention, production, marketing and selling of a bogus treatment, the lying, the deceit, the fraud, the exploitation of vulnerable people are all the same.
Why then are we, as a society, so much kinder to the charlatan in the 2nd scenario?
I think we shouldn't be; it's not logical or consequent. I feel we should name, shame and punish both types of charlatans. They are both dangerous quacks, and it is our ethical duty to stop them.
END OF THOUGHT EXPERIMENT
'THE INTEGRATED HEALTHCARE COLLABORATIVE' claim to be a collection of the leading organisations within the field, who are committed to working together to improve healthcare in the UK. They believe that a truly integrated healthcare service would improve patient experiences, bring about better patient outcomes, and provide a framework for a more cost-effective delivery of healthcare services.​
Their purpose is as follows:
To bring together professional associations and stakeholders within complementary, traditional and natural healthcare, to identify common areas of interest, and to collectively take forward agreed objectives to promote greater integration with conventional Western medicine.
Objectives:
To increase public awareness, knowledge and understanding of complementary, traditional and natural healthcare.
To raise issues in integrated healthcare with government and decision-makers.
To provide information on complementary, traditional and natural healthcare to the media and interested parties.
To promote the benefits to public health of greater provision and integration of complementary, traditional and natural healthcare.
To develop co-ordinated strategies to help patients access accurate information on integrated healthcare.
To facilitate better access to, and choice of, appropriate complementary, traditional and natural healthcare within the NHS.
To empower the public to share responsibility for their own health and wellbeing.
To encourage whole-person, individualised healthcare.
To advocate collaboration with conventional Western healthcare professionals.
To support the development of a robust and appropriate evidence base.
​They sate that Integrated Healthcare involves combining the best of conventional Western Medicine with a range of complementary, traditional and natural therapies.
The IHC brings together the following leading organisations, who are Core Members and lead our work.
Alliance of Registered Homeopaths (ARH)
Association of Energy Therapists (AET)
Association of Naturopathic Practitioners (ANP)
Association of Physical and Natural Therapists (APNT)
Association of Reflexologists (AoR)
Association of Traditional Chinese Medicine and Acupuncture (ATCM)
British Complementary Medicine Association (BCMA)
British Reflexology Association (BRA)
Chinese Medical Institute and Register (CMIR)
Craniosacral Therapy Association (CSTA)
General Council and Register of Naturopaths (GCRN)
Faculty of Homeopathy (FoH)
Federation of Holistic Therapists (FHT)
International Federation of Professional Aromatherapists (IFPA)
Kinesiology Federation (KF)
McTimoney Chiropractic Association (MCA)
National Institute of Medical Herbalists (NIMH)
Shiatsu Society UK (SSUK)
Society of Homeopaths (SoH)
Society of Teachers of the Alexander Technique (STAT)
UK Reiki Federation (UKRF)
The IHC also provide revealing paragraphs about several so-called alternative medicines (SCAMs) on their website. This is where I have found a host of interesting statements. Here are just 6 examples:
Chiropractic treatment mainly involves safe, specific spinal manipulation to free joints in the spine or other areas of the body that are not moving properly.
Science is starting to understand the mechanism of action of ultra-high dilutions in the body, and homeopathic medicines are gentle, safe to use and in widespread use across the world.
 By testing … muscles the kinesiologist can get a picture of what is happening in your meridian system and how this may be affecting you.
Radionics is a healing technique in which your natural intuitive faculties are used both to discover the energetic disturbances underlying illness and to encourage the return of a normal energetic field that supports health.
Reflexology is a complementary therapy based on the belief that there are reflex areas in the feet and hands which are believed to correspond to all organs and parts of the body.
[Reiki] is a tradition that is open to any belief system and benefits may include deep relaxation and the promotion of a calm peaceful sense of wellbeing.
And here are 6 corrections of the above-listed statements:
Chiropractic involves unsafe spinal manipulation to free customers of their cash.
Science has long understood that there is no mechanism that could possibly explain homeopathy.
By testing muscles, the kinesiologist pretends to do something meaningful in order to be able to bill the customer.
Radionics is a con technique that is counter-intuitive, implausible and unrelated to energy.
Reflexologists believe to have shown conventional anatomy and physiology to be mistaken.
Reiki is a tradition and a belief system demonstrably out of touch with reality.
PS
If the IHC want to change their text and adopt my corrections, I would waive my fee for this efforts.
I have known for a long time that homeopathy can be dangerous, not least through the neglect of effective treatments for seriously ill patients. But I did not know that it can cause a bone fracture – until yesterday, that is.
Yes, you have understood me correctly! Here is the first case-report of a homeopathy-induced bone fracture:
My sister in law has two charming elderly ladies as neighbours. They are now in their 90ies and have, over the years, become very frail. She therefore has taken to looking after them where she can. Since the two sisters rarely leave their home these days, they have developed a new hobby: ordering things they find attractive through the post; it seems to be their greatest pleasure and has frequently led to complications that could easily fill a book of short stories.
Recently, an advertisement caught they eyes. It proclaimed in no uncertain terms that, even at their advanced age, they could re-gain some strength and energy through a specific homeopathic remedy (Boiron, I suspect, but I cannot be sure). This, of course, sounded far too good to not give it a try, and the two sisters promptly ordered what seemed to the the answer to their prayers.
The little package arrived yesterday, and the excitement must have been palpable. The more impatient of the two sisters insisted to try the wonder drug straight away. With her hands shaking in anticipation, she opened the tiny vial of globuli. Overwhelmed by trepidation, she spilled the entire content of globuli on the floor.
'That's bad but not disastrous', she thought. Trying to pick them up, she stepped on some of them. As our frail hero weighs not even 50kg, the globuli acted like the ball-bearings or a pair of roller-skates. Her feet flew off, she lost her balance and landed abruptly and painfully on her side under the kitchen table covered by a table lamp and a chair.
The second sister rushed to help but proved to be too frail to get the patient back on her feet. This is when my sister in law was phoned and, ignoring the current lock-down, arrived with her husband to the rescue. What they saw was a scene of utter devastation: Globuli everywhere, their elderly neighbour moaning on the floor covered with various items she has tried to hold on to when attempting to prevent the fall. Together they managed to get the patient back up, but soon realised that she was badly injured. An ambulance was called and in the local hospital an X-ray confirmed the diagnosis: rib fracture.
I am glad to say, the old lady – my best wishes to her and her sister! – is now back home and recovering well. Little does she know that she is about to enter the history books of medicine as the first ever documented case of 'homeopathy-induced rib fracture'.
Yes, you read this correctly: 2/3 of the German population revealed themselves to be stupid – at least this is what a survey sponsored by the German Association of Homeopathic Doctors seems to imply.
Hard to believe?
Well, read the press-release for yourself [and if you are not reading German, let me fill you in below]:
Fast zwei Drittel der Bevölkerung in Deutschland würde den Einsatz homöopathischer Arzneimittel zur Behandlung von Covid-19-Erkrankungen befürworten.
Das ist eines von mehreren Ergebnissen einer repräsentativen Umfrage des Instituts für Politik- und Sozialforschung forsa, durchgeführt im Auftrag des Deutschen Zentralvereins homöopathischer Ärzte.
Angst vor Covid-19. Interesse an homöopathischen Methoden.
Befragt wurden insgesamt 1009 Bundesbürger, unter anderem zum Grad ihrer Besorgnis vor einer Erkrankung an Covid-19, ihrem Interesse an Vorsorgemaßnahmen gegen eine Corona-Infektion zusätzlich zu besonderer Hygiene, ihrer Einstellung zu einer Behandlung von Covid-19 mit homöopathischen Arzneimitteln, sowie zur Befürwortung oder Ablehnung staatlicher finanzieller Förderung von Forschungsprojekten zu homöopathischen Vorsorge- und Behandlungsmethoden von Covid-19-Erkrankungen.
61% ziehen homöopathische Behandlung mindestens ernsthaft in Betracht
Mehr als die Hälfte aller Befragten hat bereits Erfahrung mit einer homöopathischen Behandlung bei früheren Erkrankungen gemacht. Noch mehr, nämlich fast zwei Drittel aller Befragten, würden unter der Voraussetzung, dass es in der Vergangenheit schon positive Erfahrungen mit diesem Mittel gab, im Fall einer Erkrankung an Covid-19 eine homöopathische Behandlung für sich selbst oder ihnen nahestehenden Personen auf jeden Fall (26 %) oder eher (34 %) befürworten
Homöopathie soll auch Gelder für Forschungsprojekte erhalten
Auch hinsichtlich der weiteren Erforschung von Methoden zur Vorbeugung gegen eine Infektion mit dem Corona-Virus und der Behandlung von Covid-19 fänden es viele Bürger (42 %) in Deutschland gut oder sehr gut- in der Altersgruppe über 45 Jahren sogar rund oder mehr als die Hälfte – dass staatliche Gelder nicht nur in Forschungsprojekte der konventionellen Medizin gesteckt werden, sondern dass auch Projekte der homöopathischen Medizin gezielt gefördert werden.
Here is the gist of the press-release for non-German speakers:
The German Association of Homeopathic Doctors paid an otherwise respectable agency to run a poll for them; not just any poll, but one that is robust enough to be representative of the entire German population (sample size of 1009!). The questions asked were about homeopathy in the present health crisis. The results show that:
61% would seriously consider using homeopathy,
more than 50% have had positive experience with homeopathy during previous episodes of illness,
more than 2/3 would consider homeopathy for a corona-virus infection, provided that there has been positive experience with this approach in the past,
42% of Germans would find it good or very good, if public funds would also be dedicated to research in homeopathy.
What does that tell us?
It tells us that the Germans are not that stupid after all: they would only consider homeopathy for a corona-virus infection, if there has been positive experience with this approach in the past. As such positive evidence is absent, they would not consider homeopathy!
The poll also tells us that surveys can be spun to generate the most idiotic findings provided the questions that are being asked are phrased in a sufficiently leading way. It moreover tells us that the German Association of Homeopathic Doctors seem to believe that Germans are stupid and do not realise that this survey is a despicable stunt for boosting their failing business. Finally, it tells us that the German Association of Homeopathic Doctors are behaving grossly unethical to promote homeopathy during this pandemic. There is not a jot of evidence that homeopathy might be effective and a lot of evidence to show that promoting useless treatments is dangerous.
Many experts are wondering whether it is possible to stimulate our immune system such that we are better protected against getting infected with the coronavirus. Several options have been considered.
An innovative approach, for instance, seems to be this one:
Recently, we showed that intravenous immunoglobulin (IVIg) treatment reduces inflammation of intestinal epithelial cells and eliminates overgrowth of the opportunistic human fungal pathogen Candida albicans in the murine gut. Immunotherapy with IVIg could be employed to neutralize COVID-19. However, the efficacy of IVIg would be better if the immune IgG antibodies were collected from patients who have recovered from COVID-19 in the same city, or the surrounding area, in order to increase the chance of neutralizing the virus. These immune IgG antibodies will be specific against COVID-19 by boosting the immune response in newly infected patients. Different procedures may be used to remove or inactivate any possible pathogens from the plasma of recovered coronavirus patient derived immune IgG, including solvent/detergent, 60 °C heat-treatment, and nanofiltration. Overall, immunotherapy with immune IgG antibodies combined with antiviral drugs may be an alternative treatment against COVID-19 until stronger options such as vaccines are available.
Another suggestion involves monoclonal antibodies:
The therapeutic potential of monoclonal antibodies has been well recognized in the treatment of many diseases. Here, we summarize the potential monoclonal antibody based therapeutic intervention for COVID-19 by considering the existing knowledge on the neutralizing monoclonal antibodies against similar coronaviruses SARS-CoV and MERS-CoV. Further research on COVID-19 pathogenesis could identify appropriate therapeutic targets to develop specific anti-virals against this newly emerging pathogen.
These and several further options have in common that they are not backed by robust clinical evidence. Such a lack of data rarely bothers charlatans who use the corona-panic for promoting their bizarre concepts. Numerous promoters of so-called alternative medicine (SCAM) are trying their very best to mislead the public into thinking that their particular SCAM will do the trick.
In comes the PYROMANIAC IN A FIELD OF (INTEGRATIVE) STRAW-MEN, Dr Michael Dixon who recently proclaimed that 'boosting immunity against coronavirus: 'Now's the time to turn to antioxidants and polyphenols'. Specifically, he recommended:
'Eat dark greens, broccoli, spinach or any coloured root vegetable such as beetroot or carrots and any fruit ending in the word berry; black, blue… The alliums, such as leeks and garlic and onions, are very strong in the same sort of chemicals and also even things like dark chocolate and certain teas, particularly green tea. Those who want a glass of red wine, well that's something that's very much permitted too.'
Inspired by such positive thinking, I ventured to find some evidence for Dixon's infinite wisdom. It could be that I am not very gifted at locating evidence – or perhaps there isn't any?
Well, not quite; there is some on garlic that Dixon praises for its immune-boosting activity. Here is the abstract of a Cochrane review:
Background
Garlic is alleged to have antimicrobial and antiviral properties that relieve the common cold, among other beneficial effects. There is widespread usage of garlic supplements. The common cold is associated with significant morbidity and economic consequences. On average, children have six to eight colds per year and adults have two to four.
Objectives
To determine whether garlic (Allium sativum) is effective for the prevention or treatment of the common cold, when compared to placebo, no treatment or other treatments.
Search methods
We searched CENTRAL (2014, Issue 7),OLDMEDLINE (1950 to 1965),MEDLINE (January 1966 to July week 5, 2014), EMBASE(1974 to August 2014) and AMED (1985 to August 2014).
Selection criteria
Randomised controlled trials of common cold prevention and treatment comparing garlic with placebo, no treatment or standard treatment.
Data collection and analysis
Two review authors independently reviewed and selected trials from searches, assessed and rated study quality and extracted relevant data.
Main results
In this updated review, we identified eight trials as potentially relevant from our searches. Again, only one trial met the inclusion criteria. This trial randomly assigned 146 participants to either a garlic supplement (with 180 mg of allicin content) or a placebo (once daily)for 12 weeks. The trial reported 24 occurrences of the common cold in the garlic intervention group compared with 65 in the placebo group (P value < 0.001), resulting in fewer days of illness in the garlic group compared with the placebo group (111 versus 366). The number of days to recovery from an occurrence of the common cold was similar in both groups (4.63 versus 5.63). Only one trial met the inclusion criteria, therefore limited conclusions can be drawn. The trial relied on self reported episodes of the common cold but was of reasonable quality in terms of randomisation and allocation concealment. Adverse effects included rash and odour.
Authors' conclusions
There is insufficient clinical trial evidence regarding the effects of garlic in preventing or treating the common cold. A single trial suggested that garlic may prevent occurrences of the common cold but more studies are needed to validate this finding. Claims of effectiveness appear to rely largely on poor-quality evidence.
Of course, this is not about corona but about the common cold. As for green tea, a recent review found a lack of reliable clinical data demonstrating its immune-boosting activities, a deficit also noted for chocolate.
But where IS the evidence that any of the above claims are true?
Could it be that there is no sound evidence to support Dixon's recommendations?
Impossible!!!
That would mean that Dixon, advisor to Prince Charles, is stating nonsense in the name of his COLLEGE OF MEDICINE AND INTEGRATED HEALTH. This organisation has many very respectable people as members and officers. They would never allow that sort of thing to happen!
Or would they?
During the last 30 years, I must have read a few thousand studies of so-called alternative medicine (SCAM). Some made me angry because of their methodological flaws or wrong conclusions. A few impressed me. Many made me giggle. But none has ever caused me to laugh out so long as this one entitled 'A STUDY ON THE PROPHYLACTIC EFFICACY OF HOMOEOPATHIC PREVENTIVE'.
Here is its abstract:
Homoeopathy has established its supremacy in the control of infectious viral diseases. The widespread acclaim in this regard is now supported by this study. The study was conducted in the Chikungunya fever hit areas of Kerala. The genus epidemicus was selected after detailed analysis of the first cases of Chikungunya. This preventive medicine was widely distributed in the disease prevalent areas. A survey was conducted for the evaluation of prophylactic efficacy. The study showed a very high significant effect of Homeopathic medicine in the prevention of Chikungunya fever.
You are, of course, correct to defend the Indian authors: it is unfair to judge a study purely on its abstract. So, let's have a look at the rest. After a lengthy introduction, the heart of the full paper discloses the amazing details of the study.
Here I present the unabridged text of the study; the only part I have omitted is the introduction:
Aims and Objectives
1. To assess the efficacy of Homoeopathic medicine in the prevention of Chikungunya.
2. To determine the magnitude of incidence, clinical features, mortality , social & economic impact of the Chikungunya epidemic.
Conclusion
The Homoeopathic preventive medicine distributed for Chikungunya epidemic was highly effective.
THAT'S ALL!