satire
The 'Dunning Kruger Effect' (DuKE) has been discussed here before. The DuKE means that, the less you know, the less able you are to recognize how little you know, and the less likely you are to recognize your limitations. Consequently, your confidence in yourself is inflated and you believe you are more competent than your opponent. Expressed differently:
Incompetence prevents the recognition of incompetence.
Too stupid to doubt.
A recent paper brilliantly shows the DuKE in action; here is its abstract
There is widespread agreement among scientists that genetically modified foods are safe to consume and have the potential to provide substantial benefits to humankind. However, many people still harbour concerns about them or oppose their use. In a nationally representative sample of US adults, we find that as extremity of opposition to and concern about genetically modified foods increases, objective knowledge about science and genetics decreases, but perceived understanding of genetically modified foods increases. Extreme opponents know the least, but think they know the most. Moreover, the relationship between self-assessed and objective knowledge shifts from positive to negative at high levels of opposition. Similar results were obtained in a parallel study with representative samples from the United States, France and Germany, and in a study testing attitudes about a medical application of genetic engineering technology (gene therapy). This pattern did not emerge, however, for attitudes and beliefs about climate change.
As I have stated before, I suspect the DuKE can explain much of what is going on in the realm of SCAM (so-called alternative medicine). So much so that I am tempted to re-write part of the above abstract as follows:
As extremity of belief in SCAM increases, objective knowledge about science and medicine decreases. In parallel, perceived understanding of science and medicine increases. Extreme believers in SCAM know the least, but think they know the most. Moreover, the relationship between self-assessed and objective knowledge shifts from positive to negative at high levels of SCAM-belief.
Yes, yes, I know. You are absolutely correct: this is little more than speculation! And I also realise, of course, that not everyone can have a full understanding of SCAM, medicine and science; however, if someone has a strong interest in (plus a strong opinion of) these matters, it would be advisable to read up about at least the most basic facts.
In case you disapprove, please do have a look at some of the recent comments on this blog or assess what some of the most famous proponents of SCAM tell the public, and I am confident that you will begin to suspect that my speculation might be not that far off the mark.
The German Association of Medical Homeopaths (Deutscher Zentralverein homöopathischer Ärzte (DZVhÄ)) have recently published an article where, amongst other things, they lecture us about evidence-based medicine (EBM). If you feel that this might be a bit like an elephant teaching Fred Astaire how to step-dance, you could have a point. Here is their relevant paragraph:
… das Konzept der modernen Evidenzbasierte Medizin nach Sackett [stützt sich] auf drei Säulen: auf die klinischen Erfahrung der Ärzte, auf die Werte und Wünsche des Patienten und auf den aktuellen Stand der klinischen Forschung. Homöopathische Ärzte wehren sich gegen einen verengten Evidenzbegriff der Kritiker, der Evidenz allein auf die Säule der klinischen Forschung bzw. ausschließlich auf RCT verengen möchte und die anderen beiden Säulen ausblendet. Experten schätzen, dass bei einer solchen Auffassung von EbM rund 70 Prozent aller Leistungen der GKV nicht evidenzbasiert sei. Nötiger als eine Homöopathie-Debatte hat die deutsche Ärzteschaft aus unserer Sicht eine klare Verständigung darüber, welcher Evidenzbegriff nun gilt.
For those who cannot understand the full splendour of their argument because of the language problem, I translate as literally as I can:
… the concept of the modern EBM according to Sackett is based on three pillars: on the clinical experience of the doctors, on the values and wishes of the patient and on the current state of the clinical research. Homeopaths defend themselves against the narrowed understanding of 'evidence' of the critics which aims at narrowing evidence solely to the pillar of the clinical research or exclusively to RCT, while eliminating the other two pillars. Experts estimate that, with such an view of EBM, about 70% of all treatments reimbursed by our health insurances would not be evidence-based. We feel that we more urgently need a clear understanding which evidence definition applies than a debate about homeopathy.
END OF MY TRANSLATION
So, where is the hilarity in this?
I don't know about you, but I find the following things worth a giggle:
'narrowed understanding of evidence' – this is a classical strawman; non-homeopaths tend to apply Sackett's definition which states that 'evidence-based medicine is the conscientious, explicit and judicious use of current best evidence in making decisions about the care of individual patients. The practice of evidence-based medicine means integrating individual clinical experience with the best available external clinical evidence from systematic research';
as we see, Sackett's definition is quite different from the one cited by the homeopaths;
the three pillars cited by the homeopaths are those subsequently developed for Evidence Based Practice (EBP) and include: A) patient values, B) clinical expertise and C) external best evidence;
as we see, these three pillars are also not quite the same as those suggested by the homeopaths;
non-homeopaths do certainly not aim at eliminating the 'other two pillars';
current best evidence clearly includes much more than just RCTs – to mention RCTs in this context therefore suggests that the ones guilty of narrowing anything might, in fact, be the homeopaths;
even if it were true that 70% of reimbursable treatments are not evidence-based, this would hardly be a good reason to employ homeopathic remedies of which 100% are not even remotely evidence-based;
unbeknown to the German homeopaths, the discussion about a valid definition of EBM has been intense, is as old as EBM itself, and would by now probably fill a mid-size library;
this discussion does, however, in no way abolish the need to bring the debate about homeopathy to the only evidence-based conclusion possible, namely the discontinuation of reimbursement of this and all other bogus therapies.
In conclusion, I do thank the German homeopaths for being such regular contributors to fun and hilarity. I shall miss them, once they have fully understood EBM and are thus compelled to stop prescribing placebos.
The 2018 World Federation of Chiropractic ACC Education Conference was held on 24-27 October in London. It resulted in several consensus statements developed by the attendees. I happen to know this from a short report that has just been published; it can be found here.
Of the 10 points made in this consensus, I find only the following noteworthy:
"Chiropractic education programs have an ethical obligation to support an evidence-based teaching and learning environment."
Perhaps it is me – English is not my first language – but I find the phraseology used in this sentence strangely complicated and confusing. I have been a teacher of medical students for most of my life, but I am not sure what an 'evidence-based teaching and learning environment' is. I know what 'evidence-based' means, of course. However, what exactly is:
a teaching environment?
a learning environment?
and how does 'evidence-based' apply to either of the two?
Is there evidence that some environments are better suited than others for teaching?
Is there evidence that some environments are better suited than others for learning?
I suppose the answer must be YES!
The environment, i. e. the space and conditions in which teaching and learning happen should, for instance, be/include:
quiet,
not cramped,
not too cold,
not too hot,
equipped with ergometric chairs and desks,
well-lit,
there should be visual aids,
access to computers,
a library,
good mentoring and support,
etc.
So, the consensus of the education conference wanted to optimise the environmental conditions of teaching and learning for chiropractic lecturers and students? Most laudable, I must say!
But still, it seems like a missed opportunity for an 'Education Conference' not to have stated something about the content of teaching and learning. Personally, I find it a pity that they did not state: Chiropractic education programs have an ethical obligation to be evidence-based.
Or is that what they really wanted to say?
Naaahh … come to think of it … they cannot possibly make such a demand.
Why?
Because, in this case, they would have to teach students not to become chiropractors.
Slowly, I seem to be turning into a masochist! Yes, I sometimes read publications like 'HOMEOPATHY 360'. It carries articles that are enragingly ill-informed. But in my defence, I might say that some are truly funny. Here is the abstract of one that I found outstanding in that category:
The article explains about Gangrene and its associated amputations which is a clinically challenging condition, but Homeopathy offers therapy options. The case presented herein, details about how the Homeopathic treatment helped in the prevention of amputation of a body part. Homeopathy stimulates the body's ability to heal through its immune mechanisms; consequently, it achieves wound healing and establishes circulation to the gangrenous part. Instead of focusing on the local phenomena of gangrene pathology, treatment focuses on the general indications of the immune system, stressing the important role of the immune system as a whole. The aim was to show, through case reports, that Homeopathic therapy can treat gangrene thus preventing amputation of the gangrenous part, and hence has a strong substitution for consideration in treating gangrene.
The paper itself offers no less than 13 different homeopathic treatments for gangrene:
Arsenicum album– Medicine for senile gangrene;gangrene accompanied by foetid diarrhoea; ulcers extremely painful with elevated edges, better by warmth and aggravation from cold; great weakness and emaciation.
Bromium – Hospital gangrene; cancerous ulcers on face; stony hard swelling of glands of lower jaw and throat.
Carbo vegetabilis – Senile and humid gangrene in the persons who are cachectic in appearance; great exhaustion of vital powers; marked prostration; foul smell of secretions; indolent ulcers, burning pain; tendency to gangrene of the margins; varicose ulcers.
Bothrops– Gangrene; swollen, livid, cold with hemorrhagic infiltration; malignant erysipelas.
Echinacea– Enlarged lymphatics; old tibial ulcers; gangrene; recurrent boils; carbuncles.
Lachesis– Gangrenous ulcers; gangrene after injury; bluish or black looking blisters; vesicles appearing here and there, violent itching and burning; swelling and inflammation of the parts; itching pain and painful spots appearing after rubbing.
Crotalus Horridus– Gangrene, skin separated from muscles by a foetid fluid; traumatic gangrene; old scars open again.
Secale cornatum– Pustules on the arms and legs, with tendency to gangrene; in cachectic, scrawny females with rough skin; skin shriveled, numb; mottled dusky-blue tinge; blue color of skin; dry gangrene, developing slowly; varicose ulcers; boils, small, painful with green contents; skin feels too cold to touch yet covering is not tolerated. Great aversion to heat;formication under skin.
Anthracinum– Gangrene; cellular tissues swollen and oedematous; gangrenous parotitis; septicemia; ulceration, and sloughing and intolerable burning.
Cantharis – Tendency to gangrene; vesicular eruptions; burns, scalds, with burning and itching; erysipelas, vesicular type, with marked restlessness.
Mercurius– Gangrene of the lips, cheeks and gums; inflammation and swelling of the glands of neck; pains aggravated by hot or cold applications.
Sulphuric acid– Traumatic gangrene; haemorrhages from wounds; dark pustules; blue spots like suggillations; bedsores.
Phosphoric acid– Medicine for senile gangrene. Gunpowder, calendula are also best medicines.
But the best of all must be the article's conclusion: "Homeopathy is the best medicine for gangrene."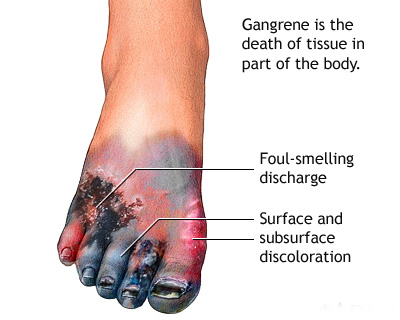 I know, there are many people who will not be able to find this funny, particularly patients who suffer from gangrene and are offered homeopathy as a cure. This could easily kill the person – not just kill, but kill very painfully. Gangrene is the death of tissue in part of the body, says the naïve little caption. What it does not say is that it is in all likelihood also the death of the patient who is treated purely with homeopathy.
And what about the notion that homeopathy stimulates the body's ability to heal through its immune mechanisms?
Or the assumption that it might establish circulation to the gangrenous part?
Or the claim that through case reports one can show the effectiveness of an intervention?
Or the notion that any of the 13 homeopathic remedies have a place in the treatment of gangrene?
ALL OF THIS IS TOTALLY BONKERS!
Not only that, it is highly dangerous!
Since many years, I am trying my best to warn people of charlatans who promise bogus cures. Sadly it does not seem to stop the charlatans. This makes me feel rather helpless at times. And it is in those moments that I decide to look at from a different angle. That's when I try to see the funny side of quacks who defy everything we know about healthcare and just keep on lying to themselves and their victims.
In Traditional Chinese Medicine (TCM), the deer antler, the young, non-ossifying, and pilose antler on the head of deer, is known as Lu Rong. It is a prized and highly sought after commodity and thus an ideal X-mas present for TCM-fans.  Deer antler has been used for hundreds of years for health and  longevity and is considered a yang tonic.  The most expensive deer antler is harvested in Alaska; prices range from $100 to $ 500 per 100 gram.
TCM knows three main treasures – deer antler velvet (Lu Rong), Ginseng (Ren Shen), and carex meyeriana grass (Wu La Cao). Among them deer velvet antler is the most precious. It is used for curing all deficiency syndromes, especially deficiency of the kidney, weak constitution, premature aging, deficiency of qi, blood, and semen. Reportedly, deer antlers contain 25 kinds of amino acids and a variety of vitamins that can improve the body's immune system and promote hematopoietic function. In his "Compendium of Materia Medica", Li Shizhen stated that deer antler is for reinforcing kidney to strengthen yang, promoting essence production, enriching blood, supplementing marrow, and invigorating bone.
Does deer antler work? TCM-practitioners seem to have little doubt. They claim it can:
enhance immunity,
increase body resistance to disease
delay aging,
sharpen the brain,
and strengthen memory,
treat infertility,
cure deficient cold,
treat postpartum weakness,
cure metrorrhagia,
treat metrostaxis,
treat paediatric liver and kidney deficiency,
remedy slow growth,
help with delayed walking of children,
help with delayed eruption of teeth, delayed closure of the anterior fontanelle, soft bone condition, and more.
And what about any evidence for all this extraordinary claims and assumptions?
A 2013 review concluded that deer antler base has emerged as a good source of traditional medicine. However, further investigations are needed to explore individual bioactive compounds responsible for these in vitro and in vivo pharmacological effects and its mechanism of actions. Further safety assessments and clinical trials in humans need to be performed before it can be integrated into medicinal practices. The present review has provided preliminary information for further studies and commercial exploitations of deer antler base.
In plain language: there is no evidence that deer antler has any health effects whatsoever.
If you are nevertheless interested, you can very easily buy deer antler as a supplement.
But PLEASE, don't let Rudolph hear about it; he empathises with his relatives who detest being harvested for useless TCM.
Need a last minute X-mas present?
I might have just the right thing for you: Healing Courses Online.
They are run by true professionals who clearly know what they are doing: The founders of The Online Bio Energy Healing Training Course are John Donohoe and Patricia Hesnan, both of whom have been working in the alternative complementary healing area for over 25 years. Our healing centre clinic has been involved in teaching, development and trainings since it was first established in 1990, and we continue to promote and hold our regular live training courses.
Healing Courses Online is registered with the CMA (Complementary Medical Association), which is internationally recognized as the leading organization in professional, ethical complementary medicine by professional practitioners, therapists, and the public in general. Having completed this course, you can apply for membership of the CMA which offers a number of benefits including supplying professional accreditation. The CAM industry does not have a single regulatory body at present. With this in mind here at Oisin Centre Limited and Healing Courses Online we provide certification and training of the highest standards and expect our students to adhere to all statutory regulations, standards and codes of ethics regarding professional practice as therapists. You can feel safe in the knowledge that we are an experienced and trusted provider of Energy Healing training courses.
AND HERE ARE THE DETAILS AND PRICE-TAGS OF 4 COURSES:
A diploma course in energy healing. It includes 58 professional video lessons, 8 PDF lectures in a carefully constructed A, B, C, step-by-step format, allowing you to learn each technique and each application in easy stages. When you have completed the course you receive a Certified Diploma in Energy Healing. Once you have the knowledge and understand how to apply this energy healing therapy you can help yourself and others to activate the body's own natural process of self-healing.
€97.00 – Was €375.00
A diploma course in sound healing. It includes 37 professional video lessons, 18 PDF lectures in a carefully constructed A, B, C, step-by-step format, allowing you to learn each technique and each application in easy stages. When you have completed the course, you receive a Certified Diploma in Sound Healing. Learn the secrets to sound healing with Tibetan singing bowls, Chinese gong, Tuning forks, the Human Voice, plus energy healing clearing for chakras plus much more.
€69.00 – Was €275.00
A diploma course in animal energy healing. It includes 30 practical video lessons and 5 PDF lectures in a carefully constructed A, B, C, step-by-step format, allowing you to learn each technique and each application in easy stages. When you have completed the course, you receive a Certified Diploma in Animal Healing. This is an ideal course to learn how you can help your pet or any animal so they may be healthy, happy and content.
€59.00 – Was €225.00
SELF HEALING / SELF HELP ONLINE COURSE includes 24 professional video lessons, plus 20 PDF lectures in a carefully constructed A, B, C, step-by-step format, allowing you to learn each technique and each application in easy stages and certification of completion. You can view a video with simple Qi-Gong exercises filmed at picturesque Galway Bay in Ireland. The aim of using singing bowls, crystal bowls, tuning forks, healing music, or the human voice as a self healing modality is to help restore the body to its normal.
€19.99 – Was €199.00
__________________________________________________________________________
IN CASE YOU WONDER WHAT YOU CAN DO ONCE YOU HAVE PASSED ONE OF THOSE COURSES, THE COURSE DIRECTORS GIVE IT TO YOU STRAIGHT:
Energy healing can be used as a standalone therapy or in conjunction with many other modalities including counselling, psychotherapy, hypnosis, acupuncture, massage, reflexology, and many more.
As soon as you have completed the course plus a short 10 question test, you will be granted your diploma, which you can download and print. (Your diploma is also automatically sent to your email account.)
___________________________________________________________________________
On this blog and elsewhere, my critics regularly complain that I do not have any qualifications in alternative medicine. Therefore, I am tempted to enrol (as a generous and high-value X-mas present to myself) – even though I am still uncertain which of the 4 courses might be best for me (and, of course, I cannot be sure to pass the '10 question test'!).
How about you?
Will you join me?
An article alerted me to a new report on alternative medicine in the NHS. The report itself is so monumentally important that I cannot find it anywhere (if someone finds a link, please let us know). Behind it is our homeopathy-loving friend David Tredinnick MP, chair of the All-Party Parliamentary Group. I am sure you remember him; he is 'perhaps the worst example of scientific illiteracy in government'. And what has David been up to now?
His new report by the All-Party Parliamentary Group for Integrated Healthcare is urging the NHS to embrace more medicine to ease the mounting burden on service provision. It claims that more patients suffer from two or more long-term health conditions than ever before, and that their number will amount to 18 million by 2025.
And the solution?
Isn't it obvious?
David Tredinnick MP, chair of the All-Party Parliamentary Group, insists that the current approach being taken by the government is unsustainable for the long-term future of the country. "Despite positive signs that ministers are proving open to change, words must translate into reality. For some time our treasured NHS has faced threats to its financial sustainability and to common trust in the system. Multimorbidity is more apparent now in the UK than at any time in our recent history. As a trend it threatens to swamp a struggling NHS, but the good news is that many self-limiting conditions can be treated at home with the most minimal of expert intervention. Other European governments facing similar challenges have considered the benefits of exploring complementary, traditional and natural medicines. If we are to hand on our most invaluable institution to future generations, so should we."
Hold on, this sounds familiar!
Wasn't there something like it before?
Yes, of course, the 'Smallwood Report', commissioned over a decade ago by Prince Charles. It also proclaimed that the NHS could save plenty of money, if it employed more bogus therapies. But it was so full of errors and wrong conclusions that its impact on the NHS was close to zero. At the time, I concluded that the 'Smallwood report' is one of the strangest examples of an attempt to review CAM that I have ever seen. One gets the impression that its conclusions were written before the authors had searched for evidence that might match them. Both Mr Smallwood and the 'Freshminds' team told me that they understand neither health care nor CAM. Mr Smallwood stressed that this is positive as it prevents him from being 'accused of bias'. My response was that 'severely flawed research methodology almost inevitably leads to bias'.
And which other European countries might the Tory Brexiter David refer to?
Sadly, I have not seen Tredinnick's  new oeuvre and do not know its precise content. What I do know, however, that the evidence, for alternative medicine's cost effectiveness has not improved; if anything, it has become more negative. From that, one can safely conclude that Tredinnick's notions of NHS-savings through more use of alternative medicine are erroneous. Therefore, I suspect the new report will swiftly and deservedly go the same way as its predecessor, the 'Smallwood Report': straight into the bins of Westminster.
In the latest issue of 'Simile' (the Faculty of Homeopathy's newsletter), the following short article with the above title has been published. I took the liberty of copying it for you:
Members of the Faculty of Homeopathy practising in the UK have the opportunity to take part in a trial of a new homeopathic remedy for treating infant colic. An American manufacturer of homeopathic remedies has made a registration application for the new remedy to the MHRA (Medicines and Healthcare products Regulatory Agency) under the UK "National Rules" scheme. As part of its application the manufacturer is seeking at least two homeopathic doctors who would be willing to trial the product for about a year, then write a short report about using the remedy and its clinical results. If you would like to take part in the trial, further details can be obtained from …
END OF QUOTE
A homeopathic remedy for infant colic?
Yes, indeed!
The British Homeopathic Association and many similar 'professional' organisations recommend homeopathy for infant colic: Infantile colic is a common problem in babies, especially up to around sixteen weeks of age. It is characterised by incessant crying, often inconsolable, usually in the evenings and often through the night. Having excluded underlying pathology, the standard advice given by GPs and health visitors is winding technique, Infacol or Gripe Water. These measures are often ineffective but for­tunately there are a number of homeo­pathic medicines that may be effective. In my experience Colocynth is the most successful; alternatives are Carbo Veg, Chamomilla and Nux vomica.
SO, IT MUST BE GOOD!
But hold on, I cannot find a single clinical trial to suggest that homeopathy is effective for infant colic.
Ahhhhhhhhhhhhhhhhhhh, I see, that's why they now want to conduct a trial!
They want to do the right thing and do some science to see whether their claims are supported by evidence.
How very laudable!
After all, the members of the Faculty of Homeopathy are doctors; they have certain ethical standards!
After all, the Faculty of Homeopathy aims to provide a high level of service to members and members of the public at all times.
Judging from the short text about the 'homeopathy for infant colic trial', it will involve a few (at least two) homeopaths prescribing the homeopathic remedy to patients and then writing a report. These reports will unanimously state that, after the remedy had been administered, the symptoms improved considerably. (I know this because they always do improve – with or without treatment.)
These reports will then be put together – perhaps we should call this a meta-analysis? – and the overall finding will be nice, positive and helpful for the American company.
And now, we all understand what homeopaths, more precisely the Faculty of Homeopathy, consider to be evidence.
On this blog and elsewhere, I have repeatedly criticised the concepts of 'integrative medicine' (IM). But criticising is easy, improving would be better. Today, I want to re-visit and revise the idea of IM and propose the concept of a 'reformed integrated medicine' (RIM).
Proponents of IM suggest that we should use 'the best of both worlds' for the benefit of our patients. This seems to be a progressive and ethical approach to improving healthcare. Therefore, I fully accept this idea. However, I suggest to not stop here; if we are serious about wanting the best for our patients, we must not just integrate, we should also disintegrate! We also need to think about disintegrating (discarding) modalities that are not fit for purpose. This, in a nutshell, is the concept of RIM.
In order to make real progress, we need to have a critical look at all the diagnostic, preventive, therapeutic and rehabilitative practices available to date and:
integrate those into routine care that demonstrably generate more good than harm,
disintegrate those that do not meet this criterion.
THE BEST, AND ONLY THE BEST OF BOTH WORLDS!!!
This means, we use must throw overboard those that are not best. In healthcare 'best' can, of course, only mean effective and safe.
I am aware that this is only a very rough sketch of what RIM stands for. But even in this preliminary form, it is easy to see that, although IM and RIM seem to differ only marginally, their effects on healthcare would differ dramatically. Let me demonstrate this by providing 5 examples from my area of expertise:
| | | |
| --- | --- | --- |
| Iridology | embraced by IM | discarded by RIM |
| Homeopathy | embraced by IM | discarded by RIM |
| Chiropractic | embraced by IM | discarded by RIM |
| Reiki | embraced by IM | discarded by RIM |
| Reflexology | embraced by IM | discarded by RIM |
I am sure, you get the gist of it. In RIM, we no longer employ things that don't work. They are of no real use to patients and possibly even cause harm. RIM not only is the only ethical approach, it also generates progress.
So, RIM – just a tiny adaptation of IM – is the solution.
Gosh, I am proud of my splendid innovation.
Progress at last!
__________________________________________________________________
Ooops …  I just realised, RIM has one little flaw: it already exists.
It's called evidence-based medicine.
I came across this article; it is neither new nor particularly scientific. Yet I believe it is sufficiently remarkable to alert you to it, quote a little from it, and hopefully make you chuckle a bit:
The Vatican's top exorcist has spoken out in condemnation of yoga … , branding [it] as "Satanic" acts that lead[s] to "demonic possession". Father Cesare Truqui has warned that the Catholic Church has seen a recent spike in worldwide reports of people becoming possessed by demons and that the reason for the sudden uptick is the rise in popularity of pastimes such as watching Harry Potter movies and practicing Vinyasa.
Professor Giuseppe Ferrari … says that … activities such as yoga, "summon satanic spirits" … Monsignor Luigi Negri, the archbishop of Ferrara-Comacchio, who also attended the Vatican crisis meeting, claimed that homosexuality is "another sign" that "Satan is in the Vatican". The Independent reports: Father Cesare says he's seen many an individual speaking in tongues and exhibiting unearthly strength, two attributes that his religion says indicate the possibility of evil spirits inhabiting a person's body. "There are those who try to turn people into vampires and make them drink other people's blood, or encourage them to have special sexual relations to obtain special powers," stated Professor Ferrari at the meeting. "These groups are attracted by the so-called beautiful young vampires that we've seen so much of in recent years."
Is yoga about worshiping Hindu gods, or is it about engaging in advanced stretching and exercise? At its roots, yoga is said to have originated from the ancient worship of Hindu gods, with the various poses representing unique forms of paying homage to these entities. From this, other religions such as Catholicism and Christianity have concluded that the practice is out of sync with their own and that it may result in demonic spirits entering a person's body.
… Father Truqui sees yoga as being satanic, claiming that "it leads to evil just like reading Harry Potter." And in order to deal with the consequences of this, his religion has had to bring on an additional six exorcists, bringing the total number to 12, just to deal with what he says is a 100% rise in the number of requests for exorcisms over the past 15 years. "The ministry of performing an exorcism is little known among priests … It's like training to be a journalist without knowing how to do an interview." At the same time, Father Amorth admits that the Roman Catholic Church's notoriety for all kinds of perverted sex scandals is also indicative of demonic activity – he stated that it represents proof that "the Devil is at work inside the Vatican." "There's homosexual marriage, homosexual adoption, IVF [in vitro fertilization] and a host of other things," added Monsignor Luigi Negri, the archbishop of Ferrara-Comacchio, about what he says is evidence of the existential evil in society. "There's the glamorous appearance of the negation of man as defined by the Bible."
END OF QUOTES
Speechless?
Me too!
Just one thought, if I may: according to Father Truqui, the most satanic man must be a 'perverted' catholic priest practising Yoga and reading Harry Potter!