satire
I recently saw a tweet by a German homeopath stating that 'homeopathy is 100% experienced based medicine'. It made me think and realise that there is not just one EBM, there are, in fact, at least three EBMs!
Experience based medicine
Eminence based medicine
Evidence based medicine
I will start with the type which I encountered first when studying medicine all those years ago.
EMINENCE BASED MEDICINE
German healthcare was at the time – 1970s – deeply steeped in this variety of EBM. What the professor said was right, and there was no discussion about it. I don't even know how my teachers would have reacted, if we had challenged their wisdom, because nobody ever did; it just did not occur to us.
Personally, I never got along too well with this type of EBM. I found it stifling, and this feeling might have contributed to my first 'escape' to England in 1979. In the UK, I felt, things were refreshingly different (see also my recent obituary of my former boss).
EXPERIENCE BASED MEDICINE
So-called alternative medicine (SCAM) is almost entirely based on this type of EBM. Practitioners of SCAM pride themselves of their experience and are convinced that it outweighs evidence any time. They rarely miss an occasion to stress that their treatment as stood the test of time. And as such it does not require evidence; if SCAM did not work, it would not have survived all these years.
Little do they know that the appeal to tradition is a logical fallacy. And little do they care that the long tradition of their SCAMs might just signal how obsolete their treatments truly are. Hundreds (homeopathy) or thousands (acupuncture) of years ago, we had little knowledge about physiology, pathology, etc., and clinicians had to make do with the little that got. Seen in this light, experience based medicine is a negative label that indicates the fact that the treatments are likely to be obsolete and out-dated.
EVIDENCE BASED MEDICINE
Providers of SCAM have a deeply rooted dislike for the word evidence. The reason is simple: their SCAMs are usually very shy on evidence; little wonder that they like to focus on experience instead. Yet, try to explain the concept of evidence to someone neutral like a barman, for instance – whenever I made this attempt, I was interrupted by him saying: 'Hold on, are you saying that before EBM you did not depend on evidence? This is frightening! What on earth did you rely on then?'
It is indeed not logical to rely on eminence or on experience, in my view. And therefore, I have stopped explaining EBM to people who have common sense, like my barman. Let's try something else instead: imagine you are seriously ill and are able to chose between three clinician who are each the leading head in their type of EMB.
THE EMINENCE IS A PROFESSOR MANY TIMES OVER AND SIMPLY KNOWS THAT HE IS ALWAYS RIGHT
Personally, I would run a mile. I have seen too many of those blundering through the wards of university hospitals. He never makes a mistake, except that things do go wrong quite often; and when they do, it is the fault of some underling, of course.
THE EXPERIENCED CLINICIAN WITH YEARS OF PRACTICE WHO HAS SEEN IT ALL AND HAS ALL THE ANSWERS
With a bit of bad luck, he might be a homeopath. He will tell you endlessly of cases that were similar to yours. Occasionally, there was an aggravation (which, of course, is a good sign in his view), but in the end he cured them all with his treatments that had stood the test of time. He has excellent bedside manners, a lot of charisma, and is a good listener. Who was it that said: "the three most dangerous words in medicine are IN MY EXPERIENCE"?
Yes, you guessed it: run and don't turn back!
THE CLINICIAN WHO KNOWS WHAT THE CURRENT BEST EVIDENCE HAS TO OFFER
He might not be all that charismatic, perhaps he even is a bit abrupt. But he will know the latest developments and weigh the risks of all therapeutic options against their benefits.
But hold on, my barman would interrupt at this point, this is not either or. One can have both experience and evidence!
I told you my barman was clever. The definition of evidence based medicine is not healthcare based on up-to date knowledge, it is the integration of best research evidence with clinical expertise and patient values. It thus rests on three pillars: external evidence, ideally from systematic reviews, the clinician's experience, and the patient's preferences.
Therefore, my barman and I agree that eminence based medicine is highly questionable, experience based medicine can be outright dangerous, and evidence based medicine is the only EBM version that does make sense.
There is a long-standing debate on the question whether the use of homeopathy saves money. Homeopathy fans usually insist that it does. Even the Smallwood report commissioned by Prince Charles claimed that the NHS could save pots of money, if GPs only used more homeopathy.
And it is true, of course: on average homeopathics are cheaper than drugs. Therefore, replacing drugs with homeopathics would be a cost-saving. But, in healthcare, we cannot think like this; if we did, this logic would tell us that not doing anything at all would be even cheaper.
Somehow, we need to factor into the equation the effectiveness of the interventions that we are evaluating. The way to do this is to conduct proper cost-effectiveness analyses. And the reliable evidence from such assessments fails to confirm the notion that homeopathy might save us money.
So, why did I entitle this post HOW TO SAVE MONEY WITH HOMEOPATHY?
Because, it is true: you can save money, if you adhere to my instructions!
If you or a friend of yours are ill and therefore tempted by the numerous claims of homeopaths, please follow this simple step by step procedure:
Go to your library, find a reliable book (I recommend this one), inform yourself what homeopathy truly is and absorb in the fact that a typical homeopathic remedy contains exactly zero active molecules.
Read a bit further and check out what the best evidence from rigorous clinical trials tells us about the effectiveness of homeopathy.
Go to a pharmacy that specialises in homeopathic products.
Ask the pharmacist which homeopathic remedies she recommends for the ailment you suffer from.
Ask the pharmacist to tell you what these would cost.
Tell the pharmacist what you have just learnt about the evidence.
Ask her kindly not to mislead customers in future.
Go home.
Repeat 3 – 8 as often as you can.
I think you have to agree that by following my instructions, you have saved exactly the amount of money that the pharmacist quoted.
PS
And for those for whom this advice comes too late, because they already have at home a selection of homeopathic remedies, I have the following cost-saving trick: use them for sweetening your tea or coffee. This saves you the cost of buying sugar – every little bit helps!
Some of you might have followed my recent discussion with a homeopath. It followed a typical path, and I decided therefore to try and analyse this exchange here. Perhaps others can learn from this example when debating with homeopaths or other providers of so-called alternative medicine (SCAM).
THE START
These conversations often start 'out of the blue' by some falsehood being trumpeted on social media. In the present case, the encounter commenced by someone tweeting this message to me: "…remember that asthma trial whose results you faked?" As I did not even remember having ever met the man, I was perplexed. And as I have not faked the study in question nor any other results, I did not think his remark was credible or funny. My mention of the fact that the aggressor was being libellous seemed to bring an end to this unhappy dialogue.
But not for very long. When the man insulted me again – this time very publicly in a UK newspaper – I decided to look into it a bit closer. The aggressor turned out to be in charge of the well-known UK homeopathic pharmacy, Ainsworth, and thus had an overt conflict of interest in defaming my often critical stance on homeopathy. Intriguingly, he had also published his own study of homeopathy. When I assessed this research, it turned out to be both incompetent and unethical. I had hoped that he would defend his work and discuss its limitations with me in a rational fashion. Yet, at this stage, he remained silent.
I then decided to write a further post in the hope of getting some sort of response from him. Alas, my hope was disappointed again. Even when I challenged him and his ROYAL WARRANT directly, he remained silent.
THE BUILD-UP
It needed a seemingly unrelated post of mine for him to find his voice:
Dear Ezard
We can all go round in endless circles arguing whether the Earth is Flat, but eventually someone has to venture out in a boat to the horizon to determine the fact. A cursory reading of Hahnemann encourages every student of homoeopathy to gain their own experience empirically. We all know you and your friends on this blog are standing on the shore proclaiming the Earth to be flat, but when are you going to pedal out,to bravely cite actual cases you have treated with homoeopathy as evidence of your position? What the audience reading this wants to know is what experience and knowledge any of you actually have of the subject you spend so much time criticising?
At this stage a had grown a little weary of Mr Pinkus and his innuendos. My response was thus a little impatient:
Dear Tony
I don't think highly of people who
1) are too daft to spell my name correctly,
2) imply I have no experience in homeopathy,
3) pretend that I make a secret of it, while, in fact, I published this multiple times (i.e. https://www.amazon.co.uk/Scientist-Wonderland-Searching-Finding-Trouble/dp/1845407776),
4) accuse others of being flat earthers, while evidently being one themselves,
5) do all this without declaring their massive conflict of interest.
Best regards
Edzard
What followed was Pinkus' increasingly irrational attempts to defame me by revealing to the world that I (and other critics of homeopathy) lacked sufficient clinical experience with homeopathy and therefore were not competent to discuss the subject. Explanations by myself and others that,
firstly I did have knowledge and experience of homeopathy,
and secondly no experience is required for a critical evaluation of any treatment,
all fell on deaf ears.
THE END
The conclusion of this odd discussion was Pinkus' triumphant declaration of victory:
I came to this blog to see if anyone in the discussion had any serious intention to discuss the subject of homoeopathy. In order to do this there are certain prerequisites for a sensible debate and one of these is actual knowledge and experience of the subject matter under discussion. To this end I asked if anyone has case they treated in order to discuss the merits and demerits of the experience. No one offered one. I repeated the request and the silence changed to attacks on me even asking.
Any scientist worthy of the challenge, and certainly someone who proudly styles himself as a Professor of CAM with experience and knowledge, would be only too glad to share this with others. Sadly though I have met with rebuke and insult but no evidence to support the opposition to homoeopathy saving some incoherent rant about the needlessness of empirical experience. The cornerstone of Hahnemann's work on homoeopathy and the one thing he advocated to other doctors. "Don't take my word for it, prove it to yourself"
When you find the need to attack me to defend your incessant argument that homoeopathy is implausible I really cannot take you seriously.
Here we have a blog hosted by a chap who claims to be an expert on the subject but now claims he hasn't practiced it for over 40 years. Won't say what he did when he practised, what he learned and when asked to give at least once case he treated, refuses and creates some diversion to cover his ignorance of the question. Now that's what I call a charlatan.
I understand you have made a living out of this but it must be a miserable existence old chap
______________________________________________________________________
I find this exchange rather typical for an argument with  SCAM-fanatics. It follows a fairly standard strategy:
aggression form a complete stranger,
attempt of a rational defence,
more aggression and insults
attempts to debate the published evidence,
silence from the aggressor who seems unable to defend his evidence,
more aggression at an unexpected opportunity,
further attempts to rationalise and discuss the facts,
the aggressor questions his opponent's competence,
more attempts to rationalise and provide valid explanations,
conclusion of the discussion with aggressor trying to occupy the moral high ground.
Of course, this is eerily similar to playing chess with a pigeon.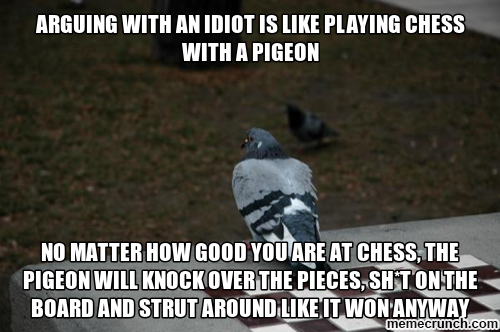 So, what, if anything, can we learn from this?
Mainly three things, I think:
Either you don't argue with fanatics at all,
or you realise from the beginning what is about to happen; in this case, have fun exposing irrationality in the hope that others might profit from your experience.
In any case, do not expect that your aggressor will be able to learn anything.
These days, I am often not sure what puzzles me more, Boris Johnson or homeopathy. Come to think of it, our PM seems, in fact, to have a lot in common with homeopathy/homeopaths. With my tongue lodged firmly in my cheek, I can see some communalities:
They are both popular in the UK but have their origins elsewhere.
They were both laughed at by people who are serious.
They have both been around for far too long.
They both are useless.
They both have plenty of charisma.
They both, however, have little more than that.
They have a long history of misleading the public.
They have both been taken to court.
They both failed to accept the judgement when it went against them.
They are both particularly successful with the female section of the population.
They both thrive on personal attacks.
They both make far-reaching claims which turn out to be false.
They both claim to want only the best for the public.
They both consider themselves as progressive.
In truth, however, they are both deeply regressive.
They both do not to think that ethics are all that important.
They both irritate people who are rational thinkers.
They both negate the evidence and act in overt contradiction to the evidence.
They both tend to think that popularity is a measure of efficacy.
They both managed to mislead even the Queen.
Nevertheless, they both enjoy royal support (at least for the time being).
They both seem to think that the laws (of the land/of nature) do not apply to them.
They are both only bearable when highly diluted.
They are both a complete waste of money.
They are both dangerous when the public follow their advice.
Have I forgotten anything?
Do tell me, please.
The Society of Homeopaths (SoH) is the professional organisation of UK lay homeopaths (those with no medical training). The SoH has recently published a membership survey. Here are some of its findings:
89% of all respondents are female,
70% are between the ages of 35 and 64.
91% of respondents are currently in practice.
87% are RSHoms.
The majority has been in practice for an average of 11 – 15 years.
64% identified their main place of work as their home.
51% work within a multidisciplinary clinic.
43% work in a beauty clinic.
85% offer either telephone or video call consultations.
Just under 50% see 5 or fewer patients each week.
38% are satisfied with the number of patients they are seeing.
80% felt confident or very confident about their future.
65% feel supported by the SoH.
What can we conclude from these data?
Nothing!
Why?
Because this truly homeopathic survey is based on exactly 132 responses which equates to 14% of all SoH members.
If, however, we were able to conclude anything at all, it would be that the amateur researchers at the SoH cause Hahnemann to turn in his grave. Offering telephone/video consultations and working in a beauty salon would probably have annoyed the old man. But what would have definitely made him jump with fury in his Paris grave is a stupid survey like this one.
It is hot, very hot? People have difficulties sleeping at night, not to mention working during the day. If you are one of the millions suffering, do not despair. Luckily, we have so-called alternative medicines (SCAM) that can help.
This article, for instance explains what homeopathy can do for you:
Glonoine:
This is one of the top remedies to consider in heat stroke especially in the following symptoms are present; eyes fixed without expression, glassy eyes, pupils contracted, pulse either barely perceptible or so quick it can't be counted, loss of speech, face pale, white or yellowish-red; cold sweat, body cold and head hot to the touch.
Belladonna:
It is easy to confuse Belladonna and Glonoine (see above).  They both have cold body with a hot head, fixed or staring eyes etc.  However, there are some differences.  Typically you would see dilated pupils in Belladonna.  In addition, the face will typically be red.  Other symptoms that indicate Belladonna can include involuntary stool or urination, twitching or trembling of the limbs, bending the head backwards and an unusually heavy sleep.
Aconite:
Aconite can also be useful.  Symptoms calling for this remedy can include heat in the whole body (and not as much in the head as in Belladonna and Glonoine), contracted pupils, hard and full pulse.  One way to differentiate Aconite is its characteristic anxiety and restlessness.
Another article recommends acupuncture:
Acupuncture is always a great option, too.  Your practitioner will focus on clearing the heat, and if you have the damp type, they will also resolve the dampness and calm your digestion down.  There are also some really effective Chinese herbal formulas specifically designed for Summerheat.  So be cool and don't let the hot weather get you down.
And yet another article advises us to use Bach flower remedies:
Into a glass of water, put 4 drops of Rescue Remedy and 2 drops each of Beech and Olive and sip through out the day.  If you're travelling, into a 500ml bottle of mineral water, put 6-8 drops of Rescue and 3-4 drops of the single remedies into the bottle and sip.
Find it hard to decide which one to try? Let me make the choice easier for you:
Homeopathy is ineffective.
Acupuncture is ineffective.
Bach flower remedies are ineffective.
But you knew that anyway, didn't you?
His name is Uriel. He been studying and controlling energy for over 20 years. Growing up as a young boy in a family that has been doing spiritual healing for over 800 years, he started to feel other people's emotions, feelings, and illnesses without having to speak to them directly.
These days, Uriel makes a living out of his gift to channel healing energy. Over the phone or via email, he offers a mind-boggling array of services (at stiff prices):
Spiritual healing and blessing for mind, body and soul – $499.
Full service energy healing – $499.
Clearing and removing black magic, curses, evil eye and witchcraft – $259.
Advice, blessings and special requests – $150.
Spiritual healing to attract money and finances – $200.
Chakra clearing and balancing service – $200.
Spiritual healing for rekindling your relationship – $499.
Spiritual healing for attracting good luck and opening your luck – $200.
Aura healing service – $200.
… and many more services and exciting products
I was particularly taken by Uriel's ability to program crystals. These can then be bought and will send positive energy to the happy customer. This is what he says about it:
Crystals have been used for thousands of years by many practitioners of healing. Every crystal has a unique energy and vibration that allows it to be programmed for specific use or purpose.
Some crystals will bring good fortune while others are meant to bring luck, physical healing, love, protection from evil eye, black magic, voodoo and jealousy. Every crystal has a unique purpose and benefit. These days with the advancement of technology not many people are familiar with crystal programming or crystals in general.
Programming crystals takes a lot of effort, it isn't a simple process and is extremely time consuming. The process starts with clearing the practitioners energy field and then using angels, ancestors, the sun, the stars and loved ones in spirit to properly clear and program the crystal such as a bracelet, necklace or stone. Each crystal can be programmed to your unique requirements. The process requires your name and birth date to insure the crystal is programmed specifically to you. This lengthily process when done properly will create miracles for the person wearing the crystal.
A skilled and experienced practitioner must know how to control angels, master the art of energy manipulation and be extremely careful  when programming the crystals to insure only positive energy is entered in to the stone as any negative vibrations will have the opposite effect on the person who will be using or wearing the stone.
Buying crystals from random places without any proper programming will not bring you any positive results. These must be properly programmed or they are nothing more then a decorative piece of jewelry. I offer a wide selection of crystal products such bracelets, necklaces and energy generators. These are programmed to your unique requirements and take me over 14 hours to properly program each unit, please visit my products page to see everything that I offer.
These crystals can be purchased for friends, family members and you can also own multiple different pieces. They will make the perfect gift to your loved ones. If you have any questions about crystal programming or my process please feel free to contact me for more information.
I find it really difficult to decide what product to try first; the choice is just far too impressive … Hold on, I know, what I am going to buy: THE ULTIMATE BLACK MAGIC PROTECTION NECKLACE. At just $199, it seems a bargain! And it might even protect me from quacks!!!
This image caught my eye on facebook. It links to an article that makes a multitude of claims for a dietary supplement by the name of 'smarter curcumin':
Promotes Comfort & Flexibility
Studies have shown that curcumin may work by reducing certain key inflammation-promoting enzymes in the body. In some studies curcumin performed well in promoting comfort and flexibility without the side-effects; providing a natural supplement alternative. Athletes and weekend warriors alike are also using it for muscle and joint health recovery, too.
Supports Healthy Joints
Antioxidants play a role in keeping our joints healthy. Your body uses antioxidants to combat free radicals. Free radicals are unstable particles that are created as a result of millions of chemical reactions in the body. They can cause oxidative stress and damage on a cellular level. When scientists examine the blood and joint fluid of patients that are suffering with joint discomfort, often times there is an increased activity of free radicals and lower levels of antioxidants. Curcumin being rich in antioxidants, can give you a healthy supply.
Age-Reducing Beauty – Skin, Hair, and Body
Curcumin, being a very powerful natural antioxidant, helps reduce and neutralize free radicals, which damage and destroy your cells and DNA causing accelerated aging. Since most ageing disorders are driven by oxidative stress, this makes curcumin a very important daily supplement for aging adults.
Healthy Immune Balance
Your immune system is a network of various organs, tissues, and cells that work together to protect your body. Curcumin not only helps to enhance the responses of certain antibodies and cells within the immune system but may also help downregulate the expression of certain proinflammatory substances.
Promotes Cardio Health
A healthy heart consists of many factors, especially eating healthy and routine exercise. Adding curcumin as part of your healthy diet may have many benefits to protect your heart. Oxidized LDL (Low-density lipoprotein) particles (that have been disrupted by free radicals) may produce inflammation in the cardiovascular system. Studies suggest that the antioxidant effects of curcumin can help fight those free radicals.
Improves Digestion
Curcumin has been shown to calm the digestive system, helping to relieve gas, bloating, and other stomach and bowel issues. It works differently than probiotics or enzymes – naturally soothing the gut, and reducing the overproduction of acid.
Support Liver Health
Your liver plays an important role in stabilizing and balancing the maintenance of your body. The health of your liver can be directly related to oxidative stress and proinflammatory substances. Curcumin may help boost antioxidant defenses to help the liver detoxify and restore balance.
Supports Brain Health
The connection between inflammation and cognitive health cannot be overstated. Neurons are especially susceptible to inflammation and the release of inflammatory compounds in the body can be neurotoxic. Curcumin may help protect those precious brain cells.
__________________________________________________________
What fascinates me here is not so much the plethora of therapeutic claims. As far as I can see, most of them are not supported by what I would call good evidence. But I have grown so used to bogus claims in SCAM, that they rarely make me bat an eyelash.
What fascinates me most is the extraordinary picture evidently designed to attract our attention. Many people might have no idea what it depicts, other than a running leopard in a strange environment. Others will realise that the environment is an artery, and the chasing animal therefore seems to imply that the supplement enhances arterial blood flow.
But why? There is no evidence that curcumin has this effect, and the above therapeutic claims are largely unrelated to improvements of the blood circulation.
The artery is filled with red cells in their typical disc shape. It is, however, a shape red cells never have while submitted to flow in arteries. While circulating, they tend to attain a parachute-like shape:
Red cells form a disc shape only when they are motionless. Perhaps the picture really implies that curcumin generates a stagnation of blood flow? No, this is also not in line with reality; in stagnant blood, red cells aggregate and look like this:
So, you see why this image is puzzling. It seems to be aimed at people who are aware that it depicts something medical, yet too ignorant to realise that almost everything is wrong with it.
And why would anyone design an image like this? Could it be that only people naïve enough to think this picture makes any sense are likely to believe the tall tales offered in the text?
George Vithoulkas, has been mentioned on this blog repeatedly. He is a lay homeopath – one that has no medical background – and has, over the years, become an undisputed hero within the world of homeopathy. Yet, Vithoulkas' contribution to homeopathy research is perilously close to zero. Judging from a recent article in which he outlines the rules of rigorous research, his understanding of research methodology is even closer to zero. Here is a crucial excerpt from this paper intercepted by a few comment from me in brackets and bold print.
Which are [the] homoeopathic principles to be respected [in clinical trials and meta-analyses]?
1. Homoeopathy does not treat diseases, but only diseased individuals. Therefore, every case may need a different remedy although the individuals may be suffering from the same pathology. This rule was violated by almost all the trials in most meta-analyses. (This statement is demonstrably false; there even has been a meta-analysis of 32 trials that respect this demand)
2. In the homoeopathic treatment of serious chronic pathology, if the remedy is correct usually a strong initial aggravation takes place [14–16]. Such an aggravation may last from a few hours to a few weeks and even then we may have a syndrome-shift and not the therapeutic results expected. If the measurements take place in the aggravation period, the outcome will be classified negative. (Homeopathic aggravations exist only in the mind of homeopaths; our systematic review failed to find proof for their existence.)
This factor was also ignored in most trials [10]. At least sufficient time should be given in the design of the trial, in order to account for the aggravation period. The contrary happened in a recent study [17], where the aggravation period was evaluated as a negative sign and the homoeopathic group was pronounced worse than the placebo [18]. (There are plenty of trials where the follow-up period is long enough to account for this [non-existing] phenomenon.)
3. In severe chronic conditions, the homoeopath may need to correctly prescribe a series of remedies before the improvement is apparent. Such a second or third prescription should take place only after evaluating the effects of the previous remedies [11]. Again, this rule has also been ignored in most studies. (Again, this is demonstrably wrong; there are many trials where the homeopath was able to adjust his/her prescription according to the clinical response of the patient.)
4. As the prognosis of a chronic condition and the length of time after which any amelioration set in may differ from one to another case [11], the treatment and the study-design respectively should take into consideration the length of time the disease was active and also the severity of the case. (This would mean that conditions that have a short history, like post-operative ileus, bruising after injury, common cold, etc. should respond well after merely a short treatment with homeopathics. As this is not so, Vithoulkas' argument seems to be invalid.)
5. In our experience, Homeopathy has its best results in the beginning stages of chronic diseases, where it might be possible to prevent the further development of the chronic state and this is its most important contribution. Examples of pathologies to be included in such RCTs trials are ulcerative colitis, sinusitis, asthma, allergic conditions, eczema, gangrene rheumatoid arthritis as long as they are within the first six months of their appearance. (Why then is there a lack of evidence that any of the named conditions respond to homeopathy?)
In conclusion, three points should be taken into consideration relating to trials that attempt to evaluate the effectiveness of homoeopathy.
First, it is imperative that from the point of view of homoeopathy, the above-mentioned principles should be discussed with expert homoeopaths before researchers undertake the design of any homoeopathic protocol. (I am not aware of any trial where this was NOT done!)
Second, it would be helpful if medical journals invited more knowledgeable peer-reviewers who understand the principles of homoeopathy. (I am not aware of any trial where this was NOT done!)
Third, there is a need for at least one standardized protocol for clinical trials that will respect not only the state-of-the-art parameters from conventional medicine but also the homoeopathic principles [13]. (Any standardised protocol would be severely criticised; a good study protocol must always take account of the specific research question and therefore cannot be standardised.)
Fourth, experience so far has shown that the therapeutic results in homeopathy vary according to the expertise of the practitioner. Therefore, if the objective is to validate the homeopathic therapeutic modality, the organizers of the trial have to pick the best possible prescribers existing in the field. (I am not aware of any trial where this was NOT done!)
Only when these points are transposed and put into practice, the trials will be respected and accepted by both homoeopathic practitioners and conventional medicine and can be eligible for meta-analysis.
___________________________________________________________________
I suspect what the 'GREAT VITHOULKAS' really wanted to express are 'THE TWO ESSENTIAL PRINCIPLES OF HOMEOPATHY RESEARCH':
A well-designed study of homeopathy can always be recognised by its positive result.
Any trial that fails to yield a positive finding is, by definition, wrongly designed.
A bibliometric or scientometric evaluation of the homeopathy literature has been published by a Turkish author (someone who I do not know and have never before heard of). He (of maybe she?) collected data from 4 electronic databases. All documents published between 1975 and 2017 were included. The keywords searched for in detail were "homeopathy", "homeopathic", "homoeopathy" and "homoeopathic". He used Spearman's correlation test to investigate a possible correlation between publication numbers or the productivity and features of the countries. We created infographics and infomaps by using GunnMap and VOSviewer sources. Gross domestic product (GDP) ranking data of countries was procured from The World Data Bank.
A total of 4183 articles were found. The great majority of documents were original articles (n = 3043, 72.75%). The UK dominated homeopathy literature with 950 articles followed by the USA, Germany, India and Brazil (n = 636, 590, 277 and 246 items, respectively). Switzerland was found to be most productive country (20.41) followed by the UK, Norway and Israel (14.35, 11.31 and 8.41, respectively). University of Exeter (UK) was the leading institution with 204 items (4.88%).
The most productive journal was 'Homeopathy' dominating which had published 24% of all the articles. A very high correlation was detected between publication number and citation number by year (r = 0.95, p < 0.001). A high correlation was also seen between gross domestic product (GDP) per capita and productivity of the countries. A moderate correlation was found between GDP and publication number of the countries (r = 0.66 and p < 0.001). In scientometric network analysis, the USA, the UK and Germany were noted to be three major association centres.
University of Exeter (UK) was the leading institution!
As far as I know, all homeopathy papers from Exeter are (co)authored by me …
… I must be the HOMEOPATHIC WORLD CHAMPION!
(Sorry guys)