satire
In the latest issue of 'Simile' (the Faculty of Homeopathy's newsletter), the following short article with the above title has been published. I took the liberty of copying it for you:
Members of the Faculty of Homeopathy practising in the UK have the opportunity to take part in a trial of a new homeopathic remedy for treating infant colic. An American manufacturer of homeopathic remedies has made a registration application for the new remedy to the MHRA (Medicines and Healthcare products Regulatory Agency) under the UK "National Rules" scheme. As part of its application the manufacturer is seeking at least two homeopathic doctors who would be willing to trial the product for about a year, then write a short report about using the remedy and its clinical results. If you would like to take part in the trial, further details can be obtained from …
END OF QUOTE
A homeopathic remedy for infant colic?
Yes, indeed!
The British Homeopathic Association and many similar 'professional' organisations recommend homeopathy for infant colic: Infantile colic is a common problem in babies, especially up to around sixteen weeks of age. It is characterised by incessant crying, often inconsolable, usually in the evenings and often through the night. Having excluded underlying pathology, the standard advice given by GPs and health visitors is winding technique, Infacol or Gripe Water. These measures are often ineffective but for­tunately there are a number of homeo­pathic medicines that may be effective. In my experience Colocynth is the most successful; alternatives are Carbo Veg, Chamomilla and Nux vomica.
SO, IT MUST BE GOOD!
But hold on, I cannot find a single clinical trial to suggest that homeopathy is effective for infant colic.
Ahhhhhhhhhhhhhhhhhhh, I see, that's why they now want to conduct a trial!
They want to do the right thing and do some science to see whether their claims are supported by evidence.
How very laudable!
After all, the members of the Faculty of Homeopathy are doctors; they have certain ethical standards!
After all, the Faculty of Homeopathy aims to provide a high level of service to members and members of the public at all times.
Judging from the short text about the 'homeopathy for infant colic trial', it will involve a few (at least two) homeopaths prescribing the homeopathic remedy to patients and then writing a report. These reports will unanimously state that, after the remedy had been administered, the symptoms improved considerably. (I know this because they always do improve – with or without treatment.)
These reports will then be put together – perhaps we should call this a meta-analysis? – and the overall finding will be nice, positive and helpful for the American company.
And now, we all understand what homeopaths, more precisely the Faculty of Homeopathy, consider to be evidence.
On this blog and elsewhere, I have repeatedly criticised the concepts of 'integrative medicine' (IM). But criticising is easy, improving would be better. Today, I want to re-visit and revise the idea of IM and propose the concept of a 'reformed integrated medicine' (RIM).
Proponents of IM suggest that we should use 'the best of both worlds' for the benefit of our patients. This seems to be a progressive and ethical approach to improving healthcare. Therefore, I fully accept this idea. However, I suggest to not stop here; if we are serious about wanting the best for our patients, we must not just integrate, we should also disintegrate! We also need to think about disintegrating (discarding) modalities that are not fit for purpose. This, in a nutshell, is the concept of RIM.
In order to make real progress, we need to have a critical look at all the diagnostic, preventive, therapeutic and rehabilitative practices available to date and:
integrate those into routine care that demonstrably generate more good than harm,
disintegrate those that do not meet this criterion.
THE BEST, AND ONLY THE BEST OF BOTH WORLDS!!!
This means, we use must throw overboard those that are not best. In healthcare 'best' can, of course, only mean effective and safe.
I am aware that this is only a very rough sketch of what RIM stands for. But even in this preliminary form, it is easy to see that, although IM and RIM seem to differ only marginally, their effects on healthcare would differ dramatically. Let me demonstrate this by providing 5 examples from my area of expertise:
| | | |
| --- | --- | --- |
| Iridology | embraced by IM | discarded by RIM |
| Homeopathy | embraced by IM | discarded by RIM |
| Chiropractic | embraced by IM | discarded by RIM |
| Reiki | embraced by IM | discarded by RIM |
| Reflexology | embraced by IM | discarded by RIM |
I am sure, you get the gist of it. In RIM, we no longer employ things that don't work. They are of no real use to patients and possibly even cause harm. RIM not only is the only ethical approach, it also generates progress.
So, RIM – just a tiny adaptation of IM – is the solution.
Gosh, I am proud of my splendid innovation.
Progress at last!
__________________________________________________________________
Ooops …  I just realised, RIM has one little flaw: it already exists.
It's called evidence-based medicine.
I came across this article; it is neither new nor particularly scientific. Yet I believe it is sufficiently remarkable to alert you to it, quote a little from it, and hopefully make you chuckle a bit:
The Vatican's top exorcist has spoken out in condemnation of yoga … , branding [it] as "Satanic" acts that lead[s] to "demonic possession". Father Cesare Truqui has warned that the Catholic Church has seen a recent spike in worldwide reports of people becoming possessed by demons and that the reason for the sudden uptick is the rise in popularity of pastimes such as watching Harry Potter movies and practicing Vinyasa.
Professor Giuseppe Ferrari … says that … activities such as yoga, "summon satanic spirits" … Monsignor Luigi Negri, the archbishop of Ferrara-Comacchio, who also attended the Vatican crisis meeting, claimed that homosexuality is "another sign" that "Satan is in the Vatican". The Independent reports: Father Cesare says he's seen many an individual speaking in tongues and exhibiting unearthly strength, two attributes that his religion says indicate the possibility of evil spirits inhabiting a person's body. "There are those who try to turn people into vampires and make them drink other people's blood, or encourage them to have special sexual relations to obtain special powers," stated Professor Ferrari at the meeting. "These groups are attracted by the so-called beautiful young vampires that we've seen so much of in recent years."
Is yoga about worshiping Hindu gods, or is it about engaging in advanced stretching and exercise? At its roots, yoga is said to have originated from the ancient worship of Hindu gods, with the various poses representing unique forms of paying homage to these entities. From this, other religions such as Catholicism and Christianity have concluded that the practice is out of sync with their own and that it may result in demonic spirits entering a person's body.
… Father Truqui sees yoga as being satanic, claiming that "it leads to evil just like reading Harry Potter." And in order to deal with the consequences of this, his religion has had to bring on an additional six exorcists, bringing the total number to 12, just to deal with what he says is a 100% rise in the number of requests for exorcisms over the past 15 years. "The ministry of performing an exorcism is little known among priests … It's like training to be a journalist without knowing how to do an interview." At the same time, Father Amorth admits that the Roman Catholic Church's notoriety for all kinds of perverted sex scandals is also indicative of demonic activity – he stated that it represents proof that "the Devil is at work inside the Vatican." "There's homosexual marriage, homosexual adoption, IVF [in vitro fertilization] and a host of other things," added Monsignor Luigi Negri, the archbishop of Ferrara-Comacchio, about what he says is evidence of the existential evil in society. "There's the glamorous appearance of the negation of man as defined by the Bible."
END OF QUOTES
Speechless?
Me too!
Just one thought, if I may: according to Father Truqui, the most satanic man must be a 'perverted' catholic priest practising Yoga and reading Harry Potter!
Chiropractic is a therapy that has been in search for an indication ever since it was invented some 120 years ago. So far, this search seems to have been unsuccessful.
Perhaps it could be promoted as a means of enhancing athletic performance?
That would be excellent news for chiropractic cash-flow!
The authors of this study wanted to analyse the acute effects of spinal manipulative therapy (SMT) on performance and autonomic modulation. A total of 37 male recreational athletes who had never received SMT were assigned to a sham (n = 19) or actual SMT group (n = 18). Study endpoints included autonomic modulation (heart rate variability), handgrip strength, jumping ability and cycling performance (8-minute time trial [TT]). Differences in custom effects between interventions were determined using magnitude-based inferences.
A significant and very likely lower value of a marker of sympathetic modulation, the stress score, was observed in response to actual compared to sham SMT (p = 0.007; effect size [ES] = -0.97). A trend towards a significant and likely lower sympathetic:parasympathetic ratio (p = 0.055; ES = -0.96) and a likely higher natural logarithm of the root-mean-square differences of successive heartbeat intervals ([LnRMSSD], p = 0.12; ES = 0.36) was also found with actual SMT. Moreover, a significantly lower mean power output was observed during the TT with actual compared with sham SMT (p = 0.035; ES = -0.28). Non-significant (p > 0.05) and unclear or likely trivial differences (ES < 0.2) were found for the rest of endpoints, including handgrip strength, heart rate during the TT, and jump loss thereafter.
A single pre-exercise SMT session induced an acute shift towards parasympathetic dominance and slightly impaired performance in recreational healthy athletes.
Ooops!
The search was unsuccessful yet again!
SMT impaired performance; this might not convince athletes to become fans of chiropractic.
What indication should the desperate chiros try next?
Any suggestions?
Doubtlessly, you will have noted that homeopathy missed out yet again at this year's Nobels. Personally, I am convinced that this is all due to the evil propaganda put about by malicious sceptics (paid lavishly by BIG PHARMA, of course). But all is not lost! Down under, 'CHOICE' do know what is truly prize-worthy!
The Australian Consumers' Association 'CHOICE' reviews everyday items like aspirin, detergents and instant coffee – but also major purchases like cars and washing machines. Each year, CHOICE awards 'SHONKIES' (from 'shonky' = dishonest, unreliable, or illegal, especially in a devious way). CHOICE receive hundreds of nominations for Shonky products and services from CHOICE members and staff. While some Shonky nominees may not be breaking laws or breaching regulations – though sometimes they are – they believe that consumers deserve better products and services.
And how do they decide which nominations make the cut?
First and foremost, a nomination has to meet one or more of the following Shonky criteria:
Fails a standard
Poor performance on CHOICE tests
Hidden charges
Lack of transparency
False claims or broken promises
Consumers are worse off because of it
Consumer confusion
Poor value for money
Consumer frustration, or just plain outrage
Products that meet one or more of these criteria make it to the short list. From there CHOICE look at how the issue will resonate with consumers, as well as government authorities and the media, which have the power to prod companies to pick up their act.
This year, CHOICE awarded 7 shonkies. My favourite, of course, is the award for trickery that leaves people sleepless – here is what CHOICE tell us about it:
Big pharmaceutical companies, or 'big pharma', are synonymous with big medical production, big money and a big impact on the type of healthcare products we can access. One thing that's rarely expected from big pharma is homeopathic cures, which are more typically found in the domain of alternative therapies.
However, at least one big pharma company in Australia is selling homeopathic products on a very large scale. Pharmacare, which boasts on LinkedIn that it's "the largest private, Australian-owned consumer health, fitness and consumer goods company in the country", currently operates 23 brands, including Bioglan. According to their website, their products are available in "5200 pharmacies, 3000 supermarket outlets, department and variety stores nationwide, and hundreds of overseas outlets in Asia, America and Europe."
In 2017, we awarded Bioglan and another Pharmacare brand, Nature's Way, a Shonky for its outrageous claims that sticky, sugary lollies are in fact good for teeth. This year, Pharmacare and Bioglan receive another dubious honour for its over-the-counter Melatonin Homeopathic Sleep Formula. While melatonin (currently a prescription-only medicine in Australia) is known to promote sleep and is used to help people suffering jet lag or sleep disorders, there's no reliable evidence that homeopathic melatonin (or homeopathic products in general) has any effect other than as a placebo. Despite this, the company makes the claim that Bioglan Melatonin helps "relieve mild temporary insomnia and symptoms of mild nervous tension".
Bioglan's Melatonin Homeopathic Sleep Formula is also available in chewable tablet form or spray and both products promise to "relieve mild temporary insomnia".
On the product's web page, we're told "results depend on how often the homeopathic remedy is taken, not on the quantity used", because in homeopathy, "the amount consumed is not relevant, children are treated in the same way as adults".
However, directions for the tablet version state, "To aid sleep: Chew 3-5 tablets half an hour before bedtime", while the spray is "rapidly absorbed to start working quickly".
To be fair to Bioglan, consuming more does support the primary reason for this product's existence – the more tablets people chew, the sooner they'll potentially cough up another $24.50 (RRP).
Melatonin Homeopathic Sleep Formula is packaged like medication and sold in a pharmacy. But with murky claims that are not supported with evidence, wasting money is the only area where this product is proven to be effective. Not only does Bioglan Melatonin not help you sleep, it's Shonky enough that you might lose sleep worrying about the brazen trickery this company gets away with.
END OF QUOTE
As I said, it's not a Nobel, but it's certainly a start.
My heart-felt congratulations to homeopaths across the world!
In Germany, homeopathic firms are – as I recently mentioned – starting to panic. Sales figures have, for the first time since decades, declined. This is undoubtedly the work of all those evil sceptics (including, or perhaps foremost?, my evil self!) who are well-organised and even better-funded.
At least, this is what their new PR-man seems to think.
Christian J Becker has been exceedingly active on Twitter provoking everyone who said a word against homeopathy. He is without any doubt the fiercest PR-defender of German homeopathy since Claus Fritzsche. But just like with the late Fritzsche, all those years ago, I am beginning to worry. Is Mr Becker feeling alright? I see increasingly worrying signs and parallels. Might he be drifting into some sort of a psychopathologic episode?
Despite being a novice to this field, he seems to think that a substance which had no therapeutic effect to start with – think of Berlin wall – becomes highly active, if you dilute it at a rate of 1:1000000000000000000000000000000000000000000000000000000000000, for instance. Could this be the first sign of a deeper problem developing?
He hints at his suspicion that poor old Fritzsche did, in fact, not commit suicide as generally believed and well-documented. No, he seems to think that he was murdered! By whom? Not the evil sceptics, surely?!
He seems persuaded that I am some sort of master mind of the growing German opposition to homeopathy. As I obviously know better, I find his persuasion worrying.
A further concern, in my view, is Becker's assumption about the huge amounts of money that are behind the criticism of homeopathy. As the big money is demonstrably on the other side, i. e. the homeopathic industry, this loss of reality might be an ominous sign.
Similarly, Becker believes that the German government has decided to go against homeopathy. As the opposite is (and always has been) the case, one might ask: do his opinions indicate some type of a paranoid trait?
Becker thinks, as already mentioned, that those who speak out against homeopathy are all paid by some sinister source. We all receive big cheques and live a life of Reilly because of this lavish support? This theory supposes that we all act against better knowledge and, deep down, we all know that homeopathics diluted at a rate of 1:1000000000000000000000000000000000000000000000000000000000000 are effective. More loss of reality?, I ask myself.
Becker has a strategy that he proudly admits to: he provokes people on Twitter to a point where they lose their nerve and reply something offensive. Armed with this statement, he then recruits a lawyer* and sues them for libel. He tried his trick recently likening several homeopathy-critics to Roland Freisler, the infamous judge of the Nazi era. Such actionable behaviour could be seen as a sign of a man in serious trouble – has Becker lost so much contact with reality that he does not realise that, in court, his insults would harm him and not his opponent?
Or perhaps he misunderstood the prime dogma of homeopathy? 'Like cures like' does not mean one can cure criticism with aggression. I am sure that Hahnemann, who knew a fair bit about aggression, never said so.
One of the most concerning features of homeopathy's new defender is that Becker thinks anyone might believe him when he implies that, as a professional PR-man, he does a time-consuming PR-job for free. Yes, he did indicate that he conducts PR for homeopathy for a hobby. Would you find such behaviour normal?
So, should we be worried about the state of mind of homeopathy's staunch defender? It might be too early to issue a final judgement on this question. But I am the first to admit that the signs are somewhat ominous. The man might need our help! Therefore, let me emphatically and empathetically stress this:
Mr Becker, if you read this – and I suspect you will – please stay calm. I know several good physicians who might be able to help you. And I promise, they will not prescribe a single homeopathic remedy!
*if you are one, please note this article is pure satire!
Proof of Principle or Concept studies are investigations usually for an early stage of clinical drug development when a compound has shown potential in animal models and early safety testing. This step often links between Phase-I and dose ranging Phase-II studies. These small-scale studies are designed to detect a signal that the drug is active on a patho-physiologically relevant mechanism, as well as preliminary evidence of efficacy in a clinically relevant endpoint.
For therapies that have been in use for many years, proof of concept studies are unusual to say the least. A proof of concept study of osteopathy has never been heard of. This is why I was fascinated by this new paper. The objective of this 'proof of concept' study was to evaluate the effect of osteopathic manipulative therapy (OMTh) on chronic symptoms of multiple sclerosis (MS).
Patients (n=22) with MS received 5 forty-minute MS health education sessions (control group) or 5 OMTh sessions (OMTh group). All participants completed a questionnaire that assessed their level of clinical disability, fatigue, depression, anxiety, and quality of life before the first session, one week after the final session, and 6 months after the final session. The Extended Disability Status Scale, a modified Fatigue Impact Scale, the Beck Depression Inventory-II, the Beck Anxiety Inventory, and the 12-item Short Form Health Survey were used to assess clinical disability, fatigue, depression, anxiety, and quality of life, respectively. In the OMTh group, statistically significant improvements in fatigue and depression were found one week after the final session. A non-significant increase in quality of life was also found in the OMTh group one week after the final session.
The authors concluded that the results demonstrate that OMTh should be considered in the treatment of patients with chronic symptoms of MS.
Who said that reading alternative medicine research papers is not funny? I for one laughed heartily when I read this (no need at all to go into the many obvious flaws of the study). Calling a pilot study 'proof of concept' is certainly not without hilarity. Drawing definitive conclusions about the effectiveness of OMTh is outright laughable. But issuing a far-reaching recommendation for use of OMTh in MS is just better than the best comedy. This had me in stiches!
I congratulate the Journal of the American Osteopathic Association and the international team of authors for providing us with such fun.
Just when I thought I had seen all homeopathy has to offer, here comes this:
THE BRISTOL STOOL CHART AND CORRESPONDING HOMEOPATHIC REMEDIES!
"With mere examination of stool appearance, Homoeopathic remedy can easily be selected…."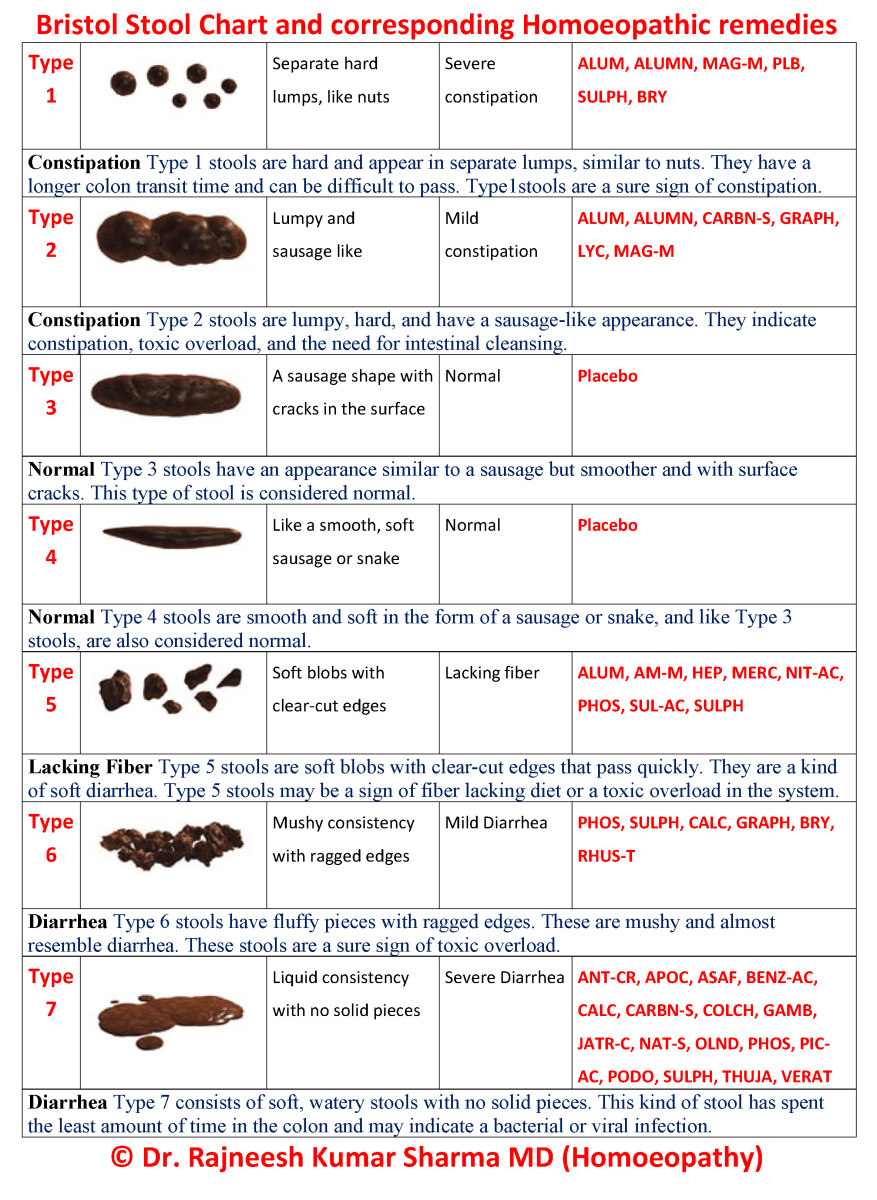 The chart was, according to Wikipedia, developed and proposed for the first time by Dr. Stephen Lewis and Dr. Ken Heaton at the University Department of Medicine, Bristol Royal Infirmary, it was suggested by the authors as a clinical assessment tool in 1997 in the journal Scandinavian Journal of Gastroenterology after a previous prospective study, conducted in 1992 on a sample of the population (838 men and 1,059 women), had shown an unexpected prevalence of defecation disorders related to the shape and type of stool. The authors of the former paper concluded that the form of the stool is a useful surrogate measure of colon transit time. That conclusion has since been challenged as having limited validity for Types 1 and 2; however, it remains in use as a research tool to evaluate the effectiveness of treatments for various diseases of the bowel, as well as a clinical communication aid.
Nobody had meant this chart to get in any way related to homeopathy. I congratulate Dr Sharma to have spotted the connection. Thanks to him, we all can now easily find which homeopathic remedies are the ones we need. The writing is not on the wall, it is in the loo! I think someone should inform the Karolinska Institute in Stockholm – this surely is Nobel Prize material!!!
It's been often said that we live in the age of information.  Everyone can get tons of it at the click of a button. This is undoubtedly true. Sadly, it also means that we are exposed to tons of misinformation, and sometimes it seems to me that we now live in THE AGE OF MISINFORMATION.
Here I will explain the consequences of this phenomenon on two examples that, at first glance, seem to have nothing in common at all (other than being close to my heart):
With homeopathy, the public are confronted by a steady flood of misinformation from the powerful homeopathy lobby who tell us quite incredible untruths about it:
Homeopathy is effective
Homeopathy is harmless
Homeopathy is natural
Homeopathy is holistic
Homeopathy is supported by many of the brightest people
Homeopathy is an important contribution to public health
Homeopathy prevents epidemics
Homeopathy works through quantum effects
Homeopathy is nano-medicine
Homeopathy is energy medicine
Homeopathy works for infants
Homeopathy works in animals
Homeopathy works for plants
Homeopathy is the victim of a propaganda campaign against it
Those who put out this multi-level misinformation pretend that they inform the public. Of course, the public must be informed – how else could they possibly make informed choices? (If this important aim requires a bit of cheating here and there, so be it!)
And the public reacts as directed: they buy homeopathic preparations in droves. The result is that the promoters of homeopathy can claim that THE PUBLIC IS VOTING WITH THEIR FEET! The people have decided, they say, homeopathy is a good thing!
_______________________________________________________________
With Brexit, the public is confronted by a steady flood of misinformation from the powerful Brexit lobby who tell us quite incredible untruths about it:
Brexit is going to give us our country back
Brexit is good for the economy
Brexit will mean more money for the NHS
Brexit will be easy
Brexit will allow us to trade with the rest of the world
Brexit will keep foreigners out
Brexit is going to create jobs
Brexit is good for our industry
Brexit is good for farmers
Brexit is good for the environment
Brexit will free us from the shackles of the EU
Brexit will strengthen our alliance with the US
Those who put out this multi-level misinformation pretend that they inform the public. Of course, the public must be informed – how else could they possibly make informed choices? (If this important aim requires a bit of cheating here and there, so be it!)
And the public reacts as directed: they buy into the lies of the Brexiteers in droves. The result is that the promoters of Brexit can claim that THE PUBLIC HAS VOTED WITH THEIR FEET! The people have decided, they say, Brexit is a good thing!
_____________________________________________________________
Yes, I know, this is a bit simplistic. But the point I am trying to make is surely valid: misinformation not only leads to wrong and often dangerous decision, it is also the way charlatans try to fool us with their circular arguments and justify their blatant lies.
Did you know that I falsified my qualifications?
Neither did I!
But this is exactly what has been posted on Amazon as a review of my book HOMEOPATHY, THE UNDILUTED FACTS. The Amazon review in question is dated 7 August 2018 and authored by 'Paul'. As it might not be there for long (because it is clearly abusive) I copied it for you:
Edzard Ernst falsified his qualifications to get a job as a professor. When the university found out they fired him. This book is as false as the Mr Ernst
Over the years, I have received so many insults that I stared to collect them and began to quite like them. I even posted selections on this blog (see for instance here and here). Some are really funny and others are enlightening because they reflect on the mind-set of the authors. All of them show that the author has run out of arguments; thus they really are little tiny victories over unreason, I think.
But, somehow, this new one is different. It is actionable, no doubt, and contains an unusual amount of untruths in so few words.
I never falsified anything and certainly not my qualification (which is that of a doctor of medicine). If I had, I would be writing these lines from behind bars.
And if I had done such a thing, I would not have done it 'to get a job as a professor' – I had twice been appointed to professorships before I came to the UK (Hannover and Vienna).
My university did not find out, mainly because there was nothing to find out.
They did not fire me, but I went into early retirement. Subsequently, they even re-appointed me for several months.
My book is not false; I don't even know what a 'false book' is (is it a book that is not really a book but something else?).
And finally, for Paul, I am not Mr Ernst, but Prof Ernst.
I don't know who Paul is. And I don't know whether he has even read the book he pretends to be commenting on (from what I see, I think this is very unlikely). I am sure, however, that he did not read my memoir where all these things are explained in full detail. And I certainly do not hope he ever reads it – if he did, he might claim:
This book is as false as the Mr Ernst