bias
Having yesterday been to a 'Skeptics in the Pub' event on MEDITATION in Cambridge (my home town since last year) I had to think about the subject quite a bit. As I have hardly covered this topic on my blog, I am today trying to briefly summarise my view on it.
The first thing that strikes me when looking at the evidence on meditation is that it is highly confusing. There seem to be:
a lack of clear definitions,
hundreds of studies, most of which are of poor or even very poor quality,
lots of people with 'emotional baggage',
plenty of strange links to cults and religions,
dozens of different meditation methods and regimen,
unbelievable claims by enthusiasts,
lots of weirdly enthusiastic followers.
What was confirmed yesterday is the fact that, once we look at the reliable medical evidence, we are bound to find that the health claims of various meditation techniques are hugely exaggerated. There is almost no strong evidence to suggest that meditation does affect any condition. The small effects that do emerge from some meta-analyses could easily be due to residual bias and confounding; it is not possible to rigorously control for placebo effects in clinical trials of meditation.
Another thing that came out clearly yesterday is the fact that meditation might not be as risk-free as it is usually presented. Several cases of psychoses after meditation are on record; some of these are both severe and log-lasting. How often do they happen? Nobody knows! Like with most alternative therapies, there is no reporting system in place that could possibly give us anything like a reliable answer.
For me, however, the biggest danger with (certain forms of) meditation is not the risk of psychosis. It is the risk of getting sucked into a cult that then takes over the victim and more or less destroys his or her personality. I have seen this several times, and it is a truly frightening phenomenon.
In our now 10-year-old book THE DESKTOP GUIDE TO COMPLEMENTARY AND ALTERNATIVE MEDICINE, we included a chapter on meditation. It concluded that "meditation appears to be safe for most people and those with sufficient motivation to practise regularly will probably find a relaxing experience. Evidence for effectiveness in any indication is week." Even today, this is not far off the mark, I think. If I had to re-write it now, I would perhaps mention the potential for harm and also add that, as a therapy, the risk/benefit balance of meditation fails to be convincingly positive. 
PS
I highly recommend 'Skeptics in the Pub' events to anyone who likes stimulating talks and critical thinking.
On this blog, we constantly discuss the shortcomings of clinical trials of (and other research into) alternative medicine. Yet, there can be no question that research into conventional medicine is often unreliable as well.
What might be the main reasons for this lamentable fact?
A recent BMJ article discussed 5 prominent reasons:
Firstly, much research fails to address questions that matter. For example, new drugs are tested against placebo rather than against usual treatments. Or the question may already have been answered, but the researchers haven't undertaken a systematic review that would have told them the research was not needed. Or the research may use outcomes, perhaps surrogate measures, that are not useful.
Secondly, the methods of the studies may be inadequate. Many studies are too small, and more than half fail to deal adequately with bias. Studies are not replicated, and when people have tried to replicate studies they find that most do not have reproducible results.
Thirdly, research is not efficiently regulated and managed. Quality assurance systems fail to pick up the flaws in the research proposals. Or the bureaucracy involved in having research funded and approved may encourage researchers to conduct studies that are too small or too short term.
Fourthly, the research that is completed is not made fully accessible. Half of studies are never published at all, and there is a bias in what is published, meaning that treatments may seem to be more effective and safer than they actually are. Then not all outcome measures are reported, again with a bias towards those are positive.
Fifthly, published reports of research are often biased and unusable. In trials about a third of interventions are inadequately described meaning they cannot be implemented. Half of study outcomes are not reported.
END OF QUOTE
Apparently, these 5 issues are the reason why 85% of biomedical research is being wasted.
That is in CONVENTIONAL medicine, of course.
What about alternative medicine?
There is no question in my mind that the percentage figure must be even higher here. But do the same reasons apply? Let's go through them again:
Much research fails to address questions that matter. That is certainly true for alternative medicine – just think of the plethora of utterly useless surveys that are being published.
The methods of the studies may be inadequate. Also true, as we have seen hundreds of time on this blog. Some of the most prevalent flaws include in my experience small sample sizes, lack of adequate controls (e.g. A+B vs B design) and misleading conclusions.
Research is not efficiently regulated and managed. True, but probably not a specific feature of alternative medicine research.
Research that is completed is not made fully accessible. most likely true but, due to lack of information and transparency, impossible to judge.
Published reports of research are often biased and unusable. This is unquestionably a prominent feature of alternative medicine research.
All of this seems to indicate that the problems are very similar – similar but much more profound in the realm of alternative medicine, I'd say based on many years of experience (yes, what follows is opinion and not evidence because the latter is hardly available).
The thing is that, like almost any other job, research needs knowledge, skills, training, experience, integrity and impartiality to do it properly. It simply cannot be done well without such qualities. In alternative medicine, we do not have many individuals who have all or even most of these qualities. Instead, we have people who often are evangelic believers in alternative medicine, want to further their field by doing some research and therefore acquire a thin veneer of scientific expertise.
In my 25 years of experience in this area, I have not often seen researchers who knew that research is for testing hypotheses and not for trying to prove one's hunches to be correct. In my own team, those who were the most enthusiastic about a particular therapy (and were thus seen as experts in its clinical application), were often the lousiest researchers who had the most difficulties coping with the scientific approach.
For me, this continues to be THE problem in alternative medicine research. The investigators – and some of them are now sufficiently skilled to bluff us to believe they are serious scientists – essentially start on the wrong foot. Because they never were properly trained and educated, they fail to appreciate how research proceeds. They hardly know how to properly establish a hypothesis, and – most crucially – they don't know that, once that is done, you ought to conduct investigation after investigation to show that your hypothesis is incorrect. Only once all reasonable attempts to disprove it have failed, can your hypothesis be considered correct. These multiple attempts of disproving go entirely against the grain of an enthusiast who has plenty of emotional baggage and therefore cannot bring him/herself to honestly attempt to disprove his/her beloved hypothesis.
The plainly visible result of this situation is the fact that we have dozens of alternative medicine researchers who never publish a negative finding related to their pet therapy (some of them were admitted to what I call my HALL OF FAME on this blog, in case you want to verify this statement). And the lamentable consequence of all this is the fast-growing mountain of dangerously misleading (but often seemingly robust) articles about alternative treatments polluting Medline and other databases.
An article entitled "Homeopathy in the Age of Antimicrobial Resistance: Is It a Viable Treatment for Upper Respiratory Tract Infections?" cannot possibly be ignored on this blog, particularly if published in the amazing journal 'Homeopathy'. The title does not bode well, in my view – but let's see. Below, I copy the abstract of the paper without any changes; all I have done is include a few numbers in brackets; they refer to my comments that follow.
START OF ABSTRACT
Acute upper respiratory tract infections (URTIs) and their complications are the most frequent cause of antibiotic prescribing in primary care. With multi-resistant organisms proliferating, appropriate alternative treatments to these conditions are urgently required. Homeopathy presents one solution (1); however, there are many methods of homeopathic prescribing. This review of the literature considers firstly whether homeopathy offers a viable alternative therapeutic solution for acute URTIs (2) and their complications, and secondly how such homeopathic intervention might take place.
METHOD:
Critical review of post 1994 (3) clinical studies featuring homeopathic treatment of acute URTIs and their complications. Study design, treatment intervention, cohort group, measurement and outcome were considered. Discussion focused on the extent to which homeopathy is used to treat URTIs, rate of improvement and tolerability of the treatment, complications of URTIs, prophylactic and long-term effects, and the use of combination versus single homeopathic remedies.
RESULTS:
Multiple peer-reviewed (4) studies were found in which homeopathy had been used to treat URTIs and associated symptoms (cough, pharyngitis, tonsillitis, otitis media, acute sinusitis, etc.). Nine randomised controlled trials (RCTs) and 8 observational/cohort studies were analysed, 7 of which were paediatric studies. Seven RCTs used combination remedies with multiple constituents. Results for homeopathy treatment were positive overall (5), with faster resolution, reduced use of antibiotics and possible prophylactic and longer-term benefits.
CONCLUSIONS:
Variations in size, location, cohort and outcome measures make comparisons and generalisations concerning homeopathic clinical trials for URTIs problematic (6). Nevertheless, study findings suggest at least equivalence between homeopathy and conventional treatment for uncomplicated URTI cases (7), with fewer adverse events and potentially broader therapeutic outcomes. The use of non-individualised homeopathic compounds tailored for the paediatric population merits further investigation, including through cohort studies (8). In the light of antimicrobial resistance, homeopathy offers alternative strategies for minor infections and possible prevention of recurring URTIs (9).
END OF ABSTRACT
And here are my comments:
This sounds as though the author already knew the conclusion of her review before she even started.
Did she not just state that homeopathy is a solution?
This is most unusual; why were pre-1994 articles not considered?
This too is unusual; that a study is peer-reviewed is not really possible to affirm, one must take the journal's word for it. Yet we know that peer-review is farcical in the realm of alternative medicine (see also below). Therefore, this is an odd inclusion criterion to mention in an abstract.
An overall positive result obtained by including uncontrolled observational and cohort studies lacking a control group is meaningless. There is also no assessment of the quality of the RCTs; after a quick glance, I get the impression that the methodologically sound studies do not show homeopathy to be superior to placebo.
Reviewers need to disentangle these complicating factors and arrive at a conclusion. This is almost invariably problematic, but it is the reviewer's job.
What might be the conventional treatment of uncomplicated URTI?
Why on earth cohort studies? They tell us nothing about equivalence, efficacy etc.
To reach that conclusion seems to have been the aim of this review (see my point number 1). If I am not mistaken, antibiotics are not indicated in the vast majority of cases of uncomplicated URTI. This means that the true alternative in the light of antimicrobial resistance is to not prescribe antibiotics and treat the patient symptomatically. No need at all for homeopathic placebos, and no need for wishful thinking reviews!
In the paper, the author explains her liking of uncontrolled studies: Non-RCTs and patient reported surveys are considered by some to be inferior forms of research evidence, but are important adjuncts to RCTs that can measure key markers such as patient satisfaction, quality of life and functional health. Observational studies such as clinical outcome studies and case reports, monitoring the effects of homeopathy in real-life clinical settings, are a helpful adjunct to RCTs and more closely reflect real-life experiences of patients and physicians than RCTs, and are therefore considered in this study. I would counter that this is not an issue of inferiority but one that depends on the research question; if the research question relates to efficacy/effectiveness, uncontrolled data are next to useless.
She also makes fairly categorical statements in the conclusion section of the paper about the effectiveness of homeopathy: [the] combined evidence from these and other studies suggests that homeopathic treatment can exert biological effects with fewer adverse events and broader therapeutic opportunities than conventional medicine in the treatment of URTIs. Given the cost implications of treating URTIs and their complications in children, and the relative absence of effective alternatives without potential side effects, the use of non-individualised homeopathic compounds tailored for the paediatric population merits further investigation, including through large-scale cohort studies…  the most important evidence still arises from practical clinical experience and from the successful treatment of millions of patients. I would counter that none of these conclusions are warranted by the data presented.
From reading the paper, I get the impression that the author (the paper provides no information about her conflicts of interest, nor funding source) is a novice to conducting reviews (even though the author is a senior lecturer, the paper reads more like a poorly organised essay than a scientific review). I am therefore hesitant to criticise her – but I do nevertheless find the fact deplorable that her article passed the peer-review process of 'Homeopathy' and was published in a seemingly respectable journal. If anything, articles of this nature are counter-productive for everyone concerned; they certainly do not further effective patient care, and they give homeopathy-research a worse name than it already has.
Why  do most alternative practitioners  show such dogged determination not to change their view of the efficacy of their therapy, even if  good evidence shows that it is a placebo? This is the question that I have been pondering for some time. I have seen many doctors change their mind about this or that treatment in the light of new evidence. In fact, I have not seen one who has not done so at some stage. Yet I have never seen an alternative therapist change his/her mind about his/her alternative therapy. Why is that?
You might say that the answers are obvious:
because they have heavily invested in their therapy, both emotionally and financially;
because their therapy has 'stood the test of time';
because they believe what they were taught;
because they are deluded, not very bright, etc.;
because they need to earn a living.
All of these reasons may apply. But do they really tell the whole story? While contemplating about this question, I thought of something that had previously not been entirely clear to me: they simply KNOW that the evidence MUST be wrong.
Let me try to explain.
Consider an acupuncturist (I could have chosen almost any other type of alternative practitioner) who has many years of experience. He has grown to be a well-respected expert in the world of acupuncture. He sits on various committees and has advised important institutions. He knows the literature and has treated thousands of patients.
This experience has taught him one thing for sure: his patients do benefit from his treatment. He has seen it happening too many times; it cannot be a coincidence. Acupuncture works, no question about it.
And this is also what the studies tell him. Even the most sceptical scientist cannot deny the fact that patients do get better after acupuncture. So, what is the problem?
The problem is that sceptics say that this is due to a placebo effect, and many studies seem to confirm this to be true. Yet, our acupuncturist completely dismisses the placebo explanation.
Why?
Because he has heavily invested in their therapy? Perhaps.
Because acupuncture has 'stood the test of time'? Perhaps.
Because he believes what he has been taught? Perhaps.
Because he is deluded, not very bright, etc.? Perhaps.
Because he needs to earn a living? Perhaps.
But there is something else.
He has only ever treated his patients with acupuncture. He has therefore no experience of real medicine, or other therapeutic options. He has no perspective. Therefore, he does not know that patients often get better, even if they receive an ineffective treatment, even if they receive no treatment, and even if they receive a harmful treatment. Every improvement he notes in his patients, he relates to his acupuncture. Our acupuncturist never had the opportunity to learn to doubt cause and effect in his clinical routine. He never had to question the benefits of acupuncture. He never had to select from a pool of therapies the optimal one, because he only ever used acupuncture.
It is this lack of experience that never led him to think critically about acupuncture. He is in a similar situation as physicians were 200 years ago; they only (mainly) had blood-letting, and because some patients improved with it, they had no reason to doubt it. He only ever saw his successes (not that all his patients improved, but those who did not, did not return). He simply KNOWS that acupuncture works, because his own, very limited experience never forced him to consider anything else. And because he KNOWS, the evidence that does not agree with his knowledge MUST be wrong.
I am of course exaggerating and simplifying in order to make a point. And please don't get me wrong.
I am not saying that doctors cannot be stubborn. And I am not saying that all alternative practitioners have such limited experience and are unable to change their mind in the light of new evidence. However, I am trying to say that many alternative practitioners have a limited perspective and therefore find it impossible to be critical about their own practice.
If I am right, there would be an easy (and entirely alternative) cure to remedy this situation. We should sent our acupuncturist to a homeopath (or any other alternative practitioner whose practice he assumes to be entirely bogus) and ask him to watch what kind of therapeutic success the homeopath is generating. The acupuncturist would soon see that it is very similar to his own. He would then have the choice to agree that highly diluted homeopathic remedies are effective in curing illness, or that the homeopath relies on the same phenomenon as his own practice: placebo.
Sadly, this is not going to happen, is it?
Several previous studies have suggested improvements in sperm quality after vitamin supplementation, and several reviews have drawn tentatively positive conclusions:
Most of the primary trials lacked scientific rigour, however. Now a new study has emerged that overcomes many of the flaws of the previous research.
Professor Anne Steiner from the University of North Carolina at Chapel Hill, USA, presented her study yesterday at the 34th Annual Meeting of ESHRE in Barcelona. This clinical trial of 174 couples has found that an antioxidant formulation taken daily by the male partner for a minimum of three months made no difference to sperm concentration, motility or morphology, nor to the rate of DNA fragmentation. The study was performed in eight American fertility centres.
All men in the study had been diagnosed with male factor infertility, reflected in subnormal levels of sperm concentration, motility, or morphology, or higher than normal rates of DNA fragmentation. These parameters were measured at the start of the trial and at three months. In between, the men allocated to the antioxidant intervention were given a daily supplement containing vitamins C, D3 and E, folic acid, zinc, selenium and L-carnitine; the control group received a placebo.
At three months, results showed only a "slight" overall difference in sperm concentration between the two groups, and no significant differences in morphology, motility, or DNA fragmentation measurements. Sub-group analysis (according to different types of sperm abnormality) found no significant differences in sperm concentration (in oligospermic men), motility (in asthenospermic men), and morphology (in teratospermic men).(1) There was also no change seen after three months in men with high rates of DNA fragmentation (28.9% in the antioxidant group and 28.8 in the placebo group).
Natural conception during the initial three month study period did also not differ between the two groups of the entire cohort – a pregnancy rate of 10.5% in the antioxidant group and 9.1% in the placebo. These rates were also comparable at six months (after continued antioxidant or placebo for the male partner and three cycles of clomiphene and intrauterine insemination for the female partner).
The authors concluded that "the results do not support the empiric use of antioxidant therapy for male factor infertility in couples trying to conceive naturally".
The story about supplements and health claims seems to be strangely repetitive:
the claim that supplements help for condition xy is heavily promoted, e. g. via the Internet;
a few flimsy trials seem to support the claim;
these results are relentlessly hyped;
the profit of the manufacturers grows;
eventually a rigorous, independently-funded trial emerges with a negative finding;
the card house seems to collapse;
the manufacturers claim that the trial's methodology was faulty (e. g. wrong does, wrong mixture of ingredients);
thus another profitable card house is built elsewhere.
In the end, the only supplement-related effects are that 1) the consumers produce expensive urine and 2) the manufacturers have plenty of funds to start a new campaign based on yet another bogus heath claim.
One of the aims in running this blog has always been to stimulate critical thinking (not just in my readers but also in myself).
Critical thinking means making decisions and judgements based on (often confusing) evidence. According to the 'National Council for Excellence in Critical Thinking' it is the intellectually disciplined process of actively and skilfully conceptualizing, applying, analysing, synthesizing, and/or evaluating information gathered from, or generated by, observation, experience, reflection, reasoning, or communication, as a guide to belief and action.
Carl Sagan explained it best: "It seems to me what is called for is an exquisite balance between two conflicting needs: the most skeptical scrutiny of all hypotheses that are served up to us and at the same time a great openness to new ideas. Obviously those two modes of thought are in some tension. But if you are able to exercise only one of these modes, whichever one it is, you're in deep trouble. If you are only skeptical, then no new ideas make it through to you. You never learn anything new. You become a crotchety old person convinced that nonsense is ruling the world. (There is, of course, much data to support you.) But every now and then, maybe once in a hundred cases, a new idea turns out to be on the mark, valid and wonderful. If you are too much in the habit of being skeptical about everything, you are going to miss or resent it, and either way you will be standing in the way of understanding and progress. On the other hand, if you are open to the point of gullibility and have not an ounce of skeptical sense in you, then you cannot distinguish the useful as from the worthless ones."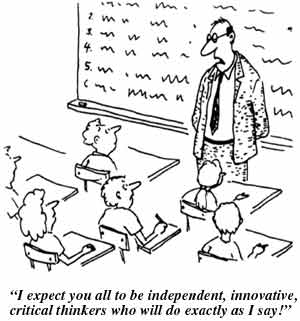 Critical thinking is not something one is born with; but I strongly believe that most people can be taught this skill. This study suggests that I may be right. The researchers measured the relationship between student's religion, gender, and propensity for fantasy thinking with the change in belief for paranormal and pseudoscientific subjects following a science and critical thinking course. Student pre-course endorsement of religious, paranormal, and pseudo-scientific beliefs ranged from 21 to 53%, with religion having the highest endorsement rate. Pre-course belief in paranormal and pseudo-scientific subjects was correlated with high scores in some fantasy thinking scales and showed a gender and a religion effect with females having an 11.1% higher belief across all paranormal and pseudo-science subcategories. Students' religion, and frequency of religious service attendance, was also important with agnostic or atheist students having lower beliefs in paranormal and pseudo-science subjects compared to religious students. Students with either low religious service attendance or very high attendance had lower paranormal and pseudoscientific beliefs.
Following the critical thinking course, overall beliefs in paranormal and pseudo-scientific subcategories lowered 6.8–28.9%, except for superstition, which did not significantly change. Change in belief had both a gender and religion effect with greater reductions among religious students and females.
The link between religion and alternative medicine is relatively well-established. A 2014 study, for instance, showed an association between alternative medicine use and religiosity. The finding that females have an 11.1% higher belief in the paranormal and pseudo-science is new to me, but it would tie in with the well-documented fact that women use alternative medicine more frequently than men.
The most important finding, however, is clearly that critical thinking can be taught.
That must be good news! As discussed previously, critical thinkers experience fewer bad things in life than those of us who do not have acquired that skill. This cannot come as a surprise – being able to tell useful concepts from worthless ones should achieve exactly that.
Is homeopathy effective for specific conditions? The FACULTY OF HOMEOPATHY (FoH, the professional organisation of UK doctor homeopaths) say YES. In support of this bold statement, they cite a total of 35 systematic reviews of homeopathy with a focus on specific clinical areas. "Nine of these 35 reviews presented conclusions that were positive for homeopathy", they claim. Here they are:
Allergies and upper respiratory tract infections 8,9
Childhood diarrhoea 10
Post-operative ileus 11
Rheumatic diseases 12
Seasonal allergic rhinitis (hay fever) 13–15
Vertigo 16
And here are the references (I took the liberty of adding my comments in blod):
8. Bornhöft G, Wolf U, Ammon K, et al. Effectiveness, safety and cost-effectiveness of homeopathy in general practice – summarized health technology assessment. Forschende Komplementärmedizin, 2006; 13 Suppl 2: 19–29.
This is the infamous 'Swiss report' which, nowadays, only homeopaths take seriously.
9. Bellavite P, Ortolani R, Pontarollo F, et al. Immunology and homeopathy. 4. Clinical studies – Part 1. Evidence-based Complementary and Alternative Medicine: eCAM, 2006; 3: 293–301.
This is not a systematic review as it lacks any critical assessment of the primary data and includes observational studies and even case series.
10. Jacobs J, Jonas WB, Jimenez-Perez M, Crothers D. Homeopathy for childhood diarrhea: combined results and metaanalysis from three randomized, controlled clinical trials. Pediatric Infectious Disease Journal, 2003; 22: 229–234.
This is a meta-analysis by Jennifer Jacobs (who recently featured on this blog) of 3 studies by Jennifer Jacobs; hardly convincing I'd say.
11. Barnes J, Resch K-L, Ernst E. Homeopathy for postoperative ileus? A meta-analysis. Journal of Clinical Gastroenterology, 1997; 25: 628–633.
This is my own paper! It concluded that "several caveats preclude a definitive judgment."
12. Jonas WB, Linde K, Ramirez G. Homeopathy and rheumatic disease. Rheumatic Disease Clinics of North America, 2000; 26: 117–123.
This is not a systematic review; here is the (unabridged) abstract:
Despite a growing interest in uncovering the basic mechanisms of arthritis, medical treatment remains symptomatic. Current medical treatments do not consistently halt the long-term progression of these diseases, and surgery may still be needed to restore mechanical function in large joints. Patients with rheumatic syndromes often seek alternative therapies, with homeopathy being one of the most frequent. Homeopathy is one of the most frequently used complementary therapies worldwide.
Proper systematic reviews fail to show that homeopathy is an effective treatment for rheumatic conditions (see for instance here and here).
13. Wiesenauer M, Lüdtke R. A meta-analysis of the homeopathic treatment of pollinosis with Galphimia glauca. Forschende Komplementärmedizin und Klassische Naturheilkunde, 1996; 3: 230–236.
This is a meta-analysis by Wiesenauer of trials conducted by Wiesenauer.
My own, more recent analysis of these data arrived at a considerably less favourable conclusion: "… three of the four currently available placebo-controlled RCTs of homeopathic Galphimia glauca (GG) suggest this therapy is an effective symptomatic treatment for hay fever. There are, however, important caveats. Most essentially, independent replication would be required before GG can be considered for the routine treatment of hay fever. (Focus on Alternative and Complementary Therapies September 2011 16(3))
14. Taylor MA, Reilly D, Llewellyn-Jones RH, et al. Randomised controlled trials of homoeopathy versus placebo in perennial allergic rhinitis with overview of four trial series. British Medical Journal, 2000; 321: 471–476.
This is a meta-analysis by David Reilly of 4 RCTs which were all conducted by David Reilly. This attracted heavy criticism; see here and here, for instance.
15. Bellavite P, Ortolani R, Pontarollo F, et al. Immunology and homeopathy. 4. Clinical studies – Part 2. Evidence-based Complementary and Alternative Medicine: eCAM, 2006; 3: 397–409.
This is not a systematic review as it lacks any critical assessment of the primary data and includes observational studies and even case series.
16. Schneider B, Klein P, Weiser M. Treatment of vertigo with a homeopathic complex remedy compared with usual treatments: a meta-analysis of clinical trials. Arzneimittelforschung, 2005; 55: 23–29.
This is a meta-analysis of 2 (!) RCTs and 2 observational studies of 'Vertigoheel', a preparation which is not a homeopathic but a homotoxicologic remedy (it does not follow the 'like cures like' assumption of homeopathy) . Moreover, this product contains pharmacologically active substances (and nobody doubts that active substances can have effects).
________________________________________________________________________________
So, positive evidence from 9 systematic reviews in 6 specific clinical areas?
I let you answer this question.
Grace Dasilva-Hill has just published an article entitled "Autism/ADHD and Vaccines – are we walking a tightrope whilst blindfolded?". Who is Grace Dasilva-Hill, you will ask.
She is a professional registered homeopath, based in Charing – East Kent, UK. She has been in practice since 1997. During this time she has developed a busy practice, alongside teaching, running students' clinics and tutorials. She was a team member of the Ghana Homeopathy Project soon after it started, and later became their treasurer as well. Grace has published in the Journal Homeopathy in Practice, and HPathy. She also is an 'Energy EFT Master Practitioner Trainer' and a 'qualified CEASE therapist'.
And what is the Ghana Homeopathy Project ? It is an organization whose goal is the establishment of homeopathy as a recognised part of the health care system in Africa and Ghana in particular. Their objective is the relief and prevention of disease. They support the development of homeopathic education and wish to make homeopathy available to deprived communities as a valid and affordable form of treatment.
The lengthy article by Grace Dasilva-Hill re-hashes all the bogus arguments about immunisation that you could ever wish for. I will show you only what she calls her 'conclusions':
START OF QUOTE
…at the present time we have only just scratched the surface of the issue of autism and ADHD; my aim in this article is to challenge the reader to pause, reflect and ask: do vaccines do more good than harm, or it is actually the other way round? Just who is considered to be responsible for my health and that of my family – my doctor, my country's government or myself? Do we need to stand up as a profession, and be more pro-active?
The big question seems to be, are we not only failing our patients but also the greater good of the world's populations, unless we question and do not just 'accept' what science and medicine tells us, especially as 'vested interests' seem to have such a strong influence on what we are told?
The health journalist Phillip Day has done just that in his book 'Health Wars' – he argues how the multinationals have a vested interest in keeping all of us ill, for this is the only way that they can continue making money. His propositions are supported by Goldman Sacks Bank which recently stated that they would not invest in the alternative health industry because it tends to cure people, so there is little profit to be made from it.
I invite you to become an advocate for those who are unable or who are too young to ask questions, or to stand up for themselves, or whose parents don't have the knowledge or tenacity to challenge.
Children and young adults suffering with autism, ADHD, ASD, deserve our loyalty, support and action.
In the UK, we recently shared the anguish and pain felt by baby Alfie Evans' parents and family. It is impossible for anyone who is caring to witness such horror, and not to ask any questions. Hopefully we will learn much from this very sad event. There are questions not only about causative factors (ie. the role that vaccinations may have played), but also the issue of parental rights versus the State's perceived protectionist rights.
What has been happening in the field of healthcare is fast becoming unsustainable. On the other hand Homeopathy has so much to offer, being a sustainable form of medicine not influenced by market forces.
One could argue that one of the reasons why the denialists want to see the demise of homeopathy and other natural modalities, is that more and more people are choosing these modes of healthcare in place of conventional medicine which is reductionist in approach and only has drugs to offer.
I find myself wondering whether there is a need for something radically different to happen. As a profession, do we need to do something collectively? Do we need to stand up more, do we need to speak up more? How do we go about doing this? I know that I am asking more questions than providing answers, and this is because at the moment I don't have the answers either. But I have a deep and sincere desire to do my best to make a difference that will be both worthwhile and sustainable.
I would like to believe that others in our community would like to do the same for the bigger benefit of sustainable and effective healthcare for all.
Footnote: I have just carried out an impromptu, unrepresentative survey of homeopathic colleagues on a homeopathic professional group. I asked them if they knew of any health care professionals (doctors, nurses, midwives) who did not vaccinate their children. Most of those who replied, surprisingly said that they do know of at least one doctor, or nurse or midwife who did not vaccinate their children, and they added that these professionals keep this quiet. I certainly know of two medical doctors who do not vaccinate their children, and again they do not talk about it. It was shared with me in confidence.
END OF QUOTE
Of course, these words are not really 'conclusions', they are just a continuation of a barmy rant.
And yes, such articles exist in abundance. Many homeopaths are active campaigners against vaccination.
The Society of Homeopaths (SoH), the professional UK organisation for lay homeopaths, has recently stated that … it is unethical for a homeopath to advise a patient against the use of conventional vaccines…  This could not be clearer! Yet, I suspect that the homeopaths put out such statements mainly to cover their backs and subsequently they do what they feel like – and they rarely feel like supporting vaccinations.
They obviously try to give the impression that lay homeopaths are not antivaxers. I fear, however, this impression is wrong: as we have discussed repeatedly on this blog, many homeopaths do advise their patients against immunisation. And many claim that homeopathic immunisations are an effective alternative. It takes not long to find even VIP-members of the SoH putting parents off from immunising their kids. And thanks to the Ghana Homeopathy and several similar projects, this is happening not just in the UK but also in Africa and elsewhere.
Is that not irresponsible?
In my view, it is!
Is that not illegal?
Apparently not, because such homeopaths usually add a clever disclaimer; Grace Dasilva-Hill for instance states that  Any information obtained here is not to be construed as medical OR legal advice. The decision to vaccinate and how you implement that decision is yours and yours alone. 
The HRI is an innovative international charity created to address the need for high quality scientific research in homeopathy… HRI is dedicated to promoting cutting research in homeopathy, using the most rigorous methods available, and communicating the results of such work beyond the usual academic circles… HRI aims to bring academically reliable information to a wide international audience, in an easy to understand form. This audience includes the general public, scientists, healthcare providers, healthcare policy makers, government and the media.
This sounds absolutely brilliant!
I should be a member of the HRI!
For years, I have pursued similar aims!
Hold on, perhaps not?
This article makes me wonder:
START OF QUOTE
… By the end of 2014, 189 randomised controlled trials of homeopathy on 100 different medical conditions had been published in peer-reviewed journals. Of these, 104 papers were placebo-controlled and were eligible for detailed review:
41% were positive (43 trials) – finding that homeopathy was effective
5% were negative (5 trials) – finding that homeopathy was ineffective
54% were inconclusive (56 trials)
How does this compare with evidence for conventional medicine?
An analysis of 1016 systematic reviews of RCTs of conventional medicine had strikingly similar findings2:
44% were positive – the treatments were likely to be beneficial
7% were negative – the treatments were likely to be harmful
49% were inconclusive – the evidence did not support either benefit or harm.
END OF QUOTE
The implication here is that the evidence base for homeopathy is strikingly similar to that of real medicine.
Nice try! But sadly it has nothing to do with 'reliable information'!!!
In fact, it is grossly (and I suspect deliberately) misleading.
Regular readers of this blog will have spotted the reason, because we discussed (part of) it before. Let me remind you:
_______________________________________________________________________________
A clinical trial is a research tool for testing hypotheses; strictly speaking, it tests the 'null-hypothesis': "the experimental treatment generates the same outcomes as the treatment of the control group". If the trial shows no difference between the outcomes of the two groups, the null-hypothesis is confirmed. In this case, we commonly speak of a negative result. If the experimental treatment was better than the control treatment, the null-hypothesis is rejected, and we commonly speak of a positive result. In other words, clinical trials can only generate positive or negative results, because the null-hypothesis must either be confirmed or rejected – there are no grey tones between the black of a negative and the white of a positive study.
For enthusiasts of alternative medicine, this can create a dilemma, particularly if there are lots of published studies with negative results. In this case, the totality of the available trial evidence is negative which means the treatment in question cannot be characterised as effective. It goes without saying that such an overall conclusion rubs the proponents of that therapy the wrong way. Consequently, they might look for ways to avoid this scenario.
One fairly obvious way of achieving this aim is to simply re-categorise the results. What, if we invented a new category? What, if we called some of the negative studies by a different name? What about INCONCLUSIVE?
That would be brilliant, wouldn't it. We might end up with a simple statistic where the majority of the evidence is, after all, positive. And this, of course, would give the impression that the ineffective treatment in question is effective!
How exactly do we do this? We continue to call positive studies POSITIVE; we then call studies where the experimental treatment generated worst results than the control treatment (usually a placebo) NEGATIVE; and finally we call those studies where the experimental treatment created outcomes which were not different from placebo INCONCLUSIVE.
In the realm of alternative medicine, this 'non-conclusive result' method has recently become incredibly popular . Take homeopathy, for instance. The Faculty of Homeopathy proudly claim the following about clinical trials of homeopathy: Up to the end of 2011, there have been 164 peer-reviewed papers reporting randomised controlled trials (RCTs) in homeopathy. This represents research in 89 different medical conditions. Of those 164 RCT papers, 71 (43%) were positive, 9 (6%) negative and 80 (49%) non-conclusive.
This misleading nonsense was, of course, warmly received by homeopaths. The British Homeopathic Association, like many other organisations and individuals with an axe to grind lapped up the message and promptly repeated it: The body of evidence that exists shows that much more investigation is required – 43% of all the randomised controlled trials carried out have been positive, 6% negative and 49% inconclusive.
Let's be clear what has happened here: the true percentage figures seem to show that 43% of studies (mostly of poor quality) suggest a positive result for homeopathy, while 57% of them (on average the ones of better quality) were negative. In other words, the majority of this evidence is negative. If we conducted a proper systematic review of this body of evidence, we would, of course, have to account for the quality of each study, and in this case we would have to conclude that homeopathy is not supported by sound evidence of effectiveness.
The little trick of applying the 'INCONCLUSIVE' method has thus turned this overall result upside down: black has become white! No wonder that it is so popular with proponents of all sorts of bogus treatments.
__________________________________________________________________________________
But one trick is not enough for the HRI! For thoroughly misinforming the public they have a second one up their sleeve.
And that is 'comparing apples with pears'  – RCTs with systematic reviews, in their case.
In contrast to RCTs, systematic reviews can be (and often are) INCONCLUSIVE. As they evaluate the totality of all RCTs on a given subject, it is possible that some RCTs are positive, while others are negative. When, for example, the number of high-quality, positive studies included in a systematic review is similar to the number of high-quality, negative trials, the overall result of that review would be INCONCLUSIVE. And this is one of the reasons why the findings of systematic reviews cannot be compared in this way to those of RCTs.
I suspect that the people at the HRI know all this. They are not daft! In fact, they are quite clever. But unfortunately, they seem to employ their cleverness not for informing but for misleading their 'wide international audience'.
Personally, I find our good friend Dana Ullman truly priceless. There are several reasons for that; one is that he is often so exemplarily wrong that it helps me to explain fundamental things more clearly. With a bit of luck, this might enable me to better inform people who might be thinking a bit like Dana. In this sense, our good friend Dana has significant educational value.
Recently, he made this comment:
According to present and former editors of THE LANCET and the NEW ENGLAND JOURNAL OF MEDICINE, "evidence based medicine" can no longer be trusted. There is obviously no irony in Ernst and his ilk "banking" on "evidence" that has no firm footing except their personal belief systems: https://medium.com/@drjasonfung/the-corruption-of-evidence-based-medicine-killing-for-profit-41f2812b8704
Ernst is a fundamentalist whose God is reductionistic science, a 20th century model that has little real meaning today…but this won't stop the new attacks on me personally…
END OF COMMENT
Where to begin?
Let's start with some definitions.
Evidence is the body of facts that leads to a given conclusion. Because the outcomes of treatments such as homeopathy depend on a multitude of factors, the evidence for or against their effectiveness is best based not on experience but on clinical trials and systematic reviews of clinical trials (this is copied from my book).
EBM is the integration of best research evidence with clinical expertise and patient values. It thus rests on three pillars: external evidence, ideally from systematic reviews, the clinician's experience, and the patient's preferences (and this is from another book).
Few people would argue that EBM, as it is applied currently, is without fault. Certainly I would not suggest that; I even used to give lectures about the limitations of EBM, and many experts (who are much wiser than I) have written about the many problems with EBM. It is important to note that such criticism demonstrates the strength of modern medicine and not its weakness, as Dana seems to think: it is a sign of a healthy debate aimed at generating progress. And it is noteworthy that internal criticism of this nature is largely absent in alternative medicine.
The criticism of EBM is often focussed on the unreliability of the what I called above the 'best research evidence'. Let me therefore repeat what I wrote about it on this blog in 2012:
… The multifactorial nature of any clinical response requires controlling for all the factors that might determine the outcome other than the treatment per se. Ideally, we would need to create a situation or an experiment where two groups of patients are exposed to the full range of factors, and the only difference is that one group does receive the treatment, while the other one does not. And this is precisely the model of a controlled clinical trial.
Such studies are designed to minimise all possible sources of bias and confounding. By definition, they have a control group which means that we can, at the end of the treatment period, compare the effects of the treatment in question with those of another intervention, a placebo or no treatment at all.
Many different variations of the controlled trial exist so that the exact design can be adapted to the requirements of the particular treatment and the specific research question at hand. The over-riding principle is, however, always the same: we want to make sure that we can reliably determine whether or not the treatment was the cause of the clinical outcome.
Causality is the key in all of this; and here lies the crucial difference between clinical experience and scientific evidence. What clinician witness in their routine practice can have a myriad of causes; what scientists observe in a well-designed efficacy trial is, in all likelihood, caused by the treatment. The latter is evidence, while the former is not.
Don't get me wrong; clinical trials are not perfect. They can have many flaws and have rightly been criticised for a myriad of inherent limitations. But it is important to realise that, despite all their short-comings, they are far superior than any other method for determining the efficacy of medical interventions.
There are lots of reasons why a trial can generate an incorrect, i.e. a false positive or a false negative result. We therefore should avoid relying on the findings of a single study. Independent replications are usually required before we can be reasonably sure.
Unfortunately, the findings of these replications do not always confirm the results of the previous study. Whenever we are faced with conflicting results, it is tempting to cherry-pick those studies which seem to confirm our prior belief – tempting but very wrong. In order to arrive at the most reliable conclusion about the efficacy of any treatment, we need to consider the totality of the reliable evidence. This goal is best achieved by conducting a systematic review.
In a systematic review, we assess the quality and quantity of the available evidence, try to synthesise the findings and arrive at an overall verdict about the efficacy of the treatment in question. Technically speaking, this process minimises selection and random biases. Systematic reviews and meta-analyses [these are systematic reviews that pool the data of individual studies] therefore constitute, according to a consensus of most experts, the best available evidence for or against the efficacy of any treatment.
END OF QUOTE
Other criticism is aimed at the way EBM is currently used (and abused). This criticism is often justified and necessary, and it is again the expression of our efforts to generate progress. EBM is practised by humans; and humans are far from perfect. They can be corrupt, misguided, dishonest, sloppy, negligent, stupid, etc., etc. Sadly, that means that the practice of EBM can have all of these qualities as well. All we can do is to keep on criticising malpractice, educate people, and hope that this might prevent the worst abuses in future.
Dana and many of his fellow SCAMers have a different strategy; they claim that EBM "can no longer be trusted" (interestingly they never tell us what system might be better; eminence-based medicine? experience-based medicine? random-based medicine? Dana-based medicine?).
The claim that EBM can no longer be trusted is clearly not true, counter-productive and unethical; and I suspect they know it.
Why then do they make it?
Because they feel that it entitles them to argue that homeopathy (or any other form of SCAM) cannot be held to EBM-standards. If EBM is unreliable, surely, nobody can ask the 'Danas of this world' to provide anything like sound data!!! And that, of course, would be just dandy for business, wouldn't it?
So, let's not be deterred  or misled by these deliberately destructive people. Their motives are transparent and their arguments are nonsensical. EBM is not flawless, but with our continued efforts it will improve. Or, to repeat something that I have said many times before: EBM is the worst form of healthcare, except for all other known options.