medical ethics
In his writings, DD Palmer (the father of chiropractic), left little doubt about how he felt about himself and his achievements. A few quotes will suffice to give an impression:
I was the first to adjust the cause of disease
Chiropractors adjust causes instead of treating effects
Vaccination and inoculation are pathological; chiropractic is physiological
It was my ingenious brain which discovered [chiropractic's] first principle; I was its source; I gave it birth; to me all chiropractors trace their chiropractic lineage
Among the wonderful achievements of this century, the discovery and development of chiropractic is preeminent; it is destined to replace all methods which treat effects
With this post, I will simply outline DD's extraordinary life. I intend to leave it to you, the reader of this post, to decide whether it was the life of a genius or that of a charlatan.
1845, 7 March: birth in Port Perry, near Toronto, Canada
1865, April: Palmer family immigrate to the US
1867: DD Palmer starts as a teacher in Concord, Iowa
1869, November: DD and his younger brother TJ become beekeepers in Letts, Iowa
1871, 20 January: DD marries Abba Lord who calls herself a 'psychometrist, clairvoyant physician, soul reader and business medium'.
1872, 6 July: DD publishes an article in the ' Religio Philosophical Journal' calling himself an atheist
1872: DD later states that he started his career as a 'healer' during this period
1873: Abba leaves DD and later becomes a 'homeopathic physician' in Mineapolis.
1876, 7 October: DD marries Louvenia Landers, a widow; they have 4 children together, including BJ who later becomes DD's partner in the chiropractic business.
1878, 19 April: the Palmer's 5-months old daughter dies
1878, May: DD is elected president of the 'Western Illonois and Eastern Iowa Society of Bee Keepers'
1880: DD publishes a pamphlet about spiritualism and refers to himself as a 'spiritualist'
1881 BJ Palmer is born; he later all but took over the chiropractic business and is often referred to as the 'developer of chiropractic'
1882 DD sells his beekeeping business, moves to What Cheer, Iowa where the rest of his family live
1883, 30 May: DD opens a grocery store in What Cheer
1884, 20 November: Louvenia dies of consumption
1885, February: DD sells his grocery store and 'moves on'
1885, 25 May: DD marries Martha Henning. The marriage is short-lived; on 8 July of the same year, DD posted a public notice in the 'What Cheer Patriot' disowning her
1885: DD moves back to Letts where he teaches at the local school
1886: DD moves to Iola, Kansas where he practices as a magnetic healer and calls himself 'Dr Palmer, healer'
1886, 3 September: DD advertises his services as a 'vitalist healer' in Burlington, Iowa
1887, 9 October: DD advertises 'dis-ease is a condition of not ease, lack of ease', a theme that he later uses regularly for chiropractic
1887, 25 October: one of DD's patients has died and there is an inquest. The local paper describes DD with the term 'dense ignorance' and the coroner states that 'we censure the so-called doctor, DD Palmer, attending physician, for his lack of treatment and ignorance in the case'. DD leaves Burlington to avoid persecution (a new law requires all healers to register with the state medical board. DD does not have such a registration)
1887: DD moves to Davenport and advertises: DD Palmer, cures without medicine…'
1888, 6 November: DD marries Villa; they stay together until her death in 1905
1894: DD publishes his views on smallpox vaccination: '…the monstrous delusion … fastened on us by the medical profession, enforced by the state boards, and supported by the mass of unthinking people …'
1894: DD publishes his views about 'greedy doctors' and the 'medical monopoly'
1895, January: DD starts a business selling gold fish
1895, 18 September: DD administers the 1st spinal manipulation to Harvey Lillard (DD later seems confused about this date stating that this 'was done about Dec. 1st, 1895')
1896, 14 January is the date when, according to DD, chiropractic received its name with the help of Reverent Weed
1896: DD publishes an article in 'The Magnetic' stating ' the magnetic cure: how to get well and keep well without using poisonous drugs'
1896: DD publishes on bacteria outlining his theory that bacteria cannot grow on healthy tissue; keeping tissue healthy is therefore the best prevention against infections; and this is best achieved by magnetic healing
1896: DD claimed that 4 years earlier, in 1892, he had discovered the magnetic cure for cancer; it involved freeing the stomach and spleen of poisons
1896: DD formulates his concept of treating the root cause of any disease
1896, 10 July: DD, his wife and his brother turn the 'Palmer School of Magnetic Cure' in Davenport into an officially registered corporation
1897: DD defines chiropractic as 'a science of healing without drugs'
1898: DD opens his first school of chiropractic in Davenport, the 'Palmer School of Chiropractic' which has survivied to the present day.
1902, 27 April: DD first used the term 'subluxation' in a letter to his son BJ ('… where you find the greatest heat, there you will find the subluxation causing the inflammation which produces the fever…')
1902: DD leaves suddenly for California, apparently to open a West Coast branch of the Palmer School; he stays for about two years and then returns to Davenport leaving behind substantial depts
1902, 6 September: DD is arrested in Pasadena when a patient suffering from consumption dies after DD's second adjustment; in October, the charges were dropped because of a technicality
1903: DD opens the 'Palmer Chiropractic School in Santa Barbara, California, together with his former student Oakley Smith
1903 DD is charged with practising medicine without licence but, before the case goes to trial, DD goes to Chicago where he charters a school together two other chiropractors (Smith and Paxson); the project fails
1903, 30 April: DD is back in Davenport for the wedding of BJ with Mabel
1904, December: DD starts his new journal 'The Chiropractor' which survives until 1961. DD's very first article is entitled '17 Years of Practice'
1905: DD's former students Langworthy and Smith accuse DD of stealing the concepts of chiropractic from the Bohemian bonesetters of Iowa
1905, 9 November: DD's wife Villa overdoses on morphine and dies; the coroner is unable to tell whether she committed suicide or intended it for pain relief
1906, 11 January: DD marries Mary Hunter, apparently his first love from Letts
1906, 26 March: DD is again on trial for practising medicine without a licence. He is found guilty the next day. The penalty is US$ 350 or 105 days in jail. DD choses jail. However, his new wife, Mary, bails him out after 23 days.
1906: DD sells his share in the chiropractic business to his son and moves to Medford Oklahoma. The reasons for this split are said to be personal, financial and professional
1906, 4 June: in a letter to John Howard, DD accuses his son of dishonesty and of running the school badly
1906: BJ and DD publish their opus maximus 'Science of Chiropractic'; DD claims that most of the chapters were written by him
1907, January: DD opens another grocery store
1908: together with a colleague, DD opens the 'Palmer-Gregory Chiropractic College'; it lasts only 9 weeks. DD leaves because he discovered that Alva Gregory, a medical doctor, was teaching medical ideas
1908, 9 November: DD opens the 'Palmer College of Chiropractic' in Portland, Oregon
1908, December: DD starts a new journal, 'The Chiropractor's Adjuster'; many of his articles focus on criticising BJ. The journal only seems to have survives until 1910
1910, December: DD publishes his book 'The Chiropractor's Adjuster'.
1911: DD toys with the idea of turning chiropractic into a religion, as this would avoid chiropractors being sued for practising medicine without a license
1913: DD visits Davenport for the 'Lyceum Parade' where he is injured. Mary accuses BJ of striking his father with his car and thus indirectly causing his death, a version of events which is disputed
1913, September: DD is back in California and writes to JB Olson that he gave 22 lectures in Davenport. DD also reports: '… On the return I cured a man of sun stroke by one thrust on the 5th dorsal. That is what I call definitive, specific, scientific chiropractic…'
1913, 20 October: DD dies; the official cause of death is typhoid fever, a condition that he repeatedly claimed to be curable by a single spinal adjustment.
1914: DD Palmer's book 'The Chiropractor' is published.
I missed this article by Canadian vascular surgeons when it came out in 2018. It is well-argued, and I think you should read it in full, if you can get access (it's behind a pay wall). It contains interesting details about the anti-vax attitude of doctors of integrative medicine (something we discussed before), as well as the most dubious things that go on in the 'Cleveland Clinic'. Here is at least the abstract of the article:
Evidence-based medicine, first described in 1992, offers a clear, systematic, and scientific approach to the practice of medicine. Recently, the non-evidence-based practice of complementary and alternative medicine (CAM) has been increasing in the United States and around the world, particularly at medical institutions known for providing rigorous evidence-based care. The use of CAM may cause harm to patients through interactions with evidence-based medications or if patients choose to forego evidence-based care. CAM may also put financial strain on patients as most CAM expenditures are paid out-of-pocket. Despite these drawbacks, patients continue to use CAM due to media promotion of CAM therapies, dissatisfaction with conventional healthcare, and a desire for more holistic care. Given the increasing demand for CAM, many medical institutions now offer CAM services. Recently, there has been controversy surrounding the leaders of several CAM centres based at a highly respected academic medical institution, as they publicly expressed anti-vaccination views. These controversies demonstrate the non-evidence-based philosophies that run deep within CAM that are contrary to the evidence-based care that academic medical institutions should provide. Although there are financial incentives for institutions to provide CAM, it is important to recognize that this legitimizes CAM and may cause harm to patients. The poor regulation of CAM allows for the continued distribution of products and services that have not been rigorously tested for safety and efficacy. Governments in Australia and England have successfully improved regulation of CAM and can serve as a model to other countries.
Those who have been following this blog a little know how much I agree with these authors. In fact, in the peer-reviewed literature, I have been publishing similar arguments for almost 20 years, e.g:
I very regularly get comments criticising me for being negative and destructive rather than using my time being positive and constructive. Here is a recent such remark:
Edzard, with his string of qualifications, should offer a remedy to the coronavirus. Ok, I get it, homeopaths are "quacks" but what has Edzard got to offer. Talk is cheap. Rather than warming on the "inability" of the homeopaths to prove their worth, Edzard should prove that he is better than them but sadly he is simply someone who has no substance. What good is he to mankind and the patients when he cannot offer a solution but rather finds faults with "quacks". That even a beggar can do better than him. Until he is able to offer a cure, he has no business going around finding fault with others.
It is true that many if not most of my posts are about disclosing bogus claims of practitioners of so-called alternative medicine (SCAM) or revealing the limitations of SCAM research. I see why SCAM proponents see this as a negative activity. However, I view it as a positive contribution: if I show today that this or that claim or therapy is not evidence-based, I might prevent some patients from using it tomorrow. In turn, this would prevent them from wasting their money and – more importantly – would guide them towards making prudent therapeutic decisions which, in some cases, could even save lives.
Other critics of my work are keen to point out that I should not constantly criticise SCAM but rather do something about the many weaknesses of conventional medicine. I feel that my work might be helpful for that as well. Let me explain.
Pointing out how much of SCAM is bogus begs the question, why then are so many people using it? One answer which I have often given (here and elsewhere) is that consumers are looking not so much for effective treatments but for what used to be called the 'art' of medicine:
compassion,
undersatnding,
empathy,
sufficient time with their clinician,
a warm therapeutic relationship.
These are things they often do not find when consulting their conventional physicians, and these are things they often get from their SCAM practitioner. This insight should lead to the next logical step, namely to boost compassion, emapthy, etc. in conventional medicine.
Clearly, these qualities are at the core of good healthcare, and clearly we do not require SCAM for patients to benefit from them. The science and the 'art' of medicine are not mutually exclusive; there is no good reason why they should not go together. And it is time to put the 'art' back into science-based medicine. Delegating it to SCAM practitioners is a disservice to patients.
So, what good is my work to mankind and patients? This is a question that I cnnot answer. All I can do is hope that my criticism will make a small contribution towards improving future healthcare.
It has been reported that, in China, patients affected by the coronavirus are being treated with Traditional Chinese Medicine (TCM). Treatments in Wuhan hospitals combine TCM and western medicines, said Wang Hesheng, the new health commission head in Hubei, the province at the centre of the epidemy. He said TCM was applied on more than half of confirmed cases in Hubei. "Our efforts have shown some good result," Wang said at a press conference on Saturday. Top TCM-experts have been sent to Hubei for "research and treatment," he said. Some 2,200 TCM workers have been sent to Hubei, Wang said.
Another website confirmed that TCM has been applied to more than half of the confirmed patients of corona or COVID-19 infection in Hubei. It's also used in the prevention and control of COVID-19 at the community level. "Since the beginning of the outbreak, the government has attached importance to both TCM and Western medicine by mobilizing the strongest scientific research and medical forces in both fields to treat the patients," said Wang Hesheng. "By coordinating the resources of traditional Chinese and Western medicine, we strive to improve the cure rate and reduce fatalities by the greatest possible amount to effectively safeguard the safety and health of the people," Wang noted.
China Daily added that many of the medical workers also have participated in the fight against the SARS outbreak in 2003, said Huang Luqi, president of China Academy of Chinese Medical Sciences. Three national-level TCM teams, organized by the National Administration of Traditional Chinese Medicine, also have been dispatched to Hubei, said Huang, head of the TCM team at Wuhan Jinyintan Hospital.
The TCM workers have treated 248 confirmed and suspected novel coronavirus patients, and 159 of them have shown improvement and 51 have been discharged from the hospital, Huang said at a daily news conference in Wuhan. More than 75 percent of novel coronavirus patients in Hubei, and more than 90 percent of patients in other regions of the country, have received TCM treatment, he said. "We hope that Hubei province and Wuhan city can increase the use of TCM in treating confirmed and suspected novel coronavirus patients," Huang said. TCM can shorten the course of disease for patients with severe symptoms, reduce the possibility of mild infections becoming severe, help with patient recovery and disease prevention and offer psychological support to patients, he noted.
__________________________________________________________________
No information is available on the nature of the TCM treatments used. Moreover, the reported response rate (159 of 248) sounds far from encouraging to me. In fact, it could reflect merely the natural history of the disease or might even hide a detrimental effect of TCM on the infection. What we need are controlled studies, without them, reports like the ones above are mere useless and potentially harmful propaganda for boosting China's TCM-trade.
The 'neurocalometer' (NCM) is a device promoted from 1924 by BJ Palmer (the son of DD Palmer, the founder of chiropractic) which he claimed could locate subluxations. Even though it was useless for diagnosing anything, thousands of chiropractors swore by it and some use it to the present day. This enthusiast, for instance, justifies it by claiming that abnormal signals generated by spinal misalignments travel into the spinal cord along nerve fibers which connect directly to the part of the nervous system that controls blood flow in the skin. These abnormal signals disrupt the ability of the nervous system to keep the skin temperature even and balanced. The resulting temperature imbalance can be detected using the Neurocalometer or a similar device.
The history of the NCM is most revealing. BJ Palmer more or less forced his followers into a leasing agreement with the Palmer School of Chiropractic (PSC). The lease duration was 10 years, roughly the same amount of time as the patent rights on the device would last. "Leasees were required to charge patients ten dollars per NCM reading (a sum that is equivalent to charging >60 US$ for that service today). BJ's historic speech at lyceum (August 24, 1924), "The Hour Has Struck", provided the opportunity to announce: The price until midnight September 14th remains the same. Beginning tomorrow morning at eight o'clock $100 cash and 13 payments of $50 each, each month, and when $500 has been paid you will be entitled to your technique and your Neurocalometer .. . Those who pay the full cash of $500 in advance now get preferential position and delivery overall-time-payment contracts. The price after midnight of September 14th will raise to $2,200, or an increase of $700. The terms will then be $200 cash and $100 a month until $1,000 has been paid, at which time you will be entitled to your technique and your Neurocalometer … this same easy plan has gone out to the entire field …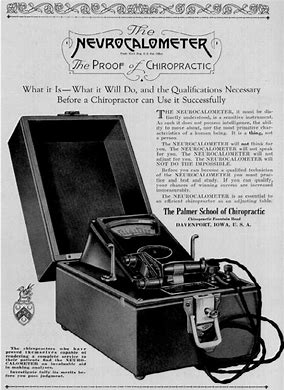 This sales ploy was so successful that Western Union's local cash reserves were apparently unable to keep pace with the hundreds of incoming contracts on September 14. The next day, BJ penned an article for the Fountain Head News (FHN) announcing a further increase, from $2,200 to $3,000 for the 10 year lease, and tentatively set to take effect on January 1, 1925. The NCM, he explained, has established itself, its earning values have been printed for your information, letters from users have been printed and distributed to you – it is no longer an unknown quantity. It has established itself . The price for the NCM eventually reached an initial fee of $3,500 and a monthly rental fee of $5. By comparison, an expensive car then costs $1,000, and a home could be purchased for $3,500.
BJ viewed the introduction of the NCM as a means of producing fundamental change throughout the chiropractic profession. From his perspective he was not merely marketing a device, but was organizing a straight chiropractic renaissance. BJ spoke frequently of his "BACK-TO-CHIROPRACTIC-NEUROCALOMETER MOVEMENT" He likened chiropractic to a cow, and asked: Whose cow is Chiropractic anyway? It is more my cow or your cow? Must I always stand at the feeding end? Can't I get a glass of milk once in a while? Who is that man that speaks to me about the rights of the sick to get well? Who is that man that dares say I am the downfall of this profession? Do you know of any chiropractor adjusting for fifty cents when he could collect five dollars, just for the love of the rights of the sick to get well? Do you know of any reducing their price on the theory of their love for the rights of the sick to get well if he could get it?
BJ claimed that the NCM is a very delicate, sensitive instrument which, when placed upon the spine:
Verifies the proper places for adjustments.
It measures the specific degree of vertebral pressures upon nerves.
It measures the specific degree of interference to transmission of mental impulses as a result of vertebral pressure.
It proves the exact intervertebral foramina that contains bone pressure upon nerves.
It proves when the pressure has been released upon nerves at a specific place.
It proves how much pressure was released, if any.
It verifies the differences between cord pressure or spinal nerve pressure cases.
It establishes which cases we can take and which we should leave alone.
It proves by an established record which you can see thereby eliminating all guesswork on diagnoses.
It establishes, from week to week, whether you are getting well or not.
 It makes possible a material reduction in time necessary to get well, thus making health cheaper….
The NCM was not invented by BJ but by Dossa Dixon Evins, one of the lesser-known figures in chiropractic history. Evins was a vaudeville entertainer with his wife Billie, an inventor, electrical engineer, and a radio operator for the Secret Service during World War I. Yet, it was BJ who took the glory and the money: Along comes the Neurocalometer. You hear me tell much good about it. You hear me say that it is "THE MOST VALUABLE INVENTION OF THE AGE BECAUSE IT PICKS, PROVES AND LOCATES THE CAUSE OF ALL DIS-EASES OF THE HUMAN RACE.
Of course, BJ insisted that his claims were based on extensive scientific research: Experimental work on approximately a thousand cases had proven there are many subluxations in the spine which the X-Ray does not locate, causing pressure upon nerves. This instrument locates them. Experimental work also shows that by using the instrument as a check, results can be obtained in from one-fourth to one-half the time now necessary under the present method. In other words, should it take 100 adjustments to get a case well now, it would take only 25 to 50 to get the same case well using the new NEUROCALOMETER. So superior was the device that even BJ himself could not find subluxations as accurately as the NCM:. . . Eighteen months of education when focalized down to a pin point means where to pick majors and why . . . in 30 minutes the Neurocalometer can do more in picking correct majors than anybody attending school for 17 months, or more than I can do after 28 years.
However, not everyone was impressed and some chiropractors even objected openly to BJ and his machinations. The result was that the chiropractic profession split into:
those who followed BJ's instructions (the 'straights')
and those who either could not afford to or were not convinced by BJ (the 'mixers').
Dissatisfaction with Palmer and with the "intimidation" policies of the Universal Chiropractors' Association (UCA) had already been growing. Now it reached into the UCA to such an extent that BJ resigned to form (in 1926) the Chiropractic Health Bureau (today's International Chiropractors' Association). By 1930, the UCA and other organizations had merged to form the National Chiropractic Association, immediate predecessor of today's American Chiropractic Association.
The years immediately following the NCM's introduction were a a period of extraordinary prosperity for BJ and his PSC. Classes filled, debts were paid and plans for additional buildings were drawn; the prosperity would continue until the stock market crash of 1929, in which the Palmer family suffered substantial financial loss. As many as a thousand NCMs may have been leased in the first year; this suggests at least several millions of dollars in revenues, a fabulous sum in the 1920s. The chiropractic historian Keating stated that the NCM's introduction provides a model of unethical promotions in health care.
The PSC eventually revived with the influx of veterans after World War 2. Rentals of the NCM (and derivative instruments) continued, and a firm core of true believers in BJ remained loyal. Today, the PSC continues to provide repair services for the NCM, although new contracts for the device ceased to be issued in 1990. Similar thermocouple devices remain popular among subluxation-based chiropractors and several models are still marketed.
A widely used chiropractic paediatrics textbook (Pediatric Chiropractic. Baltimore: Williams & Wilkins, 1998, pp 323-423) even advises that such devices are useful for examining new-borns: The purpose of skin temperature analysis (e.g. Temp-o-scope, Nervoscope) is to obtain objective neurological evidence of a vertebral subluxation complex [VSC]. . . .
The University College London Hospitals (UCLH) include the 'Royal London Hospital for Integrated Medicine' (RLHIM). The RLHIM offers a range of so-called alternative medicines (SCAMs), including acupuncture.
This is how they advertise traditional acupuncture to the unsuspecting public:
Acupuncture is a part of Traditional Chinese Medicine (TCM). This is a system of healing which has been practised in China and other Eastern countries for thousands of years.
Although often used as a means of pain relief, it can treat people with other illnesses. The focus is on improving the overall well-being of the patient, rather than the isolated treatment of specific symptoms.
You will be seen individually and assessed by an acupuncturist trained in TCM. They will use traditional Chinese techniques including pulse, tongue and abdominal diagnosis. They will also ask you about your medical history and lifestyle.
The TCM trained acupuncturist can stimulate the body's own healing response and help to restore its natural balance.
The principal aim of acupuncture in treating the whole person is to create balance between your physical, emotional and spiritual needs. It can help to relax, improve mood and sleep, relieve tension and improve your sense of well-being, as well as improving symptoms.
We will assess your individual needs and discuss a treatment plan with you during your initial consultation.
The treatment may include the use of the following:
The use of fine acupuncture needles
Moxibustion (burning of the herb mugwort close to the surface of the skin)
Cupping therapy (to create local suction on the skin)
Acupressure (pressure applied to acu-points to stimulate energy flow)
Electro-acupuncture (a low voltage current is passed between 2 needles)
________________________________________________________________
How reliable is this information? I will try to answer this question by discussing the 6 statements that, in my view, are most questionable.
Although often used as a means of pain relief, it can treat people with other illnesses
Whether acupuncture is effective for pain relief is debatable. A recent analysis cast considerable doubt on the assumption. The notion that acupuncture 'can treat people with other illnesses' seems like a 'carte blanche' for treating virtually any condition regardless of evidence.
Improving the overall well-being of the patient
I am not aware of sound evidence that acupuncture is an effective treatment for improving overall well-being.
Traditional Chinese techniques including pulse, tongue and abdominal diagnosis
These diagnostic techniques have not been adequately validated and have no place in evidence-based healthcare.
The TCM trained acupuncturist can stimulate the body's own healing response and help to restore its natural balance
I am not aware of sound evidence to show that acupuncture stimulates healing. The statement seems like another 'carte blanche' for treating anything the therapist feels like, regardless of evidence.
The principal aim of acupuncture in treating the whole person is to create balance between your physical, emotional and spiritual needs
The claim that acupuncture is a holistic treatment is based on little more than wishful thinking by acupuncturists.
It can help to relax, improve mood and sleep, relieve tension and improve your sense of well-being, as well as improving symptoms
I am not aware of sound evidence that acupuncture is effective in treating any of the named conditions. The end of the sentence ('as well as improving symptoms') is another 'carte blanche' for doing anything the acupuncturists feels like.
______________________________________________________________________
The UCLH are firmly committed to EBM. The RLHIM claims to be 'a centre for evidence-based practice'. This claim is not supported by the above advertisement of acupuncture which is clearly not based on good evidence. Moreover, it has the potential to mislead vulnerable patients and thus cause considerable harm. In my view, it is high time that the UCLH address this problem.
The Indian AYUSH quacks are rarely out of the headlines these days. After recently promoting homeopathy for the coronavirus epidemic, they are at it yet again. This time they seem to want us to believe that homeopathy is an effective cancer therapy. And guess who is helping them promote this dangerous claim? Yes, it's the "Pyromaniac In a Field of (Integrative) Straw Men", Michael Dixon!
"Time for integration has come and it is not because allopathic medicines fail in treatment but rather it is the demand of the people and patients worldwide," said Dr Michael Dixon, Chair-College of Medicine and Integrated Health, UK, and Visiting Professor, University of Westminster and University College London, while inaugurating the two-day 'International Conference on Integrative Oncology 2020. The ICIO 2020 is held in Indai in association with Central Health & FW Ministry, AYUSH/TCAM Ministry, all AYUSH/TCAM research councils and the governments of Kerala and Maharashtra, and National AYUSH Mission and organised by the Global Homeopathy Foundation (GHF).
Dr Dixon called upon integration of various medical streams while combating diseases. He pointed out that anti-microbial resistance, over-prescription of opiates and over-prescription of conventional medicines have compounded the situation. "Enormous issues persist back in United Kingdom (UK), National Health Services (NHS) England banned herbal and homoeopathic medicines while Royal College of General Practitioners asked general practitioners not to offer Homoeopathy and National Institute for Clinical Excellence changed guidelines on palliative care and back pain," said Dr Dixon.
However, he said the good news is that at last AYUSH has arrived in UK with the College of Medicine and Integrated Health taking the lead. "Integration of medical systems is of paramount importance in oncology for prevention, treatment, treating side-effects of conventional medicine and preventing recurrence."
Those who address the inaugural function include:
Dr Jayesh Sanghavi, vice- chairman GHF,
Dr T K Harindranath, president, Indian Homoeopathic Medical Association,
Dr Piyush Joshi, secretary general, Homoeopathic Medical Association of India,
Dr Eswaradas, chairman, GHF, Dr Issac Mathai, Soukya Holistic Clinic,
Dr Velavan, Radiation Oncologist, Erode Cancer Centre,
Dr Sandeep Roy, chairman, organising committee ICIO 2020,
Dr Madhavan Nambiar IAS (retd), Patron GHF
Dr Sreevals G Menon, Managing Trustee, GHF
Around 25 papers are being presented at the summit. Two of them stand out, in my view:
Dr Vinu Krishnan, member, sub-committee on cancer, Central Council for Research in Homoeopathy, New Delhi, Analysis and observations of stage 3 and 4 lung cancers using homoeopathic interventions
Dr Ravi, associate professor with Virar Homoeopathic Medical College, Mumbai, Clinical assessment of homeopathy and its role in survival in 3rd and 4th stage cancers
I find it imperative to point out that, according to the best evidence available to date, there is no reason to believe that:
Homeopathy is effective in stage 3 and 4 lung cancers
Homeopathy has positive effects on cancer survival
In my view, anyone who makes desperate cancer patients believe otherwise or supports conferences where such notions are being promoted is a dangerous charlatan.
_________________________________________________________
PS
In case you are new to this blog and have not heard of Dr Dixon, allow me to alert you to 4 previous posts:
Should homeopathy be blacklisted in general practice? Dr Michael Dixon's profoundly misleading comments
Johrei healing and the amazing Dr Dixon (presidential candidate for the RCGP)
Dr Dixon's safe herbal medicine
Prince Charles becomes patron of the 'College of Medicine and Integrated Health'
In 2017, John Lawler died after receiving a chiropractic neck manipulation. The therapist was not just incompetent at providing first aid to her patient, her clumsy attempts to save his life might even have contributed to his death. Now the General Chiropractic Council (GCC) issued a special bulletin to all registrants setting out in detail the action they must take in relation to first aid:
… it is a requirement of our educational programmes that students are trained to deal with medical emergencies and thereafter it is important that chiropractors keep their knowledge and skills up to date.
We expect all chiropractors to consider their own first aid knowledge and skills and determine whether or not to undertake further specific first aid training.  We said that registrants should start by considering whether their first aid skills and knowledge are sufficient, appropriate and current.
Every chiropractor is likely to encounter potential traumatic and medical emergencies at some point in their professional life. Like all registered health care professionals chiropractors have a duty to their patients during emergencies.  Chiropractors therefore must recognise, assess and manage the potential for emergency medical and traumatic conditions that may be encountered in chiropractic settings.
Many providers of first aid training are available offering a range of courses delivered in a range of different ways, for example, the Royal College of Chiropractors has partnered with a training provider to provide first aid training courses for chiropractors across the UK: http://bit.ly/rccfirstaid
In September 2020, as part of registrants' continuing professional development submission to the GCC, we expect to see information from each chiropractor on their first aid knowledge and skills, and the steps taken so they are assured of their competence to administer first aid should the need arise.
_____________________________________________________________________
One could read this statement as an admission that:
UK chiropractors are currently not adequately trained in first aid,
chiropractic manipulations can cause medical emergencies,
and possibly that Mr Lawler lost his life because his chiropractor was incompetent in first aid.
At the same time, I find that the statement comes many months too late and is neither clear nor compelling. Why not making it plain:
exactly which first aid qualification every UK chiropractor must have
by what time,
and state what penalty they will face, if they fail to comply?
And, if the GCC are aware that spinal manipulation can cause serious emergencies, why have they not established a proper reporting scheme for such events so that we all know of the frequency of such risks? Could it be that the son of the deceased John Lawler was correct when he said the GCC "seems to be a little self-regulatory chiropractic bubble where chiropractors regulate chiropractors?" And could it be that I was justified in suspecting that the GCC is not fit for purpose?
What do you think?
It has been reported that Brazil and India will collaborate in the promotion of quackery! Brazil's president Jair Bolsonaro and India's Prime Minister Narendra Modi, have just signed several agreements on collaboration. Agreement 8 is particularly intriguing:
8. Memo of agreement for cooperation in Traditional Medicine and Homeopathy
We seek to promote and develop bilateral cooperation in the field of traditional medicine and homeopathy. The areas of cooperation provided for in the instrument include exchange of experience in teaching regulations, practices, medicines and non-medicine therapies; knowledge promotion, exchange of training for therapists, health professionals, scientists, teaching professionals and students; and development of joint research, besides educational and training programs.
Homeopathy, already a recognized medical specialty in Brazil, is currently offered for free by the Brazilian national healthcare system. Other so-called alternative medicines (SCAMs) employed in the Brazilian healthcare system include:
acupuncture,
Reiki,
spiritual healing,
crystal healing,
aromatherapy.
Homeopathy and acupuncture are also recognized by the Brazilian Federal Council and both are taught in the most prestigious public Universities, in medical, veterinary, public health and nursing schools.
India has gone one step further by establishing its AYUSH ministry. It registers SCAM practitioners considered 'indigenous' by the Indian government under a separate board.  The SCAMs thus regulated are:
Ayurveda,
Yoga and Naturopathy,
Unani and Tibbi,
Siddha,
Homeopathy.
In India, practitioners are taught some of these subjects as MBBS ( Bachelor of Medicine and Surgery). The graduates are then considered to be 'doctors'. In Brazil, homeopathy and acupuncture are practiced by medical doctors. Brazilian citizens are thus misled to believe that these SCAMs are evidence-based.
So, what this 'bilateral co-operation' is going to achieve? Narendra Nayak (President of the Federation of Indian Rationalist Associations and former Assistant Professor of Biochemistry in Mangalore) and Natalia Pasternak (President of the Instituto Questão de Ciência in São Paulo) are less than optimistic:
Exchange of 'technology' of so called 'psychic surgery' of  quacks like the late José Arigo, "the surgeon with the rusty knife", with specialists of gaumutra (urine of India's allegedly indigenous cows) whose concoction is supposed to be a panacea for 440 diseases? Is Brazil going to export to India the peculiar surgical techniques of the "medium" John of God, recently arrested, not for years of practicing unlicensed medicine and hurting people, but for sexual harassment and rape? Don't get the wrong message, we are very glad John of God was convicted, and very glad for the brave women who came forward, but we cannot ignore the fact that he was never bothered by the authorities for placing people under his (usually not quite clean) knife.
Since India and Brazil are leaders in sugar production, are they going to support Homeopathy? Also the use of alcohol to produce their tinctures?
Again, we wonder why India and Brazil are going for an alleged system of medicine called homeopathy which is nowhere in the mainstream in the country of its origin -Germany. And why do they embrace it while the rest of the world is pushing back against homeopathy, after several scientific papers, reviews and meta-analyses showed beyond any reasonable doubt that it doesn't work?
Brazil and India have much in common, both are rising developing economies, with a diverse population, trying to be true to their democratic ideals. Unfortunately, another similarity comes to light: the fact that presently both our countries are governed by rulers that have shown total disregard by scientific knowledge and evidence in many of their public policy decisions.
As heads of organizations that promote science and rational thinking in Brazil and India, we regret the decision of our governments to promote quackery as a legitimate subject of an international agreement.
I feel that individuals and organisations promoting critical thinking in other parts of the world should lend their support to these two courageous people.
In 2011, the following leading researchers of so-called alternative medicine (SCAM) – no I was not invited – had a meeting in Italy, did a brainstorm and decided what we would need to know about SCAM by 2020 (today, in other words):
They proposed 6 core areas of research that should be investigated to achieve a robust knowledge base and to allow stakeholders to make informed decisions:
Research into the prevalence of SCAM in Europe: Reviews show that we do not know enough about the circumstances in which SCAM is used by Europeans. To enable a common European strategic approach, a clear picture of current use is of the utmost importance.
Research into differences regarding citizens' attitudes and needs towards SCAM: Citizens are the driver for CAM utilization. Their needs and views on SCAM are a key priority, and their interests must be investigated and addressed in future SCAM research.
Research into safety of SCAM: Safety is a key issue for European citizens. SCAM is considered safe, but reliable data is scarce although urgently needed in order to assess the risk and cost-benefit ratio of SCAM.
Research into the comparative effectiveness of SCAM: Everybody needs to know in what situation SCAM is a reasonable choice. Therefore, we recommend a clear emphasis on concurrent evaluation of the overall effectiveness of SCAM as an additional or alternative treatment strategy in real-world settings.
Research into effects of context and meaning: The impact of effects of context and meaning on the outcome of SCAM treatments must be investigated; it is likely that they are significant.
Research into different models of SCAM health care integration: There are different models of SCAM being integrated into conventional medicine throughout Europe, each with their respective strengths and limitations. These models should be described and concurrently evaluated; innovative models of SCAM provision in health care systems should be one focus for SCAM research.
The researchers then added:
We also propose a methodological framework for SCAM research. We consider that a framework of mixed methodological approaches is likely to yield the most useful information. In this model, all available research strategies including comparative effectiveness research utilising quantitative and qualitative methods should be considered to enable us to secure the greatest density of knowledge possible. Stakeholders, such as citizens, patients and providers, should be involved in every stage of developing the specific and relevant research questions, study design and the assurance of real-world relevance for the research.
Furthermore, structural and sufficient financial support for research into SCAM is needed to strengthen SCAM research capacity if we wish to understand why it remains so popular within the EU. In order to consider employing SCAM as part of the solution to the health care, health creation and self-care challenges we face by 2020, it is vital to obtain a robust picture of SCAM use and reliable information about its cost, safety and effectiveness in real-world settings. We need to consider the availability, accessibility and affordability of SCAM. We need to engage in research excellence and utilise comparative effectiveness approaches and mixed methods to obtain this data.
Our recommendations are both strategic and methodological. They are presented for the consideration of researchers and funders while being designed to answer the important and implicit questions posed by EU citizens currently using SCAM in apparently increasing numbers. We propose that the EU actively supports an EU-wide strategic approach that facilitates the development of SCAM research. This could be achieved in the first instance through funding a European SCAM coordinating research office dedicated to foster systematic communication between EU governments, public, charitable and industry funders as well as researchers, citizens and other stakeholders. The aim of this office would be to coordinate research strategy developments and research funding opportunities, as well as to document and disseminate international research activities in this field.
With the aim to develop sustainability as second step, a European Centre for SCAM should be established that takes over the monitoring and further development of a coordinated research strategy for SCAM, as well as it should have funds that can be awarded to foster high quality and robust independent research with a focus on citizens health needs and pan-European collaboration.
We wish to establish a solid funding for SCAM research to adequately inform health care and health creation decision-making throughout the EU. This centre would ensure that our vision of a common, strategic and scientifically rigorous approach to SCAM research becomes our legacy and Europe's reality. We are confident that our recommendations will serve these essential goals for EU citizens.
As I know all of the members of the panel personally, I am not surprised by the content of this document. That does not mean, however, that I do not find it remarkable. In my view, it is remarkable because of the nature of the 6 items that we allegedly need to know by 2020, and because of the fact that, even though none of them seem particularly demanding, today we have clarity or sound information on none of them. I also thought that both the research topics and the research methods were on the woolly side and, to a large degree, avoided what would be standard in conventional medicine. The 'vision' of the 13 researchers thus turns out to be the view of 13 partially sighted people on an array of platitudes.
Being just a bit sarcastic, the document could be seen as a plea for letting SCAM researchers:
continue to play on their far from level playing field,
use their preferred and largely inadequate methodologies,
pretend they do cutting edge science,
continue to avoid the real issues,
enjoy a life free of demanding challenges,
have pots of EU money for doing largely useless work.
In a word, I am confident that their recommendations would not have served any essential goals for EU citizens.