homeopathy
The UK Royal Pharmaceutical Society have published a quick reference guide on homeopathy. In it, they make the following 5 'key points':
The Royal Pharmaceutical Society (RPS) does not endorse homeopathy as a form of treatment because there is no scientific basis for homeopathy nor any evidence to support the clinical efficacy of homeopathic products beyond a placebo effect.
The RPS does not support the prescribing of homeopathic products on the NHS.
Pharmacists should ensure, wherever possible, that patients do not stop taking their prescribed conventional medication, if they are taking or are considering taking a homeopathic product.
Pharmacists must be aware that patients requesting homeopathic products may have serious underlying undiagnosed medical conditions which may require referral to another healthcare professional.
Pharmacists must advise patients considering a homeopathic product about their lack of efficacy beyond that of a placebo.
This publication is a few months old, but I only saw it recently. It could not be clearer and it is much more to the point than the General Pharmaceutical Council's 'Standards for Pharmacy Professionals' which state:
People receive safe and effective care when pharmacy professionals reflect on the application of their knowledge and skills and keep them up-to-date, including using evidence in their decision making. A pharmacy professional's knowledge and skills must develop over the course of their career to reflect the changing nature of healthcare, the population they provide care to and the roles they carry out. There are a number of ways to meet this standard and below are examples of the attitudes and behaviours expected.
People receive safe and effective care when pharmacy professionals:
recognise and work within the limits of their knowledge and skills, and refer to others when needed
use their skills and knowledge, including up-to-date evidence, to deliver care and improve the quality of care they provide
carry out a range of continuing professional development (CPD) activities relevant to their practice
record their development activities to demonstrate that their knowledge and skills are up to date
use a variety of methods to regularly monitor and reflect on their practice, skills and knowledge
The two statements together should suffice to finally get some sense into UK pharmacies when it comes to the sale of homeopathic remedies. What is needed now, I think, is an (under-cover?) investigation to see how many UK community pharmacists abide by this guidance.
If anyone has the means to conduct it, I would be delighted to advise them on the best methodology.
Some homeopaths claim that there is anecdotal support for the use of the homeopathic medicine Arsenicum album in preventing post-vaccination fever. As far as I know, the claim has not been tested in clinical trials. This study was aimed at evaluating the efficacy of this approach in preventing febrile episodes following vaccination.
In the community medicine out-patient of Mahesh Bhattacharyya Homoeopathic Medical College and Hospital, West Bengal, a double-blind, randomized, placebo-controlled trial was conducted on 120 children. All of them presented for the 2nd and 3rd dose of DPT-HepB-Polio vaccination and reported febrile episodes following the 1st dose. They were treated with Arsenicum album 30cH 6 doses or placebo (indistinguishable from verum), thrice daily for two subsequent days. Parents were advised to report any event of febrile attacks within 48h of vaccination.
The groups were comparable at baseline. Children reporting fever after the 2nd dose was 29.8% and 30.4% respectively for the homeopathy group and control group respectively [Relative Risk (RR)=1.008] with no significant difference (P=0.951) between groups. After the 3rd dose, children reporting fever were 31.5% and 28.3% respectively for the homeopathy group and control group respectively (RR=0.956) with no significant difference (P=0.719) between groups.
The authors concluded that empirically selected Arsenicum album 30cH could not produce differentiable effect from placebo in preventing febrile episodes following DPT-HepB-Polio vaccination.
I can hear it now, the chorus of homeopaths:
this is part of a conspiracy against homeopathy,
the authors of this study display an anti-homeopathy bias,
this study did not closely follow the principles of homeopathy,
it lacked the input by experience homeopaths,
no homeopath worth his money would use 

Arsenicum album 30cH

for this purpose,
no homeopath in his right mind would employ 

6 doses thrice daily for two subsequent days,

etc., etc.
Well guys, I have to disappoint you: the authors of this paper have the following affiliations:
Dept. of Pathology and Microbiology, Mahesh Bhattacharyya Homoeopathic Medical College and Hospital, Govt. of West Bengal
Dept. of Community Medicine, Mahesh Bhattacharyya Homoeopathic Medical College and Hospital, Govt. of West Bengal
Mahesh Bhattacharyya Homoeopathic Medical College and Hospital, Govt. of West Bengal
National Institute of Homoeopathy, Ministry of AYUSH, Govt. of India
Central Council of Homoeopathy, Vill, Champsara
So, perhaps it's true: highly diluted homeopathic remedies are pure placebos.
It has been reported that the faculty of medicine of Lille unversity in France has suspended its degree in homeopathy for the 2018-19 academic year. The university announced its decision on Twitter, and the faculty of medicine's dean, Didier Gosset, confirmed it to the AFP news agency: "It has to be said that we teach medicine based on proof – we insist on absolute scientific rigour – and it has to be said that homeopathy has not evolved in the same direction, that it is a doctrine that has remained on the margins of the scientific movement, that studies on homeopathy are rare, that they are not very substantial," he explained. "Continuing to teach it would be to endorse it."
The decision is, of course, long overdue and must be welcomed. Personally, however, I wonder why defenders of reason like Prof Gosset often employ such unclear lines of argument. Would it not be clearer to make (some of) these simple points?
The assumptions on which homeopathy is based are obsolete and implausible.
It is not that we do not understand homeopathy's mode of action, but we understand that there cannot be one that does not fly in the face of science.
The clinical evidence fails to show that highly diluted homeopathic remedies are more than placebos.
Homeopathy can cause significant harm, e. g. through neglect.
Homeopathy costs millions which would be much better used for evidence-based treatments.
The practice of homeopathy hinders progress and does not provide benefit for the public.
Teaching homeopathy at university-level is unscientific, unethical and nonsensical.
The French are among the world's largest consumers of homeopathic remedies. The French social security system does normally reimburse homeopathic therapy. A group of doctors challenged this situation in an open letter in Le Figaro newspaper in March 2018. They called practitioners of homeopathy and other alternative medicines "charlatans", pointing to a 2017 report by the European Academies Science Advisory Council that stressed, like a plethora of previous reports, the "absence of proof of homeopathy's efficacy". They challenged the French medical council to stop allowing doctors to practice homeopathy and asked the social security system to stop paying for it. Subsequently, a group of French homeopaths filed a formal complaint with the medical council against the signatories of this letter.
France's health ministry has asked France's National Health Authority to prepare and publish a report on whether homeopathy works and should be paid for by the public purse. It is due to be delivered in February 2019.
WATCH THIS SPACE
Medline is the biggest electronic databank for articles published in medicine and related fields. It is therefore the most important source of information in this area. I use it regularly to monitor what new papers have been published in the various fields of alternative medicine.
As the number of Medline-listed papers dated 2018 on homeopathy has just reached 100, I thought it might be the moment to run a quick analysis on this material. The first thing to note is that it took until August for 100 articles dated 2018 to emerge. To explain how embarrassing this is, we need a few comparative figures. At the same moment (6/9/18), we have, for instance:
126576 articles for surgery
5001

articles

or physiotherapy
30215 

articles

for psychiatry
60161 

articles

for pharmacology
Even compared to other types of alternative medicine, homeopathy is being dwarfed. Currently the figures are, for instance:
2232 for herbal medicine
1949 for dietary supplements
1222 for acupuncture
This does not look as though homeopathy is a frightfully active area of research, if I may say so. Looking at the type of articles (yes, I did look at all the 100 papers and categorised them the best I could) published in homeopathy, things get even worse:
29 were comments, letters, editorials, etc.
16 were basic and pre-clinical papers,
12 were non-systematic reviews,
10 were surveys,
7 were case-reports,
5 were pilot or feasibility studies,
5 were systematic reviews,
5 were controlled clinical trials,
2 were case series,
the rest of the articles was not on homeopathy at all.
I find this pretty depressing. Most of the 100 papers turn out to be no real research at all. Crucial topics are not being covered. There was, for example, not a single paper on the risks of homeopathy (no, don't tell me it is harmless; it can and does regularly cost the lives of patients who trust the bogus claims of homeopaths). There was no article investigating the important question whether the practice of homeopathy does not violate the rules of medical ethics (think of informed consent or the imperative to do more harm than good). And a mere 5 clinical trials is just a dismal amount, in my view.
In a previous post, I have already shown that, in 2015, homeopathy research was deplorable. My new analysis suggests that the situation has become much worse. One might even go as far as asking whether 2018 might turn out to be the year when homeopathy research finally died a natural death.
PROGRESS AT LAST!!!
This systematic review included 18 studies assessing homeopathy in depression. Two double-blind placebo-controlled trials of homeopathic medicinal products (HMPs) for depression were assessed. The first trial (N = 91) with high risk of bias found HMPs were non-inferior to fluoxetine at 4 (p = 0.654) and 8 weeks (p = 0.965); whereas the second trial (N = 133), with low risk of bias, found HMPs was comparable to fluoxetine (p = 0.082) and superior to placebo (p < 0.005) at 6 weeks.
The remaining research had unclear/high risk of bias. A non-placebo-controlled RCT found standardised treatment by homeopaths comparable to fluvoxamine; a cohort study of patients receiving treatment provided by GPs practising homeopathy reported significantly lower consumption of psychotropic drugs and improved depression; and patient-reported outcomes showed at least moderate improvement in 10 of 12 uncontrolled studies. Fourteen trials provided safety data. All adverse events were mild or moderate, and transient. No evidence suggested treatment was unsafe.
The authors concluded that limited evidence from two placebo-controlled double-blinded trials suggests HMPs might be comparable to antidepressants and superior to placebo in depression, and patients treated by homeopaths report improvement in depression. Overall, the evidence gives a potentially promising risk benefit ratio. There is a need for additional high quality studies.
It is worth having a look at these two studies, I think.
The 1st (2011) study is from Brazil
Here is its abstract:
Homeopathy is a complementary and integrative medicine used in depression, The aim of this study is to investigate the non-inferiority and tolerability of individualized homeopathic medicines [Quinquagintamillesmial (Q-potencies)] in acute depression, using fluoxetine as active control. Ninety-one outpatients with moderate to severe depression were assigned to receive an individualized homeopathic medicine or fluoxetine 20 mg day−1 (up to 40 mg day−1) in a prospective, randomized, double-blind double-dummy 8-week, single-center trial. Primary efficacy measure was the analysis of the mean change in the Montgomery & Åsberg Depression Rating Scale (MADRS) depression scores, using a non-inferiority test with margin of 1.45. Secondary efficacy outcomes were response and remission rates. Tolerability was assessed with the side effect rating scale of the Scandinavian Society of Psychopharmacology. Mean MADRS scores differences were not significant at the 4th (P = .654) and 8th weeks (P = .965) of treatment. Non-inferiority of homeopathy was indicated because the upper limit of the confidence interval (CI) for mean difference in MADRS change was less than the non-inferiority margin: mean differences (homeopathy-fluoxetine) were −3.04 (95% CI −6.95, 0.86) and −2.4 (95% CI −6.05, 0.77) at 4th and 8th week, respectively. There were no significant differences between the percentages of response or remission rates in both groups. Tolerability: there were no significant differences between the side effects rates, although a higher percentage of patients treated with fluoxetine reported troublesome side effects and there was a trend toward greater treatment interruption for adverse effects in the fluoxetine group. This study illustrates the feasibility of randomized controlled double-blind trials of homeopathy in depression and indicates the non-inferiority of individualized homeopathic Q-potencies as compared to fluoxetine in acute treatment of outpatients with moderate to severe depression.
There are many important points to make about this trial:
Contrary to what the reviewers claim, the trial had no placebo group.
It was a double-dummy equivalence study comparing individualised homeopathy with the antidepressant fluoxetine.
Fluoxetine might have been under-dosed (see below).
Equivalence studies require large sample sizes, and with just 91 patients (only 55 of whom finished the study), this trial was underpowered which means the finding of equivalence is false positive.
The authors noted that a higher percentage of troublesome adverse effects reported by patients receiving fluoxetine. This means that the trial was not double-blind; patients were able to tell by their side-effects which group they were in.
The authors also state that more patients randomized to homeopathy than to fluoxetine were excluded due to worsening of their depressive symptoms. I think this confirms that homeopathy was ineffective.
The 2nd (2015) study is from Mexico
Here is its abstract:
Background: Perimenopausal period refers to the interval when women's menstrual cycles become irregular and is characterized by an increased risk of depression. Use of homeopathy to treat depression is widespread but there is a lack of clinical trials about its efficacy in depression in peri- and postmenopausal women. The aim of this study was to assess efficacy and safety of individualized homeopathic treatment versus placebo and fluoxetine versus placebo in peri- and postmenopausal women with moderate to severe depression.
Methods/Design: A randomized, placebo-controlled, double-blind, double-dummy, superiority, three-arm trial with a 6 week follow-up study was conducted. The study was performed in a public research hospital in Mexico City in the outpatient service of homeopathy. One hundred thirty-three peri- and postmenopausal women diagnosed with major depression according to DSM-IV (moderate to severe intensity) were included. The outcomes were: change in the mean total score among groups on the 17-item Hamilton Rating Scale for Depression, Beck Depression Inventory and Greene Scale, after 6 weeks of treatment, response and remission rates, and safety. Efficacy data were analyzed in the intention-to-treat population (ANOVA with Bonferroni post-hoc test).
Results: After a 6-week treatment, homeopathic group was more effective than placebo by 5 points in Hamilton Scale. Response rate was 54.5% and remission rate, 15.9%. There was a significant difference among groups in response rate definition only, but not in remission rate. Fluoxetine-placebo difference was 3.2 points. No differences were observed among groups in the Beck Depression Inventory. Homeopathic group was superior to placebo in Greene Climacteric Scale (8.6 points). Fluoxetine was not different from placebo in Greene Climacteric Scale.
Conclusion: Homeopathy and fluoxetine are effective and safe antidepressants for climacteric women. Homeopathy and fluoxetine were significantly different from placebo in response definition only. Homeopathy, but not fluoxetine, improves menopausal symptoms scored by Greene Climacteric Scale.
And here are my critical remarks about this trial:
The aim of a small study like this cannot be to assess or draw conclusions about the safety of the interventions used; for this purpose, we need sample sizes that are at least one dimension bigger.
Fluoxetine might have been under-dosed (see below).
The blinding of patients might have been jeopardized by patients experiencing the specific side-effects of fluoxetine. The authors reported adverse effects in all three groups. However, the characteristic and most common side-effects of fluoxetine (such as hives, itching, skin rash, restlessness, inability to sit still) were not included.
________________________________________________
Usual Adult Dose for Depression
Immediate-release oral formulations:
Initial dose: 20 mg orally once a day in the morning, increased after several weeks if sufficient clinical improvement is not observed
Maintenance dose: 20 to 60 mg orally per day
Maximum dose: 80 mg orally per day
Delayed release oral capsules:
Initial dose: 90 mg orally once a week, commenced 7 days after the last daily dose of immediate-release fluoxetine 20 mg formulations.
_________________________________________________
Considering all this, I feel that the conclusions of the above review are far too optimistic and not justified. In fact, I find them misleading, dangerous, unethical and depressing.
On 4 September 2018, during the FIP (78th FIP World Congress of Pharmacy and Pharmaceutical Sciences), a meeting took place intended to give an opportunity to practising pharmacists to voice their opinions on the question whether pharmacies should stop selling homeopathic products. Attendees were provided with voting materials to allow them to express their views in a spontaneous and powerful manner, and for FIP to ascertain genuine opinions about this important matter. The debate and subsequent voting is likely to influence FIP policymaking and statement formulation. Here is the outline of the meeting:
The Great Debate – The motion "Pharmacists should not sell or dispense homeopathic products"
12:30 – 12:34 Introduction by the chairs
12:34 – 12:57 For the motion
Geoff Tucker (University of Sheffield, UK)
12:57 – 13:20 Against the motion
Christine Glover (Glover's Integrated Healthcare, UK)
13:20 – 13:25 Ethical considerations related to homeopathy
Betty Chaar (The University of Sydney, Australia)
13:25 – 13:35 Responses and summary
Facilitator: Andy Gray (University of KwaZulu Natal, South Africa)

Against the motion
Christine Glover (Glover's Integrated Healthcare, UK)
For the motion
Geoff Tucker (University of Sheffield, UK)
13:35 -14:00 Open forum – Questions from the audience with speakers and chairs as panel/ Vote and concluding comments
The German 'Pharmazeutische Zeitung' just published a report about the outcome of the meeting:
"Bei der Abstimmung im Anschluss sprachen sich fast zwei Drittel der im Auditorium anwesenden Pharmazeuten gegen eine Distribution von homöopathischen Produkten durch Apotheken aus. Mehr als ein Drittel stimmte für den Erhalt der Produkte in den Apotheken. Das Ergebnis habe keine bindende Wirkung für den Entscheidungsprozess des FIP, machte der Moderator der Sitzung, Andy Gray von der Universität KwaZulu Natal in Südafrika, deutlich. Es gebe aber einen Hinweis, in welche Richtung sich die Organisation orientieren sollte. (ch)."
In plain English: two thirds voted for the motion and against homeopathic products remaining on sale in pharmacies. The vote has, however, no binding effect on FIP policy. It is nevertheless likely to determine the direction in which FIP will decide.
I think this is long-overdue (I have been trying to persuade pharmacists to do something like this since ~15 years). I now applaud the FIP for raising the issue. Bravo!
What next?
The vote needs to be translated into policy.
Other healthcare professionals – not least doctors – must follow suit.
Just when I thought I had seen all homeopathy has to offer, here comes this:
THE BRISTOL STOOL CHART AND CORRESPONDING HOMEOPATHIC REMEDIES!
"With mere examination of stool appearance, Homoeopathic remedy can easily be selected…."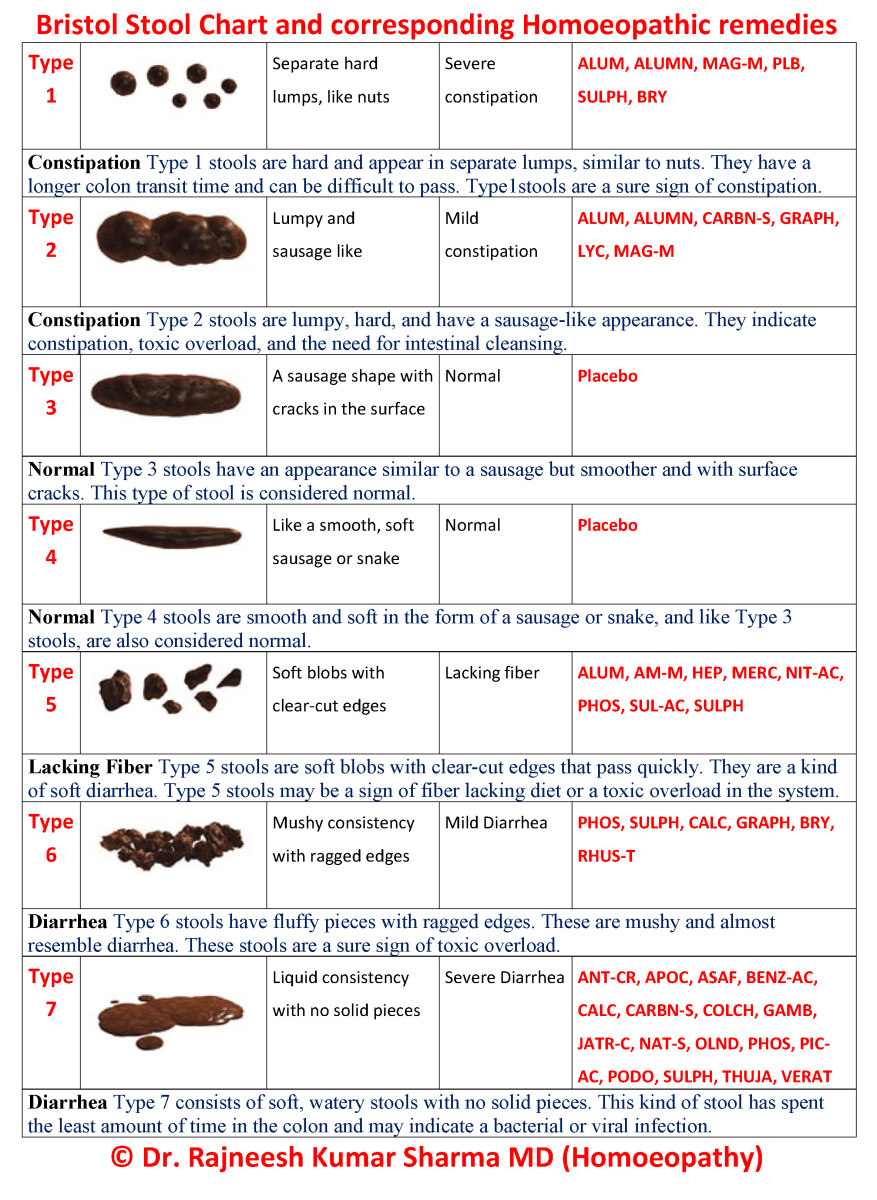 The chart was, according to Wikipedia, developed and proposed for the first time by Dr. Stephen Lewis and Dr. Ken Heaton at the University Department of Medicine, Bristol Royal Infirmary, it was suggested by the authors as a clinical assessment tool in 1997 in the journal Scandinavian Journal of Gastroenterology after a previous prospective study, conducted in 1992 on a sample of the population (838 men and 1,059 women), had shown an unexpected prevalence of defecation disorders related to the shape and type of stool. The authors of the former paper concluded that the form of the stool is a useful surrogate measure of colon transit time. That conclusion has since been challenged as having limited validity for Types 1 and 2; however, it remains in use as a research tool to evaluate the effectiveness of treatments for various diseases of the bowel, as well as a clinical communication aid.
Nobody had meant this chart to get in any way related to homeopathy. I congratulate Dr Sharma to have spotted the connection. Thanks to him, we all can now easily find which homeopathic remedies are the ones we need. The writing is not on the wall, it is in the loo! I think someone should inform the Karolinska Institute in Stockholm – this surely is Nobel Prize material!!!
It's been often said that we live in the age of information.  Everyone can get tons of it at the click of a button. This is undoubtedly true. Sadly, it also means that we are exposed to tons of misinformation, and sometimes it seems to me that we now live in THE AGE OF MISINFORMATION.
Here I will explain the consequences of this phenomenon on two examples that, at first glance, seem to have nothing in common at all (other than being close to my heart):
With homeopathy, the public are confronted by a steady flood of misinformation from the powerful homeopathy lobby who tell us quite incredible untruths about it:
Homeopathy is effective
Homeopathy is harmless
Homeopathy is natural
Homeopathy is holistic
Homeopathy is supported by many of the brightest people
Homeopathy is an important contribution to public health
Homeopathy prevents epidemics
Homeopathy works through quantum effects
Homeopathy is nano-medicine
Homeopathy is energy medicine
Homeopathy works for infants
Homeopathy works in animals
Homeopathy works for plants
Homeopathy is the victim of a propaganda campaign against it
Those who put out this multi-level misinformation pretend that they inform the public. Of course, the public must be informed – how else could they possibly make informed choices? (If this important aim requires a bit of cheating here and there, so be it!)
And the public reacts as directed: they buy homeopathic preparations in droves. The result is that the promoters of homeopathy can claim that THE PUBLIC IS VOTING WITH THEIR FEET! The people have decided, they say, homeopathy is a good thing!
_______________________________________________________________
With Brexit, the public is confronted by a steady flood of misinformation from the powerful Brexit lobby who tell us quite incredible untruths about it:
Brexit is going to give us our country back
Brexit is good for the economy
Brexit will mean more money for the NHS
Brexit will be easy
Brexit will allow us to trade with the rest of the world
Brexit will keep foreigners out
Brexit is going to create jobs
Brexit is good for our industry
Brexit is good for farmers
Brexit is good for the environment
Brexit will free us from the shackles of the EU
Brexit will strengthen our alliance with the US
Those who put out this multi-level misinformation pretend that they inform the public. Of course, the public must be informed – how else could they possibly make informed choices? (If this important aim requires a bit of cheating here and there, so be it!)
And the public reacts as directed: they buy into the lies of the Brexiteers in droves. The result is that the promoters of Brexit can claim that THE PUBLIC HAS VOTED WITH THEIR FEET! The people have decided, they say, Brexit is a good thing!
_____________________________________________________________
Yes, I know, this is a bit simplistic. But the point I am trying to make is surely valid: misinformation not only leads to wrong and often dangerous decision, it is also the way charlatans try to fool us with their circular arguments and justify their blatant lies.
This could (and perhaps should) be a very short post:
I HAVE NO QUALIFICATIONS IN HOMEOPATHY!
NONE!!!
[the end]
The reason why it is not quite as short as that lies in the the fact that homeopathy-fans regularly start foaming from the mouth when they state, and re-state, and re-state, and re-state this simple, undeniable fact.
The latest example is by our friend Barry Trestain who recently commented on this blog no less than three times about the issue:
Falsified? You didn't have any qualifications falsified or otherwise according to this. In quotes as well lol. Perhaps you could enlighten us all on this. Edzard Ernst, Professor of Complementary and Alternative Medicine (CAM) at Exeter University, is the most frequently cited "expert" by critics of homeopathy, but a recent interview has revealed the astounding fact that he "never completed any courses" and has no qualifications in homeopathy. What is more his principal experience in the field was when "After my state exam I worked under Dr Zimmermann at the Münchner Krankenhaus für Naturheilweisen" (Munich Hospital for Natural Healing Methods). Asked if it is true that he only worked there "for half a year", he responded that "I am not sure … it is some time ago"!
I don't know what you got. I'm only going by your quotes above. You didn't pass ANY exams. "Never completed any courses and has no qualifications in Homeopathy." Those aren't my words.
LOL qualification for their cat? You didn't even get a psuedo qualification and on top of that you practiced Homeopathy for 20 years eremember. With no qualifications. You are a fumbling and bumbling Proffessor of Cam? LOL. In fact I think I'll make my cat a proffessor of Cam. Why not? He'll be as qualified as you.
Often, these foaming (and in their apoplectic fury badly-spelling) defenders of homeopathy state or imply that I lied about all this. Yet, it is they who are lying, if they say so. I never claimed that I got any qualifications in homeopathy; I was trained in homeopathy by doctors of considerable standing in their field just like I was trained in many other clinical skills (what is more, I published a memoir where all this is explained in full detail).
In my bewilderment, I sometimes ask my accusers why they think I should have got a qualification in homeopathy. Sadly, so far, I  have not received a logical answer (most of the time not even an illogical one).
So, today I ask the question again: WHY SHOULD I HAVE NEEDED ANY QUALIFICATION IN HOMEOPATHY?
My answers are here:
I consider such qualifications as laughable.  A proper qualification in nonsense is just nonsense!
For practising homeopathy (which I did for a while), I did not need such qualifications; as a licensed physician, I was at liberty to use the treatments I felt to be adequate.
For researching homeopathy (which I did too and published ~120 Medline-listed papers as a result of it), I do not need them either. Anyone can research homeopathy, and some of the most celebrated heroes of homeopathy research (e. g. Klaus Linde and Robert Mathie) do also have no such qualifications.
I am therefore truly puzzled and write this post to give everyone the chance to name the reasons why they feel I needed qualifications in homeopathy.
Please do tell me!
The 'Healing Revolution' began, according to BIO KING's website, more than 25 years ago with the establishment of King Bio. Its founder, Dr. Frank King, was inspired to find the root causes of illness and empower the whole person. He cultivated an interest in developing pure water-based homeopathic medicines – a type of natural product that was not, to his knowledge, being produced anywhere else. Committed to researching and developing this new homeopathic medicine, Dr. King moved to Asheville, North Carolina, and opened King Bio in 1989. For more than 25 years, King Bio's mission has remained true to the empowerment of whole person health, most recently including breakthroughs in whole food dietary supplements. Dr. King's vision for the company has always centered around three core guiding principles: health, wholeness, and innovation.
On their website, BIO KING also explains: Homeopathy … is energy medicine. Rather than going through digestion, homeopathic remedies deliver their messages almost instantly along the body's nerve pathways. Like acupuncture, it works bioenergetically ("bio" means "life," so "bioenergetic" means "life energy"). If the biochemical aspects of the body are like the building blocks of a home, bioenergy is like the invisible electricity that powers it. (A deceased person may have the same biochemical constituents as a living person, but the bioenergy is missing.)
BIO KING is on a mission! To be precise, the mission, as stated on the website, is this:
To provide safe, all-natural medicines without harmful side effects.
To offer affordable natural medicines that help people overcome common health challenges.
To achieve the trust and respect of our customers and uphold the best product quality.
To empower people with the most effective ways to achieve abundant health.
Safe medicines?
Without side-effects?
Trust and respect?
Best product quality?
Dr King has been reported to be voluntarily recalling 32 different infant and kids medicines after they tested positive for a microbial contamination. Use of these products could, it is feared, cause life-threatening infections.
Quite a 'Healing Revolution'!