gullible consumer
Probiotics (live microorganisms for oral consumption) are undoubtedly popular, not least they are being cleverly promoted as a quasi panacea. But are they as safe as their manufacturers try to convince us? A synthesis and critical evaluation of the reports and series of cases on the infectious complications related to the ingestion of probiotics was aimed at finding out.
The authors extensive literature searches located 60 case reports and 7 case series including a total of 93 patients. Fungemia was the most common infectious complications with 35 (37.6%) cases. The genus Saccharomyces was the most frequent with 47 (50.6%) cases, followed by Lactobacillus, Bifidobacterium, Bacillus, Pedioccocus and Escherichia with 26 (27.9%), 12 (12.8%), 5 (5.4%), 2 (2.2%) and 1 (1.1%) case, respectively. Adults over 60 years of age, Clostridium difficile colitis, antibiotic use and Saccharomyces infections were associated with overall mortality. HIV infections, immunosuppressive drugs, solid organ transplantation, deep intravenous lines, enteral or parenteral nutrition were not associated with death.
The authors concluded that the use of probiotics cannot be considered risk-free and should be carefully evaluated for some patient groups.
Other authors have previously warned that individuals under neonatal stages and/or those with some clinical conditions including malignancies, leaky gut, diabetes mellitus, and post-organ transplant convalescence likely fail to reap the benefits of probiotics. Further exacerbating the conditions, some probiotic strains might take advantage of the weak immunity in these vulnerable groups and turn into opportunistic pathogens engendering life-threatening pneumonia, endocarditis, and sepsis. Moreover, the unregulated and rampant use of probiotics potentially carry the risk of plasmid-mediated antibiotic resistance transfer to the gut infectious pathogens. 
And yet another review had concluded that the adverse effects of probiotics were sepsis, fungemia and GI ischemia. Generally, critically ill patients in intensive care units, critically sick infants, postoperative and hospitalized patients and patients with immune-compromised complexity were the most at-risk populations. While the overwhelming existing evidence suggests that probiotics are safe, complete consideration of risk-benefit ratio before prescribing is recommended.
Proponents of probiotics will say that these risks are rare and confined to small groups of particularly vulnerable patients. This may well be so, but in view of the often uncertain benefits of probiotics, the incessant hype and aggressive marketing, I find it nevertheless important to keep these risks in mind.
As with any therapy, the question must be, does this treatment really generate more good than harm?
A few weeks ago, I was interviewed by a journalist who wanted to publish the result in a magazine. He now informed me that his editor decided against it, and the interview thus remained unpublished. I have the journalist's permission to publish it here. The journalist who, in my view, was well-prepared (much better than most), prefers to remain unnamed.
Q: How would you describe yourself?
A: I am a researcher of alternative medicine.
Q: Not a critic of alternative medicine?
A: Primarily, I am a researcher; after all, I have published more Medline-listed research papers on the subject than anyone else on the planet.
Q: You are retired since a few years; why do you carry on working?
A: Mainly because I see a need for a critical voice amongst all the false and often dangerous claims made by proponents of alternative medicine. But also because I enjoy what I am doing. Since I retired, I can focus on the activities I like. There is nobody to tell me what to do and what not to do; the latter happened far too often when I was still head of my research unit.
Q: Fine, but I still do not quite understand what drives you. Who is motivating you to criticise alternative medicine?
A: Nobody. Some people claim I am paid for my current activities. This is not true. My blog actually costs me money. My books never return enough royalties to break even, considering the time they take to write. And for most of my lectures I don't charge a penny.
Q: There are people who find this hard to believe.
A: I know. This just shows how money-orientated they are. Do they want me to publish my tax returns?
Q: Sorry, but I still don't understand your motivation.
A: I guess what motivates me is a sense of responsibility, a somewhat naïve determination to do something good as a physician. I am one of the only – perhaps even THE only – scientist who has researched alternative medicine extensively and who is not a promoter of bogus therapies but voices criticism about them. There are several other prominent and excellent critics of alternative medicine, of course, but they all come 'from the outside'. I come from the inside of the alternative medicine business. This probably gives me a special understanding of this field. In any case, I feel the responsibility to counter-balance all the nonsense that is being published on a daily basis.
Q: What's your ultimate aim?
A: I want to create progress through educating people to think more critically.
Q: Which alternative medicine do you hate most?
A: I do not hate any of them. In fact, I still have more sympathy for them than might be apparent. For my blog, for instance, I constantly search for new research papers that are rigorous and show a positive result. The trouble is, there are so very few of those articles. But when I find one, I am delighted to report about it. No, I do not hate or despise any alternative medicine; I am in favour of good science, and I get irritated by poor research. And yes, I do dislike false claims that potentially harm consumers. And yes, I do dislike it when chiropractors or other charlatans defraud consumers by taking their money for endless series of useless interventions.
Q: I noticed you go on about the risks of alternative medicine. But surely, they are small compared to the risks of conventional healthcare, aren't they?
A: That's a big topic. To make it simple: alternative medicine is usually portrayed as risk-free. The truth, however, is that there are numerous risks of direct and indirect harm; the latter is usually much more important than the former. Crucially, the risk-free image is incongruent with reality. I want to redress this incongruence. And as to conventional medicine: sure, it can be much more harmful. But one always has to see this in relation to the proven benefit. Chemotherapy, for instance, can kill a cancer patient, but more likely it saves her life. Homeopathic remedies cannot kill you, but employed as an alternative to an effective cancer treatment, homeopathy will certainly kill you.
Q: Homeopathy seems to be your particular hobby horse.
A: Perhaps. This is because it exemplifies alternative medicine in several ways, and because I started my alternative 'career' in a homeopathic hospital, all those years ago.
Q: In what way is homeopathy exemplary?
A: Its axioms are implausible, like those of many other alternative modalities. The clinical evidence fails to support the claims, like with so many alternative therapies. And it is seemingly safe, yet can do a lot of harm, like so many other treatments.
Q: You have no qualification in homeopathy, is that right?
A: No, I have no such qualifications. And I never said so. When I want to tease homeopaths a little, I state that I am a trained homeopath; and that is entirely correct.
Q: In several countries, homeopathy has taken spectacular hits recently. Is that your doing?
A: No, I don't think so. But I do hope that my work has inspired the many dedicated activists who are currently protesting against the reimbursement of homeopathy by the public purse in the UK, Germany, France, Spain, etc.
Q: You often refer to medical ethics; why is that?
A: Because, in the final analysis, many of the questions we already discussed are really ethical issues. And in alternative medicine, few people have so far given the ethical dimensions any consideration. I think ethics are central to alternative medicine, so much so that I co-authored an entire book on this topic this year.
Q: Any plans for the future?
A: Plenty.
Q: Can you tell me more?
A: I will publish another book in 2019 with Springer. It will be a critical evaluation of precisely 150 different alternative modalities. I am thinking of writing yet another book, but have not yet found a literary agent who wants to take me on. I have been offered a new professorship at a private University in Vienna, and am hesitant whether to accept or not. I have been invited to give a few lectures in 2019 and hope to receive more invitations. Last not least, I work almost every day on my blog.
Q: More than enough for a retiree, it seems. Thank you for your time.
A: My pleasure.
Many chiropractors tell new mothers that their child needs chiropractic adjustments because the birth is in their view a trauma for the new-born that causes subluxations of the baby's spine. Without expert chiropractic intervention, they claim, the poor child risks serious developmental disorders.
This article (one of hundreds) explains it well: Birth trauma is often overlooked by doctors as the cause of chronic problems, and over time, as the child grows, it becomes a thought less considered. But the truth is that birth trauma is real, and the impact it can have on a mother or child needs to be addressed. Psychological therapy, physical therapy, chiropractic care, acupuncture, and other healing techniques should all be considered following an extremely difficult birth.
And another article makes it quite clear what intervention is required: Caesarian section or a delivery that required forceps or vacuum extraction procedures, in-utero constraint, an unusual presentation of the baby, and many more can cause an individual segment of the spine or a region to shift from its normal healthy alignment. This 'shift' in the spine is called a Subluxation, and it can happen immediately before, during, or after birth.
Thousands of advertisements try to persuade mothers to take their new-born babies to a chiropractor to get the problem sorted which chiropractors often call KISS (kinetic imbalance due to suboccipital strain-syndrome), caused by intrauterine-constraint or the traumas of birth.
This abundance of advertisements and promotional articles is in sharp contrast with the paucity of scientific evidence.
A review of 1993 concluded that birth trauma remains an underpublicized and, therefore, an undertreated problem. There is a need for further documentation and especially more studies directed toward prevention. In the meantime, manual treatment of birth trauma injuries to the neuromusculoskeletal system could be beneficial to many patients not now receiving such treatment, and it is well within the means of current practice in chiropractic and manual medicine.
A more critical assessment of … concluded that, given the absence of evidence of beneficial effects of spinal manipulation in infants and in view of its potential risks, manual therapy, chiropractic and osteopathy should not be used in infants with the kinetic imbalance due to suboccipital strain-syndrome, except within the context of randomised double-blind controlled trials.
So, what follows from all this?
How about this?
Chiropractors' assumption of an obligatory birth trauma that causes subluxation and requires spinal adjustments is nothing more than a ploy by charlatans for filling their pockets with the cash of gullible parents.
The DAILY MAIL is by no means my favourite paper (see, for instance, here, here and here). This week, the Mail published another article which, I thought, is worth mentioning. The Mail apparently asked several UK doctors which dietary supplements they use for their own health (no mention of the number they had to approach to find any fitting into this category). The results remind me of a statement by the Permanent Secretary, Sir Humphrey Appleby in the famous TV series YES MINISTER: "if nobody knows anything then nobody can accuse anybody else of knowing nothing, and so the one thing we do know is that nobody knows anything, and that's better than us knowing nothing".
Below, I present the relevant quotes by the doctors who volunteered to be interviewed and add the most up-to date evidence on each subject.
Professor Christopher Eden, 57, is a consultant urological surgeon at the Royal Surrey County Hospital in Guildford.
"I take a 1g supplement of vitamin C daily. (The recommended daily amount, or RDA, is 40mg, which is equivalent to a large orange.) This amount of vitamin C makes the urine mildly acidic and increases the levels of an antimicrobial protein called siderocalin, found naturally in urine, which makes the environment less favourable to bad bacteria and reduces the risk of infection."
Ascorbic acid (vitamin C) cannot be recommended for the prevention of urinary tract infections.
Louise Newson, 48, is a GP and menopause specialist based in Stratford-upon-Avon.
"Women going through the menopause or perimenopause may get bowel symptoms such as bloating which are due to hormone imbalances affecting the balance of gut bacteria. Probiotic (good bacteria) supplements correct this imbalance and are also linked to levels of the brain chemical serotonin, which can improve mood. This is important during the menopause. I make sure I take a probiotic daily, specifically one with a high bacteria count including Lactobacillus acidophilus. I look for one that has to be kept in the fridge, as this is a sign of a quality product."
For … probiotics, prebiotics, acupuncture, homeopathy and DHEA-S, randomized, placebo-controlled trials are scarce and the evidence is unconvincing.
Professor Tony Kochhar, 45, is a consultant orthopaedic surgeon at London Bridge Hospital.
"Having taken statins for a couple of years, I developed tendonitis, inflammation in the foot, which caused pain around the outside of it. My GP told me to stop taking the statins, which helped, and I now control my condition with diet. I also take a supplement of collagen (a natural protein found in the tendons) to build up tendon structure and reduce pain. I take two 1,200mg collagen supplements daily and it has really helped. Within two weeks of starting them, my pain had gone."
… it is not possible to draw any definitive raccomendations on the use of nutraceutical supplementation in tendinopathies.
Dr Anne Rigg, 51, is a consultant oncologist at London Bridge Hospital.
"One theory is that vitamin D may help control normal breast cell growth and may even stop breast cancer cells from growing. The body creates vitamin D from sunlight on the skin when we are outdoors, but because of the British weather and the rightful use of sunscreen, it's easy to become deficient. I take the recommended daily dose of 10mcg. [Fatty fish such as salmon and mackerel are good sources, too, but you'd have to eat them in large amounts to get the recommended daily dosage.] It's vital not to overdose, as it can increase the risk of kidney stones: the vitamin helps absorb calcium from the diet, which can build up into stones."
Supplementation with vitamin D did not result in a lower incidence of invasive cancer…
Dr Rob Hogan, 62, is an optometrist at iCare Consulting.
"I'm aware, too, of the increased risk of age-related macular degeneration (AMD), a leading cause of sight loss in people over 60. This is where the small central portion of the retina (the macula) at the back of the eye deteriorates. So I take MacuShield, a supplement which, studies have found, can help improve vision and keep the back of the eye healthy. It contains a mixture of natural compounds — lutein, zeaxanthin and meso-zeaxanthin — which are antioxidants that have been found in studies to improve vision and eye health. I take one a day, usually with a meal."
In early AMD, macular pigment can be augmented with a variety of supplements, although the inclusion of MZ may confer benefits in terms of panprofile augmentation and in terms of contrast sensitivity enhancement.
Dr Milad Shadrooh, 37, is a dentist in Basingstoke, Hampshire.
"I take a varied supplement daily to maintain good health and, specifically, healthy teeth. It contains calcium (an adult's RDA is 700mg, which is equivalent to three 200ml cups of milk) as most people, including me, don't get enough in their diet."
… calcium … supplements that are used to prevent or treat osteoporosis appear to have beneficial effects on tooth retention as well.
Dr Joanna Gach, 49, is a consultant dermatologist at University Hospitals Coventry and Warwickshire NHS Trust.
"Every so often, I take a multivitamin capsule containing zinc, selenium and biotin. These are all helpful for sorting out my brittle nails and maintaining healthy hair."
… no evidence supports the use of vitamin supplementation with vitamin E, vitamin C (ascorbic acid), vitamin A, retinoids, retinol, retinal, silicon, zinc, iron, copper, selenium, or vitamin B12 (Cyanocobalamin) for improving the nail health of well-nourished patients or improving the appearance of nails affected by pathologic disease.
Luke Cascarini, 47, is a consultant maxillofacial surgeon at Guy's and St Thomas' Hospital in London.
"I take a daily vitamin drink containing a high-dose vitamin B complex, which is necessary for good oral health."
The published research reveals only a possible relationship between vitamins and minerals and periodontal disease. Vitamin E, zinc, lycopene and vitamin B complex may have useful adjunct benefits. However, there is inadequate evidence to link the nutritional status of the host to periodontal inflammation. More randomized controlled trials are needed to explore this association.
Dr Jenni Byrom, 44, is a consultant gynaecologist at Birmingham's Women's and Children's Hospital.
"I take evening primrose oil for premenstrual symptoms such as breast pain. I take 1g of evening primrose oil daily and have found it really makes a difference."
Evening primrose oil has not been shown to improve breast pain, and has had its licence withdrawn for this indication in the UK owing to lack of efficacy (it is still available to purchase without prescription).
Dr Sarah Myhill, 60, is a GP based in Wales.
"I take 10g of vitamin C dissolved in a glass of water every day before I start my shift — and I never get colds. I believe that high doses of vitamin C can kill bad microbes on contact — or, at least, help reduce the severity of infections such as colds and sore throats."
… vitamin C has minimal or no impact on the duration of common cold or in the number of days at home or out of work.
Jonathan Dearing, 49, is a consultant orthopaedic surgeon specialising in sports injuries at BMI Carrick Glen Hospital in Ayrshire.
"I carry a vitamin D oral spray and use it after exercise, as it helps improve muscle recovery by regulating various processes that help them repair and grow."
… supraphysiological dosages of vitamin D3 have potential ergogenic effects on the human metabolic system and lead to multiple physiological enhancements. These dosages could increase aerobic capacity, muscle growth, force and power production, and a decreased recovery time from exercise. These dosages could also improve bone density. However, both deficiency (12.5 to 50 nmol/L) and high levels of vitamin D (>125 nmol/L) can have negative side effects, with the potential for an increased mortality. Thus, maintenance of optimal serum levels between 75 to 100 nmol/L and ensuring adequate amounts of other essential nutrients including vitamin K are consumed, is key to health and performance. Coaches, medical practitioners, and athletic personnel should recommend their patients and athletes to have their plasma 25(OH)D measured, in order to determine if supplementation is needed. Based on the research presented on recovery, force and power production, 4000-5000 IU/day of vitamin D3 in conjunction with a mixture of 50 mcg/day to 1000 mcg/day of vitamin K1 and K2 seems to be a safe dose and has the potential to aid athletic performance. Lastly, no study in the athletic population has increased serum 25(OH)D levels past 100 nmol/L, (the optimal range for skeletal muscle function) using doses of 1000 to 5000 IU/day. Thus, future studies should test the physiological effects of higher dosages (5000 IU to 10,000 IU/day or more) of vitamin D3 in combination with varying dosages of vitamin K1 and vitamin K2 in the athletic population to determine optimal dosages needed to maximize performance.
Dr Glyn Thomas, 46, is a cardiologist and cardiac electrophysiologist at the Bristol Heart Institute.
"I take a magnesium supplement as it can help address an extra heartbeat — something I suffered with for 20 years."
Whether magnesium supplementation could have a role in the prevention of AF in the community has not been tested.
_____________________________________________________
Firstly, let me congratulate those colleagues who actually might have got it right:
Dr Hogan
Dr Shadrooh
Mr Cascarini
Mr Dearing
I say 'MIGHT HAVE GOT IT RIGHT' because, even in their cases, the evidence is far from strong and certainly not convincing.
Secondly, let me commiserate those who spend their money on unproven supplements. I find it sad that this group amounts to two thirds of all the 'experts' asked.
Thirdly, let me remind THE DAILY MAIL of what I posted recently:  journalists to be conscious of their responsibility not to mislead the public and do more rigorous research before reporting on matters of health. Surely, the Mail did us no favour in publishing this article. It will undoubtedly motivate lots of gullible consumers to buy useless or even harmful supplements.
And lastly, let me remind all healthcare professionals that promoting unproven treatments to the unsuspecting public is not ethical.
According to the 2014 European Social Survey, Spain is relatively modest when it comes to using alternative therapies. While countries such as Austria, Denmark, Estonia, Finland, France, Germany, Lithuania, Sweden and Switzerland all have 1-year prevalence figures of over 30%, Spain only boasts a meagre 17%. Yet, its opposition to bogus treatments has recently become acute.
In 2016, it was reported that a master's degree in homeopathic medicine at one of Spain's top universities has been scrapped. Remarkably, the reason was "lack of scientific basis". A university spokesman confirmed the course was being discontinued and gave three main reasons: "Firstly, the university's Faculty of Medicine recommended scrapping the master's because of the doubt that exists in the scientific community. Secondly, a lot of people within the university – professors and students across different faculties – had shown their opposition to the course. Thirdly, the postgraduate degree in homeopathic medicine is no longer approved by Spain's Health Ministry."
A few weeks ago, I had the great pleasure of being invited to a science festival in Bilbao and was impressed by the buoyant sceptic movement in Spain. At the time, two of my books were published in Spanish and received keen interest by the Spanish press.
And now, it has been reported that Spain's Ministry of Health has released a list of only 2,008 homeopathic products whose manufacturers will have to apply for an official government license for if they wish to continue selling them. The homeopathic producers have until April 2019 to prove that their remedies actually work, which may very well completely slash homeopathic products in Spain.
It's the latest blow for Spain's homeopathy industry, once worth an estimated €100 million but which has seen a drop in public trust and therefore sales of around 30 percent in the last five years. Spain's Health Ministry stopped allowing homeopathy treatments from being prescribed as part of people's social security benefits, along with acupuncture, herbal medicine and body-based practices such as osteopathy, shiatsu or aromatherapy.
"Homeopathy is an alternative therapy that has not shown any scientific evidence that it works" Spanish Minister of Health Maria Luisa Carcedo is quoted as saying in La Vanguardia in response to the homeopathic blacklist. "I'm committed to combatting all forms of pseudoscience."
Even though illegal and unethical, many remedies used in Traditional Chinese Medicine (TCM) still contain animal parts. This fact has long concerned critics. Not only is there no evidence that these ingredients have any positive health effects, they also endanger the survival of endangered species. In the past, China has paid lip service to conservation and evidence. However, even these half-hearted pronouncements seem to be a thing of the past.
China's State Council is now replacing its 1993 ban on the trade of tiger bones and rhino horn. Horns of rhinos or bones of tigers that were bred in captivity can hence force be used "for medical research or clinical treatment of critical illnesses" under the new rules. The fact that no critical illness responds to either of these remedies seems to matter little.  Grave concern has therefore been voiced by the World Wildlife Fund (WWF) over China's announcement.
"It is deeply concerning that China has reversed its 25 year old tiger bone and rhino horn ban, allowing a trade that will have devastating consequences globally", said Margaret Kinnaird, WWF Wildlife Practice Leader. "Trade in tiger bone and rhino horn was banned in 1993. The resumption of a legal market for these products is an enormous setback to efforts to protect tigers and rhinos in the wild. China's experience with the domestic ivory trade has clearly shown the difficulties of trying to control parallel legal and illegal markets for ivory. Not only could this lead to the risk of legal trade providing cover to illegal trade, this policy will also stimulate demand that had otherwise declined since the ban was put in place."
Both tiger bone and rhino horn were removed from the TCM pharmacopeia in 1993, and the World Federation of Chinese Medicine Societies released a statement in 2010 urging members not to use tiger bone or any other parts from endangered species. Even if restricted to antiques and use in hospitals, the WWF argue, this trade would increase confusion by consumers and law enforcers as to which products are and are not legal, and would likely expand the markets for other tiger and rhino products. "With wild tiger and rhino populations at such low levels and facing numerous threats, legalized trade in their parts is simply too great a gamble for China to take. This decision seems to contradict the leadership China has shown recently in tackling the illegal wildlife trade, including the closure of their domestic ivory market, a game changer for elephants warmly welcomed by the global community," Kinnaird added.
WWF calls on China to set a clear plan and timeline to close existing captive tiger breeding facilities used for commercial purposes. Such tiger farms pose a high risk to wild tiger conservation by complicating enforcement and increasing demand in tiger products.
China's announcement comes at the precise moment when we learnt from the 2018 edition of the Living Planet Report that, between 1970 and 2014, there was 60% decline, on average, among 16,700 wildlife populations around the world. The Living Planet report, issued every two years to track global biodiversity, is based on the Living Planet Index, put out every two years since 1998 in collaboration with the Zoological Society of London and based on international databases of wildlife populations. The two previous reports, in 2014 and 2016, found wildlife population declines of 50% and 58%, respectively, since 1970.
Really?
For dogs?
Yes, one (of many) website explains that dogs benefit from acupuncture in 5 different ways:
1. Pain management is one of the most common uses for acupuncture, often in conjunction with a more traditional treatment plan. Strong medical treatments like chemo, which can cause discomfort, are often paired with acupuncture to help make a pet more comfortable and able to fight the illness.
2. Musculoskeletal problems such as arthritis, hip dysplasia, or nerve injuries can respond to acupuncture. It is often employed during rehabilitation after an injury. Carefully monitoring a healing pet is important; without the feeling of pain, a dog can re-injure him or herself with over-activity.
3. Skin problems like allergic dermatitis, granulomas, or hot spots may respond well to acupuncture treatment because increased circulation can improve healing, while pain reduction will reduce a dog's overgrooming or itching responses.
4. Gastrointestinal problems like nausea and diarrhea can be aided by the increased blood flow from acupuncture. It may also help normalize digestive activity by stimulating digestive secretions.
5. Respiratory problems like asthma and allergies can benefit from the immune-calming, anti-inflammatory capabilities of acupuncture.
But all of this is based on 'experience' (or probably more accurately, the wishful thinking of those who earn money by sticking needles into animals), not evidence!
So, what does the evidence tell us about acupuncture for dogs?
The answer is: next to nothing; there are almost no studies. And this is why this recent paper could be important.
This new study was aimed at quantifying changes in gastric and intestinal emptying times in the conscious dog following gastrointestinal acupoint stimulation.
In a randomised, blinded crossover study, six dogs were fed 30×1.5 mm barium-impregnated polyethylene spheres and underwent: (1) no acupuncture (Control); (2) stimulation of target points PC6 and ST36 (Target) and (3) stimulation of non-target points LU7 and BL55 (Sham). Abdominal radiographs were assessed immediately after feeding the spheres and every hour for 12 hours and their number in the stomach and large intestines was counted.
The number of barium-impregnated polyethylene spheres found distal to the stomach was less in the Target group compared to the Control and Sham groups between hours 2 and 4, but no differences between groups were seen for the remainder of the treatment period. The number of spheres found within the colon/rectum was less in the Target group compared to the Control and Sham groups between hours 4 and 6, and compared to the Sham group only at hour 7 but no differences between groups were seen after hour 8.
The authors concluded that acupuncture targeted at the gastrointestinal tract of dogs was associated briefly with slowed gastric emptying and gastrointestinal transit time. This foundational study lays the groundwork for additional studies of acupuncture effects associated with altered physiologic states.
There you have it: the proof has been presented that acupuncture works in dogs; and if it works in animals, it cannot be a placebo!
Hold on, not so quick!
This was a tiny study, and the effects are small, only temporary and of questionable relevance. It is possible (I'd say even likely) that the finding was entirely coincidental.
I think, I wait until we have more and better data.
For years, Margaret McCartney, a GP from Scotland, wrote a weekly column in the BMJ. It was invariably well-worth reading. Recently, she regrettably ended it by publishing her last article entitled  A summary of four and a half years of columns in one column. In it, she makes 36 short points. They are all poignant, but the one that made me think most (probably because it is relevant to my work and this blog) reads as follows:
Many people seek to make money from those who don't understand science. Doctors should call out bollocksology when they see it.
On this blog, I have often discussed people who make money from consumers and patients who are unable to detect the quackery they are being sold. No doubt, the most famous case of me doing this was when, in 2009, I criticised Prince Charles and his 'Dodgy Originals Detox Tincture'. It made many headlines; the BBC, for instance, reported:
Edzard Ernst, the UK's first professor of complementary medicine, said the Duchy Originals detox tincture was based on "outright quackery".
There was no scientific evidence to show that detox products work, he said.
Duchy Originals says the product is a "natural aid to digestion and supports the body's elimination processes".
But Professor Ernst of Peninsula Medical School said Prince Charles and his advisers appeared to be deliberately ignoring science, preferring "to rely on 'make-believe' and superstition".
He added: "Prince Charles thus financially exploits a gullible public in a time of financial hardship."
Marketed as Duchy Herbals' Detox Tincture, the artichoke and dandelion mix is described as "a food supplement to help eliminate toxins and aid digestion".
It costs £10 for a 50ml bottle…
At the time, I got a right blocking from my dean, Prof John Tooke, for my audacity. As far as I could see, there was almost no support from the UK medical profession. Since then, the exploitation of the public by quacks has not diminished; on the contrary, I have the feeling that it is thriving. And are doctors calling out bollocksology left right and centre? No, they are not!
Of course, some do occasionally raise their voices (and some do it even regularly). But mostly, it is the group of non-medical sceptics who open their mouths and try their best to prevent harm. Yet, I wholly agree with my friend Margret: doctors have a responsibility and must do more.
And why don't they?
I think, there are several reasons for their inactivity:
doctors are frightfully busy,
doctors often don't know how much bollocksology is out there,
doctors don't (want to) see how dangerous much of this bollocksology is,
doctors fail to realise that it would be their ethical responsibility to speak out against bollocksology,
some doctors do not seem to understand science either,
some doctors are active bollocksologists themselves,
some doctors simply don't care.
This clearly is a depressing state of affairs! But, at the same time, it also is a cheerful occasion for me to thank all those doctors who are the laudable exceptions, who do care, who do think critically, who see their ethical responsibility, and who do something about the never-ending flood of bollocksology endangering their patients' health and wealth.
Just when I thought I had seen all homeopathy has to offer, here comes this:
THE BRISTOL STOOL CHART AND CORRESPONDING HOMEOPATHIC REMEDIES!
"With mere examination of stool appearance, Homoeopathic remedy can easily be selected…."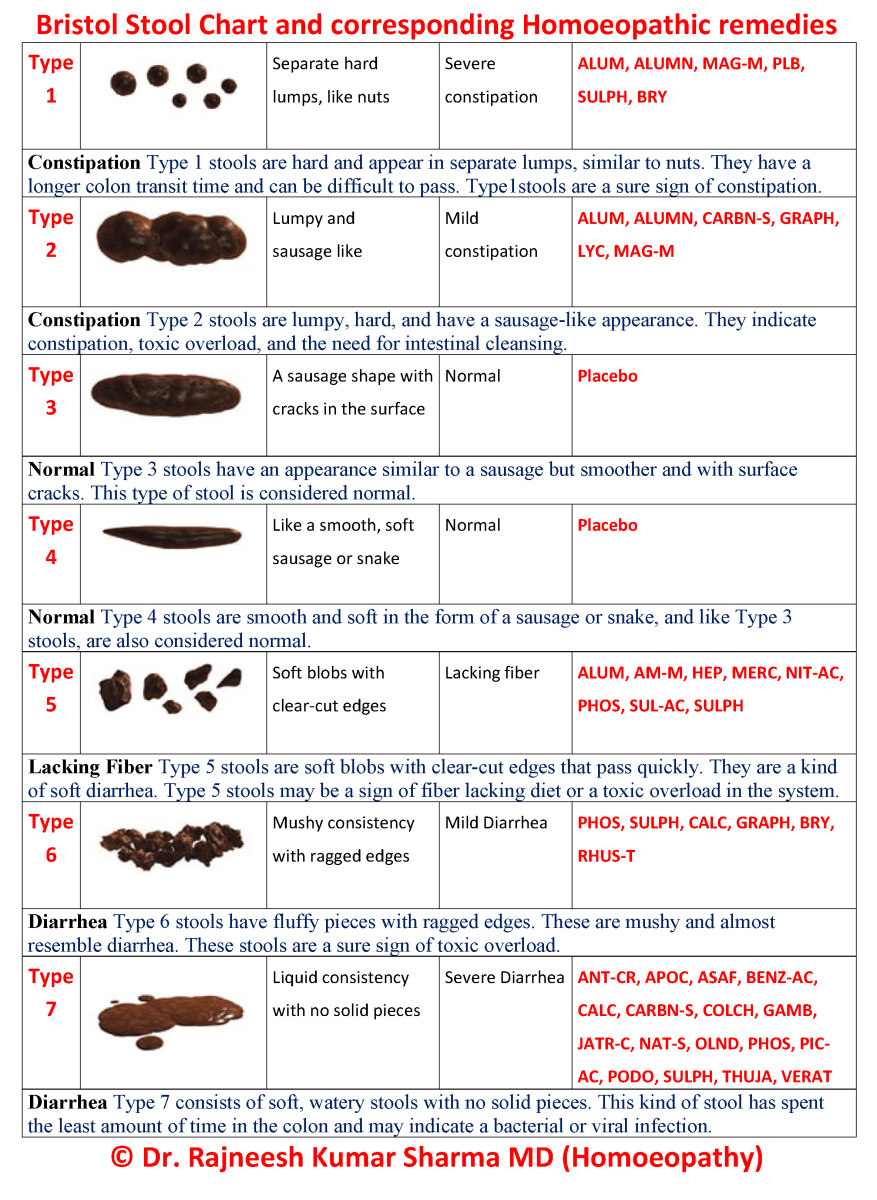 The chart was, according to Wikipedia, developed and proposed for the first time by Dr. Stephen Lewis and Dr. Ken Heaton at the University Department of Medicine, Bristol Royal Infirmary, it was suggested by the authors as a clinical assessment tool in 1997 in the journal Scandinavian Journal of Gastroenterology after a previous prospective study, conducted in 1992 on a sample of the population (838 men and 1,059 women), had shown an unexpected prevalence of defecation disorders related to the shape and type of stool. The authors of the former paper concluded that the form of the stool is a useful surrogate measure of colon transit time. That conclusion has since been challenged as having limited validity for Types 1 and 2; however, it remains in use as a research tool to evaluate the effectiveness of treatments for various diseases of the bowel, as well as a clinical communication aid.
Nobody had meant this chart to get in any way related to homeopathy. I congratulate Dr Sharma to have spotted the connection. Thanks to him, we all can now easily find which homeopathic remedies are the ones we need. The writing is not on the wall, it is in the loo! I think someone should inform the Karolinska Institute in Stockholm – this surely is Nobel Prize material!!!
It's been often said that we live in the age of information.  Everyone can get tons of it at the click of a button. This is undoubtedly true. Sadly, it also means that we are exposed to tons of misinformation, and sometimes it seems to me that we now live in THE AGE OF MISINFORMATION.
Here I will explain the consequences of this phenomenon on two examples that, at first glance, seem to have nothing in common at all (other than being close to my heart):
With homeopathy, the public are confronted by a steady flood of misinformation from the powerful homeopathy lobby who tell us quite incredible untruths about it:
Homeopathy is effective
Homeopathy is harmless
Homeopathy is natural
Homeopathy is holistic
Homeopathy is supported by many of the brightest people
Homeopathy is an important contribution to public health
Homeopathy prevents epidemics
Homeopathy works through quantum effects
Homeopathy is nano-medicine
Homeopathy is energy medicine
Homeopathy works for infants
Homeopathy works in animals
Homeopathy works for plants
Homeopathy is the victim of a propaganda campaign against it
Those who put out this multi-level misinformation pretend that they inform the public. Of course, the public must be informed – how else could they possibly make informed choices? (If this important aim requires a bit of cheating here and there, so be it!)
And the public reacts as directed: they buy homeopathic preparations in droves. The result is that the promoters of homeopathy can claim that THE PUBLIC IS VOTING WITH THEIR FEET! The people have decided, they say, homeopathy is a good thing!
_______________________________________________________________
With Brexit, the public is confronted by a steady flood of misinformation from the powerful Brexit lobby who tell us quite incredible untruths about it:
Brexit is going to give us our country back
Brexit is good for the economy
Brexit will mean more money for the NHS
Brexit will be easy
Brexit will allow us to trade with the rest of the world
Brexit will keep foreigners out
Brexit is going to create jobs
Brexit is good for our industry
Brexit is good for farmers
Brexit is good for the environment
Brexit will free us from the shackles of the EU
Brexit will strengthen our alliance with the US
Those who put out this multi-level misinformation pretend that they inform the public. Of course, the public must be informed – how else could they possibly make informed choices? (If this important aim requires a bit of cheating here and there, so be it!)
And the public reacts as directed: they buy into the lies of the Brexiteers in droves. The result is that the promoters of Brexit can claim that THE PUBLIC HAS VOTED WITH THEIR FEET! The people have decided, they say, Brexit is a good thing!
_____________________________________________________________
Yes, I know, this is a bit simplistic. But the point I am trying to make is surely valid: misinformation not only leads to wrong and often dangerous decision, it is also the way charlatans try to fool us with their circular arguments and justify their blatant lies.