gullible consumer
I stumbled over an article entitled 'The myths of homeopathy: Resounding answers'. I thought it was great fun, so much so, that I copied it below – not just once but twice. The second time I took the liberty of replacing the little porkies told by homeopaths with the truth.
THE ORIGINAL
Homeopathic medicines are not placebos! Little "pellets" of sugar cannot have an effect!
Of course, the sugar in homeopathic pellets doesn't have any effect. This is why we also have tablets and drops that contain homeopathic active substances.
The sugar is simply a medium for these active substances. The important element is what has been added to the sugar – the active ingredient!
As homeopathic remedies have very slow action, they cannot be used to treat acute illnesses!
This is incorrect. You can successfully use homeopathy in acute circumstances such as infections, fevers and colds.
Homeopathy seems to be a kind of magic!
Homeopathy is not magic! Homeopathy is a field of medicine that has the capacity to heal, but if course, it has its limits, just like any other medicine, including conventional medicine.
To give you a clear example – it's unlikely that homeopathy will replace a surgical intervention.
During homeopathic treatment you have to follow a strict diet!
Well, it's not such a bad thing…but of course, you need to eat healthily and avoid smoking, drinking alcohol and coffee.
In some cases you can't eat onion or garlic as they contain sulphur, which is a homeopathic remedy in itself. All of these things have little to do with a strict diet.
Diabetes sufferers can't use homeopathic remedies!
This is not true. The amount of sugar in the pellets is negligible. These homeopathic pellets could even be taken on a daily basis. The foods we eat contain much more sugar, even those that are especially for diabetics.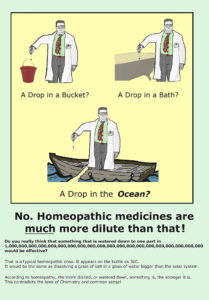 MY CORRECTED VERSION
Homeopathic medicines are not placebos! Little "pellets" of sugar cannot have an effect!
Of course, the sugar in homeopathic pellets doesn't have any effect. And the drops added also contain no active substances.
In other words, there is no active ingredient!
As homeopathic remedies have very slow action, they cannot be used to treat acute illnesses!
This is correct. You cannot successfully use homeopathy in acute circumstances such as infections, fevers and colds. In fact, you cannot use it to cure any condition, chronic or acute.
Homeopathy seems to be a kind of magic!
Homeopathy is not magic! It relies on the placebo and other non-specific effects, and that is no magic.
During homeopathic treatment you have to follow a strict diet!
Hahnemann gave very clear instructions to avoid a whole range of things while taking homeopathic remedies – otherwise, they don't work, he claimed. This is as wrong as everything else Hahnemann said about homeopathy: these remedies don't work whatever you do.
Diabetes sufferers can't use homeopathic remedies!
This is not true. The amount of sugar in the pellets is negligible. These homeopathic pellets could even be taken on a daily basis. The foods we eat contain much more sugar, even those that are especially for diabetics. But that does, of course, not mean that diabetics ought to take homeopathic remedies. There is no reason why they should; these remedies are pure placebos.
__________________________________________________________________________
Few people reading these lines will be surprised that the 'resounding answers' turn out to be resounding lies. And what I above called 'great fun', turns out to be a serious deception.
The fascinating thing here is, I think, the way homeopaths try to mislead the public: one seemingly innocent untruth about the 'active substance' is used as the basis for an entire house of cards. It tumbles at the slightest attempt to provide the facts. Sadly, many consumers do not know the facts and are therefore prone to fall victim of these resounding lies.
There is perhaps not a law against such lies, but there certainly are moral and ethical principles that must not be violated:
TELLING LIES OF THIS NATURE IS UNETHICAL AND ENDANGERS THE HEALTH OF THOSE WHO DO NOT KNOW THE FACTS.
Why  do most alternative practitioners  show such dogged determination not to change their view of the efficacy of their therapy, even if  good evidence shows that it is a placebo? This is the question that I have been pondering for some time. I have seen many doctors change their mind about this or that treatment in the light of new evidence. In fact, I have not seen one who has not done so at some stage. Yet I have never seen an alternative therapist change his/her mind about his/her alternative therapy. Why is that?
You might say that the answers are obvious:
because they have heavily invested in their therapy, both emotionally and financially;
because their therapy has 'stood the test of time';
because they believe what they were taught;
because they are deluded, not very bright, etc.;
because they need to earn a living.
All of these reasons may apply. But do they really tell the whole story? While contemplating about this question, I thought of something that had previously not been entirely clear to me: they simply KNOW that the evidence MUST be wrong.
Let me try to explain.
Consider an acupuncturist (I could have chosen almost any other type of alternative practitioner) who has many years of experience. He has grown to be a well-respected expert in the world of acupuncture. He sits on various committees and has advised important institutions. He knows the literature and has treated thousands of patients.
This experience has taught him one thing for sure: his patients do benefit from his treatment. He has seen it happening too many times; it cannot be a coincidence. Acupuncture works, no question about it.
And this is also what the studies tell him. Even the most sceptical scientist cannot deny the fact that patients do get better after acupuncture. So, what is the problem?
The problem is that sceptics say that this is due to a placebo effect, and many studies seem to confirm this to be true. Yet, our acupuncturist completely dismisses the placebo explanation.
Why?
Because he has heavily invested in their therapy? Perhaps.
Because acupuncture has 'stood the test of time'? Perhaps.
Because he believes what he has been taught? Perhaps.
Because he is deluded, not very bright, etc.? Perhaps.
Because he needs to earn a living? Perhaps.
But there is something else.
He has only ever treated his patients with acupuncture. He has therefore no experience of real medicine, or other therapeutic options. He has no perspective. Therefore, he does not know that patients often get better, even if they receive an ineffective treatment, even if they receive no treatment, and even if they receive a harmful treatment. Every improvement he notes in his patients, he relates to his acupuncture. Our acupuncturist never had the opportunity to learn to doubt cause and effect in his clinical routine. He never had to question the benefits of acupuncture. He never had to select from a pool of therapies the optimal one, because he only ever used acupuncture.
It is this lack of experience that never led him to think critically about acupuncture. He is in a similar situation as physicians were 200 years ago; they only (mainly) had blood-letting, and because some patients improved with it, they had no reason to doubt it. He only ever saw his successes (not that all his patients improved, but those who did not, did not return). He simply KNOWS that acupuncture works, because his own, very limited experience never forced him to consider anything else. And because he KNOWS, the evidence that does not agree with his knowledge MUST be wrong.
I am of course exaggerating and simplifying in order to make a point. And please don't get me wrong.
I am not saying that doctors cannot be stubborn. And I am not saying that all alternative practitioners have such limited experience and are unable to change their mind in the light of new evidence. However, I am trying to say that many alternative practitioners have a limited perspective and therefore find it impossible to be critical about their own practice.
If I am right, there would be an easy (and entirely alternative) cure to remedy this situation. We should sent our acupuncturist to a homeopath (or any other alternative practitioner whose practice he assumes to be entirely bogus) and ask him to watch what kind of therapeutic success the homeopath is generating. The acupuncturist would soon see that it is very similar to his own. He would then have the choice to agree that highly diluted homeopathic remedies are effective in curing illness, or that the homeopath relies on the same phenomenon as his own practice: placebo.
Sadly, this is not going to happen, is it?
Homeopaths are not generally known for the reliability of their recommendations. This advice by the UK Society of Homeopaths (SoH) was emailed to me a few days ago (how on earth did they know I was on holiday?). It is just too weird and wonderful – I cannot resist the temptation of showing it to you:
START OF QUOTE
Off on holiday? Whether you're going abroad or 'staycationing', keep these remedies handy to tackle a range of minor ailments. We suggest 30c potencies for all remedies, using every 30- 90 minutes, two or three times depending on the severity of the condition. Always seek medical help for anything more than a minor injury or illness.
Aconite Great for shock, such as from fright, bad news or after having a fall. Also good for the onset of fever after exposure to acute cold, wind or heat.
Apis For bee or wasp stings and any allergic reaction which causes rapid swelling, redness and pain and where the affected area is puffy, white or rosy, feels hot and is better for cold compresses.
Arnica The classic remedy for trauma, injury and bruising. The typical arnica patient will tell you that they are fine but may well be confused or in shock. Also useful for fractures, strains after exertion such as lifting heavy objects and the early stages of a black eye and for jetlag.
Arsenicum This is a great remedy for food poisoning, especially from meat. The person will be very anxious and not easily pacified. The pains are often burning. Vomiting and diarrhoea accompanied by chills, exhaustion, and restless.
Belladonna Great for heatstroke or exhaustion, along with appropriate cooling and rehydration therapy, and for acute fevers or inflammations, which come on suddenly and lead to throbbing pain, redness and swelling. The skin is hot and red and the face flushed but, at the same time, the person can feel chilly and want to be covered.
Ledum This is the first remedy to think of with puncture wounds and for bites and stings which fester. Good for twisted or sprained joints, especially ankles.
Nux Vomica The main remedy for hangover or indigestion from over-eating but also useful for food poisoning in which there is constant retching.
Urtica urens Very useful for skin conditions such as urticaria with raised lumps like nettle rash and great for 'prickly heat. Urtica can be used for minor burns and scalds as well where pains are stinging, like nettle rash, but not too sore to touch.
END OF QUOTE
I find the list and particularly the comments most revealing. To me, they suggest that homeopathy just do not have a cue. They recommend nonsense for conditions they know nothing about. They do not seem to know what real shock or food poisoning or heat stroke are. They do not seem to appreciate that they can be life-threatening problems. And by stating "Always seek medical help for anything more than a minor injury or illness", they clearly admit that they are merely jokers of no significance whatsoever.
For what it's worth, I here give my evidence-based view on the remedies listed:
Aconite No evidence to justify the claims mentioned above.
Apis No evidence to justify the claims mentioned above.
Arnica Some evidence to show that Arnica does not work.
Arsenicum No evidence to justify the claims mentioned above.
Belladonna No evidence to justify the claims mentioned above.
Ledum No evidence to justify the claims mentioned above.
Nux Vomica No evidence to justify the claims mentioned above.
Urtica urens No evidence to justify the claims mentioned above.
Oh, I almost forgot: the SoH is the organisation of 'professional' homeopaths in the UK (professional meaning they have no medical training). On their website, they state: "High standards are the cornerstone of the Society of Homeopaths. So we were delighted that our register was accredited by the Professional Standards Authority for Health and Social Care (PSA)  in 2014… This accreditation demonstrates our commitment to high professional standards, to enhancing safety and delivering a better service."
One does wonder whether killing gullible holidaymakers via bad advice counts as high standards.
Several previous studies have suggested improvements in sperm quality after vitamin supplementation, and several reviews have drawn tentatively positive conclusions:
Most of the primary trials lacked scientific rigour, however. Now a new study has emerged that overcomes many of the flaws of the previous research.
Professor Anne Steiner from the University of North Carolina at Chapel Hill, USA, presented her study yesterday at the 34th Annual Meeting of ESHRE in Barcelona. This clinical trial of 174 couples has found that an antioxidant formulation taken daily by the male partner for a minimum of three months made no difference to sperm concentration, motility or morphology, nor to the rate of DNA fragmentation. The study was performed in eight American fertility centres.
All men in the study had been diagnosed with male factor infertility, reflected in subnormal levels of sperm concentration, motility, or morphology, or higher than normal rates of DNA fragmentation. These parameters were measured at the start of the trial and at three months. In between, the men allocated to the antioxidant intervention were given a daily supplement containing vitamins C, D3 and E, folic acid, zinc, selenium and L-carnitine; the control group received a placebo.
At three months, results showed only a "slight" overall difference in sperm concentration between the two groups, and no significant differences in morphology, motility, or DNA fragmentation measurements. Sub-group analysis (according to different types of sperm abnormality) found no significant differences in sperm concentration (in oligospermic men), motility (in asthenospermic men), and morphology (in teratospermic men).(1) There was also no change seen after three months in men with high rates of DNA fragmentation (28.9% in the antioxidant group and 28.8 in the placebo group).
Natural conception during the initial three month study period did also not differ between the two groups of the entire cohort – a pregnancy rate of 10.5% in the antioxidant group and 9.1% in the placebo. These rates were also comparable at six months (after continued antioxidant or placebo for the male partner and three cycles of clomiphene and intrauterine insemination for the female partner).
The authors concluded that "the results do not support the empiric use of antioxidant therapy for male factor infertility in couples trying to conceive naturally".
The story about supplements and health claims seems to be strangely repetitive:
the claim that supplements help for condition xy is heavily promoted, e. g. via the Internet;
a few flimsy trials seem to support the claim;
these results are relentlessly hyped;
the profit of the manufacturers grows;
eventually a rigorous, independently-funded trial emerges with a negative finding;
the card house seems to collapse;
the manufacturers claim that the trial's methodology was faulty (e. g. wrong does, wrong mixture of ingredients);
thus another profitable card house is built elsewhere.
In the end, the only supplement-related effects are that 1) the consumers produce expensive urine and 2) the manufacturers have plenty of funds to start a new campaign based on yet another bogus heath claim.
One of the aims in running this blog has always been to stimulate critical thinking (not just in my readers but also in myself).
Critical thinking means making decisions and judgements based on (often confusing) evidence. According to the 'National Council for Excellence in Critical Thinking' it is the intellectually disciplined process of actively and skilfully conceptualizing, applying, analysing, synthesizing, and/or evaluating information gathered from, or generated by, observation, experience, reflection, reasoning, or communication, as a guide to belief and action.
Carl Sagan explained it best: "It seems to me what is called for is an exquisite balance between two conflicting needs: the most skeptical scrutiny of all hypotheses that are served up to us and at the same time a great openness to new ideas. Obviously those two modes of thought are in some tension. But if you are able to exercise only one of these modes, whichever one it is, you're in deep trouble. If you are only skeptical, then no new ideas make it through to you. You never learn anything new. You become a crotchety old person convinced that nonsense is ruling the world. (There is, of course, much data to support you.) But every now and then, maybe once in a hundred cases, a new idea turns out to be on the mark, valid and wonderful. If you are too much in the habit of being skeptical about everything, you are going to miss or resent it, and either way you will be standing in the way of understanding and progress. On the other hand, if you are open to the point of gullibility and have not an ounce of skeptical sense in you, then you cannot distinguish the useful as from the worthless ones."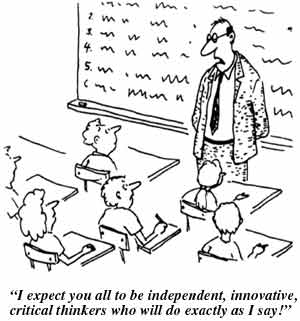 Critical thinking is not something one is born with; but I strongly believe that most people can be taught this skill. This study suggests that I may be right. The researchers measured the relationship between student's religion, gender, and propensity for fantasy thinking with the change in belief for paranormal and pseudoscientific subjects following a science and critical thinking course. Student pre-course endorsement of religious, paranormal, and pseudo-scientific beliefs ranged from 21 to 53%, with religion having the highest endorsement rate. Pre-course belief in paranormal and pseudo-scientific subjects was correlated with high scores in some fantasy thinking scales and showed a gender and a religion effect with females having an 11.1% higher belief across all paranormal and pseudo-science subcategories. Students' religion, and frequency of religious service attendance, was also important with agnostic or atheist students having lower beliefs in paranormal and pseudo-science subjects compared to religious students. Students with either low religious service attendance or very high attendance had lower paranormal and pseudoscientific beliefs.
Following the critical thinking course, overall beliefs in paranormal and pseudo-scientific subcategories lowered 6.8–28.9%, except for superstition, which did not significantly change. Change in belief had both a gender and religion effect with greater reductions among religious students and females.
The link between religion and alternative medicine is relatively well-established. A 2014 study, for instance, showed an association between alternative medicine use and religiosity. The finding that females have an 11.1% higher belief in the paranormal and pseudo-science is new to me, but it would tie in with the well-documented fact that women use alternative medicine more frequently than men.
The most important finding, however, is clearly that critical thinking can be taught.
That must be good news! As discussed previously, critical thinkers experience fewer bad things in life than those of us who do not have acquired that skill. This cannot come as a surprise – being able to tell useful concepts from worthless ones should achieve exactly that.
Traditional vaginal practices usually relate to personal hygiene, genital health or sexuality. Hygiene practices involve external washing and intravaginal cleansing or douching and ingestion of substances. Health practices include intravaginal cleansing, traditional cutting, insertion of herbal preparations, and application of substances to soothe irritated vaginal tissue.
One such traditional practice is 'vaginal steaming'.
Recently vaginal steaming has become a fad promoted by SCAM-promoters (such as the vagina-obsessed Gwyneth Paltrow) with the claim that it leads to a range of health benefits. According to one website, for instance, vaginal steaming, Yoni Eggs, yoni or v-steam, as it is casually known, acts as an internal cleanser of the membranes of the vaginal tissues and uterus. This is considered especially important for stagnant fertility conditions and/or incomplete emptying of menses each cycle. This women's treatment gently but effectively cleanses, tones and revitalizes a woman's center, providing a myriad benefits from reduced menstrual cramps to increased fertility and more. Support your natural feminine cycle, help your body to heal, relax, and detoxify both physically and emotionally with a yoni steam.
The method is recommended for a wide range of conditions and is said to achieve all of the following and much, much more:
Significant reduction of pain, bloating and exhaustion associated with menstruation.
Significant reduction of PMS.
Decrease of menstrual flow as well as reduction of dark purple or brown blood at the onset or end of menses.
Regulation of irregular or absent menstrual cycles.
Increased fertility.
Faster healing and toning of the reproductive system following childbirth.
Assisting in healing uterine fibroids, ovarian cysts, uterine weakness, uterine prolapse & endometriosis.
Breaking down of reproductive adhesion/scar tissue. Assisting with the repair of a vaginal tear, episiotomy, or C-section scar.
Assisting with the healing of haemorrhoids.
Treating chronic vaginal/yeast infections and maintaining healthy vaginal odour.
Relief of menopausal symptoms such as vaginal dryness or pain during sex.
Detoxification of the womb/removal of toxins from the body. Release of stored emotions.
Reconnection with our female bodies and tapping into the sexual energy that is our creative potential.
Frequently, entrepreneurs recommend adding herbal or other ingredients. Herbs often used include:
mugwort
wormwood
chamomile
calendula
basil
oregano
None of these claims are supported by anything we would recognise as evidence, and it would be easy to make fun at the quacks who make them (and the women who fall for them) – unless, of course, there was real and significant harm involved. I fear, the potential for harm is undeniable:
vaginal steaming arms your bank account;
it disrupts the normal pH balance of the vagina;
in turn, this increases the risk of fungal and bacterial infections;
vaginal steaming can cause burns;
with added herbs, it can cause allergies.
New Zealand psychologists analysed online accounts of vaginal steaming to determine the sociocultural assumptions and logics within such discourse, including ideas about women, women's bodies and women's engagement with such 'modificatory' practices. Ninety items were carefully selected from the main types of website discussing vaginal steaming: news/magazines; health/lifestyle; spa/service providers; and personal blogs. Within an overarching theme of 'the self-improving woman' the researchers identified four themes: (1) the naturally deteriorating, dirty female body; (2) contemporary life as harmful; (3) physical optimisation and the enhancement of health; and (4) vaginal steaming for life optimisation. The authors concluded that online accounts of vaginal steaming appear both to fit within historico-contemporary constructions of women's bodies as deficient and disgusting, and contemporary neoliberal and healthist discourse around the constantly improving subject.
For the sake of 'journalistic balance', let's give Gwyneth the last word about the benefits of vaginal steaming. She knows best because she has done it and was quoted uttering these profound and scientific views: "The first time I tried v-steaming, I was like, 'This is insane'. My friend Ben brought me and I was like, 'You are out of your f**king mind. What is this? But then by the end of it I was like, 'This is so great.' Then I start to do research, and it's been in Korean medicine for thousands of years and there are real healing properties. If I find benefit to it and it's getting a lot of page views, it's a win-win."
And who would or could argue with that?
It has been reported that, between 1 January 2018 and 31 May 2018, there have been 587 laboratory confirmed measles cases in England. They were reported in most areas with London (213), the South East (128), West Midlands (81), South West (62), and Yorkshire/Humberside (53). Young people and adults who missed out on MMR vaccine when they were younger and some under-vaccinated communities have been particularly affected.
Public Health England (PHE) local health protection teams are working closely with the NHS and local authorities to raise awareness with health professionals and local communities. Anyone who is not sure if they are fully vaccinated should check with their GP practice who can advise them.
Dr Mary Ramsay, Head of Immunisation at PHE, said:
"The measles outbreaks we are currently seeing in England are linked to ongoing large outbreaks in Europe. The majority of cases we are seeing are in teenagers and young adults who missed out on their MMR vaccine when they were children. Anyone who missed out on their MMR vaccine in the past or are unsure if they had 2 doses should contact their GP practice to catch-up. This serves as an important reminder for parents to take up the offer of MMR vaccination for their children at 1 year of age and as a pre-school booster at 3 years and 4 months of age. We'd also encourage people to ensure they are up to date with their MMR vaccine before travelling to countries with ongoing measles outbreaks. The UK recently achieved WHO measles elimination status and so the overall risk of measles to the UK population is low, however, we will continue to see cases in unimmunised individuals and limited onward spread can occur in communities with low MMR coverage and in age groups with very close mixing."
__________________________________________________________________________________
And what has this to do with alternative medicine?
More than meets the eye, I fear.
The low vaccination rates are obviously related to Wakefield's fraudulent notions of a link between MMR-vaccinations and autism. Such notions were keenly lapped up by the SCAM-community and are still being trumpeted into the ears of parents across the UK. As I have discussed many times, lay-homeopaths are at the forefront of this anti-vaccination campaign. But sadly the phenomenon is not confined to homeopaths nor to the UK; many alternative practitioners across the globe are advising their patients against vaccinations, e. g.:
Considering these facts, I wish Dr Mary Ramsay, Head of Immunisation at PHE, would have had the courage to add to her statement: IT IS HIGH TIME THAT ALTERNATIVE PRACTITIONERS DO MORE THAN A MEEK LIP SERVICE TO THE FACT THAT VACCINATIONS SAVE LIVES.
The 'Pharmaceutical Journal' just published a 'pro/contra' piece discussing whether UK community pharmacists should be selling homeopathic remedies to the public. Here are the essential parts of both arguments:
PRO
… I do not believe there is good scientific evidence to validate homeopathic remedies as medicines, but it is important to provide patients with choice in an informed environment — pharmacists and pharmacy teams are able to provide this expertise.
It is better for the public to buy these products from a reputable source where the community pharmacist — the expert on medicines — can provide professional advice, which is not available from unregulated online suppliers or other non-healthcare outlets…
So, I'm not here to argue the science: I argue that some people can benefit from homeopathy.
We ought to explore homeopathy's placebo effect. Placebos are often dismissed as fakes, but they seem to act on the same brain pathways that are targeted by 'real' treatments. I wonder whether, through the placebo effect, homeopathy has a role to play in mental health treatment and pain relief. Whether for anxiety, mild-to-moderate depression, sleeplessness or stress, taking a little white tablet may benefit the patient, have fewer side effects than conventional medication, cause no harm, and is better than an excess of alcohol or illegal drugs.
Of course, homeopathy should not replace conventional medicines, and people should continue to be vaccinated, should use their inhalers and take their insulin. Homeopathy should not be funded on the NHS, but we do not live in a nanny state.
The clinical efficacy of many other products sold in the pharmacy is also questionable, but we still provide them. One example is guaifenesin for chesty coughs, which, at over-the-counter strength, provides a suboptimal dose. Many people are sceptical of the benefits of vitamin and mineral supplements. Bach flower remedies claim to tackle stress. We drink herbal tea for its 'health' benefits or buy fortified cereals because they are 'better for you', but these benefits are not clinically proven.
If the public finds comfort in a complementary therapy — whether it is acupuncture, reflexology, vitamins or homeopathy — I am happy to offer that choice, as long as the chosen therapies do no harm, and people continue to take their prescribed medicines.
If the patient wants my professional advice, I will explain that homeopathic medicines are not clinically proven but they may help certain conditions. I will probably recommend a different product, but at least I am there to do so.
You will not find a pharmacist in a health shop or on the internet, but in the community pharmacy you will find a highly qualified medicines expert, who will advise and inform, and who truly cares about the public's health.
CONTRA
… given pharmacy's heavy promotion of homeopathy, I feared that the profession was in danger of losing science as its bedrock.
… in 2009, a London-based pharmacy was supplying homeopathic 'swine flu formula'. This was a dangerous practice but government agencies failed to regulate it effectively or to close it down.
In 2010, the then professional standards director at Boots, Paul Bennett (now chief executive, Royal Pharmaceutical Society), appeared before the Science and Technology Committee in its discussion of homeopathy's availability on the NHS. Bennett stood by the sale of homeopathic remedies in Boots' stores: "It is about consumer choice for us," he said. I disagree with this argument.
Like the sale of cigarettes in US pharmacies, homeopathy threatens to fatally damage the reputation of community pharmacy. Pharmacies that sell homeopathic remedies give them unjustified credibility. Informed patient choice should be king; if pharmacists, pharmacy staff and shelf-barkers fail to clearly inform customers that homeopathic remedies are no more effective than placebo, we have acted unethically.
Yet Boots, perhaps alarmed by the number of subsequent protests against homeopathy outside its stores, got the message. Its website now reflects a more scientific approach: the homeopathic remedies it supplies state that they are "without approved therapeutic indications". Boots also seems to have modified its range and offering of homeopathic remedies. So there is hope for community pharmacy.
Homeopathic remedies are still sold in pharmacies only because they make a profit. Sales in pharmacy are nonsense because, as most homeopathic practitioners claim, it is not possible to sell homeopathic remedies in isolation of a homeopathic consultation. The consultation determines the remedy. Off-the-shelf homeopathy is a relatively recent phenomenon.
The remedies are no more effective compared with placebo, anyway. Systematic reviews from the Cochrane Library — the gold standard of medical science — have considered homeopathy in the treatment of dementia, asthma and attention deficit hyperactivity disorder, all of which have confirmed the placebo effect. Irritatingly, supporters of homeopathy will always, in any debate, quote a bunkum study that shows some possible efficacy. Some might argue that placebo, or suggestion, is effective therapy, so why not use it? We must question the ethics of this approach.
Pharmacists act immorally when they sell the products without making clients aware that homeopathy does not work.
… I find that most pharmacists, when asked, appreciate that homeopathy has no scientific basis and provides merely a placebo effect. I sincerely hope that with this insight, pharmacy will finally clear its shelves of this expensive hocus pocus for good.
____________________________________________________________________________
I find both pieces quite weak and poorly argued. In fact, the 'pro' – arguments are quite laughable and could easily be used for teaching students the meaning and use of logical fallacies. In my view, all that needs to be pointed out here is this:
Homeopathy is based on implausible assumptions.
Despite 200 years of research and around 500 clinical trials, there is still no proof that highly diluted homeopathic remedies have effects beyond placebo.
Therefore, selling them to the naïve public, while pretending they are real medicines, is dishonest, arguably fraudulent and certainly not the behaviour one would expect of a healthcare professional.
Pharmacists who nevertheless sell these remedies as medicines are in breach of their very own regulations.
_____________________________________________________________________________
Strangely enough, when trying to find the relevant passage from the code of ethics for UK pharmacists, I struggled. The General Pharmaceutical Council's 'Standards fro Pharmacy Professionals' merely states this:
People receive safe and effective care when pharmacy professionals reflect on the application of their knowledge and skills and keep them up-to-date, including using evidence in their decision making. A pharmacy professional's knowledge and skills must develop over the course of their career to reflect the changing nature of healthcare, the population they provide care to and the roles they carry out. There are a number of ways to meet this standard and below are examples of the attitudes and behaviours expected.
People receive safe and effective care when pharmacy professionals:
recognise and work within the limits of their knowledge and skills, and refer to others when needed
use their skills and knowledge, including up-to-date evidence, to deliver care and improve the quality of care they provide
carry out a range of continuing professional development (CPD) activities relevant to their practice
record their development activities to demonstrate that their knowledge and skills are up to date
use a variety of methods to regularly monitor and reflect on their practice, skills and knowledge
This, I admit, is not as clear as I had hoped (if my memory serves me right, this used to be much more explicit; in case anyone knows of a more suitable section in the code of ethics, please let me know); but it does preclude selling placebos, while pretending they are effective medicines.
I have been alerted to this website; it is truly remarkable! Here is but one example, the section with advice on 'reducing the risk of vaccine damage':
START OF QUOTE
1. Give vitamin A before the measles vaccine (MMR).Vitamin A has been shown to reduce death in measles sufferers by 50% so will support the body in its dealing with the measles vaccine. The WHO is now giving out Vitamin A pills along with the vaccine! Consider high doses (5,000 IU or more) the day before, on the day and the day after vaccination.
2. Give increased vitamin C before and after all vaccines. Vitamin C is known to help eliminate heavy metals. Consider high doses (3,000-5,000 mg per day) the day before, day of, and day after.
3. Consider detox programs after vaccination. These include homeopathy (before and after each vaccination), supplements, especially vitamin C, probiotics etc. It can take up to a year to detox the system but it is worth the investment (Autistic children are usually highly toxic – See Treating Autism).
4. Reconsider the routine use of Calpol or similar before or after vaccination. A rise in body temperature is the immune systems healthy response to any attack. Suppressing this reaction will impair its' ability to deal with the load imposed upon it by the vaccine. Links have been made with the use of Calpol etc after the MMR and autism because the body needs to raise a high temperature to deal with measles. Complications can arise if temperature is bought down too early in cases of measles. See 'Dealing with Fever Naturally' under the Health section of this site.
5. Avoid antibiotic use where possible.
Delay vaccines, especially the MMR, within up to 6 months of antibiotics.
The strength of the gut is compromised and the gut is 70% of the immune system. Autistic children often have Gut and Bowel disorders. Antibiotics during pregnancy & breast feeding can also compromise the child's immune system.
Try not to use antibiotics, as there are links with increased asthma in the vaccinated and also with the overuse of antibiotics in children. Asthma kills 1,300 people a year in the UK and rates have doubled in the last 40 years. This is far higher than the mortality rates as a result of contracting contagious diseases before the vaccines! In the years leading up to the vaccination program between 30-50 people died of measles, for example. Nearly 200 children under 14 years now die of Asthma. Asthma UK puts this this condition down to lack of childhood infections! For most children, as they recover from illness, their immune system is strengthened. The UK, US, New Zealand, Cuba and Australia lead the world with Asthma (Vaccinated populations). Asthma UK says that 'the goal would be to find a suitable vaccine to provide the beneficial effects of early life infection'!!!
6. Use Probiotics to strengthen the gut, in capsule form rather than from a drinking yogurt product which usually contains sugar and other additives.
7. Consider giving long term Vit B6 as "One of the components of the MMR is Neomycin. This is an antibacterial drug that is used to suppress gastrointestinal bacteria before surgery to avoid infection. …This antibiotic interferes with the absorption of Vitamin B6. An error in the uptake of Vitamin B6 can cause a rare form of epilepsy and children become mentally retarded. Vitamin B6 is the major vitamin for processingamino acids, which are the building blocks of all proteins and a few hormones. There are studies around which support the theory of treating autistic children with Vitamin B6."
END OF QUOTE
Let me briefly comment on these 7 points.
I am not aware of good evidence supporting this claim.
I am not aware of good evidence supporting this claim.
I am not aware of good evidence supporting this claim.
I am not aware of good evidence supporting this claim.
I am not aware of good evidence supporting this claim.
I am not aware of good evidence supporting this claim.
I am not aware of good evidence supporting this claim.
Of course, I may have missed some important evidence; if that is the case, I would appreciate someone showing it to me in the comments section below, so that we can all benefit from it.
The above advice is from the 'ARNICA' group (as the name suggests, they are close to or even led by homeopaths). They believe that the non-vaccinated child is potentially healthier than the vaccinated child.  
They also claim they  want to reduce the fear often felt by parents with their young children on health issues, whether that is to learn how to look after children when they have a fever, or to suggest ways to reduce the adverse reactions from vaccines.
I respectfully suggest that they are dismally failing in their aims. In fact, they seem to promote fear and issue bogus advice.
"This utter hokum is symptomatic of the crass stupidity of the vacuous classes before the lumpen mob rebelled and chopped off their useless heads. Where, oh where, is our mob?"
No, I am not calling for a British re-run of the French revolution. This is a comment that made me chuckle. I found it under an article in the SUNDAY TIMES. As it is about acupuncture, I thought I mention it here and show you a few experts:
_________________________________________________________________________________
… Prince Harry and Meghan Markle had regular appointments with an acupuncturist in the lead-up to their wedding. They were treated by Ross Barr, acupuncturist to the stars, who has been described as "divertingly handsome" by many of his enthusiastic fans and whose treatments have been lauded as "better than Botox". Beauty experts say his appointments "go faster than Glastonbury tickets".
Barr, whose treatments deal with anything from infertility to hair loss and relationship problems, is understood to have been regularly treating the couple since Meghan moved to London last year. The treatments are said to have been so successful that Barr and his wife, the actress Eva Birthistle, were invited to the wedding alongside celebrities including Oprah Winfrey, who had acupuncture live on her television show…
Harry, 33, has spoken of his struggles with anxiety and depression after the death of his mother, Diana, Princess of Wales in 1997. In an interview with The Sunday Times in 2016 he also admitted "my body . . . has basically been ruined over the last 10 years of army service". His father, the Prince of Wales, is renowned for championing alternative and complementary therapies such as homeopathy and acupuncture…
It is thought Harry was keen to try acupuncture as part of a recent health drive to prepare for his wedding. He is reported to have reduced his alcohol consumption and is now regularly seen exercising at the exclusive KX gym in Chelsea, west London. Meghan, 36, is likely to be a fan of Barr's "anti-wrinkle acupressure facial", which aims to smooth fine lines and may have contributed to the American former actress's radiant complexion on her wedding day…
Both Kensington Palace and Barr declined to comment yesterday.
_________________________________________________________________________________
Well, let me offer a few comments then:
The article is recklessly promotional and, in my view, very poor journalism.
It does not even include the usual attempt at 'balance' where an expert warns at the end of the article that acupuncture is unscientific rubbish.
There is no good evidence that acupuncture works for any of the conditions mentioned in the article.
Critical thinking, journalistic ethics, or objective analysis do not seem to be the forte of the author of this regrettable drivel.
Yes, I know … this is not very important. It is merely a little innocent story about some VIPs for gullible consumers.
Innocent?
Perhaps!
But misleading the public about healthcare can also be seen as short-sighted, counter-productive, unethical, and stupid.