regulation
Boris Johnson said we should take the coronavirus 'on the chin' and count on 'herd-immunity'. This, he claimed, is what his scientific advisers recommended.
I find this very hard to believe and have many doubts and questions.
To start with, I doubt that this is what Johnson's scientific advisers recommend – it is a solution that SOME of his scientific advisers recommend. And it is a solution that seems easy to follow. It is, however, by no means the only strategy for tacking the pandemic; it is just one of several options.
The fact that all other countries have opted for other solutions, suggests to me that it is an unusual path to go down to. The modellers who obviously like it had to make a number of assumptions; that's what modellers always have to do and rarely tell us about. But what if not all of these assumptions are correct?
The herd-immunity strategy counts on the fact that, once a certain percentage of the population has taken the infection 'on the chin', it is immune and therefore the transmission of the virus within such a population will be dramatically reduced or even zero. The percentage of the population needed for that to happen depends on how contagious the virus is. For the measles virus, herd immunity requires 90% of the population to be immune. For the coronavirus, the figure is said to be 60 – 70%. Is that an assumption or a fact? If it is a current fact, would the figure change, if the virus mutates? Could it be that a mutated virus can re-infect formerly immune people?
But let's postulate that the herd-immunity assumption is both correct and stable. Johnson's herd-immunity strategy would thus require that about 40 million Brits get infected with the virus to generate the required herd-immunity. Assuming a mortality rate of 1 – 2%, this means that Johnson is cheerfully accepting 400 000 – 800 000 fatalities.
But, as I said, this scenario is based on wild assumptions. It applies only if the virus does not mutate. And it only applies, if we do not run out of intensive care (IC) beds. However, running out seems possible, perhaps even likely, considering that we have only about half of the French and just one third of the German IC capacity. Sod's law has it that both might happen. In this case, we might easily have far in excess of 800 000 fatalities. How should we take that 'on the chin', Mr Johnson?
Sadly, this is not all; I have further doubts about our PM's ideas.
The present strategy regarding diagnosis of coronavirus cases is to self-isolate once suspicious symptoms start. Even if someone is seriously ill (with high fever etc.), they are told to stay at home and sit it out. This means we will never know whether these patients had or had not suffered from a coronavirus infection. How then can we ever be sure that the 60% target of infection has been reached? And if we are uncertain about it, how can we be sure that herd-immunity will work in the way the modellers predicted?
Moreover, we now know that people who caught the virus are infective BEFORE they develop symptoms. If that is so, the strategy of self-isolation will be far less effective than predicted. And, given this fact, are we not much more likely to have a sharp peak of cases early on which would make us run out of IC capacity? When that happens, even the pessimistic death rates might turn out to be too optimistic.
It seems to me that Johnson's herd-immunity strategy is risky to the point of being reckless. It also seems to me that there are very good reasons why other countries have not adopted it.
But what is the solution?
In my view, the solution cannot be to uncritically adopt the theories and assumptions of modellers. This is not a computer game; we are talking about human lives, many human lives!
I wish I new what the best solution is – but I don't. I merely fear that 'taking it on the chin' is not a solution at all. In any case, a wise move for Johnson and his team might be to consider that foreigners might be at least as clever as they are. Subsequently they could carefully study the actions of those countries which managed to bring down their death-rates despite being attacked by the coronavirus.
Consumer Advocate is an organisation that say this about themselves:
We want to make sure that you understand how we make money and who pays us. So we have taken proactive measures to ensure that any advertiser whom we have a paid relationship with is labeled as a "Partner" across our website. If you choose to click on the links on our site, we may receive compensation. If you don't click or use the phone numbers listed on our site we will not be compensated.
Also, ranking and the order of products on our site are subject to change and partners may influence their position on our website, including the order in which they appear on a Top 10 list. Regardless of partner or compensation, we take into account many additional factors, which are the result of the 200+ hours of research our editorial team spends on average to provide insights and recommendations around each category displayed on our website.
The analyses and opinions on our site are our own and our editors and staff writers follow guidelines to ensure editorial integrity. Our brand, ConsumersAdvocate.org, stands for accuracy and helpful information. We know that we can only be successful if we take your trust in us seriously.
They recently conducted independent lab tests on the purity of 33 samples of essential ois from well-known names in the essential oil industry to see what was really inside each bottle. Their report raises lots of concerns, in my view. The team that wrote the report kindly sent me a summary and asked me to publish it here which I now do without any alteration, abbreviation or further comment:
Everybody's talking about essential oils. More importantly, everybody's using them. The global demand for these fragrant chemical compounds reached an extraordinary 226.9 kilotons in 2018 and further growth is projected by the marketing people who measure such things. The proliferation of essential oil users is tied to growth in the food and beverage, personal care and aromatherapy industries.
It's not surprising that the scientific study of essential oils has also increased with demand for the products. The best essential oil brands invest in quality testing but don't necessarily follow scientific protocol or make detailed testing results available to consumers. So the literature is still limited— and the jury is still out on whether these compounds are effective in treating medical conditions.
Essential oils are extracted from plants. In their pure form, they are highly concentrated—and sometimes toxic.  To make them practical to use, essential oils are typically mixed with diluting carrier oils. Methods of extraction include cold-pressing, steam and water distillation, and the use of chemical solvents. Evaluating individual products made with essential oils is challenging because there are thousands of brands on the market. Neither the extraction methods used or the potency of the products—let alone, testing methods—are standardized. Manufacturers' ambitious marketing claims, which often rely on ambiguous language, further obscure consumers' ability to judge for themselves which oils are best suited to their purposes. The list of problems some products purport to solve can run the gamut from an itchy scalp to menopause symptoms.
What's more, few essential oil manufacturers educate consumers on proper dosage or contraindications, which can lead to accidental misuse and illness. Children are particularly sensitive to many oils and yet most manufacturers fail to warn against applying oils to children's skin. Pregnant women are usually advised not to use essential oils during their first trimesters, though some studies have suggested they can help alleviate pain during childbirth. Some essential oils should never be used during pregnancy. Essential oils can interact or interfere with prescription medicines and nutritional supplements. But unlike prescription drugs, they don't come with warning labels about these potential interactions.
Genuinely scientific, peer-reviewed studies of essential oils have primarily focused on using aromatherapy as an adjunct to conventional medical treatment. Science has confirmed that when inhaled, essential oil molecules travel quickly to the brain—specifically the limbic region, which controls pulse, respiration, sexual arousal, and other autonomic functions. Emotional responses like fear and motivation originate in the limbic system. The most promising applications of aromatherapy appear to be in diminishing stress and offering pain relief. But actual clinical trials into such topics as reducing nausea in by chemotherapy patients, relieving anxiety during childbirth, alleviating headaches, and improving sleep have been inconclusive.
Other studies have focused on the subject of inflammation, which is known to contribute to a wide range of medical problems. Essential oils derived from the thyme, clove, rose, eucalyptus, fennel, and bergamot have been demonstrated through one study to activate chemicals in the body which suppress inflammation and suppress chemicals that activate it.
Researchers are also exploring the potential of essential oils as antibacterial agents. Parts of the juniper, cumin, coriander and lavender plants may be effective in battling E coli, while cinnamon may prove useful in treating strep throat and pneumonia.
As ancient and traditional as their use may be in certain cultures, the scientific reality is it's too early to tell how effective essential oils are in treating the wide range of conditions they are theorized (and now, commonly advertised) to treat.
But that's not to say you shouldn't use them, according to recommendations from your doctor. When considering the efficacy of essential oils, bear in mind that the act of self-care can be therapeutic in and of itself. We all know that treating ourselves to a hot bath—or an ice cream cone for that matter—can give us a temporary sense of well-being. For the time being, short-term selfsoothing may be all we can count on from essential oils. But there's something to be said for even temporary relief. An entire industry of over-the-counter medicines has been founded upon it.
Guest post by Richard Rasker
Almost two years ago, in March 2018, a group of 124 doctors and other medical professionals published an article in the French newspaper 'Le Figaro', warning the general public for the false promises, unproven claims and dangers of alternative medicine.
Homeopathy in particular is denounced as an unscientific belief in magic, utterly lacking in plausibility as well as in evidence of efficacy for any condition. Subjecting people to these kinds of unproven treatments is unethical, and may result in serious harm by delaying proper medical treatment. Also, homeopaths and other alternative practitioners often express anti-vaccine sentiments, endangering children by dissuading their parents from vaccination.
For these and several other reasons, these 124 medical professionals made an appeal for alternative and esoteric treatments to be excluded from the field of science-based medicine, and to stop reimbursement of homeopathic and other alternative treatments under France's national health care insurance system.
In a somewhat belated response, French homeopaths are now filing no less than 63 disciplinary complaints with the French Medical Council against the signatories of the appeal in Le Figaro, apparently for "uncollegial behaviour" and "defiling medical ethics". The homeopaths are represented by homeopathic doctor Daniel Scimeca, president of the French Federation of Homeopathic Societies, who also has close relations with Boiron laboratories, the biggest manufacturer of homeopathic products in the world.
At the time of this writing, 11 complaints have been adjudicated, resulting in 7 warnings, and 4 releases or dismissals. It is unclear how serious such a 'warning' should be taken, but it is clear that homeopaths are trying to punish real doctors for supporting and expressing an overwhelming scientific consensus, i.e. that there is no evidence whatsoever that homeopathy is actually good for anything.
And even though these French homeopaths do not resort to the sort of vile, underhanded media smear campaign perpetrated by the late Claus Fritzsche against Dr. Ernst, there are certain parallels – the most important of which is that proponents of unproven 'medicine' attempt to silence science-based criticism by unscientific means, instead of open discourse about the merits (or more precisely: the lack thereof) of their chosen profession.
I personally find it rather worrying that almost two-thirds of the complaints resulted in a slap on the wrist for the medical professional involved. Especially in a field that is so strongly dependent on both science and trust, well-founded criticism should be encouraged and made public, not punished and silenced.
I have to admit, I only read the DAILY MAIL, if I have to (and certainly not today). This is probably why I missed this article announcing the 1st traditional Chinese medicine to be licensed in the UK.
The plant Sigesbeckia, which has an unpleasant smell, is renowned for its ability to treat aches and pains – including those caused by arthritis.  It is the active ingredient in Phynova Joint and Muscle Relief Tablets, which have just been licensed by drug safety watchdog the Medicines and Healthcare Products Regulatory Agency.
The directive also made it more difficult for medicines to get a licence as it demanded they had to have been in use for 30 years, of which at least 15 years had to be in the EU. Some Western herbal medicines have managed to gain licences in a process costing thousands of pounds to verify their ingredients. But the Phynova tablets are the first traditional Chinese medicine to be approved.
Robert Miller, chief executive of Oxford-based Phynova, said he was 'extremely proud', adding: 'This has come from years of working with our Chinese colleagues. 'Britain can now benefit from having access to high quality, regulated Chinese medicines.' He also said that the company is planning to apply for a licence for a second traditional Chinese medicine, a cold and flu remedy.
Dr Chris Etheridge, a medical herbalist and adviser to Potter's Herbals, celebrated the 'good news', adding that Sigesbeckia, which is not commonly used in the West, 'offers an alternative to those who prefer not to take non-steroidal anti-inflammatory drugs for muscle and joint pain'.
But Michael McIntyre, chairman of the European Herbal and Traditional Medicine Practitioners Association, warned that the new product demonstrates the difficulties the EU rules created for supplying herbal products safely to the public.  He said it is 'almost impossible to satisfy the licensing conditions'.  He added that some people have therefore turned to the internet to buy unlicensed products, but this means they have 'no idea whether they are safe or effective'.
How exciting!
Exciting enough to do a quick search for the evidence. Are there any clinical trials to show or suggest that this herbal remedy does anything other than filling the bank account of the manufacturer? Sadly, the answer seems to be NO! At least, I could not find a single such study (if anyone knows more, I'd be pleased to stand corrected).
Frustrated I looked at the website of the manufacturer. Here I found this:
Exclusively containing Sigesbeckia extract, Phynova Joint and Muscle Relief Tablets is a traditional herbal medicinal product used for the relief of backache, rheumatic, joint and muscle pain as well as minor sports injuries. Sigesbeckia has been used for thousands of years around the world to relieve painful joints and muscles.
Benefits
– Relief from joint & muscle pain
– Gentle on the stomach
– No known side effects
– No known drug indications or contraindications
– Can be taken with or without food
And this:
What can Sigesbeckia be used to treat?
Traditionally used for arthritic pain, rheumatic pain, back pain and sciatica. Today, Sigesbeckia can be used for;
Backache
Back pain can occur through a sprain or strain, spasms, nerve compression, herniated discs and other problems in your lower, middle and upper back.
Poor posture, lifting and stretching, sudden movements placing strain on your lower back and sports injuries, are amongst the main culprits for causing back pain.
Minor sports injuries
Minor sports injuries can be caused by an accident such as a fall or blow, not warming up properly before exercise, pushing yourself too hard and not using the appropriate equipment or perhaps poor technique.
Rheumatic and muscular pain
Common causes of rheumatic and muscle pain can be due to; tension and stress, lack of minerals, certain medication, dehydration, sprains and strains, sleep deficiency, too much physical activity and sometimes other underlying health conditions and diseases.
General aches and pains in muscles and joints
Overexertion due to a new exercise routine or from a sprain or strain can cause general aches and pains in muscles and joints. But so too can modern day busy life. The impact on our bodies can trigger aches and pains in your muscles and joints and lower your resistance to illness and disease.
The Benefit of Sigesbeckia extract
One of the benefits of Sigesbeckia extract, as used in approved licensed products, is that it has no known side effects or interactions with other medications according to the Summary of Product Characteristics (SmPC). Always check that the product you purchase is an approved Traditional Herbal Medicine Product in the UK.
In summary: Look after your joints and muscles with Sigesbeckia
Our bodies are all different, and our approach and tolerances will vary. Used for over a thousand years and known for its anti-inflammatory and mobility benefits alongside being used for joint and muscle pain; Sigesbeckia is a herbal medicine that works best when used over time.
Looking for a traditional remedy for joint and muscle relief? Why not try Sigesbeckia?
But again no sign of a clinical trial to back up this plethora of therapeutic claims. How can this be? The answer lies in the directive mentioned in the Mail article. To obtain a licence that enables the manufacturer to make therapeutic claims, a herbal remedy merely needs to demonstrate that it has been in use for 30 years, of which at least 15 years had to be in the EU.
I think I understand the intention of the directive. But I would nevertheless have thought that, 4 years after obtaining a license, the manufacturer could have conducted a study to test whether the product works. In my view this should be a moral and ethical, if not legal obligation. The 'test of time' is woefully insufficient and unreliable and no basis for generating progress or securing the best interests of patients.
Considering the total lack of efficacy and safety data, do you agree that the above comment by Michael McIntyre are ironic to the extreme? And do you agree that manufacturers who manage to obtain such a license should be obliged to deliver a proof of efficacy within a reasonable period of time?
Many patients with chronic pain (CP) are prescribed opioids, a situation which has led to the much-discussed opioid crisis. Integrative medicine (IM), which combines pharmacological and so-called alternative medicine (SCAM), has been proposed as a solution. Yet, the role of SCAM therapies in reducing opioid use remains unclear.
This systematic review explored the effectiveness of the IM approach or any of the SCAM therapies to reduce or cease opioid use in CP patients. Electronic searches yielded 5,200 citations. Twenty-three studies were selected. Eight studies were randomized controlled trials, seven were retrospective studies, four studies were prospective observational, three were cross-sectional, and one was quasi-experimental. The majority of the studies showed that opioid use was reduced significantly after using IM/SCAM. Cannabinoids were among the most commonly investigated approaches in reducing opioid use, followed by multidisciplinary approaches, cognitive-behavioral therapy, and acupuncture. The majority of the studies had limitations related to sample size, duration, and study design.
The authors concluded that there is a small but defined body of literature demonstrating positive preliminary evidence that the IM approach including SCAM therapies can help in reducing opioid use. As the opioid crisis continues to grow, it is vital that clinicians and patients be adequately informed regarding the evidence and opportunities for IM/SCAM therapies for CP.
I am unimpressed by this review.
And here is why:
Because of their design, most of the included studies do not allow any conclusions about cause and effect.
The 8 RCTs that would allow such conclusions are mostly of poor quality.
Some of the 8 RCTs are not even what the review authors claim to be. Here is just one example:
Background: Current levels and dangers of opioid use in the U.S. warrant the investigation of harm-reducing treatment alternatives.
Purpose: A preliminary, historical, cohort study was used to examine the association between enrollment in the New Mexico Medical Cannabis Program (MCP) and opioid prescription use.
Methods: Thirty-seven habitual opioid using, chronic pain patients (mean age = 54 years; 54% male; 86% chronic back pain) enrolled in the MCP between 4/1/2010 and 10/3/2015 were compared to 29 non-enrolled patients (mean age = 60 years; 69% male; 100% chronic back pain). We used Prescription Monitoring Program opioid records over a 21 month period (first three months prior to enrollment for the MCP patients) to measure cessation (defined as the absence of opioid prescriptions activity during the last three months of observation) and reduction (calculated in average daily intravenous [IV] morphine dosages). MCP patient-reported benefits and side effects of using cannabis one year after enrollment were also collected.
Results: By the end of the 21 month observation period, MCP enrollment was associated with 17.27 higher age- and gender-adjusted odds of ceasing opioid prescriptions (CI 1.89 to 157.36, p = 0.012), 5.12 higher odds of reducing daily prescription opioid dosages (CI 1.56 to 16.88, p = 0.007), and a 47 percentage point reduction in daily opioid dosages relative to a mean change of positive 10.4 percentage points in the comparison group (CI -90.68 to -3.59, p = 0.034). The monthly trend in opioid prescriptions over time was negative among MCP patients (-0.64mg IV morphine, CI -1.10 to -0.18, p = 0.008), but not statistically different from zero in the comparison group (0.18mg IV morphine, CI -0.02 to 0.39, p = 0.081). Survey responses indicated improvements in pain reduction, quality of life, social life, activity levels, and concentration, and few side effects from using cannabis one year after enrollment in the MCP (ps<0.001).
Conclusions: The clinically and statistically significant evidence of an association between MCP enrollment and opioid prescription cessation and reductions and improved quality of life warrants further investigations on cannabis as a potential alternative to prescription opioids for treating chronic pain.
This study is evidently NOT an RCT!
Most of the 8 RCTs investigate whether SCAM is useful for weaning opioid-dependent patients off their drug. To equate this with the question whether IM/SCAM can reduce or cease opioid use in CP patients is, I think, wrong. The way to reduce opioid use in CP patients is to prescribe less opioids. And for prescribing less opioids, we need no SCAM but we need to remember what we learned in medical school: opioids are not for routine treatment of CP!
So, why do the authors of this review try to mislead us?
Could it have something to do with some of their affiliations and the bias that goes with it?
Canadian College of Naturopathic Medicine, North York, Ontario, Canada.
Australian Research Centre in Complementary and Integrative Medicine, University of Technology Sydney, Ultimo, Australia.
Pacific College of Oriental Medicine, San Diego, California, USA.
What do you think?
I have reported previously about the tragic death of John Lawler. Now after the inquest into the events leading to it has concluded, I have the permission to publish the statement of Mr Lawler's family:
We were devastated to lose John in such tragic and unforeseen circumstances two years ago. A much-loved husband, father and grandfather, he continues to be greatly missed by all of us. Having to re-live the circumstances of his death has been particularly difficult for us but we are grateful to have a clearer picture of the events that led to John's death. We would like to take this opportunity to thank the coroner's team, our legal representatives and our wider family and friends for their guidance, empathy and sensitivity throughout this process.
There were several events that went very wrong with John's chiropractic treatment, before, during, and after the actual manipulation that broke his neck.
Firstly, John thought he was being treated by a medically qualified doctor, when he was not. Furthermore, he had not given informed consent to this treatment.
The chiropractor diagnosed so-called 'vertebral subluxation complex' which she aimed to treat by manipulating his neck. We heard this week from medical experts that John had ossified ligaments in his spine, where previously flexible ligaments had turned to bone and become rigid. This condition is not uncommon, and is present in about 10% of those over 50. It would have showed on an X-ray or other imaging technique. The chiropractor did not ask for any images before commencing treatment and was seemingly unaware of the risks of doing a manual manipulation on an elderly patient.
It has become clear that the chiropractor did the manipulation incorrectly, and broke these rigid ligaments during a so-called 'drop table' manipulation, causing discs in the cervical spine to rupture and the spinal cord to become crushed. Although these manipulations are done frequently by chiropractors, we have heard that the force applied to his neck by the chiropractor would have had to have been "significant".
Immediately John reported loss of sensation and paralysis in his arms. At this stage the only safe and appropriate response was to leave him on the treatment bed and await the arrival of the paramedics, and provide an accurate history to the ambulance controller and paramedics. The chiropractor, in fact, manhandled John from the treatment bed into a chair; then tipped his head backwards and gave "mouth to mouth" breaths. She provided an inaccurate and misleading history to the paramedic and ambulance controller, causing the paramedic to treat the incident as "medical" not "traumatic" and to transport John downstairs to the ambulance without stabilising his neck. If the paramedics had been given the full and accurate story, they would have stabilised his neck in situ and transported him on a scoop stretcher – and he would have subsequently survived.
The General Chiropractic Council decided not to suspend the chiropractor from practicing in September 2017. They heard evidence from the chiropractor that she had "not touched the neck during the appointment" and from an expert chiropractor that it would be "physically impossible" for the treatment provided to cause the injury which followed. We have heard this week that this is incorrect. The family was not allowed to attend or give evidence at that hearing, and we are waiting – now 2 years further on – for the GCC to complete their investigations.
We hope that the publicity surrounding this event will highlight the dangers of chiropractic, especially in the elderly and those with already compromised spines. We would again urge the regulator to take immediate measures to ensure that the profession is properly controlled: that chiropractors are prevented from styling themselves as medical professionals; that patients are fully informed and consent to the risks involved; that imaging is done before certain procedures and on high risk clients; and that the limits of the benefits chiropractic can provide are fully explored.
___________________________________________________________________
Before someone comments pointing out that this is merely a single case which does not amount to evidence, let me remind you of the review of cervical manipulation prepared for the Manitoba Health Professions Advisory Council. Here is the abstract:
Neck manipulation or adjustment is a manual treatment where a vertebral joint in the cervical spine—comprised of the 7 vertebrae C1 to C7—is moved by using high-velocity, low-amplitude (HVLA) thrusts that cannot be resisted by the patient. These HVLA thrusts are applied over an individual, restricted joint beyond its physiological limit of motion but within its anatomical limit. The goal of neck manipulation, referred to throughout this report as cervical spine manipulation (CSM), is to restore optimal motion, function, and/or reduce pain. CSM is occasionally utilized by physiotherapists, massage therapists, naturopaths, osteopaths, and physicians, and is the hallmark treatment of chiropractors; however the use of CSM is controversial. This paper aims to thoroughly synthesize evidence from the academic literature regarding the potential risks and benefits of cervical spine manipulation utilizing a rapid literature review method.
METHODS Individual peer-reviewed articles published between January 1990 and November 2016 concerning the safety and efficacy of cervical spine manipulation were identified through MEDLINE (PubMed), EMBASE, and the Cochrane Library.
KEY FINDINGS
A total of 159 references were identified and cited in this review: 86 case reports/ case series, 37 reviews of the literature, 9 randomized controlled trials, 6 surveys/qualitative studies, 5 case-control studies, 2 retrospective studies, 2 prospective studies and 12 others.
Serious adverse events following CSM seem to be rare, whereas minor adverse events occur frequently.
Minor adverse events can include transient neurological symptoms, increased neck pain or stiffness, headache, tiredness and fatigue, dizziness or imbalance, extremity weakness, ringing in the ears, depression or anxiety, nausea or vomiting, blurred or impaired vision, and confusion or disorientation.
Serious adverse events following CSM can include the following: cerebrovascular injury such as cervical artery dissection, ischemic stroke, or transient ischemic attacks; neurological injury such as damage to nerves or spinal cord (including the dura mater); and musculoskeletal injury including injury to cervical vertebral discs (including herniation, protrusion, or prolapse), vertebrae fracture or subluxation (dislocation), spinal edema, or issues with the paravertebral muscles.
Rates of incidence of all serious adverse events following CSM range from 1 in 10,000 to 1 in several million cervical spine manipulations, however the literature generally agrees that serious adverse events are likely underreported.
The best available estimate of incidence of vertebral artery dissection of occlusion attributable to CSM is approximately 1.3 cases for every 100,000 persons <45 years of age receiving CSM within 1 week of manipulative therapy. The current best incidence estimate for vertebral dissection-caused stroke associated with CSM is 0.97 residents per 100,000.
While CSM is used by manual therapists for a large variety of indications including neck, upper back, and shoulder/arm pain, as well as headaches, the evidence seems to support CSM as a treatment of headache and neck pain only. However, whether CSM provides more benefit than spinal mobilization is still contentious.
A number of factors may make certain types of patients at higher risk for experiencing an adverse cerebrovascular event after CSM, including vertebral artery abnormalities or insufficiency, atherosclerotic or other vascular disease, hypertension, connective tissue disorders, receiving multiple manipulations in the last 4 weeks, receiving a first CSM treatment, visiting a primary care physician, and younger age. Patients whom have experience prior cervical trauma or neck pain may be at particularly higher risk of experiencing an adverse cerebrovascular event after CSM.
CONCLUSION The current debate around CSM is notably polarized. Many authors stated that the risk of CSM does not outweigh the benefit, while others maintained that CSM is safe—especially in comparison to conventional treatments—and effective for treating certain conditions, particularly neck pain and headache. Because the current state of the literature may not yet be robust enough to inform definitive prohibitory or permissive policies around the application of CSM, an interim approach that balances both perspectives may involve the implementation of a harm-reduction strategy to mitigate potential harms of CSM until the evidence is more concrete. As noted by authors in the literature, approaches might include ensuring manual therapists are providing informed consent before treatment; that patients are provided with resources to aid in early recognition of a serious adverse event; and that regulatory bodies ensure the establishment of consistent definitions of adverse events for effective reporting and surveillance, institute rigorous protocol for identifying high-risk patients, and create detailed guidelines for appropriate application and contraindications of CSM. Most authors indicated that manipulation of the upper cervical spine should be reserved for carefully selected musculoskeletal conditions and that CSM should not be utilized in circumstances where there has not yet been sufficient evidence to establish benefit.
___________________________________________________________________
Just three points which, in my view, sand out most in relation to Mr Lawler's death:
Mr Lawler had no proven indication (and at least one very important contra-indication)  for neck manipulation.
He did not give infromed consent.
The neck manipulation was not within the limits of the physiological range of motion.
It has been reported that pharmacies in New Zealand continue to ignore a code of ethics that requires them to inform customers, if a product has no evidence of efficacy. The code of ethics states: "Pharmacists must advise patients when scientific support for treatment is lacking."
Eight Auckland pharmacies were visited to enquire about a homeopathic product for sale. Pharmacy staff were asked what they knew about a homeopathic product on their shelves and if it worked. All failed to share information about the lack of scientific evidence showing the product works. Instead, they claimed that homeopathic solution of arnica sold as a treatment for injuries, bruising and post-surgery trauma "works really, really well", was "awesome" and could also cure headaches. One salesperson checked with the pharmacist whether the product was suitable for swelling post-surgery and was told it was fine as long as no other medication was being taken at the same time.
There is no credible evidence the highly diluted homeopathic remedies sold by pharmacists work better than a placebo. Homeopathy's effectiveness has been rejected by many scientists and by large government reviews conducted in the UK, Australia and Europe.
Even if a staff member personally believes a homeopathic product works, guidelines referenced by the code of ethics say this should not sway the information given to the customer: "Patients must be made aware of the likely effectiveness of a given therapy according to recognised peer-reviewed medical publications, in spite of your personal beliefs."
Shortly after the code was changed in March 2018, Newsroom performed the same secret shopper experiment at four pharmacies and found the new rule was not followed. Eighteen months on, nothing has improved.
The chair of the consumer advocate group the 'Society for Science Based Healthcare', Mark Hanna, said there was no excuse for pharmacies to sell this kind of thing without warning. "Pharmacists should know better. Full stop. They should not be misleading their patients, they should not be letting their staff mislead their patients. If they don't know, that's incompetence. I would expect to be given reasonable, evidence-based advice, possibly some different options with the reason why I might choose one over the other. I wouldn't expect to be misled and sold something that wouldn't work.
Asked why the code was not being followed a spokesperson of the NZ pharmacists said a reminder of the code of ethics had been sent to pharmacies in June. It was recommended all staff be made aware of the code: "We encourage you to share this protocol with your entire team – even though it is a protocol for pharmacists, the reasoning also extends to other staff members in the pharmacy and it is important that all staff ensure that the patient has been provided with sufficient information to make an informed choice."
By Jove, we have discussed this issue often enough. If you are interested, here are a few of my more recent posts on this subject:
But pharmacists seem utterly reluctant to change – in NZ or elsewhere. Why? Could it have something to do with money?
If doctors violate their code of ethics, they face being reprimanded by their professional body. It is high time that the same happens with pharmacists, I feel.
I almost forgot!
This would have been no good, after all, Charles has for decades been the most influential supporter of so-called alternative medicine (SCAM) in the UK. He is one of SCAM's greatest proponent.
So, here is my up-dated, extended and illustrated summary of his achievements in this area.
HAPPY BIRTHDAY CHARLES!
Charles went on a journey of 'spiritual discovery' into the wilderness of northern Kenya. His guru and guide at the time was Laurens van der Post (later discovered to be a fraud and compulsive fantasist and to have fathered a child with a 14-year old girl entrusted to him during a sea voyage).
Van der Post wanted to awake Charles' mind and attune it to the vitalistic  ideas of Carl Jung's 'collective unconscious', and it is this belief in vitalism that provides the crucial link to alternative medicine: virtually every form of alternative therapies is based on the assumption that some sort of vital force exists. Charles was so taken by van der Post that he made him the godfather of Prince William. After Post's death, he established an annual lecture in his honour (the lecture series was discontinued after Van der Post was discovered to be a fraud).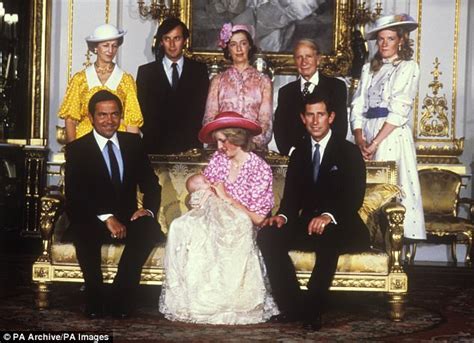 Some time in the 1970s, Charles met Jimmy Saville and befriended him. Apparently, Saville later advised Charles on several occasions in various health-related matters.
Throughout the 1980s, Charles lobbied for the statutory regulation of chiropractors and osteopaths in the UK. In 1993, this finally became reality. These two SCAM professions are to this day the only ones regulated by statute in the UK.
Osteopathy has strong Royal links: Prince Charles is the President of the GOsC; Princess Diana was the President of the GCRO; and Princess Anne is the patron of the British School of Osteopathy (statement dated 2011).
In 1982, Prince Charles was elected as President of the British Medical Association (BMA) and promptly challenged the medical orthodoxy by advocating alternative medicine. In a speech at his inaugural dinner as President, the Prince lectured the medics: 'Through the centuries healing has been practised by folk healers who are guided by traditional wisdom which sees illness as a disorder of the whole person, involving not only the patient's body, but his mind, his self-image, his dependence on the physical and social environment, as well as his relation to the cosmos.' The BMA-officials ordered a full report on alternative medicine which promptly condemned this area as implausible nonsense.
Six years later, a second report, entitled Complementary Medicine – New Approaches to Good Practice, heralded an astonishing about-turn stating that: "the demand for non-conventional therapies had become so pressing that organised medicine in Britain could no longer ignore its contribution". At the same time, however, the BMA set in motion a further chapter in the history of SCAM by insisting that it was "unacceptable" to allow the unrestricted practice of non-conventional therapies, irrespective of training or experience.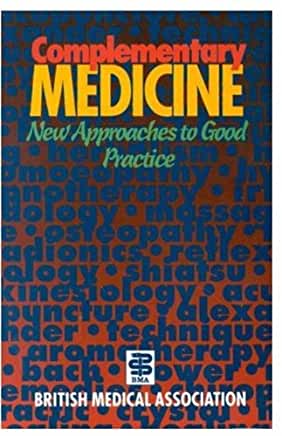 In 1993, Charles founded his lobby group which, after being re-named several times, ended up being called the 'Foundation for Integrated Health' (FIH). It was closed down in 2010 amidst allegations of money laundering and fraud. Its chief executive, George Gray, was later convicted and went to jail. The FIH had repeatedly been a little economical with the truth.
In 2000, Charles wrote an open letter to The Times stating that…It makes good sense to evaluate complementary and alternative therapies. For one thing, since an estimated £1.6 billion is spent each year on them, then we want value for our money. The very popularity of the non-conventional approaches suggests that people are either dissatisfied with their orthodox treatment, or they find genuine relief in such therapies. Whatever the case, if they are proved to work, they should be made more widely available on the NHS…But there remains the cry from the medical establishment of "where's the proof?" — and clinical trials of the calibre that science demands cost money…The truth is that funding in the UK for research into complementary medicine is pitiful…So where can funding come from?…Figures from the department of complementary medicine at the University of Exeter show that less than 8p out of every £100 of NHS funds for medical research was spent on complementary medicine. In 1998-99 the Medical Research Council spent no money on it at all, and in 1999 only 0.05 per cent of the total research budget of UK medical charities went to this area…
In 2001, Charles worked on plans to help build a model hospital of integrated medicine. It was to train doctors to combine conventional medicine and alternative treatments, such as homeopathy, Ayurvedic medicine and acupuncture, and was to have up to 100 beds. The prince's intervention marked the culmination of years of campaigning by him for the NHS to assign a greater role to alternative medicine. Teresa Hale, founder of the Hale Clinic in London, said: "Twenty-five years ago people said we were quacks. Now several branches, including homeopathy, acupuncture and osteopathy, have gained official recognition." The proposed hospital, which was due to open in London in 2003/4, was to be overseen by Mosaraf Ali, who runs the Integrated Medical Centre (IMC) in London. But the hospital never materialised.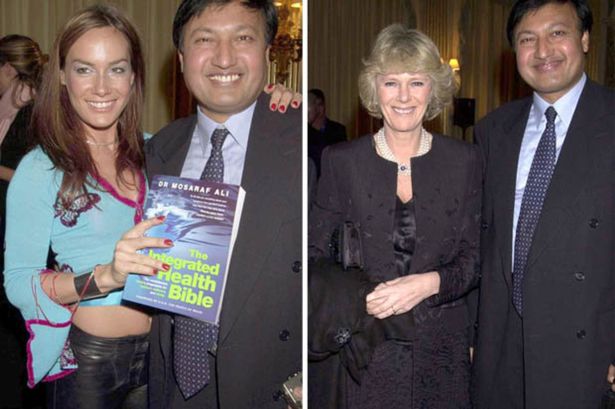 This might be due to Mosaraf Ali falling in disrepute: Raj Bathija, 69 and from India, went for a massage at the clinic of Dr Mosaraf Ali and his brother Imran in 2005 after suffering from two strokes. However, he claims that shortly after the treatment, his legs became pale and discoloured. Four days afterwards, Mr Bathija was admitted to hospital, where he had to have both legs amputated below the knee due to a shortage of blood. According to Mr Bathija, Dr Ali and his brother were negligent in that they failed to diagnose his condition and neglected to advise him to go to hospital. His daughter Shibani said: "My father was in a wheelchair but was making progress with his walking. He hoped he might become a bit more independent. With the amputations, that's all gone." Dr Ali was sued (if anyone knows the outcome of this case, please let me know).
At the age of 53, Mrs Parker Bowles went on a trek to the Himalayas to 're-energise' her spirits and encourage her to give up smoking. She was in a party of 12 accompanied by the Prince of Wales's favourite health guru, Dr Mosaraf Ali. Mrs Parker Bowles subsequently became a regular visitor to Dr Ali's London practice where she has been encouraged to take up yoga both to combat her back pain and to help her give up smoking.
In the same year, Charles published an editorial in the BMJ promoting his ideas around integrative medicine. Its title: THE BEST OF BOTH WORLDS.
In 2003, Prince Charles' FIH launched a five-year plan which outlined how to improve access to alternative therapies.
In 2004, Charles publicly supported the Gerson diet as a treatment for cancer and Prof Baum, an eminent oncologist, was invited to respond in an open letter to the British Medical Journal: …Over the past 20 years I have treated thousands of patients with cancer and lost some dear friends and relatives to this dreaded disease…The power of my authority comes with knowledge built on 40 years of study and 25 years of active involvement in cancer research. Your power and authority rest on an accident of birth. I don't begrudge you that authority but I do beg you to exercise your power with extreme caution when advising patients with life-threatening diseases to embrace unproven therapies.
In 2005, the 'Smallwood-Report' was published; it had been commissioned by Charles and paid for by Dame Shirley Porter to inform health ministers. It stated that up to 480 million pounds could be saved, if one in 10 family doctors offered homeopathy as an "alternative" to standard drugs for asthma. Savings of up to 3.5 billion pounds could be achieved by offering spinal manipulation rather than drugs to people with back pain. Because I had commented on this report, Prince Charles' first private secretary asked my vice chancellor to investigate my alleged indiscretion; even though I was found to be not guilty of any wrong-doing, all local support at Exeter stopped which eventually led to my early retirement. ITV later used this incident in a film entitled THE MEDDLING PRINCE, I later published a full account of this sad story in my memoir.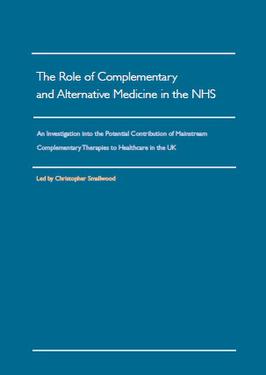 In a 2006 speech, Prince Charles told the World Health Organisation in Geneva that alternative medicine should have a more prominent place in health care and urged every country to come up with a plan to integrate conventional and alternative medicine into the mainstream. But British science struck back. Anticipating Prince Charles's sermon in Geneva, 13 of Britain's most eminent physicians and scientists wrote an "Open Letter" which expressed concern over "ways in which unproven or disproved treatments are being encouraged for general use in Britain's National Health Service." The signatories argued that "it would be highly irresponsible to embrace any medicine as though it were a matter of principle."
In 2008, The Times published my letter asking the FIH to withdraw two guides promoting alternative medicine, stating: "the majority of alternative therapies appear to be clinically ineffective, and many are downright dangerous." A speaker for the FIH countered the criticism by stating: "We entirely reject the accusation that our online publication Complementary Healthcare: A Guide contains any misleading or inaccurate claims about the benefits of complementary therapies. On the contrary, it treats people as adults and takes a responsible approach by encouraging people to look at reliable sources of information… so that they can make informed decisions. The foundation does not promote complementary therapies."
In 2009, the Prince held talks with the health Secretary to persuade him to introduce safeguards amid a crackdown by the EU that could prevent anyone who is not a registered health practitioner from selling remedies. This, it seems, was yet another example of Charles' disregard of his constitutional role.
In the same year, Charles urged the government to protect alternative medicine because "we fear that we will see a black market in herbal products", as Dr Michael Dixon (LVO,2015; OBE 2001), then medical director of Charles' FIH, put it.
In 2009, the health secretary wrote to the prince suggesting a meeting on the possibility of a study on integrating complementary and conventional healthcare approaches in England. The prince had written to Burnham's predecessor, Alan Johnson, to demand greater access to complementary therapies in the NHS alongside conventional medicine. The prince told him that "despite waves of invective over the years from parts of the medical and scientific establishment" he continued to lobby "because I cannot bear people suffering unnecessarily when a complementary approach could make a real difference". He opposed "large and threatened cuts" in the funding of homeopathic hospitals and their possible closure. He complained that referrals to the Royal London homeopathic hospital were increasing "until what seems to amount to a recent 'anti-homeopathic campaign'". He warned against cuts despite "the fact that these homeopathic hospitals deal with many patients with real health problems who otherwise would require treatment elsewhere, often at greater expense".
In 2009, it was announced that the 'College of Integrated Medicine' (the name was only later changed to 'College of Medicine', see below) was to have a second base in India. An Indian spokesman commented: "The second campus of the Royal College will be in Bangalore. We have already proposed the setting up of an All India Institute of Integrated Medicine to the Union health ministry. At a meeting in London last week with Prince Charles, we finalized the project which will kick off in July 2010".
In 2010, Charles publicly stated that he was proud to be perceived as 'an enemy of the enlightenment'.
In 2010, 'Republic' filed an official complaint about FIH alleging that its trustees allowed the foundation's staff to pursue a public "vendetta" against a prominent critic of the prince's support for complementary medicines. It also suggested that the imminent closure of Ernst's department may be partly down to the charity's official complaint about him after he publicly attacked its draft guide to complementary medicines as "outrageous and deeply flawed".
In 2010, former fellows of Charles' disgraced FIH launched a new organisation, The College of Medicine' supporting the use of integrated treatments in the NHS. One director of the college is Michael Dixon, a GP in Cullompton, formerly medical director of the Foundation for Integrated Health. My own analysis of the activities of the new college leaves little doubt that it is promoting quackery.
In 2010, Charles published his book HARMONY which is full of praise for even the most absurd forms of alternative therapies and even bogus diagnostic tests used by alternative practitioners.
In 2011, after the launch of Charles' range of herbal tinctures, I had the audacity to publicly criticise Charles for selling the Duchy Herbals detox tincture which I named 'Dodgy Originals Detox Tincture'.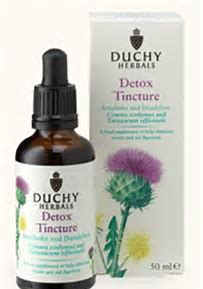 In 2011, Charles forged a link between 'The College of Medicine' and an Indian holistic health centre (see also above). The collaboration was reported to include clinical training to European and Western doctors in ayurveda and homoeopathy and traditional forms of medicine to integrate them in their practice. The foundation stone for the extended campus of the Royal College known as the International Institution for Holistic and Integrated Medicine was laid by Dr Michael Dixon in collaboration with the Royal College of Medicine.
In 2012, Charles was nominated for 'THE GOLDEN DUCK AWARD' for his achievements in promoting quackery. However, Andrew Wakefield beat him to it; Charles certainly was a deserving runner-up.
In 2013, Charles called for society to embrace a broader and more complex concept of health. In his article he described a vision of health that includes the physical and social environment, education, agriculture and architecture.
In 2013, Charles' Highgrove enterprise offered 'baby-hampers' for sale at £195 a piece and made a range of medicinal claims for the products it contained. As these claims were not supported by evidence, there is no way to classify them other than quackery.
By 2013, the 'Association of Osteomyologists' were seeking to become regulated by statute, with the help of Prince Charles as their patron. The chairman and founder of this organisation was knighted for services to alternative medicine.  Osteomyologists encourage the use of techniques including cranio-sacral therapy and claim that "we all know that Colleges, Institutions, and Medical Practitioners, are brain washed from the very outset into believing that their discipline is the only way to go."
In November 2013, Charles invited alternative medicine proponents from across the world, including Dean Ornish, Michael Dixon, chair of College of Medicine, UK and Issac Mathai of Soukya Foundation, Bangalore, to India for a 'brain storm' and a subsequent conference on alternative medicine. The prince wanted the experts to collaborate and explore the possibilities of integrating different systems of medicines and to better the healthcare delivery globally, one of the organisers said.
In June 2014, BBC NEWS published the following text about a BBC4 broadcast entitled 'THE ROYAL ACTIVIST' aired on the same day: Prince Charles has been a well-known supporter of complementary medicine. According to a… former Labour cabinet minister, Peter Hain, it was a topic they shared an interest in. He had been constantly frustrated at his inability to persuade any health ministers anywhere that that was a good idea, and so he, as he once described it to me, found me unique from this point of view, in being somebody that actually agreed with him on this, and might want to deliver it. Mr Hain added: "When I was Secretary of State for Northern Ireland in 2005-7, he was delighted when I told him that since I was running the place I could more or less do what I wanted to do.*** I was able to introduce a trial for complementary medicine on the NHS, and it had spectacularly good results, that people's well-being and health was vastly improved. And when he learnt about this he was really enthusiastic and tried to persuade the Welsh government to do the same thing and the government in Whitehall to do the same thing for England, but not successfully," added Mr Hain. On this blog, I have pointed out that the research in question was fatally flawed and that Charles, once again, overstepped the boundaries of his constitutional role.
In 2015, two books were published which are relevant in this context. My memoir A SCIENTIST IN WONDERLAND recounts most of my dealings with Charles and his sycophants, including how an intervention from his first private secretary eventually led to the closure of my department. The book by Catherine Meyer CHARLES, THE HEART OF A KING is far less critical about our heir to the throne; it nevertheless severely criticises his stance on alternative medicine.
In October 2015, the Guardian obtained the infamous "black spider memos" which revealed that Charles had repeatedly lobbied politicians in favour of alternative medicine (see also above).
In 2016, speaking at a global leaders summit on antimicrobial resistance, Prince Charles warned that Britain faced a "potentially disastrous scenario" because of the "overuse and abuse" of antibiotics. The Prince explained that he had switched to organic farming on his estates because of the growing threat from antibiotic resistance and now treats his cattle with homeopathic remedies rather than conventional medication. "As some of you may be aware, this issue has been a long-standing and acute concern to me," he told delegates from 20 countries "I have enormous sympathy for those engaged in the vital task of ensuring that, as the world population continues to increase unsustainably and travel becomes easier, antibiotics retain their availability to overcome disease… It must be incredibly frustrating to witness the fact that antibiotics have too often simply acted as a substitute for basic hygiene, or as it would seem, a way of placating a patient who has a viral infection or who actually needs little more than patience to allow a minor bacterial infection to resolve itself."
In 2017, the 'College of Medicine' mentioned above was discretely re-named 'College of Medicine and Integrated Health'
In the same year, Charles declared that he will open a centre for alternative medicine in the recently purchased Dumfries House in Scotland. Currently, the College of Medicine and Integrated Health is offering two-day Foundation Courses at this iconic location. Gabriel Chiu, a US celebrity cosmetic and reconstructive surgeon, and his wife Christine, joined the Prince of Wales as he opened the integrated health and wellbeing centre on the Dumfries House Estate in East Ayrshire in 2019. As he unveiled a plaque at the event, Prince Charles said: "I'm so glad that all of you have been able to get here today, particularly because I could not be more proud to see the opening of this new integrated health centre at Dumfries House. It's something I've been wanting to do for the last 35 years. I'm also so proud of all the team at Dumfries House who built it, an all in-house team.
"To reach this point where we can now offer a range of social prescribing opportunities is enormously encouraging and I hope it will be able to make some difference to a lot of the health issues that exist in this area."
Also in 2017, 'Country News' published an article about our heir to the throne stating that Prince of Wales has revealed he uses homeopathic treatments for animals on his organic farm at Highgrove to help reduce reliance on antibiotics, the article stated. He said his methods of farming tried wherever possible to ''go with the grain of nature'' to avoid dependency on antibiotics, pesticides and other forms of chemical intervention.
In 2018, The Prince of Wales accompanied the Prime Minister of India, Narendra Modi, to the Science Museum in London, and praised Asian medicine practices. The heir to the throne and the Indian Prime Minister then jointly unveiled a plaque for the UK's first centre of excellence for Indian traditional medicine.
In the same year, it was revealed that UK farmers are being taught how to treat their livestock with homeopathy "by kind permission of His Royal Highness, The Prince Of Wales"
In 2019, the Faculty of Homeopathy announced that His Royal Highness The Prince of Wales had accepted to become Patron of the Faculty of Homeopathy. Dr Gary Smyth, President of the Faculty of Homeopathy comments, "As the Faculty celebrates its 175th anniversary this year, it is an enormous honour for us to receive the Patronage of His Royal Highness The Prince of Wales and I am delighted to announce this news today." Charles' move amazed observers who saw it as a deliberate protest against the discontinuation of reimbursement of homeopathy by the NHS.
In 2019, Prince Charles said that yoga had "proven beneficial effects on both body and mind," and has "tremendous social benefits" that help build "discipline, self-reliance and self-care."
___________________________________________________________________
So again, Happy Birthday Your Royal Highness – and please don't forget: it's not too late to start doing good in the realm of healthcare by supporting good science, critical thinking and evidence-based medicine.
Sincerely yours
Edzard Ernst
The U.S. Food and Drug Administration (FDA) issued another warning about homeopathy. Here are some of the most relevant excerpts:
… Homeopathic products … are marketed without FDA review and may not meet modern standards for safety, effectiveness, quality and labeling. FDA uses a risk-based approach to monitor these products and to evaluate reports of adverse effects.
… Homeopathic drug products are made from a wide range of substances, including ingredients derived from plants, healthy or diseased animal or human sources, minerals and chemicals, including known poisons. These products have the potential to cause significant and even permanent harm if they are poorly manufactured, since that could lead to contaminated products or products that have potentially toxic ingredients at higher levels than are labeled and/or safe, or if they are marketed as substitute treatments for serious or life-threatening diseases and conditions, or to vulnerable populations. In addition, some products may be labeled as homeopathic that do not conform to traditional homeopathic principles.
As the homeopathy industry continues to grow at a rapid pace, we want to clarify for both consumers and industry how we assess the potential safety risks of these products. That's why in 2017, the FDA issued a draft guidance discussing our, risk-based enforcement approach to drug products labeled as homeopathic. Today, we are taking two new steps toward clarifying this approach.
First, we have revised the 2017 draft guidanceExternal Link Disclaimer to provide further information around our approach and are asking for public input on the revised draft. The draft guidance details a risk-based enforcement policy prioritizing certain categories of homeopathic products that could pose a higher risk to public health, including products with particular ingredients and routes of administration, products for vulnerable populations, and products with significant quality issues. We encourage the public to review this revised draft guidance and comment before it is finalized. We will consider feedback gathered through this new public comment period, the more than 4,500 comments interested stakeholders submitted on the original 2017 draft guidance, and information gleaned from a 2015 public hearing on the current use of homeopathic drug products. When finalized, this guidance will help provide transparency regarding the categories of homeopathic drug products that we intend to prioritize under our risk-based enforcement approach.
Second, the agency is withdrawingExternal Link Disclaimer the Compliance Policy Guide (CPG) 400.400, entitled "Conditions Under Which Homeopathic Drugs May be Marketed." Risk is an important driver of the FDA's regulatory and enforcement actions for all drug products, including homeopathic drug products. Since the issuance of CPG 400.400 in 1988, the FDA has encountered multiple situations in which homeopathic drug products posed a significant risk to patients, even though the products, as labeled, appeared to meet the conditions described in CPG 400.400. However, CPG 400.400 is inconsistent with our risk-based approach to regulatory and enforcement action generally and therefore does not reflect our current thinking. Therefore, it is appropriate to withdraw CPG 400.400 at this time.
… the FDA has issued warning letters to companies who produce homeopathic drug products for significant violations of current good manufacturing practice (CGMP) regulations and various other violations. So far in 2019, we've issued more than 10 warning letters to companies for violations concerning homeopathic products. Recently, we issued warning letters to Kadesh Inc., U.S. Continental Marketing, Inc., Fill It Pack It Inc. and Bershtel Enterprises LLC dba WePackItAll, which had jointly manufactured and packaged eye drops produced in non-sterile conditions which could result in serious eye infections. These warning letters should alert all companies that homeopathic drug products must be manufactured and labeled in accordance with the requirements of the Federal Food, Drug, and Cosmetic Act and agency regulations…
_________________________________________________
If you ask me, 'homeopathic drug products' is a misleading name. A drug is defined as a medicine or other substance which has a physiological effect when ingested or otherwise introduced into the body. But highly diluted homeopathics do not contain a substance that has physiological effects.
They should be called
homeopathics,
homeopathic pseudo-drugs,
homeopathic placebos,
or fake drugs.
And their labels should make it clear that:
these products contain no active ingredients,
and have not been shown to work beyond placebo.
That would be the type of honest and transparent information which consumers deserve and have a right to.
The UK-based homeopathic pharmacy AINSWORTH has attracted my attention several times already. Amongst other things, Tony Pinkus, the director of the firm, once accused me of having faked my research and I suspected him of violating the basic principles of research ethics in his study of homeopathy for autism.
Today, THE DAILY MAIL reports about AINSWORTH's scandalous promotion of the most dangerous quackery.
In a big article, the Mail informs the reader that:
AINSWORTH sell a guide (entitled 'The Mother & And Child Remedy Prescriber' and decorated with the codes of arms of both the Queen and Prince Charles) informing young mothers that homeopathy 'will strengthen a child's immune system more ably than any vaccine'.
The guide also claims that infections like mumps and measles can be treated homeopathically.
AINSWORTH sells homeopathic remedies used as vaccines against serious infections such as polio, measles, meningitis, etc.
AINSWORTH's guide claim that homeopathy 'offers the clearest answer as to how to deal with the prevention of disease'.
The guide claims furthermore that homeopathy is 'a complete alternative to vaccination'.
It even lists 7 homeopathic remedies for measles.
AINSWORTH claim that homeopathy provides 'natural immunity'.
AINSWORTH sell products called 'polio nosode', and 'meningeoma nosode'.
The Mail quotes several experts – including myself – who do not mince their words in condemning AINSWORTH for jeopardising public health. The paper also calls for AINSWORTH's two royal warrants to be removed.
AINSWORTH, Buckingham Palace, and Clarence House all declined to comment.