fraud
Mr William Harvey Lillard was the janitor contracted to clean the Ryan Building where D. D. Palmer's magnetic healing office was located. In 1895, he became Palmer's very first chiropractic patient and thus entered the history books. The very foundations of chiropractic are based on this story.
[Testimony of Harvey Lillard regarding the events surrounding the first chiropractic adjustment, printed in the January 1897 issue of the Chiropractor]
To call the 'Chiropractor' a reliable source would probably be stretching it a bit, and there are various versions of the event, even one where BJ Palmer, DD's son, changed significant details of the story. Nevertheless, it's a nice story, if there ever was one. But, like many nice stories, it's just that: a tall tale, a story that might be not based on reality. In this case, the reality getting in the way of a good story is human anatomy.
The nerve supply of the inner ear, the bit that enables us to hear, does not, like most other nerves of our body, run through the spine; it comes directly from the brain: the acoustic nerve is one of the 12 cranial nerves.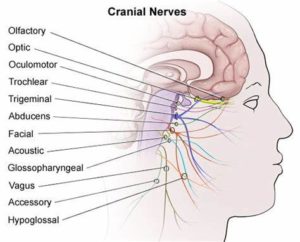 But chiropractors never let the facts get in the way of a good story! Thus they still tell it and presumably even believe it. Take this website, for instance, as an example of hundreds of similar sources:
… the very first chiropractic patient in history was named William Harvey Lillard, who experienced difficulty hearing due to compression of the nerves leading to his ears. He was treated by "the founder of chiropractic care," David. D. Palmer, who gave Lillard spinal adjustments in order to reduce destructive nerve compressions and restore his hearing. After doing extensive research about physiology, Palmer believed that Lillard's hearing loss was due to a misalignment that blocked the spinal nerves that controlled the inner ear (an example of vertebral subluxation). Palmer went on to successfully treat other patients and eventually trained other practitioners how to do the same.
How often have we been told that chiropractors receive a medical training that is at least as thorough as that of proper doctors? But that's just another tall story, I guess.
Here is the abstract of a paper that makes even the most senior assessor of quackery shudder:
Objective:
The purpose of this report is to describe the manipulation under anesthesia (MUA) treatment of 6 infants with newborn torticollis with a segmental dysfunction at C1/C2.
Clinical Features:
Six infants aged 4 1/2 to 15 months previously diagnosed with newborn torticollis were referred to a doctor of chiropractic owing to a failure to respond adequately to previous conservative therapies. Common physical findings were limited range of motion of the upper cervical spine. Radiographs demonstrated rotational malpositions and translation of atlas on axis in all 6 infants, and 1 had a subluxation of the C1/C2 articulation.
Interventions and Outcome:
Selection was based on complexity and variety of different clinical cases qualifying for MUA. Treatment consisted of 1 mobilization and was performed in the operating room of a children's hospital by a certified chiropractic physician with the author assisting. Along with the chiropractor and his assistant, a children's anesthesiologist, 1 to 2 operating nurses, a children's radiologist, and in 1 case a pediatric surgeon were present. Before the mobilization, plain radiographs of the cervico-occipital area were taken. Three infants needed further investigation by a pediatric computed tomography scan of the area because of asymmetric bony conditions on the plain radiographs. Follow-up consultations at 2, 3, 5, or 6 weeks were done. Patient records were analyzed for restriction at baseline before MUA compared with after MUA treatment for active rotation, passive rotation, and passive rotation in full flexion of the upper cervical spine. All 3 measurements showed significant differences. The long-term outcome data was collected via phone calls to the parents at 6 to 72 months. The initial clinical improvements were maintained.
Conclusion:
These 6 infants with arthrogenic newborn torticollis, who did not respond to previous conservative treatment methods, responded to MUA.
___________________________________________________________________
After reading the full text, I see many very serious problems and questions with this paper; here are 14 of the most obvious ones.
1. A congenital torticollis (that's essentially what these kids were suffering from) has a good prognosis and does not require such invasive treatments. There is thus no plausible reason to conduct a case series of this nature.
2. A retrospective case series does not allow conclusions about therapeutic effectiveness, yet in the article the author does just that.
3. The same applies to her conclusions about the safety of the interventions.
4. It is unclear how the 6 cases were selected; it seems possible or even likely that they are, in fact, 6 cases of many more treated over a long period of time.
5. If so, this paper is hardly a 'retrospective case series'; at best it could be called a 'best case series'.
6. The X-rays or CT scans are unnecessary and potentially harmful.
7. The anaesthesia is potentially very harmful and unjustifiable.
8. The outcome measure is unreliable, particularly if performed by the chiropractor who has a vested interest in generating a positive result.
9. The follow-up by telephone is inadequate.
10. The range of the follow-up period (6-72 months) is unacceptable.
11. The exact way in which informed consent was obtained is unclear. In particular, we would need to know whether the parents were fully informed about the futility of the treatment and its considerable risks.
12. The chiropractor who administered the treatments is not named. Why not?
13. Similarly, it is unclear why the other healthcare professionals involved in these treatments are not named as co-authors of the paper.
14. It is unclear whether ethical approval was obtained for these treatments.
The author seems inexperienced in publishing scientific articles; the present one is poorly written and badly constructed. A Medline research reveals that she has only one other publication to her name. So, perhaps one should not be too harsh in judging her. But what about her supervisors, the journal, its reviewers, its editor and the author's institution? The author comes from the Department of Chiropractic Medicine, Medical Faculty University, Zurich, Switzerland. On their website, they state:
The Faculty of Medicine of the University of Zurich is committed to high quality teaching and continuing research-based education of students in health care professions. Excellent and internationally recognised scientists and clinically outstanding physicians are at the Faculty of Medicine devoted to patients and public health, to teaching, to the support of young researchers and to academic medicine. The interaction between research and teaching, and their connection to clinical practice play a central role for us…
The Faculty of Medicine of the University of Zurich promotes innovative research in the basic fields of medicine, in the clinical application of knowledge, in personalised medicine, in health care, and in the translational connection between all these research areas. In addition, it encourages the cooperation between primary care and specialised health care.
It seems that, with the above paper, the UZH must have made an exception. In my view, it is a clear case of scientific misconduct and child abuse.
As you know, I have repeatedly written about integrative cancer therapy (ICT). Yet, to be honest, I was never entirely sure what it really is; it just did not make sense – not until I saw this announcement. It left little doubt about the nature of ICT.
As it is in German, allow me to translate it for you [the numbers added to the text refer to my comments below]:
ICT is a method of treatment that views humans holistically [1]. The approach is characterised by a synergistic application (integration) of all conventional [the actual term used is a derogatory term coined by Hahnemann to denounce the prevailing medicine of his time], immunological, biological and psychological insights [2]. In this spirit, also personal needs and subjective experiences of disease are accounted for [3]. The aim of this special approach is to offer cancer patients an individualised, interdisciplinary treatment [4].
Besides surgery, chemotherapy and radiotherapy, ICT also includes hormone therapy, hyperthermia, pain management, immunotherapy, normalisation of metabolism, stabilisation of the psyche, physical activity, dietary changes, as well as substitution of vital nutrients [5].
With ICT, the newest discoveries of cancer research are being offered [6], that support the aims of ICT. Therefore, the aims of the ICT doctor include continuous research of the world literature on oncology [7]…
Likewise, one has to start immediately with measures that help prevent metastases and tumour progression [8]. Both the maximization of survival and the optimisation of quality of life ought to be guaranteed [9]. Therefore, the alleviation of the side-effects of the aggressive therapies are one of the most important aims of ICT [10]…
HERE IS THE GERMAN ORIGINAL
Die integrative Krebstherapie ist eine Behandlungsmethode, die den Menschen in seiner Ganzheit sieht und sich dafür einsetzt. Ihre Behandlungsweise ist gekennzeichnet durch die synergetische Anwendung (Integration) aller sinnvollen schulmedizinischen, immunologischen, biologischen und psychologischen Erkenntnisse. In diesem Sinne werden auch die persönlichen Bedürfnisse und die subjektiven Krankheitserlebnisse berücksichtigt. Ziel dieser besonderen Therapie ist es, dass dem Krebspatienten eine individuell eingerichtete und interdisziplinär geplante Behandlung angeboten wird.​
Zur integrativen Krebstherapie gehört neben der operativen Tumorbeseitigung, Chemotherapie und Strahlentherapie auch die Hormontherapie, Hyperthermie, Schmerzbeseitigung, Immuntherapie, Normalisierung des Stoffwechsels, Stabilisierung der Psyche, körperliche Aktivierung, Umstellung der Ernährung sowie die Ergänzung fehlender lebensnotwendiger Vitalstoffe.
Mit dieser Behandlungsmethode werden auch die neuesten Entdeckungen der Krebsforschung angeboten, die die Ziele der Integrativen Krebstherapie unterstützen. Deshalb sind die ständigen Recherchen der umfangreichen Ergebnisse der Onkologie-Forschung in der medizinischen Weltliteratur auch Aufgabe der Mediziner in der Integrativen Krebstherapie…​
Ebenso sollte auch sofort mit den Maßnahmen begonnen werden, die helfen, dieMetastasen Bildung und Tumorprogredienz zu verhindern. Nicht nur die Maximierung des Überlebens, sondern auch die Optimierung der Lebensqualität sollen gewährleistet werden. Deshalb ist auch die Linderung der Nebenwirkungen der aggressiven Behandlungsmethoden eines der wichtigsten Ziele der Integrativen Krebstherapie….
MY COMMENTS
Actually, this describes conventional oncology!
Actually, this describes conventional oncology!
Actually, this describes conventional oncology!
Actually, this describes conventional oncology!
Actually, this describes conventional oncology!
Actually, this describes conventional oncology!
Actually, this describes conventional oncology!
Actually, this describes conventional oncology!
Actually, this describes conventional oncology!
Actually, this describes conventional oncology!
ICT might sound fine to many consumers. I can imagine that it gives confidence to some patients. But it really is nothing other than the adoption of the principles of good conventional cancer care?
No!
But in this case, ICT is just a confidence trick!
It is a confidence trick that allows the trickster to smuggle no end of SCAM into routine cancer care!
Or did I miss something here?
Am I perhaps mistaken?
Please, do tell me!
Determined to cover as many so-called alternative medicines (SCAMs) as I possibly can, I was intrigued to see an article in the EVENING STANDARD about a SCAM I had not been familiar with: YANG SHENG.
Here is an excerpt of this article:
When people meet Katie Brindle, they usually ask whether she does acupuncture. "In fact, I specialise in yang sheng," she says, a sigh in her voice. "It's a massive aspect of Chinese medicine that no one knows anything about." She's on a mission to change that. Yang sheng is, in simplest terms, "prevention not cure" and Brindle puts it into practice with Hayo'u, her part-beauty brand, part-wellness programme, which draws on rituals in Far Eastern medicine. The "Reset" ritual, for example, is based on the Chinese martial art of qigong and involves shaking, drumming and twisting the body to wake up your circulation — Brindle says it stimulates digestion and boosts immunity. The "Body Restorer", a gentle massage of the neck, chest and back, has a history of being used as a form of treatment for fever, muscle pain, inflammation and migraines. The principle underpinning all the practices is that small changes in your daily routine can help prevent your body from illness. Brindle wants it to be accessible: the website is free, and she is planning Facebook live-streams later in the year. There will also be a book in April, focusing on prevention rather than cure…
Frustrated about the overtly adversorial nature of this article, I did a few searches (not made easy by the fact that Yang and Sheng are common names of authors and yangsheng is the name of an acupuncture point) and found that Yang Sheng is said to be a health-promoting method in Traditional Chinese Medicine (TCM) that includes movement, mental exercise, and breathing technique. It is used mainly in China but has apparently it is currently enjoying an ever-widening acceptance in the Western world as well.
Is there any evidence for it?
Good question!
A paper from 1998 reported an observational study with 30 asthma patients, with varying degrees of illness severity. They were taught Qigong Yangsheng under medical supervision and asked to exercise independently, if possible, on a daily basis. They kept a diary of their symptoms for half a year including peak-flow measurements three times daily, use of medication, frequency and length of exercise as well as five asthma-relevant symptoms (sleeping through the night, coughing, expectoration, dyspnea, and general well-being). A decrease of at least 10 percent in peak-flow variability between the 1st and the 52nd week occurred more frequently in the group of the exercisers (n = 17) than in the group of non-exercisers (n = 13). When comparing the study year with the year before the study, there was improvement also in reduced hospitalization rate, less sickness leave, reduced antibiotic use and fewer emergency consultations resulting in reduced treatment costs. The authors concluded that Qigong Yangsheng is recommended for asthma patients with professional supervision. An improvement in airway capability and a decrease in illness severity can be achieved by regular self-conducted Qigong exercises.
The flaws of this study are obvious, and I don't even bother to criticise it here.
Unfortunately, that was the only 'study' I found.
I also located many websites most of which are all but useless. Here is one that offers some explanations:
Yang sheng is a self-care approach. What makes this any different from all those other wellbeing manuals? The short answer is, that this is advice rooted in thousands of years of wisdom. Texts on how to preserve and extend life, health and wellbeing have been part of the Chinese tradition since the 4thcentury BC. They've had over 25 centuries to be refined and are time tested.
Yang sheng takes into account core theories like yin and yang, adhering to the laws of nature and harmonious free flow of Qi around the body (see below). As the active pursuit of the best possible functioning and balance of the whole self – body, mind and spirit. Yang Sheng takes into consideration your relationships to people and the environment.
In the West, we systematically neglect wellness and disease prevention. We take our good health for granted. We assume that we cannot avoid disease. And then when we are ill, we treat the symptoms of disease rather than finding the root cause.
Yang Sheng is about discovering energy imbalances long before they turn into overt disease. It works on the approach of eliminating small health niggles and balancing the body to stay healthy.
If this sounds like a conspiracy of BS to you, I would not blame you.
So, what can we conclude from this? I think, it is fair to say that:
Yang Sheng is being promoted as yet another TCM miracle.
It is based on all the obsolete nonsense that TCM has to offer.
Numerous therapeutic and preventative claims are being made for it.
None of them is supported by anything resembling good evidence.
Anyone with a serious condition who trusts Yang Sheng advocates puts her/his life in danger.
The EVENING STANDARD is not a source for reliable medical information.
I don't expect many of my readers to be surprised, concerned or alarmed by any of this. In my view, however, this lack of alarm is exactly what is alarming! We have become so used to seeing bogus claims and dangerous BS in the realm of SCAM that abnormality has gradually turned into something close to normality.
I find the type of normality that incessantly misleads consumers and endangers patients quite simply unacceptable.
Highly diluted homeopathic remedies are pure placebos! This is what the best evidence clearly shows. Ergo they cannot be shown in a rigorous study to have effects that differ from placebo.  But now there is a study that seems to contradict this widely accepted conclusion.
Can someone please help me to understand what is going on?
In this double-blind, placebo-controlled RCT, 60 patients suffering from insomnia were treated either individualised homeopathy (IH) or placebo for 3 months. Patient-administered sleep diary and Insomnia Severity Index (ISI) were used the primary and secondary outcomes respectively, measured at baseline, and after 3 months.
Five patients dropped out (verum:2,control:3).Intention to treat sample (n=60) was analysed. Trial arms were comparable at baseline. In the verum group, except sleep diary item 3 (P= 0.371), rest of the outcomes improved significantly (all P < 0.01). In the control group, there were significant improvements in diary item 6 and ISI score (P < 0.01) and just significant improvement in item 5 (P= 0.018). Group differences were significant for items 4, 5 and 6(P < 0.01) and just significant (P= 0.014) for ISI score with moderate to large effect sizes; but non-significant (P > 0.01) for rest of the outcomes.
The authors concluded that in this double-blind, randomized, prospective, placebo-controlled, two parallel arms clinical trial conducted on 60 patients suffering from insomnia, there was statistically significant difference measured in sleep efficiency, total sleep time, time in bed, and ISI score in favour of homeopathy over placebo with moderate to large effect sizes. Group differences were non-significant for rest of the outcomes(i.e. latency to fall asleep, minutes awake in middle of night and minutes awake too early). Individualized homeopathy seemed to produce significantly better effect than placebo. Independent replications and adequately powered trials with enhanced methodological rigor are warranted.
I have studied this article in some detail; its methodology is nicely and fully described in the original paper. To my amazement, I cannot find a flaw that is worth mentioning. Sure, the sample was small, the treatment time short, the outcome measure subjective, the paper comes from a dubious journal, the authors have a clear conflict of interest, even though they deny it – but none of these limitations has the potential to conclusively explain the positive result.
In view of what I stated above and considering what the clinical evidence so far tells us, this is most puzzling.
A 2010 systematic review authored by proponents of homeopathy  included 4 RCTs comparing homeopathic medicines to placebo. All involved small patient numbers and were of low methodological quality. None demonstrated a statistically significant difference in outcomes between groups.
My own 2011 not Medline-listed review (Focus on Alternative and Complementary Therapies Volume 16(3) September 2011 195–199) included several additional studies. Here is its abstract:
The aim of this review was the critical evaluation of evidence for the effectiveness of homeopathy for insomnia and sleep-related disorders. A search of MEDLINE, AMED, CINAHL, EMBASE and Cochrane Central Register was conducted to find RCTs using any form of homeopathy for the treatment of insomnia or sleep-related disorders. Data were extracted according to pre-defined criteria; risk of bias was assessed using Cochrane criteria. Six randomised, placebo-controlled trials met the inclusion criteria. Two studies used individualised homeopathy, and four used standardised homeopathic treatment. All studies had significant flaws; small sample size was the most prevalent limitation. The results of one study suggested that homeopathic remedies were superior to placebo; however, five trials found no significant differences between homeopathy and placebo for any of the main outcomes. Evidence from RCTs does not show homeopathy to be an effective treatment for insomnia and sleep-related disorders.
It follows that the new trial contradicts previously published evidence. In addition, it clearly lacks plausibility, as the remedies used were highly diluted and therefore should be pure placebos. So, what could be the explanation of the new, positive result?
As far as I can see, there are the following possibilities:
fraud,
coincidence,
some undetected/undisclosed bias,
homeopathy works after all.
I would be most grateful, if someone could help solving this puzzle for me (if needed, I can send you the full text of the new article for assessment).
Oscillococcinum is by now well-known to readers of this blog, I am sure (see for instance here, here and here). It seems an important topic, not least because the infamous duck-placebo is the world's best-selling homeopathic remedy. Just how popular it is was recently shown in a survey by the formidable 'Office for Science and Society' of the McGill University in Canada.
The researchers surveyed the five biggest pharmacy chains in Quebec: Jean-Coutu, Familiprix, Uniprix, Proxim, and Pharmaprix. For each chain, a sample of 30 pharmacies was chosen by a random number generator.
The calls started with the following script: "I would like to know if you carry a certain homeopathic remedy. It's called Oscillococcinum, it's a homeopathic remedy against the flu made by Boiron." If they did not have it, the investigator asked if this was something they normally carried. He spoke to either a floor clerk or a member of the pharmacy staff behind the counter, depending on who knew the answer.
Out of the 150 pharmacies on the island of Montreal that were called for this investigation, 66% of them reported carrying Oscillococcinum (30% did not, while 4% could not be reached, often because the listed pharmacy had closed). Some chains were more likely to sell the product, with Jean-Coutu and Pharmaprix being the most likely (80% of their stores had it) and Proxim being the least likely (50% of their stores carried it).
The McGill researcher stated that the fact that two-thirds of Montreal-based pharmacies will sell us a pseudo-treatment for the flu that targets adults, children and infants alike is hard to square with the Quebec Order of Pharmacists' mission statement. They describe said mission as "ensuring the protection of the public", but how is the public protected when pharmacies are selling them placebo pills? The harm is partly financial: 30 doses of these worthless globules retail for CAD 36. It is also in the false sense of security parents will gain and the delay in proper treatment if needed. And, ultimately, it is in the legitimization of a pseudoscience the founding principle of which is that the more you add water to something (like alcohol), the more powerful it becomes.
I can only full-heartedly agree. One might even add a few more things, for instance that there are other dangers as well:
If pharmacists put commercial gain before medical ethics, we might find it hard to trust this profession.
If people take Oscillococcinum and their condition subsequently disappears (because of the self-limiting nature of the disease), they might believe that homeopathy is effective and consequently use it for much more serious conditions – with grave consequences, I hasten to add.
If consumers thus start trusting homeopaths, they might also fall for some of their abominable health advice, e. g. that about not vaccinating their children.
If a sufficiently large percentage of people believe in the magic of shaken water, our rationality will be undermined and we will encounter phenomena like Brexit or fascists as presidents (sorry, I has to get that off my chest).
The claim that homeopathy can cure cancer is so absurd that many people seem to think no homeopaths in their right mind would make it. Sadly, this turns out to be not true. A rather dramatic example is this extraordinary book. Here is what the advertisement says:
The global medical fraternity has been exploring various alternative approaches to cancer treatment. However, this exceptional book, "Healing Cancer: A Homoeopathic Approach" by Dr Farokh J Master, does not endorse a focused methodology, but it paves the way to a holistic homoeopath's approach. For the last 40 years, the author has been utilising this approach which is in line with the Master Hahnemann's teachings, where he gives importance to constitution, miasms, susceptibility, and most important palliation. It is a complete handbook, a ready reference providing authentic information on every aspect of malignant diseases. It covers the cancer related topics beginning from cancer archetype, clinical information on diagnosis, prevention, conventional treatment, homoeopathic aspects, therapeutics, polycrest remedies, rare remedies, Indian remedies, wisdom from the repertory, naturopathic and dietary suggestions, Iscador therapy, and social aspects of cancer to the latest researches in the field of cancer. Given the efforts put in by the author in writing this vast book, encompassing decades of clinical experience, this is indeed a valuable addition to the homoeopathic literature. In addition to homoeopaths, this book will indeed be useful for medical doctors of other modalities of therapeutics who also wish to explore a holistic approach to cancer patients since this book is the outcome of author's successful efforts in introducing and integrating homoeopathy to the mainstream cancer treatment.
END OF QUOTE
I do wonder what goes on in the head of a clinician who spent much of his life convincing himself and others that his placebos cure cancer and then takes it upon him to write a book about this encouraging other clinician to follow his dangerous ideas.
Is he vicious?
Is he in it for the money?
Is he stupid?
Is he really convinced?
Whatever the answer, he certainly is dangerous!
For those who do not know already: homeopathy is totally ineffective as a treatment for cancer; to think otherwise can be seriously harmful.
A few weeks ago, I was interviewed by a journalist who wanted to publish the result in a magazine. He now informed me that his editor decided against it, and the interview thus remained unpublished. I have the journalist's permission to publish it here. The journalist who, in my view, was well-prepared (much better than most), prefers to remain unnamed.
Q: How would you describe yourself?
A: I am a researcher of alternative medicine.
Q: Not a critic of alternative medicine?
A: Primarily, I am a researcher; after all, I have published more Medline-listed research papers on the subject than anyone else on the planet.
Q: You are retired since a few years; why do you carry on working?
A: Mainly because I see a need for a critical voice amongst all the false and often dangerous claims made by proponents of alternative medicine. But also because I enjoy what I am doing. Since I retired, I can focus on the activities I like. There is nobody to tell me what to do and what not to do; the latter happened far too often when I was still head of my research unit.
Q: Fine, but I still do not quite understand what drives you. Who is motivating you to criticise alternative medicine?
A: Nobody. Some people claim I am paid for my current activities. This is not true. My blog actually costs me money. My books never return enough royalties to break even, considering the time they take to write. And for most of my lectures I don't charge a penny.
Q: There are people who find this hard to believe.
A: I know. This just shows how money-orientated they are. Do they want me to publish my tax returns?
Q: Sorry, but I still don't understand your motivation.
A: I guess what motivates me is a sense of responsibility, a somewhat naïve determination to do something good as a physician. I am one of the only – perhaps even THE only – scientist who has researched alternative medicine extensively and who is not a promoter of bogus therapies but voices criticism about them. There are several other prominent and excellent critics of alternative medicine, of course, but they all come 'from the outside'. I come from the inside of the alternative medicine business. This probably gives me a special understanding of this field. In any case, I feel the responsibility to counter-balance all the nonsense that is being published on a daily basis.
Q: What's your ultimate aim?
A: I want to create progress through educating people to think more critically.
Q: Which alternative medicine do you hate most?
A: I do not hate any of them. In fact, I still have more sympathy for them than might be apparent. For my blog, for instance, I constantly search for new research papers that are rigorous and show a positive result. The trouble is, there are so very few of those articles. But when I find one, I am delighted to report about it. No, I do not hate or despise any alternative medicine; I am in favour of good science, and I get irritated by poor research. And yes, I do dislike false claims that potentially harm consumers. And yes, I do dislike it when chiropractors or other charlatans defraud consumers by taking their money for endless series of useless interventions.
Q: I noticed you go on about the risks of alternative medicine. But surely, they are small compared to the risks of conventional healthcare, aren't they?
A: That's a big topic. To make it simple: alternative medicine is usually portrayed as risk-free. The truth, however, is that there are numerous risks of direct and indirect harm; the latter is usually much more important than the former. Crucially, the risk-free image is incongruent with reality. I want to redress this incongruence. And as to conventional medicine: sure, it can be much more harmful. But one always has to see this in relation to the proven benefit. Chemotherapy, for instance, can kill a cancer patient, but more likely it saves her life. Homeopathic remedies cannot kill you, but employed as an alternative to an effective cancer treatment, homeopathy will certainly kill you.
Q: Homeopathy seems to be your particular hobby horse.
A: Perhaps. This is because it exemplifies alternative medicine in several ways, and because I started my alternative 'career' in a homeopathic hospital, all those years ago.
Q: In what way is homeopathy exemplary?
A: Its axioms are implausible, like those of many other alternative modalities. The clinical evidence fails to support the claims, like with so many alternative therapies. And it is seemingly safe, yet can do a lot of harm, like so many other treatments.
Q: You have no qualification in homeopathy, is that right?
A: No, I have no such qualifications. And I never said so. When I want to tease homeopaths a little, I state that I am a trained homeopath; and that is entirely correct.
Q: In several countries, homeopathy has taken spectacular hits recently. Is that your doing?
A: No, I don't think so. But I do hope that my work has inspired the many dedicated activists who are currently protesting against the reimbursement of homeopathy by the public purse in the UK, Germany, France, Spain, etc.
Q: You often refer to medical ethics; why is that?
A: Because, in the final analysis, many of the questions we already discussed are really ethical issues. And in alternative medicine, few people have so far given the ethical dimensions any consideration. I think ethics are central to alternative medicine, so much so that I co-authored an entire book on this topic this year.
Q: Any plans for the future?
A: Plenty.
Q: Can you tell me more?
A: I will publish another book in 2019 with Springer. It will be a critical evaluation of precisely 150 different alternative modalities. I am thinking of writing yet another book, but have not yet found a literary agent who wants to take me on. I have been offered a new professorship at a private University in Vienna, and am hesitant whether to accept or not. I have been invited to give a few lectures in 2019 and hope to receive more invitations. Last not least, I work almost every day on my blog.
Q: More than enough for a retiree, it seems. Thank you for your time.
A: My pleasure.
Many chiropractors tell new mothers that their child needs chiropractic adjustments because the birth is in their view a trauma for the new-born that causes subluxations of the baby's spine. Without expert chiropractic intervention, they claim, the poor child risks serious developmental disorders.
This article (one of hundreds) explains it well: Birth trauma is often overlooked by doctors as the cause of chronic problems, and over time, as the child grows, it becomes a thought less considered. But the truth is that birth trauma is real, and the impact it can have on a mother or child needs to be addressed. Psychological therapy, physical therapy, chiropractic care, acupuncture, and other healing techniques should all be considered following an extremely difficult birth.
And another article makes it quite clear what intervention is required: Caesarian section or a delivery that required forceps or vacuum extraction procedures, in-utero constraint, an unusual presentation of the baby, and many more can cause an individual segment of the spine or a region to shift from its normal healthy alignment. This 'shift' in the spine is called a Subluxation, and it can happen immediately before, during, or after birth.
Thousands of advertisements try to persuade mothers to take their new-born babies to a chiropractor to get the problem sorted which chiropractors often call KISS (kinetic imbalance due to suboccipital strain-syndrome), caused by intrauterine-constraint or the traumas of birth.
This abundance of advertisements and promotional articles is in sharp contrast with the paucity of scientific evidence.
A review of 1993 concluded that birth trauma remains an underpublicized and, therefore, an undertreated problem. There is a need for further documentation and especially more studies directed toward prevention. In the meantime, manual treatment of birth trauma injuries to the neuromusculoskeletal system could be beneficial to many patients not now receiving such treatment, and it is well within the means of current practice in chiropractic and manual medicine.
A more critical assessment of … concluded that, given the absence of evidence of beneficial effects of spinal manipulation in infants and in view of its potential risks, manual therapy, chiropractic and osteopathy should not be used in infants with the kinetic imbalance due to suboccipital strain-syndrome, except within the context of randomised double-blind controlled trials.
So, what follows from all this?
How about this?
Chiropractors' assumption of an obligatory birth trauma that causes subluxation and requires spinal adjustments is nothing more than a ploy by charlatans for filling their pockets with the cash of gullible parents.
This systematic review was aimed at evaluating the effects of acupuncture on the quality of life of migraineurs.  Only randomized controlled trials that were published in Chinese and English were included. In total, 62 trials were included for the final analysis; 50 trials were from China, 3 from Brazil, 3 from Germany, 2 from Italy and the rest came from Iran, Israel, Australia and Sweden.
Acupuncture resulted in lower Visual Analog Scale scores than medication at 1 month after treatment and 1-3 months after treatment. Compared with sham acupuncture, acupuncture resulted in lower Visual Analog Scale scores at 1 month after treatment.
The authors concluded that acupuncture exhibits certain efficacy both in the treatment and prevention of migraines, which is superior to no treatment, sham acupuncture and medication. Further, acupuncture enhanced the quality of life more than did medication.
The authors comment in the discussion section that the overall quality of the evidence for most outcomes was of low to moderate quality. Reasons for diminished quality consist of the following: no mentioned or inadequate allocation concealment, great probability of reporting bias, study heterogeneity, sub-standard sample size, and dropout without analysis.
Further worrisome deficits are that only 14 of the 62 studies reported adverse effects (this means that 48 RCTs violated research ethics!) and that there was a high level of publication bias indicating that negative studies had remained unpublished. However, the most serious concern is the fact that 50 of the 62 trials originated from China, in my view. As I have often pointed out, such studies have to be categorised as highly unreliable.
In view of this multitude of serious problems, I feel that the conclusions of this review must be re-formulated:
Despite the fact that many RCTs have been published, the effect of acupuncture on the quality of life of migraineurs remains unproven.