fraud
Professor Anthony Pelosi just published an intriguing paper. Here is the abstract:
During the 1980s and 1990s, Hans J Eysenck conducted a programme of research into the causes, prevention and treatment of fatal diseases in collaboration with one of his protégés, Ronald Grossarth-Maticek. This led to what must be the most astonishing series of findings ever published in the peer-reviewed scientific literature with effect sizes that have never otherwise been encounterered in biomedical research. This article outlines just some of these reported findings and signposts readers to extremely serious scientific and ethical criticisms that were published almost three decades ago. Confidential internal documents that have become available as a result of litigation against tobacco companies provide additional insights into this work. It is suggested that this research programme has led to one of the worst scientific scandals of all time. A call is made for a long overdue formal inquiry.
The Guardian reported further details on this story sating that the work of one of the most famous and influential British psychologists of all time, Hans Eysenck, is under a cloud following an investigation by King's College London, which has found 26 of his published papers "unsafe".
In relation to so-called alternative medicine (SCAM), it is foremost this claim of Eysenck that is relevant:
It is argued that there is now suficient evidence to regard psychosocial variables, in
particular personality and stress, as important risk factors for cancer and coronary heart
disease (CHD), equal in importance to smoking, heredity, cholesterol level, blood pressure,
and other physical variables. Furthermore, it is now clear that both types of factors act
synergistically; that is, each by itself is relatively benign, but their effects multiply to produce
high levels of disease…
The claim (which Eysenck published many times over, for instance here) was picked up and promoted by many believers in SCAM. This might have been helped by Eysenck's bizarre openness to all things paranormal. Today his belief of a link between personality/stress and cancer is deeply engrained in SCAM.
King's College says the results and conclusions of the papers "were not considered scientifically rigorous" by its committee of inquiry. Prof Sir Robert Lechler, the provost at King's, has contacted the editors of the 11 journals where the papers appeared, recommending they should be retracted.
Prof Anthony Pelosi, consultant psychiatrist at the Priory Hospital, Glasgow, whose own investigation prompted the inquiry by King's, said their work "led to what must be the most astonishing series of findings ever published in the peer-reviewed scientific literature, with effect sizes that have never otherwise been encountered in biomedical research".
Among more than 3,000 people in the studies, Eysenck and his colleague claimed people with a "cancer-prone" personality were 121 times more likely to die of the disease than those without. Cancer-prone personalities were described as generally passive in the face of stress from outside.
Eysenck and Grossarth-Maticek apparently even had a cure for cancer. In one study, they gave 600 "cancer-prone" individuals a leaflet on how to be more "autonomous" and take control of their destiny. It contained such advice as: "Your aim should always be to produce conditions which make it possible for you to lead a happy and contented life." It appeared to deliver miracles. Over 13 years, the 600 people randomly assigned to bibliotherapy, as it was called, had all-cause mortality of 32%, compared with 82% of 600 people not fortunate enough to receive a leaflet.
"I honestly believe, having read it so carefully and tried to find alternative interpretations, that this is fraudulent work," said Pelosi, who is concerned Eysenck's ideas still have a following. "His acolytes always bragged he was the most cited psychologist of all time… In the social sciences citation index, he was number three. Number two was Freud. Number one was Karl Marx. He was hugely prolific, widely cited and very influential… Many fringe medical practitioners hold the same conviction."
Traditional Chinese Medicine (TCM) is a term created by Mao lumping together various modalities in an attempt to pretend that healthcare in the People's Republic of China (PRC) was being provided despite the most severe shortages of conventional doctors, drugs and facilities. Since then, TCM seems to have conquered the West, and, in the PRC, the supply of conventional medicine has hugely increased. Today therefore, TCM and conventional medicine peacefully co-exist side by side in the PRC on an equal footing.
At least this is what we are being told – but is it true?
I have visited the PRC twice. The first time, in 1980, I was the doctor of a university football team playing several games in the PRC, including one against their national team. The second time, in 1991, I co-chaired a scientific meeting in Shanghai. On both occasions, I was invited to visit TCM facilities and discuss with colleagues issues related to TCM in the PRC. All the official discussions were monitored by official 'minders', and therefore fee speech and an uninhibited exchange of ideas are not truly how I would describe them. Yet, on both visits, there were occasions when the 'minders' were absent and a more liberal discussion could ensue. Whenever this was the case, I did not at all get the impression that TCM and conventional medicine were peacefully co-existing. The impression that I did get was that their co-existence resembled more a 'shot-gun marriage'.
During my time running the SCAM research unit at Exeter, I had the opportunity to welcome several visiting researchers from the PRC. This experience seemed to confirm my impression that TCM in the PRC was less than free. As an example, I might cite one acupuncture project I was once working on with a scientist from the PRC. When it was nearing its conclusion and I mentioned that we should now think about writing it up to publish the findings, my Chinese colleague said that being a co-author was unfortunately not an option. Knowing how important publications in Western journals are for researchers from the PRC, I was most surprised by this revelation. The reason, it turned out, was that our findings failed to be favourable for TCM. My friend explained that such a paper would not advance but hinder an academic career, once back in the PRC.
Suspecting that the notion of a peaceful co-existence of TCM and conventional medicine in the PRC was far from true, I have always been puzzled how the myth could survive for so many years. Now, finally, it seems to crumble. This is from a recent journalistic article entitled 'Chinese Activists Protest the Use of Traditional Treatments – They Want Medical Science' which states that thousands of science activists in the PRC protest that the state neglects its duty to treat its citizens with evidence-based medicine (here is the scientific article this is based on):
Over a number of years, Chinese researcher Qiaoyan Zhu, who has been affiliated with the University of Copenhagen's Department of Communication, has collected data on the many thousand science activists in China through observations in Internet forums, on social media and during physical meetings. She has also interviewed hundreds of activists. Together with Professor Maja Horst, who has specialized in research communication, she has analyzed the many data on the activists and their protests in an article that has just been published in the journal Public Understanding of Science:
"The activists are better educated and wealthier than the average Chinese population, and a large majority of them keep up-to-date with scientific developments. The protests do not reflect a broad popular movement, but the activists make an impact with their communication at several different levels," Maja Horst explained and added: "Many of them are protesting individually by writing directly to family, friends and colleagues who have been treated with – and in some cases taken ill from – Traditional Chinese Medicine. Some have also hung posters in hospitals and other official institutions to draw attention to the dangers of traditional treatments. But most of the activism takes place online, on social media and blogs.
Activists operating in a regime like the Chinese are obviously not given the same leeway as activists in an open democratic society — there are limits to what the authorities are willing to accept in the public sphere in particular. However, there is still ample opportunity to organize and plan actions online.
"In addition to smaller groups and individual activists that have profiles on social media, larger online groups are also being formed, in some cases gaining a high degree of visibility. The card game with 52 criticisms about Traditional Chinese Medicine that a group of activists produced in 37,000 copies and distributed to family, friends and local poker clubs is a good example. Poker is a highly popular pastime in rural China so the critical deck of cards is a creative way of reaching a large audience," Maja Horst said.
Maja Horst and Qiaoyan Zhu have also found examples of more direct action methods, where local activist groups contact school authorities to complain that traditional Chinese medicine is part of the syllabus in schools. Or that activists help patients refuse treatment if they are offered treatment with Traditional Chinese Medicine.
________________________________________________________________
I am relieved to see that, even in a system like the PRC, sound science and compelling evidence cannot be suppressed forever. It has taken a mighty long time, and the process may only be in its infancy. But there is hope – perhaps even hope that the TCM enthusiasts outside the PRC might realise that much of what came out of China has led them up the garden path!?
On Twitter, I recently found this remarkable advertisement: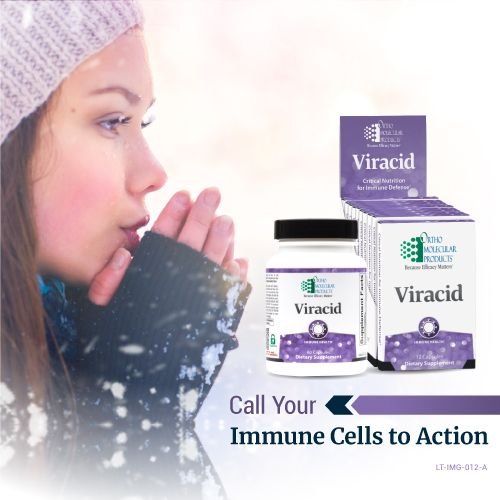 Naturally, it interested me. The implication seemed to be that we can boost our immune system and thus protect ourselves from colds, the flu and other infections by using this supplement. With the flu season approaching, this might be important. On the other hand, the supplement might be unsafe for many other patients. As I had done a bit of research in this area, I needed to know more.
According to the manufacturer's information sheet, Viracid
Provides Support for Immune Challenges
Strengthens Immune Function
Maintains Normal Inflammatory Balance
The manufacurer furthermore states the following:
Our body's immune system is a complex and dynamic defense system that comes to our rescue at the first sign of exposure to an outside invader. The dynamic nature of the immune system means that all factors that affect health need to be addressed in order for it to function at peak performance. The immune system is very sensitive to nutrient deficiencies. While vitamin deficiencies can compromise the immune system, consuming immune enhancing nutrients and botanicals can support and strengthen your body's immune response. Viracid's synergistic formula significantly boosts immune cell function including antibody response, natural killer (NK) cell activity, thymus hormone secretions, and T-cell activation. Viracid also helps soothe throat irritations and nasal secretions, and maintains normal inflammatory balance by increasing antioxidant levels throughout the body.
This sounds impressive. Viracid could thus play an important role in keeping us healthy. It could also be contra-indicated to lots of patients who suffer from autoimmune and other conditions. In any case, it is worth having a closer look at this dietary supplement. The ingredients of the product include:
Vitamin A,
Vitamin C,
Vitamin B12,
Pantothenic Acid,
Zinc,
L-Lysine Hydrochloride,
Echinacea purpurea Extract,
Acerola Fruit,
Andrographis paniculata,
European Elder,
Berry Extract,
Astragalus membranaceus Root Extract
Next, I conducted several literature searches. Here is what I did NOT find:
any clinical trial of Viracid,
any indication that its ingredients work synergistically,
any proof of Viracid inducing an antibody response,
or enhancing natural killer (NK) cell activity,
or thymus hormone secretions,
or T-cell activation,
or soothing throat irritations,
or controlling nasal secretions,
or maintaining normal inflammatory balance,
any mention of contra-indications,
any reliable information about the risks of taking Viracid.
There are, of course, two explanations for this void of information. Either I did not search well enough, or the claims that are being made for Viracid by the manufacturer are unsubstantiated and therefore bogus.
Which of the two explanations apply?
Please, someone – preferably the manufacturer – tell me.
Some of you might have followed my recent discussion with a homeopath. It followed a typical path, and I decided therefore to try and analyse this exchange here. Perhaps others can learn from this example when debating with homeopaths or other providers of so-called alternative medicine (SCAM).
THE START
These conversations often start 'out of the blue' by some falsehood being trumpeted on social media. In the present case, the encounter commenced by someone tweeting this message to me: "…remember that asthma trial whose results you faked?" As I did not even remember having ever met the man, I was perplexed. And as I have not faked the study in question nor any other results, I did not think his remark was credible or funny. My mention of the fact that the aggressor was being libellous seemed to bring an end to this unhappy dialogue.
But not for very long. When the man insulted me again – this time very publicly in a UK newspaper – I decided to look into it a bit closer. The aggressor turned out to be in charge of the well-known UK homeopathic pharmacy, Ainsworth, and thus had an overt conflict of interest in defaming my often critical stance on homeopathy. Intriguingly, he had also published his own study of homeopathy. When I assessed this research, it turned out to be both incompetent and unethical. I had hoped that he would defend his work and discuss its limitations with me in a rational fashion. Yet, at this stage, he remained silent.
I then decided to write a further post in the hope of getting some sort of response from him. Alas, my hope was disappointed again. Even when I challenged him and his ROYAL WARRANT directly, he remained silent.
THE BUILD-UP
It needed a seemingly unrelated post of mine for him to find his voice:
Dear Ezard
We can all go round in endless circles arguing whether the Earth is Flat, but eventually someone has to venture out in a boat to the horizon to determine the fact. A cursory reading of Hahnemann encourages every student of homoeopathy to gain their own experience empirically. We all know you and your friends on this blog are standing on the shore proclaiming the Earth to be flat, but when are you going to pedal out,to bravely cite actual cases you have treated with homoeopathy as evidence of your position? What the audience reading this wants to know is what experience and knowledge any of you actually have of the subject you spend so much time criticising?
At this stage a had grown a little weary of Mr Pinkus and his innuendos. My response was thus a little impatient:
Dear Tony
I don't think highly of people who
1) are too daft to spell my name correctly,
2) imply I have no experience in homeopathy,
3) pretend that I make a secret of it, while, in fact, I published this multiple times (i.e. https://www.amazon.co.uk/Scientist-Wonderland-Searching-Finding-Trouble/dp/1845407776),
4) accuse others of being flat earthers, while evidently being one themselves,
5) do all this without declaring their massive conflict of interest.
Best regards
Edzard
What followed was Pinkus' increasingly irrational attempts to defame me by revealing to the world that I (and other critics of homeopathy) lacked sufficient clinical experience with homeopathy and therefore were not competent to discuss the subject. Explanations by myself and others that,
firstly I did have knowledge and experience of homeopathy,
and secondly no experience is required for a critical evaluation of any treatment,
all fell on deaf ears.
THE END
The conclusion of this odd discussion was Pinkus' triumphant declaration of victory:
I came to this blog to see if anyone in the discussion had any serious intention to discuss the subject of homoeopathy. In order to do this there are certain prerequisites for a sensible debate and one of these is actual knowledge and experience of the subject matter under discussion. To this end I asked if anyone has case they treated in order to discuss the merits and demerits of the experience. No one offered one. I repeated the request and the silence changed to attacks on me even asking.
Any scientist worthy of the challenge, and certainly someone who proudly styles himself as a Professor of CAM with experience and knowledge, would be only too glad to share this with others. Sadly though I have met with rebuke and insult but no evidence to support the opposition to homoeopathy saving some incoherent rant about the needlessness of empirical experience. The cornerstone of Hahnemann's work on homoeopathy and the one thing he advocated to other doctors. "Don't take my word for it, prove it to yourself"
When you find the need to attack me to defend your incessant argument that homoeopathy is implausible I really cannot take you seriously.
Here we have a blog hosted by a chap who claims to be an expert on the subject but now claims he hasn't practiced it for over 40 years. Won't say what he did when he practised, what he learned and when asked to give at least once case he treated, refuses and creates some diversion to cover his ignorance of the question. Now that's what I call a charlatan.
I understand you have made a living out of this but it must be a miserable existence old chap
______________________________________________________________________
I find this exchange rather typical for an argument with  SCAM-fanatics. It follows a fairly standard strategy:
aggression form a complete stranger,
attempt of a rational defence,
more aggression and insults
attempts to debate the published evidence,
silence from the aggressor who seems unable to defend his evidence,
more aggression at an unexpected opportunity,
further attempts to rationalise and discuss the facts,
the aggressor questions his opponent's competence,
more attempts to rationalise and provide valid explanations,
conclusion of the discussion with aggressor trying to occupy the moral high ground.
Of course, this is eerily similar to playing chess with a pigeon.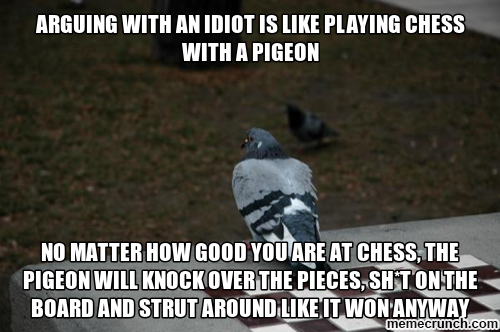 So, what, if anything, can we learn from this?
Mainly three things, I think:
Either you don't argue with fanatics at all,
or you realise from the beginning what is about to happen; in this case, have fun exposing irrationality in the hope that others might profit from your experience.
In any case, do not expect that your aggressor will be able to learn anything.
These days, I am often not sure what puzzles me more, Boris Johnson or homeopathy. Come to think of it, our PM seems, in fact, to have a lot in common with homeopathy/homeopaths. With my tongue lodged firmly in my cheek, I can see some communalities:
They are both popular in the UK but have their origins elsewhere.
They were both laughed at by people who are serious.
They have both been around for far too long.
They both are useless.
They both have plenty of charisma.
They both, however, have little more than that.
They have a long history of misleading the public.
They have both been taken to court.
They both failed to accept the judgement when it went against them.
They are both particularly successful with the female section of the population.
They both thrive on personal attacks.
They both make far-reaching claims which turn out to be false.
They both claim to want only the best for the public.
They both consider themselves as progressive.
In truth, however, they are both deeply regressive.
They both do not to think that ethics are all that important.
They both irritate people who are rational thinkers.
They both negate the evidence and act in overt contradiction to the evidence.
They both tend to think that popularity is a measure of efficacy.
They both managed to mislead even the Queen.
Nevertheless, they both enjoy royal support (at least for the time being).
They both seem to think that the laws (of the land/of nature) do not apply to them.
They are both only bearable when highly diluted.
They are both a complete waste of money.
They are both dangerous when the public follow their advice.
Have I forgotten anything?
Do tell me, please.
The 'OFFICIAL HOMEOPATHY RESOURCE' is an odd publication which, until very recently, I did not know about. They inform us about homeopathy as follows:
Homeopathy is a non-corporate  200-year-old system of medicine used successfully by tens of millions worldwide, and the second most utilized complementary health discipline in the world (according to the World Health Organization 2005).  It has a laudable 200-year clinical record.  There are literally hundreds of high quality basic science, pre-clinical and clinical studies showing it works.
This is the online web site for accurate information on homeopathy, homeopaths and homeopathic organizations. Its hard to get accurate information on this popular and traditional healing modality as a result of Drug Company Sponsored Blogs, Web Sites and their sponsored "Science Writers".
Finally, there is a positive and comprehensive resource and you have found it. We hope you enjoy this site's information and decide on or continue homeopathic treatment to experience it's benefits.
THIS IS AN INDEPENDENT MEDIA SOURCE
About Comments on this Web Site:
We welcome POSITIVE comments about your experience with homeopathy or positive feedback about a particular topic.
Thank you for your positive support of homeopathy and getting the word out there.
The articles and posts contained herein are educational and informational and should not be considered medical advise. We recommend that you see a licensed medical practitioner.

__________________________________________________________
So far so good; well not SO good actually: this short text opens a lot of questions. But this is not what I want to address today. The 'OFFICIAL HOMEOPATHY RESOURCE' appeared on my screen only for one reason; they just published a whole, albeit short article about me! It is entitled 'Pharmaceutical Company Found Guilty of Fuelling Opioid Epidemic But Sponsored Skeptics Continue Attacks on Safe Alternatives'. Here it is in its full and unabbreviated beauty:
Even though the pharmaceutical industry has paid billions in fines over the years for failures and deceptions that have caused serious injuries and death, the pharmaceutical sponsored skeptic organizations and skeptics like Edzard Ernst spread outright lies about the false dangers of alternatives. They try to take the heat off the failures and dangers of drugs by smearing safe alternatives like homeopathy. They even go to the point of going to government organizations and falsely claiming alternatives are dangerous. They say nothing or a minimum about their sponsors.
One such skeptic Edzard Ernst attempts to present himself as an expert which most skeptics do. As a means of puffing himself up and making it seemed like he knows something about homeopathy, he claimed he was a homeopath and switched to allopathic medicine when homeopathy did not work. This has been proven to be an outright lie. He has had no training in homeopathy.
Unfortunately skeptics, like lemmings, support only pharmaceutical company generated science as if it was the holy grail.
Homeopathy has been proven to be very effective in pain relief and is non-addictive.
_____________________________________________________________________
I am afraid they must have missed what I disclosed repeatedly about my sponsors. Let me therefore repeat it especially for them (I tried to find out who exactly 'THEY' are, but they are not disclosing this information, as far as I can see):
I am sponsored to the tune of zero £.
There is not a single commercial company that backs me.
This blog receives no funding from anywhere.
Its running costs are paid by me.
I live off my pension and savings and receive no other income.
I will not bother to correct the other falsehoods in the text above. I think, they are too obvious to bother. To those of my readers who find them not obvious, I recommend reading my memoir and my book entitled 'Homeopathy, the Undiluted Facts' and considering 'Ernst's law'.
Leprosy can be a devastating infection. But, since many years, it is treatable. The WHO developed a multidrug therapyTrusted Source in 1995 to cure all types of leprosy. It's available free of charge worldwide. Additionally, several antibiotics are used to kill the bacteria that causes leprosy, e.g.:
dapsone
rifampin
clofazimine
minocycline
ofloxacin
Yes, leprosy is treatable … that is, unless you follow the advice issued in this article and treat it with homeopathy:
Homoeopathy remedies are given on the basis of similar signs and symptoms along with the miasmatic classification of diseases. Homoeopathy physicians said that leprosy is characteristics of syphilis miasm due to their mental and physical conditions. Mentally person thinks that he/she may be isolated and left alone in a corner of society due to dirty looking of the skin and tendency to spread of disease from direct contact. They feel alone and make hypothesis that the society needs outbreak from me because of physical disabilities like paralysis, and loss of controls on body functions. A well selected homoeopathy remedy helps out patient to come out from this condition and make possible to live in society from permanent restoration of health.
SULPHUR – 'It is mainly known as king of anti-psoric' in wide range of homoeopathy. Hahnemann says that sulphur has reputation as a remedy against itch perhaps as old medicine i.e., as early as 2000 years ago. Skin of sulphur indicates vesicular skin eruptions and skin may treated by medicated soaps and washes. Clinical trials says that sulphur have similar signs and symptoms as indicated by disease.
GRAPHITES – It is a great remedy for all sorts of skin eruptions with a tendency towards malignancy. It also indicates various symptoms of leprosy and may be used in treatment.
PETROLEUM – The skin of petroleum has cracks and fissures all over the body and indicates various similar symptoms as of disease condition.
RHUS TOXICODENDRON – Skin shows erysipelas vesicular eruptions, vesicles are yellow, from left to right with much swelling, inflammation, burning, itching and stinging that are very much similar to leprosy sign and symptoms, so it may be prescribed.
CICUTA VIROSA – This homoeopathic medicine used in the conditions when patients are anxious about their future and epileptic attacks with spasmodic movements of the limbs.
ALOE SOCOTRINA – This homoeopathy medicine works when the patients are fear of death and angry from themselves for their conditions. This medicine have tendency to acts upon the abdominal and lumbar region of the patient.
BLATTA ORIENTALIS – It is used when the patient is anxious about their skin and health. Patient suffers from the chronic inflammations of the chest and other lung infections that are also found in disease.
Leprosy is a non-fatal infectious disease caused by bacteria Myobacterium leprae and spread by direct contact and other mode of transmissions. It may be treated with homoeopathic medicines if well selected medicine related to mental and physical symptoms is taken by patients. Homoeopathy medicines help out patients to rearrange the vital force to fight against infectious bacteria and makes possible that the body itself fight against the disease.
To be sure, I ran a quick Medline search. You guessed the result, I suppose: not a single hint from anything resembling a clinical trial that homeopathy might be an effective therapy of leprosy.
One question, however, does remain open: how do homeopaths who claim such irresponsible nonsense sleep?
(And in case you think that the above post is a rare exception, you have not recently searched the Internet!)
… Many proponents of so-called alternative medicine (SCAM) are keen to point out that, while mainstream medicine may be good at treatment of diseases, particularly acute conditions, SCAM's forte lies in the prevention of disease. Patients seem to have intuitively accepted this notion; a recent survey suggest that more than 50% of those Americans who use SCAM do so not to treat ailments but to remain healthy, i.e. to prevent disease and illness. If one looks closer at the evidence for or against SCAM's role in disease prevention, one is stunned by the contrast of firmly held beliefs and the lack of reliable evidence to support them…
… Unfortunately the subject is more complex than normally appreciated within SCAM. Until we have convincing data, it is not possible to state with confidence that a given form of SCAM is effective in preventing a given condition. It follows
that we now should prepare to carry out the much needed (but difficult) research related
to preventative,
that we should be cautious and abstain from overstating the largely unproven role of SCAM in the prevention of disease and illness.
These lines were written by me and published exactly 20 years ago. As far as I can see, very little has changed since.
SCAM providers continue to make big claims about disease prevention.
Many consumers continue to believe them.
And the evidence continues to be absent or flimsy.
It follows, I fear, that charlatans who advocate their SCAM as a means to prevent disease are dishonestly defrauding the public.
I do hope that someone disagrees with me and shows me the evidence proving me wrong!
Facebook and YouTube have in the past been Eldorados for quacks who used it to promote their nonsensical products, false messages, and bogus treatments. A recent article in the Washington Post explained that this might be about to change.
Hundreds of thousands of enthusiasts of so-called alternative medicine (SCAM) persuade each other on Facebook that baking soda, apple cider vinegar, frankincense, apricot kernels, tiger bones, Essiac, bleach, homeopathics, Bach flower remedies etc. are cures that doctors don't want you to know about. But recently Facebook announced that it is taking steps to limit the reach of false and sometimes dangerous therapeutic claims by treating them similar to clickbait or spam.
Facebook will "down-rank" posts that contain certain types of health misinformation, meaning those posts will appear in the news feeds of fewer users, and less prominently. The down-ranking process will use keywords and phrases that commonly appear in posts containing exaggerated or false health claims, but tend to be absent in posts containing accurate information on the same topics. Facebook's News Feed algorithms will use those suspicious phrases, which the company has identified with the help of health-care professionals, to predict which posts might contain sensational health claims.
"Misleading health content is particularly bad for our community," Travis Yeh, a Facebook product manager, wrote in a blog post. "So, last month we made two ranking updates to reduce (1) posts with exaggerated or sensational health claims and (2) posts attempting to sell products or services based on health-related claims."
In a media statement, YouTube said: "Misinformation is a difficult challenge and any misinformation on medical topics is especially concerning … We've taken a number of steps to address this, including surfacing more authoritative content across our site. Our systems are not perfect, but we've seen progress within this space."
Without question, these moves are a steps in the right direction. Whether they amount to more than a lip-service, whether they are able to out-smart the quacks, and whether they will make a real difference to the ubiquitous promotion of quackery, has to be seen.
His name is Uriel. He been studying and controlling energy for over 20 years. Growing up as a young boy in a family that has been doing spiritual healing for over 800 years, he started to feel other people's emotions, feelings, and illnesses without having to speak to them directly.
These days, Uriel makes a living out of his gift to channel healing energy. Over the phone or via email, he offers a mind-boggling array of services (at stiff prices):
Spiritual healing and blessing for mind, body and soul – $499.
Full service energy healing – $499.
Clearing and removing black magic, curses, evil eye and witchcraft – $259.
Advice, blessings and special requests – $150.
Spiritual healing to attract money and finances – $200.
Chakra clearing and balancing service – $200.
Spiritual healing for rekindling your relationship – $499.
Spiritual healing for attracting good luck and opening your luck – $200.
Aura healing service – $200.
… and many more services and exciting products
I was particularly taken by Uriel's ability to program crystals. These can then be bought and will send positive energy to the happy customer. This is what he says about it:
Crystals have been used for thousands of years by many practitioners of healing. Every crystal has a unique energy and vibration that allows it to be programmed for specific use or purpose.
Some crystals will bring good fortune while others are meant to bring luck, physical healing, love, protection from evil eye, black magic, voodoo and jealousy. Every crystal has a unique purpose and benefit. These days with the advancement of technology not many people are familiar with crystal programming or crystals in general.
Programming crystals takes a lot of effort, it isn't a simple process and is extremely time consuming. The process starts with clearing the practitioners energy field and then using angels, ancestors, the sun, the stars and loved ones in spirit to properly clear and program the crystal such as a bracelet, necklace or stone. Each crystal can be programmed to your unique requirements. The process requires your name and birth date to insure the crystal is programmed specifically to you. This lengthily process when done properly will create miracles for the person wearing the crystal.
A skilled and experienced practitioner must know how to control angels, master the art of energy manipulation and be extremely careful  when programming the crystals to insure only positive energy is entered in to the stone as any negative vibrations will have the opposite effect on the person who will be using or wearing the stone.
Buying crystals from random places without any proper programming will not bring you any positive results. These must be properly programmed or they are nothing more then a decorative piece of jewelry. I offer a wide selection of crystal products such bracelets, necklaces and energy generators. These are programmed to your unique requirements and take me over 14 hours to properly program each unit, please visit my products page to see everything that I offer.
These crystals can be purchased for friends, family members and you can also own multiple different pieces. They will make the perfect gift to your loved ones. If you have any questions about crystal programming or my process please feel free to contact me for more information.
I find it really difficult to decide what product to try first; the choice is just far too impressive … Hold on, I know, what I am going to buy: THE ULTIMATE BLACK MAGIC PROTECTION NECKLACE. At just $199, it seems a bargain! And it might even protect me from quacks!!!