fraud
They say that minds are like parachutes – they function only when open. Having an open mind means being receptive to new and different ideas or the opinions of others.
I am regularly accused of lacking this quality. Most recently, an acupuncturist questioned whether acupuncture-sceptics, and I in particular, have an open mind. Subsequently, an interesting dialogue ensued:
___________________________________________________________
Tom Kennedy on Wednesday 01 August 2018 at 19:27
edzard on Thursday 02 August 2018 at 12:46
"Perhaps the full conclusion should always be quoted…"
YES, IF NOT, IT'S CALLED 'BEING ECONOMICAL WITH THE TRUTH'
Tom Kennedy on Friday 03 August 2018 at 11:20
I am sorry to say that I see no critical evaluation in the post you linked to.
" I'd say it comes across as 'negative assessment' rather than 'critical assessment'.
have you noticed that criticism is often experienced as negative to the person(s) it is aimed at?
This exchange shows how easily I can be provoked to get stroppy and even impolite – I do apologise.
But it also made me wonder: how can anyone be sure to have an open mind?
And how can we decide that a person has a closed mind?
We probably all think we are open minded, but are we correct?
I am not at all sure that I know the answer. It obviously depends a lot on the subject. There are subjects where one hardly needs to keep an open mind and some where it might be advisable to have a closed mind:
the notion that the earth is flat,
flying carpets,
iridology,
reflexology,
chiropractic subluxation,
the vital force,
detox,
homeopathy.
No doubt, there will be people who even disagree with this short list.
Something that intrigues me – and I am here main ly talking about alternative medicine – is the fact that I often get praised by people who say, "I do appreciate your critical stance on therapy X, but on my treatment Y you are clearly biased and unfairly negative!" To me, it is an indication of a closed mind, if criticism is applauded as long as it does not tackle someone's own belief system.
On the subject of homeopathy, Prof M Baum and I once published a paper entitled 'Should we maintain an open mind about homeopathy?' Its introduction explains the problem quite well, I think:
Once upon a time, doctors had little patience with the claims made for alternative medicines. In recent years the climate has changed dramatically. It is now politically correct to have an open mind about such matters; "the patient knows best" and "it worked for me" seem to be the new mantras. Although this may be a reasonable approach to some of the more plausible aspects of alternative medicine, such as herbal medicine or physical therapies that require manipulation, we believe it cannot apply across the board. Some of these alternatives are based on obsolete or metaphysical concepts of human biology and physiology that have to be described as absurd with proponents who will not subject their interventions to scientific scrutiny or if they do, and are found wanting, suggest that the mere fact of critical evaluation is sufficient to chase the healing process away. These individuals have a conflict of interest more powerful than the requirement for scientific integrity and yet defend themselves by claiming that those wanting to carry out the trials are in the pocket of the pharmaceutical industry and are part of a conspiracy to deny their patients tried and tested palliatives….
END OF QUOTE
And this leads me to try to define 10 criteria indicative for an open mind.
to be free of conflicts of interest,
integrity,
honesty,
to resist the temptation of applying double standards,
to have a track record of having changed one's views in line with the evidence,
to not cling to overt absurdities,
to reject conspiracy theories,
to be able to engage in a meaningful dialogue with people who have different views,
to avoid fallacious thinking,
to be willing to learn more on the subject in question.
I would be truly interested to hear, if you have further criteria, or indeed any other thoughts on the subject.
Vis a vis the overwhelming evidence to the contrary, why are there so many clinicians (doctors as well as lay practitioners) who still believe that homeopathy is working? And why are there so many patients who still believe that homeopathy is working?
These are questions that puzzle me quite a bit.
Of course, there is no simple, single answer; there are probably dozens. But one reason must be that there are only three possible outcomes after homeopathic treatments, all of which are favourable for homeopathy (at least in the interpretation of proponents of homeopathy). Seen in this light, there simply is no better therapy!
Let me explain:
If a patient consults a homeopath who prescribes a highly diluted homeopathic remedy, she might subsequently:
get better,
get worse,
or experience no change at all.
Analysing these three possibilities, we quickly see that, from the point of view of a convinced homeopath, all are a proof for homeopathy's effectiveness, and none suggests that the scientific evidence is correct in claiming that highly diluted homeopathic remedies are pure placebos.
SCENARIO 1
In this situation, it is easy to assume that the remedy was the cause for the clinical improvement. Most clinicians of any discipline fall into this trap, and most patients follow them willingly. Yet, we all know that a temporal relationship is not the same as a causal one (the crowing of a cock before dawn is not the cause of the sun rising). Of course, it is conceivable that the treatment was the cause, but there are several other possibilities as well; just think of the placebo effect, regression towards the mean, and the natural history of the disease. In our case, these non-specific effects are most certainly the cause of our patient's improvement.
SCENARIO 2
Most clinicians in this situation would start wondering whether they have employed the correct therapy for this patient's condition – not so the homeopath! He would triumphantly exclaim: "excellent, you are experiencing a 'homeopathic aggravation'. This is a sure sign that I have given you the optimal remedy. Things will get better soon." A homeopathic aggravation occurs, according to homeopathic logic, because homeopathy follows the 'like cures like' principle. The homeopath prescribes the remedy that would normally cause the symptoms from which his patient is suffering. This means it must also cause these symptoms in every patient. Usually these aggravations are not strong enough to be noticed, but when they are, it is interpreted by homeopaths as a triumph of homeopathy.
SCENARIO 3
In this situation, the homeopath has several options. He can claim "but without my remedy you would be much worse by now. The fact that you are not, shows how very effective homeopathy really is. A more humble homeopaths might explain that the optimal remedy is not always easy to find straight away, and he would therefore proceed in prescribing another one. In both cases, the patient is kept paying for more and homeopathy is presented as an effective therapy.
These three scenarios clearly show that there is no conceivable outcome where any homeopathy-fan would need to consider that scientists are correct in stating that homeopathy is ineffective. And this is one of the reasons why the myth of homeopathy's effectiveness persists.
Hold on … the patient might be dead!
Yes, that is a rather unfortunate situation for any clinician – except for a homeopath, of course. He would simply point out that the patient must have forgotten to take her medicine. A conventional practitioner might get in trouble, if he tried that excuse; one could easily measure blood levels of the prescribed drug and verify the claim. Not so in homeopathy! Because they contain not a single active molecule, homeopathic remedies are undetectable!
We can easily see that there is no better treatment than homeopathy – at least for the homeopath!
The fact that many SCAM-practitioners are latent or even overt anti-vaxxers has often been addressed on this blog. The fact that the anti-vaccination guru, Andrew Wakefield, has his fingers deep in the SCAM-pie is less well appreciated.
In case you forgot who Wakefield is, let me remind you. As a gastroenterologist at the London Royal Free Hospital, he published evidence in the Lancet (1998) suggesting that the MMR vaccination was a cause of autism. It was discovered to be fraudulent. In 2010, a statutory tribunal of the GMC found three dozen charges proved, including 4 counts of dishonesty and 12 counts involving the abuse of developmentally delayed children. Consequently, he was struck off the register and lives in the US ever since where he, amongst many other things, enjoys lecturing to homeopaths and chiropractors about the dangers of vaccination.
Since Trump, who seems to share Wakefield's anti-vaxx stance, has become president of the US, Wakefield has managed to creep back in the limelight. The Guardian recently reported: At one of President Trump's inaugural balls in January last year, he was quoted as contemplating the overthrow of the (pro-vaccine) US medical establishment in words that brought to mind Trump himself. "What we need now is a huge shakeup at the Centers for Disease Control and Prevention (CDC) – a huge shakeup. We need that to change dramatically."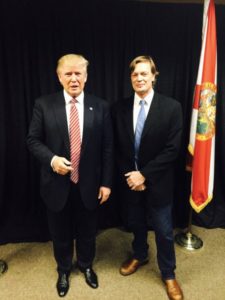 In the US, Wakefield also founded the 'Autism Media Channel' which makes videos alleging a causal link between autism and the MMR vaccine. The film 'Vaxxed' was thus directed by Wakefield. It was put forward to premiere at the 2016 Tribeca film festival by Robert De Niro, the father of an autistic child. It alleges a cover-up of the alleged link between MMR and autism by the CDC – the institute Wakefield said needed a shake-up at the Trump inaugural ball. After much discussion, De Niro fortunately withdrew the film.
Wakefield's private life has also seem significant changes. He is reported to have recently left his wife who had supported him throughout the debacle in the UK and is now 'deliciously in love' with the super-model and entrepreneur Elle Macpherson . Brian Burrowes, 48, who edited 'Vaxxed' was reported stating that he and Macpherson had begun dating after they were both guests at the 'Doctors Who Rock' Awards in November last year. This event was to honour alternative medicine practitioners, with Macpherson handing out an award and Wakefield receiving one. Other awardees included Del Bigtree and Billy DeMoss DC.
Wakefield's legacy in Europe is the recurrence of measles due to persistent doubts in vaccination safety. This regrettable phenomenon is fuelled by Wakefield's multiple activities, including face-book, twitter and you-tube. Social media has provided an alternative to the "failings of mainstream media", Wakefield was quoted in the Guardian saying – another phrase that could have come from a tweet by the US president himself. "In this country, it's become so polarised now … No one knows quite what to believe," Wakefield said. "So, people are turning increasingly to social media."
And this is what I said about this strategy in today's Times: "Such anti-vaccination propaganda is hugely harmful. It prompts many families to shun immunisations which means firstly they are unprotected, and secondly we as a people might lose herd immunity. The result is what we currently see throughout Europe: epidemics are threatening the lives of millions. It is in my view irresponsible for any institution to get involved in the anti-vaxx cult, particularly for universities who really should know better."
"Non-reproducible single occurrences are of no significance to science", this quote by Karl Popper often seems to get forgotten in medicine, particularly in alternative medicine. It indicates that findings have to be reproducible to be meaningful – if not, we cannot be sure that the outcome in question was caused by the treatment we applied.
This is thus a question of cause and effect.
The statistician Sir Austin Bradford Hill proposed in 1965 a set of 9 criteria to provide evidence of a relationship between a presumed cause and an observed effect while demonstrating the connection between cigarette smoking and lung cancer. One of his criteria is consistency or reproducibility: Consistent findings observed by different persons in different places with different samples strengthens the likelihood of an effect.
By mentioning 'different persons', Hill seems to also establish the concept of INDEPENDENT replication.
Let me try to explain this with an example from the world of SCAM.
A homeopath feels that childhood diarrhoea could perhaps be treated with individualised homeopathic remedies.  She conducts a trial, finds a positive result and concludes that the statistically significant decrease in the duration of

diarrhea

in the treatment group suggests that homeopathic treatment might be useful in acute childhood

diarrhea

. Further study of this treatment deserves consideration.
Unsurprisingly, this study is met with disbelieve by many experts. Some go as far as doubting its validity, and several letters to the editor appear expressing criticism. The homeopath is thus motivated to run another trial to prove her point. Its results are consistent with the finding from the previous study that individualized homeopathic treatment decreases the duration of diarrhea and number of stools in children with acute childhood diarrhea.
We now have a replication of the original finding. Yet, for a range of reasons, sceptics are far from satisfied. The homeopath thus runs a further trial and publishes a meta-analysis of all there studies. The combined analysis shows a duration of

diarrhoea

of 3.3 days in the

homeopathy

group compared with 4.1 in the placebo group (P = 0.008). She thus concludes that the results from these studies confirm that individualized homeopathic treatment decreases the duration of acute childhood diarrhea and suggest that larger sample sizes be used in future homeopathic research to ensure adequate statistical power. Homeopathy should be considered for use as an adjunct to oral rehydration for this illness.
To most homeopaths it seems that this body of evidence from three replication is sound and solid. Consequently, they frequently cite these publications as a cast-iron proof of their assumption that individualised homeopathy is effective. Sceptics, however, are still not convinced.
Why?
The studies have been replicated alright, but what is missing is an INDEPENDENT replication.
To me this word implies two things:
The results have to be reproduced by another research group that is unconnected to the one that conducted the three previous studies.
That group needs to be independent from any bias that might get in the way of conducting a rigorous trial.
And why do I think this latter point is important?
Simply because I know from many years of experience that a researcher, who strongly believes in homeopathy or any other subject in question, will inadvertently introduce all sorts of biases into a study, even if its design is seemingly rigorous. In the end, these flaws will not necessarily show in the published article which means that the public will be mislead. In other words, the paper will report a false-positive finding.
It is possible, even likely, that this has happened with the three trials mentioned above. The fact is that, as far as I know, there is no independent replication of these studies.
In the light of all this, Popper's axiom as applied to medicine should perhaps be modified: findings without independent replication are of no significance. Or, to put it even more bluntly: independent replication is an essential self-cleansing process of science by which it rids itself from errors, fraud and misunderstandings.
The literature on malpractice in medicine is huge: more than 33 000 articles listed in Medline. By contrast, the literature on malpractice in alternative medicine hardly exists. An exception is this recent article. I therefore thought I share it with you and provide a few comments:
START OF QUOTE
According to the (US) National Practitioner Data Bank, between September 1, 1990 and January 29, 2012, a total of 5,796 chiropractic medical malpractice reports were filed. Lawsuits with the highest payouts in any medical field are related to misdiagnosis, failure to diagnose and delayed diagnosis of a severe medical condition.
Common reasons for chiropractic malpractice lawsuits:
Chiropractor causes stroke: Numerous cases have been documented in which a patient suffers a stroke after getting his or her neck manipulated, or adjusted. Especially forceful rotation of the neck from side to side can overextend an artery that runs along the spine, which can result in a blockage of blood flow to the brain. Strokes are among the most serious medical conditions caused by chiropractic treatment, and can result in temporary or permanent paralysis, and even death.
Herniated disc following adjustment: Although many patients seek the medical attention of a chiropractor after they have experienced a herniated disc, chiropractors can actually be the cause of the problem. Usually a herniated disc is caused by wear and tear, but a sudden heavy strain, increased pressure to the lower back or twisting motions can cause a sudden herniated disc. The stress that chiropractors exercise in their adjustments have been known to be the root cause of some herniated discs.
Sexual misconduct: The American Chiropractic Association has assembled a code of ethics "based upon the acknowledgement that the social contract dictates the profession's responsibilities to the patient, the public and the profession." Sexual misconduct is among the top ten reasons that patients file lawsuits against chiropractors. Often, chiropractic practices are unfamiliar to many new patients and can be misinterpreted as inappropriate even though they are absolutely normal, so it is important that patients familiarize themselves with common chiropractic methods of healing.
END OF QUOTE
In this context, a study of chiropractic from Canada might be interesting. It highlights the conclusions from Canadian courts: informed consent is an ongoing process that cannot be entirely delegated to office personnel… A further study showed that valid consent procedures are either poorly understood or selectively implemented by chiropractors. Arguably, not obtaining informed consent amounts to malpractice.
In our book, this is what we conclude about informed consent by alternative therapists in general: Genuine informed consent is unattainable for most CAM modalities. This presents a serious and intractable ethical problem for CAM practitioners. Attempts to square this circle by watering down or redefining the criteria for informed consent are ethically indefensible. The concept of informed consent and its centrality in medical ethics therefore renders most CAM practice unacceptable. Conventional healthcare subscribes to the ethical principle 'no consent, no treatment': we are not aware of the existence of any good reasons to excuse CAM from this dictum.
I fear that, if we were to count the lack of informed consent by chiropractors (and other alternative practitioners) as malpractice, the numbers would be astronomical. Or, to put it differently, the often-cited relatively low malpractice rate in chiropractic is due to the omission of the vast majority of malpractice cases.
Is homeopathy effective for specific conditions? The FACULTY OF HOMEOPATHY (FoH, the professional organisation of UK doctor homeopaths) say YES. In support of this bold statement, they cite a total of 35 systematic reviews of homeopathy with a focus on specific clinical areas. "Nine of these 35 reviews presented conclusions that were positive for homeopathy", they claim. Here they are:
Allergies and upper respiratory tract infections 8,9
Childhood diarrhoea 10
Post-operative ileus 11
Rheumatic diseases 12
Seasonal allergic rhinitis (hay fever) 13–15
Vertigo 16
And here are the references (I took the liberty of adding my comments in blod):
8. Bornhöft G, Wolf U, Ammon K, et al. Effectiveness, safety and cost-effectiveness of homeopathy in general practice – summarized health technology assessment. Forschende Komplementärmedizin, 2006; 13 Suppl 2: 19–29.
This is the infamous 'Swiss report' which, nowadays, only homeopaths take seriously.
9. Bellavite P, Ortolani R, Pontarollo F, et al. Immunology and homeopathy. 4. Clinical studies – Part 1. Evidence-based Complementary and Alternative Medicine: eCAM, 2006; 3: 293–301.
This is not a systematic review as it lacks any critical assessment of the primary data and includes observational studies and even case series.
10. Jacobs J, Jonas WB, Jimenez-Perez M, Crothers D. Homeopathy for childhood diarrhea: combined results and metaanalysis from three randomized, controlled clinical trials. Pediatric Infectious Disease Journal, 2003; 22: 229–234.
This is a meta-analysis by Jennifer Jacobs (who recently featured on this blog) of 3 studies by Jennifer Jacobs; hardly convincing I'd say.
11. Barnes J, Resch K-L, Ernst E. Homeopathy for postoperative ileus? A meta-analysis. Journal of Clinical Gastroenterology, 1997; 25: 628–633.
This is my own paper! It concluded that "several caveats preclude a definitive judgment."
12. Jonas WB, Linde K, Ramirez G. Homeopathy and rheumatic disease. Rheumatic Disease Clinics of North America, 2000; 26: 117–123.
This is not a systematic review; here is the (unabridged) abstract:
Despite a growing interest in uncovering the basic mechanisms of arthritis, medical treatment remains symptomatic. Current medical treatments do not consistently halt the long-term progression of these diseases, and surgery may still be needed to restore mechanical function in large joints. Patients with rheumatic syndromes often seek alternative therapies, with homeopathy being one of the most frequent. Homeopathy is one of the most frequently used complementary therapies worldwide.
Proper systematic reviews fail to show that homeopathy is an effective treatment for rheumatic conditions (see for instance here and here).
13. Wiesenauer M, Lüdtke R. A meta-analysis of the homeopathic treatment of pollinosis with Galphimia glauca. Forschende Komplementärmedizin und Klassische Naturheilkunde, 1996; 3: 230–236.
This is a meta-analysis by Wiesenauer of trials conducted by Wiesenauer.
My own, more recent analysis of these data arrived at a considerably less favourable conclusion: "… three of the four currently available placebo-controlled RCTs of homeopathic Galphimia glauca (GG) suggest this therapy is an effective symptomatic treatment for hay fever. There are, however, important caveats. Most essentially, independent replication would be required before GG can be considered for the routine treatment of hay fever. (Focus on Alternative and Complementary Therapies September 2011 16(3))
14. Taylor MA, Reilly D, Llewellyn-Jones RH, et al. Randomised controlled trials of homoeopathy versus placebo in perennial allergic rhinitis with overview of four trial series. British Medical Journal, 2000; 321: 471–476.
This is a meta-analysis by David Reilly of 4 RCTs which were all conducted by David Reilly. This attracted heavy criticism; see here and here, for instance.
15. Bellavite P, Ortolani R, Pontarollo F, et al. Immunology and homeopathy. 4. Clinical studies – Part 2. Evidence-based Complementary and Alternative Medicine: eCAM, 2006; 3: 397–409.
This is not a systematic review as it lacks any critical assessment of the primary data and includes observational studies and even case series.
16. Schneider B, Klein P, Weiser M. Treatment of vertigo with a homeopathic complex remedy compared with usual treatments: a meta-analysis of clinical trials. Arzneimittelforschung, 2005; 55: 23–29.
This is a meta-analysis of 2 (!) RCTs and 2 observational studies of 'Vertigoheel', a preparation which is not a homeopathic but a homotoxicologic remedy (it does not follow the 'like cures like' assumption of homeopathy) . Moreover, this product contains pharmacologically active substances (and nobody doubts that active substances can have effects).
________________________________________________________________________________
So, positive evidence from 9 systematic reviews in 6 specific clinical areas?
I let you answer this question.
The 'Pharmaceutical Journal' just published a 'pro/contra' piece discussing whether UK community pharmacists should be selling homeopathic remedies to the public. Here are the essential parts of both arguments:
PRO
… I do not believe there is good scientific evidence to validate homeopathic remedies as medicines, but it is important to provide patients with choice in an informed environment — pharmacists and pharmacy teams are able to provide this expertise.
It is better for the public to buy these products from a reputable source where the community pharmacist — the expert on medicines — can provide professional advice, which is not available from unregulated online suppliers or other non-healthcare outlets…
So, I'm not here to argue the science: I argue that some people can benefit from homeopathy.
We ought to explore homeopathy's placebo effect. Placebos are often dismissed as fakes, but they seem to act on the same brain pathways that are targeted by 'real' treatments. I wonder whether, through the placebo effect, homeopathy has a role to play in mental health treatment and pain relief. Whether for anxiety, mild-to-moderate depression, sleeplessness or stress, taking a little white tablet may benefit the patient, have fewer side effects than conventional medication, cause no harm, and is better than an excess of alcohol or illegal drugs.
Of course, homeopathy should not replace conventional medicines, and people should continue to be vaccinated, should use their inhalers and take their insulin. Homeopathy should not be funded on the NHS, but we do not live in a nanny state.
The clinical efficacy of many other products sold in the pharmacy is also questionable, but we still provide them. One example is guaifenesin for chesty coughs, which, at over-the-counter strength, provides a suboptimal dose. Many people are sceptical of the benefits of vitamin and mineral supplements. Bach flower remedies claim to tackle stress. We drink herbal tea for its 'health' benefits or buy fortified cereals because they are 'better for you', but these benefits are not clinically proven.
If the public finds comfort in a complementary therapy — whether it is acupuncture, reflexology, vitamins or homeopathy — I am happy to offer that choice, as long as the chosen therapies do no harm, and people continue to take their prescribed medicines.
If the patient wants my professional advice, I will explain that homeopathic medicines are not clinically proven but they may help certain conditions. I will probably recommend a different product, but at least I am there to do so.
You will not find a pharmacist in a health shop or on the internet, but in the community pharmacy you will find a highly qualified medicines expert, who will advise and inform, and who truly cares about the public's health.
CONTRA
… given pharmacy's heavy promotion of homeopathy, I feared that the profession was in danger of losing science as its bedrock.
… in 2009, a London-based pharmacy was supplying homeopathic 'swine flu formula'. This was a dangerous practice but government agencies failed to regulate it effectively or to close it down.
In 2010, the then professional standards director at Boots, Paul Bennett (now chief executive, Royal Pharmaceutical Society), appeared before the Science and Technology Committee in its discussion of homeopathy's availability on the NHS. Bennett stood by the sale of homeopathic remedies in Boots' stores: "It is about consumer choice for us," he said. I disagree with this argument.
Like the sale of cigarettes in US pharmacies, homeopathy threatens to fatally damage the reputation of community pharmacy. Pharmacies that sell homeopathic remedies give them unjustified credibility. Informed patient choice should be king; if pharmacists, pharmacy staff and shelf-barkers fail to clearly inform customers that homeopathic remedies are no more effective than placebo, we have acted unethically.
Yet Boots, perhaps alarmed by the number of subsequent protests against homeopathy outside its stores, got the message. Its website now reflects a more scientific approach: the homeopathic remedies it supplies state that they are "without approved therapeutic indications". Boots also seems to have modified its range and offering of homeopathic remedies. So there is hope for community pharmacy.
Homeopathic remedies are still sold in pharmacies only because they make a profit. Sales in pharmacy are nonsense because, as most homeopathic practitioners claim, it is not possible to sell homeopathic remedies in isolation of a homeopathic consultation. The consultation determines the remedy. Off-the-shelf homeopathy is a relatively recent phenomenon.
The remedies are no more effective compared with placebo, anyway. Systematic reviews from the Cochrane Library — the gold standard of medical science — have considered homeopathy in the treatment of dementia, asthma and attention deficit hyperactivity disorder, all of which have confirmed the placebo effect. Irritatingly, supporters of homeopathy will always, in any debate, quote a bunkum study that shows some possible efficacy. Some might argue that placebo, or suggestion, is effective therapy, so why not use it? We must question the ethics of this approach.
Pharmacists act immorally when they sell the products without making clients aware that homeopathy does not work.
… I find that most pharmacists, when asked, appreciate that homeopathy has no scientific basis and provides merely a placebo effect. I sincerely hope that with this insight, pharmacy will finally clear its shelves of this expensive hocus pocus for good.
____________________________________________________________________________
I find both pieces quite weak and poorly argued. In fact, the 'pro' – arguments are quite laughable and could easily be used for teaching students the meaning and use of logical fallacies. In my view, all that needs to be pointed out here is this:
Homeopathy is based on implausible assumptions.
Despite 200 years of research and around 500 clinical trials, there is still no proof that highly diluted homeopathic remedies have effects beyond placebo.
Therefore, selling them to the naïve public, while pretending they are real medicines, is dishonest, arguably fraudulent and certainly not the behaviour one would expect of a healthcare professional.
Pharmacists who nevertheless sell these remedies as medicines are in breach of their very own regulations.
_____________________________________________________________________________
Strangely enough, when trying to find the relevant passage from the code of ethics for UK pharmacists, I struggled. The General Pharmaceutical Council's 'Standards fro Pharmacy Professionals' merely states this:
People receive safe and effective care when pharmacy professionals reflect on the application of their knowledge and skills and keep them up-to-date, including using evidence in their decision making. A pharmacy professional's knowledge and skills must develop over the course of their career to reflect the changing nature of healthcare, the population they provide care to and the roles they carry out. There are a number of ways to meet this standard and below are examples of the attitudes and behaviours expected.
People receive safe and effective care when pharmacy professionals:
recognise and work within the limits of their knowledge and skills, and refer to others when needed
use their skills and knowledge, including up-to-date evidence, to deliver care and improve the quality of care they provide
carry out a range of continuing professional development (CPD) activities relevant to their practice
record their development activities to demonstrate that their knowledge and skills are up to date
use a variety of methods to regularly monitor and reflect on their practice, skills and knowledge
This, I admit, is not as clear as I had hoped (if my memory serves me right, this used to be much more explicit; in case anyone knows of a more suitable section in the code of ethics, please let me know); but it does preclude selling placebos, while pretending they are effective medicines.
Nipah virus (NiV) infection is a zoonosis that causes severe disease in both animals and humans. The natural host of the virus are fruit bats of the Pteropodidae Family, Pteropus genus. Human-to-human transmission has also been documented, including in a hospital setting in India. Clinical presentations range from asymptomatic infection to acute respiratory syndrome and fatal encephalitis. There is no vaccine for either humans or animals. The primary treatment for human cases is intensive supportive care. In Kerala, India, several people have died of the deadly NiV.  The infection has a mortality rate of around 70%.
It was predictable that such events would bring homeopaths to the fore. This article explains:
The Indian Homeopathic Medical Association's Kerala unit has claimed to have the medicines to treat Nipah virus. B Unnikrishnan, an association official, said homeopathy has the appropriate medicines for all types of fever and hence they should be allowed to treat the infected patients. The association has requested the state Health Minister KK Shailaja to allow their professionals to examine the records of all those patients who have been tested positive for Nipah… So far, 16 people have died and two are recovering. Some 2,000 people who came in contact with the infected patients are also being monitored.
Knowing that an international delegation of homeopaths travelled to Liberia to treat Ebola (with the official support of their respective professional organisations), this news cannot surprise anyone.
Homeopaths dilute their remedies and delude themselves.
Sadly, the victims of their dilutions/delusions are: 
their patients,
public health,
progress,
and rationality.
Systematic research on complaints about chiropractors, osteopaths, and physiotherapists is rare. We have often heard chiropractors claim that complaints against them are extremely rare events.
But is this true?
Two recent investigations might go some way towards answering this question.
The aim of the first investigation was to understand differences in the frequency and nature of formal complaints about Australian practitioners in these professions in order to inform improvements in professional regulation and education.
This retrospective cohort study analysed all formal complaints about all registered chiropractors, osteopaths, and physiotherapists in Australia lodged with health regulators between 2011 and 2016. Based on initial assessments by regulators, complaints were classified into 11 issues across three domains: performance, professional conduct, and health. Differences in complaint rate were assessed using incidence rate ratios. A multivariate negative binomial regression model was used to identify predictors of complaints among practitioners in these professions.
Patients and their relatives were the most common source of complaints about chiropractors, osteopaths and physiotherapists. Concerns about professional conduct accounted for more than half of the complaints about practitioners in these three professions. Regulatory outcome of complaints differed by profession. Male practitioners, those who were older than 65 years, and those who practised in metropolitan areas were at higher risk of complaint. The overall rate of complaints was higher for chiropractors than osteopaths and physiotherapists (29 vs. 10 vs. 5 complaints per 1000 practice years respectively, p < 0.001). Among chiropractors, 1% of practitioners received more than one complaint – they accounted for 36% of the complaints within their profession. Overall, nearly half of the complaints (47.7%) involved chiropractors, even though chiropractors make up less than one-sixth (13.9%) of the workforce across these three professions.
The authors concluded that their study demonstrates differences in the frequency of complaints by source, issue and outcome across the chiropractic, osteopathic and physiotherapy professions. Independent of profession, male sex and older age were significant risk factors for complaint in these professions. Chiropractors were at higher risk of being the subject of a complaint to their practitioner board compared with osteopaths and physiotherapists. These findings may assist regulatory boards, professional associations and universities in developing programs that avert patient dissatisfaction and harm and reduce the burden of complaints on practitioners.
The aim of the second study was to describe claims reported to the Danish Patient Compensation Association and the Norwegian System of Compensation to Patients related to chiropractic from 2004 to 2012.
All finalized compensation claims involving chiropractors reported to one of the two associations between 2004 and 2012 were assessed for age, gender, type of complaint, decisions and appeals. Descriptive statistics were used to describe the study population. The results show that 338 claims were registered in Denmark and Norway between 2004 and 2012 of which 300 were included in the analysis. 41 (13.7%) were approved for financial compensation. The most frequent complaints were worsening of symptoms following treatment (n = 91, 30.3%), alleged disk herniations (n = 57, 19%) and cases with delayed referral (n = 46, 15.3%). A total financial payment of €2,305,757 (median payment €7,730) were distributed among the forty-one cases with complaints relating to a few cases of cervical artery dissection (n = 11, 5.7%) accounting for 88.7% of the total amount.
The authors concluded that chiropractors in Denmark and Norway received approximately one compensation claim per 100.000 consultations. The approval rate was low across the majority of complaint categories and lower than the approval rates for general practioners and physiotherapists. Many claims can probably be prevented if chiropractors would prioritize informing patients about the normal course of their complaint and normal benign reactions to treatment.
In their discussion section the authors make the following comments: A particular concern after cervical SMT is dissection of the vertebral and carotid arteries. Seventeen claims concerning CAD were reported in this data, 14 in Denmark and three in Norway, and 11 of these were approved for financial compensation (64.7% approval rate) representing by far the highest approval rate across all complaint categories… chiropractors generally seem to receive more claims per consultation than GPs and physiotherapists, the approval rate is substantially lower and a similar trend is observed in Norway. However, it is also evident that approved claims within chiropractic bear a higher financial burden than their peers. These numbers are clearly highly influenced by the cases related to CAD. Several reasons might explain a higher complaint rate within chiropractic but this remains speculation and we do not have hard evidence supporting any of the following suggestions: (1) chiropractic treatment might be perceived as more aggressive than that of GPs and physiotherapists (2) maybe scepticism towards chiropractic among medical physicians and physiotherapists could encourage more patient complaints (3) a higher out-of-pocket expense for chiropractic services compared with GP and physiotherapist services might influence the higher number of complaints (4) chiropractors do not adequately inform patients about normal side effects and reactions and patients regard these as serious and relevant for compensation claims (5) chiropractors encourage patients to report AE more frequently than GPs and physiotherapists.
So, are complaints against chiropractors rarities?
I don't think so.
On this blog, we have seen more than enough evidence of how some proponents of alternative medicine can react when they feel cornered by critics. They often direct vitriol in their direction. Ad hominem attacks are far from being rarities. A more forceful option is to sue them for libel. In my own case, Prince Charles went one decisive step further and made sure that my entire department was closed down. In China, they have recently and dramatically gone even further.
This article in Nature tells the full story:
A Chinese doctor who was arrested after he criticized a best-selling traditional Chinese remedy has been released, after more than three months in detention. Tan Qindong had been held at the Liangcheng county detention centre since January, when police said a post Tan had made on social media damaged the reputation of the traditional medicine and the company that makes it.
On 17 April, a provincial court found the police evidence for the case insufficient. Tan, a former anaesthesiologist who has founded several biomedical companies, was released on bail on that day. Tan, who lives in Guangzhou in southern China, is now awaiting trial. Lawyers familiar with Chinese criminal law told Nature that police have a year to collect more evidence or the case will be dismissed. They say the trial is unlikely to go ahead…
The episode highlights the sensitivities over traditional Chinese medicines (TCMs) in China. Although most of these therapies have not been tested for efficacy in randomized clinical trials — and serious side effects have been reported in some1 — TCM has support from the highest levels of government. Criticism of remedies is often blocked on the Internet in China. Some lawyers and physicians worry that Tan's arrest will make people even more hesitant to criticize traditional therapies…
Tan's post about a medicine called Hongmao liquor was published on the Chinese social-media app Meipian on 19 December…Three days later, the liquor's maker, Hongmao Pharmaceuticals in Liangcheng county of Inner Mongolia autonomous region, told local police that Tan had defamed the company. Liangcheng police hired an accountant who estimated that the damage to the company's reputation was 1.4 million Chinese yuan (US$220,000), according to official state media, the Beijing Youth Daily. In January, Liangcheng police travelled to Guangzhou to arrest Tan and escort him back to Liangcheng, according to a police statement.
Sales of Hongmao liquor reached 1.63 billion yuan in 2016, making it the second best-selling TCM in China that year. It was approved to be sold by licensed TCM shops and physicians in 1992 and approved for sale over the counter in 2003. Hongmao Pharmaceuticals says that the liquor can treat dozens of different disorders, including problems with the spleen, stomach and kidney, as well as backaches…
Hongmao Pharmaceuticals did not respond to Nature's request for an interview. However, Wang Shengwang, general manager of the production center of Hongmao Liquor, and Han Jun, assistant to the general manager, gave an interview to The Paper on 16 April. The pair said the company did not need not publicize clinical trial data because Hongmao liquor is a "protected TCM composition". Wang denied allegations in Chinese media that the company pressured the police to pursue Tan or that it dispatched staff to accompany the police…
Xia is worried that the case could further silence public criticism of TCMs, environmental degredation, and other fields where comment from experts is crucial. The Tan arrest "could cause fear among scientists" and dissuade them from posting scientific comments, he says.
END OF QUOTE
On this blog, we have repeatedly discussed concerns over the validity of TCM data/material that comes out of China (see for instance here, here and here). This chilling case, I am afraid, is not prone to increase our confidence.