fraud
On Twitter and elsewhere, homeopaths have been celebrating: FINALLY A PROOF OF HOMEOPATHY HAS BEEN PUBLISHED IN A TOP SCIENCE JOURNAL!!!
Here is just one example:
#homeopathy under threat because of lack of peer reviewed studies in respectable journals? Think again. Study published in the most prestigious journal Nature shows efficacy of rhus tox in pain control in rats.
But what exactly does this study show (btw, it was not published in 'Nature')?
The authors of the paper in question evaluated antinociceptive efficacy of Rhus Tox in the neuropathic pain and delineated its underlying mechanism. Initially, in-vitro assay using LPS-mediated ROS-induced U-87 glioblastoma cells was performed to study the effect of Rhus Tox on reactive oxygen species (ROS), anti-oxidant status and cytokine profile. Rhus Tox decreased oxidative stress and cytokine release with restoration of anti-oxidant systems. Chronic treatment with Rhus Tox ultra dilutions for 14 days ameliorated neuropathic pain revealed as inhibition of cold, warm and mechanical allodynia along with improved motor nerve conduction velocity (MNCV) in constricted nerve. Rhus Tox decreased the oxidative and nitrosative stress by reducing malondialdehyde (MDA) and nitric oxide (NO) content, respectively along with up regulated glutathione (GSH), superoxide dismutase (SOD) and catalase activity in sciatic nerve of rats. Notably, Rhus Tox treatment caused significant reductions in the levels of tumor necrosis factor (TNF-α), interleukin-6 (IL-6) and interleukin-1β (IL-1β) as compared with CCI-control group. Protective effect of Rhus Tox against CCI-induced sciatic nerve injury in histopathology study was exhibited through maintenance of normal nerve architecture and inhibition of inflammatory changes. Overall, neuroprotective effect of Rhus Tox in CCI-induced neuropathic pain suggests the involvement of anti-oxidative and anti-inflammatory mechanisms.
END OF QUOTE
I am utterly under-whelmed by in-vitro experiments (which are prone to artefacts) and animal studies (especially those with a sample size of 8!) of homeopathy. I think they have very little relevance to the question whether homeopathy works.
But there is more, much more!
It has been pointed out that there are several oddities in this paper which are highly suspicious of scientific misconduct or fraud. It has been noted that the study used duplicated data figures that claimed to show different experimental results, inconsistently reported data and results for various treatment dilutions in the text and figures, contained suspiciously identical data points throughout a series of figures that were reported to represent different experimental results, and hinged on subjective, non-blinded data from a pain experiment involving just eight rats.
Lastly, others pointed out that even if the data is somehow accurate, the experiment is unconvincing. The fast timing differences of paw withdraw is subjective. It's also prone to bias because the researchers were not blinded to the rats' treatments (meaning they could have known which animals were given the control drug or the homeopathic dilution). Moreover, eight animals in each group is not a large enough number from which to draw firm conclusions, they argue.
As one consequence of these suspicions, the journal has recently added the following footnote to the publication:
10/1/2018 Editors' Note: Readers are alerted that the conclusions of this paper are subject to criticisms that are being considered by the editors. Appropriate editorial action will be taken once this matter is resolved.
WATCH THIS SPACE!
Evening primrose oil (EPO) is amongst the best-selling herbal remedies of all times. It is marketed in most countries as a dietary supplement. It is being promoted for eczema, rheumatoid arthritis, premenstrual syndrome, breast pain, menopause symptoms, and many other conditions. EPO seems to be a prime example for the fact that, in alternative medicine, the commercial success of a remedy is not necessarily determined by the strength of the evidence but by the intensity and cleverness of the marketing activities.
Evening primrose oil has been extensively tested in clinical trials for a wide range of conditions, including eczema (atopic dermatitis), postmenopausal symptoms, asthma, psoriasis, cellulite, hyperactivity, multiple sclerosis, schizophrenia, obesity, chronic fatigue syndrome, rheumatoid arthritis, and mastalgia. As I have reported previously, these data were burdened with mischief and scientific misconduct, and it is therefore not easy to differentiate between science, pseudoscience and fraud. The results of the more reliable investigations fail to show that it is effective for any condition.  A Cochrane review of 2013, for instance, concluded that supplements of evening primrose oil lack effect on eczema; improvement was similar to respective placebos used in trials.
But now, a new study has emerged that casts doubt on this conclusion. The aim of this double-blinded, placebo-controlled RCT is to evaluate the efficacy and safety of EPO in Korean patients with atopic dermatitis (AD).
Fifty mild AD patients with an Eczema Area Severity Index (EASI) score of 10 or less were randomly divided into two groups. The first group received an oval unmarked capsule containing 450 mg of EPO (40 mg of GLA) per capsule, while placebo capsules identical in appearance and containing 450 mg of soybean oil were given to the other group. Treatment continued for a period of 4 months. EASI scores, transepidermal water loss (TEWL), and skin hydration were evaluated in all the AD patients at the baseline, and in months 1, 2, 3, and 4 of the study.
At the end of month 4, the patients of the EPO group showed a significant improvement in the EASI score, whereas the patients of the placebo group did not. There was a significant difference in the EASI score between the EPO and placebo groups. Although not statistically significant, the TEWL and skin hydration also slightly improved in the EPO patients group. Adverse effect were not found in neither the experimental group nor the control group during the study period.
The authors concluded by suggesting that EPO is a safe and effective medicine for Korean patients with mild AD.
I find this study odd for several reasons:
One cannot possibly draw conclusions based on such a small sample.
The authors state that a total of 69 mild AD patients were enrolled and randomized into either the control group (14 males and 17 females) or the EPO group (20 males and 18 females). Six patients in the control group and 13 patients in the EPO group dropped out due to follow up loss. No patient dropped out because the disease worsened. Should this not have necessitated an intention-to-treat analysis? And, if 19 patients were lost to follow-up, how do the authors know that their disease did not worsen?
The graph shows impressively the lack of a placebo-response. I don't understand why there was none.
The authors state that there were no adverse effects at all. I find this implausible; we know that even taking placebos will prompt patients to report adverse effects.
So, what to make out of this?
I am not at all sure, but one thing is certain: this study does not alter my verdict on EPO; as far as I am concerned, the effectiveness of EPO for AD is unproven.
Traditional Chinese Medicine (TCM) is the umbrella term for modalities historically used in ancient China. TCM includes many therapeutic and some diagnostic modalities. Even though, these modalities differ in many respects, they are claimed to have in common that they are based on assumptions most of which originate from Taoist philosophy:
The human body is a miniature version of the universe.
Harmony between the two opposing forces, yin and yang, means health.
Disease is caused by an imbalance between these forces.
Five elements—fire, earth, wood, metal, and water—symbolically represent all phenomena, including the stages of human life, and explain the functioning of the body and how it changes during disease.
The vital energy, qi or chi, flows through the body in meridians, is essential for maintaining health.
TCM is a construct of Mao Zedong who lumped all historical Chinese treatments together under this umbrella and created the 'barefoot doctor' to practice TCM nationwide – not because he believed in TCM, but because China was desperately short of real doctors and needed at least a semblance of healthcare.
Over the past few years, China has been aggressively promoting TCM for expanding its global influence and for a share of the estimated US$50-billion global market (of products of dubious quality). A recent article in 'Nature' explains that the WHO's governing body, the World Health Assembly, is set to adopt the 11th version of the organization's global compendium — known as the International Statistical Classification of Diseases and Related Health Problems (ICD). For the first time, the ICD will include information about TCM. Chapter 26 of the ICD will feature a classification system on TCM, largely based not on science or facts, but on obsolete nonsense.
The WHO's support applies to all traditional medicines, but its relationship with Chinese medicine, and with China, has grown especially close, in particular during the tenure of Margaret Chan, who ran the organization from 2006 to 2017 and made sure that several documents favourable to TCM were passed. The WHO's declarations about traditional medicine are puzzling. Various of these WHO documents call for the integration of "traditional medicine, of proven quality, safety and efficacy", while being silent as to which traditional medicines and diagnostics are proven. Wu Linlin, a WHO representative in the Beijing office, told Nature that the "WHO does not endorse particular traditional and complementary medicine procedures or remedies".
But this is evidently not the case and in sharp contrast to the WHO's actions in other areas. The agency provides, for instance, specific advice on what vaccines and drugs to use and what foods to avoid. With traditional medicines, however, such specifics are missing. The message therefore can only be that the WHO endorses TCM as safe and effective.
The evidence, however, tells us a different story. On this blog, we have repeatedly discussed that:
the clinical trials of TCM are often of poor quality,
there are several good reasons why one has to be very sceptical about research coming out of China,
in general, the evidence on TCM is neither positive nor trustworthy.
China's drug regulator gets more than 230,000 reports of adverse effects from TCM each year, and Chinese herbal medicines carry multiple direct risks:
To this, we have to add the indirect risk of employing useless treatments for otherwise treatable conditions.
In view of all this, the WHO's endorsement of TCM and its obsolete concepts is not just not understandable, it is a dangerous step backwards and, in my view, even intolerable.
I remember reading this paper entitled 'Comparison of acupuncture and other drugs for chronic constipation: A network meta-analysis' when it first came out. I considered discussing it on my blog, but then decided against it for a range of reasons which I shall explain below. The abstract of the original meta-analysis is copied below:
The objective of this study was to compare the efficacy and side effects of acupuncture, sham acupuncture and drugs in the treatment of chronic constipation. Randomized controlled trials (RCTs) assessing the effects of acupuncture and drugs for chronic constipation were comprehensively retrieved from electronic databases (such as PubMed, Cochrane Library, Embase, CNKI, Wanfang Database, VIP Database and CBM) up to December 2017. Additional references were obtained from review articles. With quality evaluations and data extraction, a network meta-analysis (NMA) was performed using a random-effects model under a frequentist framework. A total of 40 studies (n = 11032) were included: 39 were high-quality studies and 1 was a low-quality study. NMA showed that (1) acupuncture improved the symptoms of chronic constipation more effectively than drugs; (2) the ranking of treatments in terms of efficacy in diarrhoea-predominant irritable bowel syndrome was acupuncture, polyethylene glycol, lactulose, linaclotide, lubiprostone, bisacodyl, prucalopride, sham acupuncture, tegaserod, and placebo; (3) the ranking of side effects were as follows: lactulose, lubiprostone, bisacodyl, polyethylene glycol, prucalopride, linaclotide, placebo and tegaserod; and (4) the most commonly used acupuncture point for chronic constipation was ST25. Acupuncture is more effective than drugs in improving chronic constipation and has the least side effects. In the future, large-scale randomized controlled trials are needed to prove this. Sham acupuncture may have curative effects that are greater than the placebo effect. In the future, it is necessary to perform high-quality studies to support this finding. Polyethylene glycol also has acceptable curative effects with fewer side effects than other drugs.
END OF 1st QUOTE
This meta-analysis has now been retracted. Here is what the journal editors have to say about the retraction:
After publication of this article [1], concerns were raised about the scientific validity of the meta-analysis and whether it provided a rigorous and accurate assessment of published clinical studies on the efficacy of acupuncture or drug-based interventions for improving chronic constipation. The PLOS ONE Editors re-assessed the article in collaboration with a member of our Editorial Board and noted several concerns including the following:
Acupuncture and related terms are not mentioned in the literature search terms, there are no listed inclusion or exclusion criteria related to acupuncture, and the outcome measures were not clearly defined in terms of reproducible clinical measures.
The study included acupuncture and electroacupuncture studies, though this was not clearly discussed or reported in the Title, Methods, or Results.
In the "Routine paired meta-analysis" section, both acupuncture and sham acupuncture groups were reported as showing improvement in symptoms compared with placebo. This finding and its implications for the conclusions of the article were not discussed clearly.
Several included studies did not meet the reported inclusion criteria requiring that studies use adult participants and assess treatments of >2 weeks in duration.
Data extraction errors were identified by comparing the dataset used in the meta-analysis (S1 Table) with details reported in the original research articles. Errors included aspects of the study design such as the experimental groups included in the study, the number of study arms in the trial, number of participants, and treatment duration. There are also several errors in the Reference list.
With regard to side effects, 22 out of 40 studies were noted as having reported side effects. It was not made clear whether side effects were assessed as outcome measures for the other 18 studies, i.e. did the authors collect data clarifying that there were no side effects or was this outcome measure not assessed or reported in the original article. Without this clarification the conclusion comparing side effect frequencies is not well supported.
The network geometry presented in Fig 5 is not correct and misrepresents some of the study designs, for example showing two-arm studies as three-arm studies.
The overall results of the meta-analysis are strongly reliant on the evidence comparing acupuncture versus lactulose treatment. Several of the trials that assessed this comparison were poorly reported, and the meta-analysis dataset pertaining to these trials contained data extraction errors. Furthermore, potential bias in studies assessing lactulose efficacy in acupuncture trials versus lactulose efficacy in other trials was not sufficiently addressed.
While some of the above issues could be addressed with additional clarifications and corrections to the text, the concerns about study inclusion, the accuracy with which the primary studies' research designs and data were represented in the meta-analysis, and the reporting quality of included studies directly impact the validity and accuracy of the dataset underlying the meta-analysis. As a consequence, we consider that the overall conclusions of the study are not reliable. In light of these issues, the PLOS ONE Editors retract the article. We apologize that these issues were not adequately addressed during pre-publication peer review.
LZ disagreed with the retraction. YM and XD did not respond.
END OF 2nd QUOTE
Let me start by explaining why I initially decided not to discuss this paper on my blog. Already the first sentence of the abstract put me off, and an entire chorus of alarm-bells started ringing once I read further.
A meta-analysis is not a 'study' in my book, and I am somewhat weary of researchers who employ odd or unprecise language.
We all know (and I have discussed it repeatedly) that studies of acupuncture frequently fail to report adverse effects (in doing this, their authors violate research ethics!). So, how can it be a credible aim of a meta-analysis to compare side-effects in the absence of adequate reporting?
The methodology of a network meta-analysis is complex and I know not a lot about it.
Several things seemed 'too good to be true', for instance, the funnel-plot and the overall finding that acupuncture is the best of all therapeutic options.
Looking at the references, I quickly confirmed my suspicion that most of the primary studies were in Chinese.
In retrospect, I am glad I did not tackle the task of criticising this paper; I would probably have made not nearly such a good job of it as PLOS ONE eventually did. But it was only after someone raised concerns that the paper was re-reviewed and all the defects outlined above came to light.
While some of my concerns listed above may have been trivial, my last point is the one that troubles me a lot. As it also related to dozens of Cochrane reviews which currently come out of China, it is worth our attention, I think. The problem, as I see it, is as follows:
Chinese (acupuncture, TCM and perhaps also other) trials are almost invariably reporting positive findings, as we have discussed ad nauseam on this blog.
This means that there is good reason to be suspicious of such trials.
Many of the reviews that currently flood the literature are based predominantly on primary studies published in Chinese.
Unless one is able to read Chinese, there is no way of evaluating these papers.
Therefore reviewers of journal submissions tend to rely on what the Chinese review authors write about the primary studies.
As data fabrication seems to be rife in China, this trust might often not be justified.
At the same time, Chinese researchers are VERY keen to publish in top Western journals (this is considered a great boost to their career).
The consequence of all this is that reviews of this nature might be misleading, even if they are published in top journals.
I have been struggling with this problem for many years and have tried my best to alert people to it. However, it does not seem that my efforts had even the slightest success. The stream of such reviews has only increased and is now a true worry (at least for me). My suspicion – and I stress that it is merely that – is that, if one would rigorously re-evaluate these reviews, their majority would need to be retracted just as the above paper. That would mean that hundreds of papers would disappear because they are misleading, a thought that should give everyone interested in reliable evidence sleepless nights!
So, what can be done?
Personally, I now distrust all of these papers, but I admit, that is not a good, constructive solution. It would be better if Journal editors (including, of course, those at the Cochrane Collaboration) would allocate such submissions to reviewers who:
are demonstrably able to conduct a CRITICAL analysis of the paper in question,
can read Chinese,
have no conflicts of interest.
In the case of an acupuncture review, this would narrow it down to perhaps just a handful of experts worldwide. This probably means that my suggestion is simply not feasible.
But what other choice do we have?
One could oblige the authors of all submissions to include full and authorised English translations of non-English articles. I think this might work, but it is, of course, tedious and expensive. In view of the size of the problem (I estimate that there must be around 1 000 reviews out there to which the problem applies), I do not see a better solution.
(I would truly be thankful, if someone had a better one and would tell us)
It's been often said that we live in the age of information.  Everyone can get tons of it at the click of a button. This is undoubtedly true. Sadly, it also means that we are exposed to tons of misinformation, and sometimes it seems to me that we now live in THE AGE OF MISINFORMATION.
Here I will explain the consequences of this phenomenon on two examples that, at first glance, seem to have nothing in common at all (other than being close to my heart):
With homeopathy, the public are confronted by a steady flood of misinformation from the powerful homeopathy lobby who tell us quite incredible untruths about it:
Homeopathy is effective
Homeopathy is harmless
Homeopathy is natural
Homeopathy is holistic
Homeopathy is supported by many of the brightest people
Homeopathy is an important contribution to public health
Homeopathy prevents epidemics
Homeopathy works through quantum effects
Homeopathy is nano-medicine
Homeopathy is energy medicine
Homeopathy works for infants
Homeopathy works in animals
Homeopathy works for plants
Homeopathy is the victim of a propaganda campaign against it
Those who put out this multi-level misinformation pretend that they inform the public. Of course, the public must be informed – how else could they possibly make informed choices? (If this important aim requires a bit of cheating here and there, so be it!)
And the public reacts as directed: they buy homeopathic preparations in droves. The result is that the promoters of homeopathy can claim that THE PUBLIC IS VOTING WITH THEIR FEET! The people have decided, they say, homeopathy is a good thing!
_______________________________________________________________
With Brexit, the public is confronted by a steady flood of misinformation from the powerful Brexit lobby who tell us quite incredible untruths about it:
Brexit is going to give us our country back
Brexit is good for the economy
Brexit will mean more money for the NHS
Brexit will be easy
Brexit will allow us to trade with the rest of the world
Brexit will keep foreigners out
Brexit is going to create jobs
Brexit is good for our industry
Brexit is good for farmers
Brexit is good for the environment
Brexit will free us from the shackles of the EU
Brexit will strengthen our alliance with the US
Those who put out this multi-level misinformation pretend that they inform the public. Of course, the public must be informed – how else could they possibly make informed choices? (If this important aim requires a bit of cheating here and there, so be it!)
And the public reacts as directed: they buy into the lies of the Brexiteers in droves. The result is that the promoters of Brexit can claim that THE PUBLIC HAS VOTED WITH THEIR FEET! The people have decided, they say, Brexit is a good thing!
_____________________________________________________________
Yes, I know, this is a bit simplistic. But the point I am trying to make is surely valid: misinformation not only leads to wrong and often dangerous decision, it is also the way charlatans try to fool us with their circular arguments and justify their blatant lies.
This could (and perhaps should) be a very short post:
I HAVE NO QUALIFICATIONS IN HOMEOPATHY!
NONE!!!
[the end]
The reason why it is not quite as short as that lies in the the fact that homeopathy-fans regularly start foaming from the mouth when they state, and re-state, and re-state, and re-state this simple, undeniable fact.
The latest example is by our friend Barry Trestain who recently commented on this blog no less than three times about the issue:
Falsified? You didn't have any qualifications falsified or otherwise according to this. In quotes as well lol. Perhaps you could enlighten us all on this. Edzard Ernst, Professor of Complementary and Alternative Medicine (CAM) at Exeter University, is the most frequently cited "expert" by critics of homeopathy, but a recent interview has revealed the astounding fact that he "never completed any courses" and has no qualifications in homeopathy. What is more his principal experience in the field was when "After my state exam I worked under Dr Zimmermann at the Münchner Krankenhaus für Naturheilweisen" (Munich Hospital for Natural Healing Methods). Asked if it is true that he only worked there "for half a year", he responded that "I am not sure … it is some time ago"!
I don't know what you got. I'm only going by your quotes above. You didn't pass ANY exams. "Never completed any courses and has no qualifications in Homeopathy." Those aren't my words.
LOL qualification for their cat? You didn't even get a psuedo qualification and on top of that you practiced Homeopathy for 20 years eremember. With no qualifications. You are a fumbling and bumbling Proffessor of Cam? LOL. In fact I think I'll make my cat a proffessor of Cam. Why not? He'll be as qualified as you.
Often, these foaming (and in their apoplectic fury badly-spelling) defenders of homeopathy state or imply that I lied about all this. Yet, it is they who are lying, if they say so. I never claimed that I got any qualifications in homeopathy; I was trained in homeopathy by doctors of considerable standing in their field just like I was trained in many other clinical skills (what is more, I published a memoir where all this is explained in full detail).
In my bewilderment, I sometimes ask my accusers why they think I should have got a qualification in homeopathy. Sadly, so far, I  have not received a logical answer (most of the time not even an illogical one).
So, today I ask the question again: WHY SHOULD I HAVE NEEDED ANY QUALIFICATION IN HOMEOPATHY?
My answers are here:
I consider such qualifications as laughable.  A proper qualification in nonsense is just nonsense!
For practising homeopathy (which I did for a while), I did not need such qualifications; as a licensed physician, I was at liberty to use the treatments I felt to be adequate.
For researching homeopathy (which I did too and published ~120 Medline-listed papers as a result of it), I do not need them either. Anyone can research homeopathy, and some of the most celebrated heroes of homeopathy research (e. g. Klaus Linde and Robert Mathie) do also have no such qualifications.
I am therefore truly puzzled and write this post to give everyone the chance to name the reasons why they feel I needed qualifications in homeopathy.
Please do tell me!
Did you know that I falsified my qualifications?
Neither did I!
But this is exactly what has been posted on Amazon as a review of my book HOMEOPATHY, THE UNDILUTED FACTS. The Amazon review in question is dated 7 August 2018 and authored by 'Paul'. As it might not be there for long (because it is clearly abusive) I copied it for you:
Edzard Ernst falsified his qualifications to get a job as a professor. When the university found out they fired him. This book is as false as the Mr Ernst
Over the years, I have received so many insults that I stared to collect them and began to quite like them. I even posted selections on this blog (see for instance here and here). Some are really funny and others are enlightening because they reflect on the mind-set of the authors. All of them show that the author has run out of arguments; thus they really are little tiny victories over unreason, I think.
But, somehow, this new one is different. It is actionable, no doubt, and contains an unusual amount of untruths in so few words.
I never falsified anything and certainly not my qualification (which is that of a doctor of medicine). If I had, I would be writing these lines from behind bars.
And if I had done such a thing, I would not have done it 'to get a job as a professor' – I had twice been appointed to professorships before I came to the UK (Hannover and Vienna).
My university did not find out, mainly because there was nothing to find out.
They did not fire me, but I went into early retirement. Subsequently, they even re-appointed me for several months.
My book is not false; I don't even know what a 'false book' is (is it a book that is not really a book but something else?).
And finally, for Paul, I am not Mr Ernst, but Prof Ernst.
I don't know who Paul is. And I don't know whether he has even read the book he pretends to be commenting on (from what I see, I think this is very unlikely). I am sure, however, that he did not read my memoir where all these things are explained in full detail. And I certainly do not hope he ever reads it – if he did, he might claim:
This book is as false as the Mr Ernst
They say that minds are like parachutes – they function only when open. Having an open mind means being receptive to new and different ideas or the opinions of others.
I am regularly accused of lacking this quality. Most recently, an acupuncturist questioned whether acupuncture-sceptics, and I in particular, have an open mind. Subsequently, an interesting dialogue ensued:
___________________________________________________________
Tom Kennedy on Wednesday 01 August 2018 at 19:27
edzard on Thursday 02 August 2018 at 12:46
"Perhaps the full conclusion should always be quoted…"
YES, IF NOT, IT'S CALLED 'BEING ECONOMICAL WITH THE TRUTH'
Tom Kennedy on Friday 03 August 2018 at 11:20
I am sorry to say that I see no critical evaluation in the post you linked to.
" I'd say it comes across as 'negative assessment' rather than 'critical assessment'.
have you noticed that criticism is often experienced as negative to the person(s) it is aimed at?
This exchange shows how easily I can be provoked to get stroppy and even impolite – I do apologise.
But it also made me wonder: how can anyone be sure to have an open mind?
And how can we decide that a person has a closed mind?
We probably all think we are open minded, but are we correct?
I am not at all sure that I know the answer. It obviously depends a lot on the subject. There are subjects where one hardly needs to keep an open mind and some where it might be advisable to have a closed mind:
the notion that the earth is flat,
flying carpets,
iridology,
reflexology,
chiropractic subluxation,
the vital force,
detox,
homeopathy.
No doubt, there will be people who even disagree with this short list.
Something that intrigues me – and I am here main ly talking about alternative medicine – is the fact that I often get praised by people who say, "I do appreciate your critical stance on therapy X, but on my treatment Y you are clearly biased and unfairly negative!" To me, it is an indication of a closed mind, if criticism is applauded as long as it does not tackle someone's own belief system.
On the subject of homeopathy, Prof M Baum and I once published a paper entitled 'Should we maintain an open mind about homeopathy?' Its introduction explains the problem quite well, I think:
Once upon a time, doctors had little patience with the claims made for alternative medicines. In recent years the climate has changed dramatically. It is now politically correct to have an open mind about such matters; "the patient knows best" and "it worked for me" seem to be the new mantras. Although this may be a reasonable approach to some of the more plausible aspects of alternative medicine, such as herbal medicine or physical therapies that require manipulation, we believe it cannot apply across the board. Some of these alternatives are based on obsolete or metaphysical concepts of human biology and physiology that have to be described as absurd with proponents who will not subject their interventions to scientific scrutiny or if they do, and are found wanting, suggest that the mere fact of critical evaluation is sufficient to chase the healing process away. These individuals have a conflict of interest more powerful than the requirement for scientific integrity and yet defend themselves by claiming that those wanting to carry out the trials are in the pocket of the pharmaceutical industry and are part of a conspiracy to deny their patients tried and tested palliatives….
END OF QUOTE
And this leads me to try to define 10 criteria indicative for an open mind.
to be free of conflicts of interest,
integrity,
honesty,
to resist the temptation of applying double standards,
to have a track record of having changed one's views in line with the evidence,
to not cling to overt absurdities,
to reject conspiracy theories,
to be able to engage in a meaningful dialogue with people who have different views,
to avoid fallacious thinking,
to be willing to learn more on the subject in question.
I would be truly interested to hear, if you have further criteria, or indeed any other thoughts on the subject.
Vis a vis the overwhelming evidence to the contrary, why are there so many clinicians (doctors as well as lay practitioners) who still believe that homeopathy is working? And why are there so many patients who still believe that homeopathy is working?
These are questions that puzzle me quite a bit.
Of course, there is no simple, single answer; there are probably dozens. But one reason must be that there are only three possible outcomes after homeopathic treatments, all of which are favourable for homeopathy (at least in the interpretation of proponents of homeopathy). Seen in this light, there simply is no better therapy!
Let me explain:
If a patient consults a homeopath who prescribes a highly diluted homeopathic remedy, she might subsequently:
get better,
get worse,
or experience no change at all.
Analysing these three possibilities, we quickly see that, from the point of view of a convinced homeopath, all are a proof for homeopathy's effectiveness, and none suggests that the scientific evidence is correct in claiming that highly diluted homeopathic remedies are pure placebos.
SCENARIO 1
In this situation, it is easy to assume that the remedy was the cause for the clinical improvement. Most clinicians of any discipline fall into this trap, and most patients follow them willingly. Yet, we all know that a temporal relationship is not the same as a causal one (the crowing of a cock before dawn is not the cause of the sun rising). Of course, it is conceivable that the treatment was the cause, but there are several other possibilities as well; just think of the placebo effect, regression towards the mean, and the natural history of the disease. In our case, these non-specific effects are most certainly the cause of our patient's improvement.
SCENARIO 2
Most clinicians in this situation would start wondering whether they have employed the correct therapy for this patient's condition – not so the homeopath! He would triumphantly exclaim: "excellent, you are experiencing a 'homeopathic aggravation'. This is a sure sign that I have given you the optimal remedy. Things will get better soon." A homeopathic aggravation occurs, according to homeopathic logic, because homeopathy follows the 'like cures like' principle. The homeopath prescribes the remedy that would normally cause the symptoms from which his patient is suffering. This means it must also cause these symptoms in every patient. Usually these aggravations are not strong enough to be noticed, but when they are, it is interpreted by homeopaths as a triumph of homeopathy.
SCENARIO 3
In this situation, the homeopath has several options. He can claim "but without my remedy you would be much worse by now. The fact that you are not, shows how very effective homeopathy really is. A more humble homeopaths might explain that the optimal remedy is not always easy to find straight away, and he would therefore proceed in prescribing another one. In both cases, the patient is kept paying for more and homeopathy is presented as an effective therapy.
These three scenarios clearly show that there is no conceivable outcome where any homeopathy-fan would need to consider that scientists are correct in stating that homeopathy is ineffective. And this is one of the reasons why the myth of homeopathy's effectiveness persists.
Hold on … the patient might be dead!
Yes, that is a rather unfortunate situation for any clinician – except for a homeopath, of course. He would simply point out that the patient must have forgotten to take her medicine. A conventional practitioner might get in trouble, if he tried that excuse; one could easily measure blood levels of the prescribed drug and verify the claim. Not so in homeopathy! Because they contain not a single active molecule, homeopathic remedies are undetectable!
We can easily see that there is no better treatment than homeopathy – at least for the homeopath!
The fact that many SCAM-practitioners are latent or even overt anti-vaxxers has often been addressed on this blog. The fact that the anti-vaccination guru, Andrew Wakefield, has his fingers deep in the SCAM-pie is less well appreciated.
In case you forgot who Wakefield is, let me remind you. As a gastroenterologist at the London Royal Free Hospital, he published evidence in the Lancet (1998) suggesting that the MMR vaccination was a cause of autism. It was discovered to be fraudulent. In 2010, a statutory tribunal of the GMC found three dozen charges proved, including 4 counts of dishonesty and 12 counts involving the abuse of developmentally delayed children. Consequently, he was struck off the register and lives in the US ever since where he, amongst many other things, enjoys lecturing to homeopaths and chiropractors about the dangers of vaccination.
Since Trump, who seems to share Wakefield's anti-vaxx stance, has become president of the US, Wakefield has managed to creep back in the limelight. The Guardian recently reported: At one of President Trump's inaugural balls in January last year, he was quoted as contemplating the overthrow of the (pro-vaccine) US medical establishment in words that brought to mind Trump himself. "What we need now is a huge shakeup at the Centers for Disease Control and Prevention (CDC) – a huge shakeup. We need that to change dramatically."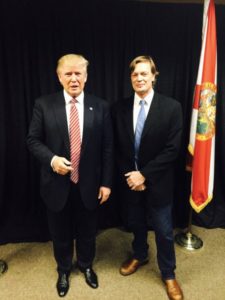 In the US, Wakefield also founded the 'Autism Media Channel' which makes videos alleging a causal link between autism and the MMR vaccine. The film 'Vaxxed' was thus directed by Wakefield. It was put forward to premiere at the 2016 Tribeca film festival by Robert De Niro, the father of an autistic child. It alleges a cover-up of the alleged link between MMR and autism by the CDC – the institute Wakefield said needed a shake-up at the Trump inaugural ball. After much discussion, De Niro fortunately withdrew the film.
Wakefield's private life has also seem significant changes. He is reported to have recently left his wife who had supported him throughout the debacle in the UK and is now 'deliciously in love' with the super-model and entrepreneur Elle Macpherson . Brian Burrowes, 48, who edited 'Vaxxed' was reported stating that he and Macpherson had begun dating after they were both guests at the 'Doctors Who Rock' Awards in November last year. This event was to honour alternative medicine practitioners, with Macpherson handing out an award and Wakefield receiving one. Other awardees included Del Bigtree and Billy DeMoss DC.
Wakefield's legacy in Europe is the recurrence of measles due to persistent doubts in vaccination safety. This regrettable phenomenon is fuelled by Wakefield's multiple activities, including face-book, twitter and you-tube. Social media has provided an alternative to the "failings of mainstream media", Wakefield was quoted in the Guardian saying – another phrase that could have come from a tweet by the US president himself. "In this country, it's become so polarised now … No one knows quite what to believe," Wakefield said. "So, people are turning increasingly to social media."
And this is what I said about this strategy in today's Times: "Such anti-vaccination propaganda is hugely harmful. It prompts many families to shun immunisations which means firstly they are unprotected, and secondly we as a people might lose herd immunity. The result is what we currently see throughout Europe: epidemics are threatening the lives of millions. It is in my view irresponsible for any institution to get involved in the anti-vaxx cult, particularly for universities who really should know better."