cult
Guest post by Richard Rawlins
Ever since its inception, Homeopathy has struggled to establish principled medical ethics amongst its practitioners. For sure, Samuel Hahnemann was good doctor who achieved much by denying his patients the bleeding, emetics, expectorants, laxatives and poly-pharmacy conventional at the turn of the nineteenth century. But he then lost his way in spiritism and vitalism, devised a system of care which could not, and did not, provide any benefit beyond placebo responses, and inveigled many colleagues to share his delusion. Many derided him.
As medicine in all developed countries became better regulated, so the associated ethics became better focussed. "First do no harm" is common to all systems, but in the UK, the four 'A's of avoiding adultery with a patient, alcohol whilst in a clinical situation, advertising, and association formed the next domain. 'Association' meant having a professional medical relationship with anyone not also a GMC registrant. Times, and standards have changed, but quackery, charlatanism and health care fraud has always been unethical. The problem for society has been the GMC's reluctance to take any action against its registrants who lack integrity, promote quackery, or seek to defraud. The general response has been "we only act on complaints by a patient, health authority or fellow registrant – and complaints have to be specific."
So it is that about 400 registrants of the GMC continue practising homeopathy with impunity. Sir Simon Stevens has now all but banned homeopathy from the NHS, but a medically qualified practitioner, in the private sector can do as they please, no matter how vulnerable and gullible the patient.
Doctors are of course required to obtain fully informed consent to treatment, and that should mean advising patients that homeopathic remedies are but placebos. Many patients so treated will declare they "feel better" and are content – but in practice, no explanation is offered to patients attending homeopaths. A classic charlatonnade (a charade promulgated by a charlatan).
But perhaps the vicissitudes of Covid-19 is exposing the hypocrisy of the GMC's position, and might yet enable some redress for patients seeking redress for unethical medically qualified homeopathic attention.
The Guardian and Sunday Times of 22nd March 2020 reported that Dr Mark Ali allegedly made £1.7M profit in one week from selling kits to test for COVID -19.
"The GMC said no doctor should try to 'profit from the fear and uncertainly caused by the pandemic…We would be concerned to learn that doctors are exploiting patient's vulnerability or lack of medical knowledge, in order to profit from fear and uncertainty…' "
The rationale for that fear is surely irrelevant – any health practice which takes advantage of the patient's vulnerability or lack of medical knowledge is unethical. Simple.
"We also expect doctors… not to offer or recommend tests that are unproven, clinically unverified or otherwise unreliable."
This is in the context of the serious issues of SARS-CoV-2 (the name of the corona virus which causes the illness COVID-19) – but it is helpful that the GMC's ethical principles have been clearly stated.
May we take it the GMC will be equally as stringent with their registrants (doctors) who take advantage of the patient's vulnerability or lack of medical knowledge, and recommend tests such as homeopathic provings "that are unproven, clinically unverified or otherwise unreliable."?
And if not, why not?
All homeopathic remedy prescriptions are 'tests': "Take this, see how you go, I'll adjust if needed…". The German word pruefung used by Hahnemann (meaning 'testing' or 'examination') has been translated into English as 'proving'. But the word for 'to prove' is beweisen, and that is not the word Hahnemann used. The use of 'proving' in English implies merit which is not deserved. All part of the delusion.
Clearly, any doctor who recommends homeopathic remedies, but does not explain the conventional view of the remedy, lacks integrity and is unethical – by definition. If the doctor is GMC registered (which a 'doctor' does not have to be – e.g., dentists are not) – they should be subject to sanction by the GMC. The GMC should do its duty to protect the public, and not wait for a crisis to stir them into action.
Sadly, if practitioners are not GMC registered, caveat emptor.
It's getting crowded in my 'Corona-Virus Quackery Club' (CVQV). So far, we have the:
Now a potentially smelly addition is joining. This website explains:
Hindu Mahasabha leader Swami Chakrapani Maharaj has claimed coronavirus can be cured by cow urine or cowdung.
"Consuming cow urine and cow dung will stop the effect of infectious coronavirus," he had said. But, can coronavirus actually be cured through cow urine or cowdung? Here's what Swami Chakrapani Maharaj said when I contacted him.
"Cow urine is a natural remedy to a number of diseases, be it cancer or any other deadly disease. The urine of a cow contains natural ingredients and those act as a medicine/drug to cure illness."
When asked how cow urine should be consumed by those infected with coronavirus, Swami Chakrapani Maharaj said urine or dung of only Indian cows should be used for treatment. Moreover, the cow you trust for coronavirus treatment should not be eating trash from the street.
Commenting further, Swami Chakrapani Maharaj said cow urine or cowdung had even proved to be useful at the time of Bhopal gas tragedy, as houses that had cowdung stuck on walls were the ones that stayed unaffected by the gas tragedy.
"Problems such as migraine or depression can also be cured through cow urine/cowdung," Chakrapani Maharaj said. "People consume non-vegetarian food and this is where the problem begins, it is the source of all ailments and negative energy," he said.
"In the case of coronavirus, patients should drink cow urine and chant Shiva mantras. In other cases, patients can apply cowdung on their head or complete body, as it a natural remedy," Chakrapani Maharaj said.
Apparently this is quite common in India. Yes, all the other SCAMs for corona are just ineffective – this one clearly manages to achieve more: it is ineffective and disgusting!
So, welcome to the CVQC, dung and urine quacks.
Wiki states that George Vithoulkas has been described as "the maestro of classical homeopathy" and is "widely considered to be the greatest living homeopathic theorist". Others call him a "contemporary master of homeopathy" or credit him with the revival of the credibility of homeopathy.
A few days ago, THE MAESTRO has given an interview about the coronavirus which, I believe, is too hilarious to miss:
Q. What is your opinion of coronavirus, what homeopathy can do ?
A. Unless we have selected the real symptoms of the different stages of this influenza from the clinicians who are dealing at this moment with the infected cases, we cannot do anything substantial.
We should know the symptomatology of the beginning stages -before the pneumonia- and propose remedies for this stage in order to reduce the victims of going to the second stage. Also we should know the symptomatology of the later stage of pneumonia or diarrhea to propose different remedies for this advanced stage.
But the symptomatology has to be taken by an experienced homeopath in order to be reliable.
I think the best would be to establish contact with the clinicians in order to give us a fist hand information.
To give at random remedies as a prophylaxis and to make people think that they are protected it is irresponsible.
Q. What do you think about those homeopaths who advertise that are treating cancer cases  using homeopathic remedies while at the same time the patients are treated with allopathic drugs?
Advertising that cancer cases can be cured by homeopathy in spite of the fact patients are treated with conventional drugs is an unethical act that should be avoided at all costs by any honest homeopath.
The reasons are simple.
A.   The homeopathic remedy will act if it is prescribed according to the symptoms of the case. But in such a situation where the patient is under chemotherapy, the symptoms are suppressed by the allopathic drugs. Therefore the prescriptions at best are not prescribed according to the law of similars but are given in an arbitrary way, therefore instead of the similimum, several remedies are prescribed at random. Actually in this way, the case becomes more and more confused and the organism is more and more disorganised.
B.   The homeopathic remedy acts on the energy level -on  the vital force-  inciting the organism to increase its response (initial aggravation) so the two treatments are antagonistic, the one suppresses the defense mechanism, the other strengthens it.
C.   Out of such a confusion within the organism, no one can say what actually has happened in such a patient.
Of course each doctor is free to apply any treatment that according to his understanding will benefit the patient, but to claim publicly that homeopathy can cure cancer under such conditions is totally immoral.
Obviously patients will flock around such physicians in the beginning and can make them rich but in the end the disappointments will be for both parties, the doctors and the patients but mostly on the part of doctors.
Q. Perhaps because of the guilt for all the lies and false hopes?
Homeopathy is an amazing therapeutic system, that can make doctors and patients extremely happy but has limits and the doctors should not transgress these boundaries for material gain.
It is a great pity that homeopathy will be reduced to a routine massive therapy with meagre results by those who are advertising polypharmacy with such mongrel practices like the ones with prearranged therapeutic protocols or mixopathy.
If such practices prevail, finally the real classical homeopathy, that can have such amazing results, if it is learned and practiced correctly, will die out amidst an aggressive and competitive society.
So, essentially the great Vithoulkas seems to be saying that treating even the most serious diseases with homeopathy is fine, as long as homeopaths use no treatments other than homeopathy and as long as they do exactly what Vithoulkas proclaims or – even better – Vithoulkas does it himself.
I know, this is very similar to what Hahnemann, the creator of this cult, stated about 200 years ago … but it is nevertheless totally bonkers.
A team of chiropractic researchers conducted a review of the safety of spinal manipulative therapy (SMT) in children under 10 years. They aimed to:
1) describe adverse events;
2) report the incidence of adverse events;
3) determine whether SMT increases the risk of adverse events compared to other interventions.
They searched MEDLINE, CINAHL, and Index to Chiropractic Literature from January 1, 1990 to August 1, 2019. Eligible studies were case reports/series, cohort studies and randomized controlled trials. Studies of high and acceptable methodological quality were included.
Most adverse events are mild (e.g., increased crying, soreness). One case report describes a severe adverse event (rib fracture in a 21-day-old) and another an indirect harm in a 4-month-old. The incidence of mild adverse events ranges from 0.3% (95% CI: 0.06, 1.82) to 22.22% (95% CI: 6.32, 54.74). Whether SMT increases the risk of adverse events in children is unknown.
The authors concluded that the risk of moderate and severe adverse events is unknown in children treated with SMT. It is unclear whether SMT increases the risk of adverse events in children < 10 years.
Thanks to their ingenious methodology, the authors managed to miss 11 of the 13 studies included in the review by Vohra et al which reported 9 serious adverse events and 20 cases of delayed diagnosis associated with SMT. Another review reported 15 serious adverse events and 775 mild to moderate adverse events following manual therapy. As far as I can see, the authors of the new review make just one reasonable point:
We recommend the implementation of a population-based active surveillance program to measure the incidence of severe and serious adverse events following SMT treatment in this population.
In the absence of such a surveillance system, any incidence figures are not just guess-work but also a depiction of the tip of a much bigger iceberg. So, why do the authors of this review not make this point clearly and powerfully? Why does the review read mostly like an attempt to white-wash a thorny subject? Why do they not provide a breakdown of the adverse events according to profession? The answer to these questions can be found at the very end of the paper:
This study was supported by the College of Chiropractors of British Columbia to Ontario Tech University. The College of Chiropractors of British Columbia was not involved in the design, conduct or interpretation of the research that informed the research. This research was undertaken, in part, thanks to funding from the Canada Research Chairs program to Pierre Côté who holds the Canada Research Chair in Disability Prevention and Rehabilitation at Ontario Tech University, and from the Canadian Chiropractic Research Foundation to Carol Cancelliere who holds a Research Chair in Knowledge Translation in the Faculty of Health Sciences at Ontario Tech University.
This study was supported by the College of Chiropractors of British Columbia to Ontario Tech University. The College of Chiropractors of British Columbia was not involved in the design, conduct or interpretation of the research that informed the research. This research was undertaken, in part, thanks to funding from the Canada Research Chairs program to Pierre Côté who holds the Canada Research Chair in Disability Prevention and Rehabilitation at Ontario Tech University, and funding from the Canadian Chiropractic Research Foundation to Carol Cancelliere who holds a Research Chair in Knowledge Translation in the Faculty of Health Sciences at Ontario Tech University.
I have often felt that chiropractic is similar to a cult. An investigation by cult members into the dealings of a cult is not the most productive of concepts, I guess.
A cover-up of hush money paid to a church secretary, Jessica Hahn, for an alleged rape led to his resignation from the ministry. Subsequent revelations of accounting fraud brought about his conviction on felony charges, imprisonment and divorce. Bakker later remarried and returned to televangelism, founding the Morningside Church in Blue Eye, Missouri. He currently hosts The Jim Bakker Show, which focuses on the end time and the Second Coming of Christ while promoting emergency survival products. He has written several books, including I Was Wrong and Time Has Come: How to Prepare Now for Epic Events Ahead.
The televangelist has recently taken to selling all sorts of stuff to his followers – anything from food buckets to water bottles to vitamins — and that includes his "Silver Solution," which the pastor claims will get rid of "all venereal diseases." 
But according to the Friendly Atheist, Bakker allowed a guest on his show to tell his followers an even more dangerous falsehood: that the colloidal silver concoction will also "deactivate" the coronavirus in under 12 hours.
Speaking with Dr. Sherrill Sellman on his show, Bakker said, "This influenza, that is now circling the globe, you're saying that Silver Solution would be effective?" Sellman — who is not a medical doctor but "a naturopath who boasts of having 'simple solutions to complex issues'" — replied, "Well, let's say it hasn't been tested on this strain of the coronavirus, but it's been tested on other strains of the coronavirus and has been able to eliminate it within 12 hours."
"Totally eliminates it. Kills it. Deactivates it," she said. "And then it boosts your immune system, so then you can support the recovery, 'cause when you kill the virus then your immune system comes into action to clear it out. So you want a vibrant immune system as well as an ability to deactivate these viruses."
In a test-tube, colloidal silver might kill the virus. But in a living organism?
No!
And there is plenty of evidence to show that, when taken by mouth, colloidal silver can have serious side effects. According to the National Institutes of Health, one of the most common effects is "argyria, a bluish-gray discoloration of the skin, which is usually permanent" (see 'before/after pictures on the right).
Furthermore, it can also cause "poor absorption of some drugs, such as certain antibiotics and thyroxine (used to treat thyroid deficiency)."
Question: is it really 'Christian' to promote bogus treatments to desperate people?
What should we make of a discipline whose disciples are unsure of what the discipline is?
Yes, I am talking of chiropractic!
Surely, the inventor of chiropractic has told them what it is. True, DD Palmer left them no end of definitions; here are just 4 to choose from:
Chiropractic is the science of healing without drugs.
Chiropractic is the art of adjusting by hand all subluxations of the three hundred articulations of the human skeletal frame, more especially the 52 articulations of the spinal column, for the purpose of freeing impinged nerves, as they emanate thru the intervertebral foramina, causing abnormal function, in excess or not, named disease.
Chiropractic is a name I originated to designate the science and art of adjusting vertebrae.
Chiropractic is a philosophical science; it has solved one of the most profound and perplexing problems of the age, namely, what is life?
Despite this plethora of definitions, chiropractors are still struggling to define their trade. This article, entitled 'So What Is Chiropractic?', marks the end of a recent series of papers published in a chiro-journal trying to make progress in this regard. They revealed deeply rooted disagreements within the chiropractic profession about what chiropractic is, and what it should be, as a profession [13, 19, 20], as well as disagreements and variation in relation to education of chiropractors [14, 15] and chiropractic clinical practice [11].
In the opinion of the authors' paper, it is ironic that, while chiropractic has a strong presence in large parts of the world [3], is taking on increasingly important roles in disability prevention [6, 7, 17], in the military [5] and in interprofessional care [8] as well as growing research capacity [16], discussions about fundamental values and direction of the profession are unresolved. They believe that this unresolved issue creates confusion for stakeholders and threatens to impede professionalization and cultural authority. If chiropractors are to remain relevant in today's evidence-based healthcare environment, they argue, there is an urgent need to agree on, and further describe, what chiropractic is, what chiropractors do and importantly to provide evidence for value of these activities to patients and societies.
So, what do we make of chiropractic in view of the fact that chiropractors seem to be unsure what it is?
I let you decide.
Every now and then, I come across a SCAM paper that is so 'far out' that, when reading it, my mind wants to boggle. This one (recently published in 'Medical Acupuncture') is about 'paediatric scupuncture' – no, not acupuncture performed by kids – it's acupuncture for kids. The temptation to show you the full, unaltered abstract is too strong to resist:
Background: Approaching pediatric acupuncture from a spiritual perspective is the most effective means for providing a valuable holistic relatively noninvasive approach to pediatric acupuncture, as well as preventive treatments for the repulsion of disease and the correction of Qi (i.e., vital energy) imbalances.
Objectives: Parents may be taught to apply acupressure to their children with an excellent response, especially when given with loving kindness.
Materials and Methods: Methods include the use of acupressure, laser techniques, and acupuncture for children who do not display fear toward the shallow insertion of needles.
Results: Owing to the young age of the patients, children will display fast and effective positive responses to therapy, just as they are susceptible to negative effects in similar timeframes. Children will respond faster than adults to such treatments, which can also increase immune system functionality and bolster resistance to invasive forms of Qi imbalances and disease. Such treatments will also relieve pain and distress and improve concentration and mental attitudes in children. Difficult conditions such as attention-deficit/hyperactivity disorder (ADHD) and attention deficit disorder (ADD) can also be effectively treated through a spiritual approach to pediatric acupuncture.
Conclusions: Pediatric acupuncture from a spiritual perspective provides a specific, safe, and effective therapy for a wide variety of painful and nonpainful conditions through Qi balancing in children. Moreover, parents may be taught to apply acupressure to their children with an excellent response, especially when given with loving kindness. Such techniques not only resolve acute symptoms but also provide preventive measures and enable parent–child relationships to thrive. Overall, medical acupuncture from a spiritual perspective is one of the best complementary therapies in pediatrics.
Of course, you now wonder who is the genius able to produce such deep wisdom. It is Dr. Steven K.H. Aung. He says of himself that he is a pioneer in the integration of western, traditional Chinese and complementary medicine. His efforts have helped to make Alberta and Canada an active centre in the field of integrated and complementary medicine. His unique approach to medicine, combined with the remarkable compassion he brings to all that he does, has made him a highly respected teacher, researcher and physician.
Doctor Aung's affiliations are impressive:
Clinical Professor, Departments of Medicine & Family Medicine Faculty of Medicine and Dentistry, University of Alberta (Edmonton, Alberta, Canada)
Adjunct Professor, Faculty of Rehabilitation Medicine, University of Alberta (Edmonton, Alberta, Canada)
Chief instructor, examiner and curriculum consultant for the Medical Acupuncture Program (MAP), Faculty of Medicine and Dentistry, Continous Professional Learning, University of Alberta (Edmonton, Alberta, Canada)
In addition, he holds visiting professor appointments at:
Beijing University of TCM and Research Institute,
Capital University of Medical Sciences (Beijing),
Heilongjiang University of TCM (Harbin, China),
Showa University School of Medicine (Tokyo),
California Institute for Human Science (Encinitas, California),
Royal Melbourne Institute of Technology (Melbourne, Australia).
And now my mind truly boggles!
I receive all the energy I need by charging my butthole in the sunlight!
Actually, I don't, but some people do!
The new so-called alternative medicine (SCAM) of 'perineum sunning' has become all the rage. It gives an entirely new meaning to the word 'holism'. And, like all good SCAMs, it has a long tradition. This article explains:
Butt chugging, or 'perineum sunning', is the latest wellness and health trend to take over Instagram, but should you be stripping off?
What if I told you there was a 30-second trick to having a healthier libido, getting deeper sleep, boosting your creativity, super-charging your focus and having more balanced hormone function?
Well, apparently all you need to do is remove your Bonds and let your nether regions soak in some vitamin D. Gird your loins, friends, apparently "butt chugging" is a legitimate wellness trend and we're completely and utterly perplexed.
Bringing "butt chugging", or "perineum sunning" if you want to get official about it, into the cultural lexicon is self-proclaimed healer, teacher and micro-influencer Metaphysical Meagan. This week, the superfood lover went veritably viral after preaching about the "profound" benefits of perineum sunning on Instagram. Cue: much laughter, then much confusion.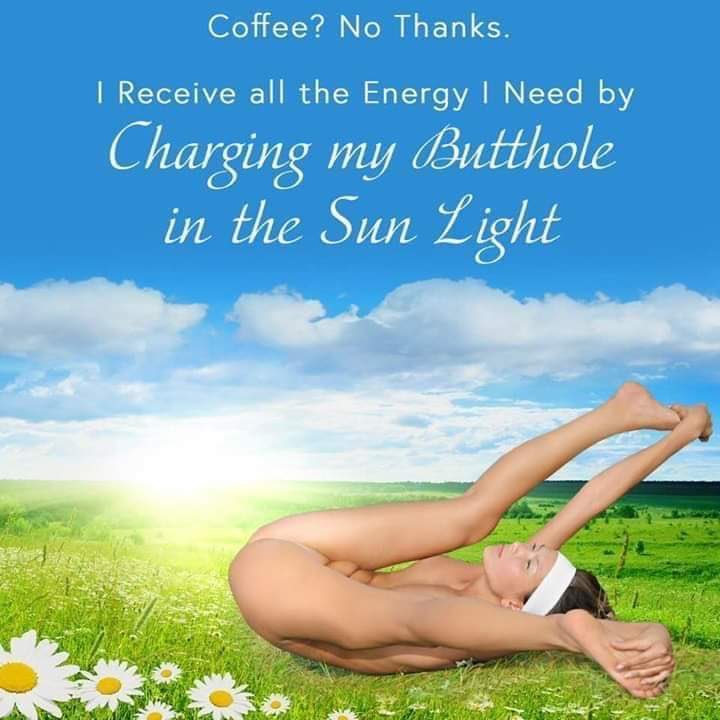 A fan explained on Instagram:
30 seconds of sunlight on your butthole is the equivalent of a full day of sunlight with your clothes on," and that it is "an ancient Taoist practice that's been around for a while!" (Yes, because that is what "ancient" means.) A few weeks after her initial post, presumably because more and more people went to her page to comment after finding various jokes about it online, Metaphysical Meagan posted the photo on Instagram for a second time, now with an outrageously long caption meant to correct any misinformation. She explains that suntanning your asshole is meant to promote the "health & longevity of the physical body," increase "creativity and creative output" and aid "in a healthy libido & balanced sexual energy." It is definitely "NOT TO TAN YOUR BUTTHOLE‼️‼️" Also, "sunscreen is not required.
So, perineum sunning is an ancient Taoist practice. That makes sense: rituals and exercises aimed at aligning oneself spiritually with cosmic forces, at undertaking ecstatic spiritual journeys, or at improving physical health are all-important elements of Taoism. And if it's got such a noble, long tradition, perineum sunning must be good, mustn't it? No evidence needed!
As I said at the beginning of this post, I have not yet had the pleasure of experiencing this SCAM. But now I am tempted, of course. As soon as the sun is out, I will try it in my garden. I do wonder, however, what the neighbours will think!
Recently, I stumbled across this website and the following text:
"Measles are an implant Scientology can handle using New Era Dianetics," said Scientology chiropractor Colonel Dr. Roberto Cadiz. "As a chiropractor, I see mock ups of so-called serious diseases all the time," Dr. Cadiz remarked. "And fully 99% of the time these diseases are chronic subluxations caused by dangerous childhood vaccinations the Psychs force on everyone." "Chiropractic adjustment, the Purification Rundown, CalMag, and Dianetics auditing are crucial parts of the treatment regimen for cancers, measles, etc. What you need to find are the words in the implant that turn the disease on. As LRH wrote of leukemia:
'"Leukaemia is evidently psychosomatic in origin and at least eight cases of leukaemia had been treated successfully by Dianetics after medicine had traditionally given up. The source of leukaemia has been reported to be an engram containing the phrase 'It turns my blood to water.'"
"When the preclear gives the exact words hidden in the implant during an auditing session the implant vanishes. The e-meter literally blows up and falls of the table. Of course, continued chiropractic adjustments for life are needed to keep these heavy engrams from going into restimulation. Ideally, chiropractic adjustments should be done three times a week to maintain optimal health."
Yes, this is so far out, it could almost be a hoax. But I fear it is for real. In the past I have come across many similar statements by scientology chiros. This led me to wonder for some time now: is there a link between the two?
Come to think of it, chiropractic and scientology have a lot in common:
they are both based on frightfully weird theories,
they both are known use the e-meter (or derivatives of it);
they are both akin to a religion or cult;
they are both fiercely against drugs;
they both feel pursued by the medical profession;
they both promote detox;
they both recommend useless supplements;
they both tend to be anti-vax;
they both have powerful lobby groups to support them;
they both tend to react very aggressively to criticism.
One does not have to look far to find further links on the internet – there are virtually hundreds. Take this website, for instance:
Stewart Edrich thanks Scientology becaue it aligns perfectly with his practice of chiropractic and clinical nutrition because it covers your entire existence. Unfortunately for him, someone found this on the internet which destroys what little positive credbility he has through Scientology…
David Murdoch learned about Scientology at Palmer — "A group of us were having dinner and he remarked that a lot of the chiropractic management firms got their management data directly from L. Ron Hubbard."
Or have a look here, here or here.
Or read reports like this one:
A South Florida chiropractic office has agreed to pay a $170,000 settlement to a group of former employees who claim they were forced to participate in Scientology practices.
Or this one:
A South Carolina chiropractor has been sued by a former employee for allegedly forcing sexual acts — and Scientology — on her, according to a report.
So, does any of this prove anything?
No!
Does it raise a suspicion that there might be a link?
Yes!
I would be delighted to hear from people who can enlighten me either way.
An abstract from the recent '2nd OFFICIAL SIPS CONFERENCE ON PLACEBO STUDIES' caught my attention. It is not available on-line; therefore let me reproduce it here in full:
The role of placebo effects in mindfulness-based analgesia 1. Jonathan Davies. University of Sydney, Sydney, NSW, Australia. 2. Louise Sharpe. University of Sydney, Sydney, NSW, Australia. 3. Melissa Day. University of Queensland, Brisbane, QLD, Australia. 4. Ben Colagiuri. University of Sydney, Sydney, NSW, Australia.
Background: Mindfulness meditation can reduce pain both in experimental and clinical settings, though it is not known to what extent mindfulness-specific vs placebo-like expectancy effects account for these changes. This study aimed to: 1. establish whether placebo effects contribute to mindfulness-mediated analgesia; and 2. identify putative cognitive mechanisms responsible for placebo- vs mindfulness-mediated analgesia. Methods: We compared the effects of focussed-attention mindfulness training (6 x 20 min), sham mindfulness, and a no-treatment in a double-blind RCT for experimental heat pain. Sham mindfulness instructions lacked the 'active ingredients' of the real training but were matched on all other contextual factors. Results: Both real and sham mindfulness training led to greater pain tolerance relative to no treatment, but there was no difference between the real and sham training. This was accompanied by increased expectancy, beliefs, and pain-related cognitive processes in the two mindfulness groups relative to no treatment, but again there were no differences between real and sham training on these outcomes. There were no effects on pain intensity, pleasantness or threshold. Conclusion: These findings suggest that mindfulness training – at least those involving focused-attention – may lead to improved pain tolerance via the placebo effect rather than any specific mindfulness-related mechanisms. Potential mediators of these effects will be discussed.
I find this study remarkable in two ways:
It shows that, with a bit of fantasy, ingenuity and will, one can design and use sham procedures even in clinical trials of mind/body therapies.
Its results suggest that, if one does control for placebo effects, these treatments may not prove to be more than a placebo therapy.
What implications might this have for clinical practice?
Mindfulness is currently hugely popular. It would not be surprising, if the news that it might rely purely on placebo effects would calm down the enthusiasm about this treatment. Many might ask, does it matter? As long as patients benefit, the mechanism of action seems irrelevant. This, of course, is an interesting debate which we have had on this blog many times before.
What do you think?