cult
Every now and then, I come across a SCAM paper that is so 'far out' that, when reading it, my mind wants to boggle. This one (recently published in 'Medical Acupuncture') is about 'paediatric scupuncture' – no, not acupuncture performed by kids – it's acupuncture for kids. The temptation to show you the full, unaltered abstract is too strong to resist:
Background: Approaching pediatric acupuncture from a spiritual perspective is the most effective means for providing a valuable holistic relatively noninvasive approach to pediatric acupuncture, as well as preventive treatments for the repulsion of disease and the correction of Qi (i.e., vital energy) imbalances.
Objectives: Parents may be taught to apply acupressure to their children with an excellent response, especially when given with loving kindness.
Materials and Methods: Methods include the use of acupressure, laser techniques, and acupuncture for children who do not display fear toward the shallow insertion of needles.
Results: Owing to the young age of the patients, children will display fast and effective positive responses to therapy, just as they are susceptible to negative effects in similar timeframes. Children will respond faster than adults to such treatments, which can also increase immune system functionality and bolster resistance to invasive forms of Qi imbalances and disease. Such treatments will also relieve pain and distress and improve concentration and mental attitudes in children. Difficult conditions such as attention-deficit/hyperactivity disorder (ADHD) and attention deficit disorder (ADD) can also be effectively treated through a spiritual approach to pediatric acupuncture.
Conclusions: Pediatric acupuncture from a spiritual perspective provides a specific, safe, and effective therapy for a wide variety of painful and nonpainful conditions through Qi balancing in children. Moreover, parents may be taught to apply acupressure to their children with an excellent response, especially when given with loving kindness. Such techniques not only resolve acute symptoms but also provide preventive measures and enable parent–child relationships to thrive. Overall, medical acupuncture from a spiritual perspective is one of the best complementary therapies in pediatrics.
Of course, you now wonder who is the genius able to produce such deep wisdom. It is Dr. Steven K.H. Aung. He says of himself that he is a pioneer in the integration of western, traditional Chinese and complementary medicine. His efforts have helped to make Alberta and Canada an active centre in the field of integrated and complementary medicine. His unique approach to medicine, combined with the remarkable compassion he brings to all that he does, has made him a highly respected teacher, researcher and physician.
Doctor Aung's affiliations are impressive:
Clinical Professor, Departments of Medicine & Family Medicine Faculty of Medicine and Dentistry, University of Alberta (Edmonton, Alberta, Canada)
Adjunct Professor, Faculty of Rehabilitation Medicine, University of Alberta (Edmonton, Alberta, Canada)
Chief instructor, examiner and curriculum consultant for the Medical Acupuncture Program (MAP), Faculty of Medicine and Dentistry, Continous Professional Learning, University of Alberta (Edmonton, Alberta, Canada)
In addition, he holds visiting professor appointments at:
Beijing University of TCM and Research Institute,
Capital University of Medical Sciences (Beijing),
Heilongjiang University of TCM (Harbin, China),
Showa University School of Medicine (Tokyo),
California Institute for Human Science (Encinitas, California),
Royal Melbourne Institute of Technology (Melbourne, Australia).
And now my mind truly boggles!
I receive all the energy I need by charging my butthole in the sunlight!
Actually, I don't, but some people do!
The new so-called alternative medicine (SCAM) of 'perineum sunning' has become all the rage. It gives an entirely new meaning to the word 'holism'. And, like all good SCAMs, it has a long tradition. This article explains:
Butt chugging, or 'perineum sunning', is the latest wellness and health trend to take over Instagram, but should you be stripping off?
What if I told you there was a 30-second trick to having a healthier libido, getting deeper sleep, boosting your creativity, super-charging your focus and having more balanced hormone function?
Well, apparently all you need to do is remove your Bonds and let your nether regions soak in some vitamin D. Gird your loins, friends, apparently "butt chugging" is a legitimate wellness trend and we're completely and utterly perplexed.
Bringing "butt chugging", or "perineum sunning" if you want to get official about it, into the cultural lexicon is self-proclaimed healer, teacher and micro-influencer Metaphysical Meagan. This week, the superfood lover went veritably viral after preaching about the "profound" benefits of perineum sunning on Instagram. Cue: much laughter, then much confusion.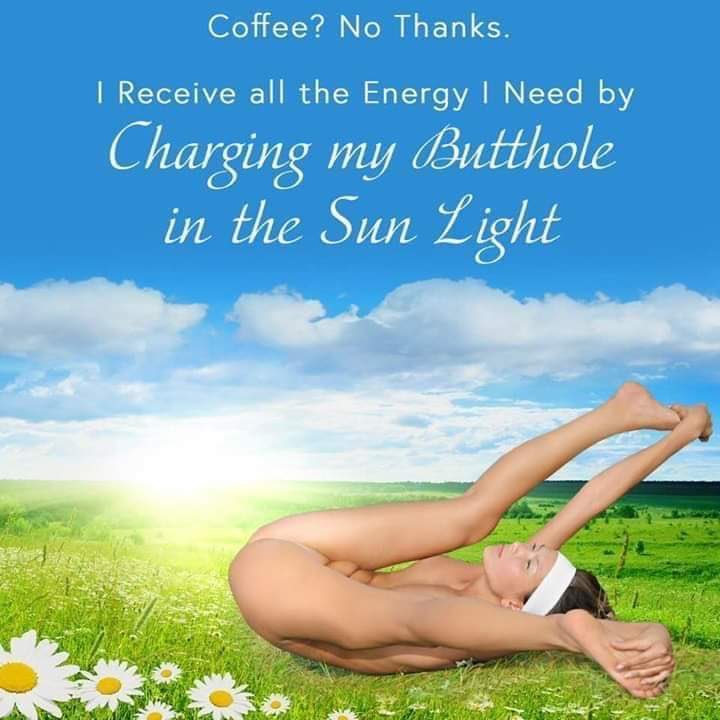 A fan explained on Instagram:
30 seconds of sunlight on your butthole is the equivalent of a full day of sunlight with your clothes on," and that it is "an ancient Taoist practice that's been around for a while!" (Yes, because that is what "ancient" means.) A few weeks after her initial post, presumably because more and more people went to her page to comment after finding various jokes about it online, Metaphysical Meagan posted the photo on Instagram for a second time, now with an outrageously long caption meant to correct any misinformation. She explains that suntanning your asshole is meant to promote the "health & longevity of the physical body," increase "creativity and creative output" and aid "in a healthy libido & balanced sexual energy." It is definitely "NOT TO TAN YOUR BUTTHOLE‼️‼️" Also, "sunscreen is not required.
So, perineum sunning is an ancient Taoist practice. That makes sense: rituals and exercises aimed at aligning oneself spiritually with cosmic forces, at undertaking ecstatic spiritual journeys, or at improving physical health are all-important elements of Taoism. And if it's got such a noble, long tradition, perineum sunning must be good, mustn't it? No evidence needed!
As I said at the beginning of this post, I have not yet had the pleasure of experiencing this SCAM. But now I am tempted, of course. As soon as the sun is out, I will try it in my garden. I do wonder, however, what the neighbours will think!
Recently, I stumbled across this website and the following text:
"Measles are an implant Scientology can handle using New Era Dianetics," said Scientology chiropractor Colonel Dr. Roberto Cadiz. "As a chiropractor, I see mock ups of so-called serious diseases all the time," Dr. Cadiz remarked. "And fully 99% of the time these diseases are chronic subluxations caused by dangerous childhood vaccinations the Psychs force on everyone." "Chiropractic adjustment, the Purification Rundown, CalMag, and Dianetics auditing are crucial parts of the treatment regimen for cancers, measles, etc. What you need to find are the words in the implant that turn the disease on. As LRH wrote of leukemia:
'"Leukaemia is evidently psychosomatic in origin and at least eight cases of leukaemia had been treated successfully by Dianetics after medicine had traditionally given up. The source of leukaemia has been reported to be an engram containing the phrase 'It turns my blood to water.'"
"When the preclear gives the exact words hidden in the implant during an auditing session the implant vanishes. The e-meter literally blows up and falls of the table. Of course, continued chiropractic adjustments for life are needed to keep these heavy engrams from going into restimulation. Ideally, chiropractic adjustments should be done three times a week to maintain optimal health."
Yes, this is so far out, it could almost be a hoax. But I fear it is for real. In the past I have come across many similar statements by scientology chiros. This led me to wonder for some time now: is there a link between the two?
Come to think of it, chiropractic and scientology have a lot in common:
they are both based on frightfully weird theories,
they both are known use the e-meter (or derivatives of it);
they are both akin to a religion or cult;
they are both fiercely against drugs;
they both feel pursued by the medical profession;
they both promote detox;
they both recommend useless supplements;
they both tend to be anti-vax;
they both have powerful lobby groups to support them;
they both tend to react very aggressively to criticism.
One does not have to look far to find further links on the internet – there are virtually hundreds. Take this website, for instance:
Stewart Edrich thanks Scientology becaue it aligns perfectly with his practice of chiropractic and clinical nutrition because it covers your entire existence. Unfortunately for him, someone found this on the internet which destroys what little positive credbility he has through Scientology…
David Murdoch learned about Scientology at Palmer — "A group of us were having dinner and he remarked that a lot of the chiropractic management firms got their management data directly from L. Ron Hubbard."
Or have a look here, here or here.
Or read reports like this one:
A South Florida chiropractic office has agreed to pay a $170,000 settlement to a group of former employees who claim they were forced to participate in Scientology practices.
Or this one:
A South Carolina chiropractor has been sued by a former employee for allegedly forcing sexual acts — and Scientology — on her, according to a report.
So, does any of this prove anything?
No!
Does it raise a suspicion that there might be a link?
Yes!
I would be delighted to hear from people who can enlighten me either way.
An abstract from the recent '2nd OFFICIAL SIPS CONFERENCE ON PLACEBO STUDIES' caught my attention. It is not available on-line; therefore let me reproduce it here in full:
The role of placebo effects in mindfulness-based analgesia 1. Jonathan Davies. University of Sydney, Sydney, NSW, Australia. 2. Louise Sharpe. University of Sydney, Sydney, NSW, Australia. 3. Melissa Day. University of Queensland, Brisbane, QLD, Australia. 4. Ben Colagiuri. University of Sydney, Sydney, NSW, Australia.
Background: Mindfulness meditation can reduce pain both in experimental and clinical settings, though it is not known to what extent mindfulness-specific vs placebo-like expectancy effects account for these changes. This study aimed to: 1. establish whether placebo effects contribute to mindfulness-mediated analgesia; and 2. identify putative cognitive mechanisms responsible for placebo- vs mindfulness-mediated analgesia. Methods: We compared the effects of focussed-attention mindfulness training (6 x 20 min), sham mindfulness, and a no-treatment in a double-blind RCT for experimental heat pain. Sham mindfulness instructions lacked the 'active ingredients' of the real training but were matched on all other contextual factors. Results: Both real and sham mindfulness training led to greater pain tolerance relative to no treatment, but there was no difference between the real and sham training. This was accompanied by increased expectancy, beliefs, and pain-related cognitive processes in the two mindfulness groups relative to no treatment, but again there were no differences between real and sham training on these outcomes. There were no effects on pain intensity, pleasantness or threshold. Conclusion: These findings suggest that mindfulness training – at least those involving focused-attention – may lead to improved pain tolerance via the placebo effect rather than any specific mindfulness-related mechanisms. Potential mediators of these effects will be discussed.
I find this study remarkable in two ways:
It shows that, with a bit of fantasy, ingenuity and will, one can design and use sham procedures even in clinical trials of mind/body therapies.
Its results suggest that, if one does control for placebo effects, these treatments may not prove to be more than a placebo therapy.
What implications might this have for clinical practice?
Mindfulness is currently hugely popular. It would not be surprising, if the news that it might rely purely on placebo effects would calm down the enthusiasm about this treatment. Many might ask, does it matter? As long as patients benefit, the mechanism of action seems irrelevant. This, of course, is an interesting debate which we have had on this blog many times before.
What do you think?
I have to admit, I do not often read the 'Aargauer Zeitung'. But perhaps I should? Certainly this article from yesterday's issue is most interesting.
It reported that the University of Basel will soon have a new chair. Apparently, the move has created a fiercely controversial debate within the university. But the decision to go ahead with the plan has been made, and Carsten Gründemann has been formally invited to become the new professor for «translationale Komplementärmedizin». (I am sure in Basel they know what «translationale Komplementärmedizin» is, however, I don't.)
As it turns out, the term seems entirely irrelevant, because the chair will be in anthroposophical medicine. In case you are not familiar with this SCAM, here is a short explanation copied from my new book:
Anthroposophic medicine is a form of healthcare developed in the 1920s by Rudolf Steiner (1861–1925) in collaboration with the physician Ita Wegman (1876–1943). It is based on Steiner's mystical ideas of anthroposophy. Steiner had developed his 'philosophy' of anthroposophy from personal experiences, occult notions and mystical concepts. Ita Wegman studied medicine after having met Steiner in 1902. She pioneered an 'alternative cancer treatment' with a fermented mistletoe extract, according to Steiner's ideas. Together, Wegman and Steiner wrote Steiner's last book entitled 'Extending Practical Medicine' which was meant as a theoretical basis for their anthroposophical medicine. Wegman was also a co-founder of the pharmaceutical firm 'Weleda' which became the biggest producer of anthroposophical remedies. Proponents of anthroposophic medicine make several irrational assumptions, for instance, they claim that our past lives influence our present health, or that the course of an illness is determined by our 'karmic' destiny. Practitioners of anthroposophic medicine are usually medically trained; they employ a variety of treatments including massage, exercise, counselling, and a range of remedies (more than 1 300 different anthroposophic medicinal products are currently on the market). Most of the remedies are, like homeopathic remedies, highly diluted but they are not normally prescribed according to the 'like cures like' principle and are therefore distinct from homeopathy.
The report mentions that the creation of the new chair caused wide-spread anger amongst the science-based faculties at Basel. The head of Pharmacy, Christoph Meier, is quoted stating: «Indem die Professur in den Forschungsbetrieb eingebunden wird, bieten wir keine Hand zur Scharlatanerie.» [As the professorship will be tied into research, we offer no opportunity for quackery.]
Carsten Gründemann studied Biochemistry/Biology at the University of Tübingen and Freiburg (Germany) and received his Ph.D. in Experimental Immunology from the University of Tübingen (Germany). He was awarded the Karl und Veronica Carstens (KVC) Science Award 2018 for his research in the field of complementary medicine for multiple sclerosis (MS). He is currently based at the Center for Complementary Medicine, Institute for Environmental Health Sciences, University Medical Center Freiburg. Much of his past research seems to focus on anthroposophical medicines, including those produced by Weleda, the world's largest manufacturer of anthroposophical preparations. Here is one of his 32 Medline-listed abstracts:
BACKGROUND:
Preparations from anthroposophical medicine (AM) are clinically used to treat inflammatory disorders. We wanted to investigate effects of a selection of AM medications for parenteral use in cell-based systems in vitro.
METHODS:
Colchicum officinale tuber D3, Mandragora D3, Rosmarinus officinale 5% and Bryophyllum 5% were selected for the experiments. Induction of apoptosis and necrosis (human lymphocytes and dendritic cells [DCs]) and proliferation of lymphocytes as well as maturation (expression of CD14, CD83 and CD86) and cytokine secretion (IL-10, IL12p70) of DCs were analyzed. Furthermore, proliferation of allogeneic human T lymphocytes was investigated in vitro in coculture experiments using mature DCs in comparison to controls.
RESULTS:
The respective preparations did not induce apoptosis or necrosis in lymphocytes or DCs. Lymphocyte proliferation was dose-dependently reduced by Colchicum officinale tuber D3 while the viability was unchanged. Rosmarinus officinale 5%, but not the other preparations, dose-dependently inhibited the maturation of immature DCs, reduced secretion of IL-10 and IL-12p70 and slightly inhibited proliferation of allogeneic CD4(+) T-lymphocytes in coculture experiments with DCs.
CONCLUSION:
The selected preparations from AM for parenteral use are nontoxic to lymphocytes and DCs. Rosmarinus officinale 5% has immunosuppressive properties on key functions of the immune system which propose further investigation.
The new chair is contractually bound to adhere to the 'anthroposophical model' (which probably is a synonym for 'Steiner cult'). It will be financed to the tune of 3 million Swiss Franks, money that comes from the 'Software AG Stiftung', Weleda, Beatrice Oeri, and other anthroposophical institutions.
The UK Reiki Federation (UKRF) is an independent organisation of individuals who have been attuned to Reiki, with the objective of providing support and guidance to Reiki professionals and to the public, with particular reference to education and training, and the public practice of Reiki. Some of their members give of their time each week to send Reiki healing to anyone who makes a request from anywhere in the world.
Each week the volunteers receive a list of those people/animals/events that have requested healing and they all collectively send positive Reiki healing to everyone on the list.
The UKRF claim that Reiki distant healing (RDH) has now been scientifically proven by Lynne McTaggart in these articles http://www.shareguide.com/McTaggart.html and https://lynnemctaggart.com/the-intention-experiment/ that healing is magnified when many healers are involved, so we are contributing an amazing vibration of positivity into our world and doing so much good, with so little effort. Imagine how brilliant it would be if even more members decided they too wanted to support other people, with minimum effort. It's so simple just to place your hands on the list and send Reiki to everyone on it. It can be so quick if time is an issue for you and yet so powerful.
A group of UKRF members send Reiki to each other at specific times of the week. They state that we have a list of members' names and allocated time slots in the week when we can send and receive Reiki energy to each other. The intention is to send Reiki for all the different time slots and then sit down and receive the energy whenever it is convenient for us to do so. Those members who have given me feedback all say they can feel the energy flowing during these times.
I urge you to look up the two 'scientific proofs' by McTaggart – I promise, you will not regret the effort. For those who might like to see real evidence for or against RDH, I ran a quick Medline search. Somewhat to my surprise, I did find a rigorous study RDH. Here is its abstract:
In this randomised, double-blinded study, women who underwent an elective C-section were allocated to either usual care (control, n=40) or three distant reiki sessions in addition to usual care (n=40). Pain was assessed using a visual analogue scale (VAS). The primary endpoint was the Area Under the VAS-Time Curve (AUC) for days 1-3. Secondary measures included: the proportion of women who required opioid medications and dose consumed, rate of healing and vital signs.
AUC for pain was not significantly different in the distant reiki and control groups (mean ± SD; 212.1 ± 104.7 vs 223.1 ± 117.8; p=0.96). There were no significant differences in opioid consumption or rate of healing; however, the distant reiki group had a significantly lower heart rate (74.3 ± 8.1 bpm vs 79.8 ± 7.9 bpm, p=0.003) and blood pressure (106.4 ± 9.7 mmHg vs 111.9 ± 11.0 mmHg, p=0.02) post surgery.
CONCLUSION: Distant reiki had no significant effect on pain following an elective C-section.
_______________________________________________________________
This begs at least three questions, in my view:
Which evidence should I trust, that of McTaggart or that from what seems to be the only RCT on RDH?
The UK Reiki Foundation state on their website: As the largest Reiki-only professional organisation in the UK and Europe we are setting the highest standard for Reiki. Is the promotion of the McTaggart 'proof' combined with the omission from the UKRF site of the only trial of RDH truly in accordance with the highest standards?
Is a professional organisation that does such things really professional?
A series of article in The Times yesterday (to which I had made several minor contributions) focussed on the dangers of homeoprophylaxis/homeopathic vaccinations. Sadly, the paper is behind a paywall. I therefore will try to summarise some of the relevant points.
A courageous Times-reporter went under cover to extract some of the anti-vaccination views from a lay homeopath. This particular homeopath happened to charge £330 from customers who want to protect themselves or their family from infectious diseases (£130 for a homeopathic remedy kit, plus £200 for the compulsory instructions via skype that automatically come with the kit). Here are some of the most obvious porkies uttered by that homeopath:
Only 30% of healthcare professionals get vaccinated.
Rubella is a very mild disease.
Cancer patients don't get fever.
Measles mainly kills children with severe disease.
Anything which messes with natural immunity could contribute to autism.
Health officials devised a seven-step recipe to scare consumers into vaccinating their kids.
Fevers should be celebrated.
This new undercover research by the Times is reminiscent of our own investigation of 2002. At the time, we contacted 168 homoeopaths, of whom 104 (72%) responded, 27 (26%) withdrawing their answers after debriefing. We also contacted 63 chiropractors, of whom 22 (44%) responded, six (27%) withdrawing their responses after debriefing.  Only 3% of professional homoeopaths and 25% of the chiropractors advised in favour of the MMR vaccination. Almost half of the homoeopaths and nearly a fifth of the chiropractors advised against it. (This tiny and seemingly insignificant study almost cost me my job: some homeopaths complained to my peers at Exeter University who then, in their infinite wisdom, conducted a most unpleasant investigation into my allegedly 'unethical' research; full details of this amazing story are provided in my memoir.)
But perhaps you think that homeoprophylaxis might be effective after all? In this case, you would be mistaken! As discussed a couple of weeks ago, a recent study demonstrated that such treatments are ineffective. Its authors concluded that homeopathic vaccines do not evoke antibody responses and produce a response that is similar to placebo. In contrast, conventional vaccines provide a robust antibody response in the majority of those vaccinated.
The Times article stated that about half of all new parents have been exposed to anti-vaxx propaganda. Consequently, global measles cases have risen by 300% in the first three months of this year compared to last year. Faced with measles outbreaks across the world, it is hard to deny that homeopaths who promote homeopathic vaccinations are a significant risk to public health.
The Times considered the issue sufficiently important to add an editorial. Its opening sentence sums up the issue well, I think: The evidence supporting claims that homeopathic remedies offer an effective alternative to the measles vaccine can be summarised in one word: zero. And its concluding sentences are even clearer: Tobacco companies are obliged to carry prominent public health warnings on their products. Homeopaths should too.
If one agrees with this sentiment, I suggest, we also consider the same for some:
And furthermore I suggest we disregard the many pro-vaccination statements by the professional organisations of these clinicians – they are nothing but semi-transparent fig-leaves and a politically-correct lip services which they neither enforce nor even truly mean.
The 'International Federation of Anthroposophic Medical Associations' have just published a 'Statement on Vaccination'. Here it is in its full beauty:
Vaccines, together with health education, hygiene and adequate nutrition, are essential tools for preventing infectious diseases. Vaccines have saved countless lives over the last century; for example, they allowed the eradication of small pox and are currently allowing the world to approach the elimination of polio.
Anthroposophic Medicine fully appreciates the contribution of vaccines to global health and firmly supports vaccination as an important measure to prevent life threatening diseases. Anthroposophic Medicine is not anti-vaccine and does not support anti-vaccine movements.
Physicians with training in Anthroposophic Medicine are expected to act in accordance with national legislation and to carefully advise patients (or their caregivers) to help them understand the relevant scientific information and national vaccination recommendations. In countries where vaccination is not mandatory and informed consent is needed, this may include coming to agreement with the patient (or the caregivers) about an individualized vaccination schedule, for example by adapting the timing of vaccination during infancy.
Taking into account ongoing research, local infectious disease patterns and socioeconomic risk factors, individual anthroposophic physicians are at times involved in the scientific discussion about specific vaccines and appropriate vaccine schedules. Anthroposophic Medicine is pro-science and continued scientific debate is more important than ever in today's polarized vaccine environment.
Already in 2010, The European Council for Steiner Waldorf Education published a press release, implying a similar stance:
We wish to state unequivocally that opposition to immunization per se, or resistance to national strategies for childhood immunization in general, forms no part of our specific educational objectives. We believe that a matter such as whether or not to innoculate a child against communicable disease should be a matter of parental choice. Consequently, we believe that families provide the proper context for such decisions to be made on the basis of medical, social and ethical considerations, and upon the perceived balance of risks. Insofar as schools have any role to play in these matters, we believe it is in making available a range of balanced information both from the appropriate national agencies and qualified health professionals with expertise in the filed. Schools themselves are not, nor should they attempt to become, determiners of decisions regarding these matters.
Such statements sound about right. Why then am I not convinced?
Perhaps because there are hundreds of anthroposophic texts that seem to contradict this pro-vaccination stance (not least those from Rudolf Steiner himself). Today, anthroposophy enthusiasts are frequently rampant anti-vax; look at this quote, for instance:
… anthroposophic and con­ventional medicine have dramati­cally different viewpoints as to what causes common childhood illnesses. Conventional medicine views child­hood illnesses for which vaccines have been developed as a physical disease, inherently bad, to be pre­vented. Their main goal, therefore, is protection against contracting the disease making one free of illness. In contrast, these childhood illnesses are viewed by anthroposophic medi­cine as a necessary instrument in dealing with karma and, as discussed by Husemann, and Wolff, 6 the incar­nation of the child. During childhood illnesses, anthroposophic medical practitioners administer medical remedies to assist the child in deal­ing with the illness not only as a dis­ease affecting their physical body in the physical plane, but also for soul ­spiritual development, thereby pro­moting healing. In contrast, allopathic medicaments are aimed at suppression of symptoms and not necessarily the promotion of healing.
In Manifestations of Karma, Rudolf Steiner states that humans may be able to influence their karma and remove the manifestation of cer­tain conditions, i.e., disease, but they may not be liberated from the karmic effect which attempted to produce them. Says Steiner, "…if the karmic reparation is escaped in one direc­tion, it will have to be sought in another … the souls in question would then be forced to seek another way for karmic compensation either in this or in another incarnation." 7
In his lecture, Karma of Higher Beings 8, Steiner poses the question, "If someone seeks an opportunity of being infected in an epidemic, this is the result of the necessary reaction against an earlier karmic cause. Have we the right now to take hy­gienic or other measures?" The an­swer to this question must be decided by each person and may vary. For example, some may accept the risk of disease but not of vaccine side effects, while others may accept the risk associated with vaccination but not with the disease.
Anthroposophic medicine teaches that to prevent a disease in the physical body only postpones what will then be produced in an­other incarnation. Thus, when health measures are undertaken to eliminate the susceptibility to a disease, only the external nature of the illness is eliminated. To deal with the karmic activity from within, Anthroposphy states that spiritual education is re­quired. This does not mean that one should automatically be opposed to vaccination. Steiner indicates that "Vaccination will not be harmful if, subsequent to vaccination, a person receives a spiritual education."
Or consider this little statistic from the US:
Waldorf schools are the leading Nonmedical Exemption [of vaccinations] schools in various states, such as:
Waldorf School of Mendocino County (California) – 79.1%
Tucson Waldorf Schools (Arizona) – 69.6%
Cedar Springs Waldorf School (California) – 64.7%
Waldorf School of San Diego (California) – 63.6%
Orchard Valley Waldorf School (Vermont) – 59.4%
Whidbey Island Waldorf School (Washington) – 54.9%
Lake Champlain Waldorf School (Vermont) – 49.6%
Austin Waldorf School (Texas) – 48%
Or what about this quote?
Q: I am a mother who does not immunize my children.  I feel as though I have to keep this a secret.  I recently had to take my son to the ER for a tetanus shot when he got a fish hook in his foot, and I was so worried about the doctor asking if his shots were current.  His grandmother also does not understand.  What do you suggest?
A: You didn't give your reasons for not vaccinating your children.  Perhaps you feel intuitively that vaccinations just aren't good for children in the long run, but you can't explain why.  If that's the case, I think your intuition is correct, but in today's contentious world it is best to understand the reasons for our decisions and actions.
There are many good reasons today for not vaccinating children in the United States  I recommend you consult the book, The Vaccination Dilemma edited by Christine Murphy, published by SteinerBooks.
So, where is the evidence that anthroposophy-enthusiasts discourage vaccinations?
It turns out, there is plenty of it! In 2011, I summarised some of it in a review concluding that numerous reports from different countries about measles outbreaks centered around Steiner schools seem nevertheless to imply that a problem does exist. In the interest of public health, we should address it.
All this begs a few questions:
Are anthroposophy-enthusiasts and their professional organisations generally for or against vaccinations?
Are the statements above honest or mere distractions from the truth?
Why are these professional organisations not going after their members who fail to conform with their published stance on vaccination?
I suspect I know the answers.
What do you think?
There is much propaganda for homeopathic vaccinations or homeoprophylaxis (as homeopaths like to call it, in order to give it a veneer of respectability), and on this blog we have discussed it repeatedly. The concept is unproven and dangerous. Yet it is being promoted relentlessly. Currently, I get > 12 million websites when I google 'homeopathic vaccination', and there are hundreds of dangerously misleading books and newspaper articles on the subject.
One study that I therefore always wanted to conduct was a trial comparing homeopathic 'vaccines' to placebo in terms of immunological response in human volunteers. Somehow, I never managed to get it going. Thus, I was delighted when, a few weeks ago, I received an article for peer-review (I hope I am allowed to disclose this fact here); it was almost exactly the trial I had dreamt of doing one day: the first ever study to test whether there is an antibody response to homeopathic vaccines. Now I am even more delighted to see that it has been published.
Its aim was to compare the antibody response of homeopathic and conventional vaccines and placebo in young adults. The authors hypothesized that there would be no significant difference between homeopathic vaccines and placebo, while there would be a significant increase in antibodies in those received conventional vaccines.
A placebo-controlled, double-blind RCT was conducted where 150 university students who had received childhood vaccinations were assigned to diphtheria, pertussis, tetanus, mumps, measles homeopathic vaccine, placebo, or conventional diphtheria, pertussis, tetanus (Tdap) and mumps, measles, rubella (MMR) vaccines. The primary outcome was a ≥ two-fold increase in antibodies from baseline following vaccination as measured by ELISA. Participants, investigators, study coordinator, data blood drawers, laboratory technician, and data analyst were blinded.
None of the participants in either the homeopathic vaccine or the placebo group showed a ≥ two-fold response to any of the antigens. In contrast, of those vaccinated with Tdap, 68% (33/48) had a ≥ two-fold response to diphtheria, 83% (40/48) to pertussis toxoid, 88% (42/48) to tetanus, and 35% (17/48) of those vaccinated with MMR had a response to measles or mumps antigens (p < 0.001 for each comparison of conventional vaccine to homeopathic vaccine or to placebo). There was a significant increase in geometric mean titres of antibody from baseline for conventional vaccine antigens (p < 0.001 for each), but none for the response to homeopathic antigens or placebo.
The authors concluded that homeopathic vaccines do not evoke antibody responses and produce a response that is similar to placebo. In contrast, conventional vaccines provide a robust antibody response in the majority of those vaccinated.
I think this is in every respect an excellent trial. It should once and for all get rid of what is arguably the homeopathy-cult's most dangerous idea, namely that highly diluted homeopathic remedies can protect humans against infectious diseases. On this blog, I once called it 'a danger for both the public and the individual who might believe in it … promoting HP is unethical, irresponsible and possibly even criminal.'
I said it 'should' get rid of this nonsense, but will it?
As homeopaths have, for now 200 years, showed themselves utterly impervious to evidence, I for one am not holding my breath. Yet, thanks to this excellent study, we can, when confronted with the notion of homeopathic vaccinations, henceforth point out that it is not just totally implausible but that, in addition, it has also been experimentally shown to be false.
My thanks to the Canadian investigators!
In a previous post, I have tried to explain that someone could be an expert in certain aspects of homeopathy; for instance, one could be an expert:
in the history of homeopathy,
in the manufacture of homeopathics,
in the research of homeopathy.
But can anyone really be an expert in homeopathy in a more general sense?
Are homeopaths experts in homeopathy?
OF COURSE THEY ARE!!!
What is he talking about?, I hear homeopathy-fans exclaim.
Yet, I am not so sure.
Can one be an expert in something that is fundamentally flawed or wrong?
Can one be an expert in flying carpets?
Can one be an expert in quantum healing?
Can one be an expert in clod fusion?
Can one be an expert in astrology?
Can one be an expert in telekinetics?
Can one be an expert in tea-leaf reading?
I am not sure that classical homeopaths can rightfully called experts in classical homeopathy (there are so many forms of homeopathy that, for the purpose of this discussion, I need to focus on the classical Hahnemannian version).
An expert is a person who is very knowledgeable about or skilful in a particular area. An expert in any medical field (say neurology, gynaecology, nephrology or oncology) would need to have sound knowledge and practical skills in areas including:
organ-specific anatomy,
organ-specific physiology,
organ-specific pathophysiology,
nosology of the medical field,
disease-specific diagnostics,
disease-specific etiology,
disease-specific therapy,
etc.
None of the listed items apply to classical homeopathy. There are no homeopathic diseases, homeopathy is largely detached from knowledge in anatomy, physiology and pathophysiology, homeopathy disregards the current knowledge of etiology, homeopathy does not apply current criteria of diagnostics, homeopathy offers no rational mode of action for its interventions.
An expert in any medical field would need to:
deal with facts,
be able to show the effectiveness of his methods,
be part of an area that makes progress,
benefit from advances made elsewhere in medicine,
would associate with other disciplines,
understand the principles of evidence-based medicine,
etc.
None of these features apply to a classical homeopath. Homeopaths substitute facts for fantasy and wishful thinking, homeopaths cannot rely on sound evidence regarding the effectiveness of their therapy, classical homeopaths are not interested in progressing their field but religiously adhere to Hahnemann's dogma, homeopaths do not benefit from the advances made in other areas of medicine, homeopaths pursue their sectarian activities in near-complete isolation, homeopaths make a mockery of evidence-based medicine.
Collectively, these considerations would seem to indicate that an expert in homeopathy is a contradiction in terms. Either you are an expert, or you are a homeopath. To be both seems an impossibility – or, to put it bluntly, an 'expert' in homeopathy is an adept in nonsense and a virtuoso in ignorance.