The medical literature is currently swamped with reviews of acupuncture (and other forms of TCM) trials originating from China. Here is the latest example (but, trust me, there are hundreds more of the same ilk).
The aim of this review was to evaluate the effectiveness of scalp, tongue, and Jin's 3-needle acupuncture for the improvement of post-apoplectic aphasia. PubMed, Cochrane, Embase databases were searched using index words to identify qualifying randomized controlled trials (RCTs). Meta-analyses of odds ratios (OR) or standardized mean differences (SMD) were performed to evaluate the outcomes between investigational (scalp / tongue / Jin's 3-needle acupuncture) and control (traditional acupuncture; TA and/or rehabilitation training; RT) groups.
Thirty-two RCTs (1310 participants in investigational group and 1270 in control group) were included. Compared to TA, (OR 3.05 [95% CI: 1.77, 5.28]; p<0.00001), tongue acupuncture (OR 3.49 [1.99, 6.11]; p<0.00001), and Jin's 3-needle therapy (OR 2.47 [1.10, 5.53]; p = 0.03) had significantly better total effective rate. Compared to RT, scalp acupuncture (OR 4.24 [95% CI: 1.68, 10.74]; p = 0.002) and scalp acupuncture with tongue acupuncture (OR 7.36 [3.33, 16.23]; p<0.00001) had significantly better total effective rate. In comparison with TA/RT, scalp acupuncture, tongue acupuncture, scalp acupuncture with tongue acupuncture, and Jin's three-needling significantly improved ABC, oral expression, comprehension, writing and reading scores.
The authors concluded that compared to traditional acupuncture and/or rehabilitation training, scalp acupuncture, tongue acupuncture, and Jin' 3-needle acupuncture can better improve post-apoplectic aphasia as depicted by the total effective rate, the ABC score, and comprehension, oral expression, repetition, denomination, reading and writing scores. However, quality of the included studies was inadequate and therefore further high-quality studies with lager samples and longer follow-up times and with patient outcomes are necessary to verify the results presented herein. In future studies, researchers should also explore the efficacy and differences between scalp acupuncture, tongue acupuncture and Jin's 3-needling in the treatment of post-apoplectic aphasia.
I'll be frank: I find it hard to believe that sticking needles in a patient's tongue restores her ability to speak. What is more, I do not believe a word of this review and its conclusion. And now I better explain why.
All the primary studies originate from China, and we have often discussed how untrustworthy such studies are.
All the primary studies were published in Chinese and cannot therefore be checked by most readers of the review.
The review authors fail to provide the detail about a formal assessment of the rigour of the included studies; they merely state that their methodological quality was low.
Only 6 of the 32 studies can be retrieved at all via the links provided in the articles.
As far as I can find out, some studies do not even exist at all.
Many of the studies compare acupuncture to unproven therapies such as bloodletting.
Many do not control for placebo effects.
Not one of the 32 studies reports findings that are remotely convincing.
I conclude that such reviews are little more than pseudo-scientific propaganda. They seem aim at promoting acupuncture in the West and thus serve the interest of the People's Republic of China. They pollute our medical literature and undermine the trust in science.
I seriously ask myself, are the editors and reviewers all fast asleep?
The journal 'BMC Complement Altern Med'  has, in its 18 years of existence, published almost 4 000 Medline-listed papers. They currently charge £1690 for handling one paper. This would amount to about £6.5 million! But BMC are not alone; as I have pointed out repeatedly, EBCAM is arguably even worse.
And this is, in my view, the real scandal. We are being led up the garden path by people who make a very tidy profit doing so. BMC (and EBCAM) must put an end to this nonsense. Alternatively, PubMed should de-list these publications.
This has been going on for far too long; urgent action is required!
The UK-based homeopathic pharmacy AINSWORTH has attracted my attention several times already. Amongst other things, Tony Pinkus, the director of the firm, once accused me of having faked my research and I suspected him of violating the basic principles of research ethics in his study of homeopathy for autism.
Today, THE DAILY MAIL reports about AINSWORTH's scandalous promotion of the most dangerous quackery.
In a big article, the Mail informs the reader that:
AINSWORTH sell a guide (entitled 'The Mother & And Child Remedy Prescriber' and decorated with the codes of arms of both the Queen and Prince Charles) informing young mothers that homeopathy 'will strengthen a child's immune system more ably than any vaccine'.
The guide also claims that infections like mumps and measles can be treated homeopathically.
AINSWORTH sells homeopathic remedies used as vaccines against serious infections such as polio, measles, meningitis, etc.
AINSWORTH's guide claim that homeopathy 'offers the clearest answer as to how to deal with the prevention of disease'.
The guide claims furthermore that homeopathy is 'a complete alternative to vaccination'.
It even lists 7 homeopathic remedies for measles.
AINSWORTH claim that homeopathy provides 'natural immunity'.
AINSWORTH sell products called 'polio nosode', and 'meningeoma nosode'.
The Mail quotes several experts – including myself – who do not mince their words in condemning AINSWORTH for jeopardising public health. The paper also calls for AINSWORTH's two royal warrants to be removed.
AINSWORTH, Buckingham Palace, and Clarence House all declined to comment.
I must have published well over two dozen articles in the peer-reviewed literature (and many more on this blog) warning of the indirect risks of homeopathy. The most obvious example of such risks is the advice many homeopaths give about vaccinations. Here is, for instance, a quote from an abstract I published in 1996:
… the question whether the homeopath is risk-free in all cases needs discussing. As a case in point, the attitude of some homeopaths towards immunization is quoted as an example of particular concern… the notion of totally risk-free homeopathy is untenable.
Almost a quarter of a century later, it seems that my cautions might finally be heeded. Several of today's daily papers –THE GUARDIAN, THE DAILY MAIL, THE TIMES and THE DAILY TELEGRAPH – report that the message seems to have reached the higher echelons of the NHS in England. Here are a few short excerpts of what the TELEGRAPH tells its readers.
NHS leaders have gone to war on homeopathy by attempting to have the practice blacklisted amid fears it is fuelling anti-vax propaganda. The chief executive and medical director of NHS England have written to the Professional Standards Authority (PSA), the statutory body that oversees healthcare regulation, urging it to strip accreditation from the Society of Homeopaths (SoH). They argue that endorsing the society affords it a "veneer of credibility" that lures vulnerable patients towards "bogus treatments".
In particular, the health chiefs accuse homeopaths of propagating "mis-information" about vaccines. It follows the release of a major report last week which showed the uptake of pre-school vaccines is declining…
Mr Stevens said last night: "Anything that gives homeopathy a veneer of credibility risks chancers being able to con more people into parting with their hard-earned cash in return for bogus treatments which at best do nothing, and at worst can be potentially dangerous. Whether touted as a miracle cure or as protection from serious diseases – like so-called homeopathic vaccines – homeopathy is no replacement for rigorously tried and tested medical treatments delivered or prescribed by properly-qualified professionals, and by stopping people seeking expert help, misinformation and ineffective remedies pose a significant risk to people's health." His letter points out that both the NHS and the National Institute for Health and Care Excellence (Nice), take the position that homeopathic remedies are not scientifically valid.
________________________________________________________
What can I say?
I am, of course, tempted to say: I told you so!
But, on second thought, I prefer: BETTER LATE THAN NEVER.
…
…
…
And then I am bound to add: next, have a look at some other SCAM providers. Perhaps start with:
In the name of public health, I thank you.
We have discussed the association between chiropractic an opioid use before. But the problem of causality remained unresolved. Perhaps this new paper can help? This retrospective cohort study with new onset back pain patients (2008-20013) examined the association of initial provider treatment with early and long-term opioid use in a national sample of patients with new-onset low back pain (LBP).
The researchers evaluated outpatient and inpatient claims from patient visits, pharmacy claims and inpatient and outpatient procedures with initial providers seen for new-onset LBP. The 216 504 patients were aged 18 years or older and had been diagnosed with new-onset LBP and were opioid-naïve were included. Participants had commercial or Medicare Advantage insurance. The primary independent variable was the type of initial healthcare provider including physicians and conservative therapists (physical therapists, chiropractors, acupuncturists). The main outcome measures were short-term opioid use (within 30 days of the index visit) following new LBP visit and long-term opioid use (starting within 60 days of the index date and either 120 or more days' supply of opioids over 12 months, or 90 days or more supply of opioids and 10 or more opioid prescriptions over 12 months).
Short-term use of opioids was 22%. Patients who received initial treatment from chiropractors or physical therapists had decreased odds of short-term and long-term opioid use compared with those who received initial treatment from primary care physicians (PCPs) (adjusted OR (AOR) (95% CI) 0.10 (0.09 to 0.10) and 0.15 (0.13 to 0.17), respectively). Compared with PCP visits, initial chiropractic and physical therapy also were associated with decreased odds of long-term opioid use in a propensity score matched sample (AOR (95% CI) 0.21 (0.16 to 0.27) and 0.29 (0.12 to 0.69), respectively).
The authors concluded that initial visits to chiropractors or physical therapists is associated with substantially decreased early and long-term use of opioids. Incentivising use of conservative therapists may be a strategy to reduce risks of early and long-term opioid use.
Like in previous papers, the nature of the association remains unclear. Is it correlation or causation? It is not correct to conclude that initial visits to chiropractors or physical therapists is associated with substantially decreased early and long-term use of opioids, because this implies a causal relationship. Likewise, it is odd to claim that incentivising the use of chiros or physios may reduce the risk of opioid use. The only thing that reduces opioid use is opioid perscribing. The way to achieve this is to teach and train doctors adequately, I think.
Spinal epidural haematoma is a potentially serious condition that can occur due to trauma, such as spinal manipulation, particularly in the presence of a blood clotting abnormality. A case has been published of a patient who, after performing self-neck manipulation, suffered spinal epidural haematoma and subsequent paralysis of all 4 limbs.
A 63-year-old man presented to the emergency department with worsening inter-scapular pain radiating to his neck one day after performing self-manipulation of his cervical spine. He was anti-coagulated with warfarin therapy for the management of his atrial fibrillation. Approximately 48 h after the manipulation, the patient became acutely quadriparetic and hypotensive. Urgent magnetic resonance imaging revealed a multilevel spinal epidural haematoma from the lower cervical to thoracic spine.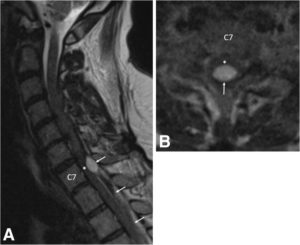 a Pre-operative sagittal T2-weighted MRI of the cervical spine demonstrates an epidural hematoma (arrows) with the cranial extent at the C6/7 level. The hematoma is mixed signal intensity, consistent with various stages of bleeding. Severe spinal cord (asterisk) compression is present at the C7 level. b Pre-operative axial T2-weighted MRI at the C7 level demonstrates a loculated epidural hematoma (arrow) compressing the spinal cord (asterisk). Due to the urgent nature of the MRI, image quality is degraded
With identification of an active bleed and an INR remaining close to 7.0, the patient's hypercoaguable state was reversed prior to emergency surgery. The patient underwent partial C7, complete T1 and T2, and partial T3 bilateral laminectomy for evacuation of haematoma. Placement of an epidural drainage catheter was also performed.
During the first 6 days following surgery, the patient recovered some function of the upper and lower extremities while undergoing hospital-based physical therapy. Post-operative MRI showed resolution of the haematoma and cord compression without resultant cord damage.
The patient completed a 2-week course of acute interdisciplinary rehabilitation. The epidural drainage catheter remained in place for most of his post-operative stay. His neurogenic bladder with urinary retention resolved. At hospital discharge, the patient's greatest deficits remained his fine motor skills to his right hand along with residual paraesthesia in his lower extremities. He also exhibited mild dyspraxia with finger-to-nose testing on the right and heel-to-shin testing bilaterally. The patient regained full manual muscle strength of all 4 extremities and ultimately returned to his baseline functional status, which included ambulating independently with a cane and independence with activities of daily living.
The authors concluded that partial C7, complete T1 and T2, and partial T3 bilateral laminectomy was performed for evacuation of the spinal epidural hematoma. Following a 2-week course of acute inpatient rehabilitation, the patient returned to his baseline functional status. This case highlights the risks of self-manipulation of the neck and potentially other activities that significantly stretch or apply torque to the cervical spine. It also presents a clinical scenario in which practitioners of spinal manipulation therapy should be aware of patients undergoing anticoagulation therapy.
In the present case, the spinal manipulation was self-inflicted. Usually it is performed by a chiropractor, and there are published case reports where chiropractic spinal manipulations have caused epidural haematoma. No matter who does this treatment, it is, I think, wise to consider the fact that the risks of spinal manipulations do not demonstrably outweigh its benefits.
Recently, I stumbled across this website and the following text:
"Measles are an implant Scientology can handle using New Era Dianetics," said Scientology chiropractor Colonel Dr. Roberto Cadiz. "As a chiropractor, I see mock ups of so-called serious diseases all the time," Dr. Cadiz remarked. "And fully 99% of the time these diseases are chronic subluxations caused by dangerous childhood vaccinations the Psychs force on everyone." "Chiropractic adjustment, the Purification Rundown, CalMag, and Dianetics auditing are crucial parts of the treatment regimen for cancers, measles, etc. What you need to find are the words in the implant that turn the disease on. As LRH wrote of leukemia:
'"Leukaemia is evidently psychosomatic in origin and at least eight cases of leukaemia had been treated successfully by Dianetics after medicine had traditionally given up. The source of leukaemia has been reported to be an engram containing the phrase 'It turns my blood to water.'"
"When the preclear gives the exact words hidden in the implant during an auditing session the implant vanishes. The e-meter literally blows up and falls of the table. Of course, continued chiropractic adjustments for life are needed to keep these heavy engrams from going into restimulation. Ideally, chiropractic adjustments should be done three times a week to maintain optimal health."
Yes, this is so far out, it could almost be a hoax. But I fear it is for real. In the past I have come across many similar statements by scientology chiros. This led me to wonder for some time now: is there a link between the two?
Come to think of it, chiropractic and scientology have a lot in common:
they are both based on frightfully weird theories,
they both are known use the e-meter (or derivatives of it);
they are both akin to a religion or cult;
they are both fiercely against drugs;
they both feel pursued by the medical profession;
they both promote detox;
they both recommend useless supplements;
they both tend to be anti-vax;
they both have powerful lobby groups to support them;
they both tend to react very aggressively to criticism.
One does not have to look far to find further links on the internet – there are virtually hundreds. Take this website, for instance:
Stewart Edrich thanks Scientology becaue it aligns perfectly with his practice of chiropractic and clinical nutrition because it covers your entire existence. Unfortunately for him, someone found this on the internet which destroys what little positive credbility he has through Scientology…
David Murdoch learned about Scientology at Palmer — "A group of us were having dinner and he remarked that a lot of the chiropractic management firms got their management data directly from L. Ron Hubbard."
Or have a look here, here or here.
Or read reports like this one:
A South Florida chiropractic office has agreed to pay a $170,000 settlement to a group of former employees who claim they were forced to participate in Scientology practices.
Or this one:
A South Carolina chiropractor has been sued by a former employee for allegedly forcing sexual acts — and Scientology — on her, according to a report.
So, does any of this prove anything?
No!
Does it raise a suspicion that there might be a link?
Yes!
I would be delighted to hear from people who can enlighten me either way.
The aim of this update of a Cochrane review was to assess the effectiveness and safety of homeopathic treatment for irritable bowel syndrome (IBS). Hold on, the bit about safety is odd here and does not bode well: one cannot possibly assess the safety of an intervention on the basis of just a few trials.
Randomised controlled trials (RCTs), cohort and case-control studies that compared homeopathic treatment with placebo, other control treatments, or usual care, in adults with IBS were considered for inclusion. Two authors independently assessed the risk of bias and extracted data. The primary outcome was global improvement in IBS as measured by an IBS symptom severity score. Secondary outcomes included quality of life, abdominal pain, stool frequency, stool consistency, and adverse events. The overall certainty of the evidence supporting the primary and secondary outcomes was assessed using the GRADE criteria. The Cochrane risk of bias tool was used to assess risk of bias.
Four RCTs (307 participants) were included. Two studies compared clinical homeopathy (homeopathic remedy, asafoetida or asafoetida plus nux vomica) to placebo for IBS with constipation (IBS-C). One study compared individualised homeopathic treatment (consultation plus remedy) to usual care for the treatment of IBS in female patients. One study was a three armed RCT comparing individualised homeopathic treatment to supportive listening or usual care.
The risk of bias in three studies (the two studies assessing clinical homeopathy and the study comparing individualised homeopathic treatment to usual care) was unclear on most criteria and high for selective reporting in one of the clinical homeopathy studies. The three armed study comparing individualised homeopathic treatment to usual care and supportive listening was at low risk of bias in four of the domains and high risk of bias in two (performance bias and detection bias).
A meta-analysis of the studies assessing clinical homeopathy, (171 participants with IBS-C) was conducted. At short-term follow-up of two weeks, global improvement in symptoms was experienced by 73% (46/63) of asafoetida participants compared to 45% (30/66) of placebo participants (RR 1.61, 95% CI 1.18 to 2.18; 2 studies, very low certainty evidence).
In the other clinical homeopathy study at two weeks, 68% (13/19) of those in the asafoetida plus nux vomica arm and 52% (12/23) of those in the placebo arm experienced a global improvement in symptoms (RR 1.31, 95% CI 0.80 to 2.15; very low certainty evidence).
In the study comparing individualised homeopathic treatment to usual care (N = 20), the mean global improvement score (feeling unwell) at 12 weeks was 1.44 + 4.55 (n = 9) in the individualised homeopathic treatment arm compared to 1.41 + 1.97 (n=11) in the usual care arm (MD 0.03; 95% CI -3.16 to 3.22; very low certainty evidence).In the study comparing individualised homeopathic treatment to usual care, the mean IBS symptom severity score at 6 months was 210.44 + 112.4 (n = 16) in the individualised homeopathic treatment arm compared to 237.3 + 110.22 (n = 60) in the usual care arm (MD -26.86, 95% CI -88.59 to 34.87; low certainty evidence).
The mean quality of life score (EQ-5D) at 6 months in homeopathy participants was 69.07 (SD 17.35) compared to 63.41 (SD 23.31) in usual care participants (MD 5.66, 95% CI -4.69 to 16.01; low certainty evidence). In the study comparing individualised homeopathic treatment to supportive listening, the mean IBS symptom severity score at 6 months was 210.44 + 112.4 (n = 16) in the individualised homeopathic treatment arm compared to 262 + 120.72 (n = 18) in the supportive listening arm (MD -51.56, 95% CI -129.94 to 26.82; very low certainty evidence). The mean quality of life score at 6 months in homeopathy participants was 69.07 (SD 17.35) compared to 63.09 (SD 24.38) in supportive listening participants (MD 5.98, 95% CI -8.13 to 20.09; very low certainty evidence). None of the included studies reported on abdominal pain, stool frequency, stool consistency, or adverse events.
The authors concluded that the results for the outcomes assessed in this review are uncertain. Thus no firm conclusions regarding the effectiveness and safety of homeopathy for the treatment of IBS can be drawn. Further high quality, adequately powered RCTs are required to assess the efficacy and safety of clinical and individualised homeopathy for IBS compared to placebo or usual care.
[The previous version of this review was published in 2013 and concluded: A pooled analysis of two small studies suggests a possible benefit for clinical homeopathy, using the remedy asafoetida, over placebo for people with constipation-predominant IBS. These results should be interpreted with caution due to the low quality of reporting in these trials, high or unknown risk of bias, short-term follow-up, and sparse data. One small study found no statistically difference between individualised homeopathy and usual care (defined as high doses of dicyclomine hydrochloride, faecal bulking agents and diet sheets advising a high fibre diet). No conclusions can be drawn from this study due to the low number of participants and the high risk of bias in this trial. In addition, it is likely that usual care has changed since this trial was conducted. Further high quality, adequately powered RCTs are required to assess the efficacy and safety of clinical and individualised homeopathy compared to placebo or usual care.]
This is a thorough review that is technically well-done (no wonder, as it had to comply with Cochrane standards!). However, as with some other Cochrane reviews of homeopathy, acupuncture and other SCAMs, one might object to the phraseology used in the conclusions (the part that most people would focus on). Don't get me wrong, the conclusions are technically correct; however, they are not as clear as they should be and hide the essence of the evidence, in my view.
Systematic reviews have one main purpose: they need to inform the reader whether there is or is not good evidence that the treatment in question works for the condition in question. This question is not well addressed by stating THE RESULTS ARE UNCERTAIN. The truth is that a firm conclusion can very well be drawn: THERE IS NO GOOD EVIDENCE THAT ANY FORM OF HOMEOPATHY IS EFFECTIVE FOR IBS!
Surely that's correct and firm enough!!!
Why do the authors not dare to put this clearly?
Probably because some of them are well-known, long-term proponents of homeopathy.
Why does the Cochrane Collaboration allow them to get away with their petty attempt of obfuscation?
Search me!
This systematic review was aimed at investigating the current evidence to determine whether there is an association between chiropractic use and opioid receipt.
Controlled studies, cohort studies, and case-control studies including adults with noncancer pain were eligible for inclusion. Studies reporting opioid receipt for both subjects who used chiropractic care and nonusers were included. Data extraction and risk of bias assessment were completed independently by pairs of reviewers. Meta-analysis was performed and presented as an odds ratio with 95% confidence interval.
In all, 874 articles were identified. After detailed selection, 26 articles were reviewed in full, and 6 met the inclusion criteria. Five studies focused on back pain and one on neck pain. The prevalence of chiropractic care among patients with spinal pain varied between 11.3% and 51.3%. The proportion of patients receiving an opioid prescription was lower for chiropractic users (range = 12.3-57.6%) than nonusers (range = 31.2-65.9%). In a random-effects analysis, chiropractic users had a 64% lower odds of receiving an opioid prescription than nonusers (odds ratio = 0.36, 95% confidence interval = 0.30-0.43, P < 0.001, I2 = 92.8%).
The authors concluded that this review demonstrated an inverse association between chiropractic use and opioid receipt among patients with spinal pain. Further research is warranted to assess this association and the implications it may have for case management strategies to decrease opioid use.
These results are in line with a previous study showing that among New Hampshire adults with office visits for noncancer low-back pain, the likelihood of filling a prescription for an opioid analgesic was significantly lower for recipients of services delivered by doctors of chiropractic compared with nonrecipients. The underlying cause of this correlation remains unknown, indicating the need for further investigation.
The question is: what do such findings tell us?
I have no doubt that chiropractors will claim that using their services will reduce the opioid problem. But this is, of course, wishful thinking. The thing that will reduce it is not more chiro use but quite simply less opioid use!
The important thing to remember here is CORRELATION IS NOT CAUSATION!
People who drive a VW car are less likely to buy a Mercedes.
People who have ordered fish in a restaurant are unlikely to also order a steak.
People who use physiotherapy for back pain will probably use less opioids than those who don't consult physios.
People who treat their back pain with massage therapy are less likely to also use opioids.
Etc.
Etc.
This is all very obvious, self-evident and perhaps even boring.
The most interesting finding here is in my view the fact that 31.2-65.9% of patients using chiropractic for their neck/back pain also took opioids. This seems to confirm what we often have discussed before:
CHIROPRACTIC TREATMENT IS NOT NEARLY AS EFFECTIVE AS CHIROS WANT US TO BELIEVE.
Hirudotherapy, also known as leech therapy, has been used to treat a wide range of disorders for thousands of years. It is also mentioned as a minimal invasive technique called Jalaukavacharana in the Sushruta Samhita, an ancient Sanskrit text of Ayurvedic medicine.
But a long history is a fallacious argument (appeal to tradition) when used to imply efficacy. So, does this treatment work?
A review located a total of 834 articles were found of which 89.8% were original articles. USA was the leading country with 280 publications, followed by UK, Germany and France (128, 101 and 41 items, respectively). The most productive countries regarding hirudotherapy were the UK (1.93), Slovenia (1.44), and Israel (1.32). The peak publication year for hirudotherapy literature was 2011 with 41 papers.
What does that tell us about the efficacy of leech therapy?
Nothing!
The authors of another review concluded that reached the following conclusion: " Given the low number of reported adverse events, leech therapy may be a useful approach in treating this condition. Further high-quality RCTs are required for the conclusive judgment of its effectiveness and safety."
Sounds good?
Not really!
The few clinical trials that were reviewed are mostly by one research group – and yes, you guessed it: it was also this group who published the review.
And anyway: why do they conclude that there is a low number of adverse events? Firstly, there is no reporting system for such events; so, a low number is next to meaningless. Secondly, there are several reports of adverse events. Here are three recent cases:
A 59-year-old woman was admitted to the emergency department with complaints of redness and swelling in both eyes and face. She had a long history of headache, therefore applied leech treatment occasionally. Swelling began on the face after the treatment of leech therapy. Vital signs were as follows; fever: 36.5°C, BP: 126/81 mmHg, heart rate: 84/min and sO2: 98%; respiratory rate: 12/min. In physical examination, GCS was 15, conscious, oriented cooperative. There was no lymphadenopathy in the palpation of the head and neck examination. Oropharynx was in natural appearance and no uvula edema. Facial palpation revealed redness, pain and heat rise. Other systemic findings were normal. Laboratory tests showed leukocytes: 11,000/mm3 (4,000-10,000/mm3), haemoglobin: 12.8 g/dL (12,00-14,00 g/dL) platelet: 271,000 (100,000-400,000/mm3) CRP: 3.45 mg/L (0-0.5mg/L). Other parameters were within normal limits. Computed tomography (CT) showed bilateral periorbital, frontal subcutaneous soft tissue oedema and lymphatic dilatations. She was hospitalized with the diagnosis of orbital cellulite due to leech therapy.
Anorectal sepsis usually presents with anal abscesses, which may evolve to become anorectal fistulas. Most of these cases are either of cryptoglandular origin, or they develop secondary to inflammatory bowel diseases. A 32-year-old male patient applied to our Proctology Unit with severe anal pain and swelling. Three days before admission, leeches were applied to the hemorrhoidal swellings in a medical center. The abscess was drained with appropriate unroofing and search for any compartments. The patient recovered rapidly. The abscess culture and microscopy revealed mix flora with predominant Escherichia coli. After 6 months, he has been symptom-free with perfect healing of the surgical site. We need to check up on possible handicaps in our modern patient care policies that divert people to such methods. Nevertheless, such alternative methods should be regarded as nonscientific and out of context unless their efficacy and safety are documented.
Pseudolymphoma, also known as Jessner's lymphocytic infiltration, is a benign but usually chronic, T-cell infiltrating disease with erythematous papules and plaques usually seen on the skin of the face, neck, and back. The use of leech therapy also known as hirudotherapy has increased in recent years. Here, we report a 52-year-old male patient who had undergone hirudotherapy in his neck and developed infiltrating plaques after four months. A skin biopsy confirmed the diagnosis of Jessner's lymphocytic infiltration. In parallel with the increasing use of hirudotherapy in recent years, the side-effect reports will likely to increase. Indications and contraindications of hirudotherapy, which is being used officially in hospitals, should be taken into consideration.
So, what do we make of this evidence?
I don't know about you, but I am not likely to try or recommend leech therapy in a hurry.
I just came across the most amazing cancer cure: it's called VIDATOX 30C, and it is a true wonder.
Well, on second thought, I might take that this back.
Is it really true?
Or is it perhaps a most despicable health fraud?
The Vidatox website makes the following claims for VIDATOX:
it is based on 5 proteins from scorpion venom;
it is a 30C potency, which means that it is diluted by a factor of 1:1000000000000000000000000000000000000000000000000000000000000
it selectively acts on diseased cells without harming healthy ones;
it is angiogenic;
it stimulates the immune system;
it attacks growing tumours;
it is anti-metastatic;
it blocks tumour angiogenesis;
it has anti-inflammatory effects;
it has prolonged analgesic effects;
it enhances the effects of chemo- and radiation therapies;
it reduces the side-effects of chemo- and radiation therapies;
it is not addictive;
it is a therapeutic alternative for human cancers;
it is in general use in oncology;
it has a powerful detoxification effect;
it has no side-effects;
it improves the well-being of patients;
its efficiency in tumour treatment is proven;
the medication 'passed all the clinical trials';
it increases survival;
it is a 'certified product';
it should be kept away from electromagnetic fields.
With all these claims and all ths splendid science mentioned on the website, one would expect to find plenty of papers on Vidatox. A Medline search resulted in 1 (one!) paper on the subject. Here is the abstract:
Complementary and alternative medicine (CAM) is the term used to describe many kinds of products, practices, and systems that are not part of conventional medicine. Cancer patients usually do everything they can to combat the disease, manage its symptoms, and cope with the side effects of treatment. Unfortunately, patients who use CAM underestimate the risk of interaction with cancer therapy or worse they omit conventional therapy thus reducing the possibility of cancer remission. Herein we analyzed the effects of Vidatox 30 CH (venom extracted from the Junceus Rhopalurus scorpion) on hepatocellular carcinoma (HCC), the second leading cause of cancer-related deaths. We found out that Vidatox increases HCC proliferation and invasion whereas it does not seem to interact with sorafenib, the orally active multikinase inhibitor approved for the treatment of advanced hepatocellular carcinoma. Our results suggest that the concentration of Vidatox used in the present study has not anti-neoplastic effects and care must be taken in hiring Vidatox in patients with HCC.
The authors of this paper also make the following comment:
According to Gonzalez, Vidatox was tested on more than 10,000 cancer patients with "positive results" ranging from an "improved quality of life" to a "slowing of tumor growth" (http://vidatoxromania.ro/en/what-is-vidatox/) (http://www.bt.com.bn/science-technology/2010/10/29/cuba-release-new-cancer-drug). There are no data from controlled clinical studies neither for Escozul nor for Vidatox 30-CH in refereed journals. The available information derived from interviews with patients involved or provided within the sites of alternative therapies. Essentially, scientific evidences about the biological activity of Vidatox in cancer cells are missing.
So, is Vidatox homeopathy's answer to cancer or is it simply a disgusting fraud?
What do you think?
If you want to be able to edit your comment for five minutes after you first submit it, you will need to tick the box: "Save my name, email, and website in this browser for the next time I comment."