charlatan
We recently discussed the deplorable case of Larry Nassar and the fact that the 'American Osteopathic Association' stated that intravaginal manipulations are indeed an approved osteopathic treatment. At the time, I thought this was a shocking claim. So, imagine my surprise when I was alerted to a German trial of osteopathic intravaginal manipulations.
Here is the full and unaltered abstract of the study:
Introduction: 50 to 80% of pregnant women suffer from low back pain (LBP) or pelvic pain (Sabino und Grauer, 2008). There is evidence for the effectiveness of manual therapy like osteopathy, chiropractic and physiotherapy in pregnant women with LBP or pelvic pain (Liccardione et al., 2010). Anatomical, functional and neural connections support the relationship between intrapelvic dysfunctions and lumbar and pelvic pain (Kanakaris et al., 2011). Strain, pressure and stretch of visceral and parietal peritoneum, bladder, urethra, rectum and fascial tissue can result in pain and secondary in muscle spasm. Visceral mobility, especially of the uterus and rectum, can induce tension on the inferior hypogastric plexus, which may influence its function. Thus, stretching the broad ligament of the uterus and the intrapelvic fascia tissue during pregnancy can reinforce the influence of the inferior hypogastric plexus. Based on above facts an additional intravaginal treatment seems to be a considerable approach in the treatment of low back pain in pregnant women.
Objective: The purpose of this study was to compare the effect of osteopathic treatment including intravaginal techniques versus osteopathic treatment only in females with pregnancy-related low back pain.
Methods: Design: The study was performed as a randomized controlled trial. The participants were randomized by drawing lots, either into the intervention group including osteopathic and additional intravaginal treatment (IV) or a control group with osteopathic treatment only (OI). Setting: Medical practice in south of Germany.
Participants 46 patients were recruited between the 30th and 36th week of pregnancy suffering from low back pain.
Intervention Both groups received three treatments within a period of three weeks. Both groups were treated with visceral, mobilization, and myofascial techniques in the cervical, thoracic and lumbar spine, the pelvic and the abdominal region (American Osteopathic Association Guidelines, 2010). The IV group received an additional treatment with intravaginal techniques in supine position. This included myofascial techniques of the M. levator ani and the internal obturator muscles, the vaginal tissue, the pubovesical and uterosacral ligaments as well as the inferior hypogastric plexus.
Main outcome measures As primary outcome the back pain intensity was measured by Visual Analogue Scale (VAS). Secondary outcome was the disability index assessed by Oswestry-Low-Back-Pain-Disability-Index (ODI), and Pregnancy-Mobility-Index (PMI).
Results: 46 participants were randomly assigned into the intervention group (IV; n = 23; age: 29.0 ±4.8 years; height: 170.1 ±5.8 cm; weight: 64.2 ±10.3 kg; BMI: 21.9 ±2.6 kg/m2) and the control group (OI; n = 23; age: 32.0 ±3.9 years; height: 168.1 ±3.5 cm; weight: 62.3 ±7.9 kg; BMI: 22.1 ±3.2 kg/m2). Data from 42 patients were included in the final analyses (IV: n=20; OI: n=22), whereas four patients dropped out due to general pregnancy complications. Back pain intensity (VAS) changed significantly in both groups: in the intervention group (IV) from 59.8 ±14.8 to 19.6 ±8.4 (p<0.05) and in the control group (OI) from 57.4 ±11.3 to 24.7 ±12.8. The difference between groups of 7.5 (95%CI: -16.3 to 1.3) failed to demonstrate statistical significance (p=0.93). Pregnancy-Mobility-Index (PMI) changed significantly in both groups, too. IV group: from 33.4 ±8.9 to 29.6 ±6.6 (p<0.05), control group (OI): from 36.3 ±5.2 to 29.7 ±6.8. The difference between groups of 2.6 (95%CI: -5.9 to 0.6) was not statistically significant (p=0.109). Oswestry-Low-Back-Pain-Disability-Index (ODI) changed significantly in the intervention group (IV) from 15.1 ±7.8 to 9.2 ±3.6 (p<0.05) and also significantly in the control group (OI) from 13.8 ±4.9 to 9.2 ±3.0. Between-groups difference of 1.3 (95%CI: -1.5 to 4.1) was not statistically significant (p=0.357).
Conclusions: In this sample a series of osteopathic treatments showed significant effects in reducing pain and increasing the lumbar range of motion in pregnant women with low back pain. Both groups attained clinically significant improvement in functional disability, activity and quality of life. Furthermore, no benefit of additional intravaginal treatment was observed.
END OF QUOTE
My first thoughts after reading this were: how on earth did the investigators get this past an ethics committee? It cannot be ethical, in my view, to allow osteopaths (in Germany, they have no relevant training to speak of) to manipulate women intravaginally. How deluded must an osteopath be to plan and conduct such a trial? What were the patients told before giving informed consent? Surely not the truth!
My second thoughts were about the scientific validity of this study: the hypothesis which this trial claims to be testing is a far-fetched extrapolation, to put it mildly; in fact, it is not a hypothesis, it's a very daft idea. The control-intervention is inadequate in that it cannot control for the (probably large) placebo effects of intravaginal manipulations. The observed outcomes are based on within-group comparisons and are therefore most likely unrelated to the treatments applied. The conclusion is as barmy as it gets; a proper conclusion should clearly and openly state that the results did not show any effects of the intravaginal manipulations.
In summary, this is a breathtakingly idiotic trial, and everyone involved in it (ethics committee, funding body, investigators, statistician, reviewers, journal editor) should be deeply ashamed and apologise to the poor women who were abused in a most deplorable fashion.
"In at least one article on chiropractic, Ernst has been shown to be fabricating data. I would not be surprised if he did the same thing with homeopathy. Ernst is a serial scientific liar."
I saw this remarkable and charming Tweet yesterday. Its author is 'Dr' Avery Jenkins. Initially I was unaware of having had contact with him before; but when I checked my emails, I found this correspondence from August 2010:
Dr. Ernst:
Would you be so kind as to provide the full text of your article? Also, when would you be available for an interview for an upcoming feature article?
Thank you.
Avery L. Jenkins, D.C.
I put his title in inverted commas, because it turns out he is a chiropractor and not a medical doctor (but let's not be petty!).
'Dr' Avery Jenkins runs a 'Center for Alternative Medicine' in the US: The Center has several features which set it apart from most other alternative medicine facilities, including the Center's unique Dispensary.  Stocked with over 300 herbs and supplements, the Dispensary's wide range of natural remedies enables Dr. Jenkins to be the only doctor in Connecticut who provides custom herbal formulations for his patients. In our drug testing facility, we can provide on-site testing for drugs of abuse with immediate result reporting. Same-day appointments are available. Dr. Jenkins is also one of the few doctors in the state who has already undergone the federally-mandated training which will be necessary for all Department of Transportation Medical Examiners by 2014. Medical examinations for your Commercial Drivers License will take only 25 minutes, and Dr. Jenkins will provide you with all necessary paperwork.
The good 'doctor' also publishes a blog, and there I found a post from 2016 entirely dedicated to me. Here is an excerpt:
.. bias and hidden agendas come up in the research on alternative medicine and chiropractic in particular. Mostly this occurs in the form of journal articles using research that has been hand-crafted to make chiropractic spinal manipulation appear dangerous — when, in fact, you have a higher risk of serious injury while driving to your chiropractor's office than you do of any treatment you receive while you're there.
A case in point is the article, "Adverse effects of spinal manipulation: a systematic review," authored by Edzard Ernst, and published in the Journal of the Royal Society of Medicine in 2007. Ernst concludes that, based on his review, "in the interest of patient safety we should reconsider our policy towards the routine use of spinal manipulation."
This conclusion throws up several red flags, beginning with the fact that it flies in the face of most of the already-published, extensive research which shows that chiropractic care is one of the safest interventions, and in fact, is  safer than medical alternatives.
For example, an examination of injuries resulting from neck adjustments over a 10-year period found that they rarely, if ever, cause strokes, and lumbar adjustments by chiropractors have been deemed by one of the largest studies ever performed to be safer and more effective than medical treatment.
So the sudden appearance of this study claiming that chiropractic care should be stopped altogether seems a bit odd.
As it turns out, the data is odd as well.
In 2012, a researcher at Macquarie University in Australia, set out to replicate Ernst's study. What he found was shocking.
This subsequent study stated that "a review of the original case reports and case series papers described by Ernst found numerous errors or inconsistencies," including changing the sex and age of patients, misrepresenting patients' response to adverse events, and claiming that interventions were performed by chiropractors, when no chiropractor was even involved in the case.
"In 11 cases of the 21…that Ernst reported as [spinal manipulative therapy] administered by chiropractors, it is unlikely that the person was a qualified chiropractor," the review found.
What is interesting here is that Edzard Ernst is no rookie in academic publishing. In fact, he is a retired professor and founder of two medical journals. What are the odds that a man with this level of experience could overlook so many errors in his own data?
The likelihood of Ernst accidentally allowing so many errors into his article is extremely small. It is far more likely that Ernst selected, prepared, and presented the data to make it fit a predetermined conclusion.
So, Ernst's article is either extremely poor science, or witheringly inept fraud. I'll let the reader draw their own conclusion.
Interestingly enough, being called out on his antics has not stopped Ernst from disseminating equally ridiculous research in an unprofessional manner. Just a few days ago, Ernst frantically called attention to another alleged chiropractic mishap, this one resulting in a massive brain injury.
Not only has he not learned his lesson yet, Ernst tried the same old sleight of hand again. The brain injury, as it turns out, didn't happen until a week after the "chiropractic" adjustment, making it highly unlikely, if not impossible, for the adjustment to have caused the injury in the first place. Secondly, the adjustment wasn't even performed by a chiropractor. As the original paper points out, "cervical manipulation is still widely practiced in massage parlors and barbers in the Middle East."  The original article makes no claim that the neck adjustment (which couldn't have caused the problem in the first place) was actually performed by a chiropractor.
It is truly a shame that fiction published by people like Ernst has had the effect of preventing many people from getting the care they need. I can only hope that someday the biomedical research community can shed its childish biases so that we all might be better served by their findings.
END OF QUOTE
Here I will not deal with the criticism a Australian chiropractor published in a chiro-journal 5 years after my 2007 article (which incidentally was not primarily about chiropractic but about spinal manipulation). Suffice to say that my article did NOT contain 'fabricated' data. A full re-analysis would be far too tedious, for my taste (especially as criticism of it has been discussed in all of 7 'letters to the editor' soon after its publication)
I will, however, address 'Dr' Avery Jenkins' second allegation related to my recent ('frantic') blog-post. I will do this by simply copying the abstract of the paper in question:
Background: Multivessel cervical dissection with cortical sparing is exceptional in clinical practice. Case presentation: A 55-year-old man presented with acute-onset neck pain with associated sudden onset right-sided hemiparesis and dysphasia after chiropractic* manipulation for chronic neck pain. Results and Discussion: Magnetic resonance imaging revealed bilateral internal carotid artery dissection and left extracranial vertebral artery dissection with bilateral anterior cerebral artery territory infarctions and large cortical-sparing left middle cerebral artery infarction. This suggests the presence of functionally patent and interconnecting leptomeningeal anastomoses between cerebral arteries, which may provide sufficient blood flow to salvage penumbral regions when a supplying artery is occluded. Conclusion: Chiropractic* cervical manipulation can result in catastrophic vascular lesions preventable if these practices are limited to highly specialized personnel under very specific situations.
*my emphasis
---
With this, I rest my case.
The only question to be answered now is this: TO SUE OR NOT TO SUE?
What do you think?
Gosh, we in the UK needed that boost of jingoism (at least, if you are white, non-Jewish and equipped with a British passport)! But it's all very well to rejoice at the news that we have a new little Windsor. With all the joy and celebration, we must not forget that the blue-blooded infant might be in considerable danger!
I am sure that chiropractors know what I am talking about.
KISS (Kinematic Imbalance due to Suboccipital Strain) is a term being used to describe a possible causal relation between imbalance in the upper neck joints in infants and symptoms like postural asymmetry, development of asymmetric motion patterns, hip problems, sleeping and eating disorders. Chiropractors are particularly fond of KISS. It is a problem that chiropractors tend to diagnose in new-borns.
This website explains further:
The kinematic imbalances brought on by the suboccipital strain at birth give rise to a concept in which symptoms and signs associated with the cervical spine manifest themselves into two easily recognizable clinical presentations. The leading characteristic is a fixed lateroflexion [called KISS I] or fixed retroflexion [KISS II]. KISS I may be associated with torticollis, asymmetry of the skull, C–scoliosis of the neck and trunk, asymmetry of the gluteal area and of the limbs, and retardation of the motor development of one side. KISS II, on the other hand, displays hyperextension during sleep, occipital flattening that may be asymmetrical, hunching of the shoulders, fixed supination of the arms, orofacial muscular hypotonia, failure to lift the trunk from a ventral position, and difficulty in breast feeding on one side. [34] The leading trademarks of both KISS I and KISS II are illustrated in Figure 1. [31]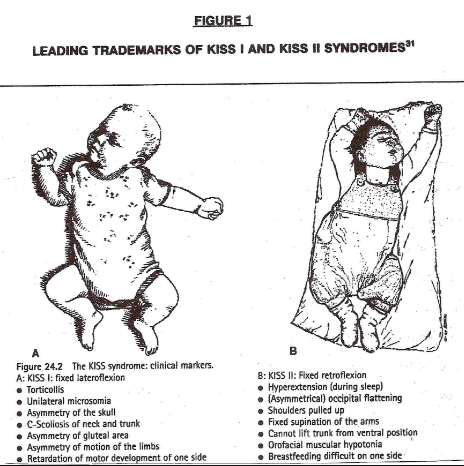 In essence, these birth experiences lay the groundwork for rationalizing the wisdom of providing chiropractic healthcare to the pediatric population…
END OF QUOTE
KISS must, of course, be treated with chiropractic spinal manipulation: the manual adjustment is the most common, followed by an instrument adjustment. This removes the neurological stress, re-balances the muscles and normal head position.  Usually a dramatic change can be seen directly after the appropriate adjustment has been given…
Don't frown! We all know that we can trust our chiropractors.
Evidence?
Do you have to insist on being a spoil-sport?
Alright, alright, the evidence tells a different story. A systematic review concluded that, given the absence of evidence of beneficial effects of spinal manipulation in infants and in view of its potential risks, manual therapy, chiropractic and osteopathy should not be used in infants with the KISS-syndrome, except within the context of randomised double-blind controlled trials.
And this means I now must worry for a slightly different reason: we all know that the new baby was born into a very special family – a family that seems to embrace every quackery available! I can just see the baby's grandfather recruiting a whole range of anti-vaccinationists, tree-huggers, spoon-benders, homeopaths, faith healers and chiropractors to look after the new-born.
By Jove, one does worry about one's Royals!
I hear this argument so regularly that it might be worth analysing it (yet again) a bit closer.
It is used with the deepest of convictions by proponents of all sorts of quackery who point out that science does not know or explain everything – and certainly not their (very special) therapy. Science is just not sophisticated enough, they say; in fact, a few years ago, it could not even explain how Aspirin works. And just like Aspirin, their very special therapy – let's call it energy healing (EH) for the sake of this post – does definitely and evidently work. There even is ample proof:
Patients get better after using EH, and surely patients don't lie.
Patients pay for EH, and who would pay for something that does not work?
EH has survived hundreds of years, and ineffective therapies don't.
EH practitioners have tons of experience and therefore know best.
They are respected by very important people and organisations.
EH is even reimbursed by some insurance companies.
You have all heard the argument, I'm sure.
How to respond?
The 'proofs' listed above are simply fallacies; as such they do not need more detailed discussions, I hope.
But how can we refute the notion that science is not yet sufficiently advanced to explain EH?
The simplest approach might be to explain that science has already tested EH and found it to be ineffective. There really is nothing more to say. And the often-quoted example of Aspirin does clearly not wash. True, a few decades ago, we did not know how it worked. But we always knew that it worked because we conducted clinical trials, and they generated positive results. These findings we the main reasons why scientists wanted to find out how it works, and eventually they did (and even got a Nobel Prize for it). Had the clinical trials not shown effectiveness, nobody would have been interested in alleged mechanisms of action.
With EH, things are different. Rigorous clinical trials of EH have been conducted, and the totality of this evidence fails to show that EH works. Therefore, chasing after a mechanism of action would be silly and wasteful. It's true, science cannot explain EH, but this is not because it is not yet sophisticated enough; it is because there is nothing to explain. EH has been disproven, and waffling about 'science is not yet able to explain it' is either a deliberate lie or a serious delusion.
So far so good. But what if EH had not been submitted to clinical trials?
In such cases, the above line of argument would not work very well.
For instance, as far as I know, there is not a single rigorous clinical trial of crystal healing (CH). Does that mean that perhaps CH-proponents are correct when claiming that it does evidently work and science simply cannot yet understand how?
No, I don't think so.
Like most of the untested alternative therapies, CH is not based on plausible assumptions. In fact, the implausibility of the underlying assumptions is the reason why such treatments have not and probably never will be submitted to rigorous clinical trials. Why should anyone waste his time and our money running expensive tests on something that is so extremely unlikely? Arguably doing so would even be unethical.
With highly implausible therapies we need no trials, and we do not need to fear that science is not yet sufficiently advance to explain them. In fact, science is sufficiently advanced to be certain that there can be no explanation that is in line with the known laws of nature.
Sadly, some truly deluded fans of CH might still not be satisfied and respond to our reasoning that we need a 'paradigm shift'. They might say that science cannot explain CH because it is stuck in the straightjacket of an obsolete paradigm which does not cater for phenomena like CH.
Yet this last and desperate attempt of the fanatics is not a logical refuge. Paradigm shifts are not required because some quack thinks so, they are needed only if data have been emerging that cannot possibly be explained within the current paradigm. But this is never the case in alternative medicine. We can explain all the experience of advocates, positive results of researchers and 'miracle' cures of patients that are being reported. We know that the experiences are real, but are sure that their explanations of the experience are false. They are not due to the treatment per se but to other phenomena such as placebo effects, natural history, regression towards the mean, spontaneous recovery, etc.
So, whichever way we turn things, and whichever way enthusiasts of alternative therapies twist them, their argument that 'SCIENCE IS NOT YET ABLE TO EXPLAIN' is simply wrong.
Daniel P Wirth used to be THE star amongst researchers and proponents of paranormal healing. About 15 years ago, there was nobody who had published more studies of it than Wirth. The extraordinary phenomenon was not just the number of studies, but also the fact that these trials all reported positive findings.
At the time, this puzzled me a lot. I had conducted two trials of paranormal healing myself; and, in both, cases the results had turned out to be negative (see here and here). Thus I made several attempts to contact Wirth or his co-authors hoping to better understand the phenomenon. Yet I never received a reply and became increasingly suspicious of their research.
In 2004, it was announced that Wirth together with one of his co-workers had been arrested and later imprisoned for fraud. Several of his 20 papers published in various journals were subsequently withdrawn. I remember writing to several journal editors myself urging them to follow suit so that, in future, the literature would not be polluted with dubious studies. Eventually, we all forgot about the whole story.
Recently, I took a renewed interest in paranormal healing. To my surprise, I found that several of Wirth's papers are still listed on Medline:
1 Does prayer influence the success of in vitro fertilization-embryo transfer? Report of a masked, randomized trial.
Cha KY, Wirth DP.
J Reprod Med. 2001 Sep;46(9):781-7. Erratum in: J Reprod Med. 2004 Oct;49(10):100A. Lobo, RA [removed].
PMID: 11584476
2 Multisite electromyographic analysis of therapeutic touch and qigong therapy.
Wirth DP, Cram JR, Chang RJ.
J Altern Complement Med. 1997 Summer;3(2):109-18.
PMID: 9395700
3 Multisite surface electromyography and complementary healing intervention: a comparative analysis.
Wirth DP, Cram JR.
J Altern Complement Med. 1997 Winter;3(4):355-64.
PMID: 9449057
4 Wound healing and complementary therapies: a review.
Wirth DP, Richardson JT, Eidelman WS.
J Altern Complement Med. 1996 Winter;2(4):493-502. Review.
PMID: 9395679
5 The significance of belief and expectancy within the spiritual healing encounter.
Wirth DP.
Soc Sci Med. 1995 Jul;41(2):249-60.
PMID: 7667686
6 Complementary healing intervention and dermal wound reepithelialization: an overview.
Wirth DP.
Int J Psychosom. 1995;42(1-4):48-53.
PMID: 8582812
7 The psychophysiology of nontraditional prayer.
Wirth DP, Cram JR.
Int J Psychosom. 1994;41(1-4):68-75.
PMID: 7843870
8 Complementary healing therapies.
Wirth DP, Barrett MJ.
Int J Psychosom. 1994;41(1-4):61-7.
PMID: 7843869
9 Multi-site electromyographic analysis of non-contact therapeutic touch.
Wirth DP, Cram JR.
Int J Psychosom. 1993;40(1-4):47-55.
PMID: 8070986
____________________________________________________________________________
Of these 9 papers, only the first one in the list carries a note indicating that the paper has been removed. In other words, 8 of Wirth's articles are still available as though they are fine and proper.
The situation is even worse on 'Research Gate'. Here we find all of the following articles with no indication of any suspicion of fraud:
———-
Article: Does Prayer Influence the Success of in Vitro Fertilization-Embryo Transfer? Report of a Masked, Randomized Trial
KY Cha · Daniel P. Wirth · RA Lobo
Abstract: To assess the potential effect of intercessory prayer (IP) on pregnancy rates in women being treated with in vitro fertilization-embryo transfer (IVF-ET). Prospective, double-blind, randomized clinical trial in which patients and providers were not informed about the intervention. Statisticians and investigators were masked until all the data had been collected and clinical outcomes were known. The setting was an IVF-ET program at Cha Hospital, Seoul, Korea. IP was carried out by prayer…
Article · Oct 2001 · The Journal of reproductive medicine
———-
Article: Exploring Further Menstruation and Spiritual Healing
Daniel P. Wirth
Article · Apr 1997 · Alternative and Complementary Therapies
———-
Article: Multisite Surface Electromyography and Complementary Healing Intervention: A Comparative Analysis
Daniel P. Wirth · Jeffrey R. Cram
Abstract: A comparative analysis was conducted on a series of three experimental studies that examined the effect of various local and nonlocal (distant) complementary healing methods on multisite surface electromyographic (sEMG) and autonomic measures. The series concentrated sEMG electrode placement on specific neuromuscular paraspinal centers (cervical [C4], thoracic [T6], and lumbar [L3]), along with the frontalis region, due to the fact that these sites corresponded to the location of individual…
Article · Feb 1997 · The Journal of Alternative and Complementary Medicine
———-
Article: Multisite Electromyographic Analysis of Therapeutic Touch and Qigong Therapy
Daniel P. Wirth · Jeffrey R. Cram · Richard J. Chang
Abstract: The influence of complementary healing treatment on paraspinal electromagnetic activity at specific neuromuscular sites was examined in an exploratory pilot study that used a multisite surface electromyographic (sEMG) assessment procedure. The study was a replication and extension of previous research that indicated that complementary healing had a significant effect in normalizing the activity of the "end organ" for the central nervous system (CNS). Multisite sEMG electrodes were placed on…
Article · Feb 1997 · The Journal of Alternative and Complementary Medicine
———-
Article: Non-contact Therapeutic Touch intervention and full thickness cutaneous wounds: A replication
Daniel P Wirth · Joseph T. Richardson · Robert D. Martinez · William S. Eidelman · Maria E.L. Lopez
Abstract: The study described here utilized a randomized double-blind methodological protocol in order to examine the effect of non-contact therapeutic touch (NCTT) on the healing rate of full-thickness human dermal wounds. This study is the fifth experiment in a series of extensions based on the original research design, and is an exact methodological replication of the second study in the series. Thirty-two healthy subjects were randomly divided into treatment and control groups and biopsies were…
Article · Oct 1996 · Complementary Therapies in Medicine
———-
Article: Wound Healing and Complementary Therapies: A Review
Daniel P. Wirth · Joseph T. Richardson · William S. Eidelman
Abstract: A series of five innovative experiments conducted by Wirth et al. which examined the effect of various complementary healing interventions on the reepithelialization rate of full thickness human dermal wounds was assessed as to specific methodological and related factors. The treatment interventions utilized in the series included experimental derivatives of the Therapeutic Touch (TT), Reiki, LeShan, and Intercessory Prayer techniques. The results of the series indicated statistical…
Article · Feb 1996 · The Journal of Alternative and Complementary Medicine
———-
Article: Haematological indicators of complementary healing intervention
Daniel P. Wirth · Richard J. Chang · William S. Eidelman · Joanne B. Paxton
Abstract: The effect of Therapeutic Touch, Reiki, LeShan, and Qigong Therapy in combination on haematological measures was examined in an exploratory pilot study utilizing a randomized, double-blind, within-subject, crossover design. Fourteen subjects were randomly assigned to treatment and control conditions for two one-hour evaluation sessions separated by a 24-hour period. Six blood samples were taken from each subject — three during the treatment condition and three during the control condition —…
Article · Jan 1996 · Complementary Therapies in Medicine
———-
Article: The significance of belief and expectancy within the spiritual healing encounter
Daniel P. Wirth
Abstract: Historically, traditional cultures recognized the importance of belief and expectancy within the healing encounter and created complex rituals and ceremonies designed to elicit or foster the expectancy and participation of both the healer and patient, as well as the community as a whole. This holistic approach to health care was a fundamental component in the spiritual healing rituals of virtually all traditional native cultures. The focus of the current study was to assess the impact of…
Article · Aug 1995 · Social Science & Medicine
———-
Article: Non-contact Therapeutic Touch and wound re-epithelialization: An extension of previous research
Daniel P. Wirth · Margaret J Barrett · William S. Eidelman
Abstract: The results demonstrated a non-significant effect for the treatment versus control groups. Several factors may have contributed to the non-significance, including: the ineffectiveness of the healers, the inhibitive or dampening effect of plastic, the use of self-regulatory techniques, the dependent variable examined, the type of dressing utilized, the influence of distance, and the healers' belief as to the effect of distance. Future studies would benefit by examining the methodological…
Article · Oct 1994 · Complementary Therapies in Medicine
———-
Article: The effect of complementary healing therapy on postoperative pain after surgical removal of impacted third molar teeth
Daniel P. Wirth · David R. Brenlan · Richard J. Levine · Christine M. Rodriguez
Abstract: This study utilized a randomized, double-blind, within subject, crossover design to examine the effect of Reiki and LeShan healing in combination on iatrogenic pain experienced after unilateral operative extraction of the lower third molar. Two separate operations were performed on 21 patients with bilateral, asymptomatic, impacted lower third molar teeth. The patients were randomly assigned to the treatment or control condition prior to the first operation. For the second operation,…
Article · Jul 1993 · Complementary Therapies in Medicine
———-
Article: Full thickness dermal wounds treated with non-contact Therapeutic Touch: a replication and extension
Daniel P. Wirth · Joseph T. Richardson · William S. Eidelman · Alice C. O'Malley
Abstract: The effect of non-contact Therapeutic Touch (NCTT) therapy on the healing rate of full thickness human dermal wounds was examined in a double-blind, placebo controlled study. Punch biopsies were performed on the lateral deltoid in 24 healthy subjects who were randomly assigned to treatment and control groups. Active and control treatments were comprised of daily sessions of 5 min of exposure to a hidden NCTT practitioner or control exposure. Placebo effects and the possible influences of…
Article · Jul 1993 · Complementary Therapies in Medicine
———-
Article: The Effect of Alternative Healing Therapy on the Regeneration Rate of Salamander Forelimbs
DANIEL P. WIRTH · CATHY A. JOHNSON · JOSEPH S. HORVATH
Article · Jan 1992
———-
Article: Complementary Healing Therapy For Patients With Type I Diabetes Mellitus
DANIEL P. WIRTH · BARBARA J. MITCHELL
Abstract: The effect of Noncontact Therapeutic Touch (NCTT) therapy and Intercessory Prayer (IP) on patient determined insulin dosage was exam- ined in an exploratory pilot study which utilized a randomized, double-blind, within subject, crossover design. Sixteen type I diabetes mellitus patients were examined and treated daily by NCTT and IP healers for a duration of two weeks. Each patient underwent two separate sessions-one in the treat- ment condition and one in the control condition-with the…
____________________________________________________________________
What is even worse, Wirth's papers continue to get cited. In other words, Wirth's research lives on regardless of the fact that it is highly dubious.
In my view, it is long over-due for all journal-editors to fully and completely delete Wirth's dubious papers. This is particularly true since several experts have alerted them to the problem. Furthermore, I submit that failing to take action  amounts to unethical behaviour which is quite simply unacceptable.
Prof Ke's Asante Academy (Ke claims that asante is French and means good health – wrong, of course, but that's the least of his errors) offers many amazing things, and I do encourage you to have a look at his website. Prof Ke is clearly not plagued by false modesty; he informs us that "I am proud to say that we have gained a reputation as one of the leading Chinese Medicine clinics and teaching institutes in the UK and Europe. One CEO from a leading Acupuncture register commented that we were the best in the country. One doctor gave up his medical job in a European country to come study Chinese medicine at Middlesex University (our partner) – he said simply it was because of Asante. Our patients, from royalty and celebrities to hard working people all over the world, have praised us highly for successfully treating their wide-ranging conditions, including infertility, skin problems, pain and many others. We are also very pleased to have pioneered Acupuncture service in the NHS and for over a decade we have seen tens of thousands of NHS patients in hospitals."
He provides treatments for any condition you can imagine, courses in various forms of TCM, a range of videos (they are particularly informative), as well as interesting explanations and treatment plans for dozens of conditions. From the latter, I have chosen just two diseases and quote some extracts to give you a vivid impression of the Ke's genius:
CANCER
There are some ways in which Chinese medicine can help cancer cases where Western medicine cannot. Various herbal prescriptions have been shown to help in bolstering the immune system and some herbs can actually attack the abnormal cells and viruses which are responsible for certain types of cancer.
Chinese Medicine treatment aims first to increase the body's own defence mechanisms, then to kill the cancer cells. Effective though radiotherapy and chemotherapy may be, they tend to have a drastic effect on the body generally and patients often feel very tired and weak, suffer from stress, anxiety, fear, insomnia and loss of appetite. Chinese Medicine practitioners regard strengthening the patient psychologically and physically to be of primary importance.
Chinese Medicine herbal remedies can help reduce or eliminate the side-effects from radiotherapy or chemotherapy. Astragalus will help raise the blood cell count, the sickness caused by chemotherapy can be relieved with fresh ginger and orange peel, and acupuncture can also help. To attack the cancer itself, depending on type and location, different herbs will be used.
A Chinese Medicine practitiioner will decide whether the illness is the result of qi energy deficiency, blood deficiency or yin or yang deficiency. Ginseng,astragalus, Chinese angelica, cooked rehmannia root, wolfberry root, Chinese yam and many tonic herbs may be used. But it is vital to remember that no one tonic is good for everybody. All treatments are dependent upon the individual. Some anti-cancer herbs used are very strong and sometimes make people sick, but this is because one poison is being used against another. How they work, and how clinically effective they are, is still being researched. No claims can be made for them based on modern scientific evaluation.
Acupuncture and meditation are also very important parts of the Chinese Medicine traditional approach to the treatment of cancer. These alleviate pain and induce a sense of calmness, instill confidence and build up the spirit of the body, so that patients do not need to take so many painkillers. In China, they have many meditation programmes which are used to treat cancer.
MENINGITIS
Chinese Medicine herbal treatment for meningitis has been very successful in China. In the recent past there were many epidemics, particularly in the north, and the hospitals routinely used Chinese herbs as treatment, with a high degree of success. One famous remedy in Chinese Medicine is called White Tiger Decoction, the main ingredients of which are gypsum and rice. These are simple things but they reduce the high fever and clear the infection from the brain. Modern medicine and Chinese Medicine used together is the most effective treatment.
END OF QUOTES
Ghosh, I am so glad that finally someone explained these things to me, and so logically and simply too. I used to have doubts about the value of TCM for these conditions, but now I am convinced … so much so that I go on Medline to find the scientific work of Prof Ke. But what, what, what? That is not possible; such a famous professor and no publications?
I conclude that my search skills are inadequate and throw myself into studying the plethora of courses Ke offers for the benefit of mankind:
Since 2000, Asanté Academy has officially collaborated with Middlesex University in running and teaching the BSc and MSc in Traditional Chinese Medicine.
BSc Degrees in Acupuncture and Traditional Chinese Medicine
MSc Degree in Chinese Medicine
Professional Practice in Herbal Medicine, Chinese Herbal Medicine and Acupuncture
But perhaps this is a bit too arduous; maybe so-called diploma courses suit me better? Personally, I am tempted by the '24-day Certificate Course in TCM Acupuncture' – it's a bargain, just £ 2,880!
PS
Prof Ke, if you read these lines, would you please tell us where and when you got your professorship? Your otherwise ostentatious website seems to fail to disclose this detail.
Did you know that chiropractic is a religion?
Well, not quite but almost.
DD Palmer seriously toyed with the idea of turning chiropractic into a religion.
And rightly so!
In the absence of evidence, belief is everything.
And this is why, to this day, so many chiropractors bank (a most appropriate term in this context!) on belief rather than evidence.
Look, for instance at this lovely advertisement I found on Twitter (there are many more, but this one has to stand for the many).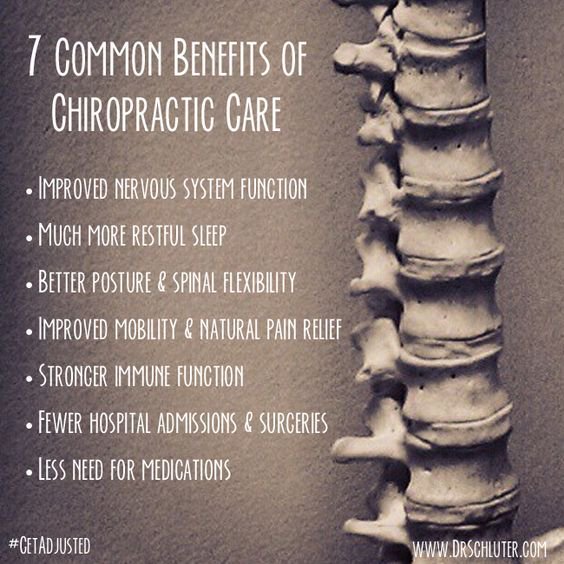 Seven common benefits of chiropractic care!?!
Beneath the picture of a pathologically straight spine – if that is what chiro does to you, avoid it at all cost! – we see the name of the 'doctor' who seems to have designed this impressive picture. 'Dr' Schluter is even more versatile than his pretty advertisement implies; he also seems to treat newborn babies! And on his website he also tells us that he is able to treat allergies:
You may be surprised to find that chiropractic can do a great deal to alleviate some allergies. Allergies are very common and we become so used to their effect on us that we tend to ignore their symptoms. And many people are unaware of the gradual decline in health that results. Chiropractic treatment didn't necessarily set out specifically to provide care for allergies, but due to the nature of the chiropractic care and its effect on the nervous system, it has been shown to help.
If we look at some of the common signs of allergies we find that they include some unexpected examples. Not only do we find the usual ones – asthma, sinus congestion, sneezing, itchy eyes, skin rashes and running nose – but also weight gain, Acne and even fluid retention and heartburn.
Many people approach the problem of allergies as though all allergens affect everyone in the same way; this is not the case. Because we are individuals, different allergens affect each of us in differing ways. Some allergens affect some and not others. Consequently treating the condition must be approached on this basis of individuality.
It may not be the pet fur or dried saliva that is kicked up as your pooch washes and scratches; it may also not be the pollen, grass dust or other one of the many irritants in the air at any one time. It could be that due to a misalignment of the spine (or subluxation), mild though it may be, the nervous system is finding it difficult to help the body adapt to its surroundings and is therefore unable to deal with the necessary adjustments.
As an individual you need to treat your body's physical and nervous system as such. You could be, without even being aware of it, in a generally stressed condition – this may be through lack of sleep, poor nutrition or any one of a combination of the many other stressors affecting us daily. Suddenly you find that with the first spring pollen dust that comes along you begin to wheeze and sneeze!
You may not have previously connected chiropractors and allergies but, for you or someone you know, the connection could help.
Schluter Chiropractic works on the principle of reducing interference so the nervous system and body can work better. Providing that any symptom or condition (including pain) is occurring as a result of nerve interference from vertebral subluxation, there is a very good chance that it will improve with chiropractic care.
END OF QUOTE
Wise words indeed.
Like most chiros, 'Dr' Schulter seems to be a true miracle-worker; and because he can do miracles, he does not need to be rational or concerned about evidence or worried about telling the truth.
For Christ sake, it's Easter!
We ought to show a bit of belief!!!
Why?
Because without it, the benefits of chiropractic would be just an illusion.
Chiropractors are fast giving up the vitalistic and obsolete concepts of their founding fathers, we are told over and over again. But are these affirmations true? There are good reasons to be sceptical. Take this recent paper, for instance.
The objective of this survey was to investigate the proportion of Australian chiropractic students who hold non-evidence-based beliefs in the first year of study and to determine the extent to which they may be involved in non-musculoskeletal health conditions.
Students from two Australian chiropractic programs were invited to answer a questionnaire on how often they would give advice on 5 common health conditions in their future practices, as well as to provide their opinion on whether chiropractic spinal adjustments could prevent or help seven health-related conditions.
The response rate of this survey was 53%. Students were highly likely to offer advice on a range of non-musculoskeletal conditions. The proportions were lowest in first year and highest the final year. For instance, 64% of students in year 4/5 believed that spinal adjustments improve the health of infants. Also, high numbers of students held non-evidence-based beliefs about 'chiropractic spinal adjustments' which tended to occur in gradually decreasing in numbers in sequential years, except for 5th and final year, when a reversal of the pattern occurred.
The authors concluded that new strategies are required for chiropractic educators if they are to produce graduates who understand and deliver evidence-based health care and able to be part of the mainstream health care system.
This is an interesting survey, but I think its conclusion is wrong!
Educators do not require 'new strategies', I would argue; they simply need to take their duty of educating students seriously – educating in this context does not mean brain-washing, it means teaching facts and evidence-based practice. And this is were any concept of true education would run into problems: it would teach students that chiropractic is built on sand.
Conclusions need to be based on the data presented. Therefore, the most fitting conclusion, in my view, is that chiropractic students are currently being educated such that, once let loose on the unsuspecting and often all too gullible public, they will be a menace and a serious danger to public health.
You might say that this survey is from Australia and that the findings therefore do not necessarily apply to other countries. Correct! However, I very much fear that elsewhere the situation is similar or perhaps even worse. And my fear does not come out of thin air, it is based on things we have discussed before; see for instance these three posts:
Chiropractic education seems to be a form of religious indoctrination
What are the competencies of a 'certified paediatric doctor of chiropractic'?
But I would be more than willing to change my mind – provided someone can show me good evidence to the contrary.
An article in yesterday' Times makes the surprising claim that 'doctors turn to herbal cures when the drugs don't work'. As the subject is undoubtedly relevant to this blog and as the Times is a highly respected newspaper, I think this might be important and will therefore comment (in normal print) on the full text of the article (in bold print):
GPs are increasingly dissatisfied with doling out pills that do not work for illnesses with social and emotional roots, and a surprising number of them end up turning to alternative medicine.
What a sentence! I would have thought that GPs have always been 'dissatisfied' with treatments that are ineffective. But who says they turn to alternative medicine in 'surprising numbers' (our own survey does not confirm the notion)? And what is a 'surprising number' anyway (zero would be surprising, in my view)?
Charlotte Mendes da Costa is unusual in being both an NHS GP and a registered homeopath. Her frustration with the conventional approach of matching a medicine to a symptom is growing as doctors increasingly see the limits, and the risks, of such a tactic.
Do we get the impression that THE TIMES does not know that homeopathy is not herbal medicine? Do they know that 'matching a medicine to a symptom' is what homeopaths believe they are doing? Real doctors try to find the cause of a symptom and, whenever possible, treat it.
She asks patients with sore throats questions that few other GPs pose: "What side is it? Is it easier to swallow solids or liquids? What time of day is it worst?" Dr Mendes da Costa is trying to find out which homeopathic remedy to prescribe. But when NHS guidance for sore throats aims mainly to convince patients that they will get better on their own, her questions are just as important as her prescription.
This section makes no sense. Sore throats do get better on their own, that's a fact. And empathy is not a monopoly of homeopaths. But Dr Mendes Da Costa might be somewhat detached from reality; she once promoted the nonsensical notion that "up to the end of 2010, 156 randomised controlled trials (RCTs) in homeopathy had been carried out with 41% reporting positive effects, whereas only 7% have been negative. The remainder were non-conclusive." (see more on this particular issue here)
"It's very difficult to disentangle the effect of listening to someone properly, in a non-judgmental way, and taking a real rather than a superficial interest," she says. "With a sore throat [I was trained] really only to be interested in, 'Do they need antibiotics or not?' "
In this case, she should ask her money back; her medical school seems to have been rubbish in training her adequately.
This week a Lancet series on back pain said that millions of patients were getting treatments that did them no good. A government review is looking into how one in 11 people has come to be on potentially addictive drugs such as tranquillisers, opioid painkillers and antidepressants.
Yes, and how is that an argument for homeopathy? It isn't! It seems to come from the textbook of fallacies.
And this week a BMJ Open study found that GPs with alternative training prescribed a fifth fewer antibiotics.
That study was akin to showing that butchers sell less vegetables than green-grocers. It provided no argument at all for implying that homeopathy is a valuable therapy.
Doctors seem receptive to alternative approaches: in a poll on its website 70 per cent agreed that doctors should recommend acupuncture to patients in pain. The Faculty of Homeopathy now counts 400 doctors among its 700 healthcare professional members.
Wow! Does the Times journalist know that the 'Faculty of Homeopathy' is primarily an organisation for doctor homeopaths? If so, why are these figures anything to write home about? And does the author appreciate that the pole was open not just to doctors but to to anyone (particularly those who were motivated, like acupuncturists)?
This horrifies many academics, who say that there is almost no evidence that complementary therapies work.
It horrifies nobody, I'd say. It puzzles some people, and not just academics. And their claim of a lack of sound evidence is evidence-based.
"It's a false battle", says Michael Dixon, a GP who chairs the College of Medicine, which is trying to broaden the focus on treatment to patients' whole lives. "GPs are practical. If a patient gets better that's all that matters."
Here comes the inevitable Dr Dixon (the 'pyromaniac in a field of straw-men') with the oldest chestnut in town. But repeating a nonsense endlessly does not render it sensible.
Dr Dixon says there are enormous areas of illness ranging from chronic pain to irritable bowels where few conventional treatments have been shown to be particularly effective, so why not try alternatives with fewer side effects?
Unable to diagnose and treat adequately, let's all do the next worst thing and apply some outright quackery?!? Logic does not seem to be Dixon's strong point, does it?
He recommends herbal remedies such as pelargonium — "like a geranium, quite a pretty little flower" — acupressure, and techniques such as self-hypnosis. To those who say these are placebos he replies: so what?
So what indeed! There are over 200 species of pelargonium; only 2 or 3 of them are used in herbal medicine. I don't suppose Dr Dixon wants to poison us?
"Aromatherapy does work, but only if you believe in it, that's the way you have to look at it, like a mother kissing knees better." He continues: "We are healers. That's what we do as doctors. You can call it theatrical or you can call it a relationship. A lot of patients come in with a metaphor — a headache is actually unhappiness — and the treatment is symbolic."
It frightens me to know that there are doctors out there who think like this!
What if a patient is seriously ill?
A cancer is a metaphor for what exactly?
As doctors, we have the ethical duty to apply BOTH the science and the art of medicine, BOTH efficacious, evidence-based therapies AND compassion. Can I be so bold as to recommend our book about the ethics of alternative medicine to Dixon?
Such talk makes conventional doctors very nervous. Yet acupuncture illustrates their dilemma. It used to be recommended by the NHS for back pain because patients did improve. Now it is not, after further evidence suggested that patients given placebo "sham acupuncture" did just as well.
No, acupuncture used to be recommended by NICE because there was some evidence; when subsequently more rigorous trials emerged showing that it does NOT work, NICE stopped recommending it. Real medicine develops – it's only alternative medicine and its proponents that seem to be stuck in the past and resist progress.
Martin Underwood, of the University of Warwick, asks: "So are you going to say, 'Well, patients get better than they would do otherwise'? Or say it's all theatrical placebo because it shows no benefit over sham treatment? That's the question for society."
Society has long answered it! The answer is called evidence-based medicine. We are not content using quackery for its placebo response; we know that effective treatments do that too, and we want to make progress and improve healthcare of tomorrow.
Although many doctors agree that they need to look at patients more broadly, they insist they do not need to turn to unproven treatments. The magic ingredient, they say, is not an alternative remedy, but time. Helen Stokes-Lampard, chairwoman of the Royal College of GPs, said: "Practices which offer alternative therapies tend to spend longer with patients . . . allowing for more in-depth conversations."
---
I am sorry, if this post turned into a bit of a lengthy rant. But it was needed, I think: if there ever was a poorly written, ill focussed, badly researched and badly argued article on alternative medicine, it must be this one.
Did I call the Times a highly respected paper?
I take it back.
The British Homeopathic Association (BHA) is a registered charity founded in 1902 which aims to promote and develop the study and practice of homeopathy and to advance education and research in the theory and practice of homeopathy. The British Homeopathic Association's overall priority is to ensure that homeopathy is available to all…
One does not need a particularly keen sense of critical thinking to suspect that this aim is not in line with a charitable status. Homeopathy for all would not be an improvement of public health. On the contrary, the best evidence shows that this concept would lead to a deterioration of it. It would mean less money for effective treatments. Who could argue that this is a charitable aim?
Currently, the BHA seems to focus on preventing that the NHS England stops the reimbursement of homeopathic remedies. They even have initiated a petition to this effect. Here is the full text of this petition, entitled 'Stop NHS England from removing herbal and homeopathic medicines':
NHS England is consulting on recommendations to remove herbal and homeopathic medicines from GP prescribing. The medicines cost very little and have no suitable alternatives for many patients. Therefore we call on NHS England to continue to allow doctors to prescribe homeopathy and herbal medicine.
Many NHS patients either suffer such severe side-effects from pharmaceutical drugs they cannot take them, or have been given all other conventional medicines and interventions with no improvement to their health. These patients will continue to need treatment on the NHS and will end up costing the NHS more with conventional prescriptions. There will be no cost savings and patient health will suffer. It is clear stopping homeopathic & herbal prescriptions will not help but hurt the NHS.
I find the arguments and implications of this petition pathetic and misleading. Here is why:
NHS England is not considering to remove homeopathy from GPs' prescribing. To the best of my knowledge, the plan is for the NHS to stop paying for homeopathic remedies. If some patients then still want homeopathy, they can get it, but will have to pay for it themselves. That seems entirely fair and rational. Why should we, the tax payers, pay for ineffective treatments?
Because homeopathic remedies are not effective for any condition, it seems misleading to call them 'medicines'.
That homeopathy costs very little is not true; and even if it were correct, it would be neither here or there. The initiative is not primarily about money, it is about the principle: either the NHS adheres to EBM and ethical standards, or not.
Homeopathy is not a 'suitable alternative' for anything, and it is misleading to call it thus.
Even if NHS England decides against the funding homeopathic remedies, GPs could still be allowed to prescribe them; the only change would be that the NHS would not pay for them.
Patients who 'will continue to need treatment on the NHS' under the described circumstances will not be helped by ineffective treatments like homeopathy.
It is simply wrong to claim with certainty that there will be no cost savings.
If the NHS scraps ineffective treatments, patients will suffer not more but less because they might actually receive a treatment that does work.
It is fairly obvious that stopping to pay for homeopathic remedies will bring progress, help the NHS, patients and the general public.
Nine false or misleading statements in such a short text might well be a new record, even for homeopaths. Perhaps the BHA should apply for an entry in the Guinness Book of Records.
Should we start a petition?