A survey was commissioned in 2015 to obtain general population figures for practitioner-led CAM use in England, and to discover people's views and experiences regarding access.
Of 4862 adults surveyed, 766 (16%) had seen a CAM practitioner. People most commonly visited CAM practitioners for manual therapies (massage, osteopathy, chiropractic) and acupuncture, as well as yoga, pilates, reflexology, and mindfulness or meditation. Women, people with higher socioeconomic status (SES) and those in south England were more likely to access CAM. Musculoskeletal conditions (mainly back pain) accounted for 68% of use, and mental health 12%. Most was through self-referral (70%) and self-financing. GPs (17%) or NHS professionals (4%) referred and/or recommended CAM to users. These CAM users were more often unemployed, with lower income and social grade, and receiving NHS-funded CAM. Responders were willing to pay varying amounts for CAM; 22% would not pay anything. Almost two in five responders felt NHS funding and GP referral and/or endorsement would increase their CAM use.
The authors concluded that CAM use in England is common for musculoskeletal and mental health problems, but varies by sex, geography, and SES. It is mainly self-referred and self-financed; some is GP-endorsed and/or referred, especially for individuals of lower SES. Researchers, patients, and commissioners should collaborate to research the effectiveness and cost-effectiveness of CAM and consider its availability on the NHS.
The table below shows the percentage figures for specific CAMs (right column).
| | | |
| --- | --- | --- |
| Type of CAM practitioner | n | % |
| Massage practitioner | 143 | 19 |
| Osteopath | 91 | 12 |
| Acupuncturist | 88 | 11 |
| Chiropractor | 87 | 11 |
| Yoga teacher | 52 | 7 |
| Physiotherapist-delivered CAM | 41 | 5 |
| Pilates teacher | 28 | 4 |
| Reflexologist | 22 | 3 |
| Meditation and/or mindfulness teacher | 20 | 3 |
| Homeopath | 20 | 3 |
| Reiki practitioner | 17 | 2 |
| Hypnotherapist | 15 | 2 |
| Herbalist | 14 | 2 |
| Chinese herbal medical practitioner | 12 | 2 |
| Other | 74 | 10 |
Our own survey suggested that, in 2005, the 1-year prevalence of CAM-use in England was 26.3 % and the practitioner-led CAM-use was 12.1 %. The two surveys are, however, not comparable because they did use different methodologies; for instance, they included different types of CAM. I therefore think that any conclusion of an increase in practitioner-led CAM-use between 2005 and 2015 is not warranted. It also follows that the graphic below is misleading.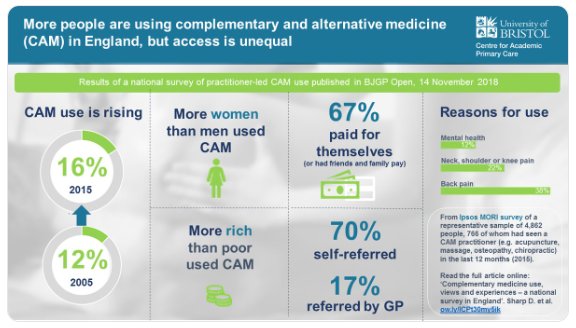 In the discussion, the authors of the new survey make the following point: Ability to pay may be a factor in accessing CAM (indicated by the association of CAM use with higher SES; lower SES responders being more likely to be GP-referred to CAM; and responders stating that they may use more CAM if the NHS provided services, and GPs endorsed and/or referred them). Integration of CAM into the NHS through primary care could promote continuity of care, safety, and balance of power. An integrative medicine approach includes many of the values recently included in UK health policy documents; for example, Five Year Forward View. It is patient-centred, as discussed in 2010, focuses on prevention, and emphasises patient self-management and person- and community-centred approaches to health and wellbeing. Many of these values underpin social prescribing, which is an increasingly popular model of health care. There seems to be significant patient demand for CAM and more holistic approaches, and a view that CAM may improve patient satisfaction.
I have in a previous post commented on prevalence surveys: the argument that is all too often spun around such survey data goes roughly as follows: a large percentage of the population uses alternative medicine; people pay out of their own pocket for these treatments; they are satisfied with them (if not, they would not pay for them). BUT THIS IS GROSSLY UNFAIR! Why should only those individuals who are rich enough to afford alternative medicine benefit from it? ALTERNATIVE MEDICINE SHOULD BE MADE AVAILABLE FOR ALL.
To me, it is obvious that this line of argument is dangerously wrong. It lends itself to the promotion of unproven therapies to the detriment of good healthcare and progress. Sadly, I fear that the new survey is going to be misused in this way.
5 Responses to A new survey of CAM-use (or is it a promotion for more nonsense on the NHS?)