charlatan
Once again, I am indebted to the German homeopathy lobbyist, Jens Behnke (research officer at the Karl and Veronica Carstens-Foundation); this time for alerting me via a tweet to the existence of the 'Institute for Scientific Homeopathy' run by Dr K Lenger. Anyone who combines the terms 'scientific' and 'homeopathy' has my full attention.
The institution seems to be small (too small to have its own website); in fact, it seems to have just one member: Dr Karin Lenger. But size is not everything! Lenger has achieved something extraordinary: she has answered the questions that have puzzled many of us for a long time; she has found the 'modus operandi' of homeopathy by discovering that:
Homeopathy is a regulation therapy that acts (and reacts) as per the principle of resonance to deal hypo- and hyper-functions of pathological pathways.
As per resonance principle, the fundamental principles of homeopathy have the same frequencies so that the resonance principle can work.
Pathological pathways are cured by using their highly potentized substrates, inhibitors, and enzymes.
The efficacy of homeopathy now has a scientific base and is completely explained by applying biochemical and biophysical laws.
Progress at last!
If that is not noteworthy, what is?
But there is more!
This website, for instance, explains that Lenger Karin Dr.rer.nat., pursued Diploma in Biochem, studied Biochemistry at the Universities of Tubingen and Cologne. Her research topics revolved around enzymatic gene regulation, cancer research, enzymatic mechanisms of steroid hormones at the Medical University of Lubeck. In 1987 she became a Lecturer for Homeopathy at DHU ((Deutsche Homöopathie Union = German Homeopathy Union). Since 1995 she worked as a Homeopathic Practitioner and developed the "biochemical homeopathy" by using highly potentized substrates of pathological enzymes for her patients. She detected magnetic photons in high homeopathic potencies by two magnetic resonance methods and developed a model of physical and biochemical function of homeopathy.
Karin Lenger detected magnetic photons in highly diluted and potentized homeopathic remedies. Since the living body is an electromagnetic wavepackage (Einstein), the homeopathic law of Similars (Hahnemann 1755-1843) can be expressed as: the frequencies of the patient must match the frequencies of the remedies. Homeopathy is a regulation therapy curing hypo and hyperfunction of a pathological pathway by resonance: highly potentized substrates, inhibitors, enzymes, receptors of the distinct pathological pathways cure according to biochemical rules: A homeopathic symptom picture is obtained by poisoning a volunteer with a toxin. Simultaneously he develops psychological symptoms, the toxicological pathway and e.g. frequencies I-V. The highly potentized toxin has the frequencies I-V. The patient has symptoms as if he was poisoned by the toxin: during his illness he developed the toxicological pathway, frequencies I-V and psychological symptoms. The potentized toxin cures simultaneously the patient's frequencies by resonance, his pathological pathway and the psychological symptoms. A stitch of honey bee, apis mellifica, causes a red oedema; a patient developing a red oedema at the finger-joint by rheumatism is cured by highly potentized Apis mellifica. Paralyses caused by a lack of the neurotransmitter acetylcholine bound to the acetylcholine-receptor at the post-synapsis can be healed by using these potentized remedies: the venom of cobra, Naja tripudians containing the receptor's irreversible inhibitor cobrotoxin, the reversible inhibitor Atropine and Acetylcholine, daily applied. The availability of acetylcholine is maintained by glycolysis and fatty acid oxidation. This can be supported by giving these remedies: Lecithin, Lipasum, Glycerinum, Glucosum and Coenzyme A.
And in case, you are not yet fully convinced, a recent publication is bound to ball you over. Here is its abstract, if you need more, the link allows you to read the full paper as well:
Homeopathy, a holistic therapy, is believed to cure only acute symptoms of a beginning illness according to the Laws of Similars; but not deep, bleeding, septic wounds. The homeopaths refuse to heal according to special medical indications. Based on Lenger's detection of magnetic photons in homeopathic remedies a biochemical and biophysical model of homeopathic healing was developed Biochemical, pathological pathways can be treated by their highly potentized substrates and inhibitors. Three groups of patients with moderate, severe and septic wounds had been successfully treated with the suitable remedies depending on the biochemical pathological state.
___________________________________________________________
Do I sense a Nobel Prize in the offing?
Surely!
Lenger's clinical trial is baffling. But much more impressive are the 'magnetic photons' and the reference to Einstein. This is even more significant, if we consider what the genius (Einstein, not Lenger!) is reported to have said about homeopathy:  Einstein reflected for a little while and then said: "If one were to lock up 10 very clever people in a room and told them they were only allowed out once they had come up with the most stupid idea conceivable, they would soon come up with homeopathy."
The 'Dunning Kruger Effect' (DuKE) has been discussed here before. The DuKE means that, the less you know, the less able you are to recognize how little you know, and the less likely you are to recognize your limitations. Consequently, your confidence in yourself is inflated and you believe you are more competent than your opponent. Expressed differently:
Incompetence prevents the recognition of incompetence.
Too stupid to doubt.
A recent paper brilliantly shows the DuKE in action; here is its abstract
There is widespread agreement among scientists that genetically modified foods are safe to consume and have the potential to provide substantial benefits to humankind. However, many people still harbour concerns about them or oppose their use. In a nationally representative sample of US adults, we find that as extremity of opposition to and concern about genetically modified foods increases, objective knowledge about science and genetics decreases, but perceived understanding of genetically modified foods increases. Extreme opponents know the least, but think they know the most. Moreover, the relationship between self-assessed and objective knowledge shifts from positive to negative at high levels of opposition. Similar results were obtained in a parallel study with representative samples from the United States, France and Germany, and in a study testing attitudes about a medical application of genetic engineering technology (gene therapy). This pattern did not emerge, however, for attitudes and beliefs about climate change.
As I have stated before, I suspect the DuKE can explain much of what is going on in the realm of SCAM (so-called alternative medicine). So much so that I am tempted to re-write part of the above abstract as follows:
As extremity of belief in SCAM increases, objective knowledge about science and medicine decreases. In parallel, perceived understanding of science and medicine increases. Extreme believers in SCAM know the least, but think they know the most. Moreover, the relationship between self-assessed and objective knowledge shifts from positive to negative at high levels of SCAM-belief.
Yes, yes, I know. You are absolutely correct: this is little more than speculation! And I also realise, of course, that not everyone can have a full understanding of SCAM, medicine and science; however, if someone has a strong interest in (plus a strong opinion of) these matters, it would be advisable to read up about at least the most basic facts.
In case you disapprove, please do have a look at some of the recent comments on this blog or assess what some of the most famous proponents of SCAM tell the public, and I am confident that you will begin to suspect that my speculation might be not that far off the mark.
Slowly, I seem to be turning into a masochist! Yes, I sometimes read publications like 'HOMEOPATHY 360'. It carries articles that are enragingly ill-informed. But in my defence, I might say that some are truly funny. Here is the abstract of one that I found outstanding in that category:
The article explains about Gangrene and its associated amputations which is a clinically challenging condition, but Homeopathy offers therapy options. The case presented herein, details about how the Homeopathic treatment helped in the prevention of amputation of a body part. Homeopathy stimulates the body's ability to heal through its immune mechanisms; consequently, it achieves wound healing and establishes circulation to the gangrenous part. Instead of focusing on the local phenomena of gangrene pathology, treatment focuses on the general indications of the immune system, stressing the important role of the immune system as a whole. The aim was to show, through case reports, that Homeopathic therapy can treat gangrene thus preventing amputation of the gangrenous part, and hence has a strong substitution for consideration in treating gangrene.
The paper itself offers no less than 13 different homeopathic treatments for gangrene:
Arsenicum album– Medicine for senile gangrene;gangrene accompanied by foetid diarrhoea; ulcers extremely painful with elevated edges, better by warmth and aggravation from cold; great weakness and emaciation.
Bromium – Hospital gangrene; cancerous ulcers on face; stony hard swelling of glands of lower jaw and throat.
Carbo vegetabilis – Senile and humid gangrene in the persons who are cachectic in appearance; great exhaustion of vital powers; marked prostration; foul smell of secretions; indolent ulcers, burning pain; tendency to gangrene of the margins; varicose ulcers.
Bothrops– Gangrene; swollen, livid, cold with hemorrhagic infiltration; malignant erysipelas.
Echinacea– Enlarged lymphatics; old tibial ulcers; gangrene; recurrent boils; carbuncles.
Lachesis– Gangrenous ulcers; gangrene after injury; bluish or black looking blisters; vesicles appearing here and there, violent itching and burning; swelling and inflammation of the parts; itching pain and painful spots appearing after rubbing.
Crotalus Horridus– Gangrene, skin separated from muscles by a foetid fluid; traumatic gangrene; old scars open again.
Secale cornatum– Pustules on the arms and legs, with tendency to gangrene; in cachectic, scrawny females with rough skin; skin shriveled, numb; mottled dusky-blue tinge; blue color of skin; dry gangrene, developing slowly; varicose ulcers; boils, small, painful with green contents; skin feels too cold to touch yet covering is not tolerated. Great aversion to heat;formication under skin.
Anthracinum– Gangrene; cellular tissues swollen and oedematous; gangrenous parotitis; septicemia; ulceration, and sloughing and intolerable burning.
Cantharis – Tendency to gangrene; vesicular eruptions; burns, scalds, with burning and itching; erysipelas, vesicular type, with marked restlessness.
Mercurius– Gangrene of the lips, cheeks and gums; inflammation and swelling of the glands of neck; pains aggravated by hot or cold applications.
Sulphuric acid– Traumatic gangrene; haemorrhages from wounds; dark pustules; blue spots like suggillations; bedsores.
Phosphoric acid– Medicine for senile gangrene. Gunpowder, calendula are also best medicines.
But the best of all must be the article's conclusion: "Homeopathy is the best medicine for gangrene."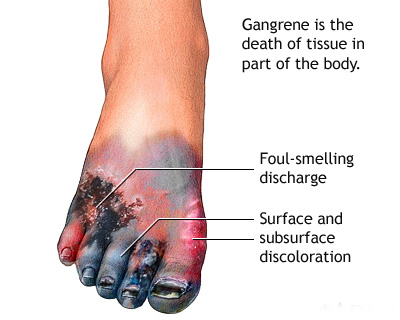 I know, there are many people who will not be able to find this funny, particularly patients who suffer from gangrene and are offered homeopathy as a cure. This could easily kill the person – not just kill, but kill very painfully. Gangrene is the death of tissue in part of the body, says the naïve little caption. What it does not say is that it is in all likelihood also the death of the patient who is treated purely with homeopathy.
And what about the notion that homeopathy stimulates the body's ability to heal through its immune mechanisms?
Or the assumption that it might establish circulation to the gangrenous part?
Or the claim that through case reports one can show the effectiveness of an intervention?
Or the notion that any of the 13 homeopathic remedies have a place in the treatment of gangrene?
ALL OF THIS IS TOTALLY BONKERS!
Not only that, it is highly dangerous!
Since many years, I am trying my best to warn people of charlatans who promise bogus cures. Sadly it does not seem to stop the charlatans. This makes me feel rather helpless at times. And it is in those moments that I decide to look at from a different angle. That's when I try to see the funny side of quacks who defy everything we know about healthcare and just keep on lying to themselves and their victims.
I came across an embarrassingly poor and uncritical article that essentially seemed to promote a London-based clinic specialised in giving vitamins intravenously. Its website shows the full range of options on offer and it even lists the eye-watering prices they command. Reading this information, my amazement became considerable and I decided to share some of it with you.
Possibly the most remarkable of all the treatments on offer is this one (the following are quotes from the clinic's website):
Stemcellation injections or placenta lucchini (sheep placenta) treatments are delivered intravenously (via IV), although intramuscular (IM) administration is also possible. Stem cells are reported to possess regenerative biological properties.
We offer two types of Stemcellation injections: a non-vegetarian option and a vegetarian-friendly option. Please enquire for further details.
Alongside placenta lucchini, Stemcellation injections at Vitamin Injections London contain a range of other potent active ingredients, including: physiologically active carbohydrate, nucleic acid, epithelial growth factor, amino acids, hydrolysed collagen, concentrated bioprotein and stem cells.
Please visit our Vitamin 101 section to learn more about the ingredients in Stemcellation sheep placenta injections.
Renowned for their powerful regenerating properties, Stemcellation injections can stimulate collagen production as well as:
Remedy cosmetic problems such as wrinkles, discolouration, pigmentation, eye bags and uneven skin tone;
Can be undertaken by those who are interested in maintaining their physical activity levels;
Can be undertaken alongside other IV/IM injections.
Vitamin Injections London is headed by skilled IV/IM Medical Aesthetician and Skin Specialist Bianca Estelle. Our skilled IV/IM practitioners will conduct a full review of your medical history and advise you regarding your suitability for Stemcellation injections.
END OF QUOTES
The only Medline-listed paper I was able to locate on the subject of placenta lucchini injections was from 1962 and did not substantiate any of the above claims. In my view, all of this begs many questions; here are just seven that spring into my mind:
Is there any evidence at all that any of the intravenous injections/infusions offered at this clinic are effective for any condition other than acute vitamin deficiencies (which are, of course, extremely rare these days)?
Would the staff be adequately trained to diagnose such cases?
How do they justify the price tags for their treatments?
What is a 'medical aesthetician' and a 'skin specialist'?
Is it at all legal for 'medical aestheticians' and 'skin specialists' (apparently without medical qualifications) to give intravenous injections and infusions?
How many customers have suffered severe allergic reactions after placenta lucchini (or other) treatments?
Is the clinic equipped and its staff adequately trained to deal with medical emergencies?
These are not rhetorical questions; I genuinely do not know the answers. Therefore, I would be obliged, if you could answer them for me, in case you know them.
What is osteopathy?
That's a straightforward question; and it's one that I am being asked regularly. Embarrassingly, I am not sure I know the optimal answer. A dictionary definition states that osteopathy is 'a system of medical practice based on a theory that diseases are due chiefly to loss of structural integrity which can be restored by manipulation of the parts supplemented by therapeutic measures (such as use of drugs or surgery).' And in my most recent book, I defined it as 'a manual therapy involving manipulation of the spine and other joints as well as mobilization of soft tissues'. However, I am aware of the fact that these definitions are not optimal. Therefore, I was pleased to find a short article entitled 'What is osteopathy?'; it was published on the website of the London-based UNIVERSITY COLLEGE OF OSTEOPATHY (UCO).
The UCU has a proud history of ~100 years and a mission stating that they want to continually provide the highest quality education and research for all and the very best care, for each patient, on every occasion. Surely, they must know what osteopathy is.
Here is how they define it:
Osteopathy is a person-centred manual therapy that aims to enable patients to respond and adapt to changing circumstances and to live well.
At the UCO, we believe that osteopathy has the potential to help people change their lives – not only by searching for ways to manage disease, but also by helping patients to discover ways to enhance and maintain their own health and wellbeing.
A core principle of osteopathy is that wellbeing is dependent on how each person is able to function and adapt to changes in physical capability and their environment. Osteopaths are often described as treating the individual rather than the condition: when treating a patient they consider the symptom or injury alongside other biological, physiological and social factors which may be contributing to it.
Osteopaths work to ensure the best possible care for their patients, aiding their recovery and supporting them to help manage their conditions through a range of approaches, including physical manipulation of the musculoskeletal system and education and advice on exercise, diet and lifestyle.
END OF QUOTE
Let's analyse this text bit by bit:
… a person-centred manual therapy that aims to enable patients to respond and adapt to changing circumstances and to live well. Sorry, but this sounds like a platitude to me. It could apply to any quackery on the planet: Homeopathy is a person-centred manual therapy that aims to enable patients to respond and adapt to changing circumstances and to live well. Faith healing is a person-centred manual therapy that aims to enable patients to respond and adapt to changing circumstances and to live well. Chiropractic is a person-centred manual therapy that aims to enable patients to respond and adapt to changing circumstances and to live well. etc., etc.
… we believe that osteopathy has the potential to help people change their lives – not only by searching for ways to manage disease, but also by helping patients to discover ways to enhance and maintain their own health and wellbeing. Of course, they believe that. Homeopaths, faith healers, chiropractors believe the same about their bogus treatments. But medicine should have more to offer than mere belief.
… wellbeing is dependent on how each person is able to function and adapt to changes in physical capability and their environment. Yes, perhaps. But this statement is too broad to amount to more than a platitude.
Osteopaths are often described as treating the individual rather than the condition: when treating a patient they consider the symptom or injury alongside other biological, physiological and social factors which may be contributing to it. Really? I thought that all great clinicians can be described as treating the individual rather than the condition: when treating a patient they consider the symptom or injury alongside other biological, physiological and social factors which may be contributing to it. ('The good physician treats the disease; the great physician treats the patient who has the disease.' [William Osler], 'Reductionism is a dirty word, and a kind of 'holistier than thou' self-righteousness has become fashionable.' [Richard Dawkins])
Osteopaths work to ensure the best possible care for their patients, aiding their recovery and supporting them to help manage their conditions through a range of approaches… What is this supposed to mean? Do non-osteopaths work to ensure the worst possible care for their patients, obstructing their recovery and preventing them to help manage their conditions through a range of approaches? In my view, this sentence is just plain stupid.
What have we learnt from this excursion?
Mainly two things, I think:
Osteopaths and even the UCO seems unable to provide a decent definition of osteopathy. The reason for this odd phenomenon might be that it is not easy to define nonsense.
Osteopaths, like other SCAM-practitioners, may not be all that good at logical thinking, but – by Jove! – they are excellent at touting fallacies.
Naturopathy is an eclectic system of health care that uses elements of alternative and conventional medicine to support and enhance self-healing processes. Naturopaths employ treatments based on therapeutic options that are thought of as natural, e. g. naturally occurring substances such as herbs, as well as water, exercise, diet, fresh air, pressure, heat and cold – but occasionally also acupuncture, homeopathy and manual therapies.
Naturopathy is steeped in the obsolete concept of vitalism which is the belief that living organisms are fundamentally different from non-living entities because they contain some non-physical element or are governed by different principles than are inanimate things. Naturopaths claim that they are guided by a unique set of principles that recognize the body's innate healing capacity, emphasize disease prevention, and encourage individual responsibility to obtain optimal health. They also state that naturopathic physicians (NDs) are trained as primary care physicians in 4-year, accredited doctoral-level naturopathic medical schools.
However, applied to English-speaking countries (in Germany, a doctor of naturopathy is a physician who has a conventional medical degree), such opinions seem little more than wishful thinking. It has been reported that New Brunswick judge ruled this week that Canadian naturopaths — pseudoscience purveyors who promote a variety of "alternative medicines" like homeopathy, herbs, detoxes, and acupuncture — cannot legally call themselves "medically trained."
The lawsuit was filed because actual physicians were frustrated that fake doctors were using terms like "medical practitioner" and saying they worked at a "family practice." This conveyed the false idea that naturopaths were qualified at the same level as real doctors.
The argument from naturopaths was that they weren't misleading anyone. "There's not even the slightest hint of evidence that anyone has been misled — or worse, harmed," [attorney Nathalie Godbout] said. "This mythical patient that has to be protected by naturopathic doctors — I haven't met them yet."
However, Justice Hugh McLellan wasn't buying it. He said the justification for naturopaths using terms such as "doctor" and "family physician" are based on the assumption that "people are attuned to the meaning of words like "naturopathy." Many patients might read a website or a Facebook ad out of context, he said, and fail to pick up on the difference between "a doctor listing his or her qualifications as 'Dr. So-and-So, B.Sc., MD,' as opposed to the listing that might include 'B.Sc., ND [naturopathic practitioner].'"
"I see a risk here," McLellan said, "that the words … could, in fact, imply or be designed to lead the public to believe these various naturopaths are entitled to practise medicine."
Britt Marie Hermes, a former naturopath who now warns people about the shortcomings of the profession, said she was thrilled with the judge's ruling: "This is a very encouraging step in the right direction toward ensuring public safety. Naturopaths are not doctors. The onus should not be on patients to vet the credentials and competency of someone holding themselves out to be a medically trained physician. Now, patients will have an easier time separating truly medically qualified physicians from naturopathic practitioners. Bravo New Brunswick!"
In view of the many horror-stories that emerge about naturopathy, I am inclined to agree with Britt:
In the context of healthcare the title 'doctor' or 'physician' must be reserved to those who have a conventional medical degree. Anything else means misleading the public to an unacceptable degree, in my view.
A few weeks ago, I was interviewed by a journalist who wanted to publish the result in a magazine. He now informed me that his editor decided against it, and the interview thus remained unpublished. I have the journalist's permission to publish it here. The journalist who, in my view, was well-prepared (much better than most), prefers to remain unnamed.
Q: How would you describe yourself?
A: I am a researcher of alternative medicine.
Q: Not a critic of alternative medicine?
A: Primarily, I am a researcher; after all, I have published more Medline-listed research papers on the subject than anyone else on the planet.
Q: You are retired since a few years; why do you carry on working?
A: Mainly because I see a need for a critical voice amongst all the false and often dangerous claims made by proponents of alternative medicine. But also because I enjoy what I am doing. Since I retired, I can focus on the activities I like. There is nobody to tell me what to do and what not to do; the latter happened far too often when I was still head of my research unit.
Q: Fine, but I still do not quite understand what drives you. Who is motivating you to criticise alternative medicine?
A: Nobody. Some people claim I am paid for my current activities. This is not true. My blog actually costs me money. My books never return enough royalties to break even, considering the time they take to write. And for most of my lectures I don't charge a penny.
Q: There are people who find this hard to believe.
A: I know. This just shows how money-orientated they are. Do they want me to publish my tax returns?
Q: Sorry, but I still don't understand your motivation.
A: I guess what motivates me is a sense of responsibility, a somewhat naïve determination to do something good as a physician. I am one of the only – perhaps even THE only – scientist who has researched alternative medicine extensively and who is not a promoter of bogus therapies but voices criticism about them. There are several other prominent and excellent critics of alternative medicine, of course, but they all come 'from the outside'. I come from the inside of the alternative medicine business. This probably gives me a special understanding of this field. In any case, I feel the responsibility to counter-balance all the nonsense that is being published on a daily basis.
Q: What's your ultimate aim?
A: I want to create progress through educating people to think more critically.
Q: Which alternative medicine do you hate most?
A: I do not hate any of them. In fact, I still have more sympathy for them than might be apparent. For my blog, for instance, I constantly search for new research papers that are rigorous and show a positive result. The trouble is, there are so very few of those articles. But when I find one, I am delighted to report about it. No, I do not hate or despise any alternative medicine; I am in favour of good science, and I get irritated by poor research. And yes, I do dislike false claims that potentially harm consumers. And yes, I do dislike it when chiropractors or other charlatans defraud consumers by taking their money for endless series of useless interventions.
Q: I noticed you go on about the risks of alternative medicine. But surely, they are small compared to the risks of conventional healthcare, aren't they?
A: That's a big topic. To make it simple: alternative medicine is usually portrayed as risk-free. The truth, however, is that there are numerous risks of direct and indirect harm; the latter is usually much more important than the former. Crucially, the risk-free image is incongruent with reality. I want to redress this incongruence. And as to conventional medicine: sure, it can be much more harmful. But one always has to see this in relation to the proven benefit. Chemotherapy, for instance, can kill a cancer patient, but more likely it saves her life. Homeopathic remedies cannot kill you, but employed as an alternative to an effective cancer treatment, homeopathy will certainly kill you.
Q: Homeopathy seems to be your particular hobby horse.
A: Perhaps. This is because it exemplifies alternative medicine in several ways, and because I started my alternative 'career' in a homeopathic hospital, all those years ago.
Q: In what way is homeopathy exemplary?
A: Its axioms are implausible, like those of many other alternative modalities. The clinical evidence fails to support the claims, like with so many alternative therapies. And it is seemingly safe, yet can do a lot of harm, like so many other treatments.
Q: You have no qualification in homeopathy, is that right?
A: No, I have no such qualifications. And I never said so. When I want to tease homeopaths a little, I state that I am a trained homeopath; and that is entirely correct.
Q: In several countries, homeopathy has taken spectacular hits recently. Is that your doing?
A: No, I don't think so. But I do hope that my work has inspired the many dedicated activists who are currently protesting against the reimbursement of homeopathy by the public purse in the UK, Germany, France, Spain, etc.
Q: You often refer to medical ethics; why is that?
A: Because, in the final analysis, many of the questions we already discussed are really ethical issues. And in alternative medicine, few people have so far given the ethical dimensions any consideration. I think ethics are central to alternative medicine, so much so that I co-authored an entire book on this topic this year.
Q: Any plans for the future?
A: Plenty.
Q: Can you tell me more?
A: I will publish another book in 2019 with Springer. It will be a critical evaluation of precisely 150 different alternative modalities. I am thinking of writing yet another book, but have not yet found a literary agent who wants to take me on. I have been offered a new professorship at a private University in Vienna, and am hesitant whether to accept or not. I have been invited to give a few lectures in 2019 and hope to receive more invitations. Last not least, I work almost every day on my blog.
Q: More than enough for a retiree, it seems. Thank you for your time.
A: My pleasure.
An article alerted me to a new report on alternative medicine in the NHS. The report itself is so monumentally important that I cannot find it anywhere (if someone finds a link, please let us know). Behind it is our homeopathy-loving friend David Tredinnick MP, chair of the All-Party Parliamentary Group. I am sure you remember him; he is 'perhaps the worst example of scientific illiteracy in government'. And what has David been up to now?
His new report by the All-Party Parliamentary Group for Integrated Healthcare is urging the NHS to embrace more medicine to ease the mounting burden on service provision. It claims that more patients suffer from two or more long-term health conditions than ever before, and that their number will amount to 18 million by 2025.
And the solution?
Isn't it obvious?
David Tredinnick MP, chair of the All-Party Parliamentary Group, insists that the current approach being taken by the government is unsustainable for the long-term future of the country. "Despite positive signs that ministers are proving open to change, words must translate into reality. For some time our treasured NHS has faced threats to its financial sustainability and to common trust in the system. Multimorbidity is more apparent now in the UK than at any time in our recent history. As a trend it threatens to swamp a struggling NHS, but the good news is that many self-limiting conditions can be treated at home with the most minimal of expert intervention. Other European governments facing similar challenges have considered the benefits of exploring complementary, traditional and natural medicines. If we are to hand on our most invaluable institution to future generations, so should we."
Hold on, this sounds familiar!
Wasn't there something like it before?
Yes, of course, the 'Smallwood Report', commissioned over a decade ago by Prince Charles. It also proclaimed that the NHS could save plenty of money, if it employed more bogus therapies. But it was so full of errors and wrong conclusions that its impact on the NHS was close to zero. At the time, I concluded that the 'Smallwood report' is one of the strangest examples of an attempt to review CAM that I have ever seen. One gets the impression that its conclusions were written before the authors had searched for evidence that might match them. Both Mr Smallwood and the 'Freshminds' team told me that they understand neither health care nor CAM. Mr Smallwood stressed that this is positive as it prevents him from being 'accused of bias'. My response was that 'severely flawed research methodology almost inevitably leads to bias'.
And which other European countries might the Tory Brexiter David refer to?
Sadly, I have not seen Tredinnick's  new oeuvre and do not know its precise content. What I do know, however, that the evidence, for alternative medicine's cost effectiveness has not improved; if anything, it has become more negative. From that, one can safely conclude that Tredinnick's notions of NHS-savings through more use of alternative medicine are erroneous. Therefore, I suspect the new report will swiftly and deservedly go the same way as its predecessor, the 'Smallwood Report': straight into the bins of Westminster.
Many chiropractors tell new mothers that their child needs chiropractic adjustments because the birth is in their view a trauma for the new-born that causes subluxations of the baby's spine. Without expert chiropractic intervention, they claim, the poor child risks serious developmental disorders.
This article (one of hundreds) explains it well: Birth trauma is often overlooked by doctors as the cause of chronic problems, and over time, as the child grows, it becomes a thought less considered. But the truth is that birth trauma is real, and the impact it can have on a mother or child needs to be addressed. Psychological therapy, physical therapy, chiropractic care, acupuncture, and other healing techniques should all be considered following an extremely difficult birth.
And another article makes it quite clear what intervention is required: Caesarian section or a delivery that required forceps or vacuum extraction procedures, in-utero constraint, an unusual presentation of the baby, and many more can cause an individual segment of the spine or a region to shift from its normal healthy alignment. This 'shift' in the spine is called a Subluxation, and it can happen immediately before, during, or after birth.
Thousands of advertisements try to persuade mothers to take their new-born babies to a chiropractor to get the problem sorted which chiropractors often call KISS (kinetic imbalance due to suboccipital strain-syndrome), caused by intrauterine-constraint or the traumas of birth.
This abundance of advertisements and promotional articles is in sharp contrast with the paucity of scientific evidence.
A review of 1993 concluded that birth trauma remains an underpublicized and, therefore, an undertreated problem. There is a need for further documentation and especially more studies directed toward prevention. In the meantime, manual treatment of birth trauma injuries to the neuromusculoskeletal system could be beneficial to many patients not now receiving such treatment, and it is well within the means of current practice in chiropractic and manual medicine.
A more critical assessment of … concluded that, given the absence of evidence of beneficial effects of spinal manipulation in infants and in view of its potential risks, manual therapy, chiropractic and osteopathy should not be used in infants with the kinetic imbalance due to suboccipital strain-syndrome, except within the context of randomised double-blind controlled trials.
So, what follows from all this?
How about this?
Chiropractors' assumption of an obligatory birth trauma that causes subluxation and requires spinal adjustments is nothing more than a ploy by charlatans for filling their pockets with the cash of gullible parents.
Acupressure is the stimulation of acu-points by using pressure instead of needles, as in acupuncture. The evidence for or against acupressure mirrors that of acupuncture, except there is far less of it. This is why this new trial might be important.
The aim of this RCT was to determine the effect of self-acupressure on fasting blood sugar (FBS) and insulin level in type 2 diabetes patients. A total of 60 diabetic patients were selected from diabetes clinic in Rafsanjan in Iran, and  assigned to 2 groups, 30 in the acupressure and 30 in the control-group. The intervention group received acupressure at ST-36, LIV-3, KD-3 and SP-6 points bilaterally for 5 minutes at each point in 10 seconds pressure and 2 seconds rest periods. Subjects in the control group received no intervention. The FBS and insulin levels were measured before and after the intervention for both groups.
There were no significant differences between the acupressure and control group regarding age, sex and level of education. The insulin level significantly increased after treatment in the acupressure group (p=0.001). There were no significant differences between the levels of insulin in study or control groups. Serum FBS level decreased significantly after intervention in the acupressure group compared to the control group (p=0.02).
The authors concluded that self-acupressure as a complementary alternative medicine can be a helpful complementary method in reducing FBS and increasing insulin levels in type 2 diabetic patients.
I do not want to go into the methodological details of this study; suffice to say that it was less than rigorous and that its findings are therefore not trustworthy (never mind the fact that the results are biologically implausible). Even if that had not been the case, a single study would certainly not be sufficient reason to reach the conclusion that acupressure is helpful to control diabetes. For that, I am sure, we would need at least half a dozen independent replications.
Like most people, I have several non-medical friends who suffer from diabetes. They would love nothing better than having a simple, safe and effective method applying pressure to their skin in order to manage their disease. If they read this paper, some of them might conclude that acupressure is the answer to their problems and use it to control their condition. One does not need all that much imagination to see that this could seriously harm them, or even cost several lives.
Acupressure might be virtually free of risks, but with a bit of ill advice, even seemingly harmless treatments can kill.