conflict of interest
Lumbar spinal stenosis (LSS) is a common reason for spine surgery. Several non-surgical LSS treatment options are also available, but their effectiveness remains unproven. The objective of this study was to explore the comparative clinical effectiveness of three non-surgical interventions for patients with LSS:
medical care,
group exercise,
individualised exercise plus manual therapy.
All interventions were delivered during 6 weeks with follow-up at 2 months and 6 months at an outpatient research clinic. Patients older than 60 years with LSS were recruited from the general public. Eligibility required anatomical evidence of central canal and/or lateral recess stenosis (magnetic resonance imaging/computed tomography) and clinical symptoms associated with LSS (neurogenic claudication; less symptoms with flexion). Analysis was intention to treat.
Medical care consisted of medications and/or epidural injections provided by a physiatrist. Group exercise classes were supervised by fitness instructors. Manual therapy/individualized exercise consisted of spinal mobilization, stretches, and strength training provided by chiropractors and physical therapists. The primary outcomes were between-group differences at 2 months in self-reported symptoms and physical function measured by the Swiss Spinal Stenosis questionnaire (score range, 12-55) and a measure of walking capacity using the self-paced walking test (meters walked for 0 to 30 minutes).
A total of 259 participants were allocated to medical care (n = 88), group exercise (n = 84), or manual therapy/individualized exercise (n = 87). Adjusted between-group analyses at 2 months showed manual therapy/individualized exercise had greater improvement of symptoms and physical function compared with medical care or group exercise. Manual therapy/individualized exercise had a greater proportion of responders (≥30% improvement) in symptoms and physical function (20%) and walking capacity (65.3%) at 2 months compared with medical care (7.6% and 48.7%, respectively) or group exercise (3.0% and 46.2%, respectively). At 6 months, there were no between-group differences in mean outcome scores or responder rates.
The authors concluded that a combination of manual therapy/individualized exercise provides greater short-term improvement in symptoms and physical function and walking capacity than medical care or group exercises, although all 3 interventions were associated with improvements in long-term walking capacity.
In many ways, this is a fairly rigorous study; in one important way, however, it is odd. One can easily see why one group received the usual standard care (except perhaps for the fact that standard medical care should also include exercise). I also understand why one group attended group exercise. Yet, I fail to see the logic in the third intervention, individualised exercise plus manual therapy.
Individualised exercise is likely to be superior to group exercise. If the researchers wanted to test this hypothesis, they should not have added the manual therapy. If they wanted to find out whether manual therapy is better that the other two treatments, they should not have added individualised exercise. As it stands, they cannot claim that either manual therapy or individualised exercise are effective (yet, I am sure that the chiropractic fraternity will claim that this study shows their treatment to be indicated for LSS [three of the authors are chiropractors and the 1st author seems to have a commercial interest in the matter!]).
Manual therapy procedures used in this trial included:
lumbar distraction mobilization,
hip joint mobilization,
side posture lumbar/sacroiliac joint mobilization,
and neural mobilization.
Is there any good reason to assume that these interventions work for LSS? I doubt it!
And this is what makes the new study odd, in my view. Assuming I am correct in speculating that individualised exercise is better than group exercise, the trial would have yielded a similarly positive result, if the researchers had offered, instead of the manual therapy, a packet of cigarettes, a cup of tea, a chocolate bar, or swinging a dead cat. In other words, if someone had wanted to make a useless therapy appear to be effective, they could not have chosen a better trial design.
And why do I find such studies objectionable?
Mainly because they deliberately mislead many of us. In the present case, many non-critical observers might conclude that manual therapy is effective for LSS. Yet, the truth could well be that it is useless or even harmful (assuming that the effect size of individualised exercise is large, adding a harmful therapy would still render the combination effective). To put it bluntly, such trials
could harm patients,
might waste money,
and hinder progress.
A few weeks ago, I was interviewed by a journalist who wanted to publish the result in a magazine. He now informed me that his editor decided against it, and the interview thus remained unpublished. I have the journalist's permission to publish it here. The journalist who, in my view, was well-prepared (much better than most), prefers to remain unnamed.
Q: How would you describe yourself?
A: I am a researcher of alternative medicine.
Q: Not a critic of alternative medicine?
A: Primarily, I am a researcher; after all, I have published more Medline-listed research papers on the subject than anyone else on the planet.
Q: You are retired since a few years; why do you carry on working?
A: Mainly because I see a need for a critical voice amongst all the false and often dangerous claims made by proponents of alternative medicine. But also because I enjoy what I am doing. Since I retired, I can focus on the activities I like. There is nobody to tell me what to do and what not to do; the latter happened far too often when I was still head of my research unit.
Q: Fine, but I still do not quite understand what drives you. Who is motivating you to criticise alternative medicine?
A: Nobody. Some people claim I am paid for my current activities. This is not true. My blog actually costs me money. My books never return enough royalties to break even, considering the time they take to write. And for most of my lectures I don't charge a penny.
Q: There are people who find this hard to believe.
A: I know. This just shows how money-orientated they are. Do they want me to publish my tax returns?
Q: Sorry, but I still don't understand your motivation.
A: I guess what motivates me is a sense of responsibility, a somewhat naïve determination to do something good as a physician. I am one of the only – perhaps even THE only – scientist who has researched alternative medicine extensively and who is not a promoter of bogus therapies but voices criticism about them. There are several other prominent and excellent critics of alternative medicine, of course, but they all come 'from the outside'. I come from the inside of the alternative medicine business. This probably gives me a special understanding of this field. In any case, I feel the responsibility to counter-balance all the nonsense that is being published on a daily basis.
Q: What's your ultimate aim?
A: I want to create progress through educating people to think more critically.
Q: Which alternative medicine do you hate most?
A: I do not hate any of them. In fact, I still have more sympathy for them than might be apparent. For my blog, for instance, I constantly search for new research papers that are rigorous and show a positive result. The trouble is, there are so very few of those articles. But when I find one, I am delighted to report about it. No, I do not hate or despise any alternative medicine; I am in favour of good science, and I get irritated by poor research. And yes, I do dislike false claims that potentially harm consumers. And yes, I do dislike it when chiropractors or other charlatans defraud consumers by taking their money for endless series of useless interventions.
Q: I noticed you go on about the risks of alternative medicine. But surely, they are small compared to the risks of conventional healthcare, aren't they?
A: That's a big topic. To make it simple: alternative medicine is usually portrayed as risk-free. The truth, however, is that there are numerous risks of direct and indirect harm; the latter is usually much more important than the former. Crucially, the risk-free image is incongruent with reality. I want to redress this incongruence. And as to conventional medicine: sure, it can be much more harmful. But one always has to see this in relation to the proven benefit. Chemotherapy, for instance, can kill a cancer patient, but more likely it saves her life. Homeopathic remedies cannot kill you, but employed as an alternative to an effective cancer treatment, homeopathy will certainly kill you.
Q: Homeopathy seems to be your particular hobby horse.
A: Perhaps. This is because it exemplifies alternative medicine in several ways, and because I started my alternative 'career' in a homeopathic hospital, all those years ago.
Q: In what way is homeopathy exemplary?
A: Its axioms are implausible, like those of many other alternative modalities. The clinical evidence fails to support the claims, like with so many alternative therapies. And it is seemingly safe, yet can do a lot of harm, like so many other treatments.
Q: You have no qualification in homeopathy, is that right?
A: No, I have no such qualifications. And I never said so. When I want to tease homeopaths a little, I state that I am a trained homeopath; and that is entirely correct.
Q: In several countries, homeopathy has taken spectacular hits recently. Is that your doing?
A: No, I don't think so. But I do hope that my work has inspired the many dedicated activists who are currently protesting against the reimbursement of homeopathy by the public purse in the UK, Germany, France, Spain, etc.
Q: You often refer to medical ethics; why is that?
A: Because, in the final analysis, many of the questions we already discussed are really ethical issues. And in alternative medicine, few people have so far given the ethical dimensions any consideration. I think ethics are central to alternative medicine, so much so that I co-authored an entire book on this topic this year.
Q: Any plans for the future?
A: Plenty.
Q: Can you tell me more?
A: I will publish another book in 2019 with Springer. It will be a critical evaluation of precisely 150 different alternative modalities. I am thinking of writing yet another book, but have not yet found a literary agent who wants to take me on. I have been offered a new professorship at a private University in Vienna, and am hesitant whether to accept or not. I have been invited to give a few lectures in 2019 and hope to receive more invitations. Last not least, I work almost every day on my blog.
Q: More than enough for a retiree, it seems. Thank you for your time.
A: My pleasure.
On their website, the UK 'ROYAL COLLEGE OF CHIROPRACTORS (RCC) published a short statement regarding the safety of chiropractic. Here it is in full:
Experiencing mild or moderate adverse effects after manual therapy, such as soreness or stiffness, is relatively common, affecting up to 50% of patients. However, such 'benign effects' are a normal outcome and are not unique to chiropractic care.
Cases of serious adverse events, including spinal or neurological problems and strokes caused by damage to arteries in the neck, have been associated with spinal manipulation. Such events are rare with estimates ranging from 1 per 2 million manipulations to 13 per 10,000 patients; furthermore, due to the nature of the underlying evidence in relation to such events (case reports, retrospective surveys and case-control studies), it is very difficult to confirm causation (Swait and Finch, 2017).
For example, while an association between stroke caused by vertebral artery damage or 'dissection' (VAD) and chiropractor visits has been reported in a few case-control studies, the risk of stoke has been found to be similar after seeing a primary care physician (medical doctor). Because patients with VAD commonly present with neck pain, it is possible they seek therapy for this symptom from a range of practitioners, including chiropractors, and that the VAD has occurred spontaneously, or from some other cause, beforehand (Biller et al, 2014). This highlights the importance of ensuring careful screening for known neck artery stroke risk factors, or signs or symptoms that there is an ongoing problem, is performed prior to manual treatment of patients (Swait and Finch, 2017). Chiropractors are well trained to do this on a routine basis, and to urgently refer patients if necessary.
END OF QUOTE
The statement reads well but it might not be entirely free from conflicts of interest. Yet, in the name of accuracy, completeness and truthfulness, I take the liberty of making a few slight alterations. Here is my revised version:
Experiencing mild or moderate adverse effects after chiropractic spinal manipulations, such as pain or stiffness (usually lasting 1-3 days and strong enough to impair patients' quality of life), is very common. In fact, it affects around 50% of all patients. 
Cases of serious adverse events, including spinal or neurological problems and strokes often caused by damage to arteries in the neck, have been reported after spinal manipulation. Such events are probably not frequent (several hundred are on record including about 100 fatalities).  But, as we have never established proper surveillance systems, nobody can tell how often they occur. Furthermore, due to our reluctance of introducing such surveillance, some of us are able to question causality.
An association between stroke caused by vertebral artery damage or 'dissection' (VAD) and chiropractic spinal manipulation has been reported in about 20 independent investigations. Yet one much-criticised case-control study found the risk of stoke to be similar after seeing a primary care physician (medical doctor). Because patients with VAD commonly have neck pain, it is possible they seek therapy for this symptom from chiropractors, and that the VAD has occurred spontaneously, or from some other cause, beforehand (Biller et al, 2014). Ensuring careful screening for known neck artery stroke risk factors, or signs that there is an ongoing problem would therefore be important (Swait and Finch, 2017). Sadly, no reliable screening tests exist, and neck pain (the symptom that might be indicative of VAD) continues to be one of the conditions most frequently treated by chiropractors.
I do not expect the RCC to adopt my improved version. In case I am wrong, let me state this: I am entirely free of conflicts of interest and will not charge a fee for my revision. In the interest of advancing public health, I herewith offer it for free.
An article alerted me to a new report on alternative medicine in the NHS. The report itself is so monumentally important that I cannot find it anywhere (if someone finds a link, please let us know). Behind it is our homeopathy-loving friend David Tredinnick MP, chair of the All-Party Parliamentary Group. I am sure you remember him; he is 'perhaps the worst example of scientific illiteracy in government'. And what has David been up to now?
His new report by the All-Party Parliamentary Group for Integrated Healthcare is urging the NHS to embrace more medicine to ease the mounting burden on service provision. It claims that more patients suffer from two or more long-term health conditions than ever before, and that their number will amount to 18 million by 2025.
And the solution?
Isn't it obvious?
David Tredinnick MP, chair of the All-Party Parliamentary Group, insists that the current approach being taken by the government is unsustainable for the long-term future of the country. "Despite positive signs that ministers are proving open to change, words must translate into reality. For some time our treasured NHS has faced threats to its financial sustainability and to common trust in the system. Multimorbidity is more apparent now in the UK than at any time in our recent history. As a trend it threatens to swamp a struggling NHS, but the good news is that many self-limiting conditions can be treated at home with the most minimal of expert intervention. Other European governments facing similar challenges have considered the benefits of exploring complementary, traditional and natural medicines. If we are to hand on our most invaluable institution to future generations, so should we."
Hold on, this sounds familiar!
Wasn't there something like it before?
Yes, of course, the 'Smallwood Report', commissioned over a decade ago by Prince Charles. It also proclaimed that the NHS could save plenty of money, if it employed more bogus therapies. But it was so full of errors and wrong conclusions that its impact on the NHS was close to zero. At the time, I concluded that the 'Smallwood report' is one of the strangest examples of an attempt to review CAM that I have ever seen. One gets the impression that its conclusions were written before the authors had searched for evidence that might match them. Both Mr Smallwood and the 'Freshminds' team told me that they understand neither health care nor CAM. Mr Smallwood stressed that this is positive as it prevents him from being 'accused of bias'. My response was that 'severely flawed research methodology almost inevitably leads to bias'.
And which other European countries might the Tory Brexiter David refer to?
Sadly, I have not seen Tredinnick's  new oeuvre and do not know its precise content. What I do know, however, that the evidence, for alternative medicine's cost effectiveness has not improved; if anything, it has become more negative. From that, one can safely conclude that Tredinnick's notions of NHS-savings through more use of alternative medicine are erroneous. Therefore, I suspect the new report will swiftly and deservedly go the same way as its predecessor, the 'Smallwood Report': straight into the bins of Westminster.
Many chiropractors tell new mothers that their child needs chiropractic adjustments because the birth is in their view a trauma for the new-born that causes subluxations of the baby's spine. Without expert chiropractic intervention, they claim, the poor child risks serious developmental disorders.
This article (one of hundreds) explains it well: Birth trauma is often overlooked by doctors as the cause of chronic problems, and over time, as the child grows, it becomes a thought less considered. But the truth is that birth trauma is real, and the impact it can have on a mother or child needs to be addressed. Psychological therapy, physical therapy, chiropractic care, acupuncture, and other healing techniques should all be considered following an extremely difficult birth.
And another article makes it quite clear what intervention is required: Caesarian section or a delivery that required forceps or vacuum extraction procedures, in-utero constraint, an unusual presentation of the baby, and many more can cause an individual segment of the spine or a region to shift from its normal healthy alignment. This 'shift' in the spine is called a Subluxation, and it can happen immediately before, during, or after birth.
Thousands of advertisements try to persuade mothers to take their new-born babies to a chiropractor to get the problem sorted which chiropractors often call KISS (kinetic imbalance due to suboccipital strain-syndrome), caused by intrauterine-constraint or the traumas of birth.
This abundance of advertisements and promotional articles is in sharp contrast with the paucity of scientific evidence.
A review of 1993 concluded that birth trauma remains an underpublicized and, therefore, an undertreated problem. There is a need for further documentation and especially more studies directed toward prevention. In the meantime, manual treatment of birth trauma injuries to the neuromusculoskeletal system could be beneficial to many patients not now receiving such treatment, and it is well within the means of current practice in chiropractic and manual medicine.
A more critical assessment of … concluded that, given the absence of evidence of beneficial effects of spinal manipulation in infants and in view of its potential risks, manual therapy, chiropractic and osteopathy should not be used in infants with the kinetic imbalance due to suboccipital strain-syndrome, except within the context of randomised double-blind controlled trials.
So, what follows from all this?
How about this?
Chiropractors' assumption of an obligatory birth trauma that causes subluxation and requires spinal adjustments is nothing more than a ploy by charlatans for filling their pockets with the cash of gullible parents.
It is time, I think, to express my gratitude to Dr Jens Behnke, a German homeopath employed by the pro-homeopathy lobby group the 'Carstens Stiftung', who diligently tweets trials of homeopathy which he obviously believes prove the value of his convictions.
The primary objective of this new study was to evaluate the efficacy of homoeopathy for women suffering from polycystic ovary syndrome. This condition is characterised by:
irregular periods which means your ovaries don't regularly release eggs,
abnormally high levels of male hormones in the body, which may cause physical signs such as excess facial or body hair,
polycystic ovaries – ovaries become enlarged and contain many fluid-filled sacs (follicles) which surround the eggs.
There's no cure for PCOS, but the symptoms can usually be treated. As so often in such situations, homeopaths are happy to step into the fray.
This single-blind, randomised, placebo-controlled pilot study was conducted at two research centres in India. The cases fulfilling the eligibility criteria were enrolled (n = 60) and randomised to either the homoeopathic intervention (HI) (n = 30) or placebo (P) (n = 30) with uniform lifestyle modification (LSM) for 6 months.
The menstrual regularity with improvement in other signs/symptoms was observed in 60% of the cases (n = 18) in HI + LSM group and none (n = 0) in control group. Statistically significant difference was observed in the reduction of intermenstrual duration in HI + LSM in comparison to placebo + LSM group. Significant improvements were also observed in HI+LSM group in domains of weight, fertility, emotions and menstrual problems. No change was observed in respect of improvement in the ultrasound findings. Pulsatilla was the most frequently indicated homeopathic remedy.
The authors concluded that HI along with LSM has shown promising outcome; further comparative study with standard conventional treatment on adequate sample size is desirable.
This trial might convince believers (mostly because they do not even need convincing), but it cannot convince anybody capable of critical thinking. Here is why:
According to its authors, this trial was a pilot study; this means it should not report any results and merely focus on the feasibility of a definitive trial.
Researchers were not blinded, meaning that they might have influenced the outcome in more than one way.
The primary endpoint was subjective and could have been influenced by the non-blinded researchers.
0% success rate in achieving the primary endpoint in the placebo group is not plausible.
Compliance to LSM was not checked; as the homeopathy group lost more weight, these patients seemed to have complied better (probably due to being better motivated by the non-blinded researchers).
So?
My conclusion is not very original but all the more true: POORLY DESIGNED STUDIES USUALLY GENERATE UNRELIABLE RESULTS. 
For some researchers, the question whether homeopathy works beyond a placebo effect is not as relevant as the question whether it works as well as an established treatment. To answer it, they must conduct RCTs comparing homeopathy with a therapy that has been shown beyond reasonable doubt to be effective, i.e better than placebo. Such a drug is, for instance, Ibuprofen.
The purpose of this study was to compare the efficacy of Ibuprofen and homeopathic Belladonna for orthodontic pain. 51 females and 21 males, were included in this study. Cases with non-extraction treatment plan having proper contacts' mesial and distal to permanent first molar and currently not taking any analgesics or antibiotics were included in the study. They were randomly divided into two groups; one group was assigned to ibuprofen 400 mg and second group took Belladonna 6C (that's a dilution of 1: 1000000000000). Patients were given two doses of medication of their respective remedies one hour before placement of elastomeric separators (Ormco Separators, Ormco Corporation, CA, USA) and one dose 6 h after the placement. Pain scores were recorded on a visual analogue scale (VAS) 2 h after placement, 6 h after placement, bedtime, day 1 morning, day 2 morning, day 3 morning and day 5 morning.
The comparisons showed that there were no differences between the two groups at any time point.
(Mean visual analogue scale pain score at different time intervals after separator placement in Ibuprofen and Belladonna group)
The authors concluded that Ibuprofen and Belladonna 6C are effective and provide adequate analgesia with no statistically significant difference. Lack of adverse effects with Belladonna 6C makes it an effective and viable alternative.
FINALLY, THE PROOF HOMEOPATHS HAVE BEEN WAITING FOR: HOMEOPATHY DOES WORK AFTER ALL!
Not so fast – before we draw any conclusions, let's have a closer look at this study. Here are a few of its limitations (apart from the fact that it was published in a journal that does not exactly belong to the 'crème de la crème' of medical publications):
Patients obviously knew which group they were assigned to; thus their expectations would have influenced the outcome.
The same applies to the researchers (the study could have been 'blind' using a 'double dummy' method, but the researchers did not use it).
The study was an equivalence trial (it did not test whether homeopathy is superior to placebo, but whether its effects are equivalent to Ibuprofen); such studies need sample sizes that are about one dimension larger than was the case here.
Therefore, all this trial does demonstrate that the sample was too small for an existing group difference in favour of Ibuprofen to show.
So sorry, my homeopathic friends!
Many people seem to be amazed at my continued activities (e. g. blog, books, lectures, interviews) aimed at telling the truth about homeopathy and other alternative modalities. They ask themselves: why does he do it? And sometimes I ask myself the same question. I certainly don't do it because I receive any money for my work (as many of my critics have assumed in the past).
So, why?
Let me briefly offer just 7 of the most obvious reasons why I feel it is important to tell the truth about homeopathy and similar treatments:
1. The truth is invaluable
I probably do not need to explain this at all. For any responsible person the truth has an intrinsic value that cannot be doubted. In our book, we conclude that "the truth-violating nature of CAM renders it immoral in both theory and practice."
2. Untruths make a mockery of EBM
If we accept that, in the realm of alternative medicine, it is permissible to apply a different standard than in evidence-based medicine (EBM), we make a mockery of EBM. Double standards are hugely counter-productive and not in the interest of patients.
3. The truth promotes rationality
If the proponents of a modality such as homeopathy promote concepts that fly in the face of science, they undermine rational thinking. Believing in a vital force or energy is just one of many examples for this phenomenon. Undermining rationality can have negative effects far beyond healthcare and reminds me of Voltaire's bon mot: "Those who make you believe in absurdities can make you commit atrocities."
4. It is ethical
Healthcare have the ethical duty to work towards patients receiving the best treatments available. If a therapy like homeopathy fails to be demonstrably effective, it cannot possibly fall into this category. Therefore, responsible healthcare professionals must help to improve healthcare by disclosing the evidence against homeopathy.
5. It might save money
The money spent on homeopathy and other ineffective alternative treatments is considerable. Disclosing the fact that they are not effective will help stopping people to waste their money on them. Telling the truth about homeopathy and similarly ineffective therapies would therefore save funds that can be used more efficiently elsewhere.
6. It might save lives
Because they usually are free of active molecules, homeopathic remedies are often seen as a safe treatments. However, homeopathy can nevertheless harm and even kill patients, if they use it as an alternative medicines in cases of severe illness. It follows that telling the truth about homeopathy's ineffectiveness can save lives.
7. It could counter-balance the multiple lies that are being told.
We all have seen the multitude of untruths that are being told about the value of homeopathy (if you haven't, you ought to read SCAM). The multitude of falsehoods seriously misleads many consumers into believing that homeopathy is a valuable therapeutic option for many conditions. I feel strongly that it is my moral duty as an independent expert to counter-balance this plethora of lies in order to minimise the harm it is doing.
This systematic review was aimed at evaluating the effects of acupuncture on the quality of life of migraineurs.  Only randomized controlled trials that were published in Chinese and English were included. In total, 62 trials were included for the final analysis; 50 trials were from China, 3 from Brazil, 3 from Germany, 2 from Italy and the rest came from Iran, Israel, Australia and Sweden.
Acupuncture resulted in lower Visual Analog Scale scores than medication at 1 month after treatment and 1-3 months after treatment. Compared with sham acupuncture, acupuncture resulted in lower Visual Analog Scale scores at 1 month after treatment.
The authors concluded that acupuncture exhibits certain efficacy both in the treatment and prevention of migraines, which is superior to no treatment, sham acupuncture and medication. Further, acupuncture enhanced the quality of life more than did medication.
The authors comment in the discussion section that the overall quality of the evidence for most outcomes was of low to moderate quality. Reasons for diminished quality consist of the following: no mentioned or inadequate allocation concealment, great probability of reporting bias, study heterogeneity, sub-standard sample size, and dropout without analysis.
Further worrisome deficits are that only 14 of the 62 studies reported adverse effects (this means that 48 RCTs violated research ethics!) and that there was a high level of publication bias indicating that negative studies had remained unpublished. However, the most serious concern is the fact that 50 of the 62 trials originated from China, in my view. As I have often pointed out, such studies have to be categorised as highly unreliable.
In view of this multitude of serious problems, I feel that the conclusions of this review must be re-formulated:
Despite the fact that many RCTs have been published, the effect of acupuncture on the quality of life of migraineurs remains unproven.
A survey was commissioned in 2015 to obtain general population figures for practitioner-led CAM use in England, and to discover people's views and experiences regarding access.
Of 4862 adults surveyed, 766 (16%) had seen a CAM practitioner. People most commonly visited CAM practitioners for manual therapies (massage, osteopathy, chiropractic) and acupuncture, as well as yoga, pilates, reflexology, and mindfulness or meditation. Women, people with higher socioeconomic status (SES) and those in south England were more likely to access CAM. Musculoskeletal conditions (mainly back pain) accounted for 68% of use, and mental health 12%. Most was through self-referral (70%) and self-financing. GPs (17%) or NHS professionals (4%) referred and/or recommended CAM to users. These CAM users were more often unemployed, with lower income and social grade, and receiving NHS-funded CAM. Responders were willing to pay varying amounts for CAM; 22% would not pay anything. Almost two in five responders felt NHS funding and GP referral and/or endorsement would increase their CAM use.
The authors concluded that CAM use in England is common for musculoskeletal and mental health problems, but varies by sex, geography, and SES. It is mainly self-referred and self-financed; some is GP-endorsed and/or referred, especially for individuals of lower SES. Researchers, patients, and commissioners should collaborate to research the effectiveness and cost-effectiveness of CAM and consider its availability on the NHS.
The table below shows the percentage figures for specific CAMs (right column).
| | | |
| --- | --- | --- |
| Type of CAM practitioner | n | % |
| Massage practitioner | 143 | 19 |
| Osteopath | 91 | 12 |
| Acupuncturist | 88 | 11 |
| Chiropractor | 87 | 11 |
| Yoga teacher | 52 | 7 |
| Physiotherapist-delivered CAM | 41 | 5 |
| Pilates teacher | 28 | 4 |
| Reflexologist | 22 | 3 |
| Meditation and/or mindfulness teacher | 20 | 3 |
| Homeopath | 20 | 3 |
| Reiki practitioner | 17 | 2 |
| Hypnotherapist | 15 | 2 |
| Herbalist | 14 | 2 |
| Chinese herbal medical practitioner | 12 | 2 |
| Other | 74 | 10 |
Our own survey suggested that, in 2005, the 1-year prevalence of CAM-use in England was 26.3 % and the practitioner-led CAM-use was 12.1 %. The two surveys are, however, not comparable because they did use different methodologies; for instance, they included different types of CAM. I therefore think that any conclusion of an increase in practitioner-led CAM-use between 2005 and 2015 is not warranted. It also follows that the graphic below is misleading.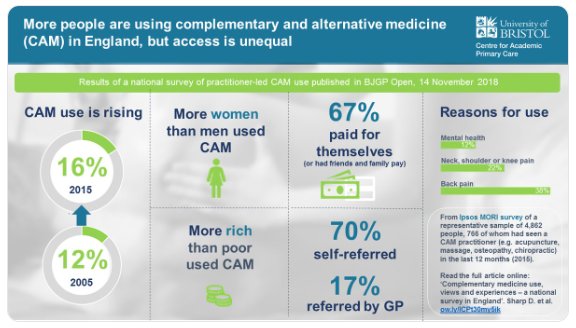 In the discussion, the authors of the new survey make the following point: Ability to pay may be a factor in accessing CAM (indicated by the association of CAM use with higher SES; lower SES responders being more likely to be GP-referred to CAM; and responders stating that they may use more CAM if the NHS provided services, and GPs endorsed and/or referred them). Integration of CAM into the NHS through primary care could promote continuity of care, safety, and balance of power. An integrative medicine approach includes many of the values recently included in UK health policy documents; for example, Five Year Forward View. It is patient-centred, as discussed in 2010, focuses on prevention, and emphasises patient self-management and person- and community-centred approaches to health and wellbeing. Many of these values underpin social prescribing, which is an increasingly popular model of health care. There seems to be significant patient demand for CAM and more holistic approaches, and a view that CAM may improve patient satisfaction.
I have in a previous post commented on prevalence surveys: the argument that is all too often spun around such survey data goes roughly as follows: a large percentage of the population uses alternative medicine; people pay out of their own pocket for these treatments; they are satisfied with them (if not, they would not pay for them). BUT THIS IS GROSSLY UNFAIR! Why should only those individuals who are rich enough to afford alternative medicine benefit from it? ALTERNATIVE MEDICINE SHOULD BE MADE AVAILABLE FOR ALL.
To me, it is obvious that this line of argument is dangerously wrong. It lends itself to the promotion of unproven therapies to the detriment of good healthcare and progress. Sadly, I fear that the new survey is going to be misused in this way.