holistic
I missed this article by Canadian vascular surgeons when it came out in 2018. It is well-argued, and I think you should read it in full, if you can get access (it's behind a pay wall). It contains interesting details about the anti-vax attitude of doctors of integrative medicine (something we discussed before), as well as the most dubious things that go on in the 'Cleveland Clinic'. Here is at least the abstract of the article:
Evidence-based medicine, first described in 1992, offers a clear, systematic, and scientific approach to the practice of medicine. Recently, the non-evidence-based practice of complementary and alternative medicine (CAM) has been increasing in the United States and around the world, particularly at medical institutions known for providing rigorous evidence-based care. The use of CAM may cause harm to patients through interactions with evidence-based medications or if patients choose to forego evidence-based care. CAM may also put financial strain on patients as most CAM expenditures are paid out-of-pocket. Despite these drawbacks, patients continue to use CAM due to media promotion of CAM therapies, dissatisfaction with conventional healthcare, and a desire for more holistic care. Given the increasing demand for CAM, many medical institutions now offer CAM services. Recently, there has been controversy surrounding the leaders of several CAM centres based at a highly respected academic medical institution, as they publicly expressed anti-vaccination views. These controversies demonstrate the non-evidence-based philosophies that run deep within CAM that are contrary to the evidence-based care that academic medical institutions should provide. Although there are financial incentives for institutions to provide CAM, it is important to recognize that this legitimizes CAM and may cause harm to patients. The poor regulation of CAM allows for the continued distribution of products and services that have not been rigorously tested for safety and efficacy. Governments in Australia and England have successfully improved regulation of CAM and can serve as a model to other countries.
Those who have been following this blog a little know how much I agree with these authors. In fact, in the peer-reviewed literature, I have been publishing similar arguments for almost 20 years, e.g:
I receive all the energy I need by charging my butthole in the sunlight!
Actually, I don't, but some people do!
The new so-called alternative medicine (SCAM) of 'perineum sunning' has become all the rage. It gives an entirely new meaning to the word 'holism'. And, like all good SCAMs, it has a long tradition. This article explains:
Butt chugging, or 'perineum sunning', is the latest wellness and health trend to take over Instagram, but should you be stripping off?
What if I told you there was a 30-second trick to having a healthier libido, getting deeper sleep, boosting your creativity, super-charging your focus and having more balanced hormone function?
Well, apparently all you need to do is remove your Bonds and let your nether regions soak in some vitamin D. Gird your loins, friends, apparently "butt chugging" is a legitimate wellness trend and we're completely and utterly perplexed.
Bringing "butt chugging", or "perineum sunning" if you want to get official about it, into the cultural lexicon is self-proclaimed healer, teacher and micro-influencer Metaphysical Meagan. This week, the superfood lover went veritably viral after preaching about the "profound" benefits of perineum sunning on Instagram. Cue: much laughter, then much confusion.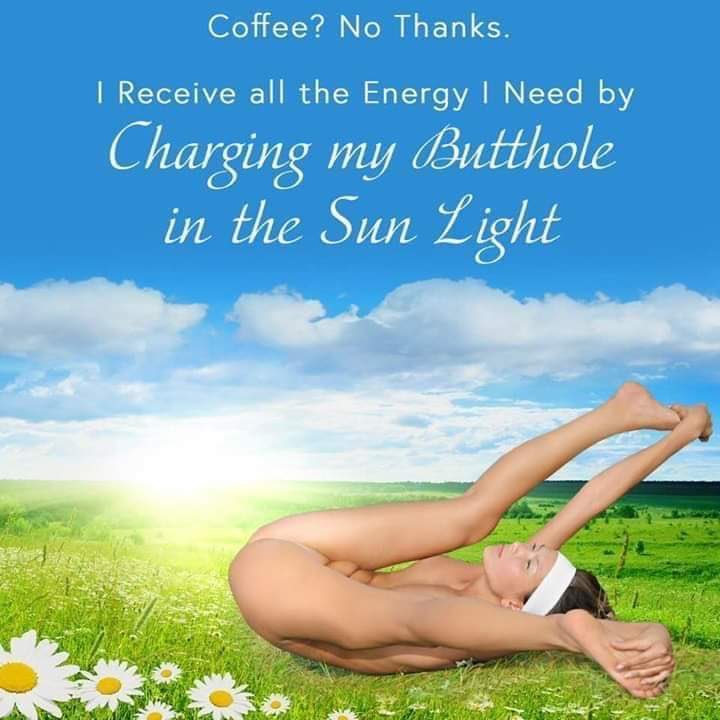 A fan explained on Instagram:
30 seconds of sunlight on your butthole is the equivalent of a full day of sunlight with your clothes on," and that it is "an ancient Taoist practice that's been around for a while!" (Yes, because that is what "ancient" means.) A few weeks after her initial post, presumably because more and more people went to her page to comment after finding various jokes about it online, Metaphysical Meagan posted the photo on Instagram for a second time, now with an outrageously long caption meant to correct any misinformation. She explains that suntanning your asshole is meant to promote the "health & longevity of the physical body," increase "creativity and creative output" and aid "in a healthy libido & balanced sexual energy." It is definitely "NOT TO TAN YOUR BUTTHOLE‼️‼️" Also, "sunscreen is not required.
So, perineum sunning is an ancient Taoist practice. That makes sense: rituals and exercises aimed at aligning oneself spiritually with cosmic forces, at undertaking ecstatic spiritual journeys, or at improving physical health are all-important elements of Taoism. And if it's got such a noble, long tradition, perineum sunning must be good, mustn't it? No evidence needed!
As I said at the beginning of this post, I have not yet had the pleasure of experiencing this SCAM. But now I am tempted, of course. As soon as the sun is out, I will try it in my garden. I do wonder, however, what the neighbours will think!
I recently received this unexpected and surprising email:
Dear Friend,
I wanted to point out an article that published last month in the New England Journal of Medicine Catalyst that gets to the root of why we are not solving the nation's current epidemics of chronic pain, obesity, opioids, suicide, and cardiovascular disease.
My co-authors included Dr. Eric Schoomaker, the former surgeon general of the Army; Dr. Tracy Gaudet, who leads cultural transformation at the Veterans Health Administration; and Dr. James Marzolf, the chief health and data analyst in Dr. Gaudet's office.
In the article Finding the Cause of the Crises: Opioids, Pain, Suicide, Obesity, and Other "Epidemics", we show how our nation's response to our current epidemics are tackling the wrong problems.
For example, take the opioid epidemic. The response has been to restrict opioids and focus on other drugs. This narrow approach is compounding the problem. The root cause is that we don't manage chronic pain appropriately. We need a major roll out of non-pharmacological approaches for pain.
Instead of treating pain with a pill, we need to pay attention to the whole person in mind, body, and spirit. When we do this, we may find that non-drug approaches to treating the person are more appropriate, and treat not only the pain, but the suffering that often accompanies it.
The article describes how systems like the Military and Veterans Health Administration are doing this with transformative approaches that embrace whole person, integrative health.
The good news is that the answers are out there. The entire nation can do this, and we can start now.
Be well.
Dr. Wayne Jonas
______________________________________________________
In case you don't know who my 'friend' Wayne is (I did mention him before here and here, for instance), here is a concise summary of his background. As you doubtlessly do know, the NEJM is a (perhaps even the most) respected medical journal. I therefore tried to find the article there and was amazed not to find it. Then I realised that Wayne said it was published not in the NEJM but in the 'New England Journal of Medicine Catalyst', a very different proposition.
The New England Journal of Medicine Catalyst brings health care executives, clinical leaders, and clinicians together to share innovative ideas and practical applications for enhancing the value of health care delivery. From a network of top thought leaders, experts, and advisors, our digital publication, quarterly events, and qualified Insights Council provide real-life examples and actionable solutions to help organizations address urgent challenges affecting health care.
But what about the paper that Wayne so warmly recommends? It turns out to be little more than a promotional stunt for integrative medicine. Here is an excerpt from it:
It is often a surprise to people that two of the largest health care systems in the country are trying to radically redesign what they do to provide more whole-person and integrative care. These two systems are run by the Department of Defense (DoD) and the Veterans Health Administration (VHA) and collectively care for over 20 million people. The nation can learn from their efforts.
The need for reform emerged after the turn of this century when leaders in the DoD and VHA began to hold informal meetings under the title "From Healthcare to Health." Over the course of those meetings, the participants recognized the failure of their health care systems to get at the underlying causes of chronic disease. In 2009, they secured the support of the Chairman of the Joint Chiefs of Staff to change overall military doctrine and guidance to a radically holistic approach called "Total Force Fitness," which subsequently led to health and community innovations. An example of these redesign innovations was the Defense and Veterans' Pain Management Task Force and Report and the resulting strategy that preceded the National Academy of Medicine's report on pain in America.
Other innovations included the Healthy Base Initiative and the Performance Triad, the latter of which focuses on the importance of asking all patients about their sleep, nutrition, and physical activity. All services — Army, Navy, Air Force, Coast Guard, and Special Forces — continue to shift to whole-person models that seek to implement behavioral and complementary approaches. For example, >6000 providers have been trained in and routinely use Battlefield Acupuncture for pain.
The transformation currently underway in the VHA, which goes under the name "Whole Health," is also an offshoot of that leadership dialogue from 20 years ago. In the Whole Health approach, the emphasis is to empower and equip people to take charge of their health and well-being. In this approach, trained peers help veterans explore their sense of mission and purpose, and well-being programs focus on skill-building and support for self-care. These elements, in addition to person-centered, holistic clinical care, create the Whole Health delivery system. VHA facilities are shifting from a system designed around points of clinical care (in which the primary focus is on disease management) to one that is based in a partnership across time (in which the primary focus is on whole health). Clinical encounters are essential but not sufficient. This health system is designed to focus not only on treatment, but also on self-empowerment, self-healing, and self-care.
This radical redesign is built on decades of VHA work enhancing its integrative approaches with innovations such as Patient-Aligned Care Teams, Primary Care Mental Health Integration, peer-to-peer support, group access to mental health services, and the increasing use of complementary medicine approaches. These changes laid the groundwork for the kind of radical redesign now underway in the VHA and that is needed in all national health care delivery systems.
In 2011, the VHA established an Office of Patient Centered Care and Cultural Transformation to further redefine health care delivery and to oversee this unique approach. Whole Health has begun rapid deployment across the entire VHA system, starting with 18 VHA medical centers in 2018 and with a planned expansion to all VHA medical centers by the end of 2022. System-wide implementation will require an estimated $556 million over 5 years.
When fully implemented, operating costs for this shift are projected to represent 1% of the VHA annual budget. This implementation will involve hiring almost 6,400 new staff, the majority for positions that did not previously exist in the VHA, including health coaches and peer health partners, nutritionists, acupuncturists, and yoga instructors. Whole Health is building access through group visits, peer-to-peer support, and the development of Personal Health Plans for every veteran — something everyone in the country could use. In addition, new payment codes have been created, allowing providers to capture and cover their time and efforts using relative value units (RVUs) and to track productivity.
Will Whole Health help to cure what ails health care? Current models suggest that it will. With improvement in health outcomes, there will be a reduction in the need for existing clinical and biomedical services. These models predict increased access and more proactive population health management. With the addition of these new Whole Health services, we project a 24.5% increase in access when fully deployed — without the addition of a single hospital bed or medical specialist. In addition, Whole Health exceeds cost neutrality and is conservatively estimated to return $2.19 for every dollar invested over 6 years.
These returns reflect net cost avoidance and are derived from reductions in the need and demand for existing clinical health services — exactly what the nation needs in order to reduce chronic disease crises and contain costs. The per capita savings or cost avoidance is modest, averaging $535 per veteran annually over the 6-year period. Cumulatively, however, this totals over $6.2 billion in cost avoidance. Given that the Whole Health approach will improve the health of veterans, many of whom are dealing with complex issues such as chronic pain, mental health conditions, and opioid use at a cost of about $1 per day per veteran, it is a financially sound, cost-effective change from the current health care paradigm.
_______________________________________________________________
So, does this change my mind about integrative medicine?
I'm afraid not! And Wayne fails to provide the slightest evidence that his concepts amount to more than wishful thinking (note how he first mentions predictions of cost savings and, in the next paragraph, pretends they are a reality). I simply do not believe that adding a few unproven therapies to our routine healthcare and wrapping the mixture into politically correct platitudes will improve anything. This cannot work from a theoretical standpoint and, crucially, there is no empirical evidence that it does improve anything else but the income stream of charlatans.
If healthcare needs reform, then let's reform it! Adding cow pie to apple pie is not a solution, it merely spoils what we have already. I am saying this now since 17 years when I published my first comment on integrative medicine. It was entitled Integrative medicine: not a carte blanche for untested nonsense. I do still think that it sums up the issue succinctly.
As you know, I have repeatedly written about integrative cancer therapy (ICT). Yet, to be honest, I was never entirely sure what it really is; it just did not make sense – not until I saw this announcement. It left little doubt about the nature of ICT.
As it is in German, allow me to translate it for you [the numbers added to the text refer to my comments below]:
ICT is a method of treatment that views humans holistically [1]. The approach is characterised by a synergistic application (integration) of all conventional [the actual term used is a derogatory term coined by Hahnemann to denounce the prevailing medicine of his time], immunological, biological and psychological insights [2]. In this spirit, also personal needs and subjective experiences of disease are accounted for [3]. The aim of this special approach is to offer cancer patients an individualised, interdisciplinary treatment [4].
Besides surgery, chemotherapy and radiotherapy, ICT also includes hormone therapy, hyperthermia, pain management, immunotherapy, normalisation of metabolism, stabilisation of the psyche, physical activity, dietary changes, as well as substitution of vital nutrients [5].
With ICT, the newest discoveries of cancer research are being offered [6], that support the aims of ICT. Therefore, the aims of the ICT doctor include continuous research of the world literature on oncology [7]…
Likewise, one has to start immediately with measures that help prevent metastases and tumour progression [8]. Both the maximization of survival and the optimisation of quality of life ought to be guaranteed [9]. Therefore, the alleviation of the side-effects of the aggressive therapies are one of the most important aims of ICT [10]…
HERE IS THE GERMAN ORIGINAL
Die integrative Krebstherapie ist eine Behandlungsmethode, die den Menschen in seiner Ganzheit sieht und sich dafür einsetzt. Ihre Behandlungsweise ist gekennzeichnet durch die synergetische Anwendung (Integration) aller sinnvollen schulmedizinischen, immunologischen, biologischen und psychologischen Erkenntnisse. In diesem Sinne werden auch die persönlichen Bedürfnisse und die subjektiven Krankheitserlebnisse berücksichtigt. Ziel dieser besonderen Therapie ist es, dass dem Krebspatienten eine individuell eingerichtete und interdisziplinär geplante Behandlung angeboten wird.​
Zur integrativen Krebstherapie gehört neben der operativen Tumorbeseitigung, Chemotherapie und Strahlentherapie auch die Hormontherapie, Hyperthermie, Schmerzbeseitigung, Immuntherapie, Normalisierung des Stoffwechsels, Stabilisierung der Psyche, körperliche Aktivierung, Umstellung der Ernährung sowie die Ergänzung fehlender lebensnotwendiger Vitalstoffe.
Mit dieser Behandlungsmethode werden auch die neuesten Entdeckungen der Krebsforschung angeboten, die die Ziele der Integrativen Krebstherapie unterstützen. Deshalb sind die ständigen Recherchen der umfangreichen Ergebnisse der Onkologie-Forschung in der medizinischen Weltliteratur auch Aufgabe der Mediziner in der Integrativen Krebstherapie…​
Ebenso sollte auch sofort mit den Maßnahmen begonnen werden, die helfen, dieMetastasen Bildung und Tumorprogredienz zu verhindern. Nicht nur die Maximierung des Überlebens, sondern auch die Optimierung der Lebensqualität sollen gewährleistet werden. Deshalb ist auch die Linderung der Nebenwirkungen der aggressiven Behandlungsmethoden eines der wichtigsten Ziele der Integrativen Krebstherapie….
MY COMMENTS
Actually, this describes conventional oncology!
Actually, this describes conventional oncology!
Actually, this describes conventional oncology!
Actually, this describes conventional oncology!
Actually, this describes conventional oncology!
Actually, this describes conventional oncology!
Actually, this describes conventional oncology!
Actually, this describes conventional oncology!
Actually, this describes conventional oncology!
Actually, this describes conventional oncology!
ICT might sound fine to many consumers. I can imagine that it gives confidence to some patients. But it really is nothing other than the adoption of the principles of good conventional cancer care?
No!
But in this case, ICT is just a confidence trick!
It is a confidence trick that allows the trickster to smuggle no end of SCAM into routine cancer care!
Or did I miss something here?
Am I perhaps mistaken?
Please, do tell me!
The claim that homeopathy can cure cancer is so absurd that many people seem to think no homeopaths in their right mind would make it. Sadly, this turns out to be not true. A rather dramatic example is this extraordinary book. Here is what the advertisement says:
The global medical fraternity has been exploring various alternative approaches to cancer treatment. However, this exceptional book, "Healing Cancer: A Homoeopathic Approach" by Dr Farokh J Master, does not endorse a focused methodology, but it paves the way to a holistic homoeopath's approach. For the last 40 years, the author has been utilising this approach which is in line with the Master Hahnemann's teachings, where he gives importance to constitution, miasms, susceptibility, and most important palliation. It is a complete handbook, a ready reference providing authentic information on every aspect of malignant diseases. It covers the cancer related topics beginning from cancer archetype, clinical information on diagnosis, prevention, conventional treatment, homoeopathic aspects, therapeutics, polycrest remedies, rare remedies, Indian remedies, wisdom from the repertory, naturopathic and dietary suggestions, Iscador therapy, and social aspects of cancer to the latest researches in the field of cancer. Given the efforts put in by the author in writing this vast book, encompassing decades of clinical experience, this is indeed a valuable addition to the homoeopathic literature. In addition to homoeopaths, this book will indeed be useful for medical doctors of other modalities of therapeutics who also wish to explore a holistic approach to cancer patients since this book is the outcome of author's successful efforts in introducing and integrating homoeopathy to the mainstream cancer treatment.
END OF QUOTE
I do wonder what goes on in the head of a clinician who spent much of his life convincing himself and others that his placebos cure cancer and then takes it upon him to write a book about this encouraging other clinician to follow his dangerous ideas.
Is he vicious?
Is he in it for the money?
Is he stupid?
Is he really convinced?
Whatever the answer, he certainly is dangerous!
For those who do not know already: homeopathy is totally ineffective as a treatment for cancer; to think otherwise can be seriously harmful.
What is osteopathy?
That's a straightforward question; and it's one that I am being asked regularly. Embarrassingly, I am not sure I know the optimal answer. A dictionary definition states that osteopathy is 'a system of medical practice based on a theory that diseases are due chiefly to loss of structural integrity which can be restored by manipulation of the parts supplemented by therapeutic measures (such as use of drugs or surgery).' And in my most recent book, I defined it as 'a manual therapy involving manipulation of the spine and other joints as well as mobilization of soft tissues'. However, I am aware of the fact that these definitions are not optimal. Therefore, I was pleased to find a short article entitled 'What is osteopathy?'; it was published on the website of the London-based UNIVERSITY COLLEGE OF OSTEOPATHY (UCO).
The UCU has a proud history of ~100 years and a mission stating that they want to continually provide the highest quality education and research for all and the very best care, for each patient, on every occasion. Surely, they must know what osteopathy is.
Here is how they define it:
Osteopathy is a person-centred manual therapy that aims to enable patients to respond and adapt to changing circumstances and to live well.
At the UCO, we believe that osteopathy has the potential to help people change their lives – not only by searching for ways to manage disease, but also by helping patients to discover ways to enhance and maintain their own health and wellbeing.
A core principle of osteopathy is that wellbeing is dependent on how each person is able to function and adapt to changes in physical capability and their environment. Osteopaths are often described as treating the individual rather than the condition: when treating a patient they consider the symptom or injury alongside other biological, physiological and social factors which may be contributing to it.
Osteopaths work to ensure the best possible care for their patients, aiding their recovery and supporting them to help manage their conditions through a range of approaches, including physical manipulation of the musculoskeletal system and education and advice on exercise, diet and lifestyle.
END OF QUOTE
Let's analyse this text bit by bit:
… a person-centred manual therapy that aims to enable patients to respond and adapt to changing circumstances and to live well. Sorry, but this sounds like a platitude to me. It could apply to any quackery on the planet: Homeopathy is a person-centred manual therapy that aims to enable patients to respond and adapt to changing circumstances and to live well. Faith healing is a person-centred manual therapy that aims to enable patients to respond and adapt to changing circumstances and to live well. Chiropractic is a person-centred manual therapy that aims to enable patients to respond and adapt to changing circumstances and to live well. etc., etc.
… we believe that osteopathy has the potential to help people change their lives – not only by searching for ways to manage disease, but also by helping patients to discover ways to enhance and maintain their own health and wellbeing. Of course, they believe that. Homeopaths, faith healers, chiropractors believe the same about their bogus treatments. But medicine should have more to offer than mere belief.
… wellbeing is dependent on how each person is able to function and adapt to changes in physical capability and their environment. Yes, perhaps. But this statement is too broad to amount to more than a platitude.
Osteopaths are often described as treating the individual rather than the condition: when treating a patient they consider the symptom or injury alongside other biological, physiological and social factors which may be contributing to it. Really? I thought that all great clinicians can be described as treating the individual rather than the condition: when treating a patient they consider the symptom or injury alongside other biological, physiological and social factors which may be contributing to it. ('The good physician treats the disease; the great physician treats the patient who has the disease.' [William Osler], 'Reductionism is a dirty word, and a kind of 'holistier than thou' self-righteousness has become fashionable.' [Richard Dawkins])
Osteopaths work to ensure the best possible care for their patients, aiding their recovery and supporting them to help manage their conditions through a range of approaches… What is this supposed to mean? Do non-osteopaths work to ensure the worst possible care for their patients, obstructing their recovery and preventing them to help manage their conditions through a range of approaches? In my view, this sentence is just plain stupid.
What have we learnt from this excursion?
Mainly two things, I think:
Osteopaths and even the UCO seems unable to provide a decent definition of osteopathy. The reason for this odd phenomenon might be that it is not easy to define nonsense.
Osteopaths, like other SCAM-practitioners, may not be all that good at logical thinking, but – by Jove! – they are excellent at touting fallacies.
Need a last minute X-mas present?
I might have just the right thing for you: Healing Courses Online.
They are run by true professionals who clearly know what they are doing: The founders of The Online Bio Energy Healing Training Course are John Donohoe and Patricia Hesnan, both of whom have been working in the alternative complementary healing area for over 25 years. Our healing centre clinic has been involved in teaching, development and trainings since it was first established in 1990, and we continue to promote and hold our regular live training courses.
Healing Courses Online is registered with the CMA (Complementary Medical Association), which is internationally recognized as the leading organization in professional, ethical complementary medicine by professional practitioners, therapists, and the public in general. Having completed this course, you can apply for membership of the CMA which offers a number of benefits including supplying professional accreditation. The CAM industry does not have a single regulatory body at present. With this in mind here at Oisin Centre Limited and Healing Courses Online we provide certification and training of the highest standards and expect our students to adhere to all statutory regulations, standards and codes of ethics regarding professional practice as therapists. You can feel safe in the knowledge that we are an experienced and trusted provider of Energy Healing training courses.
AND HERE ARE THE DETAILS AND PRICE-TAGS OF 4 COURSES:
A diploma course in energy healing. It includes 58 professional video lessons, 8 PDF lectures in a carefully constructed A, B, C, step-by-step format, allowing you to learn each technique and each application in easy stages. When you have completed the course you receive a Certified Diploma in Energy Healing. Once you have the knowledge and understand how to apply this energy healing therapy you can help yourself and others to activate the body's own natural process of self-healing.
€97.00 – Was €375.00
A diploma course in sound healing. It includes 37 professional video lessons, 18 PDF lectures in a carefully constructed A, B, C, step-by-step format, allowing you to learn each technique and each application in easy stages. When you have completed the course, you receive a Certified Diploma in Sound Healing. Learn the secrets to sound healing with Tibetan singing bowls, Chinese gong, Tuning forks, the Human Voice, plus energy healing clearing for chakras plus much more.
€69.00 – Was €275.00
A diploma course in animal energy healing. It includes 30 practical video lessons and 5 PDF lectures in a carefully constructed A, B, C, step-by-step format, allowing you to learn each technique and each application in easy stages. When you have completed the course, you receive a Certified Diploma in Animal Healing. This is an ideal course to learn how you can help your pet or any animal so they may be healthy, happy and content.
€59.00 – Was €225.00
SELF HEALING / SELF HELP ONLINE COURSE includes 24 professional video lessons, plus 20 PDF lectures in a carefully constructed A, B, C, step-by-step format, allowing you to learn each technique and each application in easy stages and certification of completion. You can view a video with simple Qi-Gong exercises filmed at picturesque Galway Bay in Ireland. The aim of using singing bowls, crystal bowls, tuning forks, healing music, or the human voice as a self healing modality is to help restore the body to its normal.
€19.99 – Was €199.00
__________________________________________________________________________
IN CASE YOU WONDER WHAT YOU CAN DO ONCE YOU HAVE PASSED ONE OF THOSE COURSES, THE COURSE DIRECTORS GIVE IT TO YOU STRAIGHT:
Energy healing can be used as a standalone therapy or in conjunction with many other modalities including counselling, psychotherapy, hypnosis, acupuncture, massage, reflexology, and many more.
As soon as you have completed the course plus a short 10 question test, you will be granted your diploma, which you can download and print. (Your diploma is also automatically sent to your email account.)
___________________________________________________________________________
On this blog and elsewhere, my critics regularly complain that I do not have any qualifications in alternative medicine. Therefore, I am tempted to enrol (as a generous and high-value X-mas present to myself) – even though I am still uncertain which of the 4 courses might be best for me (and, of course, I cannot be sure to pass the '10 question test'!).
How about you?
Will you join me?
Alternative medicine is an odd term (but it is probably as good or bad as any other term for it). It describes a wide range of treatments (and diagnostic techniques which I exclude from this discussion) that have hardly anything in common.
Hardly anything!
And that means there are a few common denominators. Here are 7 of them:
The treatments have a long history and have thus stood the 'test of time'.
The treatments enjoy a lot of support.
The treatments are natural and therefore safe.
The treatments are holistic.
The treatments tackle the root causes of the problem.
The treatments are being suppressed by the establishment.
The treatments are inexpensive and therefore value for money.
One only has to scratch the surface to discover that these common denominators of alternative medicine turn out to be unmitigated nonsense.
Let me explain:
The treatments have a long history and have thus stood the 'test of time'.
It is true that most alternative therapies have a long history; but what does that really mean? In my view, it signals but one thing: when these therapies were invented, people had no idea how our body functions; they mostly had speculations, superstitions and myths. It follows, I think, that the treatments in question are built on speculations, superstitions and myths.
This might be a bit too harsh, I admit. But one thing is absolutely sure: a long history of usage is no proof of efficacy.
The treatments enjoy a lot of support.
Again, this is true. Alternative treatments are supported by many patients who swear by them, by thousands of clinicians who employ them as well as by royalty and other celebrities who make the headlines with them.
Such support is usually based on experience or belief. Neither are evidence; quite the opposite, remember: the three most dangerous words in medicine are 'IN MY EXPERIENCE'. To be clear, experience and belief can fool us profoundly, and science is a tool to prevent us being misled by them.
The treatments are natural and therefore safe.
Here we have two fallacies moulded into one. Firstly, not all alternative therapies are natural; secondly, none is entirely safe.
There is nothing natural about diluting the Berlin Wall and selling it as a homeopathic remedy. There is nothing natural about forcing a spinal joint beyond its physiological range of motion and calling it spinal manipulation. There is nothing natural about sticking needles into the skin and claiming this re-balances our vital energies.
Acupuncture, chiropractic, herbal medicine, etc. are burdened with their fair share of adverse effects. But the real danger of alternative medicine is the harm done by neglecting effective therapies. Anyone who decides to forfeit conventional treatments for a serious condition, and uses alternative therapies instead, runs the risk of shortening their lives.
The treatments are holistic.
Alternative therapists try very hard to sell their treatments as holistic. This sounds good and must be an excellent marketing gimmick. Alas, it is not true.
There is nothing less holistic than seeing subluxations, yin/yang imbalances, auto-intoxications, energy blockages, etc. as the cause of all illness. Holism is at the heart of all good healthcare; the attempt by alternative practitioners to hijack it is merely a transparent attempt to boost their business.
The treatments tackle the root causes of the problem.
Alternative therapists claim that they can identify the root causes of all conditions and thus treat them more effectively than conventional clinicians who merely treat their symptoms. Nothing could be further from the truth. Conventional medicine has been so spectacularly successful not least because we always aim at identifying the cause that underlie a symptom and, whenever possible, treat that cause (often in addition to treating symptoms). Alternative practitioners may well delude themselves that energy imbalances, subluxations, chi-blockages etc. are root causes, but there simply is no evidence to support their deluded claims.
The treatments are being suppressed by the establishment.
The feeling of paranoia seems endemic in alternative medicine. Many practitioners are so affected by it that they believe everyone who doubts their implausible notions and misconceptions is out to get them. Big Pharma' or whoever else they feel prosecuted by are more likely to smile at such wild conspiracy theories than to fear for their profit margins. And whenever 'Big Pharma' does smell a fast buck, they do not hesitate to jump on the alternative band-waggon joining them in ripping off the public by flogging dubious supplements, homeopathics, essential oils, vitamins, flower remedies, detox-remedies, etc.
The treatments are inexpensive and therefore value for money.
It is probably true that the average cost of a homeopathic remedy, an acupuncture treatment or an aromatherapy session costs less than the average conventional treatment. However, to conclude from it that alternative therapies are value for money is wrong. To be of real value, a treatment needs to generate more good than harm; but very few alternative treatments fulfil this criterion. To use a blunt analogy, if someone offers you a used car, it may well be inexpensive – if, however, it does not run and is beyond repair, it cannot be value for money.
As I already stated: alternative medicine is so diverse that its various branches are almost entirely unrelated, and the few common denominators of alternative medicine that do exist are unmitigated nonsense.
Twenty years ago (5 years into my post at Exeter), I published this little article (BJGP, Sept 1998). It was meant as a sort of warning – sadly, as far as I can see, it has not been heeded. Oddly, the article is unavailable on Medline, I therefore take the liberty of re-publishing it here without alterations (if I had to re-write it today, I would not change much) or comment:
Once the omnipotent heroes in white, physicians today are at risk of losing the trust of their patients. Medicine, some would say, is in a deep crisis. Shouldn't we start to worry?
The patient-doctor relationship, it seems, is at the heart of this argument. Many patients are deeply dissatisfied with this aspect of medicine. A recent survey on patients consulting GPs and complementary practitioners in parallel and for the same problem suggested that most patients are markedly more happy with all facets of the therapeutic encounter as offered by complementary practitioners. This could explain the extraordinary rise of complementary medicine during recent years. The neglect of the doctor-patient relationship might be the gap in which complementary treatments build their nest.
Poor relationships could be due to poor communication. Many books have been written about communications skills with patients. But never mind the theory, the practice of all this may be less optimal than we care to believe. Much of this may simply relate to the usage of language. Common terms such as 'stomach', 'palpitations', 'lungs', for instance, are interpreted in different ways by lay and professional people. Words like 'anxiety', 'depression', and 'irritability' are well defined for doctors, while patients view them as more or less interchangeable. At a deeper level, communication also relates to concepts and meanings of disease and illness. For instance, the belief that a 'blockage of the bowel' or an 'imbalance of life forces' lead to disease is as prevalent with patients as it is alien to doctors. Even on the most obvious level of interaction with patients, physicians tend to fail. Doctors often express themselves unclearly about the nature, aim or treatment schedule of their prescriptions.
Patients want to be understood as whole persons. Yet modern medicine is often seen as emphazising a reductionistic and mechanistic approach, merely treating a symptom or replacing a faulty part, or treating a 'case' rather than an individual. In the view of some, modern medicine has become an industrial behemoth shifted from attending the sick to guarding the economic bottom line, putting itself on a collision course with personal doctoring. This has created a deeply felt need which complementary medicine is all too ready to fill. Those who claim to know the reason for a particular complaint (and therefore its ultimate cure) will succeed in satisfying this need. Modern medicine has identified the causes of many diseases while complementary medicine has promoted simplistic (and often wrong) ideas about the genesis of health and disease. The seductive message usually is as follows: treating an illness allopathically is not enough, the disease will simply re-appear in a different guise at a later stage. One has to tackle the question – why the patient has fallen ill in the first place. Cutting off the dry leaves of a plant dying of desiccation won't help. Only attending the source of the problem, in the way complementary medicine does, by pouring water on to the suffering plant, will secure a cure. This logic is obviously lop-sided and misleading, but it creates trust because it is seen as holistic, it can be understood by even the simplest of minds, and it generates a meaning for the patient's otherwise meaningless suffering.
Doctors, it is said, treat diseases but patients suffer from illnesses. Disease is something an organ has; illness is something an individual has. An illness has more dimensions than disease. Modern medicine has developed a clear emphasis on the physical side of disease but tends to underrate aspects like the patient's personality, beliefs and socioeconomic environment. The body/mind dualism is (often unfairly) seen as a doctrine of mainstream medicine. Trust, it seems, will be given to those who adopt a more 'holistic' approach without dissecting the body from the mind and spirit.
Empathy is a much neglected aspect in today's medicine. While it has become less and less important to doctors, it has grown more and more relevant to patients. The literature on empathy is written predominantly by nurses and psychologists. Is the medical profession about to delegate empathy to others? Does modern, scientific medicine lead us to neglect the empathic attitude towards our patients? Many of us are not even sure what empathy means and confuse empathy with sympathy. Sympathy with the patient can be described as a feeling of 'I want to help you'. Empathy, on these terms, means 'I am (or could be) you'; it is therefore some sort of an emotional resonance. Empathy has remained somewhat of a white spot on the map of medical science. We should investigate it properly. Re-integrating empathy into our daily practice can be taught and learned. This might help our patients as well as us.
Lack of time is another important cause for patients' (and doctors') dissatisfaction. Most patients think that their doctor does not have enough time for them. They also know from experience that complementary medicine offers more time. Consultations with complementary practitioners are appreciated, not least because they may spend one hour or so with each patient. Obviously, in mainstream medicine, we cannot create more time where there is none. But we could at least give our patients the feeling that, during the little time available, we give them all the attention they require.
Other reasons for patients' frustration lie in the nature of modern medicine and biomedical research. Patients want certainty but statistics provides probabilities at best. Some patients may be irritated to hear of a 70% chance that a given treatment will work; or they feel uncomfortable with the notion that their cholesterol level is associated with a 60% chance of suffering a heart attack within the next decade. Many patients long for reassurance that they will be helped in their suffering. It may be 'politically correct' to present patients with probability frequencies of adverse effects and numbers needed to treat, but anybody who (rightly or wrongly) promises certainty will create trust and have a following.
Many patients have become wary of the fact that 'therapy' has become synonymous with 'pharmacotherapy' and that many drugs are associated with severe adverse reactions. The hope of being treated with 'side-effect-free' remedies is a prime motivator for turning to complementary medicine.
Complementary treatments are by no means devoid of adverse reactions, but this fact is rarely reported and therefore largely unknown to patients. Physicians are regularly attacked for being in league with the pharmaceutical industry and the establishment in general. Power and money are said to be gained at the expense of the patient's well-being. The system almost seems to invite dishonesty. The 'conspiracy theory' goes as far as claiming that 'scientific medicine is destructive, extremely costly and solves nothing. Beware of the octopus'. Spectacular cases could be cited which apparently support it. Orthodox medicine is described as trying to 'inhibit the development of unorthodox medicine', in order to enhance its own 'power, status and income'. Salvation, it is claimed, comes from the alternative movement which represents '… the most effective assault yet on scientific biomedicine'. Whether any of this is true or not, it is perceived as the truth by many patients and amounts to a serious criticism of what is happening in mainstream medicine today.
In view of such criticism, strategies for overcoming problems and rectifying misrepresentations are necessary. Mainstream medicine might consider discovering how patients view the origin, significance, and prognosis of the disease. Furthermore, measures should be considered to improve communication with patients. A diagnosis and its treatment have to make sense to the patient as much as to the doctor – if only to enhance adherence to therapy. Both disease and illness must be understood in their socio-economic context. Important decisions, e.g. about treatments, must be based on a consensus between the patient and the doctor. Scientists must get better in promoting their own messages, which could easily be far more attractive, seductive, and convincing than those of pseudo-science.These goals are by no means easy to reach. But if we don't try, trust and adherence will inevitably deteriorate further. I submit that today's unprecedented popularity of complementary medicine reflects a poignant criticism of many aspects of modern medicine. We should take it seriously
As you know, my ambition is to cover all (or at least most) alternative methods on this blog _ by no means an easy task because there is a sheer endless list of treatments and a sizable one of diagnostic techniques. One intervention that we have not yet discussed is ZERO BALANCING.
What is it?
This website explains it fairly well:
Developed by Fritz Smith, MD in the early 1970s, Zero Balancing is a powerful body-mind therapy that uses skilled touch to address the relationship between energy and structures of the body. Following a protocol that typically lasts 30 to 45 minutes,  the practitioner uses finger pressure and gentle traction on areas of tension in the bones, joints and soft tissue to create fulcrums, or points of balance, around which the body can relax and reorganize. Zero Balancing focuses primarily on key joints of our skeleton that conduct and balance forces of gravity, posture and movement. By addressing the deepest and densest tissues of the body along with soft tissue and energy fields, Zero Balancing helps to clear blocks in the body's energy flow, amplify vitality and contribute to better postural alignment. A Zero Balancing session leaves you with a wonderful feeling of inner harmony and organization.
Did I just say 'fairly well'? I retract this statement. Zero Balancing turns out to be one of the more nebulous alternative treatments.
The therapy might be defined by lots of nonsensical terminology, but that does not necessarily mean it is rubbish. Judging from the claims made for Zero Balancing, it might even be a most useful therapy. Here are just some of the claims frequently made for zero balancing:
Increases feelings of health and well-being
Releases stress and improves the flow of energy in our bodies
Reduces pain and discomfort
Enhances stability, balance and freedom
Amplifies the sense of connection, peace and happiness
Releases mental, emotional and physical tension
Supports us through transitions and transformations
Improves quality of life and increases capacity for enjoyment
These claims are testable, and we must, of course, ask by what evidence they are being supported. I did a quick Medline-search to find out.
And the result?
Zero!
… now the rather odd name of the treatment begins to make sense: ZERO BALANCING, ZERO EVIDENCE.