commercial interests
I stumbled over an article entitled 'The myths of homeopathy: Resounding answers'. I thought it was great fun, so much so, that I copied it below – not just once but twice. The second time I took the liberty of replacing the little porkies told by homeopaths with the truth.
THE ORIGINAL
Homeopathic medicines are not placebos! Little "pellets" of sugar cannot have an effect!
Of course, the sugar in homeopathic pellets doesn't have any effect. This is why we also have tablets and drops that contain homeopathic active substances.
The sugar is simply a medium for these active substances. The important element is what has been added to the sugar – the active ingredient!
As homeopathic remedies have very slow action, they cannot be used to treat acute illnesses!
This is incorrect. You can successfully use homeopathy in acute circumstances such as infections, fevers and colds.
Homeopathy seems to be a kind of magic!
Homeopathy is not magic! Homeopathy is a field of medicine that has the capacity to heal, but if course, it has its limits, just like any other medicine, including conventional medicine.
To give you a clear example – it's unlikely that homeopathy will replace a surgical intervention.
During homeopathic treatment you have to follow a strict diet!
Well, it's not such a bad thing…but of course, you need to eat healthily and avoid smoking, drinking alcohol and coffee.
In some cases you can't eat onion or garlic as they contain sulphur, which is a homeopathic remedy in itself. All of these things have little to do with a strict diet.
Diabetes sufferers can't use homeopathic remedies!
This is not true. The amount of sugar in the pellets is negligible. These homeopathic pellets could even be taken on a daily basis. The foods we eat contain much more sugar, even those that are especially for diabetics.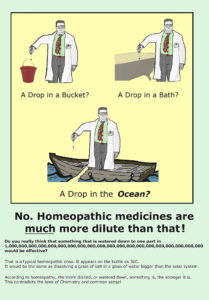 MY CORRECTED VERSION
Homeopathic medicines are not placebos! Little "pellets" of sugar cannot have an effect!
Of course, the sugar in homeopathic pellets doesn't have any effect. And the drops added also contain no active substances.
In other words, there is no active ingredient!
As homeopathic remedies have very slow action, they cannot be used to treat acute illnesses!
This is correct. You cannot successfully use homeopathy in acute circumstances such as infections, fevers and colds. In fact, you cannot use it to cure any condition, chronic or acute.
Homeopathy seems to be a kind of magic!
Homeopathy is not magic! It relies on the placebo and other non-specific effects, and that is no magic.
During homeopathic treatment you have to follow a strict diet!
Hahnemann gave very clear instructions to avoid a whole range of things while taking homeopathic remedies – otherwise, they don't work, he claimed. This is as wrong as everything else Hahnemann said about homeopathy: these remedies don't work whatever you do.
Diabetes sufferers can't use homeopathic remedies!
This is not true. The amount of sugar in the pellets is negligible. These homeopathic pellets could even be taken on a daily basis. The foods we eat contain much more sugar, even those that are especially for diabetics. But that does, of course, not mean that diabetics ought to take homeopathic remedies. There is no reason why they should; these remedies are pure placebos.
__________________________________________________________________________
Few people reading these lines will be surprised that the 'resounding answers' turn out to be resounding lies. And what I above called 'great fun', turns out to be a serious deception.
The fascinating thing here is, I think, the way homeopaths try to mislead the public: one seemingly innocent untruth about the 'active substance' is used as the basis for an entire house of cards. It tumbles at the slightest attempt to provide the facts. Sadly, many consumers do not know the facts and are therefore prone to fall victim of these resounding lies.
There is perhaps not a law against such lies, but there certainly are moral and ethical principles that must not be violated:
TELLING LIES OF THIS NATURE IS UNETHICAL AND ENDANGERS THE HEALTH OF THOSE WHO DO NOT KNOW THE FACTS.
Why  do most alternative practitioners  show such dogged determination not to change their view of the efficacy of their therapy, even if  good evidence shows that it is a placebo? This is the question that I have been pondering for some time. I have seen many doctors change their mind about this or that treatment in the light of new evidence. In fact, I have not seen one who has not done so at some stage. Yet I have never seen an alternative therapist change his/her mind about his/her alternative therapy. Why is that?
You might say that the answers are obvious:
because they have heavily invested in their therapy, both emotionally and financially;
because their therapy has 'stood the test of time';
because they believe what they were taught;
because they are deluded, not very bright, etc.;
because they need to earn a living.
All of these reasons may apply. But do they really tell the whole story? While contemplating about this question, I thought of something that had previously not been entirely clear to me: they simply KNOW that the evidence MUST be wrong.
Let me try to explain.
Consider an acupuncturist (I could have chosen almost any other type of alternative practitioner) who has many years of experience. He has grown to be a well-respected expert in the world of acupuncture. He sits on various committees and has advised important institutions. He knows the literature and has treated thousands of patients.
This experience has taught him one thing for sure: his patients do benefit from his treatment. He has seen it happening too many times; it cannot be a coincidence. Acupuncture works, no question about it.
And this is also what the studies tell him. Even the most sceptical scientist cannot deny the fact that patients do get better after acupuncture. So, what is the problem?
The problem is that sceptics say that this is due to a placebo effect, and many studies seem to confirm this to be true. Yet, our acupuncturist completely dismisses the placebo explanation.
Why?
Because he has heavily invested in their therapy? Perhaps.
Because acupuncture has 'stood the test of time'? Perhaps.
Because he believes what he has been taught? Perhaps.
Because he is deluded, not very bright, etc.? Perhaps.
Because he needs to earn a living? Perhaps.
But there is something else.
He has only ever treated his patients with acupuncture. He has therefore no experience of real medicine, or other therapeutic options. He has no perspective. Therefore, he does not know that patients often get better, even if they receive an ineffective treatment, even if they receive no treatment, and even if they receive a harmful treatment. Every improvement he notes in his patients, he relates to his acupuncture. Our acupuncturist never had the opportunity to learn to doubt cause and effect in his clinical routine. He never had to question the benefits of acupuncture. He never had to select from a pool of therapies the optimal one, because he only ever used acupuncture.
It is this lack of experience that never led him to think critically about acupuncture. He is in a similar situation as physicians were 200 years ago; they only (mainly) had blood-letting, and because some patients improved with it, they had no reason to doubt it. He only ever saw his successes (not that all his patients improved, but those who did not, did not return). He simply KNOWS that acupuncture works, because his own, very limited experience never forced him to consider anything else. And because he KNOWS, the evidence that does not agree with his knowledge MUST be wrong.
I am of course exaggerating and simplifying in order to make a point. And please don't get me wrong.
I am not saying that doctors cannot be stubborn. And I am not saying that all alternative practitioners have such limited experience and are unable to change their mind in the light of new evidence. However, I am trying to say that many alternative practitioners have a limited perspective and therefore find it impossible to be critical about their own practice.
If I am right, there would be an easy (and entirely alternative) cure to remedy this situation. We should sent our acupuncturist to a homeopath (or any other alternative practitioner whose practice he assumes to be entirely bogus) and ask him to watch what kind of therapeutic success the homeopath is generating. The acupuncturist would soon see that it is very similar to his own. He would then have the choice to agree that highly diluted homeopathic remedies are effective in curing illness, or that the homeopath relies on the same phenomenon as his own practice: placebo.
Sadly, this is not going to happen, is it?
Homeopaths are not generally known for the reliability of their recommendations. This advice by the UK Society of Homeopaths (SoH) was emailed to me a few days ago (how on earth did they know I was on holiday?). It is just too weird and wonderful – I cannot resist the temptation of showing it to you:
START OF QUOTE
Off on holiday? Whether you're going abroad or 'staycationing', keep these remedies handy to tackle a range of minor ailments. We suggest 30c potencies for all remedies, using every 30- 90 minutes, two or three times depending on the severity of the condition. Always seek medical help for anything more than a minor injury or illness.
Aconite Great for shock, such as from fright, bad news or after having a fall. Also good for the onset of fever after exposure to acute cold, wind or heat.
Apis For bee or wasp stings and any allergic reaction which causes rapid swelling, redness and pain and where the affected area is puffy, white or rosy, feels hot and is better for cold compresses.
Arnica The classic remedy for trauma, injury and bruising. The typical arnica patient will tell you that they are fine but may well be confused or in shock. Also useful for fractures, strains after exertion such as lifting heavy objects and the early stages of a black eye and for jetlag.
Arsenicum This is a great remedy for food poisoning, especially from meat. The person will be very anxious and not easily pacified. The pains are often burning. Vomiting and diarrhoea accompanied by chills, exhaustion, and restless.
Belladonna Great for heatstroke or exhaustion, along with appropriate cooling and rehydration therapy, and for acute fevers or inflammations, which come on suddenly and lead to throbbing pain, redness and swelling. The skin is hot and red and the face flushed but, at the same time, the person can feel chilly and want to be covered.
Ledum This is the first remedy to think of with puncture wounds and for bites and stings which fester. Good for twisted or sprained joints, especially ankles.
Nux Vomica The main remedy for hangover or indigestion from over-eating but also useful for food poisoning in which there is constant retching.
Urtica urens Very useful for skin conditions such as urticaria with raised lumps like nettle rash and great for 'prickly heat. Urtica can be used for minor burns and scalds as well where pains are stinging, like nettle rash, but not too sore to touch.
END OF QUOTE
I find the list and particularly the comments most revealing. To me, they suggest that homeopathy just do not have a cue. They recommend nonsense for conditions they know nothing about. They do not seem to know what real shock or food poisoning or heat stroke are. They do not seem to appreciate that they can be life-threatening problems. And by stating "Always seek medical help for anything more than a minor injury or illness", they clearly admit that they are merely jokers of no significance whatsoever.
For what it's worth, I here give my evidence-based view on the remedies listed:
Aconite No evidence to justify the claims mentioned above.
Apis No evidence to justify the claims mentioned above.
Arnica Some evidence to show that Arnica does not work.
Arsenicum No evidence to justify the claims mentioned above.
Belladonna No evidence to justify the claims mentioned above.
Ledum No evidence to justify the claims mentioned above.
Nux Vomica No evidence to justify the claims mentioned above.
Urtica urens No evidence to justify the claims mentioned above.
Oh, I almost forgot: the SoH is the organisation of 'professional' homeopaths in the UK (professional meaning they have no medical training). On their website, they state: "High standards are the cornerstone of the Society of Homeopaths. So we were delighted that our register was accredited by the Professional Standards Authority for Health and Social Care (PSA)  in 2014… This accreditation demonstrates our commitment to high professional standards, to enhancing safety and delivering a better service."
One does wonder whether killing gullible holidaymakers via bad advice counts as high standards.
Several previous studies have suggested improvements in sperm quality after vitamin supplementation, and several reviews have drawn tentatively positive conclusions:
Most of the primary trials lacked scientific rigour, however. Now a new study has emerged that overcomes many of the flaws of the previous research.
Professor Anne Steiner from the University of North Carolina at Chapel Hill, USA, presented her study yesterday at the 34th Annual Meeting of ESHRE in Barcelona. This clinical trial of 174 couples has found that an antioxidant formulation taken daily by the male partner for a minimum of three months made no difference to sperm concentration, motility or morphology, nor to the rate of DNA fragmentation. The study was performed in eight American fertility centres.
All men in the study had been diagnosed with male factor infertility, reflected in subnormal levels of sperm concentration, motility, or morphology, or higher than normal rates of DNA fragmentation. These parameters were measured at the start of the trial and at three months. In between, the men allocated to the antioxidant intervention were given a daily supplement containing vitamins C, D3 and E, folic acid, zinc, selenium and L-carnitine; the control group received a placebo.
At three months, results showed only a "slight" overall difference in sperm concentration between the two groups, and no significant differences in morphology, motility, or DNA fragmentation measurements. Sub-group analysis (according to different types of sperm abnormality) found no significant differences in sperm concentration (in oligospermic men), motility (in asthenospermic men), and morphology (in teratospermic men).(1) There was also no change seen after three months in men with high rates of DNA fragmentation (28.9% in the antioxidant group and 28.8 in the placebo group).
Natural conception during the initial three month study period did also not differ between the two groups of the entire cohort – a pregnancy rate of 10.5% in the antioxidant group and 9.1% in the placebo. These rates were also comparable at six months (after continued antioxidant or placebo for the male partner and three cycles of clomiphene and intrauterine insemination for the female partner).
The authors concluded that "the results do not support the empiric use of antioxidant therapy for male factor infertility in couples trying to conceive naturally".
The story about supplements and health claims seems to be strangely repetitive:
the claim that supplements help for condition xy is heavily promoted, e. g. via the Internet;
a few flimsy trials seem to support the claim;
these results are relentlessly hyped;
the profit of the manufacturers grows;
eventually a rigorous, independently-funded trial emerges with a negative finding;
the card house seems to collapse;
the manufacturers claim that the trial's methodology was faulty (e. g. wrong does, wrong mixture of ingredients);
thus another profitable card house is built elsewhere.
In the end, the only supplement-related effects are that 1) the consumers produce expensive urine and 2) the manufacturers have plenty of funds to start a new campaign based on yet another bogus heath claim.
With depressing regularity, we hear that this or that VIP has decided to travel to Germany to get her/his cancer cured. As long as I can remember, cancer quackery has been wide-spread in Germany. More recently, dozens of private clinics have sprung up that seem to specialise in treating rich, foreign cancer patients. The message they like to send out is that, in Germany, one gets more advanced and effective treatments.
Having looked at some of the clinics' websites, I do, however, not get the impression that this is true. For instance, one clinic that is often mentioned offers amongst other treatments the following (the descriptions are quotes from the clinic's website):
Orthomolecular medicine aims to restore the 
ideal and beneficial environment of the body by correcting molecular imbalances, and this approach is used in cancer, infections, depression and atherosclerosis, among others.
Here at the Hallwang Private Oncology Clinic every patient receives a well-balanced supportive infusion program consisting of anti-inflammatory, potent anti-oxidant and detoxifying substances, which help you recover from previous treatments, minimize side effects from current treatments and strengthen your immune system to enhance treatment effects. Substances used are for example vitamin C, selenium, zinc, L-ornithine aspartate, glutathione, alpha lipoic acid, among many others.
Vitamin C, also known as ascorbic acid, is an essential vitamin. It is a potent antioxidant which helps to protect against free radical damage to our proteins, fats, carbohydrates, DNA and RNA. Vitamin C is used to boost the immune system.
Ozone is a powerful oxidizing agent. While high concentrations can be toxic, small ozone doses may increase naturally occurring antioxidants in the body. Antioxidants help to eliminate malignant calles and are needed to keep the body healthy. Ozone used for treatment is known for its bactericidal, fungicidal and virostatic properties. It also stimulates circulation and immune functions, and revitalizes the body.
Hyperbaric oxygen therapy is used to treat several medical conditions. It is a well-established treatment for decompression sickness, a hazard of scuba diving. Other conditions treated with hyperbaric oxygen therapy include serious infections, skin lesions or radiation injury. Wounds for example need oxygen to heal properly, and exposing a wound to 100 percent oxygen can improve and speed the healing process. This has been shown in a number of studies. The goal of this treatment is to increase the amount of oxygen your blood can carry in order to restore normal levels of blood gases and tissue function to promote healing and cure infection.
Whole body hyperthermia can be applied in a number of different diseases, including malignant, immunological, viral and other diseases. The aim of WBH is the destruction of malignant cells by induction of apoptosis via hyperthermia along with elimination of malignant cells that have become resistant to chemotherapy. With the help pf WBH, effects of other treatments, including chemotherapy and immunotherapy, can be enhanced.
END OF QUOTES
This does not look like cutting edge cancer therapy at all; in fact, none of these treatments are new and none have been shown to cure cancer or any other condition. Thus they are all examples of cancer quackery.
But, to be fair, the clinic in question (and most similar institutions in Germany) also employs a range of conventional cancer therapies. I am not an oncologist and therefore not competent to comment on these treatments; I leave this to someone who is competent; this is what David Gorski writes about them:  Hallwang uses very experimental treatments in a "blunderbuss" fashion, basically throwing everything but the kitchen sink together with no sophistication. We can't even know if these doctors know what the hell they are doing. Patients are treated, and, as far as we can tell, no systematic record of how well these patients do and how long they survive is kept, or, if such records are kept, they are kept secret.
One might, of course, argue that many patients are suffering from terminal cancers. They are desperate and have a right to try anything. As good physicians, we must not take their hope away. I would not dispute that; on the contrary, these patients deserve the best care we can muster. But I would still warn them to be cautious, and again I concur with David Gorski: People will often say of a terminal illness: How could things get any worse? The lesson of Hallwang tells us. Things can get worse if you're induced into chasing false hope. Things can get worse if you are enticed into eschewing effective palliative treatment and suffer more than is necessary—or even die prematurely from the treatment. Things can get worse if you drain your life's savings, leave nothing behind for your family, and spend the rest of your life chasing ever more money. Things can get worse if your family joins you in draining their life's savings to pay for your treatments. Things can always get worse, and quack cancer clinics virtually guarantee that they will.
In view of all this, I feel strongly that it is high time the German regulators have a close look at the plethora of cancer quackery and find a way of stopping this unethical, despicable exploitation.
I have already posted challenges to homeopaths. For instance, in a previous post, I asked the 'homeopaths of the world' to answer a few questions satisfactorily. In return, I promised to no longer doubt their memory of water theory. If they cannot do this, I contended, they should to admit that all their 'sciency' theories about the mode of action of highly diluted homeopathic remedies are really quite silly – more silly even than Hahnemann's idea of a 'spirit-like' effect.
And then there is the challenge to correctly identify their own remedies. In return, they would even earn the neat sum of Euro 50 000.
So far, none of these challenges have been met. But one must not give up hope!!!
Meanwhile, I have decided to issue another one. Let me explain:
One argument that the 'defenders of the homeopathic realm' love and almost invariably use, when someone states that it is time to move on and ban homeopathy to the history books, is this one:
IF WE BANNED HOMEOPATHY FROM OUR CLINICAL ROUTINE, WE WOULD ALSO HAVE TO BAN MANY OF THE TREATMENTS USED IN CONVENTIONAL MEDICINE WHICH ARE EQUALLY POORLY SUPPORTED BY SOUND EVIDENCE FOR EFFICACY.
This looks like a good argument!
I am sure that politicians, journalists, consumers and even many healthcare professionals find it convincing.
We know that lots of conventional treatments are less well supported than many of us would hope or think.
But less well-supported than homeopathy?
Let's see: Homeopathy has been around for ~200 years. Controlled clinical trials of homeopathy have been conducted since 1835. Today, we have about 500 controlled clinical trials of homeopathy. The totality of these data fails to convincingly demonstrate that homeopathy is more than a placebo.
Are there many other therapies that fulfil these criteria? Personally, I am not aware of such a therapy, and if I did know one, I am fairly certain that I would advocate its elimination from our clinical routine.
But I am, of course, not an expert in all fields of healthcare.
Perhaps such treatments do exist!
I want to find out, and – as always – the burden of proof is with those who use this argument.
Which brings me to my challenge.
I HEREWITH CHALLENGE HOMEOPATHS AND THEIR FOLLOWERS TO NAME THERAPIES THAT ARE AS USELESS AS HOMEOPATHY!
To be clear, they ought to fulfil the following criteria:
The treatment must be about 200 years old (plenty of time for a thorough evaluation).
It should have been extensively tested in about 500 controlled clinical trials.
The totality of this evidence should be negative.
The treatment should be part of the clinical routine and have ardent proponents who insist it should be paid for by public funds.
I hope lots of homeopaths can name lots of such therapies.
Failing this, they should think twice before they use the above argument again.
An article has just been published announcing the reform of the German Heilpraktiker, the profession of alternative practitioners that has been discussed repeatedly on this blog and criticised recently by the 'Muensteraner Kreis'. As the new article is in German, I will try to summarise the essence of it here:
The health ministers of all German counties have decided yesterday that they will start reforming the profession of the Heilpraktiker that has attracted much criticism in recent months. The current laws are no longer fit for purpose. There is neither a mandatory agreement for the education of the Heilpraktiker, nor a uniform regulation of the profession.
The senator for health from Hamburg stated: "We feel that the Heilpraktiker should not be allowed to do certain thing, but be permitted to do plenty of activities that remain legal." At present, the Heilpraktiker is allowed to treat fractures, malignancies, give injections, and even manufacture certain medicines. "We believe there is a need for regulation to protect patients."
Now a working group will be formed to investigate and produce a report within a year. Remarkably, the German health secretary avoided commenting. In a statement, it was said that patients must be empowered to make decisions on the basis of quality-assured information.
The full German text is below.
__________________________________________________________________________________
Nach mehreren deutschlandweit Aufsehen erregenden Todesfällen beispielsweise von Krebspatienten, die kurz nach der Therapie durch einen Heilpraktiker in Brüggen-Bracht starben, will die Politik sich nun diesen Berufszweig vornehmen. Die Gesundheitsminister aller Bundesländer haben am Donnerstag beschlossen, eine Reform anzugehen. "Das unzureichend regulierte Heilpraktikerwesen mit seiner umfassenden Heilkundebefugnis steht unverändert in der Kritik", heißt es in einer Erklärung. Das Heilpraktikergesetz könne dem heutigen Anspruch an den Gesundheitsschutz der Patienten nicht mehr gerecht werden. Für Heilpraktiker gebe es weder verbindliche Regeln zur Ausbildung noch eine einheitliche Berufsordnung. Andere Gesundheitsberufe müssten hingegen strenge Qualifikationskriterien erfüllen.
"Wir sehen es als kritisch an, dass einige Tätigkeiten zwar den Heilpraktikern untersagt sind, aber es noch eine Fülle von Tätigkeiten gibt, die zugelassen sind", sagte die Hamburger Senatorin für Gesundheit, Cornelia Prüfer-Storcks, auf einer Pressekonferenz – sie hatte die Initiative maßgeblich  vorangetrieben.  So dürfen Heilpraktiker Knochenbrüche therapieren, schwere und bösartige Erkrankungen behandeln und Injektionen geben. Selbst die Herstellung von Arzneimitteln für bestimmte Patienten sei Heilpraktikern erlaubt. "Ohne die Prüfmechanismen, die wir normalerweise haben, wenn wir Arzneimittel zulassen und produzieren", kritisierte Prüfer-Storcks. "Wir glauben, dass es hier Regelungsbedarf gibt aus Sicht des Patientenschutzes."
"Die Ministerinnen und Minister, Senatorinnen und Senatoren für Gesundheit sehen eine zwingende Reformbedürftigkeit des Heilpraktikerwesens", heißt es in dem kurzen, MedWatch vorliegenden Beschluss. "Der Bund wird gebeten, eine Bund-Länder-Arbeitsgruppe einzurichten, die eine grundlegende Reform des Heilpraktikerwesens prüft." Das Ergebnis der Prüfung solle bis zur Gesundheitsministerkonferenz in einem Jahr vorgelegt werden.
Bundesgesundheitsminister Jens Spahn erklärte auf der Pressekonferenz das Patientenwohl zwar zum entscheidenden Maßstab für die Gesundheitspolitik. "Deshalb finde ich es richtig, dass die Gesundheitsministerkonferenz bei der Patientenorientierung ihren Schwerpunkt setzt", sagte er. Auf mögliche Reformen des Heilpraktikerberufes ging der Minister bei der Pressekonferenz jedoch nicht ein. Inwiefern sein Haus die von den Landesministern geforderte Reform des Heilpraktikerwesens mit unterstützen wird, bleibt offen. Auf Nachfrage, ob das Ministerium eine Bund-Länder-Arbeitsgruppe unterstützen würde, versteckte sich eine Sprecherin bereits im Mai hinter der Mini-Reform von Gröhe. Mit Blick auf die kurze Zeit seit Inkrafttreten dieser Änderungen sei es angemessen, zunächst zu prüfen, ob und inwieweit diese zum Schutz des Patientenwohles beiträgt, erklärte sie – "ehe weitere gesetzliche Maßnahmen in Betracht gezogen werden sollten".
In einem Grundsatzbeschluss sprach sich die Gesundheitsministerkonferenz außerdem für "Patientenorientierung als Element einer zukunftsweisenden Gesundheitspolitik" aus. "Das heißt, dass der Patient natürlich das Heft in der Hand haben muss, dass er versteht, was mit ihm gemacht wird, warum es mit ihm gemacht wird, mit welchen Chancen die Behandlung verbunden ist", sagte NRW-Gesundheitsminister Karl Laumann. Auch in der Ausbildung des Gesundheitspersonals sollten diese Aspekte einen großen Stellenwert bekommen, betonte Laumann – und erwähnte zwar Ärzte als Berufsgruppe explizit, nicht aber Heilpraktiker. Der frühere Bundespatientenbeauftragte forderte außerdem mehr Transparenz ein. In Teilen des Gesundheitssystems gebe es wegen mangelnder Transparenz "eine gewisse Misstrauenskultur", sagte er.
Die Minister wollen laut dem Beschluss die Patientensouveränität und der Orientierung im Gesundheitswesen verbessern, die Gesundheitskompetenz und gesundheitliche Eigenverantwortung beispielsweise durch die Einrichtung eines nationalen Gesundheitsportals deutlich stärken und Kommunikation und Wissenstransfer zwischen Patienten und allen Beteiligten im Gesundheitswesen fördern. "Patienten sollen so in die Lage versetzt werden, ihre Interessen besser zu vertreten und ihre Entscheidungen auf der Basis qualitätsgesicherter Informationen zu treffen", heißt es.
Kommunikationskompetenz und wertschätzende Beziehungsgestaltung sei im Gesundheitswesen von wesentlicher Bedeutung für die Partizipation, Qualität, Sicherheit und den Erfolg der gesundheitlichen Prävention und der medizinischen Behandlung, betonen die Minister. Allgemeinverständliche "Patientenbriefe" sollen als erster Schritt die Informiertheit von Patienten nach Krankenhausbehandlungen erhöhen. Außerdem soll das Bundesgesundheitsminister eine Pflicht schaffen, dass niedergelassene Ärzte ihren Patienten neutrale und evidenzbasierte schriftliche Informationen zu Zusatzangeboten – sogenannten "Individuellen Gesundheitsleistungen" – zur Verfügung stellen müssen.
Bei Behandlungsfehlern sollen nach Ansicht der Landesminister auf Bundesebene weitere Erleichterungen umgesetzt werden: Die Beweislast und das Beweismaß soll zu Gunsten von Patienten überarbeitet werden. Außerdem sollten Krankenkassen gesetzlich verpflichtet werden, Patienten beim Nachweis eines Behandlungsfehlers besser zu unterstützen.
______________________________________________________________________________
I have been banging on about the German Heilpraktiker, its infamous history and its utter inadequacy since many years. This is what I published in 1996, for instance:
Complementary medicine is increasing in popularity. In most countries its practice is in the hands of non-medically trained practitioners, professions which are often not properly regulated. When discussing solutions to this problem the German "Heilpraktiker" is often mentioned. The history and present situation of this profession are briefly outlined. The reasons why the "Heilpraktiker concept" is not an optimal solution are discussed. It is concluded that the best way forward consists of regulation and filling the considerable gaps in knowledge relating to complementary medicine.
It goes without saying that, after so many tears of warning about the risks involved in allowing poorly trained practitioners, who are all too often unable to see the limits of their competency (and after many unnecessary fatalities), I am delighted that progress seems finally to be on the horizon.
This is a somewhat unusual post.
I do not normally dwell on personal anecdotes or experiences – but this one might be relevant, and it is absolutely true.
About 7 or 8 years ago (we had just published our book Trick or Treatment), I was invited to a meeting of health insurers. Not just any old meeting, but a top-notch conference where many of the world's most influential executives of large insurance companies were gathered. It took place in one of the most luxurious hotels of Istanbul. The most prominent speaker was the brother of France's president Sarkozy (who flew in by helicopter and came with two body-guards). He began his lecture by stating "You of course all know me because I have a famous sister in law."
I did not have such a witty opening phrase for my talk. My task was to review the evidence for and against the major alternative therapies (at the time, I did such lectures regularly). My audience of about 300 people listened politely to what I had to say and, during, question time, they made some relevant comments. Altogether, it was a good and well-received lecture.
But the interesting bit came later.
Over coffee, I was surrounded by people who came to me and said something like this: "We know the evidence, of course, and we know how flimsy it is, particularly for homeopathy. But we still pay for it, because the competition does it too. We cannot be seen to offer less than they do. This is purely a commercial decision about being seen to be competitive."
Such honesty came as a surprise to me. I had expected that they were well-informed about the evidence; after all, they were in charge of huge companies selling health insurances. Not knowing about the evidence would have been negligent. But I had not expected they would volunteer their motives quite so openly. I got the impression that they were trying to justify their nonsensical actions without seeming irrational. In a way, they seemed to say: 'Such treatments might not work for the patient, but they do work for us'.
I remember suggesting to some of these executives that they could even be more competitive, progressive and ethical by telling their customers that they took better care of their money that the competition by NOT paying for ineffective treatments. Such remarks  resulted in blank faces or vague smiles. I felt my audience had not really understood the opportunity. Being honest, transparent and evidence-based was evidently not understood as a viable marketing tool.
As I said, this was almost a decade ago
… lots has happened since.
I wonder whether the message might be more attractive today.
An announcement by the UK Society of Homeopaths caught my attention. Here it is in its full and unabbreviated beauty:
START OF ANNOUNCEMENT
Homeopaths are being urged to contribute to an inquiry exploring ways to tackle a looming public health crisis threatened by 'superbugs' – bacteria resistant to antibiotics and other antimicrobial drugs.
The Commons Select Committee on Health and Social Care is inviting evidence for its investigation into the progress made by the government so far in responding to the challenge.
The two angles it is exploring are:
What results have been delivered by the current UK strategy on antimicrobial resistance (AMR), launched in 2013?
Key actions and priorities for the government's next AMR strategy, due to be published at the end of 2018.
The Society of Homeopaths is putting together a submission and is asking members to submit their own evidence to the inquiry of using homeopathic alternatives to antimicrobials.
According to the inquiry background papers, antimicrobial resistance – in which bacteria have evolved into 'superbugs',  resistant to drugs devised to kill them – is a "significant and increasing threat" to public health in the UK and globally. EU data indicates that it is responsible for 700,000 deaths a year worldwide and at least 50,000 in the US and Europe.
The death toll could reach 10m people a year by 2050 if the rise in resistance is not headed off, it is estimated.
Society Chief Executive Mark Taylor said: "Our members know a great deal about the alternatives to antibiotics through their own practice and knowledge. This is a timely inquiry from the Health and Social Care Committee to assess the success of the existing strategy and an opportunity to make the case again for fresh thinking on this pressing public health challenge."
END OF ANNOUNCEMENT
Yes, of course!
We have a crisis of antibiotic resistance.
Who is going to offer the solution?
THE HOMEOPATHS!!!
How?
They are going to treat us all with homeopathic remedies when the superbugs strike.
And the result?
No more crisis.
How come?
Because they have turned it into a catastrophe!!!
Traditional vaginal practices usually relate to personal hygiene, genital health or sexuality. Hygiene practices involve external washing and intravaginal cleansing or douching and ingestion of substances. Health practices include intravaginal cleansing, traditional cutting, insertion of herbal preparations, and application of substances to soothe irritated vaginal tissue.
One such traditional practice is 'vaginal steaming'.
Recently vaginal steaming has become a fad promoted by SCAM-promoters (such as the vagina-obsessed Gwyneth Paltrow) with the claim that it leads to a range of health benefits. According to one website, for instance, vaginal steaming, Yoni Eggs, yoni or v-steam, as it is casually known, acts as an internal cleanser of the membranes of the vaginal tissues and uterus. This is considered especially important for stagnant fertility conditions and/or incomplete emptying of menses each cycle. This women's treatment gently but effectively cleanses, tones and revitalizes a woman's center, providing a myriad benefits from reduced menstrual cramps to increased fertility and more. Support your natural feminine cycle, help your body to heal, relax, and detoxify both physically and emotionally with a yoni steam.
The method is recommended for a wide range of conditions and is said to achieve all of the following and much, much more:
Significant reduction of pain, bloating and exhaustion associated with menstruation.
Significant reduction of PMS.
Decrease of menstrual flow as well as reduction of dark purple or brown blood at the onset or end of menses.
Regulation of irregular or absent menstrual cycles.
Increased fertility.
Faster healing and toning of the reproductive system following childbirth.
Assisting in healing uterine fibroids, ovarian cysts, uterine weakness, uterine prolapse & endometriosis.
Breaking down of reproductive adhesion/scar tissue. Assisting with the repair of a vaginal tear, episiotomy, or C-section scar.
Assisting with the healing of haemorrhoids.
Treating chronic vaginal/yeast infections and maintaining healthy vaginal odour.
Relief of menopausal symptoms such as vaginal dryness or pain during sex.
Detoxification of the womb/removal of toxins from the body. Release of stored emotions.
Reconnection with our female bodies and tapping into the sexual energy that is our creative potential.
Frequently, entrepreneurs recommend adding herbal or other ingredients. Herbs often used include:
mugwort
wormwood
chamomile
calendula
basil
oregano
None of these claims are supported by anything we would recognise as evidence, and it would be easy to make fun at the quacks who make them (and the women who fall for them) – unless, of course, there was real and significant harm involved. I fear, the potential for harm is undeniable:
vaginal steaming arms your bank account;
it disrupts the normal pH balance of the vagina;
in turn, this increases the risk of fungal and bacterial infections;
vaginal steaming can cause burns;
with added herbs, it can cause allergies.
New Zealand psychologists analysed online accounts of vaginal steaming to determine the sociocultural assumptions and logics within such discourse, including ideas about women, women's bodies and women's engagement with such 'modificatory' practices. Ninety items were carefully selected from the main types of website discussing vaginal steaming: news/magazines; health/lifestyle; spa/service providers; and personal blogs. Within an overarching theme of 'the self-improving woman' the researchers identified four themes: (1) the naturally deteriorating, dirty female body; (2) contemporary life as harmful; (3) physical optimisation and the enhancement of health; and (4) vaginal steaming for life optimisation. The authors concluded that online accounts of vaginal steaming appear both to fit within historico-contemporary constructions of women's bodies as deficient and disgusting, and contemporary neoliberal and healthist discourse around the constantly improving subject.
For the sake of 'journalistic balance', let's give Gwyneth the last word about the benefits of vaginal steaming. She knows best because she has done it and was quoted uttering these profound and scientific views: "The first time I tried v-steaming, I was like, 'This is insane'. My friend Ben brought me and I was like, 'You are out of your f**king mind. What is this? But then by the end of it I was like, 'This is so great.' Then I start to do research, and it's been in Korean medicine for thousands of years and there are real healing properties. If I find benefit to it and it's getting a lot of page views, it's a win-win."
And who would or could argue with that?