Harry G Frankfurt published his delightful booklet 'ON BULLSHIT' in 2005 (in case you don't know it, I highly recommend you read it). Since then, the term 'bullshit' has become accepted terminology even in polite discourse. But what exactly is bullshit? Frankfurt explains that is something between a lie and a bluff, perhaps more like the latter than the former.
Not least due to Frankfurt's book, there is today plenty of research on the subject of bullshit. As much of it relates to so-called alternative medicine (SCAM), allow me to present here just 5 of the most recent papers on bullshit.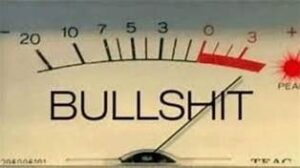 Navigating social systems efficiently is critical to our species. Humans appear endowed with a cognitive system that has formed to meet the unique challenges that emerge for highly social species. Bullshitting, communication characterised by an intent to be convincing or impressive without concern for truth, is ubiquitous within human societies. Across two studies (N = 1,017), we assess participants' ability to produce satisfying and seemingly accurate bullshit as an honest signal of their intelligence. We find that bullshit ability is associated with an individual's intelligence and individuals capable of producing more satisfying bullshit are judged by second-hand observers to be more intelligent. We interpret these results as adding evidence for intelligence being geared towards the navigation of social systems. The ability to produce satisfying bullshit may serve to assist individuals in negotiating their social world, both as an energetically efficient strategy for impressing others and as an honest signal of intelligence.
Research into both receptivity to falling for bullshit and the propensity to produce it have recently emerged as active, independent areas of inquiry into the spread of misleading information. However, it remains unclear whether those who frequently produce bullshit are inoculated from its influence. For example, both bullshit receptivity and bullshitting frequency are negatively related to cognitive ability and aspects of analytic thinking style, suggesting that those who frequently engage in bullshitting may be more likely to fall for bullshit. However, separate research suggests that individuals who frequently engage in deception are better at detecting it, thus leading to the possibility that frequent bullshitters may be less likely to fall for bullshit. Here, we present three studies (N = 826) attempting to distinguish between these competing hypotheses, finding that frequency of persuasive bullshitting (i.e., bullshitting intended to impress or persuade others) positively predicts susceptibility to various types of misleading information and that this association is robust to individual differences in cognitive ability and analytic cognitive style.
Recent psychological research has identified important individual differences associated with receptivity to bullshit, which has greatly enhanced our understanding of the processes behind susceptibility to pseudo-profound or otherwise misleading information. However, the bulk of this research attention has focused on cognitive and dispositional factors related to bullshit (the product), while largely overlooking the influences behind bullshitting (the act). Here, we present results from four studies focusing on the construction and validation of a new, reliable scale measuring the frequency with which individuals engage in two types of bullshitting (persuasive and evasive) in everyday situations. Overall, bullshitting frequency was negatively associated with sincerity, honesty, cognitive ability, open-minded cognition, and self-regard. Additionally, the Bullshitting Frequency Scale was found to reliably measure constructs that are (1) distinct from lying and (2) significantly related to performance on overclaiming and social decision tasks. These results represent an important step forward by demonstrating the utility of the Bullshitting Frequency Scale as well as highlighting certain individual differences that may play important roles in the extent to which individuals engage in everyday bullshitting.
Although generally viewed as a common and undesirable social behaviour, very little is known about the nature of bullshitting (i.e., communicating with little to no regard for evidence or truth; Raritan Q Rev 6, 1986, 81); its consequences; and its potential communicative utility. Specifically, it is hypothesized that bullshitting may be may be relatively influential under specified conditions. Experiment 1 participants were exposed to a traditional persuasion paradigm, receiving either strong or weak arguments in either an evidence-based or bullshit frame. Experiment 2 also incorporated a manipulation of a peripheral route cue (i.e., source attractiveness). Findings demonstrate that bullshitting can be an effective means of influence when arguments are weak, yet undermine persuasive attempts when arguments are strong. Results also suggest that bullshit frames may cue peripheral route processing of persuasive information relative to evidence-based frames that appear to cue central route processing. Results are discussed in light of social perception and attitude change.
Objective: Fake news represents a particularly egregious and direct avenue by which inaccurate beliefs have been propagated via social media. We investigate the psychological profile of individuals who fall prey to fake news.
Method: We recruited 1,606 participants from Amazon's Mechanical Turk for three online surveys.
Results: The tendency to ascribe profundity to randomly generated sentences-pseudo-profound bullshit receptivity-correlates positively with perceptions of fake news accuracy, and negatively with the ability to differentiate between fake and real news (media truth discernment). Relatedly, individuals who overclaim their level of knowledge also judge fake news to be more accurate. We also extend previous research indicating that analytic thinking correlates negatively with perceived accuracy by showing that this relationship is not moderated by the presence/absence of the headline's source (which has no effect on accuracy), or by familiarity with the headlines (which correlates positively with perceived accuracy of fake and real news).
Conclusion: Our results suggest that belief in fake news may be driven, to some extent, by a general tendency to be overly accepting of weak claims. This tendency, which we refer to as reflexive open-mindedness, may be partly responsible for the prevalence of epistemically suspect beliefs writ large.
___________________________________
Yes, bullshit seems to be an active area of research. And rightly so! There is so much of it about. Those who regularly read the comments sections of this blog will probably agree with some of the writing above. The statement that 'bullshitting can be an effective means of influence when arguments are weak' rang particularly true, I thought. 'Communication characterised by an intent to be convincing or impressive without concern for truth' might perhaps also remind us of a few notorious commentators on this blog.
In any case, I am relieved to know that research into bullshit is buoyant – there clearly is a need to better understand the phenomenon. I for one intend to use this terminology more frequently in the future.
44 Responses to On ,BULLSHIT'