One of the aims in running this blog has always been to stimulate critical thinking (not just in my readers but also in myself).
Critical thinking means making decisions and judgements based on (often confusing) evidence. According to the 'National Council for Excellence in Critical Thinking' it is the intellectually disciplined process of actively and skilfully conceptualizing, applying, analysing, synthesizing, and/or evaluating information gathered from, or generated by, observation, experience, reflection, reasoning, or communication, as a guide to belief and action.
Carl Sagan explained it best: "It seems to me what is called for is an exquisite balance between two conflicting needs: the most skeptical scrutiny of all hypotheses that are served up to us and at the same time a great openness to new ideas. Obviously those two modes of thought are in some tension. But if you are able to exercise only one of these modes, whichever one it is, you're in deep trouble. If you are only skeptical, then no new ideas make it through to you. You never learn anything new. You become a crotchety old person convinced that nonsense is ruling the world. (There is, of course, much data to support you.) But every now and then, maybe once in a hundred cases, a new idea turns out to be on the mark, valid and wonderful. If you are too much in the habit of being skeptical about everything, you are going to miss or resent it, and either way you will be standing in the way of understanding and progress. On the other hand, if you are open to the point of gullibility and have not an ounce of skeptical sense in you, then you cannot distinguish the useful as from the worthless ones."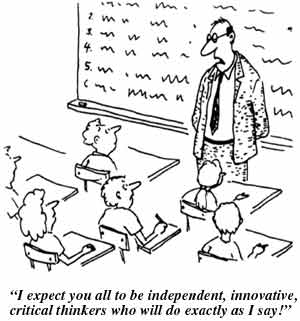 Critical thinking is not something one is born with; but I strongly believe that most people can be taught this skill. This study suggests that I may be right. The researchers measured the relationship between student's religion, gender, and propensity for fantasy thinking with the change in belief for paranormal and pseudoscientific subjects following a science and critical thinking course. Student pre-course endorsement of religious, paranormal, and pseudo-scientific beliefs ranged from 21 to 53%, with religion having the highest endorsement rate. Pre-course belief in paranormal and pseudo-scientific subjects was correlated with high scores in some fantasy thinking scales and showed a gender and a religion effect with females having an 11.1% higher belief across all paranormal and pseudo-science subcategories. Students' religion, and frequency of religious service attendance, was also important with agnostic or atheist students having lower beliefs in paranormal and pseudo-science subjects compared to religious students. Students with either low religious service attendance or very high attendance had lower paranormal and pseudoscientific beliefs.
Following the critical thinking course, overall beliefs in paranormal and pseudo-scientific subcategories lowered 6.8–28.9%, except for superstition, which did not significantly change. Change in belief had both a gender and religion effect with greater reductions among religious students and females.
The link between religion and alternative medicine is relatively well-established. A 2014 study, for instance, showed an association between alternative medicine use and religiosity. The finding that females have an 11.1% higher belief in the paranormal and pseudo-science is new to me, but it would tie in with the well-documented fact that women use alternative medicine more frequently than men.
The most important finding, however, is clearly that critical thinking can be taught.
That must be good news! As discussed previously, critical thinkers experience fewer bad things in life than those of us who do not have acquired that skill. This cannot come as a surprise – being able to tell useful concepts from worthless ones should achieve exactly that.
3 Responses to Critical thinking, the ability to differentiate the useful from the worthless