The autum seems to be the season for awards. I recently mentioned the 'Gloden Plank' and now The Skeptic announced the Ockham Awards – the annual awards celebrating the very best work from within the skeptical community. The awards draw attention to people who work hard to promote skepticism. The Ockhams honour outstanding campaigns, activism, blogs, podcasts, and other contributors to the skeptical cause.
Nominations for the 2023 Ockham Awards are now open! Simply complete the nomination form to submit your nominations.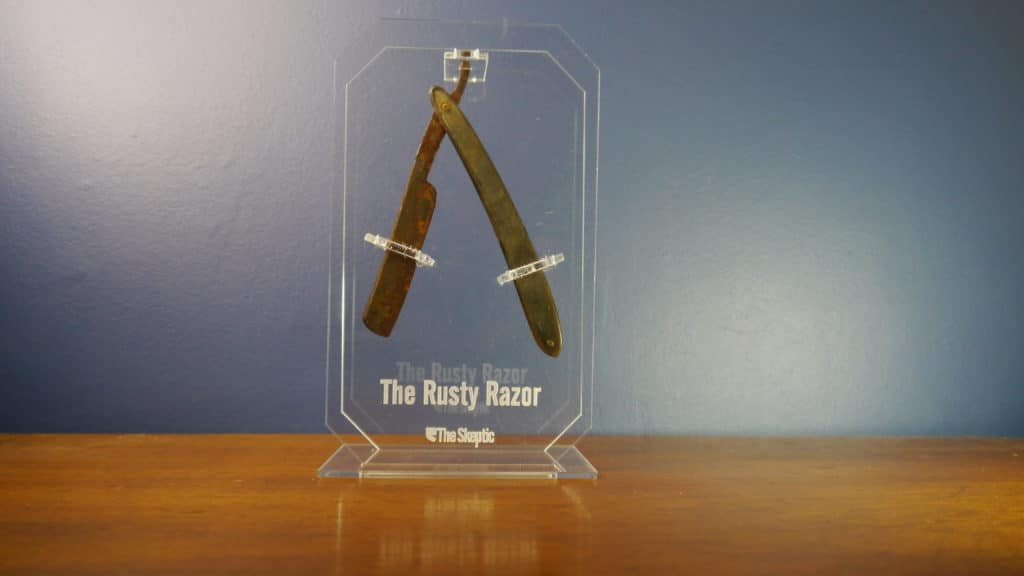 The Rusty Razor is an entirely different award. It recognises individuals or organisations who have been prominent promoters of unscientific ideas within the last year. Last year's Rusty Razor went to the Global Warming Policy Foundation, set up in 2009 by climate change denier Nigel Lawson. The Foundation has published several reports downplaying the threat of climate change.
Previous Rusty Razor winners included
Dr Mike Yeadon for his anti-vaccination BS,
Dr Didier Raoult for his promotion of hydroxychloroquine as a treatment for COVID-19,
Andrew Wakefield for his ongoing promotion of anti-vaxx misinformation,
Gwyneth Paltrow for her pseudoscience-peddling wellness empire, Goop.
The awards are, as always, based on the nominations received from the skeptical community. This is your chance to see your skeptic hero and your most prolific charlatan regognised.
So, what are you waiting for? Submit your nominations now!
Nominations will close on September 9th. Winners will be chosen by the editorial board of THE SKEPTIC, and the winners will be announced at QED in Manchester on September 23rd.
4 Responses to It's time to submit your nominations: OCKHAM AWARDS and RUSTY RAZOR