Helmut Pilhar died in Paraguay on 31. August 2022. He was a prominent proponent of the 'Germanische Heilkunde', New German Medicine, a mixture of dangerous quackery and anti-semitism. The website of the 'Germanische Heilkunde' announced Pilhar's death as follows: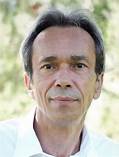 In light of this dramatic news, we would like to express our gratitude to Helmut Pilhar for his many years of work in spreading Germanic medicine.
Although our relationship with Helmut has been turbulent and unhappy in the time following Dr. Hamer's departure, we will cherish the good times; and may the energy of warm appreciation from us reach him wherever he is.
A hug, Helmut.
Bona Hamer
We were saddened to learn that Helmut Pilhar passed from this life on August 31, 2022. For a long time he rendered valuable services to Germanic medicine and brought Dr. Hamer's discovery to many people despite enormous opposition. For this he deserves our respect.
We regret his early death very much, our sympathy goes to his family.
Working Group of Germanic Medicine
Pilhar had no medical qualifications. The Wiesbadener Tagblatt dealt with Pilhar on November 5, 2013, calling him "the loudspeaker of madness". The electrical engineer from Austria marketed the New German Medicine (NGM) full-time. He gave lectures and organized seminars in the whole German-speaking area and beyond.
Pilhar drew attention to himself in 1995 when he brought his five-year-old daughter Olivia, who had cancer, to the NGM inventor, Hamer, thus depriving her of effective therapy. The child was eventually operated on against her parents' wishes and is now living in good health. While the media took great interest in the "Olivia case" and an unbearable hype arose around the child's suffering, Helmut Pilhar sold photos of his daughter to newspapers and tried to influence the reporting. The couple received 500,000 shillings for the granting of broadcasting rights. The parents were sentenced to eight months probation. For Hamer, the unsuccessful NGM therapy attempt had no criminal consequences, as he was meanwhile working from Spain outside of Austria and Germany.
The last known places of residence of Helmut Pilhar were in Paraguay in the German-speaking "private colony El Paraíso Verde" near Cáazapa in Paraguay. According to his own statements, there he would not have to witness chemtrail.
26 Responses to Helmut Pilhar (1965 – 2022)