I receive all the energy I need by charging my butthole in the sunlight!
Actually, I don't, but some people do!
The new so-called alternative medicine (SCAM) of 'perineum sunning' has become all the rage. It gives an entirely new meaning to the word 'holism'. And, like all good SCAMs, it has a long tradition. This article explains:
Butt chugging, or 'perineum sunning', is the latest wellness and health trend to take over Instagram, but should you be stripping off?
What if I told you there was a 30-second trick to having a healthier libido, getting deeper sleep, boosting your creativity, super-charging your focus and having more balanced hormone function?
Well, apparently all you need to do is remove your Bonds and let your nether regions soak in some vitamin D. Gird your loins, friends, apparently "butt chugging" is a legitimate wellness trend and we're completely and utterly perplexed.
Bringing "butt chugging", or "perineum sunning" if you want to get official about it, into the cultural lexicon is self-proclaimed healer, teacher and micro-influencer Metaphysical Meagan. This week, the superfood lover went veritably viral after preaching about the "profound" benefits of perineum sunning on Instagram. Cue: much laughter, then much confusion.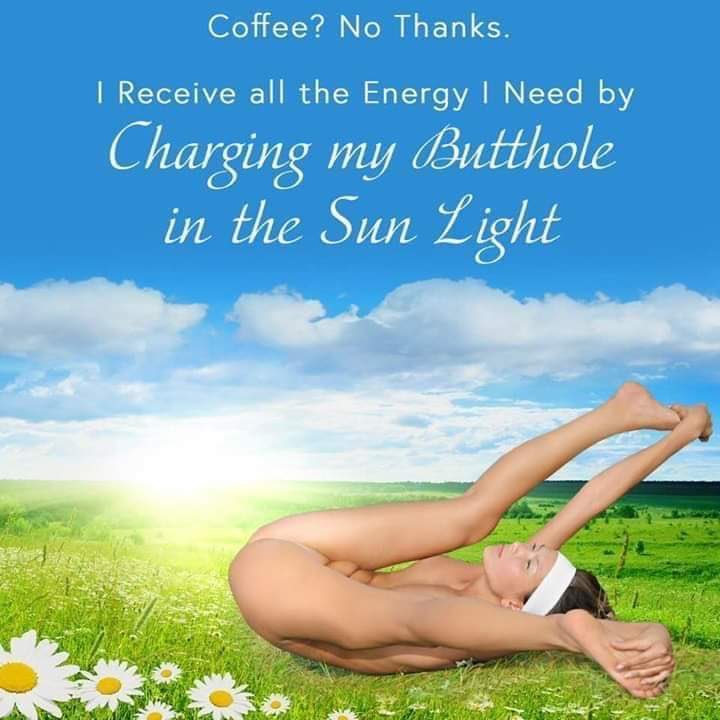 A fan explained on Instagram:
30 seconds of sunlight on your butthole is the equivalent of a full day of sunlight with your clothes on," and that it is "an ancient Taoist practice that's been around for a while!" (Yes, because that is what "ancient" means.) A few weeks after her initial post, presumably because more and more people went to her page to comment after finding various jokes about it online, Metaphysical Meagan posted the photo on Instagram for a second time, now with an outrageously long caption meant to correct any misinformation. She explains that suntanning your asshole is meant to promote the "health & longevity of the physical body," increase "creativity and creative output" and aid "in a healthy libido & balanced sexual energy." It is definitely "NOT TO TAN YOUR BUTTHOLE‼️‼️" Also, "sunscreen is not required.
So, perineum sunning is an ancient Taoist practice. That makes sense: rituals and exercises aimed at aligning oneself spiritually with cosmic forces, at undertaking ecstatic spiritual journeys, or at improving physical health are all-important elements of Taoism. And if it's got such a noble, long tradition, perineum sunning must be good, mustn't it? No evidence needed!
As I said at the beginning of this post, I have not yet had the pleasure of experiencing this SCAM. But now I am tempted, of course. As soon as the sun is out, I will try it in my garden. I do wonder, however, what the neighbours will think!
25 Responses to 'Perineum sunning' gives an entirely new meaning to 'HOLISM'