Mr William Harvey Lillard was the janitor contracted to clean the Ryan Building where D. D. Palmer's magnetic healing office was located. In 1895, he became Palmer's very first chiropractic patient and thus entered the history books. The very foundations of chiropractic are based on this story.
[Testimony of Harvey Lillard regarding the events surrounding the first chiropractic adjustment, printed in the January 1897 issue of the Chiropractor]
To call the 'Chiropractor' a reliable source would probably be stretching it a bit, and there are various versions of the event, even one where BJ Palmer, DD's son, changed significant details of the story. Nevertheless, it's a nice story, if there ever was one. But, like many nice stories, it's just that: a tall tale, a story that might be not based on reality. In this case, the reality getting in the way of a good story is human anatomy.
The nerve supply of the inner ear, the bit that enables us to hear, does not, like most other nerves of our body, run through the spine; it comes directly from the brain: the acoustic nerve is one of the 12 cranial nerves.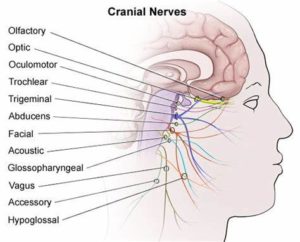 But chiropractors never let the facts get in the way of a good story! Thus they still tell it and presumably even believe it. Take this website, for instance, as an example of hundreds of similar sources:
… the very first chiropractic patient in history was named William Harvey Lillard, who experienced difficulty hearing due to compression of the nerves leading to his ears. He was treated by "the founder of chiropractic care," David. D. Palmer, who gave Lillard spinal adjustments in order to reduce destructive nerve compressions and restore his hearing. After doing extensive research about physiology, Palmer believed that Lillard's hearing loss was due to a misalignment that blocked the spinal nerves that controlled the inner ear (an example of vertebral subluxation). Palmer went on to successfully treat other patients and eventually trained other practitioners how to do the same.
How often have we been told that chiropractors receive a medical training that is at least as thorough as that of proper doctors? But that's just another tall story, I guess.
20 Responses to Palmer's first chiropractic cure must have been a case of miraculous healing