Yesterday, I saw a Tweet stating:
Homeopath in Cornwall specialising in Women's Health #fertility #naturalconception #pcos #pms
It was followed by a list of specific indications:
Pregnancy
Infertility
PCOS
PMS
Fibroids
Depression
Anxiety and much more…
I responded to this Tweet by tweeting:
Homeopath in Cornwall specialising in misleading women
Minutes later I received a response from a homeopathy-fan:
That could be called libel Edzard. I would be careful.
So, should I be careful, and if so why?
Reading the thinly veiled threat, I wasn't exactly shaking in my boots with fear (I was deeply involved in helping Simon Singh in his defence against the BCA's libel action), but I nevertheless wanted to be sure of my position and conducted some 'rough and ready' searches for recent evidence to suggesting that homeopathy is effective for any of the conditions mentioned above. Here is what I found:
Pregnancy. Yes, there is an RCT! It concluded that "h

omeopathy

does not appear to prevent excessive body mass gain in pregnant women…" And another one concluding that "neither Pentazocine, or Chamomilla recutita offer substantial analgesia during labor."
Infertility. No RCT or other sound evidence.
PCOS. Nothing
PMS. No clinical trials.
Fibroids. No clinical trials
Depression. Even leading homeopaths seem to agree that there is no good evidence.
Anxiety. Again, I could not find any sound evidence.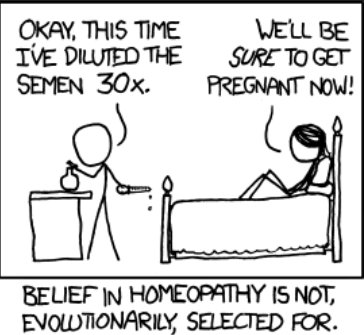 Don't get me wrong, these statements are not based on full systematic reviews; that would take a while and hardly seems worth it. (If you want a good systematic review, I recommend this one; it concluded: "Homeopathy should not be used to treat health conditions that are chronic, serious, or could become serious. People who choose homeopathy may put their health at risk if they reject or delay treatments for which there is good evidence for safety and effectiveness. People who are considering whether to use homeopathy should first get advice from a registered health practitioner. Those who use homeopathy should tell their health practitioner and should keep taking any prescribed treatments.") But my quick glance at the evidence is enough, I think, to justify my statement that the above claims by a homeopath are misleading. In fact, I believe that I could have used much stronger terminology without the slightest risk of being sued.
PERHAPS NEXT TIME!
11 Responses to Could/should homeopaths sue me for libel?