My new book has just been published. Allow me to try and whet your appetite by showing you the book's introduction: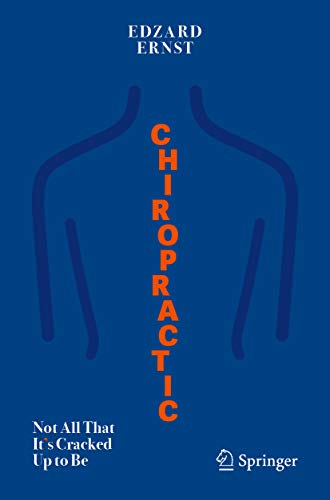 "There is no alternative medicine. There is only scientifically proven, evidence-based medicine supported by solid data or unproven medicine, for which scientific evidence is lacking." These words of Fontanarosa and Lundberg were published 22 years ago.[1] Today, they are as relevant as ever, particularly to the type of healthcare I often call 'so-called alternative medicine' (SCAM)[2], and they certainly are relevant to chiropractic.
Invented more than 120 years ago by the magnetic healer DD Palmer, chiropractic has had a colourful history. It has now grown into one of the most popular of all SCAMs. Its general acceptance might give the impression that chiropractic, the art of adjusting by hand all subluxations of the three hundred articulations of the human skeletal frame[3], is solidly based on evidence. It is therefore easy to forget that a plethora of fundamental questions about chiropractic remain unanswered.
I wrote this book because I feel that the amount of misinformation on chiropractic is scandalous and demands a critical evaluation of the evidence. The book deals with many questions that consumers often ask:
How well-established is chiropractic?
What treatments do chiropractors use?
What conditions do they treat?
What claims do they make?
Are their assumptions reasonable?
Are chiropractic spinal manipulations effective?
Are these manipulations safe?
Do chiropractors behave professionally and ethically?
Am I up to this task, and can you trust my assessments? These are justified questions; let me try to answer them by giving you a brief summary of my professional background.
I grew up in Germany where SCAM is hugely popular. I studied medicine and, as a young doctor, was enthusiastic about SCAM. After several years in basic research, I returned to clinical medicine, became professor of rehabilitation medicine first in Hanover, Germany, and then in Vienna, Austria. In 1993, I was appointed as Chair in Complementary Medicine at the University of Exeter. In this capacity, I built up a multidisciplinary team of scientists conducting research into all sorts of SCAM with one focus on chiropractic. I retired in 2012 and am now an emeritus professor. I have published many peer-reviewed articles on the subject, and I have no conflicts of interest. If my long career has taught me anything, it is this: in the best interest of consumers and patients, we must insist on sound evidence; not opinion, not wishful thinking; evidence.
In critically assessing the issues related to chiropractic, I am guided by the most reliable and up-to-date scientific evidence. The conclusions I reach often suggest that chiropractic is not what it is often cracked up to be. Hundreds of books have been published that disagree. If you are in doubt who to trust, the promoter or the critic of chiropractic, I suggest you ask yourself a simple question: who is more likely to provide impartial information, the chiropractor who makes a living by his trade, or the academic who has researched the subject for the last 30 years?
This book offers an easy to understand, concise and dependable evaluation of chiropractic. It enables you to make up your own mind. I want you to take therapeutic decisions that are reasonable and based on solid evidence. My book should empower you to do just that.
[1] https://pubmed.ncbi.nlm.nih.gov/9820267
[2] https://www.amazon.co.uk/SCAM-So-Called-Alternative-Medicine-Societas/dp/1845409701/ref=pd_rhf_dp_p_img_2?_encoding=UTF8&psc=1&refRID=449PJJDXNTY60Y418S5J
[3] https://www.amazon.co.uk/Text-Book-Philosophy-Chiropractic-Chiropractors-Adjuster/dp/1635617243/ref=sr_1_1?keywords=DD+Palmer&qid=1581002156&sr=8-1
116 Responses to Chiropractic: Not All That It's Cracked Up to Be