methodology
This systematic review assessed the effect of spinal manipulative therapy (SMT), the hallmark therapy of chiropractors, on pain and function for chronic low back pain (LBP) using individual participant data (IPD) meta-analyses.
Of the 42 RCTs fulfilling the inclusion criteria, the authors obtained IPD from 21 (n=4223). Most trials (s=12, n=2249) compared SMT to recommended interventions. The analyses showed moderate-quality evidence that SMT vs recommended interventions resulted in similar outcomes on
pain (MD -3.0, 95%CI: -6.9 to 0.9, 10 trials, 1922 participants)
and functional status at one month (SMD: -0.2, 95% CI -0.4 to 0.0, 10 trials, 1939 participants).
Effects at other follow-up measurements were similar. Results for other comparisons (SMT vs non-recommended interventions; SMT as adjuvant therapy; mobilization vs manipulation) showed similar findings. SMT vs sham SMT analysis was not performed, because data from only one study were available. Sensitivity analyses confirmed these findings.
The authors concluded that sufficient evidence suggest that SMT provides similar outcomes to recommended interventions, for pain relief and improvement of functional status. SMT would appear to be a good option for the treatment of chronic LBP.
In 2019, this team of authors published a conventional meta-analysis of almost the same data. At this stage, they concluded as follows: SMT produces similar effects to recommended therapies for chronic low back pain, whereas SMT seems to be better than non-recommended interventions for improvement in function in the short term. Clinicians should inform their patients of the potential risks of adverse events associated with SMT.
Why was the warning about risks dropped in the new paper?
I have no idea.
But the risks are crucial here. If we are told that SMT is as good or as bad as recommended therapies, such as exercise, responsible clinicians need to decide which treatment they should recommend to their patients. If effectiveness is equal, other criteria come into play:
cost,
risk,
availability.
Can any reasonable person seriously assume that SMT would do better than exercise when accounting for costs and risks?
I very much doubt it!
This multicenter, randomized, sham-controlled trial was aimed at assessing the long-term efficacy of acupuncture for chronic prostatitis/chronic pelvic pain syndrome (CP/CPPS). Men with moderate to severe CP/CPPS were recruited, regardless of prior exposure to acupuncture. They received sessions of acupuncture or sham acupuncture over 8 weeks, with a 24-week follow-up after treatment. Real acupuncture treatment was used to create the typical de qi sensation, whereas the sham acupuncture treatment (the authors state they used the Streitberger needle, but the drawing looks more as though they used our device) does not generate this feeling.
The primary outcome was the proportion of responders, defined as participants who achieved a clinically important reduction of at least 6 points from baseline on the National Institutes of Health Chronic Prostatitis Symptom Index at weeks 8 and 32. Ascertainment of sustained efficacy required the between-group difference to be statistically significant at both time points.
A total of 440 men (220 in each group) were recruited. At week 8, the proportions of responders were:
60.6% (95% CI, 53.7% to 67.1%) in the acupuncture group
36.8% (CI, 30.4% to 43.7%) in the sham acupuncture group (adjusted difference, 21.6 percentage points [CI, 12.8 to 30.4 percentage points]; adjusted odds ratio, 2.6 [CI, 1.8 to 4.0]; P < 0.001).
At week 32, the proportions were:
61.5% (CI, 54.5% to 68.1%) in the acupuncture group
38.3% (CI, 31.7% to 45.4%) in the sham acupuncture group (adjusted difference, 21.1 percentage points [CI, 12.2 to 30.1 percentage points]; adjusted odds ratio, 2.6 [CI, 1.7 to 3.9]; P < 0.001).
Twenty (9.1%) and 14 (6.4%) adverse events were reported in the acupuncture and sham acupuncture groups, respectively. No serious adverse events were reported. No significant difference was found in changes in the International Index of Erectile Function 5 score at all assessment time points or in peak and average urinary flow rates at week 8.
The authors concluded that, compared with sham therapy, 20 sessions of acupuncture over 8 weeks resulted in greater improvement in symptoms of moderate to severe CP/CPPS, with durable effects 24 weeks after treatment.
Previous studies of acupuncture for CP/CPPS have been unconvincing.
Our own systematic
review of 2012 included 9 RCTs and all suggested that acupuncture is as effective as a range of control interventions. Their methodologic quality was variable; most were associated with major flaws. Only one RCT had a Jadad score of more than 3. We concluded that
the evidence that acupuncture is effective for chronic prostatitis/chronic pelvic pain syndrome is encouraging but, because of several caveats, not conclusive. Therefore, more rigorous studies seem warranted.
This new study looks definitely more rigorous than the previous ones. But is it convincing? To answer this question, we need to consider a few points.
The study was sponsored by the China Academy of Chinese Medical Sciences and the National Administration of Traditional Chinese Medicine. The trialists originate from the following institutions:
1Guang'anmen Hospital, China Academy of Chinese Medical Sciences, Beijing, China (Y.S., B.L., Z.Q., J.Z., J.W., X.L., W.W., R.P., H.C., X.W., Z.L.).
2Key Laboratory of Chinese Internal Medicine of Ministry of Education, Dongzhimen Hospital, Beijing University of Chinese Medicine, Beijing, China (Y.L.).
3ThedaCare Regional Medical Center – Appleton, Appleton, Wisconsin (K.Z.).
4Hengyang Hospital Affiliated to Hunan University of Chinese Medicine, Hengyang, China (Z.Y.).
5The First Hospital of Hunan University of Chinese Medicine, Changsha, China (W.Z.).
6Guangdong Provincial Hospital of Traditional Chinese Medicine, Guangzhou, China (W.F.).
7The First Affiliated Hospital of Anhui University of Chinese Medicine, Hefei, China (J.Y.).
8West China Hospital of Sichuan University, Chengdu, China (N.L.).
9China Academy of Chinese Medical Sciences, Beijing, China (L.H.).
10Yantai Hospital of Traditional Chinese Medicine, Yantai, China (Z.Z.).
11Shaanxi Provincial Hospital of Traditional Chinese Medicine, Xi'an, China (T.S.).
12The Third Affiliated Hospital of Zhejiang Chinese Medical University, Hangzhou, China (J.F.).
13Beijing Fengtai Hospital of Integrated Traditional and Western Medicine, Beijing, China (Y.D.).
14Xi'an TCM Brain Disease Hospital, Xi'an, China (H.S.).
15Dongfang Hospital Beijing University of Chinese Medicine, Beijing, China (H.H.).
16Luohu District Hospital of Traditional Chinese Medicine, Shenzhen, China (H.Z.).
17Guizhou University of Traditional Chinese Medicine, Guiyang, China (Q.M.).
These facts, together with the previously discussed notion that clinical trials from China are notoriously unreliable, do not inspire confidence. Moreover, one might well wonder about the authors' claim that patients were blinded. As pointed out above, the real and sham acupuncture were fundamentally different: the former did generate de qi, while the latter did not! A slightly pedantic point is my suspicion that the trial did not test the efficacy but the effectiveness of acupuncture, if I am not mistaken. Finally, one might wonder what the rationale of acupuncture as a treatment of CP/CPPS might be. As far as I can see, there is no plausible mechanism (other than placebo) to explain the effects.
So, is the evidence that emerged from the new study convincing?
No, in my view, it is not!
In fact, I am surprised that a journal as reputable as the Annals of Internal Medicine published it.
Chinese researchers evaluated the effect of Chinese medicine (CM) on survival time and quality of life (QoL) in patients with small-cell lung cancer (SCLC). They conducted an exploratory and prospective clinical observation. Patients diagnosed with SCLC receiving CM treatment as an add-on to conventional cancer therapies were included and followed up every 3 months. The primary outcome was overall survival (OS), and the secondary outcomes were progression-free survival (PFS) and QoL.
A total of 136 patients including 65 limited-stage SCLC (LS-SCLC) patients and 71 extensive-stage SCLC (ES-SCLC) patients were analyzed. The median OS of ES-SCLC patients was 17.27 months, and the median OS of LS-SCLC was 40.07 months. The survival time was 16.27 months for SCLC patients with brain metastasis, 9.83 months for liver metastasis, 13.43 months for bone metastasis, and 18.13 months for lung metastasis. Advanced age, pleural fluid, liver, and brain metastasis were risk factors, while longer CM treatment duration was a protective factor. QoL assessment indicated that after 6 months of CM treatment, scores increased in function domains and decreased in symptom domains.
The authors concluded that CM treatment might help prolong OS of SCLC patients. Moreover, CM treatment brought the trend of symptom amelioration and QoL improvement. These results provide preliminary evidence for applying CM in SCLC multi-disciplinary treatment.
Sorry, but these results provide NO evidence for applying CM in SCLC multi-disciplinary treatment! Even if the findings were a bit better than those reported for SCLC in the literature – and I am not sure they are – it is simply not possible to say with any degree of certainty what effect the CM had. For that, we would obviously need a proper control group.
The study was supported by the National Natural Science Foundation of China (No. 81673797), and Beijing Municipal Natural Science Foundation (No. 7182142). In my view, this paper is an example for showing how the relentless promotion of dubious Traditional Chinese Medicine by Chinese officials might cost lives.
I feel that it is time to do something about it.
But what precisely?
Any ideas anyone?
Myofascial release (also known as myofascial therapy or myofascial trigger point therapy) is a type of low-load stretch therapy that is said to release tightness and pain throughout the body caused by the myofascial pain syndrome, a chronic muscle pain that is worse in certain areas known as trigger points. Various types of health professionals provide myofascial release, e.g. osteopaths, chiropractors, physical or occupational therapists, massage therapists, or sports medicine/injury specialists. The treatment is usually applied repeatedly, but there is also a belief that a single session of myofascial release is effective. This study was a crossover clinical trial aimed to test whether a single session of a specific myofascial release technique reduces pain and disability in subjects with chronic low back pain (CLBP).
A total of 41 participants were randomly enrolled into 3 situations in a balanced and crossover manner:
experimental,
placebo,
control.
The subjects underwent a single session of myofascial release on thoracolumbar fascia and the results were compared with the control and placebo groups. A single trained and experienced therapist applied the technique.
For the control treatment, the subjects were instructed to remain in the supine position for 5 minutes. For the muscle release session, the subjects were in a sitting position with feet supported and the thoracolumbar region properly undressed. The trunk flexion goniometry of each participant was performed and the value of 30° was marked with a barrier to limit the necessary movement during the technique. The trained researcher positioned their hands on all participants without sliding over the skin or forcing the tissue, with the cranial hand close to the last rib and at the T12–L1 level on the right side of the individual's body and the caudal hand on the ipsilateral side between the iliac crest and the sacrum. Then, the researcher caused slight traction in the tissues by moving their hands away from each other in a longitudinal direction. Then, the participant was instructed to perform five repetitions of active trunk flexion-extension (30°), while the researcher followed the movement with both hands simultaneously positioned, without losing the initial tissue traction and position. The same technique and the same number of repetitions of active trunk flexion-extension were repeated with the researcher's hands positioned on the opposite sides. This technique lasted approximately five minutes.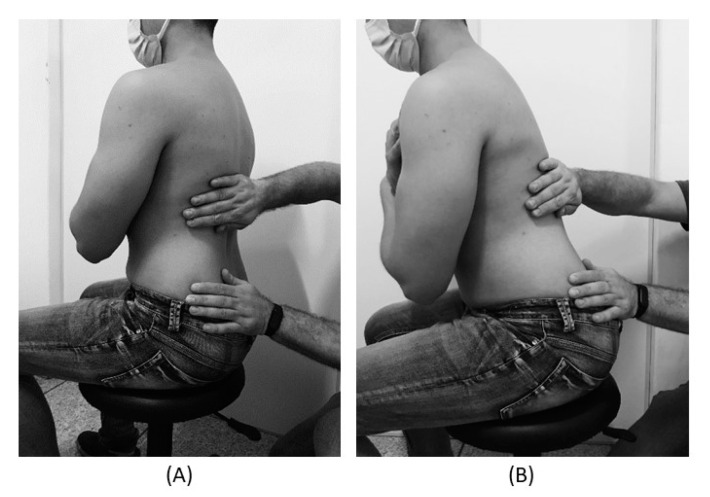 For the placebo treatment, the subjects were not submitted to the technique of manual thoracolumbar fascia release, but they slowly performed ten repetitions of active trunk flexion-extension (30°) in the same position as the experimental situation. Due to the fact that touch can provide not only well-recognized discriminative input to the brain, but also an affective input, there was no touch from the researcher at this stage.
The outcomes, pain, and functionality, were evaluated using the numerical pain rating scale (NPRS), pressure pain threshold (PPT), and Oswestry Disability Index (ODI).
The results showed no effects between-tests, within-tests, nor for interaction of all the outcomes, i.e., NPRS (η 2 = 0.32, F = 0.48, p = 0.61), PPT (η2 = 0.73, F = 2.80, p = 0.06), ODI (η2 = 0.02, F = 0.02, p = 0.97).
The authors concluded that a single trial of a thoracolumbar myofascial release technique was not enough to reduce pain intensity and disability in subjects with CLBP.
Surprised?
I'm not!
Recently, I received this comment from a reader:
Edzard-'I see you do not understand much of trial design' is true BUT I wager that you are in the same boat when it comes to a design of a trial for LBP treatment: not only you but many other therapists. There are too many variables in the treatment relationship that would allow genuine , valid criticism of any design. If I have to pick one book of the several listed elsewhere I choose Gregory Grieve's 'Common Vertebral Joint Problems'. Get it, read it, think about it and with sufficient luck you may come to realize that your warranted prejudices against many unconventional 'medical' treatments should not be of the same strength when it comes to judging the physical therapy of some spinal problems as described in the book.
And a chiro added:
EE: I see that you do not understand much of trial design
Perhaps it's Ernst who doesnt understand how to research back pain.
"The identification of patient subgroups that respond best to specific interventions has been set as a key priority in LBP research for the past 2 decades.2,7 In parallel, surveys of clinicians managing LBP show that there are strong views against generic treatment and an expectation that treatment should be individualized to the patient.6,22."
Journal of Orthopaedic & Sports Physical Therapy
Published Online:January 31, 2017Volume47Issue2Pages44-48
Do I need to explain why the Grieve book (yes, I have it and yes, I read it) is not a substitute for evidence that an intervention or technique is effective? No, I didn't think so. This needs to come from a decent clinical trial.
And how would one design a trial of LBP (low back pain) that would be a meaningful first step and account for the "many variables in the treatment relationship"?
How about proceeding as follows (the steps are not necessarily in that order):
Study the previously published literature.
Talk to other experts.
Recruit a research team that covers all the expertise you need (and don't have yourself).
Formulate your research question. Mine would be IS THERAPY XY MORE EFFECTIVE THAN USUAL CARE FOR CHRONIC LBP? I know LBP is but a vague symptom. This does, however, not necessarily matter (see below).
Define primary and secondary outcome measures, e.g. pain, QoL, function, as well as the validated methods with which they will be quantified.
Clarify the method you employ for monitoring adverse effects.
Do a small pilot study.
Involve a statistician.
Calculate the required sample size of your study.
Consider going multi-center with your trial if you are short of patients.
Define chronic LBP as closely as you can. If there is evidence that a certain type of patient responds better to the therapy xy than others, that might be considered in the definition of the type of LBP.
List all inclusion and exclusion criteria.
Make sure you include randomization in the design.
Randomization should be to groups A and B. Group A receives treatment xy, while group B receives usual care.
Write down what A and B should and should not entail.
Make sure you include blinding of the outcome assessors and data evaluators.
Define how frequently the treatments should be administered and for how long.
Make sure all therapists employed in the study are of a high standard and define the criteria of this standard.
Train all therapists of both groups such that they provide treatments that are as uniform as possible.
Work out a reasonable statistical plan for evaluating the results.
Write all this down in a protocol.
Such a trial design does not need patient or therapist blinding nor does it require a placebo. The information it would provide is, of course, limited in several ways. Yet it would be a rigorous test of the research question.
If the results of the study are positive, one might consider thinking of an adequate sham treatment to match therapy xy and of other ways of firming up the evidence.
As LBP is not a disease but a symptom, the study does not aim to include patients that all are equal in all aspects of their condition. If some patients turn out to respond better than others, one can later check whether they have identifiable characteristics. Subsequently, one would need to do a trial to test whether the assumption is true.
Therapy xy is complex and needs to be tailored to the characteristics of each patient? That is not necessarily an unsolvable problem. Within limits, it is possible to allow each therapist the freedom to chose the approach he/she thinks is optimal. If the freedom needed is considerable, this might change the research question to something like 'IS THAT TYPE OF THERAPIST MORE EFFECTIVE THAN THOSE EMPLOYING USUAL CARE FOR CHRONIC LBP?'
My trial would obviously not answer all the open questions. Yet it would be a reasonable start for evaluating a therapy that has not yet been submitted to clinical trials. Subsequent trials could build on its results.
I am sure that I have forgotten lots of details. If they come up in discussion, I can try to incorporate them into the study design.
Acupuncture is a veritable panacea; it cures everything! At least this is what many of its advocates want us to believe. Does it also have a role in supportive cancer care?
Let's find out.
This systematic review evaluated the effects of acupuncture in women with breast cancer (BC), focusing on patient-reported outcomes (PROs).
A comprehensive literature search was carried out for randomized controlled trials (RCTs) reporting PROs in BC patients with treatment-related symptoms after undergoing acupuncture for at least four weeks. Literature screening, data extraction, and risk bias assessment were independently carried out by two researchers. The authors stated that they followed the 'Preferred Reporting Items for Systematic Review and Meta-Analyses' (PRISMA) guidelines.
Out of the 2, 524 identified studies, 29 studies representing 33 articles were included in this meta-analysis. The RCTs employed various acupuncture techniques with a needle, such as hand-acupuncture and electroacupuncture. Sham/placebo acupuncture, pharmacotherapy, no intervention, or usual care were the control interventions. About half of the studies lacked adequate blinding.
At the end of treatment (EOT), the acupuncture patients' quality of life (QoL) was measured by the QLQ-C30 QoL subscale, the Functional Assessment of Cancer Therapy-Endocrine Symptoms (FACT-ES), the Functional Assessment of Cancer Therapy–General/Breast (FACT-G/B), and the Menopause-Specific Quality of Life Questionnaire (MENQOL), which depicted a significant improvement. The use of acupuncture in BC patients lead to a considerable reduction in the scores of all subscales of the Brief Pain Inventory-Short Form (BPI-SF) and Visual Analog Scale (VAS) measuring pain. Moreover, patients treated with acupuncture were more likely to experience improvements in hot flashes scores, fatigue, sleep disturbance, and anxiety compared to those in the control group, while the improvements in depression were comparable across both groups. Long-term follow-up results were similar to the EOT results. Eleven RCTs did not report any information on adverse effects.
The authors concluded that current evidence suggests that acupuncture might improve BC treatment-related symptoms measured with PROs including QoL, pain, fatigue, hot flashes, sleep disturbance and anxiety. However, a number of included studies report limited amounts of certain subgroup settings, thus more rigorous, well-designed and larger RCTs are needed to confirm our results.
This review looks rigorous on the surface but has many weaknesses if one digs only a little deeper. To start with, it has no precise research question: is any type of acupuncture better than any type of control? This is not a research question that anyone can answer with just a few studies of mostly poor quality. The authors claim to follow the PRISMA guidelines, yet (as a co-author of these guidelines) I can assure you that this is not true. Many of the included studies are small and lacked blinding. The results are confusing, contradictory and not clearly reported. Many trials fail to mention adverse effects and thus violate research ethics, etc., etc.
The conclusion that acupuncture might improve BC treatment-related symptoms could be true. But does this paper convince me that acupuncture DOES improve these symptoms?
No!
Regular readers of this blog will know the US homeopath, Dana Ullman. He has been the star of several of my posts (for instance here, here, and here). Dana is prolific in his writing but he has published not published much in proper journals. Now he has almost doubled this list by publishing TWO (!) proper papers in real journals within just one month.
Congratulations, Dana!
The first is in CUREUS, a very unusual journal with a most unusual peer-review process. Allow me to show you the abstract of Dana's article:
Homeopathic medicine is a controversial system of medicine that has been used worldwide for over 200 years. Recently, several governments, in part, owing to government-funded reviews of research on homeopathic medicine, have stopped reimbursements for homeopathic medicines and have discouraged their use by medical professionals. This review critically evaluates four government-funded reviews of clinical research on homeopathic medicine. An analysis of government-sponsored reviews of clinical research on homeopathic medicine was conducted, including two studies from Switzerland, one from England, and one from Australia. Three of the four government-funded reviews were critical of homeopathy, claiming that there was no reliable evidence that homeopathic medicines were effective. Three of these reviews had significant flaws, with potential ethical concerns raised in one of the reviews. The most comprehensive review of homeopathic research, including analysis of clinical and basic science concerns, found the most positive results for homeopathy.
The second paper was published in a journal called DOSE RESPONSE. The editor in chief of this journal is Prof E J Calabrese who has published numerous articles about homeopathy/hormesis. Here is the abstract of Dana's 2nd article:
Serially diluted succussed solutions of a suitable drug/toxic substance can exhibit physicochemical and biological properties even far beyond Avogadro's limit defying conventional wisdom. They can show hormesis, and homeopathy uses them as medicines. Many studies confirm that they can have an impact on gene expression different than controls. Water in the exclusion zone phase can have memory but for a short period. However, the nanoparticle as the physical substrate can hold information. Nanoparticle and exclusion zone duo as nanoparticle-exclusion zone shell can provide a prolonged memory. The Nanoparticle-Exclusion Zone Shell Model may be an important step toward explaining the nature and bioactivity of serially diluted succussed solutions used as homeopathic medicines. This model may also provide insight into the workings of hormesis. Hormesis is the primary phenomenon through which homeopathic phenomenon may have evolved exhibiting the principle of similars. Hahnemann exploited it to establish homeopathy. The nanoparticle-exclusion zone shells present in the remedy, selected on the principle of similars, can be patient-specific nanoparticles in a symptom syndrome-specific manner. They can carry the drug-specific information for safer clinical applications in an amplified form for high yielding. It suggests homeopathy is a type of nanopharmacology.
So, are Dana's two articles significant? Both are reviews. The 1st tries to persuade us that homeopathy has clinical effects beyond placebo and that reports that say otherwise are full of errors and fraud and thus not reliable. The second tells us that these clinical effects of homeopathy can be explained by nano-pharmacology.
Is he right?
Please tell me what you think.
This study assessed the effects of being born under the zodiac sign Pisces on mortality. For that purpose, a retrospective observational study was conducted of the data from 26 Scandinavian intensive care units between 2009 and 2011. Patients aged 18 years or older with severe sepsis and in need of fluid resuscitation were included from the Scandinavian Starch for Severe Sepsis/ Septic Shock (6S) trial. The main outcome measure was the 90-day mortality.
The researchers included all 798 patients in the study; 70 (9%) of them were born under the sign of Pisces. The primary outcome (death within 90 days) occurred in 25 patients (35.7%) in the Pisces group, compared with 348 patients (48%) in the non-Pisces group (relative risk, 0.75; 95% CI, 0.54-1.03; one-sided P = 0.03).
The authors concluded that in a multicentre randomised clinical trial of IV fluids, being born under the sign of Pisces was associated with a decreased risk of death. Our study shows that with convenient use of statistics and an enticing explanatory hypothesis, it is possible to achieve significant findings in post-hoc analyses of data from large trials.
This is an excellent paper! It showcases the sort of nonsense one can do with datasets, statistics, and post hoc hypotheses. The authors entitled their article "Gone fishing in a fluid trial", and this title should ensure that there are not some astrology nutters who mistake correlation for causation
… I hope
… but, of course, I am an optimist.
Prof Harald Walach is well-known to regular readers of this blog (see, for instance, here, here, and here). Those who are aware of his work will know that he is not an expert in infectious diseases, epidemiology, virology, or vaccinations. This did not stop him to publish an analysis that questions the safety and rationale of the current COVID-19 vaccination programs. Here is the abstract:
COVID-19 vaccines have had expedited reviews without sufficient safety data. We wanted to compare risks and benefits.
Method: We calculated the number needed to vaccinate (NNTV) from a large Israeli field study to prevent one death. We accessed the Adverse Drug Reactions (ADR) database of the European Medicines Agency and of the Dutch National Register (lareb.nl) to extract the number of cases reporting severe side effects and the number of cases
with fatal side effects.
Result: The NNTV is between 200–700 to prevent one case of COVID-19 for the mRNA vaccine marketed by Pfizer, while the NNTV to prevent one death is between 9000 and 50,000 (95% confidence interval), with 16,000 as a point estimate. The number of cases experiencing adverse reactions has been reported to be 700 per 100,000 vaccinations. Currently, we see 16 serious side effects per 100,000 vaccinations, and the number of fatal side effects is at 4.11/100,000 vaccinations. For three deaths prevented by vaccination we have to accept two inflicted by vaccination.
Conclusions: This lack of clear benefit should cause governments to rethink their vaccination policy.
I hesitate to comment because some could think that I have a personal grudge, as Walach propagated lies about me. And crucially, like he, I am not a vaccination expert. Yet, I feel I ought to point out that the data that form the basis of Walach's calculations should not be used in this way for at least two reasons.
Death after vaccination does not mean that this event was caused by the vaccine. For example, if someone had a fatal accident after vaccination, it would count as a vaccine incident according to Walach's calculation.
Vaccine effectiveness cannot be measured by calculating how many people must receive a vaccine to prevent one case of COVID-19 vaccination. Since vaccines have a protective effect on the community, this would be an outright miscalculation. The more people who receive a vaccine, the fewer people need to receive it to prevent a single case. This situation is the exact opposite of what Walach assumes in his paper.
Conclusion: amongst all his previous nonsense, Walach's new publication stands out, I feel, as the most stupid and the most dangerous. The mistakes seem too obvious to not be deliberate. Let's hope the journal editor in chief (who failed miserably when publishing this idiocy) has the wisdom to retract it swiftly. One of its editors already tweeted:
I have resigned from the Editorial Board of
following the publication of this article. It is grossly negligent and I can't believe it passed peer-review. I hope it will be retracted.
And another ed-board member had this to say:
Homeopathy is sometimes claimed to be effective for primary dysmenorrhoea (PD), but the claim is not supported by sound evidence. This study was undertaken to examine the efficacy of individualized homeopathic medicines (IH) against placebo in the treatment of PD.
A double-blind, randomized, placebo-controlled trial was conducted at the gynecology outpatient department of Mahesh Bhattacharyya Homoeopathic Medical College and Hospital, West Bengal, India. Patients were randomized to receive either IH (n=64) or identical-looking placebo (n=64). Primary and secondary outcome measures were 0-10 numeric rating scales (NRS) measuring the intensity of pain of dysmenorrhea and verbal multidimensional scoring system (VMSS) respectively, all measured at baseline, and every month, up to 3 months.
The two groups were comparable at baseline. The attrition rate was 10.9% (IH: 7, placebo: 7). Differences between groups in both pain NRS and VMSS favored IH over placebo at all time points with medium to large effect sizes. Natrum muriaticum and Pulsatilla nigricans were the most frequently prescribed medicines. No harms, serious adverse events, or intercurrent illnesses were recorded in either group.
The authors concluded that homeopathic medicines acted significantly better than placebo in the treatment of PD. Independent replication is warranted.
A previously published RCT could not show any significant effect of homeopathy on primary dysmenorrhea in comparison with placebo. The authors of the new study claim that the discrepant findings might be due to the fact that IH requires great skill. In other words, negative studies are according to this explanation negative not because homeopathy does not work but because the prescribers are not up to it. Such notions have often been voiced on this blog and elsewhere and are used as a veritable 'get-out clause' for homeopathy: ONLY THE POSITIVE RESULTS ARE VALID! Consequently, systematic reviews of the evidence must only consider positive trials. And this, of course, means that the findings are invariable positive.
I find this more than a little naive and would much prefer to wait for an independent replication where 'independent' means that the trial is run by experts who are not advocates of homeopathy (as in the present trial).