evidence
Arnold Relman has died aged 91. He was a great personality, served for many years as editor-in-chief of 'The New England Journal of Medicine' and was professor of medicine and social medicine at Harvard Medical School. He also was an brilliantly outspoken critic of alternative medicine, and I therefore believe that he deserves to be remembered here. The following excerpts are from an article he wrote in 1998 about Andrew Weil, America's foremost guru of alternative medicine; I have taken the liberty of extracting a few paragraphs which deal with alternative medicine in general terms.
Until now, alternative medicine has generally been rejected by medical scientists and educators, and by most practicing physicians. The reasons are many, but the most important reason is the difference in mentality between the alternative practitioners and the medical establishment. The leaders of the establishment believe in the scientific method, and in the rule of evidence, and in the laws of physics, chemistry, and biology upon which the modern view of nature is based. Alternative practitioners either do not seem to care about science or explicitly reject its premises. Their methods are often based on notions totally at odds with science, common sense, and modern conceptions of the structure and the function of the human body. In advancing their claims, they do not appear to recognize the need for objective evidence, asserting that the intuitions and the personal beliefs of patients and healers are all that is needed to validate their methods. One might have expected such thinking to alienate most people in a technologically advanced society such as ours; but the alternative medicine movement, and the popularity of gurus such as Weil, are growing rapidly…
That people usually "get better," that most relatively minor diseases heal spontaneously or seem to improve with simple common remedies, is hardly news. Every physician, indeed every grandmother, knows that. Yet before we accept Weil's contention that serious illnesses such as "bone cancer," "Parkinson's disease," or "scleroderma" are similarly curable, or respond to alternative healing methods, we need at least to have some convincing medical evidence that the patients whom he reports in these testimonials did indeed suffer from these diseases, and that they were really improved or healed. The perplexity is not that Weil is using "anecdotes" as proof, but that we don't know whether the anecdotes are true.
Anecdotal evidence is often used in the conventional medical literature to suggest the effectiveness of treatment that has not yet been tested by formal clinical trials. In fact, much of the mainstream professional literature in medicine consists of case reports — "anecdotes," of a kind. The crucial difference between those case reports and the testimonials that abound in Weil's books (and throughout the literature of alternative medicine) is that the case reports in the mainstream literature are almost always meticulously documented with objective data to establish the diagnosis and to verify what happened, whereas the testimonials cited by alternative medicine practitioners usually are not. Weil almost never gives any objective data to support his claims. Almost everything is simply hearsay and personal opinion.
To the best of my knowledge, Weil himself has published nothing in the peer-reviewed medical literature to document objectively his personal experiences with allegedly cured patients or to verify his claims for the effectiveness of any of the unorthodox remedies he uses. He is not alone in this respect. Few proponents of alternative medicine have so far published clinical reports that would stand the rigorous scientific scrutiny given to studies of traditional medical treatments published in the serious medical journals. Alternative medicine is still a field rich in undocumented claims and anecdotes and relatively lacking in credible scientific reports…
… Thus Weil can believe in miraculous cures even while claiming to be rational and scientific, because he thinks that quantum theory supports his views.
Yet the leading physicists of our time do not accept such an interpretation of quantum theory. They do not believe quantum theory says anything about the role of human consciousness in the physical world. They see quantum laws as simply a useful mathematical formulation for describing subatomic phenomena that are not adequately handled by classical physical theory, although the latter remains quite satisfactory for the analysis of physical events at the macro-level. Steven Weinberg has observed that "quantum mechanics has been overwhelmingly important to physics, but I cannot find any messages for human life in quantum mechanics that are different in any important way from those of Newtonian physics." And overriding all discussions of the meaning of quantum physics is the fundamental fact that quantum theory, like all other scientific law, is only valid to the extent that it predicts and accords with the evidence provided by observation and objective measurement. Richard Feynman said it quite simply: "Observation is the ultimate and final judge of the truth of an idea." Feynman also pointed out that scientific observations need to be objective, reproducible, and, in a sense, public — that is, available to all interested scientists who wish to check the observations for themselves.
Surely almost all scientists would agree with Feynman that, regardless of what theory of nature we wish to espouse, we cannot escape the obligation to support our claims with objective evidence. All theories must conform to the facts or be discarded. So, if Weil cannot produce credible evidence to validate the miraculous cures that he claims for the healing powers of the mind, and if he does not support with objective data the claims he and others make for the effectiveness of alternative healing methods, he cannot presume to wear the mantle of science, and his appeal to quantum theory cannot help him.
Some apologists for alternative medicine have argued that since their healing methods are based on a "paradigm" different from that of traditional medicine, traditional standards of evidence do not apply. Weil sometimes seems to agree with that view, as when he talks about "stoned thinking" and the "ambivalent" nature of reality, but more recently — as he seeks to integrate alternative with allopathic medicine — he seems to acknowledge the need for objective evidence. This, at least, is how I would interpret one of his most recent and ambitious publishing ventures, the editorship of the new quarterly journal Integrative Medicine***.
Integrative Medicine describes itself as a "peer-reviewed journal … committed to gathering evidence for the safety and efficacy of all approaches to health according to the highest standards of scientific research, while remaining open to new paradigms and honoring the healing power of nature." The Associate Editors and Editorial Board include prominent names in both alternative medicine and allopathic medicine, who presumably support that mission. Yet the first two issues will disappoint those who were looking for original clinical research based on new, objective data. Perhaps subsequent issues will be different, but in any case it is hard to understand the need for Weil's new journal if he truly intends to hold manuscripts to accepted scientific standards: there already exist many leading peer-reviewed medical journals that will review research studies of alternative healing methods on their merits. During the past decade or so, only a few such studies have passed rigorous review and have been published in first-rate journals. Recently, more studies have been published, but very few of them report significant clinical effects. And that is pretty much where matters now stand. Despite much avowed interest in research on alternative medicine and increased investment in support of such research, the evidentiary underpinnings of unconventional healing methods are still largely lacking…
The alternative medicine movement has been around for a long time, but it was eclipsed during most of this century by the success of medical science. Now there is growing public disenchantment with the cost and the impersonality of modern medical care, as well as concern about medical mistakes and the complications and side-effects of pharmaceuticals and other forms of medical treatment. For their part, physicians have allowed the public to perceive them as uninterested in personal problems, as inaccessible to their patients except when carrying out technical procedures and surgical operations. The "doctor knows best" attitude, which dominated patient-doctor relations during most of the century, has in recent decades given way to a more activist, consumer-oriented view of the patient's role. Moreover, many other licensed health-care professionals, such as nurse-practitioners, psychotherapists, pharmacists, and chiropractors, are providing services once exclusively reserved to allopathic physicians.
The net result of all these developments has been a weakening of the hegemony that allopathic medicine once exercised over the health care system, and a growing interest by the public in exploring other healing approaches. The authority of allopathic medicine is also being challenged by a swelling current of mysticism and anti-scientism that runs deep through our culture. Even as the number and the complexity of urgent technological and scientific issues facing contemporary society increase, there seems to be a growing public distrust of the scientific outlook and a reawakening of interest in mysticism and spiritualism.
All this obscurantism has given powerful impetus to the alternative medicine movement, with its emphasis on the power of mind over matter. And so consumer demand for alternative remedies is rising, as is public and private financial support for their study and clinical use. It is no wonder that practicing physicians, the academic medical establishment, and the National Institutes of Health are all finding reasons to pay more attention to the alternative medicine movement. Indeed, it is becoming politically incorrect for the movement's critics to express their skepticism too strongly in public…
There is no doubt that modern medicine as it is now practiced needs to improve its relations with patients, and that some of the criticisms leveled against it by people such as Weil — and by many more within the medical establishment itself — are valid. There also can be no doubt that a few of the "natural" medicines and healing methods now being used by practitioners of alternative medicine will prove, after testing, to be safe and effective. This, after all, has been the way in which many important therapeutic agents and treatments have found their way into standard medical practice in the past. Mainstream medicine should continue to be open to the testing of selected unconventional treatments. In keeping an open mind, however, the medical establishment in this country must not lose its scientific compass or weaken its commitment to rational thought and the rule of evidence.
There are not two kinds of medicine, one conventional and the other unconventional, that can be practiced jointly in a new kind of "integrative medicine." Nor, as Andrew Weil and his friends also would have us believe, are there two kinds of thinking, or two ways to find out which treatments work and which do not. In the best kind of medical practice, all proposed treatments must be tested objectively. In the end, there will only be treatments that pass that test and those that do not, those that are proven worthwhile and those that are not. Can there be any reasonable "alternative"?
*** the journal only existed for a short period of time
'THE HINKLEY TIMES' is not a paper that I read often, I have to admit – but maybe I should! It was there that I found the following remarkable article:
Bosworth MP David Tredinnick has asked questions in the House of Commons about the growing problem of antibiotic resistance within hospitals, suggesting herbal remedies could be answer.
The Tory MP, who has a keen interest in alternative medicine particularly herbal curatives, asked Jeremy Hunt, Secretary of State for Health, whether the problem was being discussed at the very top level.
He said: "Does my right honourable friend agree that a critical problem that A and E units will face in the future is antibiotic resistance? Is he aware that the science and technology committee, of which I am a member, has been looking at this issue and it also interests the health committee, of which I am also a member? Can he assure me that he is talking to the Prime Minister about how to stimulate new antibiotic research, and will he also remember that nature has its own remedies, such as tea tree oil?"
In reply Mr Hunt said: "My honourable friend is right about the seriousness of the issue of antimicrobial resistance. Some 25,000 people die in Europe every year as a result of the failure of antibiotics – more than die in road traffic accidents. I raised the issue at the World Health Assembly and I have discussed it closely with the Prime Minister."
David Tredinnick is no stranger to strange ideas. Wikipedia (yes I know, many people do not like it as a source) sums it up quite succinctly:
He is a supporter of complementary and alternative medicine (CAM). He has made supportive comments in Parliament on homeopathy, despite continued lack of evidence of its effectiveness. He has supported chiropractic and mentioned the influence of the Moon on blood clotting. In this same debate he characterised scientists as "racially prejudiced". He has tabled several early day motions in support of homeopathy's continued funding on the National Health Service.Tredinnick's views continue to cause amused disbelief in some quarters and a spokesman for the Royal College of Surgeons of England said they would "laugh their heads off" at the suggestion they could not operate at the full moon.
At the 2010 general election, in addition to candidates from the two main parties, Tredinnick was opposed by New Scientist journalist Dr. Michael Brooks who objected to "Tredinnick's outspoken promotion of complementary and alternative medicine."During a hustings debate called by Brooks to "highlight the scientific literacy of the UK's elected representatives" Brooks claimed that Tredinnick regarded homeopathy as a suitable treatment for Malaria and HIV, which Tredinnick did not deny. Tredinnick in turn argued that "alternative treatments are incredibly good value for money" and stated his belief that randomised controlled trials are not effective at evaluating very dilute preparations.
In March 2013 Tredinnick was ridiculed as "nonsensical" by the government's outgoing chief scientist, Sir John Beddington, who said the MP had fallen for the "Galileo fallacy" (Galileo was laughed at but was right, therefore since I am laughed at I must be right).
In July 2013 Tredinnick sponsored an EDM congratulating a farmer on his decision to use homeopathy with what were claimed to be positive results.The motion was supported by one other MP but the British veterinary association says there is no evidence of any benefit.
Tredinnick is a supporter of astrology especially the use of it in medical practice.In November 2009, he spoke at a meeting organised by the Astrological Association of Great Britain, where he related his personal experience of astrology and illness, advocating that astrology be integrated into the NHS.
Tredinnick's appointment to the Health committee in June 2010 was criticised in two science reports in the Guardian. Martin Robbins said his appointment was "an extremely disturbing development" even though "Tredinnick is a figure unlikely to be taken seriously by policymakers" whilst Nature's Adam Rutherford described Tredinnick as "misinformed about a great many things" and said that "giving [him] influence on medical policy ..is a bad move."The Telegraph writer Ian Douglas also described it as "a problem."
His appointment to the Science and technology committee also drew criticism. Andy McSmith in the Independent, cited his views that homeopathy could cure HIV, TB, malaria, urinary infections, diarrhoea, skin eruptions, diabetes, epilepsy, eye infections, intestinal parasites, cancer, and gangrene amongst others and quoted Imran Khan, head of the Campaign for Science and Engineering, as saying that "someone with such incredibly odd views is not helpful". Tom Whipple in the Times said his appointment caused despair,whilst Elizabeth Gibney in the Times Higher Education quoted the Skeptical Voter website as saying that Tredinnick is "perhaps the worst example of scientific illiteracy in government"…
In 2009 Tredinnick attempted to claim the £125 cost of attending a course on "intimate relationships" through his Parliamentary expenses. He was also found to have used expenses to purchase astrology software, claiming it was for a debate on alternative medicine.
Compared to some of theses bizarre activities, the notion that herbal remedies might provide the solution for antibiotic resistance seems almost reasonable and clever.
ALMOST!!!
Tredinnick does not seem to know that:
many antibiotics originate from plants or other natural substances,
several large pharmaceutical companies are feverishly looking for more such substances from plants,
most plants do actually contain substances which have antibiotic activity,
however, most cannot be used as medicines, for instance, because they are far too toxic (tea tree oil is a good example for this),
once a pure compound has been isolated from a plant and is used therapeutically, it ceases to be herbal medicine (which is defined as the use of full plant extracts),
it is thus unlikely that full plant extracts, i. e. herbal medicine, will ever provide a solution to antibiotic resistance.
I have little doubt that Tredinnick will continue to mislead parliament and the public with his nonsensical views about alternative medicine. And even if it might have no effect whatsoever, I will continue to point out just how nonsensical they are.
I find it always nice to see that people appreciate my work. Yet sometimes I am a little surprised to realise what some commercially interested firms make of it. Recently I came across a website that proudly used my research for advertising the use of magnetic bracelets against pain. Here is the text in question:
The extra strong magnets make this magnetic bracelet the fastest acting pain reliever. While wearing this magnetic bracelet customers with wrist and hand pain report significant pain relief….
What is a magnetic bracelet and what are the benefits? Magnetic bracelets are a piece of jewelry, worn for the therapeutic benefits of the magnetic field. Magnetic bracelets has been used successfully by many people for pain relief of inflammatory conditions such as arthritis, tendinitis and bursitis.
A randomized, placebo controlled trial with three parallel groups, came to the conclusion : Pain from osteoarthritis of the hip and knee decreases when wearing magnetic bracelets. It is uncertain whether this response is due to specific or non-specific (placebo) effects. Tim Harlow, general practitioner, Colin Greaves, research fellow, Adrian White, senior research fellow, Liz Brown, research assistant, Anna Hart, statistician, Edzard Ernst, professor of complementary medicine.
The entrepreneurs seem to have forgotten a few things which we tried to make clear in our paper:
this article was published in the Christmas issue of the BMJ which specialises in publishing unusual and odd findings with a high entertainment value,
in our paper, we point out that "the contamination of group B with stronger magnets prevented a more objective estimation of any-placebo effect",
and stressed that "there were problems with the weak magnets",
and that "a per-specification analysis suggested (but could not confirm) a specific effect of magnetic bracelets over and above placebo".
Most importantly, this was just one trial, and surely one swallow does not make a summer! We should always consider the totality of the reliable evidence. Being conscientious researchers, at the time, we did exactly that and conducted a systematic review. Here is the abstract in its full beauty:
BACKGROUND:
Static magnets are marketed with claims of effectiveness for reducing pain, although evidence of scientific principles or biological mechanisms to support such claims is limited. We performed a systematic review and meta-analysis to assess the clinical evidence from randomized trials of static magnets for treating pain.
METHODS:
Systematic literature searches were conducted from inception to March 2007 for the following data sources: MEDLINE, EMBASE, AMED (Allied and Complementary Medicine Database), CINAHL, Scopus, the Cochrane Library and the UK National Research Register. All randomized clinical trials of static magnets for treating pain from any cause were considered. Trials were included only if they involved a placebo control or a weak magnet as the control, with pain as an outcome measure. The mean change in pain, as measured on a 100-mm visual analogue scale, was defined as the primary outcome and was used to assess the difference between static magnets and placebo.
RESULTS:
Twenty-nine potentially relevant trials were identified. Nine randomized placebo-controlled trials assessing pain with a visual analogue scale were included in the main meta-analysis; analysis of these trials suggested no significant difference in pain reduction (weighted mean difference [on a 100-mm visual analogue scale] 2.1 mm, 95% confidence interval -1.8 to 5.9 mm, p = 0.29). This result was corroborated by sensitivity analyses excluding trials of acute effects and conditions other than musculoskeletal conditions. Analysis of trials that assessed pain with different scales suggested significant heterogeneity among the trials, which means that pooling these data is unreliable.
INTERPRETATION:
The evidence does not support the use of static magnets for pain relief, and therefore magnets cannot be recommended as an effective treatment. For osteoarthritis, the evidence is insufficient to exclude a clinically important benefit, which creates an opportunity for further investigation.
So, would I, on the basis of the current best evidence, recommend magnetic bracelets to people who suffer from pain? No! In my view, only charlatans would do such a thing.
In the early 1920s, a French physician thought he had discovered the virus that caused the Spanish flu. It oscillated under his microscope, and he thus called it oscillococcus. Not only did it cause the flu, in the opinion of his discoverer, but it was also responsible for a whole host of other diseases, including cancer. In fact, the virus does not exist, or at least nobody ever confirmed it existed, but that fact did not stop our good doctor to make a homeopathic remedy from it which he thought would cure all these diseases. His remedy, Oscillococcinum, is made from the liver and heart of a duck because the imaginative inventor believed that the fictitious virus was present in these organs of this animal.
To understand all this fully, one needs to know that the duck organs are so highly diluted that no molecule of the duck is present in the remedy. It is sold in the C200 potency. This means that one part of organ extract is diluted 1: 10 000 000 000 000 000 000 000 000 000 000 000 000 000 000 000 000 000 000 000 000 000 000 000 000 000 000 000 000 000 000 000 000 000 000 000 000 000 000 000 000 000 000 000 000 000 000 000 000 000 000 000 000 000 000 000 000 000 000 000 000 000 000 000 000 000 000 000 000 000 000 000 000 000 000 000 000 000 000 000 000 000 000 000 000 000 000 000 000 000 000 000 000 000 000 000 000 000 000 000 000 000 000 000 000 000 000 000 000 000 000 000 000 000 000 000 000 000 000 000 000 000 000 000 000 000 000 000 000 000 000 000 000 000 (a note to Boiron's legal team: I had a hell of a time getting all these zeros right; in case, I got it wrong after all, it is an honest error – please do not sue me for it!). The dilution is so extreme that it amounts to a single molecule per a multitude of universes.
Given these facts it seems unlikely that the remedy has any effects on human health which go beyond those of a placebo. Let's see what the current Cochrane review says about its effectiveness: There is insufficient good evidence to enable robust conclusions to be made about Oscillococcinum(®) in the prevention or treatment of influenza and influenza-like illness. Our findings do not rule out the possibility that Oscillococcinum(®) could have a clinically useful treatment effect but, given the low quality of the eligible studies, the evidence is not compelling. There was no evidence of clinically important harms due to Oscillococcinum(®).
Considering that the first author of this review works for the British Homeopathic Association and the senior author is the homeopath of the Queen, this seems a pretty clear statement, don't you think?
Regardless of the scientific evidence, Oscillococcinum made of 'Anas Barbariae Hepatis et Cordis Extractum', as it is officially called, became a homeopathic best-seller. In the US alone Boiron, the manufacturer, is said to sell US$ 15 m per year of this product. Not only that, in France, where the remedy is a popular medicine sold in virtually all pharmacies and often recommended as soon as you walk into a pharmacy, it is hard to find anyone who does not swear by the 'potentized' duck or is willing to discuss its merits critically.
The amazing duck, it seems, has turned into a 'holy cow'.
If we search on 'Medline' for 'complementary alternative medicine' (CAM), we currently get about 13000 hits. A little graph on the side of the page demonstrates that, during the last 4 years, the number of articles on this subject has grown exponentially.
Surely, this must be very good news: such intense research activity will soon tell us exactly which alternative treatments work for which conditions and which don't.
I beg to differ. Let me explain why.
The same 'Medline' search informs us that the majority of the recent articles were published in an open access journal called 'Evidence-Based Complementary and Alternative Medicine' (eCAM). For example, of the 80 most recent articles listed in Medline (on 26/5/2014), 53 came from that journal. The publication frequency of eCAM and its increase in recent years beggars belief: in 2011, they published just over 500 articles which is already a high number, but, in 2012, the figure had risen to >800, and in 2013 it was >1300 (the equivalent 2013 figure for the BMJ/BMJ Open by comparison is 4, and that for another alt med journal, e.g. Forsch Komplement, is 10)
How do they do it? How can eCAM be so dominant in publishing alt med research? The trick seems to be fairly simple.
Let's assume you are an alt med researcher and you have an article that you would like to see published. Once you submit it to eCAM, your paper is sent to one of the ~150 members of the editorial board. These people are almost all strong proponents of alternative medicine; critics are a true rarity in this group. At this stage, you are able to suggest the peer reviewers for your submission (all who ever accepted this task are listed on the website; they amount to several thousand!), and it seems that, with the vast majority of submissions, the authors' suggestions are being followed.
It goes without saying that most researchers suggest colleagues for peer reviewing who are not going to reject their work (the motto seems to be "if you pass my paper, I will pass yours). Therefore even faily flimsy bits of research pass this peer review process and get quickly published online in eCAM.
This process explains a lot, I think: 1) the extraordinarily high number of articles published 2) why currently more than 50% of all alt med research originate from eCAM 3) why so much of it is utter rubbish.
Even the mere titles of some of the articles might demonstrate my point. A few examples have to suffice:
Color distribution differences in the tongue in sleep disorder
Wen-dan decoction improves negative emotions in sleep-deprived rats by regulating orexin-a and leptin expression.
Yiqi Huoxue Recipe Improves Heart Function through Inhibiting Apoptosis Related to Endoplasmic Reticulum Stress in Myocardial Infarction Model of Rats.
Protective Effects of Bu-Shen-Huo-Xue Formula against 5/6 Nephrectomy-Induced Chronic Renal Failure in Rats
Effects and Mechanisms of Complementary and Alternative Medicine during the Reproductive Process
Evidence-based medicinal plants for modern chronic diseases
Transforming Pain into Beauty: On Art, Healing, and Care for the Spirit
This system of uncritical peer review and fast online publication seems to suit many of the people involved in this process: the journal's owners are laughing all the way to the bank; there is a publication charge of US$ 2000 per article, and, in 2013, the income of eCAM must therefore have been well over US$2 000 000. The researchers are equally delighted; they get even their flimsiest papers published (remember: 'publish or perish'!). And the evangelic believers in alternative medicine are pleased because they can now claim that their field is highly research-active and that there is plenty of evidence to support the use of this or that therapy.
But there are others who are not served well by eCAM habit of publishing irrelevant, low quality articles:
professionals who would like to advance health care and want to see reliable evidence as to which treatments work and which don't,
the public who, in one way or another, pay for all this and might assume that published research tends to be relevant and reliable,
the patients who have given their time to researchers in the hope that their gift will improve health care,
ill individuals who hope that alternative treatments might relieve their suffering,
politicians who rely on research to be reliable in order to arrive at the right decisions.
Come to think of it, the vast majority of people should be less than enchanted with eCAM and similar journals.
Manufacturers of homeopathic remedies are having a hard time, it seems. The following press release has just reached me, and I thought it might be worth sharing it with my readers:
Baden-Baden, Germany, May 23, 2014 – Heel Group today announced the cessation of its business activities in the United States and Canada on August 31, 2014.
In the USA and Canada, manufacturers of OTC homeopathic medicinal products have been confronted with accusations through class action lawsuits. Heel Inc., the Heel Group's U.S.-based subsidiary, was also faced with two such attempts recently. Both cases have been settled without conceding the allegations. The financial burden on Heel Inc., however, was substantial.
In a subsequent risk-benefit analysis of its global activities, the Heel Group decided to focus on strengthening its excellent position in South America, Central Europe and Eastern Europe and to withdraw from business activities in the USA and Canada for the time being.
Heel's operations in both the USA and Canada will accordingly be discontinued as of August 31, 2014.
In the USA, negotiations with MediNatura Inc., a Delaware Corporation, are close to completion by which the Heel Group will transfer its stock in Heel Inc., to MediNatura by the end of August 2014. The transaction does, however, not include any of Heel's trusted and leading global brands such as Traumeel, Neurexan, Zeel, Oculoheel, Luffeel, Sinusin, Vinceel, Nectadyn, Adrisin, Gripp-Heel, Viburcol, Vertigoheel, Spascupreel, Engystol, and Lymphomyosot*. Completion of the acquisition is subject to standard closing procedures.
As a trailblazer and leader in the field of scientific research into natural healthcare and a leading manufacturer of homeopathic medicines, the Heel Group will continue to invest in research and development on a global scale, also involving the medical-scientific community in North America.
Ralph Schmidt, CEO of the Heel Group: "As a global player, we are continuously reviewing our portfolio. This means that we are sometimes required to focus on specific regions at the expense of others in order to efficiently carry out our ambitious expansion plans. I would not exclude the possibility of re-entering the markets in the USA and Canada with a new business concept."
It is somewhat sobering from my point of view to realise that all the science proving that homeopathy had no health effects beyond placebo had little effect on the market for homeopathic remedies. If anything, the sales figures seemed to get better and better as the evidence got more and more negative during the last decades. The 'globulisation' of the world seemed imminent due to those homeopathic manufacturers who wanted to become 'global players' (is there not a homeopathic remedy against megalomania?). It was only the legal actions that seemed to have an effect. The multiple North American class actions were more effective than the science, it seems.
Is there a lesson here? Perhaps! It could be that scientists working on their own are not always powerful enough to improve health care. Particularly when confronted with an alliance of evangelic belief and commercial interests, scientists, sceptics, journalists, lawyers, politicians and other professions might have to co-operate to bring about meaningful change.
I have often asked myself whether it is right/necessary to scientifically test things which are entirely implausible. Should we, for instance test the effectiveness of treatments which have a very low prior probability of generating a positive effect such as paranormal healing, homeopathy or Bach flower remedies? If you believe in the principles of evidence-based medicine you might focus on the clinical evidence and see biological plausibility as secondary. If you are a basic scientist, you are likely to do the reverse.
A recent article addressed this issue. The author points out that evaluating the absurd is absurd. Specifically, he noted that the empirical evaluation of a therapy would normally assume a plausible rationale regarding the mechanism of action. However, examination of the historical background and underlying principles for reflexology, iridology, acupuncture, auricular acupuncture, and some herbal medicines, reveals a rationale founded on the principle of analogical correspondences, which is a common basis for magical thinking and pseudoscientific beliefs such as astrology and chiromancy. Where this is the case, it is suggested that subjecting these therapies to empirical evaluation may be tantamount to evaluating the absurd.
This makes a lot of sense – but is it really entirely true? Are there no legitimate reasons at all for testing alternative treatments that lack biological plausibility? Ten or twenty years ago, I would have disagreed with the notion that plausibility is an essential prerequisite for scientific testing; today, I have changed my mind a little, but not as much as to agree completely with the assumption. In other words, I still see more than one good reason why evaluating the absurd might be reasonable or even advisable.
Using plausibility as the only arbiter of scientific

'evaluability'

, assumes that we understand everything about plausibility there is to know. Yet it might just be possible that we mis-categorise something as implausible simply because we are not yet fully aware of all the facts.
Declaring something as plausible and another thing as implausible are not hard and fast verdicts but judgements which, at least to some degree, are subjective. Sceptics find the axioms of homeopathy utterly implausible, for instance – but ask a homeopath, and you will hear all sorts of explanations which, at least to them, sound plausible.
If an implausible alternative treatment is in wide-spread use, we arguably have a responsibility to test it scientifically in order to demonstrate the truth about it (to those proponents of that therapy who are willing to accept that rigorous science can find the truth). If we fail to do this, it will be the enthusiasts of that therapy who conduct less than rigorous science and produce false positive results. In turn, this will give the impression that the treatment is effective and mislead consumers, politicians, journalists etc. Seen from this perspective, it might even be unethical to not do the science.
So, I am in two minds about this (which might be a reflection of the fact that, during different periods of my life, I have been a clinician, a basic scientist and a clinical researcher). I realise that plausibility and prior probability are important – much more so than I appreciated years ago. But I think they should not be the only criteria. The clinical evidence should not be pushed aside completely.
I'd be interested to learn your views on this tricky issue.
The so-called Swiss government report of 2011 on homeopathy was actually an expanded translation of a 2006 book, which in itself was an expanded version of a document submitted to a Swiss committee (PEK) in charge of evaluation of alternative medicine. It has been severely criticised. A summary of criticisms with links can be found on the RationalWiki item to which we may add the Zeno's Blog. I present here the results of my scrutiny of chapter 10 (1), although I base my report on the original German edition.
This chapter by itself shows a familiar result: the better the investigation, the less evidence in favor of homeopathy it shows. It shows also how homeopaths systematically distort unfavorable results by mispresenting them. Chapter 10 deals with clinical investigations of homeopathy. The authors restrict their attention to an odd assortment of diseases such as acute rhinitis, allergic rhinitis, allergic asthma, sinusitis, adenoid vegetations, pharyngitis, tonsillitis, influenza-like infection and otitis media, together denoted as 'upper respiratory tract infections/allergic reactions' or URTI/A for short.
The number of papers reviewed is very small. The authors looked at much more than randomized clinical trials. Apparently their search did not extend further than 2003, but then they might have found over 150 papers, of which about one third double blind randomized trials that compared how well highly diluted homeopathy and placebo cured one of the indicated diseases. They managed to miss 25 papers mentioned in earlier meta-analyses and about four papers that are summarized in Pubmed.
Among the papers they missed is an extremely strong support for the claim 'homeopathy works for URTI/A'. For example Riverón-Garrote et al. (2) did a placebo controlled double blind randomized clinical trial of homeopathy (apparently individualised) for asthma. Of about 33 verum patients 32 improved, whereas of about 30 placebo patients only 4 improved. The so-called p-value for such a result is less than 10–11. One wonders why this result wasn't published in Science or Nature, but only in an obscure Spanish language homeopathic journal. Maybe the paper was excluded because it didn't state that it was about allergic asthma, but note that in about three quarters of all asthma some kind of allergy is implicated.
Of course this pales in comparison to the paper by Friese and Zabalotnyi (3). Again a double blind randomised clinical trial with 72 sinusitis sufferers for both verum and placebo. But here 71 out of 72 verum patients were free of complaints after three weeks, or at least improved, whereas this was the case for only 8 of the placebo patients. Fisher's Exact Test gives p = 2.47 times 10-29 (one tailed). A remarkable result, because it is well known that over 80% of sinusitis cases cures spontaneously within two weeks. Maybe placebos are dangerous in the hands of homeopaths. Again one wonders why Friese and Zabalotnyi didn't share the Nobel prize in, say, 2008, and why it is necessary at all to meticulously analyse papers in which homeopathy shows a marginal advantage.
Instead, Maxion-Bergemann et al. include in their survey a paper by Bahemann (4). We quote the summary of the paper from the internet: 'In homeopathic practice, Kalium bromatum is known as a remedy in the case of paranoid delusions, e. g. if someone suffers from the delusion of being the object of divine revenge, of being damned, or of being pursued. It is also a very important remedy in the case of nocturnal fears in children as well as in the case of convulsions, when they are hereditary, when they occur in childbed, or during teething. The following case demonstrates the successful treatment of a severe mononucleosis after studying the Materia medica.' Mononucleosis isn't even mentioned in the list given that specifies URTI/A. Maybe it was included because one of the symptoms of mononucleosis is a sore throat. Apparently the mononucleosis patient was given Kalium Bromatum (Maxion-Bergemann et al. state that it is Kalium Chromatum 200C, presumably Chromatum and Bromatum don't differ too much to bother) because of something remarkable the patient said during the anamnesis. The reason for giving Kalium bromatum 200C in cases of paranoia might be that an overdose of bromide can induce psychoses. The homeopathic Materia Medica contains quite a few 'symptoms' from accidental poisonings reported in old medical literature; potassium bromide was liberally used in the nineteenth century for the calming of seizure and nervous disorders, according to Wikipedia.
More impressive in the list of 13 RCTs of Maxion-Bergemann are two of the largest 'homeopathic' trials known, namely of the remedy Oscillococcinum. These trials cannot be taken seriously. The first one, by Ferley et al. (5), has one glaring fault. They started with 478 'influenza'-patients (237 verum), tried to make 149 family physicians note down when the patients recovered, and then elected to restrict their attention to the 63 patients (39 verum) that recovered within 48 hours and therefore probably didn't have flu at all. Coincidentally this was the only possibility out of 14 that gave a 'significant' result: correctly computed, p is just below 0.05. (Ferley et al. based their computation on 462 patients with 228 verum and applied a chi-squared test without continuity correction). It is hardly credible that they set this 48-hour criterion in advance, because even if the remedy worked, the risk of having too few subjects to get a significant result would have been considerable. But if one picks out one result among many possibilities, one should correct for multiple outcome. So the Ferley et al. investigation is at most an exploratory result in need of independent confirmation.
This 'confirmation' was undertaken soon afterwards, namely in the beginning of 1991, but the results were only published in 1998 and cannot be found on Pubmed (6). In this paper the definitions are somewhat different, but Papp et al. report that of 334 patients (167 verum) a total of 57 (32 verum) were cured in 48 hours. Now 25 versus 32 is not remarkable at all. One doesn't need any elaborate computation for this. Calculation gives p=0.4. So one might think that the Ferley hypothesis was soundly refuted. But Papp et al. used something they call 'the Krauth test', probably some kind of automated post hoc fishing trip to select the best criteria to distinguish the placebo and verum groups. They claim that this 'test' gives p=0.0028. They specifically refer to 'the null hypothesis (the number of patients free of symptoms after 48 hours is equal in both treatment groups)', so their computation is wrong. The most remarkable thing about Papp et al. is that nobody seems to have to have noticed the large discrepancy between what the numbers say and the claim of the paper.
Another paper with 'positive' results is the 1994 study of Reilly et al. (7), number 28 in Maxion-Bergemann et al. The group of Reilly investigated allergic diseases treated by what they called homeopathy. The typical Reilly experiment consists of administering a highly diluted causative agent such as pollen or house dust mite or cat hairs or bird feathers to persons suffering from pollen allergy (seasonal rhinitis) or allergic asthma. However for true homeopathy one uses a substance that has been the subject of a so-called proving, and the remedy is chosen of the totality of all patient 'symptoms' – including things like sleeping position and fear of thunderstorms – sufficiently matches the symptoms of the proving. Let me call Reilly's method ultra-isopathy. Reilly was already discussing this study on a symposium in 1990, but that paper is not clear. It is about 28 asthma patients, and only 24 were analysed. This small number in itself is already reason enough not to consider it. The main analysis was by comparing a subjective measure of wellbeing, the Visual Analog Scale (VAS). Here we find a significant difference (p=0.003) in favor of ultra-isopathy. However, in the small print we see that change in the very important FEV1-value (Forced Expiratory Volume in 1 second) was non-significant (p=0.08) but this refers only to the 18 patients that took such a test before and after the experiment.
Reilly attracted more attention with his first experiment in this vein (8). He started out with 79 patients in both the verum and the placebo group. The treatment was ultradiluted grass pollen for hay fever. The analysis was only about 56 verum and 52 placebo (in a diagram 53 placebo are shown). Such a large dropout (32%) is not good. On basis of the VAS-scores Reilly found p=0.02. VAS is only an ordinal scale and it is not at all clear that one person's 60 mm means the same as another person's 60 mm, and also not that two patients with respectively 40 mm and 80 mm together can be considered as equivalent to two other patients with 60 mm each. If we distinguish only better / equal / worse, then the numbers for the verum group were 34 / 9 / 13 and for the placebo group 27 / 5 / 21. One can analyse this in various ways: as a 3 by 2 contingency table (p=0.15), or as a 2 by 2 table, namely by joining the middle group either to the right (p=0.10) or to the left (p=0.34). In this manner the difference is less impressive.
Maxion-Bergemann et al. collected 29 articles. I take the liberty of removing from these everything that is not a double blind RCT that compares how well highly diluted homeopathy and placebo cures an URTI/A disease. We also remove all research with 50 or less patients. The more or less openly fraudulent or at least grossly mistaken Oscillococcinum trials I also leave out. In order of appearance we have then Wiesenauer 1985 (9) [8] Reilly 1986 (8) [6] Wiesenauer 1989 (10) [10] De Lange-de Klerk 1994 (11) [1] Aabel 2000 (12) [4] Jacobs 2001 (13) [22] Friese 2001 (14) [24] Lewith 2002 (15) [25] White 2003 (16) [29] The square brackets refer to the numbering in Maxion-Bergemann et al. A short review of these nine articles follows.
Wiesenauer 1985: one standard remedy for hayfever. Randomised 213 patients, analysed only 164. "no statistical significance was achieved" says the abstract on Pubmed. Reilly 1986: this we have discussed already. Ultra-isopathy for hayfever. Randomised 158 patients, analysed 108. Statistically significant, but barely so. Wiesenauer 1989: four groups, each with their own standard remedy or placebo for sinusitis, 152 patients. "There was no remarkable difference in the therapeutic success among the investigated homeopathic drug combinations nor between the active drugs and placebo", according to the abstract in Pubmed De Lange-de Klerk 1994: this research was reported more extensively in the lead author's dissertation (17). Individualised homeopathy for recurrent URTI in children. 175 children were randomised and 170 analysed after following them for a year. 128 different remedies/potencies were prescribed and all together 1042 different prescriptions were handed out. The result was a non-significant difference between homeopathy and placebo. One striking aspect of this investigation is that only after all computations were done, it was revealed which of the two groups was the placebo group and which the verum group. So the author or her thesis advisors deliberately made it impossible to fall for the temptation to start a fishing expedition in the data after the code was completely broken. See also Pubmed. Aabel 2000: ultra-isopathy for birch pollen allergy. Strictly speaking this investigation shouldn't be in this short list because it was partly prophylactic. From Pubmed: "Surprisingly, the verum treated patients fared worse than the placebo group". No measure of statistical significance is mentioned. Remarkably this article is preceded by a similar article (18) that Maxion-Bergemann et al. apparently weren't able to locate. Jacobs 2001: 75 children with otitis media were treated with individualised homeopathy or placebo. Pubmed: "differences were not statistically significant". It seems that Jacobs has indulged in a fishing trip because she mentions a "significant decrease in symptoms at 24 and 64 h after treatment in favor of homeopathy". But that is wrong. Significance only can have a meaning if it refers to a single outcome that was planned before any patients were seen. Just picking out two results out of many and stating they are 'significant' betrays a fundamental ignorance of research methodology. Friese 2001: this article is also published elsewhere (19), at least the numbers are exactly the same according to Pubmed. 97 children randomized for either individual homeopathic treatment or placebo treatment of adenoid vegetations, 82 analysed. Apparently these 82 comprised 41 placebo and 41 verum, and of these 12 and 9 respectively required an operation in the end. This allegedly corresponds to p=0.64, "These results show no statistical significance." Incidentally, this is the same Friese as reference 3. Lewith 2002: again ultra-isopathy, now for asthma, 242 patients randomised, 202 completed all clinical assessments. The full article can be accessed via Pubmed and elsewhere. The main conclusion is "Homoeopathic immunotherapy is not effective in the treatment of patients with asthma." The authors notice that the averages in both groups behave somewhat erratic, and they have no explanation for this. White 2003: individualised homeopathy compared to placebo for 96 children with asthma, who are followed for 12 months. The conclusion is that there is no evidence that this kind of homeopathy is better than placebo. In other words, out of nine investigations only one (Reilly 1986) obtains a barely significant result.
But the interpretation of Maxion-Bergemann et al. is totally different: "If only the placebo-controlled, randomized trials with the highest EBM evidence are considered, 12 of 16 trials show a positive result for the homeopathically treated group (significantly positive 8/16 and trend 4/16)." Even in the more restricted subset of nine discussed above they are overly optimistic. They mark Wiesenauer (1985), De Lange-de Klerk (1994), Jacobs (2001) as showing a 'trend for homeopathy' and Lewith (2002) is even marked 'significant'. The meticulous and high quality research of De Lange (1993, 1994) is judged 'trend for homeopathy'.
In case of De Lange it seems clear where this judgement comes from. De Lange had several outcomes (number of sick periods, total duration of sick periods, sum of all dayscores etc., and all these showed roughly the same small non-significant difference in favor of homeopathy. This is not really strange, because these outcomes all measure about the same phenomenon. It is not remarkable that there is a small difference between the averages of the two groups that can only be noticed if the children are followed for a full year. There is not even the beginning of a reason that this has anything to do with the treatment. For example the homeopathy group had 'significantly' less pets at home. This might serve as an explanation why they as a group were slightly less sick. One might also speculate that this was retroactively caused by the homeopathic treatment. This is not really more improbable than highly diluted stuff (more than 95% D6 and higher) having an effect.
By convention 'statistically significant' is the lower limit where weak conclusions such as 'worth investigating further' can be justified, and we repeat: only if it refers to a single outcome measure or endpoint chosen before any data collection has started. De Lange chose recurrent URTI because homeopathy was reputed to be most effective for this type of complaints, especially after investigations such as those of Reilly (1986). If following 170 children for a full year cannot show a clear advantage, then that is simply a negative result. In the case of Lewith the 'significant for homeopathy' is probably based on partial results such as that in week 3 'homeopathy' fared better in the asthma VAS. One can just as well point to week 16 where the FEV1 of the placebo group seems much better than in the homeopathy group.
Maxion-Bergemann et al. seem to have been singularly inept in collecting papers on homeopathic trials, and for no apparent reason they decided to look also at a large number of case reports and investigations without control group or blinding, even after investigators as early as 1991 have remarked that henceforth only well designed large double blind RCTs were worth considering. If we restrict our attention to the properly blinded controlled investigations, we see the same thing as in other meta-analyses of homeopathy: there is lots of rubbish in favor of homeopathy, but the good trials say plainly and clearly: homeopathy is ineffective, precisely what can be predicted from the fact that there is nothing in it.
Homeopaths nowadays have a lot to say about RCTs and how they prove homeopathy. RCTs are subtle and complicated scientific tools. It is somewhat strange to see how homeopaths resolutely ignore two centuries of basic science but then argue their cause on the basis of complicated statistics.
Homeopathy is an assortment of wildly different practices and theories. We have seen ultra-isopathy, individualised homeopathy and the practice of giving one standardised remedy for one diagnosis without asking too many personal details from the patient. These standard remedies are often branded mixtures of highly diluted 'classical' homeopathy, quite contrary to the opinions of homeopathy's inventor Hahnemann. There are many more variants of homeopathy and the homeopaths themselves cannot agree which are the correct ones.
Moreover, if a treatment or trial doesn't work out, then a number of additional hypotheses about homeopathy can be invoked, which is what Maxion-Bergemann et al. do. Homeopathic remedies supposedly are counteracted by lots of regular medications and even by strong tasting or smelling food, such as coffee, parsley, garlic and peppermint. Hahnemann even disapproved of reading in bed and long afternoon naps and prolonged suckling of infants (Organon, section 260). Poor performance of homeopathy can be blamed on something called 'initial aggravation' or else on lack of experience of the poorly performing homeopath.
But that these factors are relevant at all is unknown, just like there is no proof at all for the similia principle, nor for the hundred thousands or even millions of 'symptoms' associated with highly diluted materials in the homeopathic Materia Medica. If homeopaths really want scientists to share homeopathic beliefs, they should not think up lame excuses for 'failed' tests, but for starters they might try to present proofs for all or at least some of their 'symptoms'. They don't try very hard and in so far it has been tried, it also has failed (20).
I would like to thank Willem Betz for helpful remarks.
I am a retired mathematician with no other interest than a desire to promote science.
References
1. Stefanie Maxion-Bergemann, Gudrun Bornhöft, Denise Bloch, Christina Vogt-Frank, Marco Righetti, André Thurneysen. (2011) Clinical Studies on the Effectiveness of Homeopathy for URTI/A (Upper Respiratory Tract Infections and Allergic Reactions) in: Homeopathy in Healthcare – Effectiveness, Appropriateness, Safety, Costs. G. Bornhöft and P.F. Mattheiesen (eds.), Berlin etc., Springer 2011, p. 18-157.
2. Riverón-Garrote, M., Fernandez-Argüelles, R.; Morán-Rodríquez, F.; Campistrou-Labaut, J.L. (1998) Ensayo clínico controlado aleatorízado del tratamiento homeopático del asma bronquial, Boletín Mexicano de Homepatía 1998; 31(2):54-61.
3. Friese, K.-H., Zabalotnyi, D.I. (2007) Homöopathie bei akuter Rhinosinusitis, Eine doppelblinde, placebokontrollierte Studie belegt die Wirksamkeit und Verträglichkeit eines homöopathischen Kombinationsarzneimittels, HNO 55(4):271-277.
4. Bahemann A. (2002) Kalium bromatum bei infektiöser Mononukleose. Zeitschrift für Klassische Homöopathie 46:232–233.
5. Ferley J.P., Zmirou D., D'Adhemar D., Balducci F. (1989). A controlled evaluation of a homoeopathic preparation in the treatment of influenza like syndromes. British Journal of Clinical Pharmacology 27:329-335.
6. Papp R., Schuback G., Beck E., Burkard G., Bengel J., Lehrl S., Belon P. (1998). Oscillococcinum in patients with influenza-like syndromes: a placebo-controlled double-blind evaluation. British Homeopathic Journal 87:69-76.
7. Reilly, D.T., Taylor, M.A., Beattie, N.G.M., Campbell, J.H., McSharry C., Aitchison T.C., Carter R., Stevenson R. (1994) Is evidence for homoeopathy reproducible?, Lancet 1994 344:1601-1606.
8. Reilly, D.T., Taylor, M.A., McSharry, C., Aitchison, T. (1986) Is Homoeopathy a Placebo Response?, Controlled Trial of Homoeopathic Potency – With Pollen in Hayfever as Model, Lancet II.2:881-886.
9. Wiesenauer, M., Gaus, W. (1985) Double-blind Trial Comparing the Effectiveness of Galphimia Potentisation D6 (Homoeopathic Preparation), Galphimia Dilution 10-6 and Placebo on Pollinosis, Arzneimittelforschung 35(11):1745-1747.
10. Wiesenauer M, Gaus W, Bohnacker U, Häussler S (1989) Wirksamkeitsprüfung von homöopathischen Kombinationspräparaten bei Sinusitis: Ergebnisse einer randomisierten Doppelblindstudie unter Praxisbedingungen. Arzneimittelforschung 39:620-625.
11. de Lange-de Klerk E.S.M., Blommers J., Kuik D.J., Bezemer P.D., Feenstra L. (1994). Effects of homoeopathic medicines on daily burden of symptoms in children with recurrent upper respiratory tract infections. BMJ 309:1329-1332.
12. Aabel, S. (2000) No beneficial effect of isopathic prophylactic treatment for birch pollen allergy during a low-pollen season, A double-blind, placebo-controlled clinical trial of homeopathic Betula 30c. British Homeopathic Journal 89(4):169-173.
13. Jacobs, J., Springer, D.A., Crothers, D. (2001) Homeopathic treatment of acute otitis media in children, A preliminary randomized placebo-controlled trial. The Pediatric Infectious Disease Journal 20(2):177-183.
14. Friese K.H., Feuchter U., Lüdtke R., Moeller H. (2001) Results of a randomised prospective double-blind trial on the homeopathic treatment of adenoid vegetations. European Journal of General Practice 7:48-54.
15. Lewith, G.T., Watkins, A.D.; Hyland, M.E.; Shaw, S.; Broomfield, J.A.; Dolan, G.; Holgate, S.T. (2002) Use of ultramolecular potencies of allergen to treat asthmatic people allergic to house dust mite: double blind randomised controlled clinical trial, BMJ 324:520-523.
16. White, A., Slade, P.; Hunt, C.; Hart, A.; Ernst, E. (2003) Individualised homeopathy as an adjunct in the treatment of childhood asthma, A randomised placebo controlled trial. Thorax 58(4):317-321
17. Lange-de Klerk, E.S.M. de, Effects of homoeopathic medicines on children with recurrent upper respiratory tract infections. Vrije Universiteit Amsterdam, 1993 (Dissertation).
18. Aabel, S., Laerum, E.; Dölvik, S.; Djupesland, P. (2000) Is homeopathic 'immunotherapy' effective?, A double-blind, placebo-controlled trial with the isopathic remedy Betula 30c for patients with birch pollen allergy. British Homeopathic Journal 89(4):161-168.
19. Friese K.-H., Feuchter U., Möller H. (1997). Die homöopathische Behandling von adenoiden Vegetationen. HNO; 45:618–624.
20. Brien S., Lewith G., Bryant, T. (2003) Ultramolecular homeopathy has no observable clinical effects. A randomized, double-blind, placebo-controlled proving trial of Belladonna 30C.
Recently, I have been invited by the final year pharmacy students of the 'SWISS FEDERAL INSTITUTE OF TECHNOLOGY ZURICH' to discuss alternative medicine with them. The aspect I was keen to debate was the issue of retail-pharmacists selling medicines which are unproven or even disproven. Using the example of homeopathic remedies, I asked them how many might, when working as retail-pharmacists, sell such products. About half of them admitted that they would do this. In real life, this figure is probably closer to 100%, and this discrepancy may well be a reflection of the idealism of the students, still largely untouched by the realities of retail-pharmacy.
In our discussions, we also explored the reasons why retail-pharmacists might offer unproven or disproven medicines like homeopathic remedies to their customers. The ethical codes of pharmacists across the world quite clearly prohibit this – but, during the discussions, we all realised that the moral high ground is not easily defended against the necessity of making a living. So, what are the possible motivations for pharmacists to sell bogus medicines?
One reason would be that they are convinced of their efficacy. Whenever I talk to pharmacists, I do not get the impression that many of them believe in homeopathy. During their training, they are taught the facts about homeopathy which clearly do not support the notion of efficacy. If some pharmacists nevertheless were convinced of the efficacy of homeopathy, they would obviously not be well informed and thus find themselves in conflict with their duty to practice according to the current best evidence. On reflection therefore, strong positive belief can probably be discarded as a prominent reason for pharmacists selling bogus medicines like homeopathic remedies.
Another common argument is the notion that, because patients want such products, pharmacists must offer them. When considering it, the tension between the ethical duties as a health care professional and the commercial pressures of a shop-keeper becomes painfully obvious. For a shop-keeper, it may be perfectly fine to offer all products which might customers want. For a heath care professional, however, this is not necessarily true. The ethical codes of pharmacists make it perfectly clear that the sale of unproven or disproven medicines is not ethical. Therefore, this often cited notion may well be what pharmacists feel, but it does not seem to be a valid excuse for selling bogus medicines.
A variation of this theme is the argument that, if patients were unable to buy homeopathic remedies for self-limiting conditions which do not really require treatment at all, they would only obtain more harmful drugs. The notion here is that it might be better to sell harmless homeopathic placebos in order to avoid the side-effects of real but non-indicated medicines. In my view, this argument does not hold water: if no (drug) treatment is indicated, professionals have a duty to explain this to their patients. In this sector of health care, a smaller evil cannot easily be justified by avoiding a bigger one; on the contrary, we should always thrive for the optimal course of action, and if this means reassurance that no medical treatment is needed, so be it.
An all too obvious reason for selling bogus medicines is the undeniable fact that pharmacists earn money by doing so. There clearly is a conflict of interest here, whether pharmacists want to admit it or not – and mostly they fail to do so or play down this motivation in their decision to sell bogus medicines.
Often I hear from pharmacists working in large chain pharmacies like Boots that they have no influence whatsoever over the range of products on sale. This perception mat well be true. But equally true is the fact that no health care professional can be forced to do things which violate their code of ethics. If Boots insists on selling bogus medicines, it is up to individual pharmacists and their professional organisations to change this situation by protesting against such unethical malpractice. In my view, the argument is therefore not convincing and certainly does not provide an excuse in the long-term.
While discussing with the Swiss pharmacy students, I was made aware of yet another reason for selling bogus medicines in pharmacies. Some pharmacists might feel that stocking such products provides an opportunity for talking to patients and informing them about the evidence related to the remedy they were about to buy. This might dissuade them from purchasing it and could persuade them to get something that is effective instead. In this case, the pharmacist would merely offer the bogus medicine in order to advise customers against employing it. This strategy might well be an ethical way out of the dilemma; however, I doubt that this strategy is common practice with many pharmacists today.
With all this, we should keep in mind that there are many shades of grey between the black and white of the two extreme attitudes towards bogus medicines. There is clearly a difference whether pharmacists actively encourage their customers to buy bogus treatments (in the way it often happens in France, for instance), or whether they merely stock such products and, where possible, offer responsible, evidence-based advise to people who are tempted to buy them.
At the end of the lively but fruitful discussion with the Swiss students I felt optimistic: perhaps the days when pharmacists were the snake-oil salesmen of the modern era are counted?
There is much debate about the usefulness of chiropractic. Specifically, many people doubt that their chiropractic spinal manipulations generate more good than harm, particularly for conditions which are not related to the spine. But do chiropractors treat such conditions frequently and, if yes, what techniques do they employ?
This investigation was aimed at describing the clinical practices of chiropractors in Victoria, Australia. It was a cross-sectional survey of 180 chiropractors in active clinical practice in Victoria who had been randomly selected from the list of 1298 chiropractors registered on Chiropractors Registration Board of Victoria. Twenty-four chiropractors were ineligible, 72 agreed to participate, and 52 completed the study.
Each participating chiropractor documented encounters with up to 100 consecutive patients. For each chiropractor-patient encounter, information collected included patient health profile, patient reasons for encounter, problems and diagnoses, and chiropractic care.
Data were collected on 4464 chiropractor-patient encounters between 11 December 2010 and 28 September 2012. In most (71%) cases, patients were aged 25-64 years; 1% of encounters were with infants. Musculoskeletal reasons for the consultation were described by patients at a rate of 60 per 100 encounters, while maintenance and wellness or check-up reasons were described at a rate of 39 per 100 encounters. Back problems were managed at a rate of 62 per 100 encounters.
The most frequent care provided by the chiropractors was spinal manipulative therapy and massage. The table shows the precise conditions treated
Distribution of problems managed (20 most frequent problems), as reported  by chiropractors
| | | | | |
| --- | --- | --- | --- | --- |
| Problem group | No. (%) of recorded diagnoses* (n = 5985) | Rate per 100 encounters (n = 4417) | 95% CI | ICC |
| Back problem | 2757 (46.07%) | 62.42 | (55.24–70.53) | 0.312 |
| Neck problem | 683 (11.41%) | 15.46 | (11.23–21.30) | 0.233 |
| Muscle problem | 434 (7.25%) | 9.83 | (6.64–14.55) | 0.207 |
| Health maintenance or preventive care | 254 (4.24%) | 5.75 | (3.24–10.22) | 0.251 |
| Back syndrome with radiating pain | 215 (3.59%) | 4.87 | (2.91–8.14) | 0.165 |
| Musculoskeletal symptom or complaint, or other | 219 (3.66%) | 4.96 | (2.39–10.28) | 0.350 |
| Headache | 179 (2.99%) | 4.05 | (2.87–5.71) | 0.053 |
| Sprain or strain of joint | 167 (2.79%) | 3.78 | (2.30–6.22) | 0.115 |
| Shoulder problem | 87 (1.45%) | 1.97 | (1.37–2.83) | 0.022 |
| Nerve-related problem | 62 (1.04%) | 1.40 | (0.72–2.75) | 0.072 |
| General symptom or complaint, other | 51 (0.85%) | 1.15 | (0.22–6.06) | 0.407 |
| Bursitis, tendinitis or synovitis | 47 (0.79%) | 1.06 | (0.71–1.60) | 0.011 |
| Kyphosis and scoliosis | 47 (0.79%) | 1.06 | (0.65–1.75) | 0.023 |
| Foot or toe symptom or complaint | 48 (0.80%) | 1.09 | (0.41–2.87) | 0.123 |
| Ankle problem | 46 (0.77%) | 1.04 | (0.40–2.69) | 0.112 |
| Osteoarthrosis, other (not spine) | 39 (0.65%) | 0.88 | (0.51–1.53) | 0.023 |
| Hip symptom or complaint | 35 (0.58%) | 0.79 | (0.53–1.19) | 0.006 |
| Leg or thigh symptom or complaint | 35 (0.58%) | 0.79 | (0.49–1.28) | 0.012 |
| Musculoskeletal injury | 33 (0.55%) | 0.75 | (0.45–1.24) | 0.013 |
| Depression | 29 (0.48%) | 0.66 | (0.10–4.23) | 0.288 |
These findings are impressive in that they suggest that most Australian chiropractors treat non-spinal conditions for which there is no evidence that the most frequently used interventions are effective. The treatments employed are depicted in this graph:
Distribution of techniques and care provided by chiropractors, with 95% CI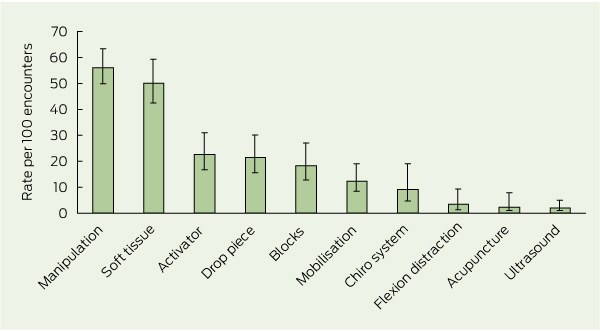 [Activator = hand-held spring-loaded device that delivers an impulse to the spine. Drop piece = chiropractic treatment table with a segmented drop system which quickly lowers the section of the patient's body corresponding with the spinal region being treated. Blocks = wedge-shaped blocks placed under the pelvis.
Chiro system = chiropractic system of care, eg, Applied Kinesiology, Sacro-Occipital Technique, Neuroemotional Technique. Flexion distraction = chiropractic treatment table that flexes in the middle to provide traction and mobilisation to the lumbar spine.]
There is no good evidence I know of demonstrating these techniques to be effective for the majority of the conditions listed in the above table.
A similar bone of contention is the frequent use of 'maintenance' and 'wellness' care. The authors of the article comment: The common use of maintenance and wellness-related terms reflects current debate in the chiropractic profession. "Chiropractic wellness care" is considered by an indeterminate proportion of the profession as an integral part of chiropractic practice, with the belief that regular chiropractic care may have value in maintaining and promoting health, as well as preventing disease. The definition of wellness chiropractic care is controversial, with some chiropractors promoting only spine care as a form of wellness, and others promoting evidence-based health promotion, eg, smoking cessation and weight reduction, alongside spine care. A 2011 consensus process in the chiropractic profession in the United States emphasised that wellness practice must include health promotion and education, and active strategies to foster positive changes in health behaviours. My own systematic review of regular chiropractic care, however, shows that the claimed effects are totally unproven.
One does not need to be overly critical to conclude from all this that the chiropractors surveyed in this investigation earn their daily bread mostly by being economical with the truth regarding the lack of evidence for their actions.