evidence
On this blog, we constantly discuss the shortcomings of clinical trials of (and other research into) alternative medicine. Yet, there can be no question that research into conventional medicine is often unreliable as well.
What might be the main reasons for this lamentable fact?
A recent BMJ article discussed 5 prominent reasons:
Firstly, much research fails to address questions that matter. For example, new drugs are tested against placebo rather than against usual treatments. Or the question may already have been answered, but the researchers haven't undertaken a systematic review that would have told them the research was not needed. Or the research may use outcomes, perhaps surrogate measures, that are not useful.
Secondly, the methods of the studies may be inadequate. Many studies are too small, and more than half fail to deal adequately with bias. Studies are not replicated, and when people have tried to replicate studies they find that most do not have reproducible results.
Thirdly, research is not efficiently regulated and managed. Quality assurance systems fail to pick up the flaws in the research proposals. Or the bureaucracy involved in having research funded and approved may encourage researchers to conduct studies that are too small or too short term.
Fourthly, the research that is completed is not made fully accessible. Half of studies are never published at all, and there is a bias in what is published, meaning that treatments may seem to be more effective and safer than they actually are. Then not all outcome measures are reported, again with a bias towards those are positive.
Fifthly, published reports of research are often biased and unusable. In trials about a third of interventions are inadequately described meaning they cannot be implemented. Half of study outcomes are not reported.
END OF QUOTE
Apparently, these 5 issues are the reason why 85% of biomedical research is being wasted.
That is in CONVENTIONAL medicine, of course.
What about alternative medicine?
There is no question in my mind that the percentage figure must be even higher here. But do the same reasons apply? Let's go through them again:
Much research fails to address questions that matter. That is certainly true for alternative medicine – just think of the plethora of utterly useless surveys that are being published.
The methods of the studies may be inadequate. Also true, as we have seen hundreds of time on this blog. Some of the most prevalent flaws include in my experience small sample sizes, lack of adequate controls (e.g. A+B vs B design) and misleading conclusions.
Research is not efficiently regulated and managed. True, but probably not a specific feature of alternative medicine research.
Research that is completed is not made fully accessible. most likely true but, due to lack of information and transparency, impossible to judge.
Published reports of research are often biased and unusable. This is unquestionably a prominent feature of alternative medicine research.
All of this seems to indicate that the problems are very similar – similar but much more profound in the realm of alternative medicine, I'd say based on many years of experience (yes, what follows is opinion and not evidence because the latter is hardly available).
The thing is that, like almost any other job, research needs knowledge, skills, training, experience, integrity and impartiality to do it properly. It simply cannot be done well without such qualities. In alternative medicine, we do not have many individuals who have all or even most of these qualities. Instead, we have people who often are evangelic believers in alternative medicine, want to further their field by doing some research and therefore acquire a thin veneer of scientific expertise.
In my 25 years of experience in this area, I have not often seen researchers who knew that research is for testing hypotheses and not for trying to prove one's hunches to be correct. In my own team, those who were the most enthusiastic about a particular therapy (and were thus seen as experts in its clinical application), were often the lousiest researchers who had the most difficulties coping with the scientific approach.
For me, this continues to be THE problem in alternative medicine research. The investigators – and some of them are now sufficiently skilled to bluff us to believe they are serious scientists – essentially start on the wrong foot. Because they never were properly trained and educated, they fail to appreciate how research proceeds. They hardly know how to properly establish a hypothesis, and – most crucially – they don't know that, once that is done, you ought to conduct investigation after investigation to show that your hypothesis is incorrect. Only once all reasonable attempts to disprove it have failed, can your hypothesis be considered correct. These multiple attempts of disproving go entirely against the grain of an enthusiast who has plenty of emotional baggage and therefore cannot bring him/herself to honestly attempt to disprove his/her beloved hypothesis.
The plainly visible result of this situation is the fact that we have dozens of alternative medicine researchers who never publish a negative finding related to their pet therapy (some of them were admitted to what I call my HALL OF FAME on this blog, in case you want to verify this statement). And the lamentable consequence of all this is the fast-growing mountain of dangerously misleading (but often seemingly robust) articles about alternative treatments polluting Medline and other databases.
Doctor Jens Wurster is no stranger to this blog; previously I discussed his claim that he has treated more than 1000 cancer patients homeopathically and we could even cure or considerably ameliorate the quality of life for several years in some, advanced and metastasizing cases. So far, his claims were based not on evidence published in peer-reviewed journals (I cannot find a single Medline-listed paper by this man); but now Wurster has published an article in a German Journal (Wurster J. Zusatznutzen der Homöopathie … Deutsche Zeitschrift für Onkologie 2018; 50: 85–91; not Medline-listed, I am afraid). The paper is in German, but it has an English abstract; here it is:
____________________________________________________________________________
All over the world, oncology patients receive homeopathic treatment concomitant to conventional treatments, such as chemotherapy and radiation treatment, in order to reduce the side effects of these therapies. It has been shown that cancer patients, who are receiving homeopathic treatment in addition to conventional therapies, have a higher quality of life and a longer survival rate. Studies in cancer cell research have shown the direct effects of highly potentized homeopathic medicines on tumor cell lines. Tumor inhibiting properties of homeopathic medicines have been proven in vivo as well as in vitro. Research projects into complementary medicine (CAMbrella) and research into personalized immunotherapies as well as additive homeopathy open the door to the future of integrative oncology.
_____________________________________________________________________________
In the article, Wurster states that he has 20 years of experience in treating cancer with homeopathy as an add-on to conventional care, and that he can confirm homeopathy's effectiveness. He claims that 'very many' patients have thus benefitted by experiencing less side-effects of conventional treatments. And he offers two case-reports to illustrate this.
[Nach 20 Jahren klinischer Erfahrung in der Clinica St. Croce im Tessin mit der Behandlung onkologischer Patienten mithilfe der Homöopathie können wir deutlich den Zusatznutzen der Homöopathie in der Onkologie bestätigen [1]. So gelang es unserem Ärzteteam in den zurückliegenden Jahren bei sehr vielen Patienten, durch gezielten Einsatz homöopathischer Mittel die Nebenwirkungen von Chemotherapien oder Bestrahlungen erfolgreich zu reduzieren [1]. Wie dabei Schulmedizin und Homöopathie in der Praxis zusammenwirken, zeigt folgendes Beispiel. ([1] Wurster J. Die homöopathische Behandlung und Heilung von Krebs und metastasierten Tumoren. Norderstedt: Books on Demand; 2015)]
The two case-reports lack detail and are less than convincing, in my view. Both patients have had conventional therapies and Wurster claims that his homeopathic remedies reduced their side-effects. There is no way of verifying this claim, and the improvements might have occurred also without homeopathy.
In the discussion section of his paper, Wurster then elaborates that oncologists throughout Europe are now realising the potential of homeopathy. In support he mentions paediatric oncologists in Klagenfurt who managed to spare pain-killers by giving homeopathics. Similarly, at the Inselspital in Bern, they are offering homeopathic consultations to complement conventional treatments.
[Inzwischen haben auch einige Onkologen erkannt, wie eine gezielt eingesetzte homöopathische Behandlung die Nebenwirkungen von Chemotherapien oder Bestrahlungen reduzieren kann. Wir arbeiten inzwischen mit einigen Onkologen aus ganz Europa zusammen, die den Zusatznutzen der Homöopathie in der Onkologie erlebt haben. In der Kinderonkologie in Klagenfurt beispielsweise konnten mithilfe der Homöopathie Schmerzmittel bei den Kindern eingespart werden. Auch am Inselspital Bern werden zusätzliche homöopathische Konsile in der Kinderonkologie angeboten, um die konventionelle Behandlung begleiten zu können [8].]
At this point, Wurster inserts his reference number 8. As several of his references are either books or websites, this reference to an article in a top journal seems interesting. Here is its abstract:
___________________________________________________________________________________
BACKGROUND:
Though complementary and alternative medicine (CAM) are frequently used by children and adolescents with cancer, there is little information on how and why they use it. This study examined prevalence and methods of CAM, the therapists who applied it, reasons for and against using CAM and its perceived effectiveness. Parent-perceived communication was also evaluated. Parents were asked if medical staff provided information on CAM to patients, if parents reported use of CAM to physicians, and what attitude they thought physicians had toward CAM.
STUDY DESIGN:
All childhood cancer patients treated at the University Children's Hospital Bern between 2002-2011 were retrospectively surveyed about their use of CAM.
RESULTS:
Data was collected from 133 patients (response rate: 52%). Of those, 53% had used CAM (mostly classical homeopathy) and 25% of patients received information about CAM from medical staff. Those diagnosed more recently were more likely to be informed about CAM options. The most frequent reason for choosing CAM was that parents thought it would improve the patient's general condition. The most frequent reason for not using CAM was lack of information. Of those who used CAM, 87% perceived positive effects.
CONCLUSIONS:
Since many pediatric oncology patients use CAM, patients' needs should be addressed by open communication between families, treating oncologists and CAM therapists, which will allow parents to make informed and safe choices about using CAM.
_______________________________________________________________________________________
Any hope that this paper might back up the statements made by Wurster is thus disappointed.
Altogether, this Wurster-paper contains no reliable evidence. The only clinical trial it seems to rely on is the one by Prof Frass which we have discussed previously here and here. The Frass-study is odd in several ways and, before we can take its results seriously, we need to see an independent replication of its findings. In this context, it is noteworthy that my own 2006 systematic review concluded that there is insufficient evidence to support clinical efficacy of homeopathic therapy in cancer care. In view of all this, I feel that the new Wurster-paper provides no reliable evidence and no reason to change my now somewhat dated conclusion of 2006. Moreover, I would insist that those who claim otherwise are unethical and behave irresponsible.
And finally, I need to reiterate what I stated in my previous post: the Wurster-paper indicates that something is amiss with medical publishing. How can it be that, in 2018, the 'Deutsche Zeitschrift für Onkologie' (or any other medical journal for that matter) can be so bar of critical thinking to publish such dangerously misleading nonsense? The editors of this journal (Univ.-Prof. Dr. med. Arndt Büssing, Witten/Herdecke; Dr. med. Peter Holzhauer, Bad Trissl und München) and its editorial board members (L. Auerbach, Wien; C. Bahne Bahnson, Kiel; J. Büntzel, Nordhausen; B. Freimüller-Kreutzer, Heidelberg; H.R. Maurer, Berlin; A. Mayr, Starnberg; R. Moss, New York; T. Ostermann, Witten/Herdecke; K. Prasad, Denver; G. Pulverer, Köln; H. Renner, Nürnberg; C.P. Siegers, Lübeck; W. Schmidt, Greifswald; G. Uhlenbruck, Köln; B. Wolf, München; K.S. Zänker, Witten/Herdecke) should ask themselves whether they are taking their moral obligations seriously enough, or whether their behaviour is not a violation of their most fundamental ethical duties.
In our book 'MORE HARM THAN GOOD' we allude to such problems as follows: …Spurious results are frequently paraded by CAM advocates in support of implausible treatments… the more poorly conceived and executed a research project is, the more likely it is to produce false-positive results. These results then may lead to repetitive cycles of unproductive work to explain what was found—often to simply disprove the erroneous results. This is an unfortunate feature of various fields of scientific research, but it has particularly serious implications in medical research. Moreover, researchers who practice and behave as advocates of CAM may unintentionally or deliberately distort or exaggerate weak findings. Invalid CAM research claims tend not to be put to rest; instead they are repeatedly recycled…
And:
…The CAM practitioner who promotes untruths has either failed to enlighten themselves as to the facts—this being a central requirement of professional ethics— or has chosen to deliberately deceive patients. Either of these reasons for promulgating falsehoods amounts to a serious breach in terms of virtue ethics. According to almost all forms of ethical theory, the truth-violating nature of CAM renders it immoral in both theory and practice.
The damage that can result from such violations of medical ethics is not merely a matter for the 'ivory towers of academia', it can virtually be a matter of life and death.
Alternative practitioners practise highly diverse therapies. They seem to have nothing in common – except perhaps that ALL of them are allegedly stimulating our self-healing powers (and except that most proponents are latently or openly against vaccinations). And it is through these self-healing powers that the treatments in question cure anything and become a true panacea. When questioned what these incredible powers really are, most practitioners would (somewhat vaguely) name the immune system as the responsible mechanism. With this post, I intend to provide a short summary of the evidence on this issue:
Acupuncture: no good evidence to show stimulation of self-healing powers.
Aromatherapy: no good evidence to show stimulation of self-healing powers.
Bioresonance: no good evidence to show stimulation of self-healing powers.
Chiropractic: no good evidence to show stimulation of self-healing powers.
Detox: no good evidence to show stimulation of self-healing powers.
Energy healing: no good evidence to show stimulation of self-healing powers.
Feldenkrais: no good evidence to show stimulation of self-healing powers.
Gua sha: no good evidence to show stimulation of self-healing powers.
Herbal medicine: no good evidence to show stimulation of self-healing powers.
Homeopathy: no good evidence to show stimulation of self-healing powers.
Macrobiotics: no good evidence to show stimulation of self-healing powers.
Naturopathy: no good evidence to show stimulation of self-healing powers.
Osteopathy: no good evidence to show stimulation of self-healing powers.
Power bands: no good evidence to show stimulation of self-healing powers.
Reiki: no good evidence to show stimulation of self-healing powers.
Reflexology: no good evidence to show stimulation of self-healing powers.
Shiatsu: no good evidence to show stimulation of self-healing powers.
Tai chi: no good evidence to show stimulation of self-healing powers.
TCM: no good evidence to show stimulation of self-healing powers.
Vibrational therapy: no good evidence to show stimulation of self-healing powers.
---
Vaccinations: very good evidence to show stimulation of self-healing powers.
---
THE END
I stumbled over an article entitled 'The myths of homeopathy: Resounding answers'. I thought it was great fun, so much so, that I copied it below – not just once but twice. The second time I took the liberty of replacing the little porkies told by homeopaths with the truth.
THE ORIGINAL
Homeopathic medicines are not placebos! Little "pellets" of sugar cannot have an effect!
Of course, the sugar in homeopathic pellets doesn't have any effect. This is why we also have tablets and drops that contain homeopathic active substances.
The sugar is simply a medium for these active substances. The important element is what has been added to the sugar – the active ingredient!
As homeopathic remedies have very slow action, they cannot be used to treat acute illnesses!
This is incorrect. You can successfully use homeopathy in acute circumstances such as infections, fevers and colds.
Homeopathy seems to be a kind of magic!
Homeopathy is not magic! Homeopathy is a field of medicine that has the capacity to heal, but if course, it has its limits, just like any other medicine, including conventional medicine.
To give you a clear example – it's unlikely that homeopathy will replace a surgical intervention.
During homeopathic treatment you have to follow a strict diet!
Well, it's not such a bad thing…but of course, you need to eat healthily and avoid smoking, drinking alcohol and coffee.
In some cases you can't eat onion or garlic as they contain sulphur, which is a homeopathic remedy in itself. All of these things have little to do with a strict diet.
Diabetes sufferers can't use homeopathic remedies!
This is not true. The amount of sugar in the pellets is negligible. These homeopathic pellets could even be taken on a daily basis. The foods we eat contain much more sugar, even those that are especially for diabetics.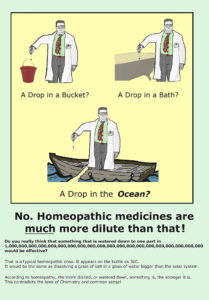 MY CORRECTED VERSION
Homeopathic medicines are not placebos! Little "pellets" of sugar cannot have an effect!
Of course, the sugar in homeopathic pellets doesn't have any effect. And the drops added also contain no active substances.
In other words, there is no active ingredient!
As homeopathic remedies have very slow action, they cannot be used to treat acute illnesses!
This is correct. You cannot successfully use homeopathy in acute circumstances such as infections, fevers and colds. In fact, you cannot use it to cure any condition, chronic or acute.
Homeopathy seems to be a kind of magic!
Homeopathy is not magic! It relies on the placebo and other non-specific effects, and that is no magic.
During homeopathic treatment you have to follow a strict diet!
Hahnemann gave very clear instructions to avoid a whole range of things while taking homeopathic remedies – otherwise, they don't work, he claimed. This is as wrong as everything else Hahnemann said about homeopathy: these remedies don't work whatever you do.
Diabetes sufferers can't use homeopathic remedies!
This is not true. The amount of sugar in the pellets is negligible. These homeopathic pellets could even be taken on a daily basis. The foods we eat contain much more sugar, even those that are especially for diabetics. But that does, of course, not mean that diabetics ought to take homeopathic remedies. There is no reason why they should; these remedies are pure placebos.
__________________________________________________________________________
Few people reading these lines will be surprised that the 'resounding answers' turn out to be resounding lies. And what I above called 'great fun', turns out to be a serious deception.
The fascinating thing here is, I think, the way homeopaths try to mislead the public: one seemingly innocent untruth about the 'active substance' is used as the basis for an entire house of cards. It tumbles at the slightest attempt to provide the facts. Sadly, many consumers do not know the facts and are therefore prone to fall victim of these resounding lies.
There is perhaps not a law against such lies, but there certainly are moral and ethical principles that must not be violated:
TELLING LIES OF THIS NATURE IS UNETHICAL AND ENDANGERS THE HEALTH OF THOSE WHO DO NOT KNOW THE FACTS.
Why  do most alternative practitioners  show such dogged determination not to change their view of the efficacy of their therapy, even if  good evidence shows that it is a placebo? This is the question that I have been pondering for some time. I have seen many doctors change their mind about this or that treatment in the light of new evidence. In fact, I have not seen one who has not done so at some stage. Yet I have never seen an alternative therapist change his/her mind about his/her alternative therapy. Why is that?
You might say that the answers are obvious:
because they have heavily invested in their therapy, both emotionally and financially;
because their therapy has 'stood the test of time';
because they believe what they were taught;
because they are deluded, not very bright, etc.;
because they need to earn a living.
All of these reasons may apply. But do they really tell the whole story? While contemplating about this question, I thought of something that had previously not been entirely clear to me: they simply KNOW that the evidence MUST be wrong.
Let me try to explain.
Consider an acupuncturist (I could have chosen almost any other type of alternative practitioner) who has many years of experience. He has grown to be a well-respected expert in the world of acupuncture. He sits on various committees and has advised important institutions. He knows the literature and has treated thousands of patients.
This experience has taught him one thing for sure: his patients do benefit from his treatment. He has seen it happening too many times; it cannot be a coincidence. Acupuncture works, no question about it.
And this is also what the studies tell him. Even the most sceptical scientist cannot deny the fact that patients do get better after acupuncture. So, what is the problem?
The problem is that sceptics say that this is due to a placebo effect, and many studies seem to confirm this to be true. Yet, our acupuncturist completely dismisses the placebo explanation.
Why?
Because he has heavily invested in their therapy? Perhaps.
Because acupuncture has 'stood the test of time'? Perhaps.
Because he believes what he has been taught? Perhaps.
Because he is deluded, not very bright, etc.? Perhaps.
Because he needs to earn a living? Perhaps.
But there is something else.
He has only ever treated his patients with acupuncture. He has therefore no experience of real medicine, or other therapeutic options. He has no perspective. Therefore, he does not know that patients often get better, even if they receive an ineffective treatment, even if they receive no treatment, and even if they receive a harmful treatment. Every improvement he notes in his patients, he relates to his acupuncture. Our acupuncturist never had the opportunity to learn to doubt cause and effect in his clinical routine. He never had to question the benefits of acupuncture. He never had to select from a pool of therapies the optimal one, because he only ever used acupuncture.
It is this lack of experience that never led him to think critically about acupuncture. He is in a similar situation as physicians were 200 years ago; they only (mainly) had blood-letting, and because some patients improved with it, they had no reason to doubt it. He only ever saw his successes (not that all his patients improved, but those who did not, did not return). He simply KNOWS that acupuncture works, because his own, very limited experience never forced him to consider anything else. And because he KNOWS, the evidence that does not agree with his knowledge MUST be wrong.
I am of course exaggerating and simplifying in order to make a point. And please don't get me wrong.
I am not saying that doctors cannot be stubborn. And I am not saying that all alternative practitioners have such limited experience and are unable to change their mind in the light of new evidence. However, I am trying to say that many alternative practitioners have a limited perspective and therefore find it impossible to be critical about their own practice.
If I am right, there would be an easy (and entirely alternative) cure to remedy this situation. We should sent our acupuncturist to a homeopath (or any other alternative practitioner whose practice he assumes to be entirely bogus) and ask him to watch what kind of therapeutic success the homeopath is generating. The acupuncturist would soon see that it is very similar to his own. He would then have the choice to agree that highly diluted homeopathic remedies are effective in curing illness, or that the homeopath relies on the same phenomenon as his own practice: placebo.
Sadly, this is not going to happen, is it?
Homeopaths are not generally known for the reliability of their recommendations. This advice by the UK Society of Homeopaths (SoH) was emailed to me a few days ago (how on earth did they know I was on holiday?). It is just too weird and wonderful – I cannot resist the temptation of showing it to you:
START OF QUOTE
Off on holiday? Whether you're going abroad or 'staycationing', keep these remedies handy to tackle a range of minor ailments. We suggest 30c potencies for all remedies, using every 30- 90 minutes, two or three times depending on the severity of the condition. Always seek medical help for anything more than a minor injury or illness.
Aconite Great for shock, such as from fright, bad news or after having a fall. Also good for the onset of fever after exposure to acute cold, wind or heat.
Apis For bee or wasp stings and any allergic reaction which causes rapid swelling, redness and pain and where the affected area is puffy, white or rosy, feels hot and is better for cold compresses.
Arnica The classic remedy for trauma, injury and bruising. The typical arnica patient will tell you that they are fine but may well be confused or in shock. Also useful for fractures, strains after exertion such as lifting heavy objects and the early stages of a black eye and for jetlag.
Arsenicum This is a great remedy for food poisoning, especially from meat. The person will be very anxious and not easily pacified. The pains are often burning. Vomiting and diarrhoea accompanied by chills, exhaustion, and restless.
Belladonna Great for heatstroke or exhaustion, along with appropriate cooling and rehydration therapy, and for acute fevers or inflammations, which come on suddenly and lead to throbbing pain, redness and swelling. The skin is hot and red and the face flushed but, at the same time, the person can feel chilly and want to be covered.
Ledum This is the first remedy to think of with puncture wounds and for bites and stings which fester. Good for twisted or sprained joints, especially ankles.
Nux Vomica The main remedy for hangover or indigestion from over-eating but also useful for food poisoning in which there is constant retching.
Urtica urens Very useful for skin conditions such as urticaria with raised lumps like nettle rash and great for 'prickly heat. Urtica can be used for minor burns and scalds as well where pains are stinging, like nettle rash, but not too sore to touch.
END OF QUOTE
I find the list and particularly the comments most revealing. To me, they suggest that homeopathy just do not have a cue. They recommend nonsense for conditions they know nothing about. They do not seem to know what real shock or food poisoning or heat stroke are. They do not seem to appreciate that they can be life-threatening problems. And by stating "Always seek medical help for anything more than a minor injury or illness", they clearly admit that they are merely jokers of no significance whatsoever.
For what it's worth, I here give my evidence-based view on the remedies listed:
Aconite No evidence to justify the claims mentioned above.
Apis No evidence to justify the claims mentioned above.
Arnica Some evidence to show that Arnica does not work.
Arsenicum No evidence to justify the claims mentioned above.
Belladonna No evidence to justify the claims mentioned above.
Ledum No evidence to justify the claims mentioned above.
Nux Vomica No evidence to justify the claims mentioned above.
Urtica urens No evidence to justify the claims mentioned above.
Oh, I almost forgot: the SoH is the organisation of 'professional' homeopaths in the UK (professional meaning they have no medical training). On their website, they state: "High standards are the cornerstone of the Society of Homeopaths. So we were delighted that our register was accredited by the Professional Standards Authority for Health and Social Care (PSA)  in 2014… This accreditation demonstrates our commitment to high professional standards, to enhancing safety and delivering a better service."
One does wonder whether killing gullible holidaymakers via bad advice counts as high standards.
One of the biggest danger of SCAM, in my view, is the fact that SCAM-practitioners all too often advise their patients to forego effective conventional medicine. This probably applies to most medicines, but is best-researched for immunisations. A recent article puts it clearly:
… negative attitudes towards vaccines reflect a broader and deeper set of beliefs about health and wellbeing… this alternative worldview is influenced by ontological confusions (e.g. regarding purity, natural energy), and knowledge based on personal lived experience and trusted peers, rather than the positivist epistemological framework. [This] view is supported by recent social-psychological research, including strong correlations of vaccine scepticism with adherence to complementary and alternative medicine, magical health beliefs, and conspiracy ideation. For certain well-educated and well-resourced individuals, opposition to vaccines represents an expression of personal intuition and agency, in achieving a positive and life-affirming approach to health and wellbeing. These core beliefs are not amenable to change – and especially resistant to communications from orthodox, authoritative sources.
The authors concluded suggesting that a better long-term strategy is to combine with other disciplines in order to address the root causes of vaccine scepticism. Vaccine scepticism is unlikely to thrive in a cultural context that trusts and values the scientific consensus.
If I understand them correctly, the authors believe it is necessary to change the societal attitude to science.
I am sure they are correct.
We live in a time when anyone's opinion is deemed as valuable as the next person's. Pseudo-experts who have their knowledge from a couple of google searches are being considered as trustworthy as the true experts who have the background, knowledge and experience to issue responsible advice. Science is viewed by many as just another way of knowing, or even as the new cult or religion that must be viewed with suspicion.
It is clear that these are deplorable developments. But how to stop them?
This is where it gets complex.
One is tempted to lay the blame at the door of our politicians. Why do we tolerate the fact that so many of them have not the slightest inkling about science?
But hold on, WE elected them!
Why?
Because large sections of the public are ignorant too.
So, one must start much earlier. We need better science education, and that has to begin in the first year of schooling! We need evening classes in critical thinking. We need adult science courses for politicians.
But this is not going to happen, because our politicians fail to see the importance of such measures (and, of course, they might feel that an uneducated public is easier to govern than an educated one).
How to break this vicious circle?
It is clear from these simple (and simplistic) reflections that a multifactorial approach is required. And it is clear that it ought to be a strategy that prevents standards in the most general terms from slipping ever lower. But how?
I wish I knew!!!
I have already posted challenges to homeopaths. For instance, in a previous post, I asked the 'homeopaths of the world' to answer a few questions satisfactorily. In return, I promised to no longer doubt their memory of water theory. If they cannot do this, I contended, they should to admit that all their 'sciency' theories about the mode of action of highly diluted homeopathic remedies are really quite silly – more silly even than Hahnemann's idea of a 'spirit-like' effect.
And then there is the challenge to correctly identify their own remedies. In return, they would even earn the neat sum of Euro 50 000.
So far, none of these challenges have been met. But one must not give up hope!!!
Meanwhile, I have decided to issue another one. Let me explain:
One argument that the 'defenders of the homeopathic realm' love and almost invariably use, when someone states that it is time to move on and ban homeopathy to the history books, is this one:
IF WE BANNED HOMEOPATHY FROM OUR CLINICAL ROUTINE, WE WOULD ALSO HAVE TO BAN MANY OF THE TREATMENTS USED IN CONVENTIONAL MEDICINE WHICH ARE EQUALLY POORLY SUPPORTED BY SOUND EVIDENCE FOR EFFICACY.
This looks like a good argument!
I am sure that politicians, journalists, consumers and even many healthcare professionals find it convincing.
We know that lots of conventional treatments are less well supported than many of us would hope or think.
But less well-supported than homeopathy?
Let's see: Homeopathy has been around for ~200 years. Controlled clinical trials of homeopathy have been conducted since 1835. Today, we have about 500 controlled clinical trials of homeopathy. The totality of these data fails to convincingly demonstrate that homeopathy is more than a placebo.
Are there many other therapies that fulfil these criteria? Personally, I am not aware of such a therapy, and if I did know one, I am fairly certain that I would advocate its elimination from our clinical routine.
But I am, of course, not an expert in all fields of healthcare.
Perhaps such treatments do exist!
I want to find out, and – as always – the burden of proof is with those who use this argument.
Which brings me to my challenge.
I HEREWITH CHALLENGE HOMEOPATHS AND THEIR FOLLOWERS TO NAME THERAPIES THAT ARE AS USELESS AS HOMEOPATHY!
To be clear, they ought to fulfil the following criteria:
The treatment must be about 200 years old (plenty of time for a thorough evaluation).
It should have been extensively tested in about 500 controlled clinical trials.
The totality of this evidence should be negative.
The treatment should be part of the clinical routine and have ardent proponents who insist it should be paid for by public funds.
I hope lots of homeopaths can name lots of such therapies.
Failing this, they should think twice before they use the above argument again.
"The wishes of a patient do not over-rule medical knowledge!" (Patientenwunsch steht nicht über medizinischem Wissen)
This was one brave conclusion drawn in a discussion about homeopathy during a recent German radio programme. Specifically, the discussion was about the pros and cons of a leading paediatric hospital of the Ludwig Maximilian Universitaet (LMU) Munich offering homeopathy to its patients (they also run a course in homeopathy which we discussed previously).
The wishes of a patient does not over-rule medical knowledge!
This sentence made me think.
Is it correct?
An interesting question with ethical dimensions!
The short answer is NO, I believe..
Patients can always refuse to have a given therapy, if they so wish. Or they might opt for one evidence-based therapy instead of another. And in certain circumstances such wishes may well be completely against the current best medical knowledge.
But this is probably where the dominance of the patient's wishes over medical knowledge ends — at least, if we only consider wishes paid for by the public purse (otherwise, anyone can, of course, buy almost any rubbish).
And that was not what the above-mentioned discussion was about. It focussed on the arguments by the LMU to justify their offer of homeopathy to sick children. Essentially, they seem to say:
We believe in evidence-based medicine (EBM) and are fully dedicated to its principles.
We know that homeopathy is not evidence-based.
Yet, many of the parents want us to use homeopathy in the treatment of their kids.
And the wish of a patient over-rules the medical evidence.
This is, of course, a flawed argument. One cannot subscribe to EBM and, at the same time, administer overt nonsensical, disproven treatments. A patient's wish does not render a nonsensical treatment evidence-based. If one would follow the LMU logic, one would have to use any idiotic therapy … and could still pride oneself to follow EBM practice. In England, we call this 'having the cake and eat it'; once you eat the cake, it's gone and you cannot have it any longer.
What follows is simple: the decision makers at the LMU have been found out with (homeopathically potentised) egg on their faces (for some reason they had this homeopathy enclave for years, it is well-established and, I suspect, even better protected by some people of influence). They quickly tried to find a way out of their dilemma. Unfortunately, they did not think hard enough; the solution to bank on patient choice turns out to be a non-solution.
I therefore suggest they get in line with the role of a University hospital, with today's medical thinking and medical ethics. This would mean re-considering their homeopathy course as well as their inclusion of homeopathy in publicly-funded routine care.
I have often pointed out that, in contrast to 'rational phytotherapy', traditional herbalism of various types (e. g. Western, Chinese, Kampo, etc.) – characterised by the prescription of an individualised mixture of herbs by a herbalist – is likely to do more harm than good. This recent paper provides new and interesting information about the phenomenon.
Specifically, it explores the prevalence with which Australian Western herbalists treat menstrual problems and their related treatment, experiences, perceptions, and inter-referral practices with other health practitioners. Members of the Practitioner Research and Collaboration Initiative practice-based research network identifying as Western Herbalists (WHs) completed a specifically developed, online questionnaire.
Western Herbalists regularly treat menstrual problems, perceiving high, though differential, levels of effectiveness. For menstrual problems, WHs predominantly prescribe individualised formulas including core herbs, such as Vitex agnus-castus (VAC), and problem-specific herbs. Estimated clients' weekly cost (median = $25.00) and treatment duration (median = 4-6 months) covering this Western herbal medicine treatment appears relatively low. Urban-based women are more likely than those rurally based to have used conventional treatment for their menstrual problems before consulting WHs. Only 19% of WHs indicated direct contact by conventional medical practitioners regarding treatment of clients' menstrual problems despite 42% indicating clients' conventional practitioners recommended consultation with WH.
The authors concluded that Western herbal medicine may be a substantially prevalent, cost-effective treatment option amongst women with menstrual problems. A detailed examination of the behaviour of women with menstrual problems who seek and use Western herbal medicine warrants attention to ensure this healthcare option is safe, effective, and appropriately co-ordinated within women's wider healthcare use.
Apart from the fact, that I don't see how the researchers could possibly draw conclusions about the cost-effectiveness of Western herbalism, I feel that this survey requires further comments.
There is no reason to assume that individualised herbalism is effective and plenty of reason to fear that it might cause harm (the larger the amount of herbal ingredients in one prescription, the higher the chances for toxicity and interactions). The only systematic review on the subject concluded that there is a sparsity of evidence regarding the effectiveness of individualised herbal medicine and no convincing evidence to support the use of individualised herbal medicine in any indication.
Moreover, VAC (the 'core herb' for menstrual problems) is hardly a herb that is solidly supported by evidence either. A systematic review concluded that, although meta-analysis shows a large pooled effect of VAC in placebo-controlled trials, the high risk of bias, high heterogeneity, and risk of publication bias of the included studies preclude a definitive conclusion. The pooled treatment effects should be viewed as merely explorative and, at best, overestimating the real treatment effect of VAC for premenstrual syndrome symptoms. There is a clear need for high-quality trials of appropriate size examining the effect of standardized extracts of VAC in comparison to placebo, selective serotonin reuptake inhibitors, and oral contraceptives to establish relative efficacy.
And finally, VAC is by no means free of adverse effects; our review concluded that frequent adverse events include nausea, headache, gastrointestinal disturbances, menstrual disorders, acne, pruritus and erythematous rash. No drug interactions were reported. Use of VAC should be avoided during pregnancy or lactation. Theoretically, VAC might also interfere with dopaminergic antagonists.
So, to me, this survey suggests that the practice of Western herbalists is:
not evidence-based;
potentially harmful;
and costly.
In a nutshell: IT IS BEST AVOIDED.