bogus claims
The two German authors start their article (it is in German but has an English abstract to which I refer here) by claiming that "homeopathy is steadily gaining in sympathy in the population." This is a very odd statement, considering that the sales figures in Germany and elsewhere have, in fact, been declining. Any homeopathy-paper with such an opening is naturally of interest to me.
As I read on, I find further surprises: "the possible effectiveness and the modes of action are currently not scientifically elucidated." These are two big assumptions which happen to be both untrue:
The effectiveness of homeopathy has now been tested in about 500 clinical trials, and the totality of the reliable evidence from these studies fails to show that highly diluted homeopathic remedies are more than placebos.
The mode of action of homeopathy isn't "not scientifically elucidated", but the relevant science tells us that there cannot be a mode of action that is in line with the laws of nature as we understand them today.
And the surprises keep on coming: "there is a whole series of positive evidence for the effects of homeopathic remedies for mental disorders, such as depression, anxiety disorders and addiction." This statement is not in keeping with the results of a systematic review (which, by the way was authored by ardent homeopaths); here is the abstract:
_________________________________________________________________________________________
OBJECTIVE:
To systematically review placebo-controlled randomized trials of homeopathy for psychiatric conditions.
DATA SOURCES:
Eligible studies were identified using the following databases from database inception to April 2010: PubMed, CINAHL, PsycINFO, Hom-Inform, Cochrane CENTRAL, National Center for Complementary and Alternative Medicine grantee publications database, and ClinicalTrials.gov. Gray literature was also searched using Google, Google Scholar, the European Committee for Homeopathy, inquiries with homeopathic experts and manufacturers, and the bibliographic lists of included published studies and reviews. Search terms were as follows: (homeopath* or homoeopath*) and (placebo or sham) and (anxiety or panic or phobia or post-traumatic stress or PTSD or obsessive-compulsive disorder or fear or depress* or dysthym* or attention deficit hyperactivity or premenstrual syndrome or premenstrual disorder or premenstrual dysphoric disorder or traumatic brain injury or fibromyalgia or chronic fatigue syndrome or myalgic encephalitis or insomnia or sleep disturbance). Searches included only English-language literature that reported randomized controlled trials in humans.
STUDY SELECTION:
Trials were included if they met 7 criteria and were assessed for possible bias using the Scottish Intercollegiate Guidelines Network (SIGN) 50 guidelines. Overall assessments were made using the Grading of Recommendations Assessment, Development and Evaluation procedure. Identified studies were grouped into anxiety or stress, sleep or circadian rhythm complaints, premenstrual problems, attention-deficit/hyperactivity disorder, mild traumatic brain injury, and functional somatic syndromes.
RESULTS:
Twenty-five eligible studies were identified from an initial pool of 1,431. Study quality according to SIGN 50 criteria varied, with 6 assessed as good, 9 as fair, and 10 as poor. Outcome was unrelated to SIGN quality. Effect size could be calculated in 16 studies, and number needed to treat, in 10 studies. Efficacy was found for the functional somatic syndromes group (fibromyalgia and chronic fatigue syndrome), but not for anxiety or stress. For other disorders, homeopathy produced mixed effects. No placebo-controlled studies of depression were identified. Meaningful safety data were lacking in the reports, but the superficial findings suggested good tolerability of homeopathy. A funnel plot in 13 studies did not support publication bias (χ(2)(1) = 1.923, P = .166).
CONCLUSIONS:
The database on studies of homeopathy and placebo in psychiatry is very limited, but results do not preclude the possibility of some benefit.
___________________________________________________________________________________
And specifically for depression, another review (also by proponents of homeopathy) is available; here is its abstract:
OBJECTIVE:
To systematically review the research evidence on the effectiveness of homeopathy for the treatment of depression and depressive disorders.
METHODS:
A comprehensive search of major biomedical databases including MEDLINE, EMBASE, CINAHL, PsycINFO and the Cochrane Library was conducted. Specialist complementary and alternative medicine (CAM) databases including AMED, CISCOM and Hom-Inform were also searched. Additionally, efforts were made to identify unpublished and ongoing research using relevant sources and experts in the field. Relevant research was categorised by study type and appraised according to study design. Clinical commentaries were obtained for studies reporting clinical outcomes.
RESULTS:
Only two randomised controlled trials (RCTs) were identified. One of these, a feasibility study, demonstrated problems with recruitment of patients in primary care. Several uncontrolled and observational studies have reported positive results including high levels of patient satisfaction but because of the lack of a control group, it is difficult to assess the extent to which any response is due to specific effects of homeopathy. Single-case reports/studies were the most frequently encountered clinical study type. We also found surveys, but no relevant qualitative research studies were located.: Adverse effects reported appear limited to 'remedy reactions' ('aggravations') including temporary worsening of symptoms, symptom shifts and reappearance of old symptoms. These remedy reactions were generally transient but in one study, aggravation of symptoms caused withdrawal of the treatment in one patient.
CONCLUSIONS:
A comprehensive search for published and unpublished studies has demonstrated that the evidence for the effectiveness of homeopathy in depression is limited due to lack of clinical trials of high quality. Further research is required, and should include well-designed controlled studies with sufficient numbers of participants. Qualitative studies aimed at overcoming recruitment and other problems should precede further RCTs. Methodological options include the incorporation of preference arms or uncontrolled observational studies. The highly individualised nature of much homeopathic treatment and the specificity of response may require innovative methods of analysis of individual treatment response.
____________________________________________________________________________________
Back to the new article I started discussing above. Its authors make a vague attempt at being reasonable: "It is clear that homoeopathic remedies can only be used as an add-on and not alone." I find this statement slightly puzzling. If (as the authors assume) homeopathy is effective for mental disorders, why not on its own? Can a therapy that must not be used as a sole treatment be called effective?
The authors continue with another caveat:  "These remedies belong in the hands of physicians experienced in homeopathic and psychiatric psychopharmacology." That's actually quite funny! As the average homeopath has no experience in psychiatric psychopharmacology, they must not use homeopathy for mental conditions. I would agree with the conclusion but not with the reason given for it.
And now to the 'grand finale', the conclusion: "It would be advisable to at least try out homeopathy for the well-being of the patient not only in the case of very mild disorders but also in severe chronic cases, since due to the generally good tolerability, no avoidable disadvantage should result." That sort of conclusion makes me almost speechless. The evidence fails to show that it works, yet it is ADVISABLE to use it in severe chronic cases!
Such articles suggest to me that homeopathy is a cult where logic and reason are irrelevant and need to be supressed. They also indicate that something is amiss with medical publishing. How can it be that, in 2018, 'Der Nervenarzt' (or any other medical journal for that matter) can be so bar of critical thinking to publish such dangerously misleading nonsense? 'Der Nervenarzt', by the way, claims to be an internationally recognized journal addressing neurologists and psychiatrists working in clinical or practical environments. Essential findings and current information from neurology, psychiatry as well as neuropathology, neurosurgery up to psychotherapy are presented.
Please bear with me and have a look at the three short statements quoted below:
1 Reiki
… a Reiki practitioner channels this pure 'chi', the 'ki' in Reiki, or energy through her hands to the recipient, enhancing and stimulating the individual's natural ability to restore a sense of wellbeing. It is instrumental in lowering stress levels, and therefore may equip the recipient with increased resources to deal with the physical as well as the emotional, mental and spiritual problems raised by his/her condition. It is completely natural and safe, and can be used alongside conventional medicine as well as other complementary therapies or self-help techniques.
It has been documented that patients receiving chemotherapy have commented on feeling less distress and discomfort when Reiki is part of their care plan. Besides feeling more energy, hope and tranquillity, some patients have felt that the side-effects of chemotherapy were easier to cope with. Reiki has been shown to reduce anxiety and depression, to raise energy levels in tired and apathetic patients. It is of great value in degenerative disease for the very reasons that pain and anxiety can be reduced.
The treatment is gentle, supportive and non-invasive, the patient always remains clothed. Even though the origins of reiki are spiritual in nature, Reiki imposes no set of beliefs. It can be used by people of different cultural backgrounds and faith, or none at all. This makes it particularly suitable in medical settings. Predicting who would or would not like to receive Reiki is impossible.
2 Emmett
EMMETT is a gentle soft tissue release technique developed by Australian remedial therapist Ross Emmett. It involves the therapist using light finger pressure at specific locations on the body to elicit a relaxation response within the area of concern.
Cancer impacts people in different ways throughout the journey of diagnosis, treatment and recovery. Many have found the EMMETT Technique to be very beneficial in a number of ways. Although pressure therapy isn't new (e.g. acupressure and trigger point therapy are already well known), the amount of pressure required with EMMETT is much lighter and the placement of the pressure is unique to EMMETT Therapy.
Many cancer patients undergo surgery and experience post-surgery tightness and tension around the surgery site in the scar tissue and further afield through the connective tissue or fascia as the body heals. They experience restricted range of movement that may be painful too. Mastectomy patients as an example will usually experience pain or tenderness, swelling around the surgery site, limited arm or shoulder movement, and even numbness in the chest or upper arm. Here's where EMMETT can assist.  With gentle pressure to specific points, many women have received relief from the pain, reduced swelling and much improved range of movement.  There are multiple EMMETT points that are used to help these women and that give the therapist a range of options depending on the patient's specific concern.
Many cancer patients also experience fatigue, increased risk of infection, nausea, appetite changes and constipation as common side effects of chemotherapy.  These symptoms can also be greatly supported with a designated sequence where the EMMETT Therapist gently stimulates areas all around the body for an overall effect.  Patients report reduction in swelling, feelings of lightness, increased energy, more robust emotional well-being, less pain and feeling better generally within themselves.
3 Daoyin Tao
The theory behind this massage lies in traditional Chinese medicine, so covers yin and yang, five elements and Chinese face reading from a health perspective.  It enables the emotional elements behind disease to be explored. For example, the Chinese will say that grief is held in the Lung, anger in the liver, and fear in the kidney.
For this half hour massage there is no need for the patient to remove clothes, so it is a lovely way of receiving a massage where body image may be an issue, or where lines and feeds are in place, making removal of clothes difficult. This massage therapy can be given not only in a clinic, but also on the day unit, on hospital wards and even in an intensive care unit.
In working the meridian system the therapist is able to work the whole body, reaching areas other than the contact zone. Patients have commented that this deeply relaxing and soothing massage is; "one of the best massages I have ever had". It has been proven to be beneficial with problems of; sleep, headaches, anxiety, watery eyes, shoulder and neck tension, sinusitis and panic attacks, jaw tension, fear, emotional trauma/distress.
END OF QUOTES
__________________________________________________________________________
Where do you think these statements come from?
They sound as though they come from a profoundly uncritical source, such as a commercial organisation trying to persuade customers to use some dodgy treatments, don't they?
Wrong!
They come from the NHS! To be precise, they come from the NHS NATURAL HEALTH SCHOOL in Harrowgate, a service that offers a range of free complementary therapy treatments to patients and their relatives who are affected by a cancer diagnosis and are either receiving their cancer treatment at Harrogate or live in the Harrogate and Rural District.
This NHS school offers alternative treatments to cancer patients and claim that they know from experience, that when Complementary Therapies are integrated into patient care we are able to deliver safe, high quality care which fulfils the needs of even the most complex of patients.
In addition, they also run courses for alternative practitioners. Their reflexology course, for instance, covers all of the following:
Explore the history and origins of Reflexology
Explore the use of various mediums used in treatment including waxes, balms, powders and oils
Explore the philosophy of holism and its role within western bio medicine
Reading the feet/hands and mapping the reflex points
Relevant anatomy, physiology and pathology
Managing a wide range of conditions
Legal implications
Cautions and contraindications
Assessment and client care
Practical reflexology skills and routines
Treatment planning
I imagine that the initiators of the school are full of the very best, altruistic intentions. I therefore have considerable difficulties in criticising them. Yet, I do strongly feel that the NHS should be based on good evidence; and that much of the school's offerings seems to be the exact opposite. In fact, the NHS-label is being abused for giving undeserved credibility to outright quackery, in my view.
I am sure the people behind this initiative only want to help desperate patients. I also suspect that most patients are very appreciative of their service. But let me put it bluntly: we do not need to make patients believe in mystical life forces, meridians and magical energies; if nothing else, this undermines rational thought (and we could do with a bit more of that at present). There are plenty of evidence-based approaches which, when applied with compassion and empathy, will improve the well-being of these patients without all the nonsense and quackery in which the NHS NATURAL HEALTH SCHOOL seems to specialise.
It is bad enough, I believe, that such nonsense is currently popular and increasingly politically correct, but let's keep/make the NHS evidence-based, please!
An article entitled "Homeopathy in the Age of Antimicrobial Resistance: Is It a Viable Treatment for Upper Respiratory Tract Infections?" cannot possibly be ignored on this blog, particularly if published in the amazing journal 'Homeopathy'. The title does not bode well, in my view – but let's see. Below, I copy the abstract of the paper without any changes; all I have done is include a few numbers in brackets; they refer to my comments that follow.
START OF ABSTRACT
Acute upper respiratory tract infections (URTIs) and their complications are the most frequent cause of antibiotic prescribing in primary care. With multi-resistant organisms proliferating, appropriate alternative treatments to these conditions are urgently required. Homeopathy presents one solution (1); however, there are many methods of homeopathic prescribing. This review of the literature considers firstly whether homeopathy offers a viable alternative therapeutic solution for acute URTIs (2) and their complications, and secondly how such homeopathic intervention might take place.
METHOD:
Critical review of post 1994 (3) clinical studies featuring homeopathic treatment of acute URTIs and their complications. Study design, treatment intervention, cohort group, measurement and outcome were considered. Discussion focused on the extent to which homeopathy is used to treat URTIs, rate of improvement and tolerability of the treatment, complications of URTIs, prophylactic and long-term effects, and the use of combination versus single homeopathic remedies.
RESULTS:
Multiple peer-reviewed (4) studies were found in which homeopathy had been used to treat URTIs and associated symptoms (cough, pharyngitis, tonsillitis, otitis media, acute sinusitis, etc.). Nine randomised controlled trials (RCTs) and 8 observational/cohort studies were analysed, 7 of which were paediatric studies. Seven RCTs used combination remedies with multiple constituents. Results for homeopathy treatment were positive overall (5), with faster resolution, reduced use of antibiotics and possible prophylactic and longer-term benefits.
CONCLUSIONS:
Variations in size, location, cohort and outcome measures make comparisons and generalisations concerning homeopathic clinical trials for URTIs problematic (6). Nevertheless, study findings suggest at least equivalence between homeopathy and conventional treatment for uncomplicated URTI cases (7), with fewer adverse events and potentially broader therapeutic outcomes. The use of non-individualised homeopathic compounds tailored for the paediatric population merits further investigation, including through cohort studies (8). In the light of antimicrobial resistance, homeopathy offers alternative strategies for minor infections and possible prevention of recurring URTIs (9).
END OF ABSTRACT
And here are my comments:
This sounds as though the author already knew the conclusion of her review before she even started.
Did she not just state that homeopathy is a solution?
This is most unusual; why were pre-1994 articles not considered?
This too is unusual; that a study is peer-reviewed is not really possible to affirm, one must take the journal's word for it. Yet we know that peer-review is farcical in the realm of alternative medicine (see also below). Therefore, this is an odd inclusion criterion to mention in an abstract.
An overall positive result obtained by including uncontrolled observational and cohort studies lacking a control group is meaningless. There is also no assessment of the quality of the RCTs; after a quick glance, I get the impression that the methodologically sound studies do not show homeopathy to be superior to placebo.
Reviewers need to disentangle these complicating factors and arrive at a conclusion. This is almost invariably problematic, but it is the reviewer's job.
What might be the conventional treatment of uncomplicated URTI?
Why on earth cohort studies? They tell us nothing about equivalence, efficacy etc.
To reach that conclusion seems to have been the aim of this review (see my point number 1). If I am not mistaken, antibiotics are not indicated in the vast majority of cases of uncomplicated URTI. This means that the true alternative in the light of antimicrobial resistance is to not prescribe antibiotics and treat the patient symptomatically. No need at all for homeopathic placebos, and no need for wishful thinking reviews!
In the paper, the author explains her liking of uncontrolled studies: Non-RCTs and patient reported surveys are considered by some to be inferior forms of research evidence, but are important adjuncts to RCTs that can measure key markers such as patient satisfaction, quality of life and functional health. Observational studies such as clinical outcome studies and case reports, monitoring the effects of homeopathy in real-life clinical settings, are a helpful adjunct to RCTs and more closely reflect real-life experiences of patients and physicians than RCTs, and are therefore considered in this study. I would counter that this is not an issue of inferiority but one that depends on the research question; if the research question relates to efficacy/effectiveness, uncontrolled data are next to useless.
She also makes fairly categorical statements in the conclusion section of the paper about the effectiveness of homeopathy: [the] combined evidence from these and other studies suggests that homeopathic treatment can exert biological effects with fewer adverse events and broader therapeutic opportunities than conventional medicine in the treatment of URTIs. Given the cost implications of treating URTIs and their complications in children, and the relative absence of effective alternatives without potential side effects, the use of non-individualised homeopathic compounds tailored for the paediatric population merits further investigation, including through large-scale cohort studies…  the most important evidence still arises from practical clinical experience and from the successful treatment of millions of patients. I would counter that none of these conclusions are warranted by the data presented.
From reading the paper, I get the impression that the author (the paper provides no information about her conflicts of interest, nor funding source) is a novice to conducting reviews (even though the author is a senior lecturer, the paper reads more like a poorly organised essay than a scientific review). I am therefore hesitant to criticise her – but I do nevertheless find the fact deplorable that her article passed the peer-review process of 'Homeopathy' and was published in a seemingly respectable journal. If anything, articles of this nature are counter-productive for everyone concerned; they certainly do not further effective patient care, and they give homeopathy-research a worse name than it already has.
Alternative practitioners practise highly diverse therapies. They seem to have nothing in common – except perhaps that ALL of them are allegedly stimulating our self-healing powers (and except that most proponents are latently or openly against vaccinations). And it is through these self-healing powers that the treatments in question cure anything and become a true panacea. When questioned what these incredible powers really are, most practitioners would (somewhat vaguely) name the immune system as the responsible mechanism. With this post, I intend to provide a short summary of the evidence on this issue:
Acupuncture: no good evidence to show stimulation of self-healing powers.
Aromatherapy: no good evidence to show stimulation of self-healing powers.
Bioresonance: no good evidence to show stimulation of self-healing powers.
Chiropractic: no good evidence to show stimulation of self-healing powers.
Detox: no good evidence to show stimulation of self-healing powers.
Energy healing: no good evidence to show stimulation of self-healing powers.
Feldenkrais: no good evidence to show stimulation of self-healing powers.
Gua sha: no good evidence to show stimulation of self-healing powers.
Herbal medicine: no good evidence to show stimulation of self-healing powers.
Homeopathy: no good evidence to show stimulation of self-healing powers.
Macrobiotics: no good evidence to show stimulation of self-healing powers.
Naturopathy: no good evidence to show stimulation of self-healing powers.
Osteopathy: no good evidence to show stimulation of self-healing powers.
Power bands: no good evidence to show stimulation of self-healing powers.
Reiki: no good evidence to show stimulation of self-healing powers.
Reflexology: no good evidence to show stimulation of self-healing powers.
Shiatsu: no good evidence to show stimulation of self-healing powers.
Tai chi: no good evidence to show stimulation of self-healing powers.
TCM: no good evidence to show stimulation of self-healing powers.
Vibrational therapy: no good evidence to show stimulation of self-healing powers.
---
Vaccinations: very good evidence to show stimulation of self-healing powers.
---
THE END
I stumbled over an article entitled 'The myths of homeopathy: Resounding answers'. I thought it was great fun, so much so, that I copied it below – not just once but twice. The second time I took the liberty of replacing the little porkies told by homeopaths with the truth.
THE ORIGINAL
Homeopathic medicines are not placebos! Little "pellets" of sugar cannot have an effect!
Of course, the sugar in homeopathic pellets doesn't have any effect. This is why we also have tablets and drops that contain homeopathic active substances.
The sugar is simply a medium for these active substances. The important element is what has been added to the sugar – the active ingredient!
As homeopathic remedies have very slow action, they cannot be used to treat acute illnesses!
This is incorrect. You can successfully use homeopathy in acute circumstances such as infections, fevers and colds.
Homeopathy seems to be a kind of magic!
Homeopathy is not magic! Homeopathy is a field of medicine that has the capacity to heal, but if course, it has its limits, just like any other medicine, including conventional medicine.
To give you a clear example – it's unlikely that homeopathy will replace a surgical intervention.
During homeopathic treatment you have to follow a strict diet!
Well, it's not such a bad thing…but of course, you need to eat healthily and avoid smoking, drinking alcohol and coffee.
In some cases you can't eat onion or garlic as they contain sulphur, which is a homeopathic remedy in itself. All of these things have little to do with a strict diet.
Diabetes sufferers can't use homeopathic remedies!
This is not true. The amount of sugar in the pellets is negligible. These homeopathic pellets could even be taken on a daily basis. The foods we eat contain much more sugar, even those that are especially for diabetics.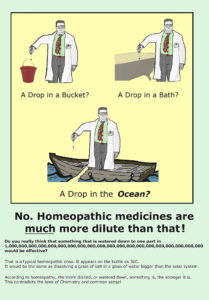 MY CORRECTED VERSION
Homeopathic medicines are not placebos! Little "pellets" of sugar cannot have an effect!
Of course, the sugar in homeopathic pellets doesn't have any effect. And the drops added also contain no active substances.
In other words, there is no active ingredient!
As homeopathic remedies have very slow action, they cannot be used to treat acute illnesses!
This is correct. You cannot successfully use homeopathy in acute circumstances such as infections, fevers and colds. In fact, you cannot use it to cure any condition, chronic or acute.
Homeopathy seems to be a kind of magic!
Homeopathy is not magic! It relies on the placebo and other non-specific effects, and that is no magic.
During homeopathic treatment you have to follow a strict diet!
Hahnemann gave very clear instructions to avoid a whole range of things while taking homeopathic remedies – otherwise, they don't work, he claimed. This is as wrong as everything else Hahnemann said about homeopathy: these remedies don't work whatever you do.
Diabetes sufferers can't use homeopathic remedies!
This is not true. The amount of sugar in the pellets is negligible. These homeopathic pellets could even be taken on a daily basis. The foods we eat contain much more sugar, even those that are especially for diabetics. But that does, of course, not mean that diabetics ought to take homeopathic remedies. There is no reason why they should; these remedies are pure placebos.
__________________________________________________________________________
Few people reading these lines will be surprised that the 'resounding answers' turn out to be resounding lies. And what I above called 'great fun', turns out to be a serious deception.
The fascinating thing here is, I think, the way homeopaths try to mislead the public: one seemingly innocent untruth about the 'active substance' is used as the basis for an entire house of cards. It tumbles at the slightest attempt to provide the facts. Sadly, many consumers do not know the facts and are therefore prone to fall victim of these resounding lies.
There is perhaps not a law against such lies, but there certainly are moral and ethical principles that must not be violated:
TELLING LIES OF THIS NATURE IS UNETHICAL AND ENDANGERS THE HEALTH OF THOSE WHO DO NOT KNOW THE FACTS.
Why  do most alternative practitioners  show such dogged determination not to change their view of the efficacy of their therapy, even if  good evidence shows that it is a placebo? This is the question that I have been pondering for some time. I have seen many doctors change their mind about this or that treatment in the light of new evidence. In fact, I have not seen one who has not done so at some stage. Yet I have never seen an alternative therapist change his/her mind about his/her alternative therapy. Why is that?
You might say that the answers are obvious:
because they have heavily invested in their therapy, both emotionally and financially;
because their therapy has 'stood the test of time';
because they believe what they were taught;
because they are deluded, not very bright, etc.;
because they need to earn a living.
All of these reasons may apply. But do they really tell the whole story? While contemplating about this question, I thought of something that had previously not been entirely clear to me: they simply KNOW that the evidence MUST be wrong.
Let me try to explain.
Consider an acupuncturist (I could have chosen almost any other type of alternative practitioner) who has many years of experience. He has grown to be a well-respected expert in the world of acupuncture. He sits on various committees and has advised important institutions. He knows the literature and has treated thousands of patients.
This experience has taught him one thing for sure: his patients do benefit from his treatment. He has seen it happening too many times; it cannot be a coincidence. Acupuncture works, no question about it.
And this is also what the studies tell him. Even the most sceptical scientist cannot deny the fact that patients do get better after acupuncture. So, what is the problem?
The problem is that sceptics say that this is due to a placebo effect, and many studies seem to confirm this to be true. Yet, our acupuncturist completely dismisses the placebo explanation.
Why?
Because he has heavily invested in their therapy? Perhaps.
Because acupuncture has 'stood the test of time'? Perhaps.
Because he believes what he has been taught? Perhaps.
Because he is deluded, not very bright, etc.? Perhaps.
Because he needs to earn a living? Perhaps.
But there is something else.
He has only ever treated his patients with acupuncture. He has therefore no experience of real medicine, or other therapeutic options. He has no perspective. Therefore, he does not know that patients often get better, even if they receive an ineffective treatment, even if they receive no treatment, and even if they receive a harmful treatment. Every improvement he notes in his patients, he relates to his acupuncture. Our acupuncturist never had the opportunity to learn to doubt cause and effect in his clinical routine. He never had to question the benefits of acupuncture. He never had to select from a pool of therapies the optimal one, because he only ever used acupuncture.
It is this lack of experience that never led him to think critically about acupuncture. He is in a similar situation as physicians were 200 years ago; they only (mainly) had blood-letting, and because some patients improved with it, they had no reason to doubt it. He only ever saw his successes (not that all his patients improved, but those who did not, did not return). He simply KNOWS that acupuncture works, because his own, very limited experience never forced him to consider anything else. And because he KNOWS, the evidence that does not agree with his knowledge MUST be wrong.
I am of course exaggerating and simplifying in order to make a point. And please don't get me wrong.
I am not saying that doctors cannot be stubborn. And I am not saying that all alternative practitioners have such limited experience and are unable to change their mind in the light of new evidence. However, I am trying to say that many alternative practitioners have a limited perspective and therefore find it impossible to be critical about their own practice.
If I am right, there would be an easy (and entirely alternative) cure to remedy this situation. We should sent our acupuncturist to a homeopath (or any other alternative practitioner whose practice he assumes to be entirely bogus) and ask him to watch what kind of therapeutic success the homeopath is generating. The acupuncturist would soon see that it is very similar to his own. He would then have the choice to agree that highly diluted homeopathic remedies are effective in curing illness, or that the homeopath relies on the same phenomenon as his own practice: placebo.
Sadly, this is not going to happen, is it?
Homeopaths are not generally known for the reliability of their recommendations. This advice by the UK Society of Homeopaths (SoH) was emailed to me a few days ago (how on earth did they know I was on holiday?). It is just too weird and wonderful – I cannot resist the temptation of showing it to you:
START OF QUOTE
Off on holiday? Whether you're going abroad or 'staycationing', keep these remedies handy to tackle a range of minor ailments. We suggest 30c potencies for all remedies, using every 30- 90 minutes, two or three times depending on the severity of the condition. Always seek medical help for anything more than a minor injury or illness.
Aconite Great for shock, such as from fright, bad news or after having a fall. Also good for the onset of fever after exposure to acute cold, wind or heat.
Apis For bee or wasp stings and any allergic reaction which causes rapid swelling, redness and pain and where the affected area is puffy, white or rosy, feels hot and is better for cold compresses.
Arnica The classic remedy for trauma, injury and bruising. The typical arnica patient will tell you that they are fine but may well be confused or in shock. Also useful for fractures, strains after exertion such as lifting heavy objects and the early stages of a black eye and for jetlag.
Arsenicum This is a great remedy for food poisoning, especially from meat. The person will be very anxious and not easily pacified. The pains are often burning. Vomiting and diarrhoea accompanied by chills, exhaustion, and restless.
Belladonna Great for heatstroke or exhaustion, along with appropriate cooling and rehydration therapy, and for acute fevers or inflammations, which come on suddenly and lead to throbbing pain, redness and swelling. The skin is hot and red and the face flushed but, at the same time, the person can feel chilly and want to be covered.
Ledum This is the first remedy to think of with puncture wounds and for bites and stings which fester. Good for twisted or sprained joints, especially ankles.
Nux Vomica The main remedy for hangover or indigestion from over-eating but also useful for food poisoning in which there is constant retching.
Urtica urens Very useful for skin conditions such as urticaria with raised lumps like nettle rash and great for 'prickly heat. Urtica can be used for minor burns and scalds as well where pains are stinging, like nettle rash, but not too sore to touch.
END OF QUOTE
I find the list and particularly the comments most revealing. To me, they suggest that homeopathy just do not have a cue. They recommend nonsense for conditions they know nothing about. They do not seem to know what real shock or food poisoning or heat stroke are. They do not seem to appreciate that they can be life-threatening problems. And by stating "Always seek medical help for anything more than a minor injury or illness", they clearly admit that they are merely jokers of no significance whatsoever.
For what it's worth, I here give my evidence-based view on the remedies listed:
Aconite No evidence to justify the claims mentioned above.
Apis No evidence to justify the claims mentioned above.
Arnica Some evidence to show that Arnica does not work.
Arsenicum No evidence to justify the claims mentioned above.
Belladonna No evidence to justify the claims mentioned above.
Ledum No evidence to justify the claims mentioned above.
Nux Vomica No evidence to justify the claims mentioned above.
Urtica urens No evidence to justify the claims mentioned above.
Oh, I almost forgot: the SoH is the organisation of 'professional' homeopaths in the UK (professional meaning they have no medical training). On their website, they state: "High standards are the cornerstone of the Society of Homeopaths. So we were delighted that our register was accredited by the Professional Standards Authority for Health and Social Care (PSA)  in 2014… This accreditation demonstrates our commitment to high professional standards, to enhancing safety and delivering a better service."
One does wonder whether killing gullible holidaymakers via bad advice counts as high standards.
Several previous studies have suggested improvements in sperm quality after vitamin supplementation, and several reviews have drawn tentatively positive conclusions:
Most of the primary trials lacked scientific rigour, however. Now a new study has emerged that overcomes many of the flaws of the previous research.
Professor Anne Steiner from the University of North Carolina at Chapel Hill, USA, presented her study yesterday at the 34th Annual Meeting of ESHRE in Barcelona. This clinical trial of 174 couples has found that an antioxidant formulation taken daily by the male partner for a minimum of three months made no difference to sperm concentration, motility or morphology, nor to the rate of DNA fragmentation. The study was performed in eight American fertility centres.
All men in the study had been diagnosed with male factor infertility, reflected in subnormal levels of sperm concentration, motility, or morphology, or higher than normal rates of DNA fragmentation. These parameters were measured at the start of the trial and at three months. In between, the men allocated to the antioxidant intervention were given a daily supplement containing vitamins C, D3 and E, folic acid, zinc, selenium and L-carnitine; the control group received a placebo.
At three months, results showed only a "slight" overall difference in sperm concentration between the two groups, and no significant differences in morphology, motility, or DNA fragmentation measurements. Sub-group analysis (according to different types of sperm abnormality) found no significant differences in sperm concentration (in oligospermic men), motility (in asthenospermic men), and morphology (in teratospermic men).(1) There was also no change seen after three months in men with high rates of DNA fragmentation (28.9% in the antioxidant group and 28.8 in the placebo group).
Natural conception during the initial three month study period did also not differ between the two groups of the entire cohort – a pregnancy rate of 10.5% in the antioxidant group and 9.1% in the placebo. These rates were also comparable at six months (after continued antioxidant or placebo for the male partner and three cycles of clomiphene and intrauterine insemination for the female partner).
The authors concluded that "the results do not support the empiric use of antioxidant therapy for male factor infertility in couples trying to conceive naturally".
The story about supplements and health claims seems to be strangely repetitive:
the claim that supplements help for condition xy is heavily promoted, e. g. via the Internet;
a few flimsy trials seem to support the claim;
these results are relentlessly hyped;
the profit of the manufacturers grows;
eventually a rigorous, independently-funded trial emerges with a negative finding;
the card house seems to collapse;
the manufacturers claim that the trial's methodology was faulty (e. g. wrong does, wrong mixture of ingredients);
thus another profitable card house is built elsewhere.
In the end, the only supplement-related effects are that 1) the consumers produce expensive urine and 2) the manufacturers have plenty of funds to start a new campaign based on yet another bogus heath claim.
With depressing regularity, we hear that this or that VIP has decided to travel to Germany to get her/his cancer cured. As long as I can remember, cancer quackery has been wide-spread in Germany. More recently, dozens of private clinics have sprung up that seem to specialise in treating rich, foreign cancer patients. The message they like to send out is that, in Germany, one gets more advanced and effective treatments.
Having looked at some of the clinics' websites, I do, however, not get the impression that this is true. For instance, one clinic that is often mentioned offers amongst other treatments the following (the descriptions are quotes from the clinic's website):
Orthomolecular medicine aims to restore the 
ideal and beneficial environment of the body by correcting molecular imbalances, and this approach is used in cancer, infections, depression and atherosclerosis, among others.
Here at the Hallwang Private Oncology Clinic every patient receives a well-balanced supportive infusion program consisting of anti-inflammatory, potent anti-oxidant and detoxifying substances, which help you recover from previous treatments, minimize side effects from current treatments and strengthen your immune system to enhance treatment effects. Substances used are for example vitamin C, selenium, zinc, L-ornithine aspartate, glutathione, alpha lipoic acid, among many others.
Vitamin C, also known as ascorbic acid, is an essential vitamin. It is a potent antioxidant which helps to protect against free radical damage to our proteins, fats, carbohydrates, DNA and RNA. Vitamin C is used to boost the immune system.
Ozone is a powerful oxidizing agent. While high concentrations can be toxic, small ozone doses may increase naturally occurring antioxidants in the body. Antioxidants help to eliminate malignant calles and are needed to keep the body healthy. Ozone used for treatment is known for its bactericidal, fungicidal and virostatic properties. It also stimulates circulation and immune functions, and revitalizes the body.
Hyperbaric oxygen therapy is used to treat several medical conditions. It is a well-established treatment for decompression sickness, a hazard of scuba diving. Other conditions treated with hyperbaric oxygen therapy include serious infections, skin lesions or radiation injury. Wounds for example need oxygen to heal properly, and exposing a wound to 100 percent oxygen can improve and speed the healing process. This has been shown in a number of studies. The goal of this treatment is to increase the amount of oxygen your blood can carry in order to restore normal levels of blood gases and tissue function to promote healing and cure infection.
Whole body hyperthermia can be applied in a number of different diseases, including malignant, immunological, viral and other diseases. The aim of WBH is the destruction of malignant cells by induction of apoptosis via hyperthermia along with elimination of malignant cells that have become resistant to chemotherapy. With the help pf WBH, effects of other treatments, including chemotherapy and immunotherapy, can be enhanced.
END OF QUOTES
This does not look like cutting edge cancer therapy at all; in fact, none of these treatments are new and none have been shown to cure cancer or any other condition. Thus they are all examples of cancer quackery.
But, to be fair, the clinic in question (and most similar institutions in Germany) also employs a range of conventional cancer therapies. I am not an oncologist and therefore not competent to comment on these treatments; I leave this to someone who is competent; this is what David Gorski writes about them:  Hallwang uses very experimental treatments in a "blunderbuss" fashion, basically throwing everything but the kitchen sink together with no sophistication. We can't even know if these doctors know what the hell they are doing. Patients are treated, and, as far as we can tell, no systematic record of how well these patients do and how long they survive is kept, or, if such records are kept, they are kept secret.
One might, of course, argue that many patients are suffering from terminal cancers. They are desperate and have a right to try anything. As good physicians, we must not take their hope away. I would not dispute that; on the contrary, these patients deserve the best care we can muster. But I would still warn them to be cautious, and again I concur with David Gorski: People will often say of a terminal illness: How could things get any worse? The lesson of Hallwang tells us. Things can get worse if you're induced into chasing false hope. Things can get worse if you are enticed into eschewing effective palliative treatment and suffer more than is necessary—or even die prematurely from the treatment. Things can get worse if you drain your life's savings, leave nothing behind for your family, and spend the rest of your life chasing ever more money. Things can get worse if your family joins you in draining their life's savings to pay for your treatments. Things can always get worse, and quack cancer clinics virtually guarantee that they will.
In view of all this, I feel strongly that it is high time the German regulators have a close look at the plethora of cancer quackery and find a way of stopping this unethical, despicable exploitation.
I have already posted challenges to homeopaths. For instance, in a previous post, I asked the 'homeopaths of the world' to answer a few questions satisfactorily. In return, I promised to no longer doubt their memory of water theory. If they cannot do this, I contended, they should to admit that all their 'sciency' theories about the mode of action of highly diluted homeopathic remedies are really quite silly – more silly even than Hahnemann's idea of a 'spirit-like' effect.
And then there is the challenge to correctly identify their own remedies. In return, they would even earn the neat sum of Euro 50 000.
So far, none of these challenges have been met. But one must not give up hope!!!
Meanwhile, I have decided to issue another one. Let me explain:
One argument that the 'defenders of the homeopathic realm' love and almost invariably use, when someone states that it is time to move on and ban homeopathy to the history books, is this one:
IF WE BANNED HOMEOPATHY FROM OUR CLINICAL ROUTINE, WE WOULD ALSO HAVE TO BAN MANY OF THE TREATMENTS USED IN CONVENTIONAL MEDICINE WHICH ARE EQUALLY POORLY SUPPORTED BY SOUND EVIDENCE FOR EFFICACY.
This looks like a good argument!
I am sure that politicians, journalists, consumers and even many healthcare professionals find it convincing.
We know that lots of conventional treatments are less well supported than many of us would hope or think.
But less well-supported than homeopathy?
Let's see: Homeopathy has been around for ~200 years. Controlled clinical trials of homeopathy have been conducted since 1835. Today, we have about 500 controlled clinical trials of homeopathy. The totality of these data fails to convincingly demonstrate that homeopathy is more than a placebo.
Are there many other therapies that fulfil these criteria? Personally, I am not aware of such a therapy, and if I did know one, I am fairly certain that I would advocate its elimination from our clinical routine.
But I am, of course, not an expert in all fields of healthcare.
Perhaps such treatments do exist!
I want to find out, and – as always – the burden of proof is with those who use this argument.
Which brings me to my challenge.
I HEREWITH CHALLENGE HOMEOPATHS AND THEIR FOLLOWERS TO NAME THERAPIES THAT ARE AS USELESS AS HOMEOPATHY!
To be clear, they ought to fulfil the following criteria:
The treatment must be about 200 years old (plenty of time for a thorough evaluation).
It should have been extensively tested in about 500 controlled clinical trials.
The totality of this evidence should be negative.
The treatment should be part of the clinical routine and have ardent proponents who insist it should be paid for by public funds.
I hope lots of homeopaths can name lots of such therapies.
Failing this, they should think twice before they use the above argument again.