On Amazon, someone commented as follows on my biography of Prince Charles:
… Dr. Ernst goes on digressions that mostly seem intended to make Prince Charles look bad. There's a long chapter on Laurens van der Post, who influenced Prince Charles as a youth, and a lot about somewhat unsavory things he did. So what? …
This made me think. I read the chapter again and find it hard to agree with the comment. To me, this chapter is a short (~2000 words) and essential part of the book. Judge for yourself; here are a few excerpts from it: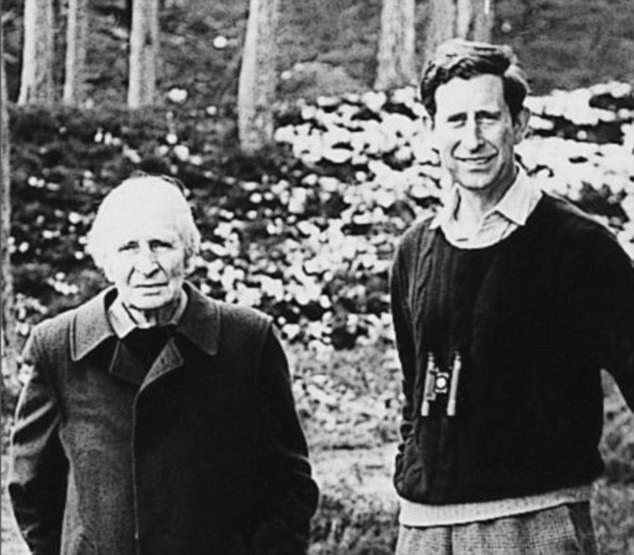 "It seemed to have been a union of mutual needs, between a Prince longing to find meaning in his existence and a storyteller who could weave apparent answers out of thin air." Laurence van der Post was oozing charm and charisma and sensed that "for the Prince, there was a missing dimension", as Jonathan Dimbleby put it. By 1975, the two men had formed such a close rapport that van der Post felt able to counsel him about spiritual matters, urging him to explore the 'old world of the spirit' and 'the inward way' towards truth and understanding. Van der Post suggested the two make a seven week journey into the Kalahari desert. This, he believed, would introduce Charles to the spirit world. Preparations were made in 1977 but, in the end, the plan had to be abandoned. Instead, the two later went to Kenya where they spent 5 days of long walks and "intense conversation".
Van der Post urged Charles to play "a dynamic and as yet unimagined role to suit the future shape of a fundamentally reappraised and renewed modern society", a reappraisal that would be "so widespread and go so deep that it will involve a prolonged fight for all that is good and creative in the human imagination." An aspect of this fight, he claimed, would be "to restore the human being to a lost natural aspect of his own spirit; to restore his relevance for life and his love of nature, and to draw closer to the original blueprint and plan of life…"
Laurence left an interview for posthumous publication; in it, he expressed his hope that Charles would never become king, as this would imprison him, it would be more important that Charles continues to be a great prince. "He's been brought up in a terrible way … He's a natural Renaissance man, a man who believes in the wholeness and totality of life … Why should it be that if you try to contemplate your natural self that you should be thought to be peculiar?"
"For 20 years they had most intimate conversations and correspondence … with a steady flow of reassurance and encouragement, political and diplomatic advice, memoranda, draft speeches and guidance for reading".  Van der Post introduced Charles to the teachings of Carl Jung and his concept of the 'collective unconscious' that binds all humans together regardless whether they are Kalahari bushmen or princes. On the behest of van der Post, Charles began to record his dreams which van der Post then interpreted according to Jung's theories. In the late 1970s van der Post tried to convince Charles to give up all his duties and withdraw from the world completely in search for an 'inner world truth'. This plan too was aborted.
All biographers agree that van der Post was the strongest intellectual influence of Charles' life.
Charles sought van der Post's advice and spiritual guidance on numerous occasions.
When William was born, he made van der Post his godfather.
When Charles' marriage to Diana ran into difficulties, the couple was counselled by van der Post.
Charles invited Laurence regularly to Highgrove, Sandringham and Balmoral.
Charles visited van der Post on his deathbed.
After Laurence's death, Charles created a series of annual lectures hosted in van der Post's memory which he hosted in St James' Palace.
…
…
…
Charles' notions about medicine were unquestionably inspired by van der Post. Laurence. He, for instance, bemoaned the inadequacy of conventional medicine and wrote: "Even if doctors did … use dreams and their decoding as an essential part of their diagnostic equipment and perhaps could confront cancer at the point of entry, how are they to turn it aside, unless they are humble enough to keep their instruments in their cases and look for some new form of navigation over an uncharted sea of the human spirit?" As we will see in the next chapters, van der Post's influence shines through in many of Charles' speeches. Moreover, it contributed to the attitude of many critical observers towards Charles. Christopher Hitchens is but one example for many:
"We have known for a long time that Prince Charles' empty sails are so rigged as to be swelled by any passing waft or breeze of crankiness and cant. He fell for the fake anthropologist Laurens van der Post. He was bowled over by the charms of homeopathic medicine. He has been believably reported as saying that plants do better if you talk to them in a soothing and encouraging way… The heir to the throne seems to possess the ability to surround himself—perhaps by some mysterious ultramagnetic force?—with every moon-faced spoon-bender, shrub-flatterer, and water-diviner within range."
The following chapters will show that Hitchens might not have been far off the mark.
___________________________
Yes, I do feel that the chapter is essential for the book. It explains how Charles' love affair with alternative medicine got started and why it would become so intense and durable. Without it, the reader would not be able to understand the rest of the book. Moreover, it is important to demonstrate that van der Post was a charlatan and an accomplished liar. This is relevant because, in later life, Charles' skill to choose adequate advisors was often wanting.